All my best ideas for crafting with kids on summer break!
When your kids are off for summer break, finding things to do can feel like a real bore for them — and a real chore for you. Crafting with your kids is a fun activity that allows you to enjoy quality time and closeness with those you love! So to help keep you (and them) from slipping into a summer slump, here's a list of 30 amazing Cricut summer crafts for kids of ALL ages and skill levels! There's something for everyone; I've got tutorials for beginning makers, to intermediate projects, to crafts for more experienced kiddos.
Remember, click the links to go to the post for each project. Then, follow the Design link in each fun summer craft's Material List to find the free files in my Resource Library!
Stick Together With Stickers
If you'd told me when I was a kid that one day, printing my own stickers would be a possibility, I would have wished to be transported to the future. What a time to be alive! You and your kids will have the best time picking all the photos, characters, artwork, funny sayings, and more to turn into shareable stickers — it's probably more fun than sticking them! Wait til you bust out the ultra cool vinyl or holographic sticker paper. Better find a spot for that "World's Best Mom" sticker that'll be coming your way!
See Design #196, Design #487, and Design #317 in my free resource library!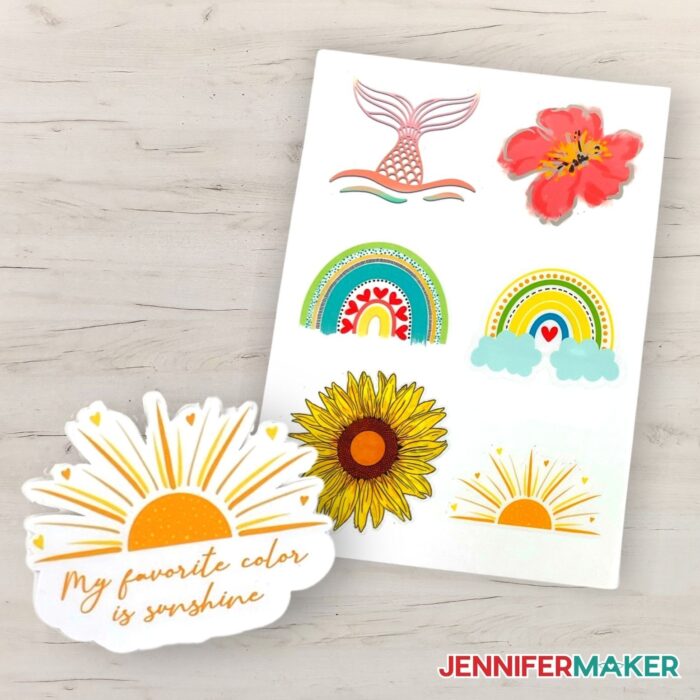 Paper Pupper
Create a cardstock clone of your family pet or help your kids make a litter of paper pups! And the coolest part? These little dogs are also little boxes, the perfect size for your children to stash their tiny treasures. Once you help them cut the pieces on your Cricut, assembly is pretty simple — and the file comes with score lines to make folding a bit easier for little crafters. Choose colors and patterns of cardstock to match your dog's coat, or just have fun creating a paper puppy they can hide trinkets inside. Kids love this project because they get to watch their furry friend come to life as they fold and assemble the pieces! Bonus: Cleanup is very minimal. Much less than a real dog.
See Design #107 in my free resource library!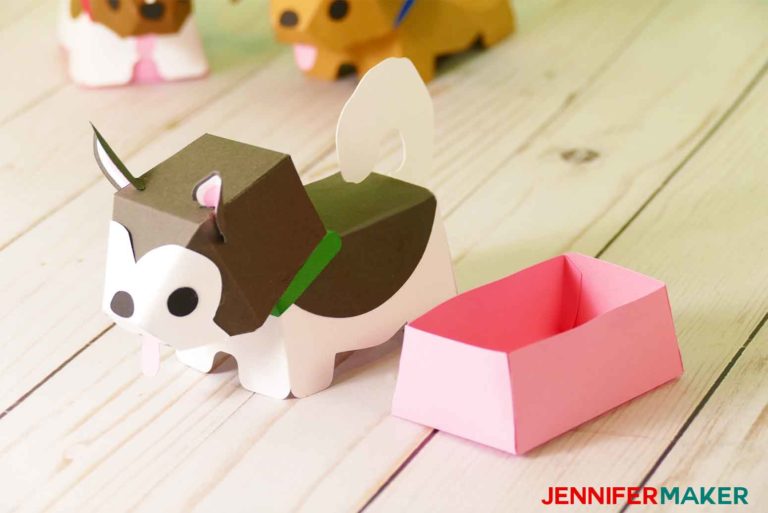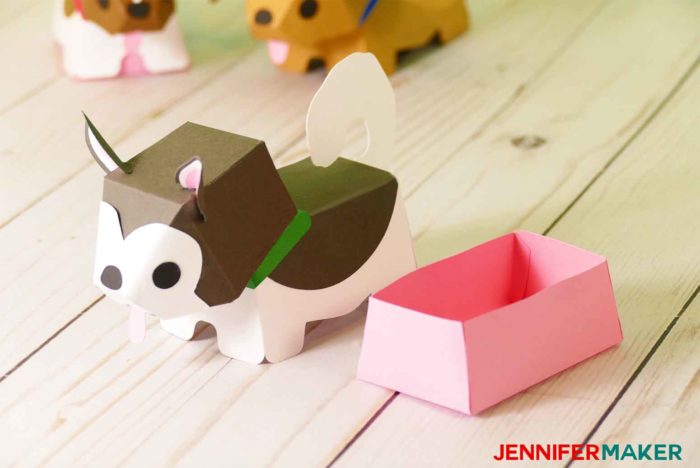 3D Cardstock Zoo Crew
If dogs aren't your thing, how about a turtle, manatee, alligator, or flamingo? My daughter, Alexa, designed the set so I'm extra proud to include in for you! These vary in difficulty, so there's something for everyone. These animals have all the summer vibes, plus you can mix it up using patterned, shimmer, or even glitter cardstock! A pink glitter flamingo? Yes, please. Bonus: The turtle is also a box, similar to the dogs! It's also the easiest design, perfect for beginning paper crafting kiddos. Those fine motor skills are going get a workout!
See Design #200 in my free resource library!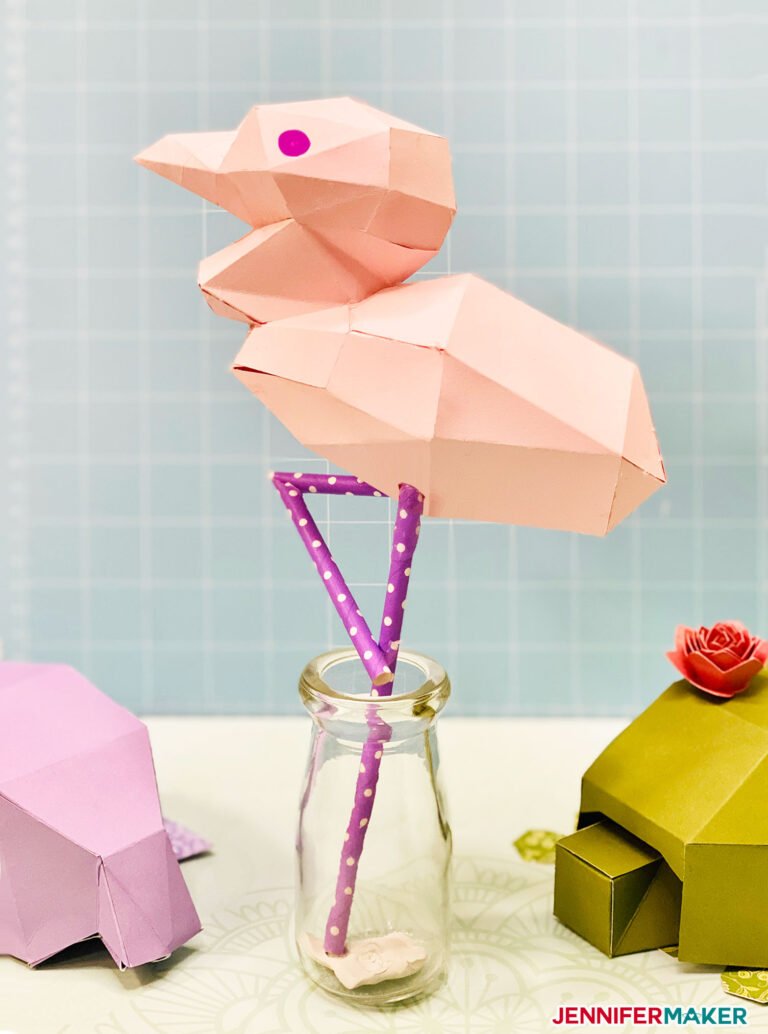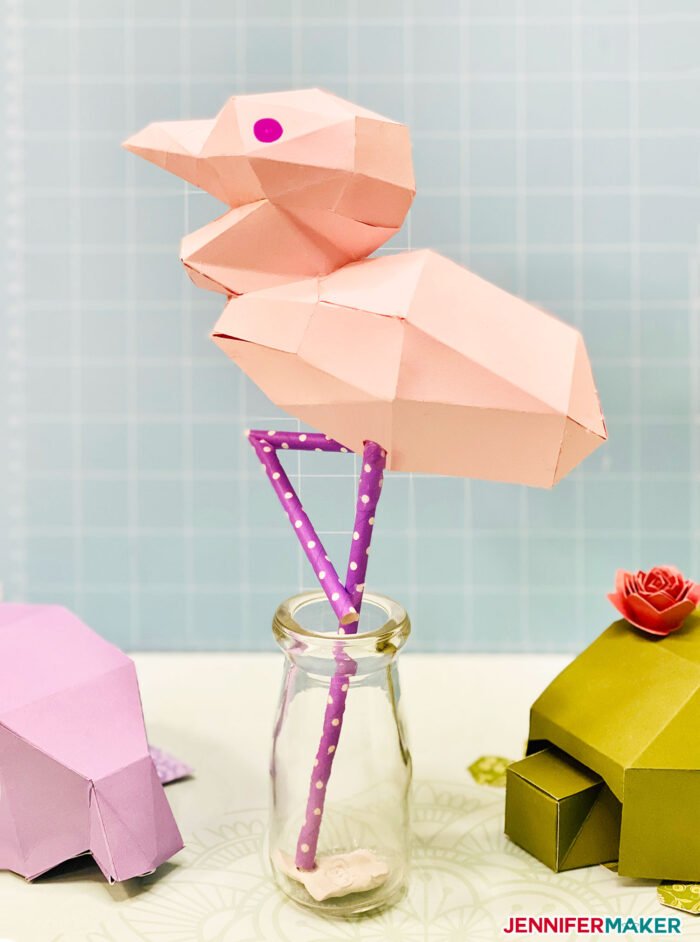 Hot Mess (Canvas) Express

Picture this: You're three years old and your parent just handed you a tray full of paint. Score!! What could be more amazing than that? But seriously, let your kid explore their creative side on a hot mess canvas. They'll get to go wild with the paint, and you'll have a beautiful piece of art when you're done! First you let your child paint the canvas however they like. Next you'll create a stencil (or use one of mine) and cut it out of adhesive vinyl on your Cricut. Transfer it onto the canvas and then paint over the canvas with white acrylic paint. Then peel the vinyl off to reveal the final result! Hot tip: Acrylic paint comes off skin, but not off clothes. This is a great pre-bath project!
See Design #117 in my free resource library!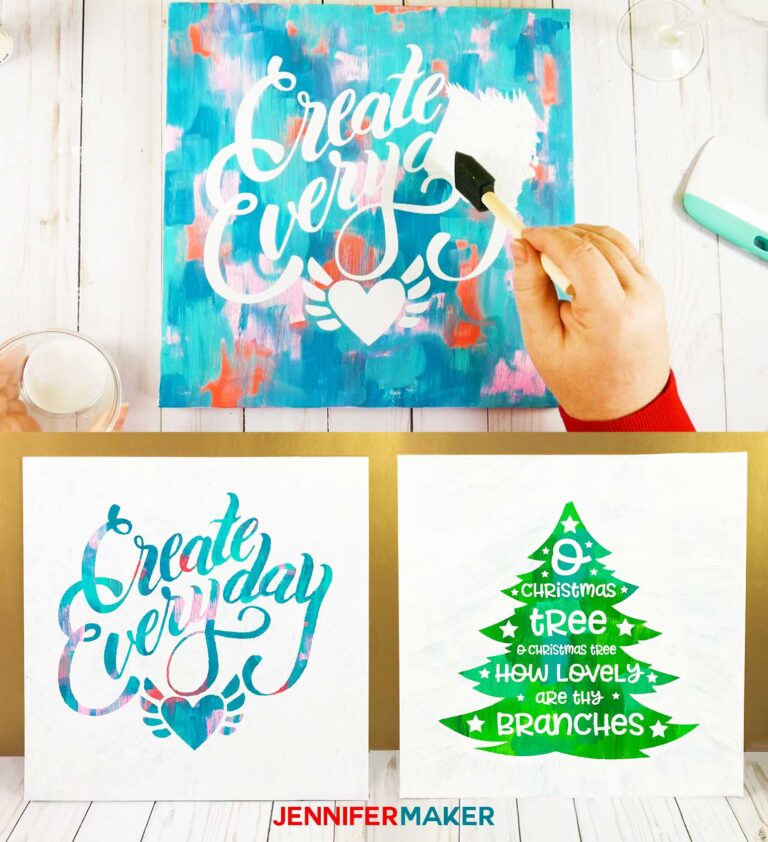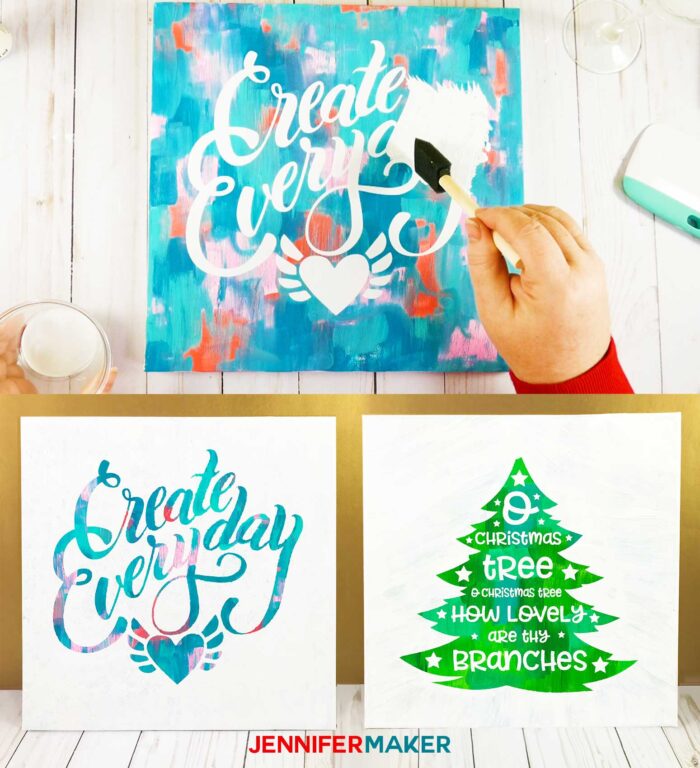 Give Piece a Chance With a Puzzle

This one's a two-for-one activity: First you create and cut the puzzle with your Cricut, then you and your kids get to put it together… together! I've created six puzzle templates you can use on any photo, then use your Cricut Maker or Explore series machine to cut it out. Kids will love choosing a special photo for their puzzle, or you can surprise them by using one of their favorite movies, shows, or even a photo of their own artwork as the subject. And because kids of any age can make the original art, it's the perfect craft for little hands! Bonus: I show you how to use a fun hack using a machine mat to preserve your finished puzzle.
See Design #122 in my free resource library!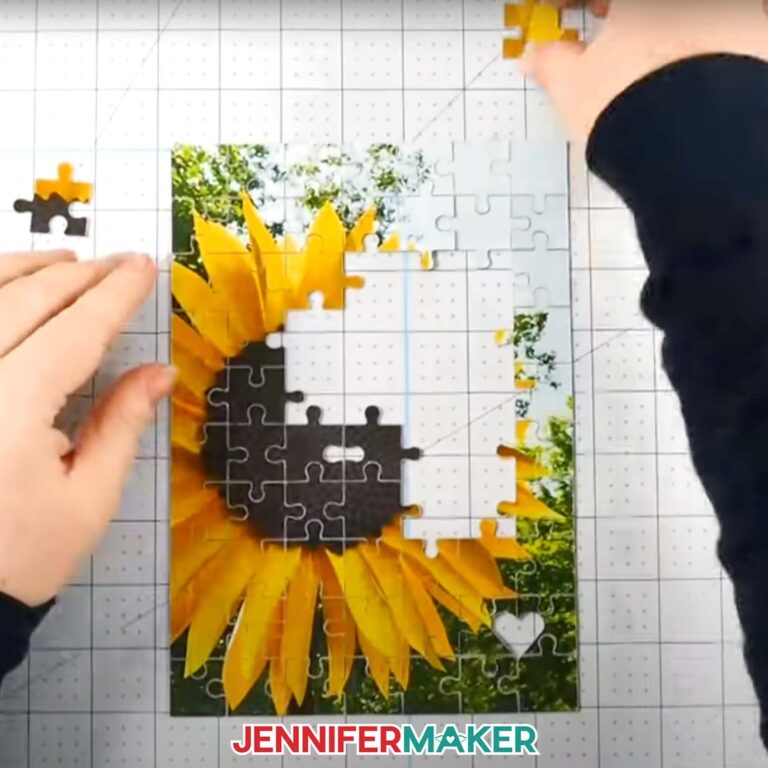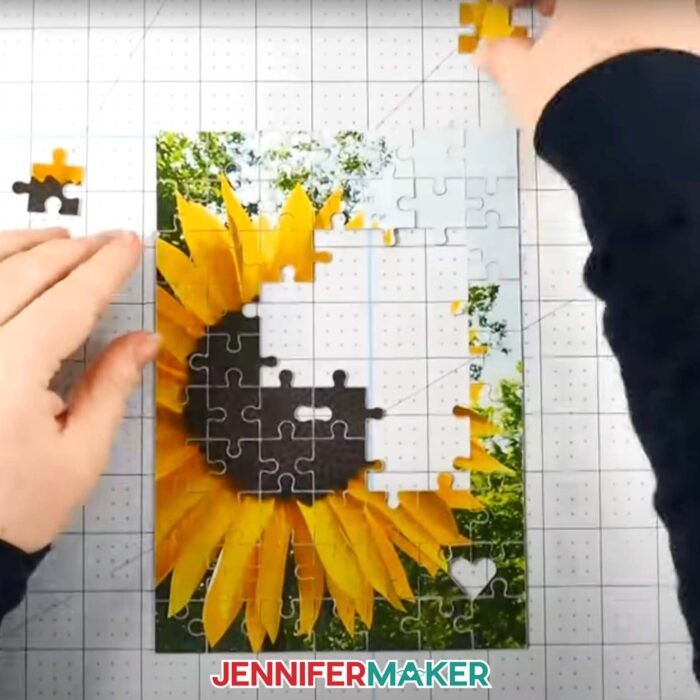 All Book(mark)ed Up
Need a quick and easy craft to do with your kids? My animal paper clip bookmarks are fast and functional. Your children can keep their place with a cute critter of their choosing, and I even show you how to emboss details into the animal's design! These are extra fun to cut from holographic, shimmer, and other fun types of cardstock, poster board, or kraft board. My bookmark paper clips are an great way to use up scraps that are too small for other projects, too. Hot Tip: Encourage summer reading by letting your child cut a new bookmark for every book they read this summer!
See Design #264 in my free resource library!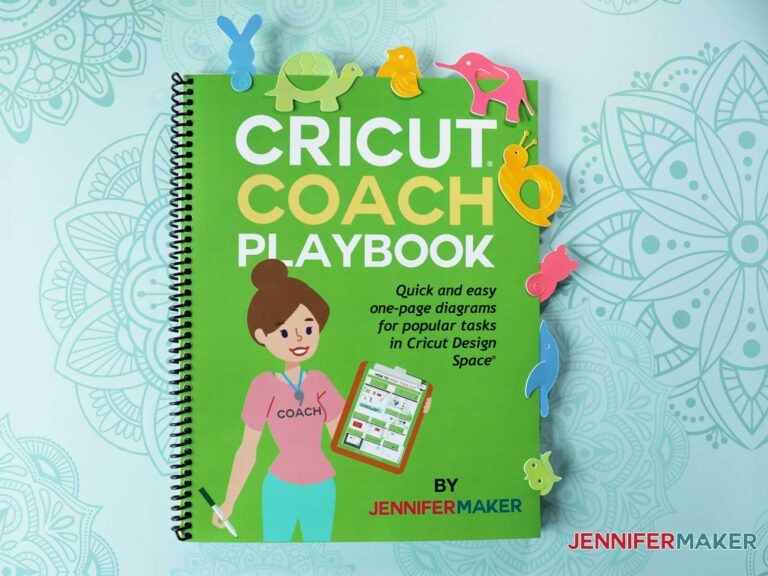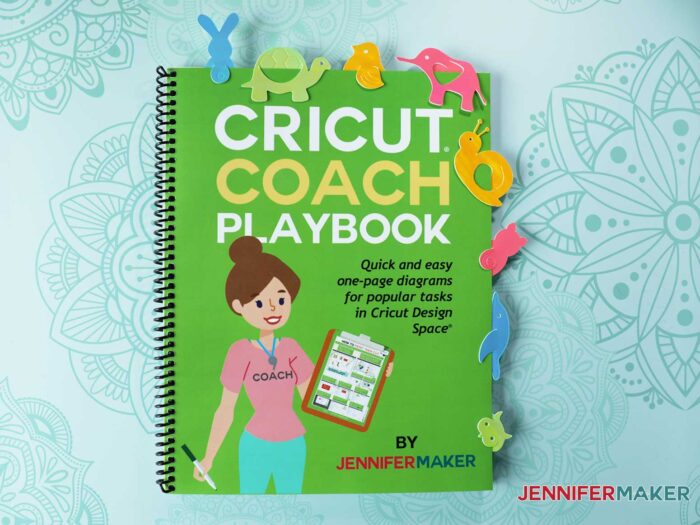 Make A Mark With Infusible Ink Markers
If you're a kid, chances are you like to draw with markers — especially if mom is drawing with you. With infusible ink markers, you can take their drawings and apply them to T-shirts, pillowcases, tumblers, coffee mugs, canvases, glass cutting boards, tote bags — any blank suitable for sublimation or infusible ink! Simply draw or write on laser printer paper, then follow a few simple steps (using a heat press) and voila! Your kids will be so excited to see their artwork on different items. Because what kid these days doesn't want their own merch?
See Design #413 in my free resource library!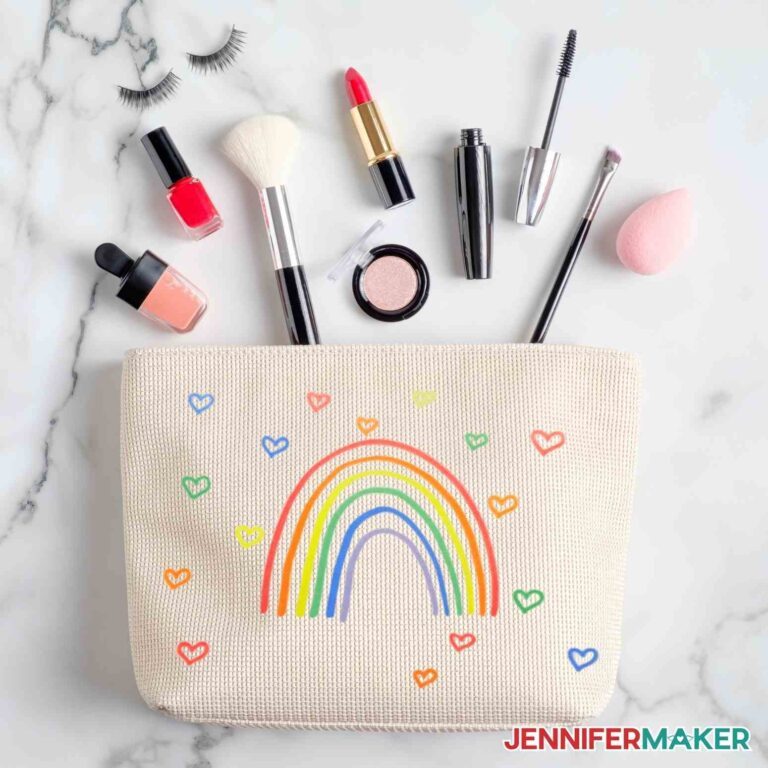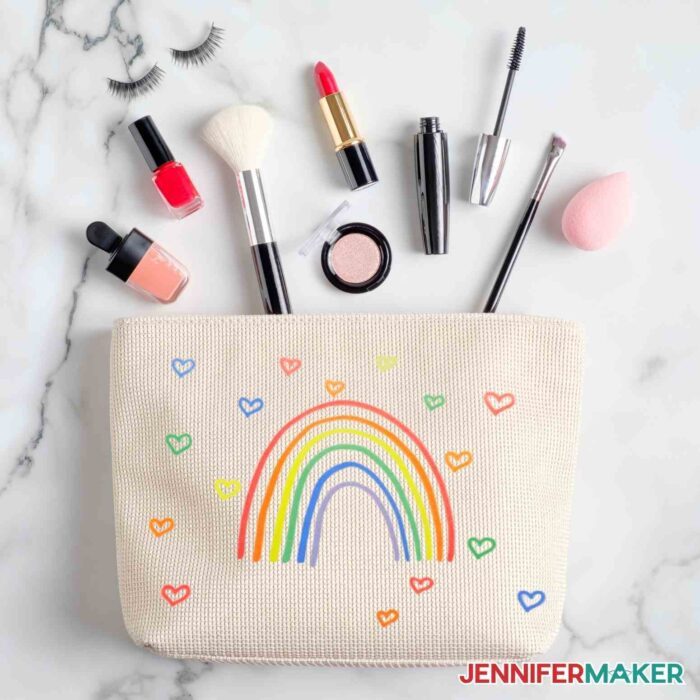 The Butterfly Effect

I had such a fun time designing this next project, because what's better inspiration than nature itself? I found high-res photos of a few of my favorite butterfly species, then traced the actual wing and detail shapes to create the most true-to-life paper butterflies ever. This craft is great because it'll please the fact-checking science kid AND the budding artist who wants to wing it and choose their own colors, textures, and even patterns. They're larger than life and make wonderful wall art, or a statement front door wreath. You could even make them into a big mobile! Fun idea: Use your Cricut to cut a bunch of different parts from different cardstocks and create a "Butterfly Bar" — then let the kids build their own fantasy butterfly!
See Design #99 in my free resource library!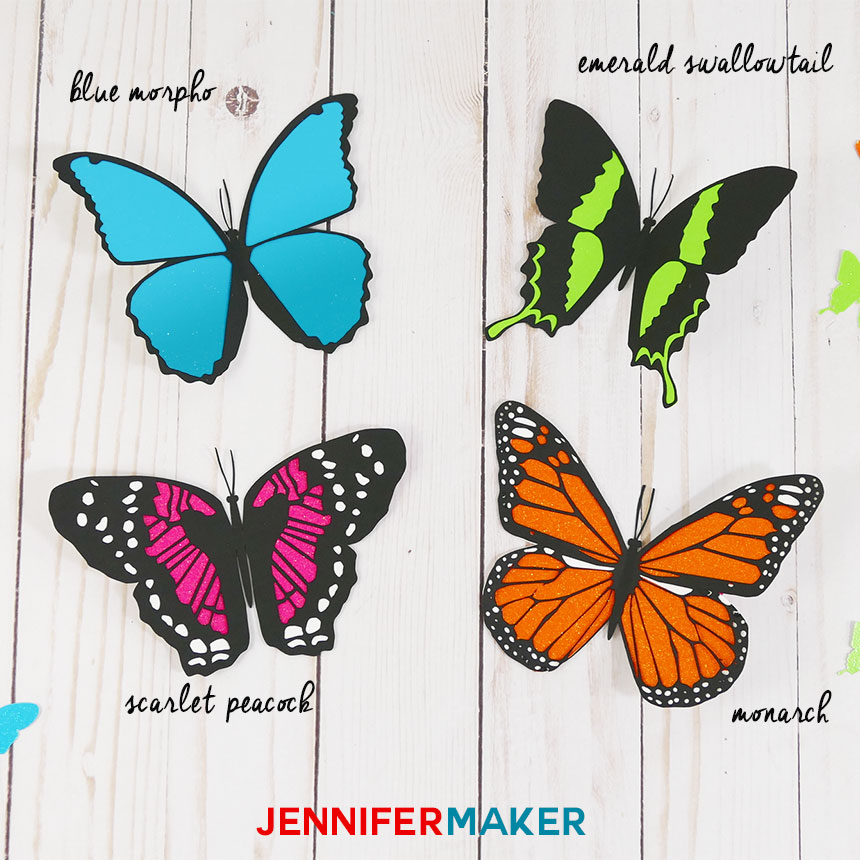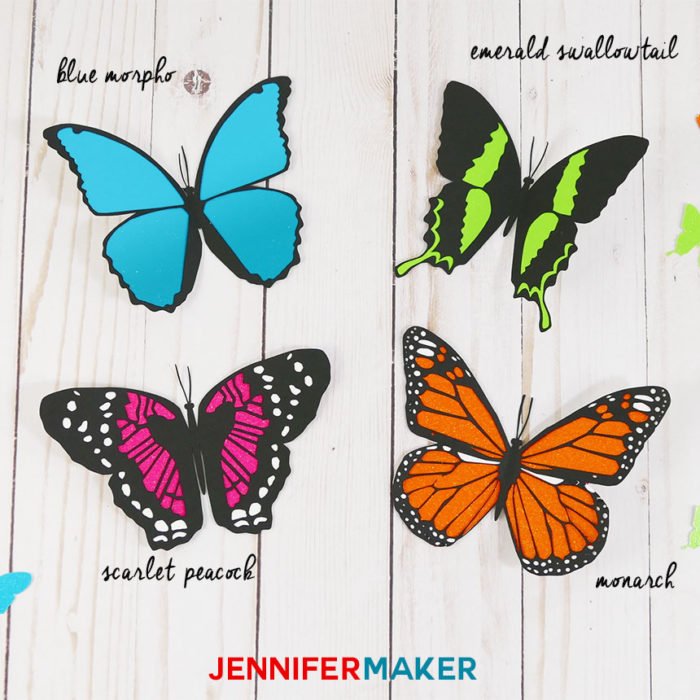 Paper Bird Is The Word

The birds have flown in for the summer! Like my butterflies, my cardstock birds are so fun for kids (and adults) to create and put literally anywhere. You can model them after real birds you spot with your kiddos, or have them design their own kooky avian decorations. They'd be super cute stuck to a summer wreath, or you could make a whole flock and suspend them from your child's ceiling with fishing line!
See Design #239 in my free resource library!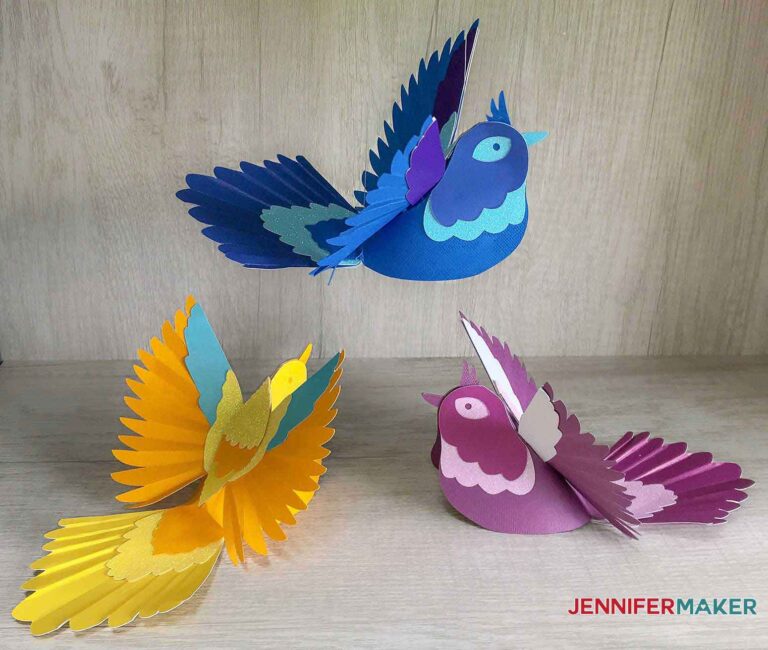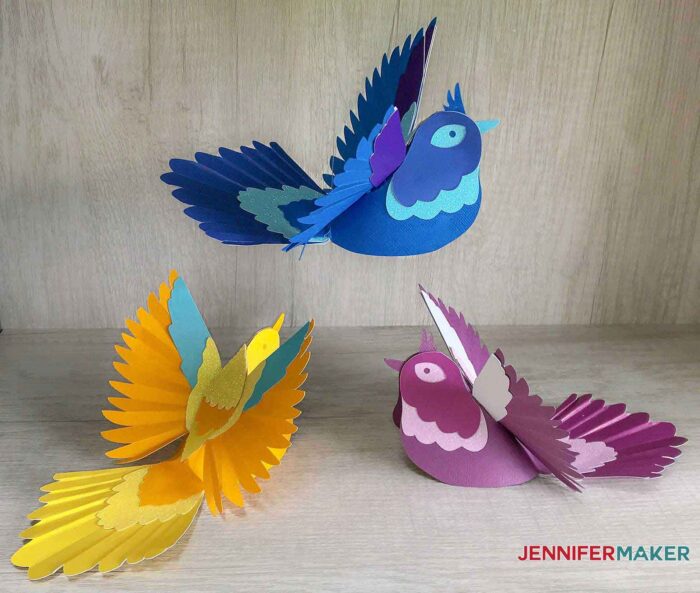 Road Trippin' Survival Kit
Going on a drive this summer? Whether you're taking day trips or going on a Griswold-style vacation, long hours on the road can get pretty hairy when there's kids involved. Sure, there's screens to pass the time, but road trip survival packs are a fun way to make a boring car ride a bit more comfortable. These are one of my favorite Cricut summer crafts for kids! Fill them with:
Non-messy craft supplies
Treats and gum
Card and trivia games
Ginger drops for carsick tummies
Sleep mask for daytime dozing
Sanitizing wipes for keeping clean on the go
Inflatable neck pillow
Mad Libs and a pencil
and other fun activities and items to pass the time
See Design #322 in my free resource library!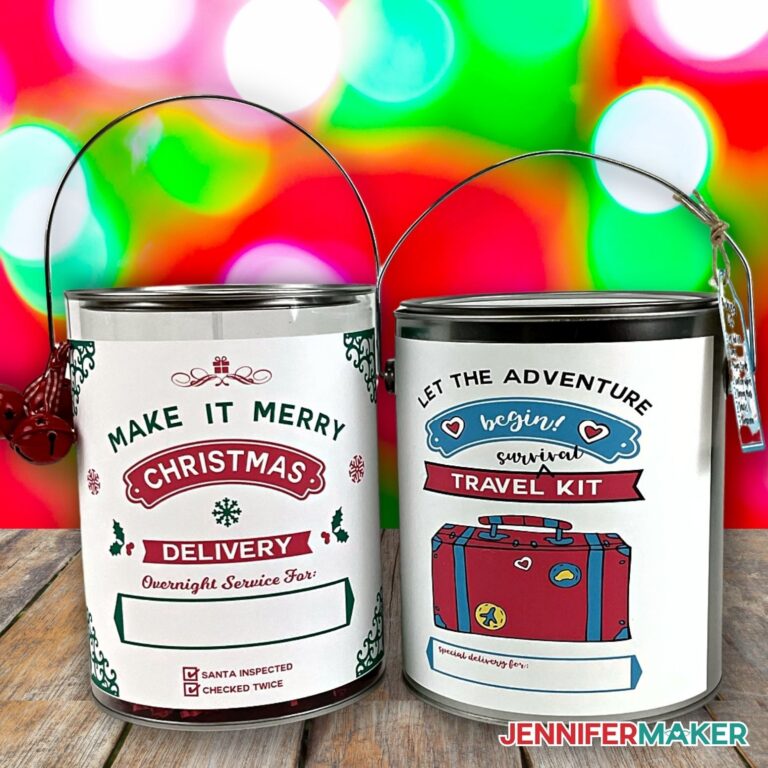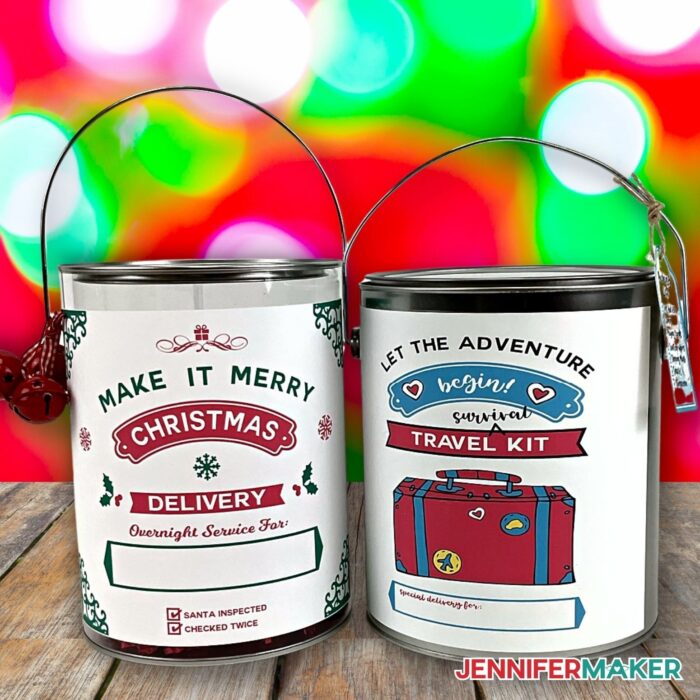 This post about Cricut summer crafts for kids contains some affiliate links for your convenience (which means if you make a purchase after clicking a link I will earn a small commission but it won't cost you a penny more)! Read my full disclosure policy.
Common Materials & Tools to make Cricut Summer Crafts for Kids
Visit the blog post for each project to see the exact items I used for all of my Summer Craft Ideas for Kids! But here are some of the common materials and tools to get started:
Answers to Your Questions On Cricut Summer Crafts for Kids
Q: Is Cricut appropriate for kids?
A: Kids can absolutely create Cricut crafts, and depending on their age and skill level can learn to use the cutting machine with adult guidance and supervision. I chose all of these Cricut summer crafts for kids because they're accessible for most children to assemble with varying degrees of help, and when you're ready they can help with the technical and computer side of things too! Let's create a whole new generation of Cricut crafters!
Q: What can I make with my Cricut for beginners?
A: The fun crafts in this blog are a good place to start! You can also search for "beginner" or "easy" craft tutorials in my free resource library, or check Cricut Design Space for creative ideas for young kids as well as older ones! There are so many resources for Cricut summer crafts for kids, you'll have enough crafts to do one every day of your kids' break! Your kids will practically be able to run the Cricut themselves by the time school starts again.
Q: Do you have any kid-friendly crafts for other seasons?
A: In addition to my easy summer crafts, I've got plenty of themed crafts and DIY projects for the other seasons, too! Here are just a few of the Cricut crafts you can make with your kids as the seasons change:
Get my free SVG files for Cricut Summer Crafts for Kids
I'd love to see YOUR Cricut summer crafts for kids! Please share a photo in our Facebook group or tag me on social media with #jennifermaker.
Love,