Learn how to make a fun and easy wall art in just a matter of minutes. This beautiful 3D Butterfly Mandala can even be made even faster from Smart Paper on a Cricut Explore 3 or Maker 3!
Do you ever need a quick win? I know I do! I love easy projects, like my Butterfly Heart Canvas and my Butterfly Pop-Up Card. And now that I have the new Cricut Explore 3 that uses Smart Paper without a mat, I can cut even faster now. So I want to share a new butterfly project that can be cut and assembled in less than fifteen minutes on the Cricut Explore 3! Seriously! Of course, you can make this 3D butterfly wall art on any Cricut cutting machine, just not quite as fast.
Watch how quick the 3D Butterfly Wall Art goes together here using the Cricut Explore 3: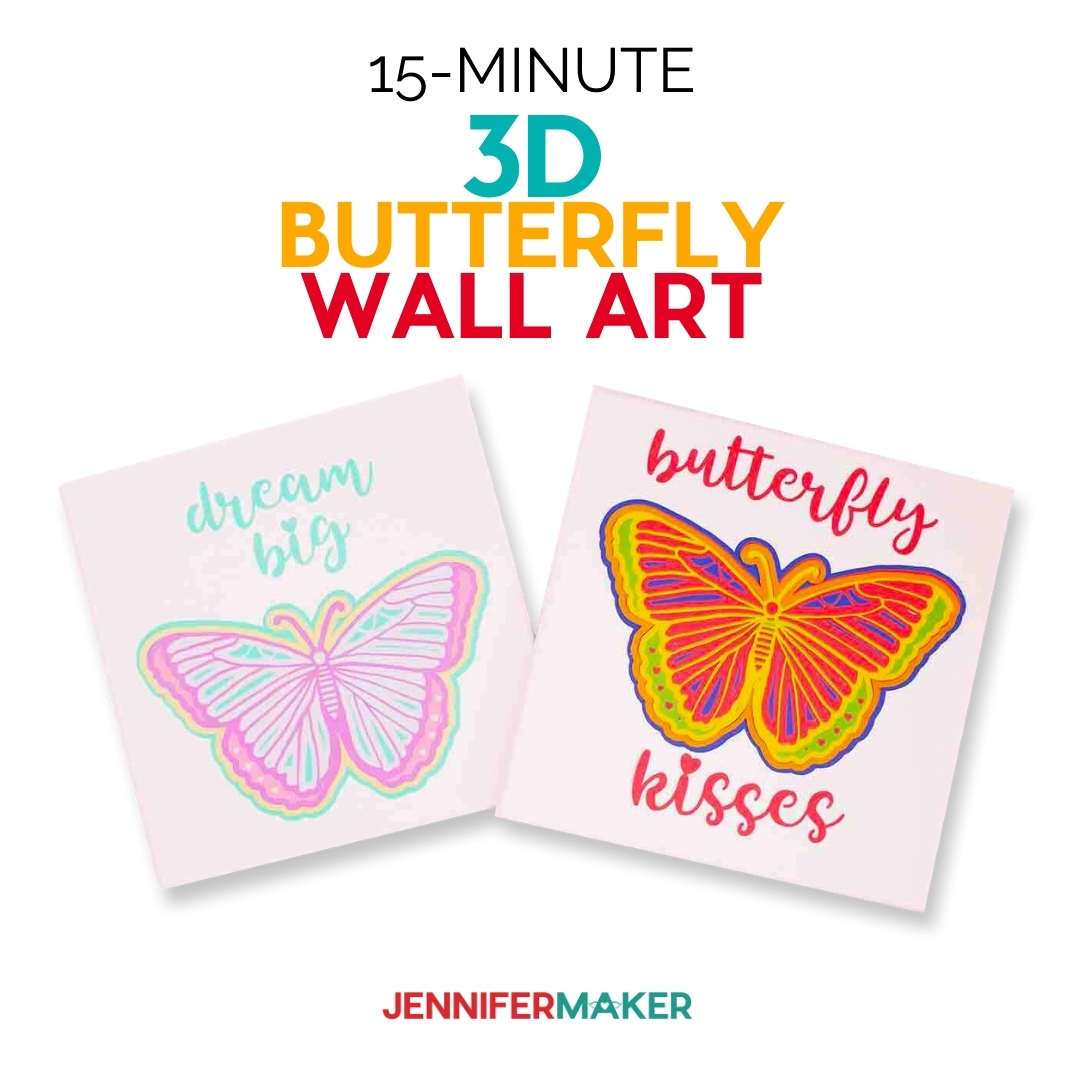 I love creating a wide variety of projects but I always get excited when I have an idea and can execute it with ease. I get a lot of requests for easy projects, projects that can be done quickly, or ones you can work on with young children. I am so excited that this really fun 3D Butterfly Wall Art design fits all those requirements and more! What else can you ask from a 15-minute project?
You don't need a lot of supplies which is, of course, a win! You only need five (5) sheets of Cricut Smart Paper Sticker Cardstock. I love bright colors so I chose colors from the Bright Bows package!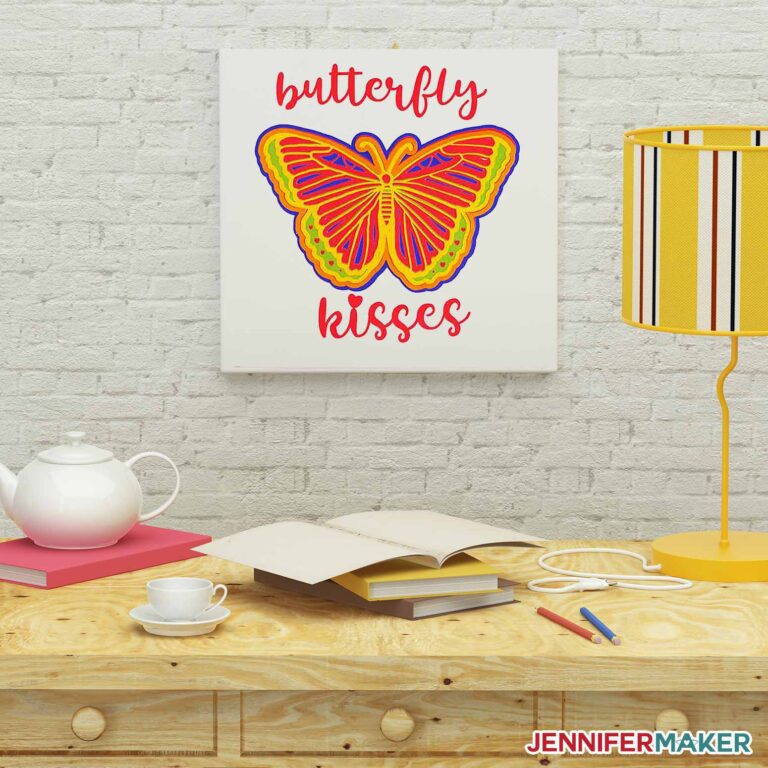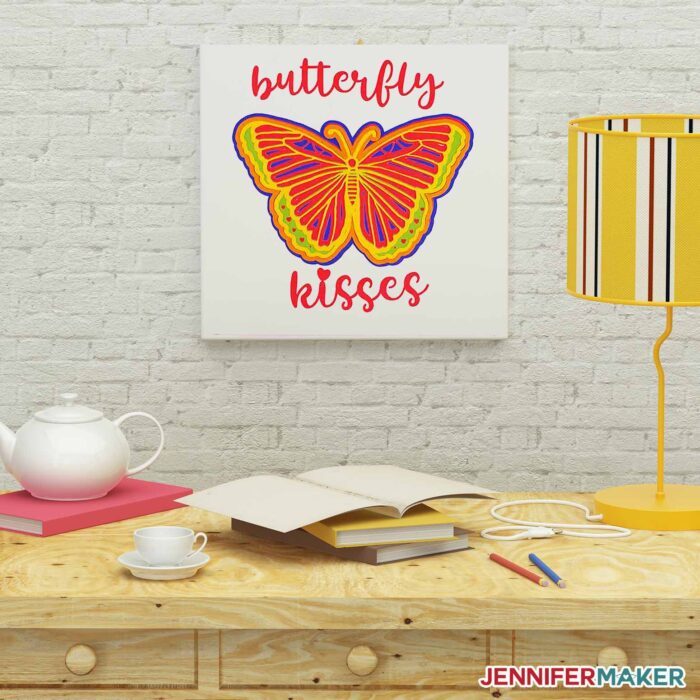 And here is the same butterfly made with the pastel pack of Smart Paper … so pretty!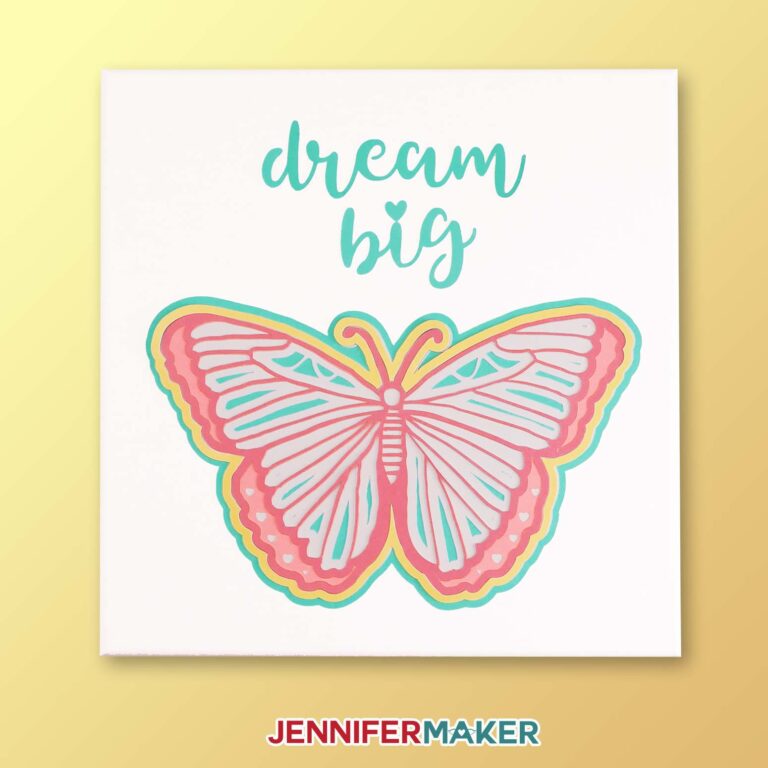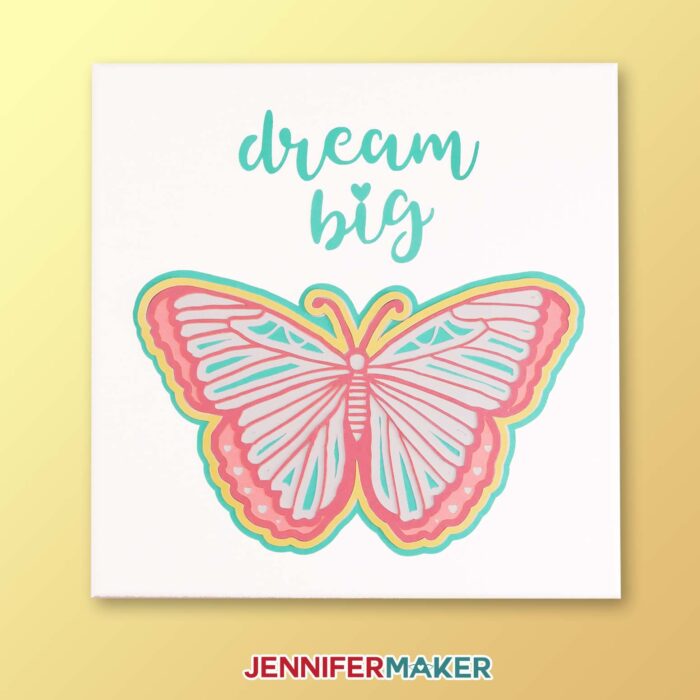 Now, this project can be done with the original Cricut Explore or Cricut Maker as well! Instead of using Cricut Smart Paper Sticker Cardstock, you can use regular cardstock and assemble the butterfly with foam dots or tacky glue. Even with this added step, the 3D Butterfly Wall Art is one of the easier mandalas I have made!
Also, I don't want to leave out the Cricut Joy! You can make this on the Cricut Joy if you re-size it down just a little (max size on Joy: 7.25″ x 4.495″).
I used one (1) 10″ x 10″ canvas to display my beautiful butterfly. and sprayed tacky spray on my canvas before applying the stickers (or cardstock) to help the adhesive stick to the canvas.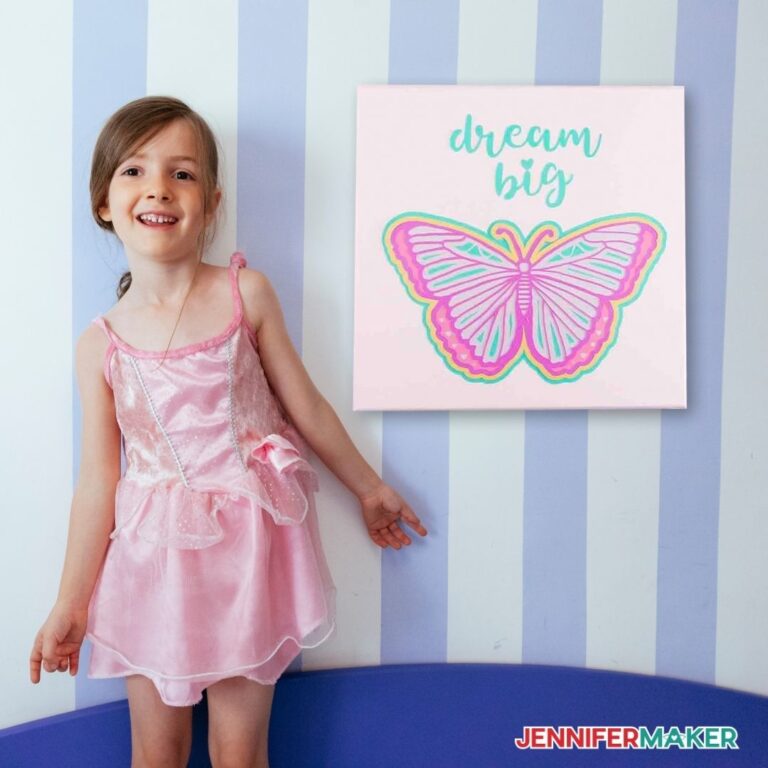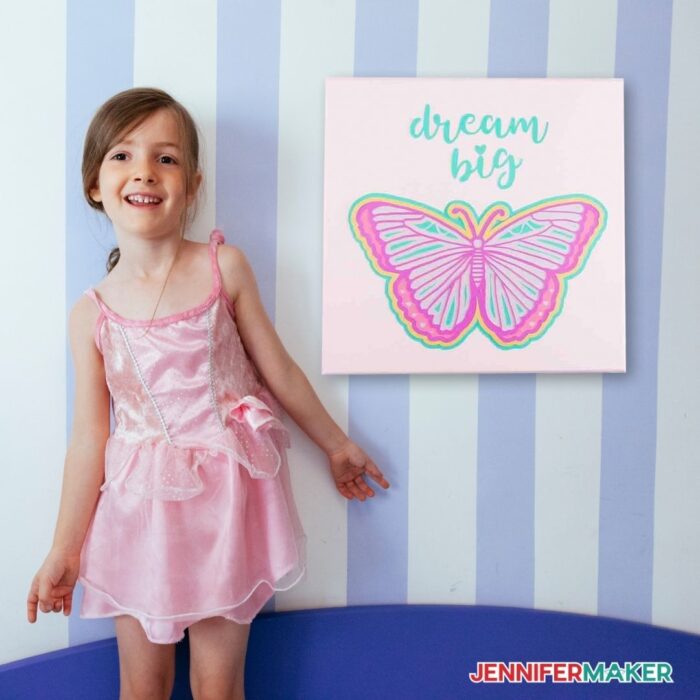 For the font, I used the Tingler script which is one of those fonts I just like to go back to a lot!
The final size of 3D Butterfly Wall Art on canvas is 10 x 10 inches. The butterfly alone measures 8.559″ x 5.307″. I love that we have the flexibility to resize it however we like!
Let me show you how easy it is to make this pretty 3D butterfly wall art project! This post contains some affiliate links for your convenience (which means if you make a purchase after clicking a link I will earn a small commission but it won't cost you a penny more)! Read my full disclosure policy.
Materials to Make Adorable 3D Butterfly Wall Art
View my Amazon shopping list with the exact items we used to make this project!
How to Make Your Own Fun 3D Butterfly Wall Art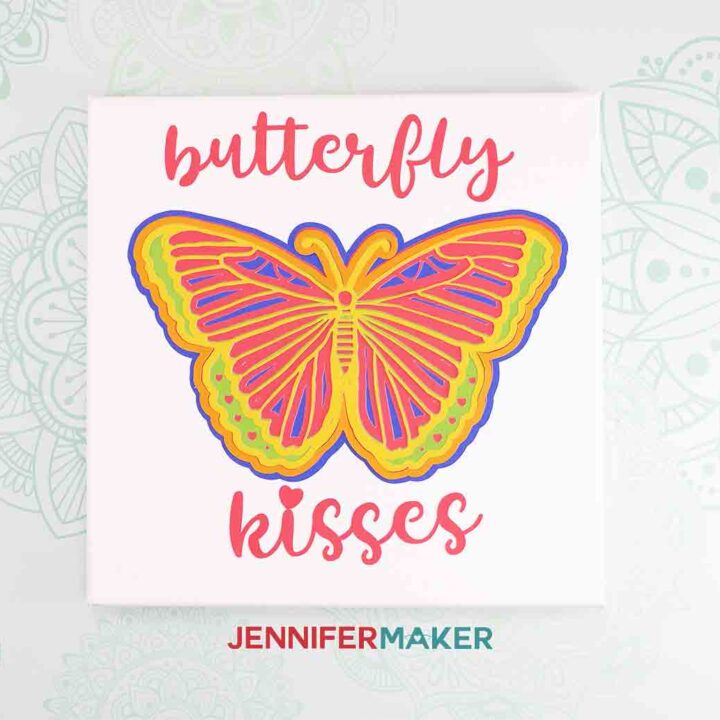 3D Butterfly Wall Art
This tutorial will show you how to make a fun and easy project with your Cricut in just a matter of minutes...a beautiful 3D Butterfly Mandala you can give as a gift or hang on your wall.
Answers to Your Questions About How to Make 3D Butterfly Wall Art
Q: How do I get the new Cricut Explore 3 cutting machine?
Order a Cricut Explore 3 at the Cricut Shop!
Q: You said I could make it with my Joy, but the design doesn't fit!
You will need to resize the SVG in order for it to fit on the Joy! You can either change the size by moving the selection handles of the butterfly, or change the measurements to a maximum of 4.495".
Q: Won't it look strange if I place it on a 10" x 10" canvas after resizing it down that much?
You could choose to make several small butterflies on a large canvas, or, if you wanted to keep the project looking the same, a 5" x 7" canvas would work fine!
Q: Could I use cardstock instead of sticker paper?
That's a great idea! You can see how I used cardstock on canvas for another butterfly project by looking at my Paper Butterfly Canvas Wall Art Heart!
Q: Can I use my Explore Air 2 to cut this out?
Absolutely! Any Explore or Maker can create the 3D Butterfly Wall Art!
Get my free SVG files to create these Adorable 3D Butterfly Wall Art Pieces
I'd love to see YOUR beautiful 3d butterfly wall art projects and how you choose to decorate them! Please share a photo in our Facebook group or tag me on social media with #jennifermaker.
Love,