Learn how to make this trendy home decor painting project—a Hot Mess Canvas! It's so easy to personalize and makes a wonderful gift!

Today we're making a hot mess canvas! If you haven't heard of these, hot mess canvases have been taking the Internet by storm the past year or so. It is similar to a regular stencil project like the DIY Christmas Mason Jar — it just has a twist! Basically, it's a reverse stencil where the base layer is a crazy mishmash of colors. Hence, a "hot mess."

One of the biggest issues I see with hot mess canvases is paint quality. So I tested two different paints. I also tested a foam brush vs. a stencil brush to see which one worked better!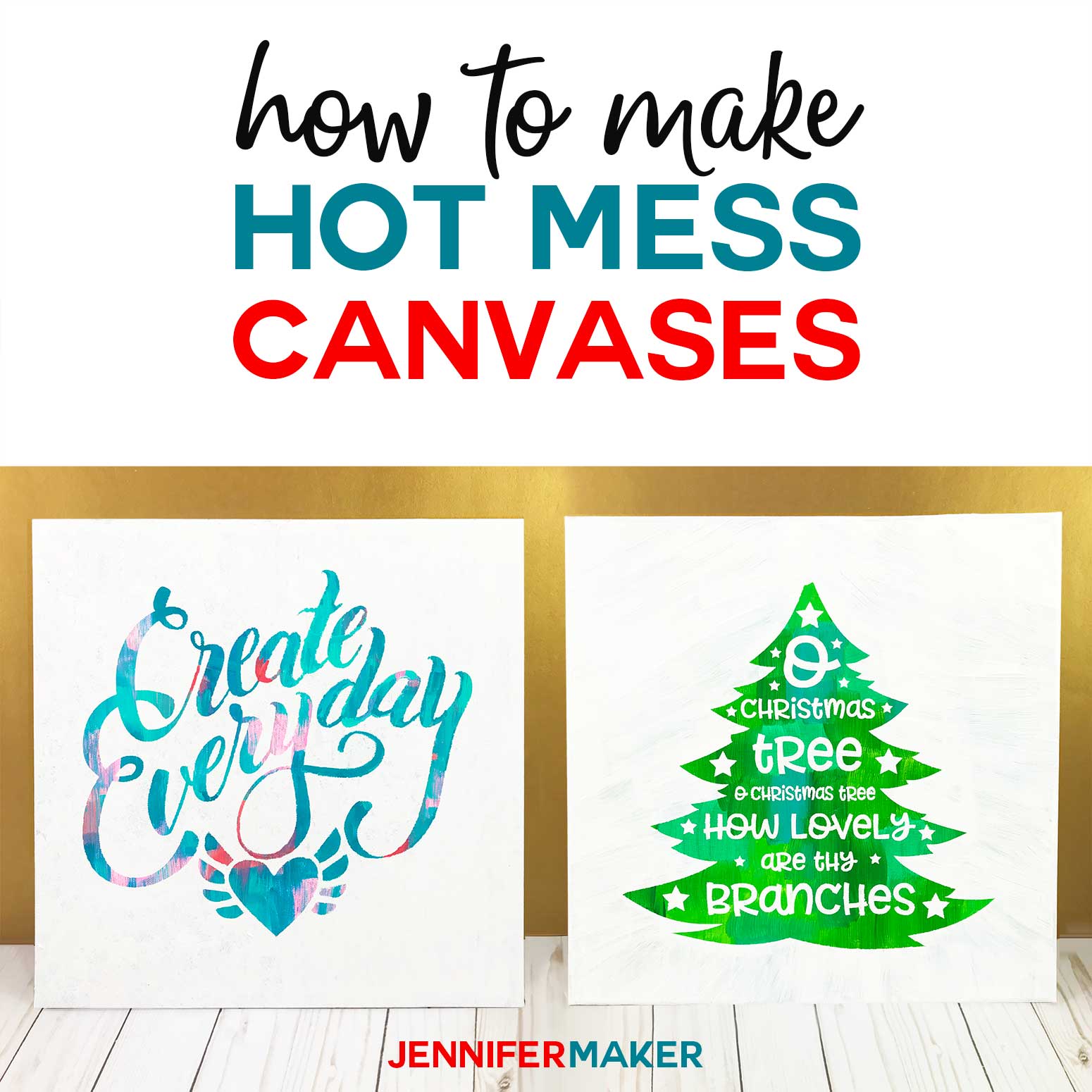 Much gratitude to many readers who requested this unusual painting project (Cyndi B., Carla R., Aurora M., Mary, and Kathy). Each person who contributed this project idea will receive an extra entry for your idea (I am keeping track of this on my end). And don't forget, you can suggest project ideas for this Challenge here and receive entries to win one of our awesome prizes, including a Cricut Maker!
Key concepts taught in this tutorial include how to weed, burnish, and apply acrylic paint over a vinyl stencil.
See exactly how to make a Hot Mess Canvas in this tutorial video below:

So let me show you how to make a hot mess canvas! This post contains some affiliate links for your convenience (which means if you make a purchase after clicking a link I will earn a small commission but it won't cost you a penny more)! Read my full disclosure policy.

Materials for the Hot Mess Canvas
How to Make a Hot Mess Canvas with a Cricut
Step 1: Prepare Your Canvas
Paint your canvas using acrylic paints. It doesn't matter what colors you use, but do try to keep the paint flat on the surface — that will help your vinyl stick better.
Allow your canvas to completely dry. I waited 12 hours for both of mine.
Watch our video to see this step in detail.
Step 2: Get My Free Hot Mess SVG File
Get the free Hot Mess Designs (Design #117) I created from my free resource library (get the password to the library in the form at the bottom of this post).
Step 3: Prepare Your Stencil Vinyl Design File for Cutting
If you're going to cut the stencil out on your cutting machine, upload the file to your design software.
Tip: If you're not sure how to upload an SVG cut file to Cricut Design Space, watch this helpful video training series I made. If you're on an iPhone or iPad, here's how to download and upload SVG files to the Cricut Design Space app.
Measure your canvas and resize the design in Cricut Design Space as necessary, then cut it out in vinyl (I recommend Oracal 651 or Oramask).
Step 4: Cut Your Design
Using a Cricut LightGrip cutting mat, place your vinyl on the cutting mat, select the proper cutting material, and load your fine-point blade into your Cricut machine.
Note: Not sure which side of the vinyl goes down on your mat? Read my guide here!
(If you have any issues cutting, check out my Cricut Cutting Problems Guide because it tells you all the tips I use to get clean cuts consistently!)
Step 5: Weed Your Design
Weed your vinyl so only the design remains for your hot mess canvas.
Watch our video to see this step in detail.
Step 6: Transfer Your Stencil Design to Your Canvas
Transfer the vinyl design to a sheet of transfer tape.
Place the transfer tape and the vinyl onto your dry, painted canvas (sticky side down) and burnish well. I used both a burnisher and a scraper. If your canvas is in a frame, turn it over so the canvas is against a surface and burnish from the back. It may be difficult to get your vinyl to stick to the canvas — just be patient and work slowly.
Remove the transfer tape so only the vinyl remains on your hot mess canvas.
Watch our video to see this step in detail.
Step 7: Paint Your Canvas
Using just a little paint, gently dab around the edges of your vinyl design. It's important you not use too much paint or its more likely to seep under your design.
Cover the rest of the painted surface with your paint. Always brush away from the vinyl.
Allow your canvas to dry at least 4 hours.
Watch our video to see this step in detail.
Step 8: Remove the Stencil Vinyl to Reveal Your Design
Gently remove the vinyl using a weeding tool. Underneath is the pretty "hot mess" you created with your paints at the start of this project!
Watch our video to see this step in detail.
Get my free SVG cut files and patterns for the Hot Mess Canvas
I think they're really called Hot Mess Canvases because you kinda feel like a hot mess while you're making them. I'm not even kidding. The base painting was fun if a little weird. But the weeding and sticking the vinyl to the canvas… that was a challenge. And it sure seems like both the type of paint you use and the brush makes a difference. You're going to need a little patience.
Still, my hot mess canvases came out fine! The Christmas tree canvas is my favorite. And what I love about them is no vinyl left on them — it's just canvas and paint. Now that they're done, one will go in our entryway for the holidays and the other is going up in my craft room! And I think these would make great gifts, too.
If you make one of these crazy hot mess canvases, please share a photo in our Facebook group, or tag me on social media with #makershowandtell and #jennifermaker.
See all of the projects, tutorials, and free designs in The Great Maker Show and Tell Challenge! There is one for each day of the 25 Days of Christmas! This is my gift to you for the tremendous support, enthusiasm, and love you've shown to me and my little blog over the past two years. To "open" a gift, hover over the day's image and click the download icon.
[ess_grid alias="25days2″]
Love,