Learn what Cricut Access is and is not, and how to use Cricut Access to save money, design better, and get exclusive perks!
Confused by Cricut Access? Wondering if it is worth it? And — more importantly — do you need Cricut Access? I get questions like this all the time, as well as "How does Cricut access work?" and "How do I access Cricut Access?" And then there's the most common question — "Do I need Cricut Access to use Design Space?" I personally use Cricut Access and really enjoy access to all of the images and fonts, especially the fonts, as well as the discounts. This guide answers ALL of your questions about Cricut Access!
The big question we get is "Is Cricut Access Worth It?" Here are 10 reasons why I personally think it's a great value and why I have it:
You get access to over 200,000 images for a relatively low price. And images are added weekly.
You have access to 700 fonts, including WRITING fonts. (This is reason enough alone for me.)
If you ever buy images or fonts from Design Space, an Access subscription pays for itself very quickly.
Faster member support. Like twice as fast. You get priority support over those who do not have Access.
10% savings on all product purchases on cricut.com — machines, accessories, materials, and more – including sale items!
Access to special features in Cricut Design Space, like Automatic Background Remover, unlimited collections, and more shapes
Exclusive discounts on products, like the mystery boxes with Cricut Cutie figures
Exclusive product offers — some products can only be purchased by Access members
Tax deduction if you have a craft business
Craft faster because you don't have to buy or hunt for free stuff or make it yourself!
HOT TIP: Mystery Boxes with Cricut Cuties are a Cricut Access exclusive as of March 2020!
Keep reading to learn more Cricut Access, how to get it, and how to use it!
This post contains some affiliate links for your convenience (which means if you make a purchase after clicking a link I will earn a small commission but it won't cost you a penny more)! Read my full disclosure policy.
What is Cricut Access?
Cricut Access is a subscription plan that allows unlimited use of over 200,000 of Cricut's graphics and fonts and ready-to-cut Cricut projects. Access subscribers also get discounts on Cricut.com purchases, a Priority Member Care Line to contact, and special offers on products reserved just for Access subscribers.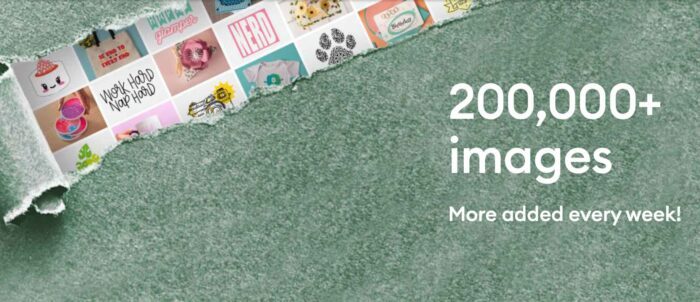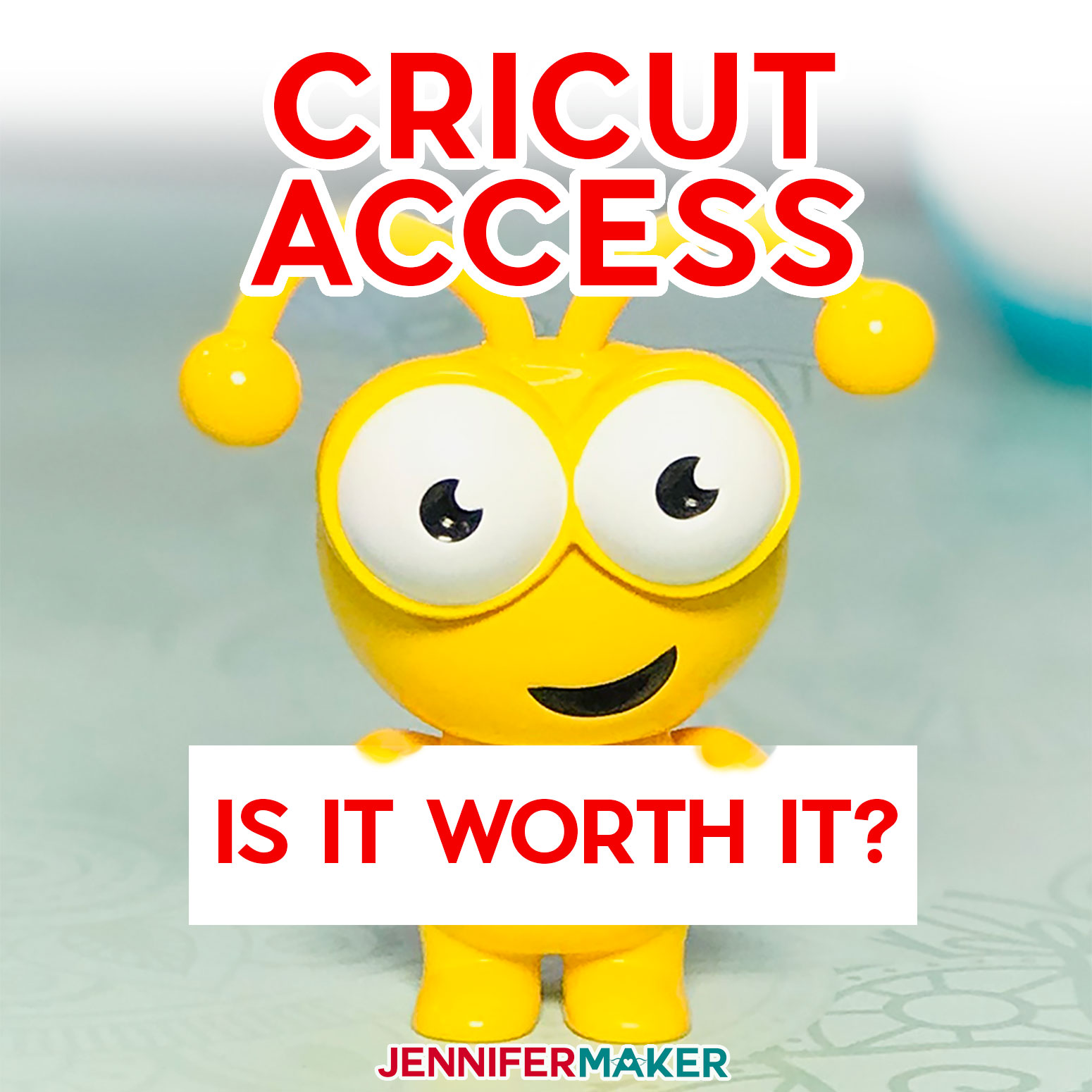 How do I get Cricut Access?
On Desktop: Go to the Cricut Shop, click on Cricut Access, and choose a plan. Be sure you are signed in with the email you normally use for Cricut Design Space to ensure you can see all of the images and fonts in Access!
On Mobile: Cricut Access plans can also be purchased through Cricut Design Space on a mobile device (iOS or Android). To access this option through the mobile apps, be sure they're completely up to date (v3.0.0 for Android, v4.0.0 for iOS). To actually sign up, open the Design Space app, sign in, tap the menu in the upper left corner, select Cricut Access., and tap Sign Me Up. In-app purchases are processed through your iTunes account, so an order summary from the App Store will appear. Now select Confirm, enter your Apple ID password and select Sign In to authorize the purchase. Your Cricut Access plan will activate instantaneously. (Click here for Android directions.)
Note: Your Cricut Access plan is available on all platforms once purchased. So if you buy it on mobile, you can still use it on desktop (and vice versa).
How much does Cricut Access cost?
There are three different plans for Cricut Access.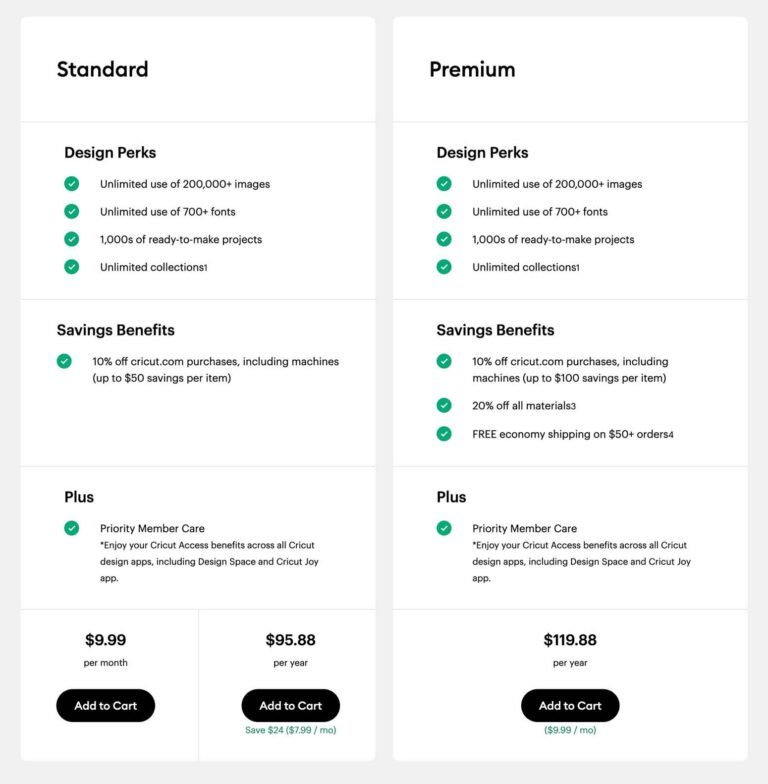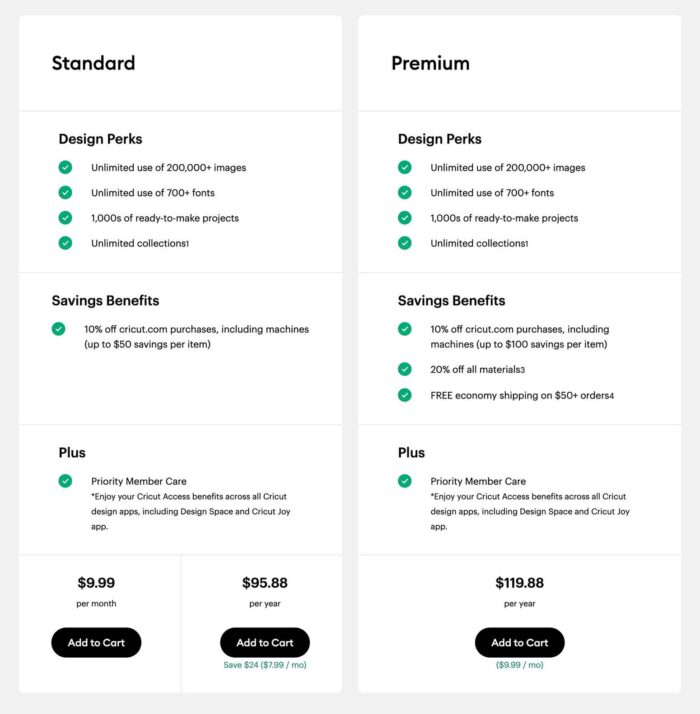 Can I use your discount code to get a discount on Cricut Access?
No. But you CAN use it after you have Access and combine it with your Access discount. Get my Cricut Discount Code here.
What is the difference between Cricut Access and Design Space? Do I need Cricut Access to use Design Space?
Cricut Access is an optional subscription plan that provides benefits such as access to Cricut images, fonts and projects for free and licensed designs at a discounted price. Cricut Design Space is the free software you use to create or upload designs and cut them on your Cricut. All Cricut Explore family, Maker and Joy users need to download and use the free Cricut Design Space software.
I didn't sign up for my free trial, can I still use the free trial?
Yes, you can still use your free trial for Cricut Access. Here are the steps to do that:
Open the Cricut Design Space app on your computer or device.

Click on three horizontal lines in the top left corner on your desktop, or the circle with your initials in the top left on the app, to view the Profile drop down.

Click on "Cricut Access"

A new screen will pop up which will show you if you have a free trial available and walk you through the process to use it.
Do I need to have Cricut Access to use my Cricut machine?
No. Cricut Access is completely optional.
Does Cricut Access work for my legacy Cricut machine (Cricut Personal, Create, Expression, Expression 2, Mini, Cake, Cake Mini and Imagine)
Unfortunately, no. Legacy machines are not compatible with Cricut Design Space. Legacy machines with the exception of the Cricut Mini, are now used as standalone machines since the shutdown of Cricut Craft Room. If you are interested in owning a new Cricut, please enter our Cricut Giveaway.
Should I get Cricut Access?
Cricut Access is a great money and time saver for frequent crafters. If you like using different images and fonts, especially licensed images and projects, you'll find Cricut Access to be a good addition to your crafting. It also saves you time since you don't have to scour the internet looking for images or fonts. Also, if you order products from Cricut.com, the savings could add up and pay for itself!
How do I know if I have Cricut Access already?
If you are logged into your Cricut account either via the website, Design Space for Desktop or one of the Design Space apps, you can click to view My Account. From the drop-down menu, choose Cricut Access. The pop-up screen will let you know if you're currently subscribed and when that subscription will renew.
This is what you see on Design Space Desktop if you are NOT subscribed to Cricut Access: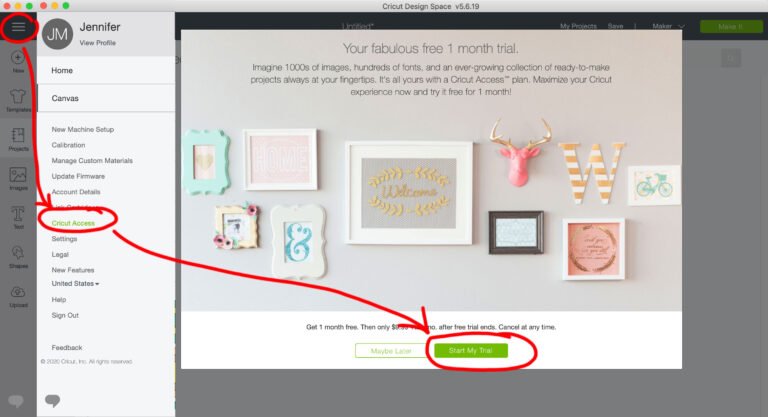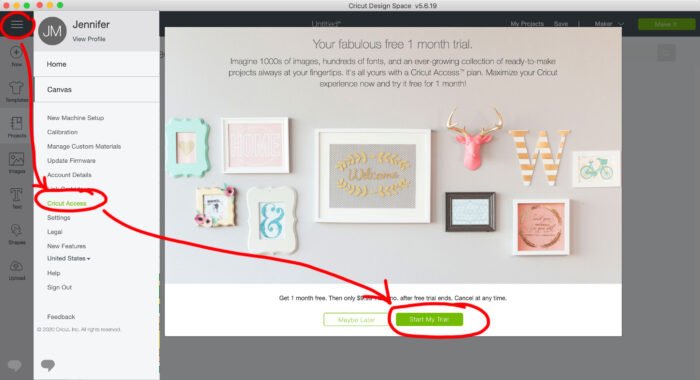 And this is what you see on Desktop if you ARE subscribed to Cricut Access: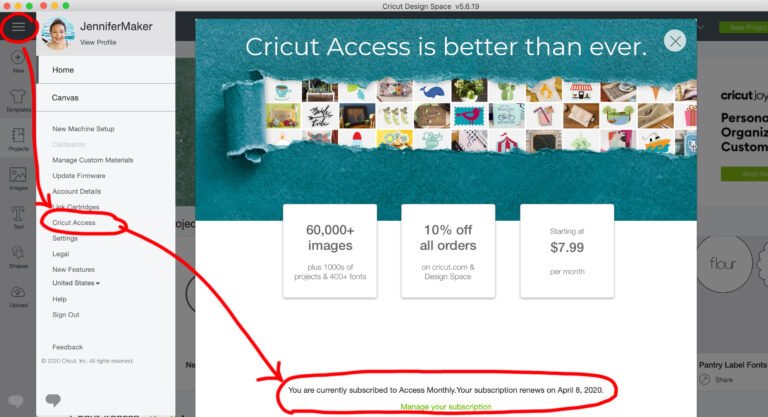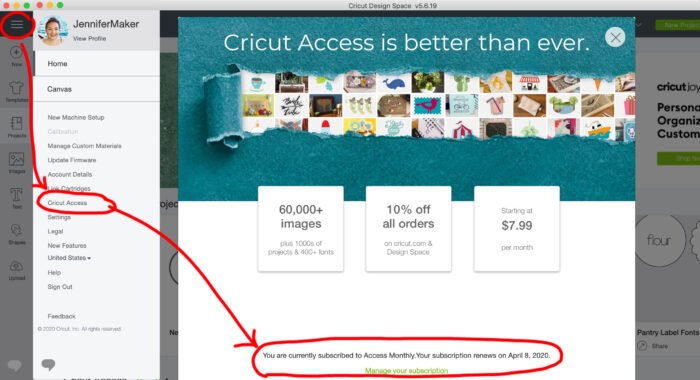 You can also tell from within the Cricut Shop when logged in. Click on My Account, then click Subscriptions to see your status. Note the expiration date and auto renewal dates.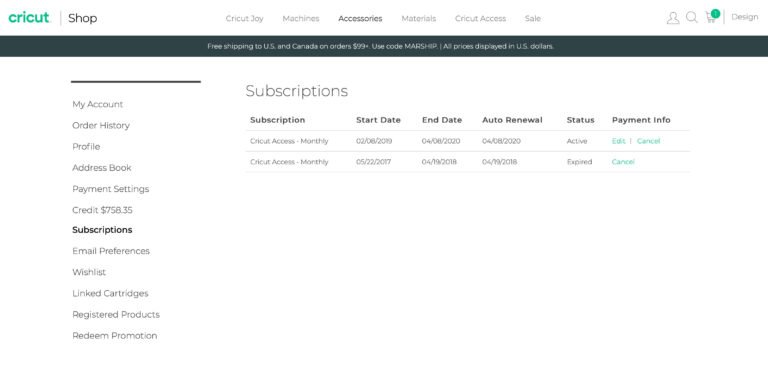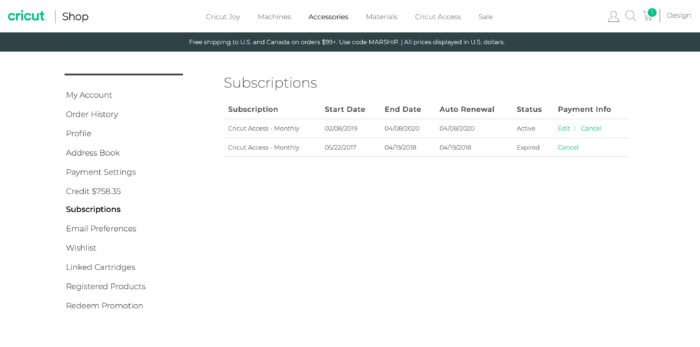 Do I have to live in the US to subscribe?
No, but not all plans are available in all countries. The Cricut Access Standard options vary depending on where a Cricut user resides.
Cricut Access Premium is only offered to users in the US and Canada.
US, UK and Canada Cricut users can subscribe to monthly or yearly Access Standard.
Users in all other countries can subscribe to the monthly Access Standard option via the Cricut Design Space app for iOS or Android.
What is the difference between Standard Access and Premium Access?
Cricut Access Standard (billed monthly or annually) has the following benefits:
Unlimited use of over 200,000 Cricut images
Unlimited use of hundreds of beautiful fonts
Unlimited use of thousands of ready-to-cut Cricut projects
10% savings on all physical products purchased at Cricut.com including sale items.
10% savings on premium licensed images, fonts and ready-to-make projects purchased through Design Space for Desktop. (Discount does not apply to purchases made through iOS/Android app)
Access to a Priority Member Care Line (50% less wait time)
Cricut Access Premium (billed annually and only available in US and Canada) includes the following:
Everything in the above regular Cricut Access Standard plan PLUS…
20% off all materials
FREE economy shipping on orders over $50
How can I tell if a design is included in Cricut Access?
While you're in Design space, if you see an image, font or project with a small green flag and the letter "a" in the top left corner that identifies the item as one that is included with a Cricut Access subscription. If you have a Cricut Access subscription, instead of showing a price at the bottom of the image box, it will say "Subscribed."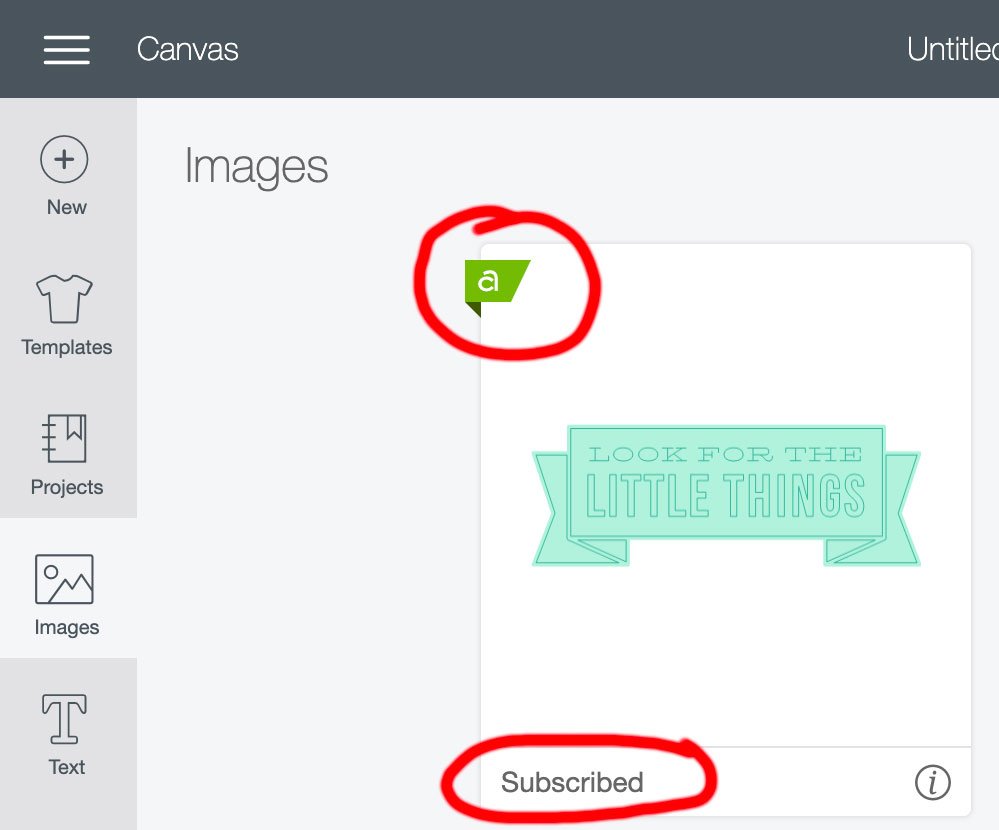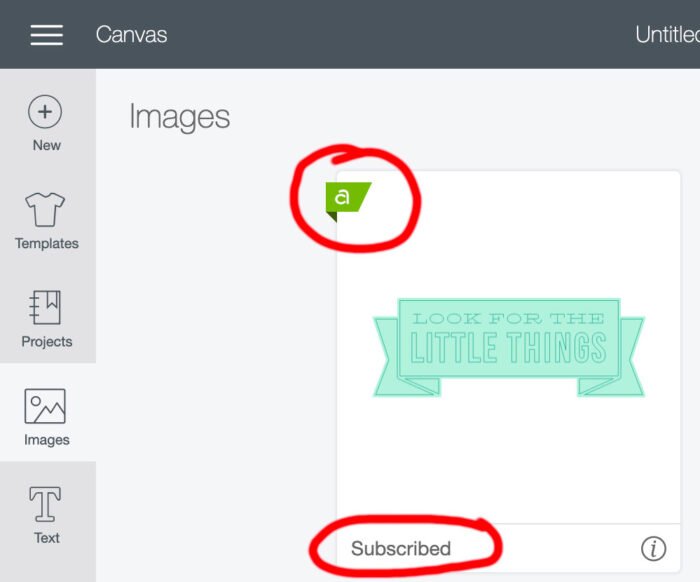 You can also view Cricut Access designs by choosing Cricut Access in the filter options.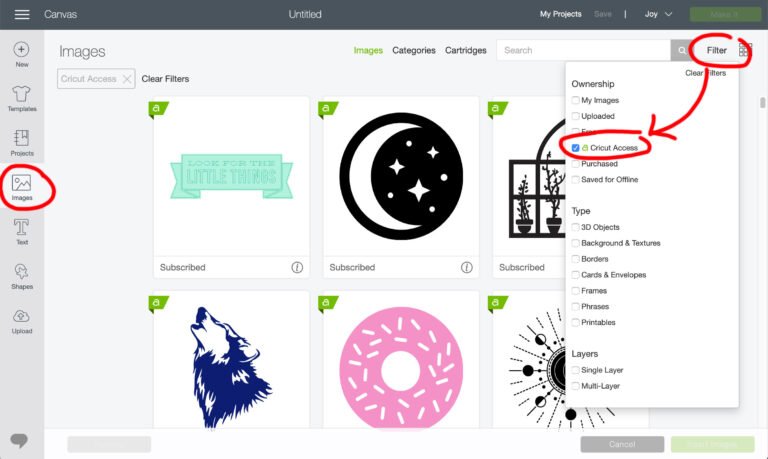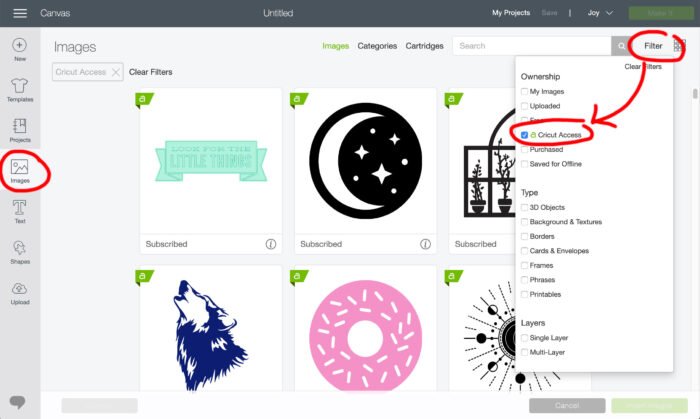 You can see a complete list of the images included in Cricut Access at https://help.cricut.com/hc/en-us/articles/360009424614-Cartridge-Handbooks
What happens if I use a Cricut Access image in a design, then later don't subscribe? Can I still use the design I made?
Images, font or projects you previously used for free as part of your Cricut Access subscription will be available for you at a cost if you are no longer a subscriber. You will be prompted to pay the fee when you click on the Make It button.
Can I sell items I create using Cricut Access designs?
Please refer to Cricut's Angel Policy for an explanation of how you may be able to sell items incorporating Cricut Access images, fonts or designs. Please note that Cricut's Angel Policy is subject to change.
If I don't subscribe to Cricut Access, can I still buy the images?
Yes, all images, fonts and projects are available for a one-time fee. The price is displayed in the bottom left of the preview box when you're scrolling through all of the images. Once you purchase the image, it is yours to use as often as you want as long as it is still available through Cricut Design Space.
How do I change my Cricut Subscription or cancel?
Cricut Access subscriptions renew automatically. You can manage this auto renewal at https://cricut.com/customer/account. If you subscribed through your iOS or Android app, you will need to modify or cancel your subscription through iTunes or Google Play. Learn more about how to cancel on Cricut.com.
If you want to upgrade from Standard to Premium, just go purchase the Premium, and once that is complete, go to your Subscriptions and cancel your monthly plan. If you prefer to maximize your time, wait until the last day of your monthly plan (the day before it renews) and then purchase Premium — just be sure to also cancel monthly. This is how I did and it worked perfectly.
If I cancel Cricut Access, can I subscribe again?
Yes. If you cancel, your subscription will remain active until the end of the current billing cycle. If you want to restart your Access subscription at any time, you can do so by logging into your Cricut Account on the website and purchasing the Access subscription you want at https://cricut.com/en_us/cricut-access.html. You can also purchase through the Cricut Design Space app, by viewing the My Account drop down and then tapping on Cricut Access.
I have more questions about Cricut Access. Who can I ask?
If you have more questions regarding any of the above information or if you have a question we haven't covered, feel free to contact us at [email protected] or come on over to our awesome Facebook group and ask!
If you have a question regarding your Cricut Access account, please contact Cricut Member Care at https://cricut.com/en_ca/contact-us.
Love,