Jennifer Maker is that crafty friend you go to when you need help, because I can make ALL the things … and I'm always happy to show you how to do it, too!
I teach and inspire millions of makers to create beautiful things through detailed tutorials and videos filled with clear directions for every step of the way. I am well known for sharing professional-level designs completely free, enabling makers to afford the tools that can take that project to the next level. I believe we can do more and go further with technology, and teach you how to use it to bring your vision to life. Through my blog, channel, and academy, I de-mystify everything from supplies and equipment to techniques and styles, inspiring the confidence to create beauty and realize your dreams. I believe we can craft a life we love by making what we love … and I can show you how!
Brand Reach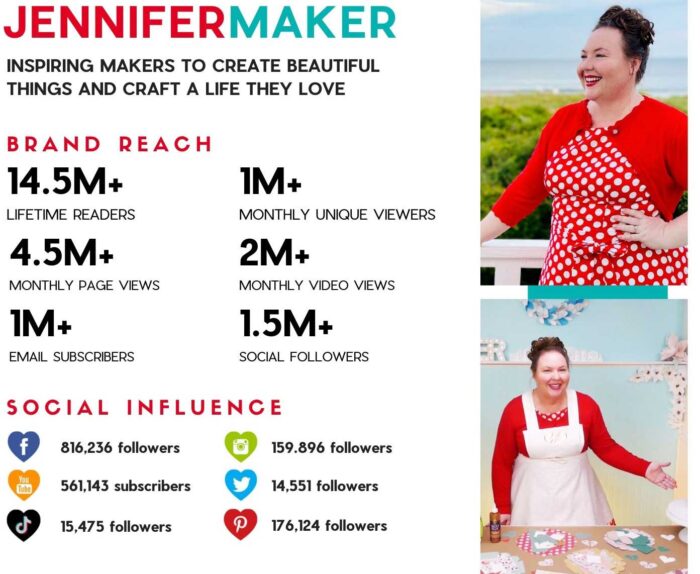 Marketing Opportunities
JenniferMaker is a fast-growing and popular content creator focused on crafts and DIY projects, with special emphasis on technology-enhanced maker tools and techniques, including cutting machines, sewing machines, laser cutters, 3D printers, and all of the peripheral tools and supplies that go along with them. If you're interested in collaborating, I offer a variety of mutually-beneficial opportunities for your brand and mine to work together and achieve more.
Television and Video Partnerships
I love to reach and help makers visually, and video is the ideal way to show and teach how to make things. In my videos, I speak to my maker friends directly, relaying information naturally, intelligently, and credibly. I record my videos at the JenniferMaker Studios, a 5000-sq-ft recording space with custom-built sets and inhouse video editors — my video genies — that allow me to really show creating in full clarity.
Product Licensing
I'm all about the right tools for the job, and I love to share my favorite maker machines and materials with everyone. When I believe in a product and brand, I love to tell everyone about it and show them how to make the most out of it. I already showcase many products and brands I believe in on my channel and blog, simply because I adore them.
Design Licensing
I am an award-winning graphic designer with 35 years of professional experience at creating beautiful designs. I am joined by an inhouse team of designers — my design fairies and pixies — who help me create popular and easy-to-use designs for a wide variety of audiences.
Brand Ambassador
A friendly face, warm smile, and authentic voice can bring any brand to life in a personal and relatable way. A partnership with JenniferMaker is an exceptional way to grow and strengthen your brand's exposure, recognition, and trust. And when it comes to spreading the word online, I have over 30 years of online experience (pre-dating even the "World Wide Web") and I and know how to use social media to inspire, motivate, and reach the right people. My "social bees" (inhouse social media engagement experts) and I work together to reach audiences you never imagined possible.
Brand Sponsorships
I love to work with brands that align with my own brand and core values. If you have an idea, and are willing to allow me to donate or give away proceeds from the sponsorship agreement, let's talk!
Product Expert
As a brand loyalist, I love to deep dive into a favorite brand's offerings and become a product expert, teaching all the ways to make the most out of what is offered. I love to research, prepare, and give my fellow makers a well-organized look at all of the amazing things they can do! And I support everything I teach, with help from my customer and crafter support team — my "heroes" — who answer every email and message about our projects and products.
Speaker
I love to share my story, teach my principles, and inspire others to go to that next level. I speak virtually and at live venues.
If you're interested in exploring these opportunities, please contact me at [email protected].
Note: I do not accept sponsored content, as I believe trust is built on authentic, organic content. I also do not accept free products, as I believe in purchasing everything myself so I can appreciate the value they offer to my makers.