Learn how to get the cleanest cuts possible on your Cricut with these helpful troubleshooting tips!
The Cricut cutting machine is an amazing invention. It lets us create SO many beautiful things. But sometimes, the cuts aren't as clean as we'd like, and it's not always obvious WHY or what we should do to fix it. So today I'm going to go over the five things you need to pay attention to when cutting on your Cricut Explore or Cricut Maker. With this, you can fix nearly any Cricut cutting problem and create those beautiful, clean cuts!
The five things to pay attention to are your MAT, BLADE, MATERIAL, SETTING, and PATTERN. And that's the exact order I go in when I'm troubleshooting a cutting problem, too.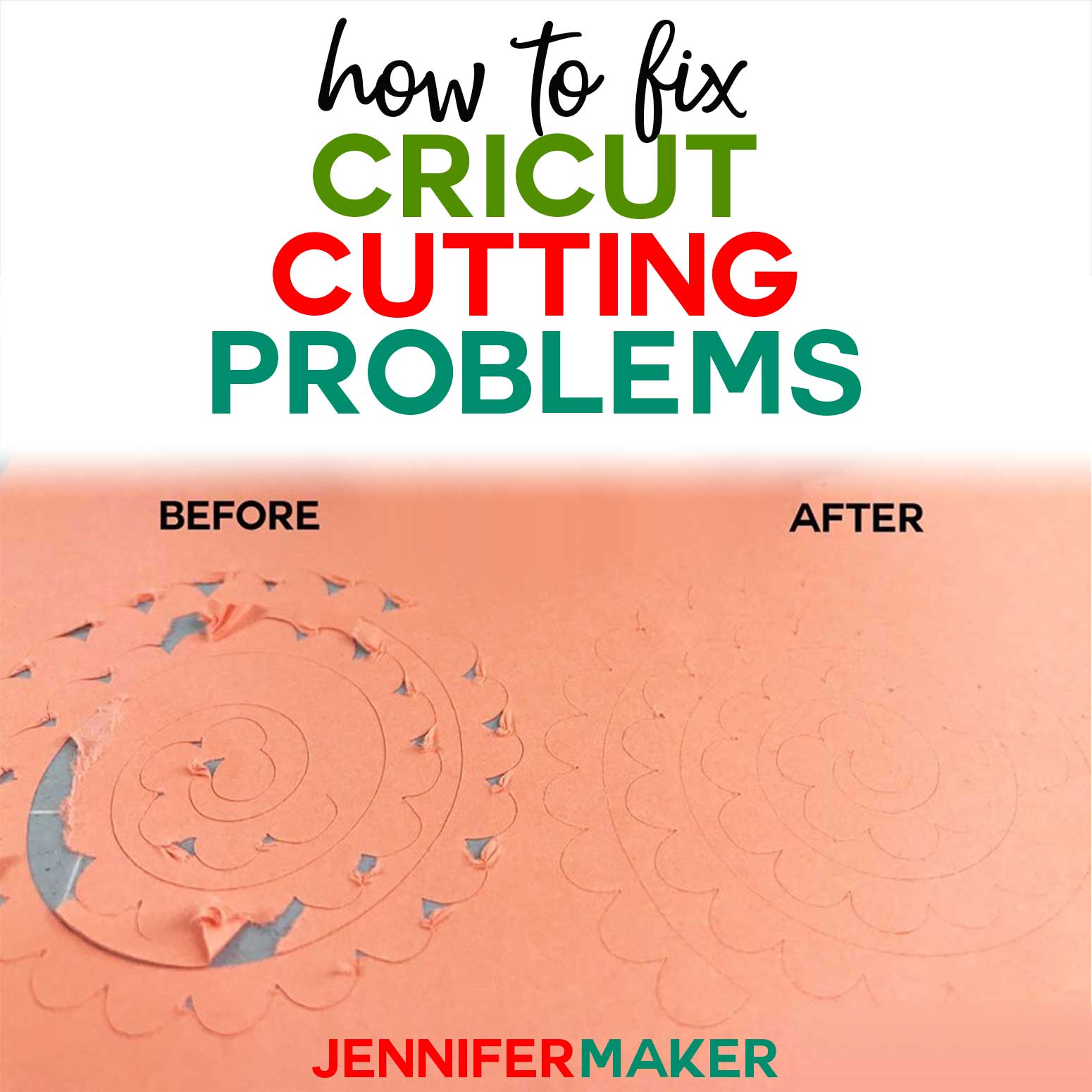 Cricut Cutting Problem Solution #1: Use a Sticky Mat
Your Cricut mat needs to be pretty sticky in order to get clean cuts. So if your cuts aren't clean, the first thing you should do is change your mat. I usually switch to a new or newer mat and it solves my problem right away. If you can't afford a new mat, you can try washing your mat with dishwashing soap and allowing it to air dry to get it stickier, but I'll be honest — it might still not be sticky enough. A sticky mat can make all the difference. And, in fact, I prefer the green mats over the blue mats. I rarely use the purple StrongGrip mats, however, unless I'm cutting some really thick material. Green mats are my friend!
Learn More About Mats: Cricut Cutting Mats: Get Sticky For Success
Cricut Cutting Problem Solution #2: Use a Clean, Sharp Blade
You need to make sure your Cricut blade is clean and sharp. I do this by taking a sheet of aluminum foil and balling it up like this. Then I remove the blade from its housing, depress the plunger, and stick it in and out of the aluminum ball CAREFULLY over and over — maybe 50 times. This cleans any debris from the blade, like bits of paper or vinyl that might be stuck to the blade, and also seems to sharpen it. (It may not actually be sharpening it, but it works!) This technique works for the Fine-Point and Deep-Point Blades. This technique works GREAT for me and I haven't had to buy a new blade in over a year. I always do this to my blades when I'm about to cut something with really intricate cuts.

If your problem is not that your blade isn't cutting all the way through but rather that it's cutting TOO MUCH, it may be that you're using the wrong blade. Check your packaging — you need to use the Premium Fine-Point (German Carbide) blade with the Cricut Explore and Cricut Maker. The Premium Fine-Point Blades can be identified out of their packaging by the color of the caps, either WHITE or RED. Do not use the gray cap blades — they are made for older Cricut machines and are too long for the Cricut Explores and Makers.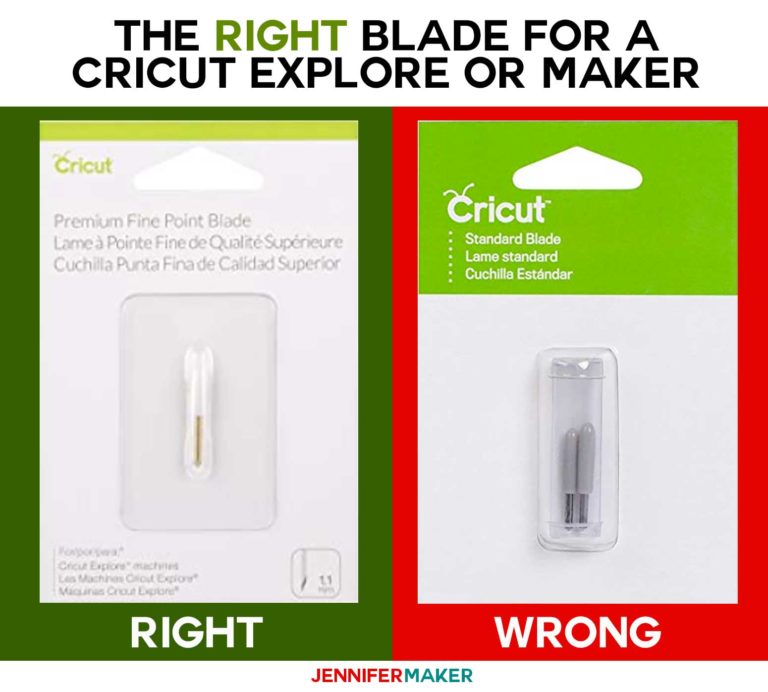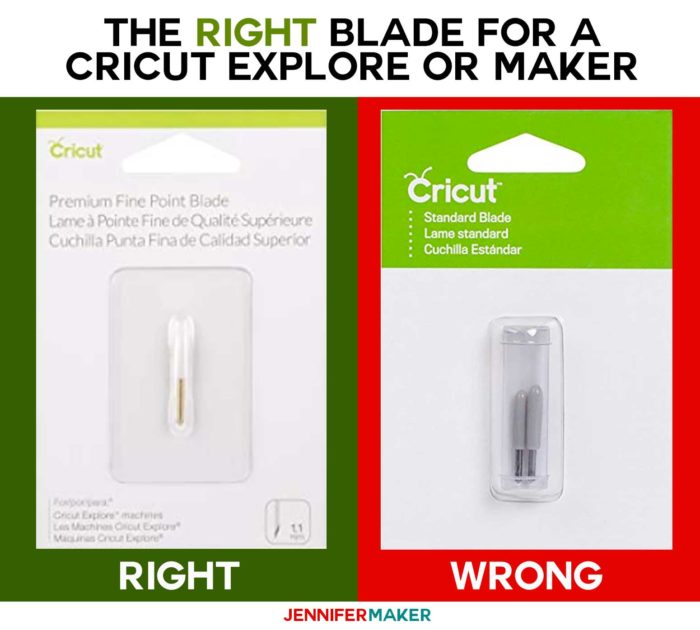 Learn More About Blades: Cricut Blades: Tips and Tricks for Cleaner Cutting
Cricut Cutting Problem Solution #3: Use Quality Materials
Your material can make a big difference in how it cuts, too. For example, not all paper is created equal. If the fibers are weaker or shorter in the paper, which you usually find in lower quality paper, you'll get more tearing. So if your paper doesn't seem to be cutting well even after using a sticky mat and a clean blade, the paper itself could be the culprit. There have been many times when I've had an issue and then changed to a new paper only to have everything work perfectly. Cricut paper is high quality, so is Recollections. Stay away from Park Lane brand (sorry!). So before you give up on that project, try a new paper!
Tip: If you use textured paper, put your paper textured side UP on your mat for the best cuts!!
Learn More About Materials: 16 Best Paper Types for Amazing Crafts
Cricut Cutting Problem Solution #4: Check Your Settings
It's really important that you've got the right settings for your material. I find it works best to indicate the material settings in Cricut Design Space rather than on your Cricut dial. To do this on a Cricut Explore, just rotate the dial to Custom and you'll be prompted to choose your material before you cut it. (Note that the Maker has no dial — you are on "customer settings" by default.) And if that still doesn't seem to help, try increasing the pressure of your cut. This is why I almost always have "More" pressure on my cuts — it seems to always help me get those clean cuts.
Tip: Sometimes when everything else seems right it can help to turn your custom settings to "Washi Tape" — this seems to work best on intricate cuts on vinyl.
Cricut Cutting Problem Solution #5: Check Your Pattern
Not all patterns are going to cut cleanly. The smaller and more detailed and intricate they are, the harder it's going to be to cut them. Sometimes, they are just too small. So you can try making them larger if that is an option. If that doesn't work or is not an option, you can try setting your material to Intricate Cuts if you're cutting cardstock. Or try the washi tape setting if you're cutting vinyl. Neither of these are guaranteed to work, but it's worth a try. In the end, some pattern may just be too tiny or detailed to be cut without issues. This doesn't mean all is lost, however — you may still be able to cut it and just clean it up with scissors or a knife later.
These are all the tips I use each time I go to cut something, and I nearly always have clean cuts on all three of my Cricuts because of it. It does require a certain mindset — you have to go into a project knowing you might need to tinker with it a bit to get it to cut properly. Testing can help a LOT. The key is not to give up. Be persistent and try new things. It really always works for me!
Do you have favorite Cricut blade tip or trick you'd like to share with everyone? Post it here! I always love to hear from you! I will keep adding to this list, too. And if you want to get more Cricut tips and tricks, check out this
list of 45+ Cricut tips and tricks!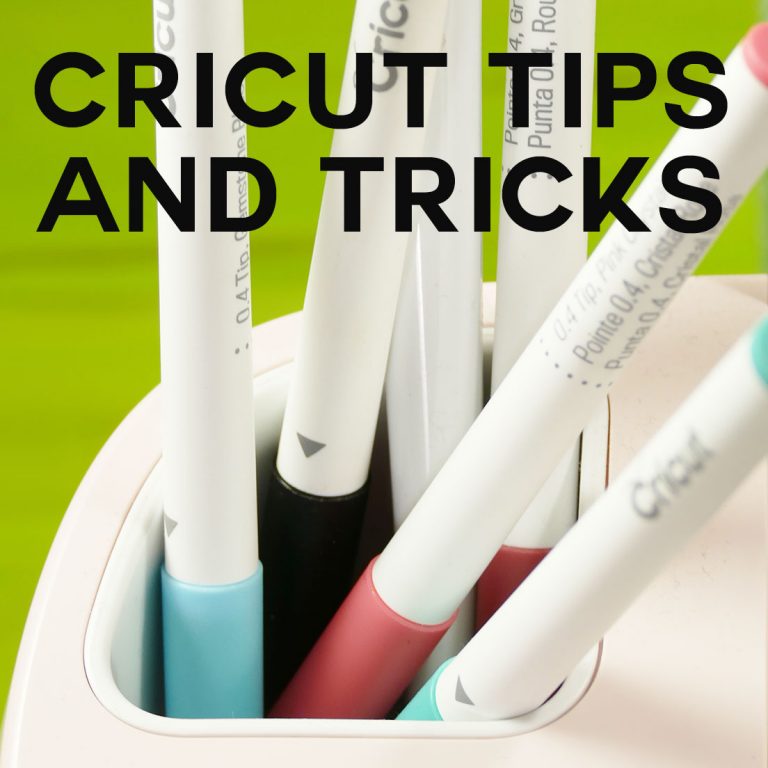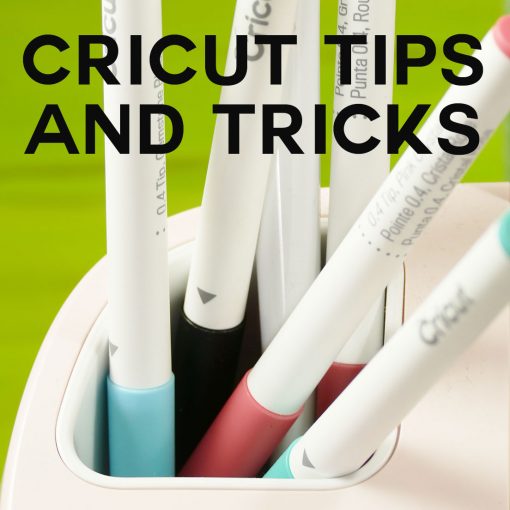 Answers to Your Questions About Cricut Cutting Problems and Solutions
Q: How do I know if my Cricut needs a new blade?
A: Cricut blades are very well made and last a long time. I use the fine point blade most often and mine still make perfect cuts for intricate designs since I follow the tips in this post, especially checking the pressure setting and cleaning the blade. However, if you have tried all my tips including trying a different pattern, new material, a sticky cutting mat, and you're still having cut issues, try a new blade. If the new blade helps, it's possible the previous one was damaged or not seated in the blade housing correctly.
Q: How do I calibrate my Cricut?
A: You will need a printer, printer paper, a LightGrip Machine Mat, and Design Space to create a calibration sheet and calibrate your machine. Open Cricut Design Space and click the top left account menu to access the "Calibration" guide. Select the tool or project type (Rotary Blade, Knife Blade, or Print Then Cut) and then follow the screen prompts to complete the calibration process.
Q: When should I calibrate my Cricut?
A: The first time you use your knife blade or rotary blade, Cricut Design Space will walk you through the steps to calibrate your machine for the tool. Cricut suggests calibrating your Maker each time you swap to the rotary blade. Currently, knife blade calibration requires a Windows/Mac desktop computer. If you have trouble with either of these blades or with a Print Then Cut project, it's time to calibrate your machine.
Q: How often should you calibrate your Cricut?
A: Cricut suggests calibrating your Maker each time you swap to the rotary blade. I also recommend you calibrate your Cricut before beginning a new Print then Cut project.
Q: Why is my Print Then Cut off?
A: Print Then Cut is a complex process, so it requires practice to get the best cut accuracy. There are a few common causes of problems:
Calibration is a common issue for Print Then Cut projects. Use the guide in Design Space to calibrate your machine for Print Then Cut before trying anything else.
Reflective or patterned design elements can confuse the machine's cut sensor, so you may want to add them afterward, if possible.
Your machine may have too much or too little light for the sensor to read the registration marks or cut sensor marks — the black box that prints around your images. Remove direct overhead lights or turn on a light off to the side to create more even illumination.
The sensor may be dirty. You can VERY carefully sweep debris or dust off of the sensor with a clean, dry watercolor paintbrush.
Some types of printable paper are too thick for a Print Then Cut image project. You may have to experiment with different brands to get the best results, especially for sticker sheet products.
Q: Why is my Maker cutting slow?
A: Sometimes, the Bluetooth connection between your computer and Cricut Maker machine is not very strong, which can slow down your work. Connecting them with an USB cable is an easy way to see if the speed increases. You can also check if you need to update firmware for your machine in the account menu, which often helps.
Q: Do Cricut machines need updating?
A: According to Cricut, firmware is already installed into your Cricut. Occasional updates will become available when Cricut adds features or does updates to improve the performance of your machine. When a firmware update becomes necessary to the function of your machine, Cricut Design Space will give you an alert. To learn more about updating the firmware on your Cricut, visit the Updating Cricut Machine Firmware page on Cricut's website.
If you need more help with your Cricut cutting problems, please visit my amazing Cricut Facebook group so we can all help you out!
Love,