The autumn trees are putting on a glorious show for us here in Michigan. Everywhere I look right now I see beautiful oranges and yellows. It's inspired me to create DIY paper flowers in these gorgeous fall hues. I tried my hand at a realistic marigold flower with pleasing results! Marigolds naturally grow in all of those classic autumn colors we love. Plus, next week marks the start of Day of the Dead celebrations (Dia de los Muertos), and marigolds are popular during this time. So let me show you how to make my DIY paper marigold with realistically-shaped petals.
First, to design this paper flower, I traced the petals of a real marigold. As it turns out, there are a number of different shapes of marigold petals, and in varying thicknesses. I decided to make my flower look like the full, lush marigolds you see in the Dia de los Muertos celebration imagery. So lots and lots of tightly packed petals. Typical colors are orange and yellow, but marigolds also grow red, too.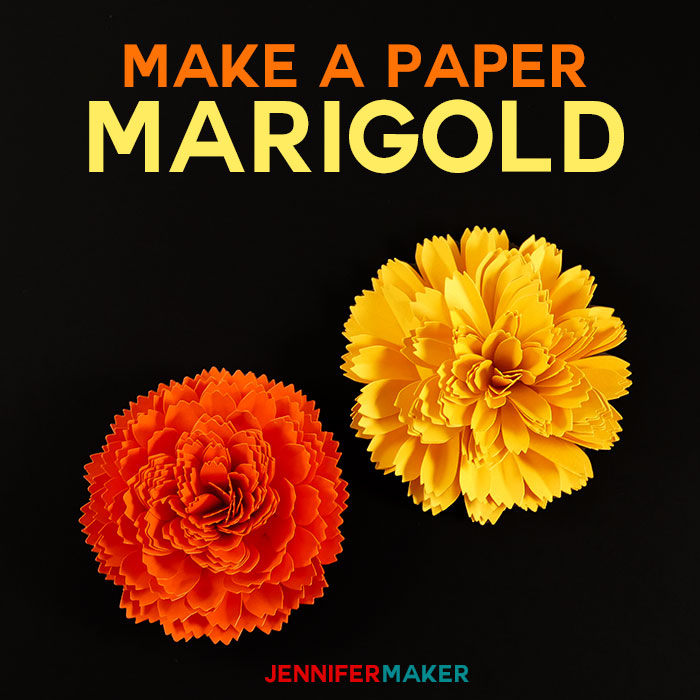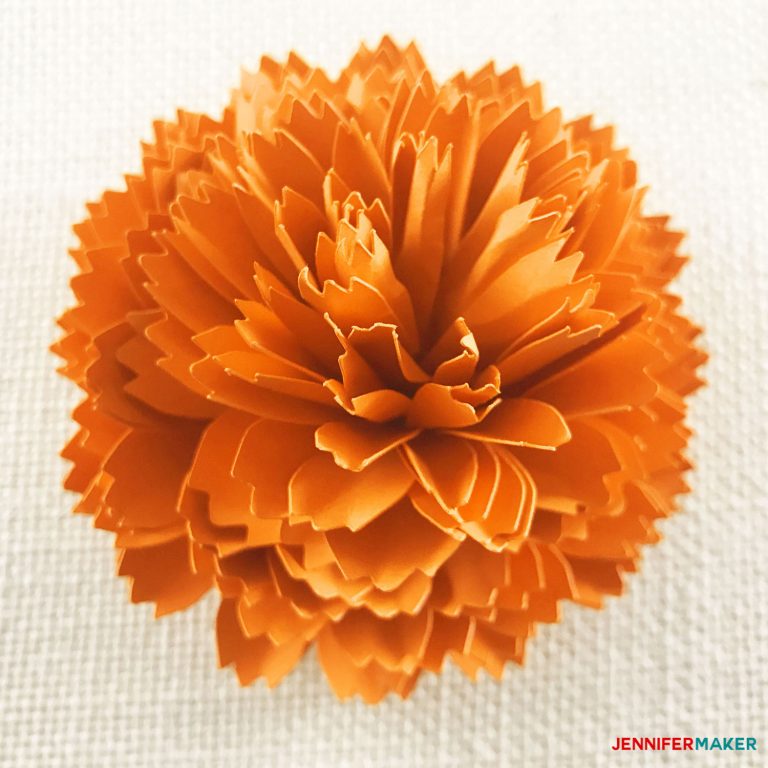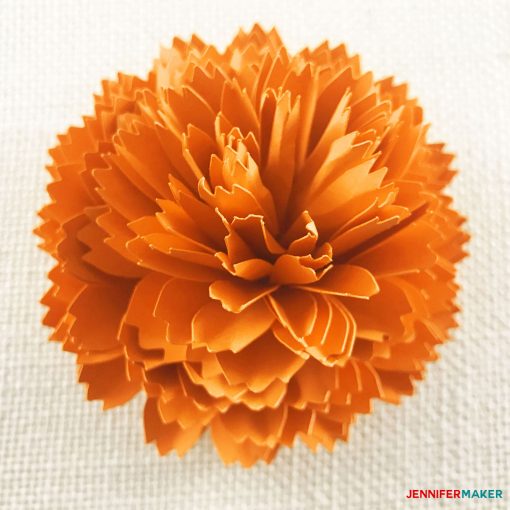 Two of my readers have already made their own versions of the paper marigold! Here is a pretty marigold comb made by June Langley: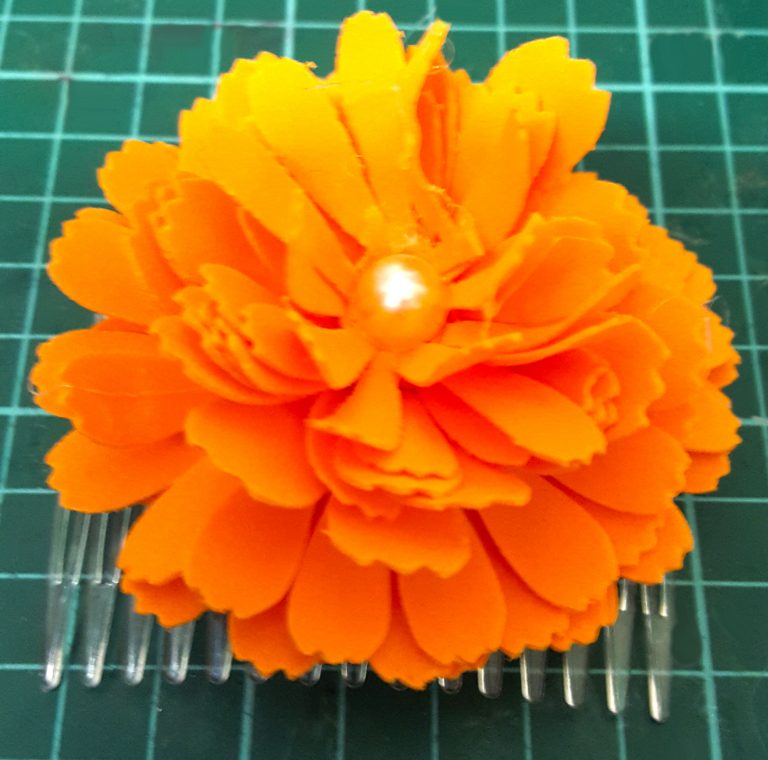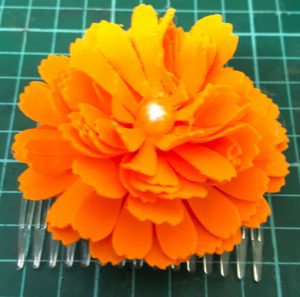 And here is a lovely earthy marigold made by reader Ilia Hernández: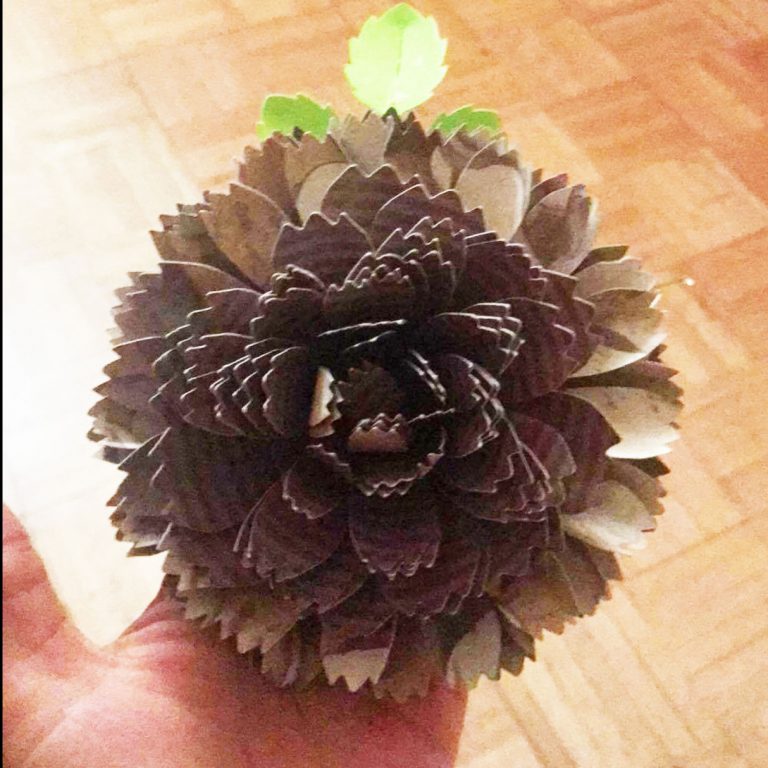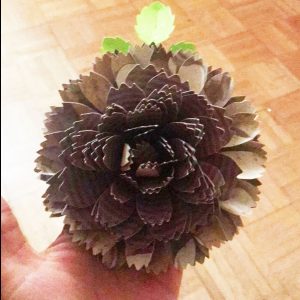 And look at this gorgeous marigold embellishment on this frame by reader June Langley: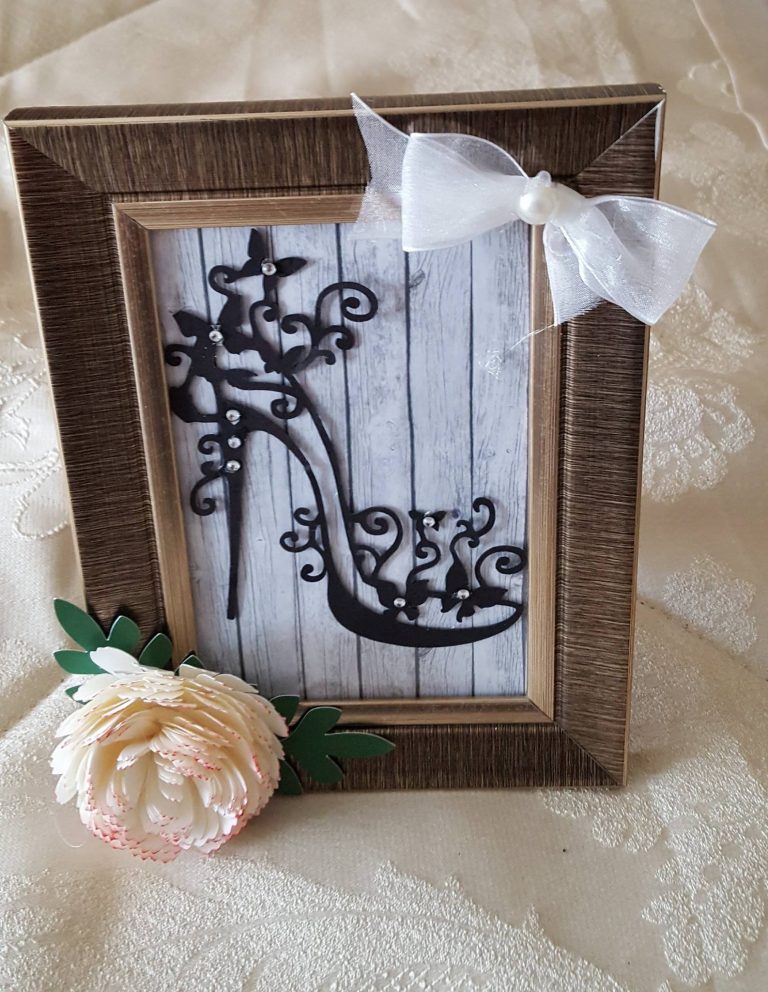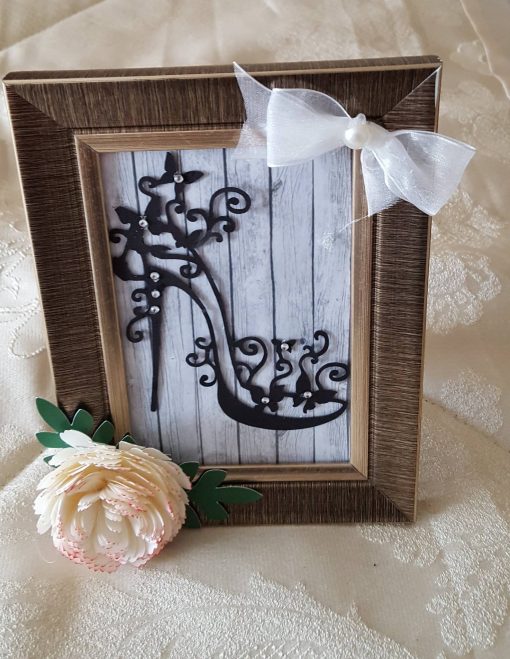 I will walk you through the whole DIY paper marigold project, so let's get started! This post contains some affiliate links for your convenience (which means if you make a purchase after clicking a link I will earn a small commission but it won't cost you a penny more)! Read my full disclosure policy.
DIY Paper Marigold Materials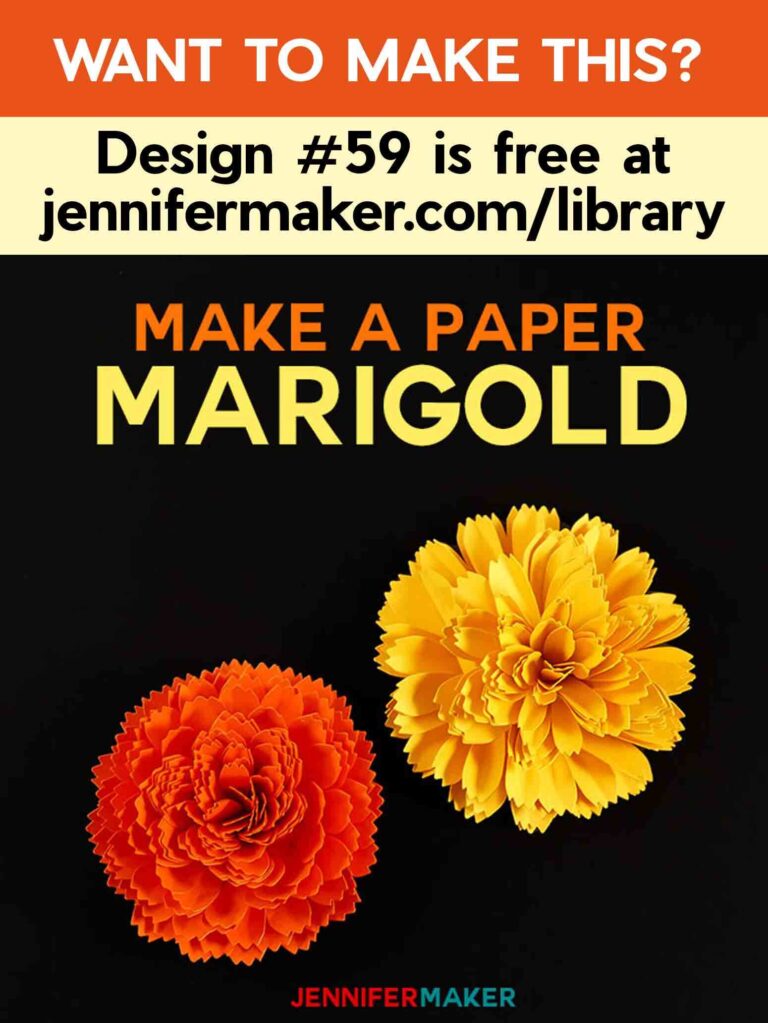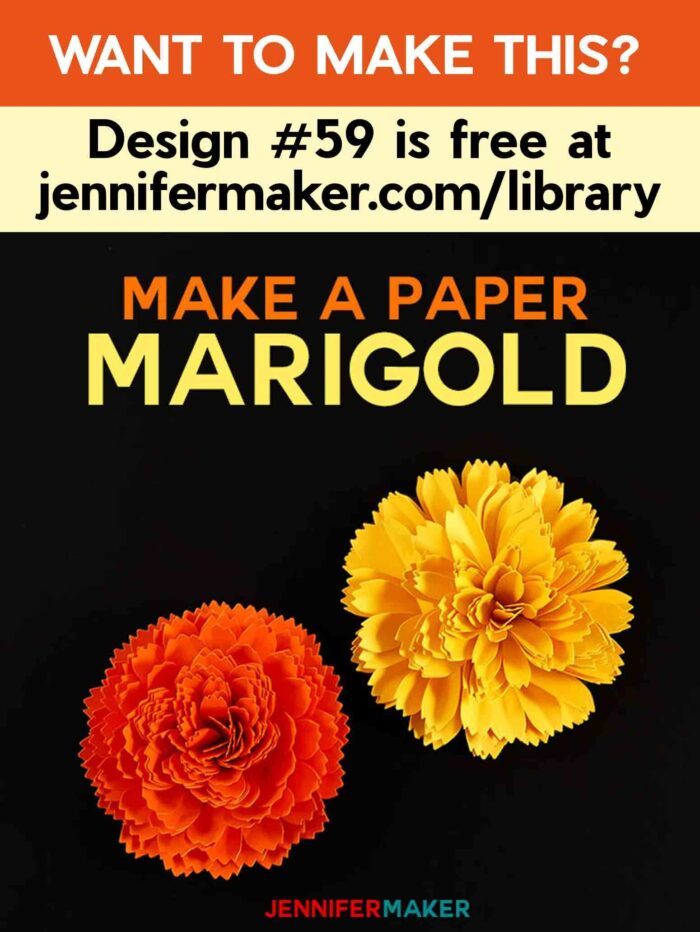 How to Assemble the DIY Paper Marigold
First, download Design #59 which is my free pattern (see the bottom of this post) and cut it out. If you use a Cricut or another cutting machine, the SVG cutting file is included. If you want to cut it out with scissors, there is a PDF included as well.
You need four base petal sets, plus the five sets of bud petals for each flower. You do not need to worry about grouping/ungrouping, attaching, or scoring—this file is good to upload and cut.
Tip: If you're not sure how to upload an SVG cut file to Cricut Design Space, watch this helpful video training series I made. If you're on an iPhone or iPad, here's how to download and upload SVG files to the Cricut Design Space app.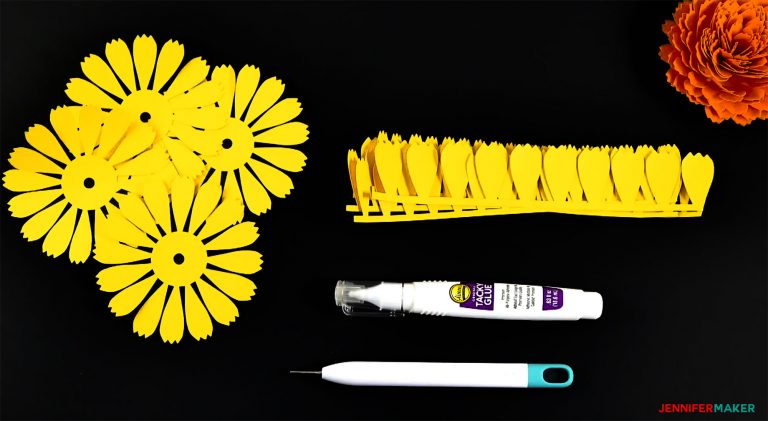 Next, lay out the bud petal strips in order from narrowest petal to widest petal.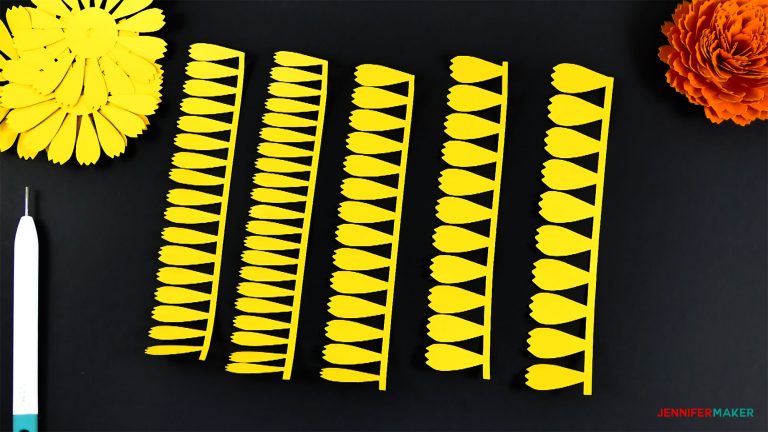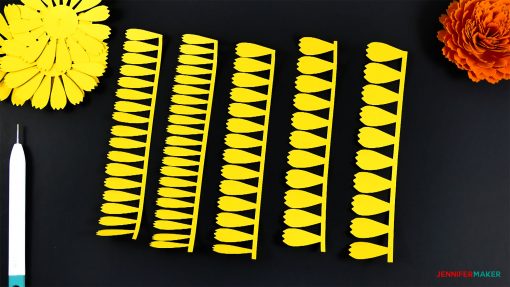 Glue the five sets of bud petals together end to end.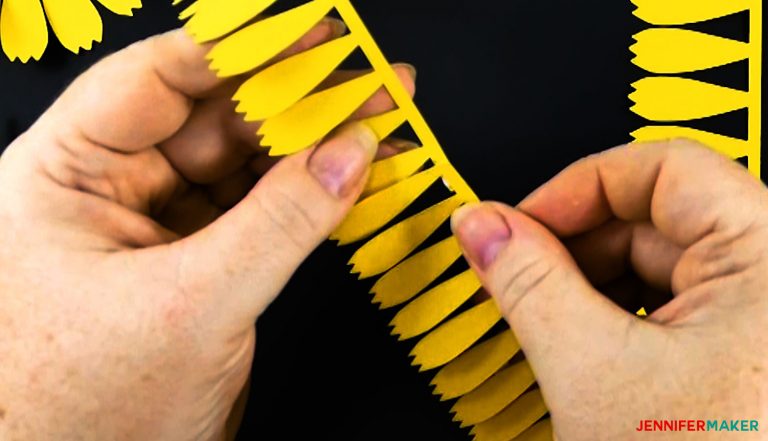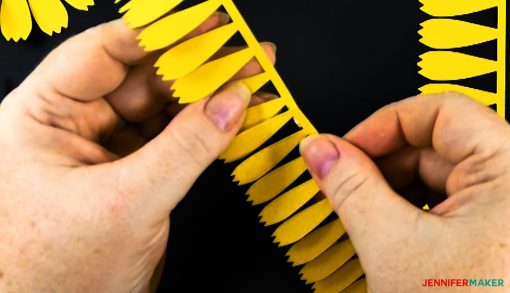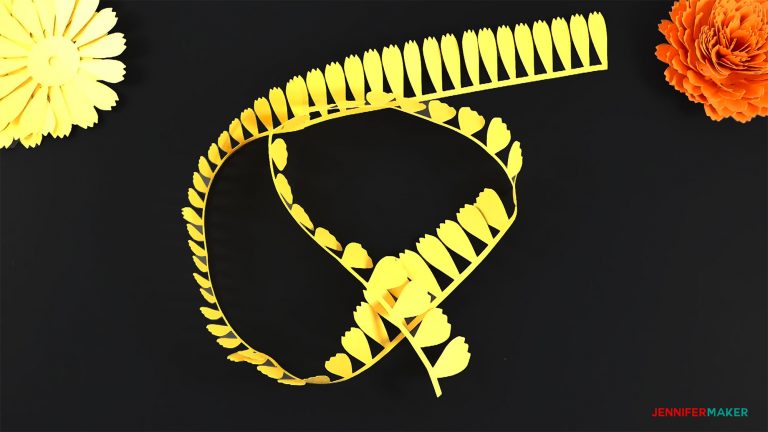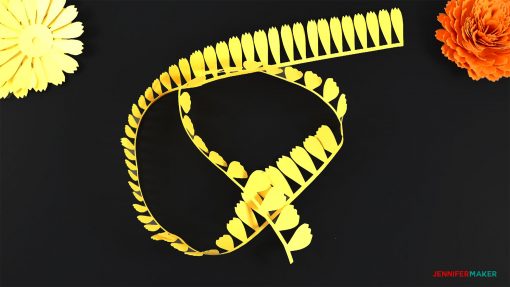 Gently squeeze each petal to give the petal some definition and structure—this makes it look more like a realistic flower. Do not crease, just gently bend.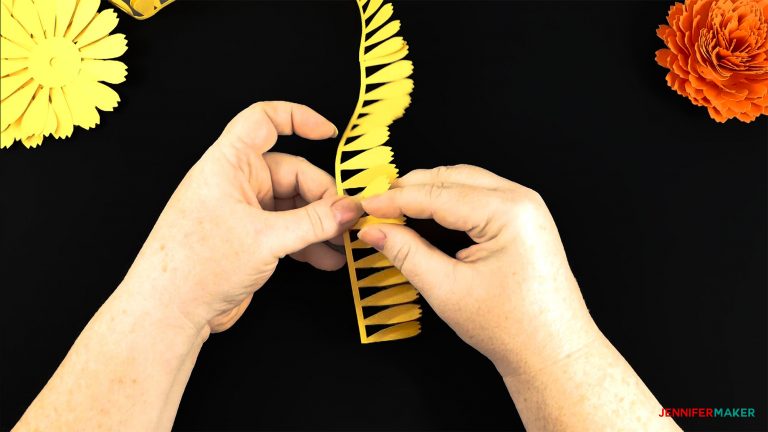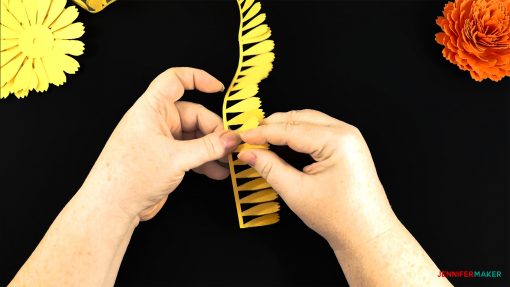 Bend the petals upward toward the center on each of the four sets of base petals to give the petals a bowl shape.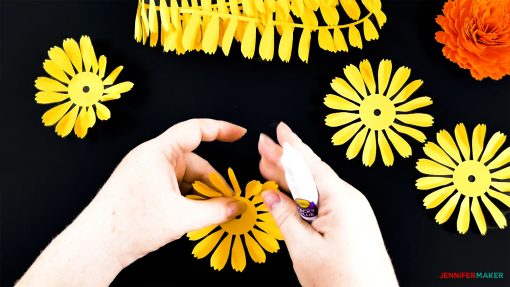 Glue the four sets of base petals together at the circular base, one on top of the other. As you set each base petal on top of the other, rotate it so the petals are filling in the spaces between petals.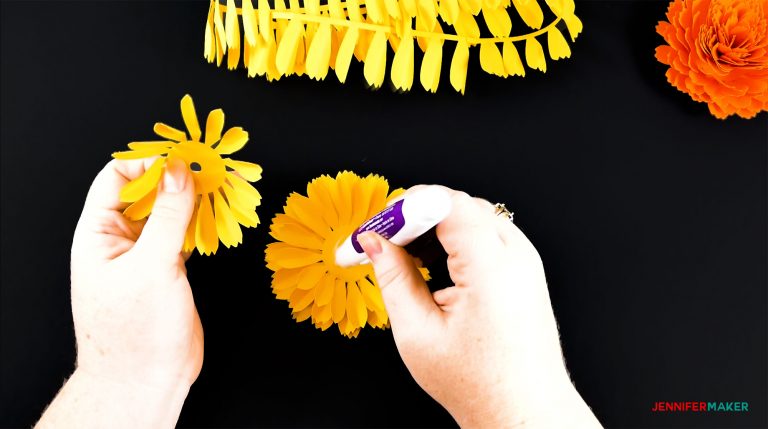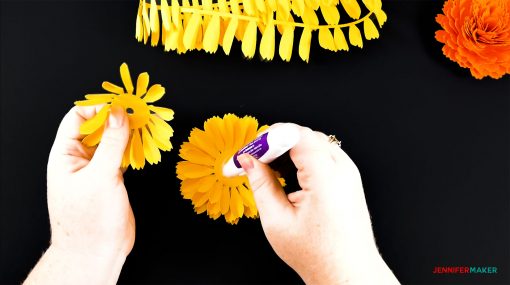 Now, using a quilling tool, roll up the glued base petals to form the bud.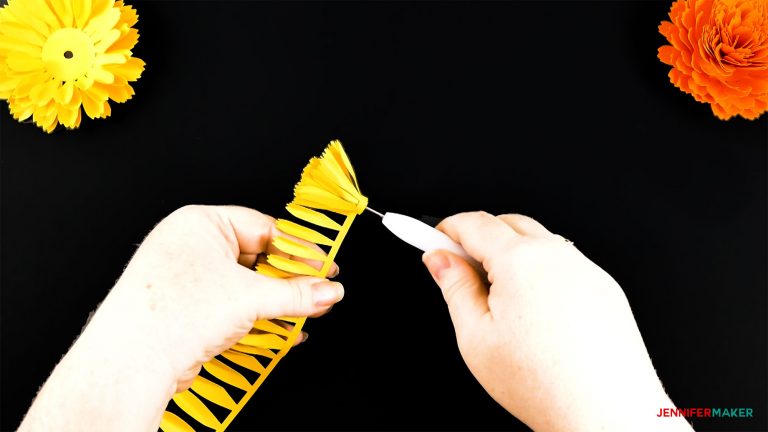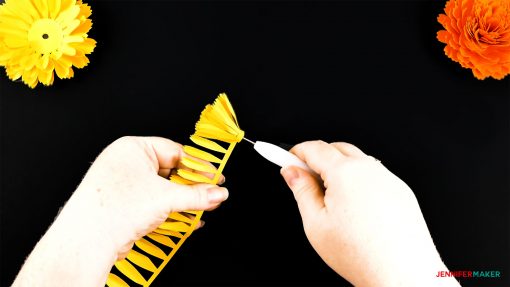 Once it is all rolled up, remove it gently from the quilling tool and glue the bottom well.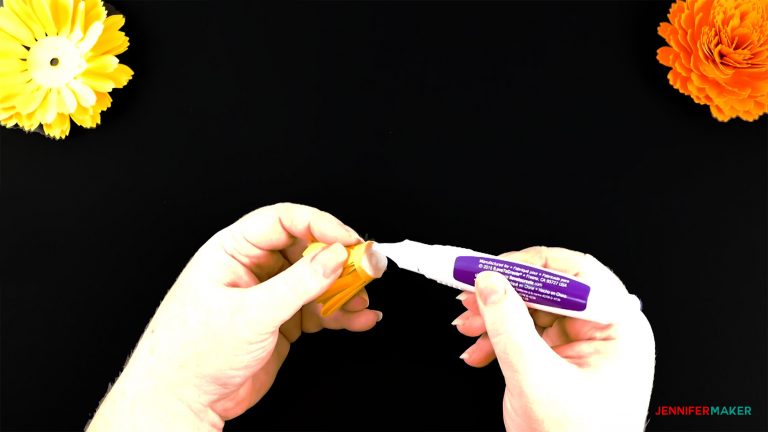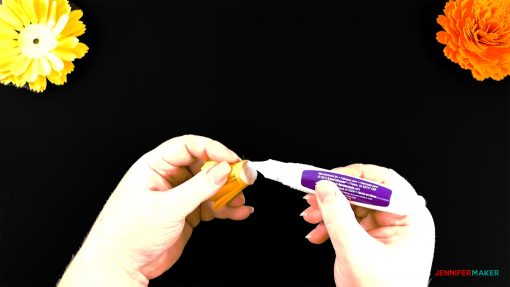 Glue the set of bud petals to the center of the glued base petals.
Fluff the petals to your satisfaction and enjoy!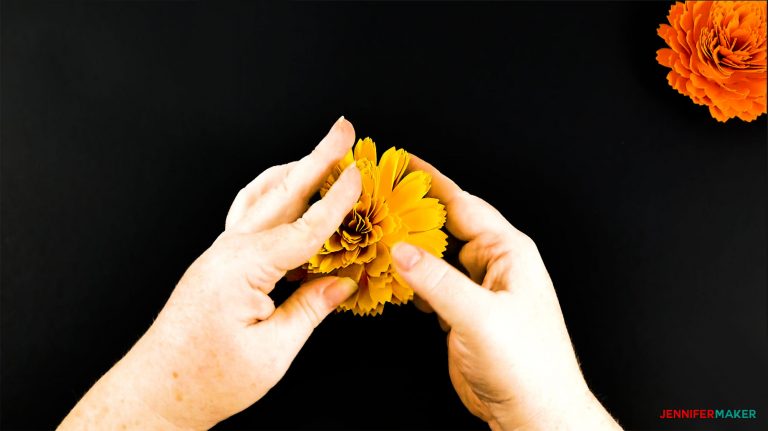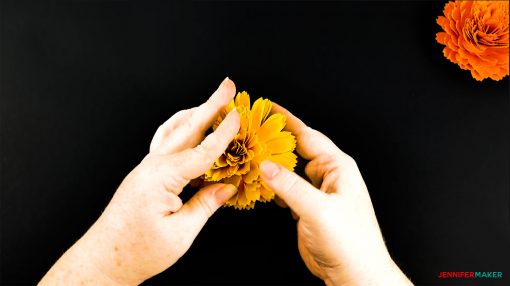 Tip: If you want to add a stem to your marigold, but a wire up through the hole in the bottom of the base petals before you glue the bud petals in.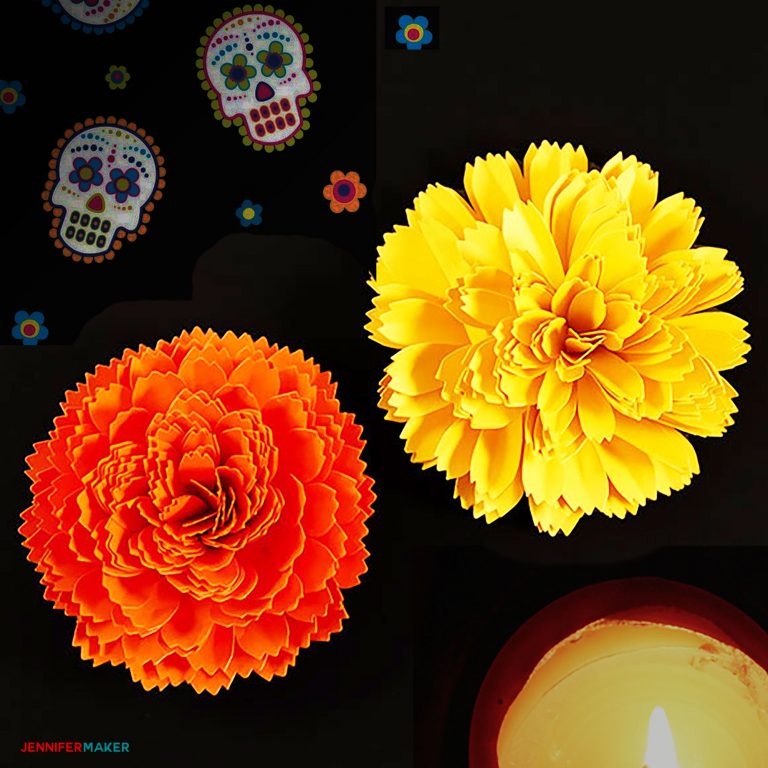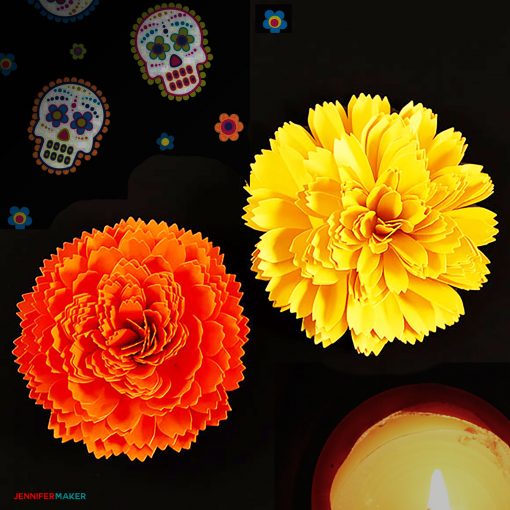 I'd love to see your project! If you make one, please share a photo in our Facebook group or tag me on social media with #jennifermaker.
Free Cut Files & Pattern for My Paper Marigold
Get the password for the library with the free paper marigold pattern and SVG/DXF/PDF files here by filling out this form:
Love,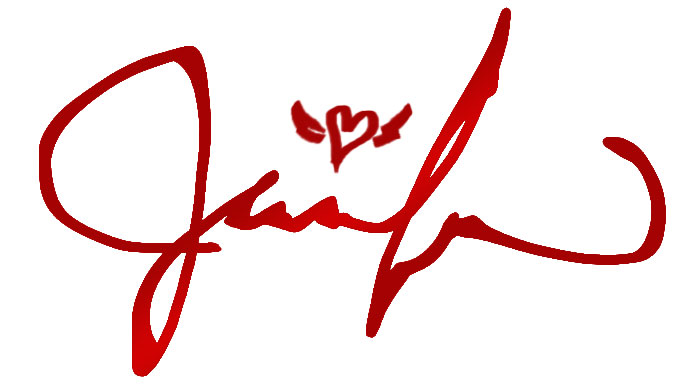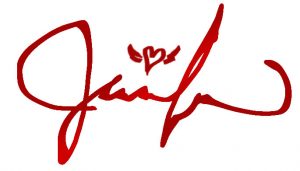 If you enjoyed this tutorial, be sure to check out all of my other DIY paper flowers, too!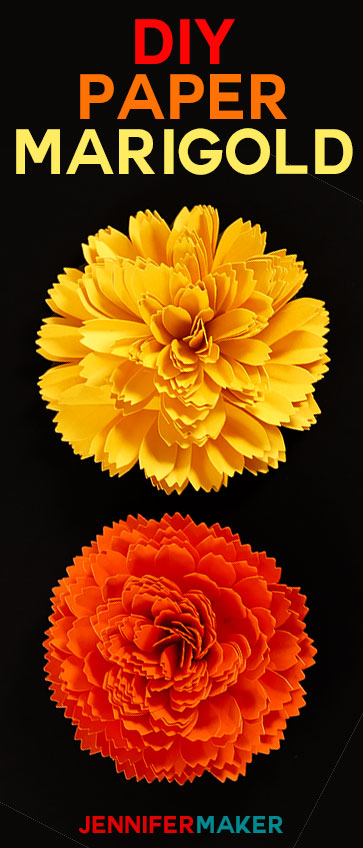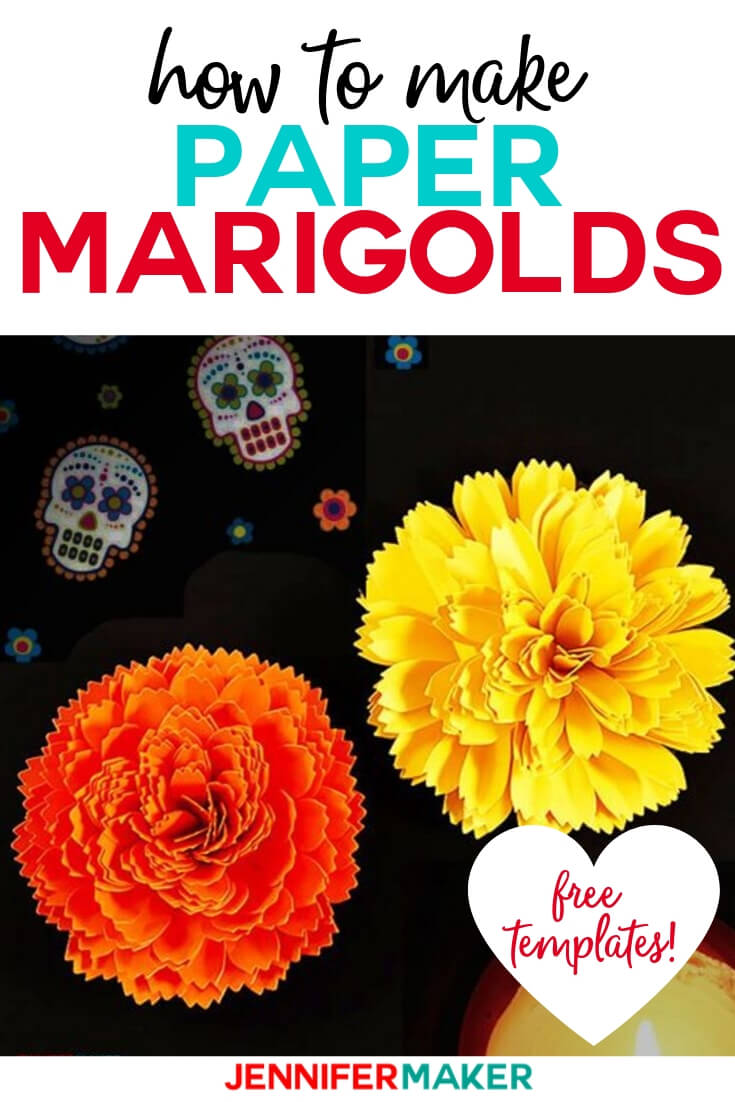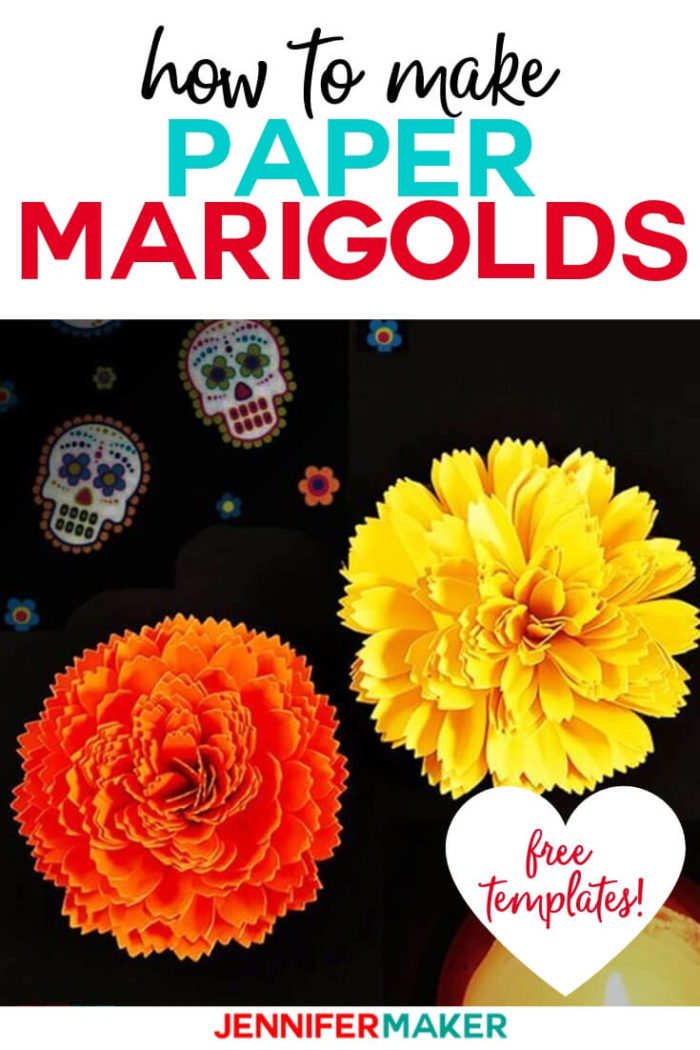 More Paper Flower Tutorials & SVG Cut Files