After I made my pop-up apple tree card, Greg commented that I should make a pop-up birdcage. "Sure!" I said, not having any idea what a pop-up birdcage might look like or even if it would work. But after trial and a whole lot of error, I've designed a pop-up birdcage that I'm pleased with. My birdcage has a little swinging roost inside for two sweet little birds to hang out on. It also has a door and a vine of morning glories climbing up the side. Why morning glories? They are one of my favorite flowers and, like birds, love the morning!
The good news is that the pop-up birdcage is really pretty simple to assemble. Just fold and glue. And even better news is that it's really versatile. It works as a pop-up card, as a standalone decoration, or even as a luminary. I put a flameless LED candle in mine and it lit up the walls and ceiling with a lovely pattern! Use it in whatever way pleases you. This post contains some affiliate links for your convenience. Click here to read my full disclosure.
Here's a little video of the pop-up birdcage in action:
Pop-Up Birdcage Materials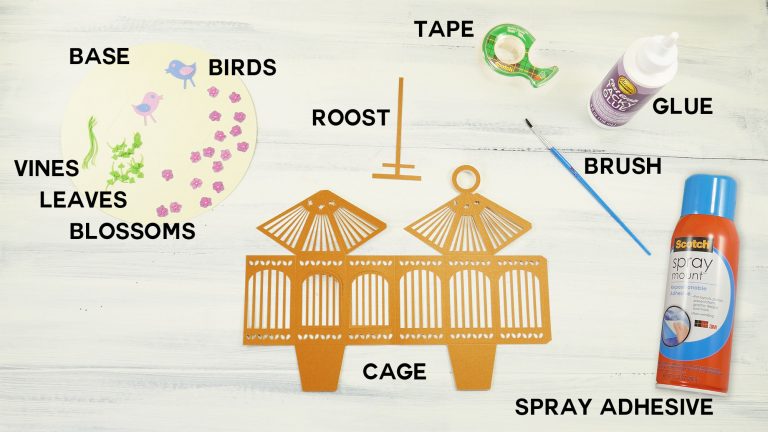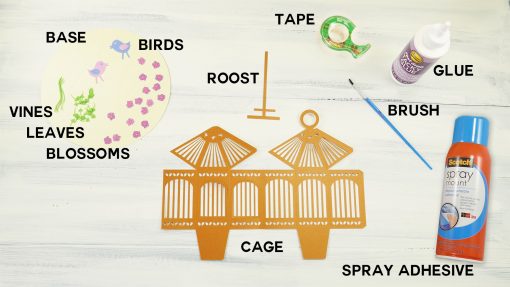 Helpful Birdcage Facts
Finished size is 6.5″ tall by 3.5″ wide.
Finished card (folded flat): 7″ x 7″ (minimum)
Door opening: 1.25″ wide by 1.9″ high
Cutting time: 20-30 minutes on a Cricut Explore Air 2 on the Intricate Cuts setting
How to Make a Pop-Up Birdcage Step by Step
First, cut out your card stock using Design #31, my free SVG files.
Tip: If you're not sure how to upload an SVG cut file to Cricut Design Space, watch this helpful video training series I made. If you're on an iPhone or iPad, here's how to download and upload SVG files to the Cricut Design Space app.
July 2021 Update: I've updated this file and pre-set the score lines and attached them to the bases, so you should be able to just upload to Cricut Design Space and cut! Here's what it should look like: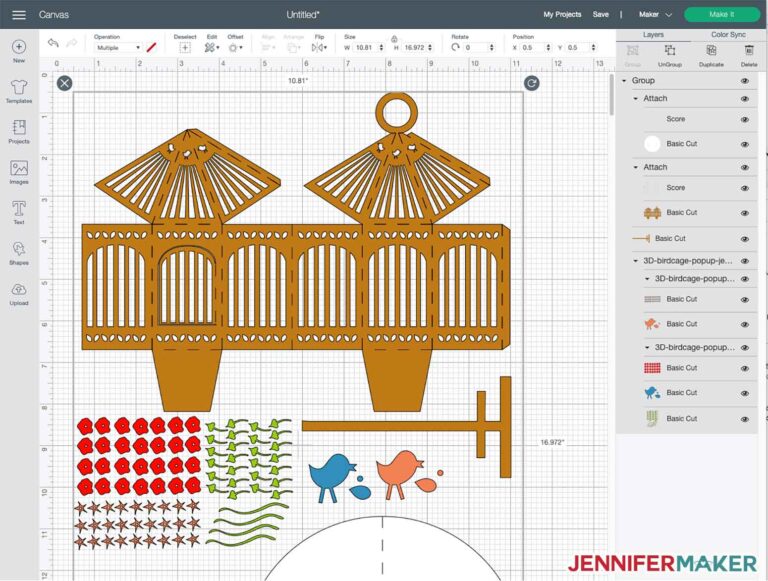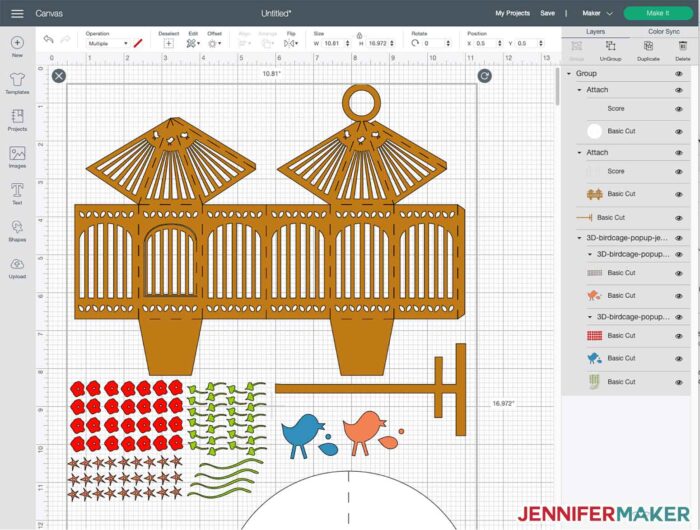 Resizing notes: You can make this smaller, but the smaller you go the harder it is to fold. Also, the bars of the cage become thinner and are more prone to getting damaged during assembly. I did successfully make a birdcage that was 4.5″ tall, but I would not go any smaller than that.
Next, watch my assembly video for the pop-up birdcage:
Once you have your card stock cut out, glue the wings and eyes on the birds. Also, attach the blossom centers (they look like starfish) onto the blossom backs using spray adhesive, if you wish.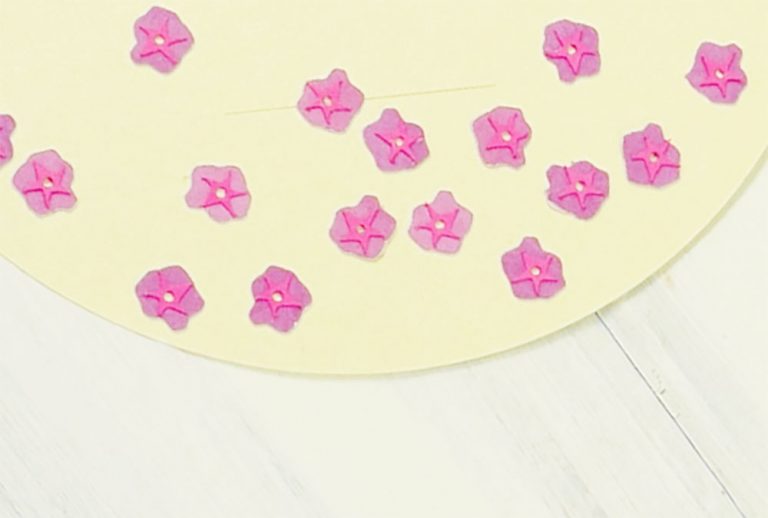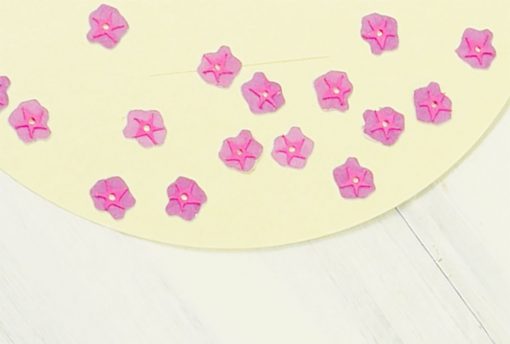 Next, glue the birds to the bottom rungs of the roost being careful not to get glue anywhere other than between the bird and the roost. I used a paintbrush to paint Tacky Glue on carefully.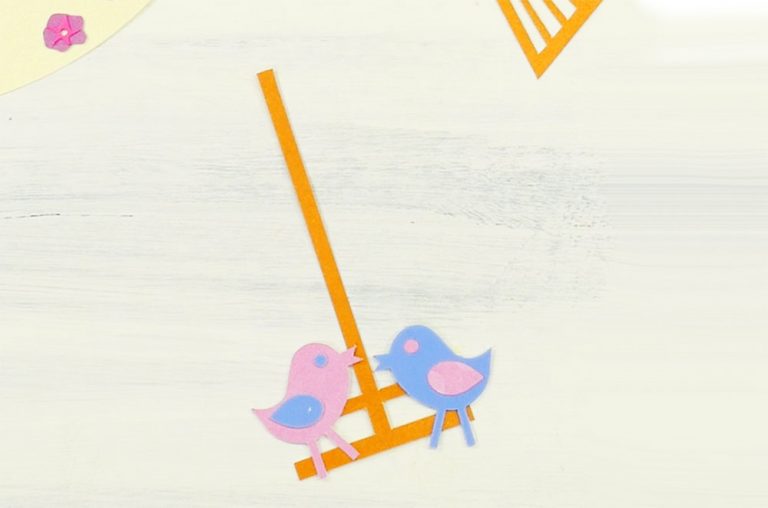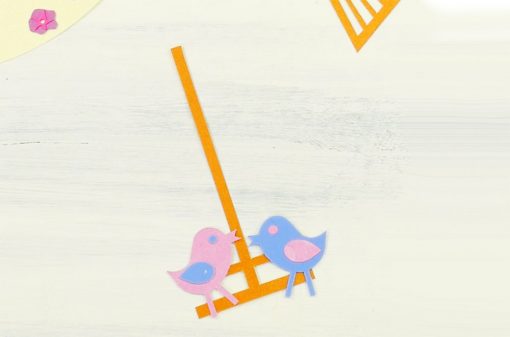 Now it's time to fold the birdcage — I think this is the hardest part just because it's delicate. If you score it (which I highly recommend), just fold all the score lines. You'll find score lines on the roof, between the roof and sides, between each side, and between all the tabs. Go slowly and carefully.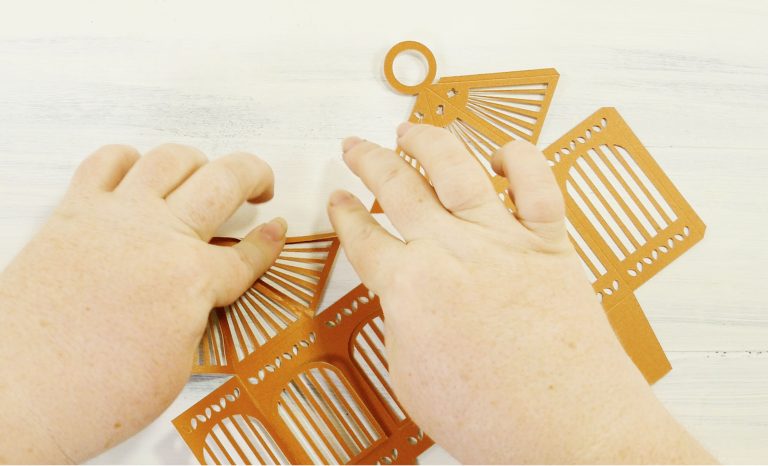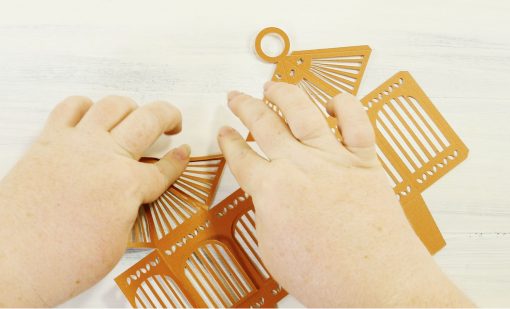 With your birdcage folded (but not yet assembled), decorate the front of your birdcage in any way you please. I've provided a lot of vines, leaves, and blossoms to decorate with. Just be careful to not cover the folds in your birdcage, as that could cause issues later when assembled.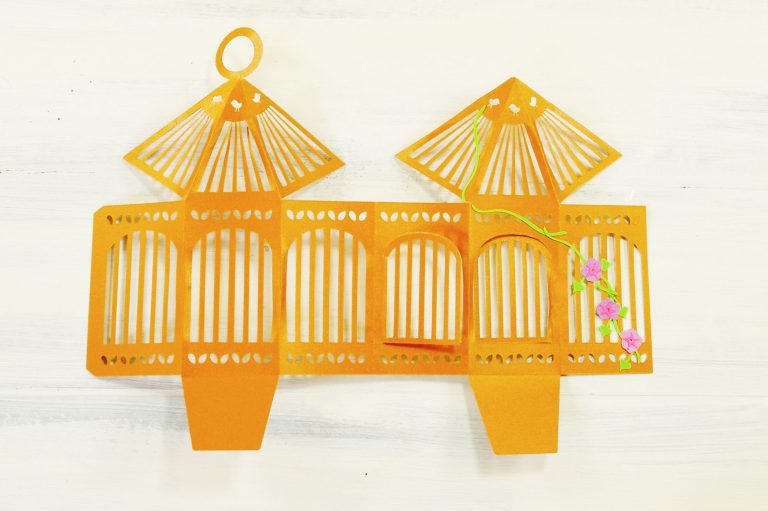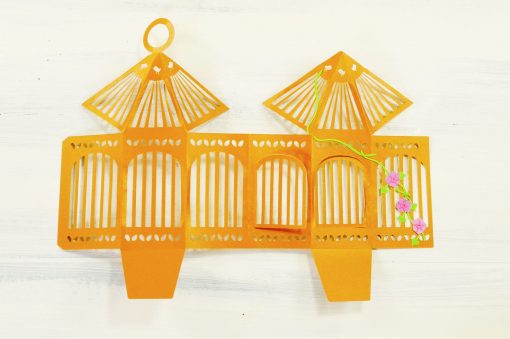 Next, glue the top of your bird roost to the inside top of your birdcage, just below the ring. Be sure to let this dry before you continue on.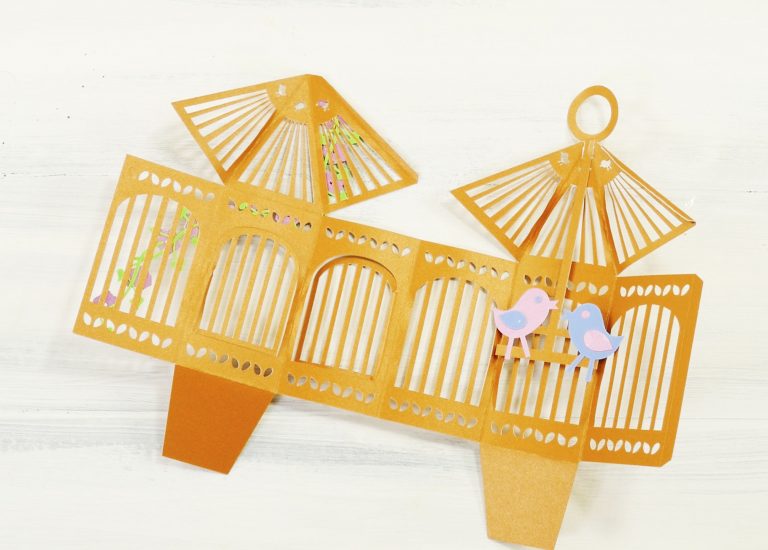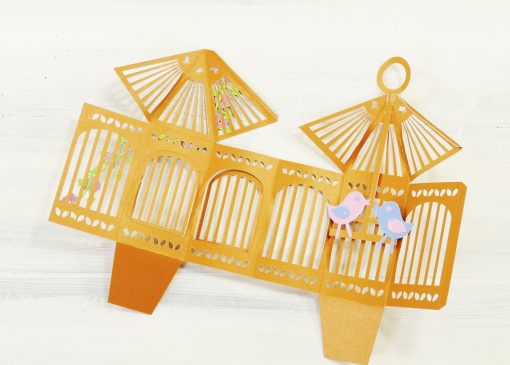 To glue the birdcage itself, place a line of glue on the two narrow flaps along the roof — there's a tab on each half of the roof. Next, carefully fold the birdcage in half so the roof pieces meet. Align them perfectly and wait for the the glue to set before continuing.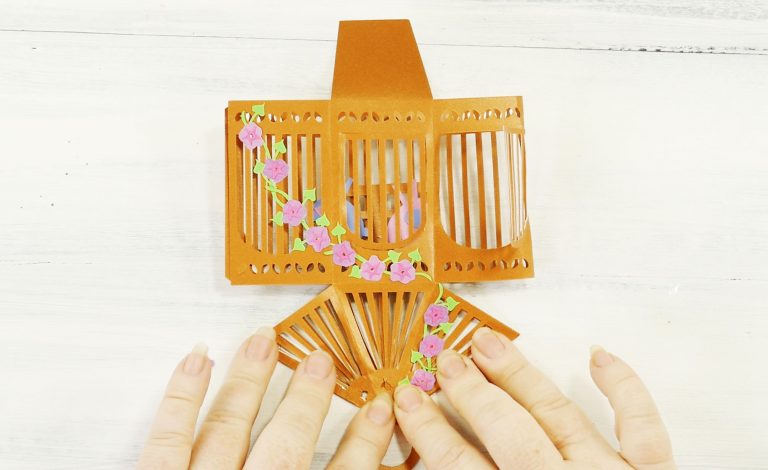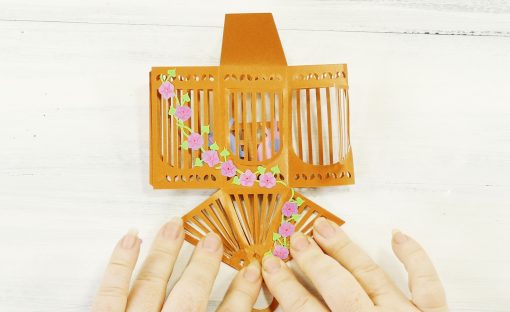 Now, put a line of glue on the narrow tab along the birdcage side and align it with the other side. Press and wait until the glue is set.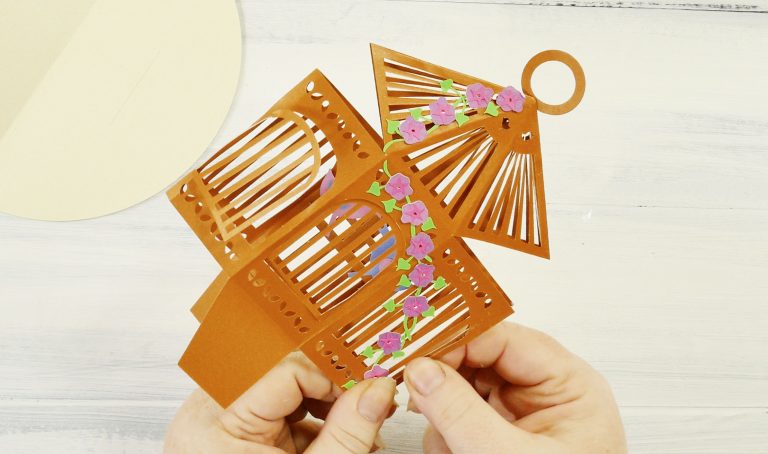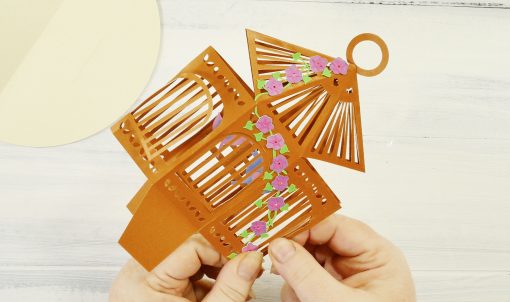 Squeeze the birdcage open until it is in the right shape. If you're having a problem getting the birdcage to open fully, you can again crease some of the folds so they are all at the same angle.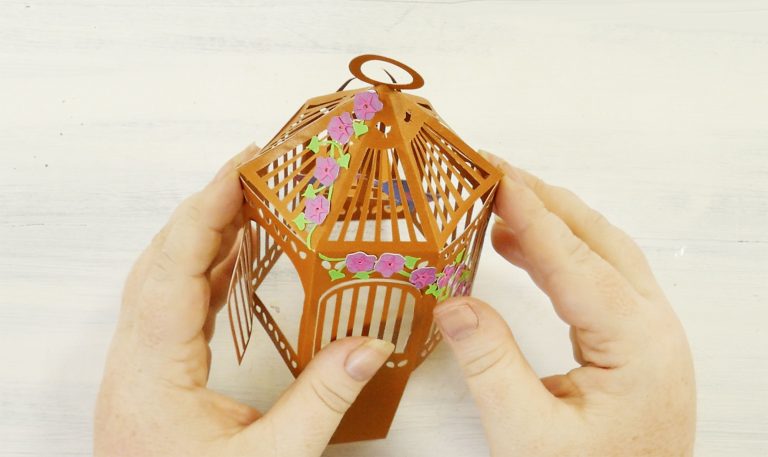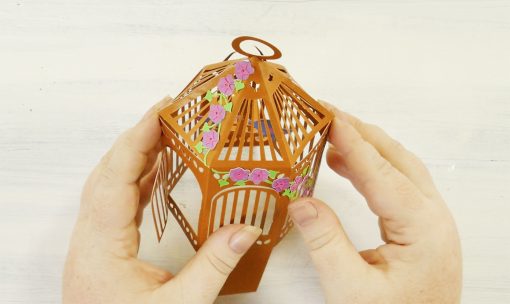 If you want to turn this into a pop-up card, just insert the tabs into the circle base and tape down from the underside. You can then put whatever cardstock cover you want on it (not provided in my files because they are simple shapes — I just two 7″ x 7″ squares of cardstock on either side of the base to make a card).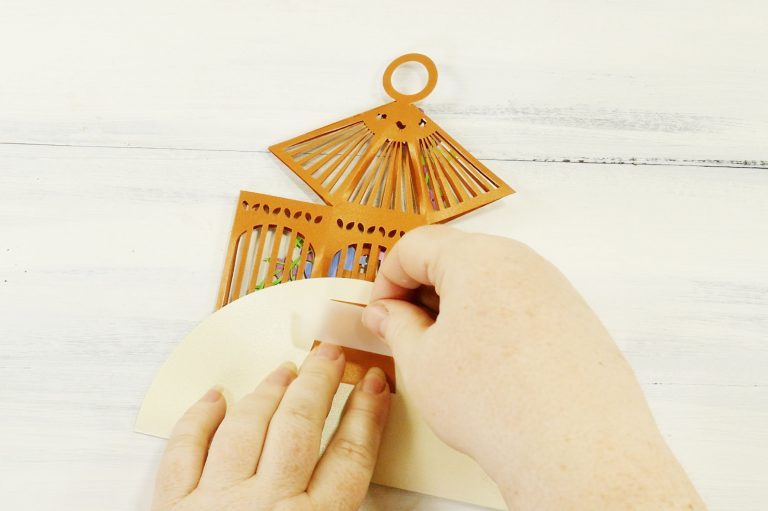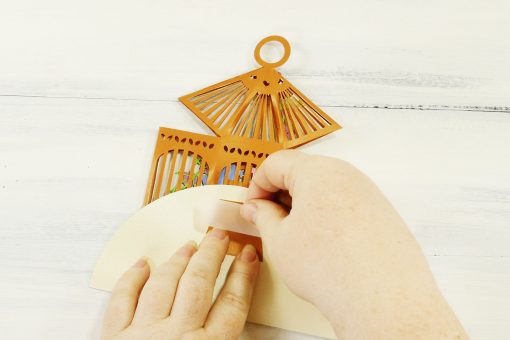 Would you prefer a standalone decoration? Just cut off the tabs on the bottom and put somewhere to enjoy!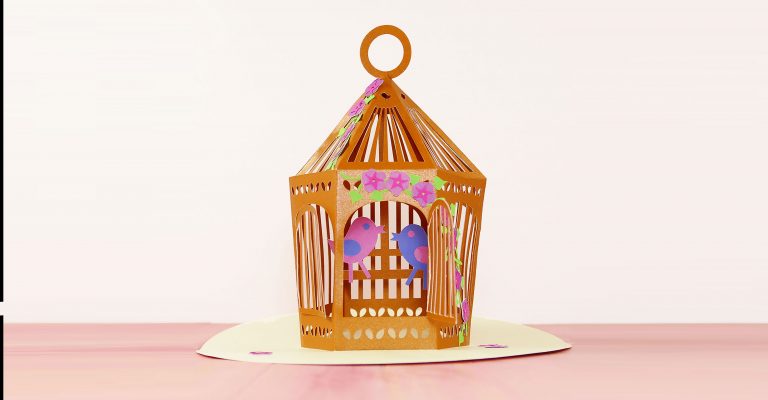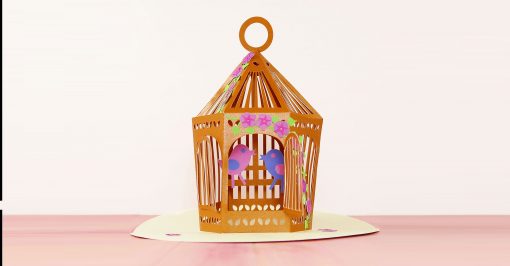 If you want to turn this into a luminary, just place a little LED tea light inside. The one I used was 1.5″ wide by 1.5″ tall and it fit inside without any issue.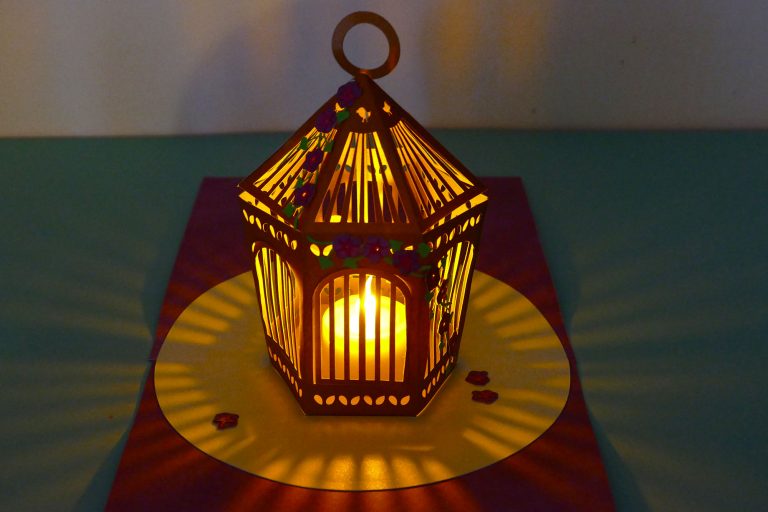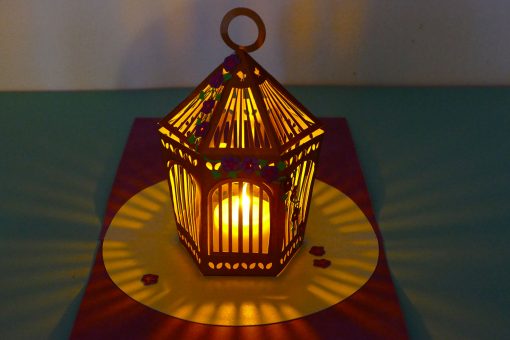 I think this pop-up birdcage makes a lovely card, but also a really pretty luminary. The tea light glowing from behind the little bars is enchanting. I think this would be particularly nice to use for an engagement, wedding, or anniversary!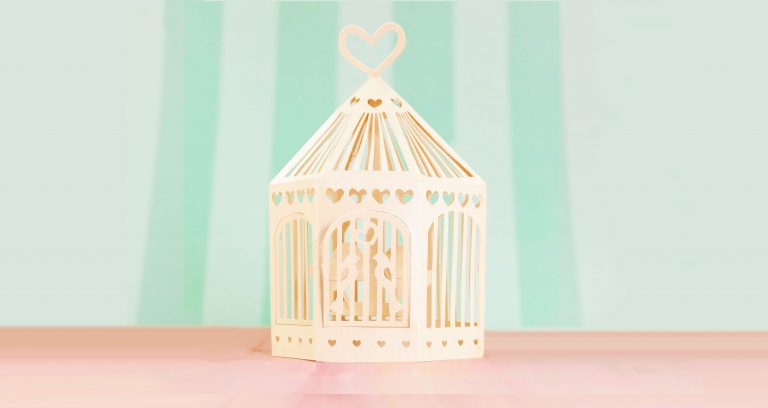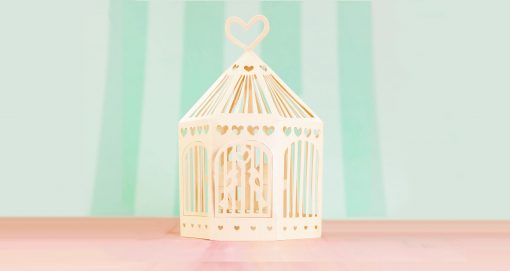 I'd love to see your project! If you make a birdcage, please share a photo in our Facebook group, email it to me at [email protected], or tag me on social media with #jennifermaker.
Here is a really creative use of the birdcage on a tree by Anneke ZKamstra!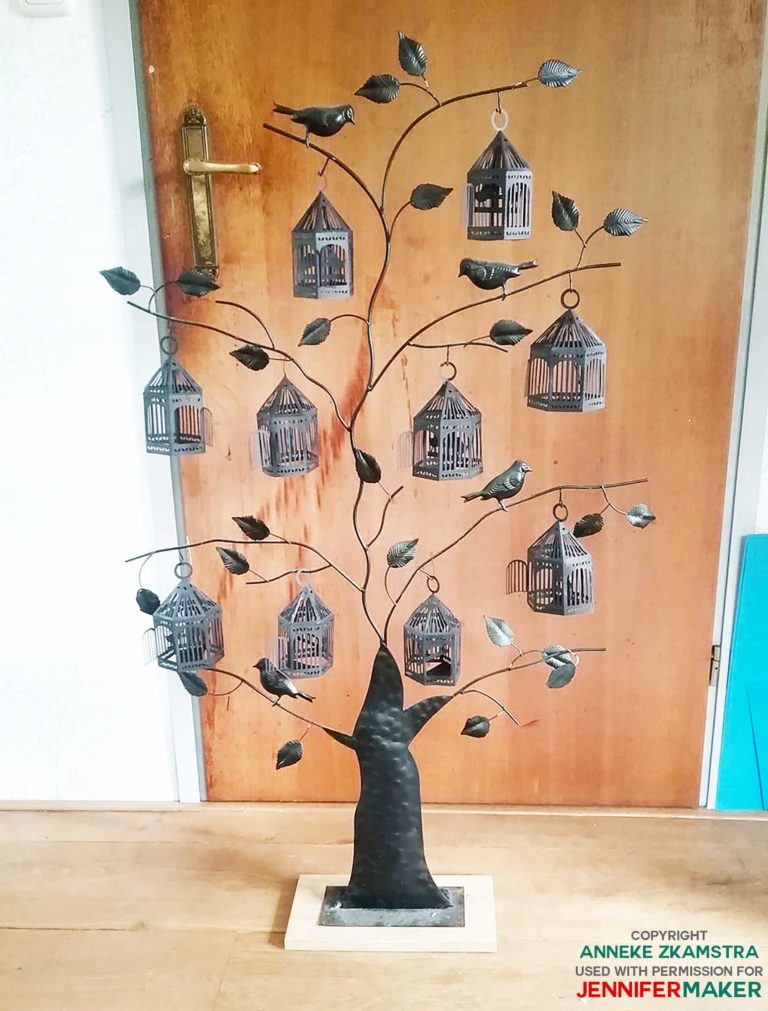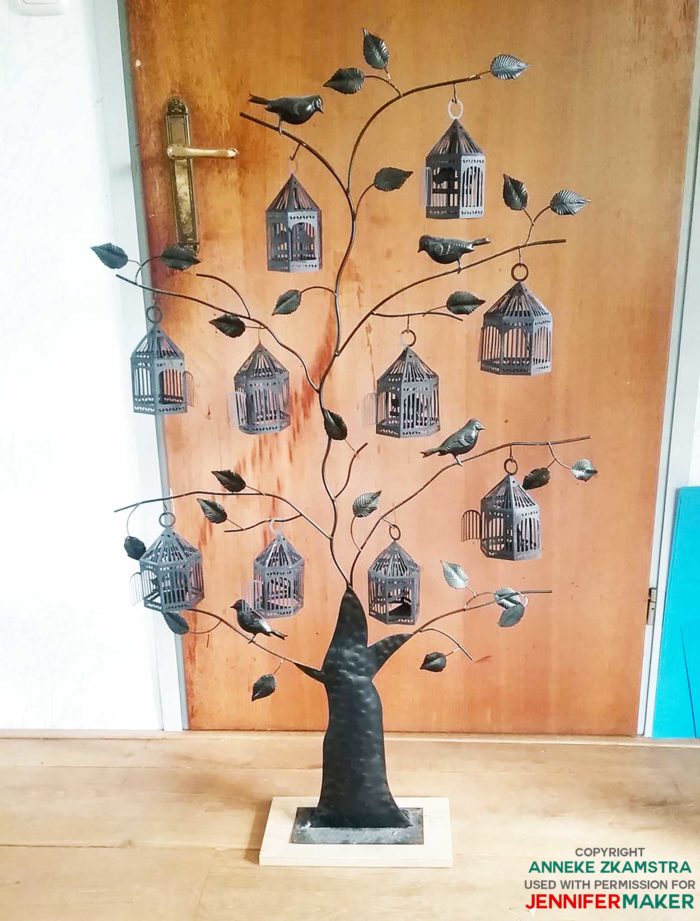 To get the password to my free resource library that has all the files for this project, just fill out the form below.
Get my free SVG cut files for the Pop-Up Birdcage
Subscribe (free!) to get access to my resource library with all my free cut files, printables, and patterns! Once subscribed, I will send you a newsletter with details about my new free files each week.
Love,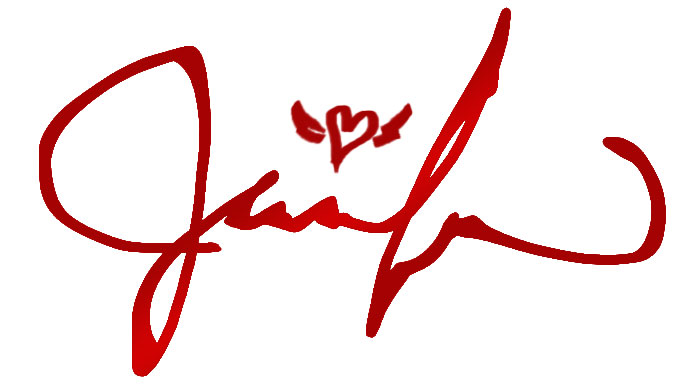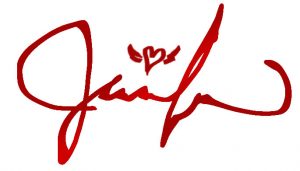 Did you like this tutorial? Let me know in the comments below, and please pin it for later!