Make paper dog or puppy boxes for fun! These make great gifts, too!
As I mentioned recently, I've adopted a new rescue puppy! So it's no surprise that I've got dogs and puppies on my mind. In addition to making a DIY pet gate, I came up with a way to make paper dog boxes with my Cricut!
I've designed three variations: one that looks like my 2-month-old Border Collie puppy, one that looks like my 3-year-old Golden Retriever mix dog, and one that looks like my Alaskan Malamute gone these 14 years now. But you can make yours any way you want.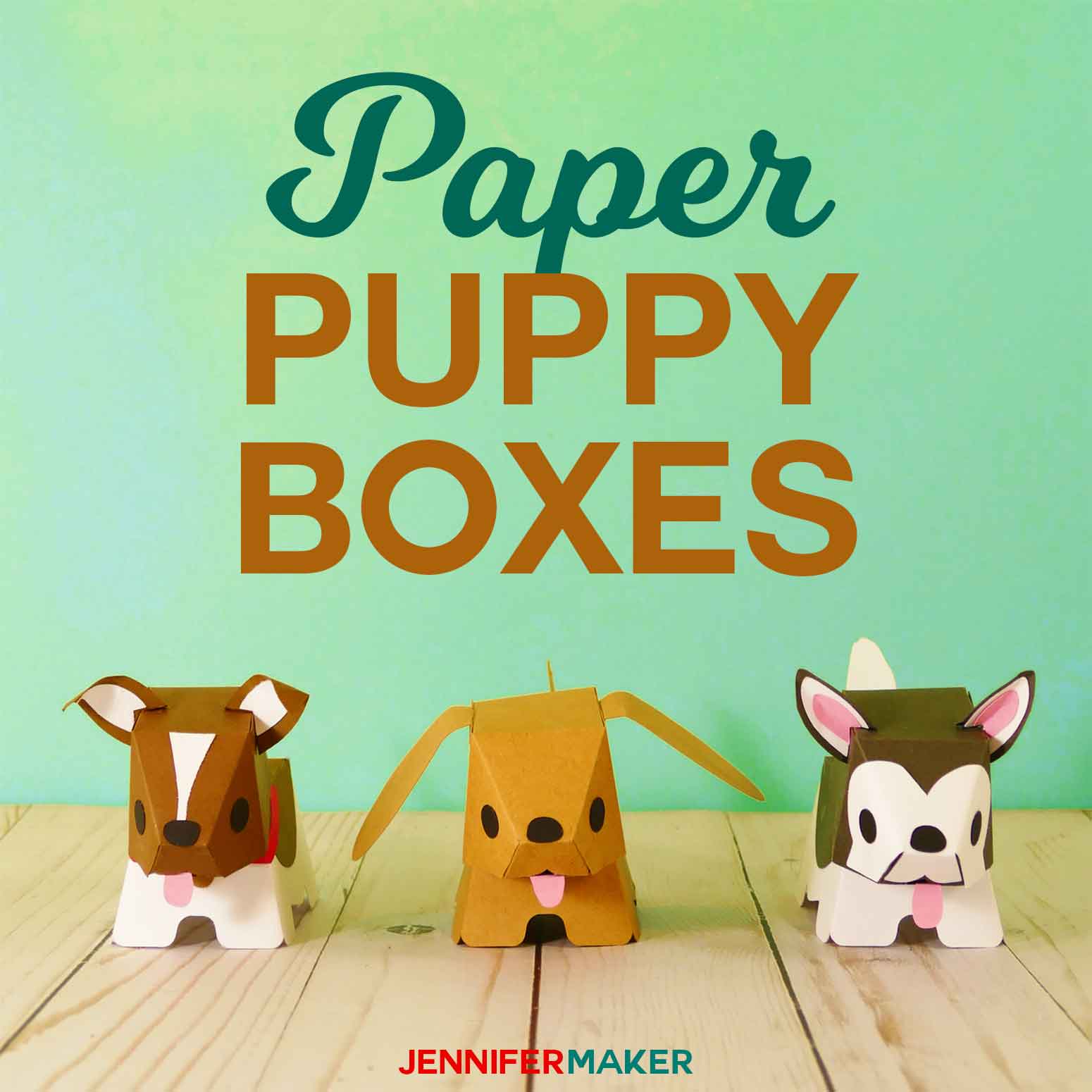 Here's my little Chloe with her paper dog!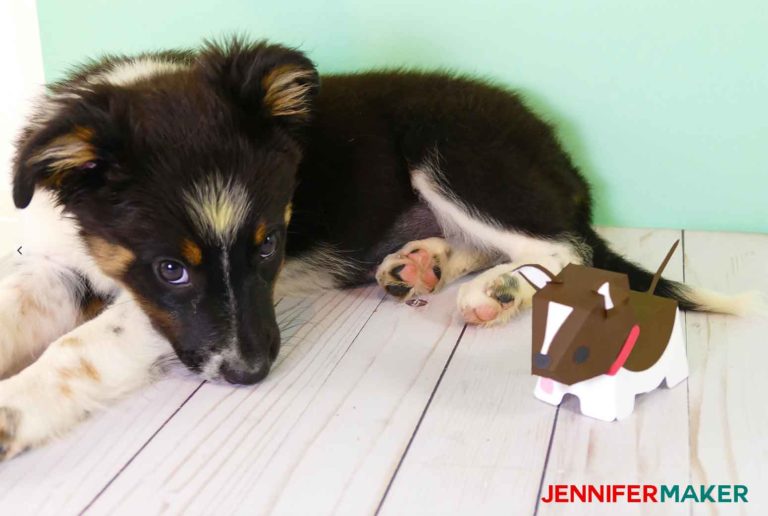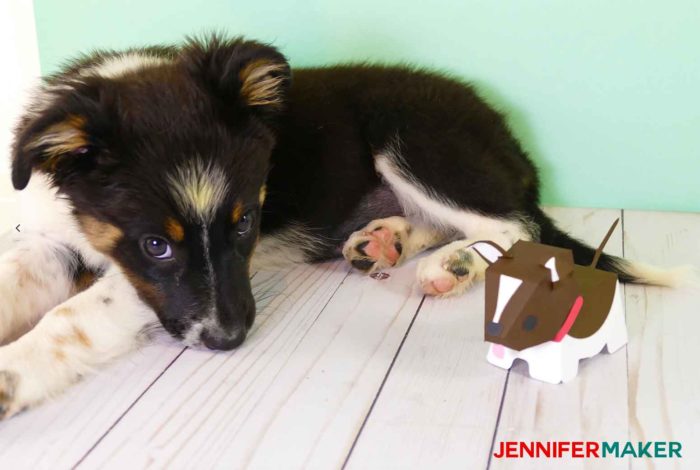 My Hunter, a Golden Retriever/Lab rescue, with his paper dog…
And my Kippi with the Alaskan Malamute paper dog.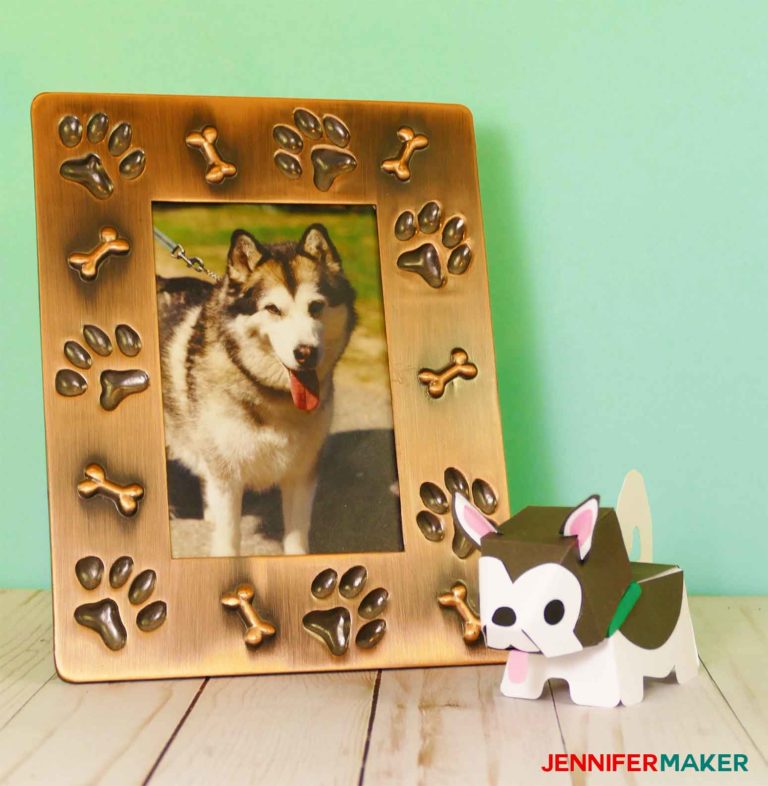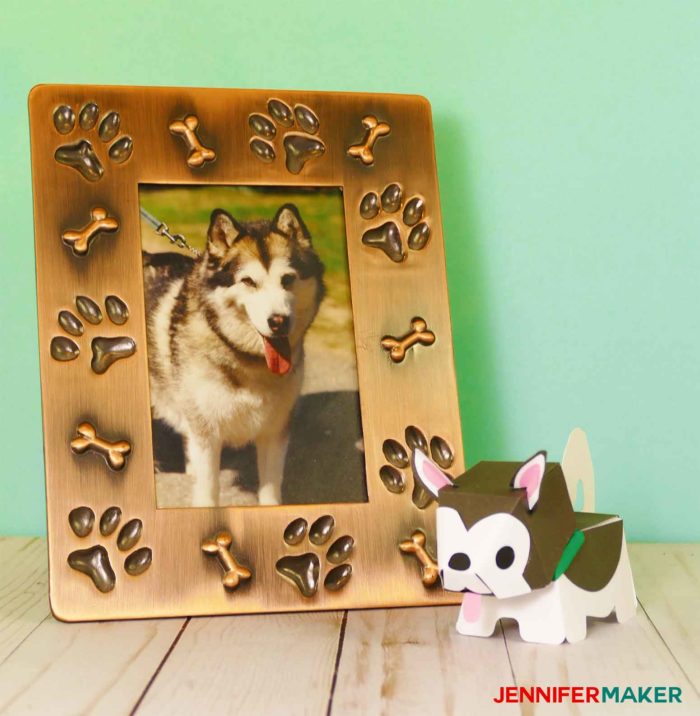 A closer look at the Golden paper dog: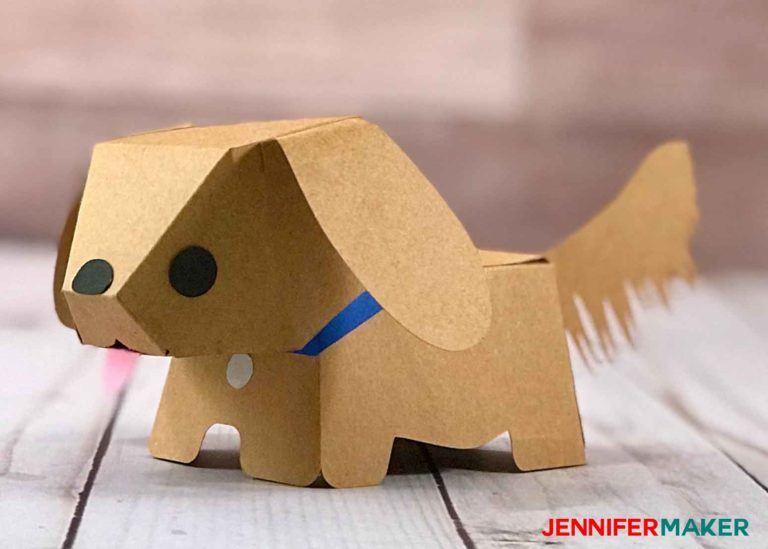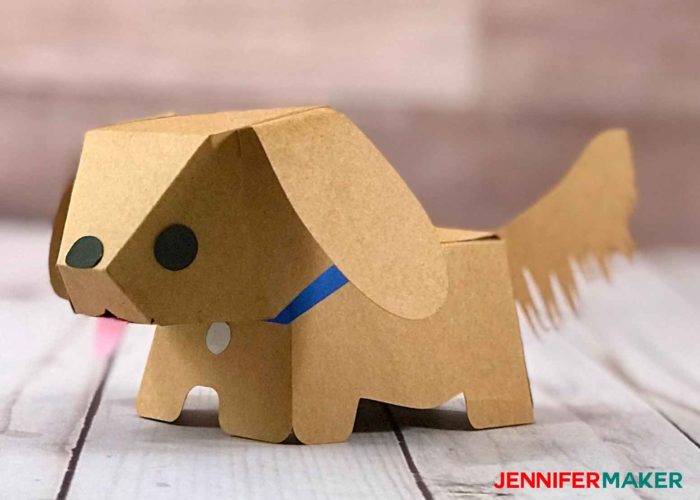 And a better look at the sweet little Border Collie paper dog: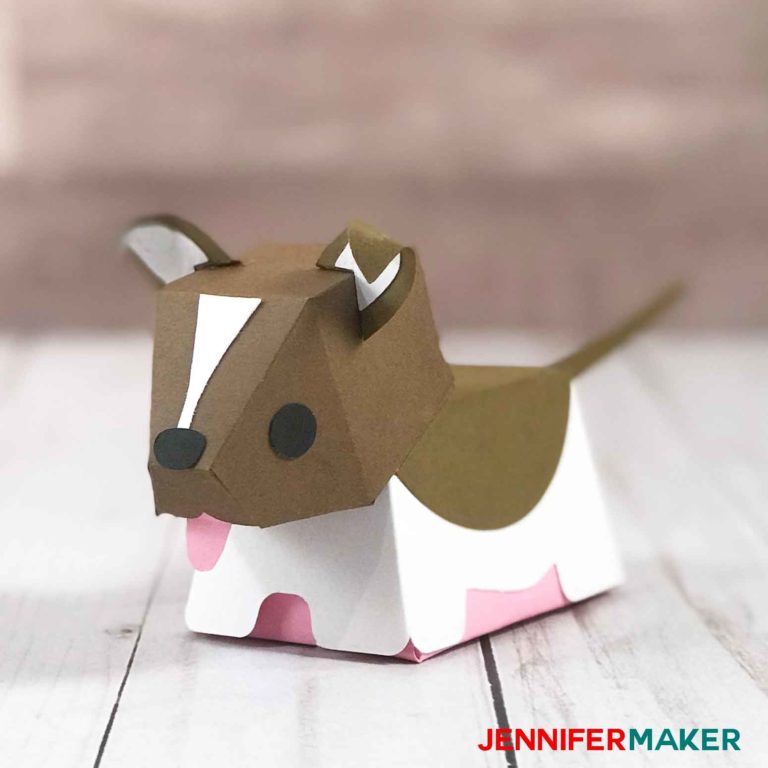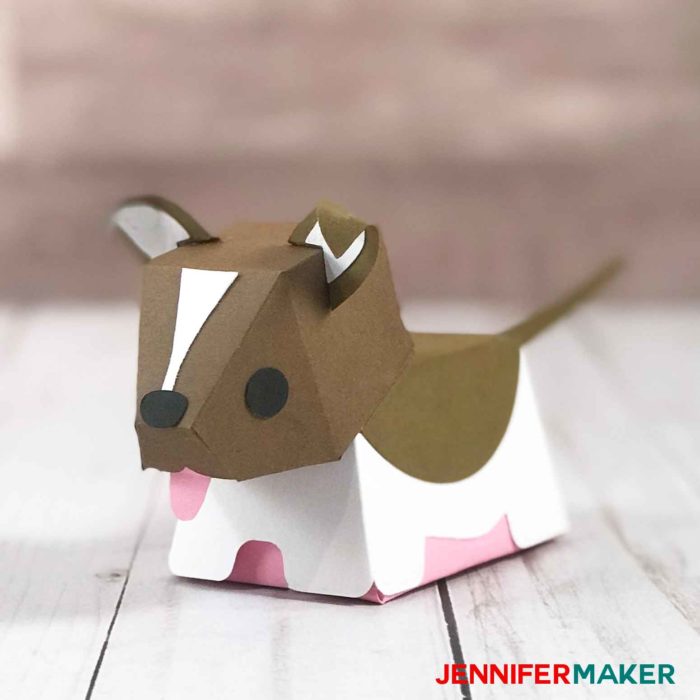 Inspiration for these paper dog boxes came from paper-replika, who made some super cute printable dog paper toys a while back and shared them under a Creative Commons license. I converted their basic design to the Cricut and made my own design tweaks — a longer body (my dogs have long tube bodies!), more rounded features (because puppies are soft!), bigger heads (because big heads are cute), different ears and tails, and extra things like collars and tags!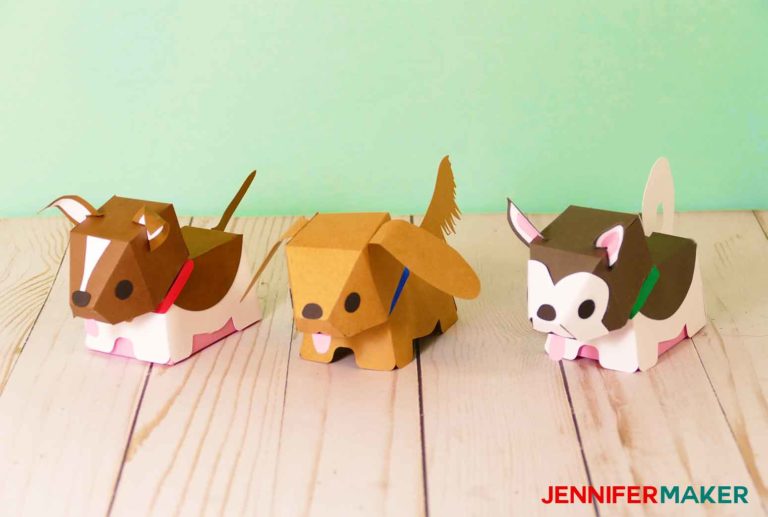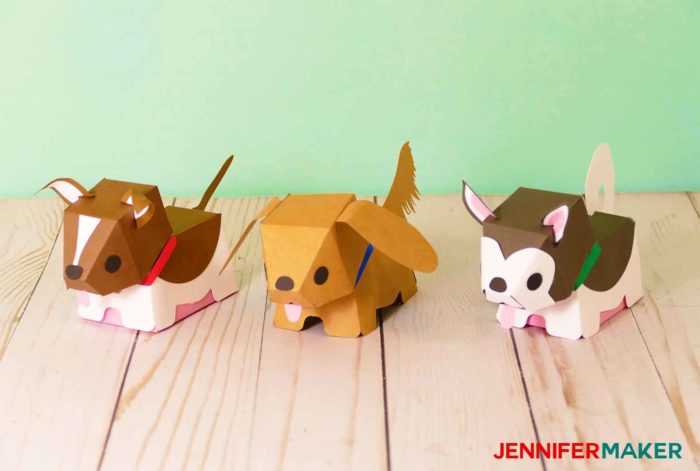 Then I thought this paper toy would be even better if it were a box! So I designed a trapezoidal box that fits under the dog. But if you don't want or need this to be a box, you can just make paper dogs and puppies that stand on their own.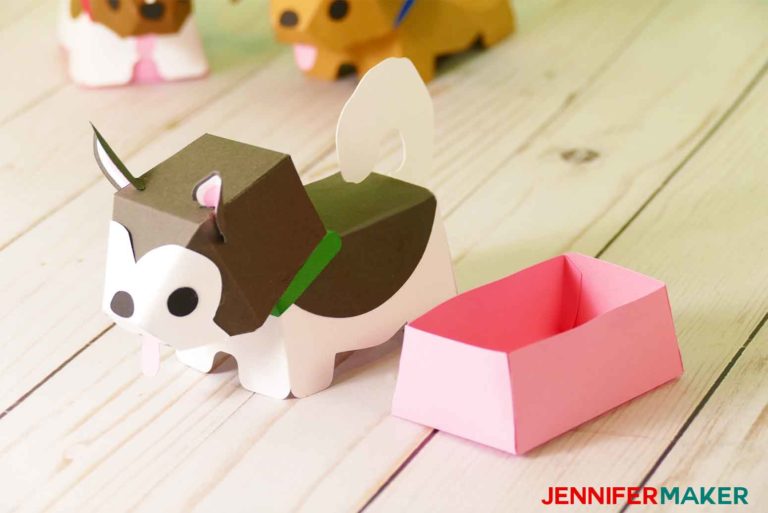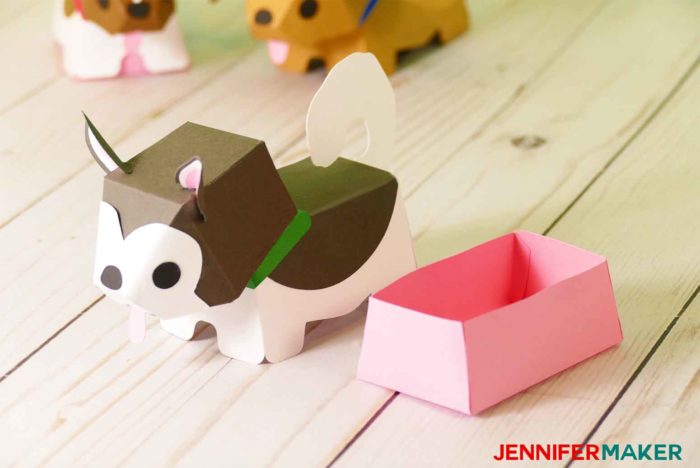 So now let me show you how to make paper dog boxes! This post contains some affiliate links for your convenience (which means if you make a purchase after clicking a link I will earn a small commission but it won't cost you a penny more)! Read my full disclosure policy.
Materials to Make Paper Dog & Puppy Boxes
How to Make Paper Dog & Puppy Boxes
To begin, cut out your cardstock using my free paper dog box SVG, DXF, or PDF files (Design #107)found in my resource library. I have three different dog designs — one is modeled after my border collie puppy, one is a malamute, and the other is modeled after my golden retriever dog. Feel free to change the size of these, too!
Tip: If you're not sure how to upload an SVG cut file to Cricut Design Space, watch this helpful video training series I made. If you're on an iPhone or iPad, here's how to download and upload SVG files to the Cricut Design Space app.
IMPORTANT: These files have SCORELINES in them. I've grouped each scoreline with the section it goes with. You'll need to first UNGROUP the main group, then change the layers of scorelines to "Score" in Cricut Design Space, and then attach the score layer to the cut layer that goes with it. Need help with the scoring lines? Check out my tutorial on Cricut Scoring, Grouping, and Attaching!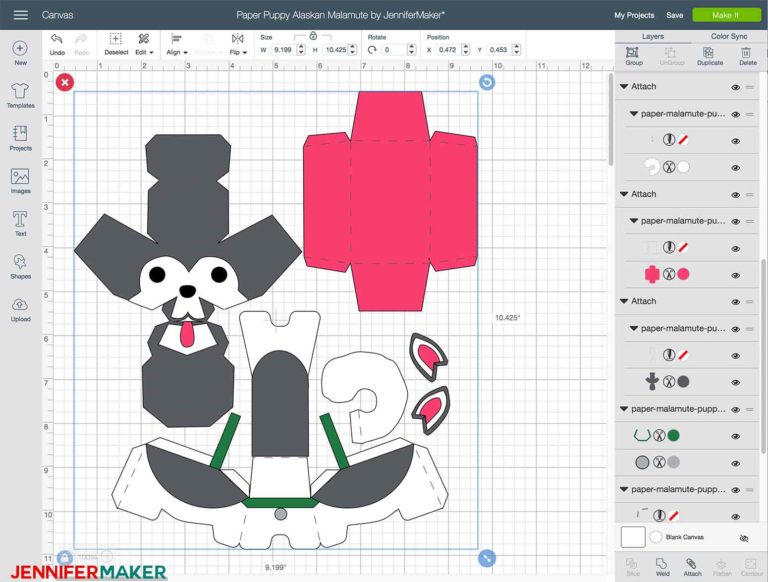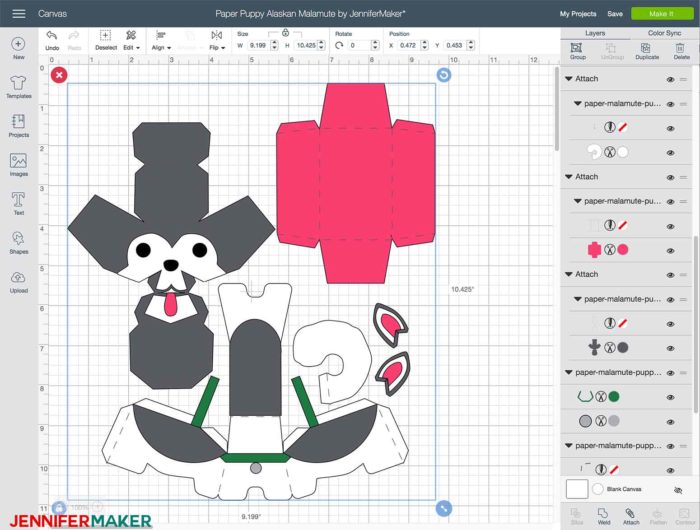 When you are done cutting everything out, you'll have a head, a body, a box, and then various miscellaneous pieces like a tongue, ears, tail, eyes, nose, and collar.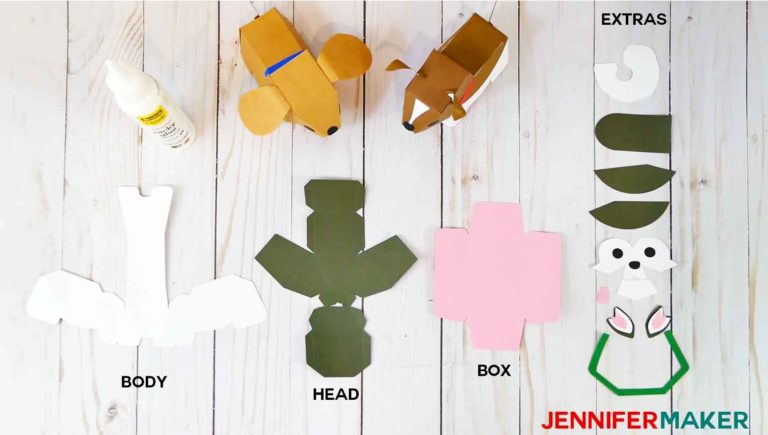 If your dog's ears have multiple layers, go ahead and glue those together now. Note that there are tabs on the bottom that should be folded while you're at it.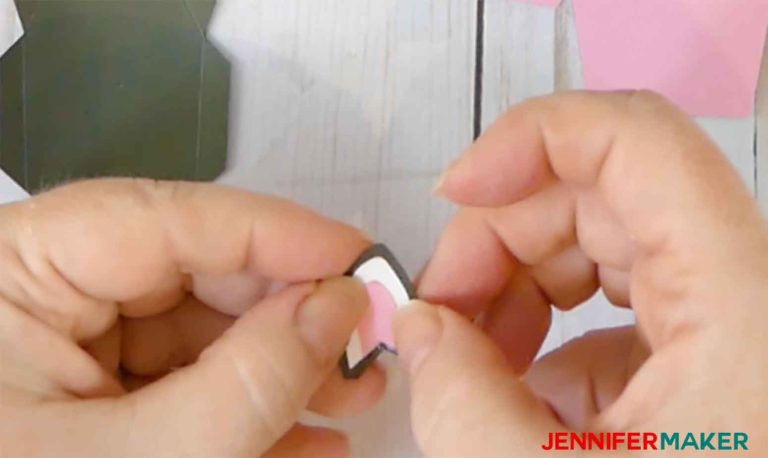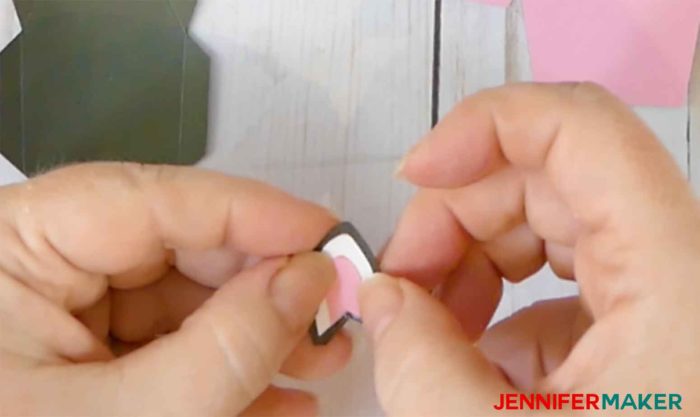 Fold your head piece along the scorelines, both big folds and tab folds. Everything gets folded IN.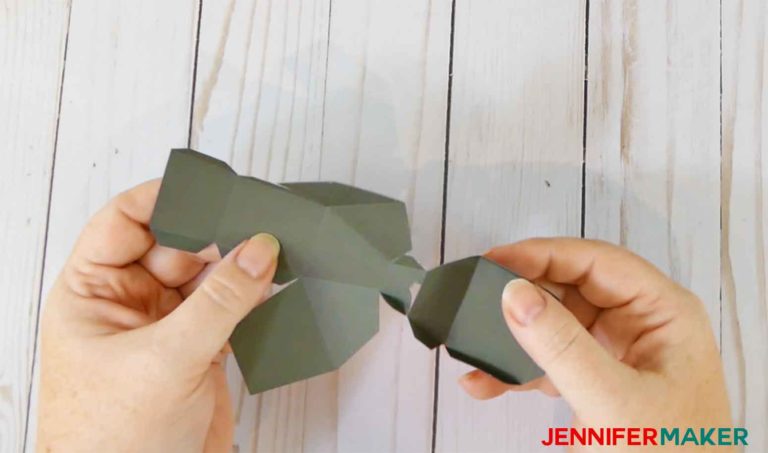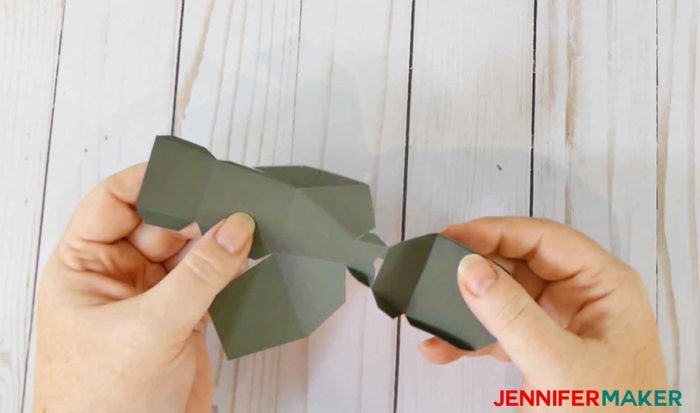 If your dog has facial markings, now is the time to glue those to the front of the dog's head.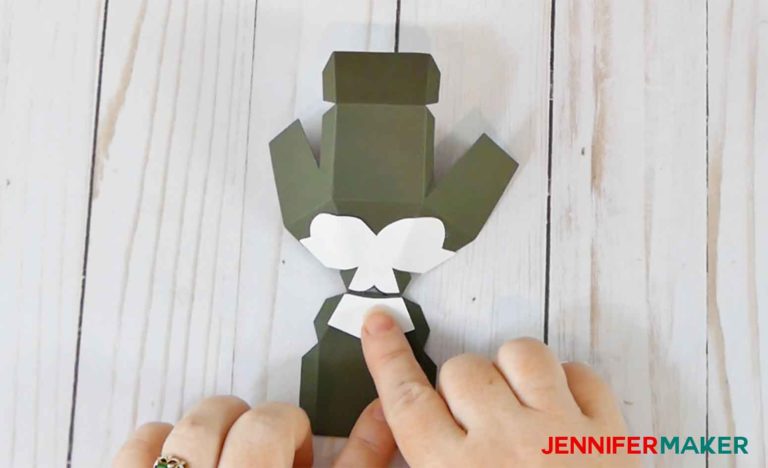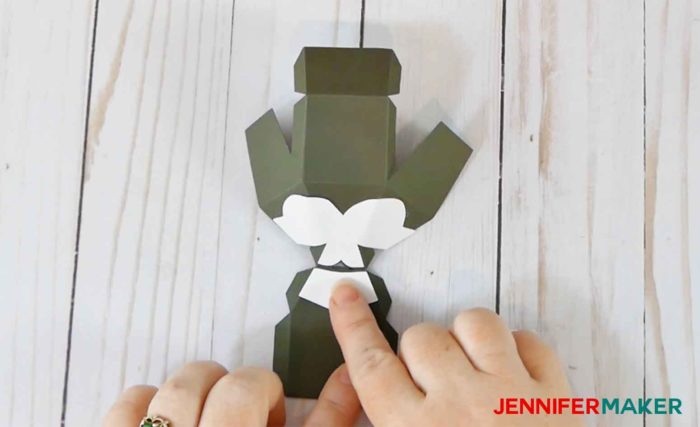 You'll also want to glue the tongue in the mouth now, too!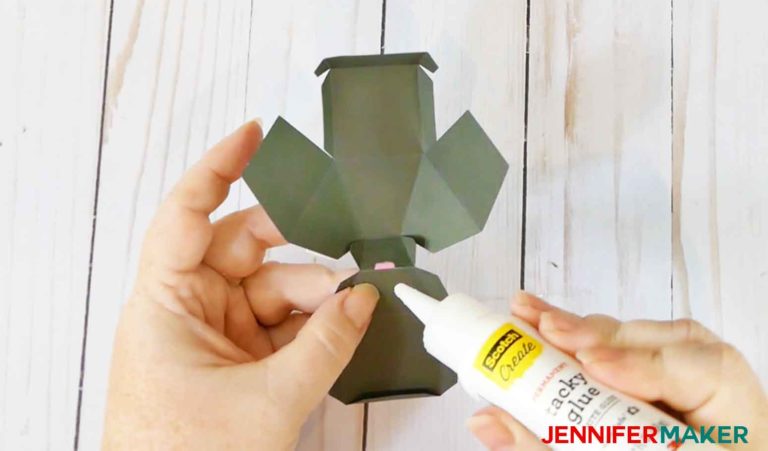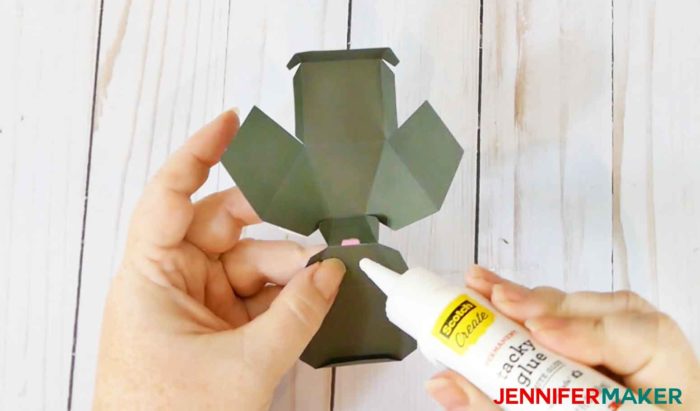 Now put glue on the tabs, one by one, starting with the smallest tabs near the dog's mouth. Glue everything on the head, saving the back of the head for last.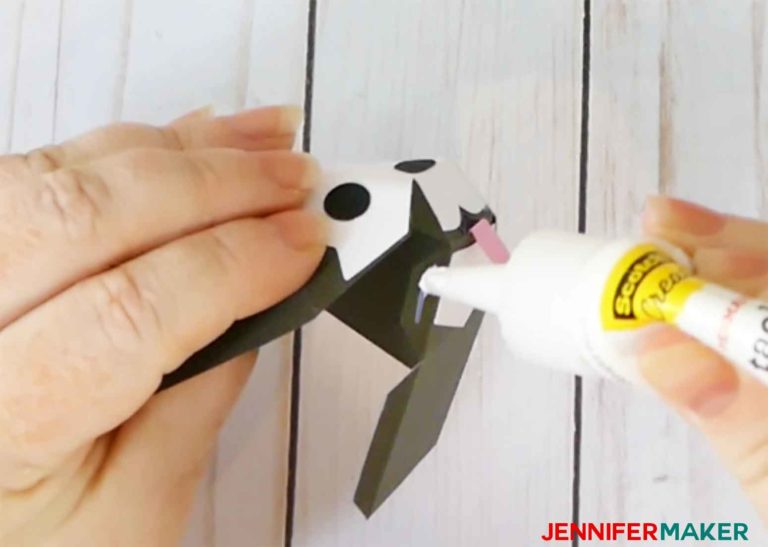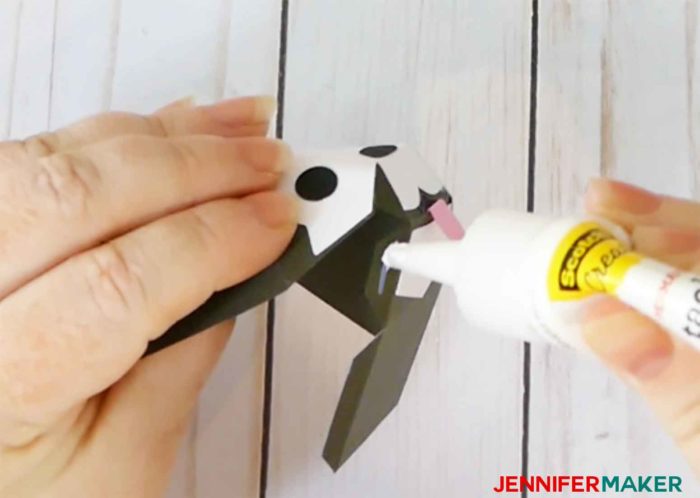 Here's the paper dog head all glued together!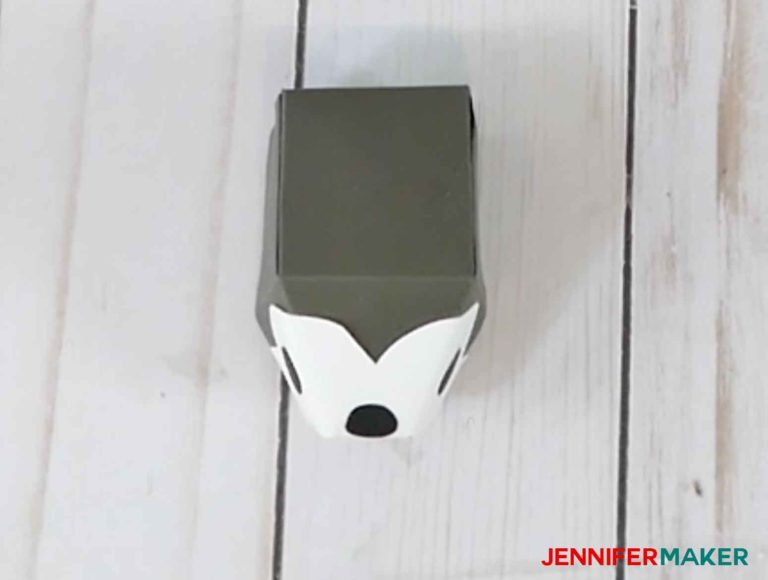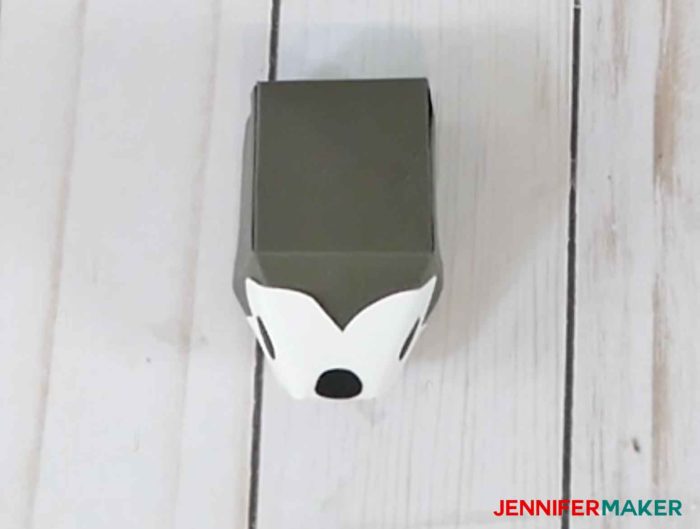 Also be sure to glue on your dog's ears. Some ears (like the Malamute's and Collie's) have tabs and go around the corner of the edge, while others (like the Golden's) just glue onto the side.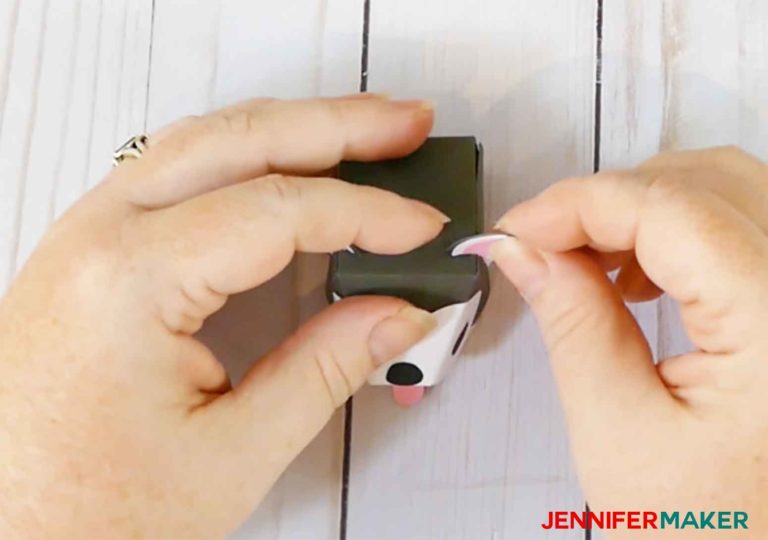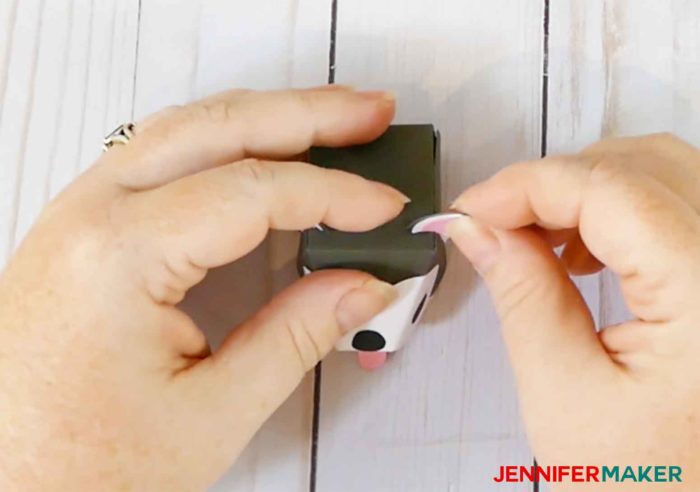 Now let's move to the body. If you have markings on your dog's body, glue them on first.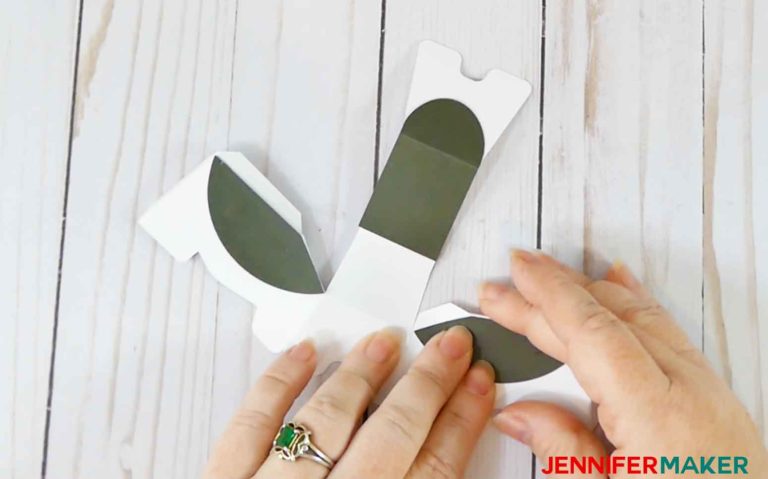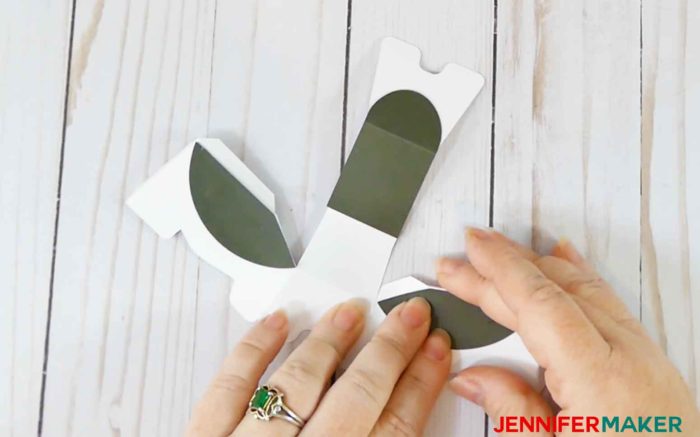 Once any markings are glued on, it's time to fold your body — everything, big folds and tab folds, gets folded IN.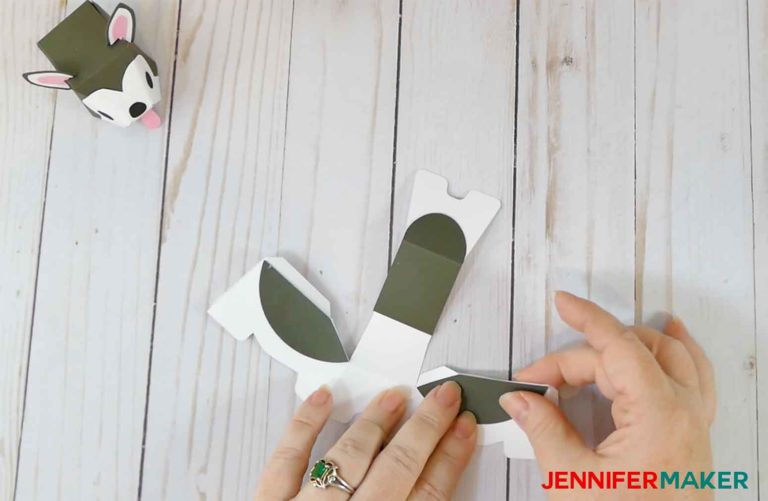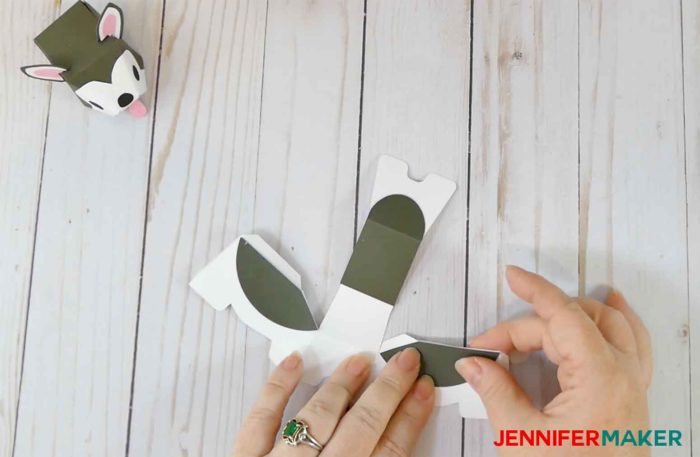 Now, glue up the paper dog body, saving the rear end for last.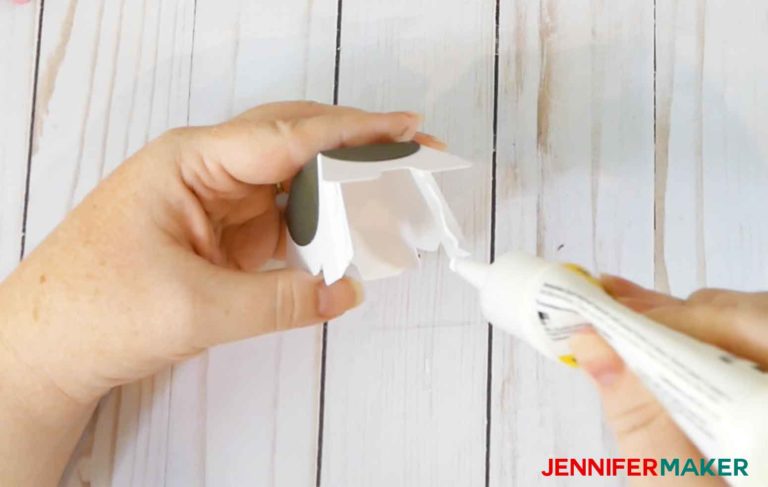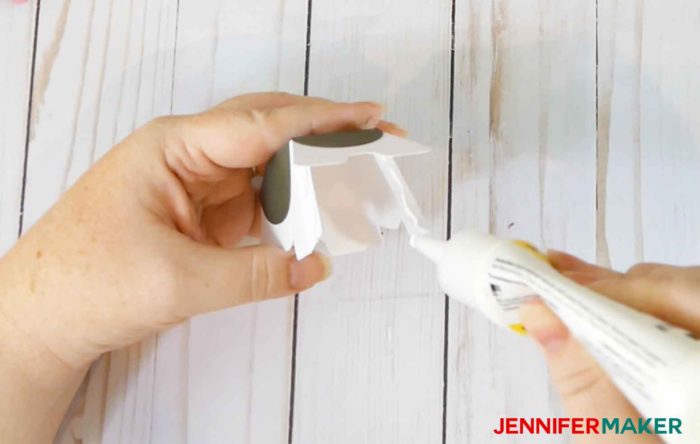 Don't forget to glue your tail on your paper dog, too!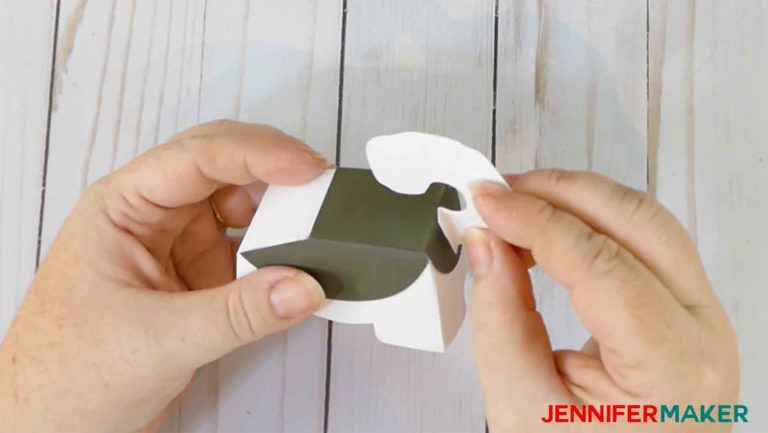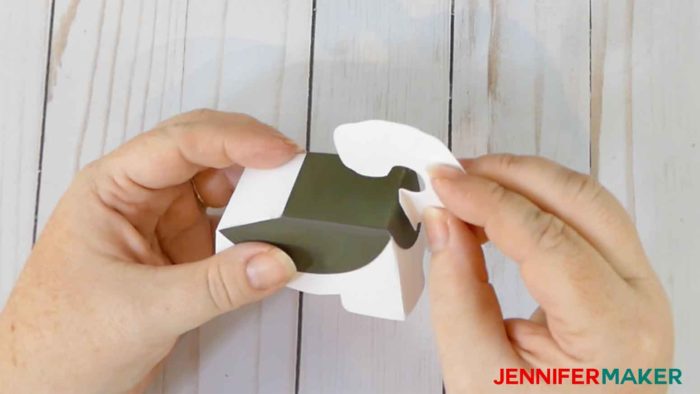 If you are going to put a collar on your dog, fold and glue it to the body now.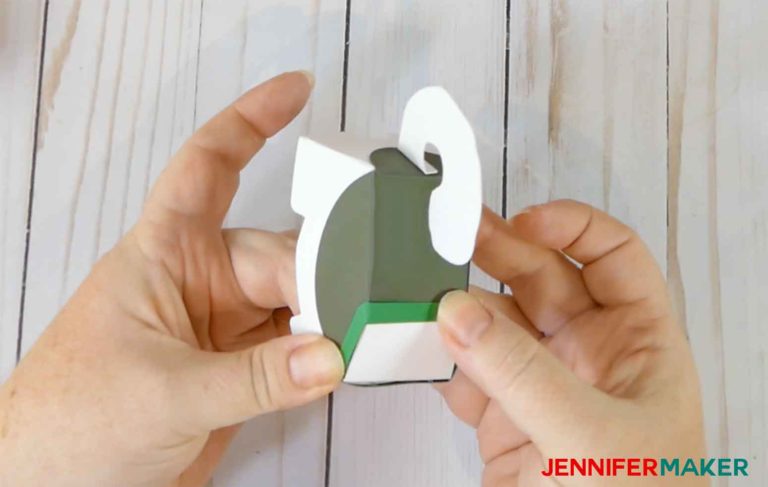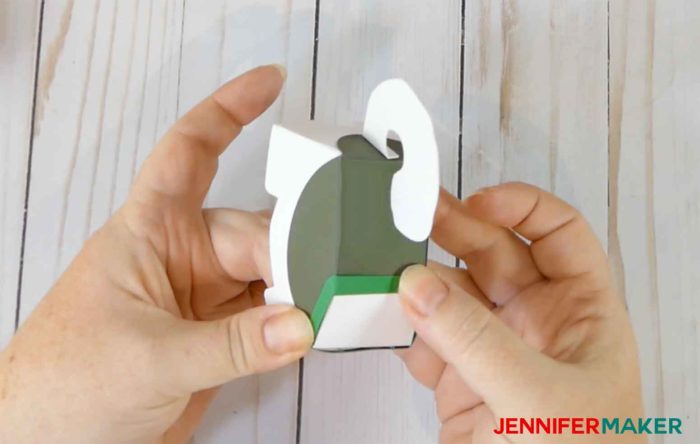 Now you can stop here and just have a paper dog or paper puppy. But if you want a paper dog BOX, keep going! Take the box piece and fold it in, both big folds and tab folds.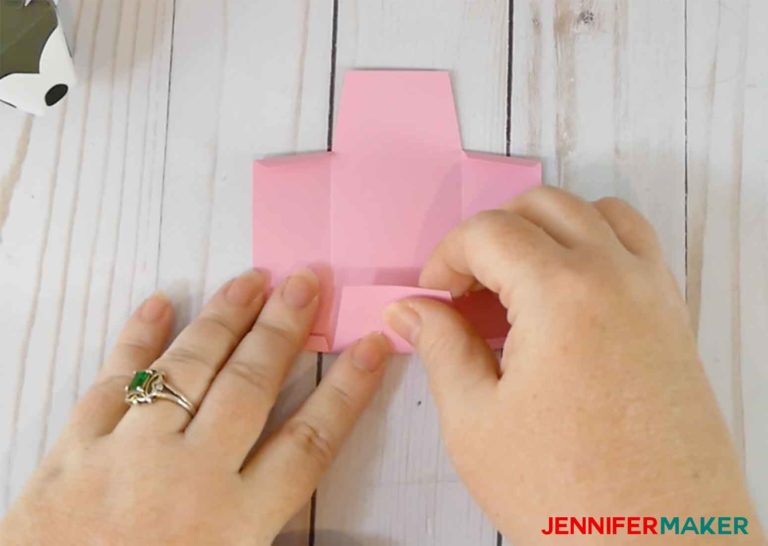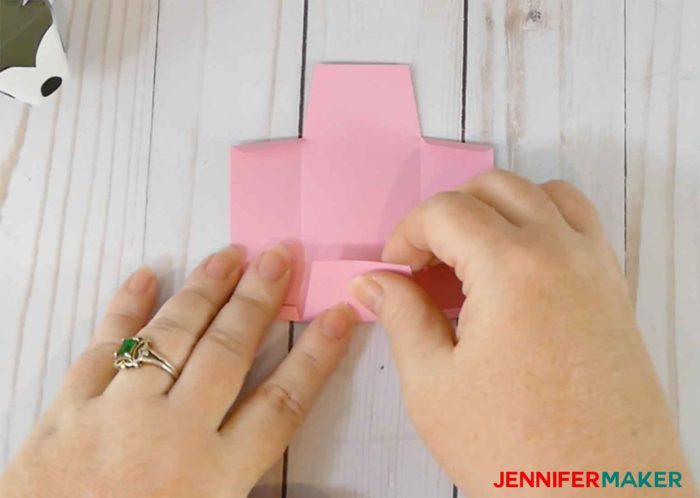 Now, glue the tabs to the sides to form the box.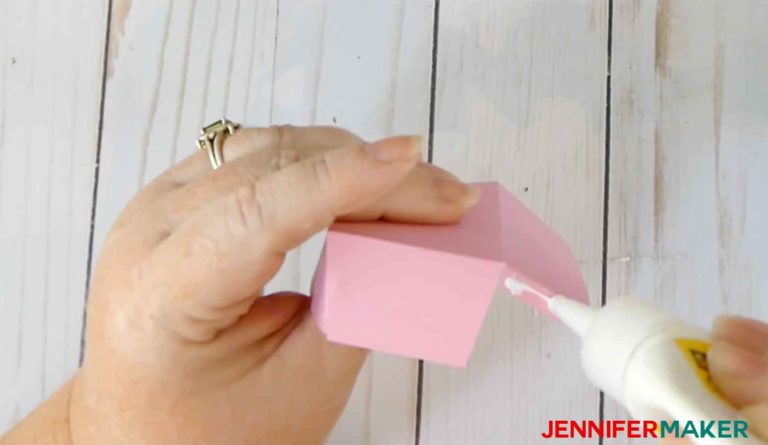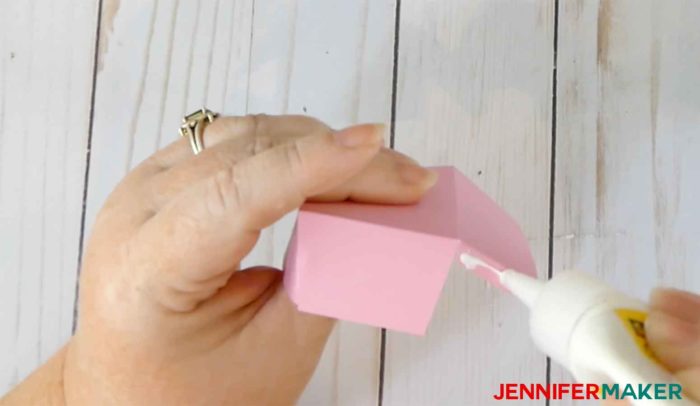 When you're done, you can put the box in the bottom!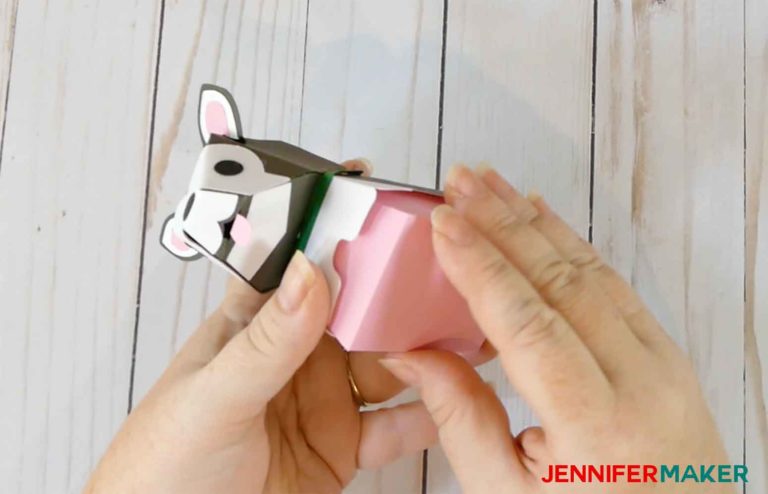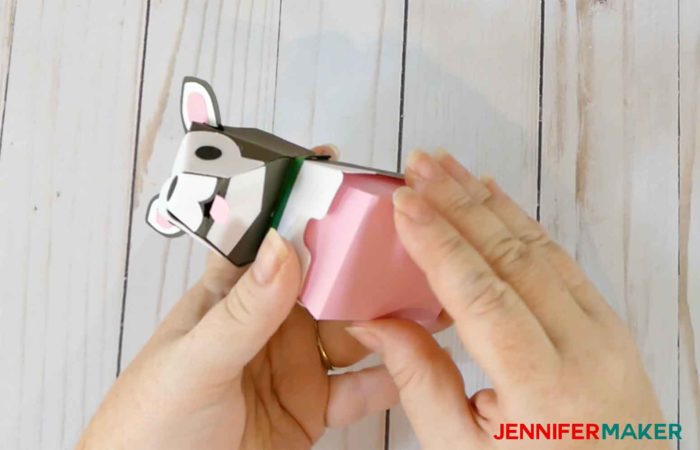 Here are all of the cute paper dog boxes I made! Which one would you like to adopt?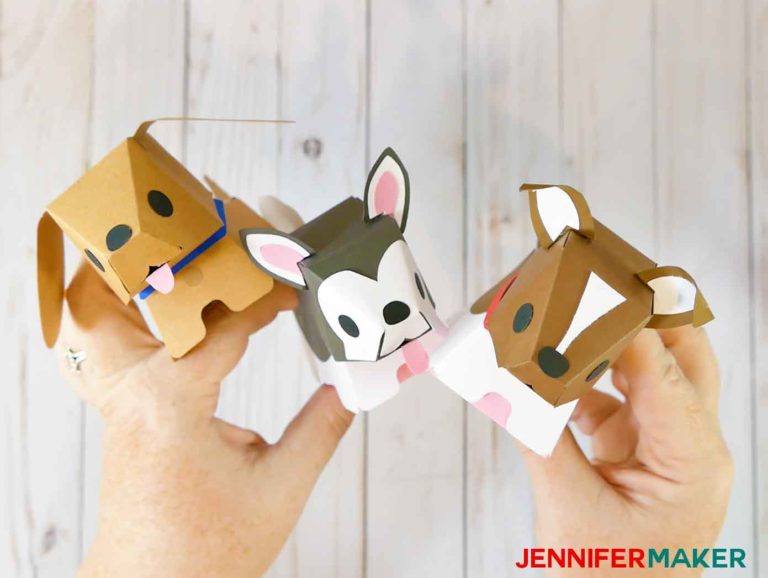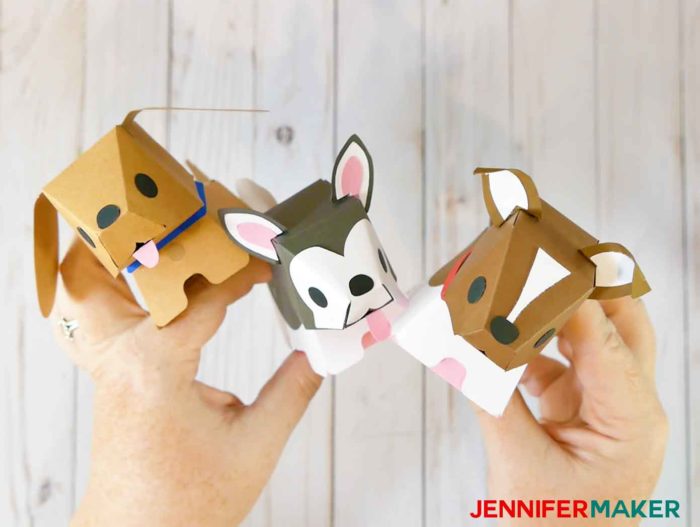 You can really make a lot of different dog breeds just by using different color of paper, different styles and sizes of ears and tails, and different markings. It's really lots of fun!!
Free Cut Files to Make Paper Dog & Puppy Boxes
You can get the password to my resource library that has ALL of my free cut files in it by filling out this form:
If you make these 3D paper dog and puppy boxes, please show me. I'd love to see how you made yours look unique! If you made yours look like your dog, be sure to include a photo of your dog, too! Please share a photo in our Facebook group, or tag me on social media with #jennifermaker.
Love,