Cricut Infusible Ink is a BRAND NEW ink transfer product that lets you create handmade, personalized projects with a professional finish that looks like it came from a store!
Cricut Infusible Ink is going to change how you make T-shirts, totebags, coasters, and more! If you've ever been frustrated at how iron-on vinyl (HTV) doesn't seem to be as durable as you'd like, Cricut Infusible Ink changes all that. Cricut Infusible Ink is a pre-printed sublimation product that gives us commercial-level, permanent heat-transfer effects with rich color that is peel-proof, flake-proof, and wash-proof.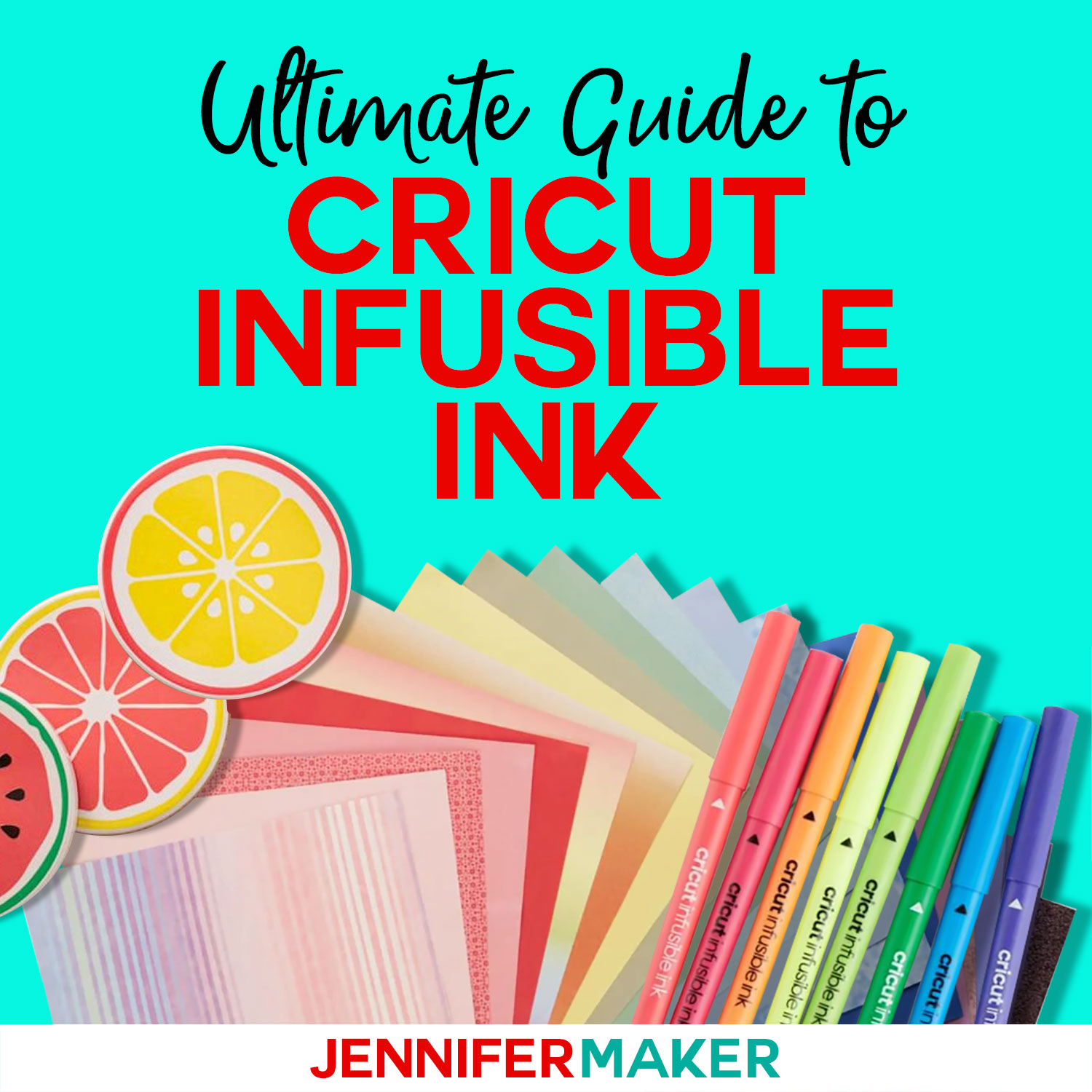 So, are you ready to learn more? Let's look more closely at how Cricut Infusible Ink actually works! This post contains some affiliate links for your convenience (which means if you make a purchase after clicking a link I will earn a small commission but it won't cost you a penny more)! Read my full disclosure policy.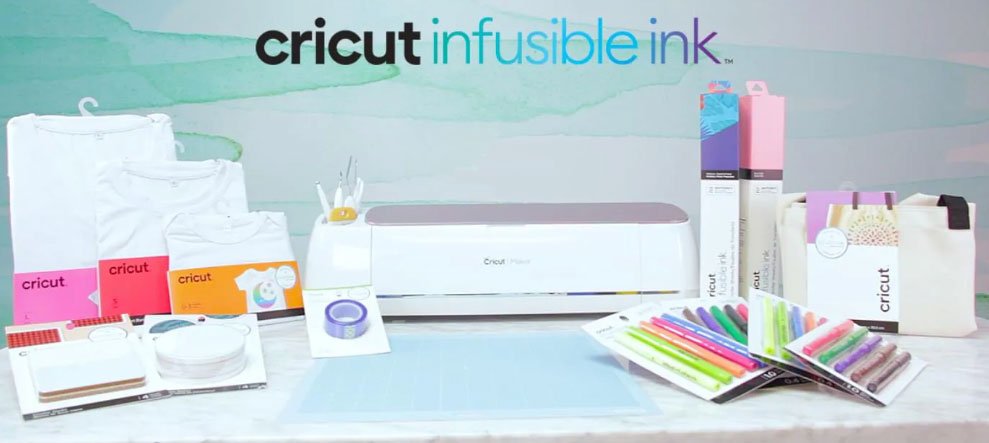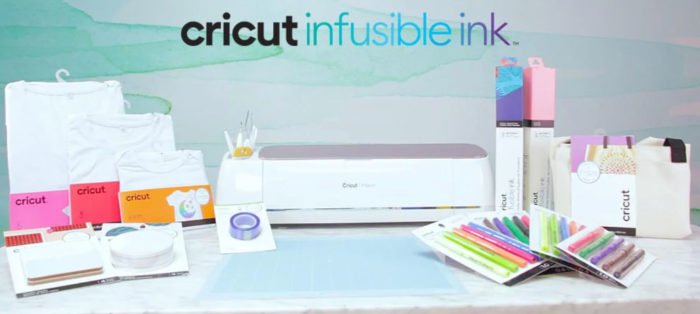 How Cricut Infusible Ink Works:
Choose a Cricut Infusible Ink-compatible blank, such as a T-shirt, a baby bodysuit/onesie, tote bag, or ceramic coaster.
Pick your Cricut Infusible Ink transfer sheets — there are both solid colors and patterns to choose from!
Make your design in Cricut Design Space
Cut your design out on the Cricut Infusible Ink transfer sheet using a Cricut cutting machine (Joy, Explore or Maker)
Use the heat from an EasyPress or Autopress to transfer the design on the blank — your heat source needs to get up to at least 390°F for the heat transfer to work.
The ink is then infused into the surface — it is not an adhesive that melts onto the surface like iron-on vinyl (HTV). Unlike an iron-on transfer or vinyl application where the image is stuck to the top of a base material using an adhesive of some sort, an Infusible Ink heat transfer becomes one with the material itself. That's why it works so well!
There are even Infusible Ink PENS and MARKERS so you can create a design with text or your own handwriting and then write or draw it into the Infusible Ink blank. You can even freehand draw or write onto a blank for fun gifts! ​Markers are $14.99. Here is my tutorial showing you how to color with Cricut Infusible Ink Pens where I create a Mandala totebag.
Infusible Ink Tutorials
Cricut sent me a kit of Infusible Ink materials so I can experiment and show you how they work in advance! Here is my livestream of the unboxing and test between the EasyPress editions! And here's a full tutorial on how to make a layered T-shirt with multiple colors. I also created fun personalized socks using Cricut Infusible Ink. Sign up below to be notified when I post new fun and helpful tutorials and projects involving Infusible Ink!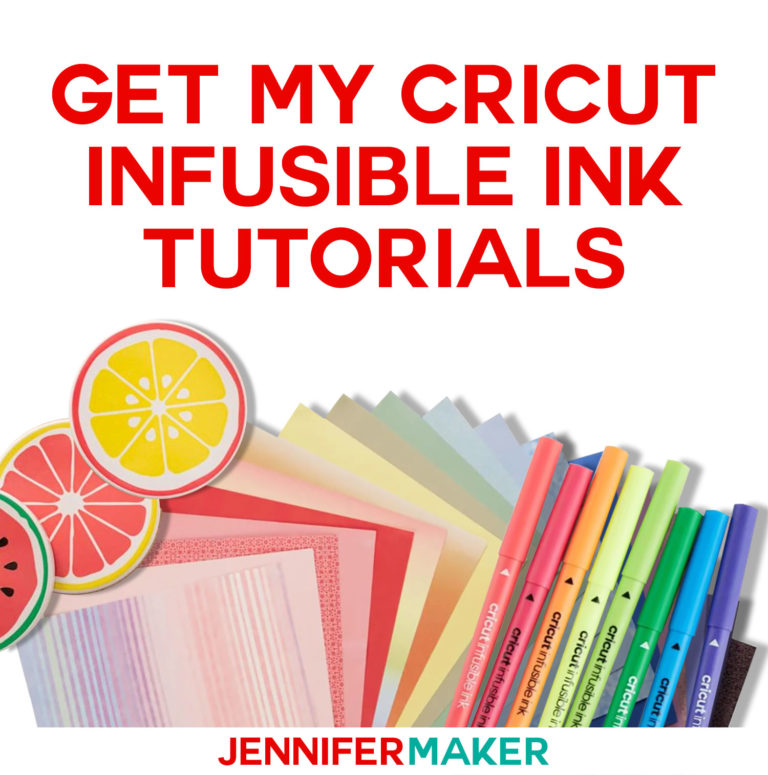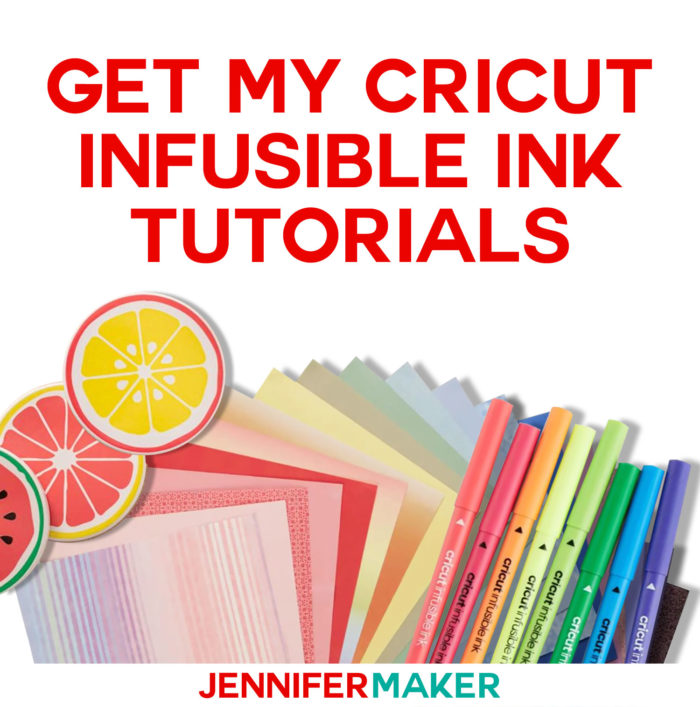 Answers to Your Cricut Infusible Ink Questions
I know you have many questions, so this page will be my repository for all the questions and answers about this intriguing new product! If you have questions you'd like me to research, please ask it in my Facebook group or email me at [email protected]
What Kind of Cricut Do I Need for Infusible Ink?
Any Cricut Explore, Cricut Joy or Cricut Maker can cut the Infusible Ink transfer sheets! If you don't have an Explore, Joy or Maker yet, check out this page for deals!
Is Infusible Ink like Sublimation Heat Transfers?
Yes, but easier! Infusible Ink, like sublimation ink, turns from a solid to a gas that embeds itself into the base material. When the ink cools, it returns to a solid and becomes a permanent part of the material. The good news is that you don't need an expensive sublimation printer to use Cricut's Infusible Ink products, because they've already put the ink onto the transfer sheets and pens for you! So it's a lot easier and less expensive than fancy sublimation printing. Cricut is basically bringing an easy kind of sublimation to the masses who can't afford or don't want the expensive sublimation printers. This is great for those of us who want to make a long-lasting shirt without the hassle of all that extra sublimation equipment we don't really need.
When asked if Infusible Ink was like sublimation ink technology, this is what the Cricut CEO said, "It is a derivation process of it and uses 5 layers of mediums/chemicals for the transfer sheets to make this user friendly for our Cricut members. Took us more than 12 months and have filed several patents on it to solve some key problems."
The Infusible Ink transfer sheets themselves might LOOK like vinyl, but they are not. And they feel more like thick paper than plastic or vinyl.
What Kinds of Materials Can You Put Infusible Ink onto?
Cricut will be selling special Infusible Ink-compatible blanks like T-shirts (mens and womens styles), onesies, totebags, and ceramic coasters, and those are the materials they guarantee results with. Cricut says there will be more blanks like this in the future for us to choose from. But what about third-party blanks? An email I got from Cricut today said, "You can only use Infusible Ink transfer sheets with Cricut compatible blanks. They are specifically formulated to work with Infusible Ink—if you try it on something else, you'll regret it!" But it might be possible you can use it on anything with a poly-coating or even polyester/spandex, such as other sublimation blanks. I plan to test it out because I love to test things. As I figure out what we can and cannot use, I'll update this post with details! That said, Cricut says that results are not guaranteed unless you use their blanks — just FYI.
I did a test on a variety of surfaces beyond the official Cricut blanks. Find out what you can put Infusible Ink transfer sheets and markers on.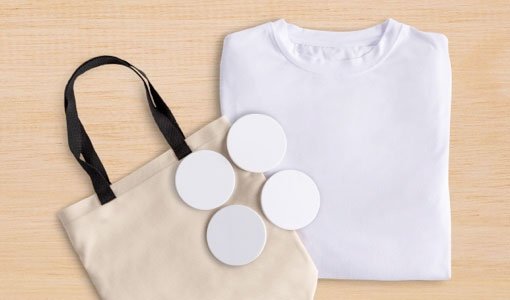 Can You Layer Cricut Infusible Ink?
Yes, you can indeed layer Cricut Infusible ink! In fact, with this tutorial I show you how easy it is to make a Cricut Infusible Ink layered T-shirt.
Do I Need a Printer to Use Infusible Ink?
Nope! This is a printer-free process.
Can I Use Infusible Ink on a Dark T-Shirt and Totebag?
Infusible Inks do not look good on dark colors — the colors will be best and most vibrant on white and very light colors. If you want to personalize a dark T-shirt or totebag, use iron-on vinyl instead.
Can you use Infusible Ink for Dri-Fit (athletic) shirts or athletic apparel (like yoga/workout pants)?
If the material is made from polyester, like Dri-Fit, then Infusible Ink may work. Cricut does not currently offer blanks for athletic shirts or workout pants, but it's possible it may stick to third-party brands. Experiment and find out!
Which is Better: Cricut Infusible Ink or Iron-on Vinyl?
Each is best for different projects honestly. If you want vibrant color on light colored polyester shirts, Infusible Ink is going to be your best friend. If long-lasting shirts that have permanent designs are your preference, you'll also want Infusible Ink. On the other hand, if you prefer 100% cotton shirt or a dark shirt, you're going to want to stick with iron-on vinyl. Also, you're only going to get effects like glitter, holographic, and metallic foil with iron-on vinyl.
Can I Use Iron-On Vinyl WITH Infusible Ink?
Yes! You can totally layer iron-on vinyl on top of a transferred Infusible Ink design.
Can I Use Cricut Infusible Ink with Cotton Shirts?
No, Infusible Ink will not transfer to cotton shirts. Use a polyester shirt or polymer-based material instead. I did a test using the Cricut Infusible Ink on a variety of T-shirts. Find out which T-shirts you can use with Infusible Ink transfer sheets.
How Much Will Cricut Infusible Ink Materials Be?
You can view prices for all Infusible Ink materials at the Cricut Shop — here are Transfer Sheets, Pens & Markers, T-shirts ($7-$10), Baby Bodysuits, Totes ($10-$12), and Coasters.
How Many Sheets Are in a Roll of Infusible Ink?
Two to four sheets in the 12″ x 12 rolls. There appear to be 12″ x 17″ rolls in solid colors that have two sheets each.
Is Infusible Ink Messy?
No! Infusible Ink pigment is solid on the transfer sheet, and only converts to a gas after you begin the heating process. Once it's cooled, it goes back to a solid state, meaning it is really embedded in the material. It's very clean.
How Long Will the Pens and Markers Last?
Infusible Ink Pens/Markers will last a minimum of four full 8.5" x 11" pages of writing or drawing.
Can I Color Directly on the Material with an Infusible Ink Pen or Marker?
No, Cricut does not recommend drawing directly onto your blank. However, it does seem to be possible — you just may not have as vivid or long-lasting results. For best results, use Infusible Ink Pens/Markers with your Cricut to draw your design (mirrored) on laser copy paper first, then transfer to a blank.
Are Infusible Ink Products Available in the UK/Australia/Wherever?
Yes, these are available in the UK Cricut Shop and in Spring and Spotlight in Australia.
Can I Use a Household Iron with Infusible Ink, or Is an EasyPress Required?
Household irons do not get hot enough for Cricut Infusible Ink, which needs at least 390°-400°F (205°C). Your best bet is to use a Cricut EasyPress 2 or 3, which goes as high as 400°F, a heat press, or a first-generation Cricut EasyPress (though you'll need to press for a much longer time, like 4 minutes, and the colors may not be as vibrant AND it won't work with coasters). Check out the Cricut Heat Guide for more specific details!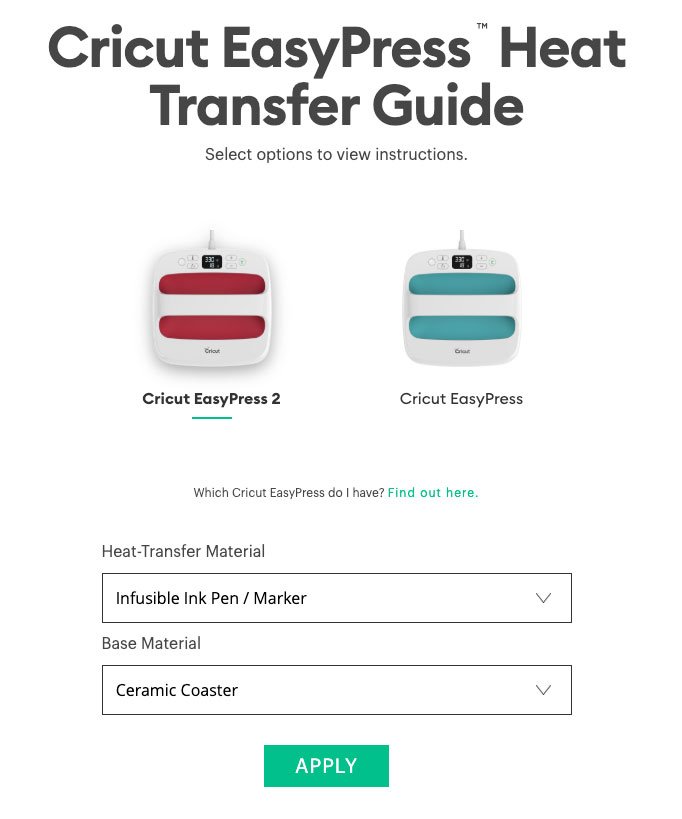 Here are the results of MY test with the Cricut EasyPress 2 (left) and Original EasyPress (right):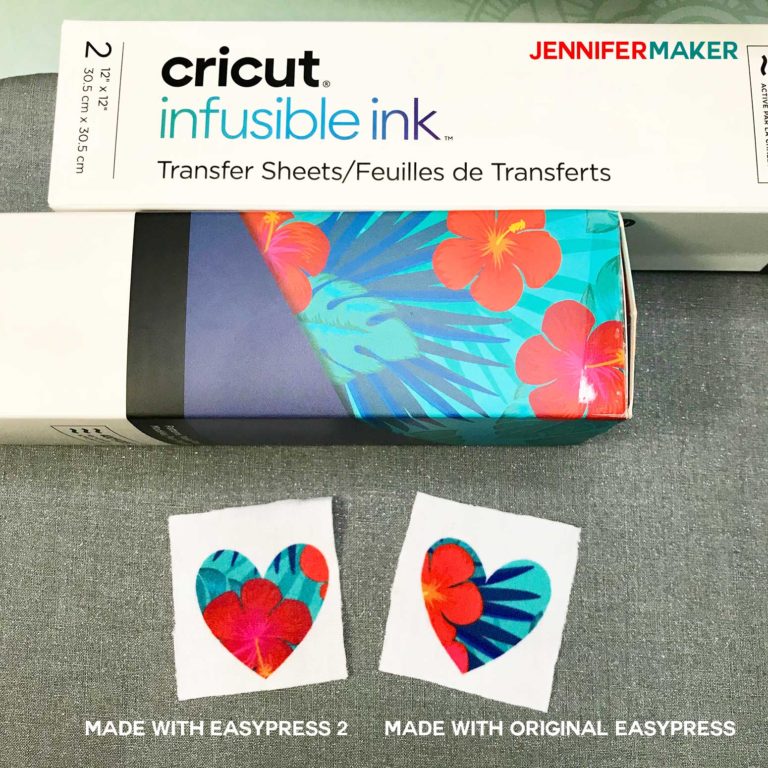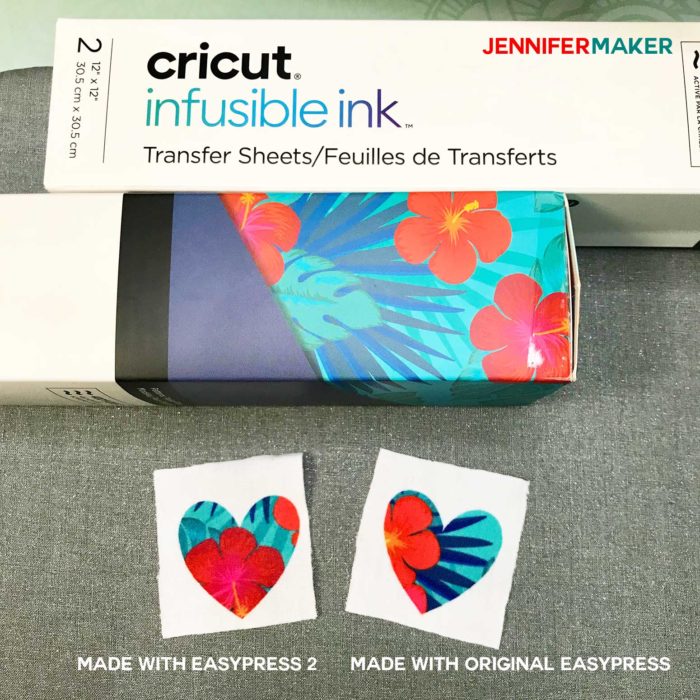 What All Do I Need to Use Cricut Infusible Ink?
Infusible Ink-compatible Blank, such as T-shirt (any sublimation blank will work, too!)
Cardstock (80 lb), White (or 4 layers butcher paper)
Lint roller (for fabrics) or Lint-free cloth (for coasters)
Tweezers (to lift the corner of the paper to avoid ghosting on your material)
I have created a detailed post where I list what you need to buy to get started making Cricut Infusible Ink projects.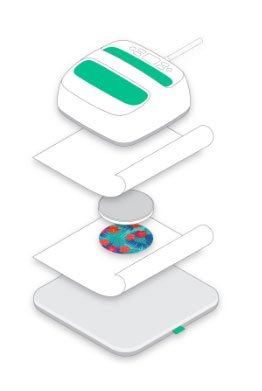 It's important to note that graphics created with Infusible Ink pens and markers require that you use the heat resistant tape.
Can I Use Folded Towels Instead of the Cricut EasyPress Mat?
Cricut really recommends that you use the EasyPress Mat because it helps eliminate moisture and directs heat to your Infusible Ink design during the transfer process. For standard heat-transfer vinyl (HTV) projects, a towel works fine, but it just does not provide the required surface for a successful Infusible Ink transfer. Besides, the mats are really good and great for BOTH kinds of heat transfer products.
What Cutting Mat Works Best for the Infusible Ink Transfer Sheets?
Cricut recommends you use the GREEN StandardGrip mat to cut the transfer sheets. If you use the Infusible Ink pens and markers with your Cricut, you should use the BLUE LightGrip mat.
Do I Need to Mirror My Infusible Ink Designs?
Yes! You want to mirror (flip) your designs just like you would for an iron-on (HTV) design. Learn exactly how to do that here.
Do I Need to Weed my Infusible Ink Designs?
Yes, but you'll do it a bit differently than with iron-on vinyl.
How do I weed my design after cutting Infusible Ink Transfer Sheets?
To weed Infusible Ink Transfer Sheets, it's recommended that you employ the "cracking" method. To do this, peel the cutting mat away from your cut design (which is what I always recommend anyway), then slightly bend and roll the cut paper until you hear a little cracking sound (which happens as the cuts separate). Don't worry if your design lifts off the liner a bit. After you "crack" your cut design, just take away the excess paper and you'll be left with just your design on the liner. You can see how I weed my design when I make a Cricut Infusible Ink layered T-shirt.

How Do I Care for My Infusible Ink Projects?
To take good care of your T-shirts, onesies, and totebags, machine wash them inside out with cold water and mild detergent, tumble dry low or line dry, and do not use fabric softener, dryer sheets, or bleach. You can iron, steam, wash, and dry them! Find out how different shirts stand up to the washer and dryer!
For coasters, you can wash with warm water and glass cleaner — do not use steel wool, colored cleansing agents, or scrubbing pads.
What Happens If I Don't Use or Apply Cricut Infusible Ink According to the Directions?
I get a lot of those "what if…" questions. So I decided to run some experiments. You can see what works and what doesn't work in my Cricut Infusible Ink Tips Playtest.
Want more help using Infusible Ink? Sign up here!

If you have more questions, please ask it in my Facebook group or email me at [email protected].
Love,