Father's Day is fast approaching and it's time to make something fun for the guys! So I've designed a pop-up grill card that is perfect for dads and summer cook-outs. And the best part? You can put a gift card right inside the grill (just like my coffee cup gift card holder). Just flip open the grill hood and pull out the gift card. Isn't that fun? You can use this for a summer party or cookout, too — just leave the gift card out. And it all folds flat so you can slip it into a 5″ x 7″ envelope and even mail it. Here's a preview of what it looks like and how it folds:
The files and tutorial are all free here on my blog, so let me show you how to make this super awesome grill! Some of the links below are Amazon affiliate links for your convenience. Read my full disclosure policy.
How to Make a Pop-Up Grill Card and Gift Card Holder
First, cut out all your pieces using my free cut files (they are in my free resource library — get the password to it at the bottom of this post). Note that I have included score lines as the first layer in both the grill file and the base file, so you need to change that layer from Cut to Score after uploading it to Design Space, and then attach the first two layers together to ensure the score lines appear in the correct places. Everything else is on its own layer so you can change colors or show/hide as much as you like.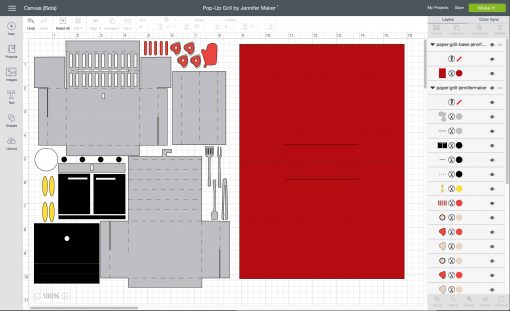 Note: If you use metallic cardstock like me, you may find it hard to cut. I had to create a Custom Material with a setting of 330 and a 3x cut.
Once your pieces are cut out, begin by spraying the backs of all the small pieces with adhesive (doors, knobs, utensils, hood rectangles, food, plate, etc.) I recommend you put them on a small piece of card stock, spray them in your overspray box, then lift out the entire piece of card stock with your sprayed pieces — so much easier that way!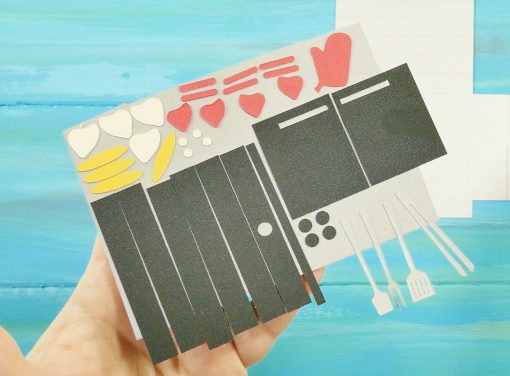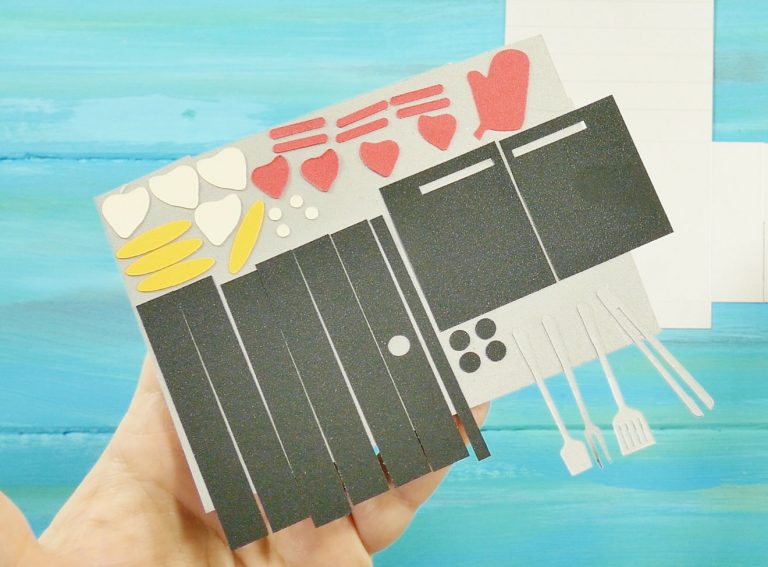 At this point, I recommend you watch my assembly video from start to finish — it's really a lot easier to watch me put it together, I think! But I do explain each step below for those who do not like videos, of course.
Identify the front piece of your grill — that's the part with the grill-like grate in it (see photo below). Turn the piece over so your score lines are on the underside, as shown below.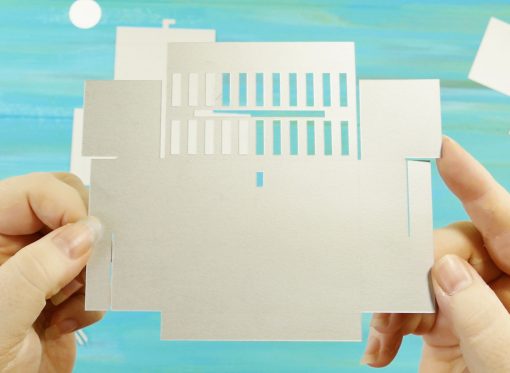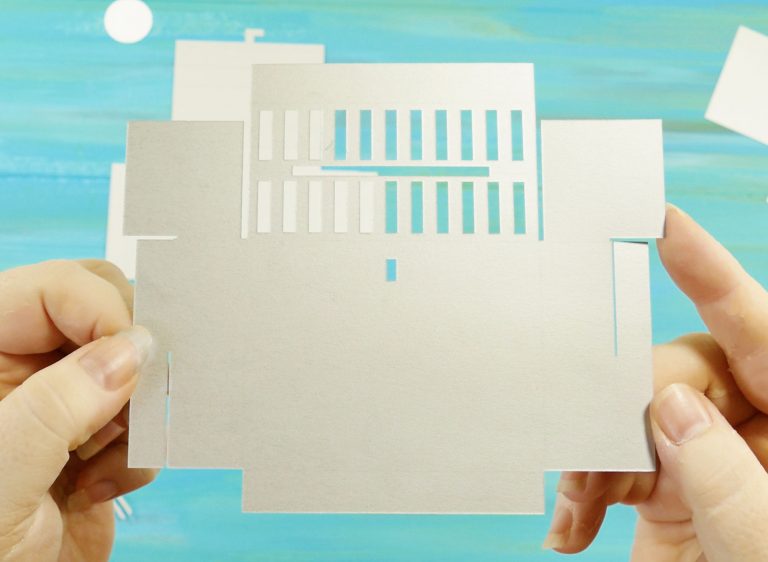 Now decorate the front of your grill in any way you like. Note that if you put anything on the little side tables of the grill, they need to go on the reverse side so they are visible when folded down.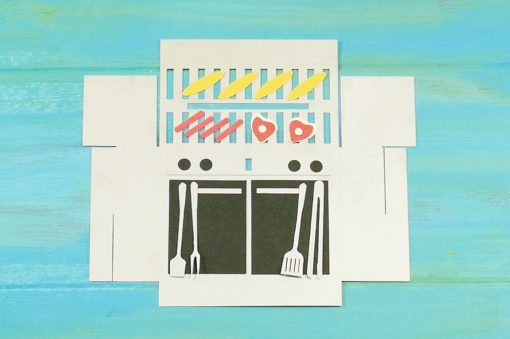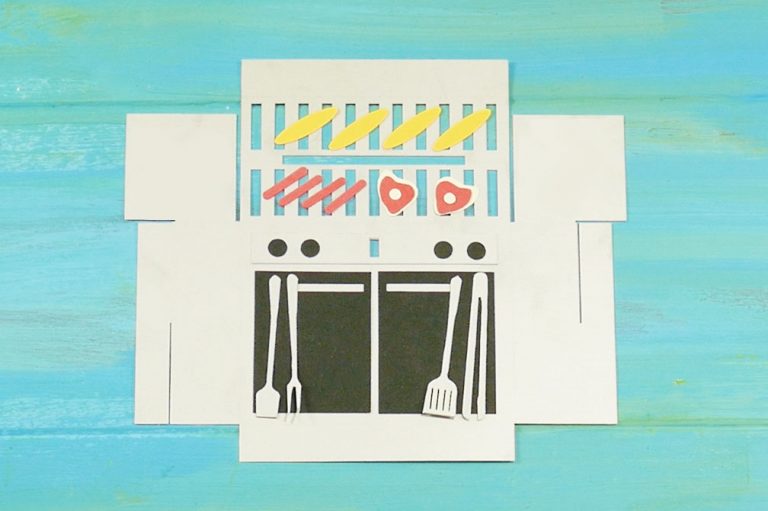 Now take the back piece of your grill and, again, turn it so the score lines are on the underside.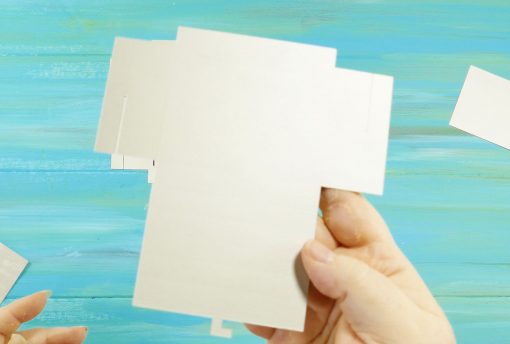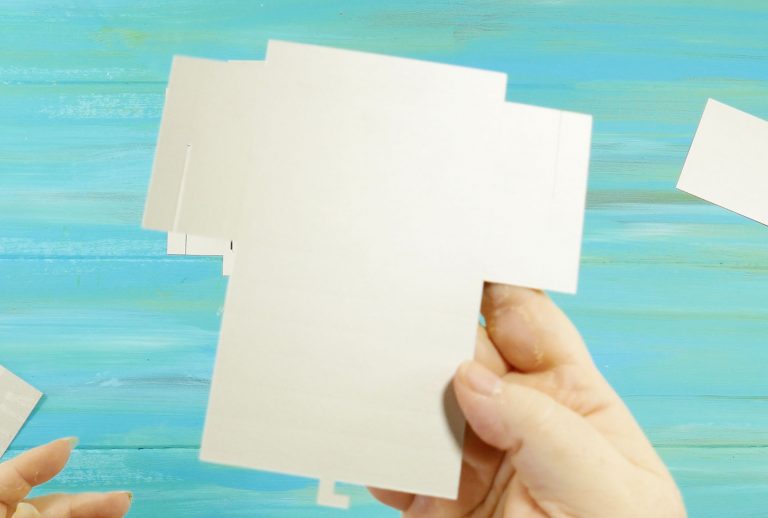 Decorate the hood with the rectangle pieces if you want.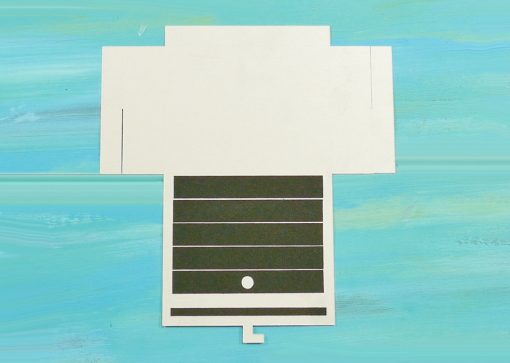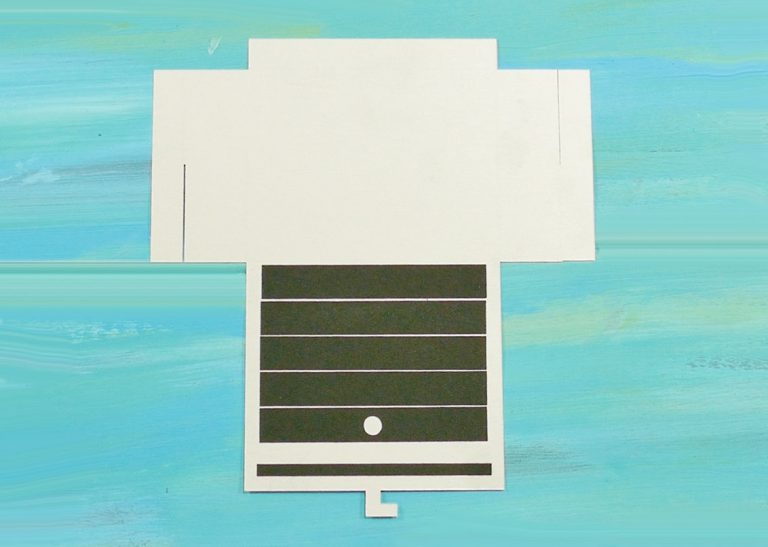 Once your decorations are on, begin folding your grill pieces (front and back) along the score lines. Everything gets folded IN except the tab at the bottom, which gets folded OUT. The hood gets folded so it is a sort of curved shape. See my photo below for reference.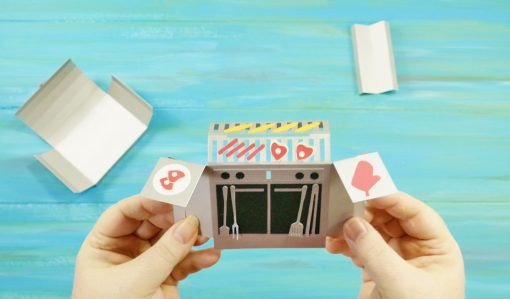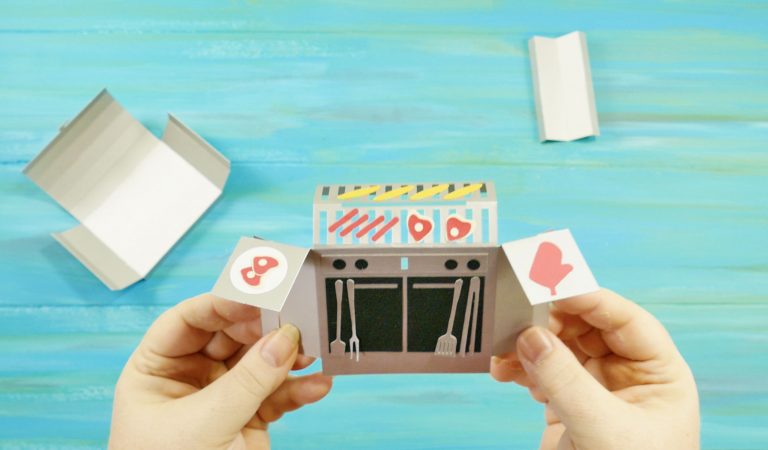 Now let's attach the grill pieces together. Slot the front and back pieces together so that the extra flaps are on the INSIDE of the grill, as shown below. Turn it over and apply glue to the underside of those flaps. Allow to dry before moving on to the next step.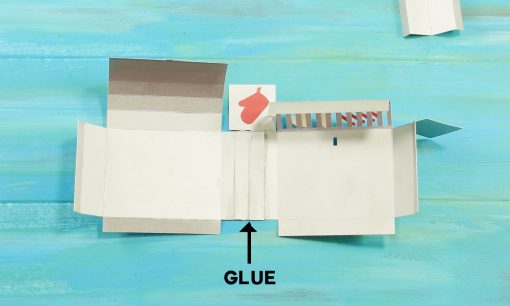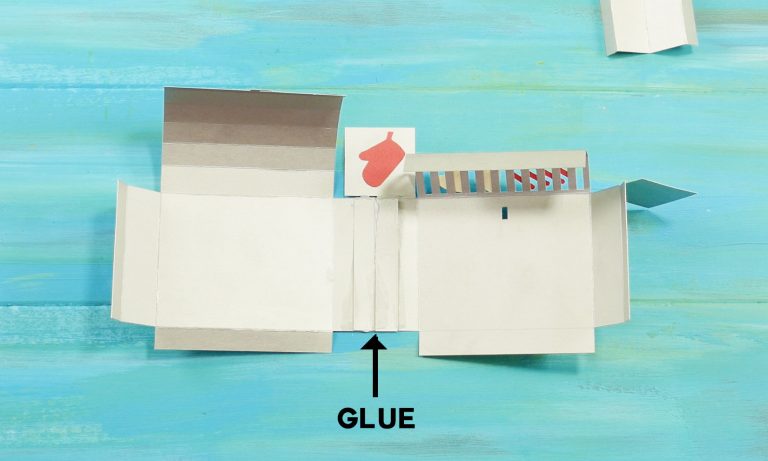 To attach the other side, put glue on the underside of the flaps on the other side of the grill BEFORE you slot them together. With the glue on the flaps, carefully slot them and then press and hold. Again, allow to dry before moving on. I recommend you let it dry flat, as that way you know everything folds flat without buckling.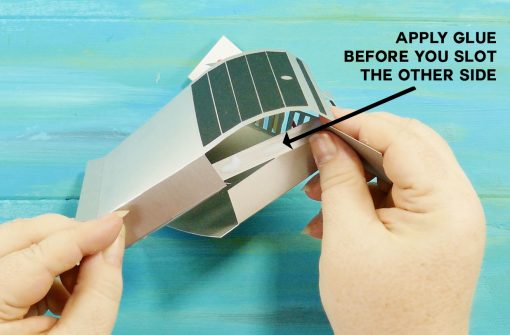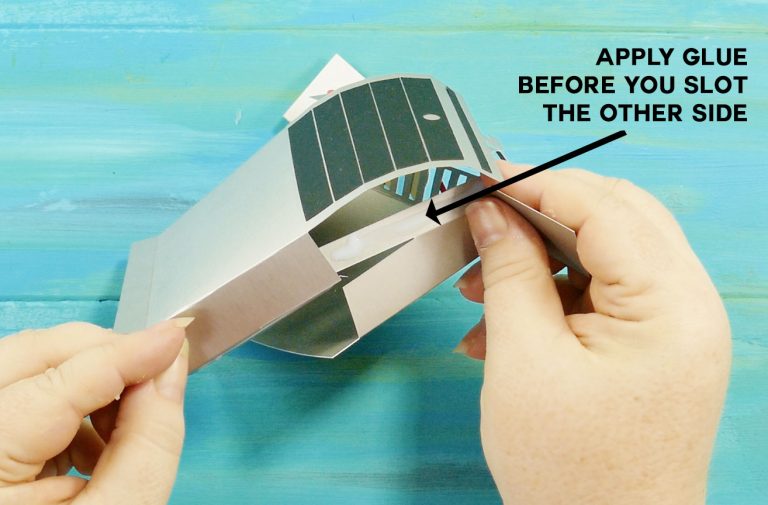 Lastly, you need to glue the grill grate down. The easiest way to do this is to fold the grill flat, allow the grate to fold in half upward, put glue on the flap of the grate, then position it so its being covered by the back of the grill. Allow it to dry flat.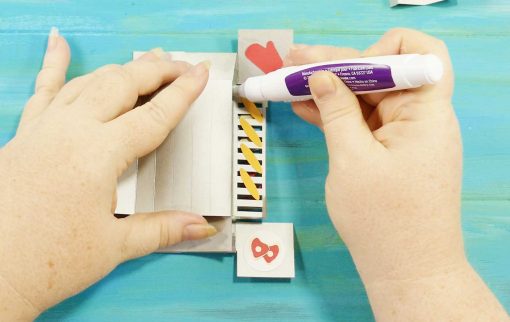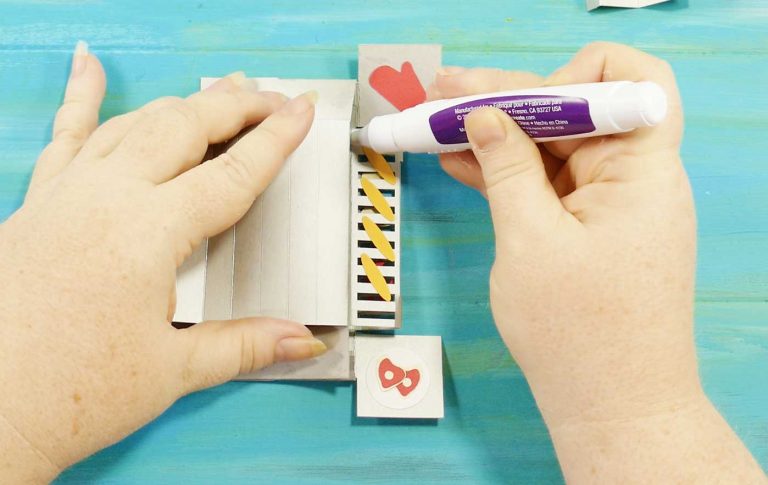 Once everything is dry, open up your grill and stand it up. You can close the hood now and practice opening and closing it.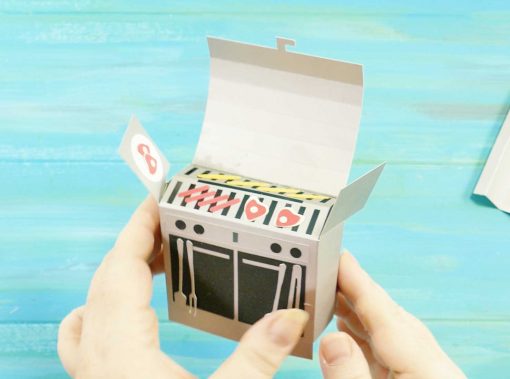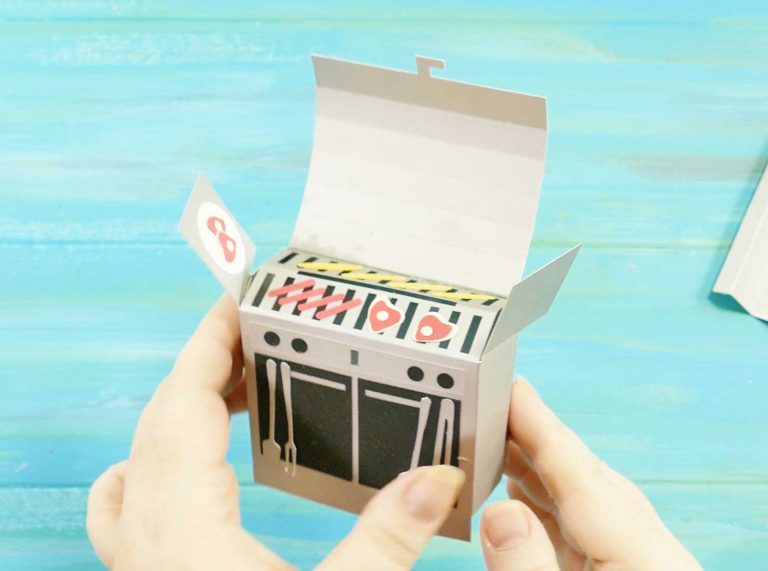 If you want to use the grill to hold a gift card, you'll want to attach the bottom tray to keep the card from slipping out when it is folded flat. The tray gets folded into a W shape — just glue the sides of the W and slide it into the bottom, being careful to put it in just far enough so no part of the tray is extending past the bottom of the grill.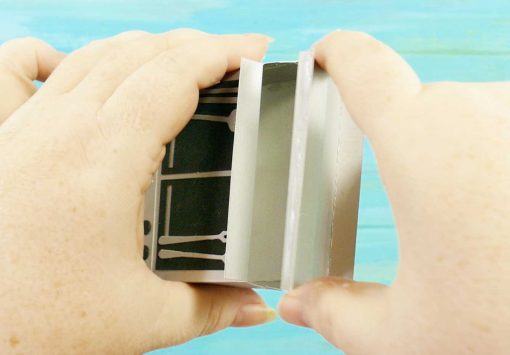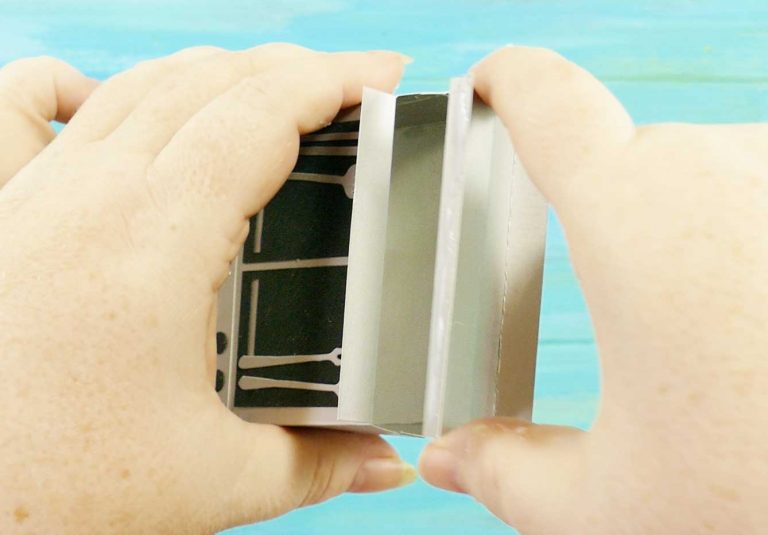 If you want to put the grill into a card (for a pop-up card), just slide the tabs on either side of it into the slots in the base card. Glue or tape from underneath.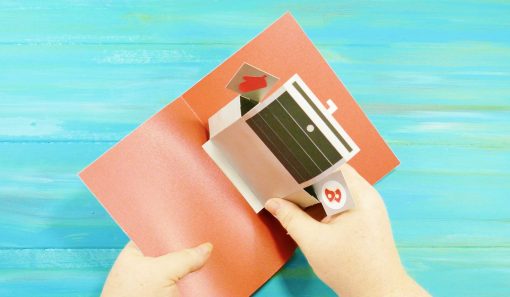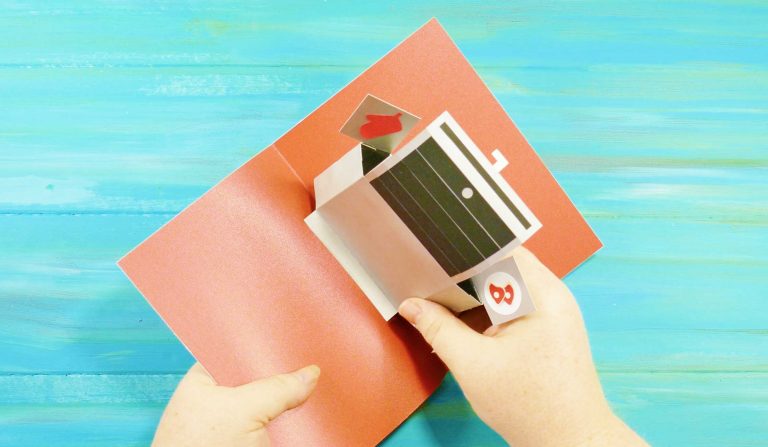 You can now attach whatever sort of outer card you want — in my example, I simply glued a plain piece of black card stock around it. I'm sure you could get creative here and make a great card front! I wasn't sure what to do, so I haven't done that yet on my card.
And that's all there is to the pop-up grill! Here's an alternate version with more stainless steel!
As always, do let me know if you have any questions. If you make this card, please send me a photo at [email protected] If you give me permission, I will include your photo here in the tutorial!
Here is a pop-up grill card made by reader Lois Windsor — isn't it great?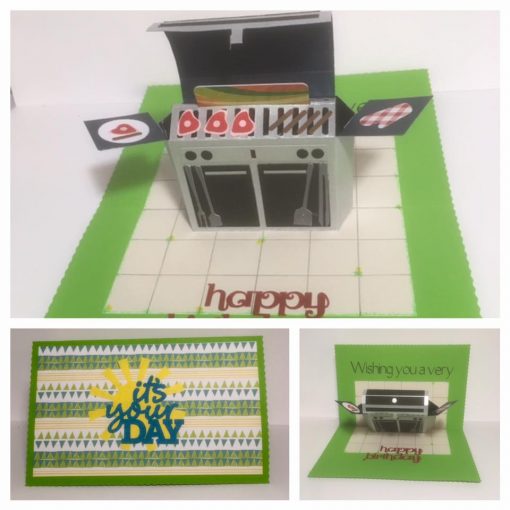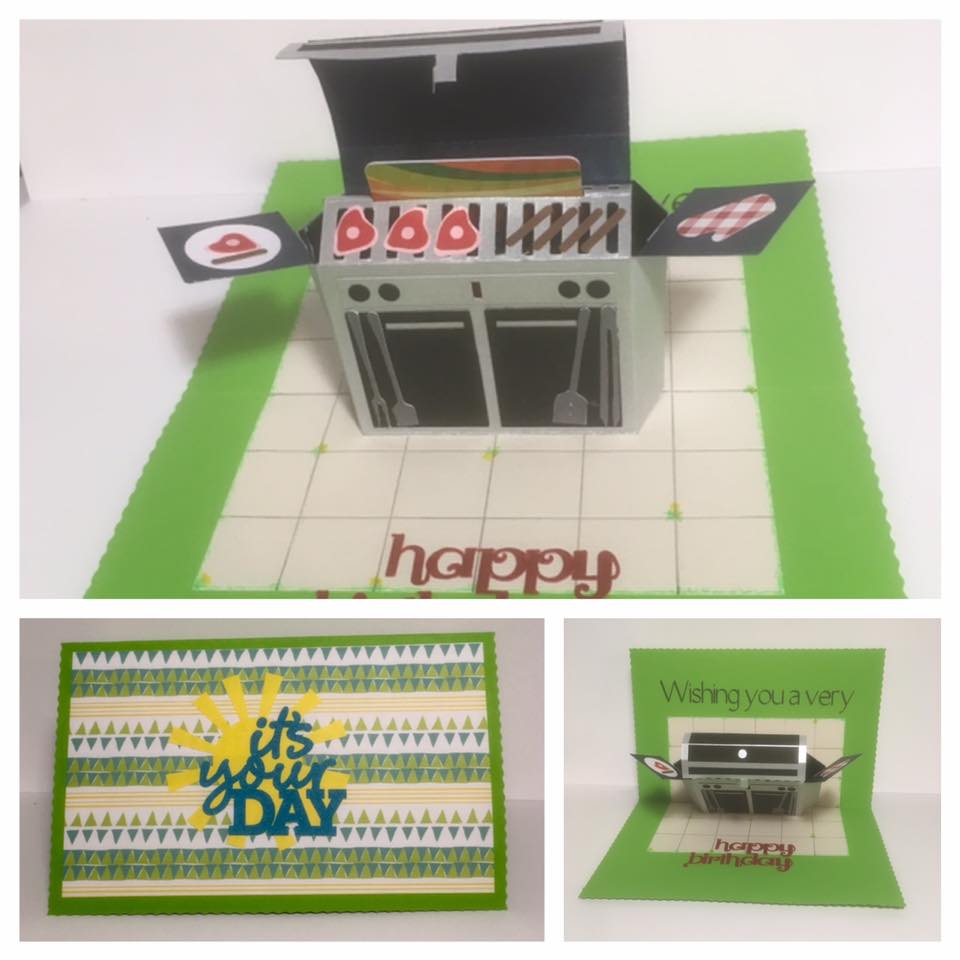 Here's another version of the pop-up grill card made by reader Janine Rudnick!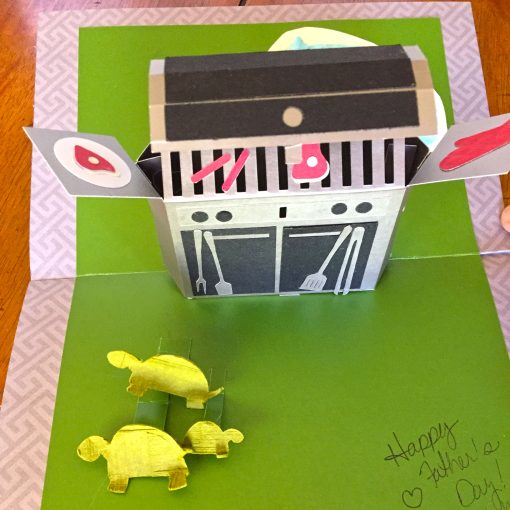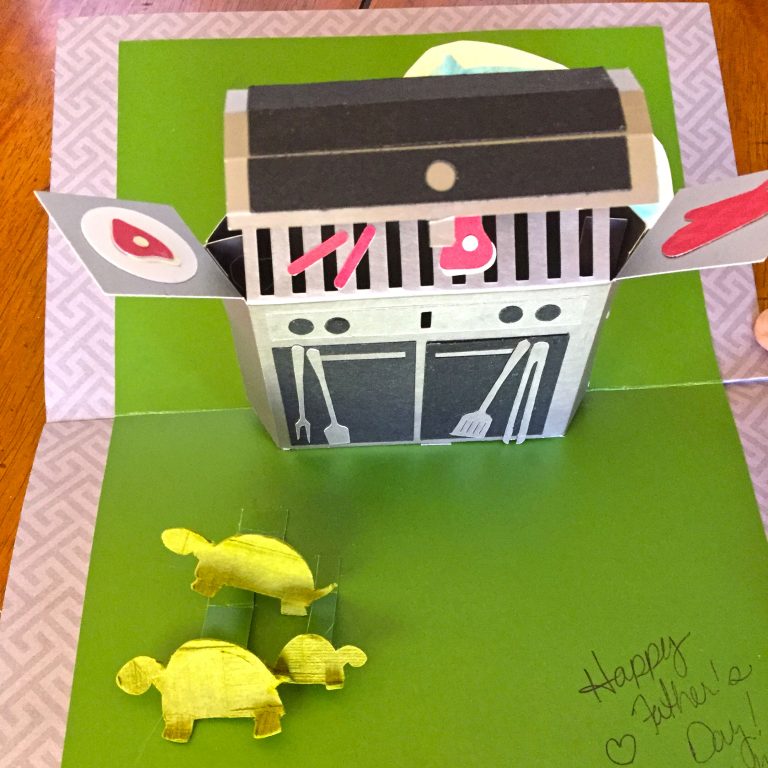 This one is made by reader Cheryl Gould — I love how shiny it is!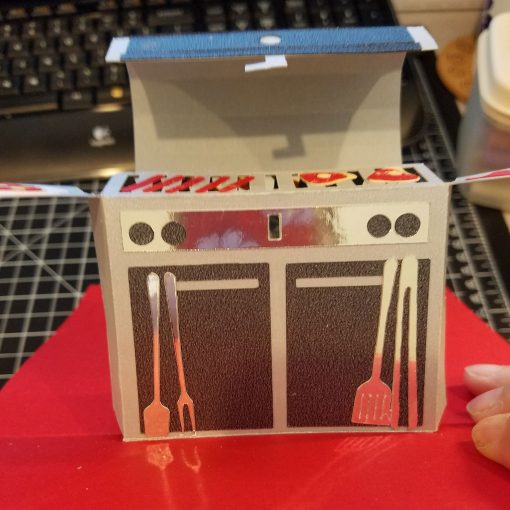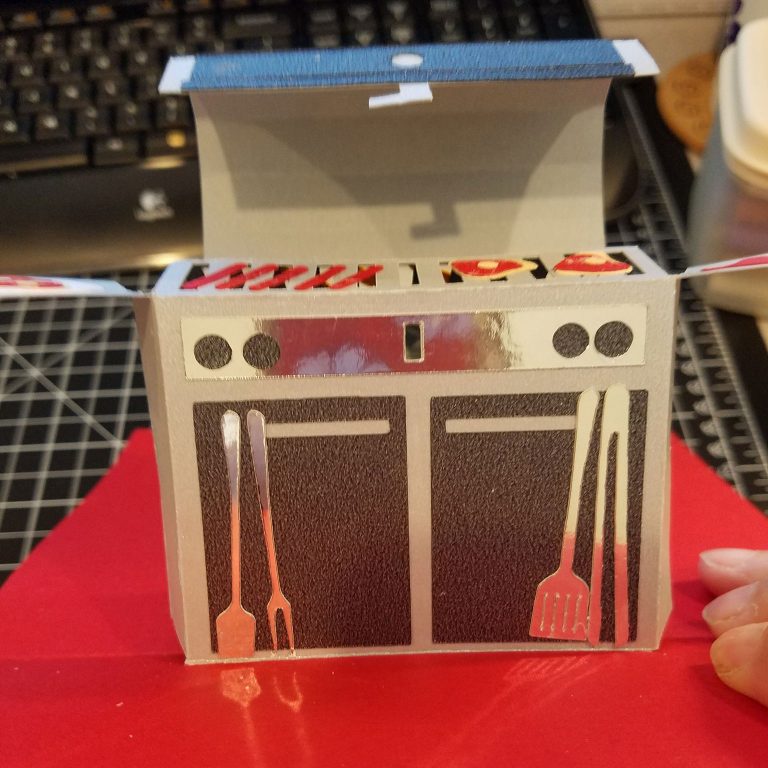 Get the free SVG files here by filling out the form here:
Get my free SVG cut files for the Pop-Up Grill Card
Subscribe (free!) to get access to my resource library with all my free cut files, printables, and patterns! Once subscribed, I will send you a newsletter with details about my new free files each week.
Love,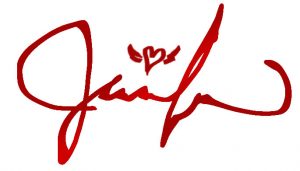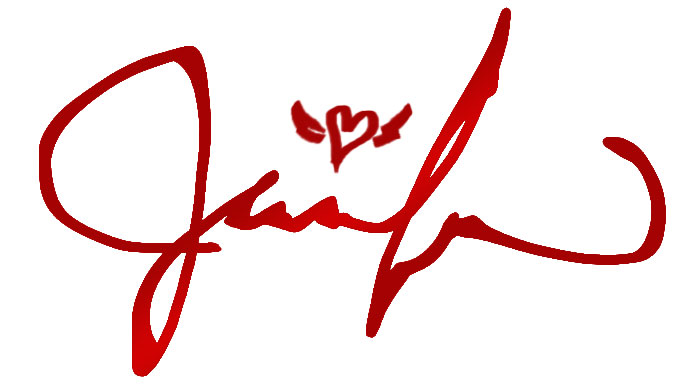 If you like this project, please pin the Pop-Up Grill Card to your favorite DIY and craft board on Pinterest!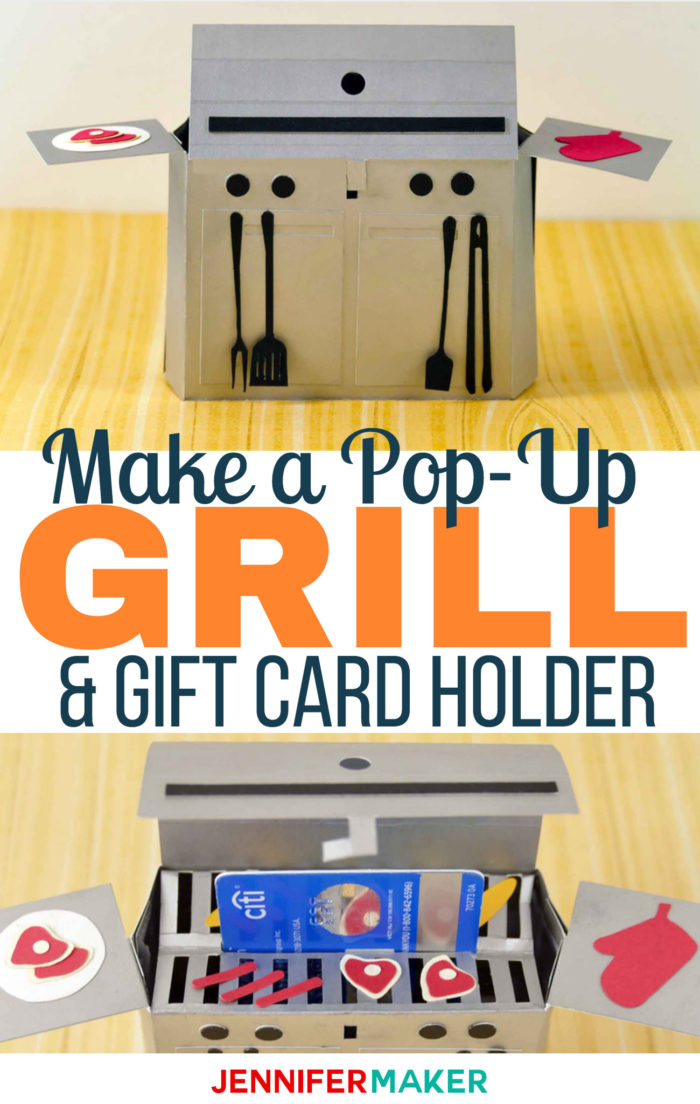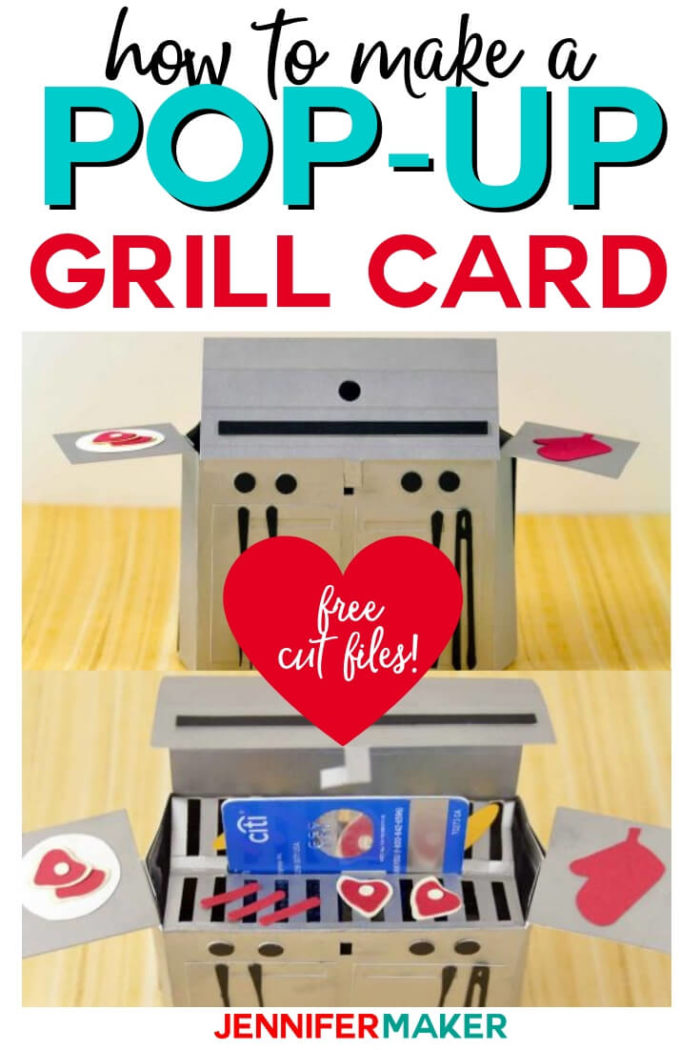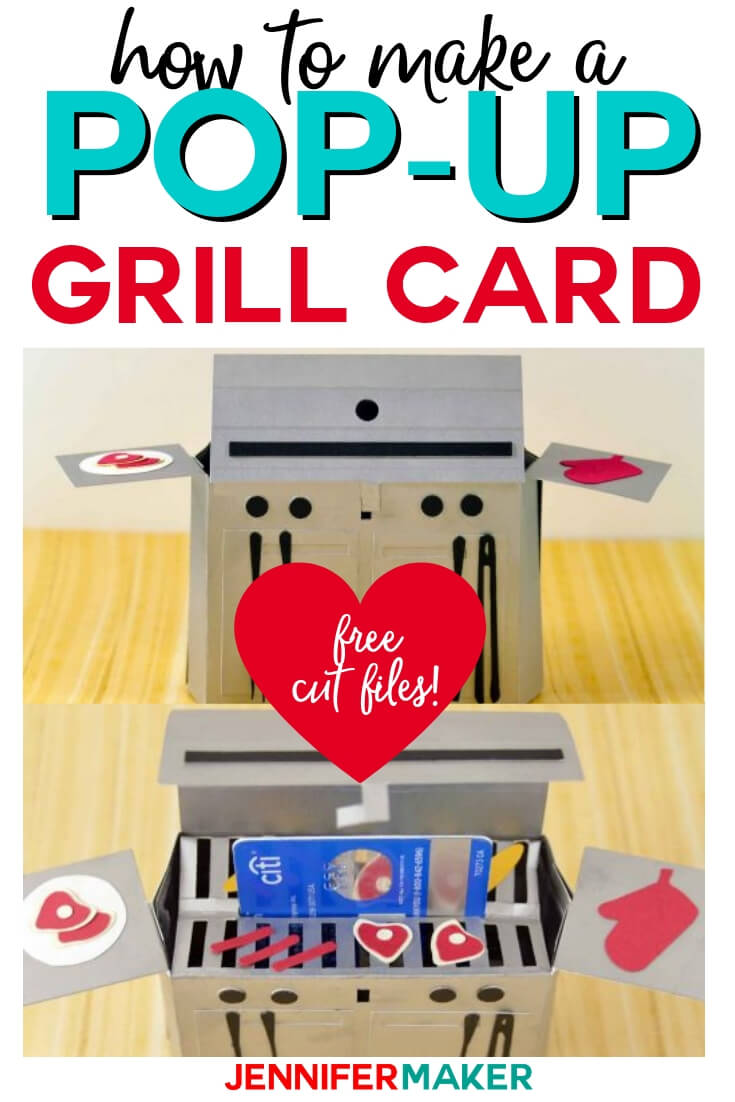 More Free SVG Cut Files