Learn all about dye sublimation for beginners, including what it is, what you need, and what you can make!
Sublimation is a really fun and useful crafting technique that creates vibrant, full-color objects, such as shirts, mugs, tumblers, signs, and so much more. If you've seen any of my tutorials about Cricut Infusible Ink, then you're already familiar with sublimation — because Infusible Ink is a TYPE of sublimation! Today I want to take sublimation a step further and tell you how you can print your own custom sublimation transfers to make more beautiful things for your home décor and family… or even start a small business selling custom sublimation items that everyone has to have! So now I know you're wondering … "Jennifer, how does dye sublimation work? What things can I use it for? And what can I put it on? And how do I get started already?" I have answers here in my ultimate guide to getting started with dye sublimation for beginners!
Want to save this? Enter your email below and we'll send this straight to your inbox.
Watch my full video on Sublimation for Beginners here:

Ready to learn more about dye sublimation for beginners? This ultimate guide to getting started with sublimation will help! This post contains some affiliate links for your convenience (which means if you make a purchase after clicking a link I will earn a small commission but it won't cost you a penny more)! Read my full disclosure policy.
Printers, Tools, & Materials for the Dye Sublimation Technique
How does dye sublimation work?
So… what exactly is sublimation and how does it work?
So in the crafting world, sublimation refers to DYE sublimation which is a print and transfer method that can duplicate a high quality and full color design. Here is a colorful T-shirt made with the dye sublimation process (see the full tutorial on this exact shirt here):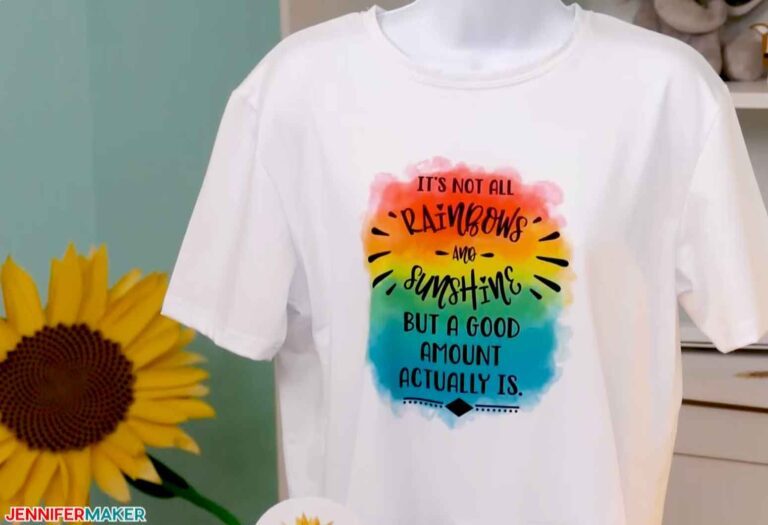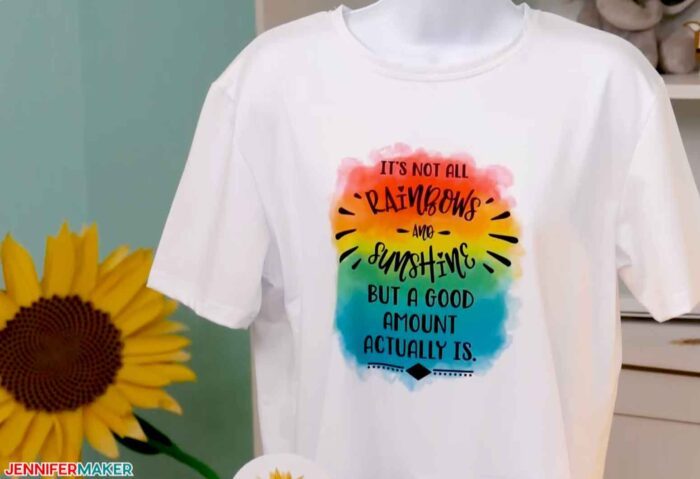 It's called sublimation because we are changing the form, but not the essence, in the process. We heat the ink to a gaseous state, which soaks into our object, then cools back down into a solid state to create a permanent design.
Sublimation uses a special ink from dye-sublimation printers that can then be transferred to another object with a compatible coating. You first print a design with a sublimation printer — which uses special sublimation ink on special transfer paper — then use high temperatures and pressure to transfer the ink permanently to something else that has a coating that can absorb the ink, such as polyester T-shirts or a coated ceramic mugs.
After the sublimation cools, which happens quite quickly, the design becomes embedded right in the surface of the object, and won't crack, peel, rub off, or wash away. Here's a polyester-coated rubber mousepad and a coated ceramic mug with sublimation designs!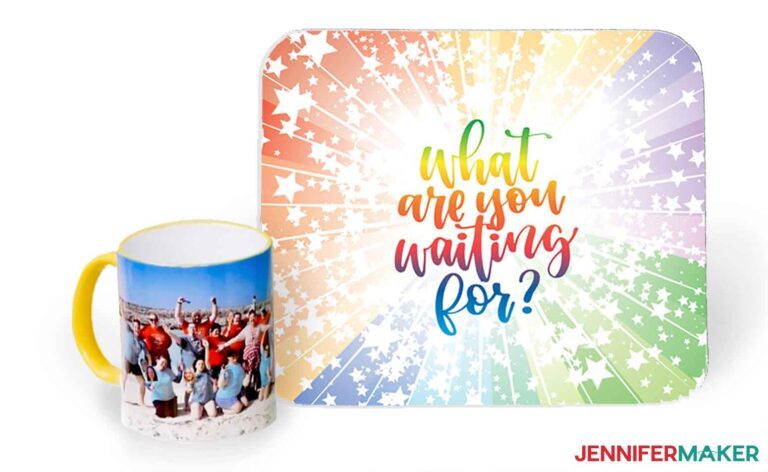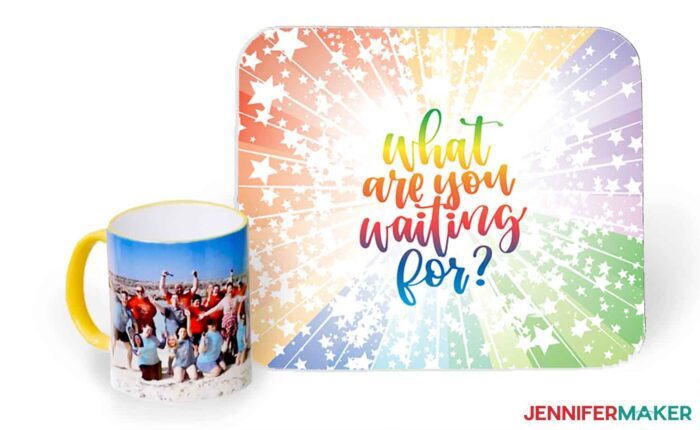 Sublimation will last as long as whatever surface you're putting it onto, which is WAY cool. And you can't feel it — it's like it just becomes a part of the fabric or object, which it basically does.
The dye sublimation process can create beautiful full color designs with continuous tones that are really vibrant!
What can you put sublimation onto?
You can transfer dye-sublimation printing onto a LOT of things! You can sublimate gorgeous, full color designs into anything made of polyester or anything with a polyester coating.
So that means you can use the dye sublimation transfer process on polyester T-shirts, totebags, aprons, garden flags, and pillowcases, yes, but it also means things with a polyester coating, of which there are really many! You can get sublimation blanks for countless items… ceramic mugs, stainless steel tumblers, mouse pads, puzzles, coasters, oven mitts, there are SO many things! It's also possible to do things like wood and MDF when you use a special layer. If there's something you want to sublimate, you can likely find a way to do it! Everything you see in the photo below is something I sublimated! Aren't they cool?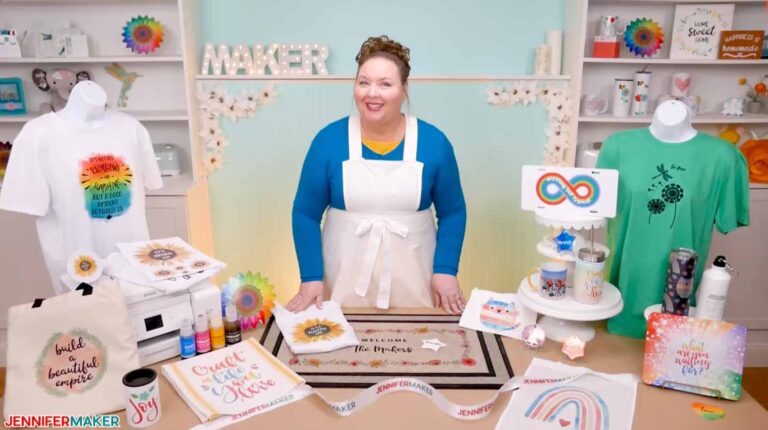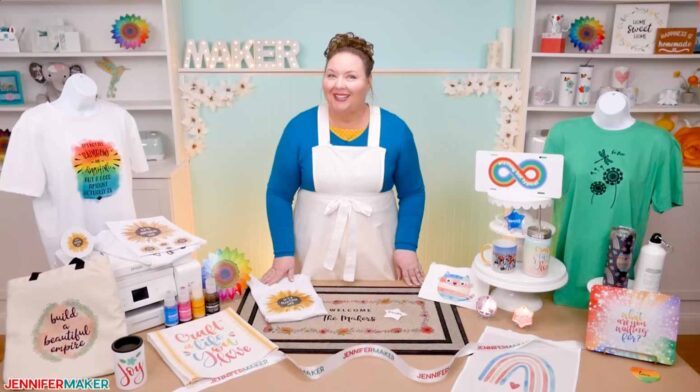 A few of the things I've sublimated:
I've heard sublimation ink is transparent. Is that true?
Yes, sublimation ink is transparent, which means the base color of your object matters. Everything you see in the photo below is sublimated, and you'll notice most of them are light colored. An object with white colors or light colors is going to show transparent ink much better than a dark object. Here's what sublimation ink looks like on a black shirt — you cannot even see it!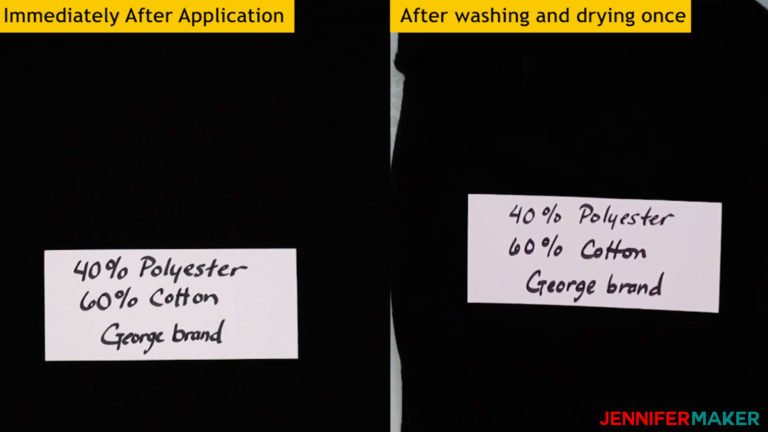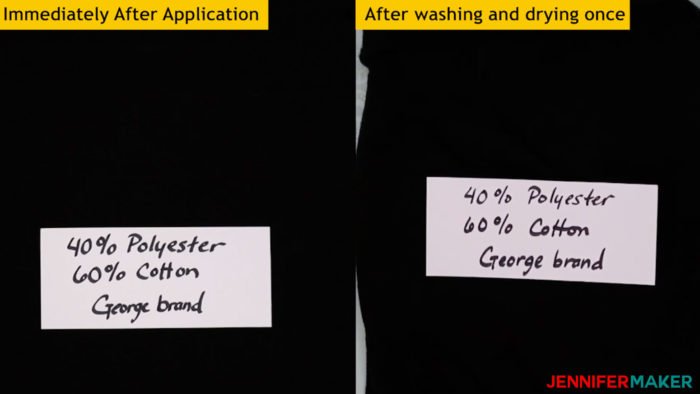 Now, you can sublimate onto colored objects, like this green shirt here, so long as your design is darker than your surface — black, for example, looks great even on medium colored surfaces.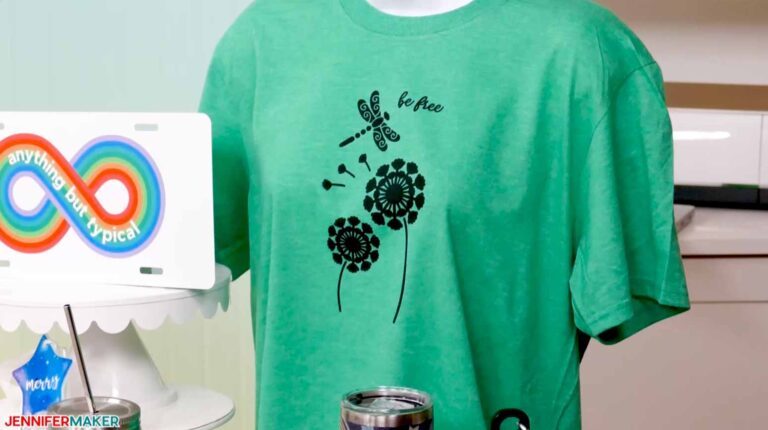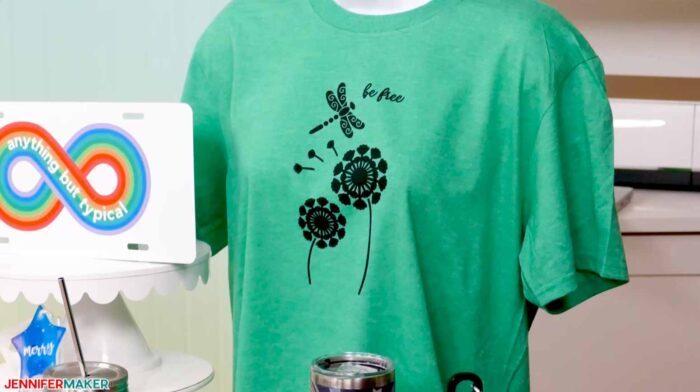 If you absolutely must use a cotton or dark shirt, you can sublimate onto something else — like white glitter iron-on vinyl or white flocked vinyl — then apply that vinyl to your shirt. Here's how that looks. Pretty good, huh?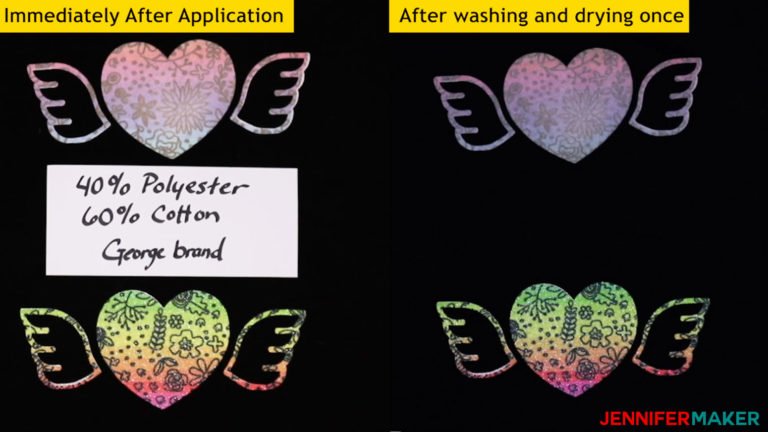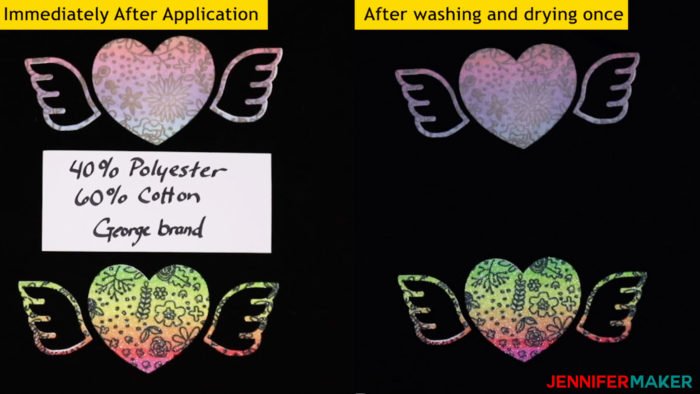 How is sublimation different from iron on vinyl?
Now, if I know you, you're wondering how sub printing is different from iron on vinyl. And that's a great question! So iron-on vinyl, also known as heat transfer vinyl, is a thin sheet of PVC with a heat-activated adhesive on one side. You can put iron on vinyl on nearly anything of any color, unlike sublimation, but vinyl doesn't go into the surface like sublimation — vinyl just lies on top of the surface of your material. So you can feel the edges of the vinyl on your surface, whereas sublimation has no feel at all.
And vinyl does crack and peel over time, whereas sublimation does not. You also have to weed iron-on vinyl, which you do NOT have to do with sublimation. And you can't do full color designs with HTV without a LOT of layering, and the more layering you do, the stiffer and less secure your design gets. Sublimation, on the other hand, does full color like a champ!
And because the ink is going right into the surface, you can do gorgeous watercolor designs with varying colors and shades and hues that all blend together, and you just can't do that with vinyl.
And once you are setup to do sublimation, it's an overall simpler process with longer lasting results. The sublimation end result is a really professional and durable product.
How is sublimation different from screen printing?
Screen printing uses ink to put a design on a surface, which lies on top of the surface rather than going into the surface to become part of the garment like sublimation. Sublimation differs from traditional printing methods in that you can do some really intricate designs that are a lot harder to do with home screen printing. You can learn more about screen printing here.
What do you need to get started in sublimation?
I'm going to walk through everything you need for the dye sublimation printing process, along with alternatives for making it either less expensive or more convenient.
Sublimation Printers
I have four sublimation printers that I've set up and test out designs with. These top brands (Sawgrass and Epson) are the four most common printers people like us use at home. They all work and make beautiful sublimation prints. Two of these — the Sawgrass here and the Epson SureColor F170 here — are purpose-built sublimation printers. The other two here — the Epson EcoTank and the Epson Workforce — are converted inkjet printers. There are pros and cons to both, everything from price to convenience to maintenance.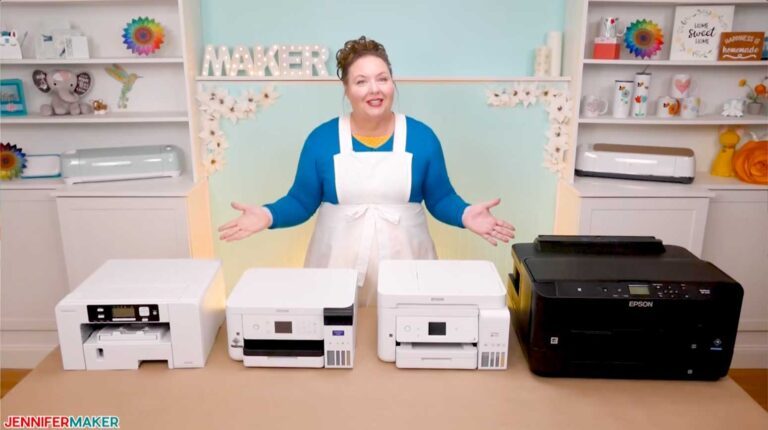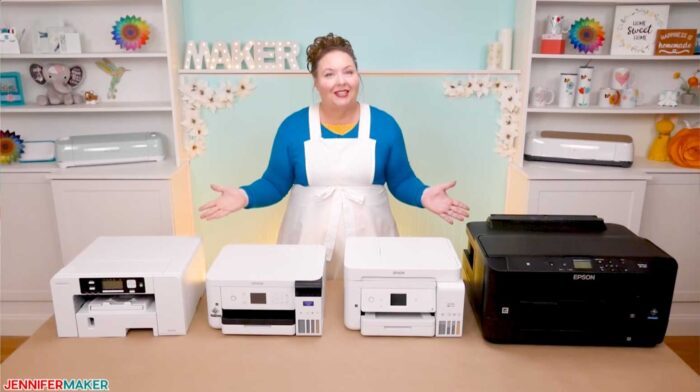 My two favorites are the Sawgrass and the Epson EcoTank, but don't feel left out if you got a different one. I do want to note that most other inkjet printers — beyond these Epson printers here and one Canon I know about — cannot be converted to work with sublimation because they HEAT the ink. So I recommend sticking with one of these four options I'm showing you. Now the lowest cost printer option is usually either the Epson EcoTank or Epson Workforce — I recommend the EcoTank for both price and convenience, and the Sawgrass for ease of use and support. If you want to learn more about choosing a sublimation printer, go to jennifermaker.com/sublimationprinters for comparisons, reviews, and set up videos!
Tip: Check out my Best Budget Sublimation Printer guide for a full guide to getting setup!
So in addition to a special printer, you need special ink!
Sublimation Ink
You can't sublimate with regular inkjet ink or pigment ink — you can only do it with sublimation ink. Some printers, like the purpose built printers, have their own sublimation ink that comes with it, for example , the Sawgrass uses Sawgrass sublimation ink and the Epson SureColor uses Epson sublimation ink. If you convert an inkjet printer, you'll want to be sure to fill it with sublimation ink that will come separate from your printer — do NOT put the ink that comes with an inkjet into the printer if you want to use it for sublimation. Instead, buy sublimation ink in autofill bottles like Hiipoo sublimation ink or Printer's Jack sublimation ink or Cosmos ink.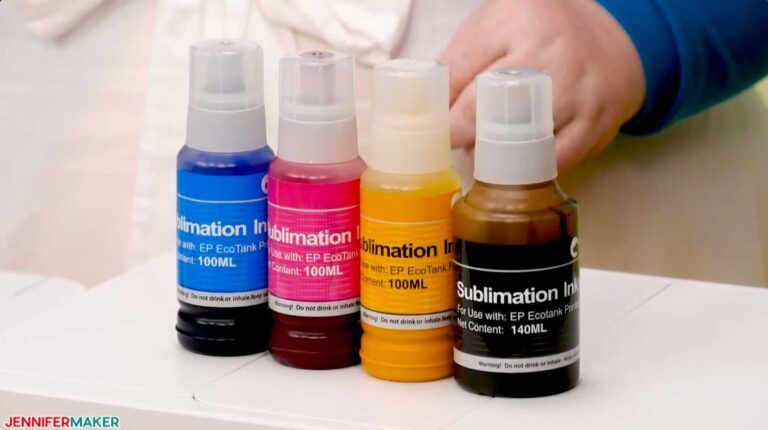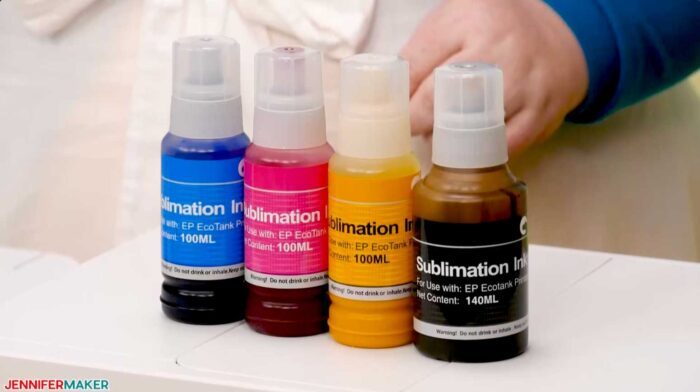 I'm using Hiipoo ink in my Epson EcoTank and Printer's Jack ink in my Epson Workforce. And once you pick an ink brand, it's a good idea to stick with it, too. I've been quite happy with Hiipoo ink so far, but I know there are plenty of other good ones out there, too! Look for the Autofill bottles if you're using an EcoTank — they are the easiest way to get your ink into your printer.
Alright, beyond the sublimation printer and sublimation ink, you'll need something to print onto.
Sublimation Paper
You can buy special paper and it tends to make for the best and most vibrant sublimation prints. There are a lot of brands out there — I usually use A-Sub paper or TruePix sublimation paper. And you can get this in regular sizes as well as larger sizes to match a large format printer.
You may also have heard that you can use laser copy paper, BUT, be aware that it will make your prints look more faded and washed out. So use this at your own risk.
And by the way, if you don't have a large format printer, you can still do large format projects — you just tape smaller sheets of paper together. I made this doormat with three sheets of regular size paper taped together!
So once you have your sublimation printer to make a print with sublimation ink like this one, you'll need HEAT to transfer it to your surface. So let's bring the heat on!
Sublimation Heat Presses
Here are of my various ways to heat my sublimation transfers onto my surfaces!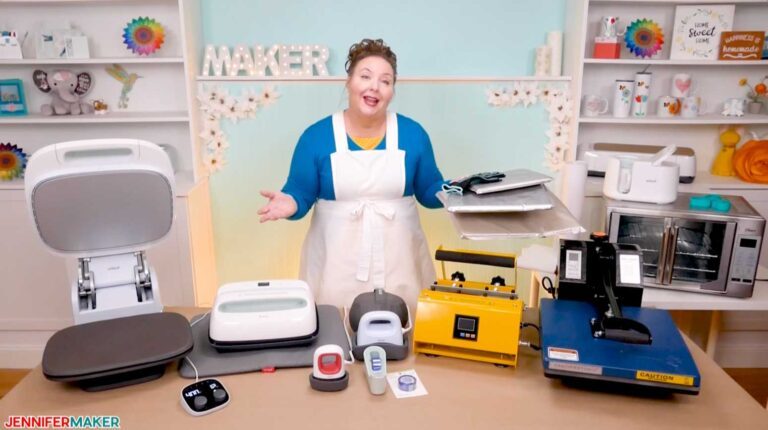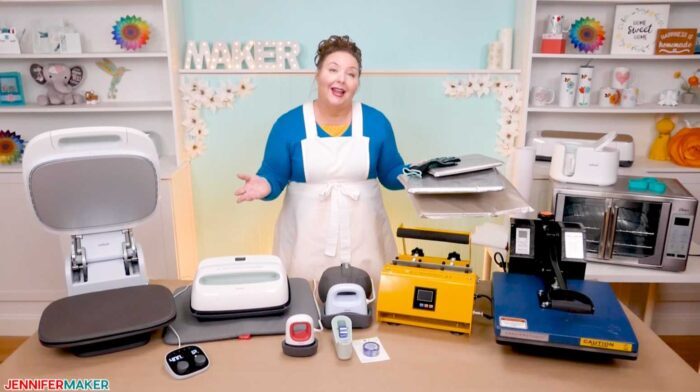 You can use everything from an EasyPress to a traditional heat press to a Cricut Autopress, which is my personal favorite. When you have unusual shaped surfaces, you can use things like a hat press, or a mug press, or a tumbler press. You can even use a convection oven and silicone sleeves or bands for things like mugs and tumblers. Some people even use a heat gun, though in my experience it does not work as well. Air fryers are an option for mugs and tumblers, too!
What you typically cannot use is a household iron, because it just doesn't get hot enough. Sublimation ink activates at 350°F, or 175°C and typically irons just don't get hot enough for the dye sublimation process.
I usually sublimate my items at three hundred and EIGHTY to four hundred degrees Farentheit for the best results. So anything that will heat up to four hundred degrees Farentheit is a possibility for sublimation! There's really a LOT of options. I like the Autopress the best because I don't have to worry about adjusting pressure and it opens when it's done, which means I can keep working on something else while it works. I made everything you see here with the Autopress! You can learn more about the Cricut Autopress at jennifermaker.com/cricut-autopress
Sublimation Protection
When you use pretty much any of these heat presses, you'll also want some white cardstock and white uncoated butcher paper to protect both your pads and your heat platten. You need to use protective sheets like this because the sublimation ink gets so hot that it turns to vapor during its process, and this vapor can blowout onto nearby surfaces if you don't protect them. You can also use inexpensive white copy paper to protect your surfaces in a pinch. You don't want to use Teflon sheets, however, as that can trap moisture. Also avoid anything like freezer paper, wax paper, or parchment paper.
I also like to have things like heat-resistant tape on hand to keep my prints in place so they don't shift during the process. Other useful things to have are pressing mats and heat-resistant gloves. Links to everything I'm mentioning here above!
And then, the only other thing you need are some BLANKS to put your beautiful sublimation prints onto.
Sublimation Blanks
Sublimation blanks are just blank surfaces that are either made of polyester or have some sort of sublimation coating that will allow the sublimation ink to sink into and retain the ink. You may hear people call these "substrates."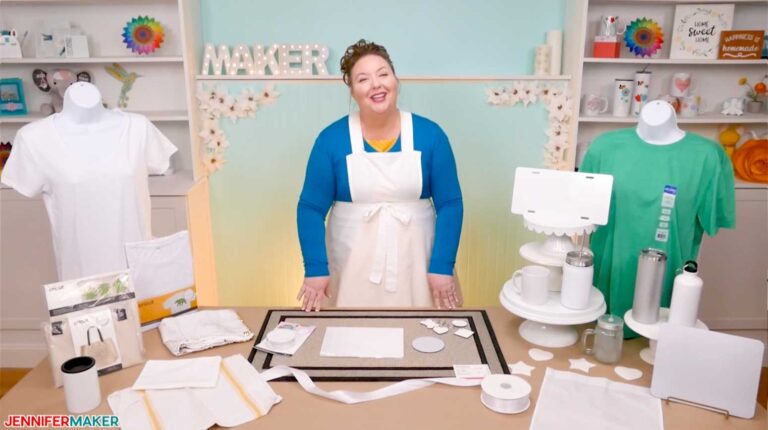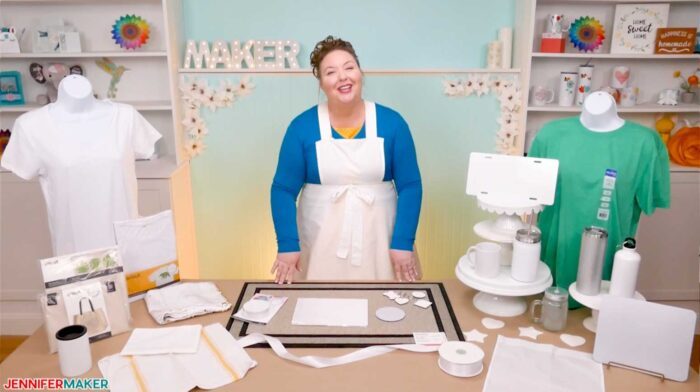 Most people first think of T-shirts, and you can sublimate onto any T-shirt that is at least 65% polyester. The Cricut T-shirts work great, as do "performance" shirts like this Hanes brand here. The key is in the polyester content! If you sublimate onto a cotton shirt, some ink will transfer, but it will look very faded and vintage. And when you go to wash it, it will mostly wash right out. There are some workarounds for this, and I'll share them in a bit.
But you can sublimate so much more than just T-shirts. You can do polyester tote bags, pouches, and garden flags. You can do things that have a polyester fabric coating, such as these coasters and these mousepads. You can even do unusual things, like 100% polyester door mats I found at Home Depot.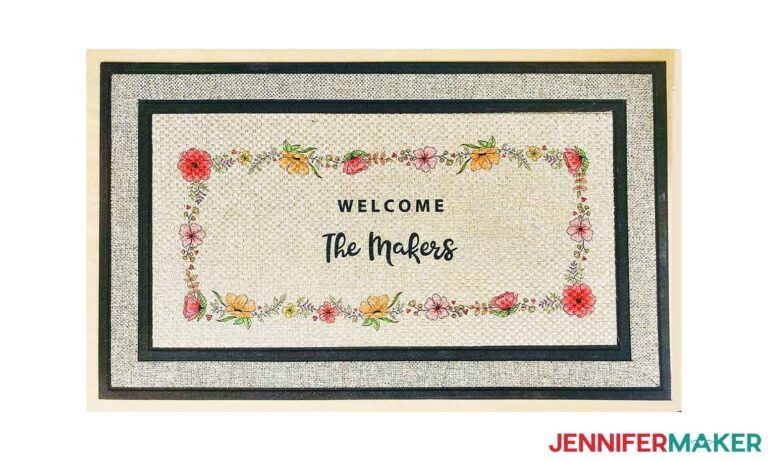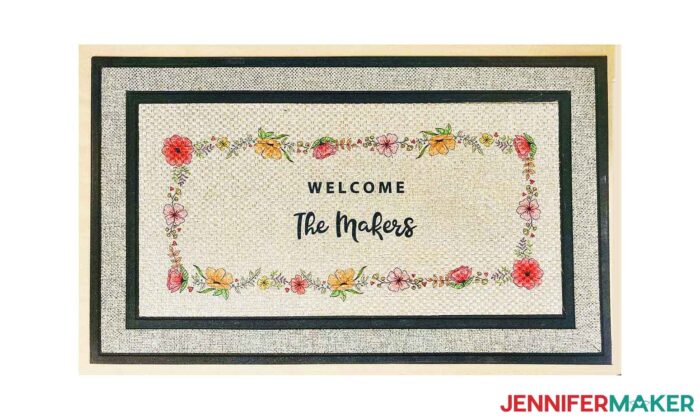 And you'd be surprised how many things you can find at places like the Dollar Tree, too!
Anything laminated can usually be sublimated, because the lamination coating will soak up the ink as well. For example, this pretty flower is made from MDF — which is made from wood — and all I did was paint it white and add a layer of lamination before I sublimated onto it. Imagine all of the wood items you can make!
And it turns out that a sublimation coating can go on a lot of things you might not have thought you could do, including this metal license plate, these metal tumblers, this ceramic mug, and these ceramic ornaments. And here's a REALLY important tip — always check for protective covers on things like this and REMOVE them before you sublimate — they can be easy to miss. It's common for things like metal and ceramic to have thin transparent plastic coatings on the sides to prevent them from being scratched in transit, so watch out for that!
If you have something you want to sublimate that you cannot get with a sublimation coating, you can spray on a sublimation coating and THEN sublimate onto, like this 100% cotton kitchen towel I have here. I used this spray bottle of sublimation coating on the towel first, then pressed my design onto it … and it works!
Another way to sublimate onto things like cotton is to put your sublimation design onto another surface, and THEN put it onto your cotton surface, or your dark surface that would not otherwise look good with the transparent sublimation inks. For example, you can sublimate onto a heat transfer vinyl such as white glitter, white flock, light glow in the dark, or even holographic, and then put THAT onto your surface. Or you can print (or transfer) onto a surface like EasySubli and put that on your item — EasySubli is a printable heat transfer vinyl that works in tandem with a sublimation printer and a cutting machine, like a Cricut, to put sublimation designs on cotton and dark colored things. And it uses a lower temperature to transfer to surfaces, so it works well for more delicate items, too. So there's really a world of possibilities here, and sublimation is a really awesome complement to a crafts made with a cutting machine!
The only other things you need for sublimation are designs. And for that, you need a computer!
Sublimation Designs and Design Software
A computer, either Mac or PC, laptop or desktop, will allow you to use software so you can make your own designs, like I do. It is possible to use an iPad or tablet, but there are fewer software options. I like to make my designs in Photoshop or Illustrator on my computer, but there are many other programs you can use that are free or low-cost such as Inkscape, Gimp, Canva, Affinity Designer, Procreate, Corel, and more. You can even just print from Google Docs, Cricut Design Space, or Silhouette Studio basic edition — which are all free — if you don't have other options. And the Sawgrass printer comes with its own software! And if you're not into designing your own things, there are lots of designs out there that you can get specifically for sublimation, including many that I have here on my blog for absolutely free! Once you have a design, you can just open them up in Notes, Google Docs or Microsoft Word to print them.
And when you have the basics down and are ready to fine tune your sublimation prints for the absolute best and most vibrant prints with true colors, you can add ICC printer profiles. These are specific to the ink you're using with a printer, and can make a big difference in color. And, best of all, they are free! In my sublimation printer setup directions, I also explain how to find printer profiles — you can get all of that information over at jennifermaker.com/sublimationprinters.
How hard is to get started in sublimation?
So now you may be thinking, "Wow, that's a lot of stuff!" And I'll be honest — it kinda is. And there is a learning curve. But it's not as bad as you think, and I'm here to help. Just remember these three things: first, use a sublimation printer with sublimation ink, second use a high-heat source, and three, transfer to a sublimation-ready surface. These are the basics. You can deep dive into all of these and expand them more, but there are just three basics — ink, heat, and surface.
And when you're ready to get setup for sublimation, check out my Sublimation Startup mini course at jennifermaker.com/sublimationstartup — I walk you through choosing and setting up your printer with the right ink, show you in more detail all the tools you can use and the variety of things you can sublimate onto, and then show you how to use software to print and press beautiful sublimation projects. You can sign up right now and learn at your own pace.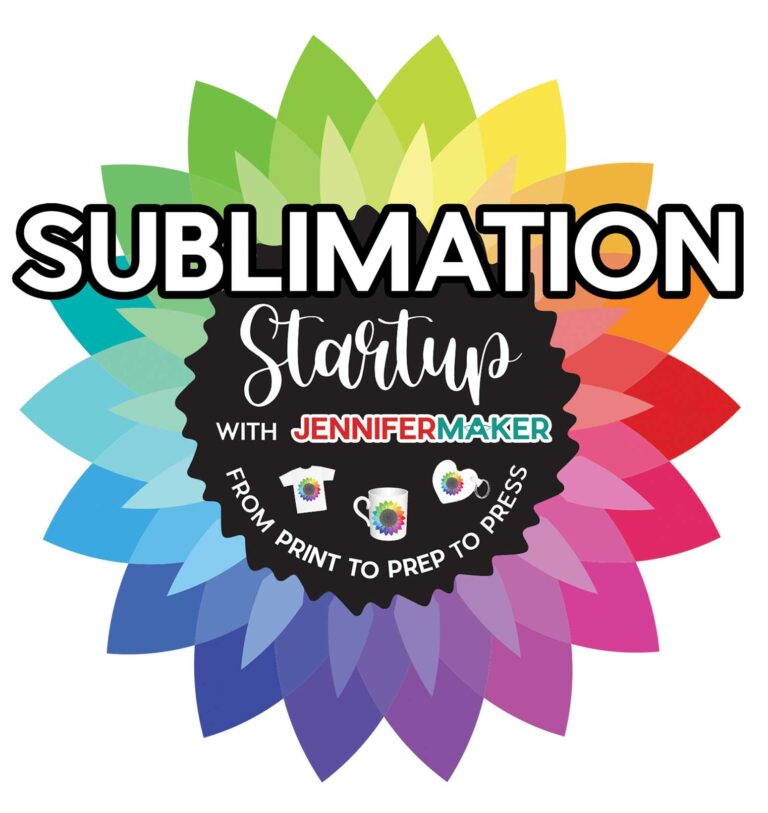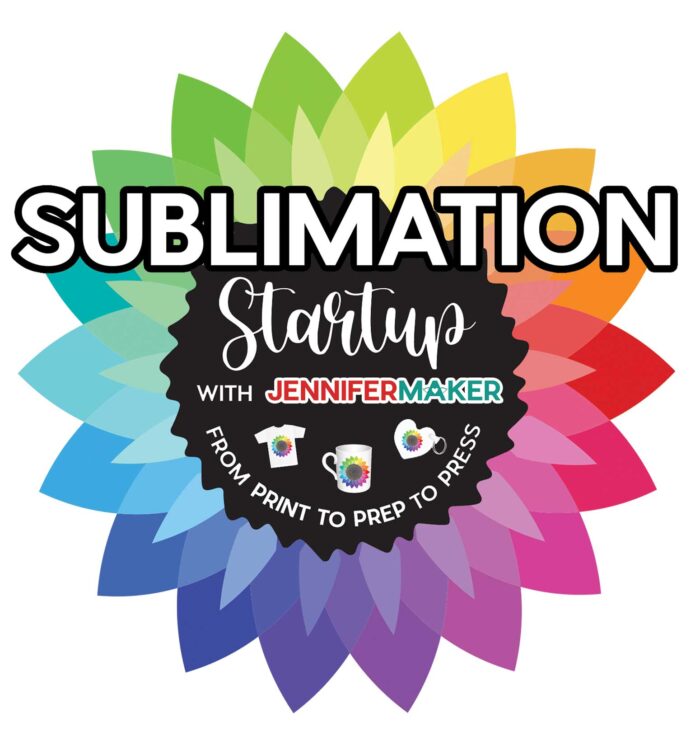 I also have a group just for sublimation crafting where you can get help and tips from other crafters who love to sublimate, too! Come join us at jennifermaker.com/sublimationgroup to ask questions, share ideas, and get inspired!!
Questions About How Dye Sublimation Works
Get my instant download digital files for my free sublimation designs you see in this guide, as well as my test "subliflower" with color hex codes!
Now I know I haven't covered everything there is to know about sublimation here, but I am always happy to help more! Watch for more sublimation tutorials and please ask any questions you have in our Facebook group or tag me on social media with #jennifermaker.
Love,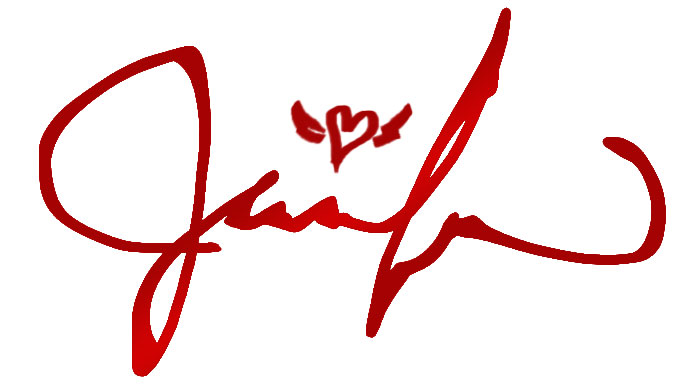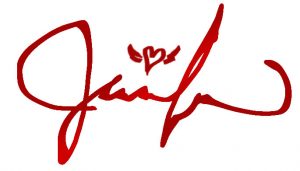 Also check out: