Learn how to make a Valentine mailbox craft with printables and custom decorations!
I'm convinced that crafting is a superpower. I love seeing things in a store and thinking … KNOWING, "I can make that!" Do you ever think that? I hope so, because YOU CAN! Believing in and challenging yourself is powerful, but the Super part is making your own one-of-a-kind creation. That's how I made my 3D layered paper cut flower after falling for an expensive version at the mall. I saw a cute decorative mailbox at a craft store and guess what I thought? It sure looked like I could recreate the mailbox's pieces using simple shapes in cardstock. And making it open up for Valentine mail would be fun! I got to work and am IN LOVE with the result that I'm sharing with you. I'll show you the basic steps to make a Valentine mailbox craft and share some personalization ideas!
Watch the full step-by-step tutorial video on how to make a Valentine mailbox craft: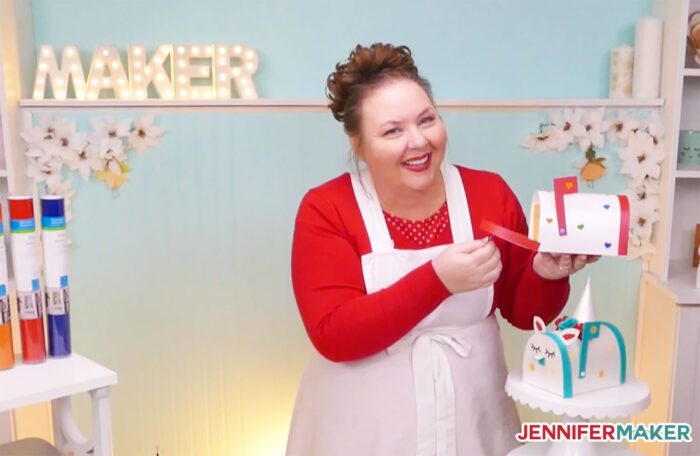 My basic Valentine mailbox craft is easy to make! We'll cover how to add score lines to cardstock, which is a great way to create 3D shapes from flat materials like paper. I'll also share one of my favorite craft glues to use on your tabs. It's perfect for applying just the right amount of sticky to small spots!
Of course, the best part of a mailbox is getting cards in the mail! I'll show you some secrets to create a flag that rises smoothly (Hint: see that mini brad on the supply list?) and a front door that's easy to open and close.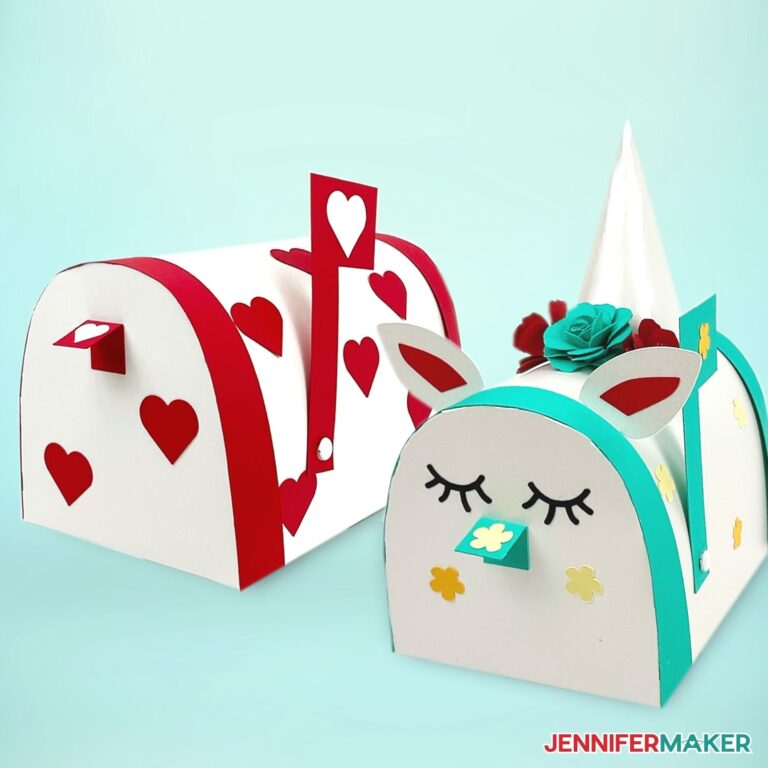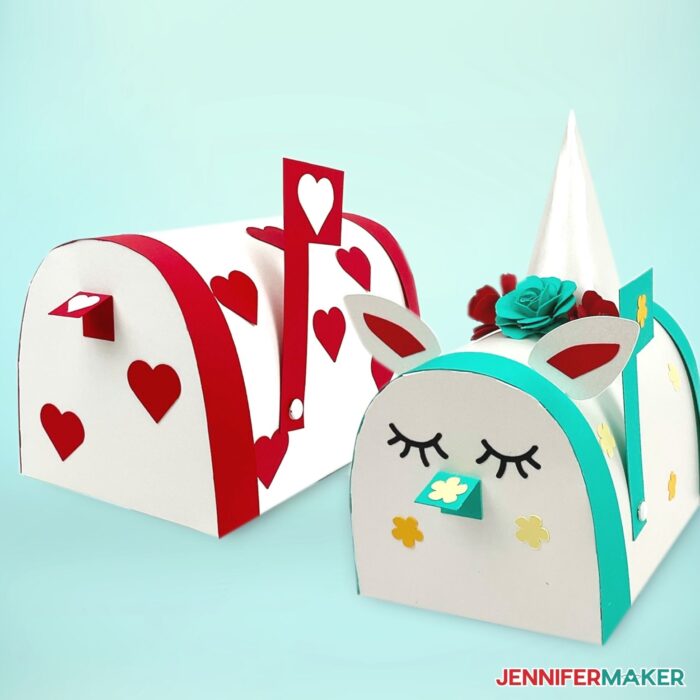 To make your Valentine mailbox craft officially magical, we'll create a sleepy unicorn version in the tutorial! I'll show you the best spots to attach our new friend's horn, ears, and eyes to complete their look. The mailbox is similar in size to a childrens' shoebox, so placement is important.
Now, I always feel loved when I get cards in the mail, and we want our unicorn to feel the same. So we'll make some pretty rolled paper flowers with a quilling tool. You can add whatever you like in any colors! Vinyl hearts, glitter stars, or even a name would be perfect!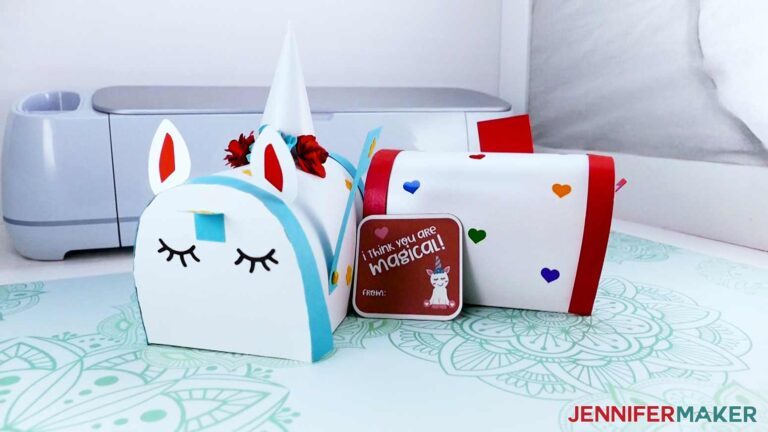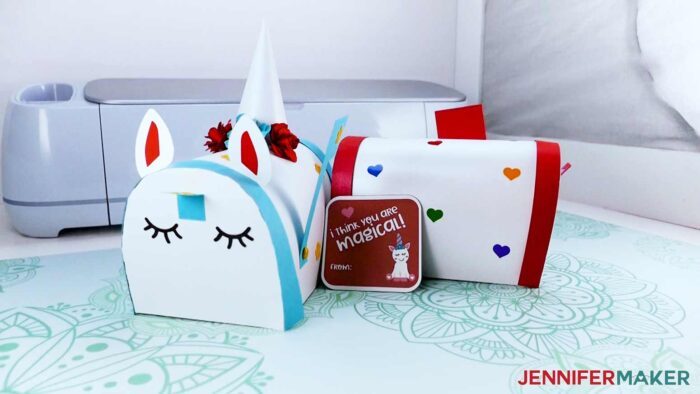 My FREE Valentine mailbox craft download includes adorable printable cards. They feature our cute animals from our layered vinyl color changing cup project and encouraging sentiments sure to spread the love. You do need a color printer and a Cricut Maker or Cricut Explore series to use the Print Then Cut feature
You can cut the cardstock by hand, but a Cricut cutting machine will help this go so much faster! If you use a Cricut, you'll also want a green machine mat, Fine-Point Blade, Scoring Stylus (or Scoring Tool), scraper, and brayer.
If you choose to add paper flowers, you'll need a hot glue gun and glue sticks to secure them to the mailbox. Also, a weeding tool will help with vinyl decorations
My adorable Valentine Mailbox craft is simple to make and I'm sharing these free SVG cut files and the printable cards for free! See the material list below for links to everything you need to craft along with me!
Ready to make this Valentine Mailbox Craft and Print then Cut cards? I'm super excited to show you how! This post contains some affiliate links for your convenience (which means if you make a purchase after clicking a link I will earn a small commission but it won't cost you a penny more)! Read my full disclosure policy.
Materials to Make Valentine Mailbox Craft and Printable Cards
How to Make a Valentine Mailbox Craft with Unicorn Details and Cards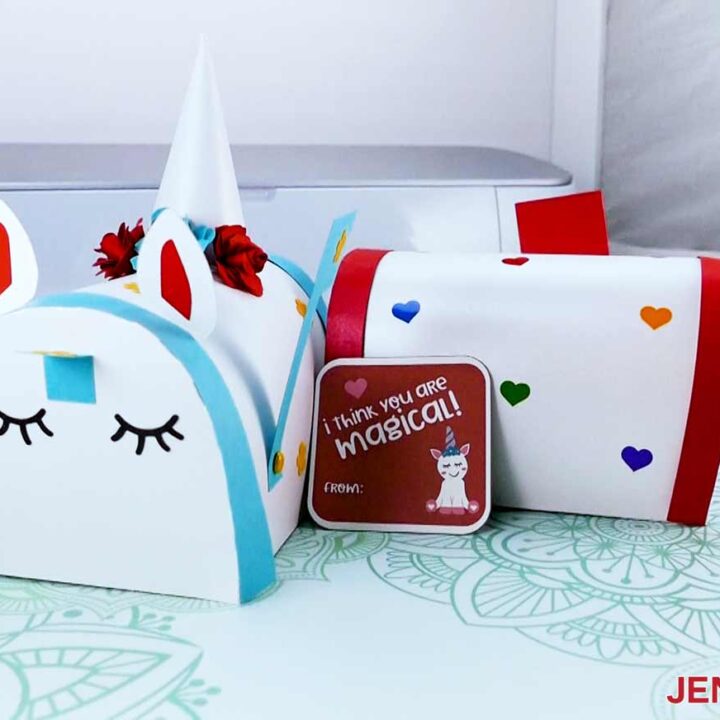 Valentine Mailbox Craft
Yield: 1

Active Time: 20 minutes

Additional Time: 1 hour

Total Time: 1 hour 20 minutes

Difficulty: Easy

Estimated Cost: $2

Make a fun and cute Valentine mailbox craft using paper for special deliveries!
Questions About Valentine Mailbox Craft and Cards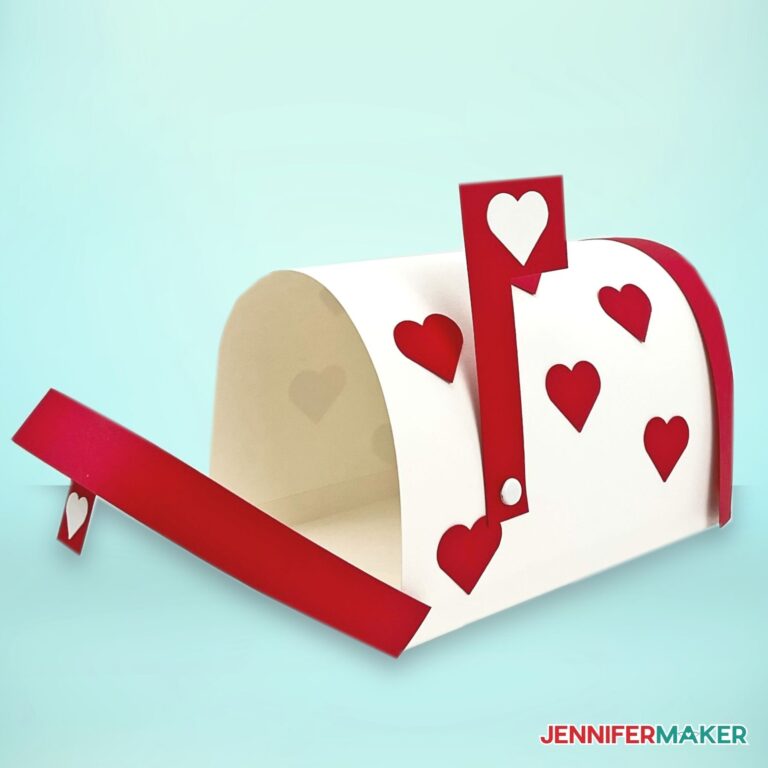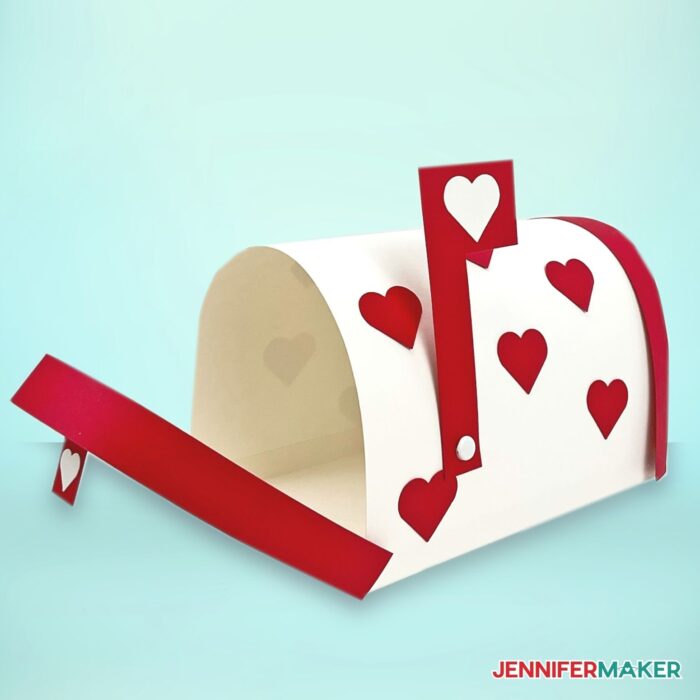 What is a Valentine box?
The paper mailbox is a fun way to give Valentine gifts and decorate your home! Some people also bring a box like this to work or school around Valentine's Day to receive cards they make for each other. I like to store favorite notes and small keepsakes in them to treasure throughout the year.
What is the best paper to use for this project?
We used 110 lb. cardstock to make the mailbox sturdier, but you can also do this with 65 lb. and 80 lb. cardstock!
How should I decorate my Valentine's mail box?
However you like! Adding a name in marker is a quick custom decoration. You could also tape your favorite Valentines to the sides! Or go crazy like we did and cover it in hearts or paper flowers!
What should I put in my Valentines mail box?
Well, anything you want, really, but this Valentine mailbox craft is perfect for gifting and receiving cards or gifts! You can keep your favorites inside and revisit them for a little dose of love year round. Or, give a mailbox to a friend and sneak mail into it when you visit!
How do you make a Valentine mail box out of a shoebox?
If you don't want to make a box in the mailbox shape or want a sturdier structure for moving around, just cut out the details and add them to a shoebox! The ears, horn, and flowers can easily be glued to the outer top and I would attach the eyes on a short end of the box itself. You can even still use the movable flag by adding your mini brad to the side of the box. Then keep decorating!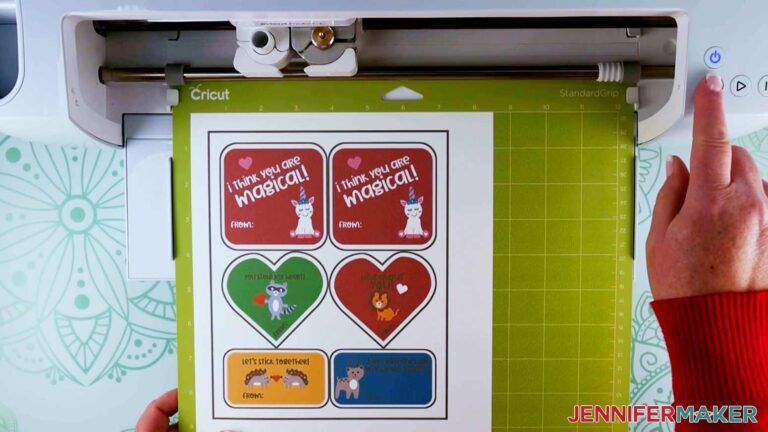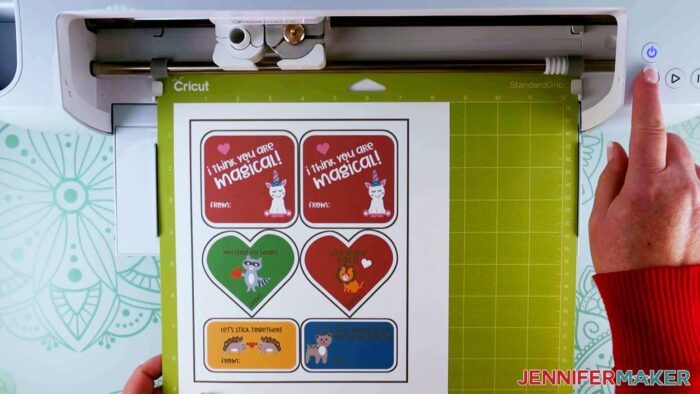 Get my free SVG files for the Valentine Mailbox Craft!

Now, I'd love to see your Valentine mailbox projects and the decorations you use! If you make a mailbox, Valentine's Day cards, or anything else with these designs, please share a photo in our Facebook group, email it to me at [email protected], or tag me on social media with #jennifermaker.
Love,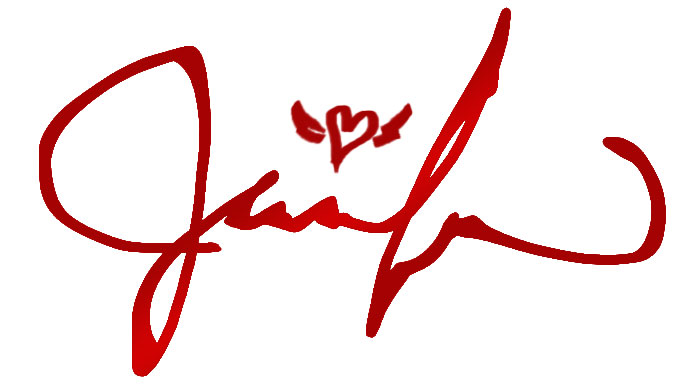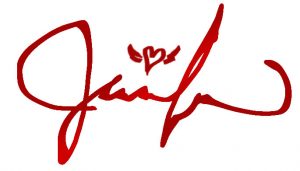 Want to remember this? Save the Valentine Mailbox Craft Tutorial to your favorite Pinterest Board