Learn how to fix the most common sublimation color problems and get more done faster and better!
Dye sublimation printing is amazing … when it works! If you're just starting out, or simply trying out a new sublimation blank, you may be encountering sublimation color problems. And when I say sublimation color problems, I mean ANYTHING that comes between you and an amazing sublimation color transfer onto your blank. So read on to learn how to troubleshoot and solve YOUR sublimation issues!
Want to save this? Enter your email below and we'll send the guide straight to your inbox.
Why does my sublimation print look faded?
It is totally normal for your images to come out of the sublimation printer looking light. Once you press the project onto a sublimation-ready surface, the image will become vibrant and crisp.
Why is my sublimation print coming out dull?
Sublimation ink will look duller before it is pressed. You cannot see the true colors of your sublimation design until you press it onto a surface that will accept and hold onto the ink, such as 100% polyester fabric.
I have lines going through my sublimation ink. How do I fix this?
This is known as "banding." To avoid this, make sure you have your print quality sent to "best" or "high." Do not use draft or high speed. If you see a "high speed" setting anywhere in your print options, be sure to turn it off. If this does not solve the issue, run the print quality tests on your printer until your ink is printing properly.
After I press, I get little dark spots on my sublimation print. What is that?
If you see this, especially in lines down your print, it's probably a little ink on your rollers. Clean your printer rollers by pushing a lint free cloth lightly coated in rubbing alcohol through your rollers.
Why is my sublimation design all blurry after I press it?
This is known as "ghosting" and it is likely because the sublimation print moved during the transfer. You need to use special heat-resistant tape on all four sides of your print to ensure your project stays in place while printing to prevent ghosting.
It's also important that you remove as much moisture as possible, as extra moisture can cause a blurry, uneven, or faded look. Be sure to pre-heat your surface for 5-10 seconds before you press to remove moisture. And be sure to use butcher paper on top of your sublimation print when pressing as it will both protect your press and absorb moisture — avoid using a Teflon sheet which can actually trap moisture.
I am getting a colored/black line along one or more sides of my finished project. How do I fix this?
Check that your paper is not curled when you place it in your paper tray. If it is, make sure you're storing your paper out of humidity so it is perfectly flat when you use it. And after you print, be sure you always cut or tear the edges your sublimation prints — it's not uncommon for a little ink to get stuck on the edge of your printed paper, even if you don't see it.
Why did my colors get darker after I transferred them to my colored surface?
Sublimation works best on whites, light grays, and pastel colors. Sublimation ink is transparent, so the color of your base material will be partially visible. And remember white is not a color your machine can print. If you have a project with an image you wish to remain white, you will need to use a white blank or white shirt, or transfer your sublimation image to an iron-on vinyl such as glitter HTV, white flocked HTV, or EasySubli, and then transfer that vinyl to your shirt.
When I pressed on a canvas, the inside was faded. Why?
You will need to first coat the canvas with a polyester coating in order for the ink to have something to sublimate into. I also recommend you remove the canvas from the frame before pressing, as that will make a difference in how easy it presses and how good it looks. If you are unable to remove the canvas from the frame, you will need to add a pressing pad or towel to the back open area of the canvas.
Why did my sublimation transfer backwards?
You need to mirror your sublimation transfer designs before transferring. Like iron-on and HTV designs, you must mirror a sublimation design before you press it.
Why do I see a light image of an old project on my new project?
You either forgot to use butcher paper, or re-used a piece of butcher paper from that other project. You need to use new butcher paper to protect your press and mat from sublimation ink transfer. The butcher paper will prevent the ink from bleeding through a project onto your heat source. Also be aware that you're not going to want to re-use any butcher paper, as it can cause ghosting. Consider butcher paper to be a one-time-use only thing! I recommend a big roll of butcher paper like I use. (And no, you cannot use freezer paper or wax paper instead!)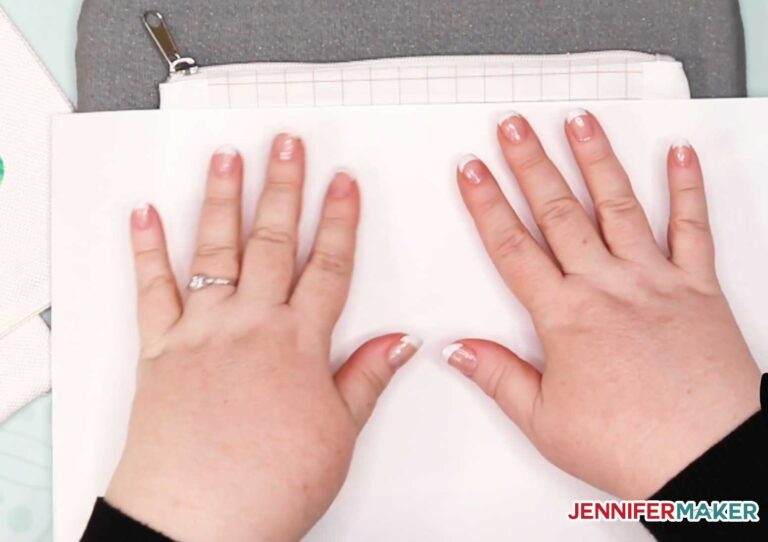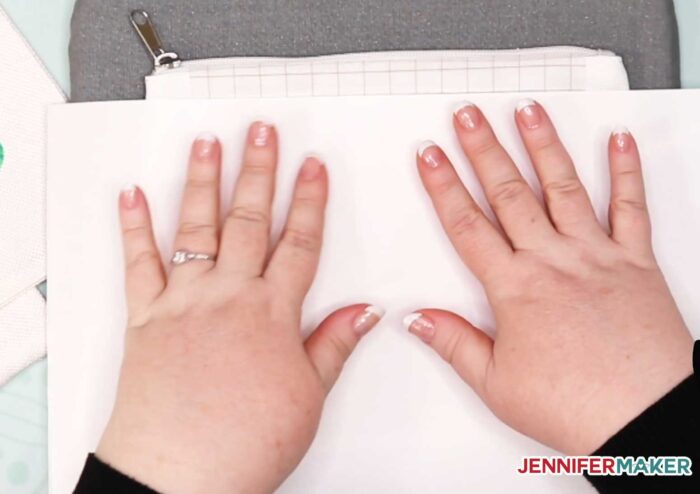 I just converted an Epson inkjet printer to sublimation and the ink isn't printing right?
Let it sit for 24 hours and print again. If you have an issue, print several more times to keep running ink through the lines.
The ink on my paper looks so light and dull. What's wrong with it?
Perhaps nothing! Sublimation ink always looks lighter and duller before it is transferred. Press and transfer your print to see its true colors!
When I press a design on a shirt, I see indentations where my paper was. How do I get rid of these?
Tear the edges of your paper to avoid that sharp line, or cut very close to the edge of your design before you press.
When I press a design on a mug or tumbler, I see little white spots. How do I fix this?
This is usually a little paper stuck to the surface. Wash it with warm water.
When I press a design on a sublimation blank, it looks weird and maybe a little like it melted. How do I fix this?
Some blanks, like ceramic, acrylic, and metal, have a protective plastic cover on them to avoid damage during shipping. Be sure to look for and REMOVE any plastic liners before pressing.
When I press ceramic, it looks super faded. Why?
First, be 100% certain that you are using a ceramic intended for sublimation. Ceramics needs to have a sublimation coating applied by the manufacturer or by you after you receive it. Additionally, ceramic tends to need a longer press time than other surfaces. Be sure you check the press times and temperatures for your ceramic substrate before assuming anything. Many manufacturers will tell you to press the ceramic from the underside for the best results, too.
Why don't my sublimation project colors match my computer screen?
Sublimation inks need special color profiles installed on your computer to get just the right combination of ink to create colors accurately. I explain how to use ICC color profiles in my video here. Use my free subliflower design to see how your colors look! It's Design #385 in my resource library!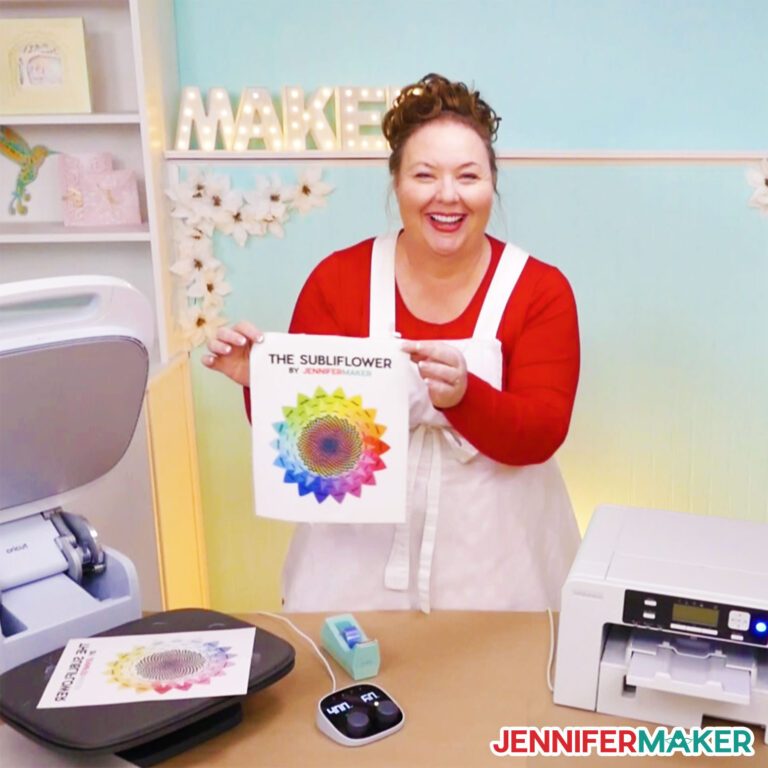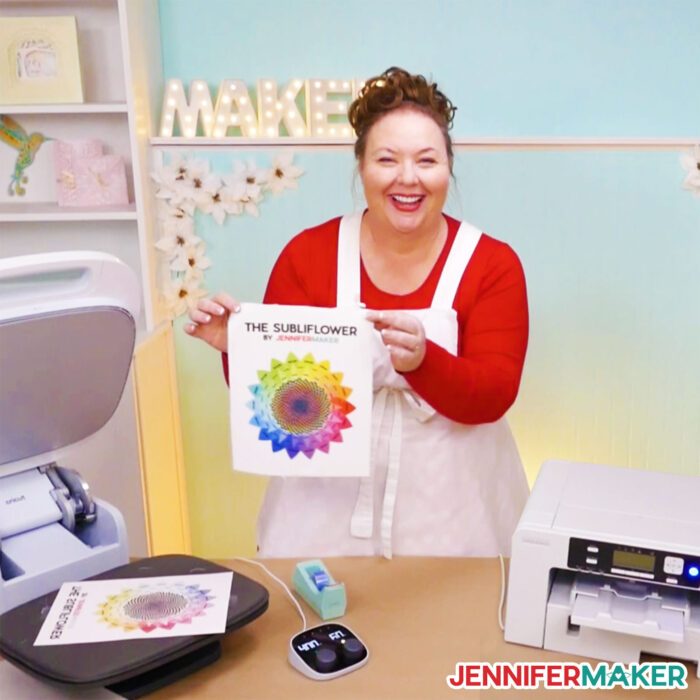 I can't find a printer profile for my ink and printer. What do I do?
Here are several ideas:
Print anyway. The default colors may look great!
Contact the ink manufacturer for assistance.
Try another printer profile until you find one you like — just because it doesn't match doesn't mean it won't actually produce great prints for you!
Can you sublimate on any T-shirt?
Technically yes, but you'll get the best results easiest with white polyester T-shirts, like ones from Cricut. You can use a poly blend shirt, but the design may not be vibrant, especially after washing. And you can sublimate on dark shirts if you use darker ink or add a light colored substrate to it first, like white glitter vinyl. Remember that different types or shirts might use different temperatures or pressing times, so always check!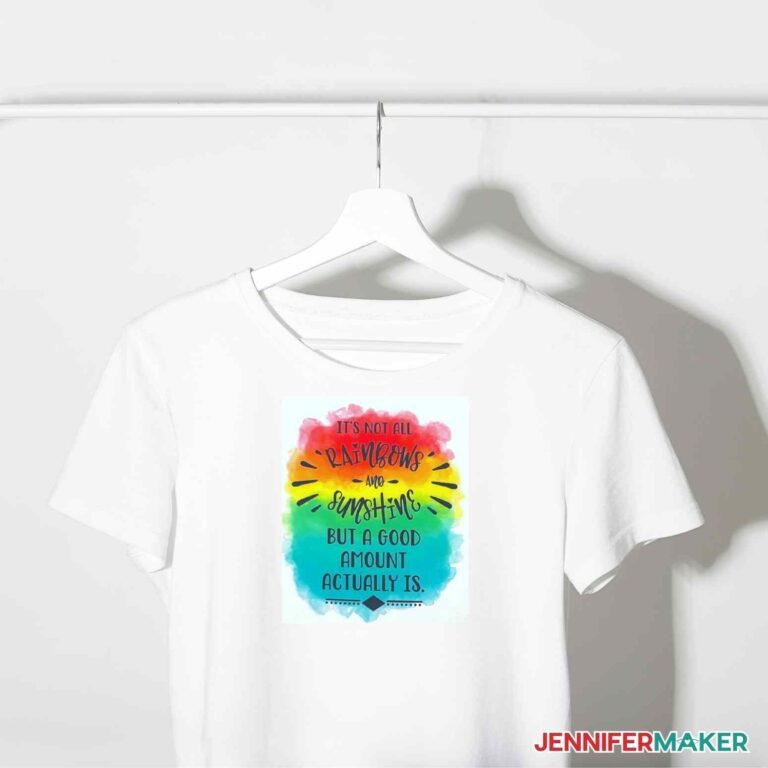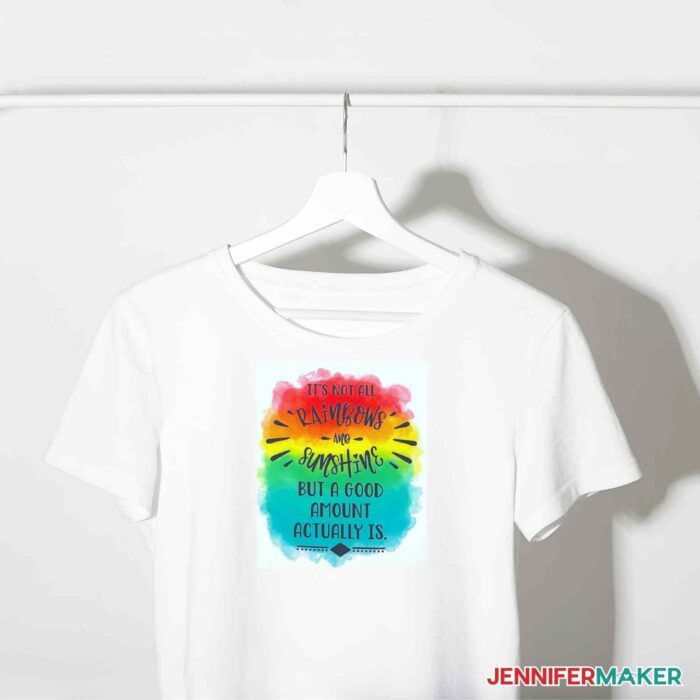 Can I sublimate on a 100% cotton t-shirt?
Again, technically yes, but you might not like the result. And as a person who prefers the feel of cotton, I understand why you'd want to! Unfortunately, I found that sublimating on a cotton shirt produced less vibrant designs that loss their color more quickly in the wash. Eventually, the color will virtually all wash out. So I do not recommend you waste your ink and efforts on a 100% cotton T-shirt. Watch for my upcoming tutorial that shows alternate ways to sublimate onto 100% cotton T-shirts.
Why did my sublimation print fade after I washed it?
The most likely reason for a faded sublimation image after washing is that your fabric was not sublimation-friendly. For example, T-shirts should be 65% polyester or more to retain the sublimation ink. If you use a sublimation-friendly surface with the right amount of polyester, sublimation colors should remain vibrant just like the day you pressed them.
Is sublimation better than vinyl?
It all depends on your preferences and goals! Dye sublimation is fast, flexible, and permanent, but it requires some extra equipment that heat transfer vinyl doesn't.
Do sublimation shirts fade?
Even the best sublimation T-shirts will eventually fade, just like clothing you'd buy at a store, even ones made with screen printing. But since the dye soaks into the fibers, sublimation images will last much, much longer than HTV decorations.
Can I use a sublimation printer for regular prints, too?
No, a sublimation printer (whether purpose-built or converted) only prints in sublimation ink. And you cannot really switch a converted printer back to being an inkjet printer without a LOT of effort and wasted ink.
What kind of paper do I use for sublimation?
While some people will use just regular laser paper, I really recommend you use special sublimation paper for the best and most vibrant results and ink transfer. I used A-SUB paper during my tests.
What kind of ink do I use?
You must use special sublimation ink to do a sublimation shirt. I use Hiipoo Ink in my Epson EcoTank printer.
What else can I put my sublimation prints on?
In addition to polyester garments, anything with a high polyester count or a special sublimation coating will work. I've had SO MUCH fun learning to sublimate with you! Here are just a few of the items I've sublimated and some tips I've learned along the way:
How do you get sublimation ink off a heat press plate?
Just turn off your heat press, let it cool, and wipe it down well with alcohol or a Clorox wipe.
Get my instant download digital files for my free sublimation designs you see in this guide, as well as my test "subliflower" with color hex codes!
Now I know I haven't covered everything there is to know about sublimation here, but I am always happy to help more! Watch for more sublimation tutorials and please ask any questions you have in our Facebook group or tag me on social media with #jennifermaker.
Love,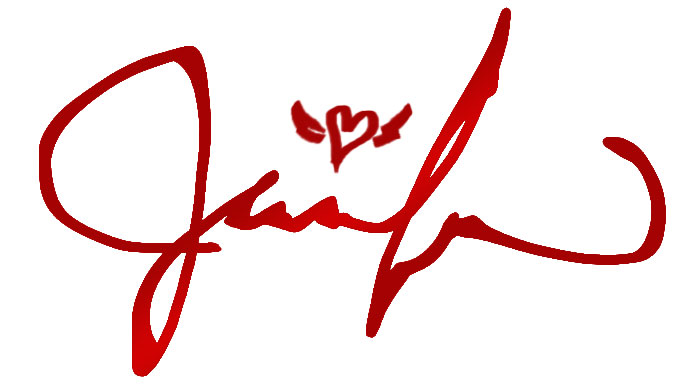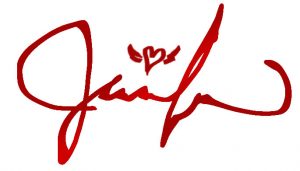 Also check out: