Learn how to make this hygge-inspired home and love 3D layered paper craft home decor!

Shadow box projects are always super popular and fun to make! I've seen many of you make beautiful versions of our sea animal mandalas and layered heart designs. And this 3D shadowbox is one of my favorites! I just love how it combines two words that mean a lot to me, "Home" and "Love," along with beautiful, intricate designs in some of my favorite colors. And I've made three versions of this paper craft home decor project, so you can make one, two, or all three! Aren't they just so pretty?
Watch the full step-by-step paper craft home decor assembly video below:
This shadow box design is inspired by my love of "hygge" (pronounced "hyoo-guh"). If you don't know, hygge is a Danish word that evokes feelings of coziness and togetherness. In essence hygge means creating a warm, comfortable atmosphere and enjoying the good things in life with good people. I mean, is there anything better?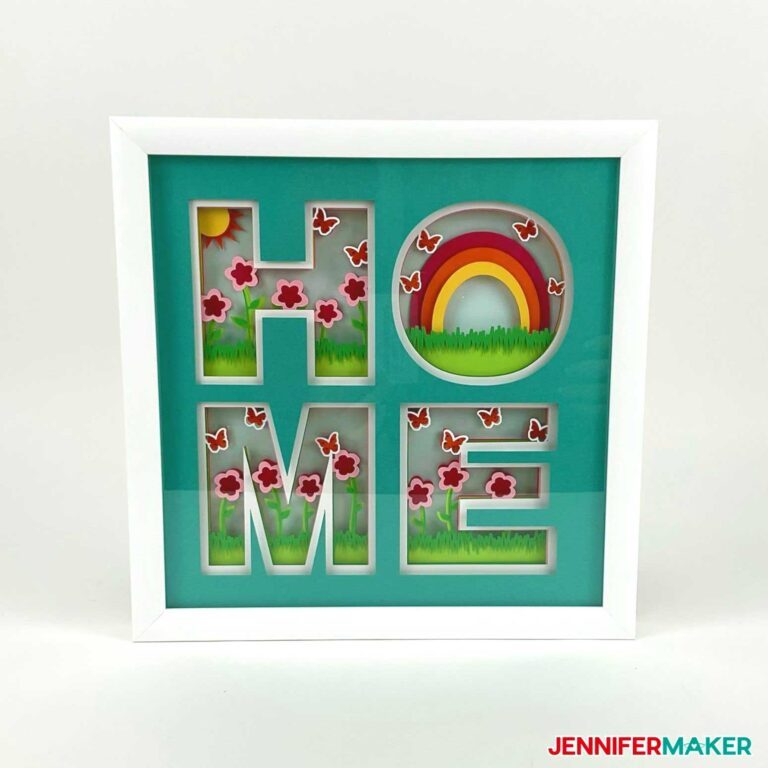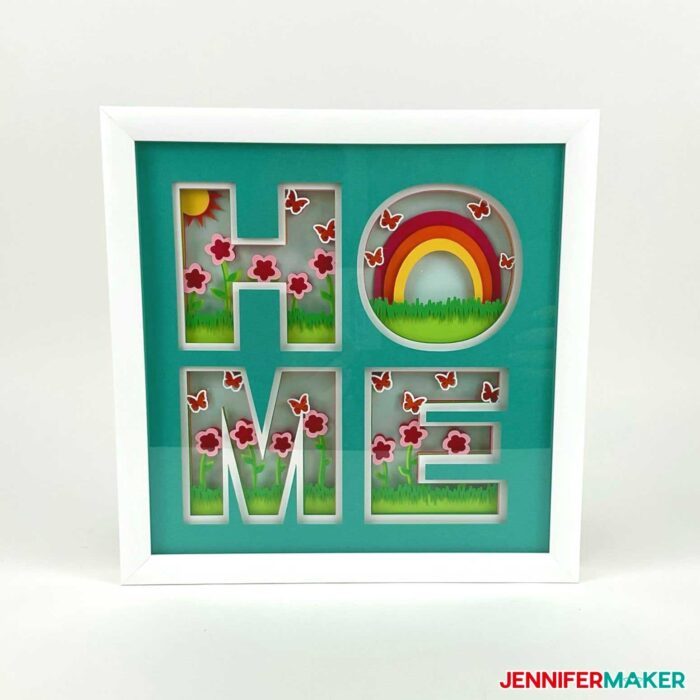 And even though these shadow box designs might look complicated, I've done all the hard work for you…wait until you see how fun and easy this is to put together!
To make this shadow box, you need about 9-10 sheets of good, quality cardstock. I suggest a solid core 65 lb. or 80 lb. cardstock — this is especially important when you are cutting intricate designs like this.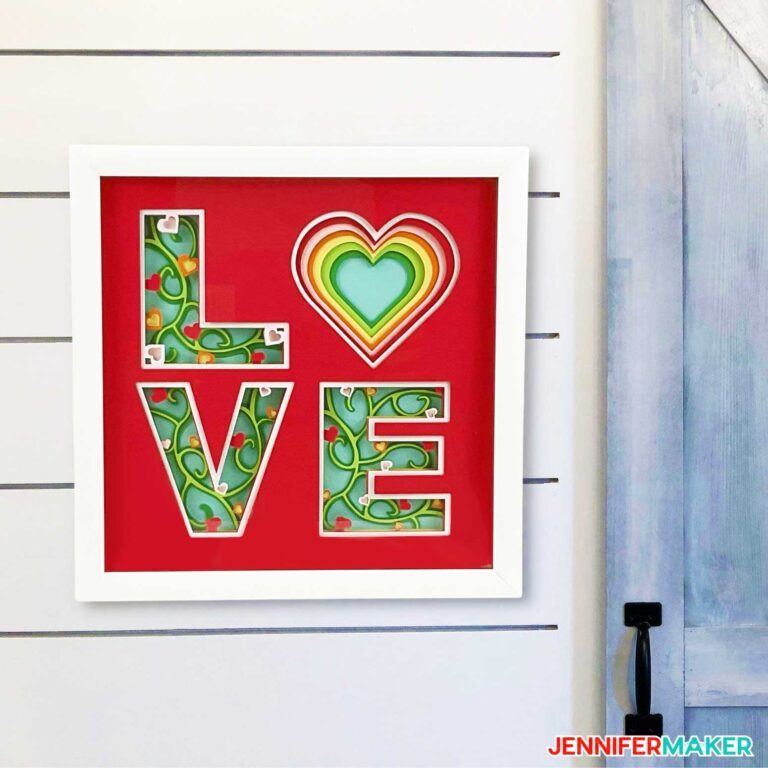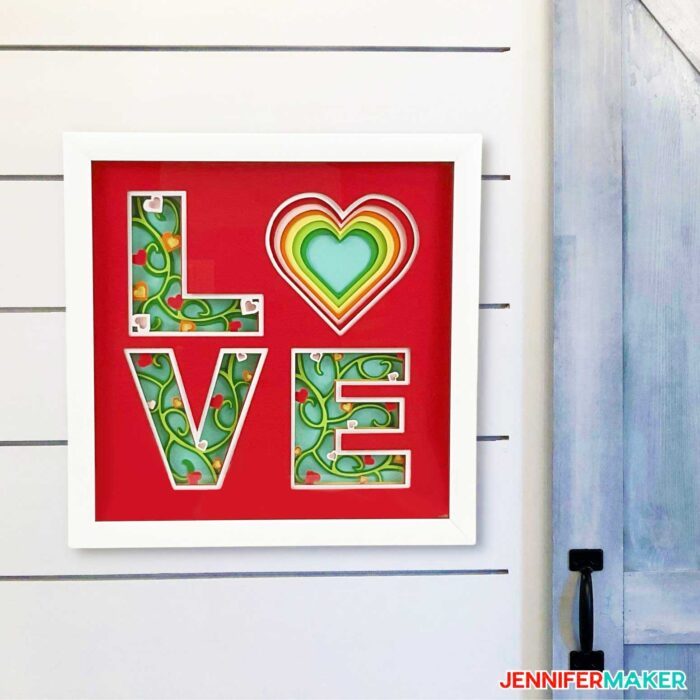 We will also use some foam adhesive tape to attach the layers and a 12 by 12 inch shadowbox… and that's it for materials! Easy peasy!
You can cut your cardstock with a craft knife, but it'll be much easier and faster to cut it with a cutting machine like a Cricut. And if you do use a Cricut cutting machine as I am, you'll also want to use your fine point blade, a blue or green machine mat, a scraper tool, and a weeding tool.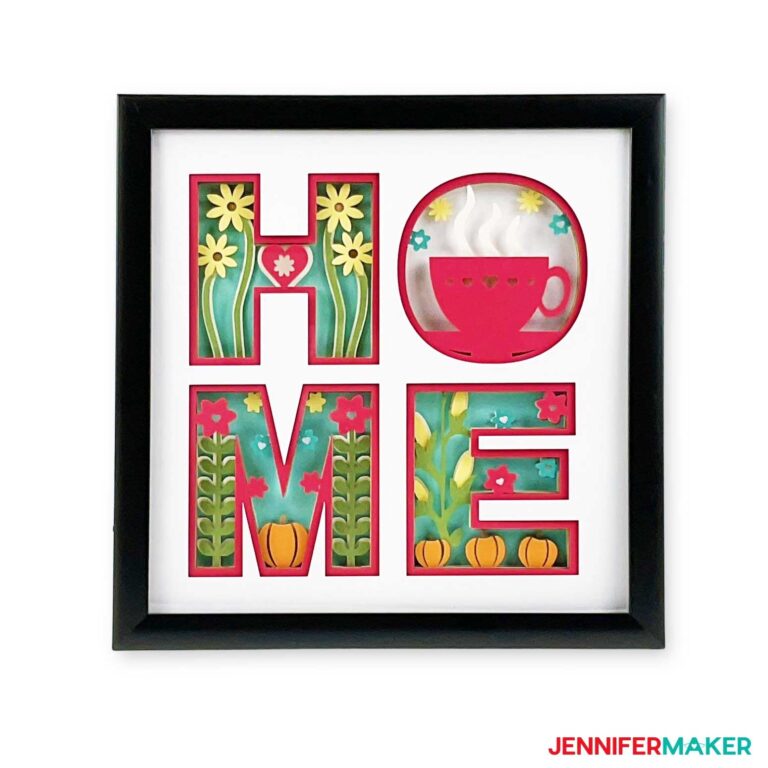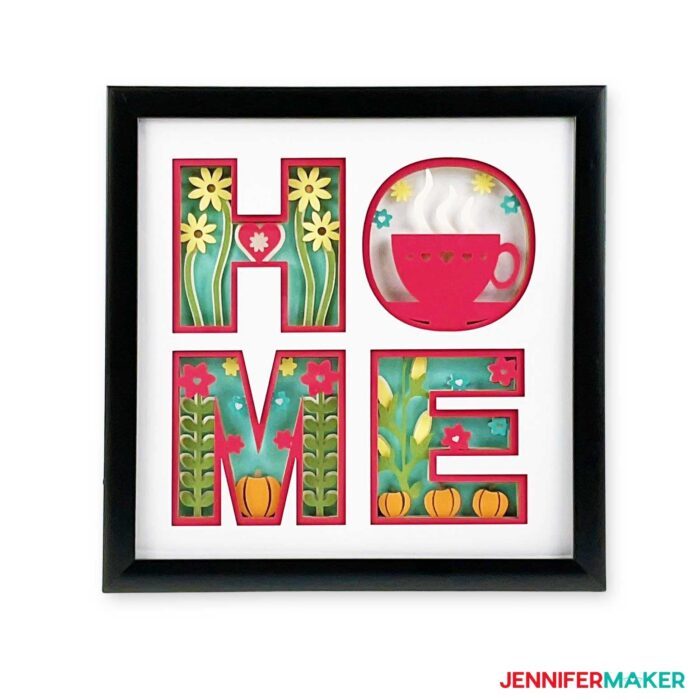 Let me show you how easy it is to make this pretty paper craft home decor with my free SVGs! This post contains some affiliate links for your convenience (which means if you make a purchase after clicking a link I will earn a small commission but it won't cost you a penny more)! Read my full disclosure policy.
How to Make Your Own Beautiful Paper Craft Home Decor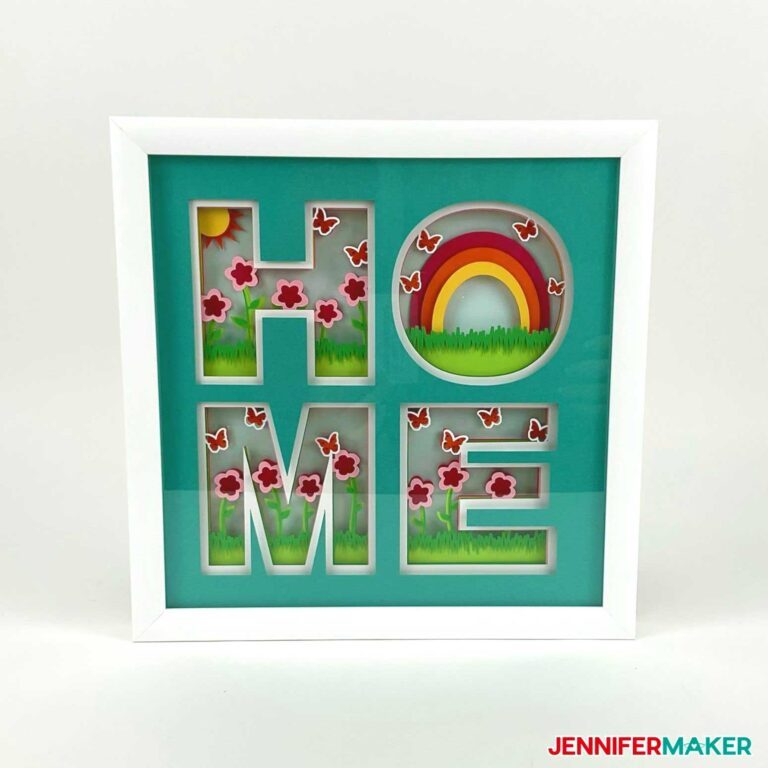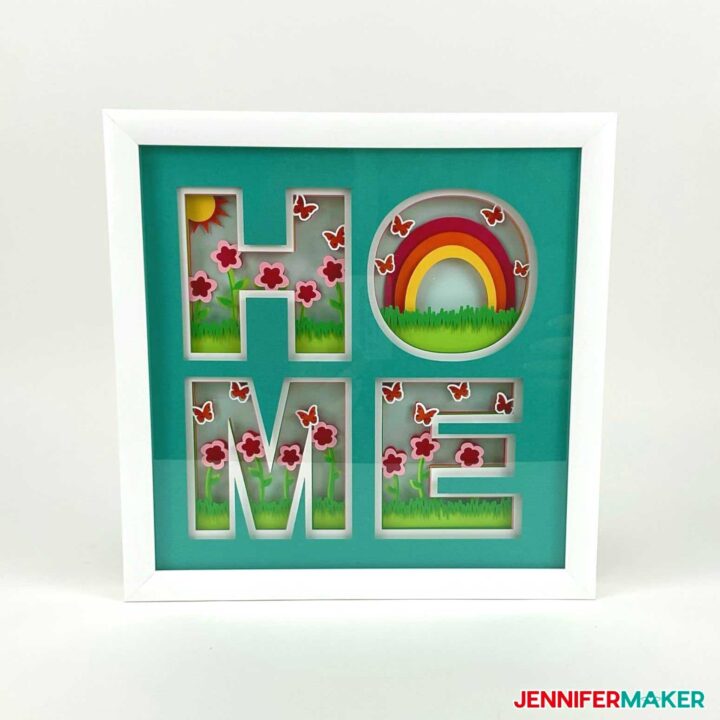 Paper Craft Home Decor
Make a colorful, layered Home or Love design to add to your home decor!
Answers to Your Questions About How to Make Paper Craft Home Decor
Q: What kind of paper do I use?
You can really use any 65 lb-80 lb. or higher cardstock to make layered paper craft home decor — it's your choice what color and texture you want to use. If you want to use the exact same materials I used, check the materials list above.
Q: How do I keep my layers stuck together?
I used double-sided foam adhesive squares applied to the underside of each layer, which gave the layered paper an interesting look with depth and shadow. But you could also use adhesive foam circles or 3D Zots to achieve a similar effect. And you can also just keep the layered flat against one another by using tacky glue or spray adhesive instead. There are no rules, just what you prefer!
Q: Can I cut these paper layers on a Cricut Joy?
While you could resize this project down to fit on a Cricut Joy, I think the detail might be difficult to cut out cleanly. But feel free to give it a try! (Update: I can confirm that this can be resized and cut on a Cricut Joy as one of my wonderful crafters reported a successful cut!!)
Q: My cardstock keeps ripping on the intricate cuts. What can I do?
Be sure you're using a clean and sticky machine mat, good quality cardstock, and a clean blade. See my Cricut Cutting Problems post for all the tips I use to get clean cuts every time.
Get my free SVG files to create beautiful Paper Craft Home Decor
I love seeing what you make with my designs and how you use them! Please share a photo of your layered "HOME" and "LOVE" paper craft home decor in our Facebook group or tag me on social media with #jennifermaker.
Love,