These beginner-friendly Cricut projects are great ideas for new cutting machine owners! I also explain to identify the best Cricut projects for beginners so you can pick ideas and tutorials that will be successful.

When I got my first Cricut, I just wanted to make fun projects that were easy and looked amazing. I got lucky and found some, but not everyone is so fortunate. Far too many people take on hard Cricut projects at the very start not realizing everything that goes into them, then get frustrated when they have problems. So I've put together a list of SEVEN easy starter ideas and tutorials that are the perfect Cricut projects for beginners!
Cute Face Mug (adhesive vinyl on a ceramic mug)
Easy T-Shirt (iron on vinyl on a cotton shirt)
Peek-a-Boo Cards (two different colors of cardstock)
Butterfly Canvas (several different colors of cardstock and a plain white canvas)
Paper Luminary (cardstock and vellum)
Faux Leather Earrings (faux leather + adhesive metallic vinyl)
Personalized T-Shirt (Infusible Ink transfer sheets on a polyester shirt)
Each one of the above Cricut projects can be created in under two hours and uses simple materials and basic skills to create. I also have step-by-step tutorials and videos for EVERY project listed here, so I can walk you through the entire process from start to finish. Plus, all of the design files for these projects are totally free here on my blog!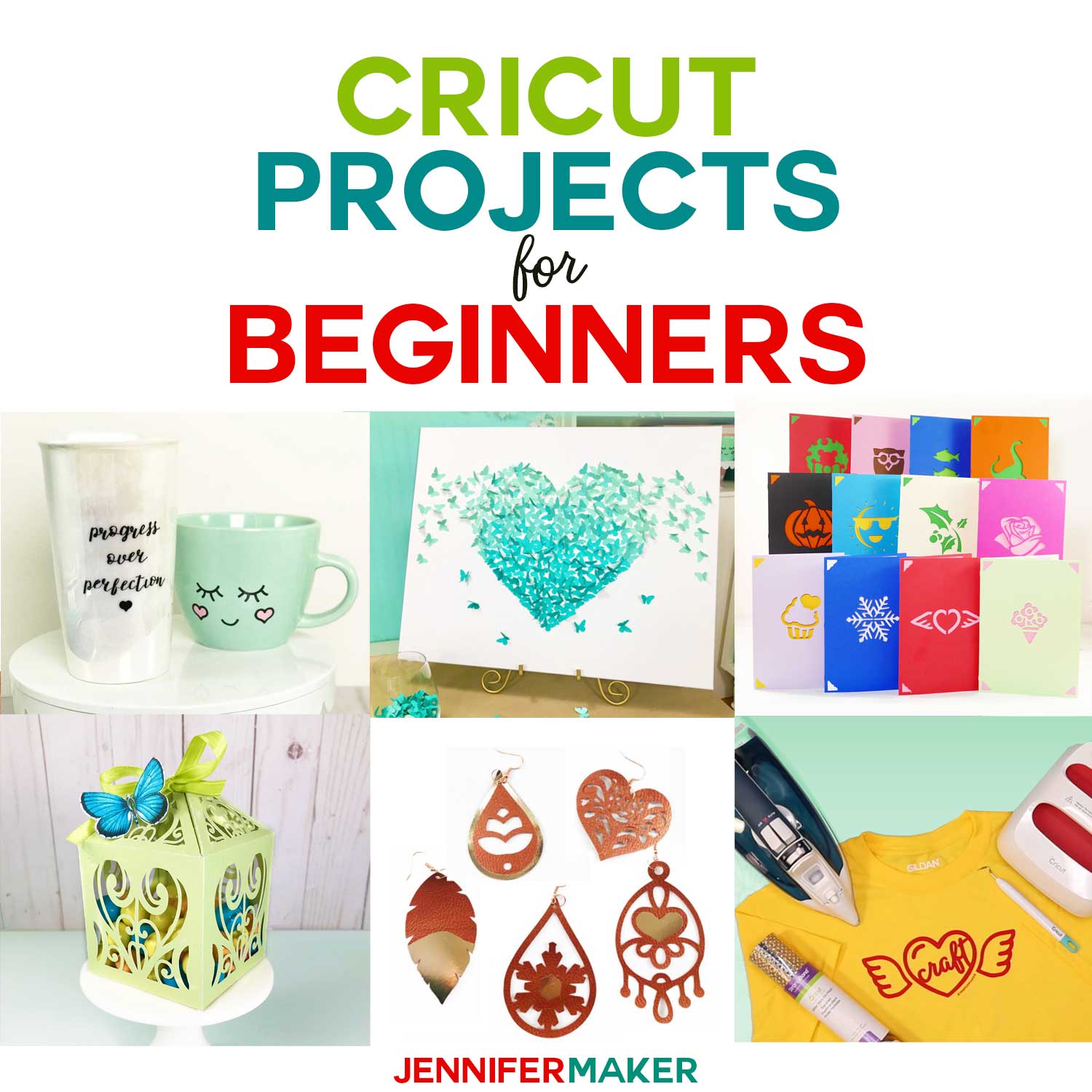 Let's look at each one of these beginner Cricut projects closer so you can decide where to begin. This post contains some affiliate links for your convenience (which means if you make a purchase after clicking a link I will earn a small commission but it won't cost you a penny more)! Read my full disclosure policy.

Beginner Cricut Project #1: Cute Face Mug
One of the easiest Cricut projects for beginners is simply to cut some vinyl and stick it on a mug. Easy peasy! For example, this is my Cute Face Mug. It's adorable, don't you think?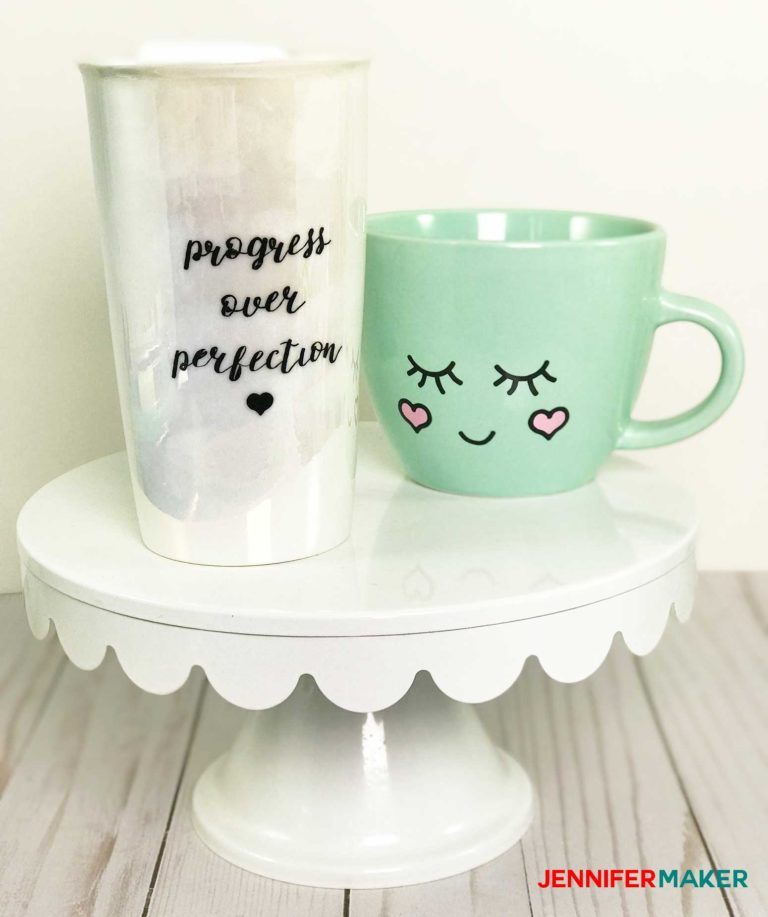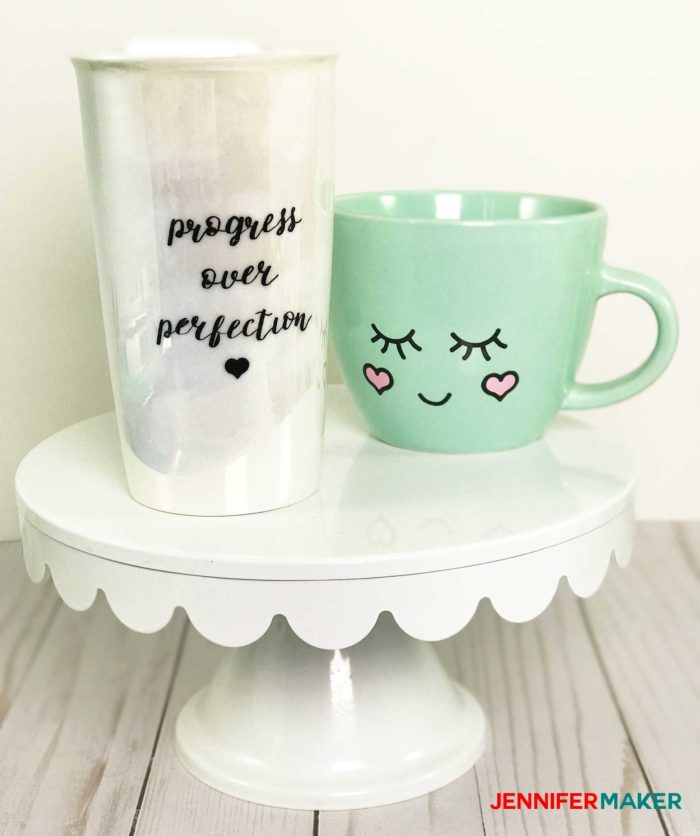 This beginner-friendly Cricut project is nothing more than some self-adhesive vinyl that I cut on my Cricut and then transferred to this mug. You can put vinyl like this on LOTS of things with a smooth surface — glass, metal, wood, ceramic, plastic, and even canvas! The key here is to use self adhesive vinyl, also known as craft vinyl, instead of iron on vinyl. You also want to be sure to get regular transfer tape, not "StrongGrip" transfer tape—that's a mistake I made early on like many other beginners.
LET'S MAKE IT TOGETHER: To learn how to make this cute face mug step-by-step, go to How to Put Vinyl on Mugs.
Beginner Cricut Project #2: Craft T-shirt
Many people get Cricuts so they can make fun T-shirts, like this "Craft" shirt — and the good news is that T-shirts are really quite easy to make with your Cricut!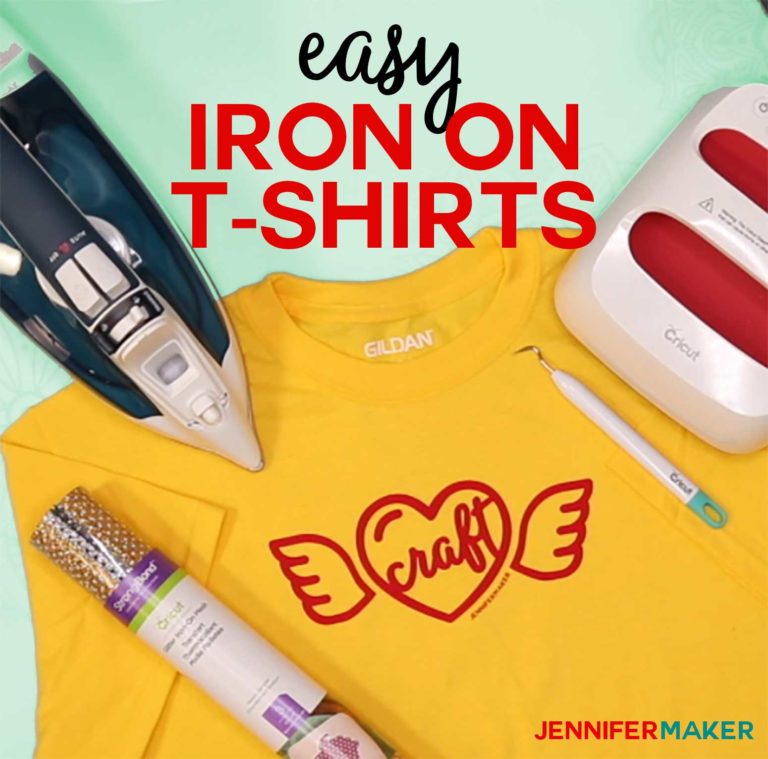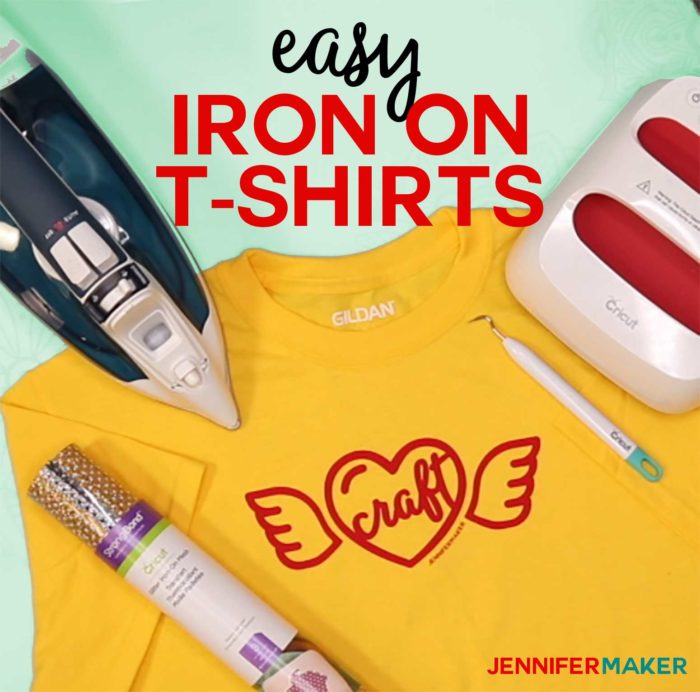 Instead of using self-adhesive vinyl like we did with the mug, we use iron on vinyl — also called heat transfer vinyl, or HTV. You just cut out your design on your Cricut and apply it to your T-shirt. And this craft heart design is a great project to learn on! I teach you how to put the vinyl on your cutting mat the right way, cut it out, weed away the excess vinyl, and apply it to your shirt.
LET'S MAKE IT TOGETHER: Watch my step-by-step video at How to Make a T-Shirt with a Cricut — Beginner Friendly!
Beginner Cricut Project #3: Peek-a-Boo Cards
How about a nice and easy paper project? These simple layered peek-a-boo cards were inspired by the starter card project that comes with new Cricut machines, taking the concept just one step further: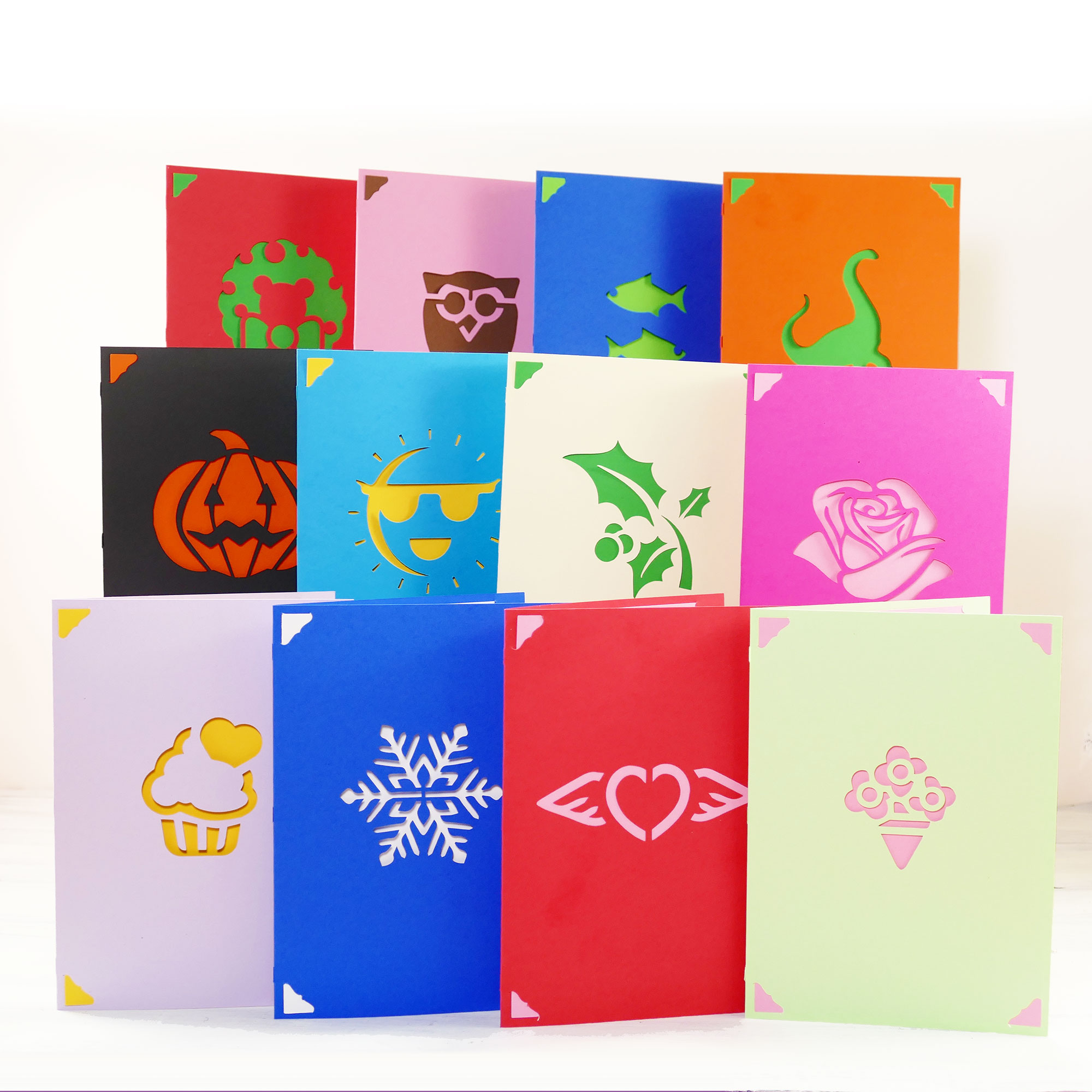 For this beginner-friendly project, all you need to do is cut two different colors of cardstock, fold one sheet in half, and then put them together — you don't even need glue! There are 24 different designs in total, so there's a card for every occasion. These also make a great gift — many of my fellow makers have made the whole greeting card set and given it to someone who loves to send cards. Or just make it for yourself and you'll always have a card on hand. This is probably one of the MOST EASIEST Cricut projects for beginners!
LET'S MAKE IT TOGETHER: To learn how to make these cards step-by-step, go to DIY Greeting Card Set – Fast, Easy Layers!
Beginner Cricut Project #4: Butterfly Heart Canvas
Here's another paper-based project that is a big hit with all of my beginner crafters — a paper butterfly heart.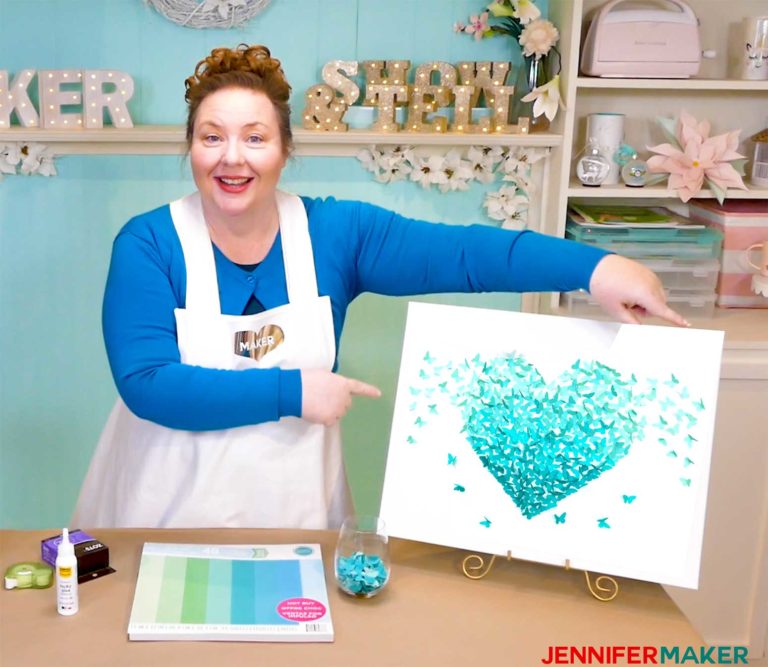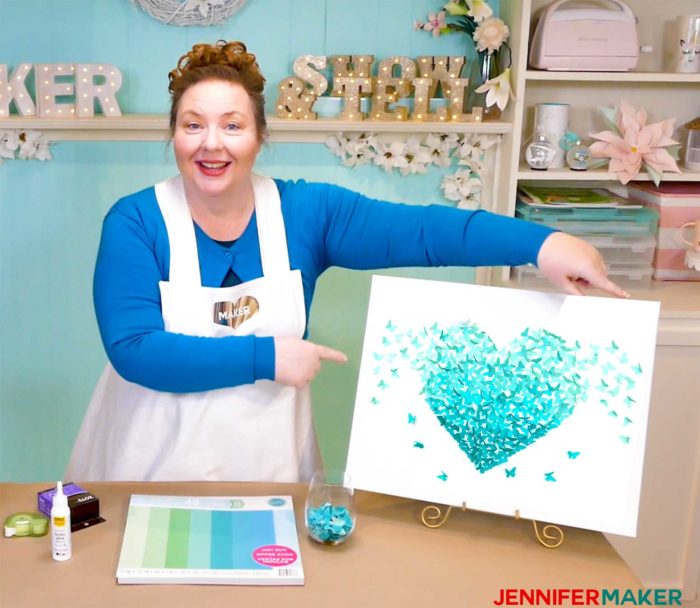 What's so fun about this butterfly project is that while it looks stunning, it's super easy to make! It's nothing more than paper butterflies folded and glued onto a simple white canvas. The butterflies are easy to cut out thanks to your Cricut, then you just fold the wings in half and glue the butterflies on in a heart shape or whatever shape you want! You can even add a saying on the canvas using self-adhesive vinyl, which is also simple to do. This is really the perfect Cricut project for beginners and everyone will be just amazed that you made this yourself.
LET'S MAKE IT TOGETHER: Make this project along side me in my step-by-step video at Paper Butterfly Canvas Wall Art Heart on Cricut
Beginner Cricut Project #5: Paper Luminary or Gift Box
I'm a big fan of paper projects as I find them very easy to cut and assemble. In fact, I only did paper projects for the first month after getting my Cricut because it was just easier. Here's another paper-based project that turns plain cardstock into gorgeous luminaries or gift boxes.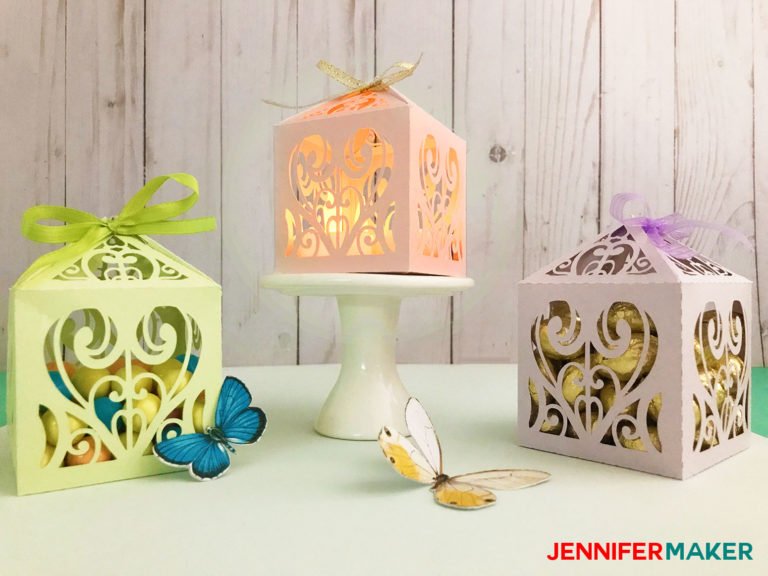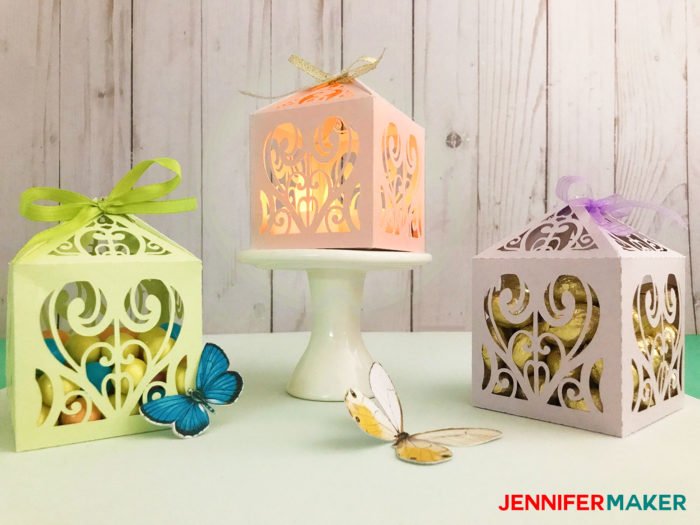 For this project, you just need to cut a sheet of cardstock on your Cricut using my pretty filigree design. Then just fold it, glue or tape it, and add a ribbon to keep it closed. Now just pop in an LED tealight into it and watch it light up. This is a super easy project with a big wow factor!
LET'S MAKE IT TOGETHER: Learn how to make this filigree luminary at DIY Favor Boxes, Treat Boxes, & Paper Luminaries!
Beginner Cricut Project #6: Faux Leather Earrings
Did you know you could cut and make earrings with your Cricut? These faux leather earrings are super easy and fun to make!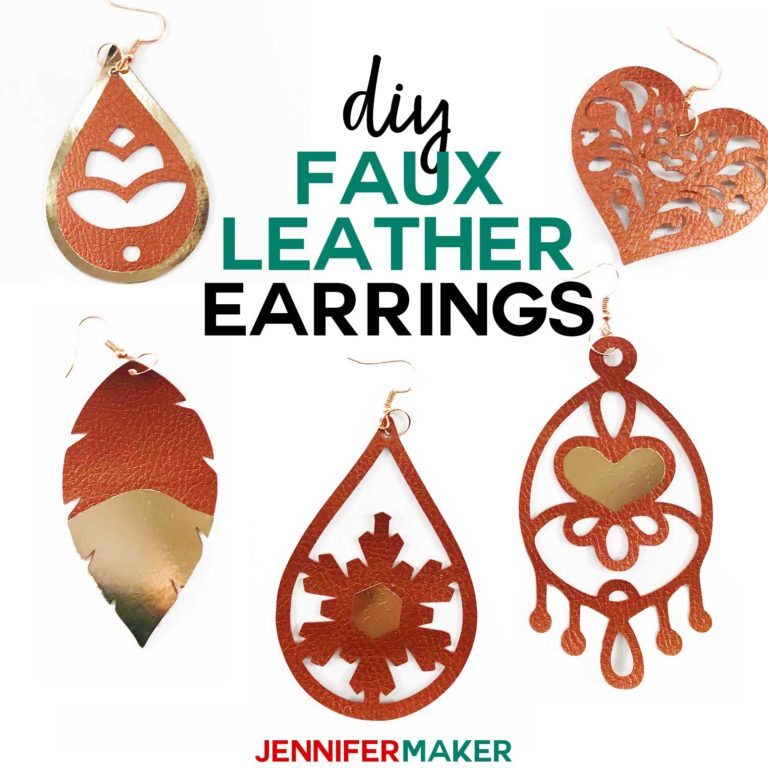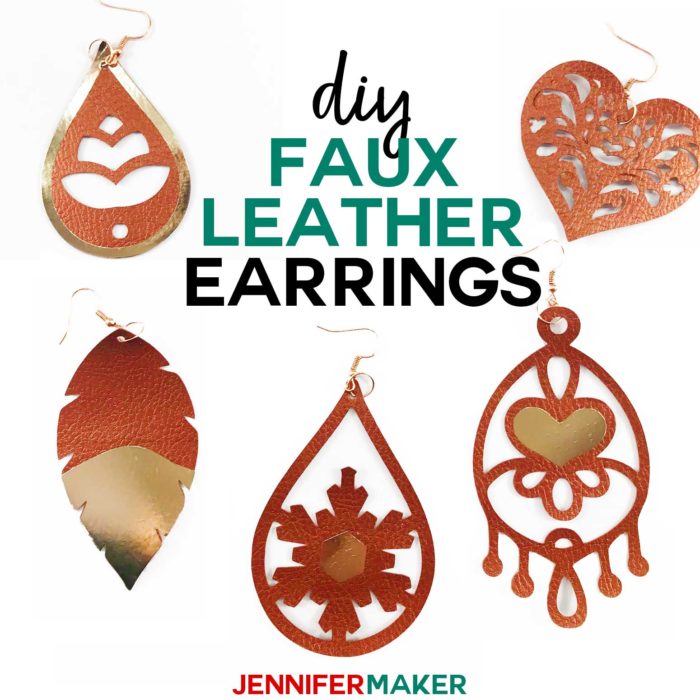 The cool thing about faux leather is that it's actually super thin, which makes it really easy to cut on your Cricut. And you can make easy earrings or fancy earrings easily thanks to your Cricut's ability to cut out just about any design you tell it to. You can even get it to cut the little hole at the top of the earring, so all you have to do is just cut and put in the wire finding. So easy!! And if you feel up to it, you can add an iron-on metallic vinyl on top of your faux leather as I've done in the earrings above. It's not difficult to do.
LET'S MAKE IT TOGETHER: Learn how to make these pretty earrings at Faux Leather Earrings with Cricut
Beginner Cricut Project #7: Personalized T-Shirt
Finally, you can learn how to make an easy personalized T-shirt using Cricut Infusible Ink transfer sheets: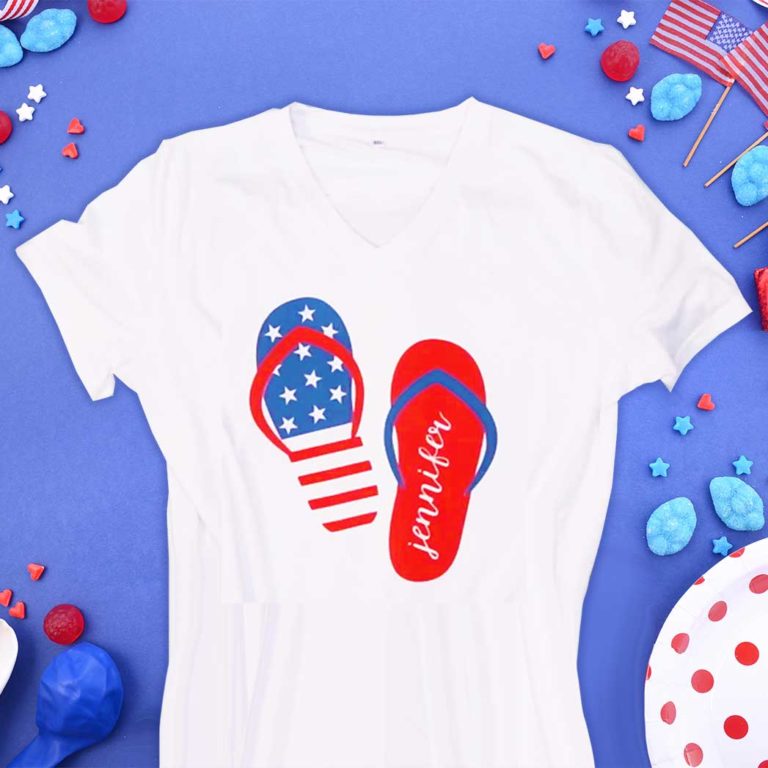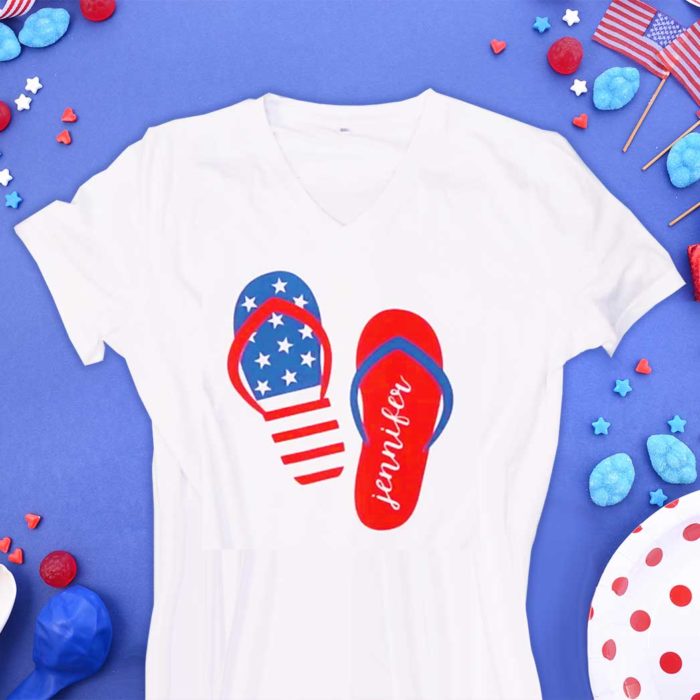 Infusible Ink is easy to work with and it creates really vibrant designs that last as long as your shirt. And it's not difficult at all to personalize with a name as I've done in the image above. I teach you how to add your own name to any image like this to create a fun and personalized T-shirt that'll last for a LONG time. I think Infusible Ink is one of the easiest Cricut projects for beginners because of the fun patterns you can get the transfer sheets in.
LET'S MAKE IT TOGETHER: Make a personalized Infusible Ink T-shirt with me at Cricut Infusible Ink Layered T-Shirt Tutorial
How to Tell if a Cricut Project is Good for Beginners
So what if you want to make something beyond what you see here? Maybe you spotted some really amazing project and you're just not sure if it's a good project for a beginner. It's so hard to know what is going to work or not work when everything is brand new to you. Here's my criteria for a good beginner Cricut project:
Instructions: Are clear instructions available for the project? Avoid projects without obvious directions, or ones that seem too simple. You want everything spelled out for you, step by step, so you know what to do when you get stuck. The best Cricut projects for beginners have super clear instructions that are broken down step by step.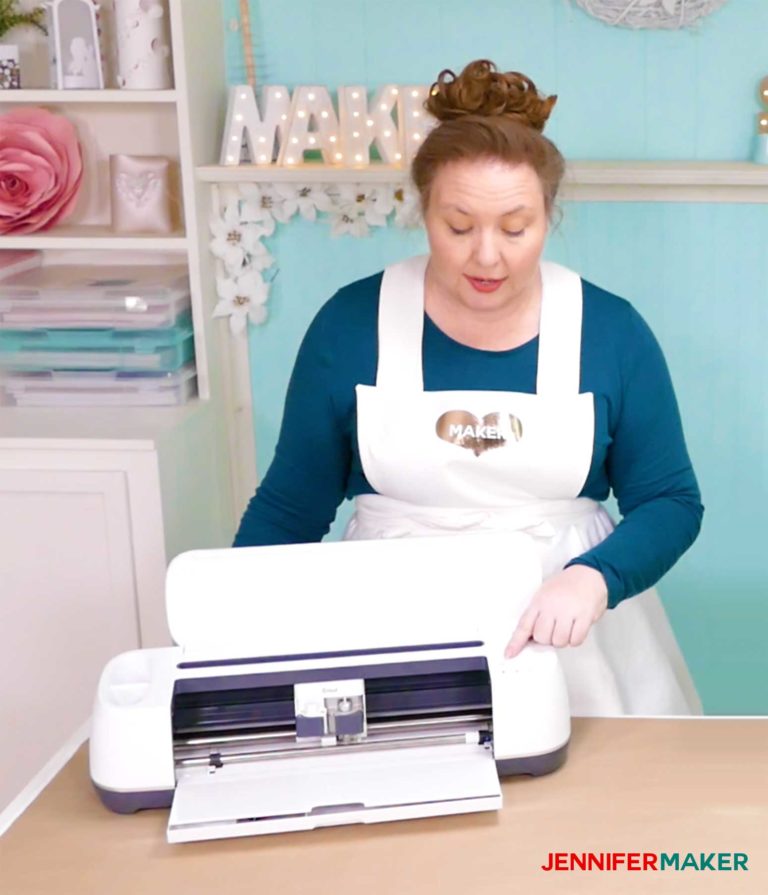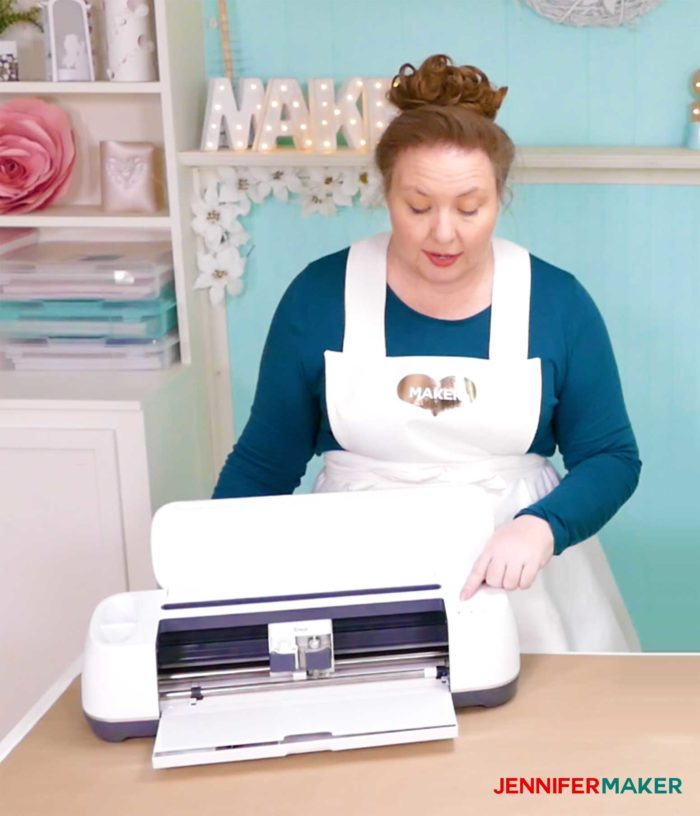 Materials: How many materials are needed to make the project? The easiest Cricut projects use no more than three different kinds of materials: the surface material such as a mug or shirt, plus whatever you put on it, like vinyl. And the super easy ones are no more than one material, like the cardstock for the layered cards.
Techniques: How many techniques are required to make the project? The simplest Cricut projects are just a single technique, like applying one layer of iron-on vinyl to a shirt, one layer of adhesive vinyl to a mug, or just attaching two pieces of cardstock together.
Time to Complete: How long will it take to finish the project? The best Cricut projects for beginners are quick to make and take less than two hours total from start to finish. You can even find ones that are faster, like the heart luminary or the cute face mugs. If you have to spend too long on a project, you can lose focus or get distracted before you complete it, and that's not satisfying. Plus, if you encounter any issues — which is normal when you're new — a shorter project means you can start over and finish successfully.
Helpful Advice on Cricut Projects for Beginners
Pay close attention to the directions and read/watch everything through once first before you start. Most of my projects have both written directions and a video so you can pick the way that works best for you. The best Cricut projects for beginners will have thorough instructions.
Get your materials, supplies, and tools ready in advance. My projects always come with a list of materials and supplies needed in a gold box. Check that to find out exactly what you need to do a project.
Be careful with substitutions. They may work, or they create a huge craft fail. It's easier to substitute when you're experienced, but it can be a recipe for disaster when you're new.
When in doubt, always test first! Just cut out a little heart in the corner of a piece of paper or vinyl to make sure you've got your settings and mat right.
Expect some mistakes. We all make mistakes — it's a part of the learning process. Don't get frustrated. Just start again or even keep going, depending on how big the mistake is. I have plenty of projects I've goofed up but I finished them anyway — now it's just part of their charm.
Aim for progress over perfection. Your early projects are not likely to be perfect, if that is even possible when it comes to crafting. Be kind to yourself. You'll be your biggest critic. If you doubt that, come post a photo of your project in our Cricut Facebook group and ask what folks think of it — you'll be amazed at how others see the beauty even when you just see the mistakes.
Get access to my free designs for beginner-friendly Cricut projects:

If you make a beginner project with your Cricut, please share a photo in my helpful Cricut Facebook group or tag me on social media with #jennifermaker. We'd all love to see your first projects — it's fun and inspiring!!
Love,