Under shelf lighting doesn't have to be expensive or hard to install! Find out how to do it inexpensively for a fantastic look.
I'm a big fan of using all of your available space. Yes, that's right — I'm not much of a minimalist. But don't get me wrong. I do like a clean look. But I think when you have a lot of stuff, like say in a craft room, the best way to get a clean look is to organize and store your things properly. That's why I came up with the idea for overhead shelves, near the ceiling… WITH LIGHTS! This space is rarely used, so it's a great way to get extra storage that's up and out of your normal line of sight. Add some under shelf lighting in your room, and now you've shelves with a dual purpose. I tried it above my pegboard and it worked out so well I had to add two more shelves with lights to the other side of the room!
These days you can buy low-profile LED puck lights quite inexpensively on Amazon — I link to the exact sets I used in the materials list below. You just could just stick them under your shelf and call it a day, but there are CORDS! (And the battery ones are annoying because a) your battery dies and b) they are hard to turn on.)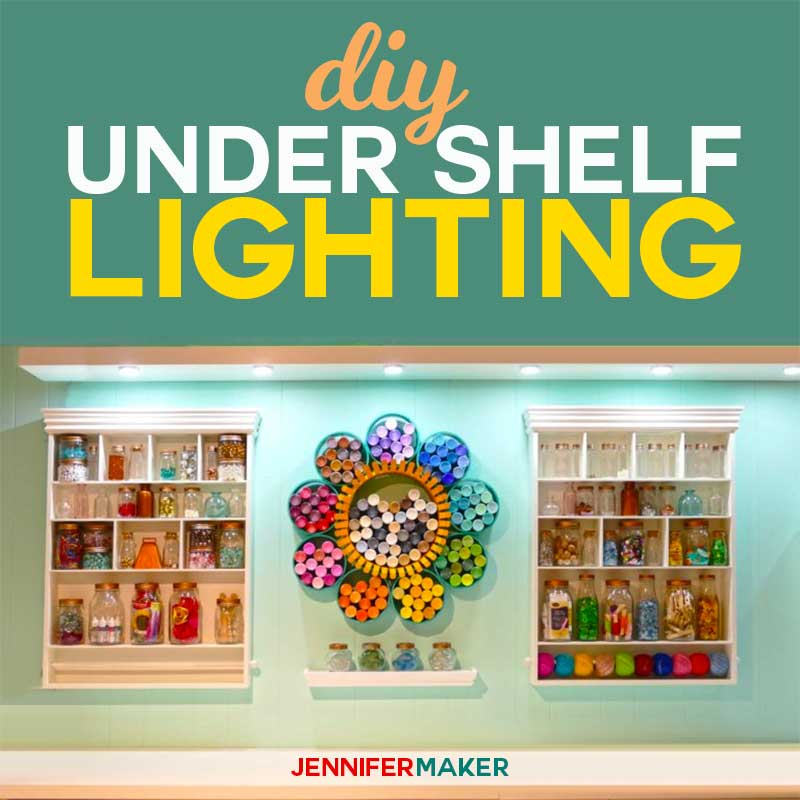 So we came up with a really easy way to hide the cords. The end result is a clean shelf that looks like it has recessed lighting even though it doesn't. I love it!
When I say low-profile lights, I'm talking .35 inch (.9 cm.). They are very slim and from the middle of the room they look built-in.
Here's what the finished lights look like in my craft room: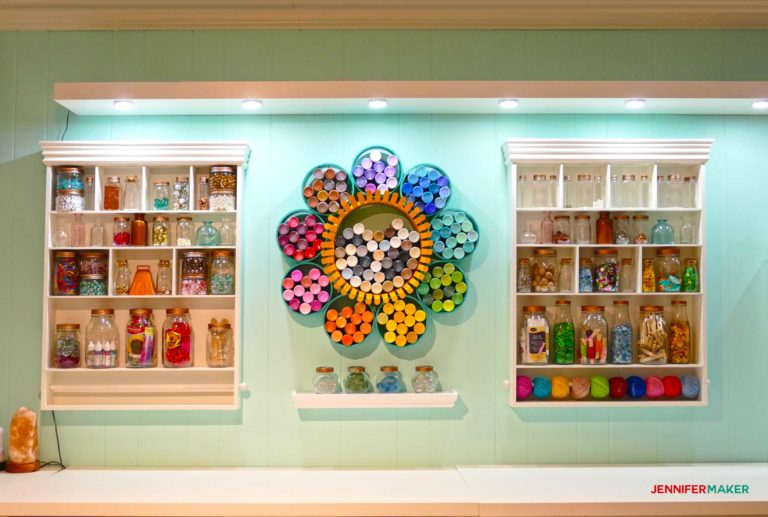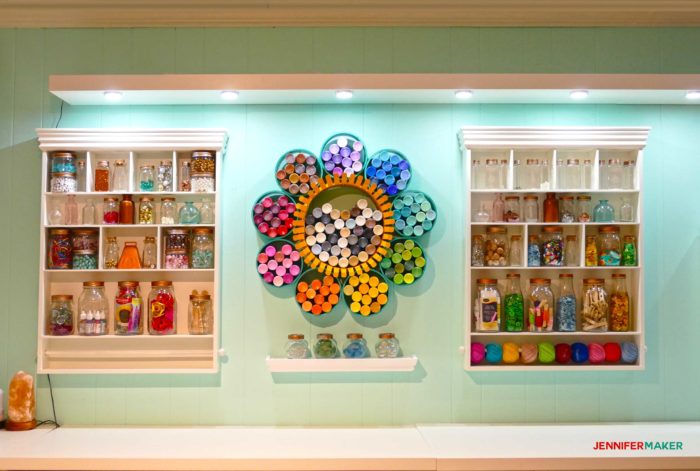 This under shelf lighting looks amazing, we think!
The best part? It was easy and inexpensive! The shelf was $20 and a four-pack of lights was $18. The lights I used for my first shelf haven't come back into stock after I told my Craft Room Organization FB group about them, but I found other lights (a 10-pack) that are still in stock and worked great on the shelves on the other side of the room. See links to my lights in the list below.
And I can show you how to install this under shelf lighting step-by-step so you can recreate it for your own home. This post contains some affiliate links for your convenience (which means if you make a purchase after clicking a link I will earn a small commission but it won't cost you a penny more)! Read my full disclosure policy.
I've gotten questions about the items in the above photo—the two wall shelves are embellishment centers from Amazon, there's another small floating shelf in the lower middle also from Amazon, and the flower is a paint storage unit I made myself (click the link to see the tutorial).
Materials and Tools for Easy Under Shelf Lighting
A shelf (I used this $20 LACK floating shelf from IKEA) – Be aware that floating shelves can't bear a lot of weight, so if you need shelves for heavy storage, get shelves with more load-bearing brackets.
Low-profile LED puck lights (I used these cool white lights AND these three-color lights — you'll want to look for white or silver lights with white cords for the best look)
Some twist ties or cable ties
Clear packing tape
A drill with a 1/2 bit
A pencil
A level
How to Install Under Shelf Lighting
First, you'll need to get your shelves and lighting. You can do this with nearly any shelf, so long as you can drill a hole through it. I used the IKEA floating shelves because they were inexpensive, easy to get (IKEA is nearby), and look great.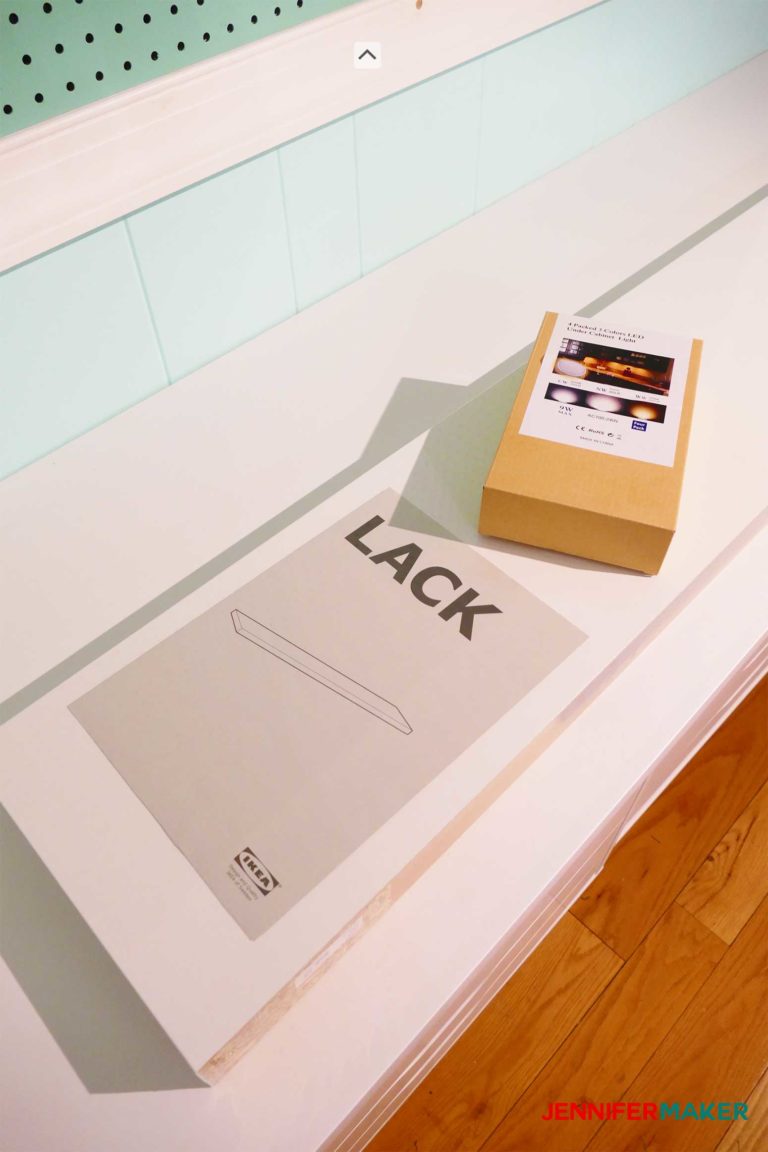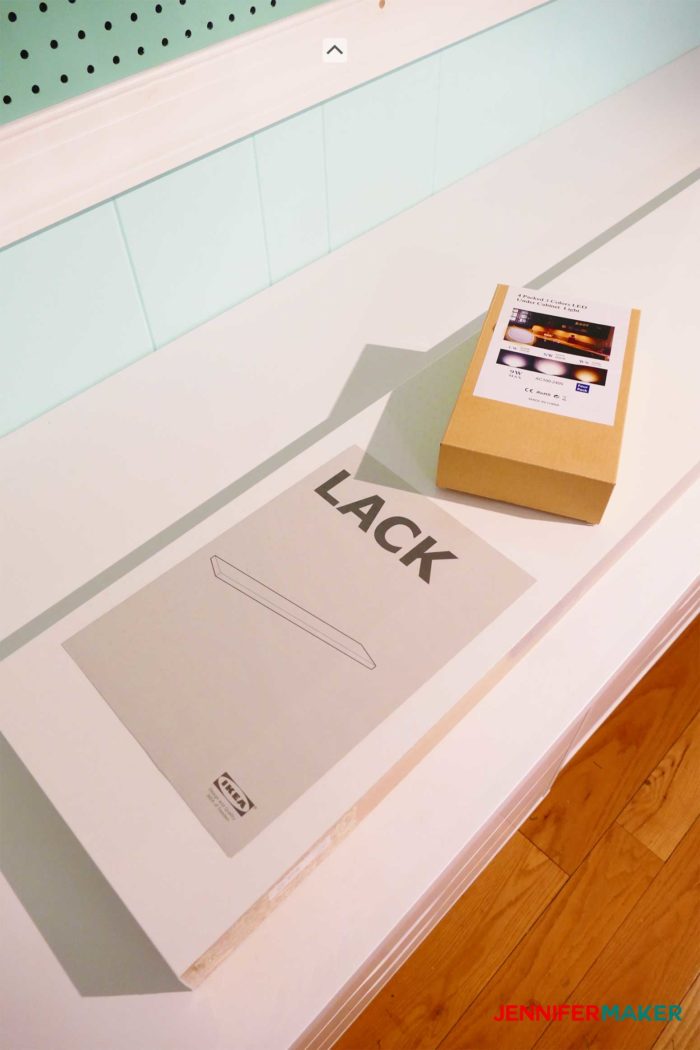 Take your LED Puck lights out of the box and get everything organized. You'll notice there are lights, cords, sticky pads, a switch, power brick, and maybe some mounting hardware. The contents of your box will vary based on which set of LED lights you chose.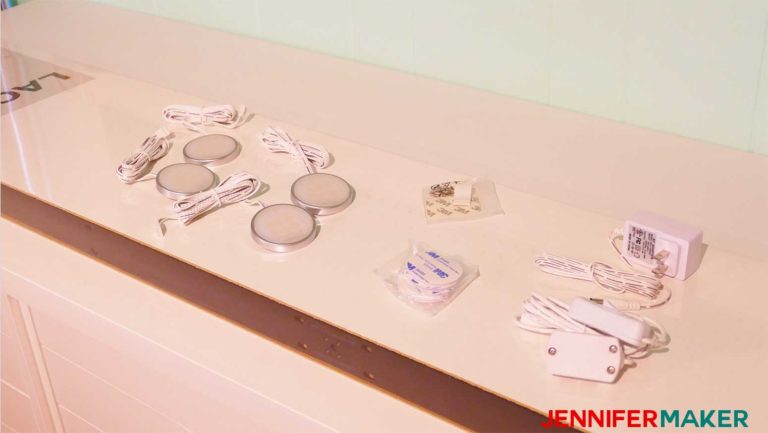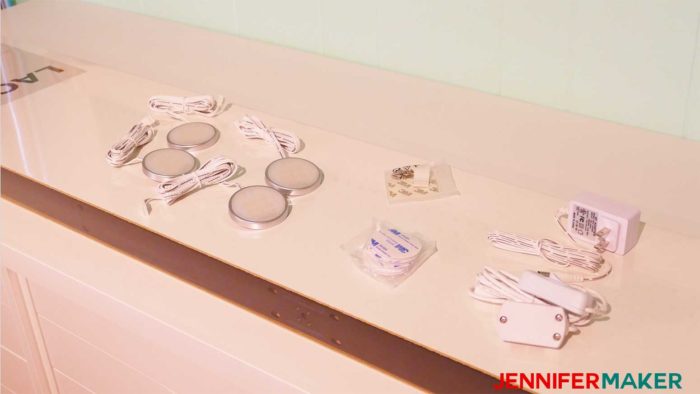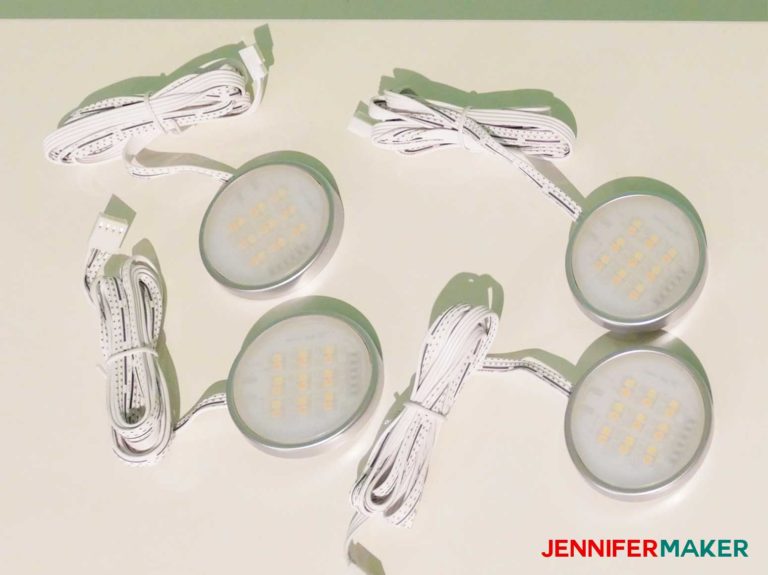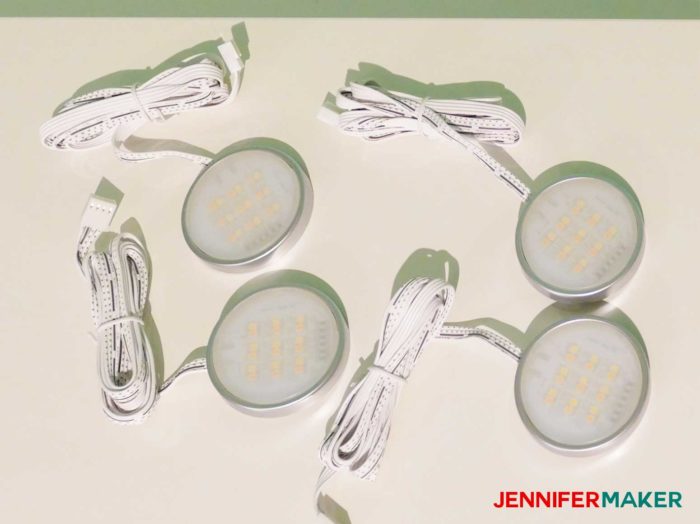 Measure about an 1 1/2″ from the edge of the underside of your shelf and place the sticky pad there. Why 1 1/2″? This is the sweet spot for making sure your under shelf lighting is at the edge of your shelf so it illuminates whatever is below it in the best light. Keep in mind you'll probably have things on your wall under the light that stick out, so you want your LED light to be pretty close to the edge. Allowing a little extra 1 1/2″ from the edge gives it a more professional look, however.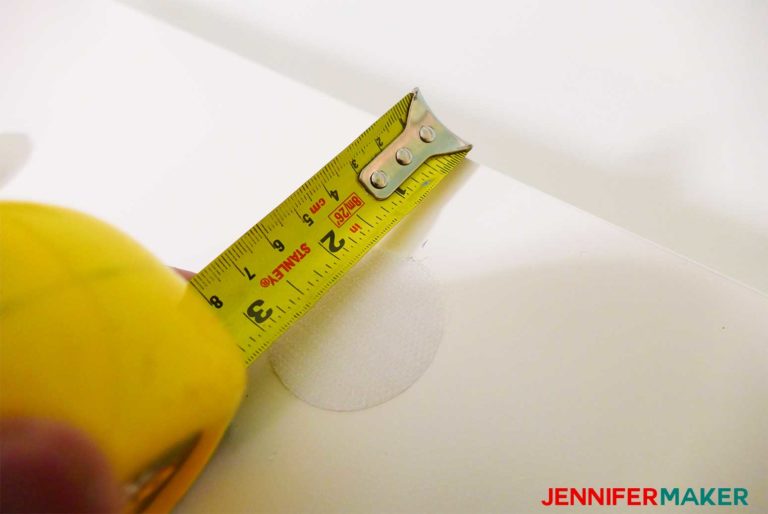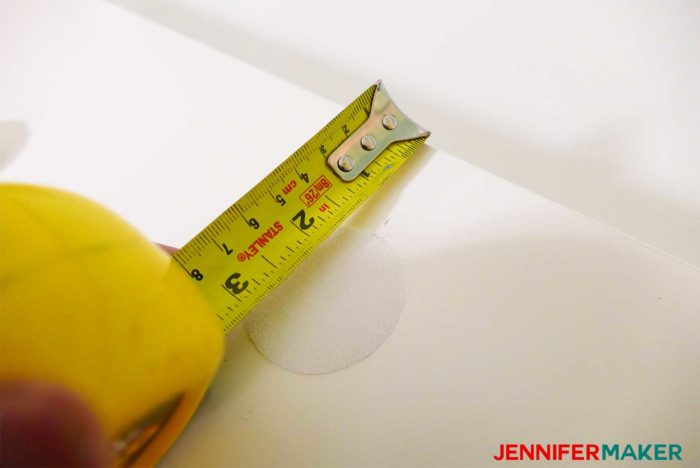 Now that you know where your sticky pad goes, drill a hole right behind it using a 1/2″ drill bit. Your hole should go all the way through your shelf.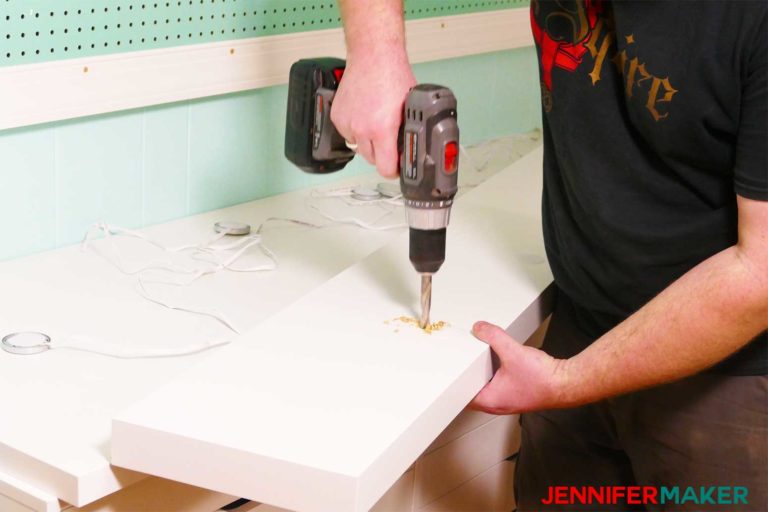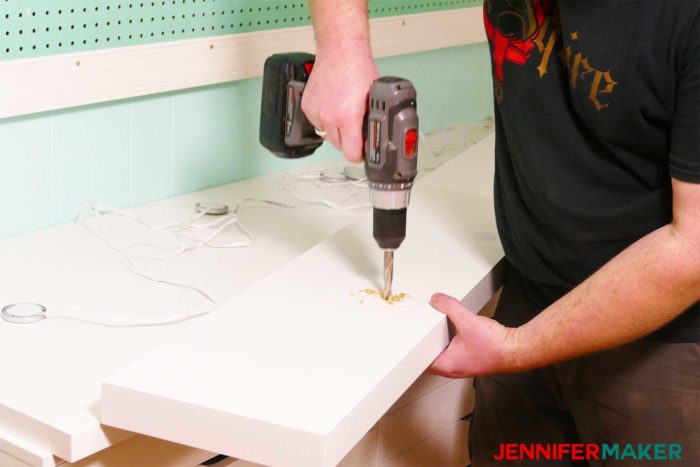 Now thread one LED puck light cable through the hole, from the bottom of the shelf (where your sticky pad is) to the top.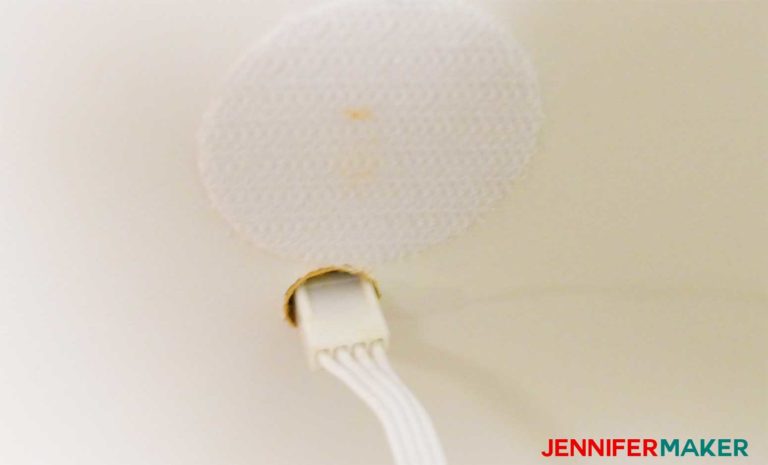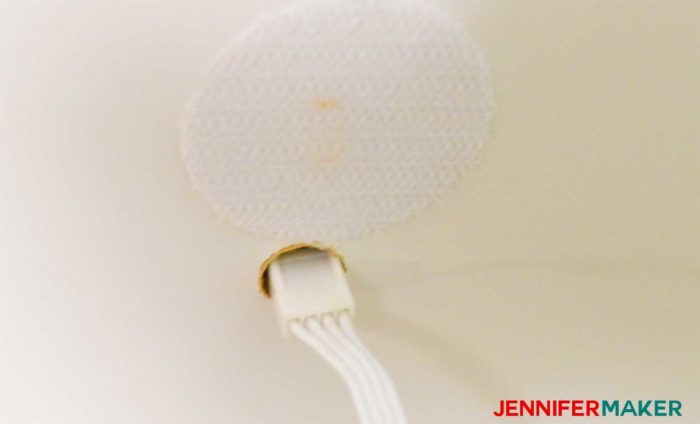 If you have an issue pulling the cord through the hole, use a tool like these little plier scissors.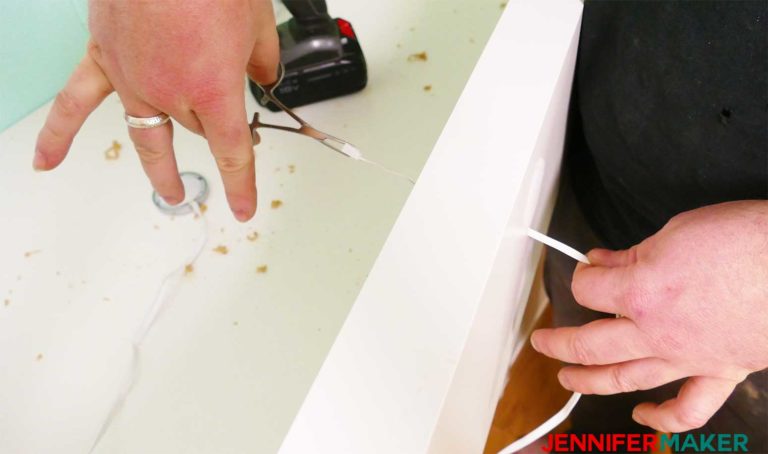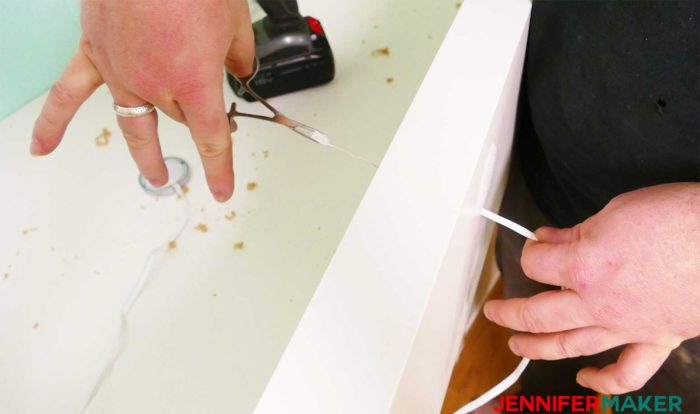 Now put the other side of the sticky pad on the under side of your LED puck light.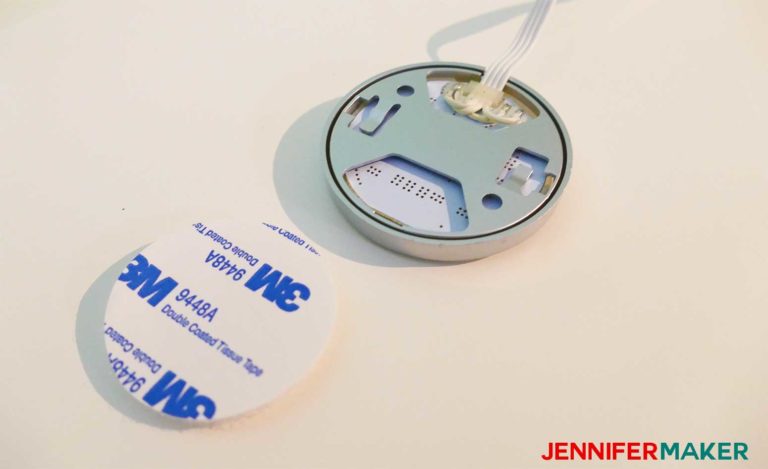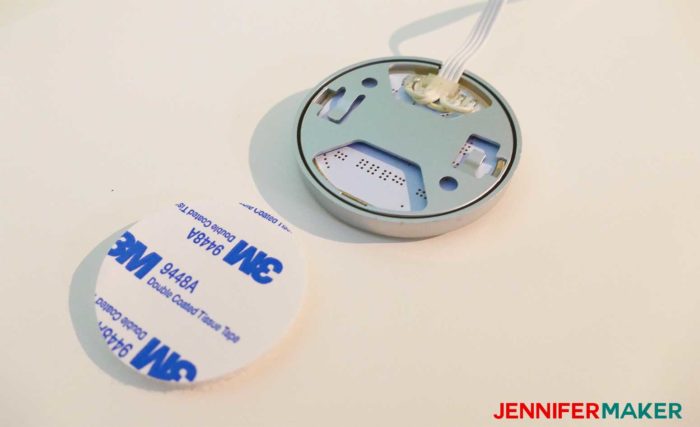 Attach your light. (Note that the hole is missing in this photo because we accidentally took the photo before we drilled the hole. But at this point, the hole for your under shelf lighting should already be here.)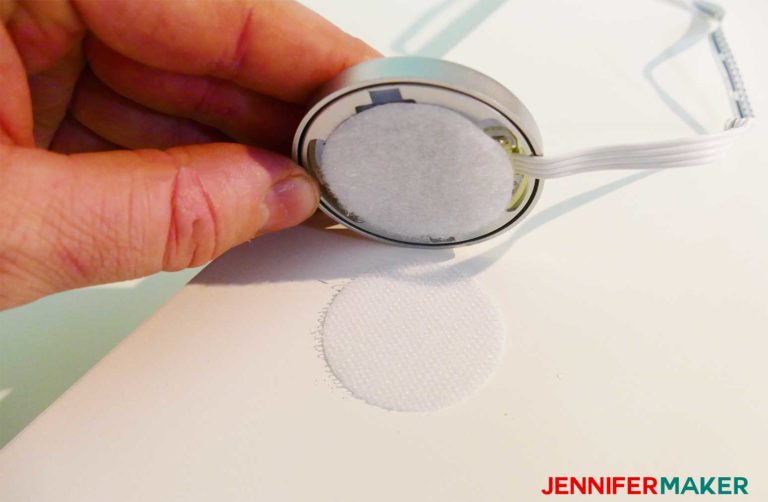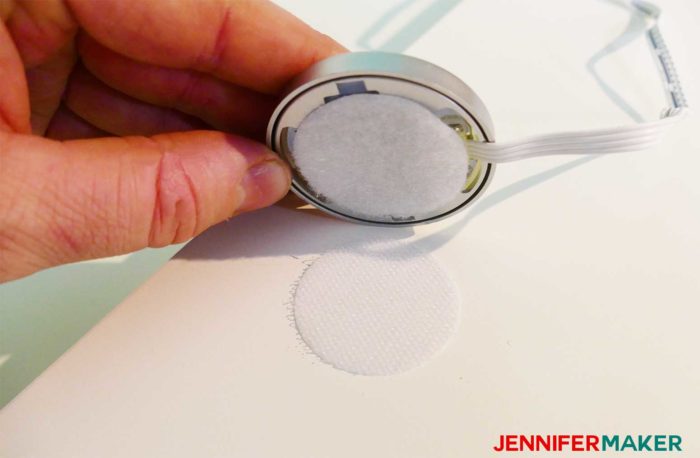 Stick your LED puck light to the shelf, as shown in the image below: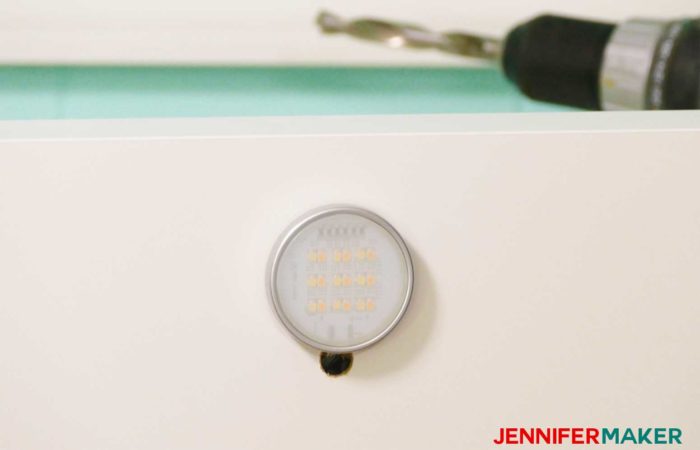 Here are the four LED puck lights installed on the underside of my shelf: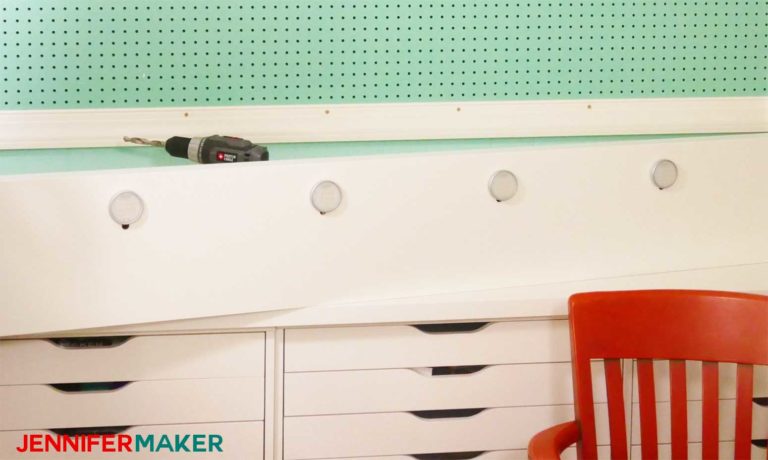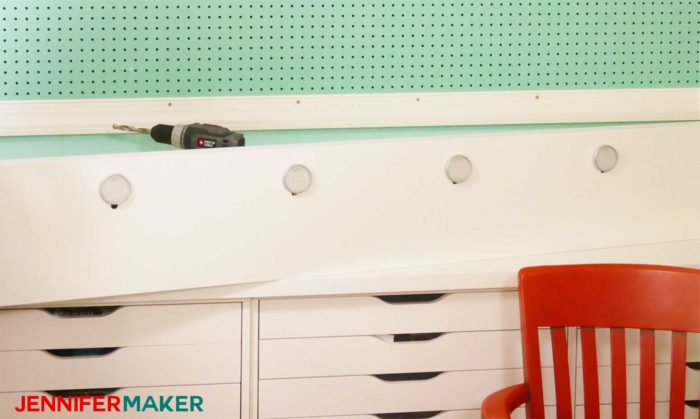 If you turn over your shelf, you'll see a mess of cables. Let's get these under control! What we did was lie the cables down flat, perpendicular to the shelf, and tape them down so they didn't move about.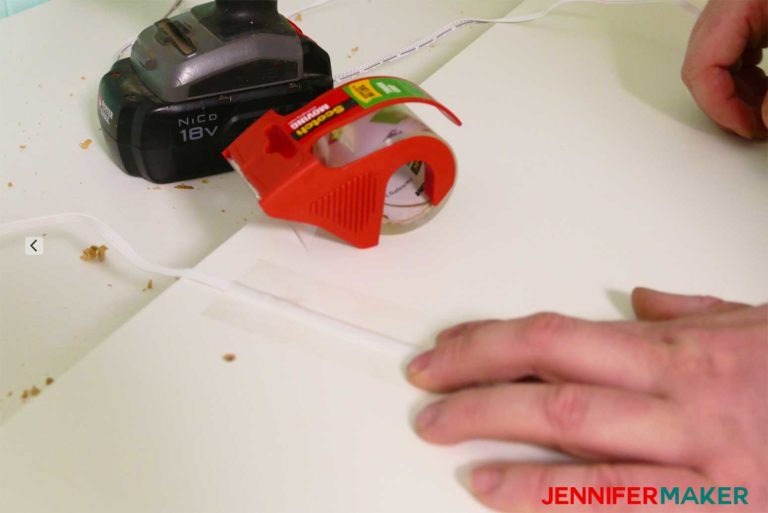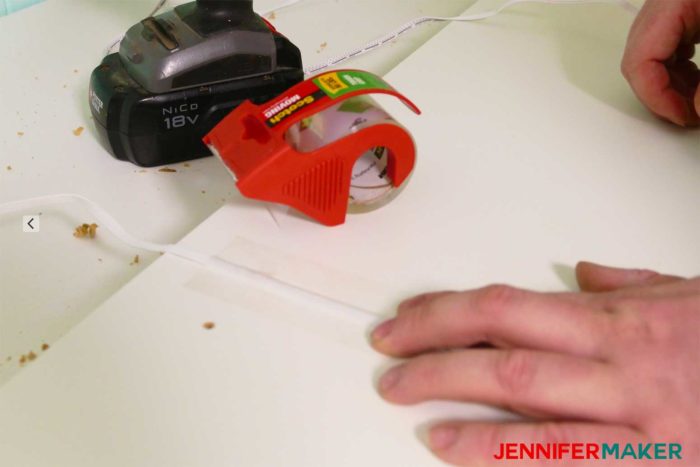 Here are all the LED puck light cables taped down in place.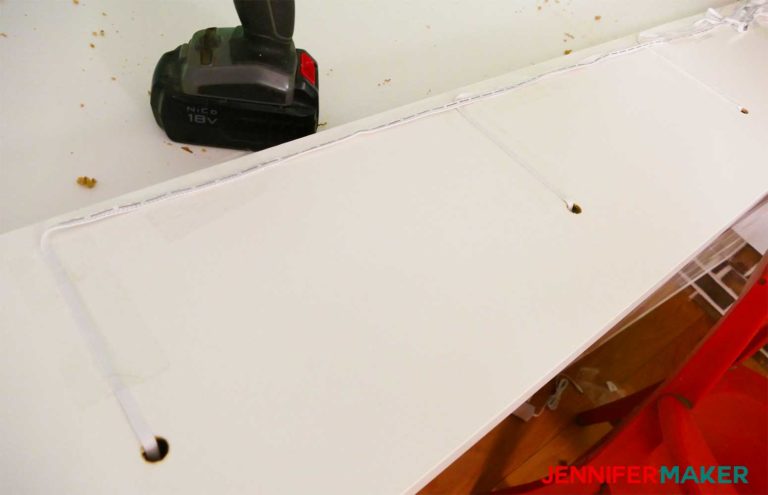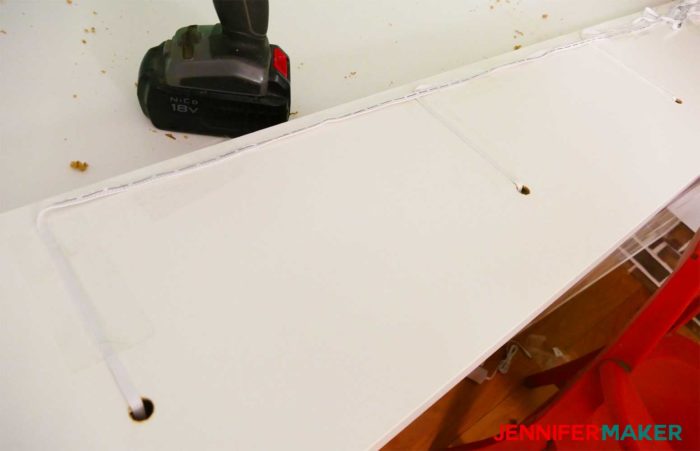 Now you need to connect all of your LED puck light cables to the connector box. This is what ours looked like.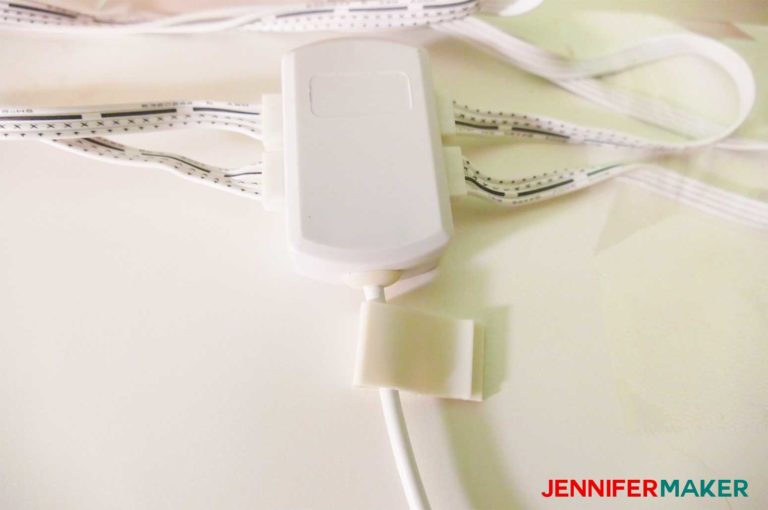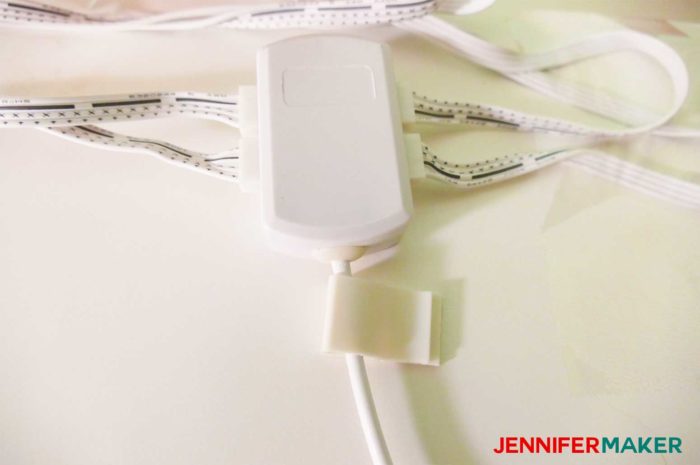 It's time to put the shelf brackets up on the wall! Mark the spot where the center of your lighted shelf should go with a pencil.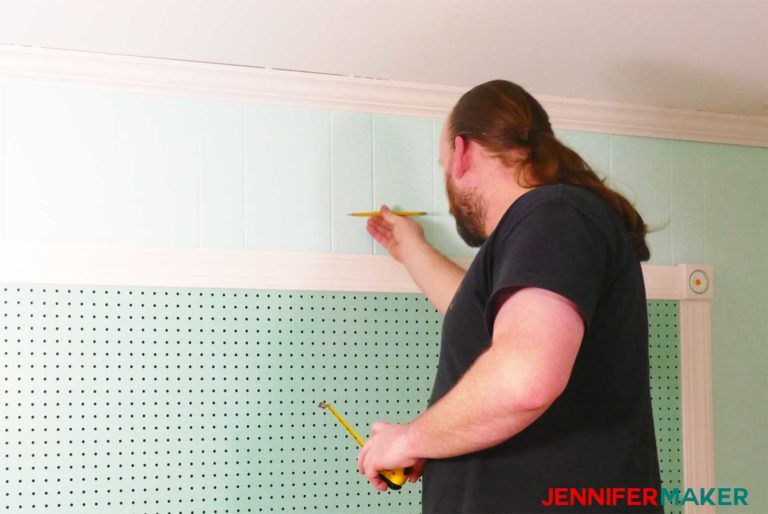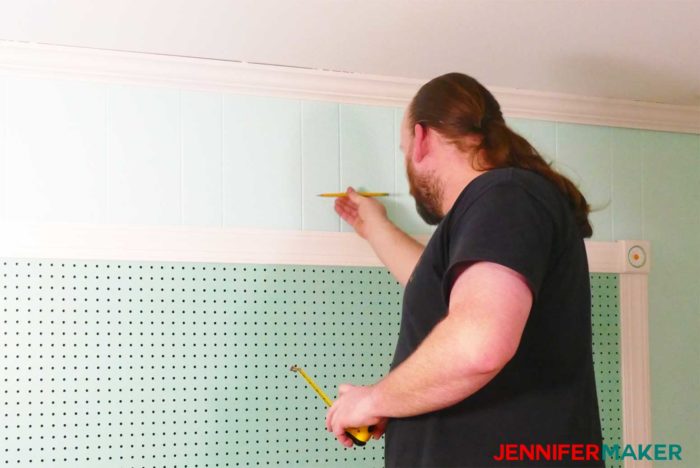 Attach the shelf bracket to the wall following the directions that came with your shelf.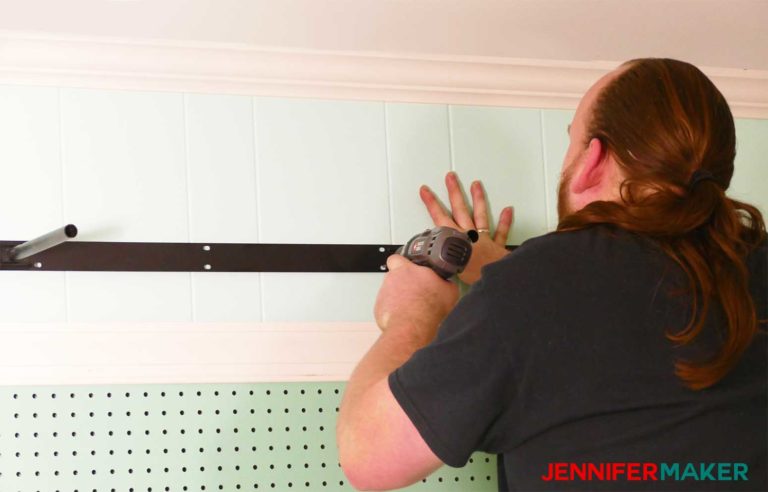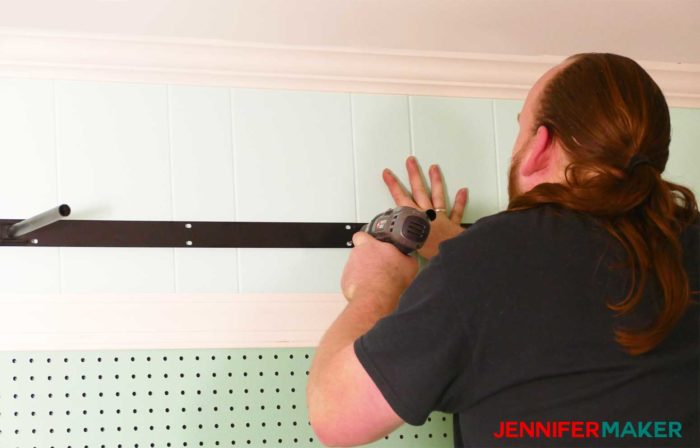 Make sure your shelf bracket is level!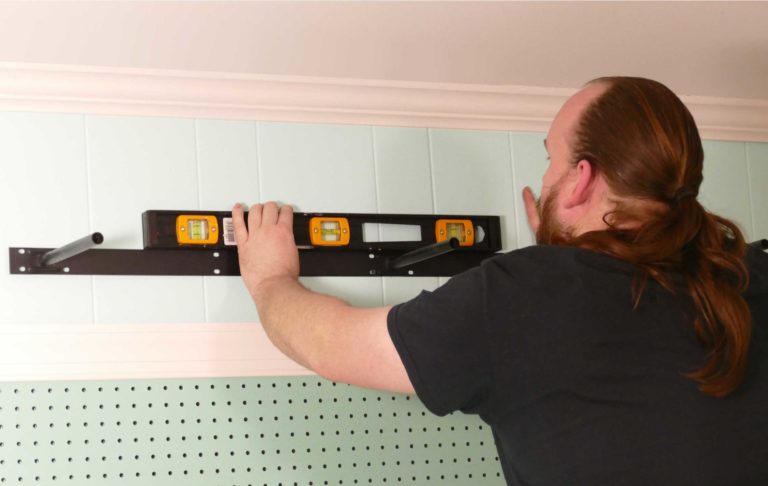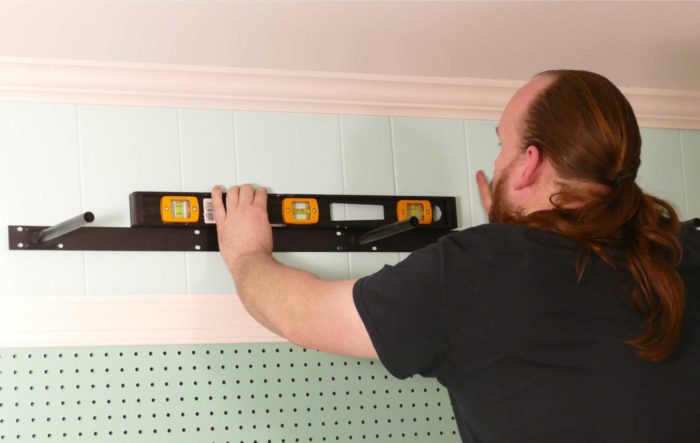 Here is our IKEA Lack shelf bracket up on the wall above my large framed pegboard, leveled and centered.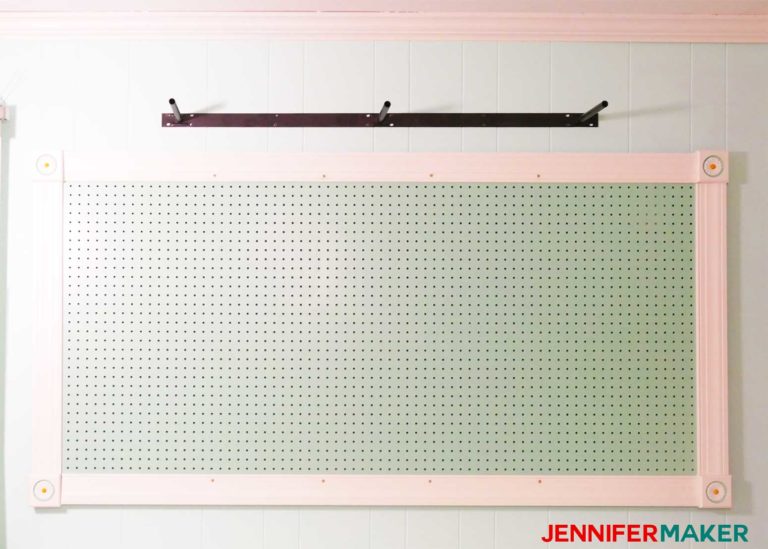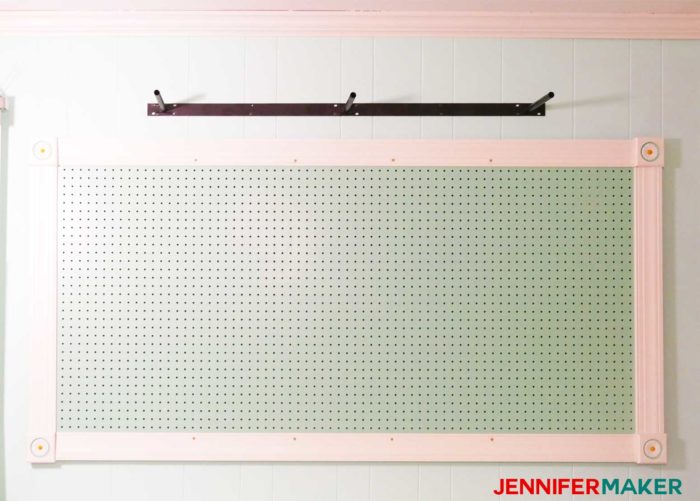 Now you just slide the shelf onto the bracket. Take care with your cables so you don't smoosh them between the shelf and the wall. We used twist ties to keep the cables in place once the shelf was up. We allowed the cord with the switch to hang down on the far side — our pegboard hid it for the most part.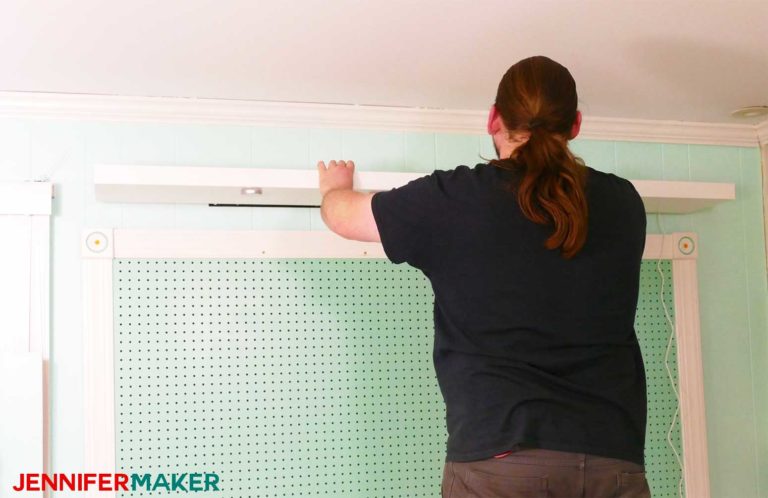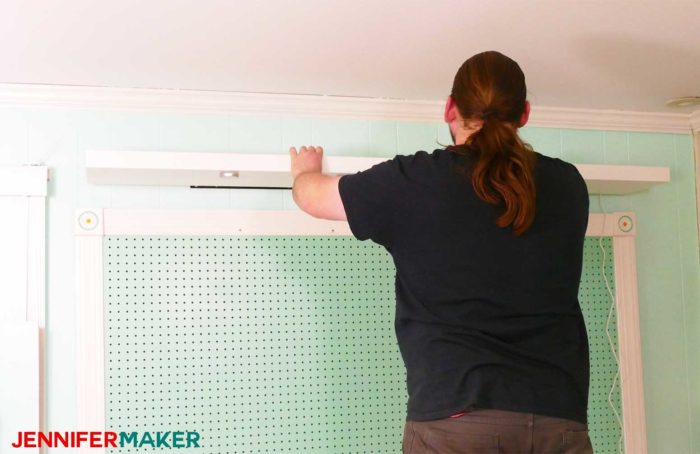 And voila! Here is our under shelf lighting installed and ready to go on our awesome floating shelf. It was easy and looks great. (If you're curious about the pegboard, here's the tutorial for my large, framed pegboard. And the drawers below it are IKEA Alex drawers with a Linnmon top over them.)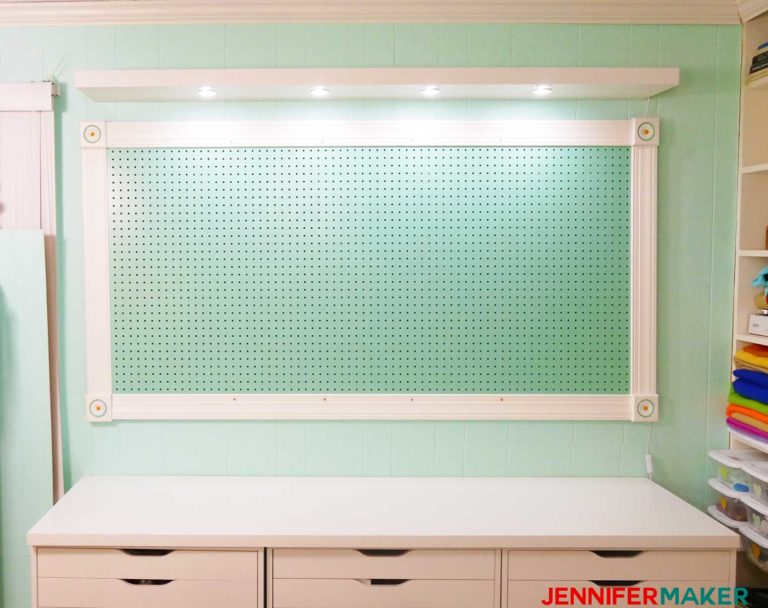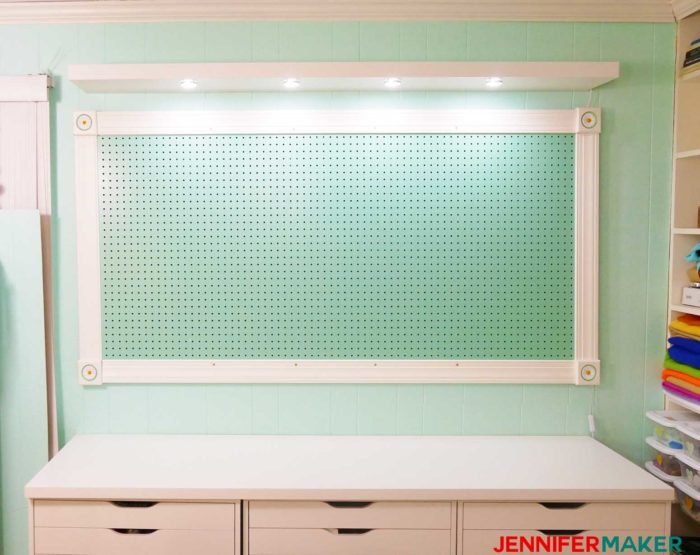 Here's what my craft room looks like with the under shelf lighting! I'm storing my lightweight paper flowers on the shelf above the pegboard. These floating shelves aren't designed for heavy loads, so this works perfectly.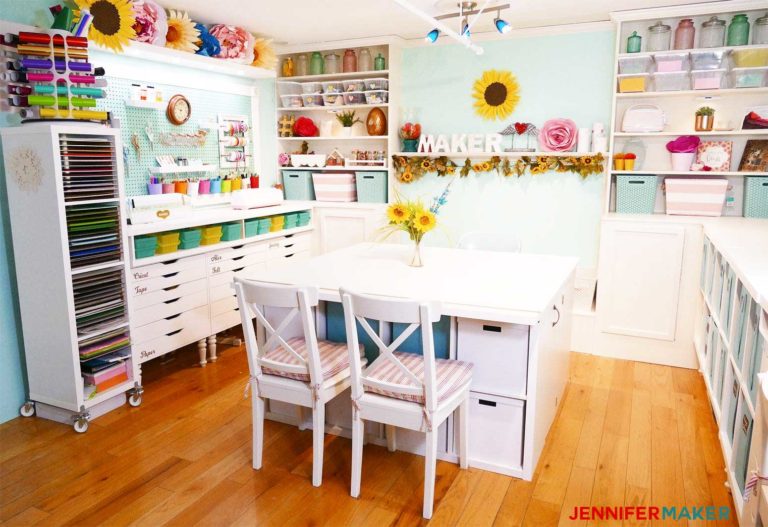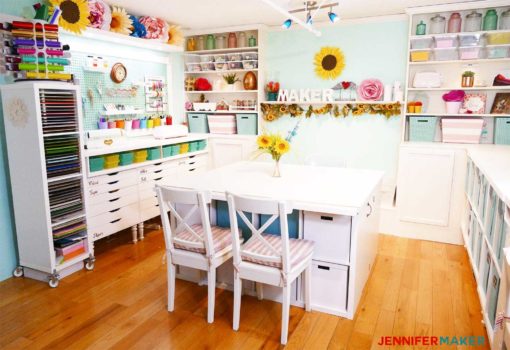 I just LOVE how this looks! It really gives my craft room a polished look. Note that we installed the shelves about a foot from the ceiling, level with the shelves in the built-in bookcases.
If you make your own under shelf lighting, please share a photo of your shelves! You can send it to [email protected] or tag me on social media with #jennifermaker.
Love,