Make paper butterfly decorations for your home decor, gift toppers, party decorations, and craft embellishments!
When I was on vacation last month, we went into a butterfly house and saw the most beautiful butterflies! But they fly away so quickly, it's hard to really appreciate them. So when I got home, I set to work designing paper butterflies based on REAL butterflies, not just fanciful representations of them. I finally finished and I want to show you how to make paper butterfly decorations for your projects, parties, and homes!
Like my paper flowers, I wanted my paper butterflies to look as realistic as possible. So I found high-resolution photos of four different butterflies — the blue morpho, emerald swallowtail, scarlet peacock, and the monarch butterfly. I carefully traced the wing shape and detail of each one to create these lovely paper decorations!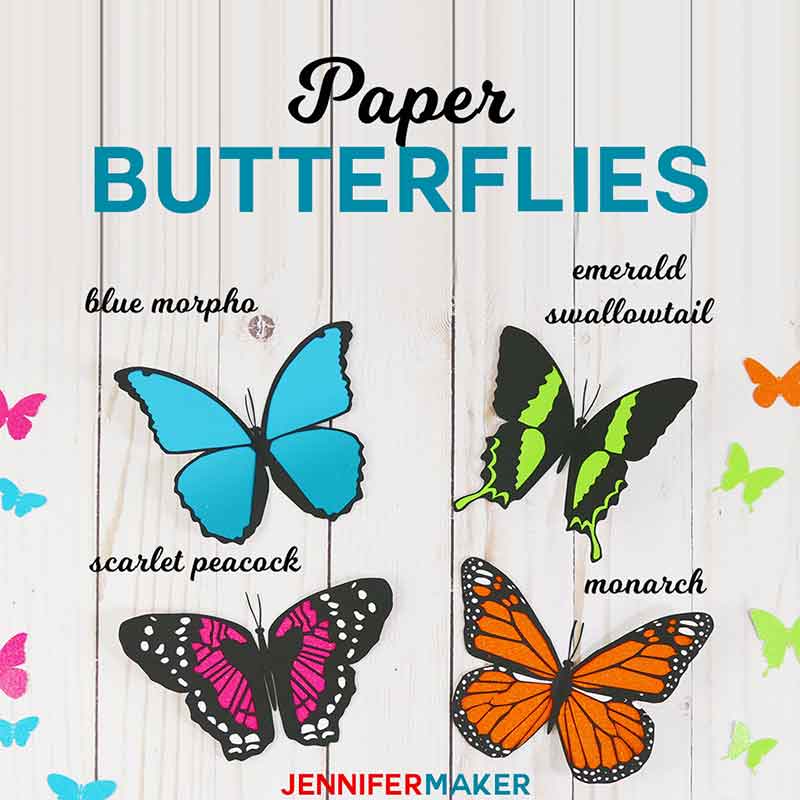 It should be noted, of course, that how realistic they look depends on what sort of paper you use and how you decorate the wings. You can still go fanciful with all sorts of fun and crazy papers and wing designs. It's entirely up to you and how you want to use these beauties.
While I was making my detailed butterflies, I also made a smaller, simpler version of each butterfly species that can be used to accent the larger butterflies or decorate other things, like my paper birdhouses.
So what are we waiting for? I'm excited to show you how to make paper butterfly decorations! This post contains some affiliate links for your convenience (which means if you make a purchase after clicking a link I will earn a small commission but it won't cost you a penny more)! Read my full disclosure policy.
Materials to Make Paper Butterfly Decorations
How to Make Paper Butterfly Decorations
First, cut out your cardstock using my free SVG, DXF, or PDF files (Design #99) found in my resource library. If you cut these paper butterflies out on a Cricut or other cutting machine, you'll want to be sure you have a sharp blade as there are a lot of little details. If you're not sure if your blade will cut well, use the aluminum ball trick to clean it.
Tip: If you're not sure how to upload an SVG cut file to Cricut Design Space, watch this helpful video training series I made. If you're on an iPhone or iPad, here's how to download and upload SVG files to the Cricut Design Space app.
If you cut my butterflies out by hand, use the PDF version and print then cut or use the shapes as a template to cut out plain paper.
(Optional) Using markers, paints, alcohol inks, or watercolors, lightly paint your inside wings. You can do whatever you want here, or nothing at all. I think these butterflies are a great way to show off, though, so I think you should just go for it!
Once your paint is dry, glue the butterflies to the inside wings. I found it easiest to turn the butterfly over, spray the entire back with spray adhesive, and then press the inside wing to the back of the butterfly.
Gently bend the wings up on either side of the butterfly body to lift up the wings.
And that's it! You can now attach or glue the butterflies to whatever you want. Put some butterflies on my paper birdhouses, decorate a wreath or have a pretty one resting on my giant paper rose. Or how about making an entire display of butterflies in flight on a wall? The possibilities here are endless!!
Notes for the Paper Butterfly Decorations
SVG DIMENSIONS IN DESIGN SPACE
Scarlet Peacock Butterfly: W 6.378″ x H 5.324″
Monarch Butterfly: W 5.219″ x H 5.388″
Emerald Swallowtail Butterfly: W 4.425″ x H 5.358″
Blue Morpho Butterfly: W 5.014″ x H 5.57″
SIZE OF FINISHED PROJECT AS SHOWN
Scarlet Peacock Butterfly: W 6.378″ x H 3.992″
Monarch Butterfly: W 5.219″ x H 3.965″
Emerald Swallowtail Butterfly: W 4.425″ x H 4.048″
Blue Morpho Butterfly: W 5.014″ x H 4.006″
Free Cut Files to Make Paper Butterfly Decorations
You can get the password to my resource library that has ALL of my free cut files in it by filling out this form:
We'd love to see YOUR paper butterflies! Please share a photo in our Facebook group or tag me on social media with #jennifermaker.
Love,