Learn how to use Printable Vinyl with Cricut to create cute stickers and T-shirts!

If you've been around for a minute, you know that creating fun and unique T-shirts with custom designs is one of my favorite things. I've shared tons of techniques with you, but even they have their limitations. For example, have you ever wanted to put a specific design on a shirt, but regular vinyl just won't cut it? Or have you ever wished to create durable stickers at home from your design… that won't tear or turn to goo when they get wet like regular printable sticker paper? Never fear, printable vinyl is here! I'll show you how to use printable vinyl to create a collection of adorably squishy animal stickers, AND an impossibly cute T-shirt — all using your home printer and your Cricut cutting machine.
Want to save this project? Enter your email below and we'll send the project straight to your inbox.
See the full step-by-step video tutorial on how to use printable vinyl with Cricut: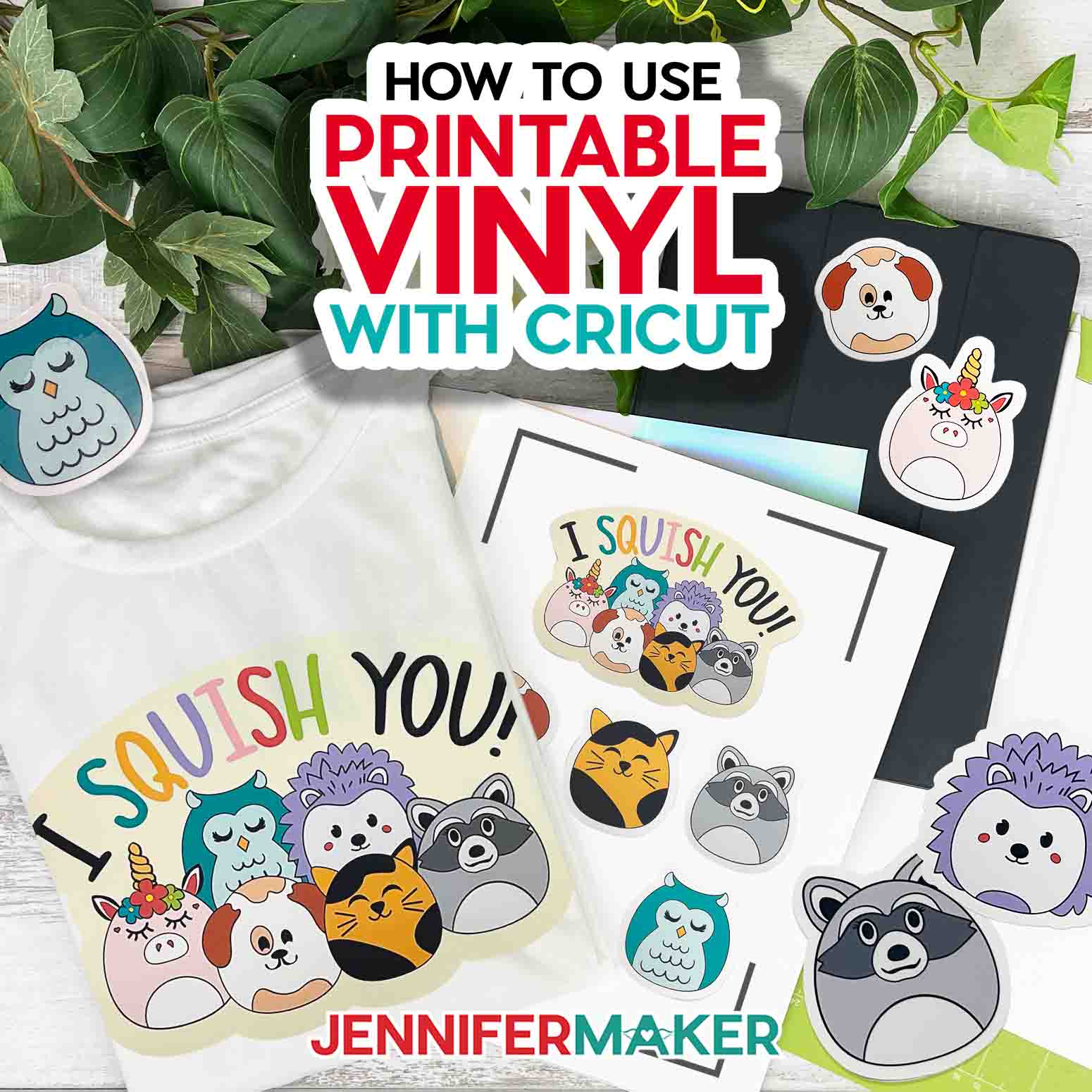 Sometimes designs are just too complex, colorful, or intricate to cut from regular vinyl, and printable vinyl is a super fun way to create beautiful stickers, T-shirts, and more with a lot of details — all without compromising your design! In this tutorial, I'll walk you through how to use printable vinyl paper to create your own stickers, AND how to use printable heat transfer vinyl to make iron-on decals to apply to T-shirts, tote bags, pillows, aprons — oh, the possibilities!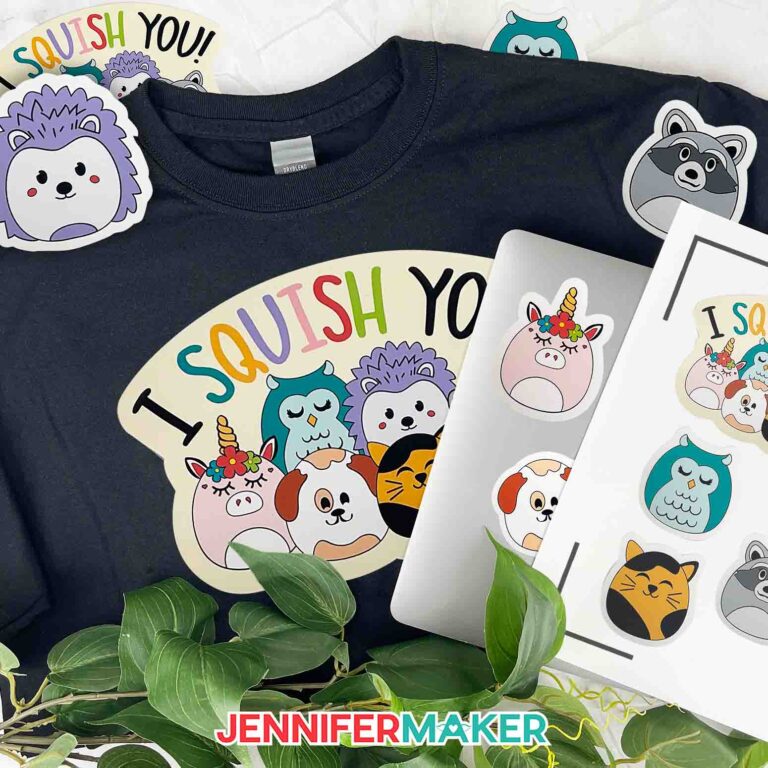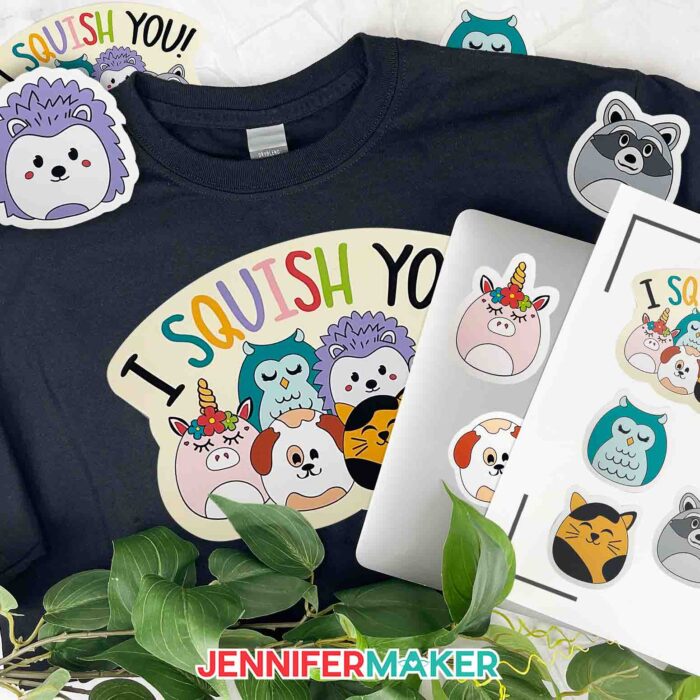 Not a designer? First time making a project like this? No problem! This project is super fun and easy, and I'll show you how to use printable vinyl with Cricut to create a project using my designs, your own photos, graphics from Cricut Design Space, or even clip art!
I'll show you how to add borders to your stickers using the offset tool in Cricut Design Space and how to change the colors in an SVG design. Then you'll use your Cricut's print then cut feature to produce not just sticker sheets, but awesome die-cut stickers you can share with your friends, or even sell! They'll look so cute stuck to a water bottle, notebook, or even to seal an envelope with a special touch.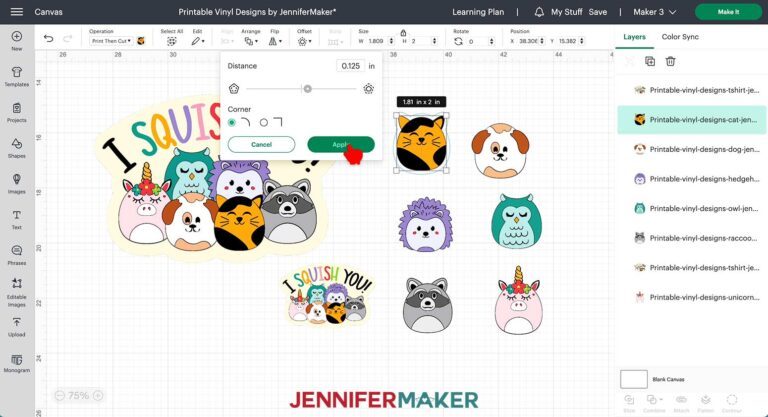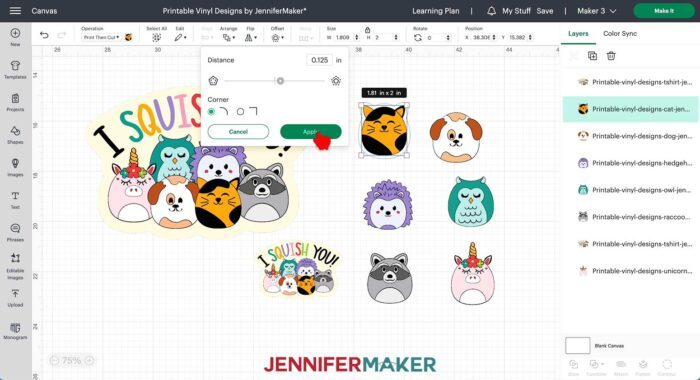 Cricut's Print then Cut ability is an amazing feature that's become a personal favorite, and now you can make bigger ones than ever! Check out this video to learn more about the updates made in Spring 2023, including new registration marks and more space!
After that, I'll walk you through how to use printable vinyl with Cricut to create and apply a printable heat-transfer design for a T-shirt. Printable vinyl is different than regular iron-on vinyl, AND it's different from those other printable heat-transfers that were popular in the 90s. You know, the kind that faded in the wash the second time you wore it and could only be applied to white fabric? We've come a long way since then, and printable HTV is so much more vivid and durable. And the best part? You can apply it to literally any color T-shirt, and the colors will just pop!

To make both the printable stickers and the T-shirt, you'll need an inkjet printer. Any brand will work, but it's important to note that you shouldn't use printable vinyl with a laser printer as the material may damage the printer. And you'll need some printable vinyl, of course! The vinyl we'll be using for the stickers and the shirt are both printable, but they're different from one another — the sticker vinyl simply has an adhesive on the back, while the printable vinyl for the T-shirt needs to be applied with a heat press, like the Cricut EasyPress.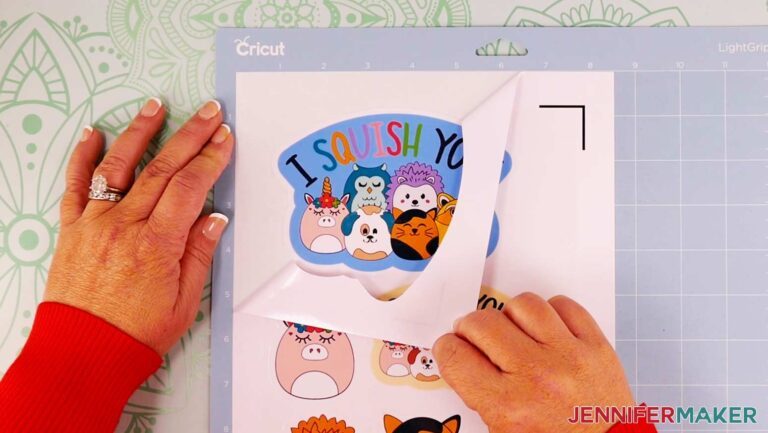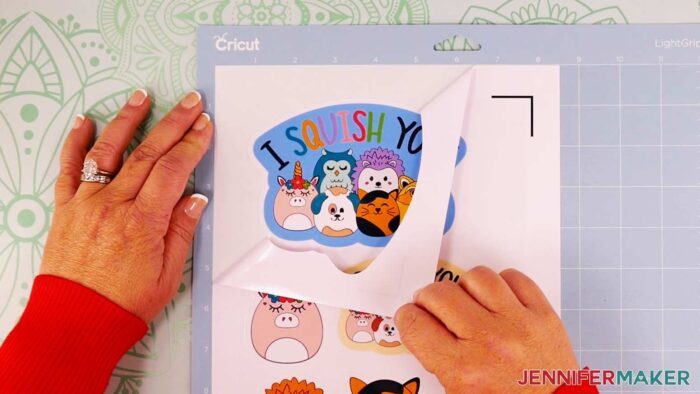 When it's time to cut your printable iron-on and stickers, you'll need a cutting machine like one of the Cricut Maker series or Cricut Explore machines. This project is not compatible with the Cricut Joy, as it doesn't have the print then cut feature.
I'll show you how to cut your stickers with both a kiss cut (which is when the vinyl is cut through, but not the backer — perfect for sticker sheets!) and a die cut (which produces loose stickers cut to the shape of the design). I'll show you how to add a protective clear layer to your stickers to make them last longer, and customize your material settings so they cut all at once! Easy peasy!
When it comes to making your T-shirt, for best results you'll need a 100% cotton, polyester, or cotton/poly blend shirt of ANY color, plus a few other things you'll find below in my materials list. After we print then cut the vinyl transfer, I'll show you how to heat-apply it. Then I'll share all my tips for caring for your printable vinyl T-shirt to keep it looking its best.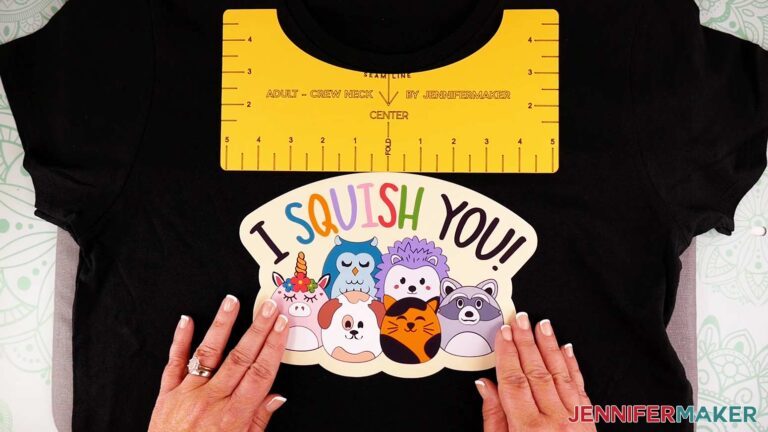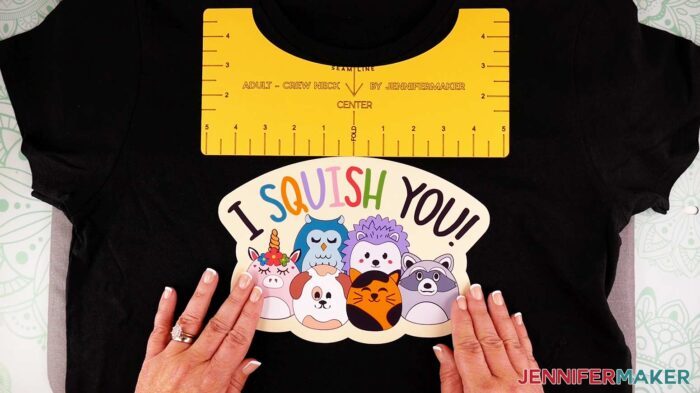 I can't wait to show you how to use printable vinyl with Cricut and your own inkjet printer!
Ready to make your own amazing projects with different types of printable vinyl? This post contains some affiliate links for your convenience (which means if you make a purchase after clicking a link I will earn a small commission but it won't cost you a penny more)! Read my full disclosure policy.
Materials & Tools to Make Printable Vinyl Stickers and T-Shirts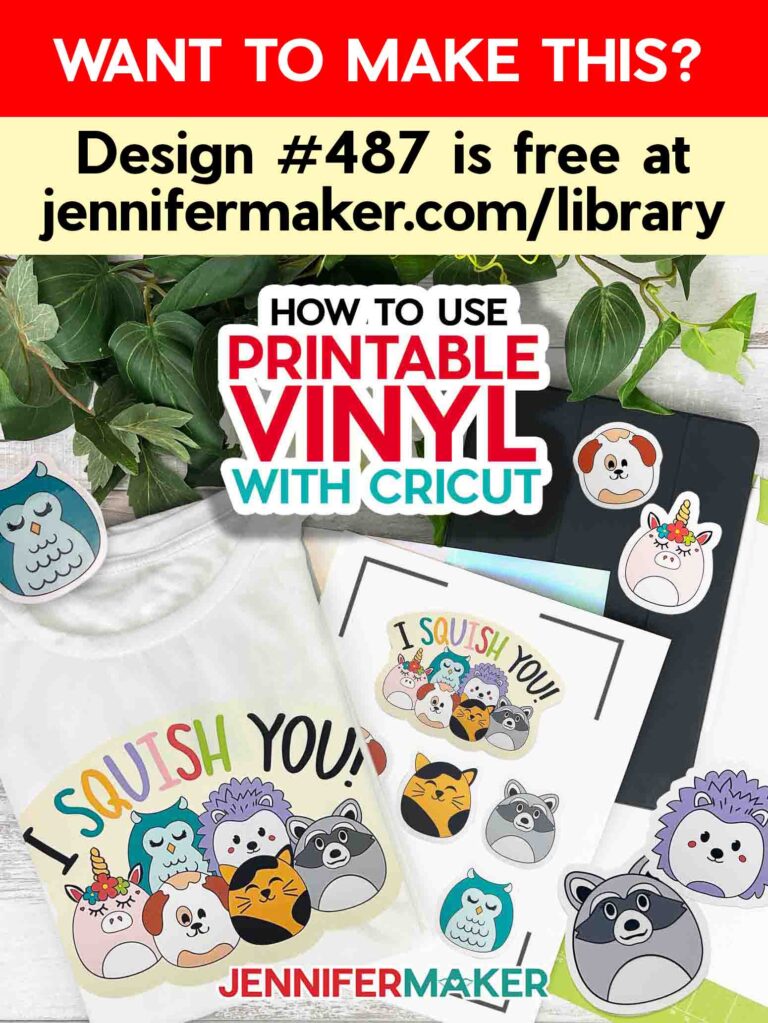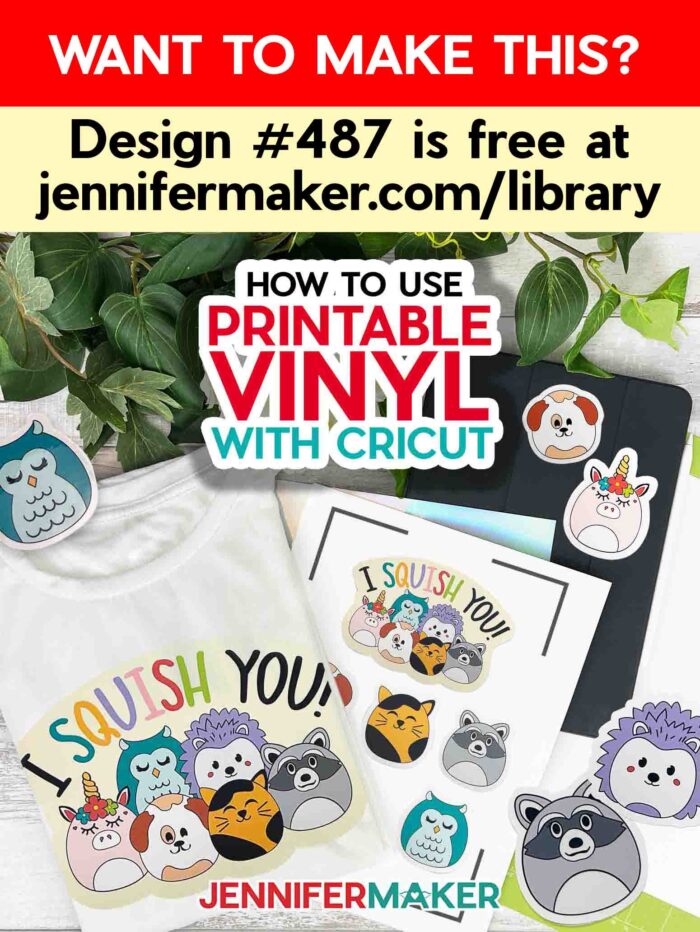 How to Use Printable Vinyl with Cricut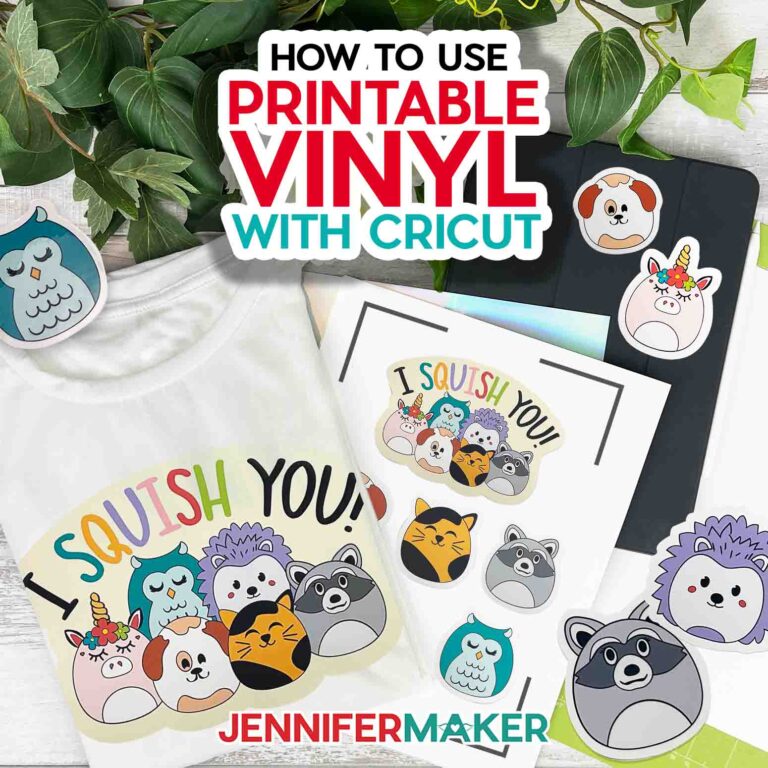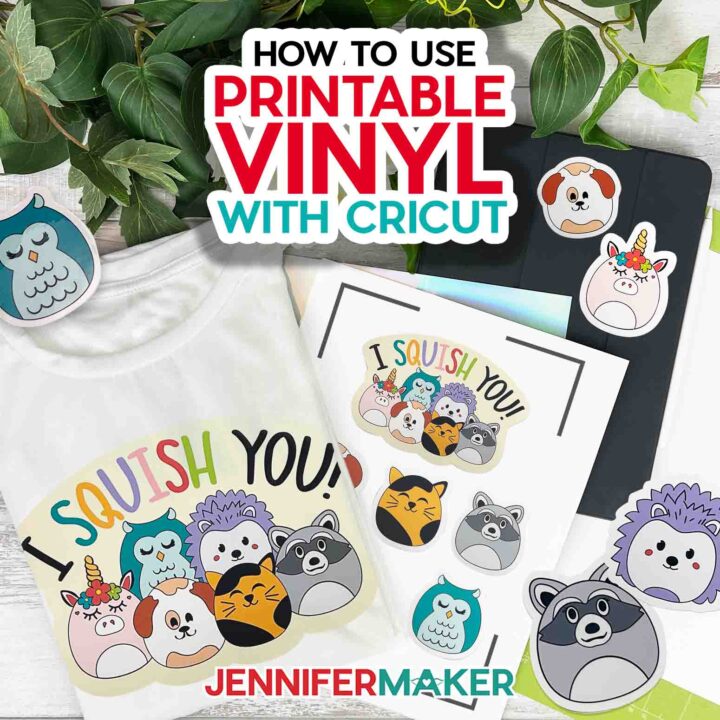 How To Use Printable Vinyl With Cricut
Learn how to make decals and t-shirts with printable vinyl and your Cricut!
Answers to Your Questions About How to Use Printable Vinyl with Cricut
Q: Can you use Cricut printable vinyl in a regular printer?
A: Yes! Cricut printable vinyl sheets are designed to be printed on a regular inkjet printer. They are not designed to be printed on a laser printer, as the material may damage the printer.
Q: Which way do you load printable vinyl?
A: On the Cricut printable vinyl that I used, the front and back are clearly indicated. Yours may be different depending on the brand. Check the packaging to be sure! Otherwise your ink could print on the wrong side and make a big mess. Your printer should have indicators to tell if the printable side should be loaded face up or face down.
Q: Do I need special ink for printable vinyl?
A: Nope! Your printable vinyl is designed to be printed on with regular household inkjet printer ink.
Q: Does printable vinyl need to be laminated?

A: Printable heat-transfer vinyl doesn't need lamination. Stickers also don't need to be laminated or protected, but a layer of clear vinyl can keep them looking better for longer. I'll show you how to do this!
Q. What's the difference between printable vinyl and regular vinyl?
A: The main difference is that printable vinyl has a matte finish, which allows the ink to better absorb into the material. Printing on regular shiny vinyl isn't advised, as it will likely smear or wear off quickly.
Q. What's the difference between Cricut printable vinyl and sticker paper?
A: Vinyl stickers are a bit more durable than paper ones. Paper stickers aren't water resistant, and getting them wet can ruin them. They're also more likely to get dirty or marked up, while a vinyl sticker can usually be wiped clean.
Q. Does printable vinyl need to be mirrored?
A: Printed heat-transfer vinyl is different from regular HTV because it's cut face up and does NOT need to be mirrored when cut on your Cricut machine.
Q. How do I create a custom material setting on Cricut?
A: Creating a custom setting is a great way to save time (and frustration) when you've needed to tweak your Cricut's standard material settings. My Dollar Tree Bunny tutorial shows how I created a custom material setting for a new brand of felt!
Q. How do you care for a shirt with a printable vinyl decal?
A: Check the instructions that come with your printable heat-transfer vinyl packaging. You'll want to wait at least twenty-four hours before washing, and then when you do wash it, turn it inside out and be sure to wash it in cold water. Your printable vinyl won't hold up well under high temperatures. It's also important to use a full spin cycle so your T-shirt is not left soaking in water, as that can affect the decal. Hang it to dry, or tumble dry on the lowest setting. If you ever iron your T-shirt, make sure you turn it inside out for that, too. Never iron on the side with the design – or any vinyl decal for that matter!

Get my free SVG/PNG files to make Printable Vinyl Shirts and Stickers!
I'd love to see YOUR wonderful projects when you learn how to use printable vinyl with Cricut! Please share a photo in our Facebook group or tag me on social media with #jennifermaker.
Love,