Learn how to recover outdoor patio cushions the EASY way!
Are your chair and patio cushions looking a little sad after the long winter? Do you want to recover patio cushions for the summer? Just the thing to sit in to enjoy your garden and DIY birdhouse! I can show you how to do it … quickly and easily.
First, my story: I've wanted rocking chairs on my big porch for years now. A couple of weeks ago, Greg bought us two beautiful wicker chairs. They were a brown that didn't go with our house, so he painted them white for me. But the cushions were still the boring beige the chairs originally came with. I am NOT a beige kinda girl. So we went to the fabric store and picked out a bright and cheerful outdoor canvas. But the fabric sat around for a while without me working on it at all. Sound familiar?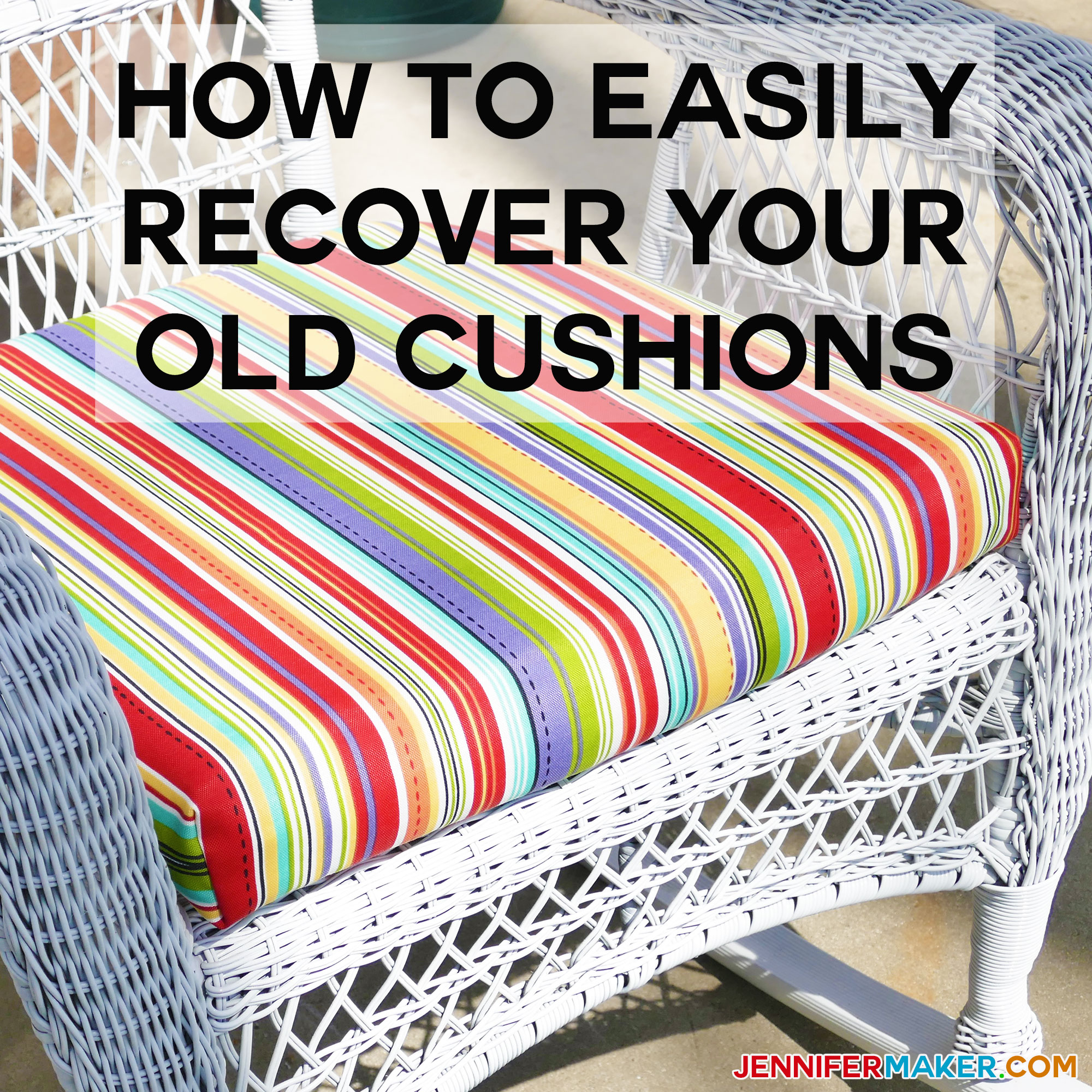 But yesterday afternoon was a glorious day and I knew it was time to recover those ugly cushions. It took only about an hour to recover both patio cushions, from start to finish. This is a super easy sewing project … and if you don't want to sew, there are options for that, too. And my patio cushions were not even perfectly square. Let me show you how you can recover patio cushions quickly and easily, too!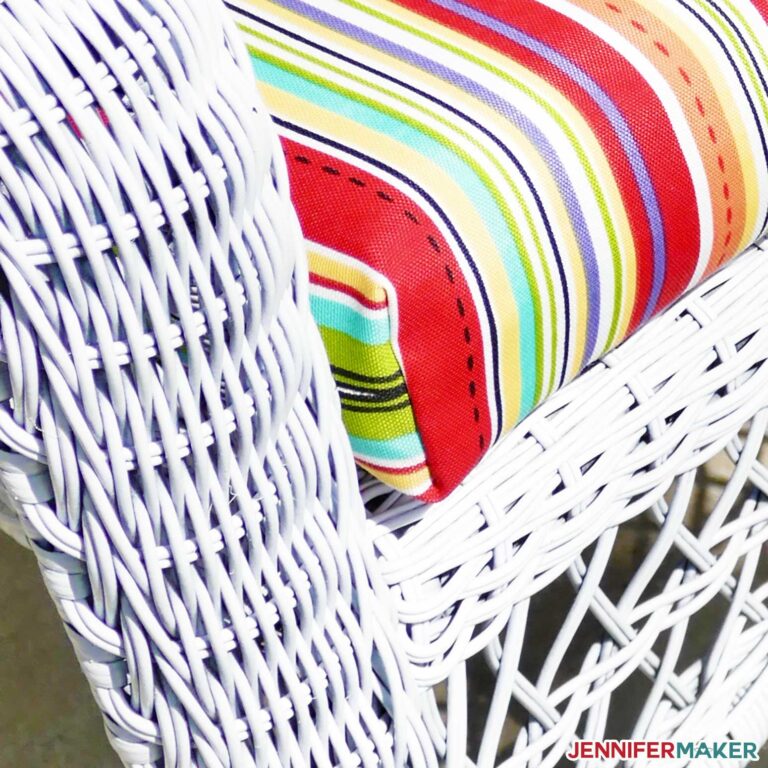 If you love to sew like me, be SURE you get a
free ticket to the Sewing Summit coming up June 1-5, 2020
. This is a free online sewing event with 25+ free classes, workshops, and sew-alongs for everyone from novice to advanced! I'm one of the "speakers" and have a detailed video on how to sew and assemble the Couch Caddy — this is the only place you can get my video tutorial, so be sure to sign up!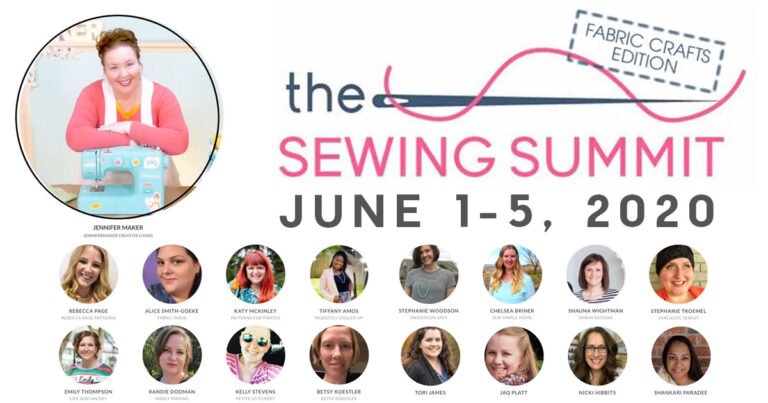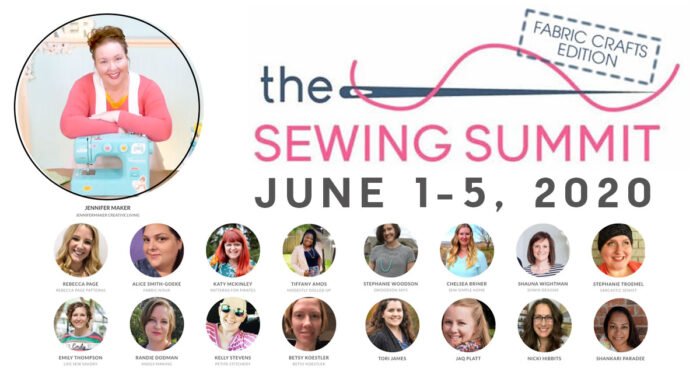 This is a full step-by-step tutorial on how to recover patio cushions! Some of the links in this post are Amazon affiliate links for your convenience (which means if you make a purchase after clicking a link I will earn a small commission but it won't cost you a penny more)!. Read my full disclosure policy.
DIY Outdoor Cushion Recover Materials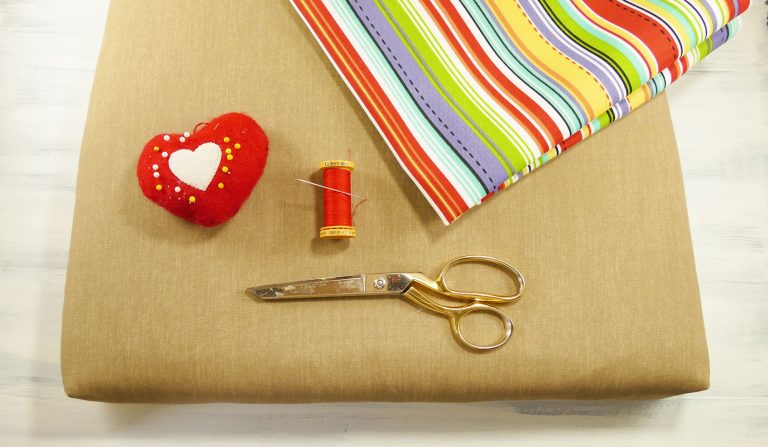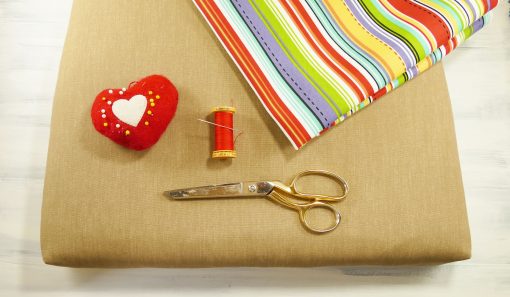 A cushion
Outdoor canvas (3″ longer and wider as your cushion x 2 — I used a little less than one yard of fabric per cushion)
Scissors or a rotary cutter
Pins (about a dozen)
A way to secure your fabric (I used a sewing machine first, and then hand sewed it closed with needle and thread, but you could also use Fabri-Tac or Liquid Stitch)
How to Recover Patio Cushions: Step by Step
First, lay your fabric out on a flat surface, pattern side up, and position your patio cushion on it. Put your patio cushion in the top corner of the fabric, with the rear of the cushion near the top side, and allow enough space on the side for the fabric to wrap up the side of the patio cushion. If your fabric is too wide or too long, trim it now. Just be sure there is ample fabric on both sides of your patio cushion (I left three extra inches on each side).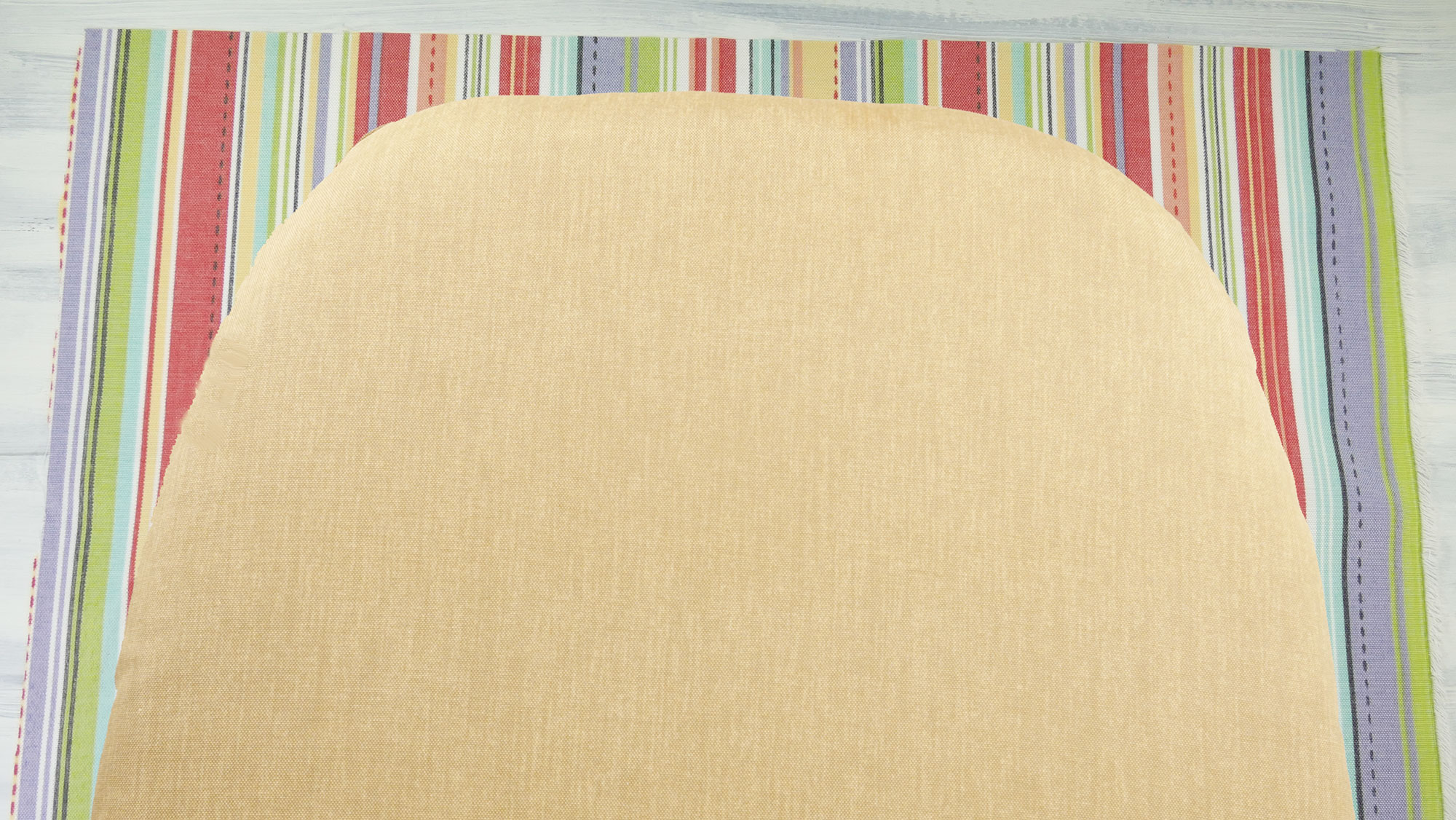 Next, pull your fabric up and over your patio cushion so it is covered it entirely. Your fabric will meet at the top. Leave an extra three inches of fabric at the top and then trim any excess.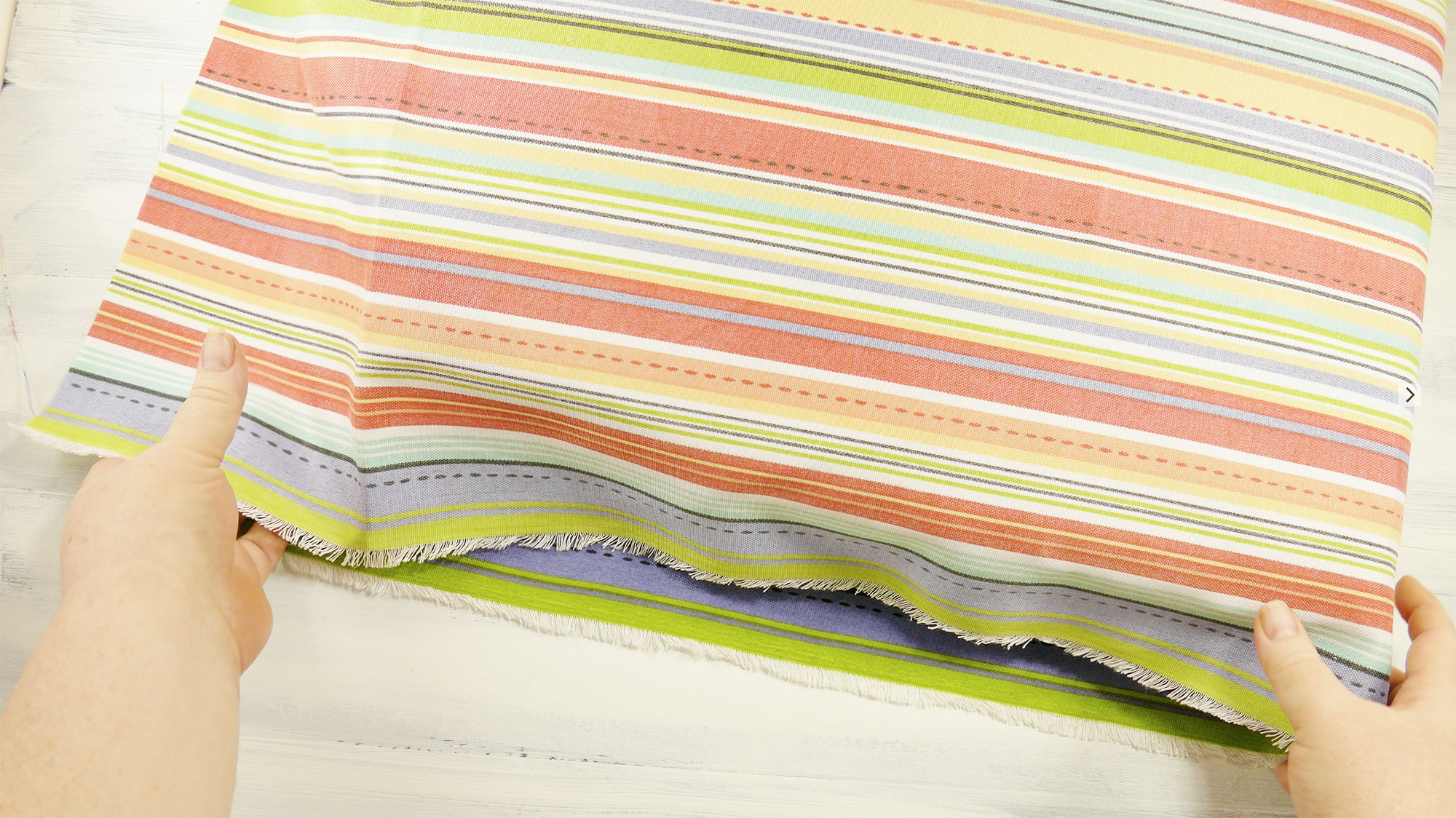 Once your fabric is in place on your patio cushion, pin the two sides closed. If your cushion is tapered at the back like mine, I recommend you skip the last pin and mark it in another way, such as pins on each side of the fabric in the spot you would have pinned it (just don't close it) or a fabric marker.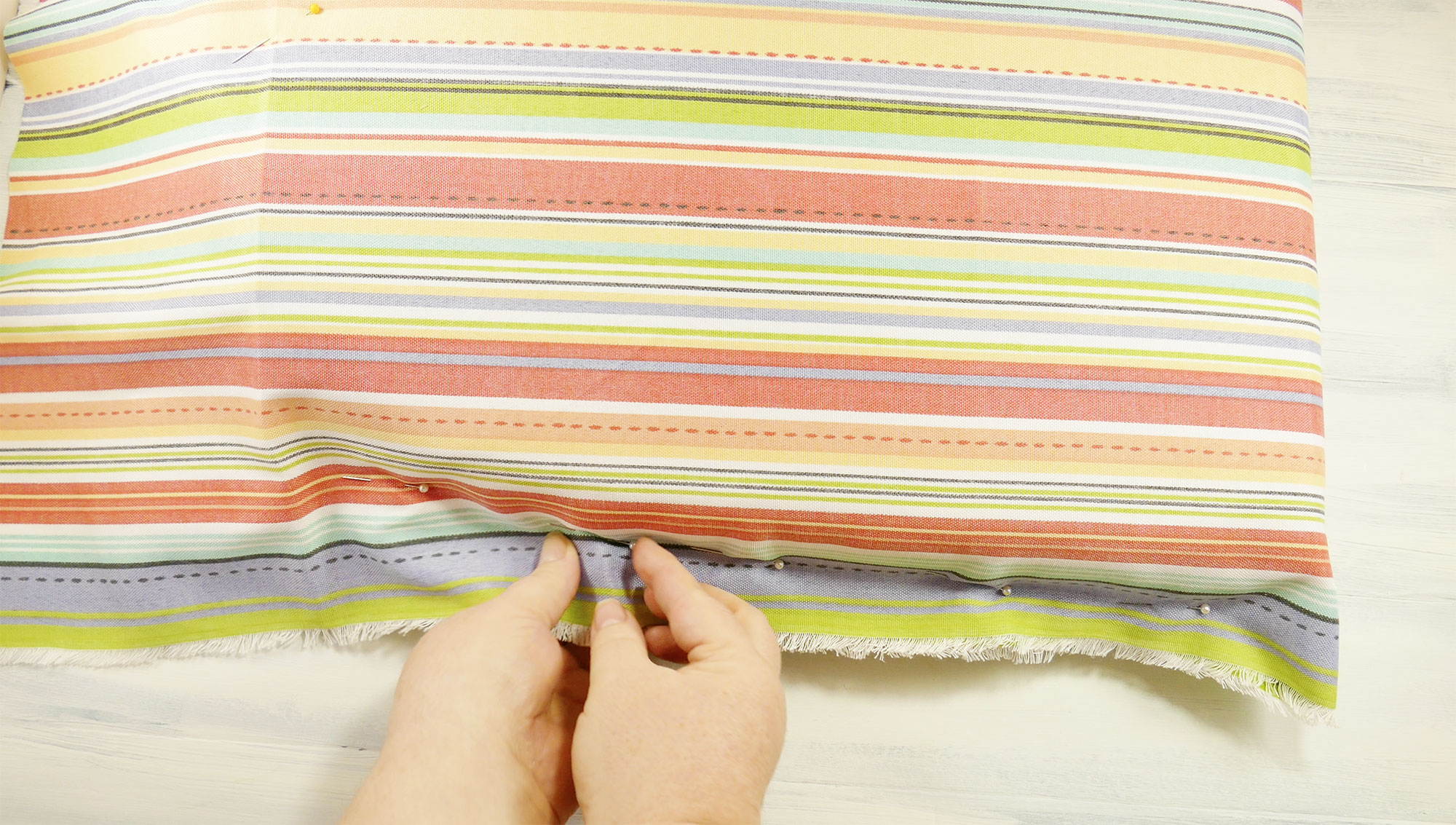 Be sure to pin the other side of your patio cushion, too.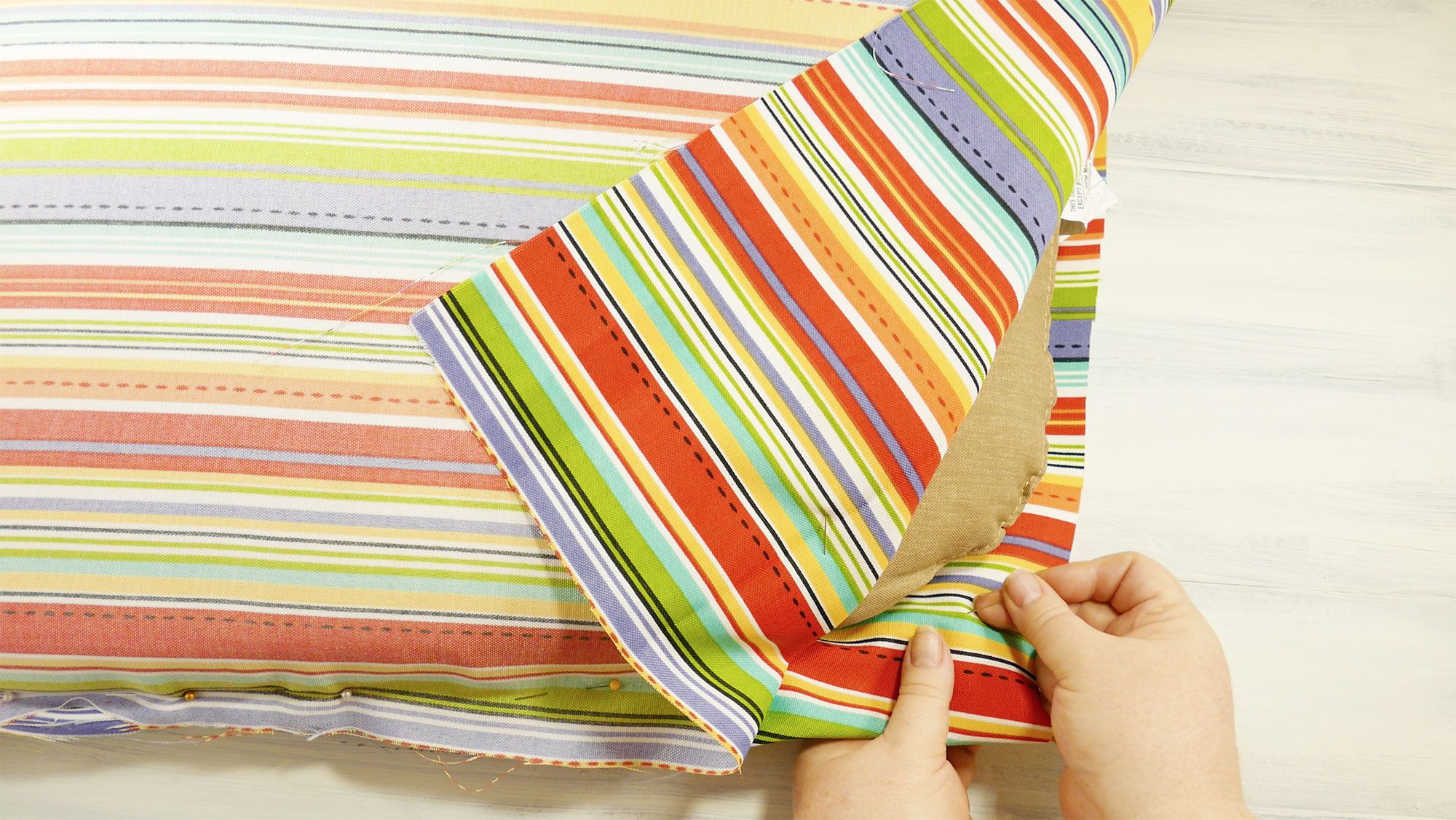 Now carefully pull the cushion out. If your patio cushion narrows at the back as mine does and you find it hard to remove, simply curl the patio cushion like a taco inside of the fabric, and you'll be able to remove it easily.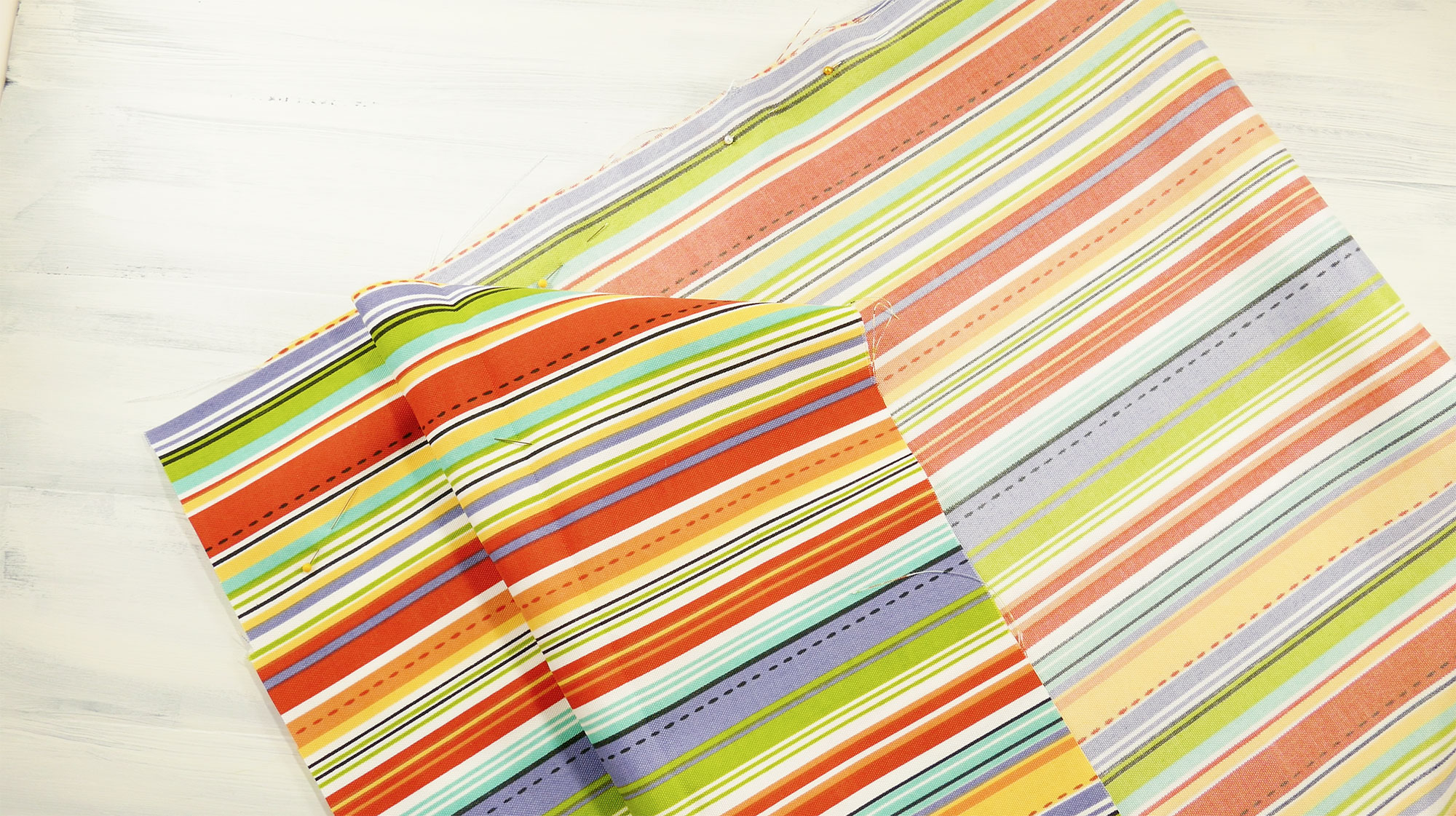 Sew up each side where you pinned it, then remove the pins. In the photo below, you can see my black stitch lines.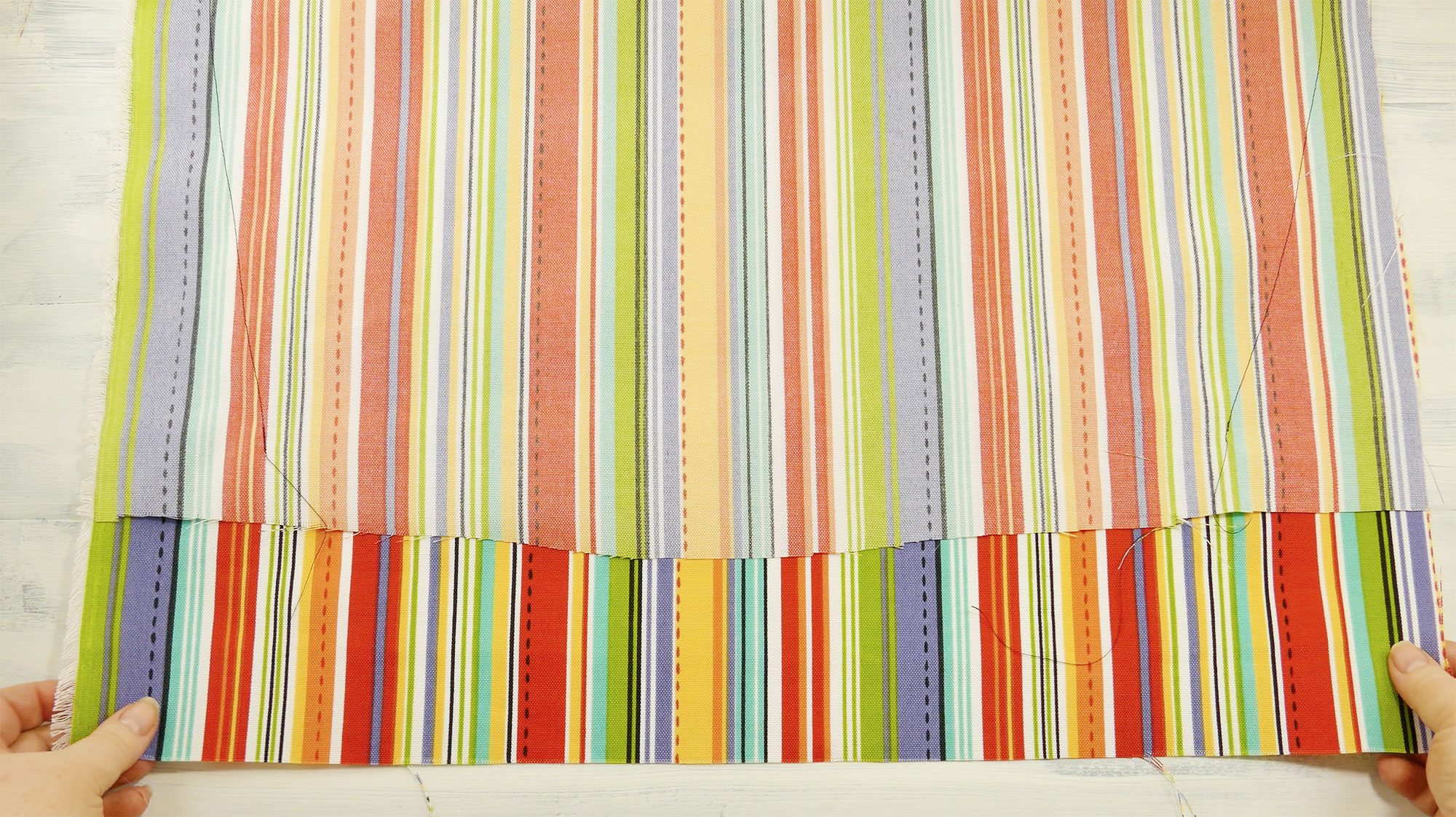 Next, insert your patio cushion back into the fabric "envelope" you've made (do not turn the fabric right side out yet). Note the extra fabric at each of two front corners of your patio cushion. Pin the fabric together at both corner so it is taut against the cushion.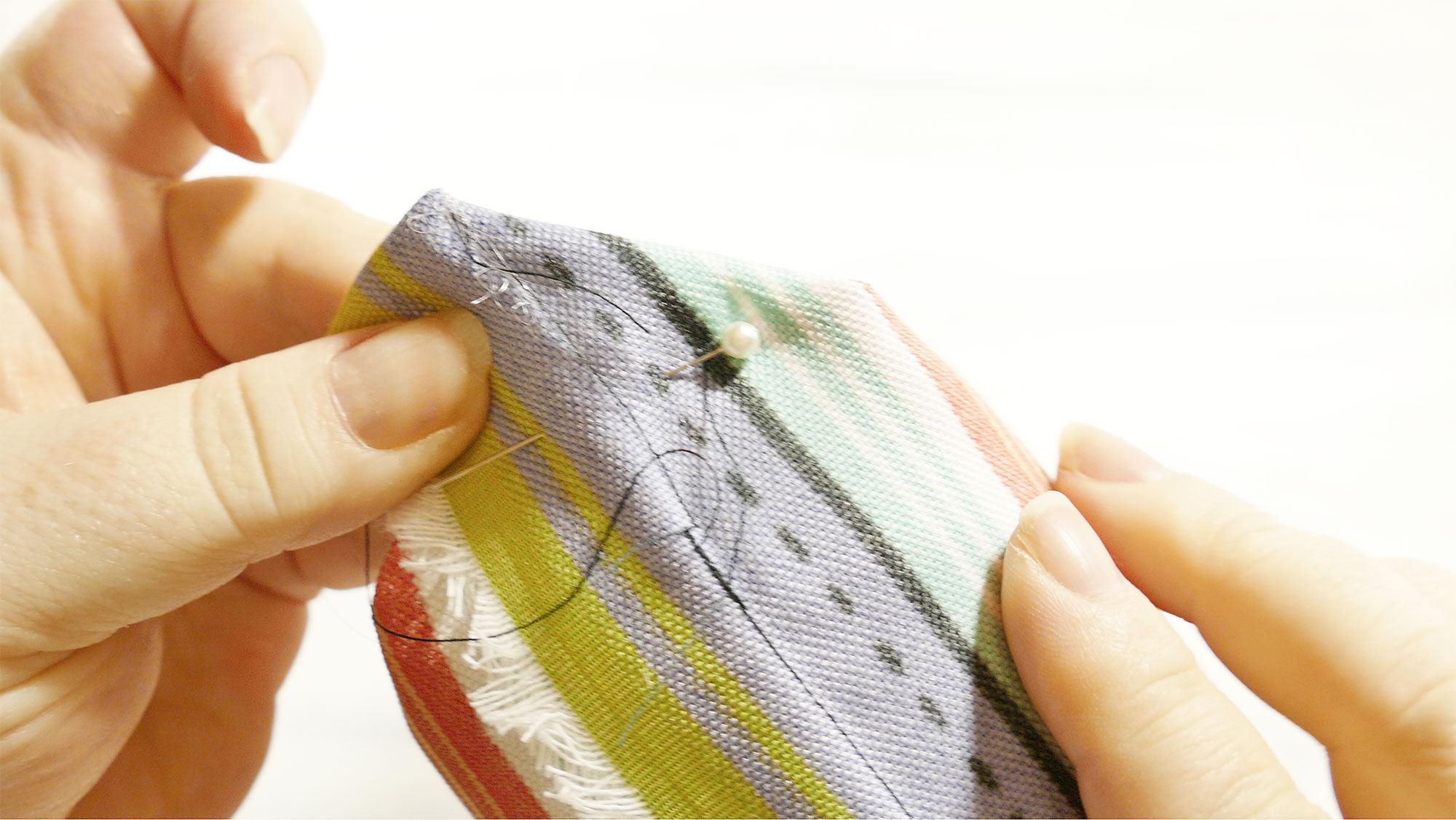 Remove the fabric from the cushion again and sew a line along the corner in the spot you pinned. Remove the pins.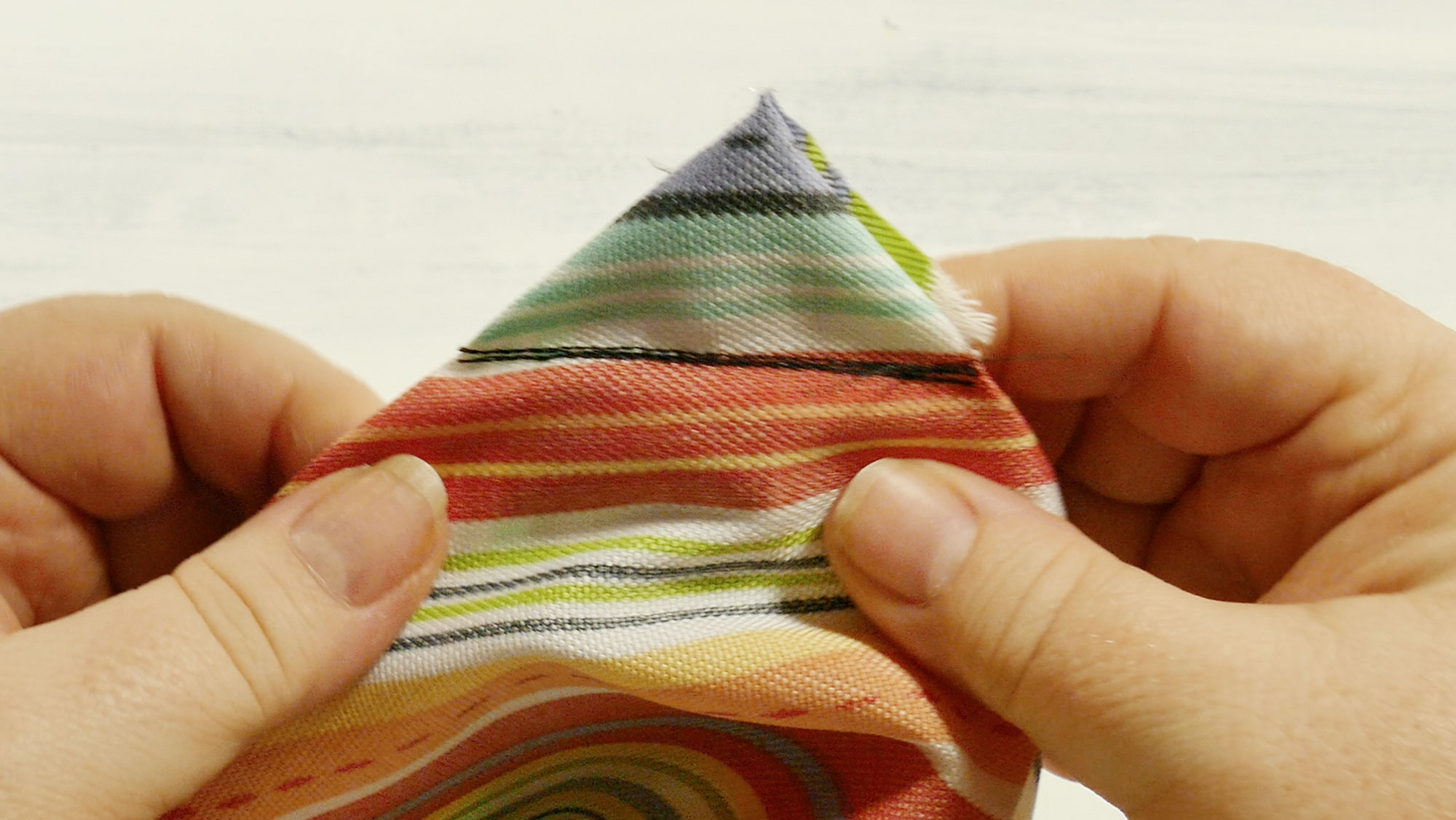 Now turn your fabric right side out and insert your cushion. In the photo below, you can see how I've curled my patio cushion to fit it into the fabric envelope I've made.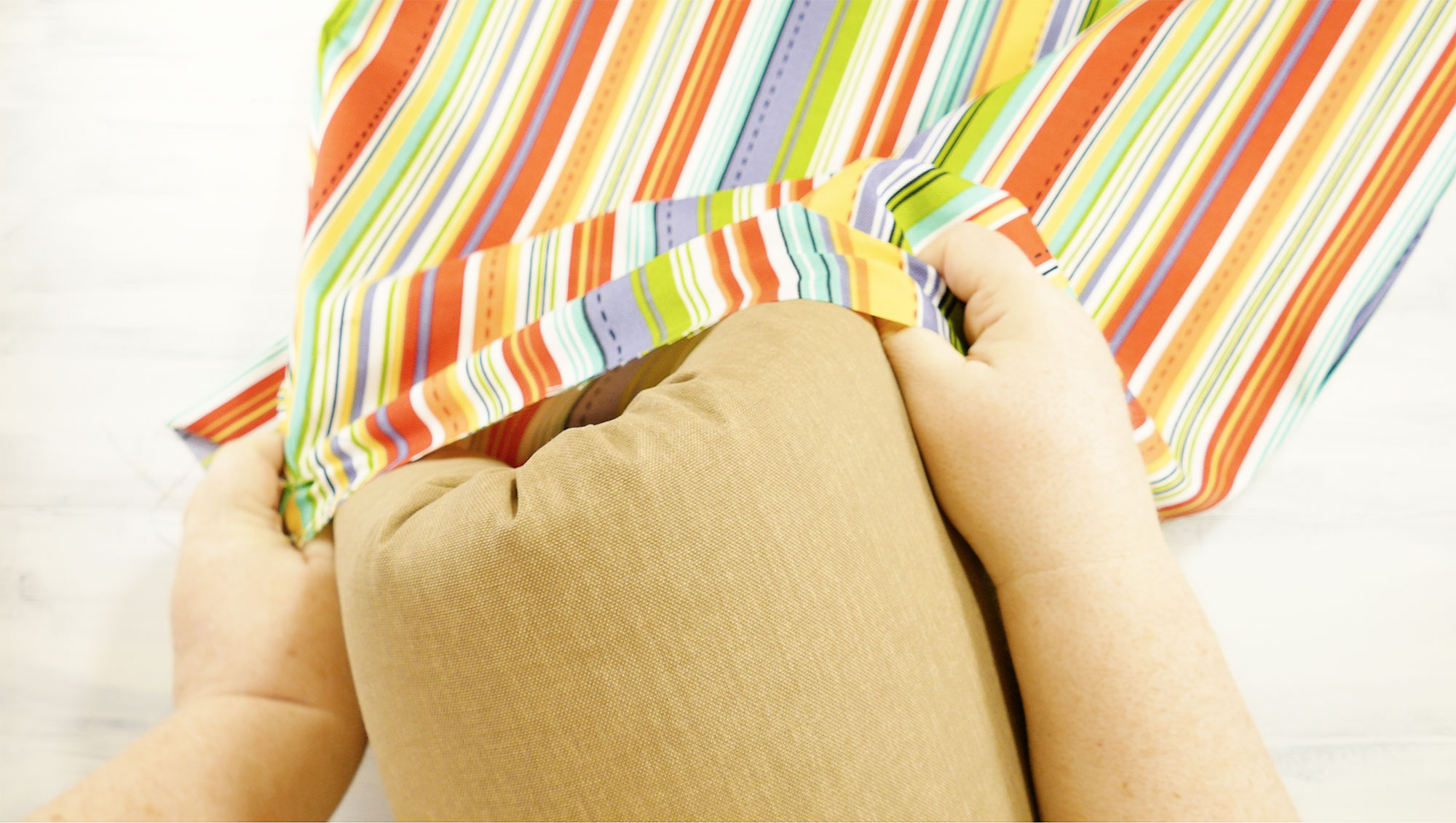 Push your patio cushion all the way down into the fabric. Look at the beautiful corner this makes!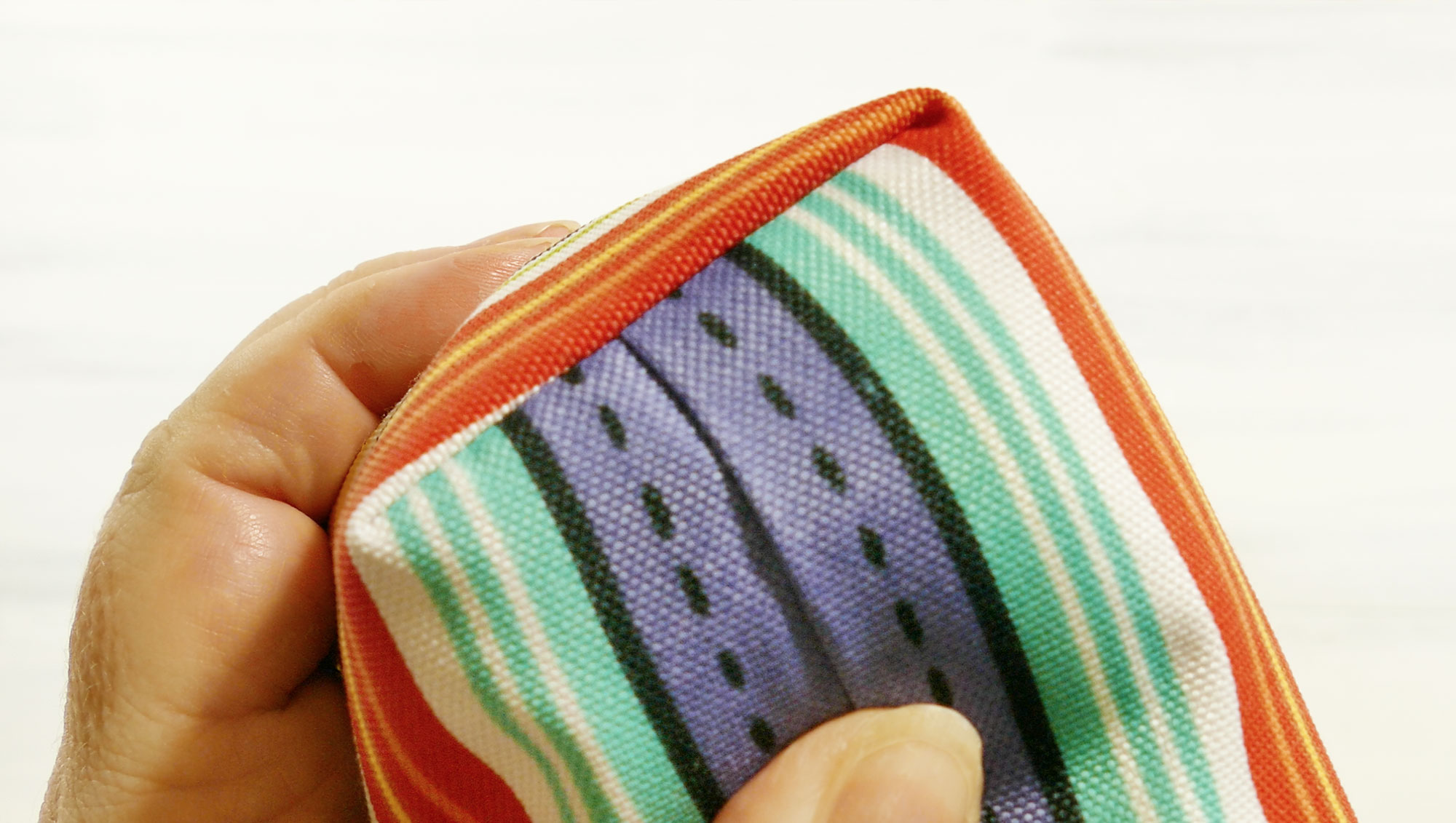 Now fold up the remaining fabric at the back of the patio cushion, just like you're wrapping a present. Pin it into place.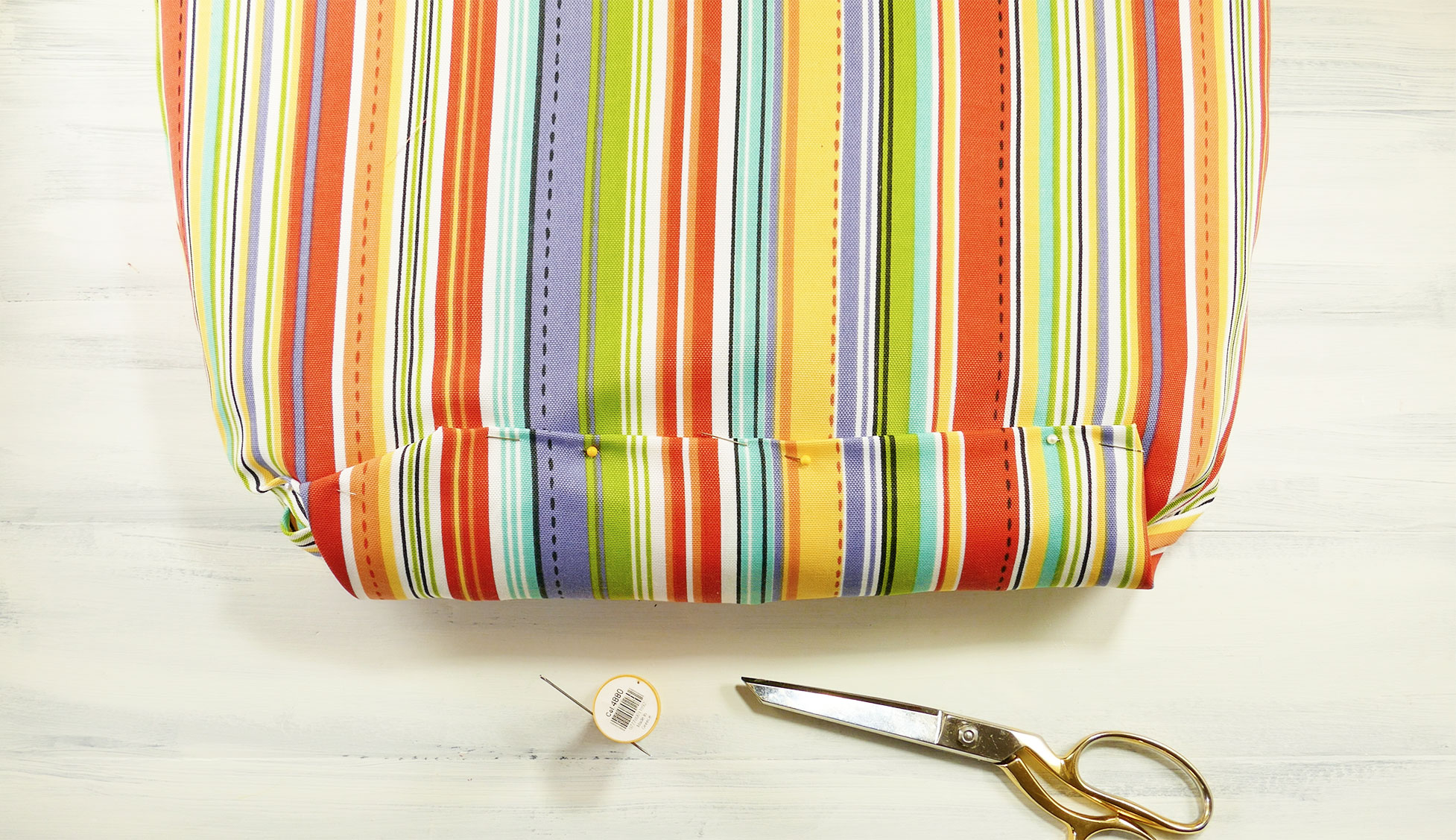 Hand stitch the fabric closed. Double your thread for strength.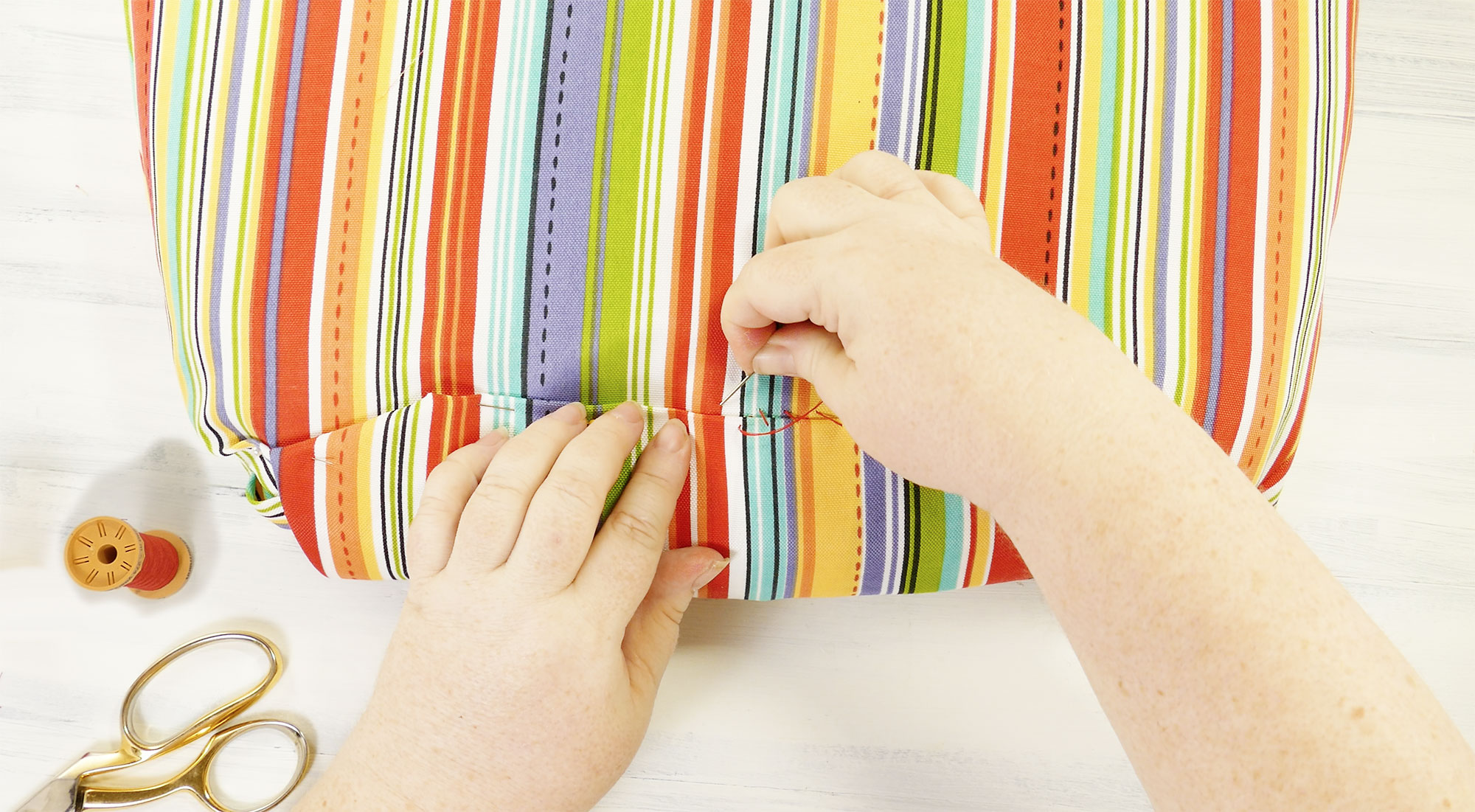 And you're done! You've successfully recovered a patio cushion!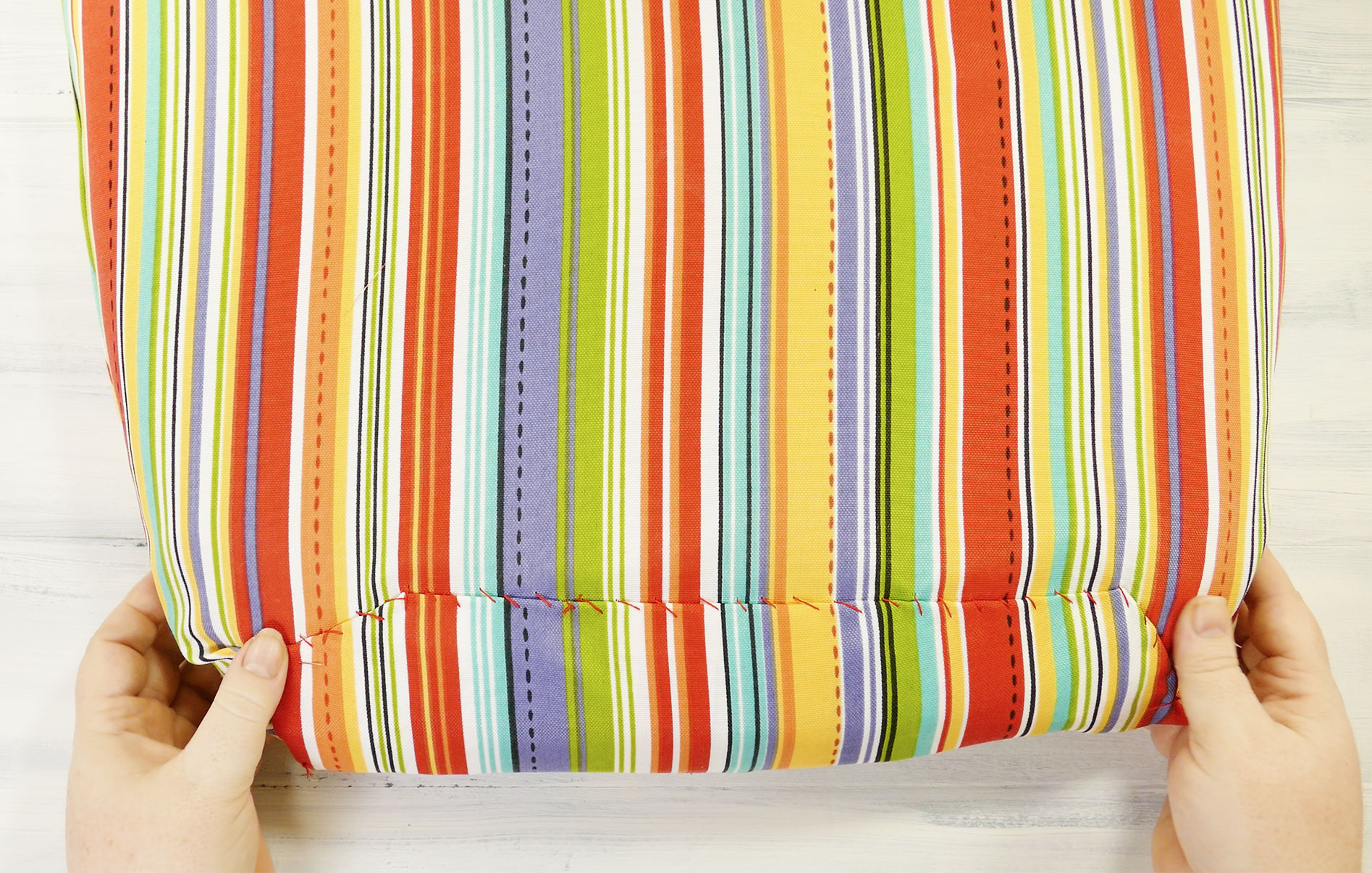 Go put your pretty new recovered patio cushion on your chair and enjoy the weather!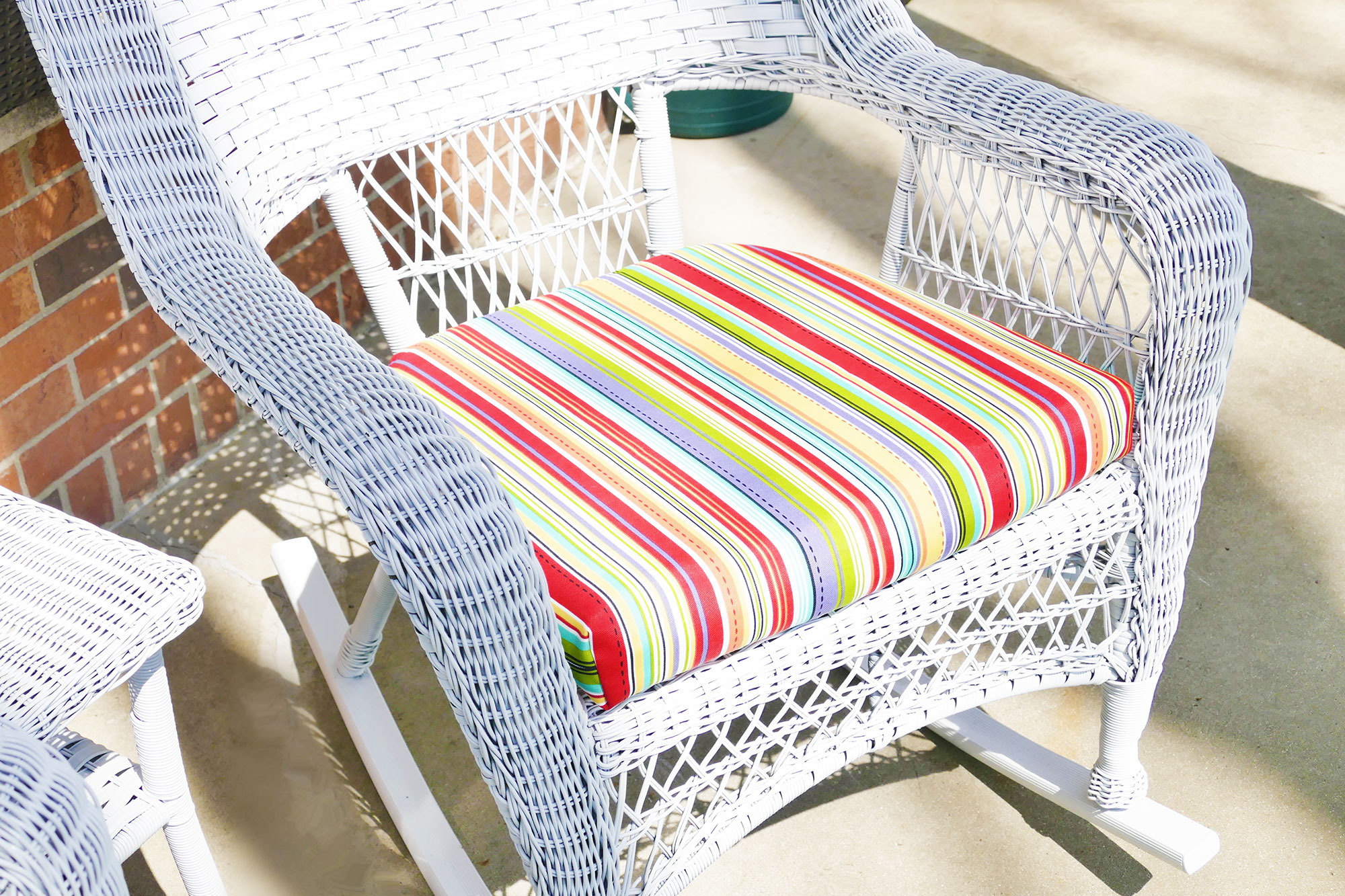 Get my free sewing pattern PDFs to make amazing and useful things!
I hope you can see now how easy it is to recover patio cushions. This only took me about 20 minutes tops to do. When this patio cushion fades, I'll just get a new fabric and recover it again. Easy peasy! I also made a padded headrest for these wicker rockers—if you want a tutorial for that, let me know in my sewing group here!
May 2020 Update: I recovered these patio cushions over three years ago and they're STILL holding up! But the fabric has faded because I always forget to take them in for the winter. So it's time to use this tutorial to recover them again! The question is — what lovely outdoor fabric should I use this time? Finding the fabric is going to be harder than recovering the cushions because our craft stores still aren't open. I may have to get creative!
I hope this tutorial has inspired YOU to recover your outdoor patio cushions, too! I'd love to see what you do to make yours beautiful again. Please share a photo in our Sew Easy Facebook group or tag me on social media with #jennifermaker.
Love,