Learn how to make easy stickers you can print then cut on a Cricut!
When I was a child, I adored stickers. If I could have, I'd have had a giant collection of stickers! The only thing holding me back from my dreams of stickers everywhere was the price. Stickers were (and are!) so expensive. But these days we can make our own stickers, and they can be just as cute — if not cuter — than the ones you can buy in the store. To show you how easy it is to make your own stickers, I've designed a whole free collection to get you started, filled with many of my favorite things. I'm going to show you how to print and cut stickers from these icons (or any other images) using an inkjet printer and a Cricut cutting machine.
Want to save this project? Enter your email below and we'll send the project straight to your inbox.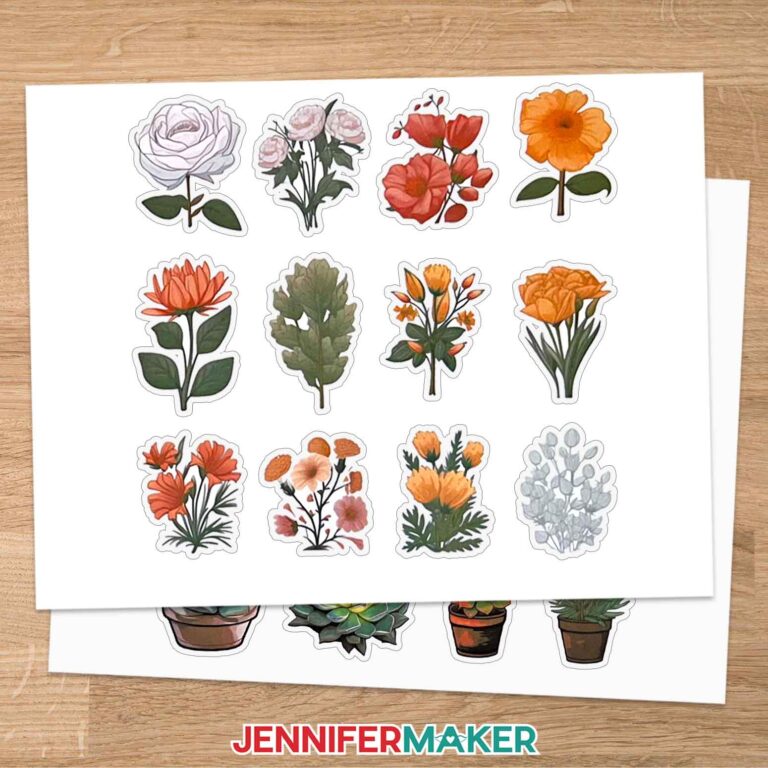 Watch the full step-by-step video on how to make the Easy Print and Cut Stickers here!
Want to make your own print then cut stickers? I'm happy to show you how! This post contains some affiliate links for your convenience (which means if you make a purchase after clicking a link I will earn a small commission but it won't cost you a penny more)! Read my full disclosure policy.
Why Cricut Stickers?
Cricut stickers offer a personalized touch to your crafts. Whether it's for business branding or personal use, Cricut Print Then Cut stickers stand out in quality and versatility and are SO easy to make at home.

Materials You'll Need
Cricut Machine: The heart of our sticker-making process.
Sticker Paper: Opt for high-quality, adhesive-backed paper.
Printer: A high-resolution color printer will give vibrant results.
Design Software: Tools like Cricut Design Space or Adobe Illustrator can be used.
Sticker sheet image file(s): You can use my free collection in design #196 in my library!
Choosing the Perfect Design for Your Sticker
Use My Pre-Made Sticker Designs
I love stickers and I've made many designs over the years, all of which you're welcome to download and print for free! In addition to the ones in this tutorial, you'll find free sticker designs here, here, and here.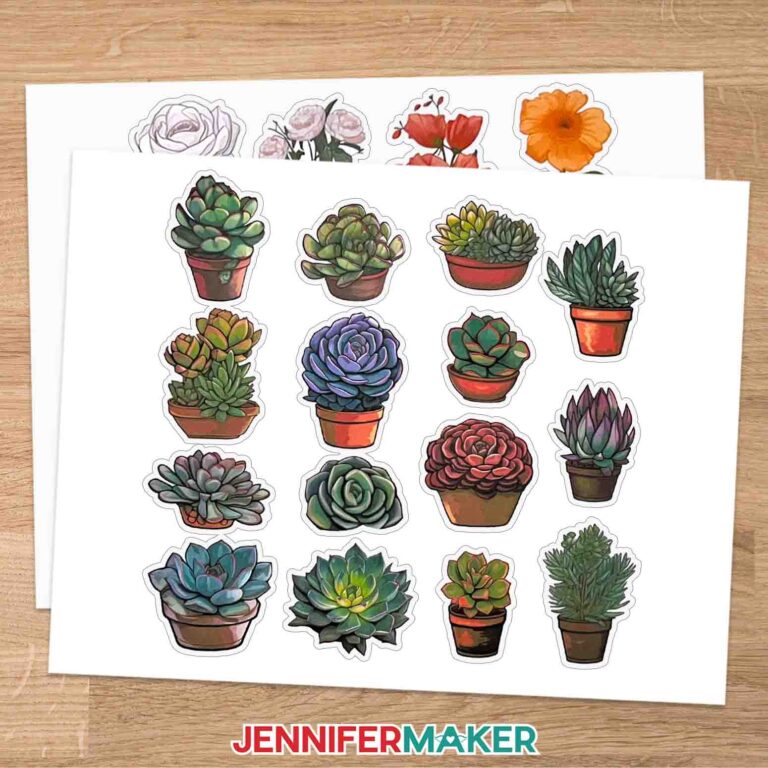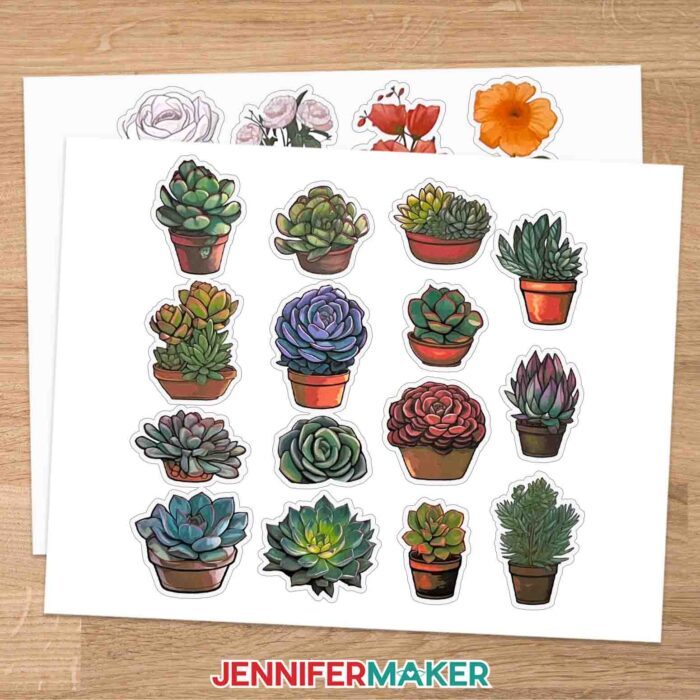 Exploring Stickers in Cricut Design Space
Cricut Design Space's own library is a treasure trove of designs. From intricate patterns to bold statements, there's something for every project.
Creating Your Own Design
Harness your creativity! Using design tools like Adobe Illustrator or Procreate, you can bring your unique visions to life. No art skills? No worries — you can easily design stickers using an AI art generator. Learn how easy it is to do in my AI Art Design Workshop!
Simple Overview to Making Your Cricut Stickers
1. Setting Up Your Design in Cricut Design Space
Upload your design. Ensure it fits the dimensions of your sticker paper and adjust its size as needed.
2. Printing Your Design
Prepare your printer: Load it with sticker paper with the printable side in the right orientation.
Select 'Print' in Cricut Design Space: Make sure to choose the best quality setting for the most vibrant stickers.
Inspect your print: Look for any smudges or inconsistencies.
3. Preparing Your Cricut Machine
Load the Fine-Point Blade: This blade ensures precision in cutting.
Adjust the lighting: Make sure the lighting in your room is good and consistent so your Cricut reads your registration marks properly.
4. Cutting Your Stickers
Place your printed sticker paper onto the Cricut machine mat, aligning it with the grid in the top left. Load the mat into the Cricut machine and start the cutting process.
5. Weeding and Transferring Your Stickers
Remove excess paper around your stickers — you can use a weeding tool if that is helpful. Then just peel and stick — there's no need to use transfer tape with stickers.
Tips to Enhance Your Sticker's Lifespan
You can make easy print and cut stickers to decorate nearly any surface! They're a fun way to add your personal touch to notebooks, laptops, a phone, or any other item you want to personalize.
August 2023 Update: I've added a set of AI-generated succulent and floral stickers to the collection in the free download!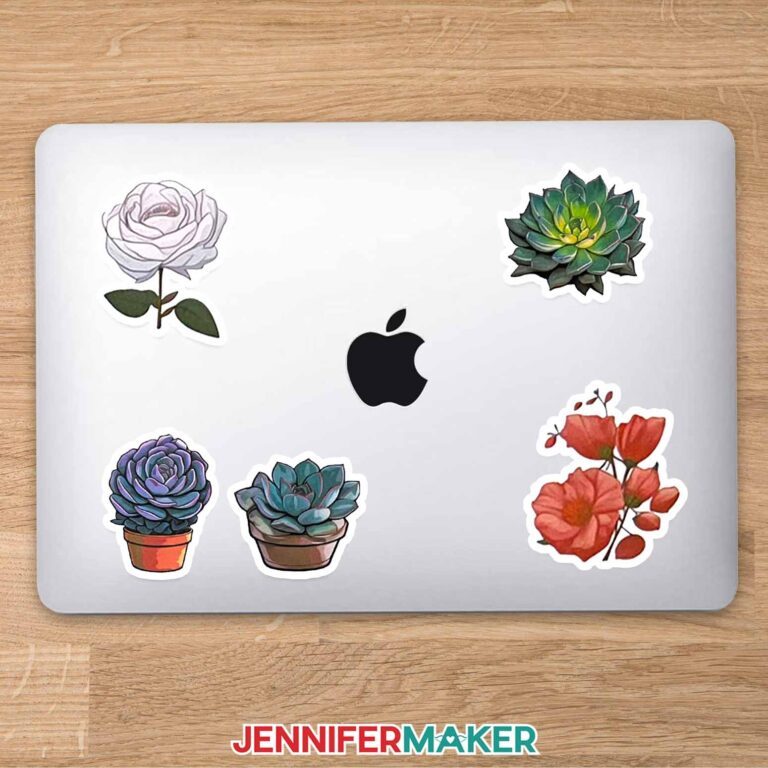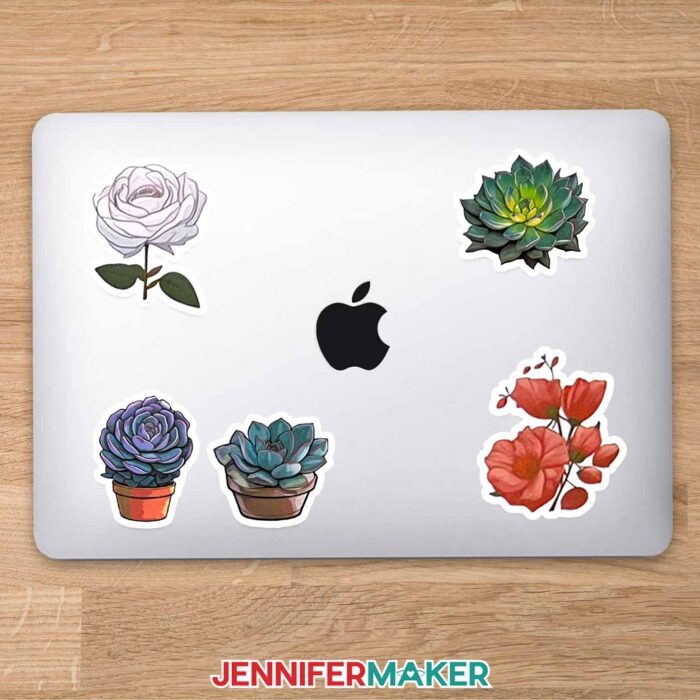 Here are some of the favorite stickers I've ever made, my own personal JenniferMaker stickers, all drawn in Adobe Illustrator — these are free for you to use, too!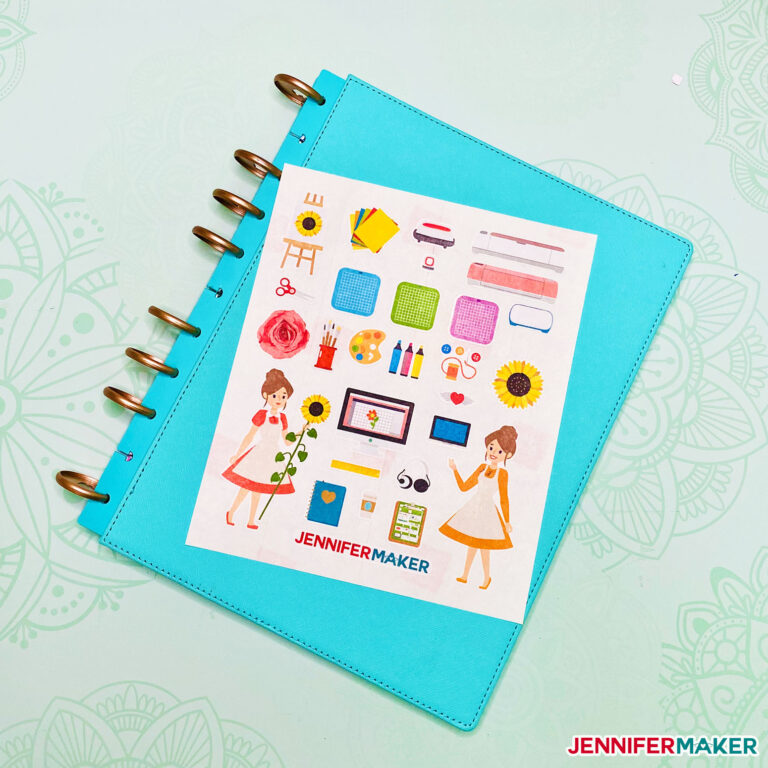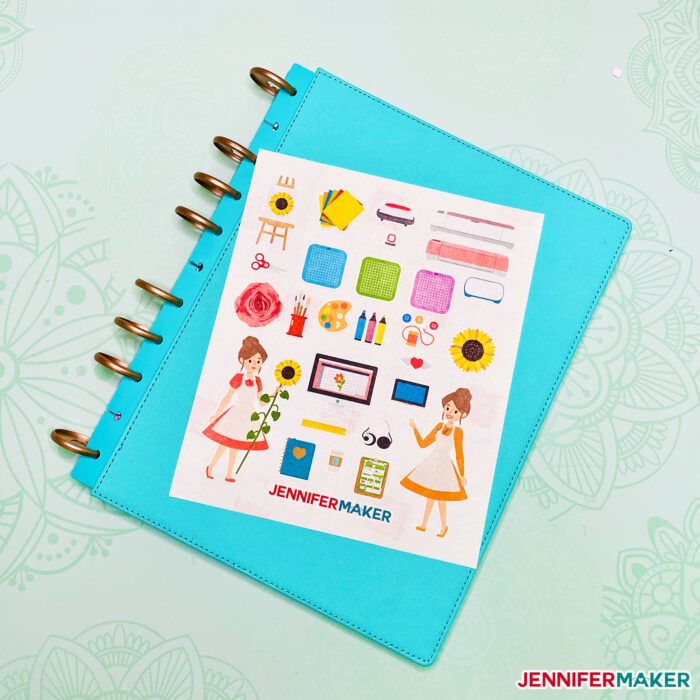 My daughter Alexa also contributed some sticker designs to this collection, some cute bees she designed herself in Blender: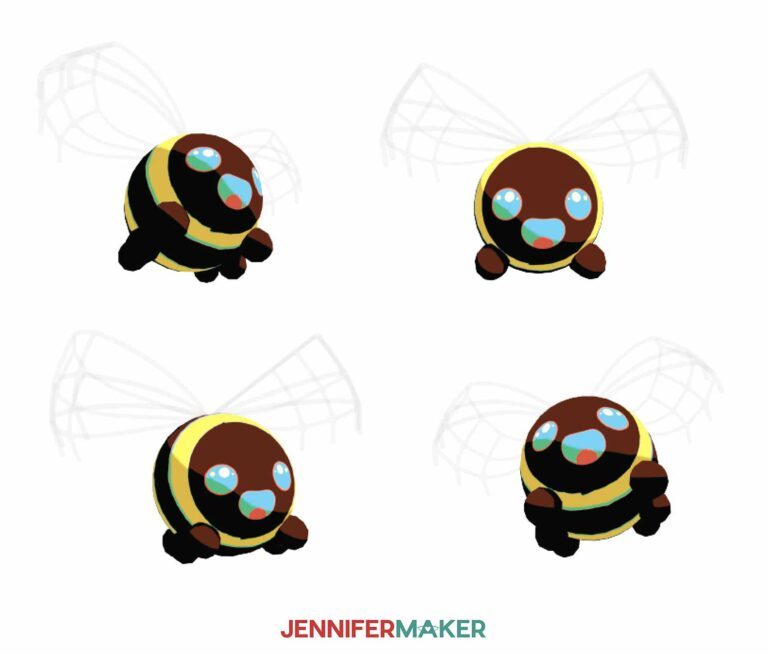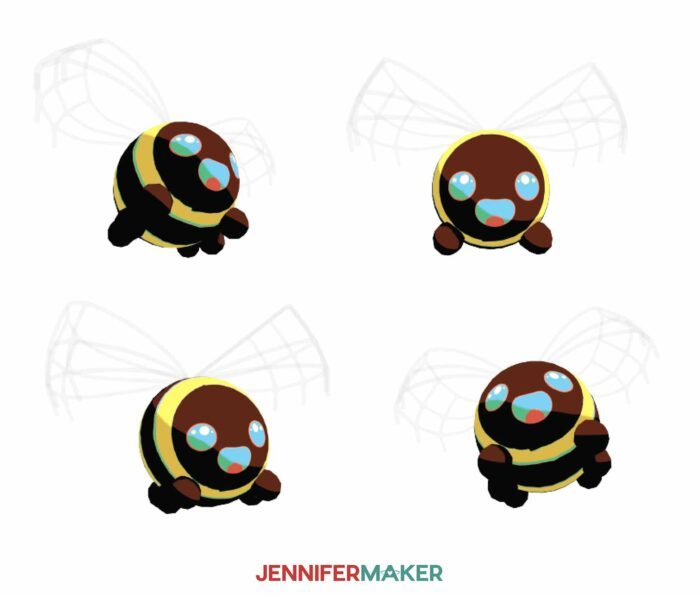 And, rounding out the collection, we have some cute planner stickers!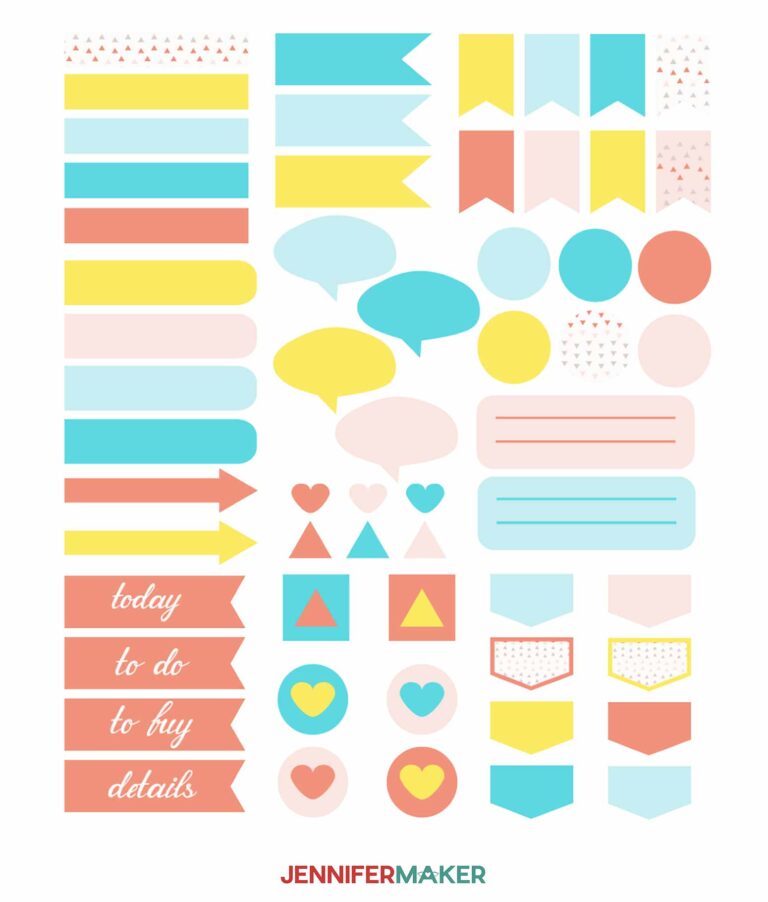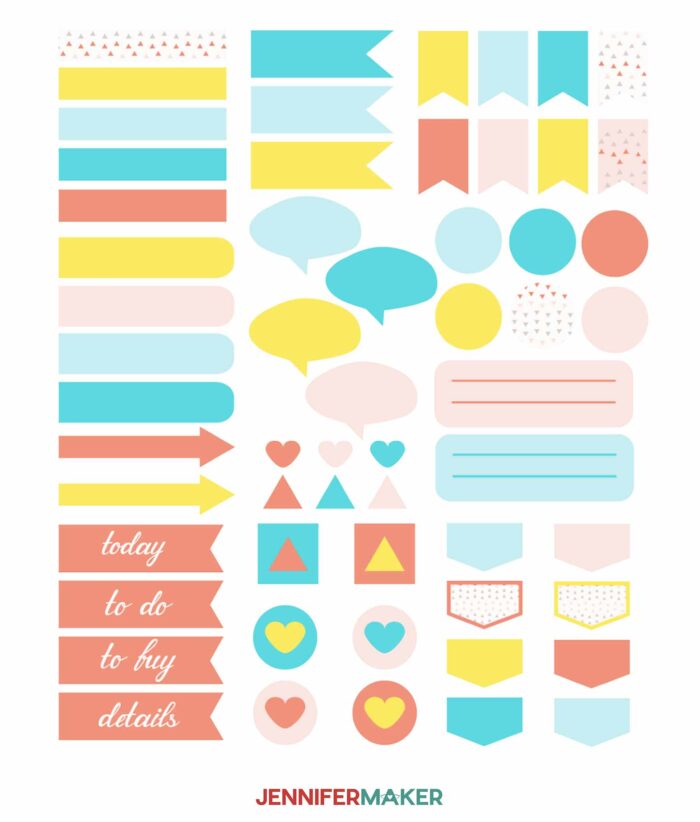 All of these sticker designs are available as a free download for you to use, all ready to go in full resolution! You'll find them in design #196 in my library!
Materials to Make Easy Print and Cut Stickers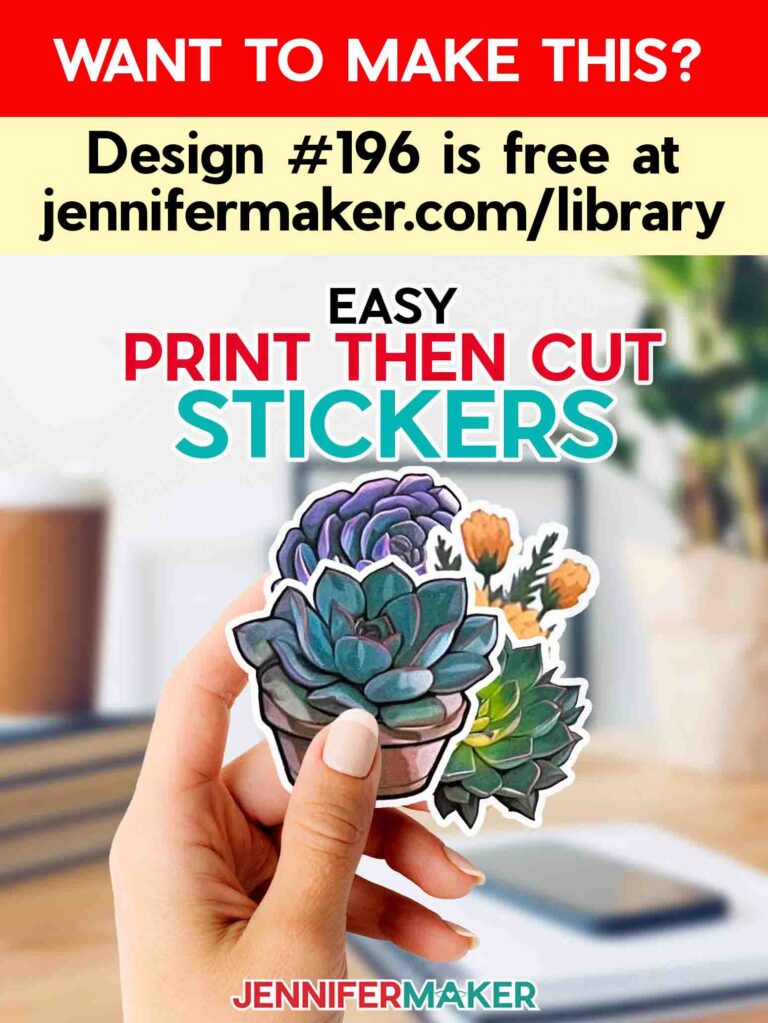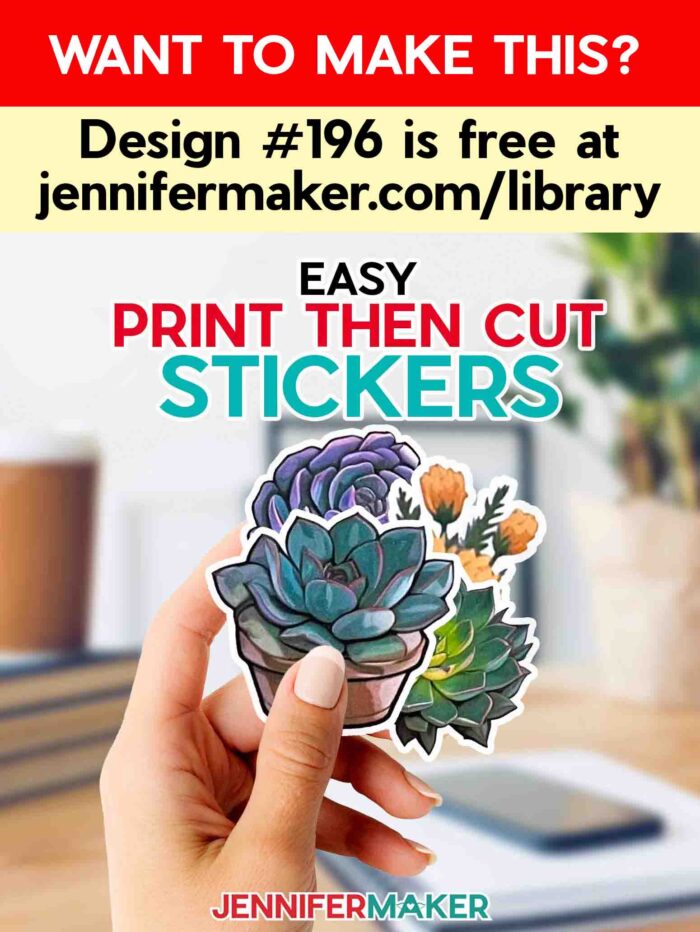 How to Make Print Then Cut Stickers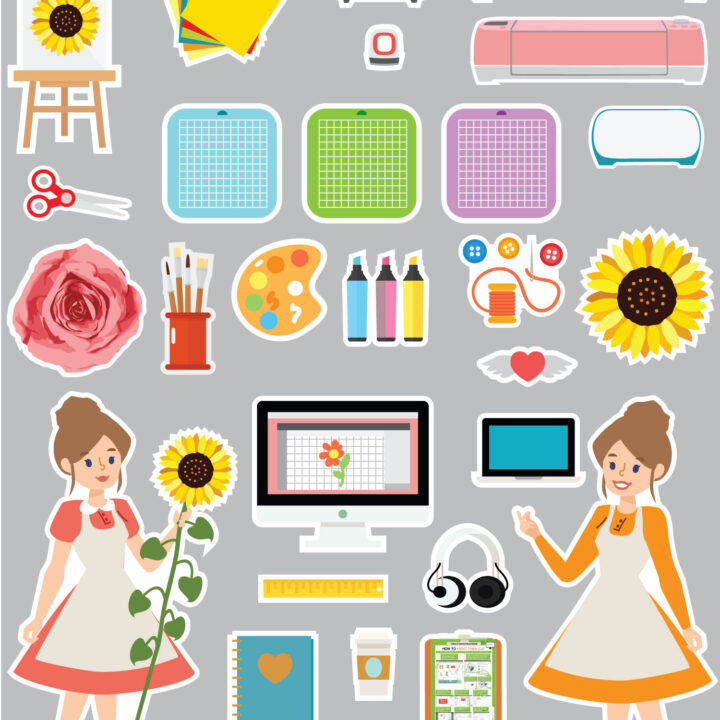 Print & Cut Stickers
Yield: 1 sheet of stickers

Prep Time: 10 minutes

Active Time: 15 minutes

Total Time: 25 minutes

Difficulty: Easy

Estimated Cost: $1 per sheet (or less!)

Here are the easy steps for print and cut stickers!
Materials
Instructions
STEP 1: Get Sticker Designs
You can get sticker designs in several way -- you can make them or find them!

To make them, look for images online (that are in the public domain) and you save/upload those. If they have a white background, you can remove it during the upload process. I'll show you how to do this with my sunflower image.

Another way to make your own stickers is to draw your own and upload them! I'll show you how to do this with the cute bees designed by my daughter Alexa.

Or you can use specifically designed sticker files! I designed some special "JenniferMaker" favorite thing icons that you can use for this project!

You can use my free sticker designs (Design #196) from my free resource library (get the password at the bottom of this post).

When you upload sticker designs, be sure to choose "Complex" image and feel free to remove the background so your Cricut cuts all around your sticker.

Tip: If you're not sure how to upload a PNG file to Cricut Design Space, watch this helpful video training series I made. If you're on an iPhone or iPad, here's how to download and upload SVG files to the Cricut Design Space app .

Note: Save the sticker files as Print and Cut images, not Cut images.
STEP 2: Print Your Stickers
Click "Make It", click the green "Send to Printer" button, make sure "Bleed" is on, then send your stickers to the printer. I recommend you print on Normal or Best setting if you have that option. Your sticker sheet will print with a black rectangle around them -- this is your Cricut's registration mark and it needs to be there.

Tip: If you want to protect your printed stickers, you can spray them with clear sealer before you move on to the next step. I recommend three coats about 15 minutes apart.
STEP 3: Cut Your Stickers
The best material setting for cutting your print and cut stickers in Cricut Design Space is "Sticky Note" (Explore users: be sure to set your dial to Custom to see this option). If you have issues with the Cricut cutting all the way through your sticker paper, try the "Washi" setting instead.

Once your printed sheet is dry, put it on your mat (be sure it's in the upper left corner), load your mat in, and press the flashing button.

Note: If you have issues getting Print Then Cut to work, please check out Cricut's Print Then Cut Troubleshooting Page.
STEP 4: Show Off Your Stickers
You can "weed" the unneeded part of the paper so all you have left are your stickers, ready to pick up and stick somewhere!
Beyond Stickers: Other Cricut Projects to Explore
Stickers are just the beginning! Dive into the world of card-making, apparel design, and home decor with your Cricut machine. Here are some fun projects I think you'll love:
Get my free SVG and PNG files to make your own easy print and cut stickers!
Did you make some print and cut stickers? Which ones? We want to see! Please share a photo in our Facebook group or tag me on social media with #jennifermaker.
Love,