Ah, the sun is shining this morning and I've already seen the first few butterflies! And I'm so excited to share my new pop-up card design with you! I created this card for all those who are eager to try a pop-up card but are a little intimidated by the glorious apple tree pop-up card I posted earlier. My pop-up butterfly card is much faster to cut and simpler to assemble than my tree.
Want to save this project? Enter your email below and we'll send the project straight to your inbox.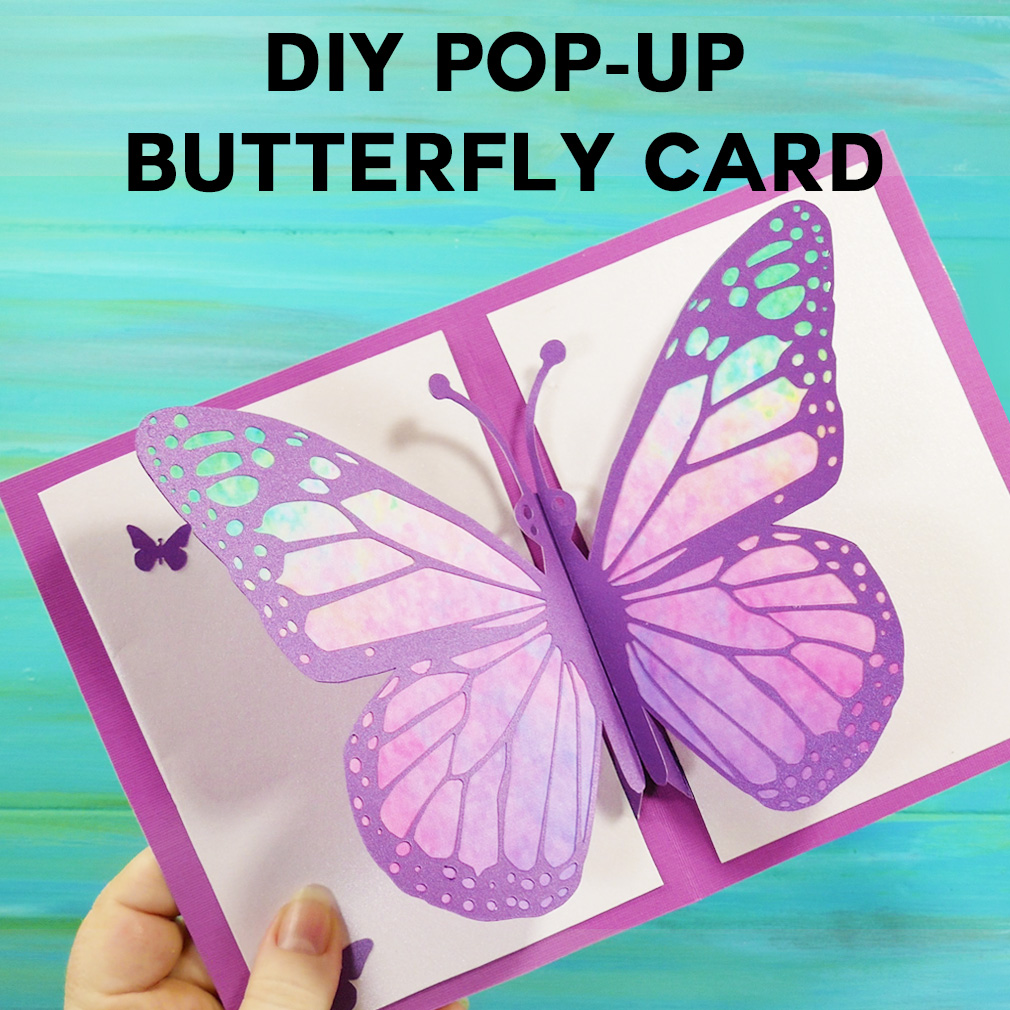 Here's the assembly video if you want to see how it all goes together.
This pop-up card is perfect for Mother's Day, summer birthdays, and all butterfly lovers. The thing I love about this butterfly card is how the wings flutter gently when there's any movement, whether that's just opening the card, holding it in your hands, or from a little breeze. Here's a video of the butterfly card's wings in action:
My butterfly card packs a big effect without being difficult to cut or put together. This card is also sized small (just under 5″ x 7″) so it's easy to gift and send in the mail. Plus, if butterflies are your thing, I drew my butterfly design from a real Monarch butterfly for realistic wings!
My pop-up butterfly card can actually be assembled in three different ways—as a simple "flutterby " (without wing color), a fantasy rainbow butterfly (with one-piece wing color), or as a traditional Monarch butterfly (with pieced wing color). I've made a video which shows all three versions, as well as assembly instructions for each one. The Monarch butterfly with the pieced wing color is the most complicated (and even that's really easy).
This post contains some affiliate links for your convenience (which means if you make a purchase after clicking a link I will earn a small commission but it won't cost you a penny more)! Read my full disclosure policy.
DIY Pop-Up Butterfly Card Materials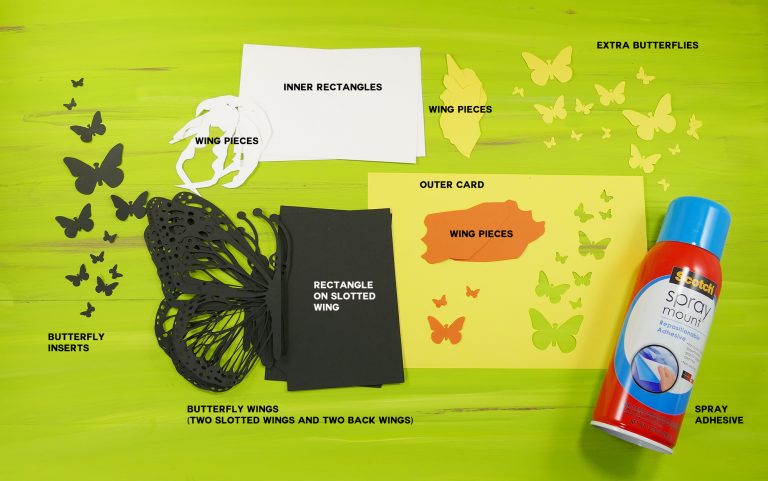 For all versions, you'll need the following materials.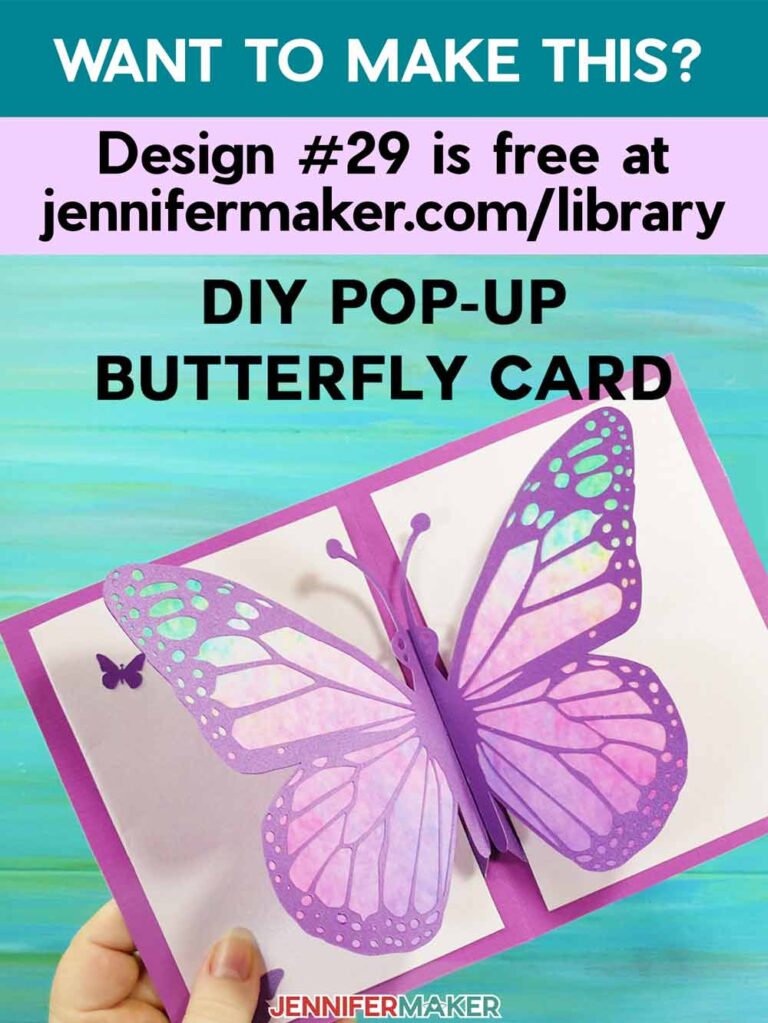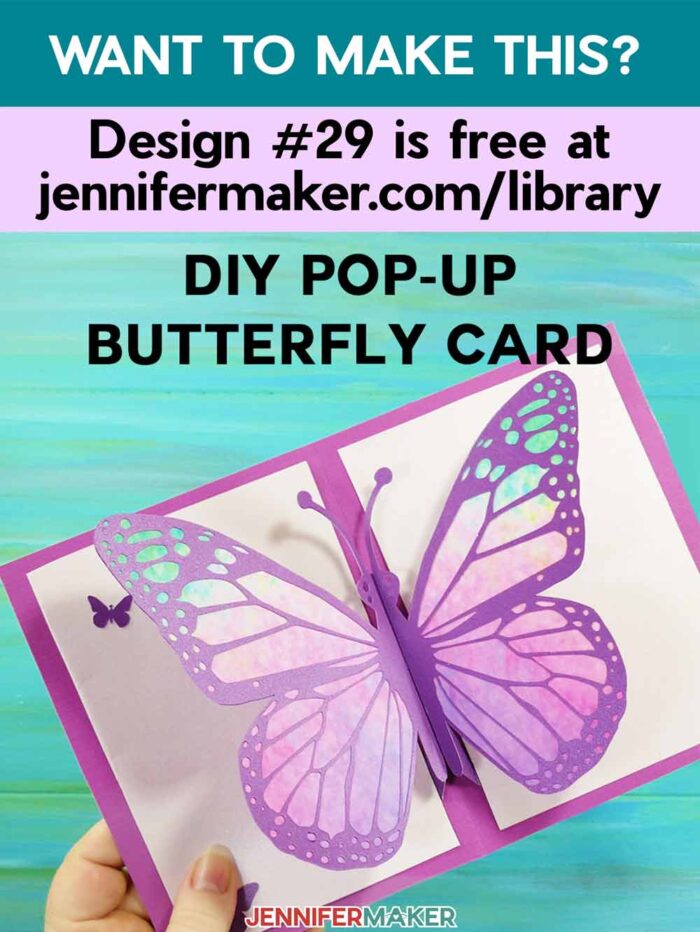 For the fantasy rainbow butterfly, I used one of Melody Lane's digital papers for the wing color. Specifically, I used the Grace 3 design. I printed Grace 3 out on regular paper (both sides), then cut out the solid wing piece on it. Here's what it looks like: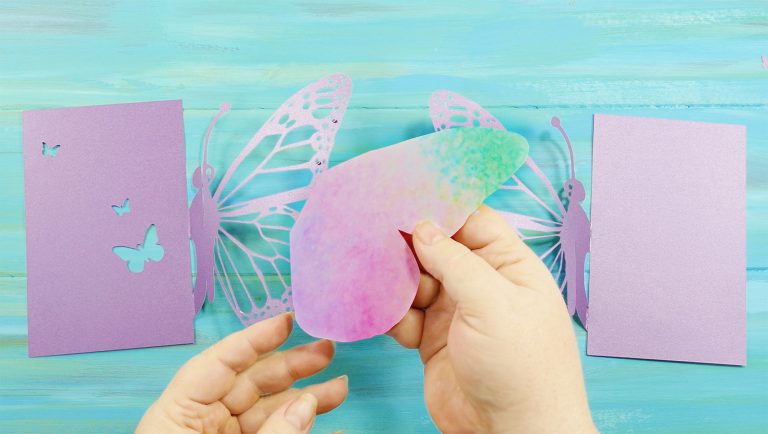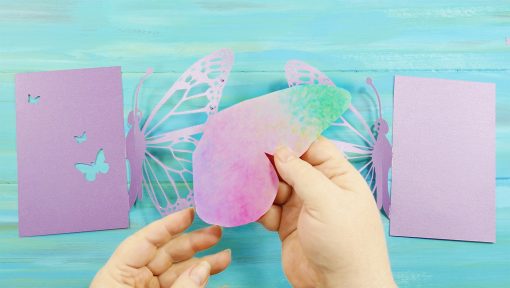 For the Monarch butterfly, I used black (3 sheets), yellow (1 sheet), orange (1 sheet), and white (1 sheet)—all of which were Core'dinations cardstock. The wing pieces were cut using the file named with those specific colors.
There are nine files for this project in Design #29, as follows:
butterfly-card-jennifermaker-SVG – this may be the only one you need, as all parts are in it albeit stacked on top of each other (best for Cricut owners!)
butterfly-card-backs – cut 1 on black card stock (or purple card stock for rainbow butterfly)
butterfly-card-left – cut 1 on black card stock (or purple card stock for rainbow butterfly)
butterfly-card-right – cut 1 on black card stock (or purple card stock for rainbow butterfly)
butterfly-card-orange cut 1 on orange card stock (for monarch butterfly only)
butterfly-card-yellow – cut 1 on yellow card stock (or dark purple card stock for rainbow butterfly)
butterfly-card-white – cut 1 on white card stock (or light purple card stock for rainbow butterfly)
butterfly-card-wings – cut 1 on double-sided colorful paper (for rainbow butterfly only)
Attention Cricut Design Space Users: If you upload the SVG file and it appears too small (the black rectangles next to the butterflies should be 5.9" tall), use the file in the "stacked" folder to retain the proper sizing.
If you have any issues with sizing, here is a chart that shows the size of each set of elements for this card: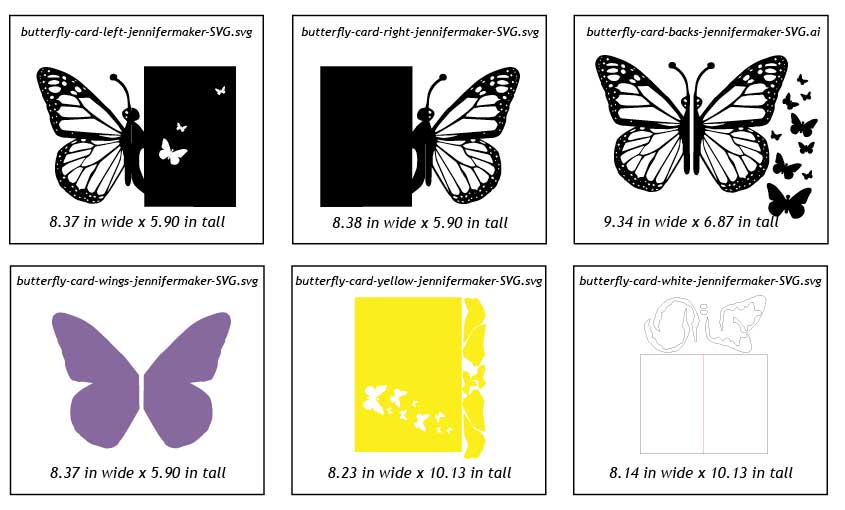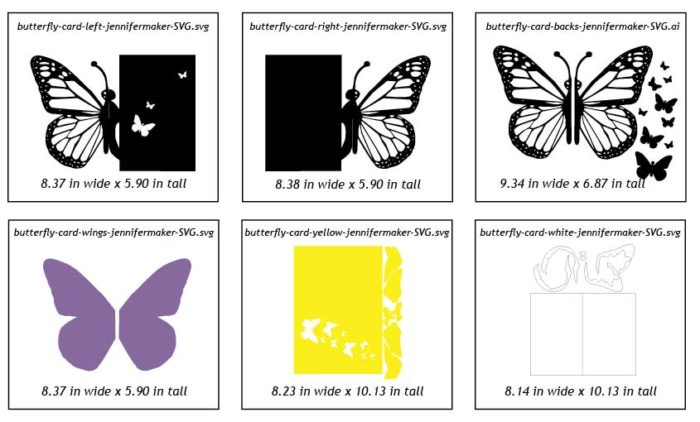 Time to Make: 1 hour
Skill Level: Beginner-Intermediate
Finished Size: 5" x 7" folded card
How to Make the Pop-Up Butterfly Card
First, cut out your cardstock for the version you wish to make (review my video linked above to see all three versions). If you use a Cricut, I recommend you cut on a clean StandardGrip mat on the cardstock setting.
IMPORTANT NOTE: If you're not sure how to upload an SVG file to Cricut Design Space, or you're having issues (such as getting a message that says "unsupported file"), please watch my free training series, SVGs Made Simple. It will help you SO much!
Here is what the pop-up butterfly card design looks like after you've uploaded it to Cricut Design Space. Don't worry about how it looks here — all the layers are in there. Note: There is no ungrouping, attaching or scoring necessary in this design. Just click that green Make It button and you're good to go!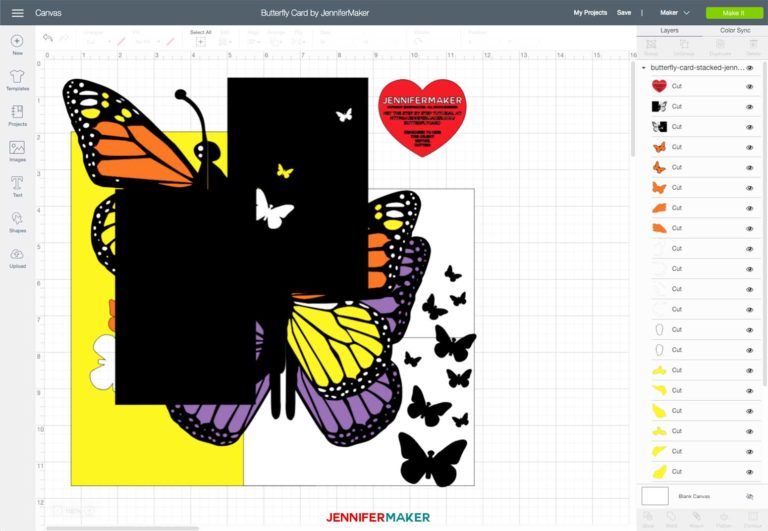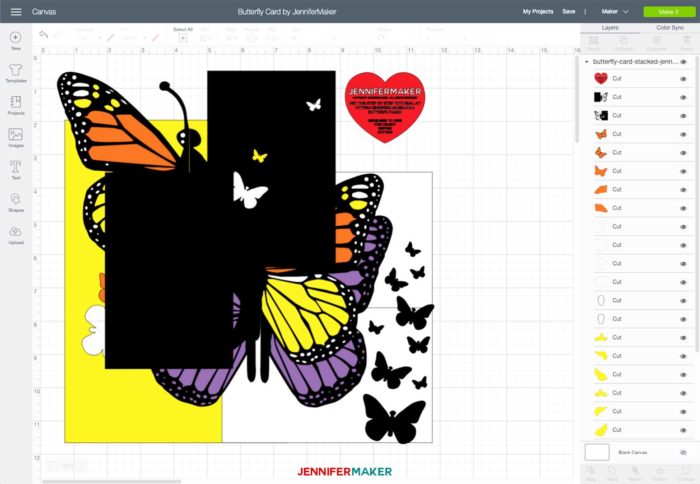 You can ungroup all elements and organize them for better visibility, if you wish. Here's how I would recommend you organize them on your canvas. (Note: I used to distribute my file this way, but a feature update to Cricut Design Space now prevents this.)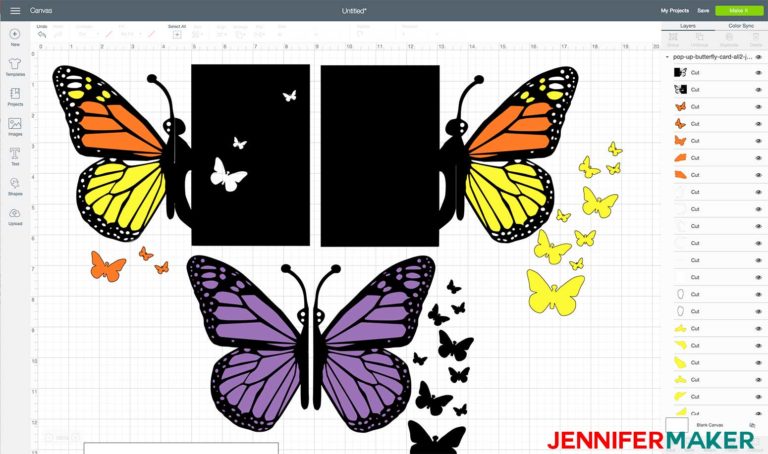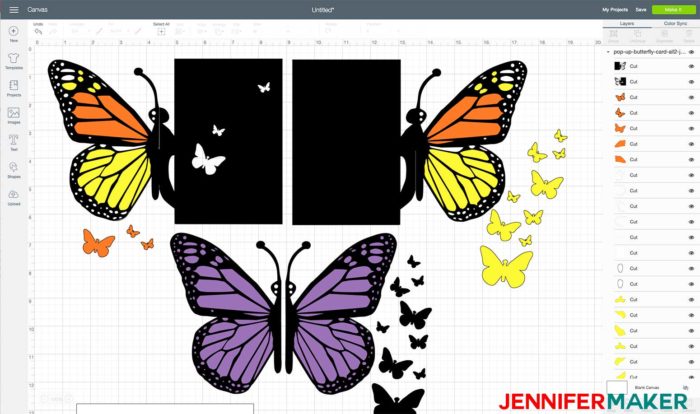 Here's what some of the butterfly pieces look like after you cut them on your Cricut. Note: If you're having issues cutting the intricate butterfly pieces, please check out my Cricut Cutting Problems (& Solutions) for ways to improve your cuts!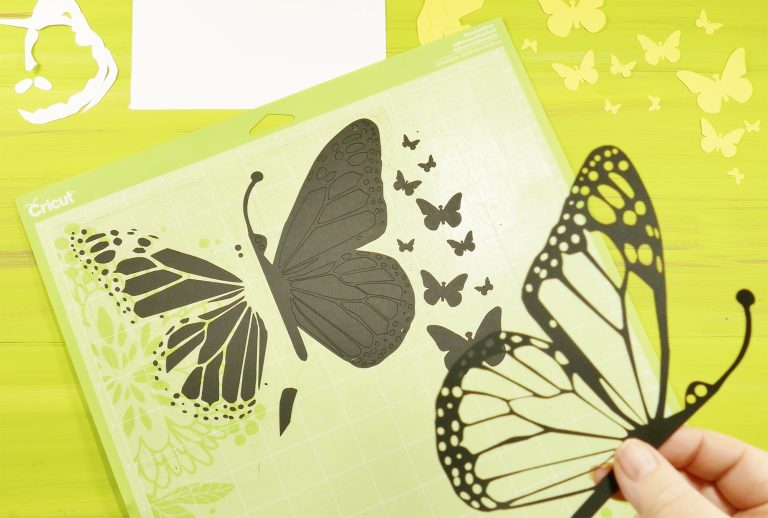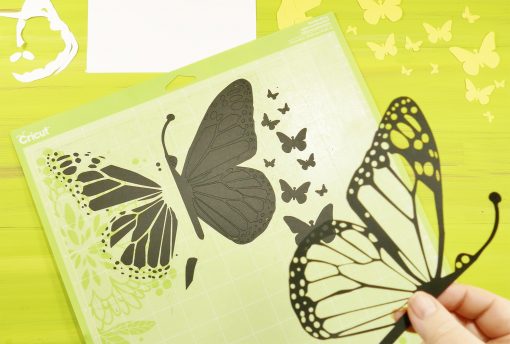 If you are assembling the simple version, just slot the two halves of the butterfly together and wrap the outer card around them. Use spray adhesive to stick the rectangle sections of the slotted butterflies to the outer card being careful not to get any adhesive on the wings.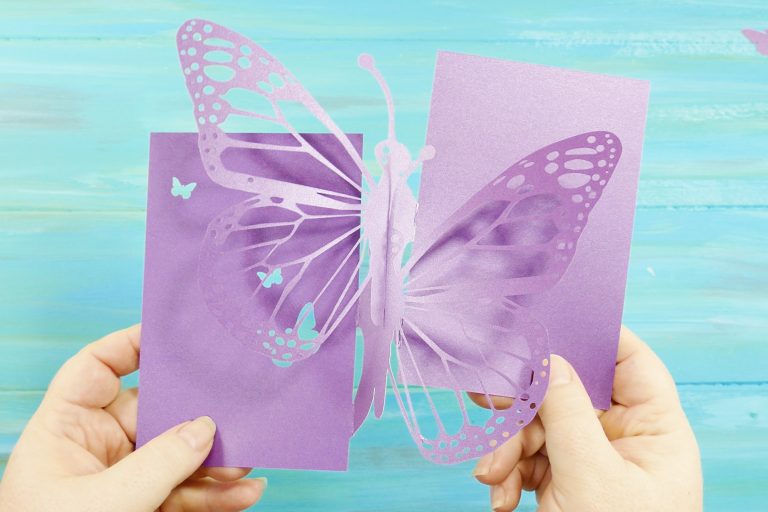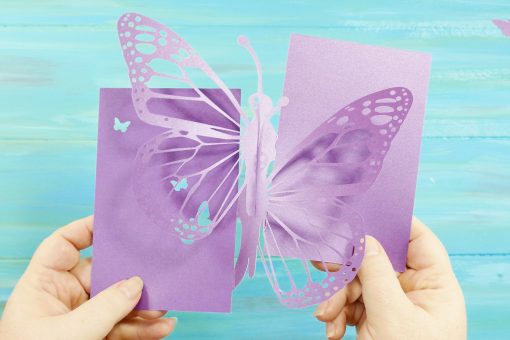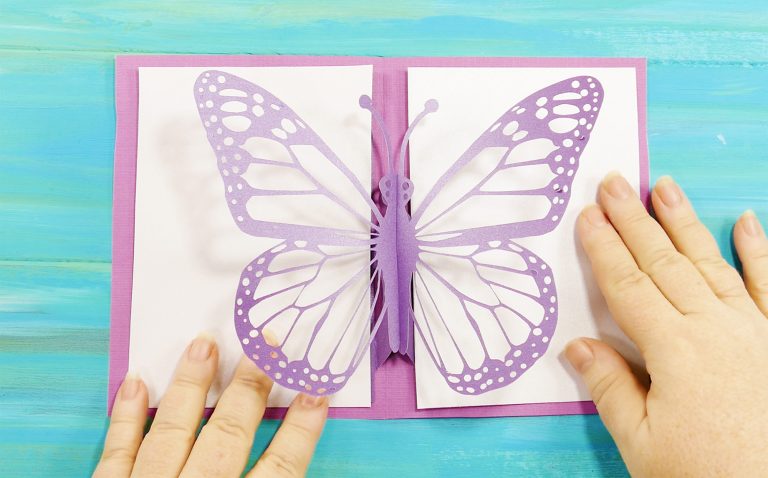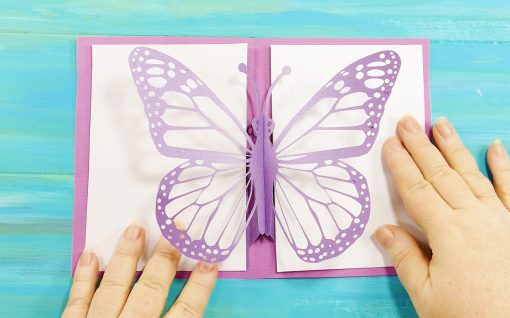 If you are assembling either the fantasy butterfly or the Monarch butterfly, your first step is to put adhesive on the backs of the slotted butterfly wings. Set them down as shown below and spray them well, then wait about 30 seconds before the next step.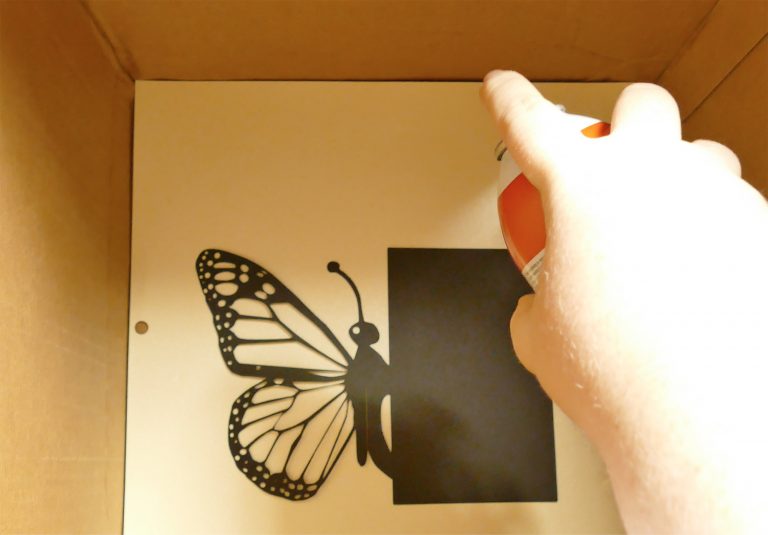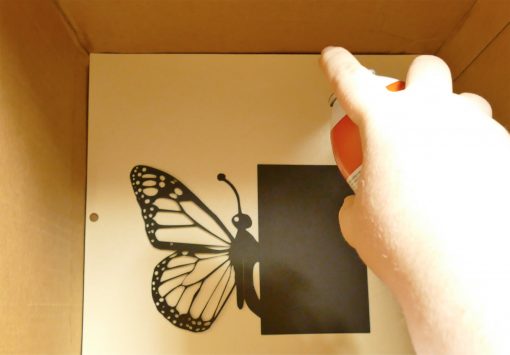 Place the inner rectangles on the rectangle sections of the slotted butterfly wings, being careful to center them top-to-bottom and not overlap on the body of the butterfly.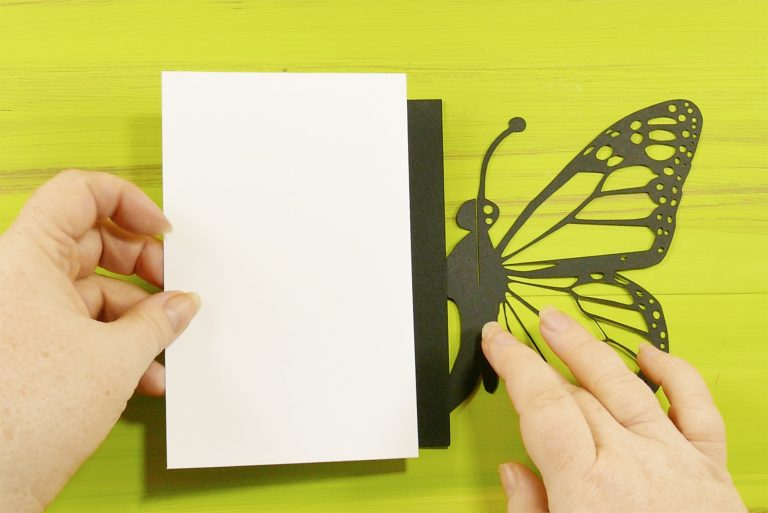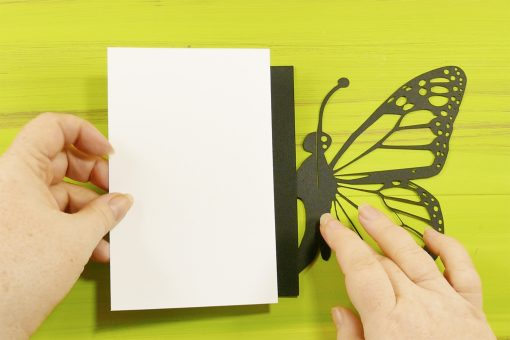 Now place the wing color piece(s) on the slotted butterfly wing. If you're going for the fantasy rainbow version, you're using one full wing insert piece.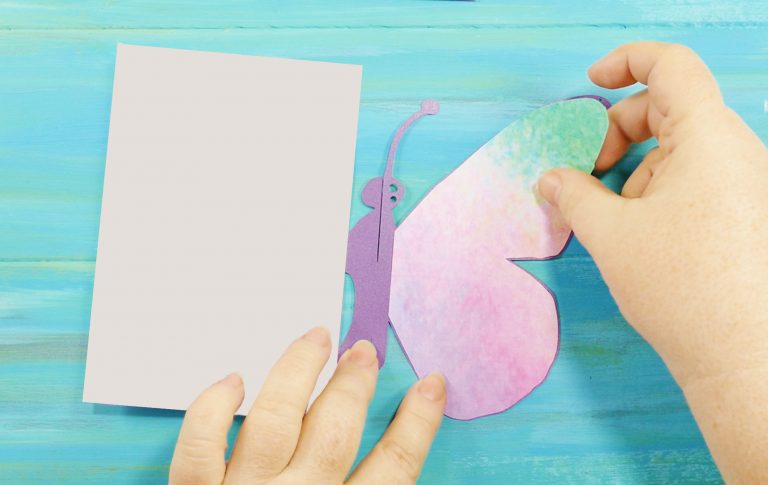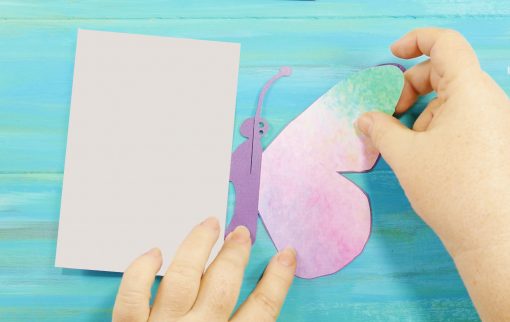 The Monarch butterfly uses six pieces, which all fit together like a puzzle. As you place the pieces on, check to make sure you're covering all open areas. Press down well once in position. Repeat for the other wing.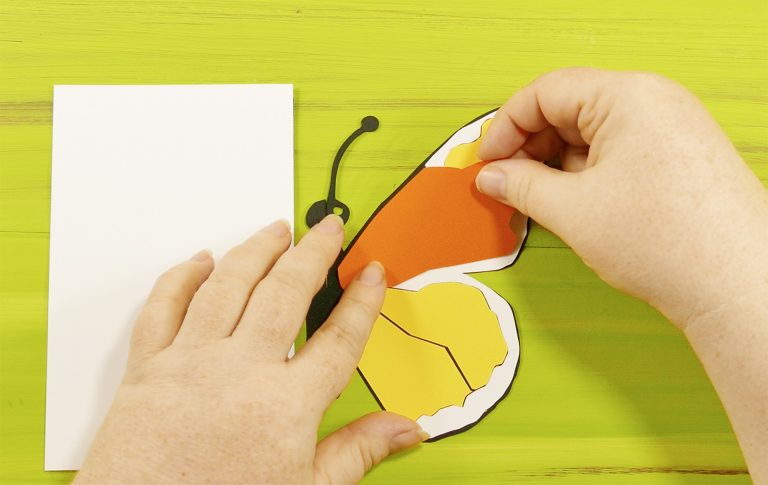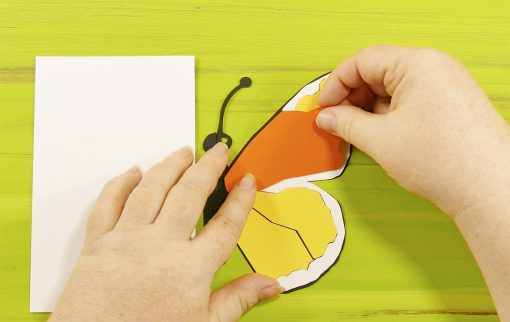 Once the wing color is in place, spray the back wing pieces with adhesive and place over the colored wing. Be sure to line up the back wing so it matches your wing assembly perfectly, then press into place.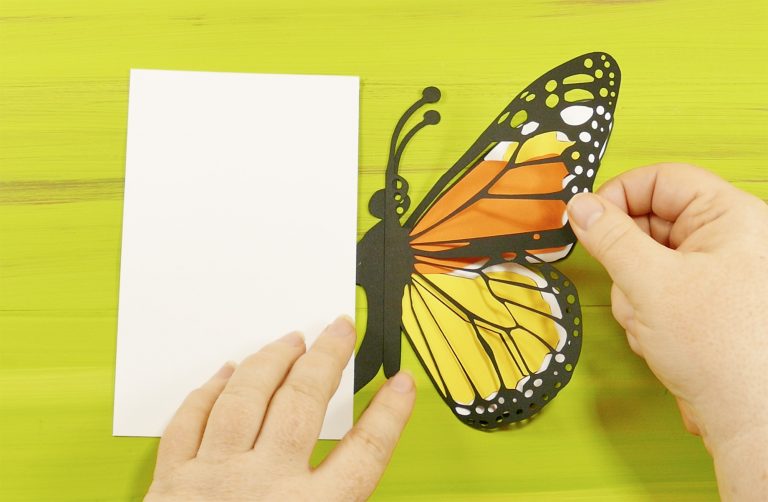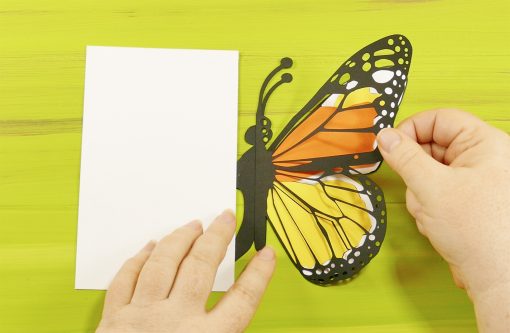 Fold the assembled wings where the body meets the rectangle.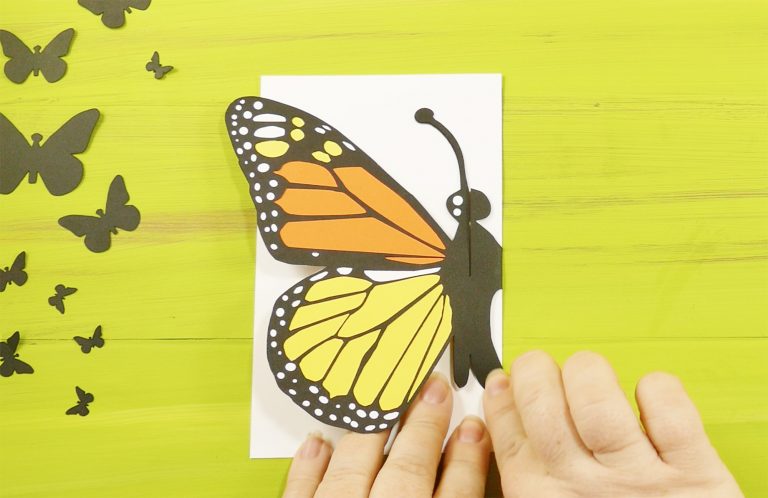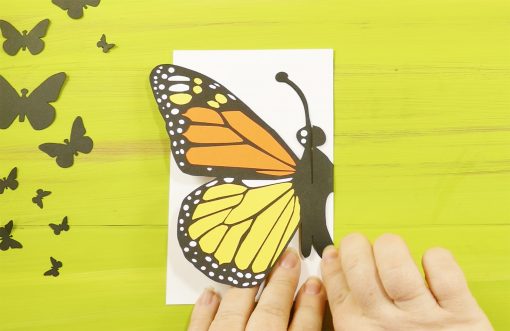 Slot the wings together (one slides into the other from top to bottom).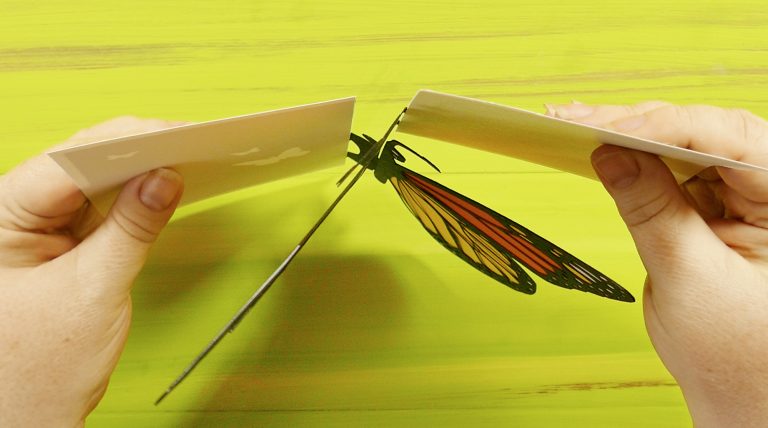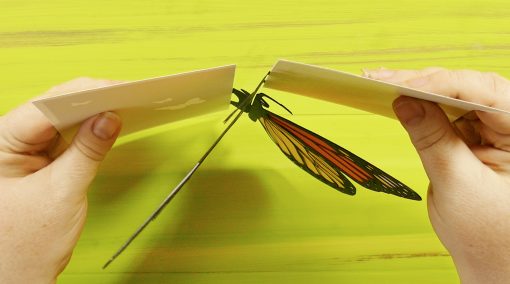 Now it's time to attach the outer card. First, you'll want to fold the butterfly and put the small black butterfly cut-outs back into position (these will protect the inner cardstock when we spray adhesive in the next step).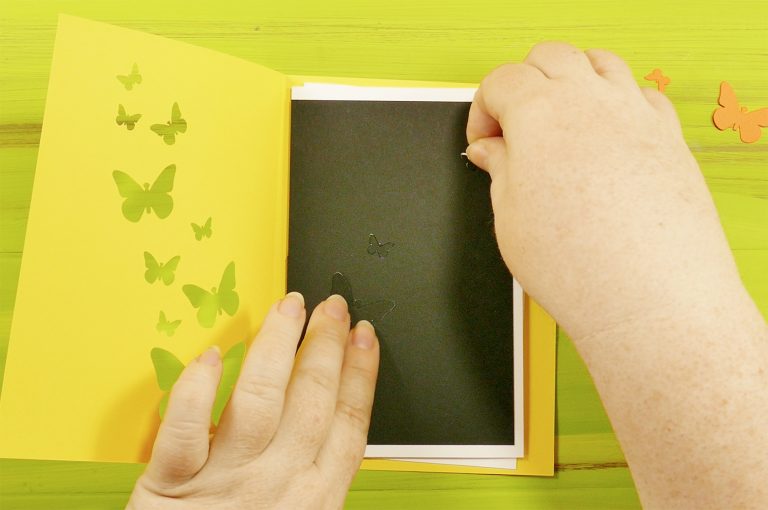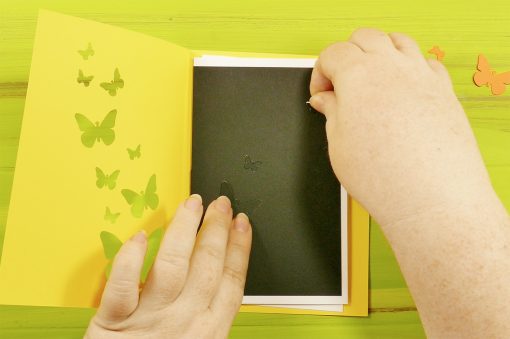 Protect the wings with some scrap paper (in the photo below, I'm using blue scrap paper so it's easier for you to see) and spray both the front and back of the folded butterfly assembly.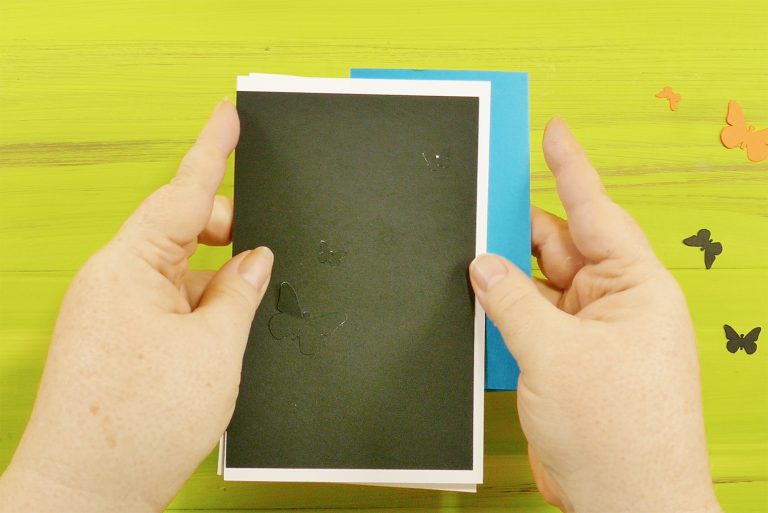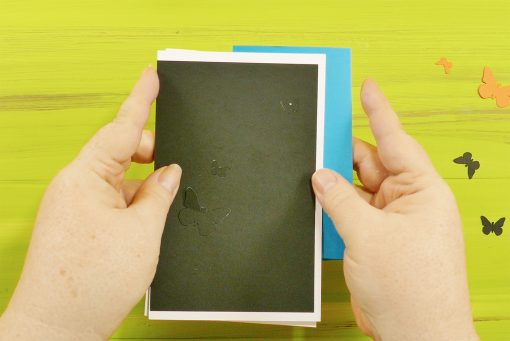 Remove the black butterfly inserts to reveal the white butterflies again, then line up the outer card with the butterfly assembly so the butterflies all line up.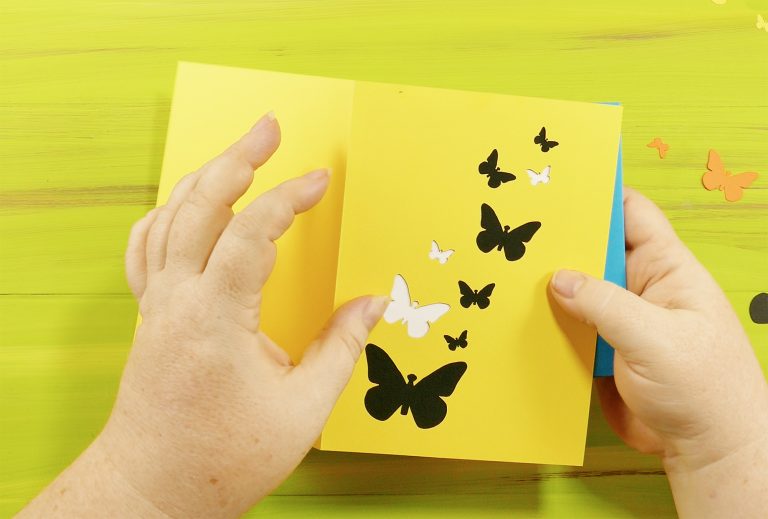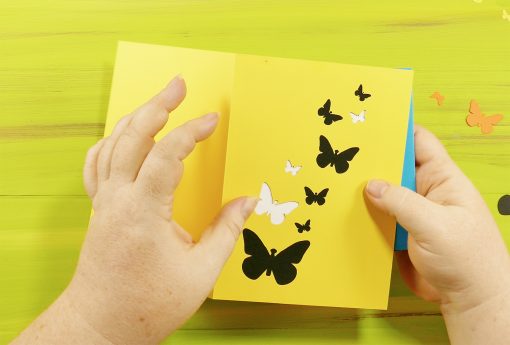 Put black and orange butterfly inserts into the empty spaces on the front of the card to cover the adhesive underneath.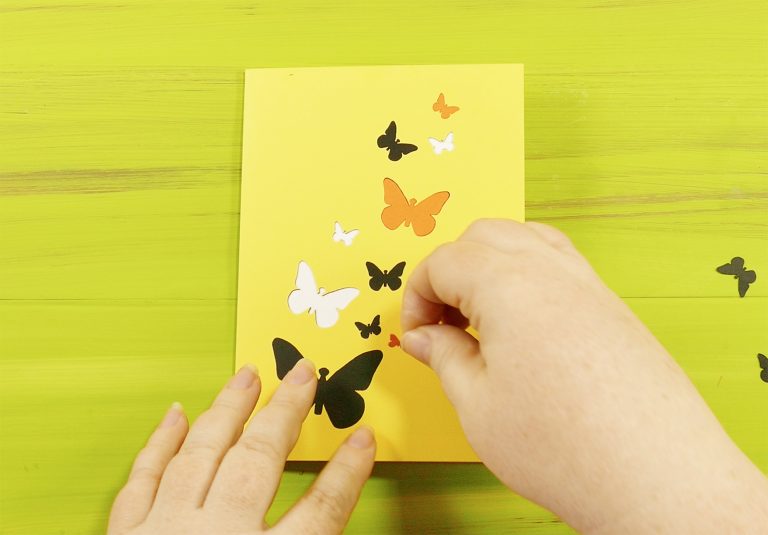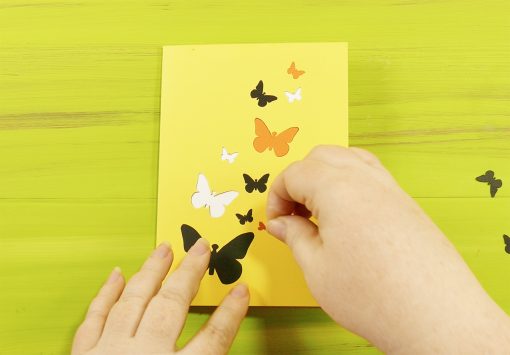 Feel free to put any extra butterfly inserts you have on the insert of the card. You can even fold the wings up a bit for a three-dimensional effect.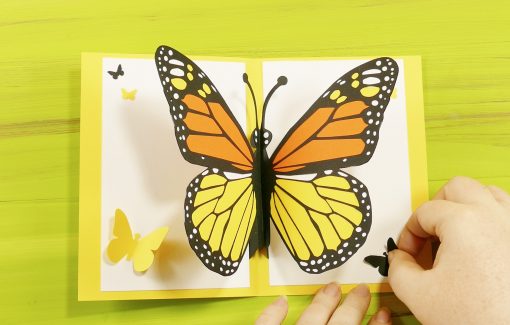 Voila! You're done!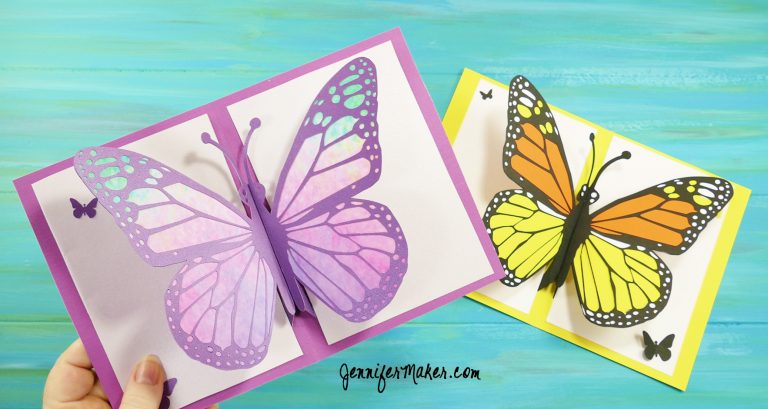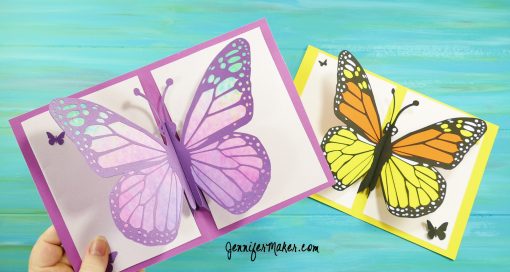 Your butterfly card will fit in a standard 5″x7″ envelope.
I love seeing your butterfly cards—here are several shared with me by my readers:
Here is a butterfly card by reader Annamarie Spinoso, who claims to be a Cricut "newbie." Looks beautiful, doesn't it?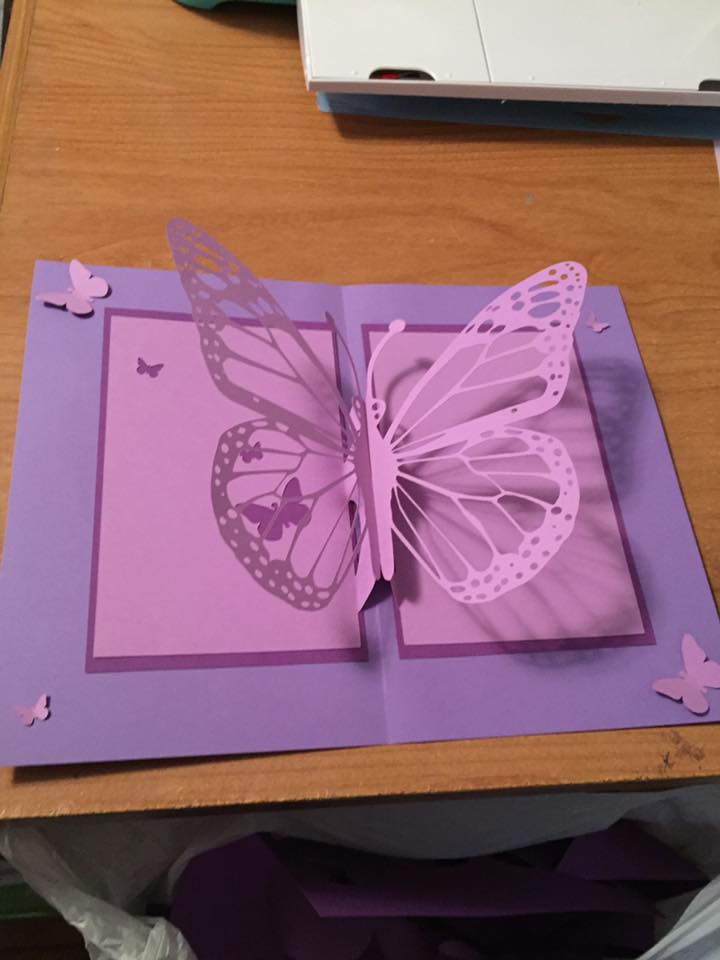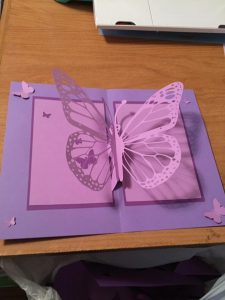 Reader Dana Mahan made this lovely Monarch butterfly card: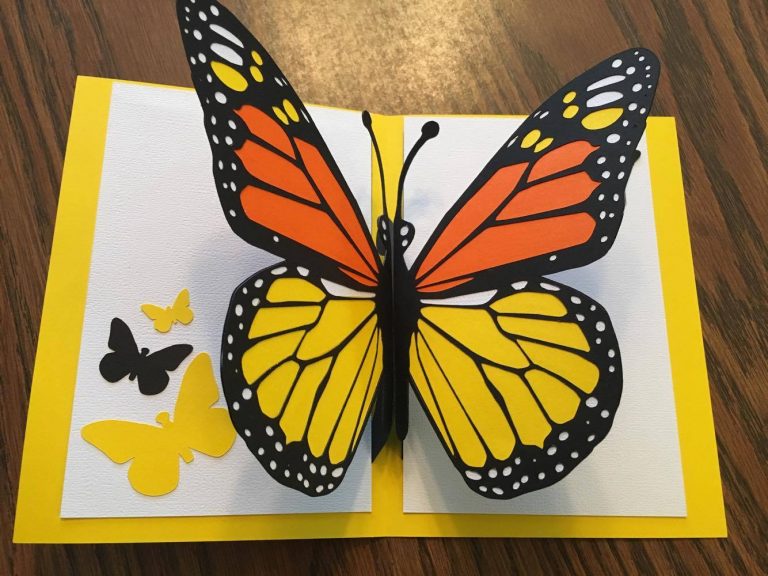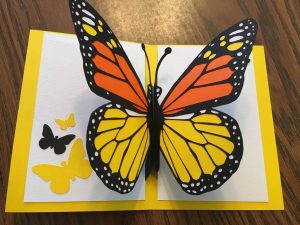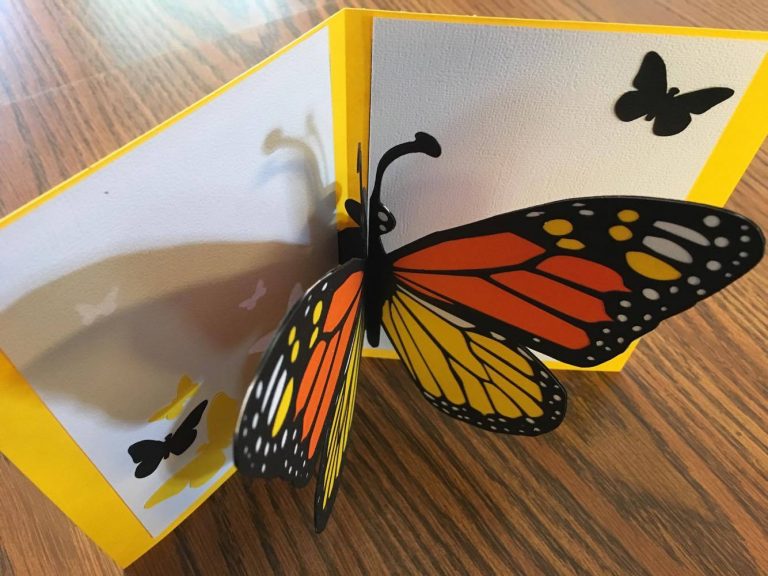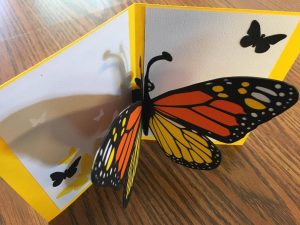 This butterfly card is by reader Becky Salewski — I love her paper choices!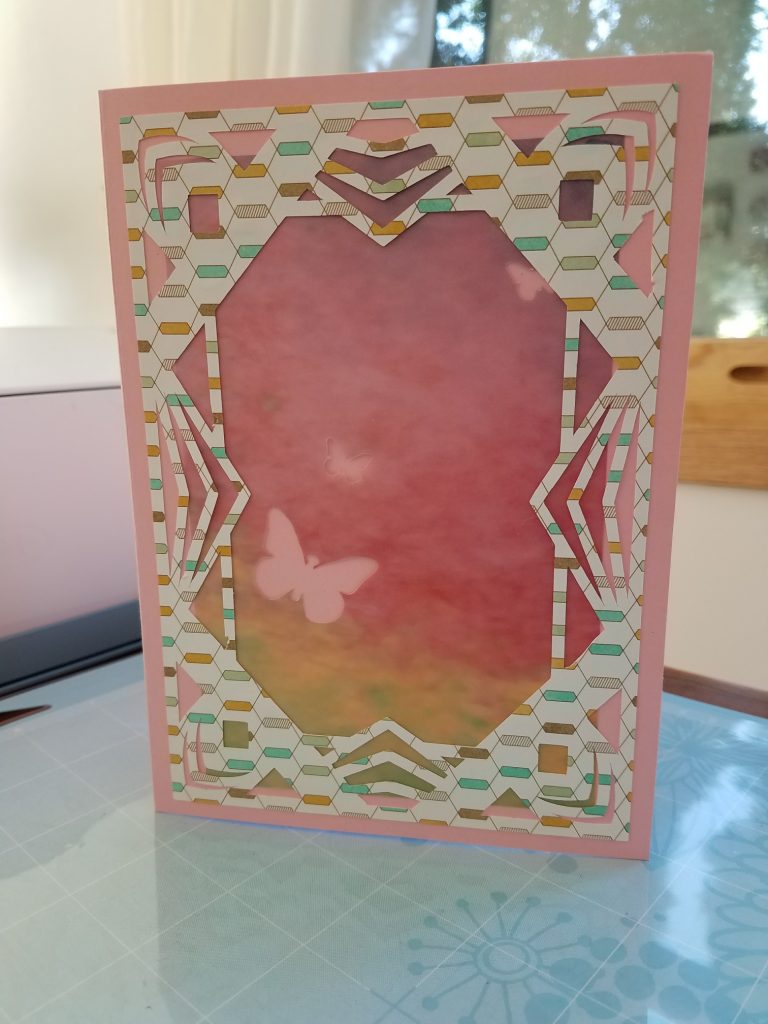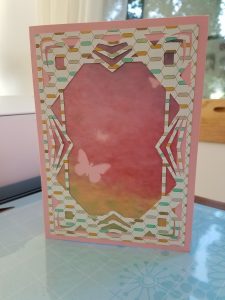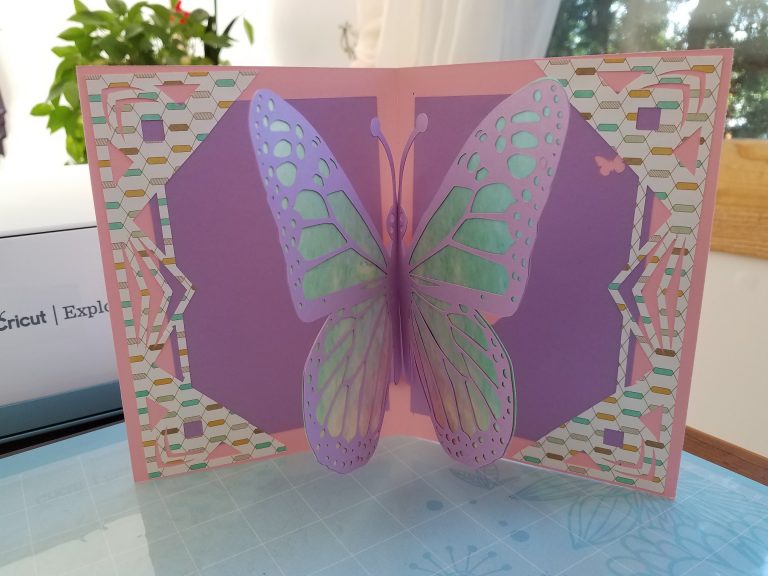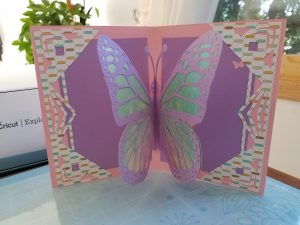 Here is another reader's card — this one is a traditional Monarch butterfly — made by Bonita Clark: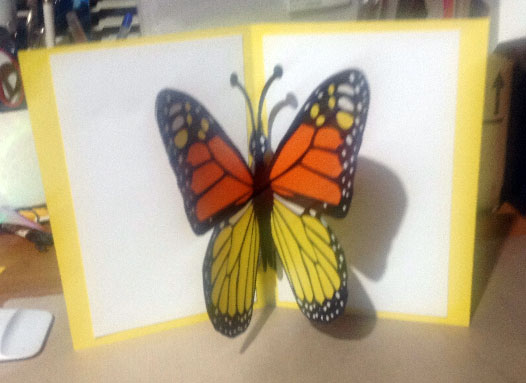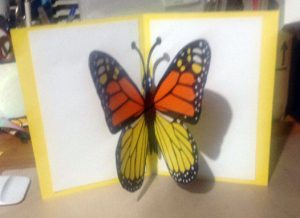 Look at this pretty lavender butterfly by Misty Morgan!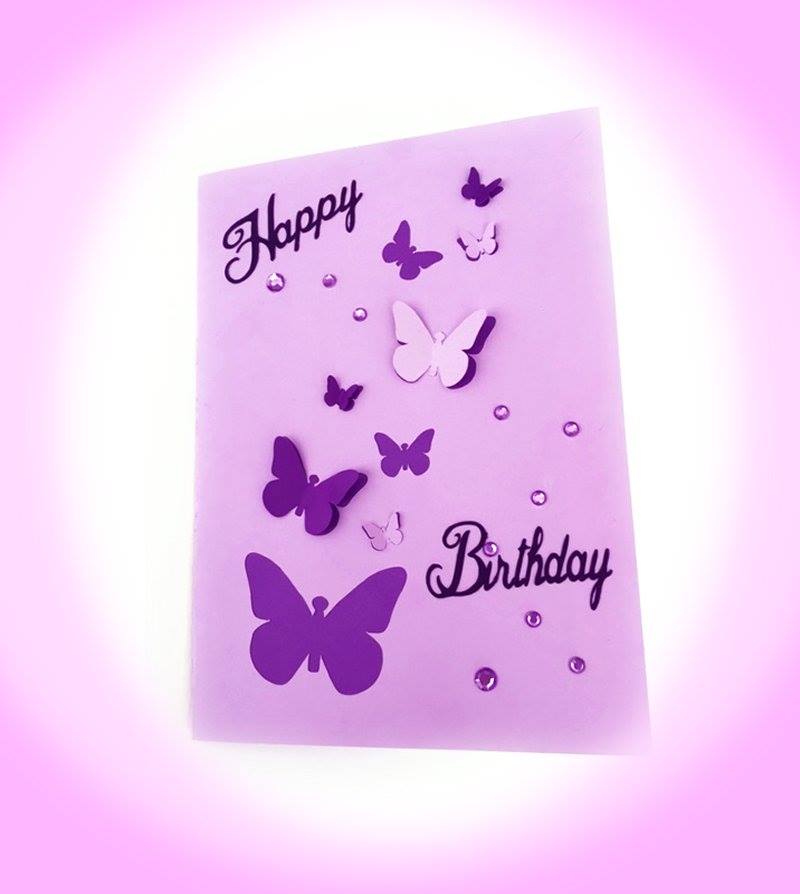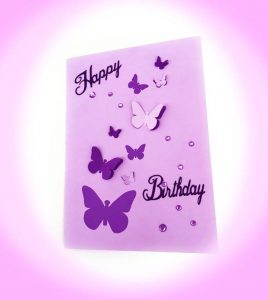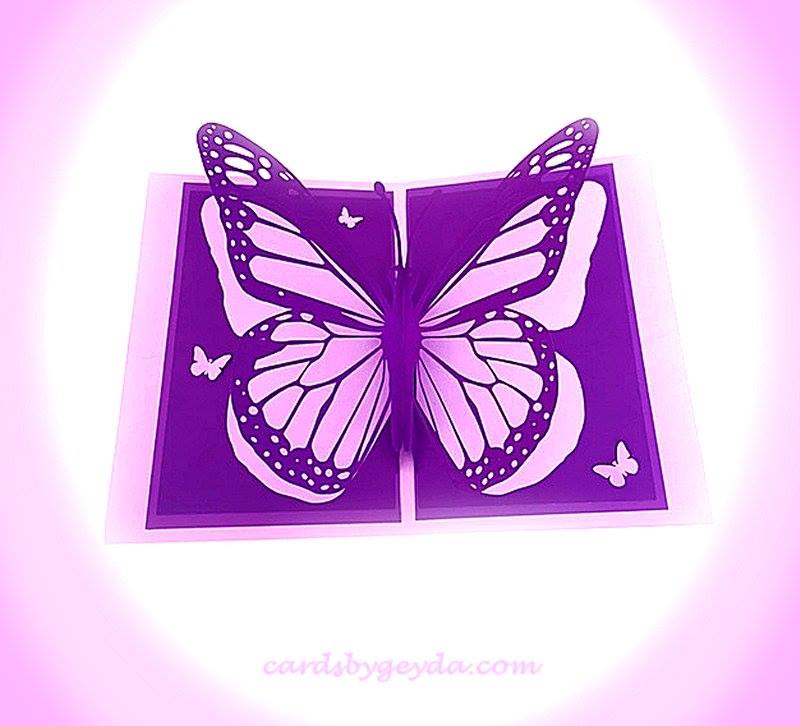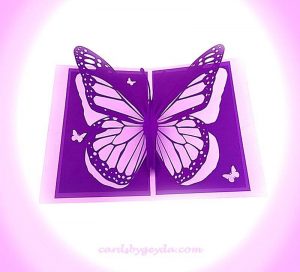 And I love this butterfly card with translucent wings by Monique van Corstanje: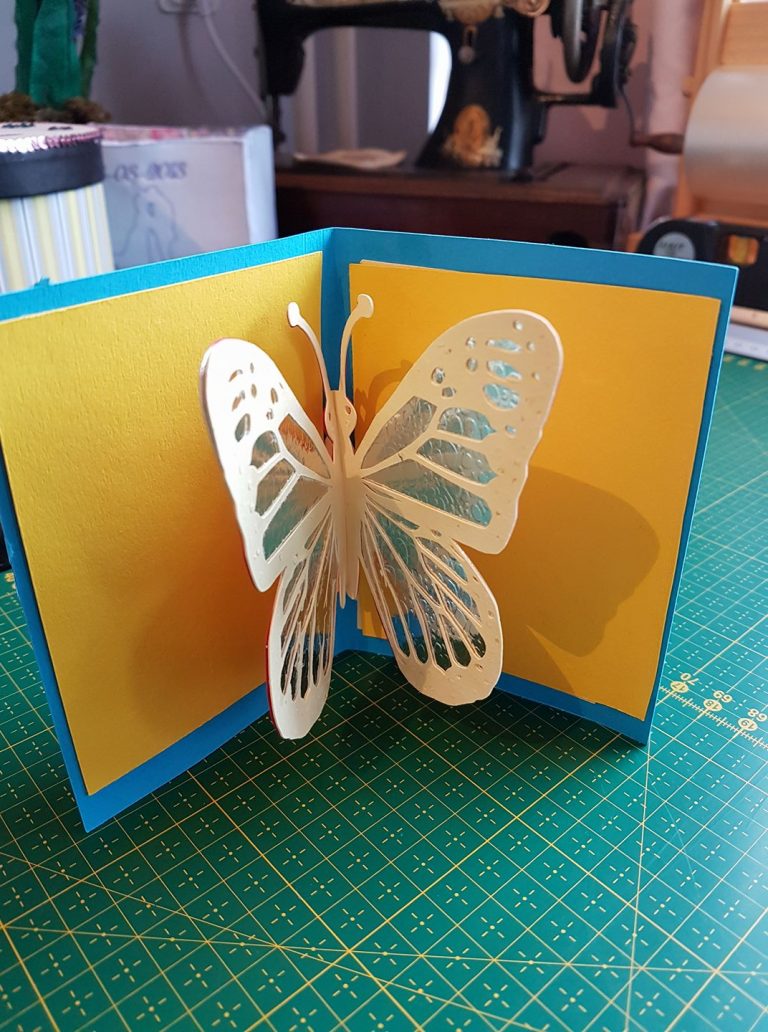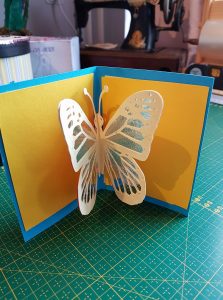 As always, let me know if you have any questions by posting over in our awesome Cricut Crafters Facebook group. And if you make a butterfly card, please let me know or tag it with #jennifermaker — I will include a photo of it here on my blog with your permission!
If you like pop-up cards, you may also like my easy heart rainbow pop-up card!
Love,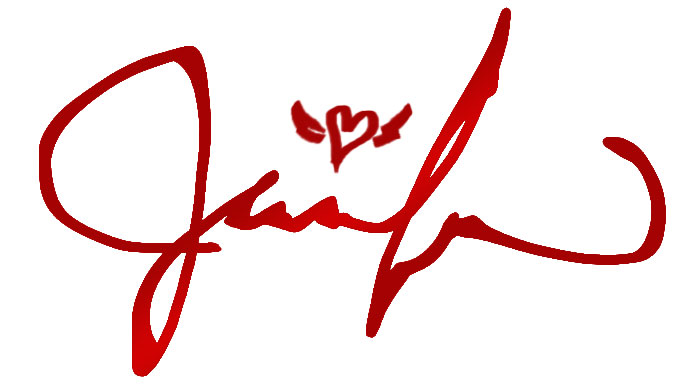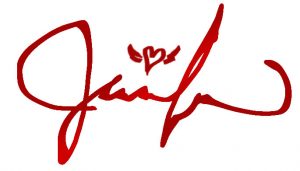 P.S. Here is the form to fill out to get the password to the library with the SVG/DXF files for this project:
Get my free cut files for the pop-up butterfly card
Subscribe (free!) to get access to my resource library with all my free cut files, printables, and patterns! Once subscribed, I will send you a newsletter with details about my new free files each week.