Learn how to make temporary customized decals for weddings, dinner parties, BBQs or other events with these vinyl letter decals
Making removable customized decals for weddings, dinner parties, BBQs or other events is easy! By using removable vinyl, we can personalize just about anything. Like our grandmother's antique cut crystal champagne flutes just for one special night. Or, how about some personalized beer pints for game night. There are lots of options for these vinyl letter decals.
Watch the full step-by-step video showing you exactly how to make your vinyl letter decals premiering during Maker Academy Weekend, November 4-7, 2021. Get your FREE ticket to this event by clicking below: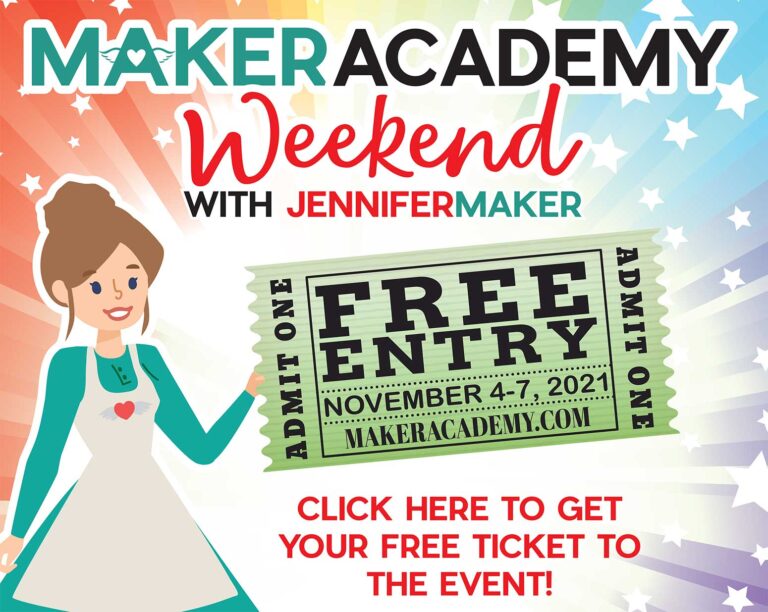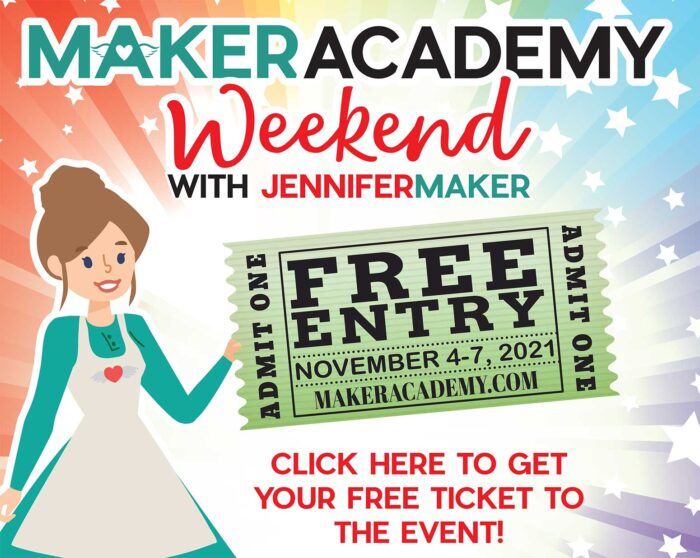 Add a special touch to any event with the help of personalized vinyl letters. I will be showing you how to make your very own vinyl decals personalized to any event you may be hosting, or attending. Just place them on a smooth surface and they're good to go!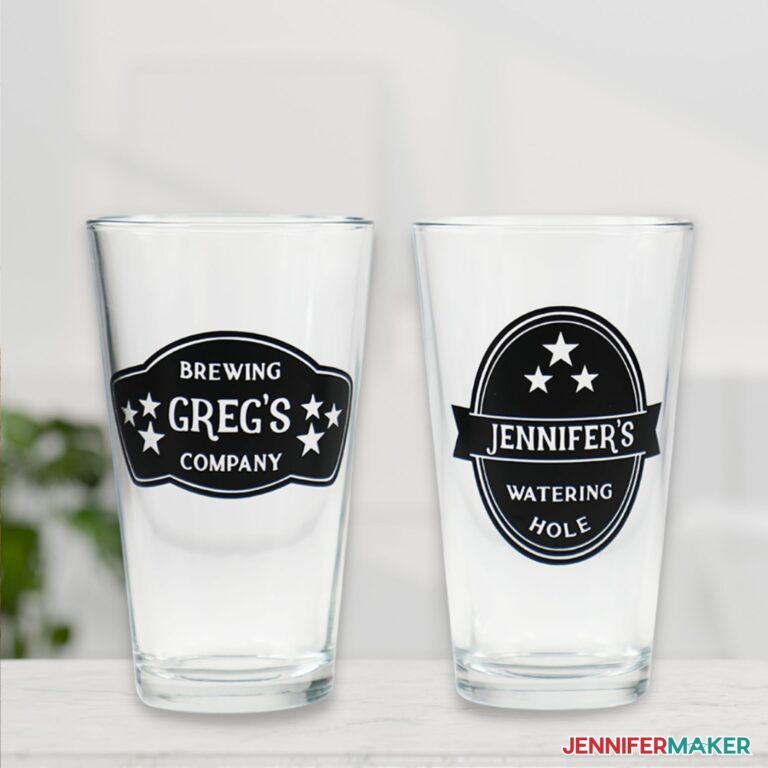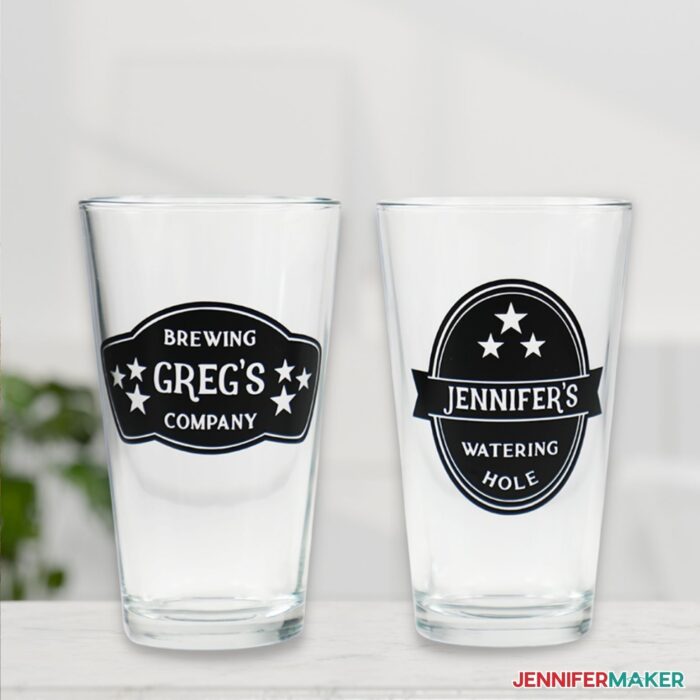 To start off, we will need a few different types of vinyl material: Cricut Premium Removable Vinyl, this bundle includes black, white, gold and silver. We will also use Cricut Smart Removable Vinyl in white and Chalkboard Vinyl.
Other materials we will use include: black Kraft board, transfer tape, chalk and chalk markers and of course we'll need something to put our vinyl on. I'm using champagne flutes, wine glasses, beer pints and my car! Well actually my car window!
And finally, we will use our Cricut Machine. I'm going to use the Maker 3, but you can also make most of these designs with an Explore 3 or an original Maker or Explore cutting machine. I'll even show you one you can make with the Cricut Joy.
And we will use our Cricut StandardGrip cutting mat, weeding tool, scraper (or credit card to get any air bubbles out), hot glue gun and sticks, some clothespins and for the larger decal it helps to have a 12 inch by 24 inch StandardGrip mat, but that's optional.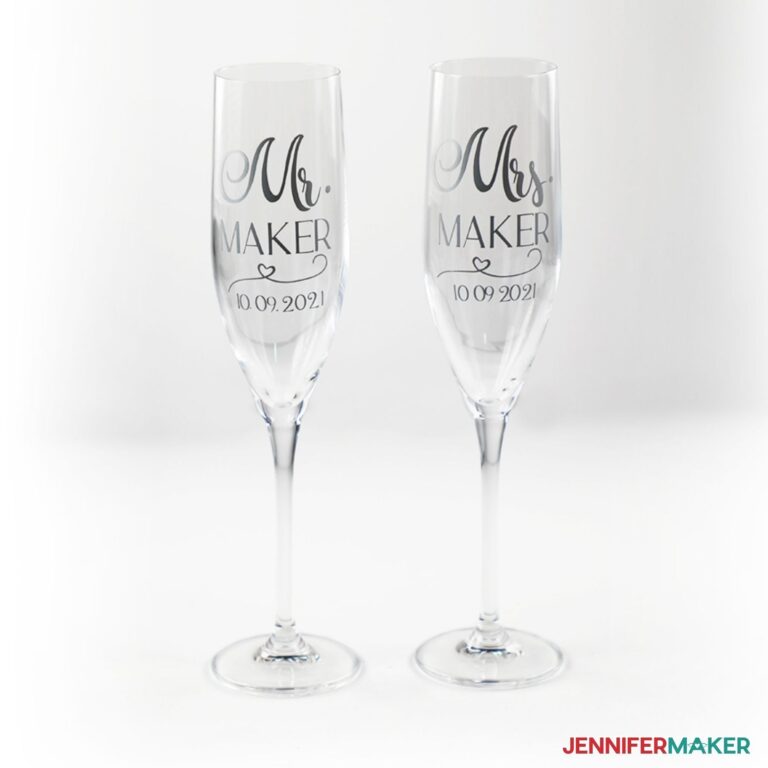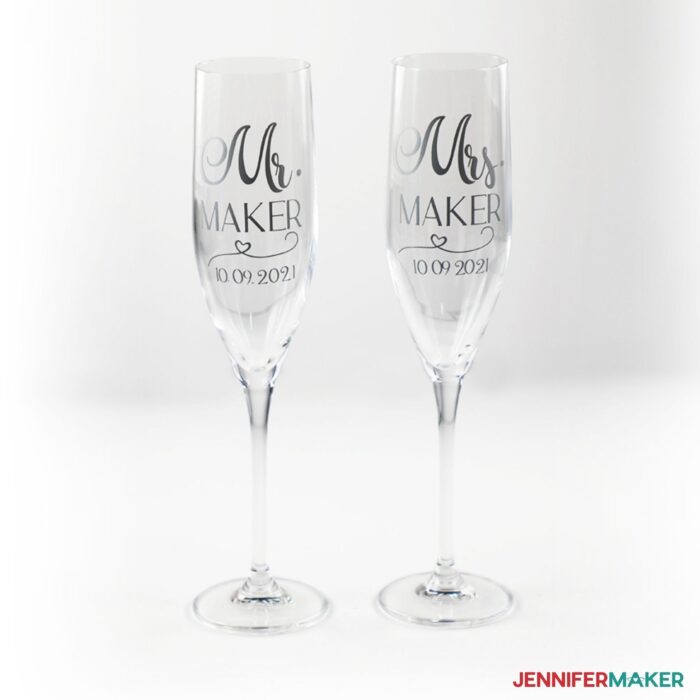 For weddings, I've included designs for adding a temporary Just Married decal to the back window of a vehicle. I also included Mr. & Mrs. decals for personalizing champagne flutes or other wedding reception items. I suggest adding a last name and wedding date to either decal for a personal touch.
For dinner parties or gatherings, I included labels for beer pints and wine glasses. Add your guests' names and they have a personal glass to use all evening. The removable vinyl comes off easily at the end of the night! These personalized glasses will be a great touch to add to any event!
Here's a fun way to make a big splash at a wedding! Just Married car window decals! One of the great things about using removable vinyl is that it's so easy to remove after the honeymoon, but it holds up nicely for several days in rain, snow or sunshine! This is what my Just Married decals look like when they are customized and applied to a car window.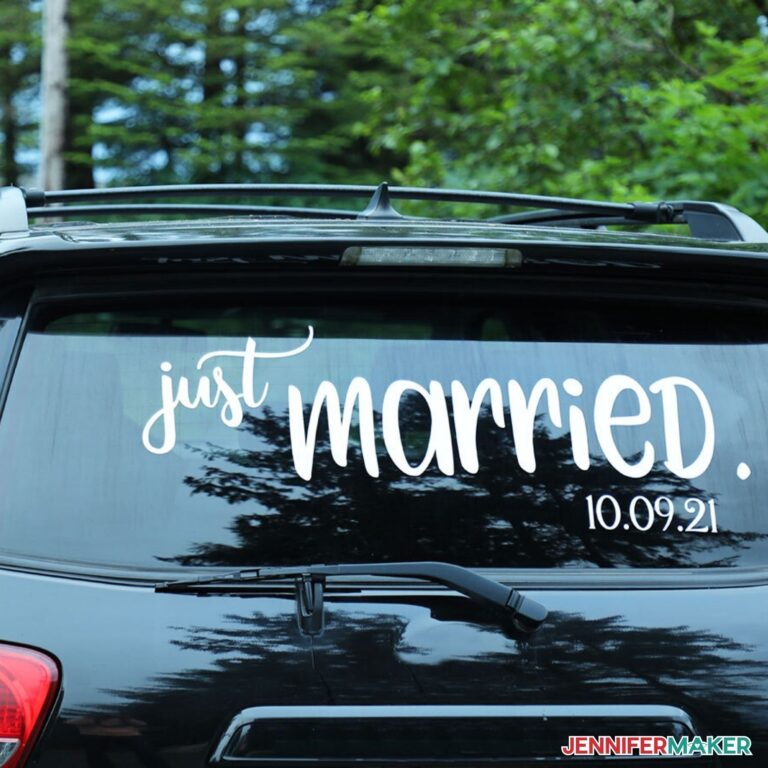 Here's a supply list of what you need to make vinyl letter decals! This post contains some affiliate links for your convenience (which means if you make a purchase after clicking a link I will earn a small commission but it won't cost you a penny more)! Read my full disclosure policy.
Materials to Make Vinyl Letter Decals
View my Amazon shopping list with the exact items we used to make this project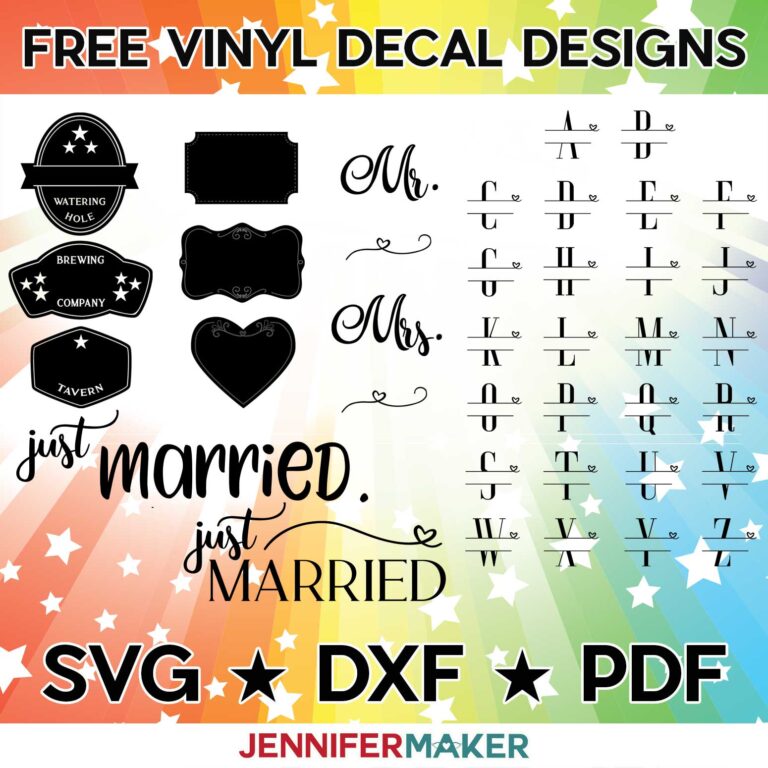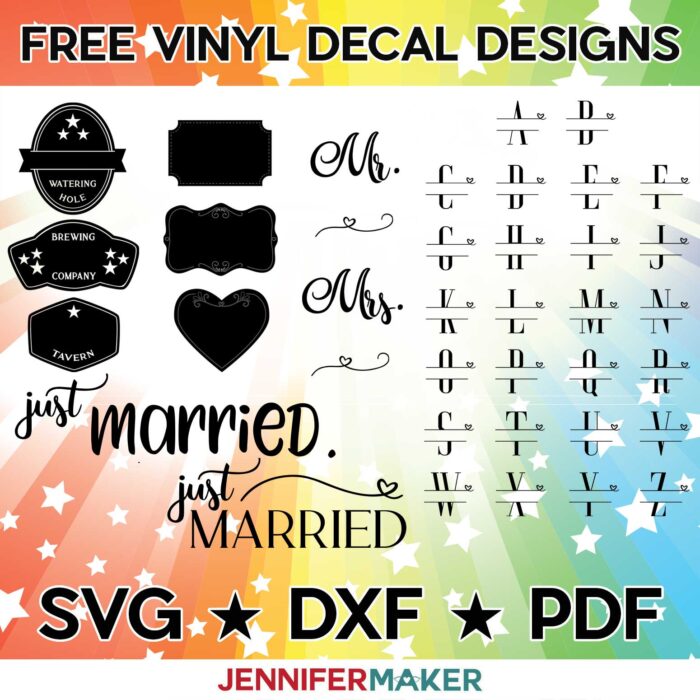 How to Make Your Own DIY Vinyl Letter Decals
The detailed step-by-step assembly video on how to create these personalized vinyl letter decals will be available to watch for free for 24 hours during Maker Academy Weekend, held online November 4-7, 2021. Get your free ticket to this fun maker event here! If you can't wait until then, learn how to get early access to the Maker Academy Weekend videos, printable handbooks, and design files with a VIP pass below: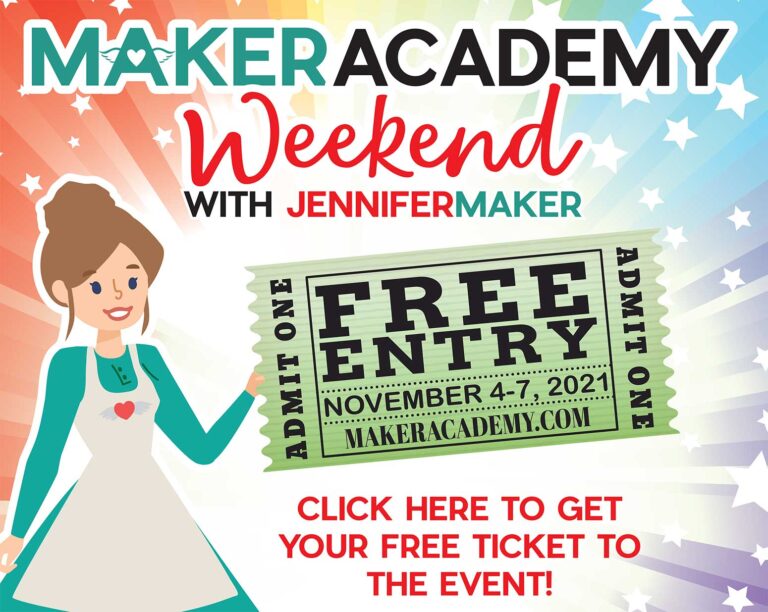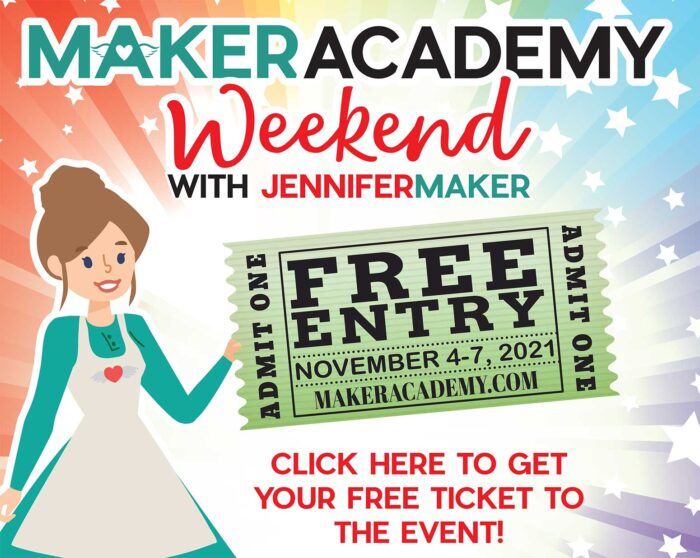 For BBQs and potlucks, label food and drink items using chalkboard custom decals! Just provide chalk or chalk pens and have your guests write a description of their dish. Then attach the decals using the clothespins and now your guests can peruse the buffet line with confidence!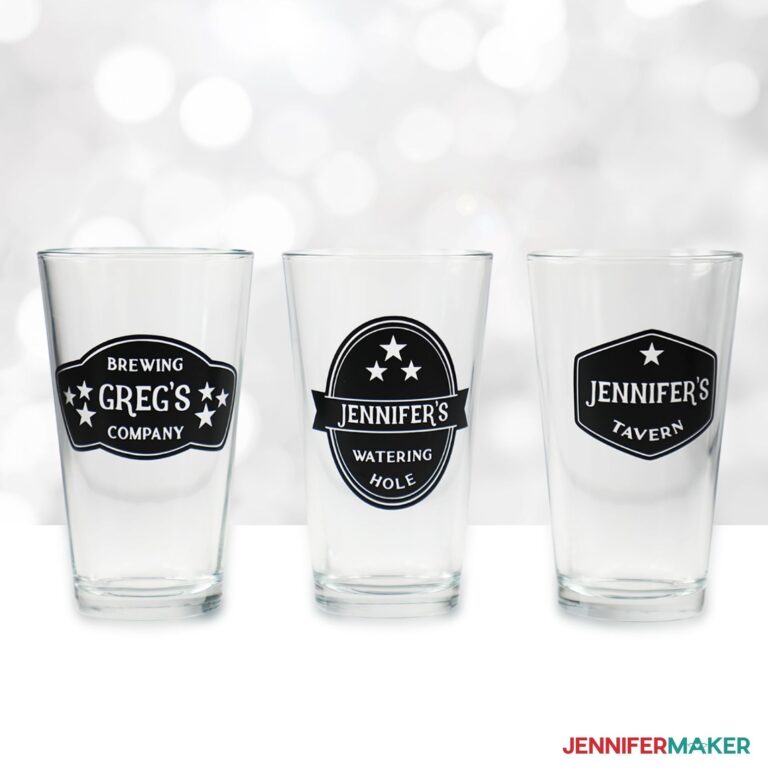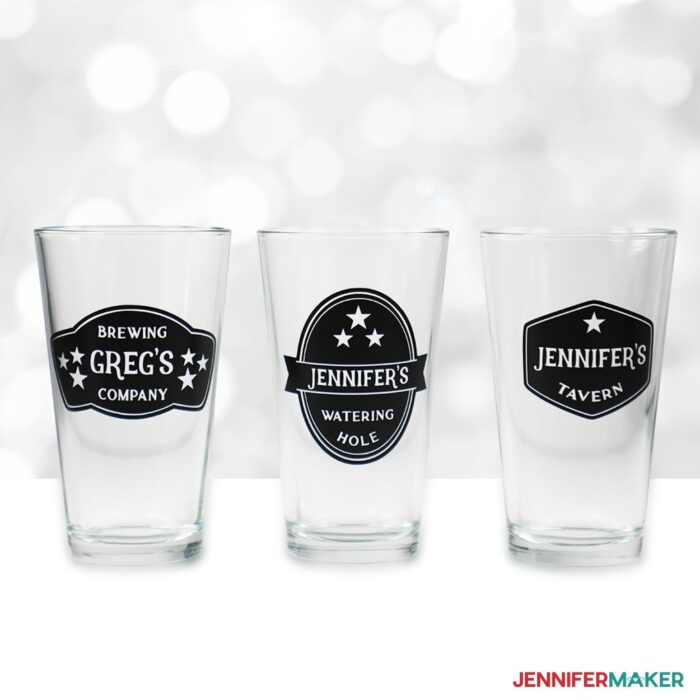 These wine glasses turned out beautiful. This is a great and easy way to add personalization to an intimate dinner party!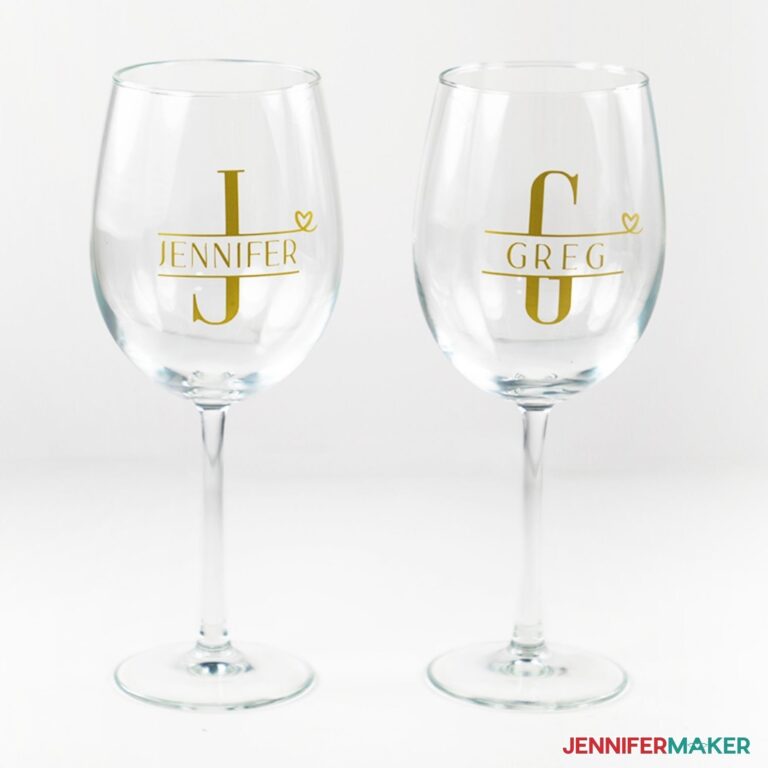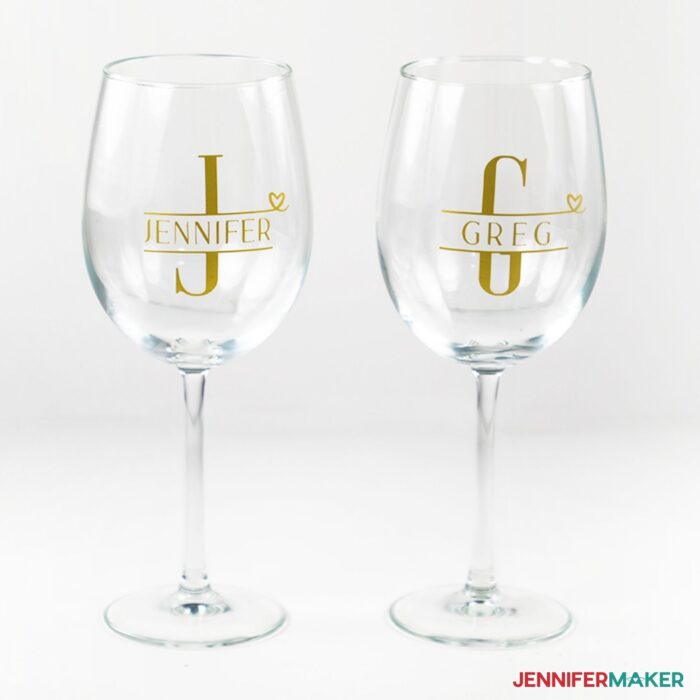 Answers to Your Questions About How to Make DIY Vinyl Letter Decals
Q: Where is your tutorial for this project?
This is a special project we made for our free Maker Academy Weekend event! A complete and detailed step-by-step video will premiere during the event November 4-7, 2021 — specifically, this tutorial video will be available to watch for free for 24 hours beginning November 7 at 4:00 pm ET! If you can't make that time, there will be a replay available for 24 hours from that time so you can watch it later. You can get early access to this workshop's files and a 15-page printable handbook that details how to make this beautiful project if you get a VIP Pass to Maker Academy Weekend, which comes with other perks and bonuses, too!
Q: Will these really come off glass easily?
Yes! We put the "Just Married" vinyl on Greg's back window to test it out, but since we're NOT married yet (just engaged), we removed it so as not to confuse anyone and it came off easily!
Get a free ticket to Maker Academy Weekend to see how to make vinyl letter decals!
I love seeing what you make with my designs and how you use them! Please share a photo of your vinyl letter decals in our Facebook group or tag me on social media with #jennifermaker.
Love,