Learn to engrave leather with Cricut machines and make adorable bookmarks!
I really love experimenting with different Cricut tools and materials. But I love sharing the results with you even more! This time, I'm excited to share how to engrave leather with Cricut machines to make custom bookmarks. I already cut genuine leather with a Cricut cutting machine already, but I wondered if we could do some sort of leather tooling or engraving with it, too. After some experimenting and help from the talented Kay Hall at cleversomeday.com, I've found ways to engrave leather with both the Cricut Maker and Cricut Explore machines. And, my favorite method involves the foil transfer kit! I love finding new uses for tools we already have!
Watch my full video on How to Engrave Leather on my YouTube channel: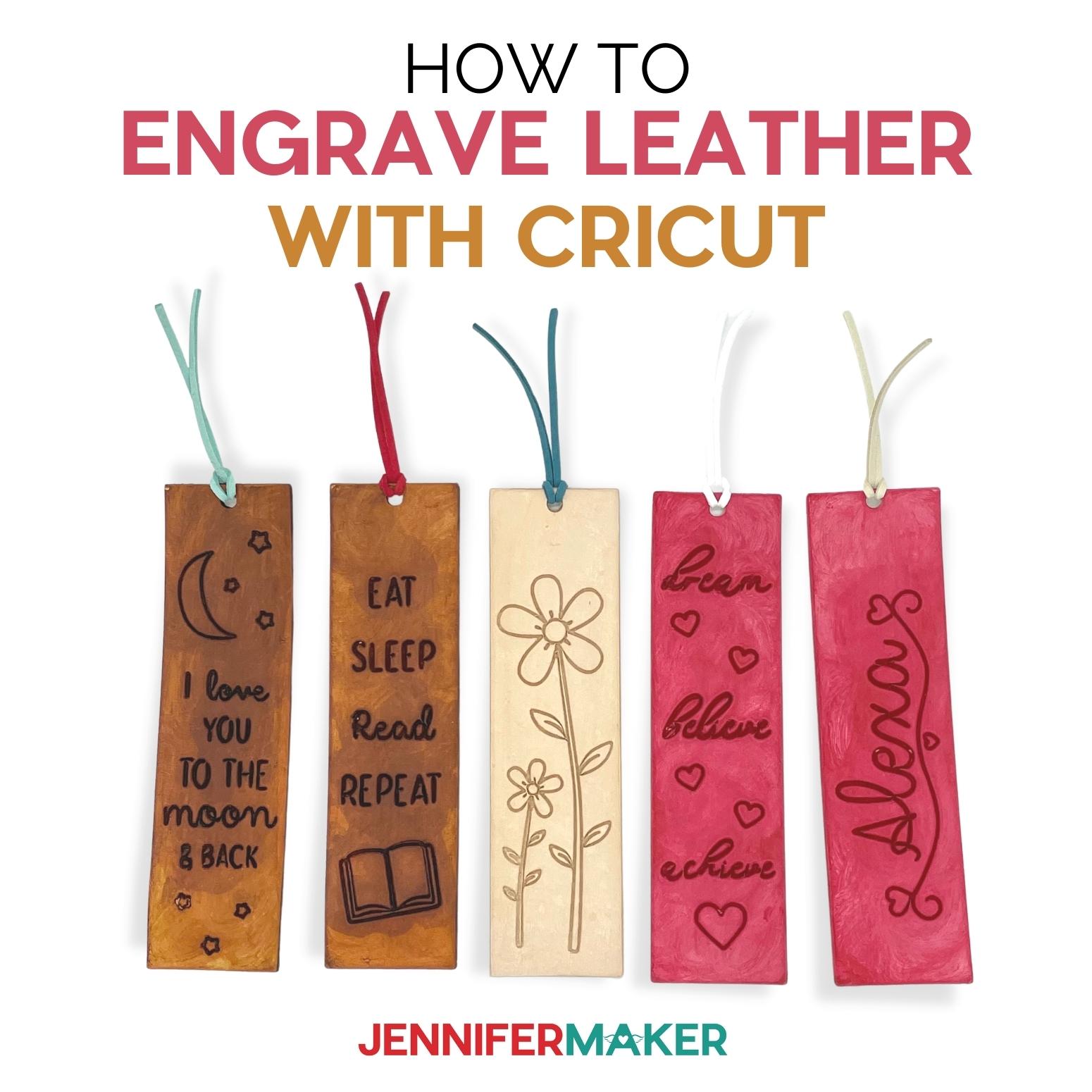 A big shoutout to designer and educator Kay Hall, who pioneered this technique on her YouTube channel — check out her "Tooling Leather with Your Cricut" video to learn more!
To teach you this cool technique, I made some engraved leather bookmarks that are both fun and functional – my favorite kind of gift! The bookmark collection is free for you to download and learn with, and it includes several designs for you to pick from:
"I love you to the moon and back" with the moon and stars,
"Eat sleep read repeat" with an open book,
a simple floral design with daisies,
and "dream believe achieve" surrounded by hearts.
I'll also show you how to make a custom bookmark for your favorite book lover using the blank template in the set and a writing font.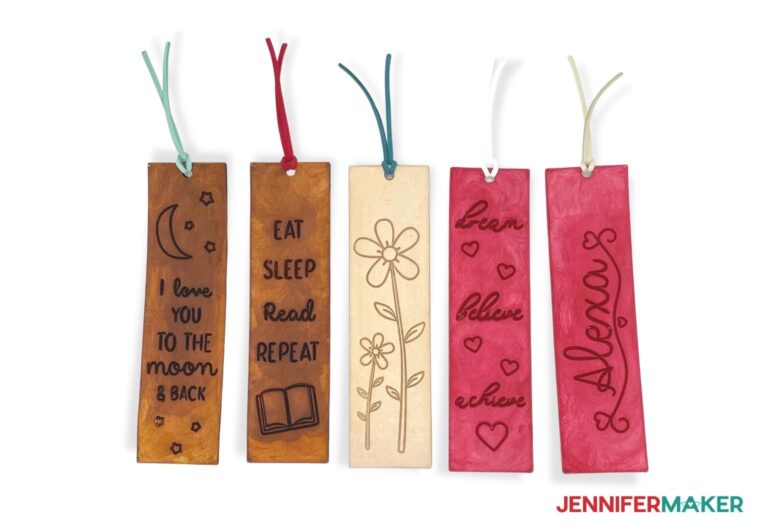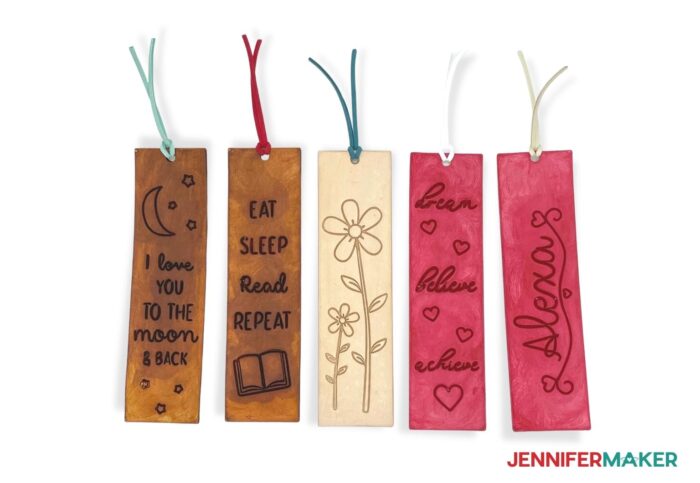 I used vegetable tanned leather and faux suede cord for my bookmarks. The type of leather I purchased is sold by weight, but it's really important to check the material's thickness. Since leather is a natural material, it's not always consistent. Most Explores can handle materials up to 2 mm thick while Makers can work with thicker materials up to 2.4 mm. You can measure the thickness by holding the edge next to a ruler, but just make sure it will go under the Cricut's roller bar once it's on the machine mat.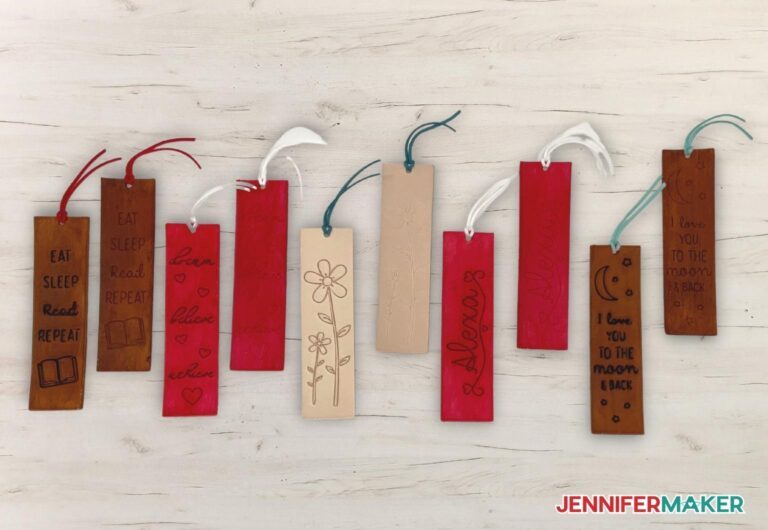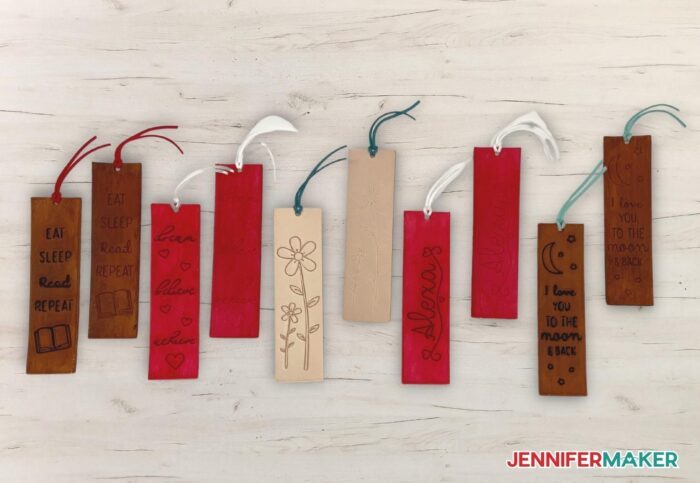 You'll need different tools depending on which machine you have. The Foil Transfer Tool does a good job at making light engraved lines in the leather and works with both Maker and Explore cutting machines. The benefit of the Maker machines is the ability to use the Cricut Engraving tip with the QuickSwap Housing. When added to the foil layers, the Engraving tool adds a deeper engraved design, which allows more room to soak up the leather stain. The stain in those engraved lines really helps the design pop! I'll show you comparisons in the video on how to engrave leather with Cricut machines.
We'll use the Deep Cut Housing and Blade to cut all the way through the leather with either kind of machine. A damp sponge will also come in handy, I'll show you how!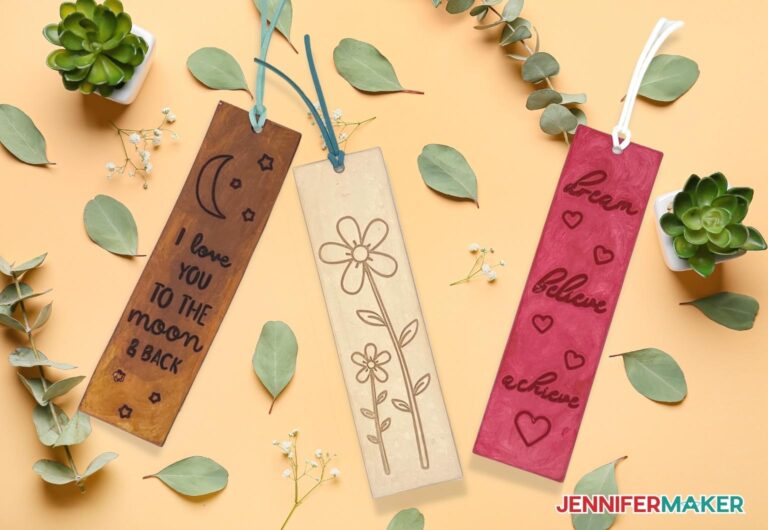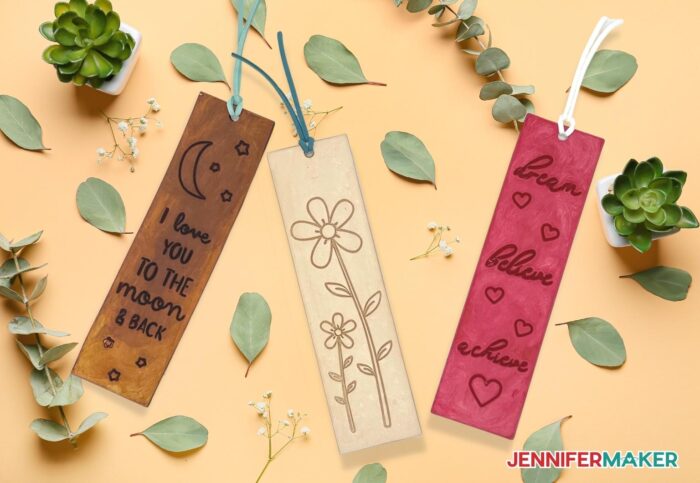 I'll also show you how to add color to your engraved leather with stain. Make sure to have disposable gloves and eye protection available to stay safe. Wool daubers, cotton swabs, butcher paper, and paper towels will also help with the stain.
And since we're staining, you'll also need time. You'll get the best results by letting the leather dry completely between steps, so plan to work on your bookmarks over two or three days, especially if you use the optional leather finish.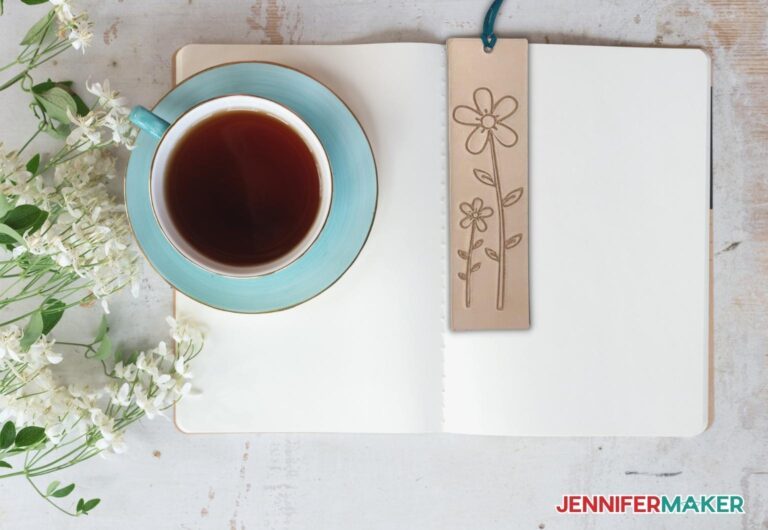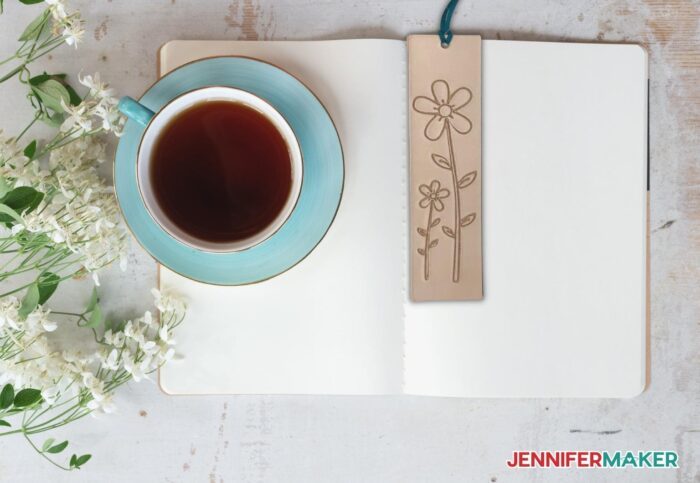 Along with your Cricut machine, you'll also need a StandardGrip Machine Mat and transfer tape. Several tools will also be helpful, including painter's tape or masking tape, scissors, a TrueControl Knife, a self-healing mat, a ruler, and a scraper.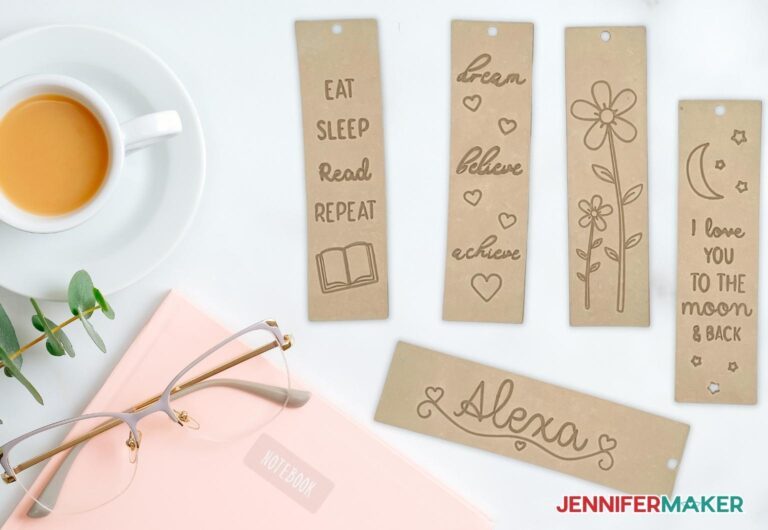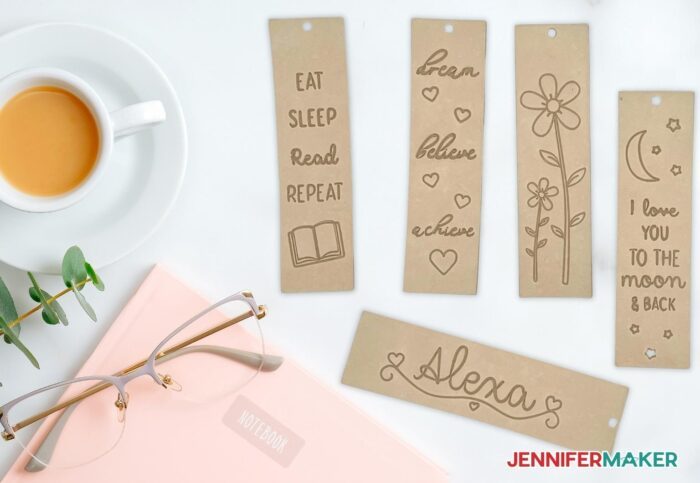 Here's a supply list of what you need to engrave leather with Cricut machines and make your own bookmarks! This post contains some affiliate links for your convenience (which means if you make a purchase after clicking a link I will earn a small commission but it won't cost you a penny more)! Read my full disclosure policy.
How to Engrave Leather with Cricut to Make Bookmarks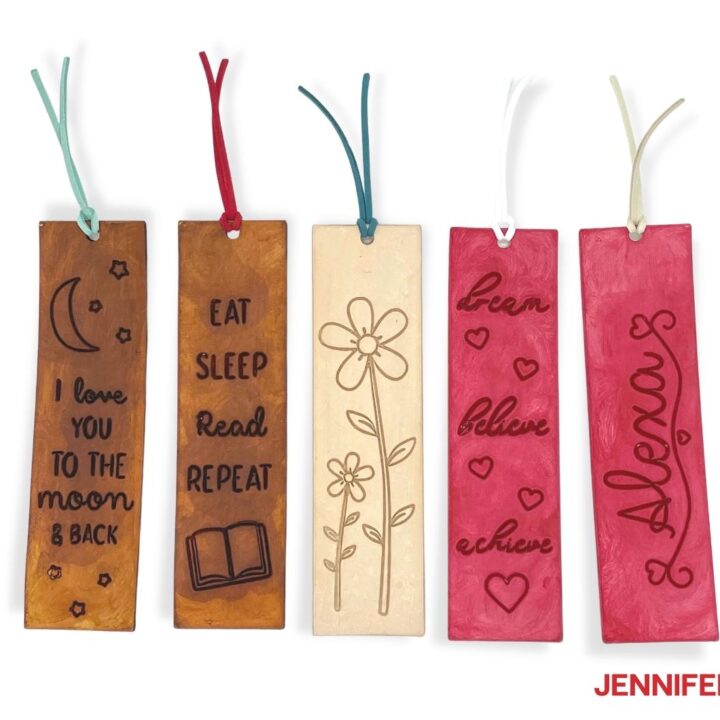 How to Engrave Leather With Cricut
Total Time:
3 days
15 minutes
Learn how to engrave leather with Cricut to make a beautiful bookmark.
Answers to Your Questions About How to Engrave Leather with Cricut
Q: Can you engrave on leather?
You can get an engraved look with every machine using different tools and different materials, including the Cricut Explore Air. The Cricut Maker Machines are a bit easier due to the variety of QuickSwap tips and the wide variety of materials they can use.
Q: What blade cuts leather on Cricut?
Depending on the types of leather, the knife blade, perforation blade, wavy blade, Cricut Maker engraving tool, rotary blade, deep point blade, and fine point blade can cut leather. The debossing tool, scoring wheels and stylus, and Cricut pens can also be used on leather. Some tools will require the Strong Grip mat. Always do a test run when using new tools! You may have to experiment with the material settings to get the result you want.
Q: What kinds of leather can Cricut engrave or cut?
Depending on the machine and tools available, Cricuts can use real leather, Cricut faux leather, unfinished leather, metallic leather, Cricut leather, tooling leather, and many other leather products. I only tried engraving on the leather I linked in this tutorial however, and I don't feel you could engrave faux leather.
I love seeing what you make with my designs and how you use them! Please share a photo of your engraved leather bookmarks in our Facebook group or tag me on social media with #jennifermaker.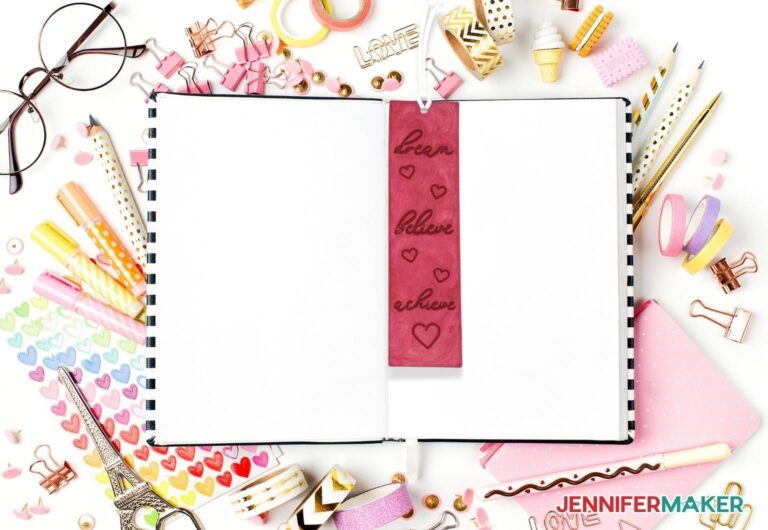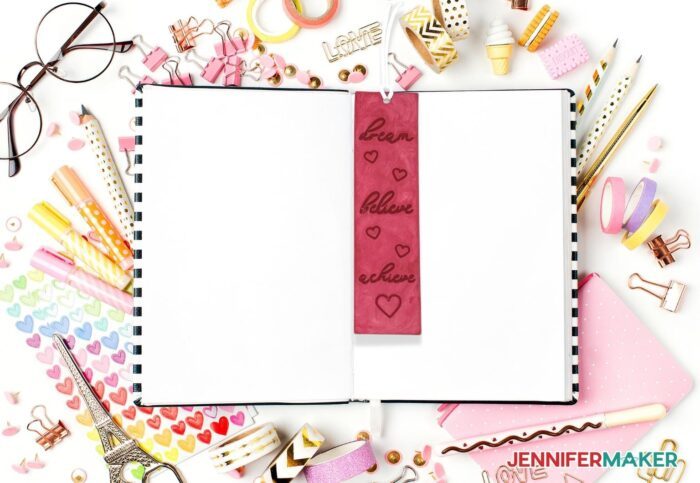 Love,