Learn how to make fun, colorful Infusible Ink Pen Projects!
Infusible Ink pen projects are so much fun and not to mention, so versatile! If you're not familiar with Infusible Ink pens and markers, they contain special ink that you can draw with and then permanently transfer to surfaces with a sublimation-friendly coating! And you can make so many things with Infusible Ink pens — I'll show you how to decorate a mug, a tote, and a cute cosmetic bag. In this project, we'll learn how to use design drawn by the Cricut and how to freehand a one of a kind project! There are lots of fun markers we can use to create the design you have in mind!
Watch the full step-by-step video showing you exactly how to create your own Infusible Ink pen projects with a VIP pass to Maker Academy Weekend 2022!
For these projects, I used a mix of markers from different sets. I've linked them in the materials list, but feel free to experiment with whatever colors you like! For our mug, you'll need a twelve or fifteen ounce mug that works with the Cricut mug press. You'll also need that press, heat resistant tape, a pressing mat, plain printer paper, a LightGrip mat, and butcher paper.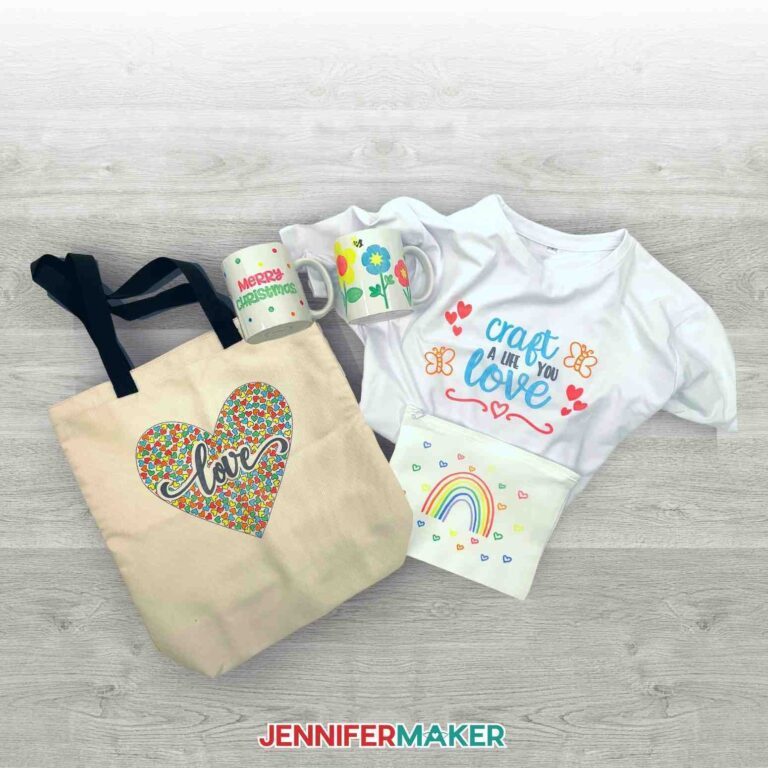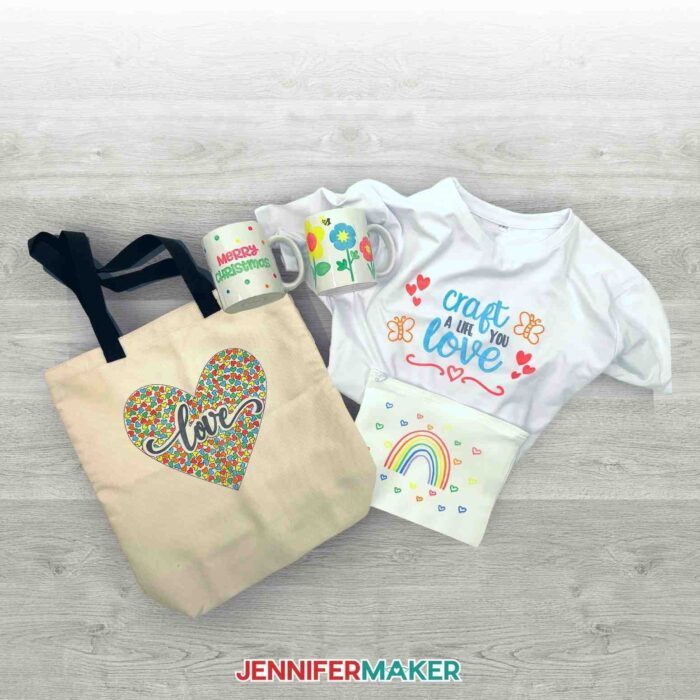 The tote and cosmetic bag use similar tools other than the markers. For the tote, I want the Cricut to draw the design, so remember to use machine-compatible markers on a blue lightgrip mat with printer paper. The cosmetic bag will use freehand Infusible Ink markers and a design of your choice drawn by you on printer paper! You'll also need a heat press, pressing mat, white cardstock, and a measuring tape in addition to the other tools. I'm going to use my Autopress for the tote and my EasyPress 2 for the small bag!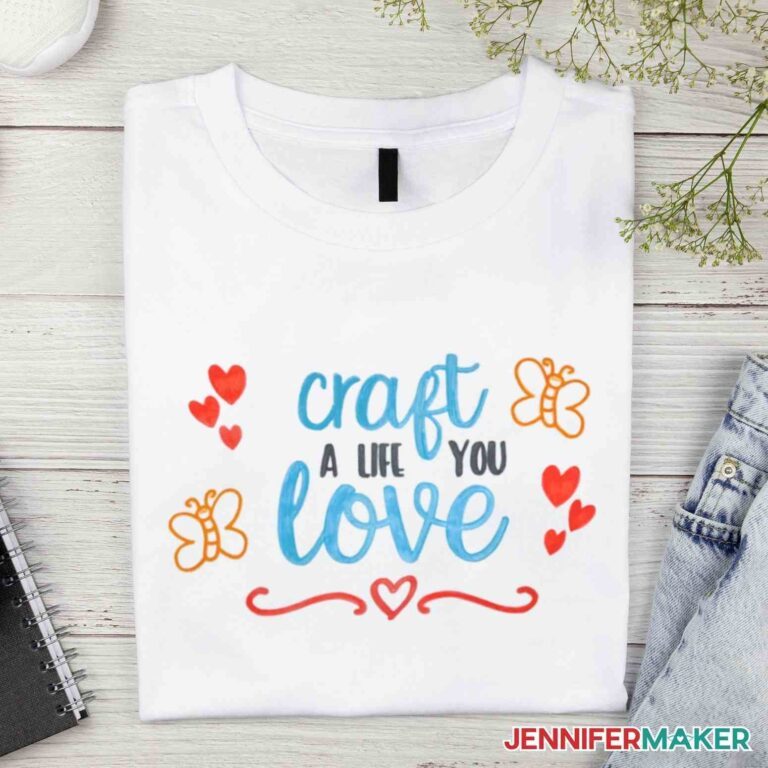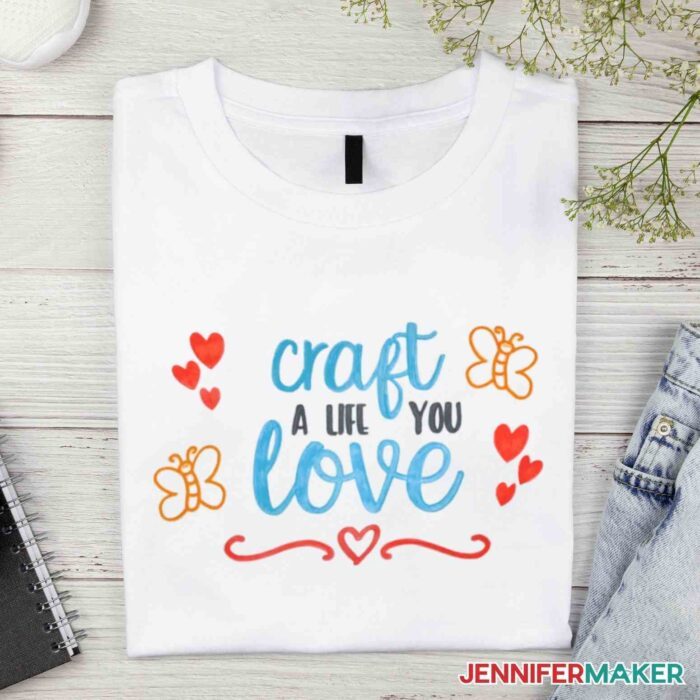 Look how cute this design came out on a t-shirt! Customize the colors to your preference to add some color and pop to your wardrobe!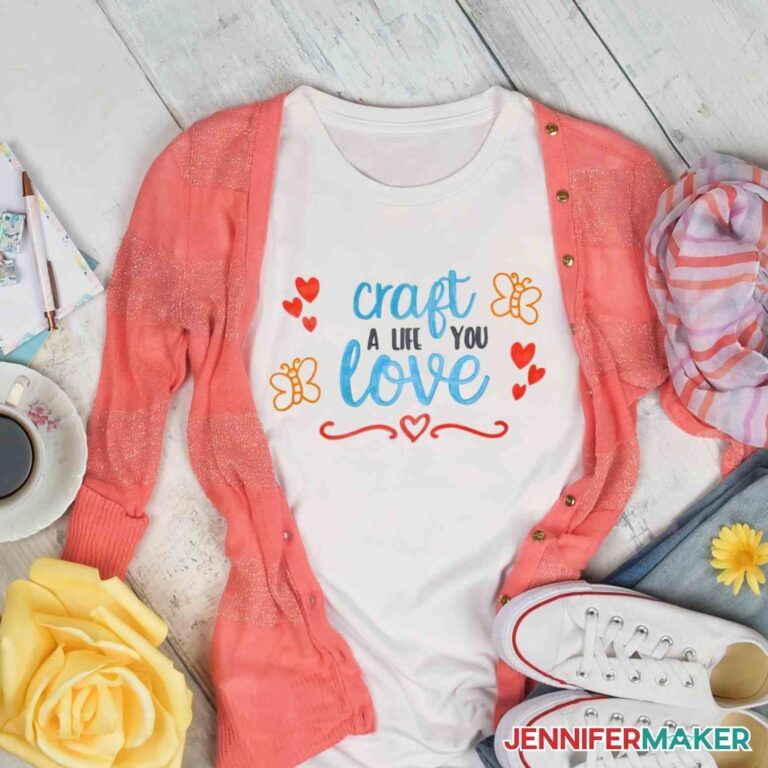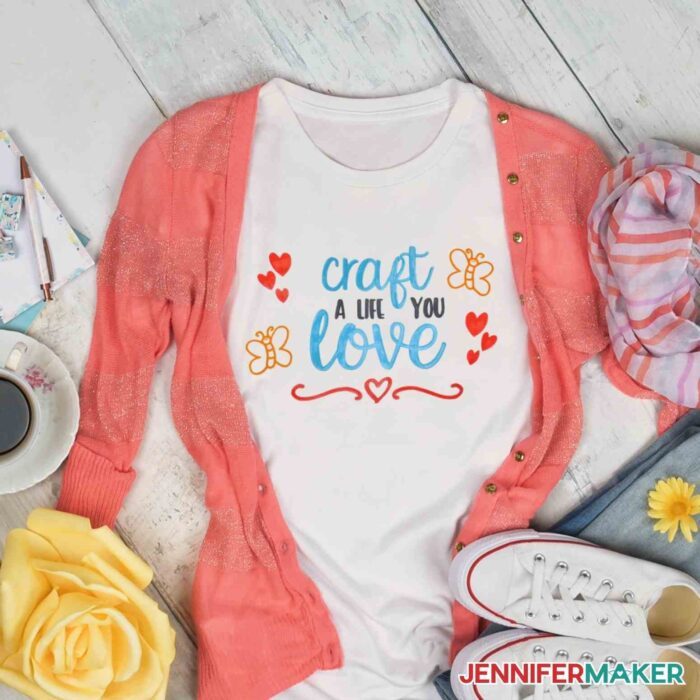 Aren't the results beautiful? And since Infusible Ink is a dye process, these projects will hold up well as long as you care for them correctly. For fabric items, machine wash them inside out with mild detergent and cold water. You can air or tumble dry them, but don't use dryer sheets, fabric softener, or bleach.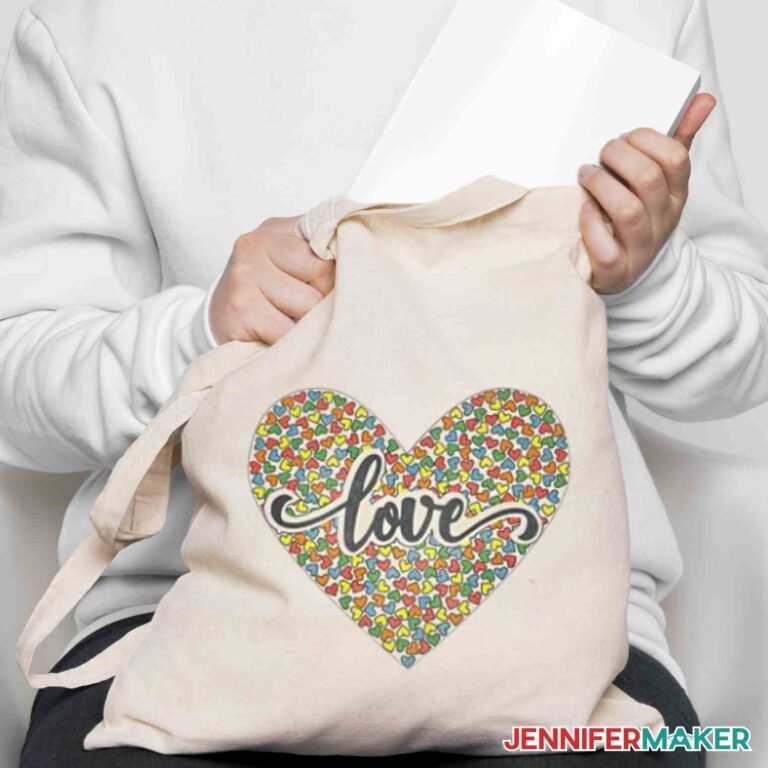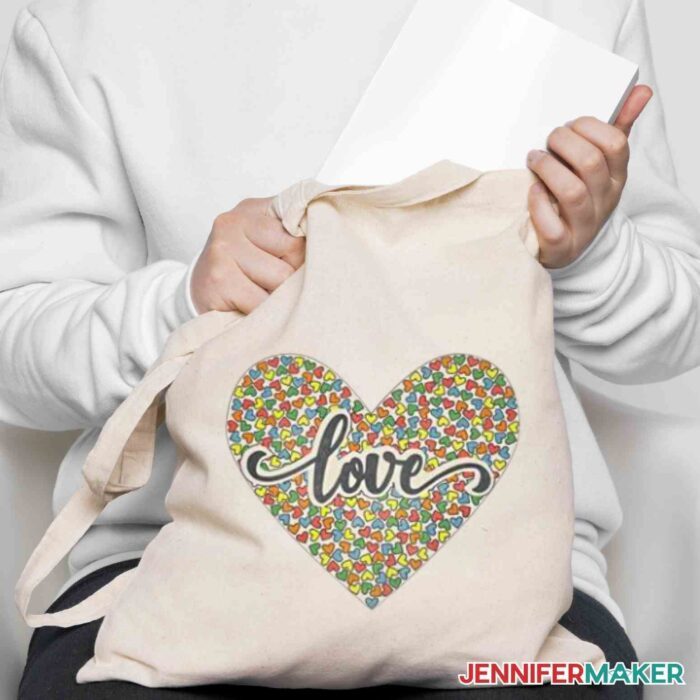 Here's a supply list of what you need to make Infusible Ink pen projects! This post contains some affiliate links for your convenience (which means if you make a purchase after clicking a link I will earn a small commission but it won't cost you a penny more)! Read my full disclosure policy.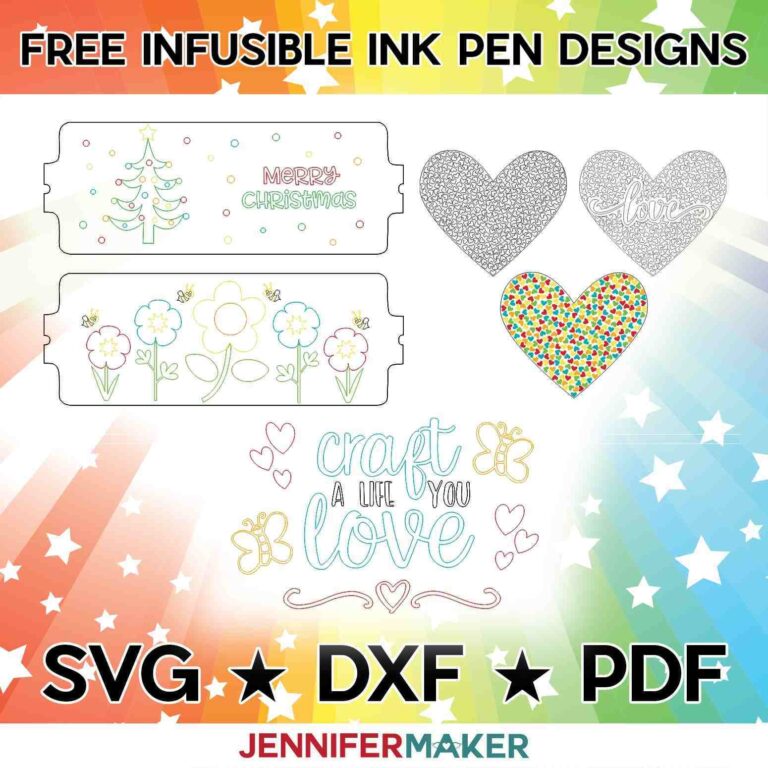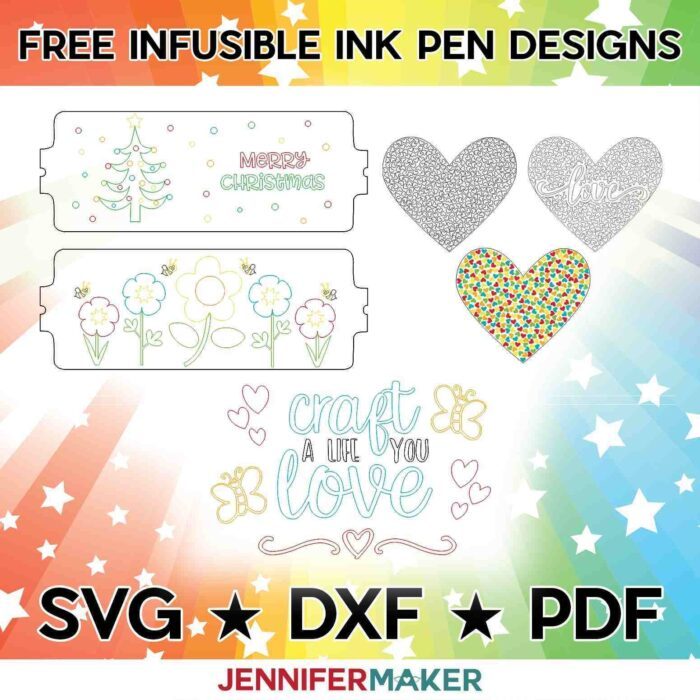 How to Make Your Own Infusible Ink Pen Projects
The detailed step-by-step assembly video on how to create Infusible Ink pen projects debuted during Maker Academy Weekend 2022, held online November 3-6, 2022. Get an on-demand pass to watch all 20+ workshops, each with a printable handbook, transcript, audio files, design files, and support with a VIP pass below:


The tote bag is absolutely adorable with a design on it, don't you think?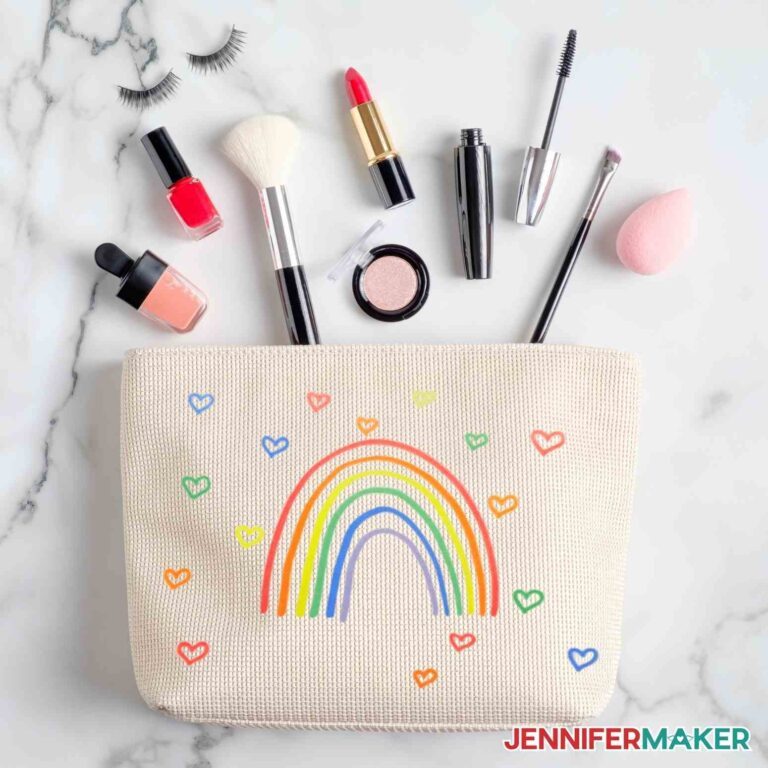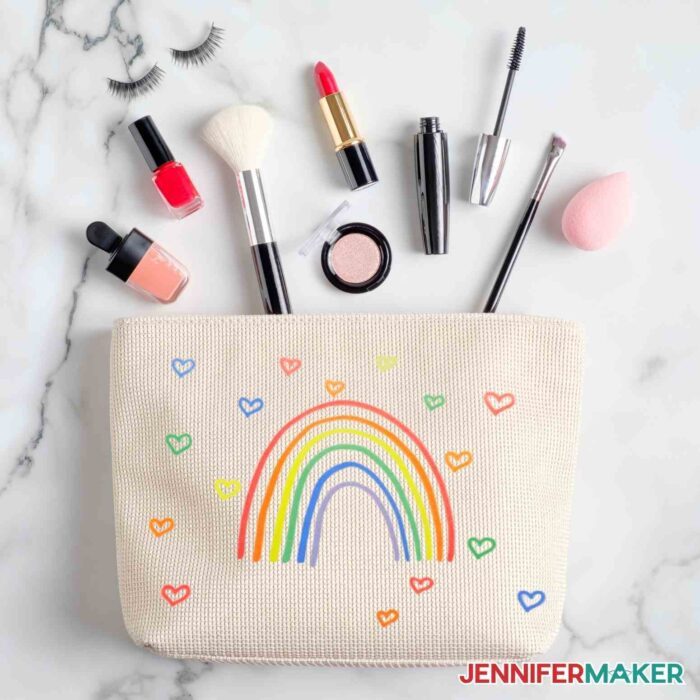 The mugs are pretty easy to take care of as well. You can take gentle runs in the dishwasher, but don't scrub them if you hand wash the exterior. Look just how beautiful they look! They make for perfect gifts to give someone special.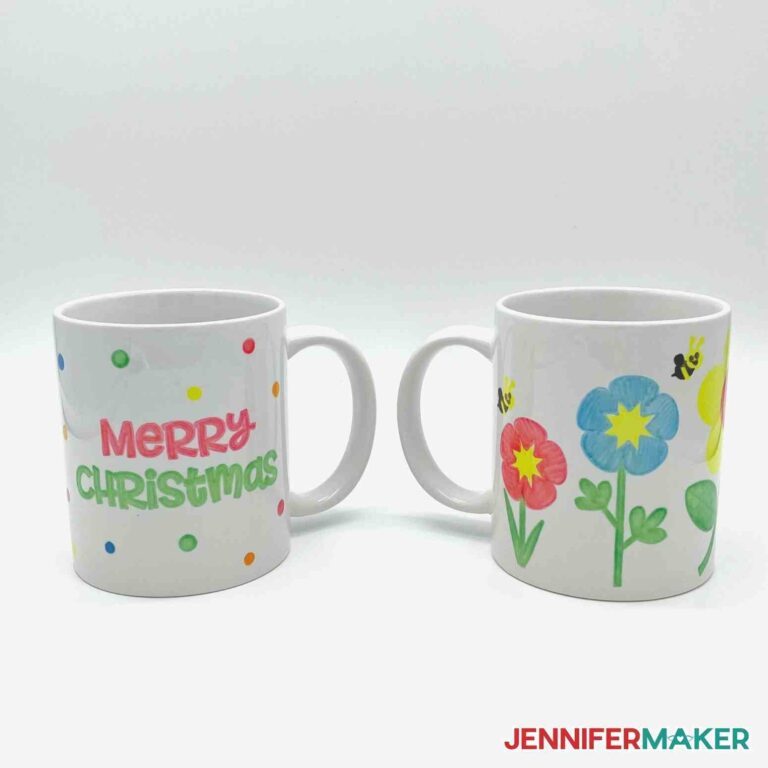 Answers to Your Questions About How to Make Infusible Ink Pen Projects
Q: Where is your tutorial for this project?
This is a special project we made for our free Maker Academy Weekend 2022 event! A complete and detailed step-by-step video premiered during the event November 3-6, 2022 — specifically, this tutorial video was available to watch for free for 24 hours beginning November 6 at 2:00 pm ET! You can get access to the full video, the printable handbook that details how to make this beautiful project if you get a VIP Pass to Maker Academy Weekend 2022, which comes with other perks and bonuses, too!
What can you do with Infusible Ink pens and markers?
You can draw your own designs — either by hand or with your Cricut — and transfer them permanently to things like mugs, totes, shirts, and bags!
What kind of paper do you use with Cricut Infusible Ink pens?
We recommend you use laser paper when working with Infusible Ink pens and markers, which can withstand the high heat of the EasyPress or AutoPress without scorching the paper as much. (A little scorching is okay and nothing to worry about.)
Can you use Infusible Ink pens directly on fabric?
You could, but the results won't be great as the Infusible ink will bleed and blur. It's much better to just draw on laser copy paper, then flip it over onto your fabric to press it on.
Can you use Infusible Ink pens freehand?
Totally! It's fun and easy! The biggest trick is that your project will appear as a mirror image after you press it, so doing words and letters can be challenging. My tutorial shows you how my solution for how to get words and letters to appear properly!
What's the difference between sublimation and Infusible Ink?
Infusible Ink is a type of sublimation product, but it is pre-printed and on a liner so you can cut and apply it. A sublimation print, on the other hand, is printed right onto a piece of paper and does not need a liner — it's also self weeding. Learn more about sublimation prints in my Sublimation for Beginners guide.
How long do Infusible Ink pens last?
Infusible Ink pens and markers will last a minimum of four full 8.5" x 11" pages of writing or drawing. If you store your pens on their side or tip down, they will be ready to draw. And, like any other pen or marker, over time, the pigment can start to break down. I have not had any Infusible Ink pens or markers dry up yet, so I am not sure how long it might take.
What fonts did you use in your projects?
Free alternatives are for personal use. A commercial license is required if you are selling your projects.
Get my free SVG files to create these adorable candy holders that open and close!
I love seeing what you make with my designs and how you use them! Please share a photo of your infusible ink pen projects in our Facebook group or tag me on social media with #jennifermaker.
Love,