Learn how to make these adorable DIY personalized pet bandanas for your dogs and your cats. These are such a cute and easy accessory to make, and in this tutorial I show you exactly how to sew and personalize them with iron-on vinyl!
Have you seen anything cuter than these DIY Personalized Pet Bandanas? I am a dog lover and have such a soft spot for dogs! Some of my past dog-related projects are things like these paper dog and puppy boxes and engraved dog tags. So these bandanas are the perfect accessory to bring out your dogs personality! Of course I don't want to leave out any other pets that might be able to sport these adorable bandanas, so I have created multiple sizes for cats and other pets out there, too!
Watch the personalized pet bandanas assembly video here:
I have received so many requests for simple sewing projects, projects perfect for a beginner. These personalized pet bandanas are one of those projects. They are easy and don't require a lot of supplies! You can just use fabric scraps that you have laying around to make these super cute bandanas.
To sew the Personalized Pet Bandanas, you will first need to determine what size bandana you are going to make. If you aren't sure, the easiest way to determine what size you need is to measure your pet's collar.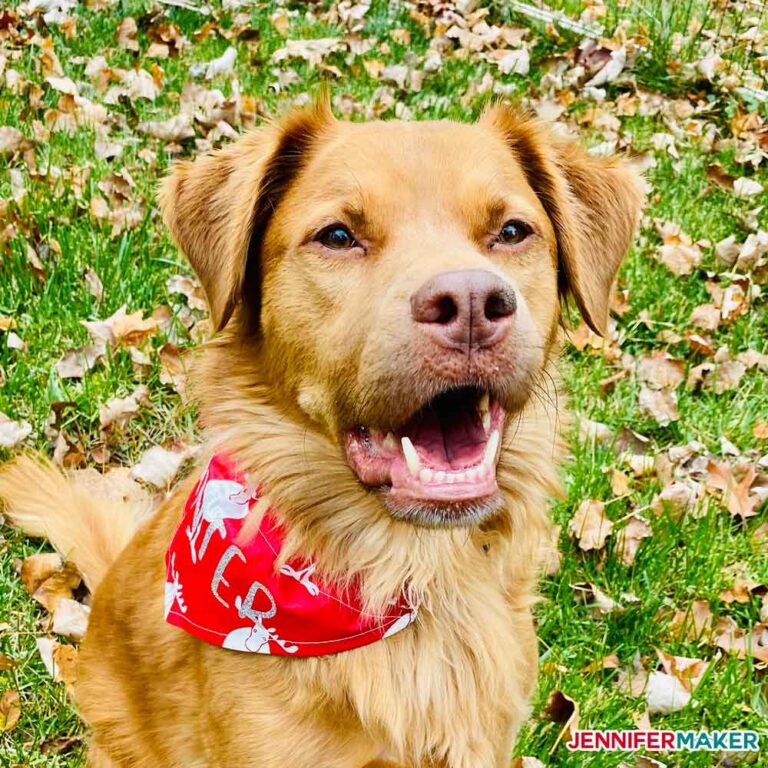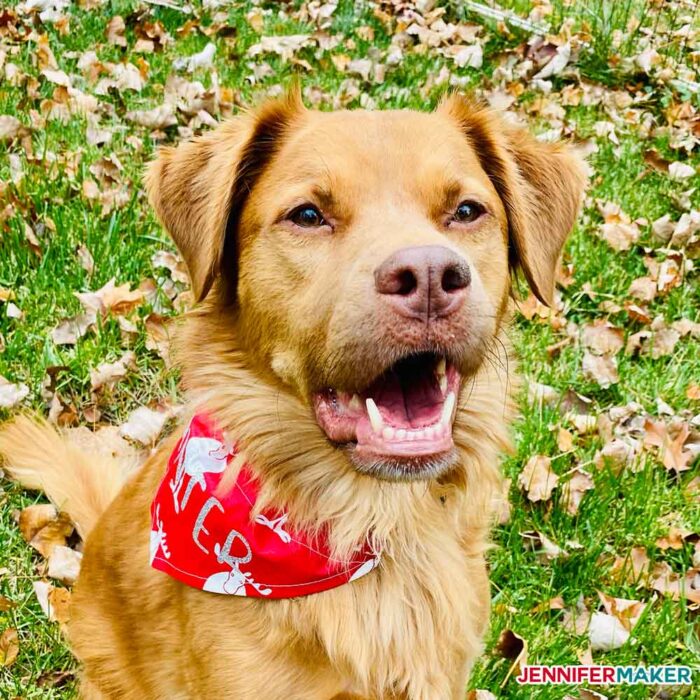 You will need a way to sew your bandana. You can, of course, sew the Personalized Pet Bandana by hand with needle and thread. Or you can use a sewing machine. I will show you how to sew it with this beginner sewing machine I love.
Other useful tools for sewing the bandanas include a washable fabric pen, thread snips, and an iron if you don't have a heat press.
Last but not least, you need the sewing pattern in the correct size — I've prepared three sizes (small, medium, and large) for you to choose from.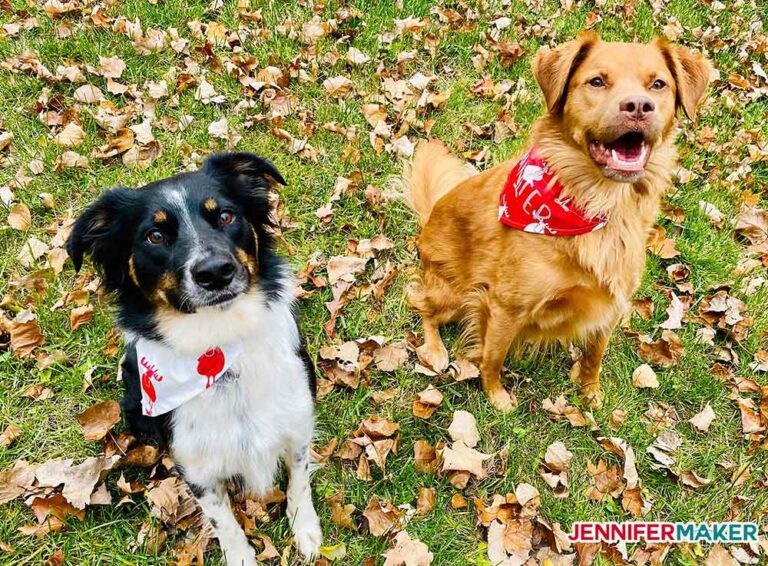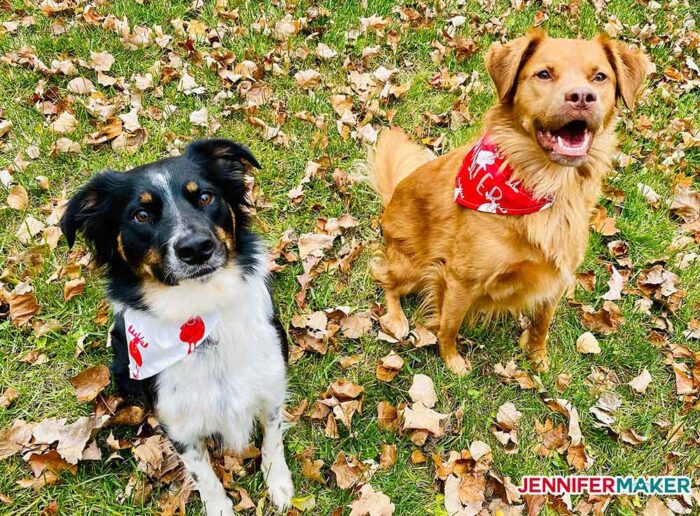 Let me show you how easy it is to make these DIY Personalized Pet Bandanas! This post contains some affiliate links for your convenience (which means if you make a purchase after clicking a link I will earn a small commission but it won't cost you a penny more)! Read my full disclosure policy.
Materials to Make Personalized Pet Bandanas

See my Amazon shopping list for this project here!
How to Make a Personalized Pet Bandana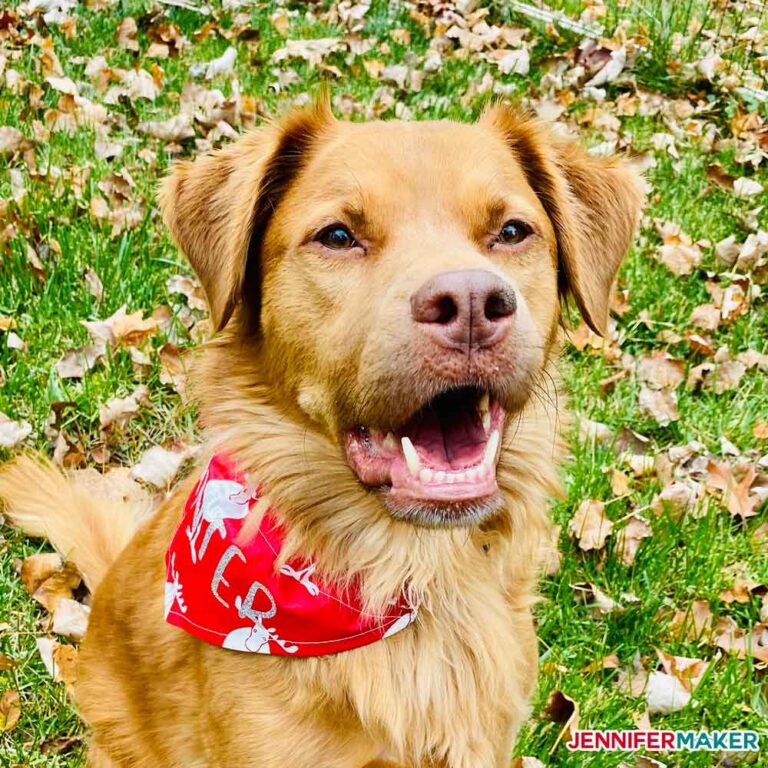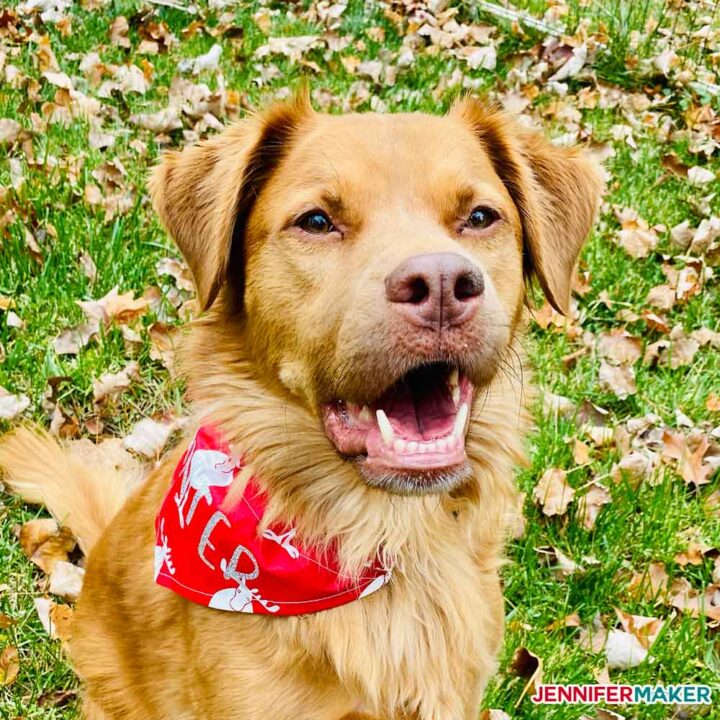 Personalized Pet Bandanas
Difficulty:
Easy to Medium
How much do you love your pet or should I say your FUR BABY? Pets are THE BEST and they deserve to be pampered! So I've come up with the perfect accessory for your pet. These DIY Personalized Pet Bandanas! This pattern is perfect to customize for pets of any size and you can cut it by hand or on your Cricut cutting machine.
Answers to Your Questions About The Personalized Pet Bandanas
Q: I don't have a washable pen. Do I have to use this?
No, you do not have to mark your sew lines so long as you have a ruler you can use instead to measure in for the 3/8″ seam allowance on all sides.
Q: Can you use fabric glue instead?
Yes, fabric glue can be used to secure the edges of these pet bandanas!
Q: Are these pet bandanas washable after you make them?
Yes! Just allow at least 24 hours after you apply the iron-on vinyl before you wash them, and do not use harsh detergents or bleach. If you need to iron them after you wash them, be sure to iron them from the back side to avoid burning the vinyl.
Get my free SVG files to make your Personalized Pet Bandanas
I'd love to see your personalized pet bandanas and ESPECIALLY your photos of your pets wearing them!! Please share a photo in our Facebook group or tag me on social media with #jennifermaker.
Love,