Learn how to safely and quickly cut foods like tortillas for quesadillas and fondant for cake using your Cricut cutting machine! Let's make a Cricut Tortilla!

We've been inundated with posts and letters about cutting tortillas with a Cricut, thanks to the dino quesadilla viral video on TikTok showing it. You all want to know how to cut your tortilla safely, because most of you assume correctly that a Cricut cutting machine is not food safe. But the good news is that you can cut a tortilla safely — and faster — using a stencil! So let me show you how to make a food stencil with a Cricut and create your own Cricut Tortilla!
First, this is how you DO NOT make a Cricut Tortilla: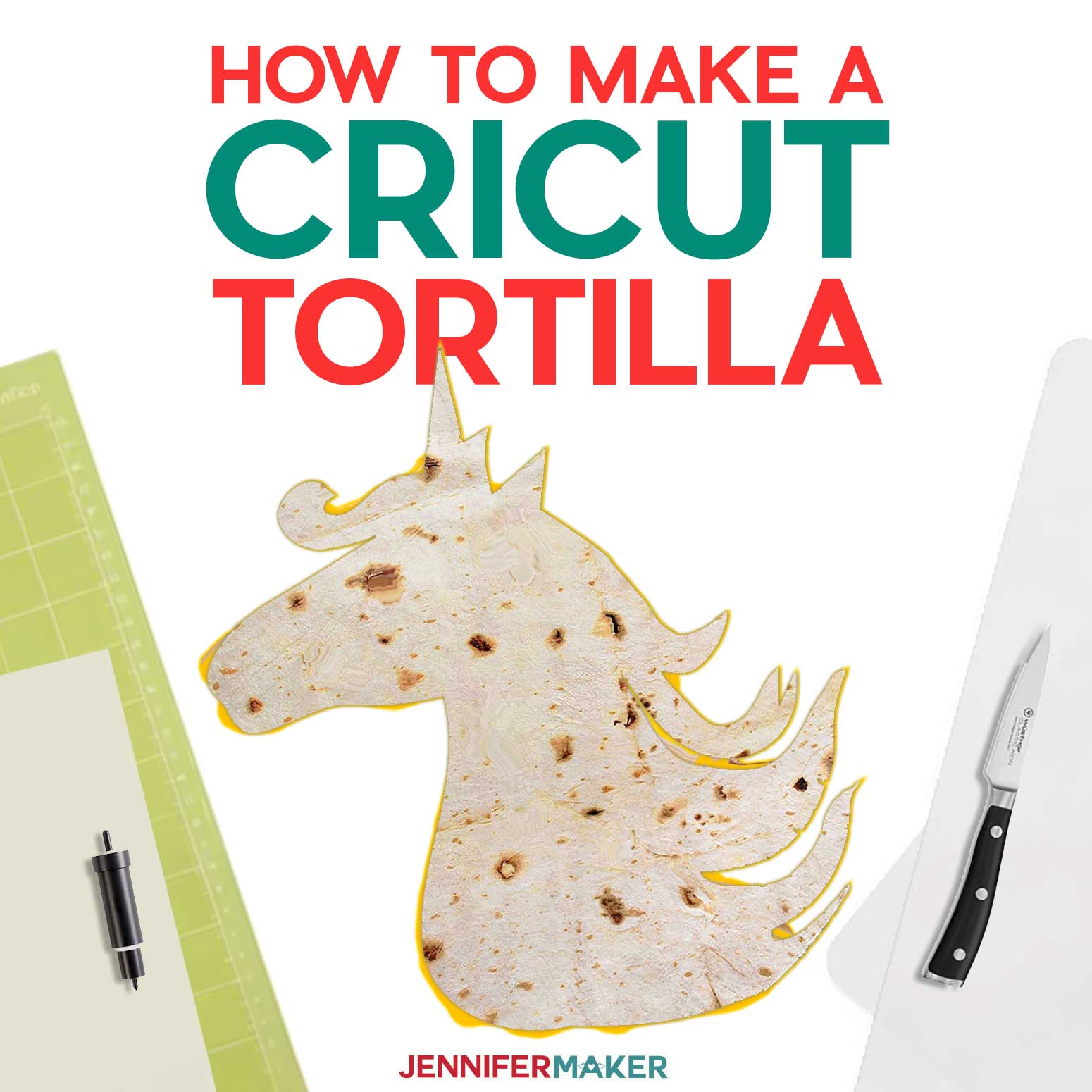 So let's first address the dinosaur in the room … are we cutting this tortilla on a Cricut? No, no, we are not. What we're doing is cutting a food-safe stencil on a Cricut, and then using the stencil to cut our tortilla or whatever we want. The Cricut Joy, Explore, and Maker machines are not food safe, and cannot cut tortillas, fondant, or similar materials. Your blade is not food-safe and can leave bits of material behind, and conversely food particles can be transferred to your blade and machine which will harbor bacteria. Do not cut directly with your Cricut. Also, this voids your warranty. Just say no.
Here's a dinosaur I cut from a parchment stencil I cut on my Cricut — easy peasy!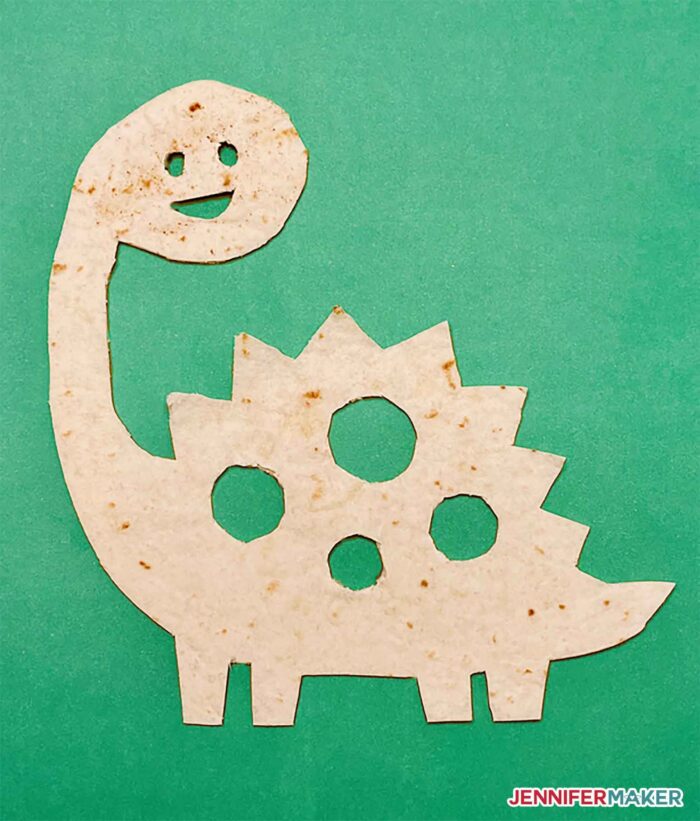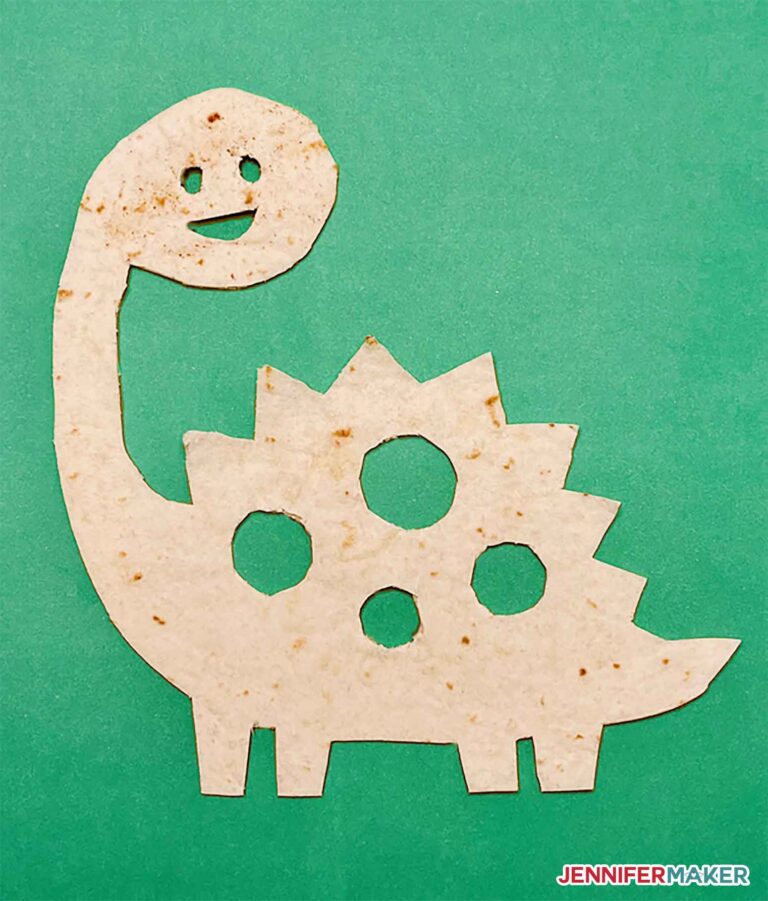 And here is a fancy unicorn I cut from a washable and reusable plastic stencil I cut on my Cricut cutting machine: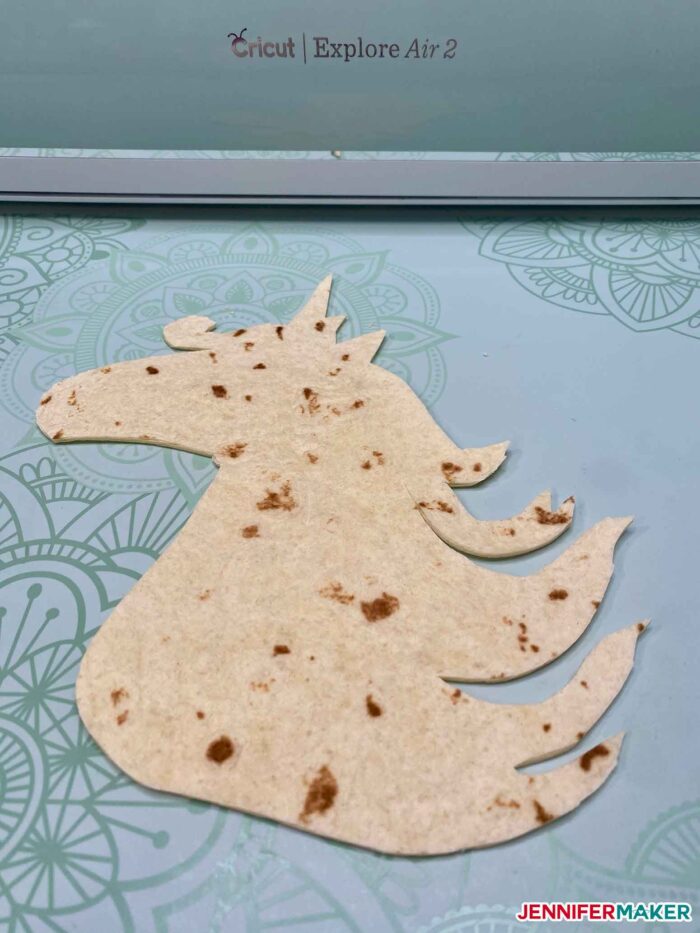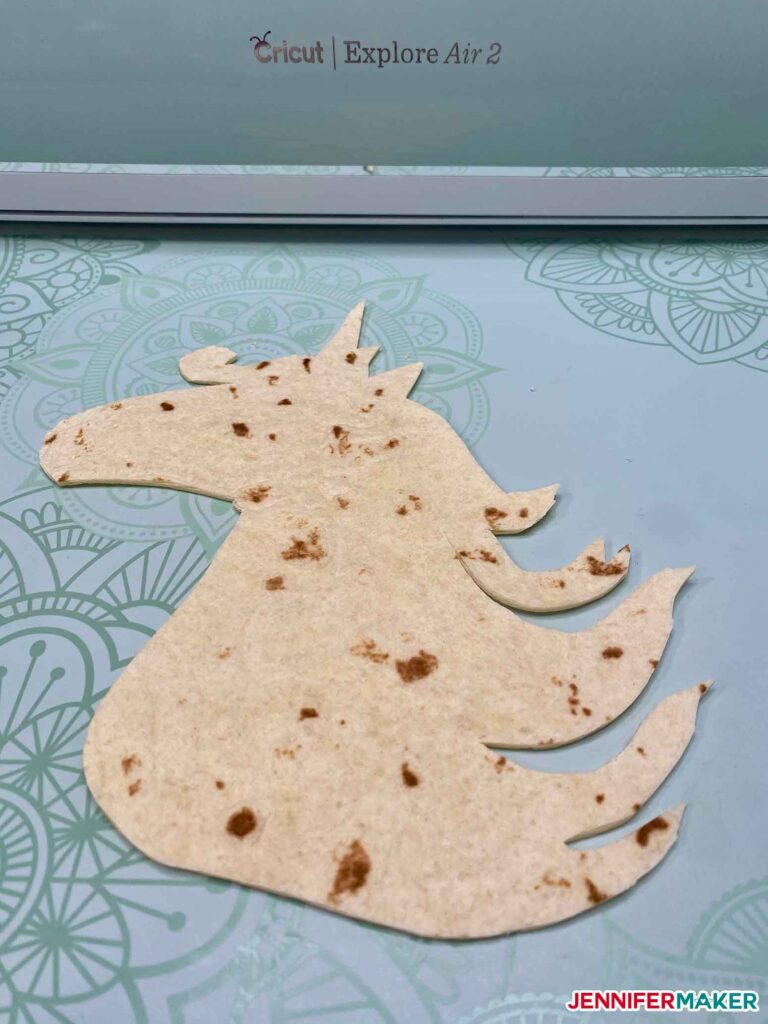 So what ARE we doing here? We're making custom-shaped stencils that ARE food safe with our Cricut. You can either use something like parchment paper to make disposable, one-use-only stencils, or you can use a plastic (such as food-safe mylar or acetate) to create a washable, reusable stencil. A reusable stencil is going to be MUCH easier than getting out your Cricut to cut every time. You can keep the stencil in your kitchen, ready to anytime you need to make a dino quesadilla or a unicorn flatbread.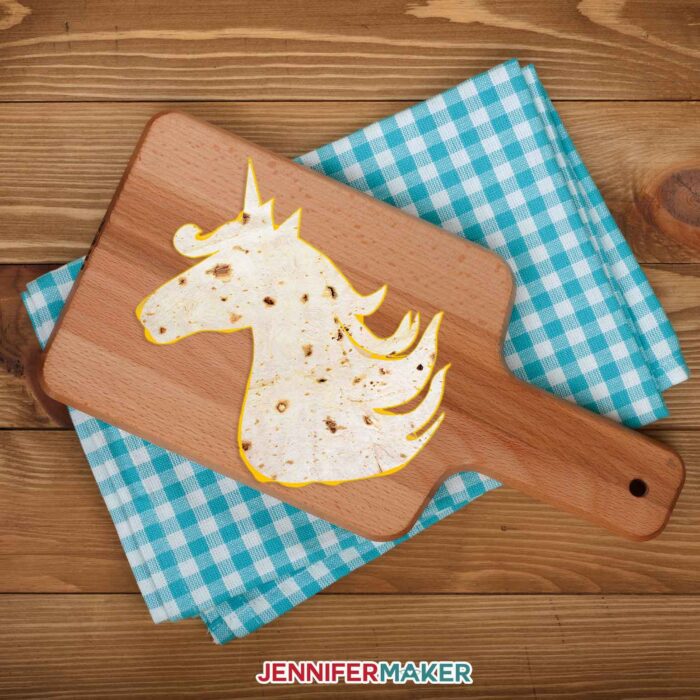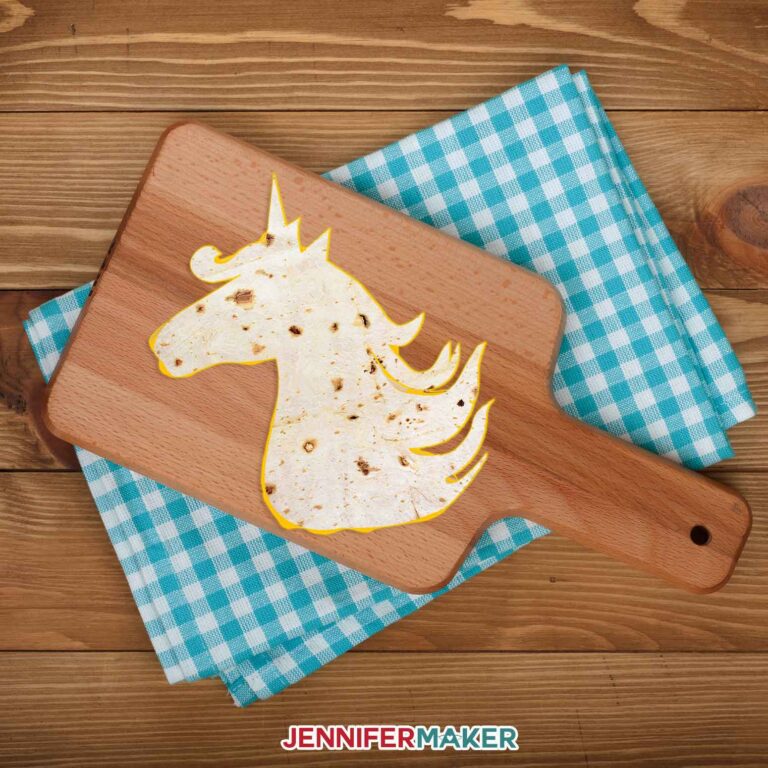 Let me show you how easy it is to make a custom Cricut tortilla using a food safe stencil! This post contains some affiliate links for your convenience (which means if you make a purchase after clicking a link I will earn a small commission but it won't cost you a penny more)! Read my full disclosure policy.
Materials to Make a Custom Cricut Tortilla with a Stencil
Tortillas (any size — I used 10″ tortillas)
A food-safe substance to cut your stencil from — parchment paper (for a one-time stencil), food-safe acetate, food-safe mylar, or a Dollar Tree plastic chopping mat (for a washable and reusable stencil) — DO NOT use silicone, as it can contain fiberglass
A little shortening, oil, cooking spray, or water in a pinch to keep the stencil stuck to the tortilla while cutting
A way to cut your stencil (I used the Cricut Maker cutting machine but they can also be cut on a Cricut Explore)
Cricut Fine Point Blade (for parchment, acetate, or mylar) or a Cricut Deep Point Blade (for chopping mats)
A shape for your stencil — I'm using a unicorn shape, which is Design #285 in my free resource library — get the password by filling out the form at the bottom of this page
How to Make a Unicorn Cricut Tortilla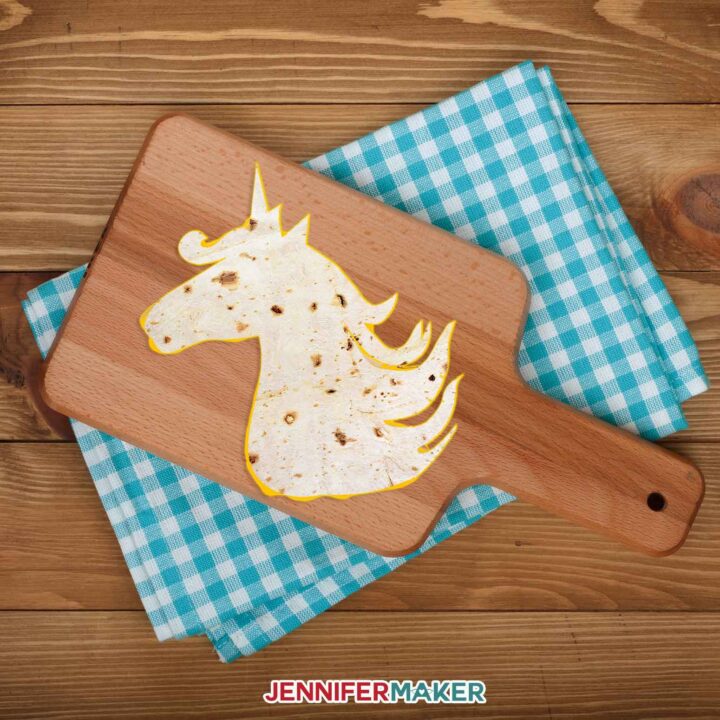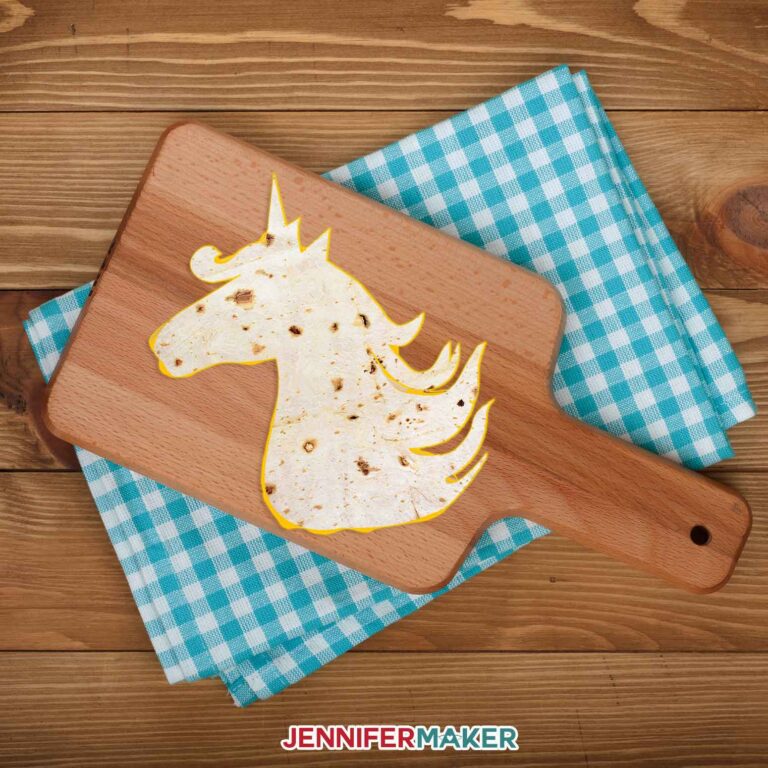 Unicorn Cricut Tortilla
Additional Time:
15 minutes
Difficulty:
Easy to Medium
A safe and simple way to make a Cricut tortilla in any shape you want using a food-safe stencil
Instructions
Step 1: Get my free unicorn stencil
My unicorn stencil cut file for this project is free for you to use. You can get it either as a printable PDF or as an SVG cut file to use in a cutting machine like a Cricut. Look for design #285 in my free resource library.
I will show you how to cut this Cricut tortilla using a Cricut Explore cutting machine in this tutorial, but you could also use a Cricut Maker or a Cricut Joy (if you resized the design down to fit on a smaller tortilla).
Here's what the uploaded SVG cut file of my Cricut tortilla looks like once uploaded to Cricut Design Space: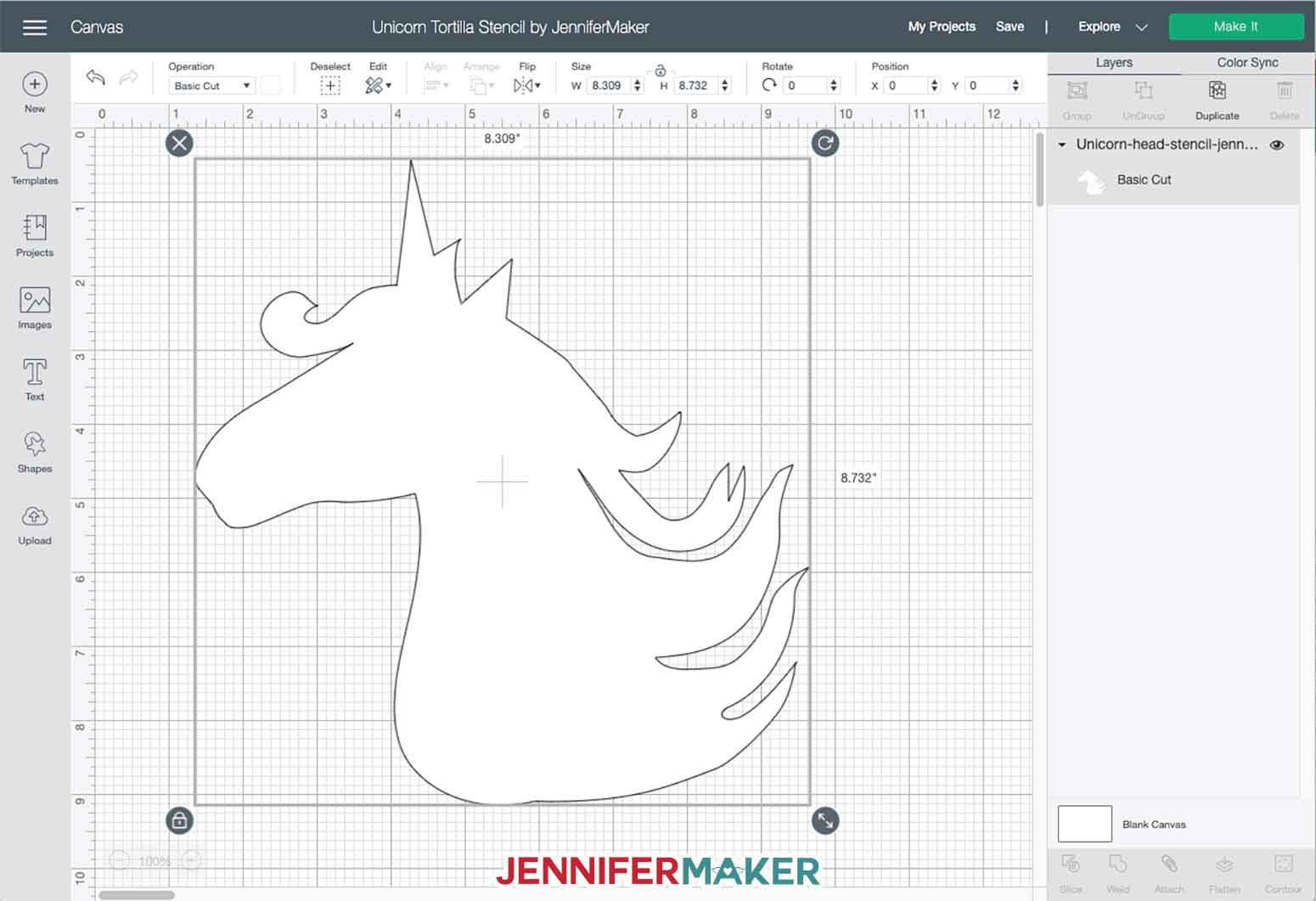 Tip: If you're not sure how to upload an SVG cut file to Cricut Design Space, watch my helpful video training series called SVGs Made Simple.
My unicorn stencil is sized for a 10" tortilla!
Step 2: Cut Your Tortilla Stencil
If you're going to cut your stencil from parchment paper, you can select that setting or something similar like copy paper — you'll just use a fine point blade for cutting that stencil.
If you're going to use a plastic such as food-safe acetate, mylar, or chopping mats to make a reusable stencil. you'll want to use the deep point blade.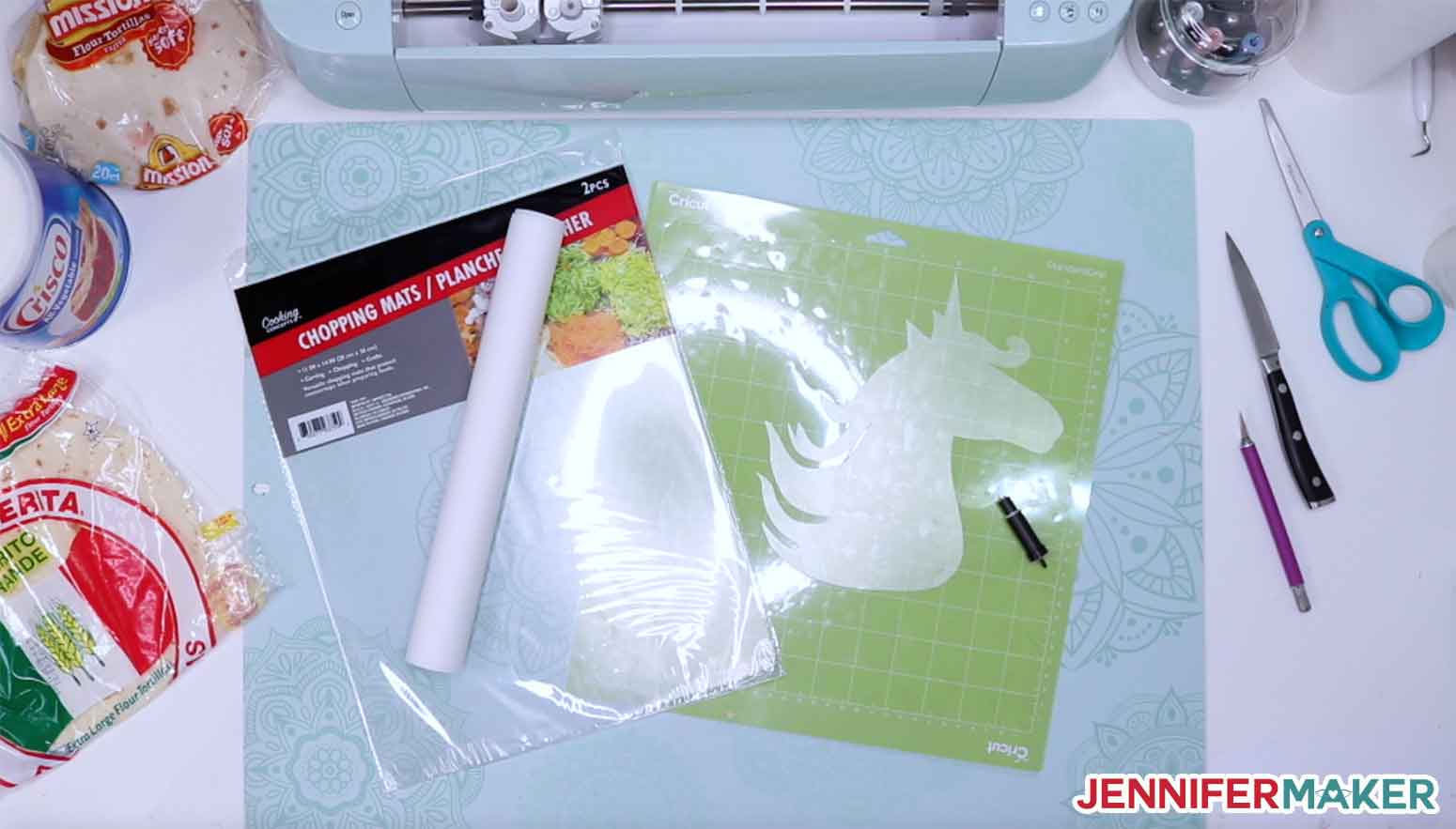 To make a custom material setting for the chopping mat, click on the three lines in the upper right corner of Cricut Design Space.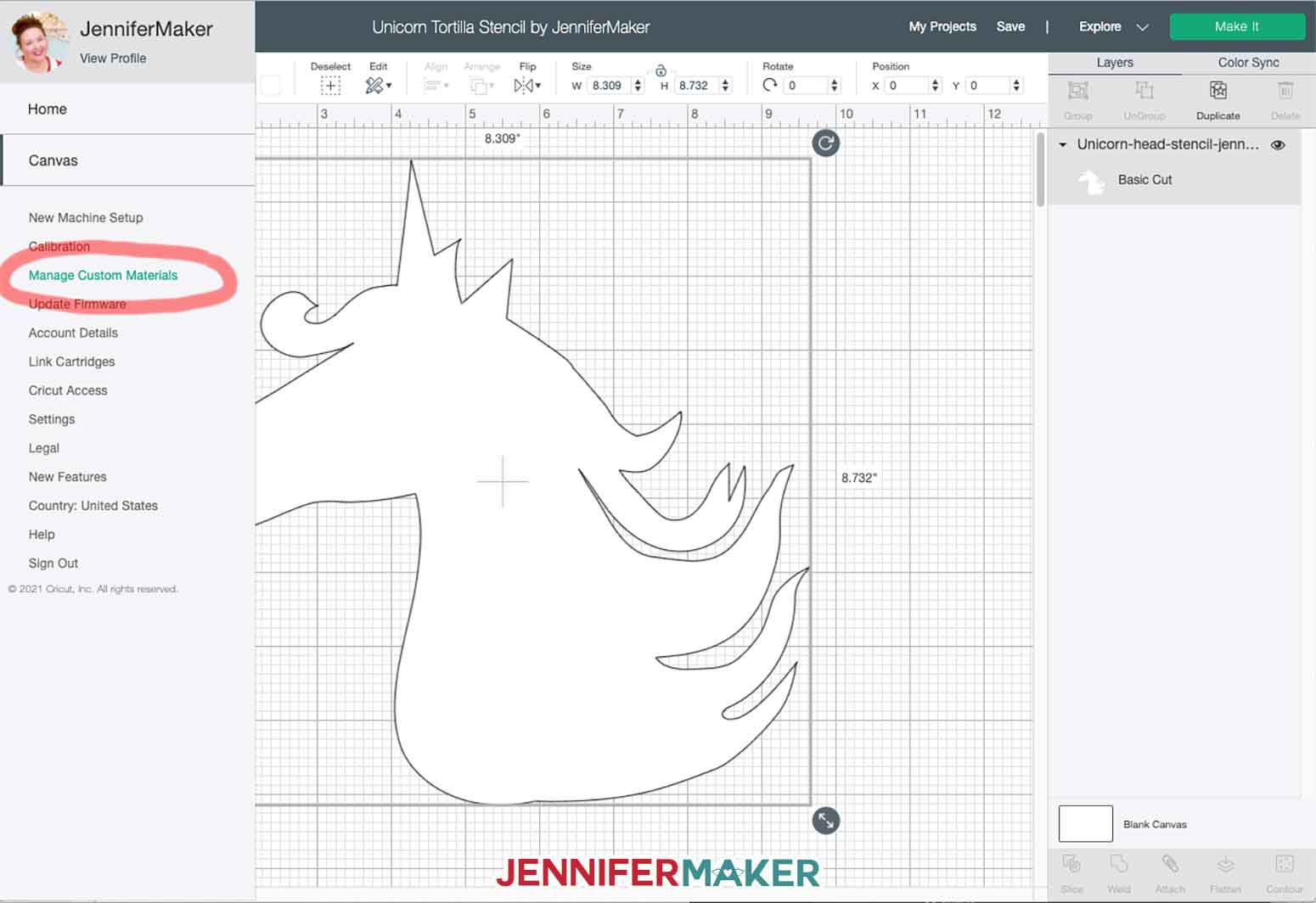 Now choose "Manage Custom Materials." Make a new material called "Plastic Mat" and use these settings:
Cut Pressure: 345
Multi-Cut: 6x
Blade Type: Deep Point Blade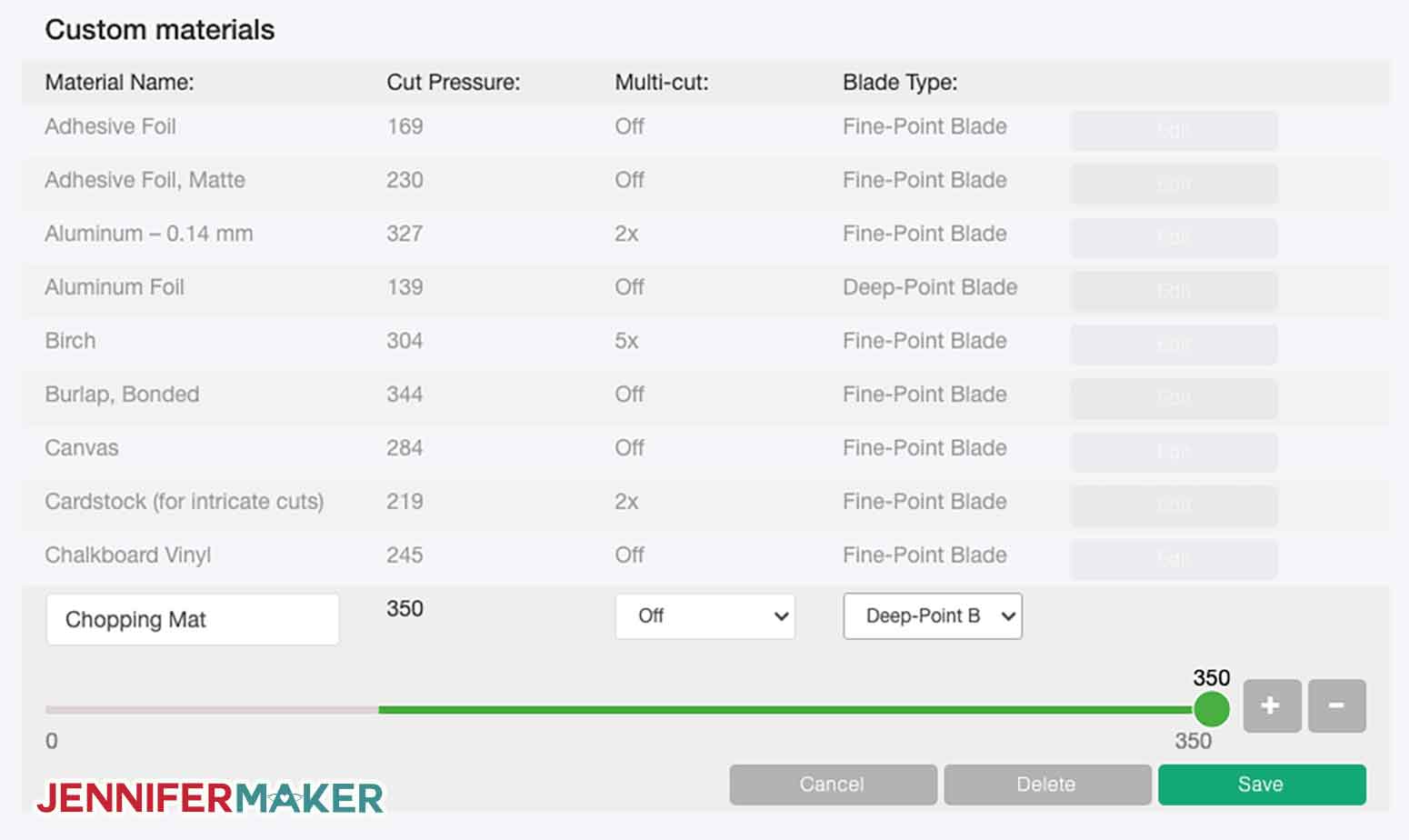 Now click Save to save your settings.
When ready, click Make it, then Continue, then Browse Materials then search for "Chopping Mat" to select your new material. I also changed my pressure to "More" to be sure it cut all the way through.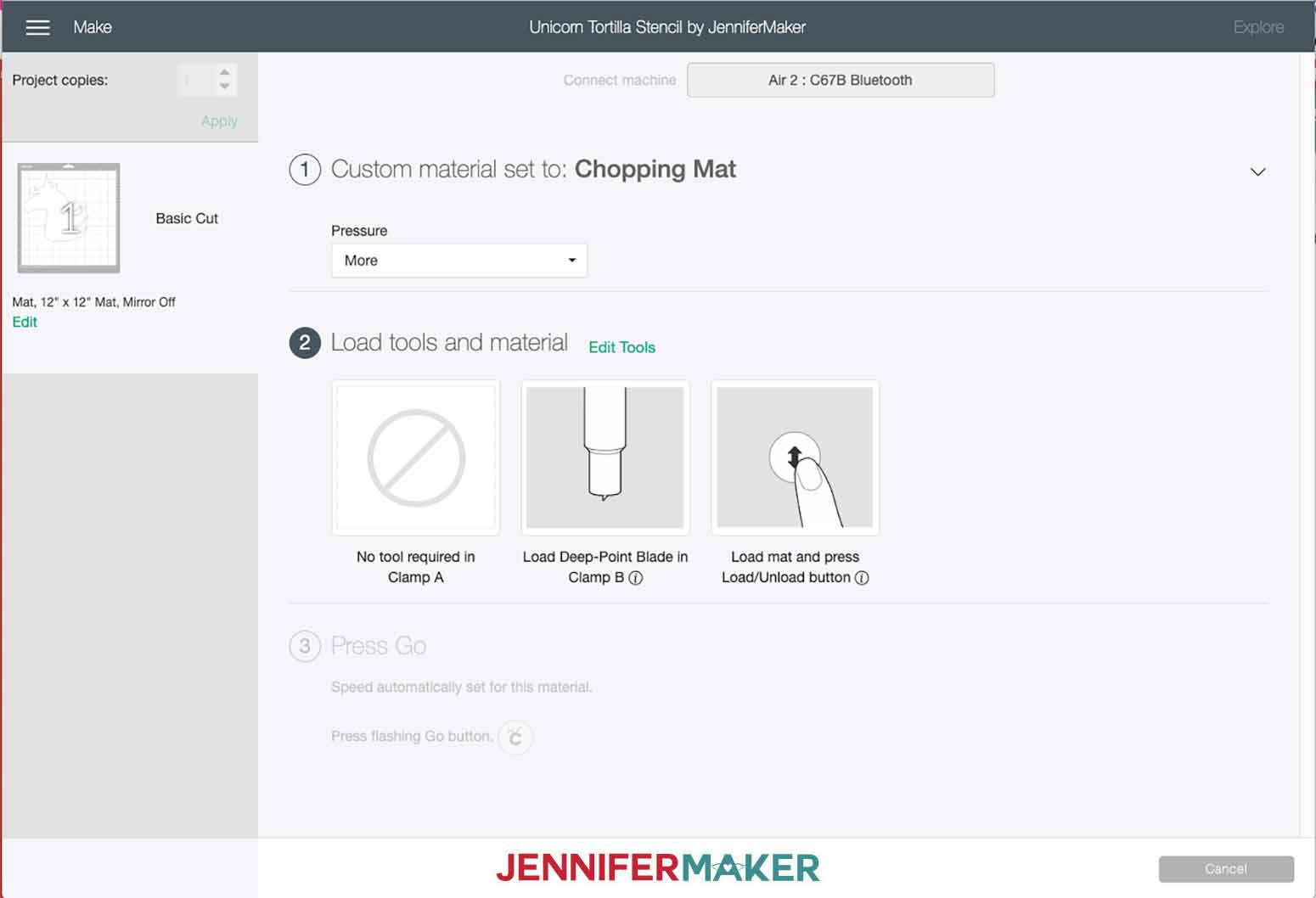 Now just put your chopping mat on a green StandardGrip cutting mat, put your deep point blade in the Cricut, load, your mat, and begin cutting!
Tip: After it finishes cutting but before you unload it from your cutting machine, pull up on one corner to see if it cut all the way through. If it did not, press the "C" button again to cut it again. Once it is cut all the way through, press Unload.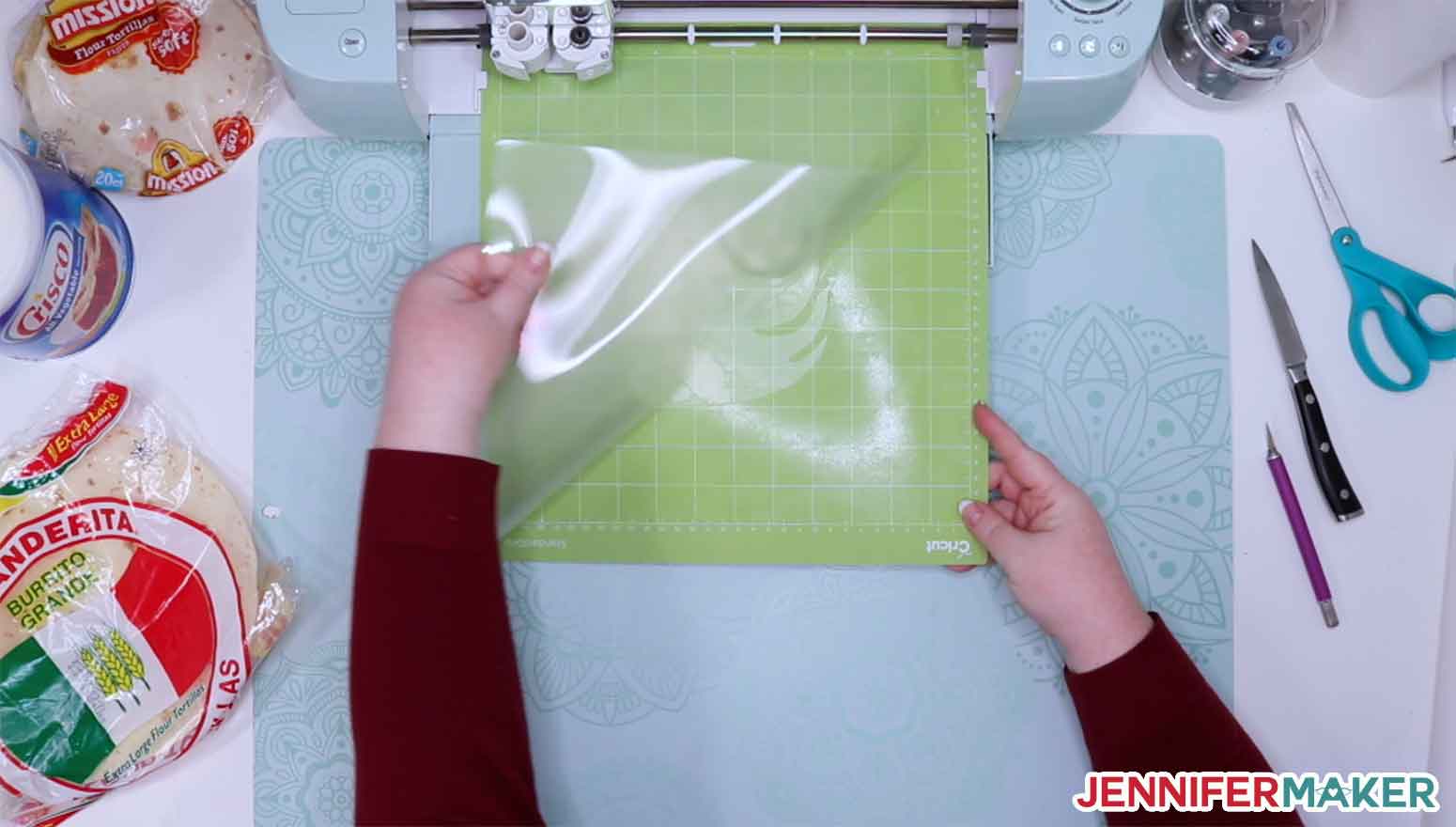 After unloading, flip your cutting mat over and peel it away from your stencil to remove it!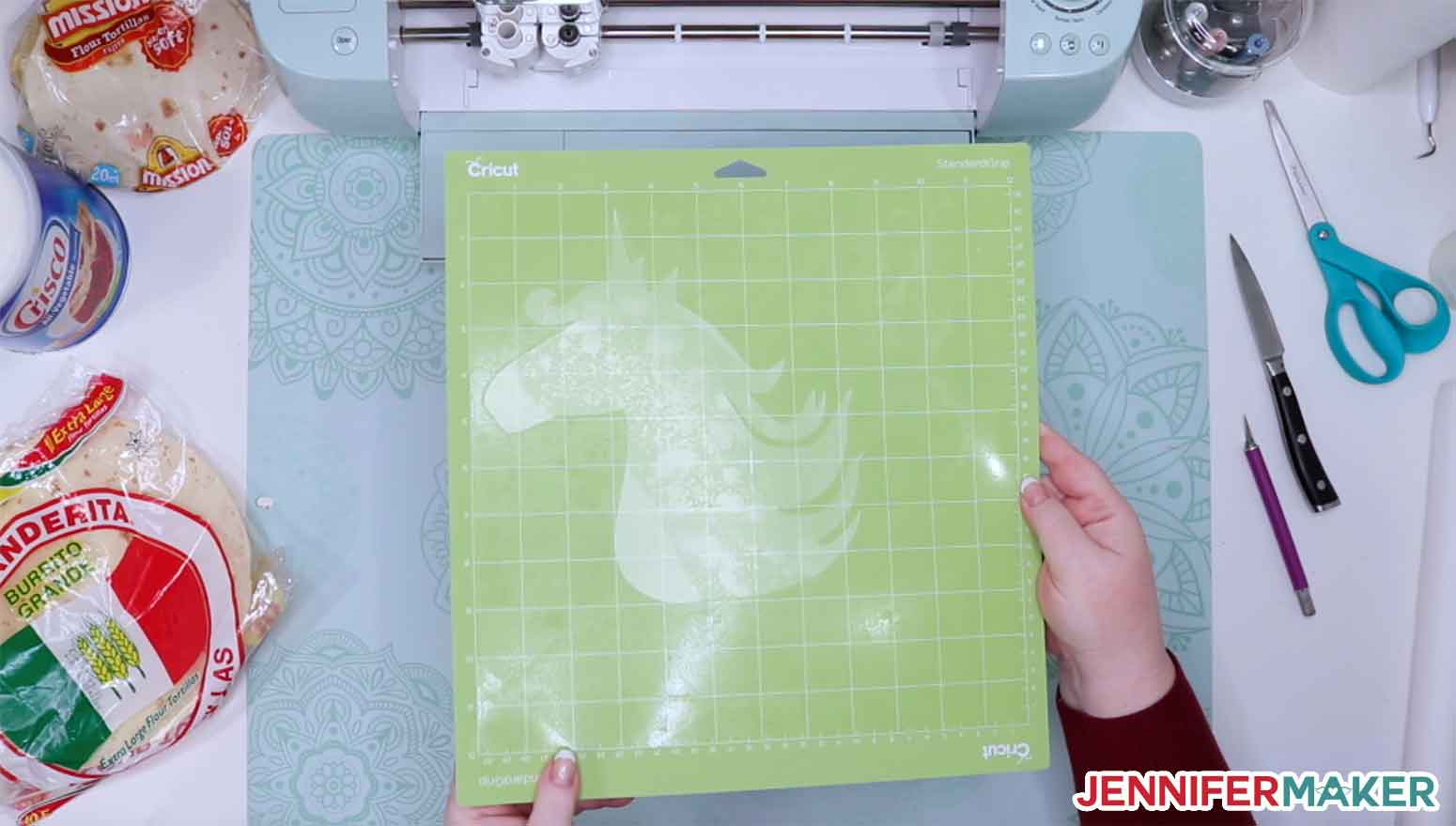 Step 3: Cut Your Custom Tortilla
First, clean your food prep surface — food safety matters! I am going to cut my tortilla on my cutting mat, which I've cleaned thoroughly with alcohol first.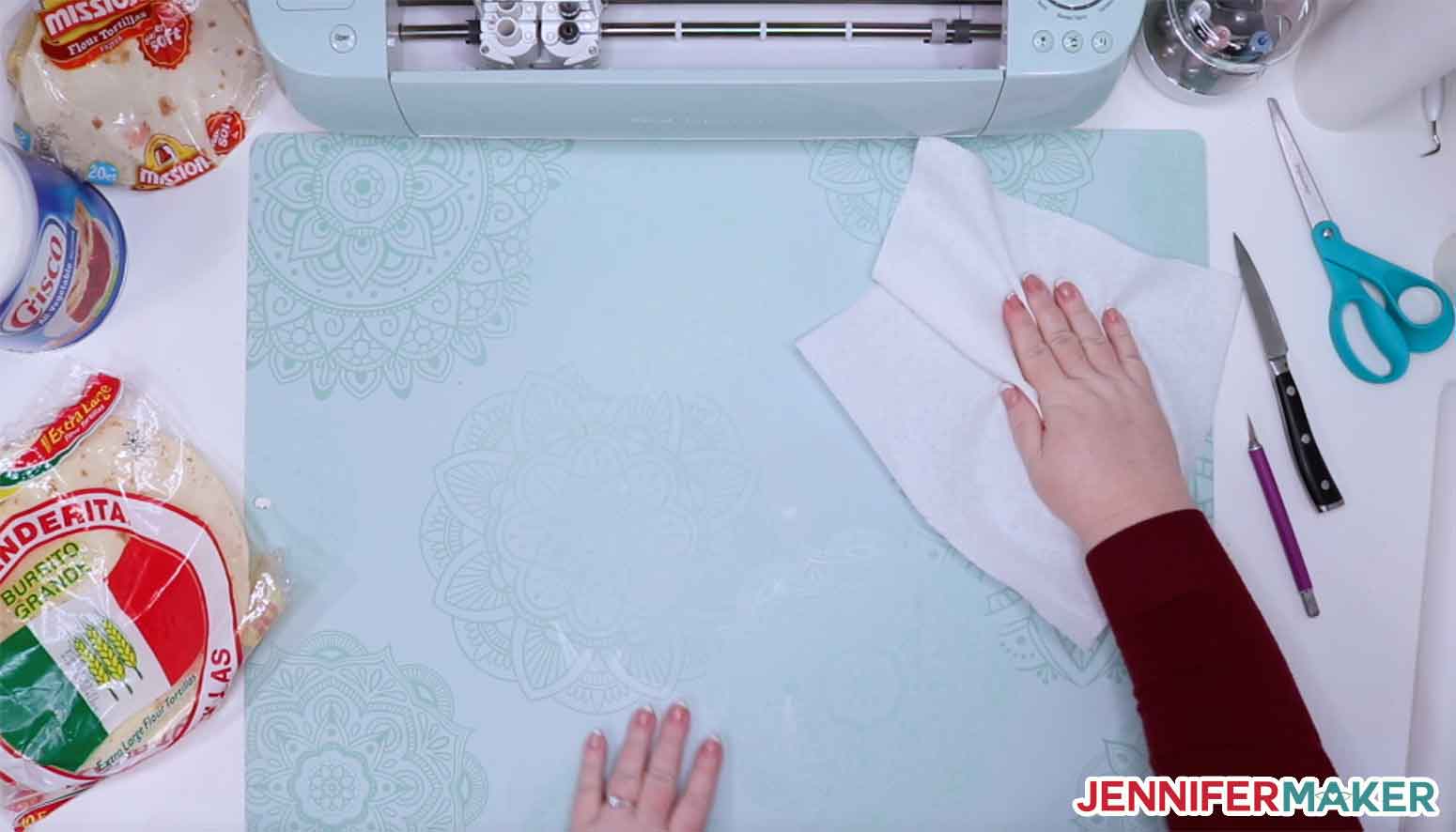 Place your tortilla on your cutting surface. You can use a clean cutting mat as I am here, or a cutting board, or your kitchen counter — it's up to you! Place your stencil on top of the tortilla, centered however you want.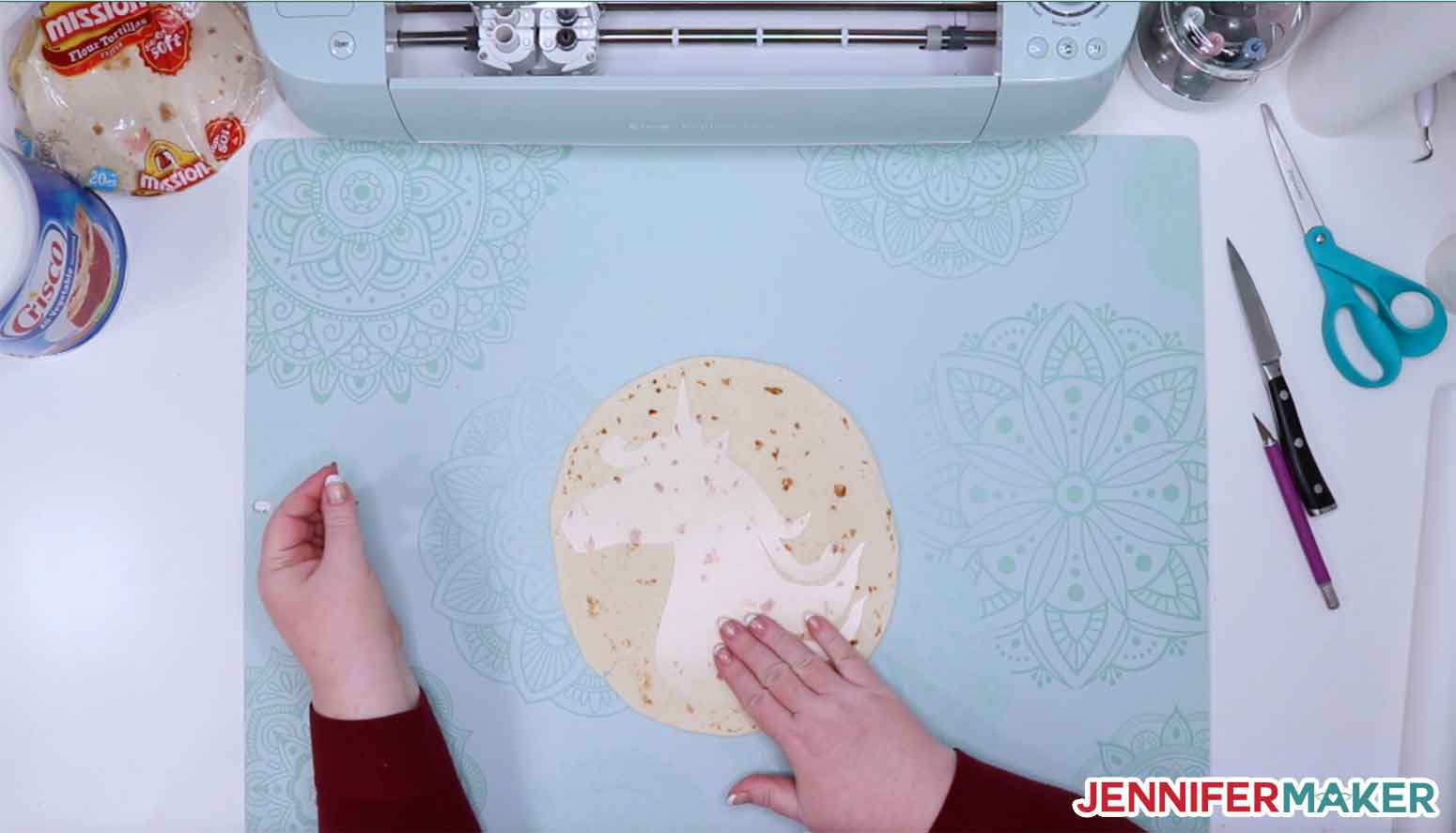 Note: I highly recommend you clean your stencil with warm soapy water BEFORE you place it on your tortilla, in the event some of the adhesive from the mat transferred to the stencil or there are any small bits of plastic — be safe!
If your Cricut stencil doesn't seem to want to stay in place on your tortilla, you can smear a little shortening, oil, butter, or even a bit of water on the back of it to get it to stick to your tortilla.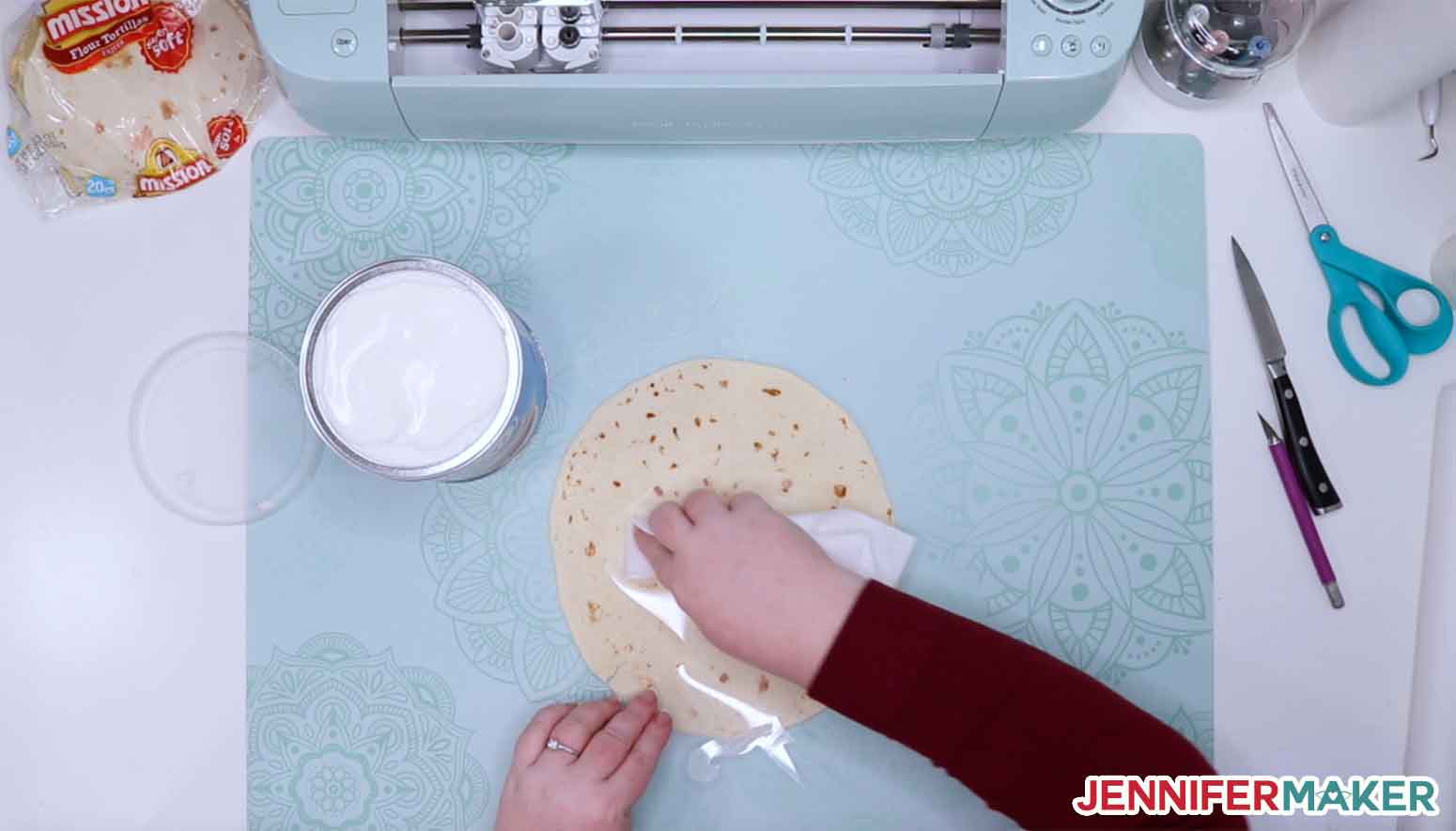 Now you're ready to cut! You can use a clean craft knife with a new blade or a kitchen paring knife. The craft knife will give you a smoother cut, unless you are particularly handy with that knife.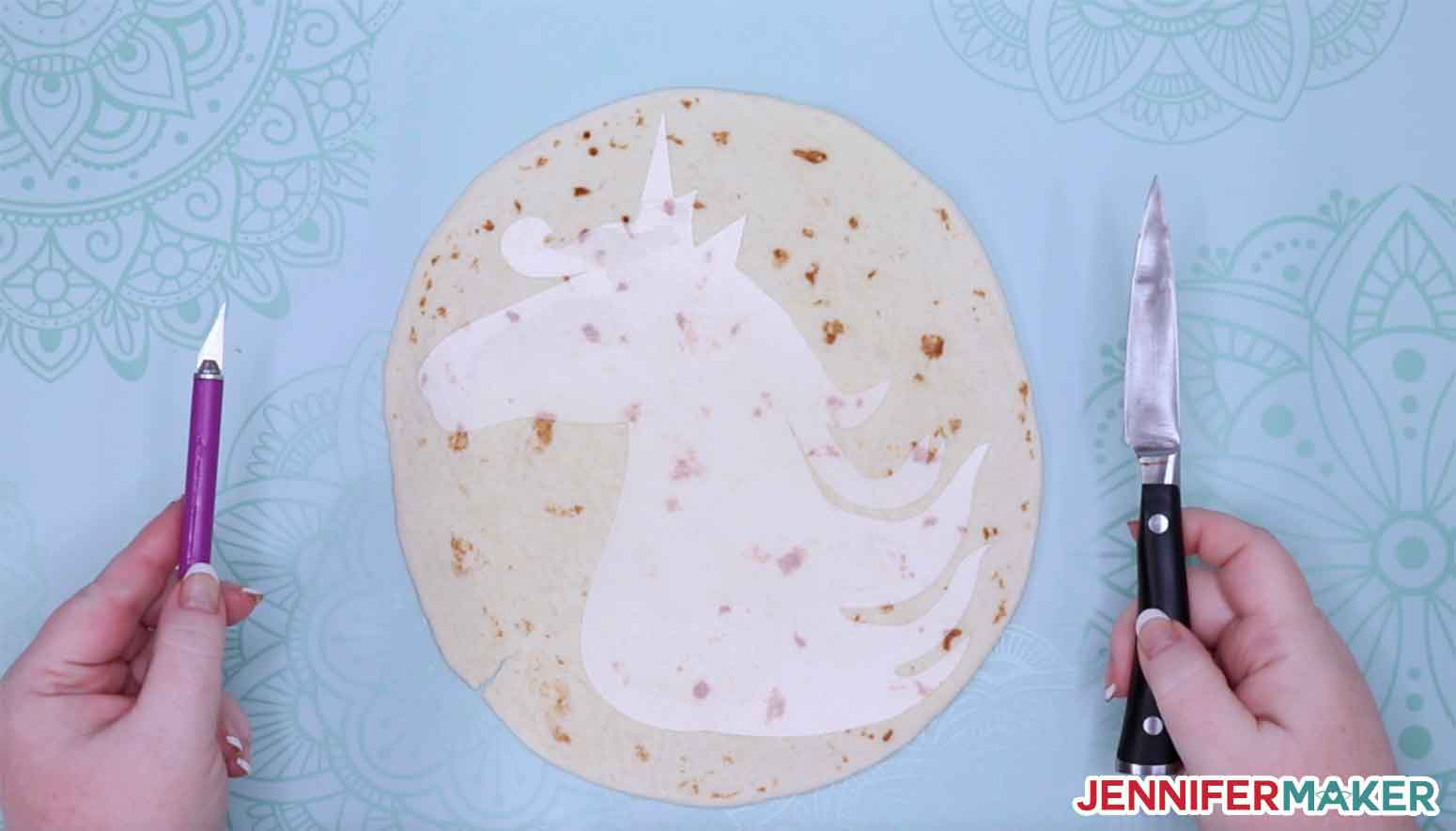 Cut the tortilla around the outside of your stencil with your knife. It only took a few minutes to cut this unicorn with my stencil! If you're making a quesadilla, you can stack two tortillas and cut both at the same time (keep them together with the same thing you used to stick the stencil or just some toothpicks).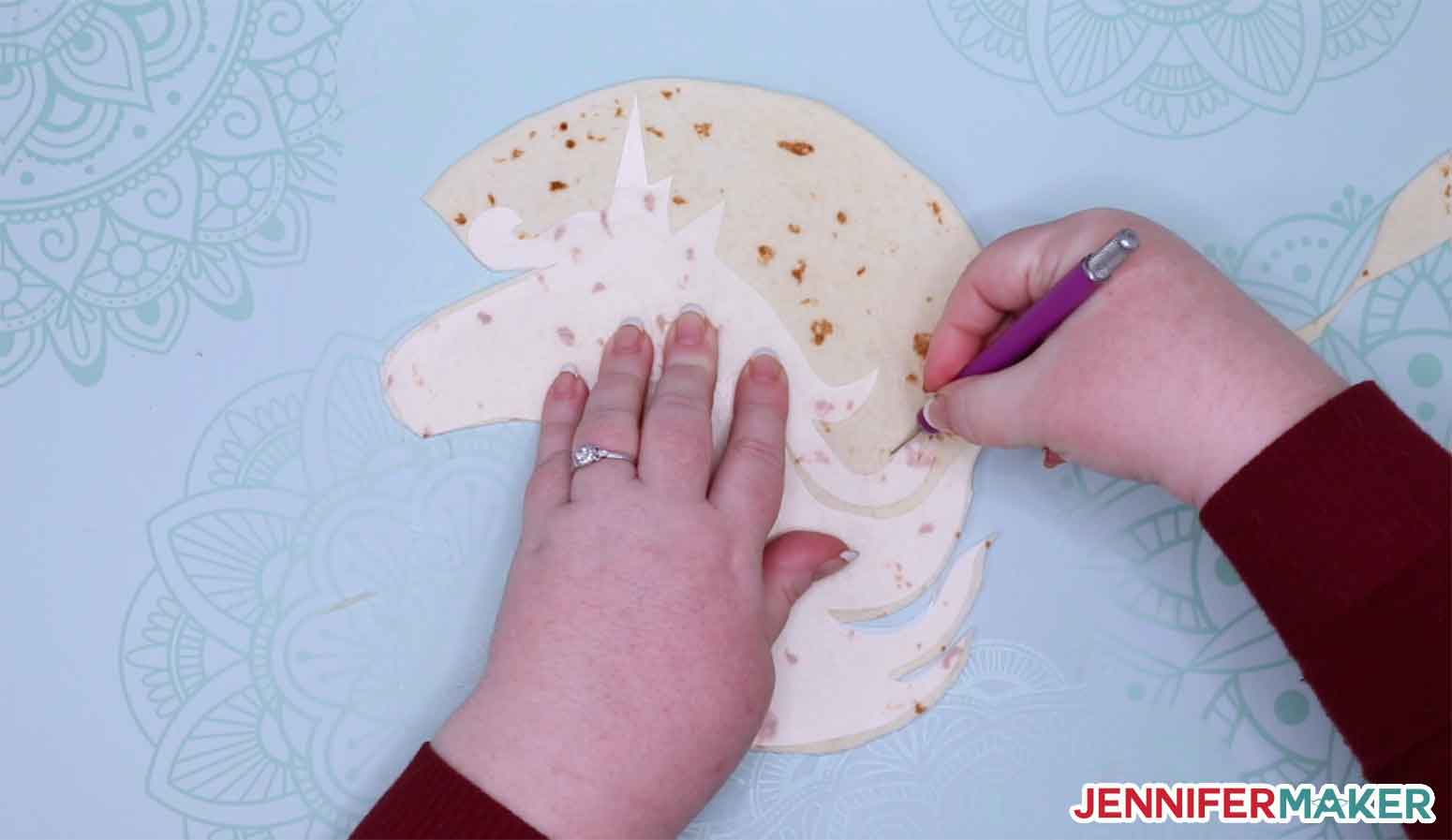 Here is the finished Cricut tortilla! With the reusable stencil, this is fast and easy!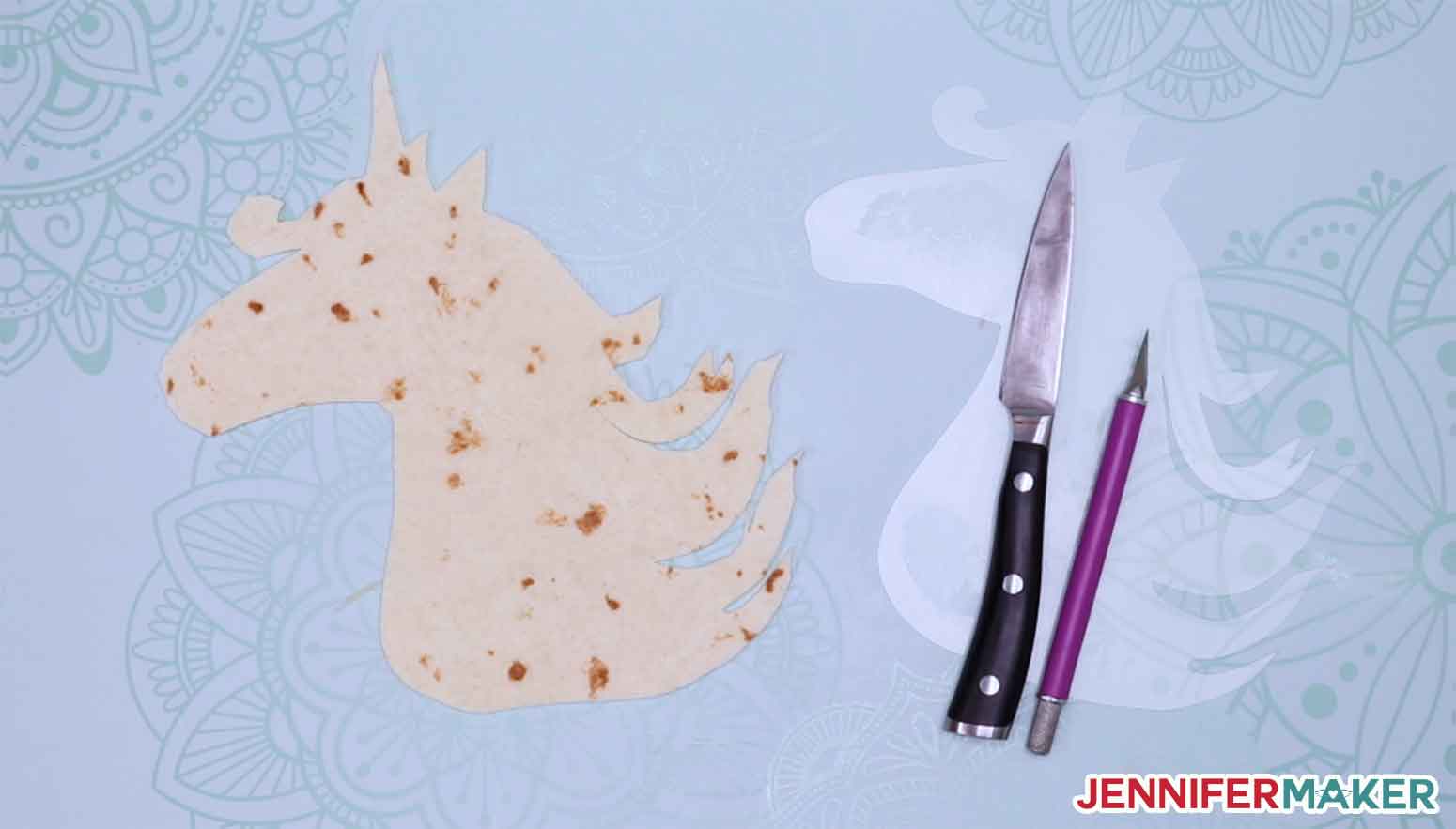 Notes
Remember to keep everything food safe, from your surface to your cutting implements to your stencil. Wash everything with warm soapy water between uses and toss your stencil if it gets too many nicks in it as that can collect bacteria. Safety first!
Recommended Products
As an Amazon Associate and member of other affiliate programs, I earn from qualifying purchases.
Answers to Your Questions About How to Make a Cricut Tortilla
Q: Can I use vinyl for my stencil?
A; The adhesive on vinyl is not food safe. Vinyl is also stretchy without a firm surface to apply it to. I do not recommend it.
Q: Can I use the Cricut Joy?
A: Yes, if you're making a small tortilla and using parchment paper, mylar, or acetate. You will not be able to cut the chopping mats on the Joy.
Q: Can I re-use any of these stencils?
A: Yes, you can hand-wash and re-use the mylar, acetate or plastic stencils made from Dollar Tree chopping mats. I do not recommend dishwashing these stencils as they may warp.
Q: Is the Dollar Tree chopping mat food safe?
A: We were unable to tell if it was food safe from the Dollar Tree web site, but as most nonporous plastics like this are, it's likely it is. And they DO sell it as a food prep mat. That said, cutting the chopping mat could create tiny fissures and groves that can harbor bacteria, so wash it VERY well between use with warm soapy water to be extra cautious. And if you have any concerns, use a food-safe mylar or acetate instead.
Get my free SVG files to make a Unicorn Cricut Tortilla
I'd love to see YOUR Cricut tortillas or whatever you cut from food — could be fondant, could be cookies!! Please share a photo in our Facebook group or tag me on social media with #jennifermaker.
Love,