Create a sublimation tie dye shirt using printed designs or Infusible Ink!
Tie dyeing is such a fun craft, but it can get pretty messy with so much dye and water involved. Well what if there was an easier way? I'll show you how to make a cool tie dye shirt with sublimation designs or Infusible Ink transfer sheets! It's simple, and you can make unique patterns with different folding methods. There's even a fun way to keep different sections open to add one of my free illustrated designs if you like!
Want to save this project? Enter your email below and we'll send the project straight to your inbox.
Watch my complete step-by-step tutorial on how to create a sublimation tie dye shirt:
There are many different ways to make tie dye shirts, but sublimation might be my favorite technique, now! If you've ever tie dyed before, the materials and process are pretty different, but the folding will be familiar! I'll share my three favorite patterns, and a few surprises to take them to the next level!

You can try this technique with either printed sublimation designs or Infusible Ink transfer sheets. I tested both materials on polyester shirts (a white t-shirt is best, but gray worked well, too) and really liked the results for both! Sublimation tie dye is a great way give old t-shirts new life. Just make sure they're light and as close to 100% polyester as possible. Especially if you're using bright colors.

The printed sublimation tie dye method requires the usual sublimation tools and supplies. I used my converted Epson EcoTank ET-4700 Inkjet Printer with Hiipoo ink and 125g A-SUB sublimation paper, but you can use any sublimation printer with compatible ink and paper. We've created four FREE colorful background PNGs for you to start with. They already look like traditional tie dye designs, but wait until you see how we use them! The free download folder also has three illustrated designs that you can use with the backgrounds.
I prepared my backgrounds and designs in Google Docs, totally free software that works great with sublimation printers. Don't worry, I detail all the easy steps in my Sublimation T-Shirt tutorial.
Folding different patterns on the shirts is the best way to create different looks. I'll demonstrate a few easy tie dye patterns for you to try and combine. You don't need rubber bands, but careful folds help get the different colors in the right place. Take your time for the best results.
I'll show you how to twist and fold the fabric into a spiral shape. You can apply designs in different layers to create a spiral pattern!

Or, make an accordion fold to create horizontal stripes. By starting the pleats in a different spot, you can also make vertical stripes or diagonal stripes.

Finally, we'll experiment with scrunching the fabric item for an organic, all over design!

The best part of making a sublimation tie dye shirt is that you don't need to set the dye or prepare the fabric with anything like soda ash or the other things that come in the average tie-dye kit from craft stores. You don't even need all the elastic bands traditional tie dye uses. We'll hold the design in place with heat resistant tape on white cardstock during pressing. White butcher paper will keep any excess dye from getting on your press. I used my Cricut Autopress, but you can certainly use an EasyPress with a large pressing mat.
The tools are similar for the Infusible Ink process, and there are so many patterns that work for a sublimation tie dye shirt! I tried a few using a full sheet, but I'll also show you how to use cut scraps. You can even combine Infusible Ink sheets and printed sublimation designs.

As with any sublimation project, a lint roller will help prepare your surface. Any dust or lint on the shirt can cause splotches in your transfer. Ventilation is also important, so open a window and have a gentle fan going to dissipate the fumes.
If you want to add an illustrated design or even a photo to the front, I'll show you how to keep a spot open using adhesive paper. Then, you can use one of my t-shirt guides to get the placement correct using one of my free designs in the download folder or one of your own.
So, ready to make your own sublimation tie dye shirt? I'm super excited to show you how! This post contains some affiliate links for your convenience (which means if you make a purchase after clicking a link I will earn a small commission but it won't cost you a penny more)! Read my full disclosure policy.
Materials to Make a Sublimation Tie Dye T-Shirt
How to Make a Cool Tie Dye Shirt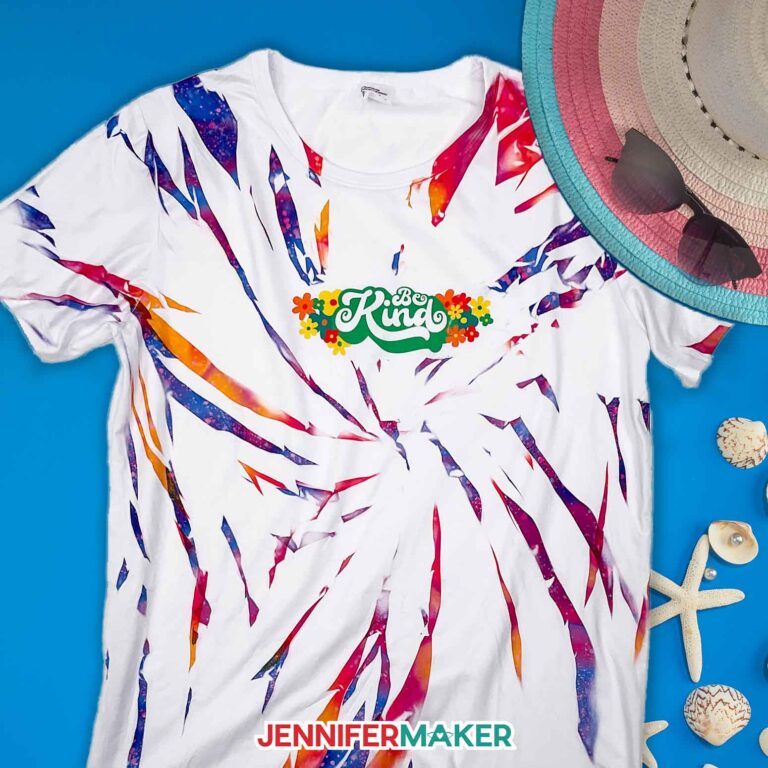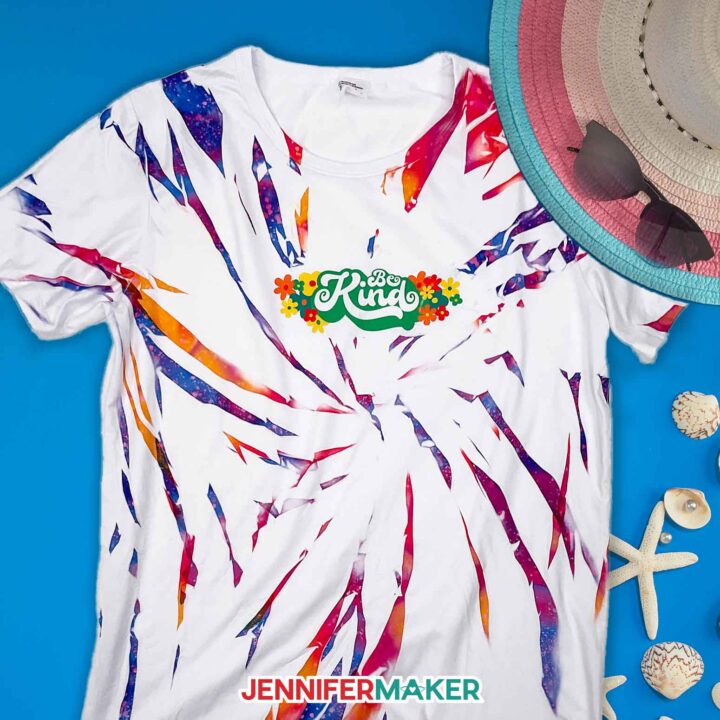 How to Make a Cool Tie Dye Shirt With Sublimation
Difficulty:
Easy to Medium
Estimated Cost:
$15 - $25
Learn how to get a tie dye effect with sublimation.
Answers to Your Questions About How to Make a Cool Tie Dye Shirt
Q: How do you make cool tie-dye shirts?
A: There are many ways to create tie-dye projects, but I prefer to use sublimation designs or Infusible Ink transfer sheets.
Q: What are 3 methods of tie-dye?
A: People all over the world have been dyeing intricate patterns onto cloth for ages. Many different tie dye techniques are special cultural traditions. A few methods of contemporary tie-dye a sublimation tie dye, using ice cubes to randomize dye, or adding liquid dye to intricately tied fabric.
Q: How do you make a vibrant tie-dye shirt?
A: To make a sublimation tie dye shirt brighter, use a new, white item that is 100% polyester. Cotton shirts don't accept the sublimation dye well at all.
Q: Is it better to tie-dye dry or wet?
A: Whether you use printed sublimation designs or Infusible Ink transfer sheets, make sure the entire shirt is dry for the best results.
Q: Do you soak tie-dye shirts in cold or hot water?
A: Making a sublimation tie dye shirt doesn't require soaking in cold water, hot water, or warm water!
Q: How long should tie-dye sit before rinsing?
A: I let my sublimation tie dye shirt sit for at least 24 hours before putting it in the washing machine.
Q: Which tie-dye method is best?
A: Now, I really prefer making a sublimation tie die shirt. You can get beautiful results from a tie dye kit, but I don't want to deal with the plastic bag, squeeze bottles, dye powder, plastic gloves, water, vinegar, and all the other items they often require. Using heat to transfer a custom design is so much fun, to me!
Q: How do you make a sublimation tie-dye shirt?
A: Follow my tutorial for step-by-step instructions, but basically you print a sublimation design, use heat to transfer it to a folded or scrunched shirt, then reveal the sublimation tie-dye t-shirt! If you're trying the method for the first time, you can experiment on old clothes to see how different folds will create unique tie dye patterns.
Get my free download of the Sublimation Tie Dye Shirt Printables and Illustrated Design files here:
If you make any sublimation tie dye projects, I'd love to see them! Please share your t-shirts in my Cricut Crafters & Makers group where you'll find hundreds of thousands of crafters like you, sharing their tips, projects, and inspiration.
Love,