Learn how to make these cake toppers with layered designs, which can be a fun and unique way to decorate your cake! These customizable decorations are a great way to spotlight that special person!

Cake toppers are quite the trend these days based on all the questions I see in my Facebook groups, and I know many of you want to make your own cake toppers. Last year I shared my original cake topper design, which is a great place to begin if you're new to cake toppers. But there are many other styles and different ways to make custom cake toppers, including (but not limited to) acrylic cake toppers, shaker cake toppers, balsa wood toppers, and multi-layered cake toppers. So today I want to show you how to make layered cake toppers — one with a mermaid theme, and one with a pretty rainbow theme — in this DIY cake topper tutorial.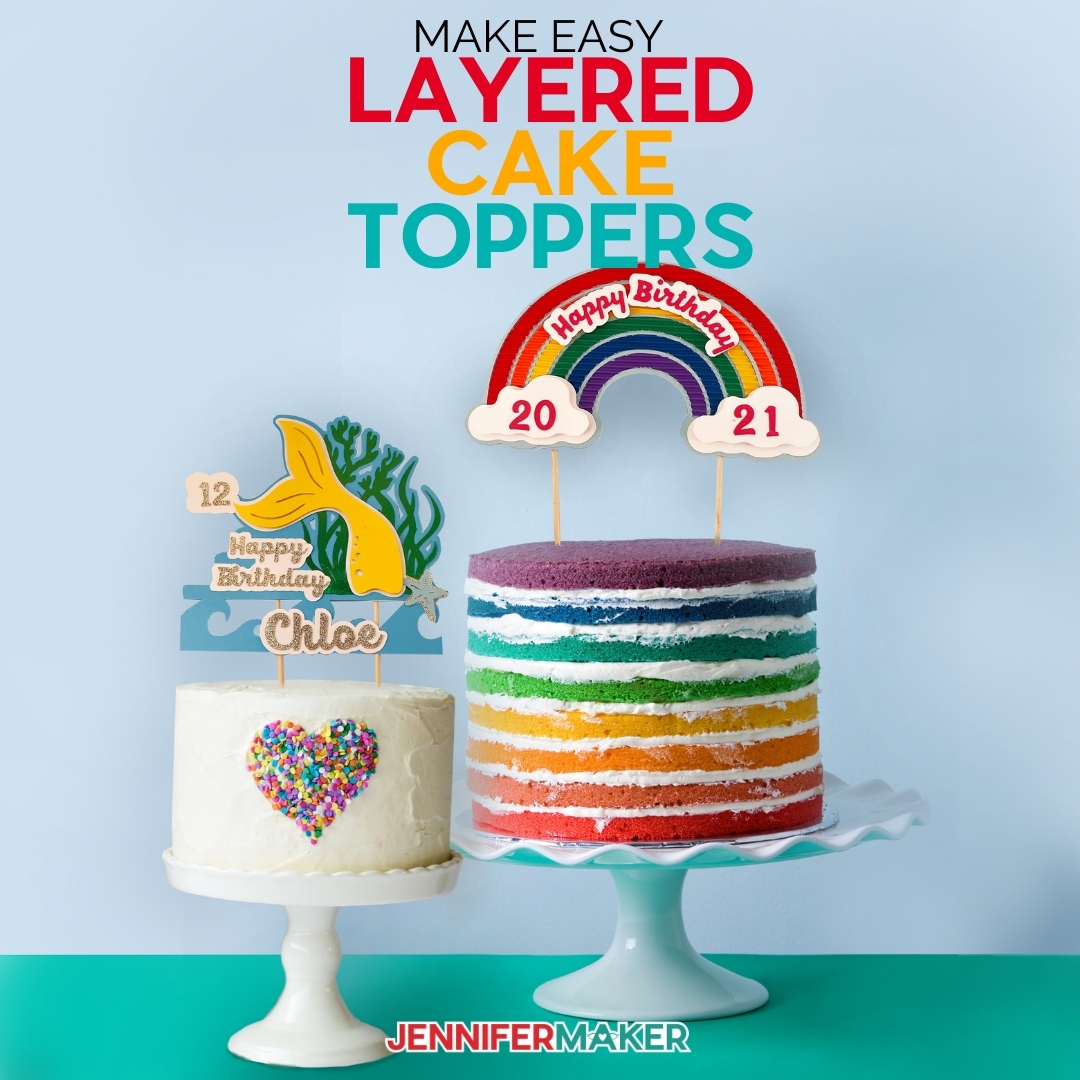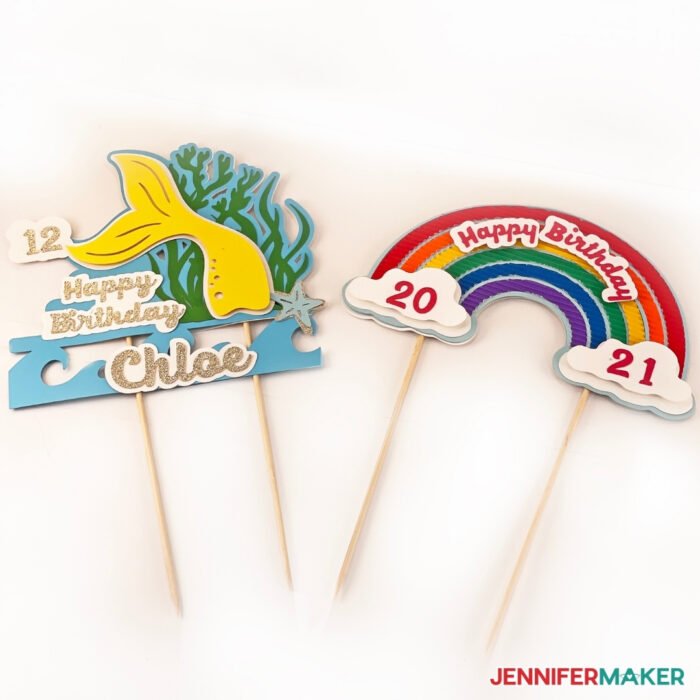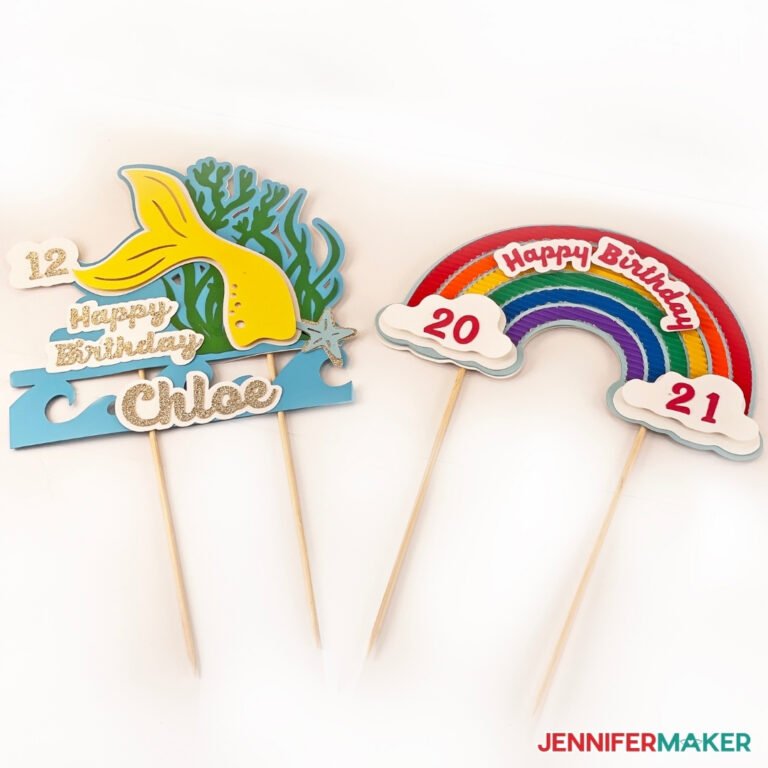 First, what is a custom cake topper? A cake topper is a decorative design on wooden skewers that you can push right into the top of a cake to instantly give it some pizazz without spending a fortune for a custom made cake design or the expensive acrylic versions of commercial cake toppers. Making a cake topper with fun layers is the way I can add a splash of color and and a unique spin to a store-bought or homemade cake. I think they look particularly great on a tall cake,
So I thought it was high time to make cake toppers with layered designs for you to personalize. A custom cake topper is perfect for a birthday party, an engagement party, a wedding reception, and really any special occasion. But I suspect most of us just want toppers for birthday parties, so we have two great ideas you could use for your next party!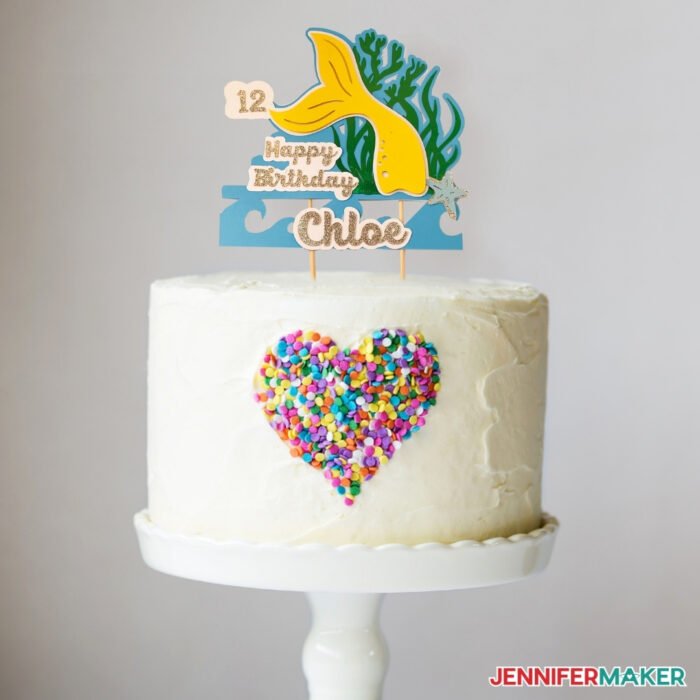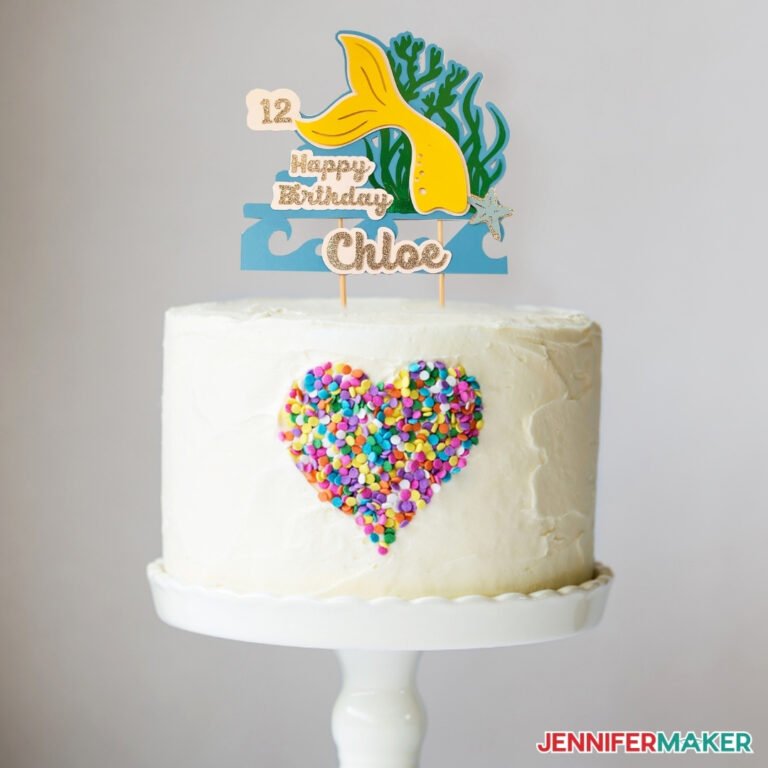 To make these adorable personalized cake toppers, you will need several pieces of cardstock. Depending on how you want your cake toppers to look, you can use patterned or solid colors or a variety of both. These are so much fun to customize and you can use whatever paper you want to coordinate with your party theme. I think glitter card stock paper is particularly fun here!
I used 65 lb. cardstock and a foam backer to create more stability, but you can also use heavy cardstock to create this same effect. There is a lot of flexibility here! Just keep in mind, if you choose to use a lighter cardstock, the poster board will be very helpful in stabilizing your cake toppers.
Note that I am not using Cricut chipboard, balsa wood, or another thick material like that — not only are these materials hard to cut, but the layered design of this custom cake topper means it's just not necessary.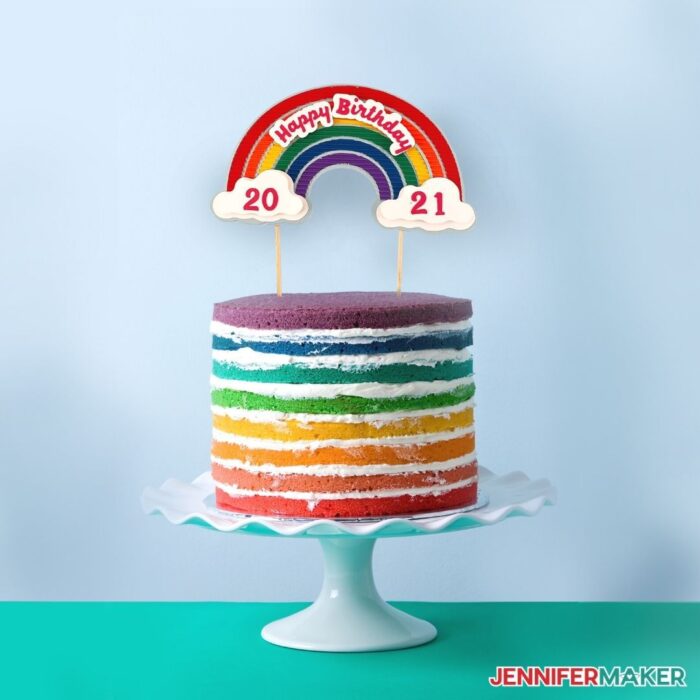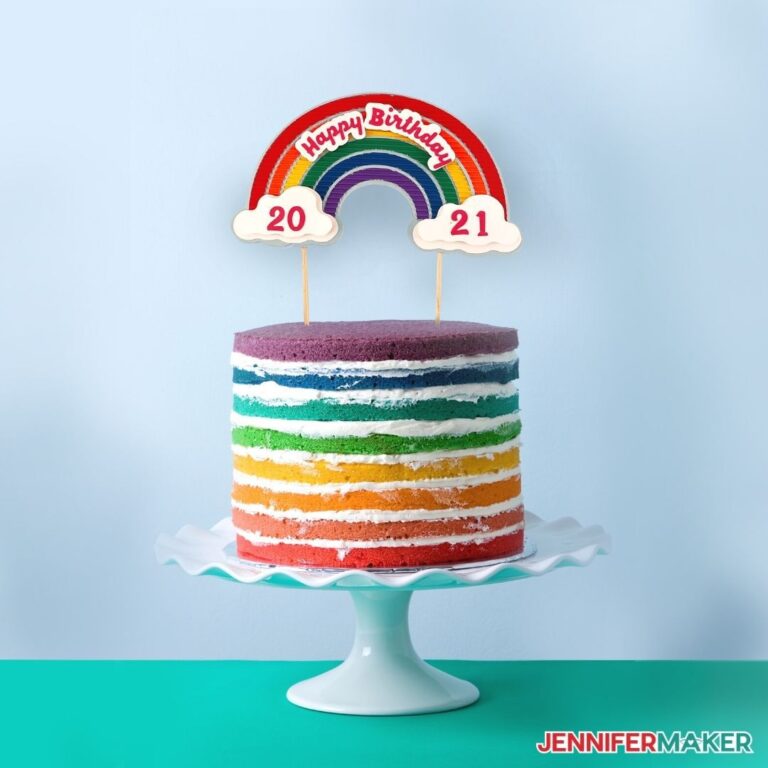 To keep your cake topper layers together, I love using foam dots to provide a fantastic 3D effect. If you don't have any foam dots, no worries — they're great to have but not required. Any tacky glue will work to adhere your cake topper layers together. As a matter of fact, I use tacky glue throughout this project as well. There are certain elements I don't want raised, such as the seaweed on the mermaid cake topper or any of the letters. So ideally, you want to have both kinds of adhesive on hand.
This is the perfect Cricut project, and I used my Cricut cutting machine to cut the cards and envelopes, along with the fine point blade, the scoring stylus or scoring tool, and a green Standard Grip cutting mat. You can also make this with the Cricut Explore or the Cricut Joy (if you resize it down to fit your mat).
Finally, you need the right font — something easy to read and cut is ideal here! I am sharing the font I used for my cake toppers in the supply list below.
Let me show you how to make these DIY custom cake toppers with layered designs! This post contains some affiliate links for your convenience (which means if you make a purchase after clicking a link I will earn a small commission but it won't cost you a penny more)! Read my full disclosure policy.
Materials to Make Your Own Cake Toppers with Layers
View my Amazon shopping list with the exact items we used to make this Cricut cake topper project!
How to Make a Cake Topper with Cricut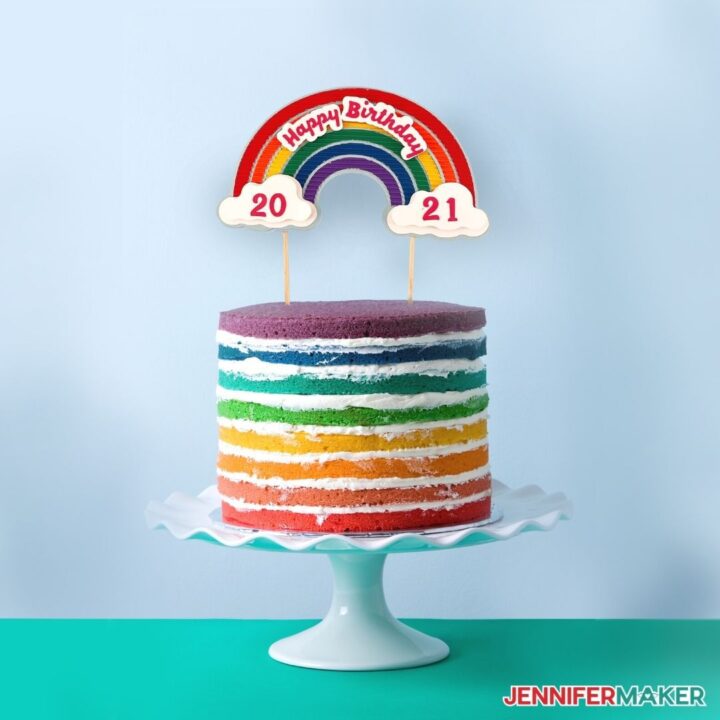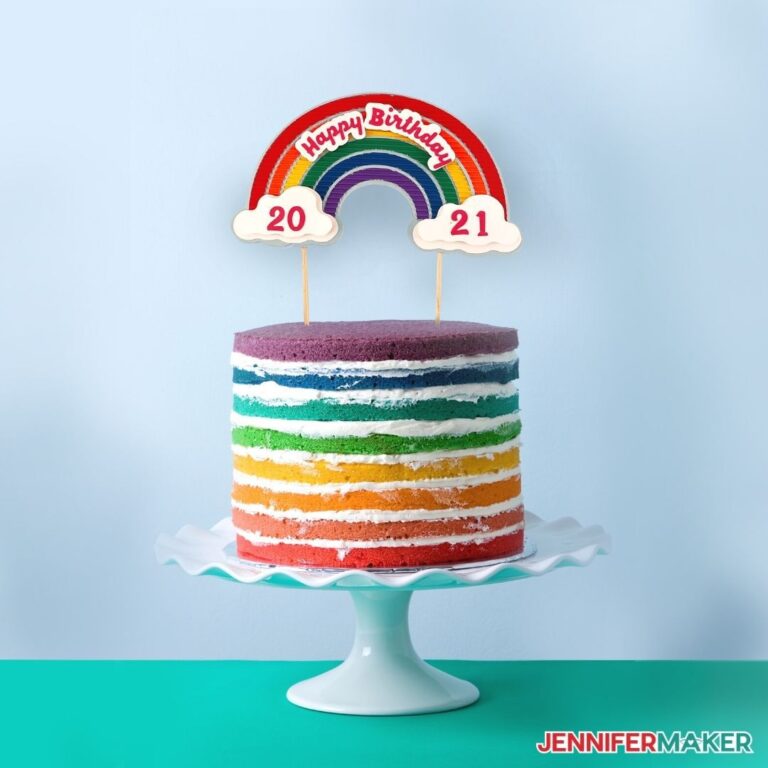 Layered Cake Topper
It's fun to make your own cake toppers, and an easy way to decorate a cake! Combining layers with foam dots will make your design so fun and interesting and your topper will be the talk of the party!
Answers to Your Questions About How to Make Cake Toppers with Layered Designs
Q: What other material can I use for these personalized cake toppers?
These offer up so much flexibility! You will want material less than 2.0mm in order to fit into the Cricut machine. Poster board, Kraft board, or cardboard are all options to use as well! You may be able to use Cricut chipboard as well, but for that you'd also need the knife blade, strong grip mat, and painter's tape, AND you'd want to only cut the back layer from it, as the other layers with fine cuts are too intricate for chipboard. You could also use adhesive vinyl and transfer tape for the name and year if you wanted, too!
Q: Can I use the Cricut Joy machine?
Yes, both cake toppers can be cut on the Cricut Joy, but you will need resize both of my designs to fit your mat, and the rainbow themed cake topper is going to need less resizing than the mermaid themed topper. For the Joy you will want to make it no bigger than 4.25″ on the shortest side.
Q: Can these cake toppers be cut with wood, like maybe a veneer?
Yes if you have a Cricut Maker, you can definitely try these with wood! I would not recommend balsa wood, however, as the details are too intricate for balsa.
Q: Can I cut a cake topper by hand?
Yes, you can cut this project by hand. All my files have a printable PDF file for hand cutting with a craft knife.
Q: Can I edit any name or any phrase on the design?
Yes, the printable step by step process tutorial shown above shows you exactly how to change the name and year on the cake topper. If you need a simpler cake topper, check our my original cake topper!
Q: Can you design other happy birthday images, a cake topper for a baby shower, or other custom topper designs?
Please let us know at our project request link so we can keep track of your requests.
Q: My cardstock keeps tearing when I am cutting. What am I doing wrong?
Is your mat sticky enough? Have you checked your blade for debris? Are you using high quality cardstock? Are you using the right cut settings? Check out my guide to Cricut cutting problems that addresses many of the common problems!
Q: How do I separate the layers of the custom cake topper design SVG cut file?
All you need to do is select the design then tap "Ungroup" to separate the layers.
Q: Can I cut this design in fondant?
No, the Cricut machines are NOT food safe! Please do not put fondant in your Cricut.
Q: How else can I use my Cricut for cake decorating?
Why not make some paper flowers? I think they look gorgeous on a cake!
Get my free SVG files to make Custom Cake Toppers
I'd love to see YOUR custom cake toppers with ALL the layers! Please share a photo in our Facebook group or tag me on social media with #jennifermaker.
Love,