Learn the RIGHT way to put vinyl on mugs, including how to pick out the best mug, design, and vinyl for results that look great and last!
Today we're putting
vinyl on mugs!
I received MANY requests for this tutorial, and it's easy to see why. Personalized mugs are fun to have and give as gifts, and they are very on trend right now. And it's quite easy to add a name or saying to one of these mugs, too!
See exactly how to put vinyl on mugs in this step-by-step video below:

But I also understand why I got so many requests for a tutorial. Despite their simple appearance, there's a lot of choices that go into putting vinyl on a mug. First you need to know what kind of mugs work best, then you need to know what designs work best, especially on curved mugs. And if you do get a curved mug, how do you put your vinyl on without it creasing? And, probably the biggest choice — what kind of vinyl do you use so it stays put?
I can help with all this! We'll go over the types and shapes of mugs that work best for vinyl decals. We'll talk about designs that look best on mugs! And then we're going to do a TEST of all the different types of vinyl one can put on a mug, from adhesive vinyl to heat transfer vinyl … you know, the stuff you iron on. No, I'm not kidding! We're going to do it.
Oh! And I also made some SUPER cute designs that you're welcome to download and use. These little kawaii faces are easy to apply to mugs and look ADORABLE. I made a variety of faces and expressions, including a unicorn, a kitty, and a puppy.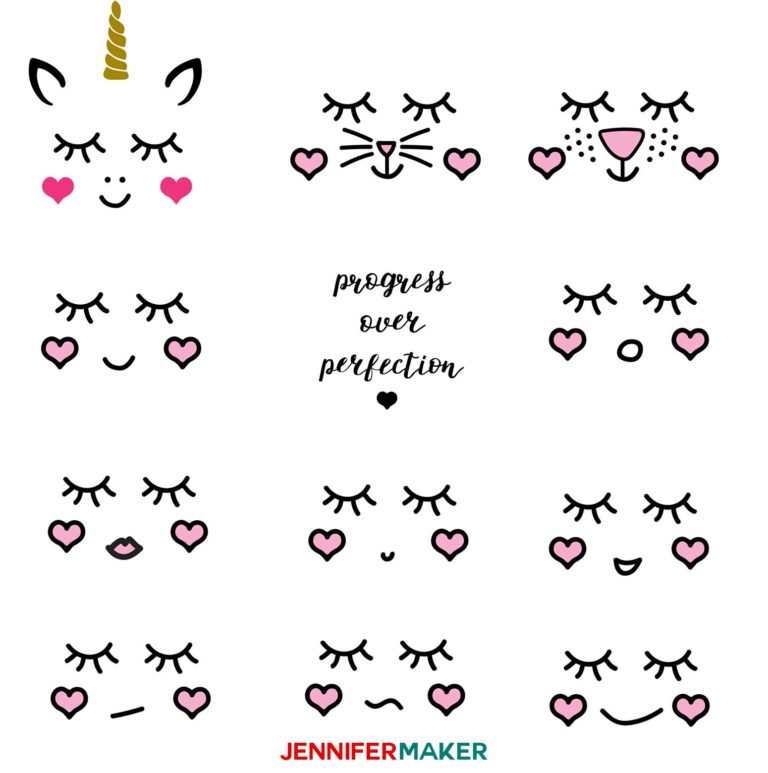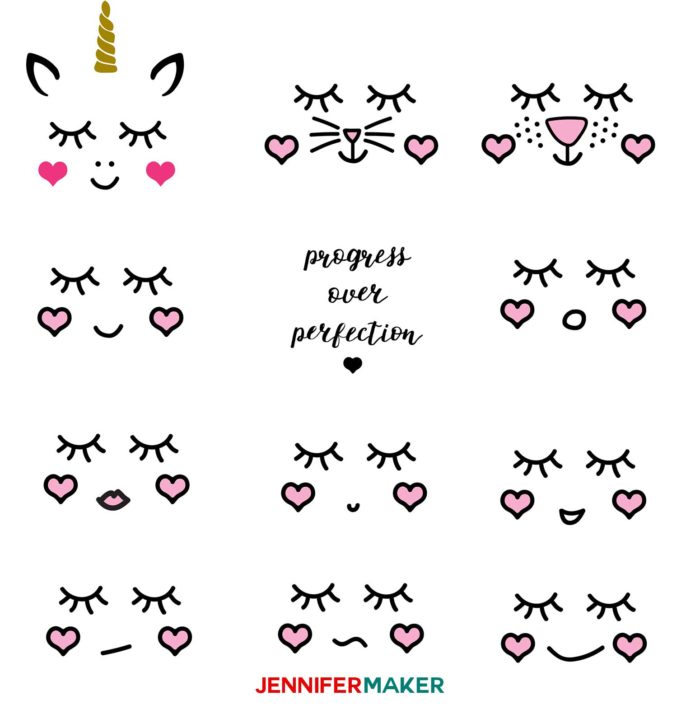 This was a well-requested tutorial! Many thanks to the readers and viewers who requested I show how to put vinyl on mugs (Anita H., Connie S., Melissa, Christina S., Stephanie P., Susan B., Lynda, Melissa, Cheryl W., Natalie, Sarah S., Cathy M., Crystal T., and Karen L.).
Key concepts taught in the video tutorial include how to select the right mug, design, and vinyl, how to transfer the vinyl to the curved surface of a mug, how to layer vinyl for a mug, and how to treat your vinyl appliquéd mug.
Let me show you how to put vinyl on a mug! This post contains some affiliate links for your convenience (which means if you make a purchase after clicking a link I will earn a small commission but it won't cost you a penny more)! Read my full disclosure policy.

Materials for Vinyl Transfer Mugs
How to Put Vinyl on a Mug
Step 1: Find a Design For Your Mug
First, you need some cute designs for your mugs! I made some for you that you can download from my free resource library (you can get a password for it at the bottom of this page). If you're going to cut the vinyl decals (Design #125) out on your cutting machine, upload the file to your design software. If you're not sure how to upload an SVG cut file to Cricut Design Space, watch this helpful video training series I made. If you're on an iPhone or iPad, here's how to download and upload SVG files to the Cricut Design Space app.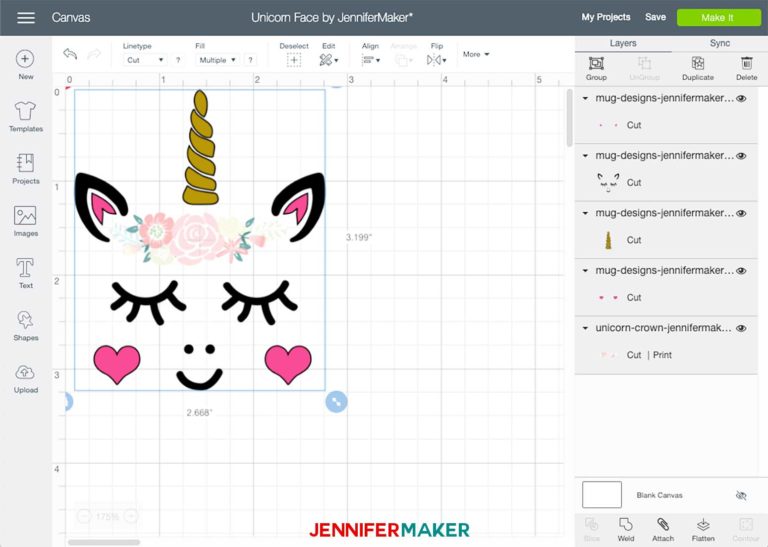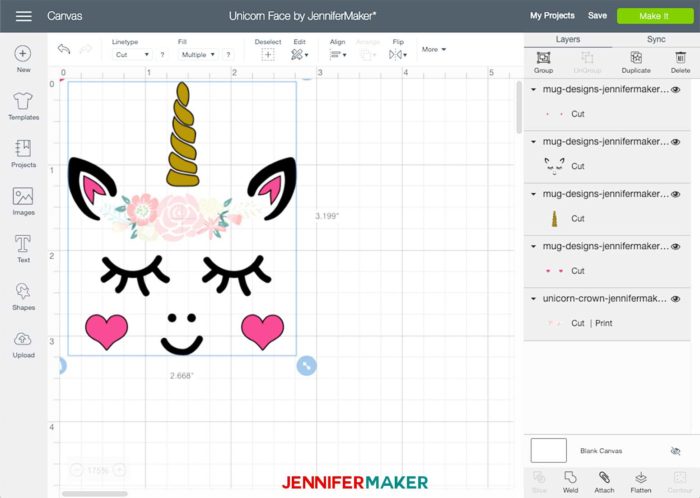 Note: The unicorn crown is in a separate file because it is a Print Then Cut image. Just upload it and add it to your canvas with the other mug designs — resize as necessary.
You should NOT mirror adhesive vinyl the way you would iron-on vinyl.
Step 2: Cut Out Your Vinyl
Place your permanent adhesive vinyl shiny color side UP (right side up) on your cutting mat. Cut the vinyl with the fine-point blade.
When you are done cutting, flip the mat over onto your work surface and peel it away from the vinyl carefully.
Step 3: Weed Your Vinyl
Once you cut out your vinyl, you want to weed it which means to remove all the extra bits that you don't want to transfer to your mug. You might be able to do this with your fingernail, but you might want to use a weeding tool (I do).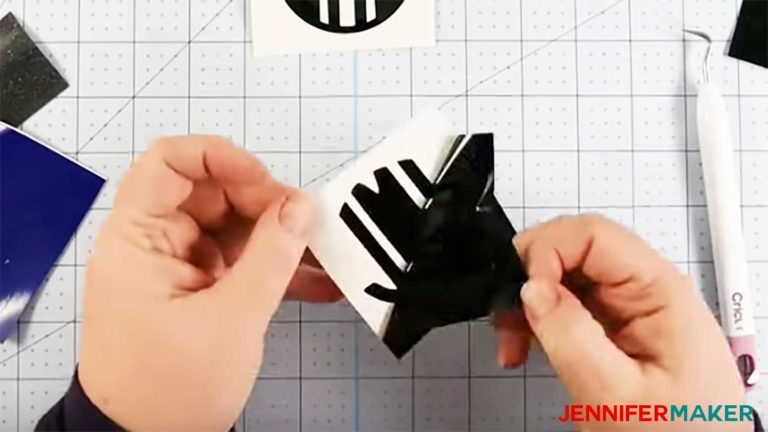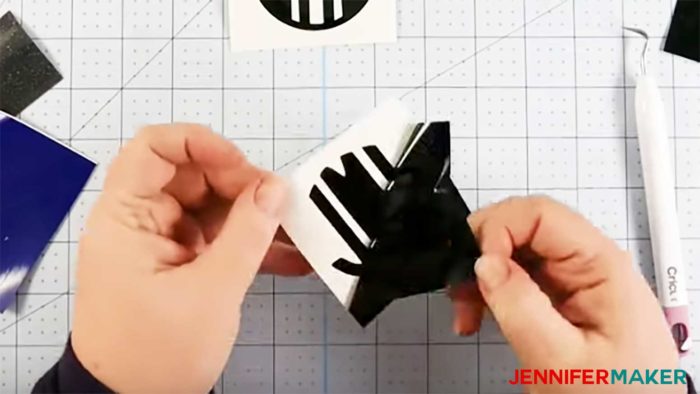 After the vinyl is weeded, you need a piece of transfer tape to transfer your design to our mugs. So you just want to cut out a piece of transfer tape that is roughly the same size, or at least the same size as your design. Take the backing off of the transfer tape and you put it onto the front of your vinyl decal. Start at the corner and move outwards so that you don't get creases and bubbles in your transfer tape.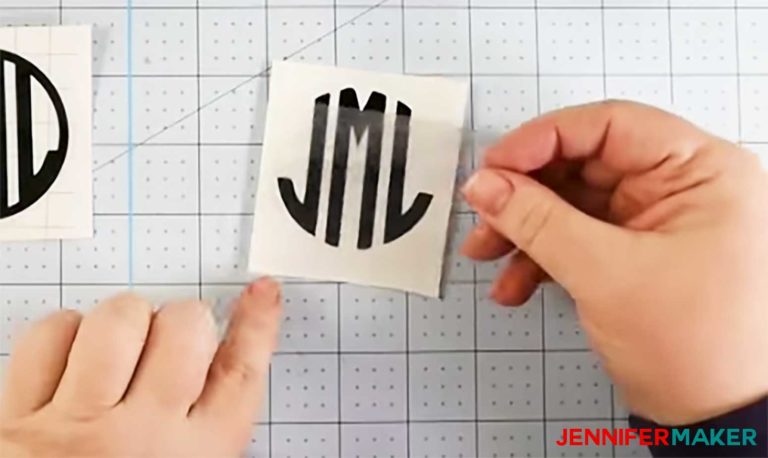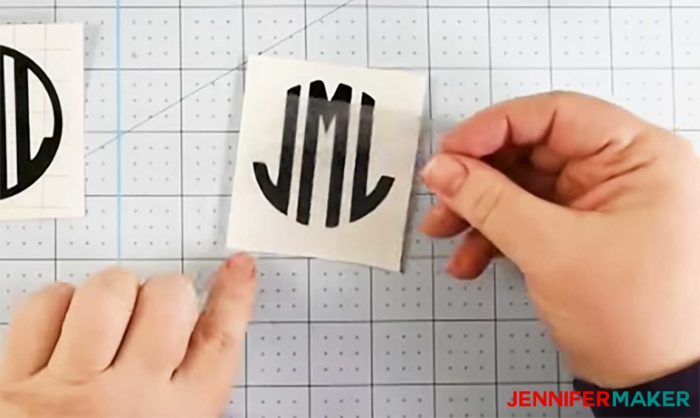 Note: Don't put the vinyl sticky side down of your work surface because that will just mess with your vinyl's ability to adhere to a mug.
Step 4: Apply the Vinyl to the Mug
Clean the surface of your mug first with 91% isopropyl alcohol. This will remove any oil or dirt and get our surface as clean as possible. This will make a difference in the vinyl decal sticks and stays stuck. We want our decals to stick as good as possible, right? It's no fun putting something on and having it come right off.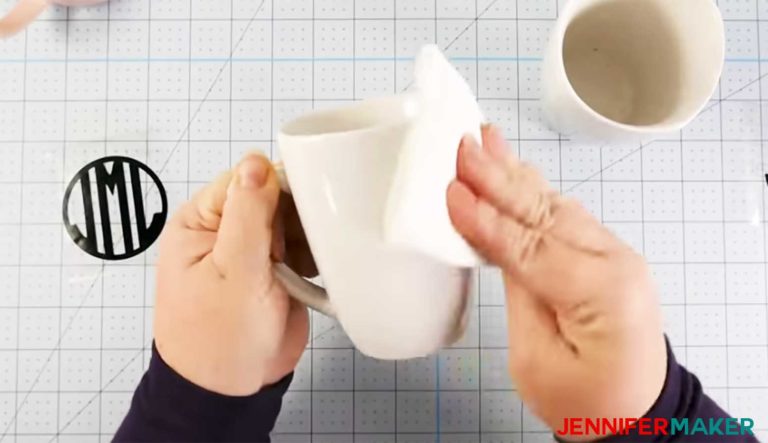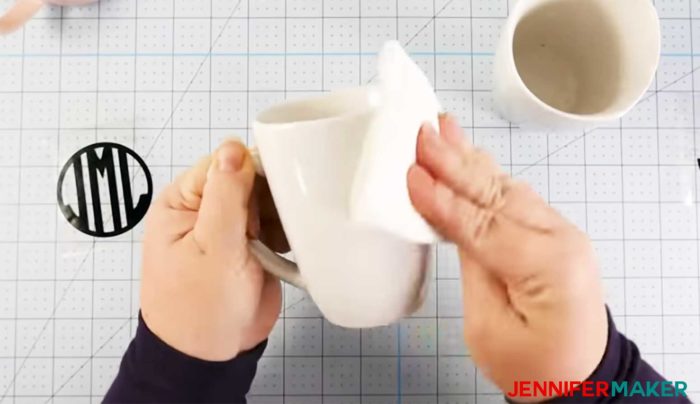 Make small snips around the edges of the transfer tape on your vinyl decal. These snips allow your transfer tape to bend with the curve of the mug and allow you to apply it on that curve without any creases.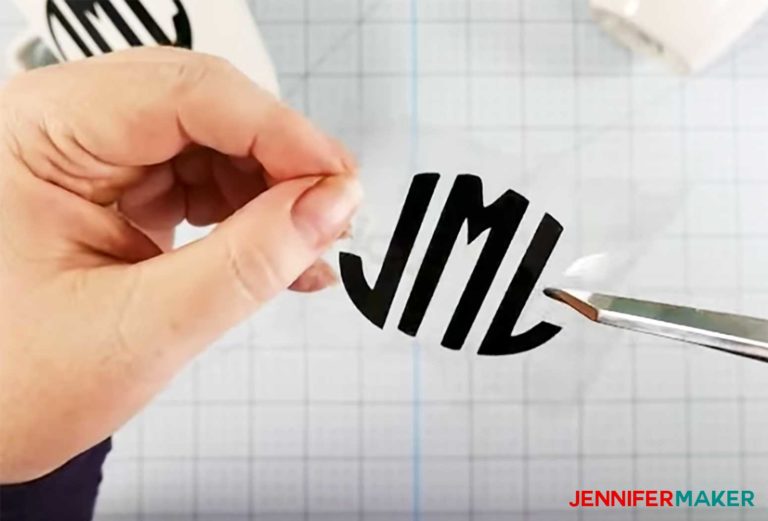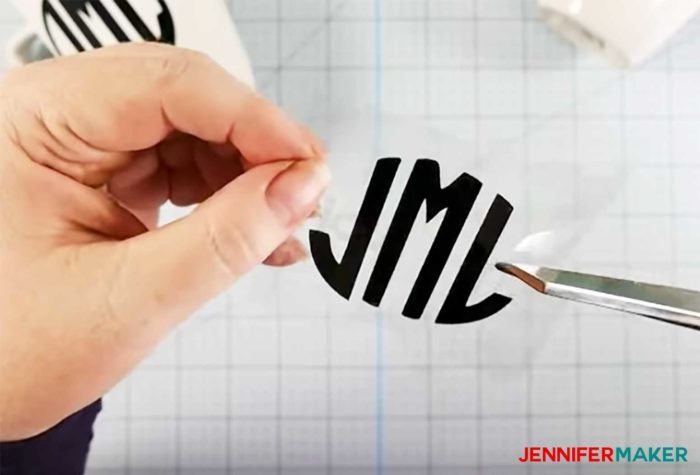 Apply the vinyl to the mug, and allow the vinyl to move where it wants to go naturally. Don't force it into a position. Just smooth it all down, and because you cut snips in the transfer tape, it will smooth and move into place.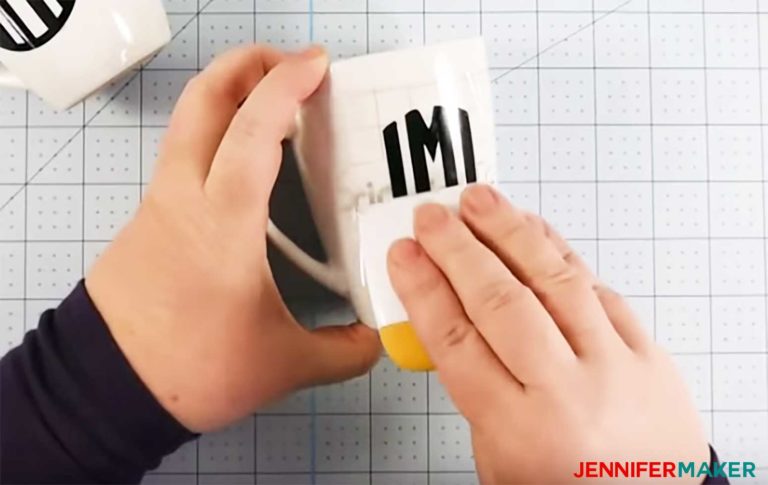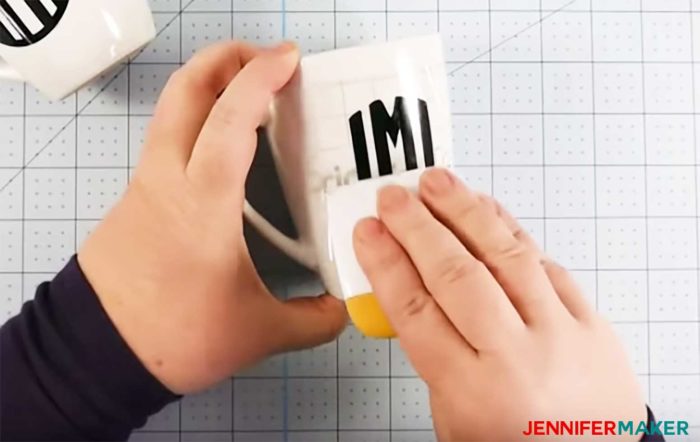 So even though you may have creases in your transfer tape, you won't have creases in our vinyl. This is the secret to putting vinyl around a curved surface like this.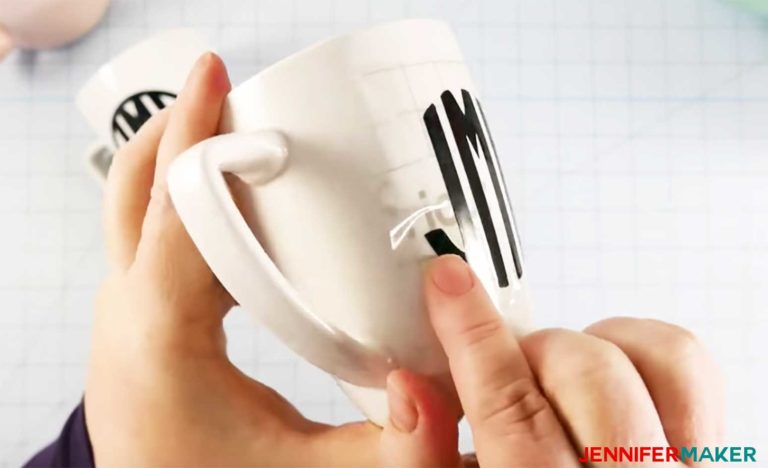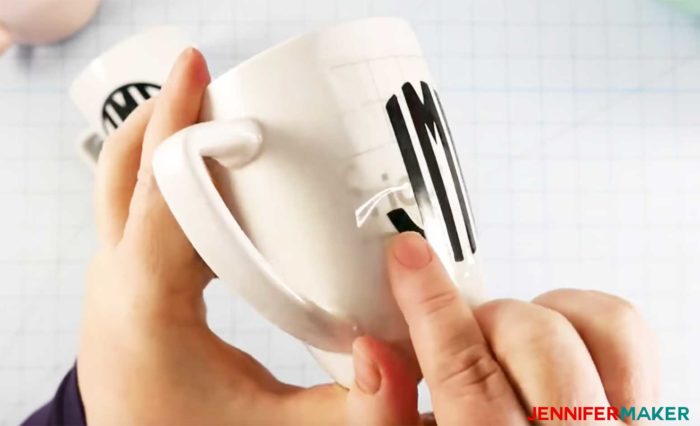 Take off all the transfer tape. Your goal is to see perfectly smooth and clear vinyl on your mug with no creases.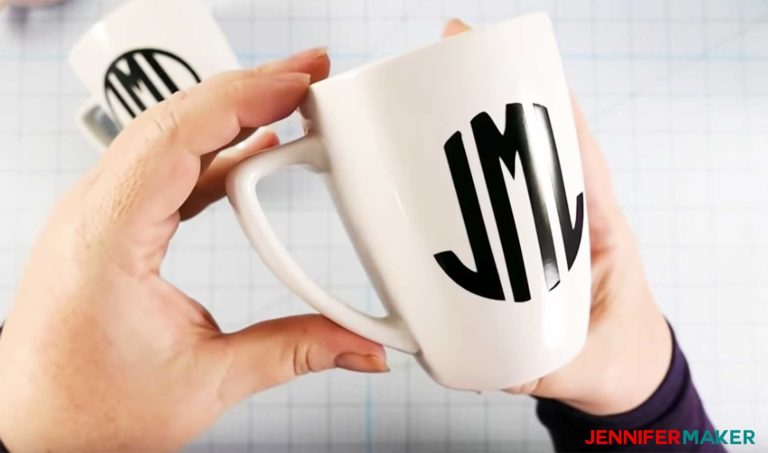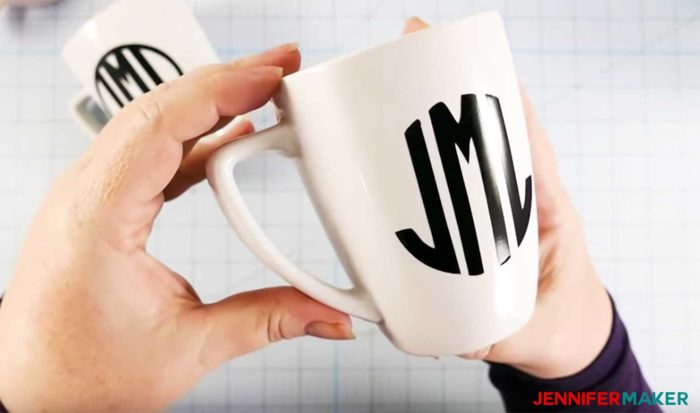 To learn how to apply a layered vinyl decal to a mug, please watch this video.
To learn how to seal a vinyl mug, please see this tutorial.
Get my free SVG cut files and patterns for the Vinyl Transfer Mugs
Vinyl mugs are fun and easy IF you do it the right way. Now, even though I did the dishwasher test, I still tend to hand wash my vinyl mugs. It's your choice. So go ahead and put your mugs in the dishwasher (top rack only), but with the understanding that after the 100th time they might not look so great. (Or be prepared to seal your vinyl first.) But hey, you can always remake it, right?
If you make one of these vinyl transfer mugs, please share a photo in our Facebook group or tag me on social media with #makershowandtell.
Want more Cricut mug ideas? Check out this idea list with photos and links to my FREE designs!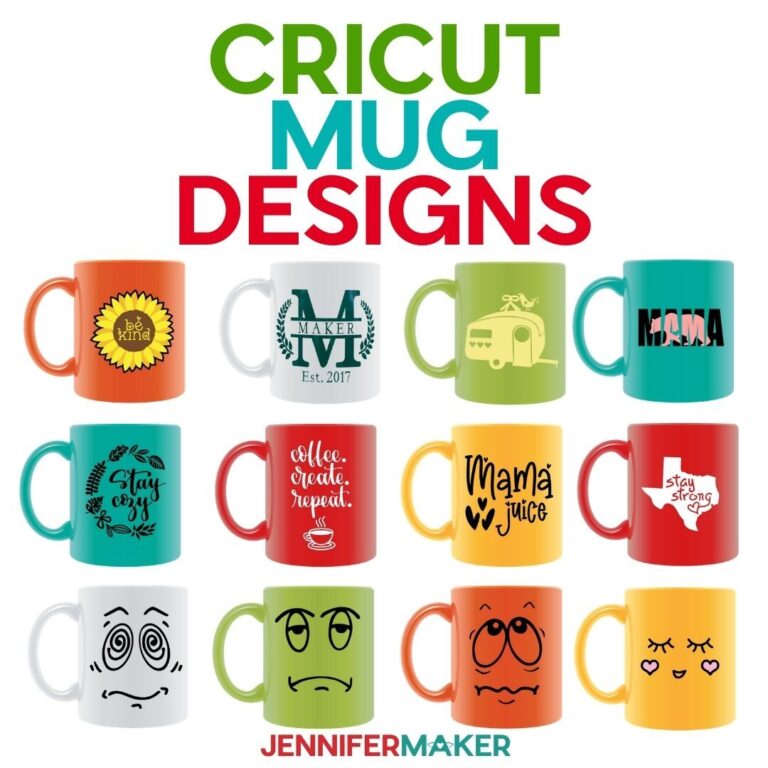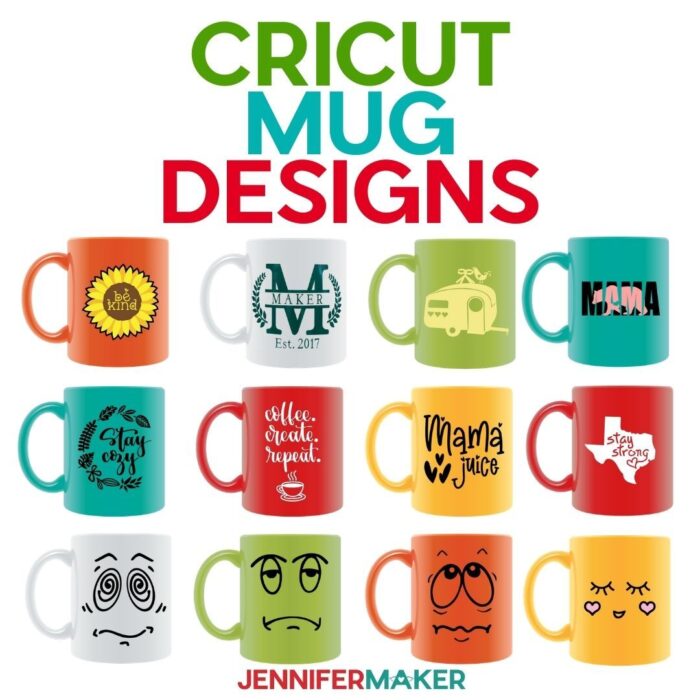 [ess_grid alias="25days2″]
Love,