We love to play Minecraft as a family and so it should come as no surprise that my child chose a Minecraft theme for her big 10th birthday party! I got a lot of tips on how to pull off an epic Minecraft birthday party from friends and other moms on the Internet, so I'm returning the favor here with ALL the details on how I did this, including all the printables. Also, for those of you out there who are time-crunched like me, know that I pulled the whole party off (sans invitations, which went out months ago) in about 30 hours (well, really more like 16 hours because I needed to sleep and do some real work). Yes, I confess that I started working on the birthday party the DAY BEFORE. Am I bad mom? No, just a really busy mom!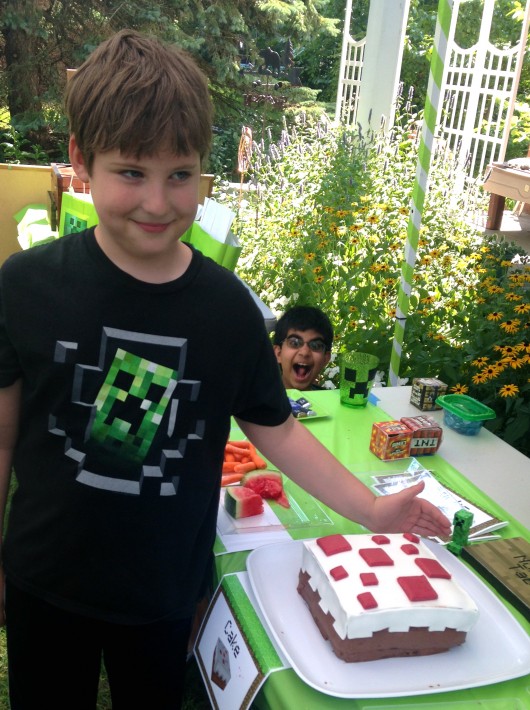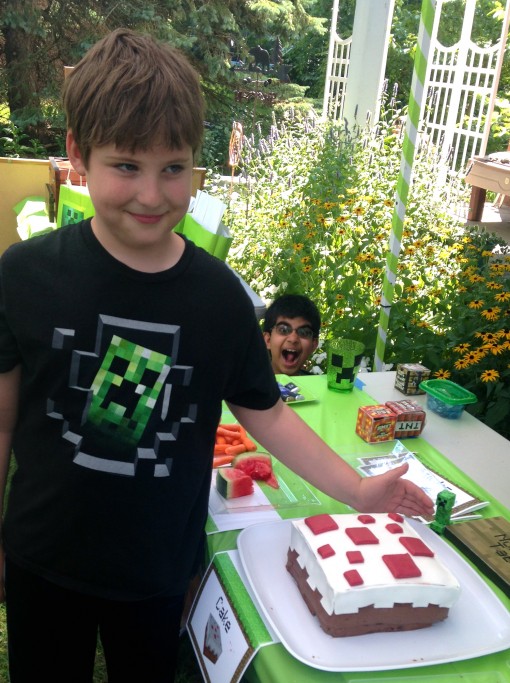 So here's proof that you can have an epic Minecraft birthday party without spending a crazy amount of time on it. And you can download ALL the things I made and printed out, which was quite a bit. Download the Minecraft designs I have from my free resource library (get the password to the library in the form at the bottom of this post).
Minecraft Birthday Party Invitations
First, the Minecraft party invitations — these were nothing more than Pixel Papercraft blocks customized with the Minecrafter font and TextCraft. Alexa chose a different block for each person he invited and she gave each invitation flat (unassembled), asking everyone to return the block to the party. I've made a PDF of one of the actual invitations we made, along with a blank one that you can personalize. Download the Minecraft designs I have from my free resource library (get the password to the library in the form at the bottom of this post).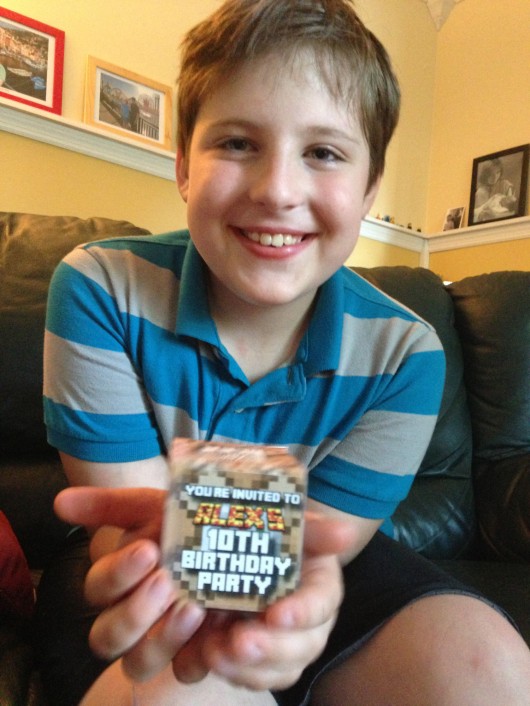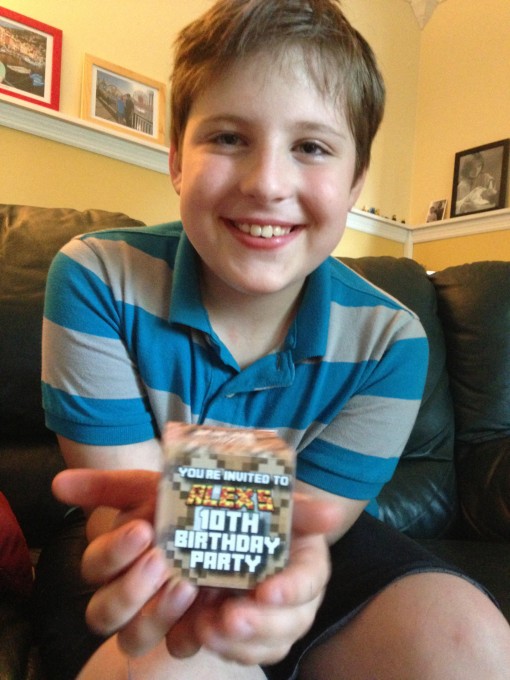 Minecraft Birthday Party Food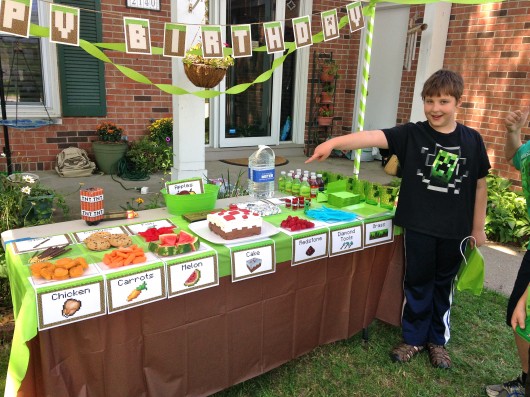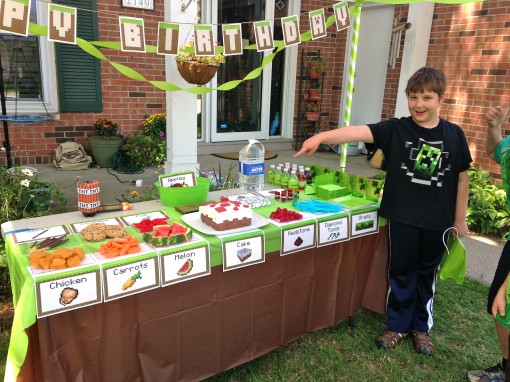 Because I essentially did this all in a day, all our food was easily obtainable from the local stores. But that doesn't mean it wasn't fun — we picked foods you could find in Minecraft and sometimes got a little creative. I got most of the idea for the food from online (thank you to all who posted your party ideas). Here's what we had on our menu:
I particularly liked the TNT — Alexa made them herself: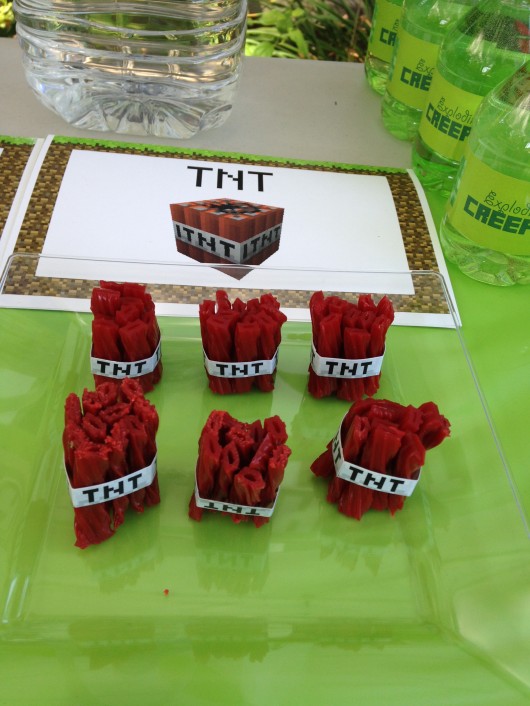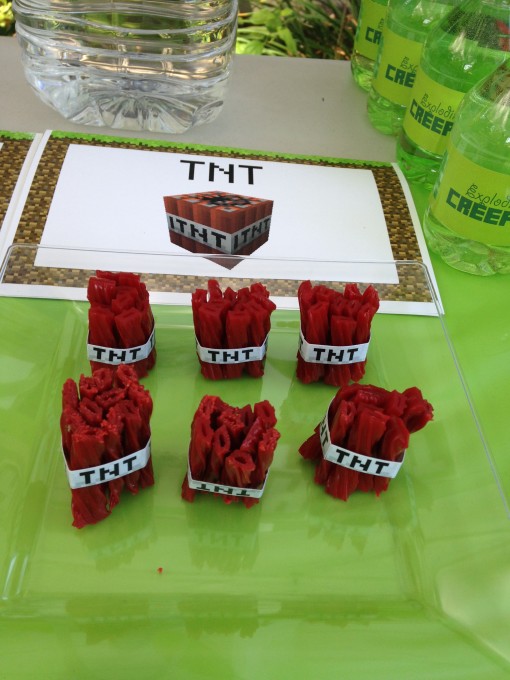 Drinks were mini water bottles flavored with various zero-calorie water flavors. We named the drinks — we had Creeper Cola ("exploding with flavor"), Enderman Juice ("teleported fresh from The End"), and Healing Potions. We also had a big bottle of water which we named Extreme Hills Water ("fresh from the block"). You can download some of the Minecraft designs I have from my free resource library (get the password to the library in the form at the bottom of this post). I printed them onto label paper then put them on the bottles.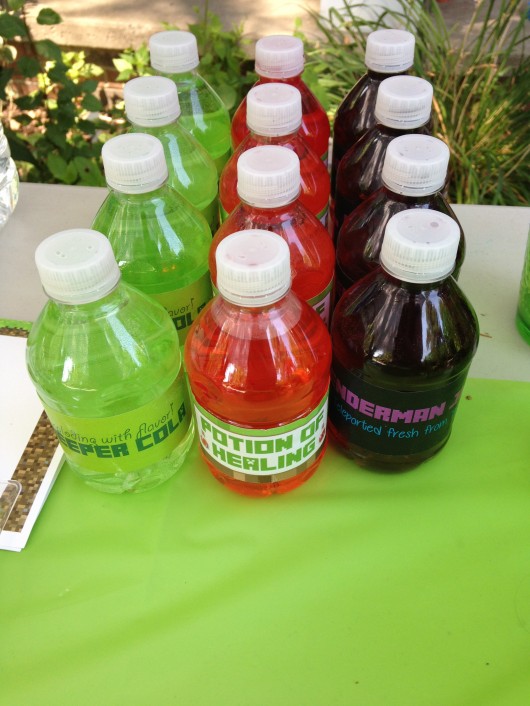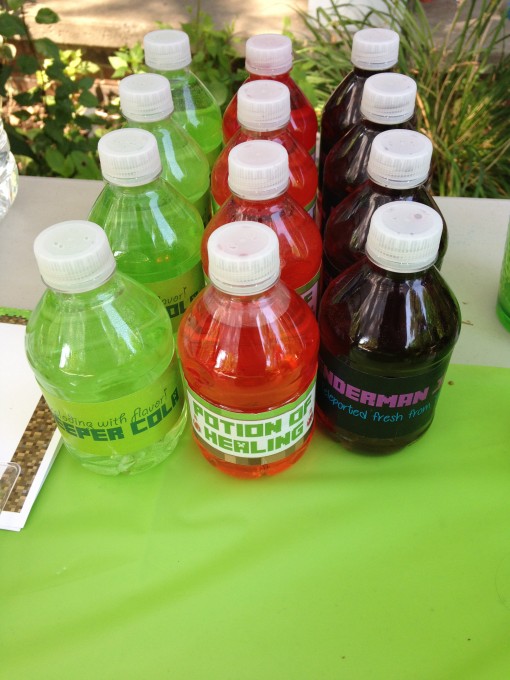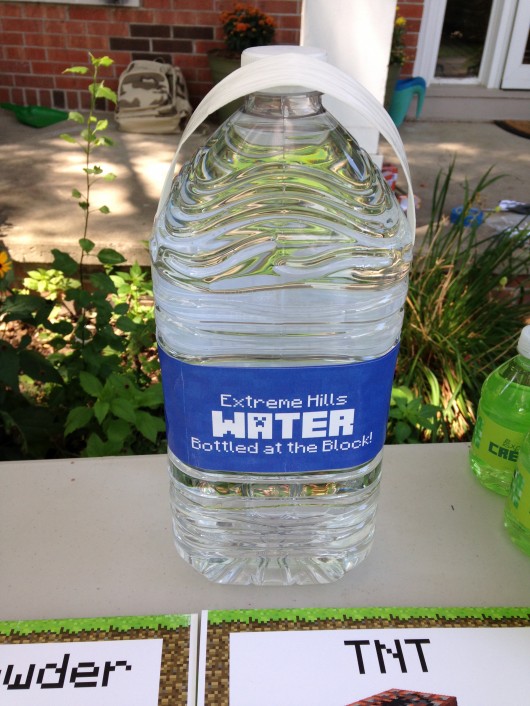 We also got a green plastic cup for each party attendee — they were sale on cheap at the party store for $1. Alexa put the creeper face on with black electrical tape.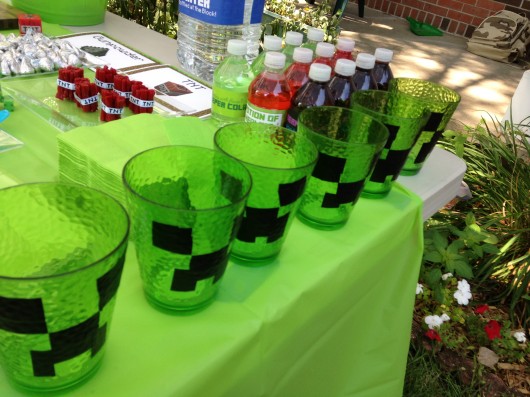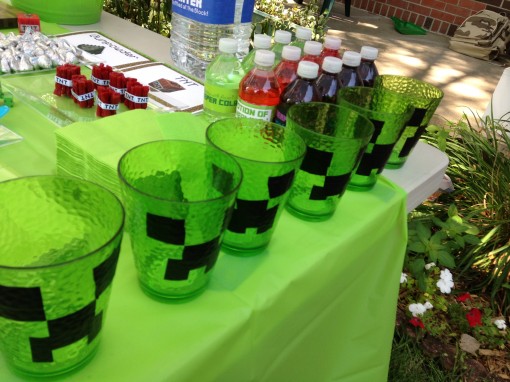 Just for fun, we named the blue plastic cutlery "diamond tools" and the green plates and napkins were called "grass." A printable with all the little signs we put beneath or behind the food and utensils are in my free resource library (get the password to the library in the form at the bottom of this post).
Minecraft Birthday Cake
And that brings us to the cake! Alexa originally wanted a creeper cake, but then we both remembered the cake in Minecraft and decided it would be more fun to make that. To make this, we bought a box of Devil's Food chocolate cake mix, two tubs of whipped milk chocolate frosting, a 10 oz. bag of marshmallows, a large bag of confectioner's sugar (powdered sugar), and some red gel food coloring. First we made the cake in two 8″ square pans. While those were baking, we made marshmallow fondant so we could have a smooth top on our cake. We used this marshmallow fondant recipe and it turned out well. We made 2/3 of the recipe first and kept it white. The remaining 1/3 was colored red while the marshmallows were still warm (before adding the powdered sugar). Note that marshmallow fondant has to be refrigerated overnight, so be sure you allow enough time for that (we just barely had enough as the cake was made about 20 hours in advance). Once the cakes were baked and cooled, we frosted them with the chocolate frosting all over, filling in the corners to keep it as square as possible. Then we just set the cake aside until the following morning when we got the refrigerated fondant out, allowed it to come to room temperature, rolled it, cut it, and placed it on the cake. It probably took a couple of hours altogether, but we think it turned out great! Alexa was careful to put the right number and size of "cherry" pixels on the top of hers cake!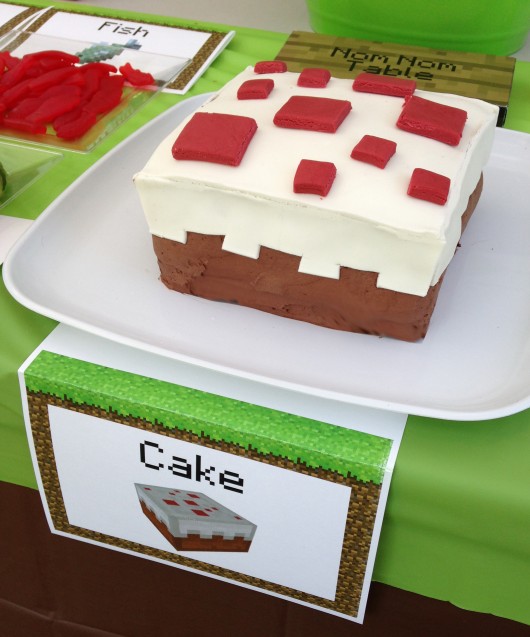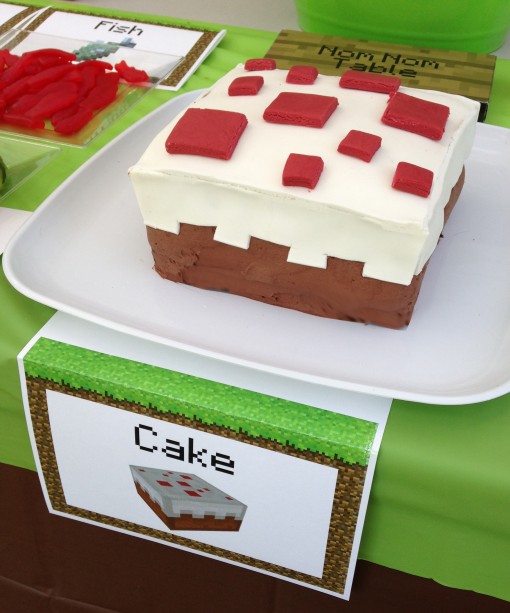 Minecraft Party Decorating
We had the party outside so decorating was simple. We put up our pop-up shade canopy and decorated it with lime green streamers and a Minecraft Birthday Banner. We also made Minecraft sign-style signs for the food table ("Nom Nom Table"), the "Crafting Table, and the restroom, as well as a "Welcome to the Party!" sign (Download the Minecraft designs I have from my free resource library (get the password to the library in the form at the bottom of this post). We covered our big plastic tables with green and brown plastic tablecloths from the party store and used square plates whenever we could. We also brought out Alexa's various Minecraft swords and toys. Oh, and we put a big black Enderdragon (more on that later) and some Creeper heads on our garage door.
Minecraft Birthday Party Games
Alexa's party was three hours long and she wanted lots of things to do, so we went searching on the Internet for fun ideas. Here's what we ended up doing:
Creeper Dodgeball
Musical Blocks
Knock Over the Creeper
Ghast Pinata
Minecraft Crafting
Pin the Arrow on the Enderdragon
Light the TNT
Enderdragon vs. Splash Potions
Here are the details on each game:
Creeper Dodgeball: We bought a large green bouncy ball from the dollar store and put a Creeper face on it with a Sharpie. Then the kids played standard dodgeball with it as we waited for everyone to arrive. Apparently I play dodgeball differently than they do, however, because they were all confused when I told them the rules. Play it any way you wish so long as everyone is happy and no one gets hurt.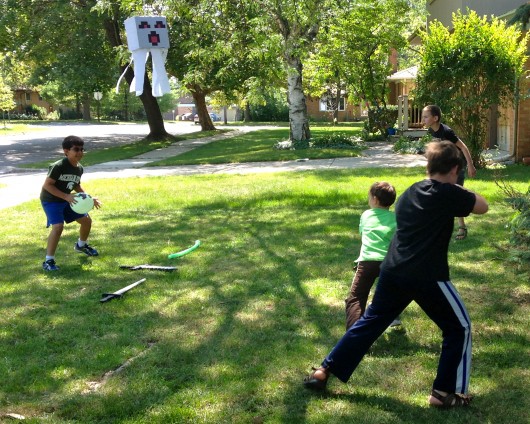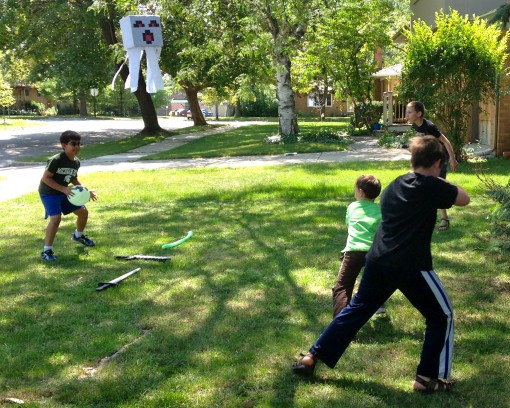 Musical Blocks: I printed out a block of ore for each kid (redstone, diamond, lapis lazuli, emerald, coal, and gold) onto cardstock. I put these out onto the grass in a big circle and told each kid to stand on one. Then I played a Minecraft song (I think I was playing "Revenge") and told them to move from block to block until the music stopped. Once it stopped, I called out the name of one of the ores — whomever was standing on it was the first winner and traded their ore card for a prize. We continued on like that until everyone had a prize. The ore blocks printable is in the Minecraft birthday party printables file you can get at the bottom of this post.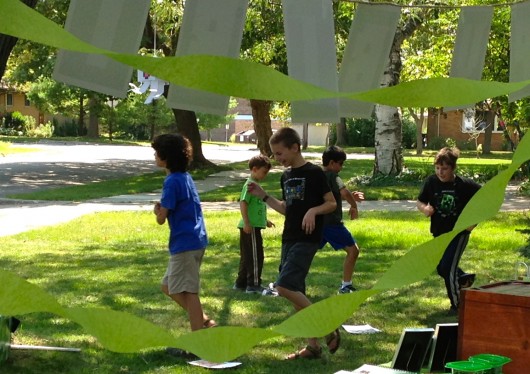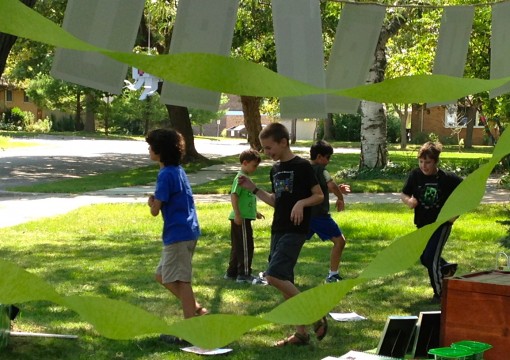 Knock Over the Creeper: I bought some green floral styrofoam from the dollar store and made a creeper from it. Then using a simple plastic bow and arrow with a suction cup (bought from the party store), each kid took turns trying to knock over the creeper. I had them keep track of how many blocks they knocked over (it was made of four blocks) and the one who knocked over the most blocks was the winner.
By the way, you should know this post contains an Amazon affiliate link, which means I receive a small commission if you make a purchase using this link. If you buy the Creeper head from my link, I get (a little) more money to make more crazy things and birthday parties!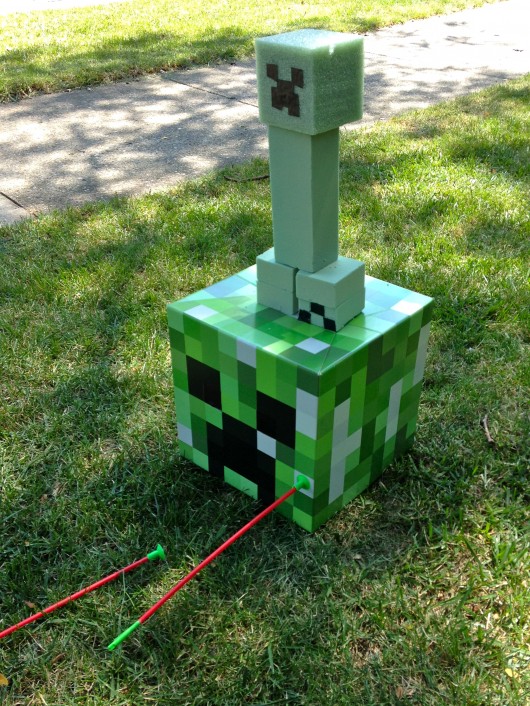 Ghast Pinata: Greg made a magnificent ghast pinata from a small cardboard box about 7″ x 7″ x 7″ that we had around the house. He slit the sides then taped them back up to ensure the pinata could be broken. Then he decorated it with paper to look like a Minecraft ghast. We hung it from the big tree in our yard and each kid got turns hitting it with a wood sword. We first had them wear a big Minecraft Creeper Head (affiliate link) and turned them in circles, but later we just made them run three times around the Creeper head before coming in for the attack. It took just the right amount of time and everyone got to beat on the pinata at least twice!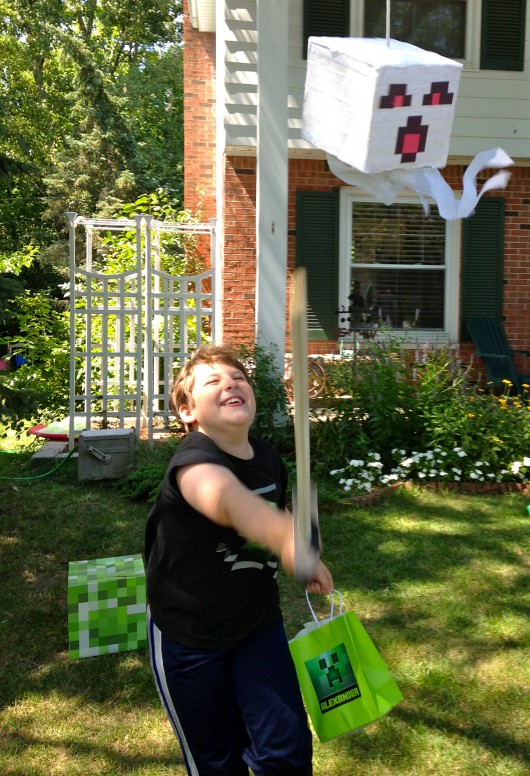 Minecraft Crafting: This game I got from http://ichooseawesome.wordpress.com/2012/12/03/epic-minecraft-party/, which has all the printables for it. We used an actual wood chest decorated with electrical tape as the crafting table and put all the recipe cards on corkboards. The reagent blocks were scattered around the yard for the kids to find. The kids really loved crafting various prizes and even cooperated at the end to make sure everyone got something if they wanted it.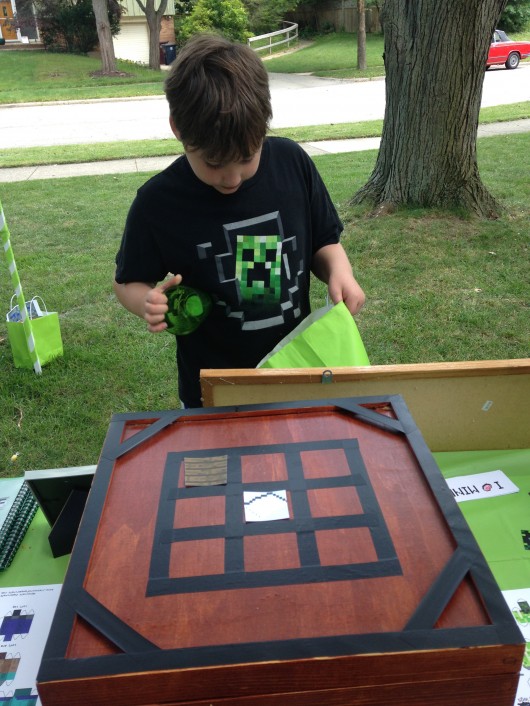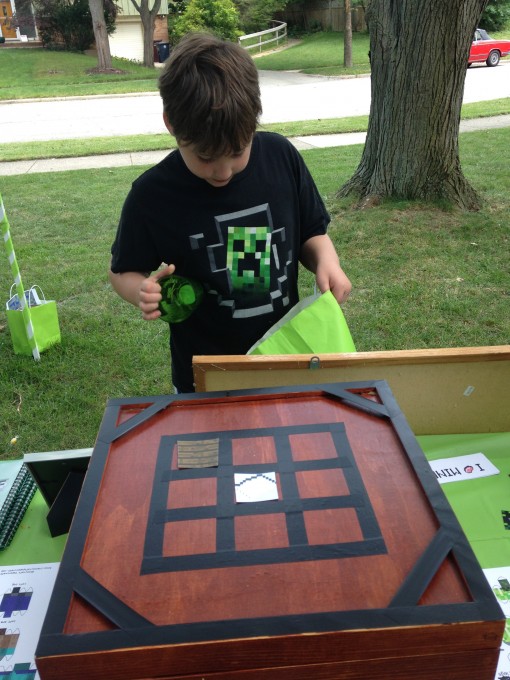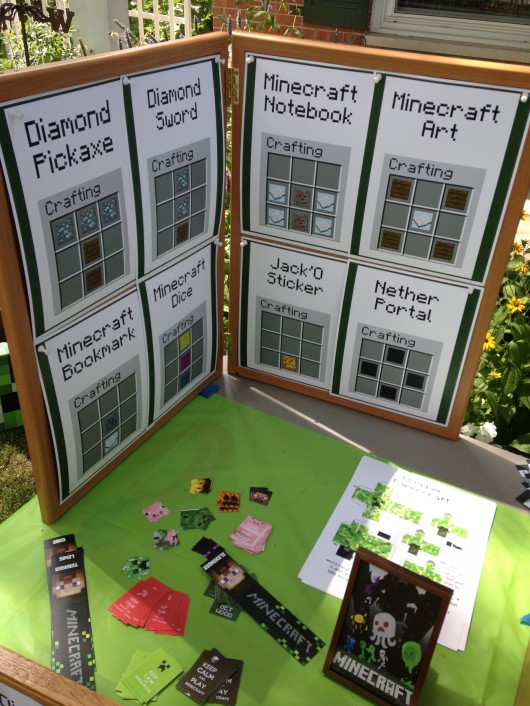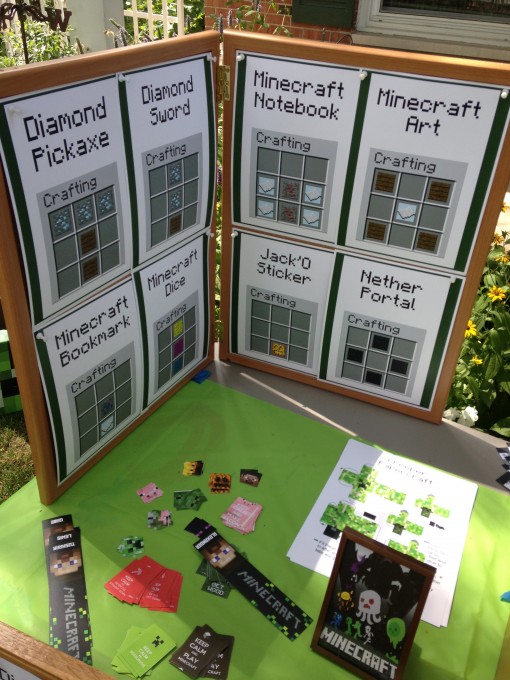 Pin the Arrow on the Enderdragon: Greg made a big Enderdragon from posterboard and taped it to our garage door. Then I made arrows with each kid's name on it. We made them wear the big Minecraft Creeper Head (affiliate link) again and try to get their arrow pinned on the dragon as close to the center of its head as possible. It worked pretty much like classic pin the tail on the donkey party game.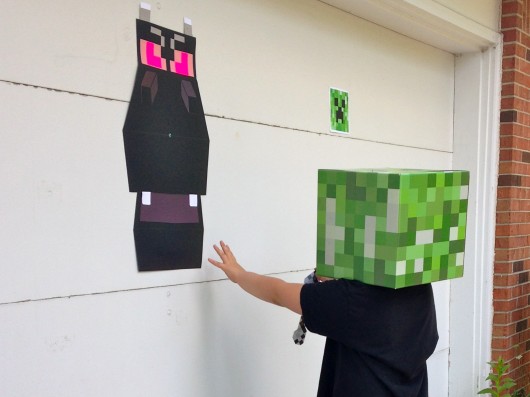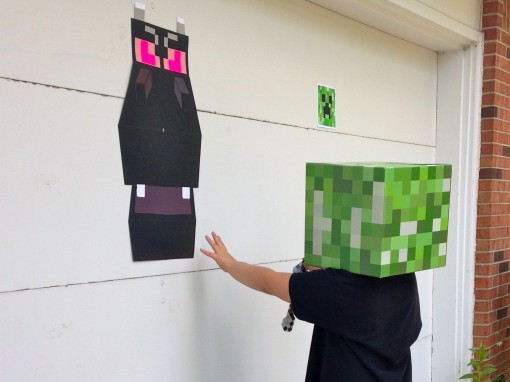 Light the TNT: Alexa had been asking about Diet Coke and Mentos for a few months now, so I decided to have a little fun with them at the party. I put a little bottle of Diet Coke in a two-high TNT box and a roll of mentos in a redstone torch box. I split everyone into teams of two and had them "light" their "TNT" with the Mentos and Diet Coke. It was fun and crazy, and the fact that I used little bottles meant nothing too crazy was going to happen. The TNT and redstone torch boxes made to the correct sizes are in my free resource library (get the password to the library in the form at the bottom of this post).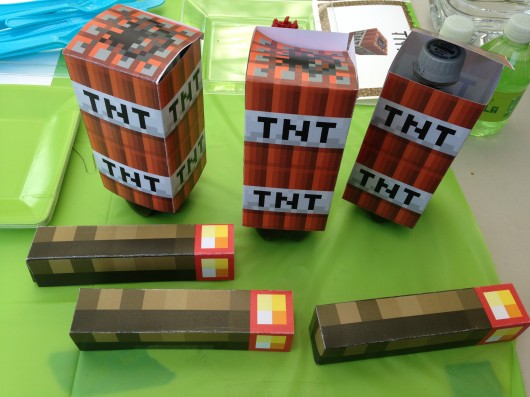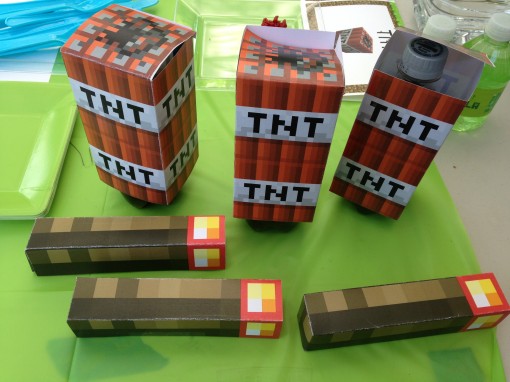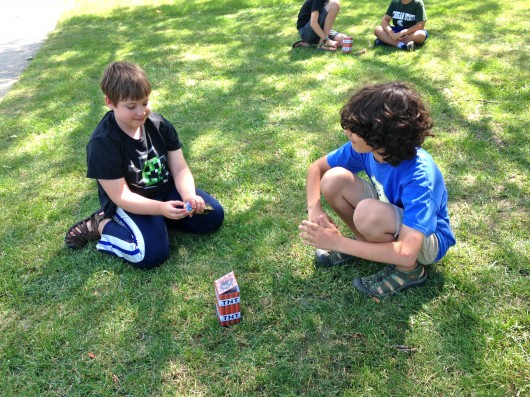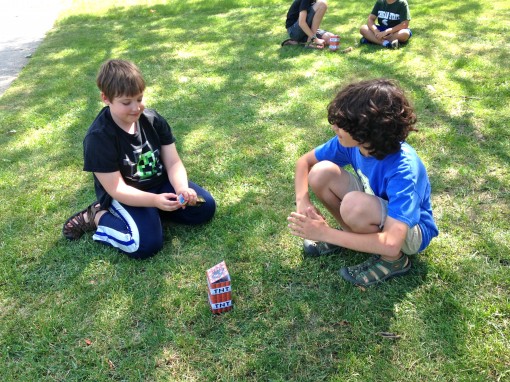 Enderdragon vs. Splash Potions: While splash potions do not actually harm an Enderdragon in the game, we took some liberties here and decided OUR Enderdragon could be defeated with them. What were our splash potions? Lime green water balloons, of course! This was nothing more than the kids throwing water balloons at the Enderdragon on our garage door willy nilly. We did chalk a target on the Enderdragon's nose as an incentive, but the kids really just had fun without it. Who can deny a good water balloon game on a summer's day?
Minecraft Birthday Party Prizes
Prizes were mostly things I printed out from Pixel Papercraft, but I had a few extra goodies as well. Here's what the kids got (Download the Minecraft designs I have from my free resource library – get the password to the library in the form at the bottom of this post).
Creeper Cup (mentioned earlier)
Block of Ore (square plastic containers filled with things that looked like diamonds, emeralds, lapis lazuli, coal, iron, and redstone)
Minecraft Picture in a frame (art were various wallpapers and the 4″ x 6″ frames came from the dollar store)
Minecraft bookmarks
Minecraft stickers (I got the stickers from http://ichooseawesome.wordpress.com/2012/12/03/epic-minecraft-party/)
Minecraft papercraft things like a Creeper, Steve, End Portal, 20-sided Die, Diamond Sword, and Diamond Pick (all from http://www.pixelpapercraft.com)
Gold Bar (Trident gum in a custom wrapper)
Iron Bar (Hershey miniature in a custom wrapper)
Squid Bar (Hershey miniature in a custom wrapper)
Minecraft notebook (green notebook from the dollar store with Minecraft stickers on it)
All of these items were kept in a green paper goodie bag with a Creeper sticker and each kid's name.
Download the Minecraft designs (Design #1) I have from my free resource library (get the password to the library in the form at the bottom of this post).
So was the past 30 hours of frenzied activity worth it? Yep. Your child only turns 10 once, and, frankly, it was fun to come up with cute Minecraft stuff. She LOVED her Minecraft birthday party and so did her friends. And because I didn't plan it way in advance, that meant I couldn't go absolutely crazy, which make it easier on my wallet and on cleanup. All in all, I'm very happy, albeit a bit tired now.
I want to thank everyone who put their Minecraft ideas online — without you, I could not have pulled off such a great party in so little time. There's yet another wonderful benefit to the Internet!
---
Sign up to get all 12 Minecraft party printables instantly!
That's all the Minecraft printables I mention in this post: the invitations, party art, bag labels, bar labels, birthday banner, bookmarks, food labels, ore blocks, signs, TNT labels, TNT torch, and water bottle labels! Subscribing gets you my weekly newsletter with details about my new projects, too!
Looking for the Minecraft printables? Go check your email -- once you confirm your subscription, the file will download to your computer.
We hate spam and promise to keep your e-mail address safe!
---