Make your own personalized DIY door hangers in a variety of styles!

One of my favorite things about being able to make anything I want is how I can stay up on the trends so much easier! And right now, round wood door hangers are all the rage. This trendy home decor sign is nothing more than a thin wood round, painted and/or decorated with vinyl, that you can personalize and hang on your front door. Super cute and super easy! And a fun way to personalize your home decor and offer a change from the more typical seasonal wreaths. To make it even easier for you to make and personalize your own DIY door hanger, I've designed several free SVG cut files and printable patterns for you to use.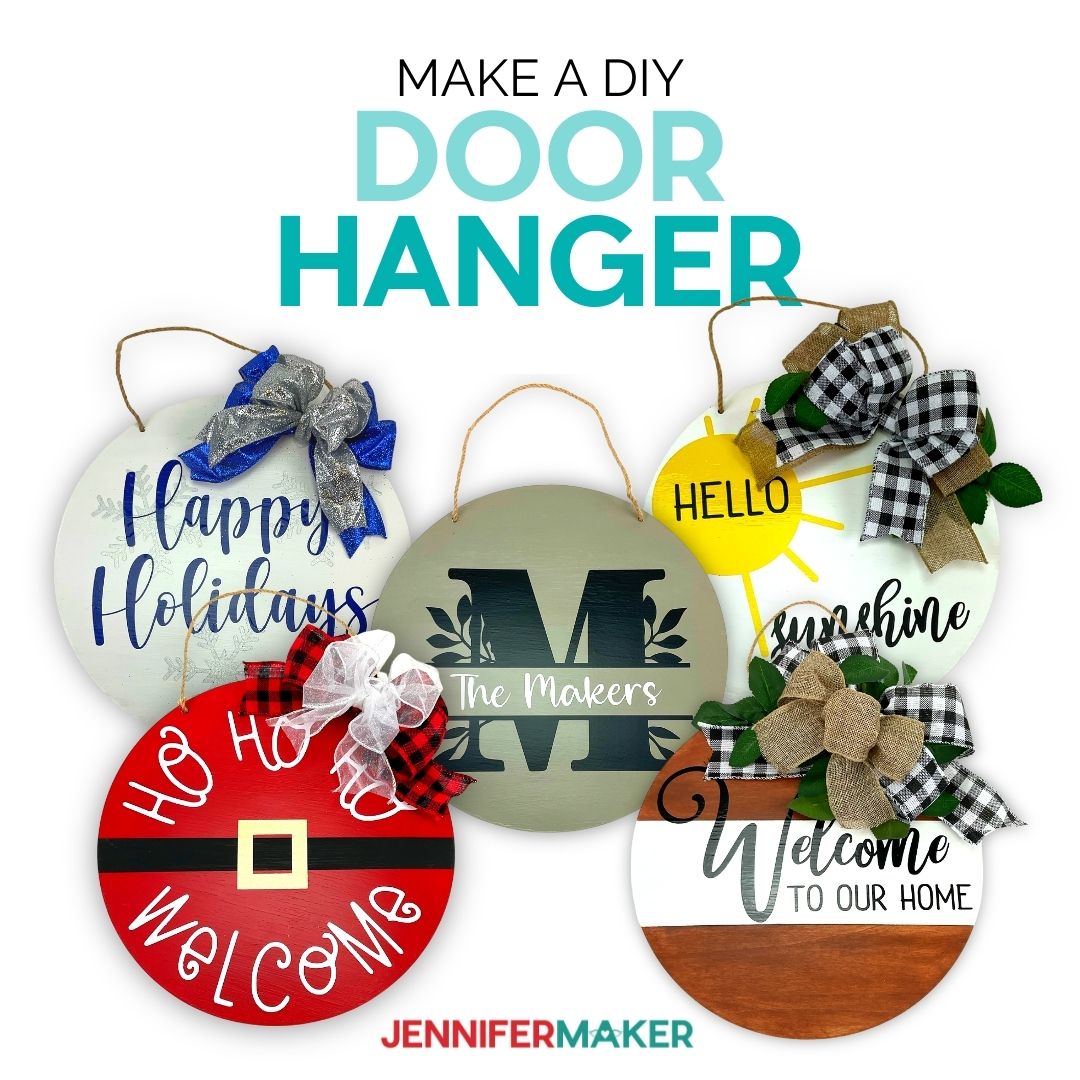 My DIY Door Hanger designs start with an unfinished wood circle — you can get these in a variety of sizes, but I think a 12 inch wood round works best for most front doors. If you can find your wood circles with pre-drilled holes and twine, even better. And that's how the ones I used come (see materials below for source). Having the wood rounds pre-drilled and hung in advance makes this project so much easier. Feel free to drill and hang your own, of course!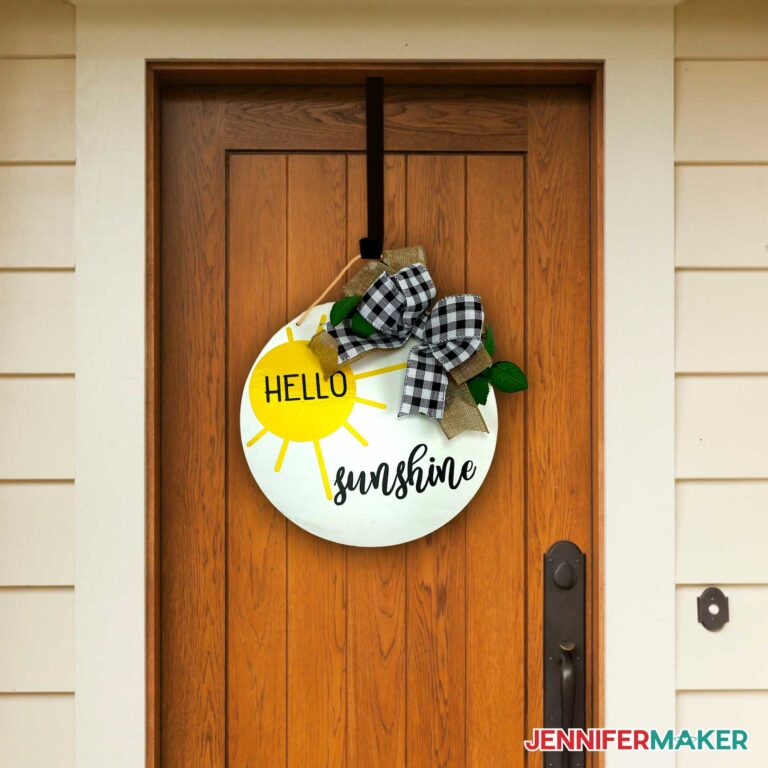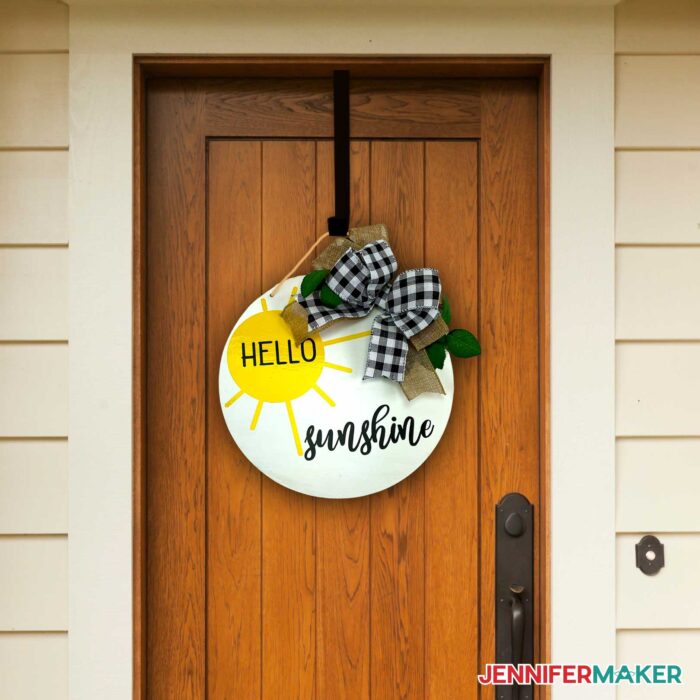 To really make your DIY door hanger stand out, I recommend painting it before decorating it. And before you ever do that, I recommend sanding your wooden circle to smooth it and get off the rough edges for your paint and vinyl. This makes a huge difference in how professional it looks and how well your vinyl will stick to it.
My favorite paint for DIY door hangers is chalk paint, but you can use acrylic paint, of course. Use a foam brush for the smoothest results on your background color. Or try a faux wood stain with some brown acrylic paint and a baby wipe — I show how to do this in my step-by-step video.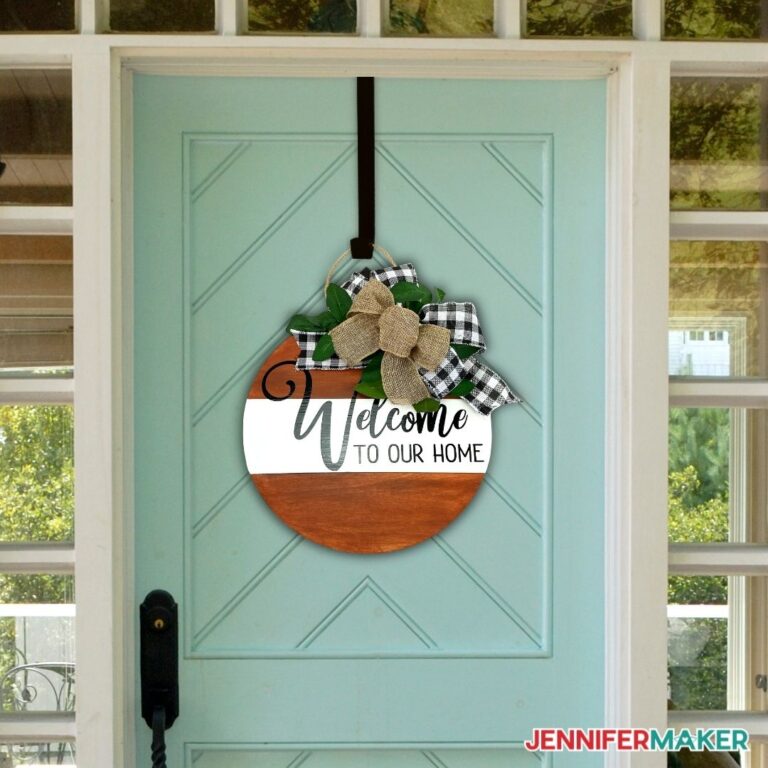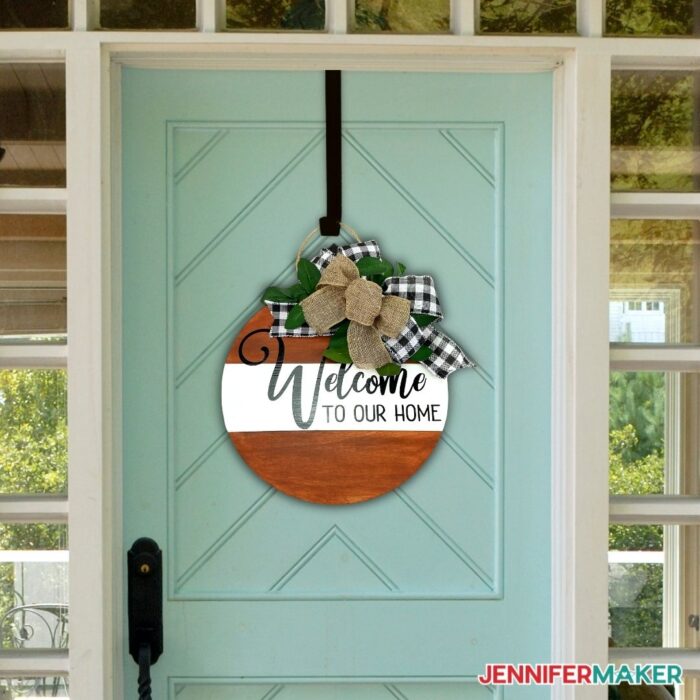 If you want to add a second paint color to your wood piece, you'll also want some painter's tape to get nice straight lines!
Once your paint is dry, I highly recommend applying water-based polycrylic to protect your paint and wood. The smooth sealer also helps you when applying the vinyl later on, as it's much easier to stick to the smooth polycrylic than rough wood or paint.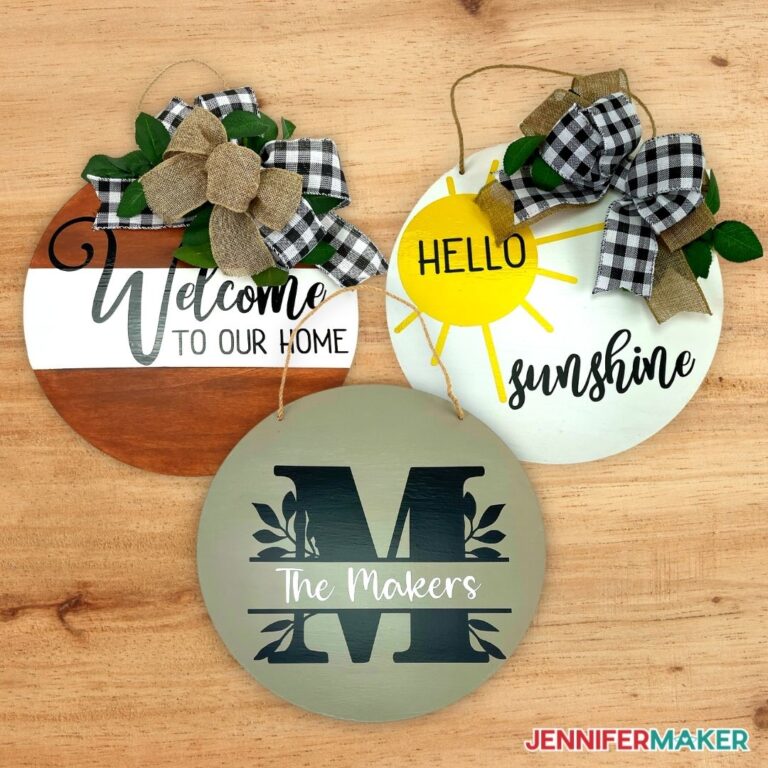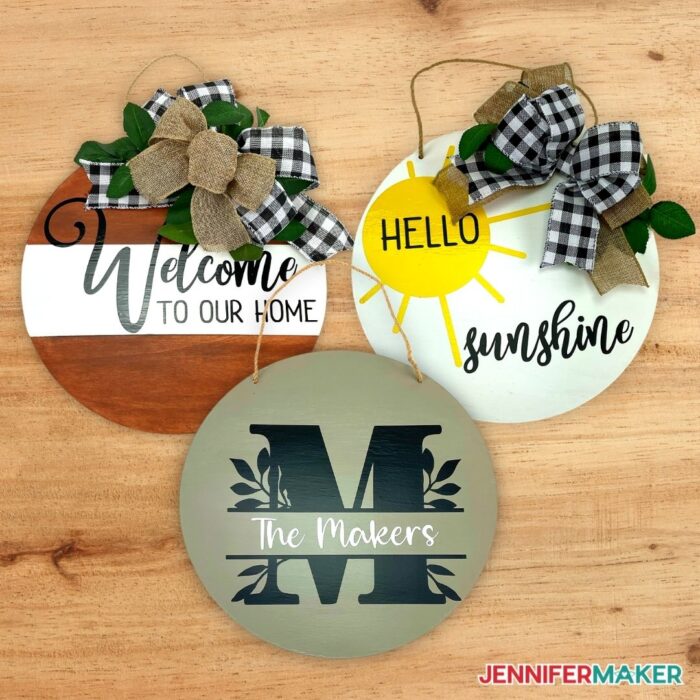 To decorate your circle door hanger, I recommend permanent vinyl as it will stick to your round wood sign the best. And you'll also need transfer tape to apply it to your DIY door hanger. I'm using my free designs along with a Cricut cutting machine to cut the vinyl!
And to top your wood round off, add a bow and/or some artificial leaves to the top of the circle — it's totally your choice! Get creative!
I've made five different designs for you to use, including these fun holiday versions: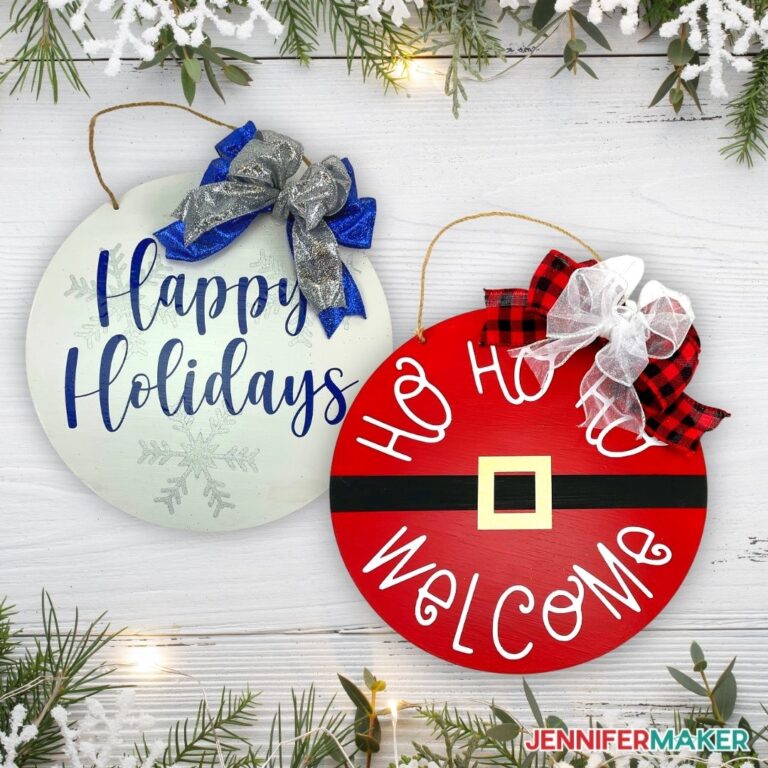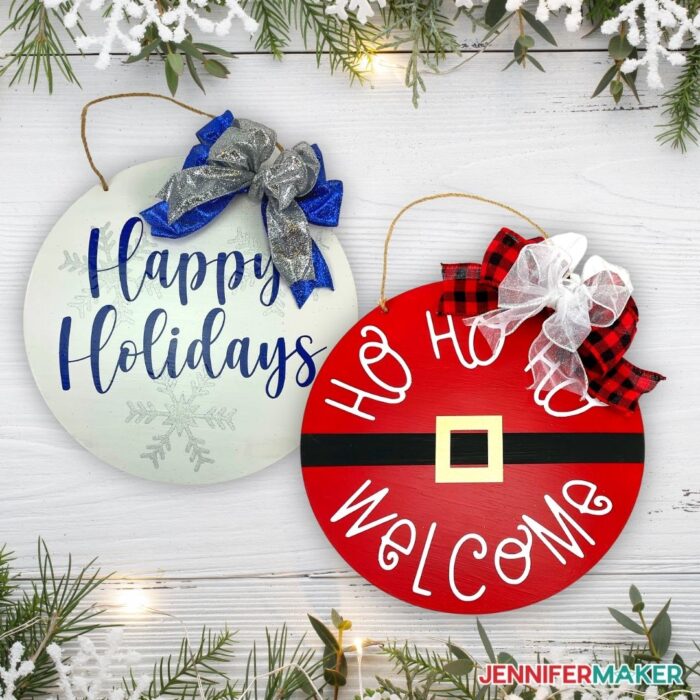 Here's a supply list of what you need to make round door hangers! This post contains some affiliate links for your convenience (which means if you make a purchase after clicking a link I will earn a small commission but it won't cost you a penny more)! Read my full disclosure policy.
Materials to Make a Round Wood Door Hanger
View my Amazon shopping list with the exact items we used to make this project
1 Unfinished Wood Round — you can get these from Amazon, Home Depot, Lowes, Michaels, Joann, and Hobby Lobby
Chalk Paint – White paint (For Welcome, Hello Sunshine, or Happy Holidays sign), Red paint (For Santa Sign), Grey paint (For Monogram Sign), Black paint (Santa's Belt)
Permanent Vinyl – Black (For Welcome, Monogram, or Hello Sunshine sign), White (For Monogram and Santa Sign), Stone Yellow (For Hello Sunshine sign), Blue (For Happy Holidays Sign), Gold (For Santa Sign), Silver (For Happy Holidays Sign)
Hot Glue Sticks and Hot Glue Gun (to attach bow and/or greenery)
Paper towel or Rag to Clean Dust
Pencil for Marking Measurement Lines
A method to cut your vinyl – I used the amazing Cricut Maker but you can also use the Cricut Explore
Design #334 – My free SVG/PDF/DXF design files are available in my free resource library

(get the password by filling out the form at the bottom of this page)
How to Make Your Own DIY Door Hangers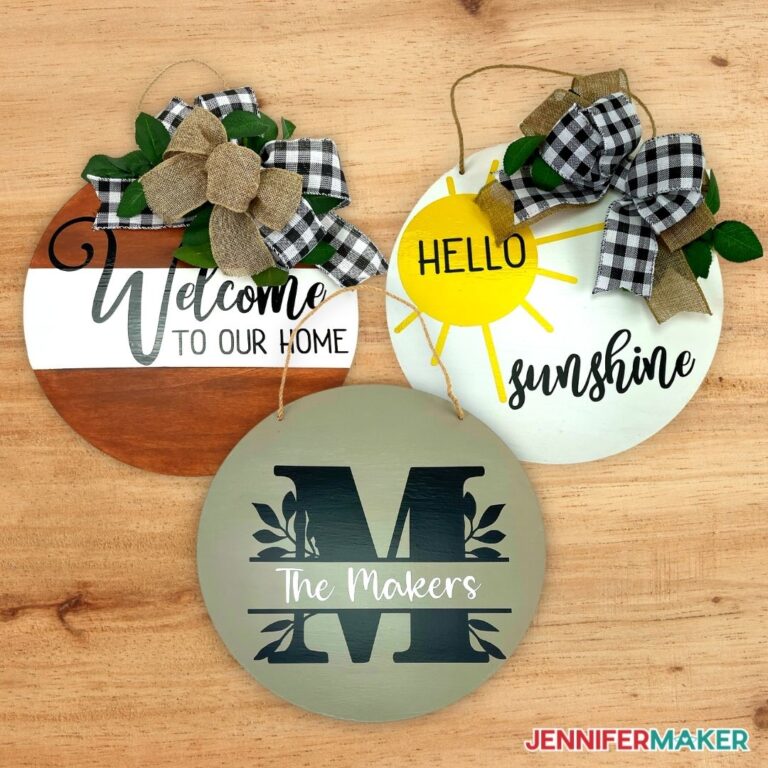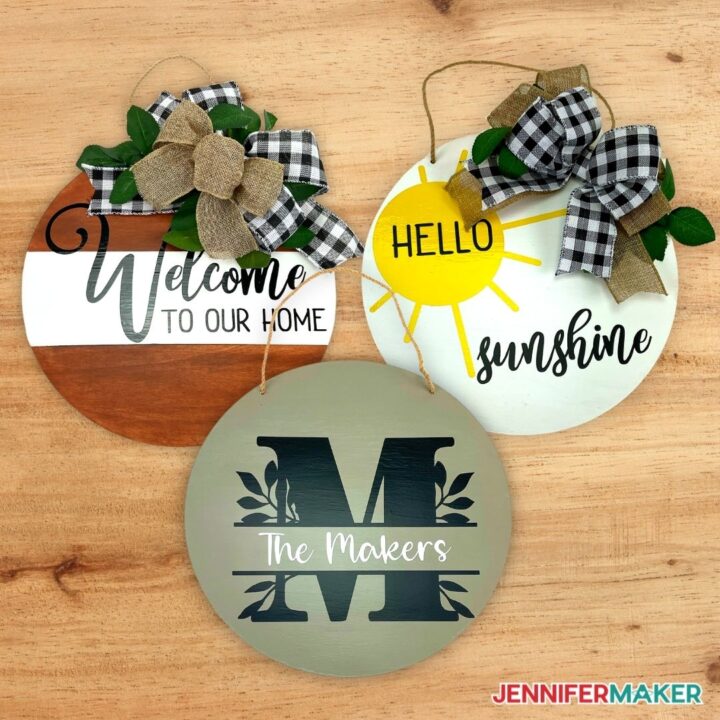 Round Wood Door Hangers
Difficulty:
Easy to Medium
The detailed step-by-step assembly video on how to create personalized round wood door hangers is part of Maker Academy Weekend. Get a pass to watch all 20+ workshops, each with a printable handbook, transcript, audio files, design files, and support with a VIP pass below:


I just love how my DIY door hangers turned out — not only do they look great on a front door, but you can use them to decorate bedroom doors or kitchen walls, too!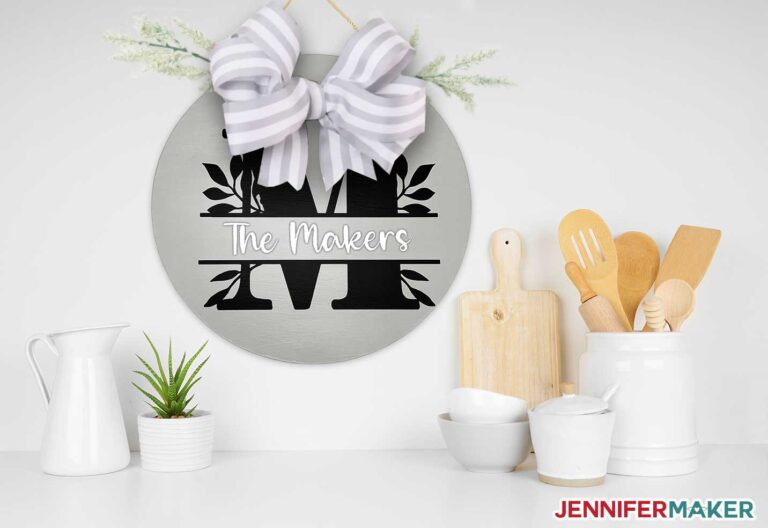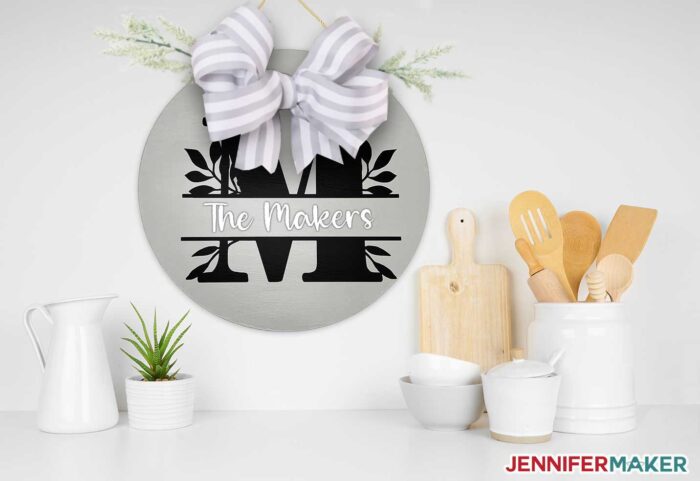 Round wooden door hangers look particularly festive at Christmas time, too!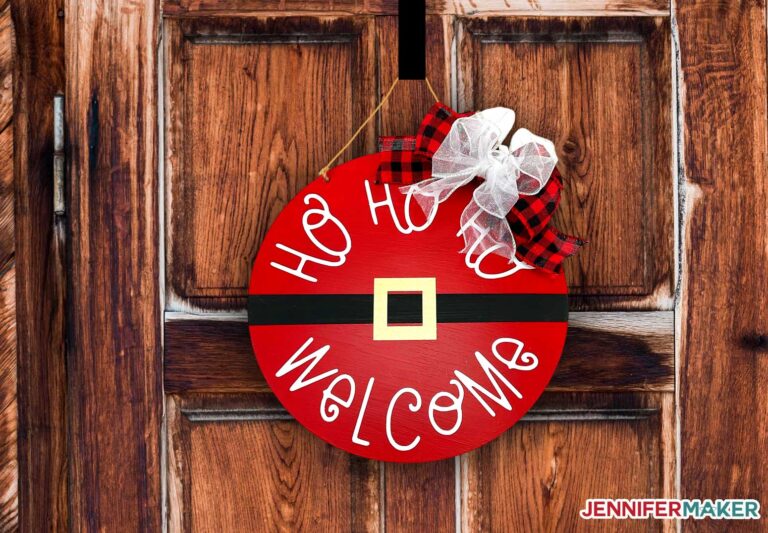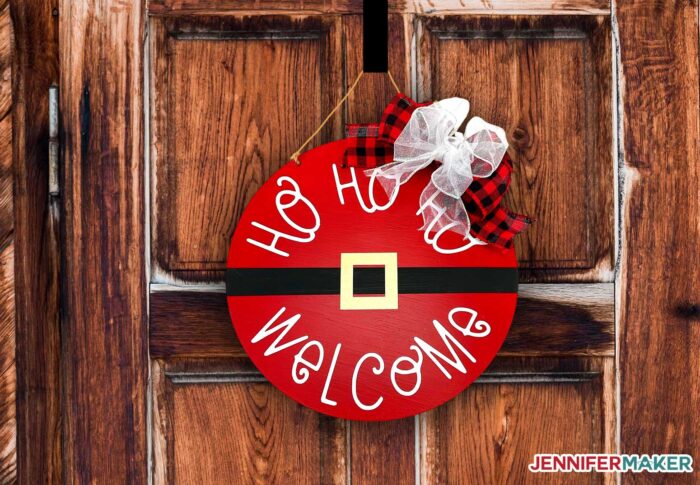 Answers to Your Questions About How to Make Round Wood Door Hangers
Q: Where is your tutorial for this project?
This is a special project we made for our free Maker Academy Weekend event! A complete and detailed step-by-step video premiered during the event November 4-7, 2021 — specifically, this tutorial video was available to watch for free for 24 hours beginning November 5 at 10:00 am ET! To watch the replay of the video and get the 15-page printable handbook that details how to make this beautiful project, get a VIP Pass to Maker Academy Weekend, which comes with other perks and bonuses, too!
Q: How can I make a monogram like your big "M"?
This monogram comes from the Bogi Split Monogram Font! That font contains every letter of the alphabet as a split monogram.
Q: My store doesn't have any wood rounds! Where do I find them?
If you can't find DIY wood sign kits locally, try ordering them from Amazon. And, bonus, they come pre-drilled and pre-hung! If that's not an option, be sure to check your dollar store!
Q: My wood rounds aren't pre-drilled and pre-hung. What can I do to hang them?
Get some jute rope and hot glue it to the back to create a hanger!
Q: When I put my transfer tape on my wood round to apply the vinyl, some of the paint lifts off. What do I do?
You need to wait until the paint and/or sealer is completely dry. I recommend allowing your sign to dry overnight before applying polycrylic sealer. Once your paint is completely dry, use your bristle paint brush to apply water-based polycrylic sealer to your sign. Apply generously to prevent streaking in the finish. Always make sure to apply polycrylic in a well ventilated area and either use gloves or wash your hands thoroughly when finished. Allow a minimum of 12 hours, but preferably 24 hours to let the polycrylic dry before applying vinyl.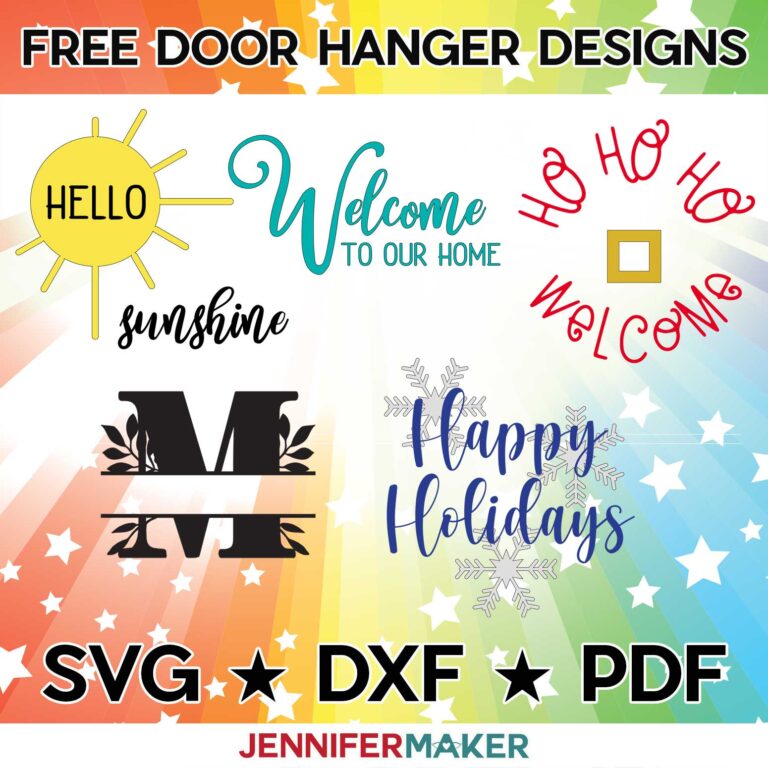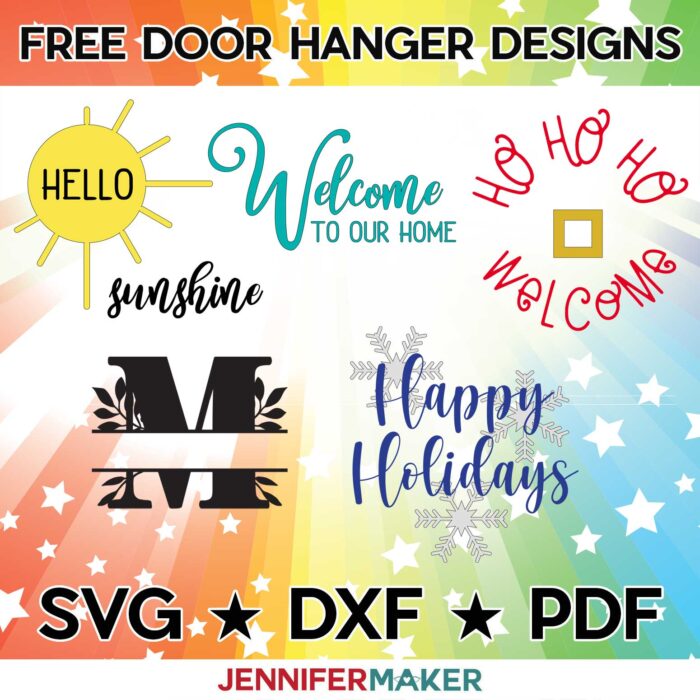 And check out the other fun projects we made together during Maker Academy Weekend 2021:
Get the free designs for my DIY door hangers and all these other projects!
I love seeing what you make with my designs and how you use them! Please share a photo of your round wood door hangers in our Facebook group or tag me on social media with #jennifermaker.
Love,