Learn how to import handwriting into Cricut Design Space and convert it into a pen, foil or engraved project!
Do you have a special letter or old recipe that means the world to you? Something handwritten by a friend, a family member or maybe your Grandma that you hold very near and dear to your heart? I feel like we all have something like that. I'm going to show you how to turn that special memory into a beautiful keepsake like a pretty foiled bookmark or an Infusible Ink tea towel. Once you know how to do this, you'll be amazed at all the handwriting to Cricut projects you can make!
Watch the full step-by-step video showing you exactly how to make your handwriting to Cricut project premiering during Maker Academy Weekend, November 4-7, 2021. Get your FREE ticket to this event by clicking below: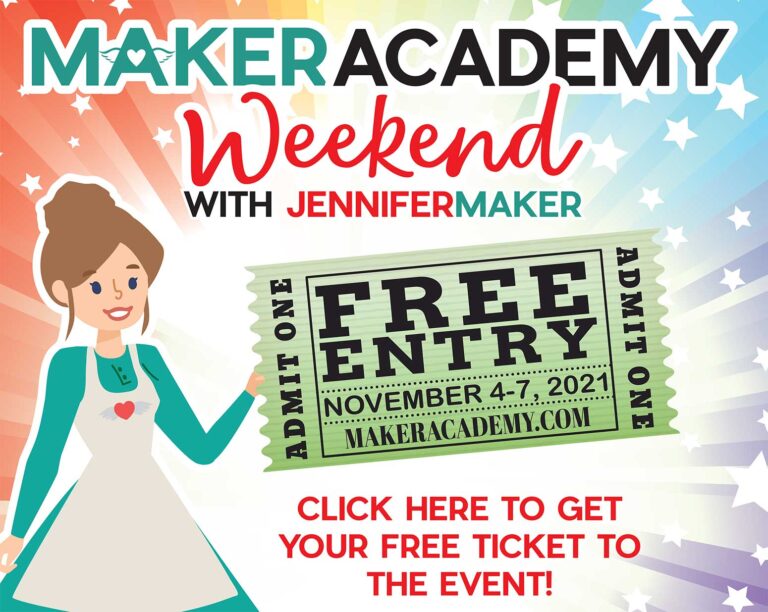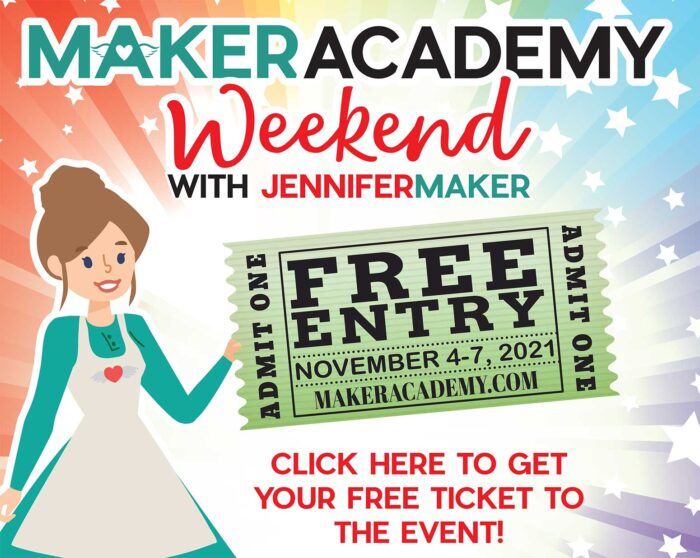 Then join me LIVE to talk about the supplies and tools you need to make this Infusible Ink project over on Amazon Live at 1:00 pm ET on Saturday, October 30, 2021 (if you miss it, you can watch the replay below):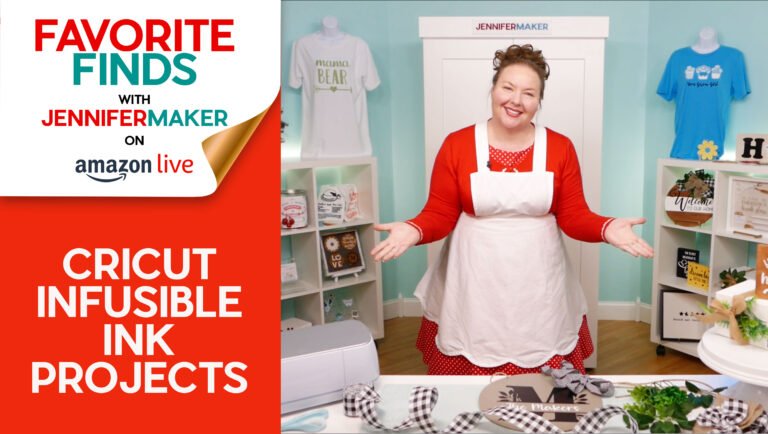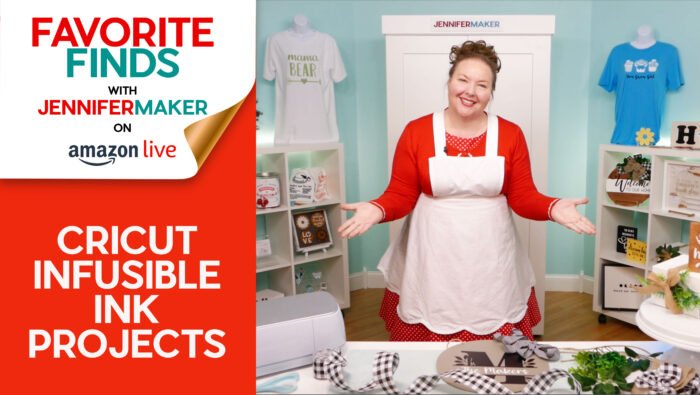 I'm SO excited about this project! I was able to turn my handwritten apple cake recipe into a towel that I can give to my daughter Alexa so she always has the recipe. I absolutely love how this turned out and am so excited to share how I did it with you.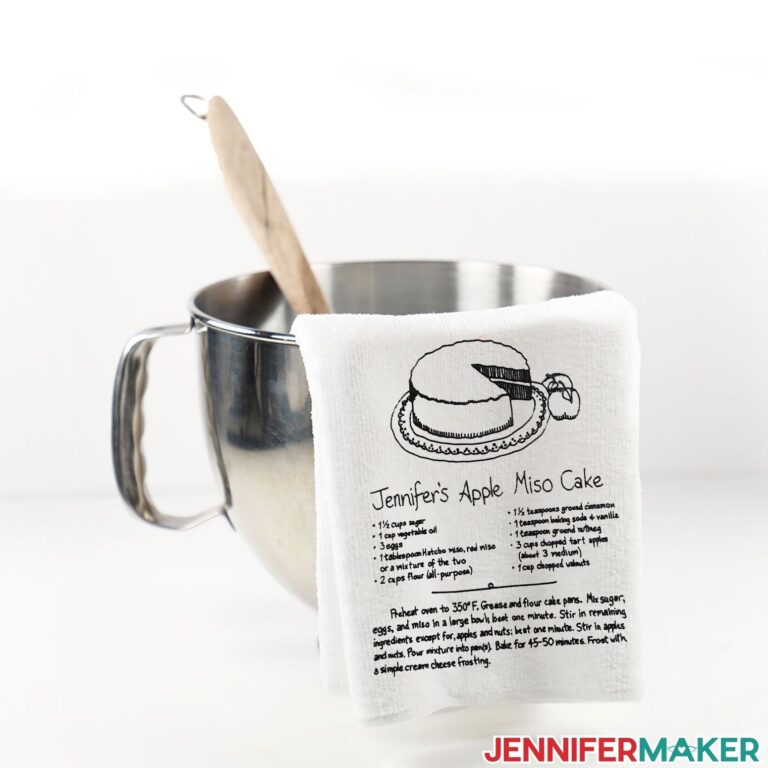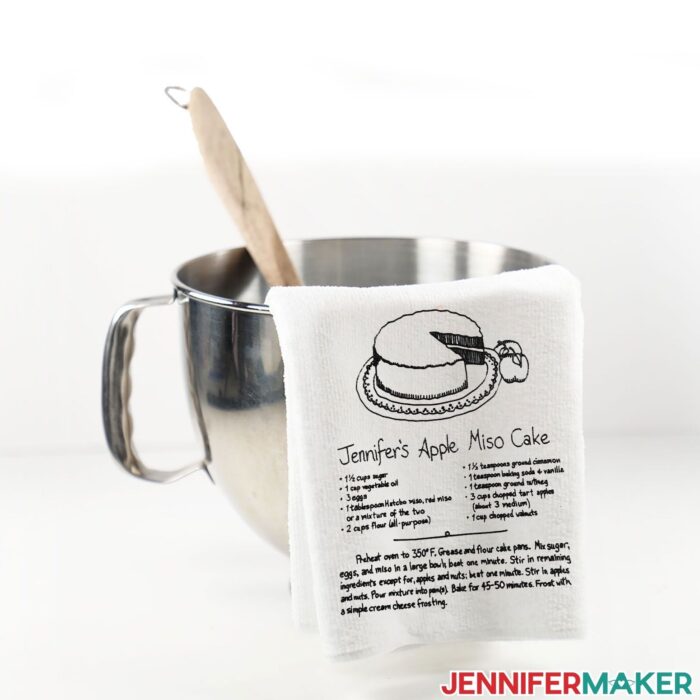 So here's a look at what we'll need to make these handwritten heartfelt treasures.
For the tea towel I'm using Infusible Ink, so that means we need to use sublimation tea towels. Using Infusible Ink means we can actually use these tea towels without worrying about vinyl. We'll also need infusible ink pens, laser paper, butcher paper and a Cricut Easy Press plus heat pad to transfer our design. And of course we will need our Cricut cutting machine and machine mats.
For the bookmark I'm going to use faux leather and some really pretty metallic and jewel-toned foil transfer sheets. We will use the Cricut Foil Tool to apply the foil on the bookmark.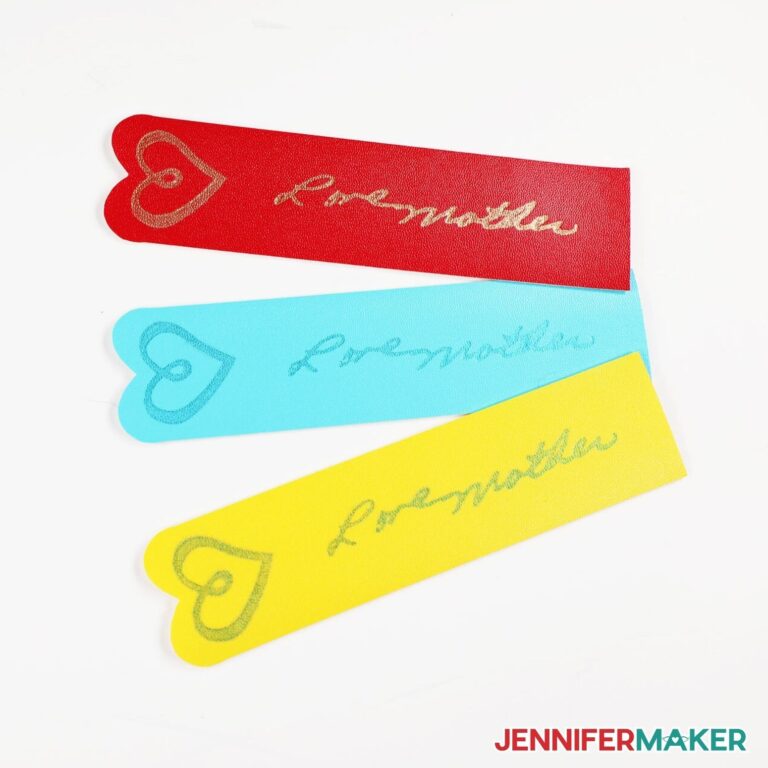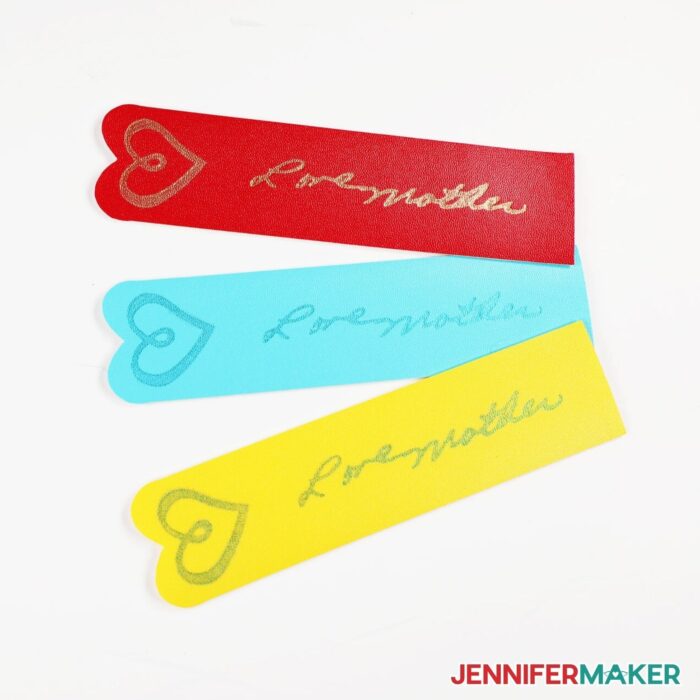 I foiled this faux leather bookmark with a phrase written by my grandmother to my mother. I just love how easy it is to turn something so special into something I can use in my everyday life. It means the world to me that I can keep her memory alive for my mother and me by creating sentimental projects like these.
Turn your significant other's handwritten note into something you can hold onto forever, or create a fun project with a child's handwriting. The possibilities are endless when it comes to turning handwriting into a Cricut project.
I really love how these turned out and they always manage to put a smile on my face.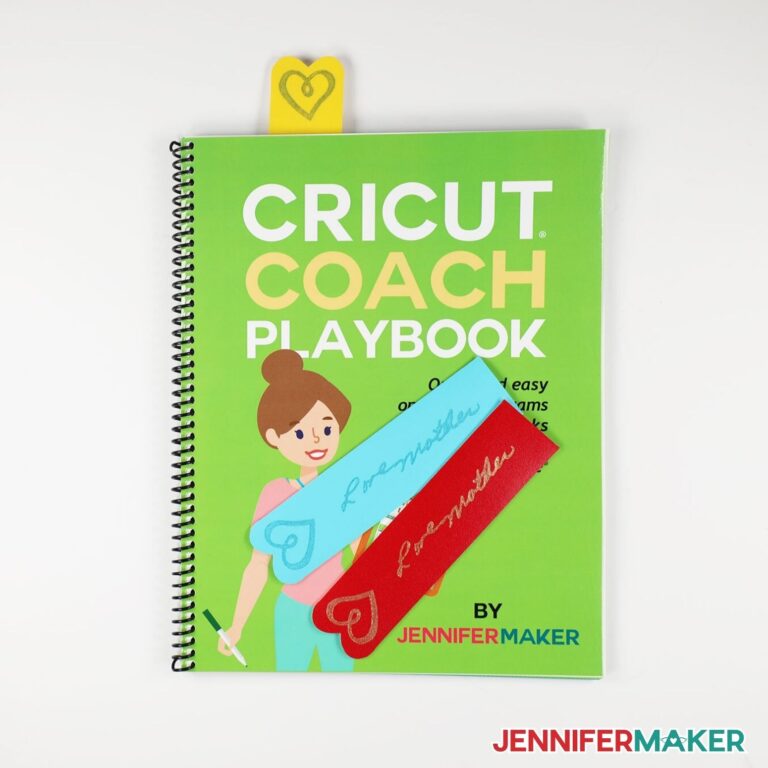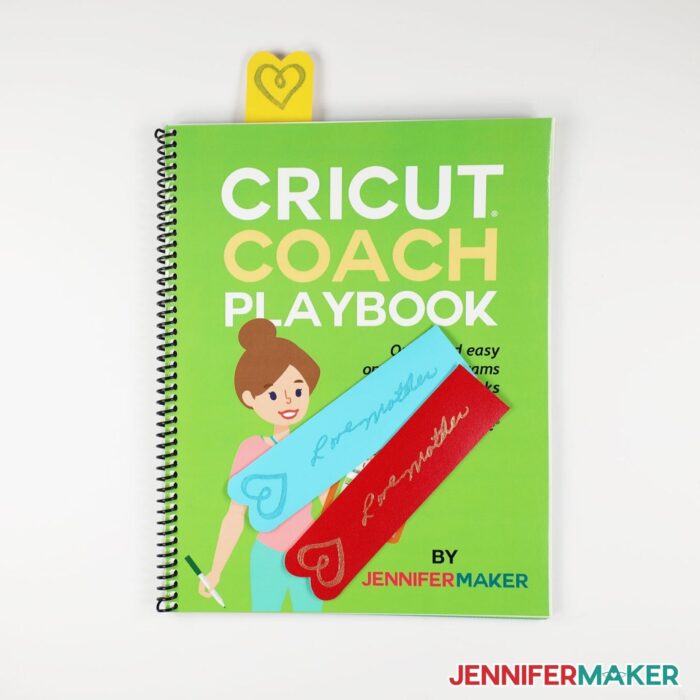 This project uses a hatchfill to fill in the design, meaning your design appears big and bold rather than just an outline. You can use this technique to draw, foil, or engrave projects with your Cricut!
Here's a supply list of what you need to make handwriting to Cricut projects! This post contains some affiliate links for your convenience (which means if you make a purchase after clicking a link I will earn a small commission but it won't cost you a penny more)! Read my full disclosure policy.
How to Make Your Own Handwriting to Cricut Projects
The detailed step-by-step assembly video on how to create this personalized handwriting to Cricut project will be available to watch for free for 24 hours during Maker Academy Weekend, held online November 4-7, 2021. Get your free ticket to this fun maker event here! If you can't wait until then, learn how to get early access to the Maker Academy Weekend videos, printable handbooks, and design files with a VIP pass below: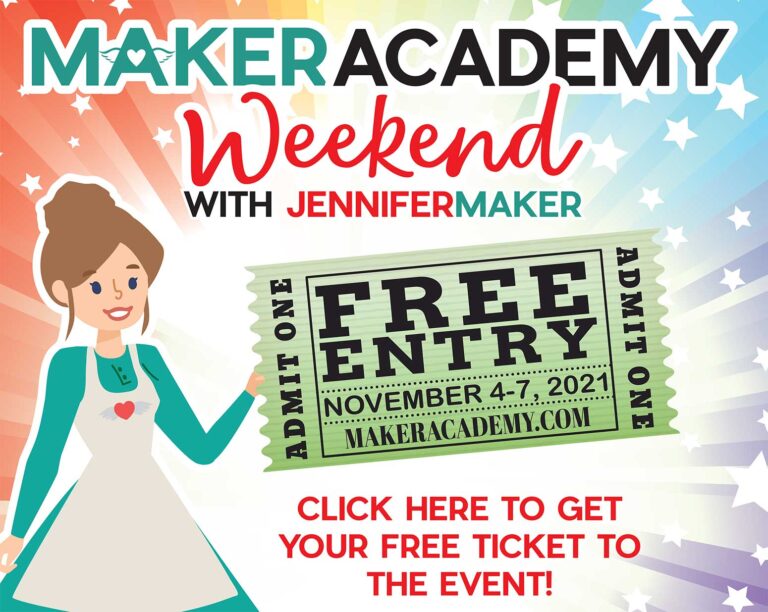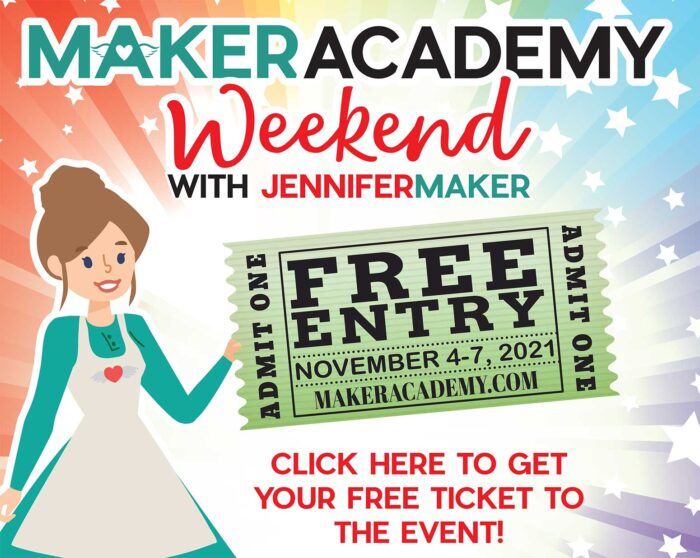 Didn't this tea towel turn out beautiful?! I'm really impressed with how good it came out and it's something I can pass down to my daughter. Gifts like these are the ones that are cherished throughout the generations and I'm so happy to have made something like it.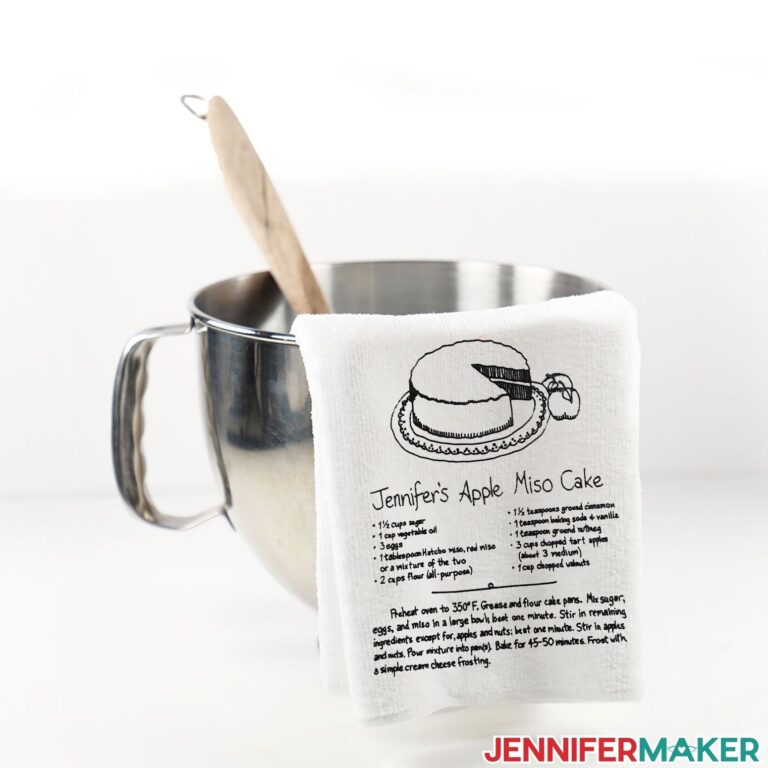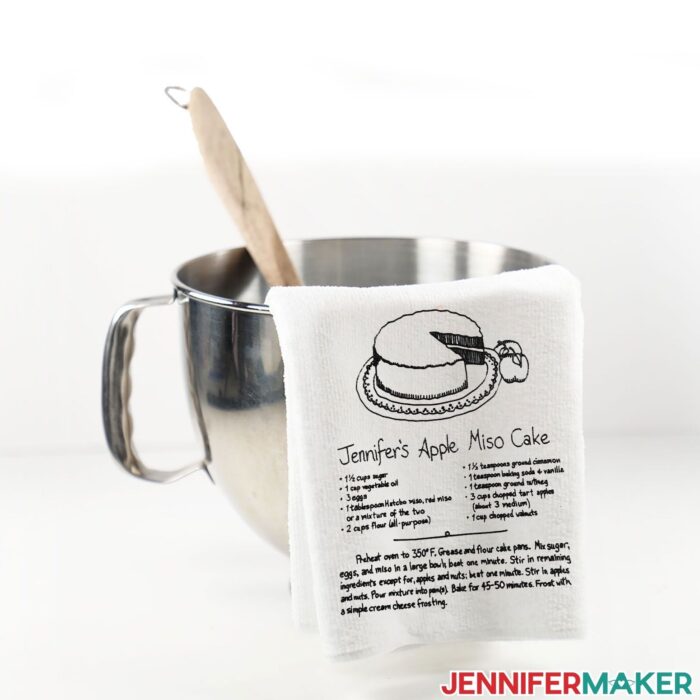 Have a special recipe that everyone's always asking about? Gift them a tea towel just like this one and give two gifts in one! Or, write a special note to someone and place it somewhere where they can keep it forever.
Answers to Your Questions About How to Make Handwriting to Cricut Projects
Q: Where is your tutorial for this project?
This is a special project we made for our free Maker Academy Weekend event! A complete and detailed step-by-step video will premiere during the event November 4-7, 2021 — specifically, this tutorial video will be available to watch for free for 24 hours beginning November 7 at 5:00 pm ET! If you can't make that time, there will be a replay available for 24 hours from that time so you can watch it later. You can get early access to these designs and a 15-page printable handbook that details how to make this beautiful project if you get a VIP Pass to Maker Academy Weekend, which comes with other perks and bonuses, too!
Q: How did you fill in the letters of your design when you drew and foiled it?
We used a hatchfill! Watch our workshop video (see above) for all the details!
Get a free ticket to Maker Academy Weekend to see how this works!
I love seeing what you make with my designs and how you use them! Please share a photo of your handwriting to Cricut projects in our Facebook group or tag me on social media with #jennifermaker.
Love,