See how you can easily upload ALL of my SVG files — and any other designers' SVG files as well — to the Cricut Design Space app on the iPhone and iPad!
Are you using your Cricut with an iPhone or iPad? Did you find or buy an awesome SVG design for your Cricut, but aren't sure how to get it into Cricut Design Space? In the past, you could not upload SVG files from your iPhone or iPad, but that's all changed with the iOS 11 update! You can now upload SVG files right from your iPhone or iPad, including the many designs in my free resource library. Let me show you show to upload SVG files to Cricut Design Space with your iPhone or iPad!
Step 1: Update to iOS 11 or Later
First, make sure your iPhone or iPad is updated to iOS 11 or later or this will not work. To update iOS, tap Settings > General > Software Update. Tap Install Now. If you get stuck on this step, see Apple's support document on how to update your iPhone, iPad, or iPod Touch.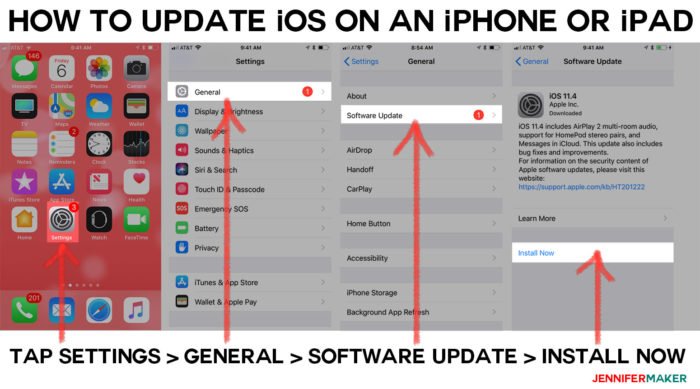 Step 2: Go to Safari and Find an SVG File to Download
Next, go to Safari on your iPhone or iPad. (If you attempt to click a link from Facebook, you cannot download files properly.) Once you're in Safari, go to my blog — I have MANY free SVG files in my Resource Library, which you can access on any device, including iPhones and iPads. (Get a free password to the library by filling out the form here.) But for the sake of learning how to do this, here's a pretty heart SVG to download. Just tap on the image below to get started.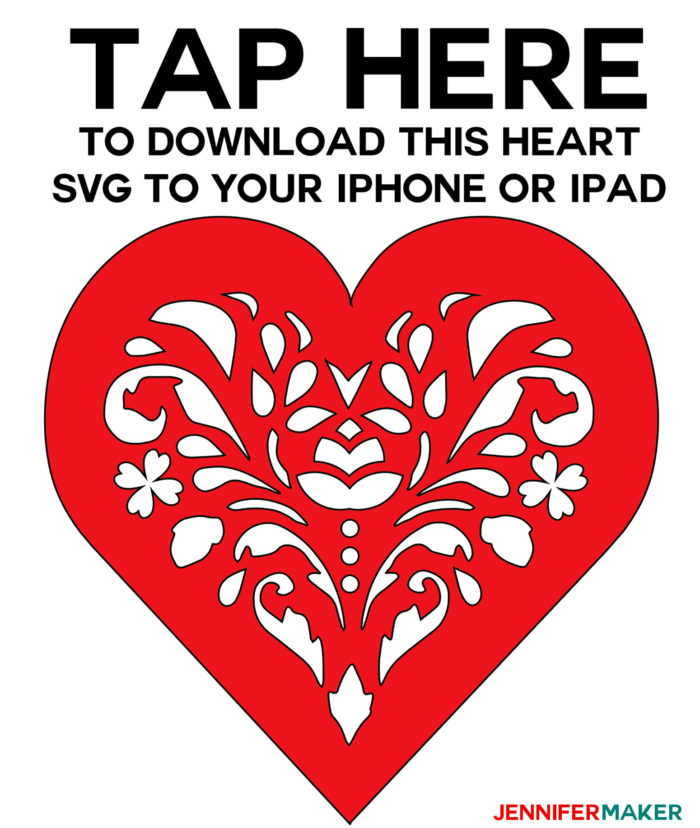 Once you tap on the image of the heart above (or the link above that), you get a screen that looks like the one below.
Tap Open in "Files" to proceed.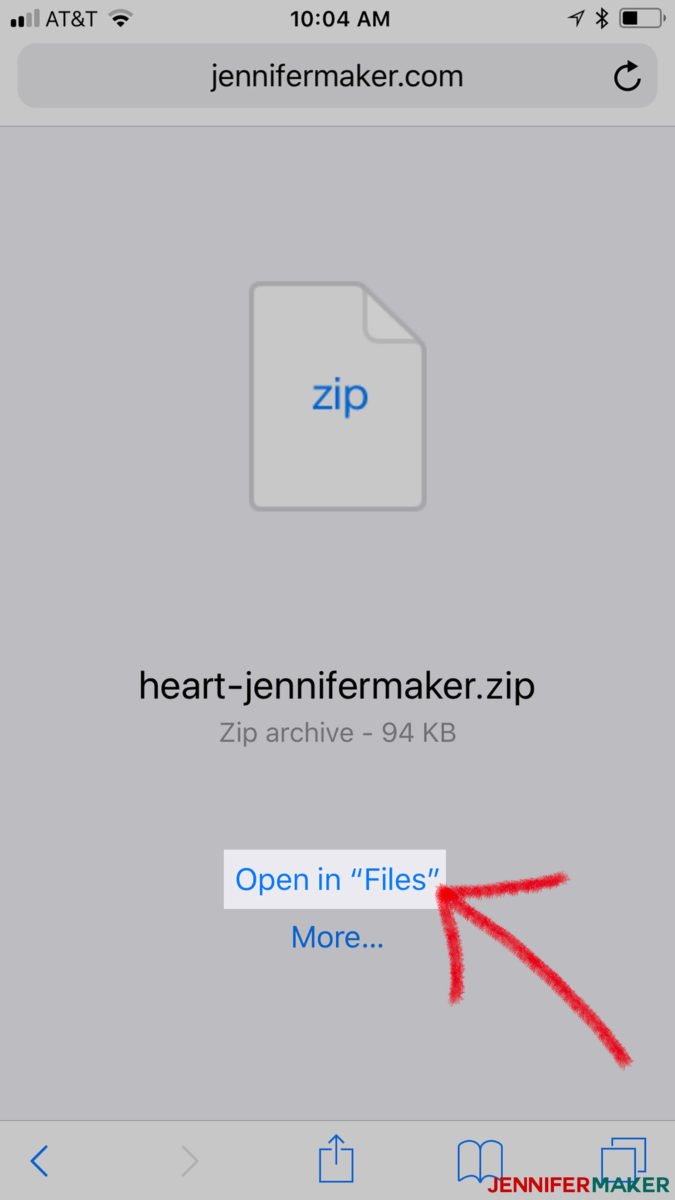 Step 3: Save the SVG File to Files on your iPhone or iPad
The next step is to save this file in a place that you can access this from Cricut Design Space. You have several choices—iCloud Drive, your iPhone itself, or a third-party service like Dropbox. For the purposes of this tutorial, I'm saving to iCloud Drive. So to continue, tap iCloud Drive.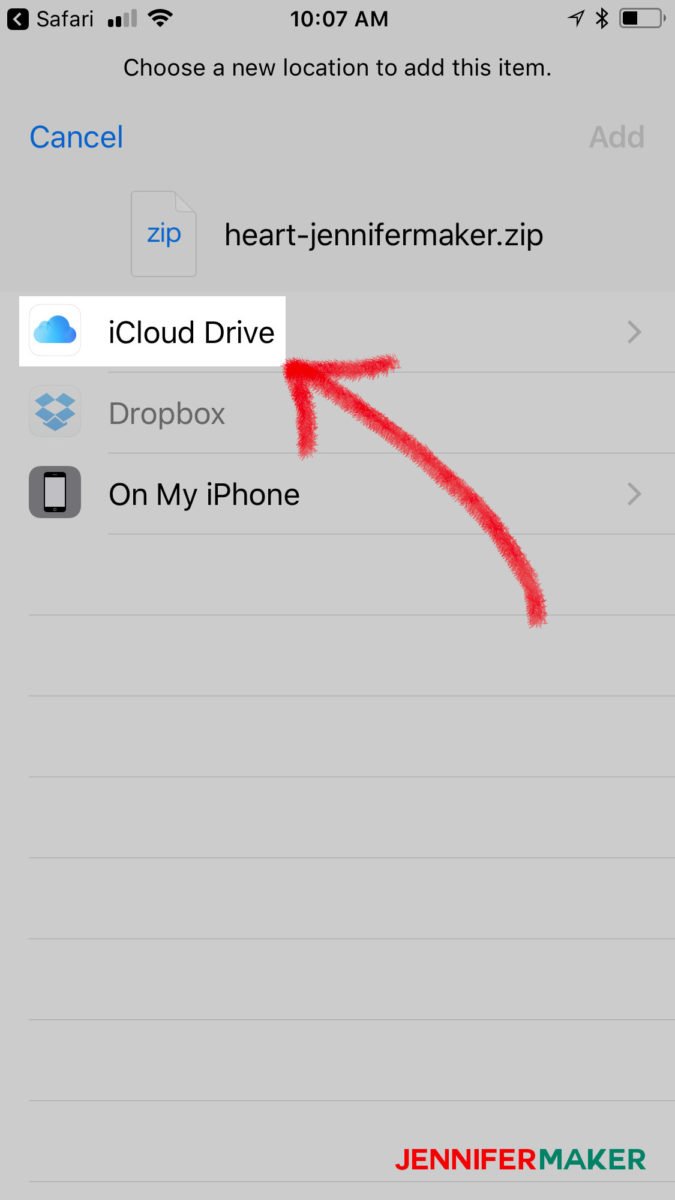 Next, tap the Add button in the upper right corner.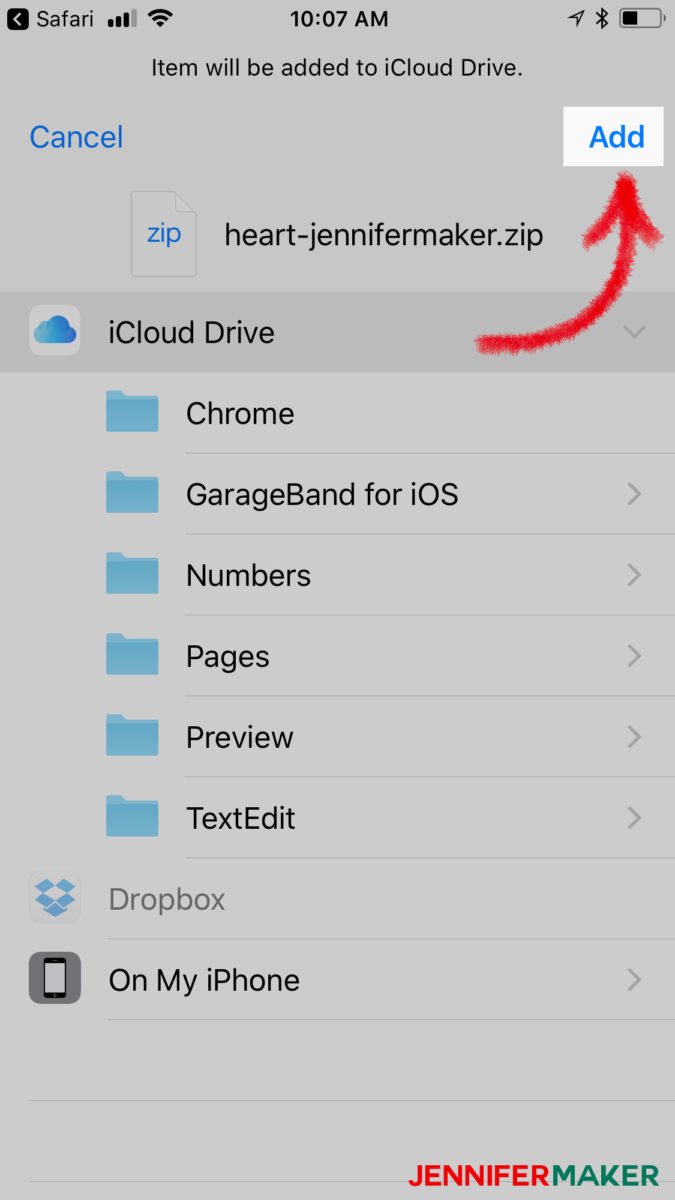 Once you do that, you'll get the screen below. This shows you that the ZIP file has been saved, but that's not enough yet, as ZIP files cannot be uploaded to Cricut Design Space. So to get the actual SVG out of it, tap Preview Content.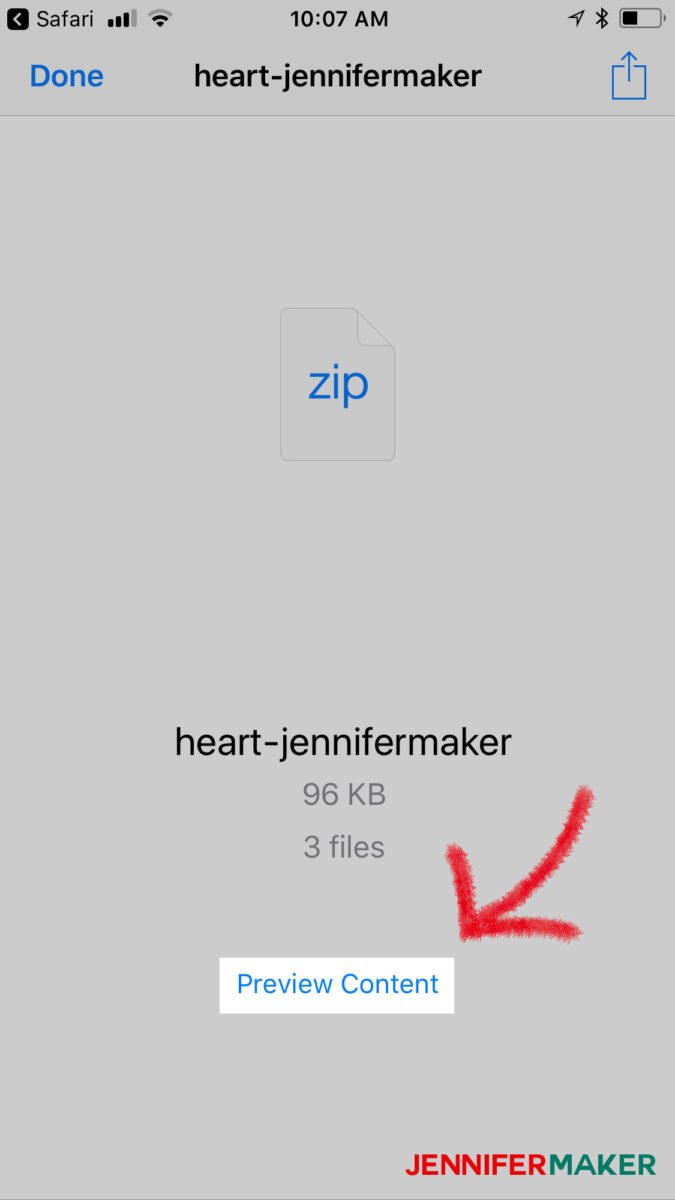 Previewing the content will likely show you my "About These Files" text document. I recommend you read this, but we need to keep going a couple more steps still. Tap the button with the three lines in the lower right corner.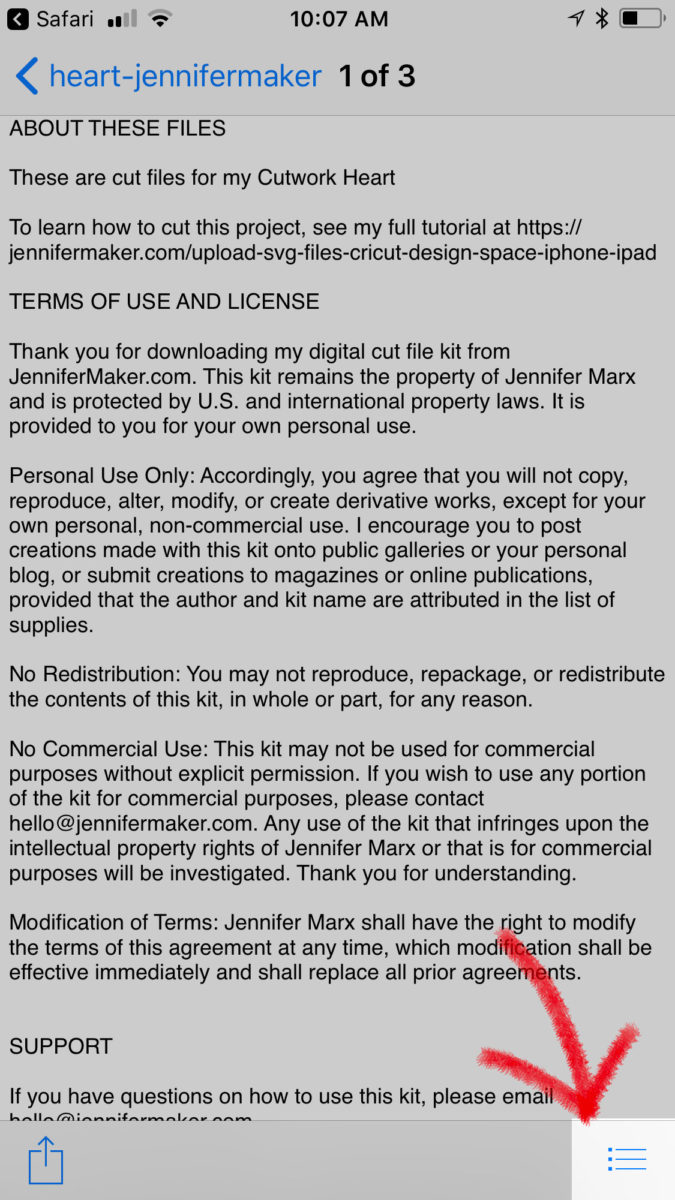 Now we can see what is INSIDE the ZIP file! Hooray! Look at the list and find the one labelled 'SVG image' in gray text beneath the filename. This is the SVG file. Tap the SVG file in the list to proceed.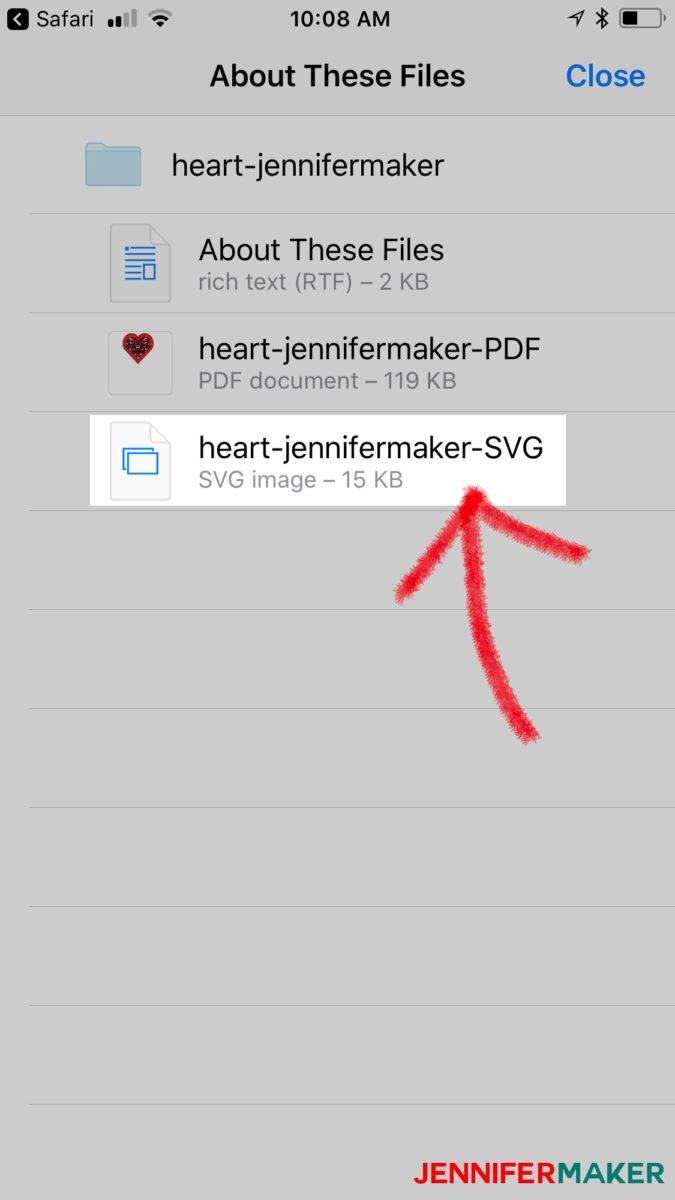 Once you do that, you'll see a graphical representation of the SVG file appear onscreen, as shown below. Now tap the Upload button (it looks like a box with an up arrow in it) in the lower left corner of the screen.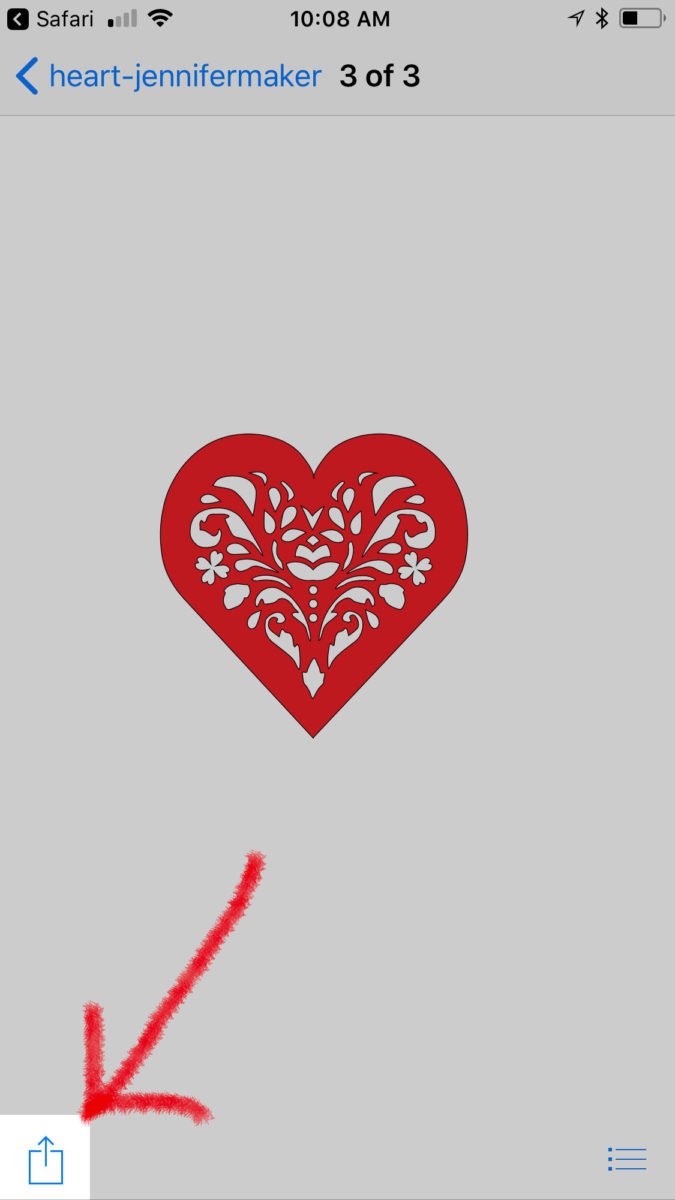 Next you want to tap Save to Files. You may need to scroll to the right to see this option. Do NOT tap Save Image — that only save the picture, not the SVG file itself.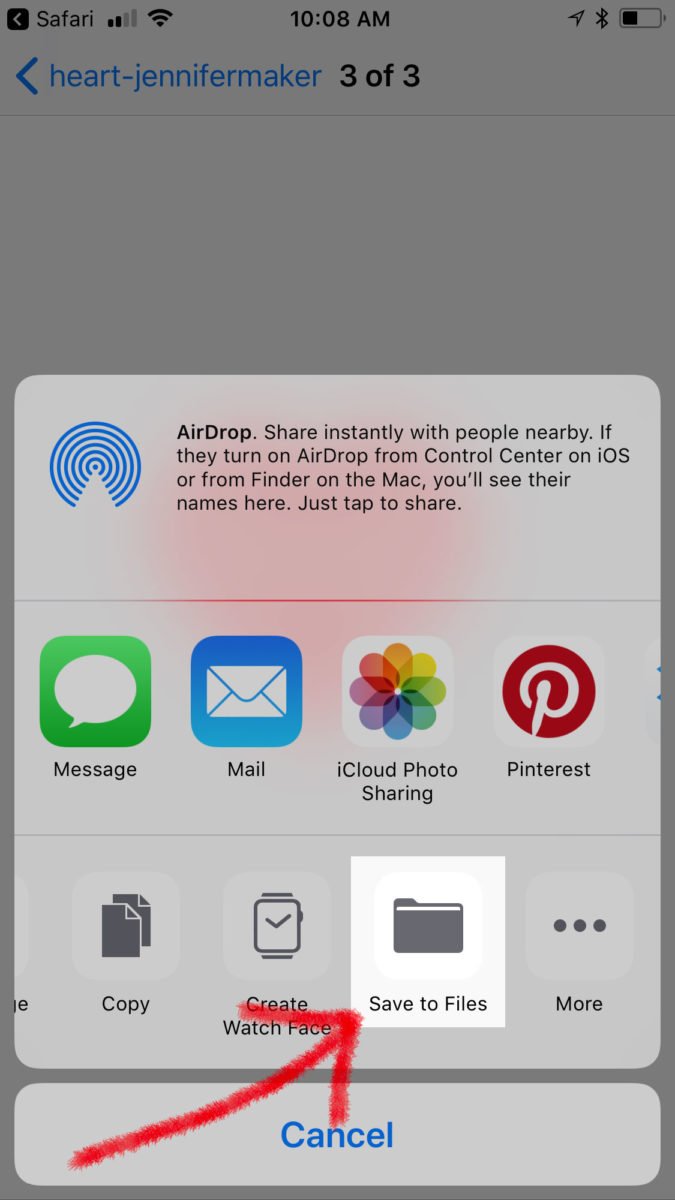 In the next screen, choose where you want the SVG file to be saved. In the screen below, I am choosing iCloud Drive.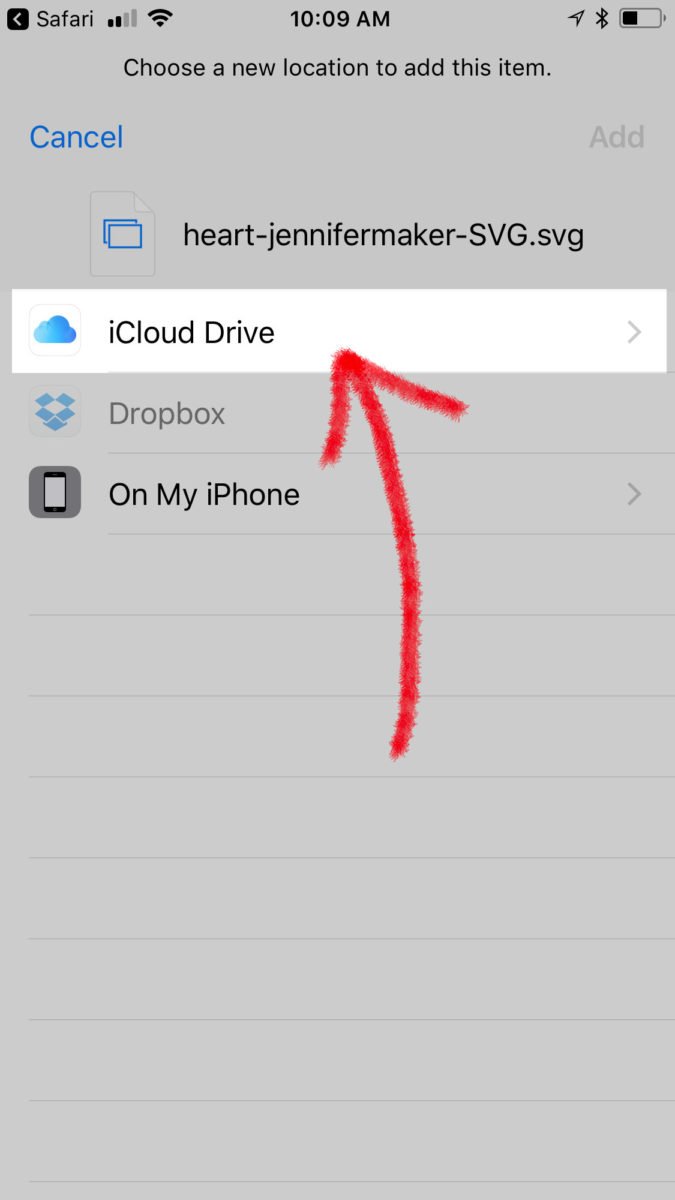 Now just tap Add to save your SVG file!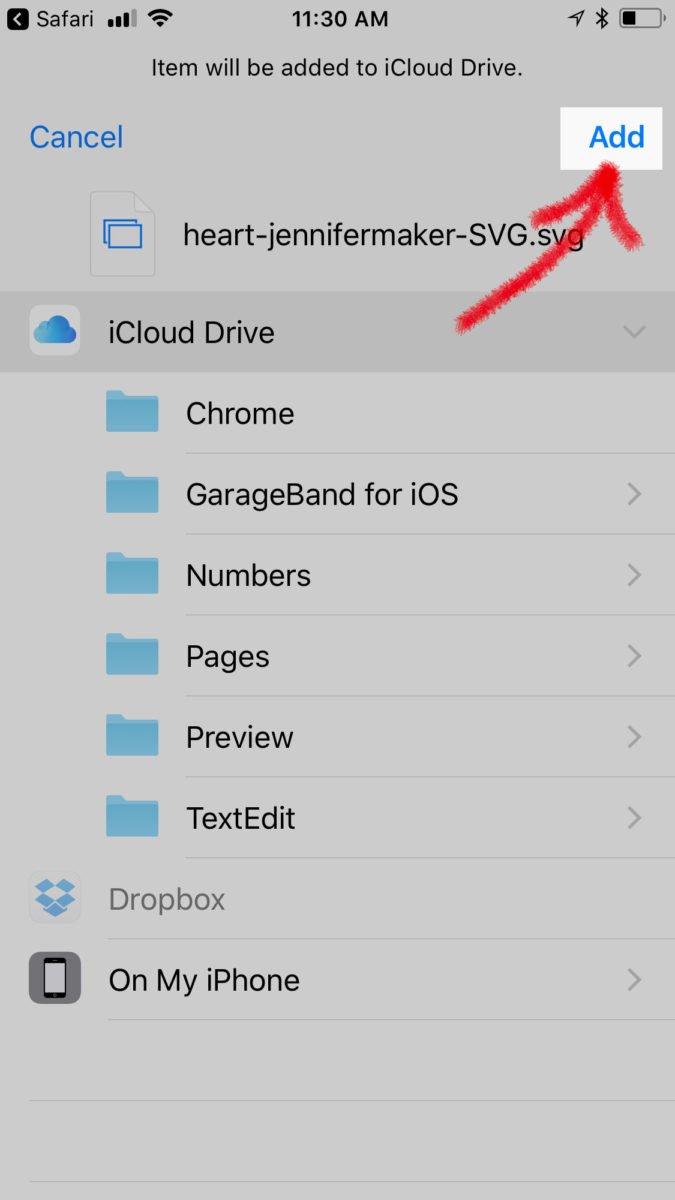 The SVG file is now saved and ready to upload to Cricut Design Space!
Step 3: Upload the SVG File to Cricut Design Space on your iPhone or iPad
It's time to get your SVG file into Cricut Design Space. Make sure you've updated to the latest version of the Cricut app by going to the App store and searching on Cricut. Update it if necessary.
Now open the Cricut Design Space app.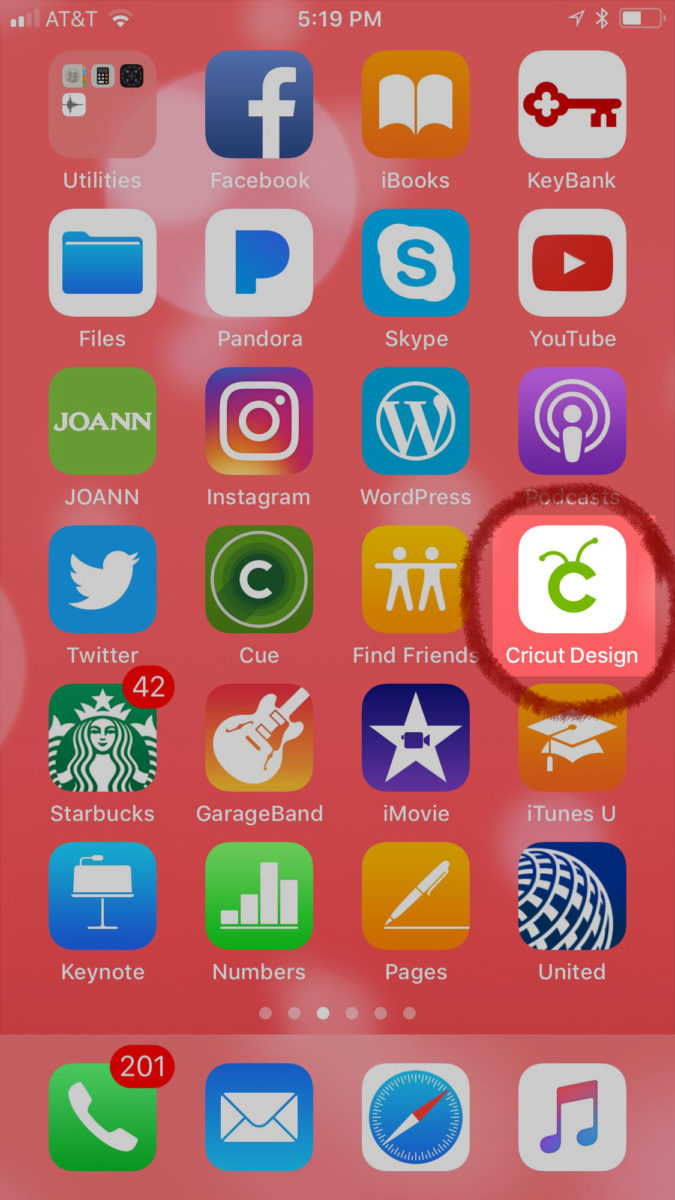 Tap New Project.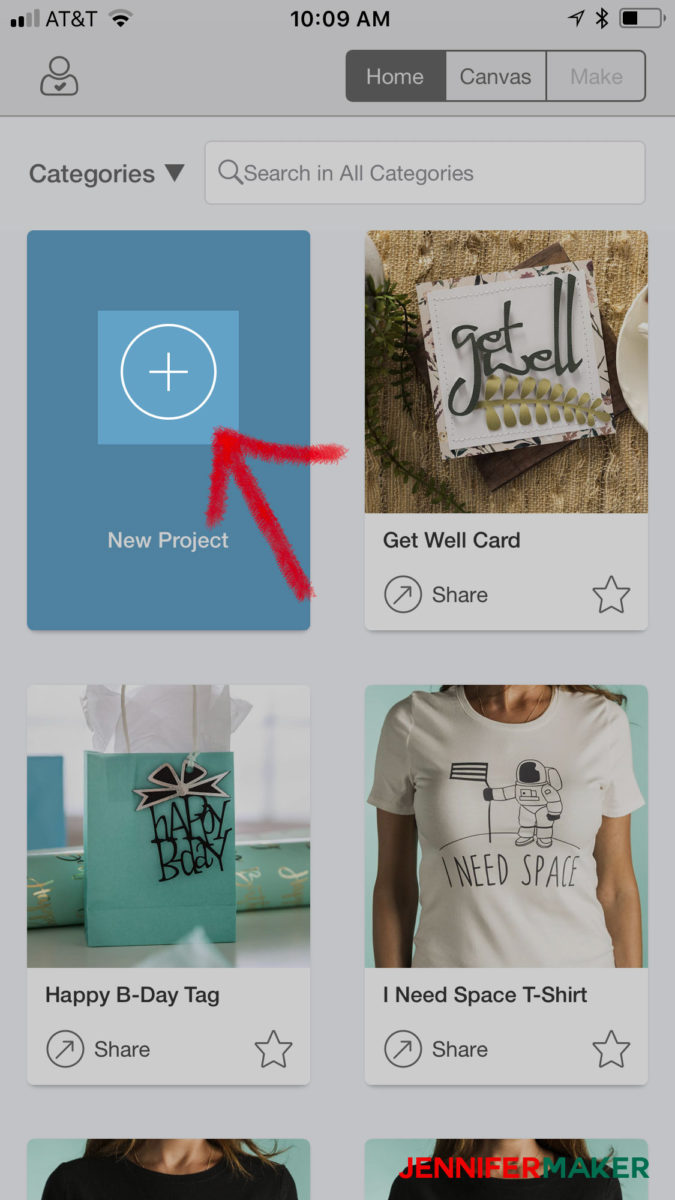 Tap Upload.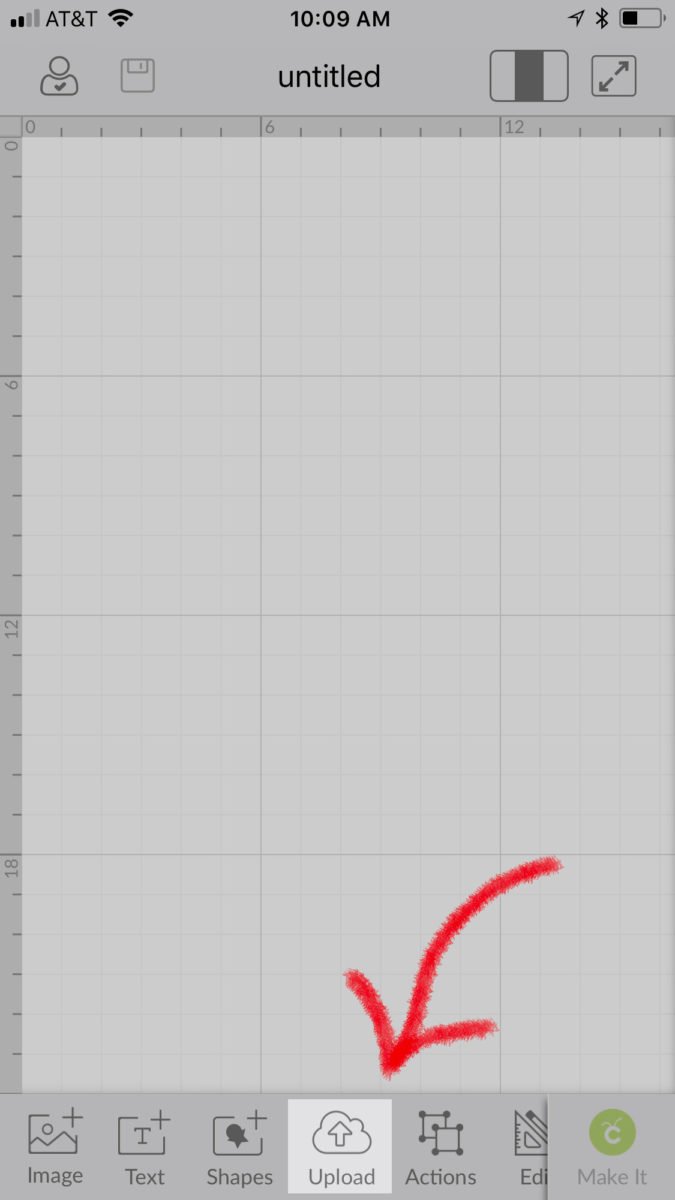 Tap Browse Files.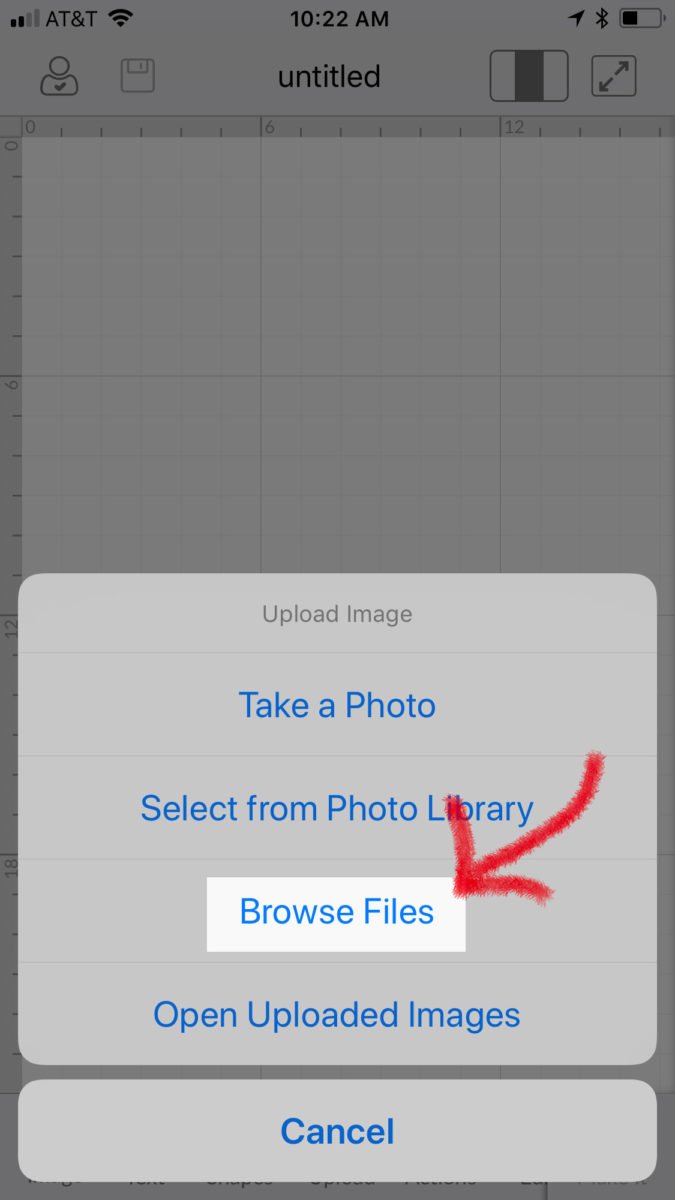 Tap the SVG file (do NOT tap the ZIP file—it will give you an error).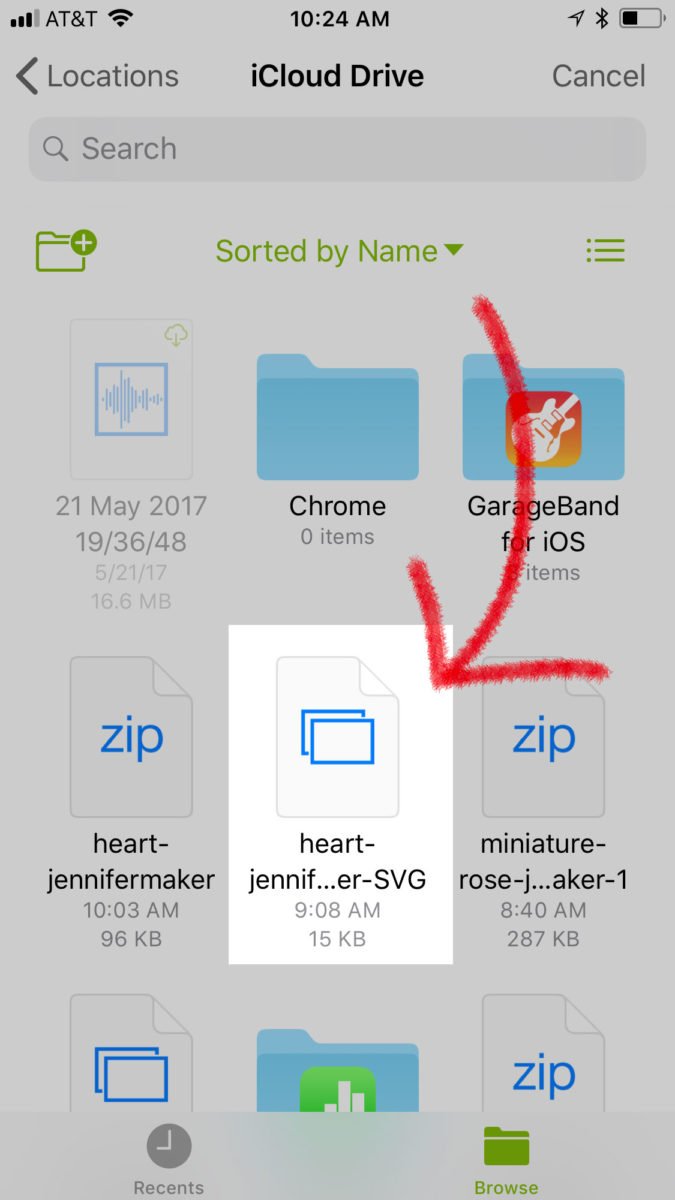 Give the SVG file a name if you want, then click Save.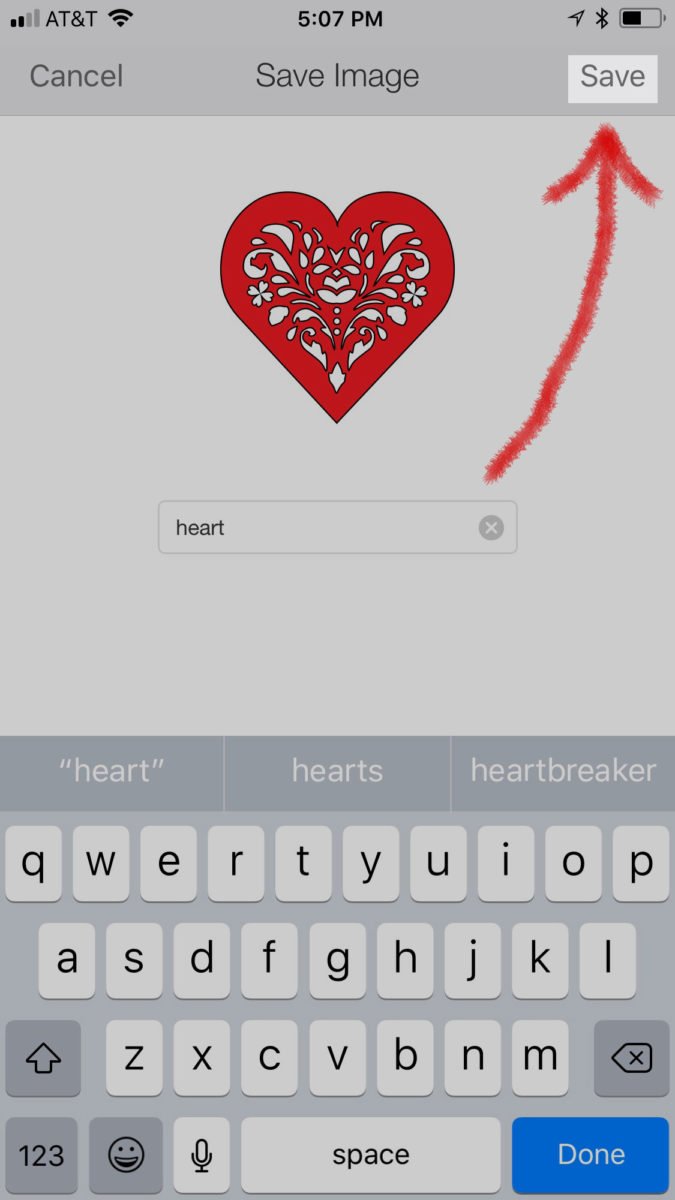 Tap the uploaded SVG and then click Insert.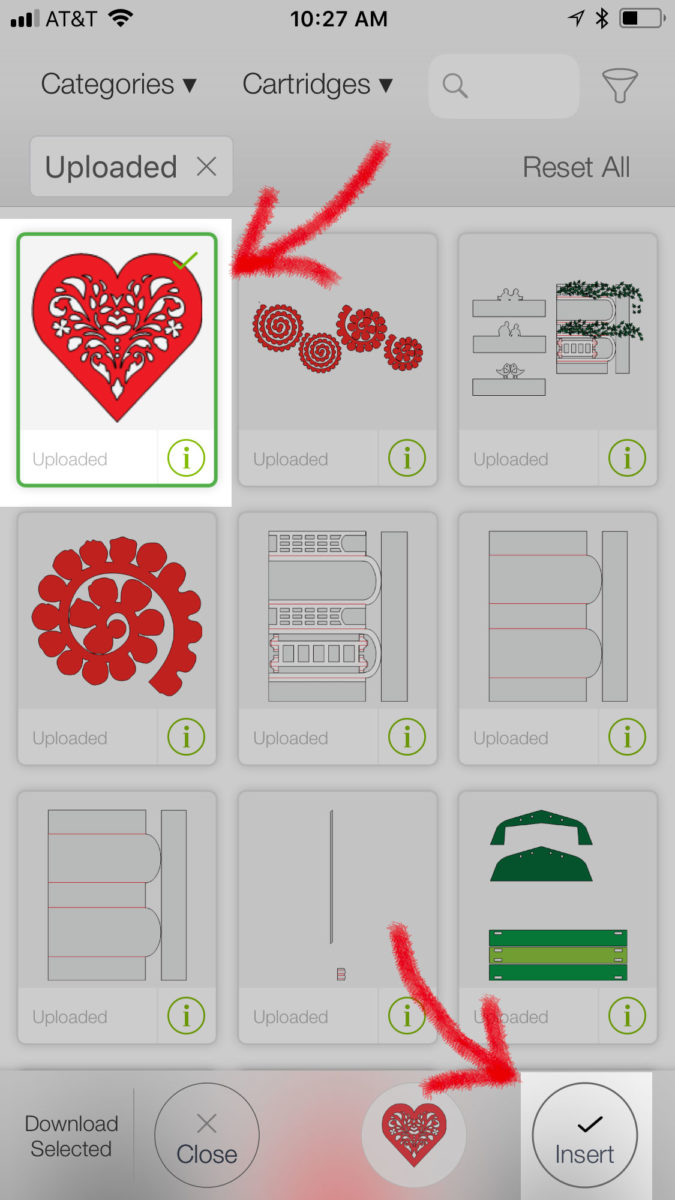 Use and/or edit your files in Cricut Design Space as you wish!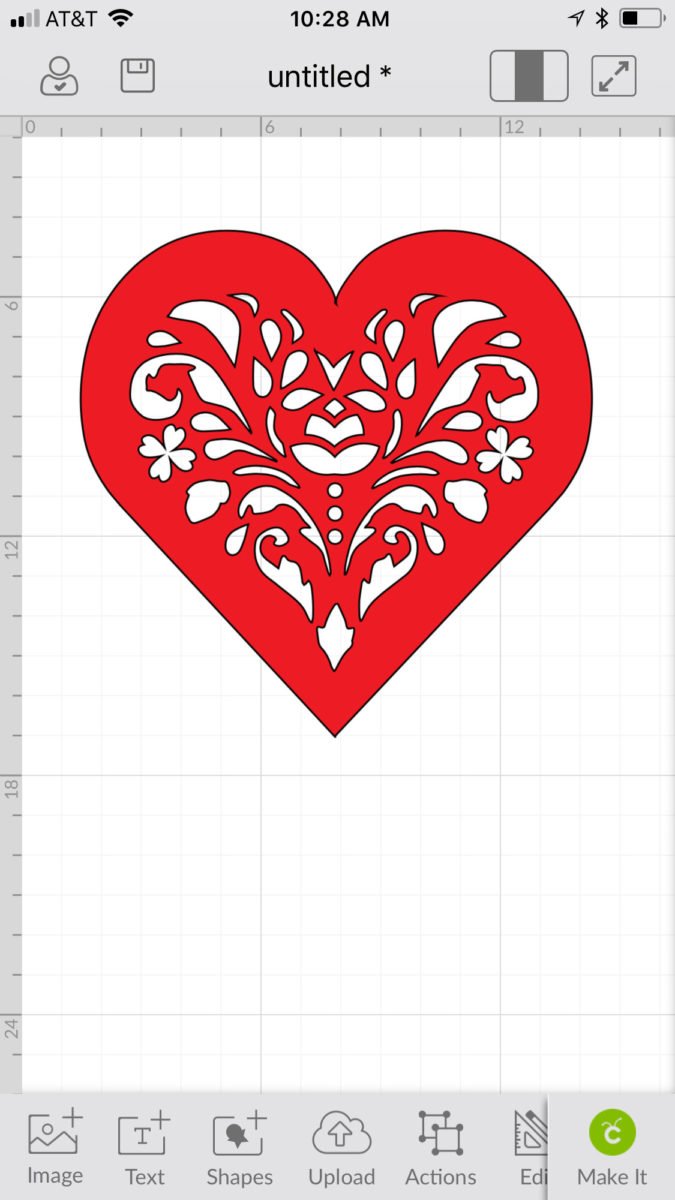 And that's all you need to do to upload SVG files to Cricut Design Space on an iPhone or iPad! Easy peasy!
Get Free SVG Cut Files to Upload to Cricut Design Space on Your iPhone or iPad
You can get the password to my resource library that has ALL of my free SVG cut files in it by filling out this form:
I hope you found this little tutorial helpful! Being able to upload SVG files on a mobile device is a BIG deal, and it can save you a lot of time and headache.
Love,