Let's make DIY phone cases that are as unique as you are!
These days we carry our phones everywhere we go! It's almost hard to remember what life was like without them. And now that our phones are one of our most important accessories, it makes sense that we keep them on trend, right? You know I love adding a special touch to everything and my phone is no exception! And thanks to the amazing Cricut cutting machine I can switch up my phone case whenever I want! And it's SO EASY! In this tutorial I'm going to share some fun designs that you can use to customize and make your own DIY phone cases!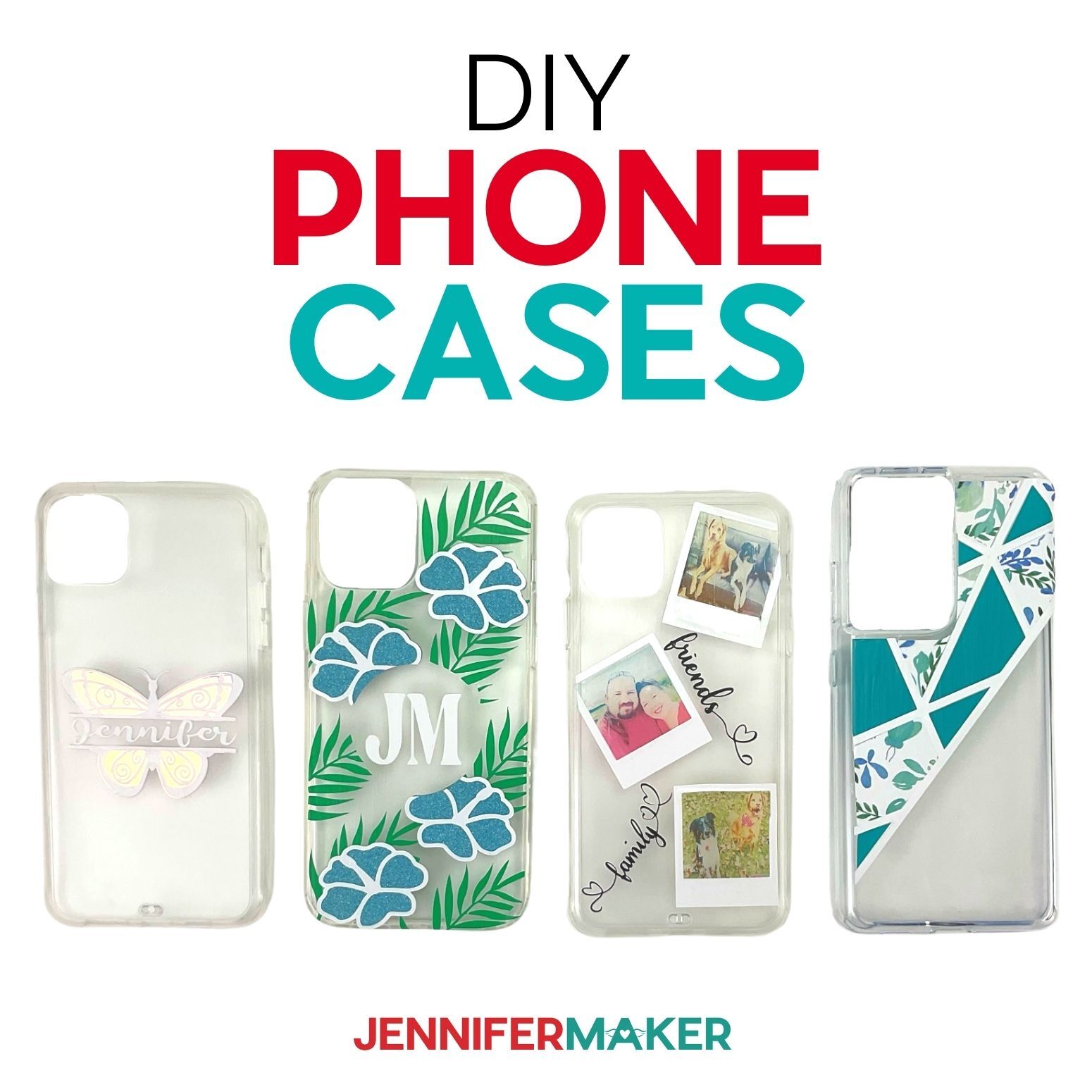 How awesome is this personalized clear phone case? This is such a fun way to turn a plain phone case into a super cute case. I made this using an iPhone case but you can really make this for any cell phones. You can use my free patterns to create your own custom phone case with this simple DIY project following my easy steps!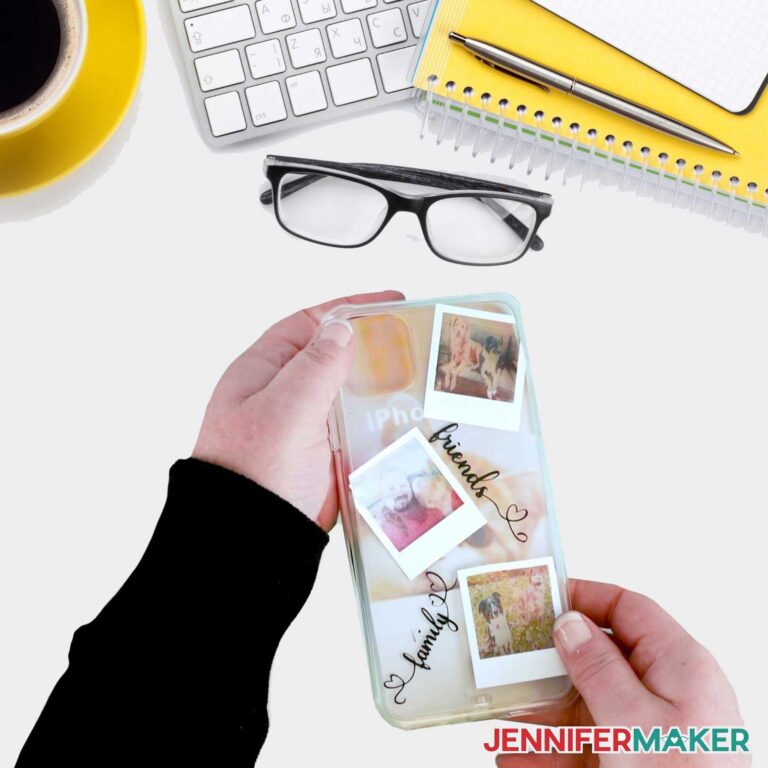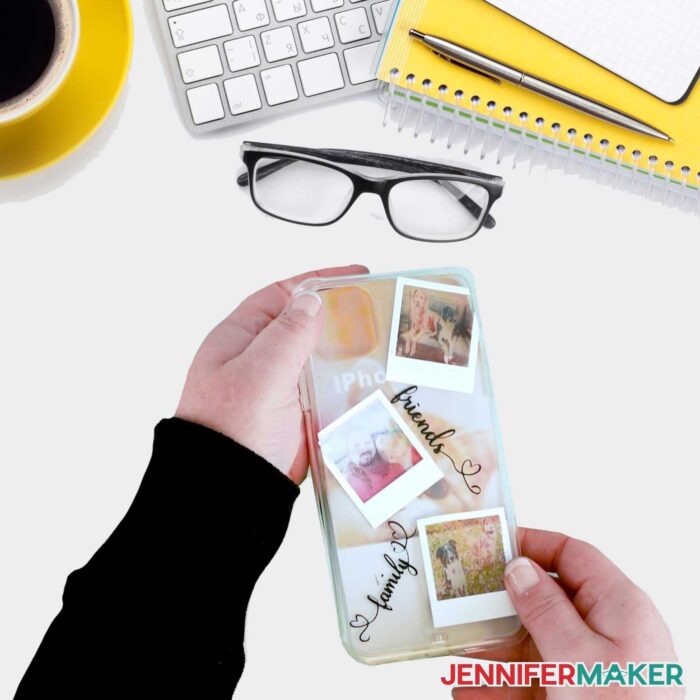 To create this easy DIY phone case, we will need a clear case for your phone. You can even use an old phone case you may have lying around. I got these from Amazon, but you can find blanks at lots of places, like Five Below and sometimes even the Dollar store will have them in stock. We'll also need some vinyl. I'm using a few different types: regular, smart, glitter and patterned vinyl, along with transfer tape.
And I'm going to use Mod Podge to seal my designs, but that's optional. Of course we will need our amazing Cricut Cutting machine. You can use the Maker Series, Explore Series or even the Joy for this project! We'll need a green cutting mat, weeding tool and scraper. If you want to add photos to your phone case you will need some Cricut Printable Sticker paper for that!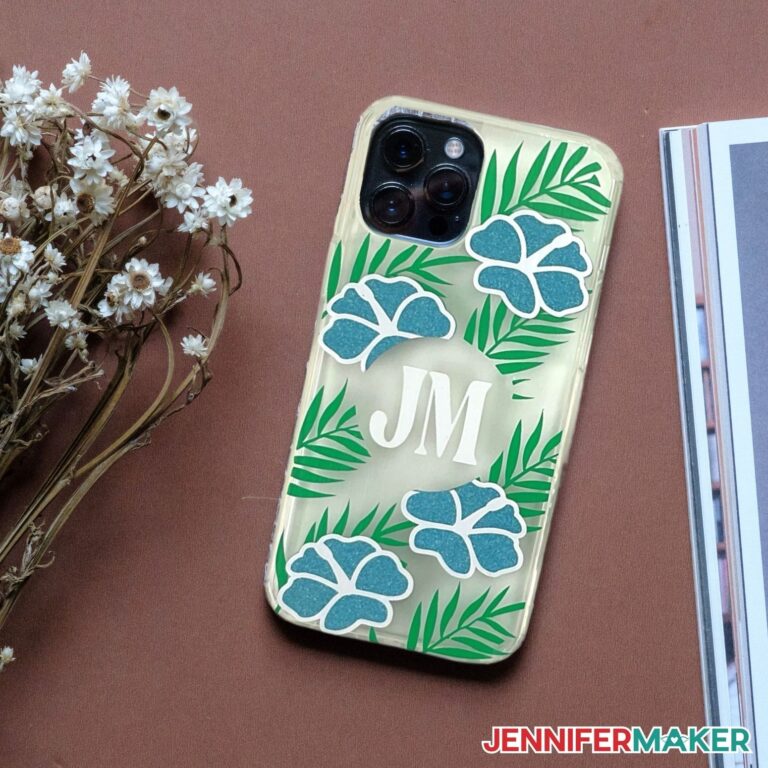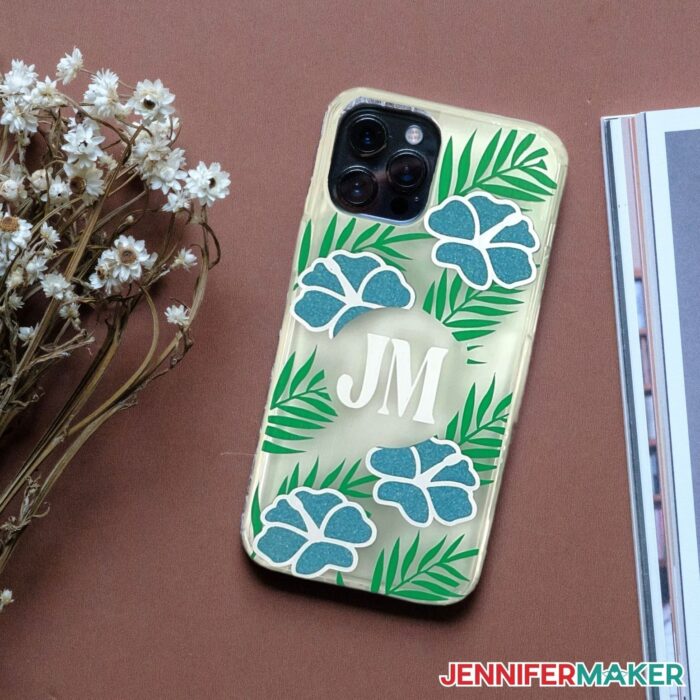 You no longer need to spend a lot of money to have your very own custom DIY phone case. I've seen some crazy prices for these and thought, wouldn't it be a great idea if I could create the perfect phone case using my own design and my own case? You can create them using a little bit of creativity, your favorite color combinations, and an inexpensive case.
The best part is that you'll have a cute phone case that all started with a fun idea! This would also be a great way to get your friends or family together so that you can all create a unique case that's perfect for you.
I created four designs for you to pick out your favorite, or, even better, make all of them!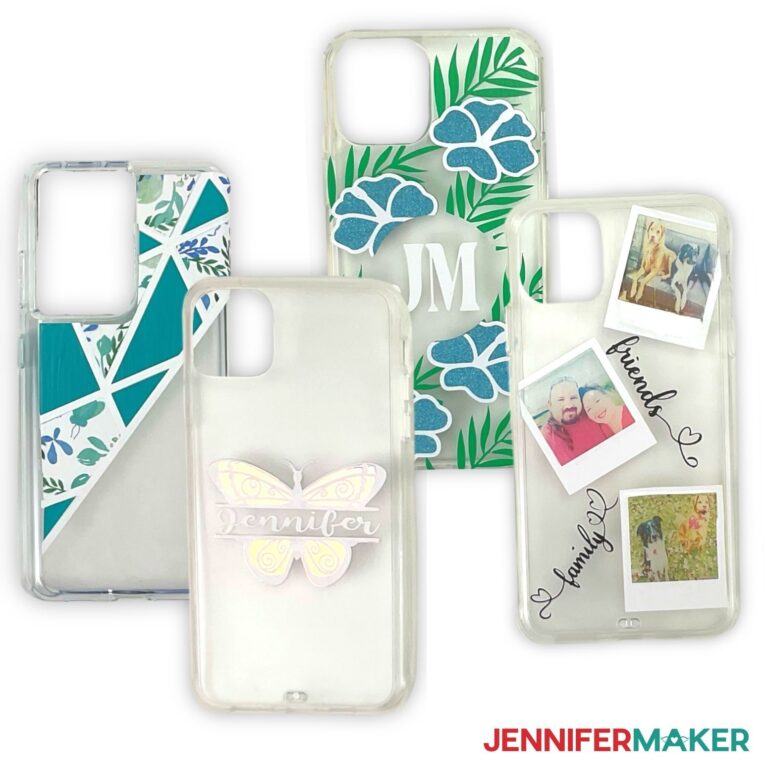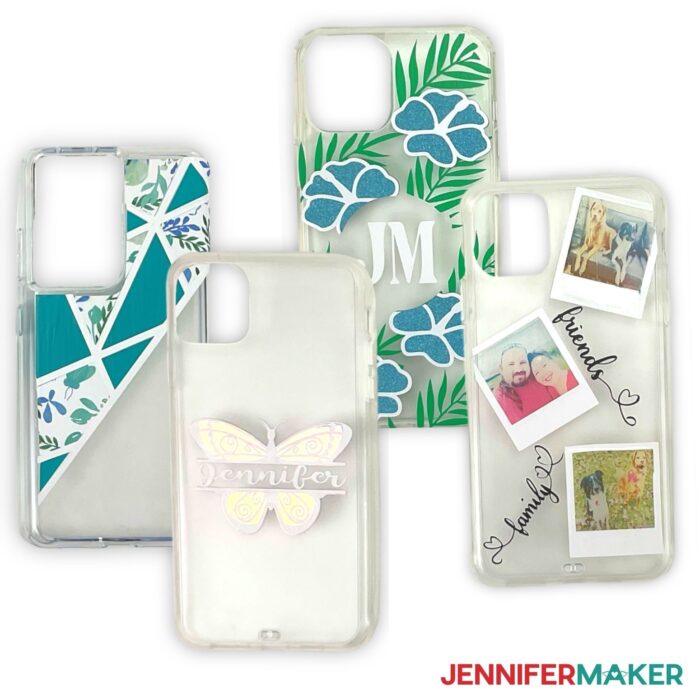 Here's a supply list of what you need to make phone cases! This post contains some affiliate links for your convenience (which means if you make a purchase after clicking a link I will earn a small commission but it won't cost you a penny more)! Read my full disclosure policy.
How to Make Your Own DIY Phone Cases
The detailed step-by-step assembly video on how to create these personalized vinyl letter decals was broadcast during Maker Academy Weekend 2021. Get a pass to watch all 20+ workshops, each with a printable handbook, transcript, audio files, design files, and support with a VIP pass below: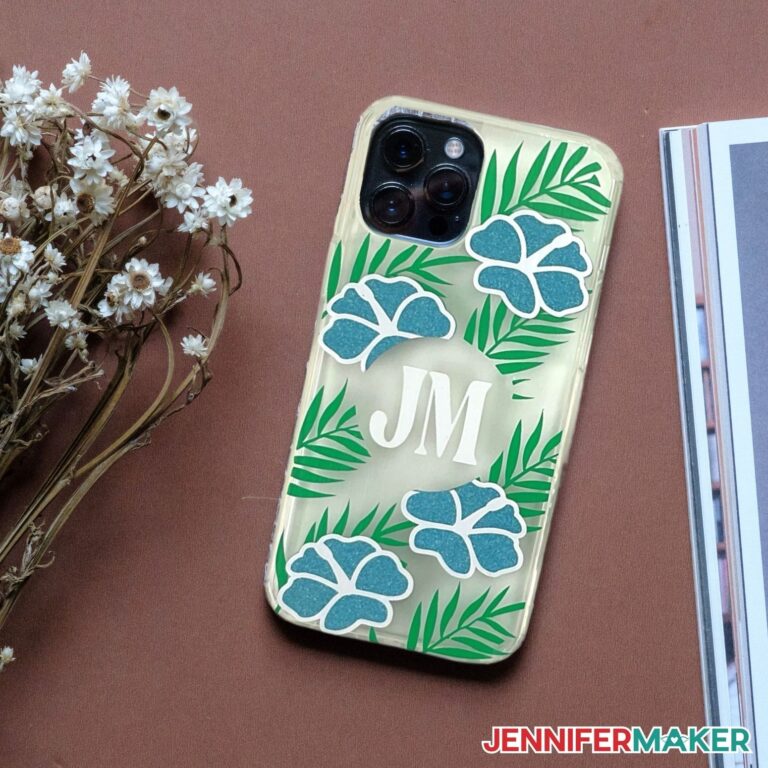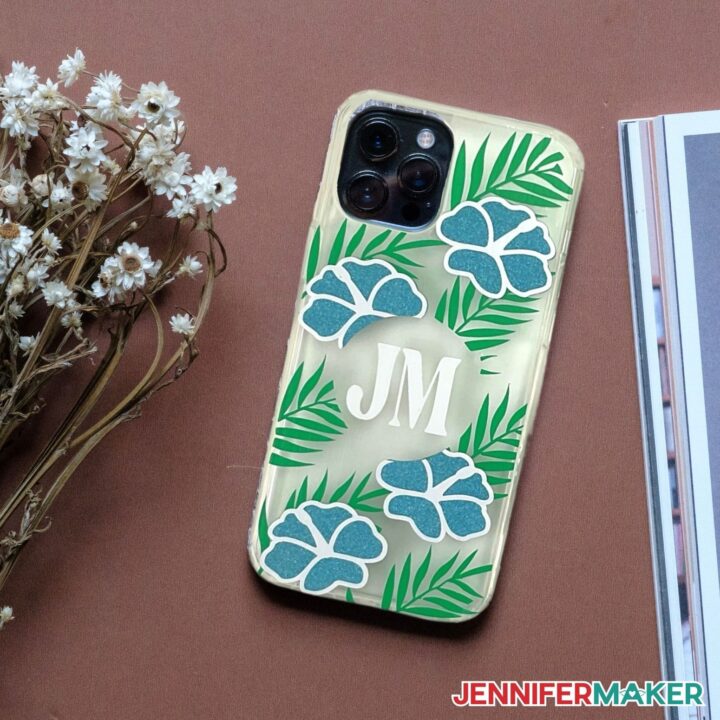 DIY Phone Cases
Yield:
1 custom phone case
Additional Time:
20 minutes
We are making DIY phone cases! Phone cases that are as unique as you are!
Add a geometric print with this abstract design or even a tropical design by adding some leaves and flowers to the back of your phone. You can also add your name and your favorite photos! Whatever design you decide to go with, the end result will make it look like you just purchased a brand new case.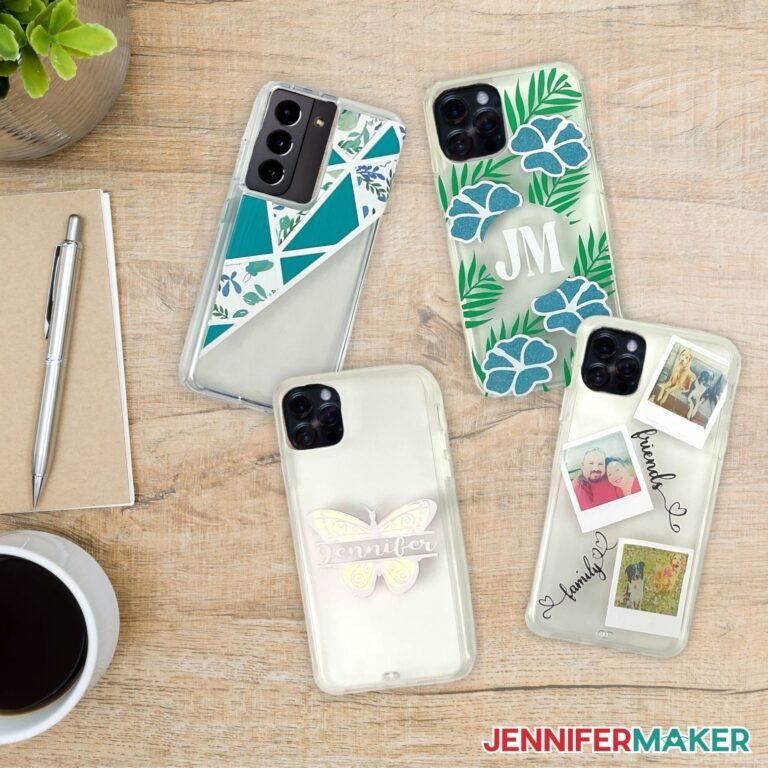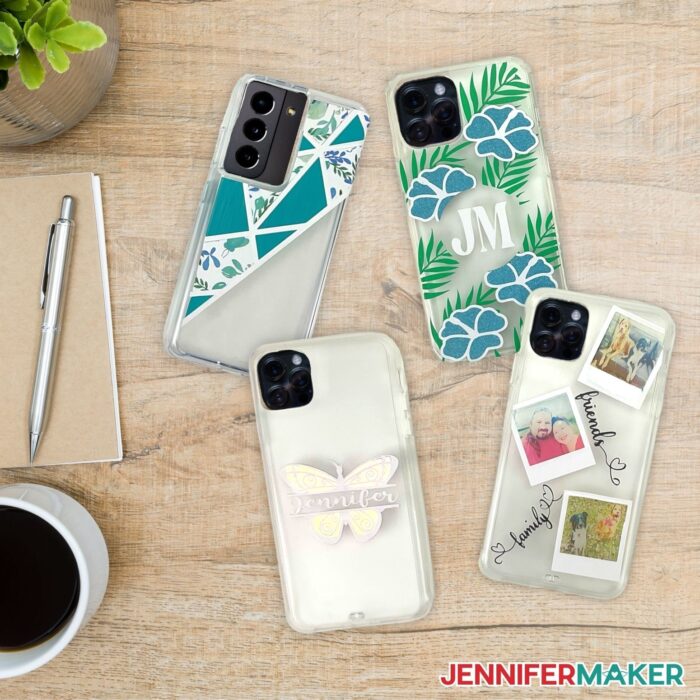 These really don't take a lot of time and you can find all these items easily at your local craft store. Gift your loved ones handmade phone cases for birthdays or holidays, I can assure you they will be thrilled to receive them!
Answers to Your Questions About How to Make DIY Phone Cases
Q: Where is your tutorial for this phone case project?
This is a special project we made for our free Maker Academy Weekend event! A complete and detailed step-by-step video premiered during the event November 4-7, 2021. Get access to the workshop video and printable workbook with a VIP Pass to Maker Academy Weekend 2021, which comes with other perks and bonuses, too!
Q: Can I make one for my phone?
I have templates for an iPhone 12 Pro Max, iPhone 11 Pro Max, iPhone XS Max, Samsung Galaxy S21, Samsung Galaxy S20, Samsung Galaxy S10, and a generic one that can be used for most any phone.
Get a free ticket to Maker Academy Weekend to see how this works!
I love seeing what you make with my designs and how you use them! Please share a photo of your phone cases in our Facebook group or tag me on social media with #jennifermaker.
Love,