Learn how to make custom cork coasters with vinyl for everyday use and the holiday season!
I am a big fan of gifts that are fun and functional! And these custom cork coasters are exactly that! These are SO EASY TO MAKE and are great for parties around the holidays or any type of get together really. Oh, and they also make for a great gift! The possibilities are endless when it comes to making these fun coasters! Or, another fun part, you can make a bunch and give them out as holiday gifts or maybe housewarming gifts… so many possibilities!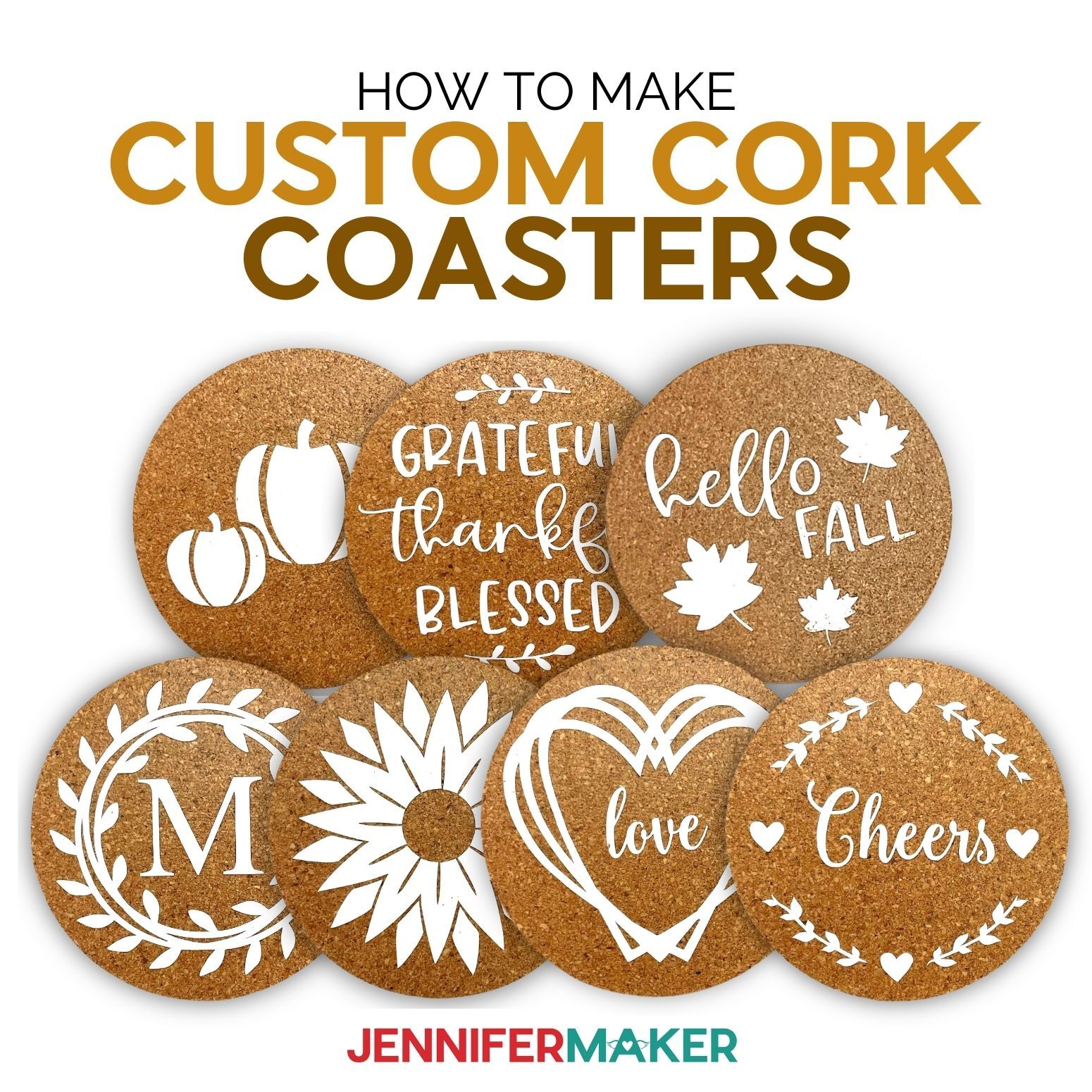 Another thing I'm a big fan of are projects that don't break the bank. I mean, don't get me wrong, I like beautiful projects that create a big wow-factor, but every now and then it's nice to get back to basics and work on something a little more simple.
With a fun project like this, you can create some handmade gifts, or even make them with friends and family members. There's nothing better than creating memories that will last a lifetime!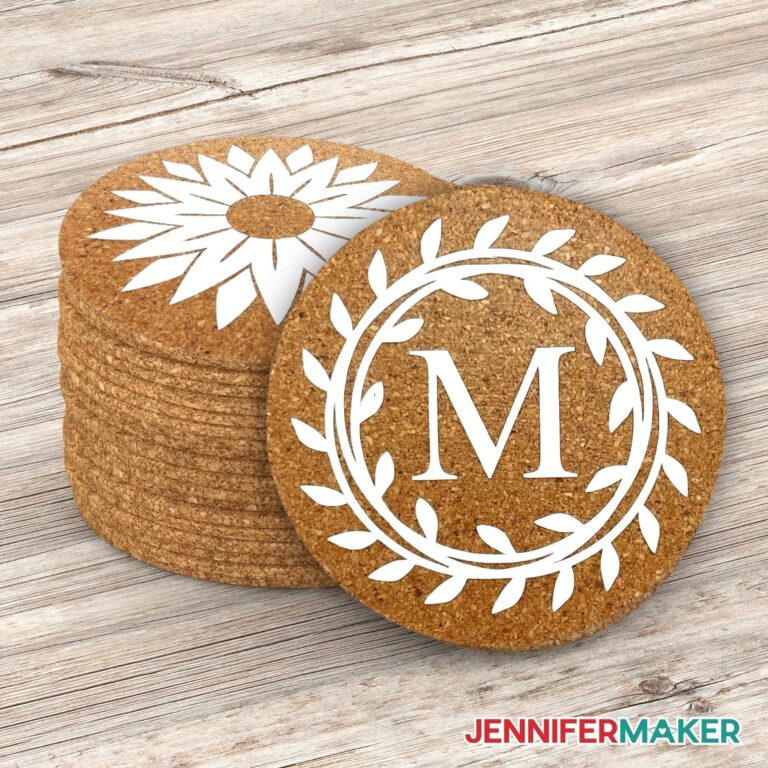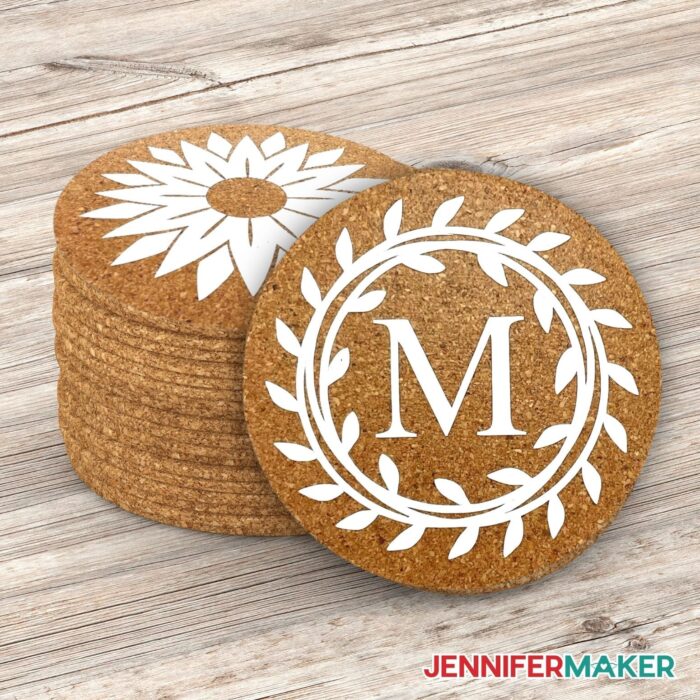 There is no better gift than a handmade gift and it is even better when it's a personalized gift! So here's what we will need: cork coasters of course. These come in all shapes and sizes: round, square, hexagonal.
We'll also need vinyl, I'm going to use both permanent vinyl and iron on vinyl, so we'll need a heat source. I'm going to use the EasyPress mini along with a mat. And we'll need transfer tape for the permanent vinyl.
We'll use some Mod Podge as well as a paint brush for that. We'll also need some scissors, a weeding tool, scraper tool and we're going to use the Cricut BrightPad too, but this is optional! And of course, we'll use our Cricut Cutting machine and a machine mat!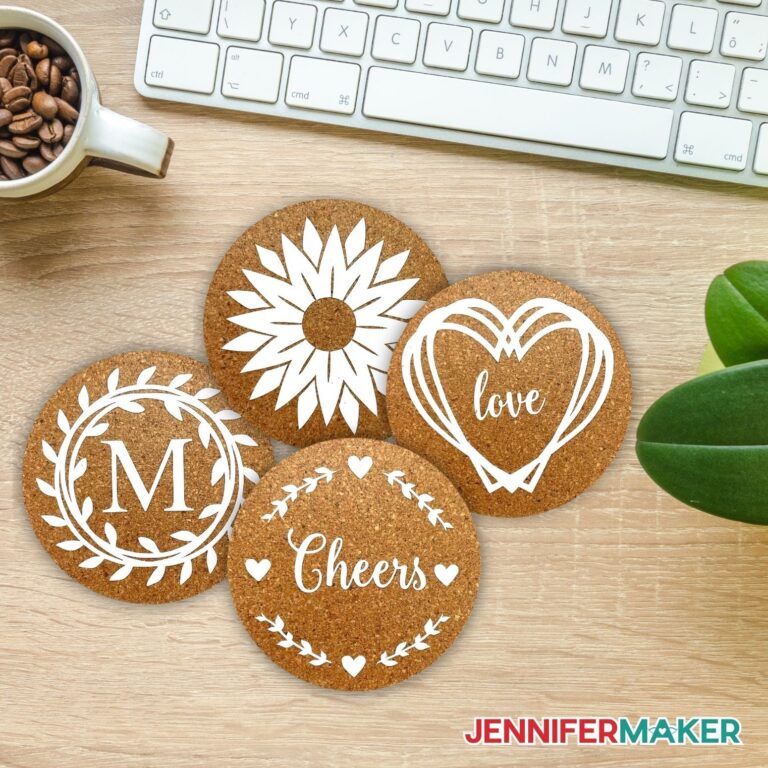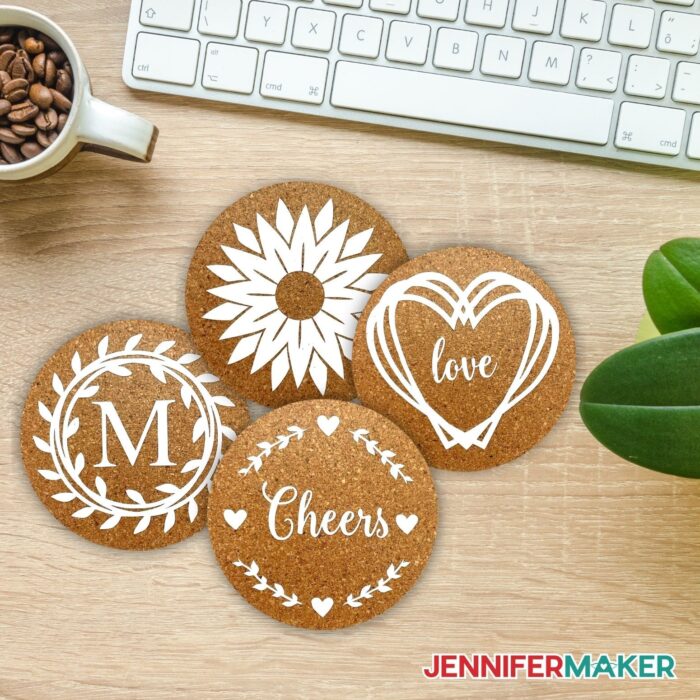 There are many different ways you can bring to life a plain cork coaster. I have provided you with 12 cute and fun designs to choose from with three different themes. There are four "everyday" designs, four fall designs, and four Christmas designs. You can never have too many coasters around your home!
Here are some fun and decorative holiday coasters: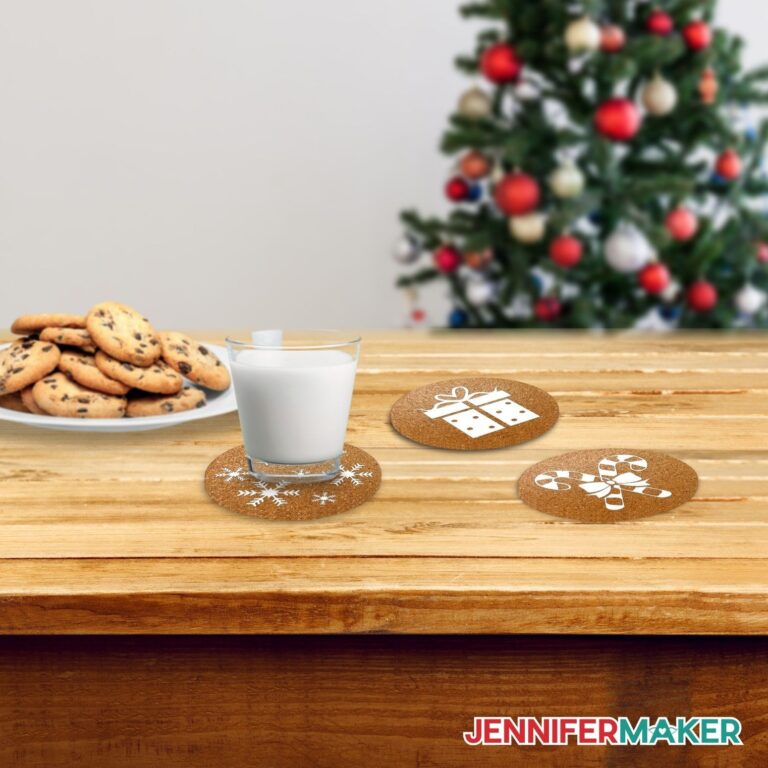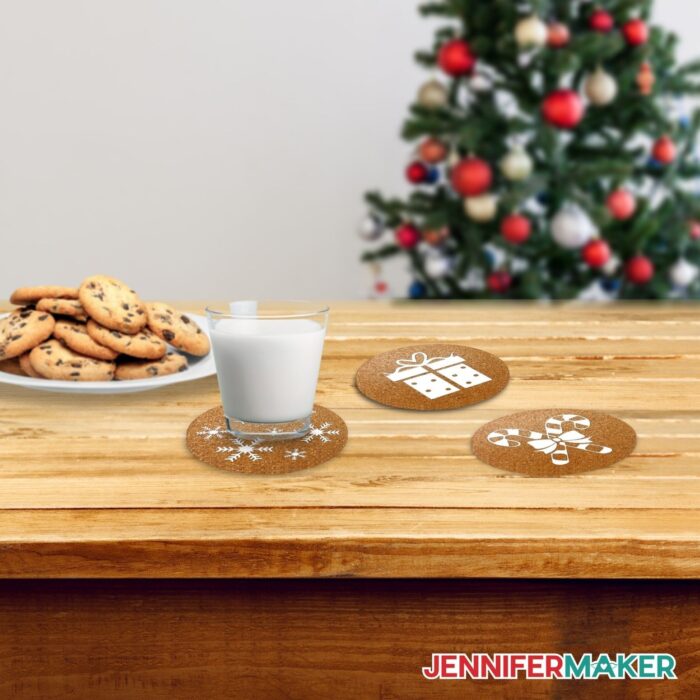 Here's a supply list of what you need to make your custom coasters! This post contains some affiliate links for your convenience (which means if you make a purchase after clicking a link I will earn a small commission but it won't cost you a penny more)! Read my full disclosure policy.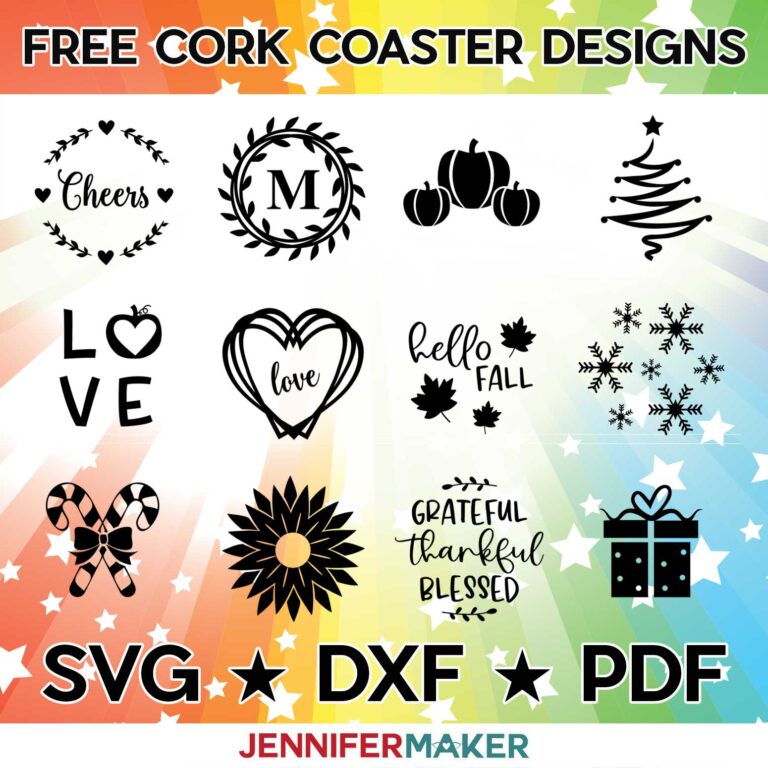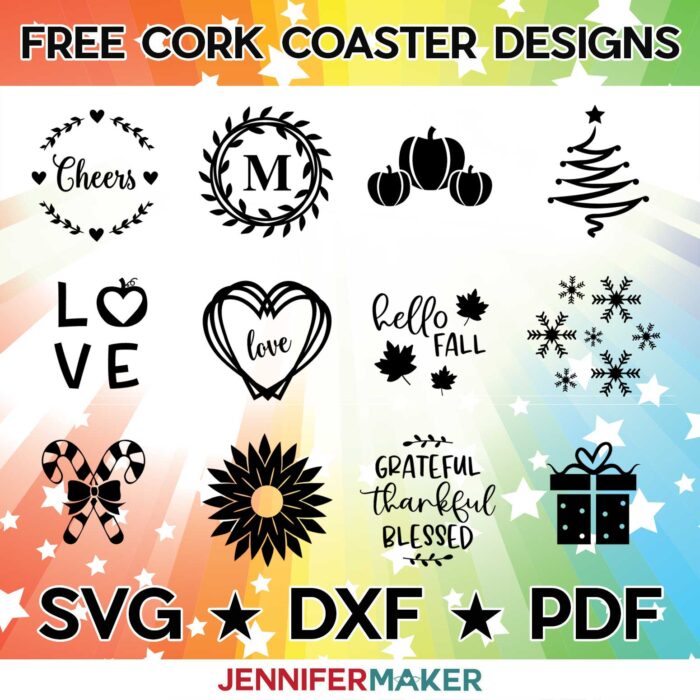 How to Make Your Own Custom Cork Coasters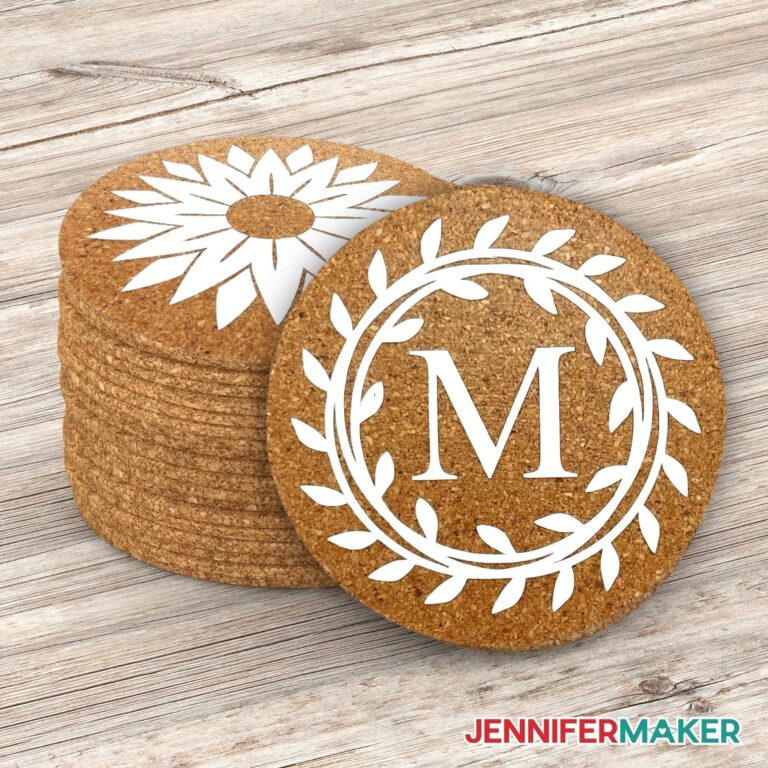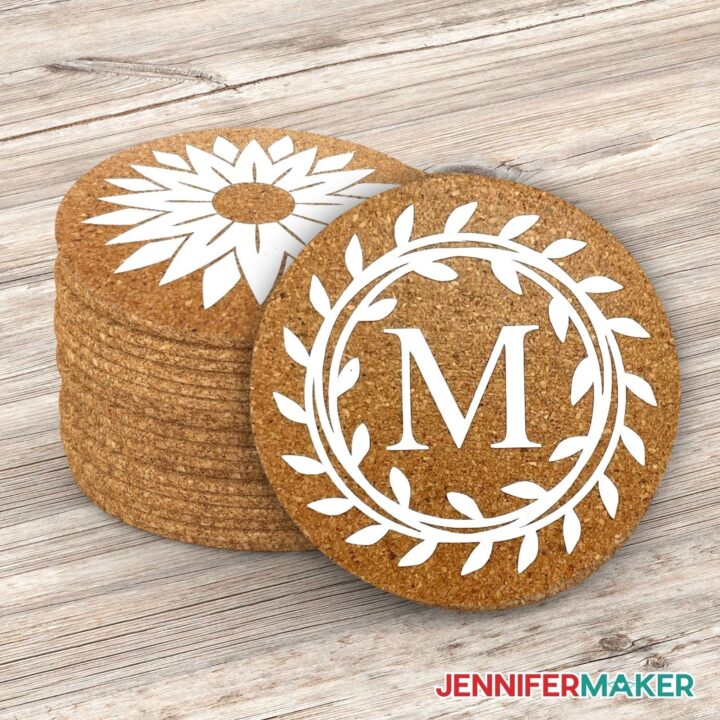 Custom Cork Coasters
Yield: 1 - 12 coasters

Active Time: 15 minutes

Additional Time: 1 day

Total Time: 1 day 15 minutes

Difficulty: Easy

Estimated Cost: $1.50 per Coaster

Learn how to make custom cork coasters for everyday use and the holiday season!

The detailed step-by-step assembly video on how to create custom cork coasters is part of Maker Academy Weekend. Get a pass to watch all 20+ workshops, each with a printable handbook, transcript, audio files, design files, and support with a VIP pass below:


I just love how my custom cork coasters turned out — not only do they make great home decor, but they make great gifts that your loved ones will cherish!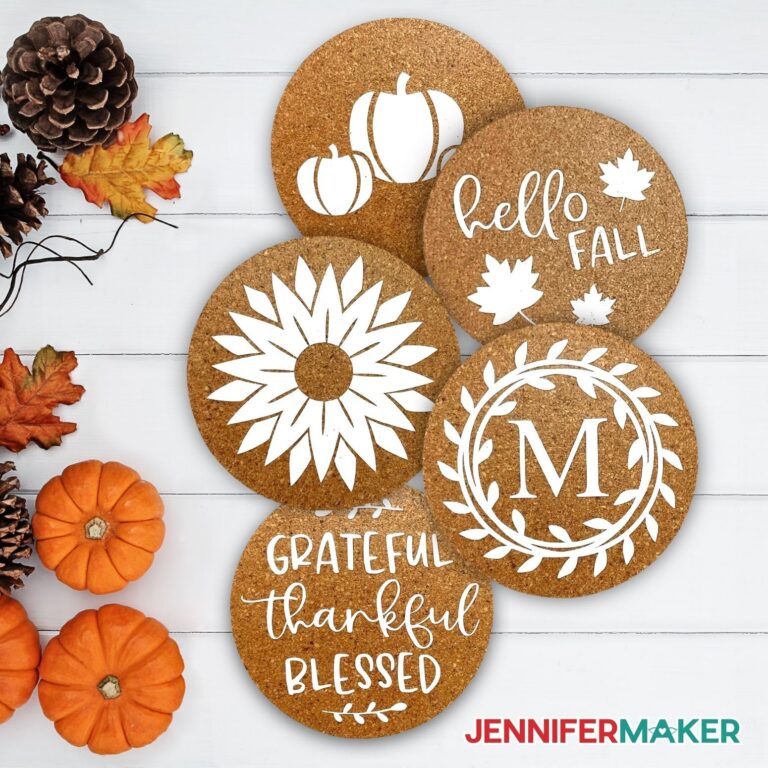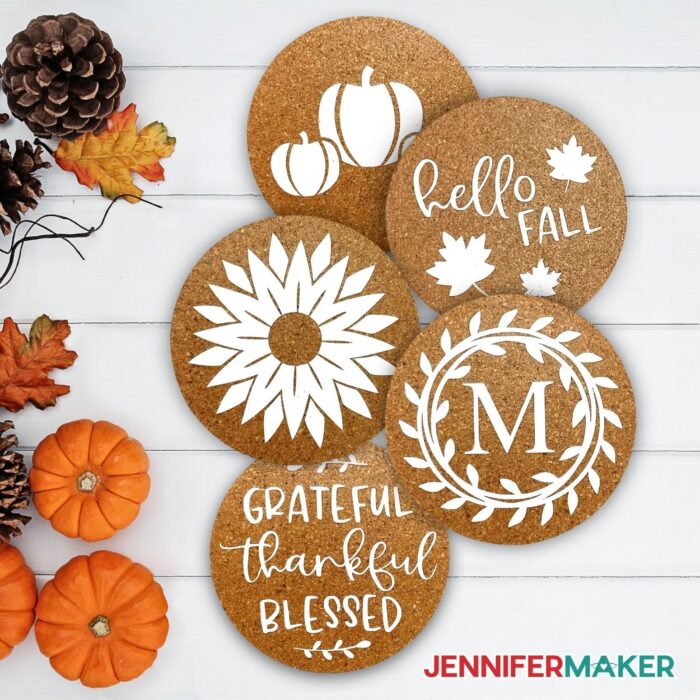 Need last minute holiday decor ideas? These coasters got you covered! Want to spruce up your home? This simple project will wow your guests when they see what you've created! Plus, these handmade coasters protect your furniture from your yummy hot drinks!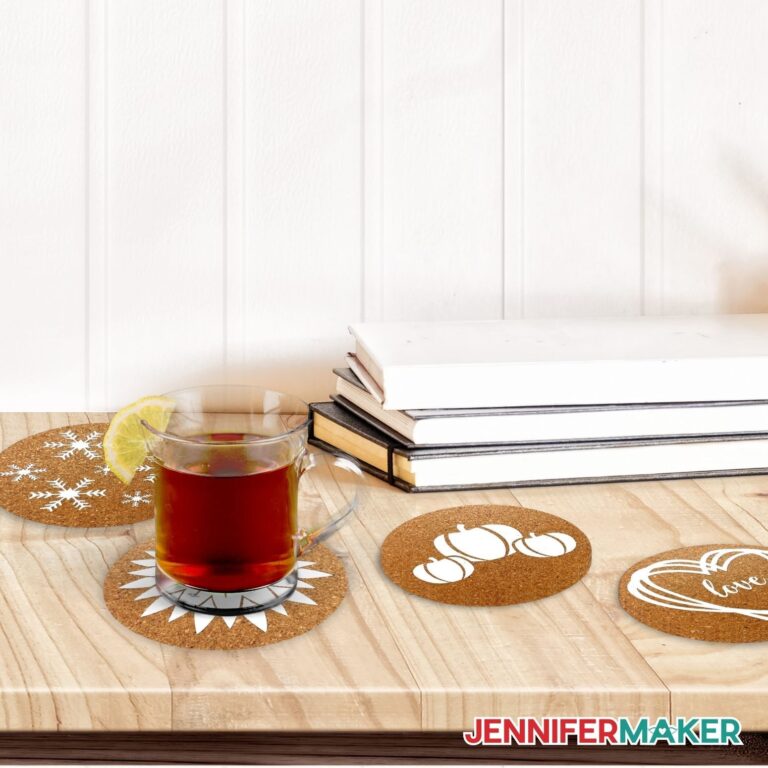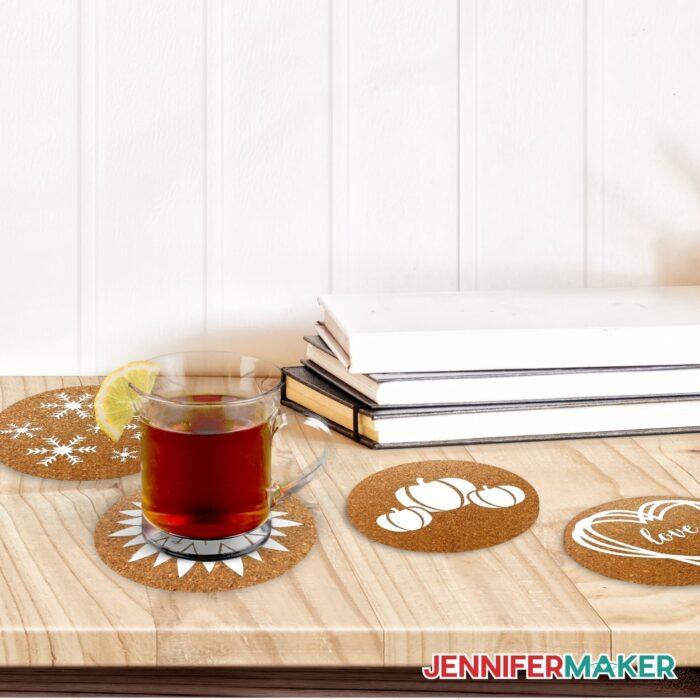 Answers to Your Questions About How to Make Custom Cork Coasters
Q: Where is your tutorial for the cork coasters project?
This is a special project we made for our free Maker Academy Weekend event! A complete and detailed step-by-step video premiered during the event November 4-7, 2021. Get access to the workshop video and printable workbook with a VIP Pass to Maker Academy Weekend 2021, which comes with other perks and bonuses, too!
Q: Can you REALLY put vinyl on cork coasters?
Yes! Either permanent vinyl or iron on vinyl works great! If you want to use these coasters with drinks, you'll want to also seal the vinyl with matte Mod Podge.
Q: How well does Cricut vinyl stick to cork?
Cricut vinyl sticks really well to cork! In addition to cork coasters, you can put vinyl on bulletin boards and anything else you might use cork for!
Q: My store doesn't have any coasters! Where do I find them?
If you can't find cork coasters at your local craft stores, try ordering them from Amazon. If that's not an option, be sure to check out your local dollar store!
Q: Can I put drinks on these coasters? How do they hold up to condensation from cold drinks?
To test this out, we put cups with ice water on our sealed cork coasters for two straight days. There are some indentation marks from the cup but both the permanent vinyl and the iron on vinyl were unaffected. The only thing we noticed is that the cups were sticking a little to the coasters when we picked them up. So both types of vinyl worked well after sealing. Here's what our custom cork coasters looked like after our two-day condensation test — the one on the left is iron on vinyl, and the one on the right is permanent vinyl.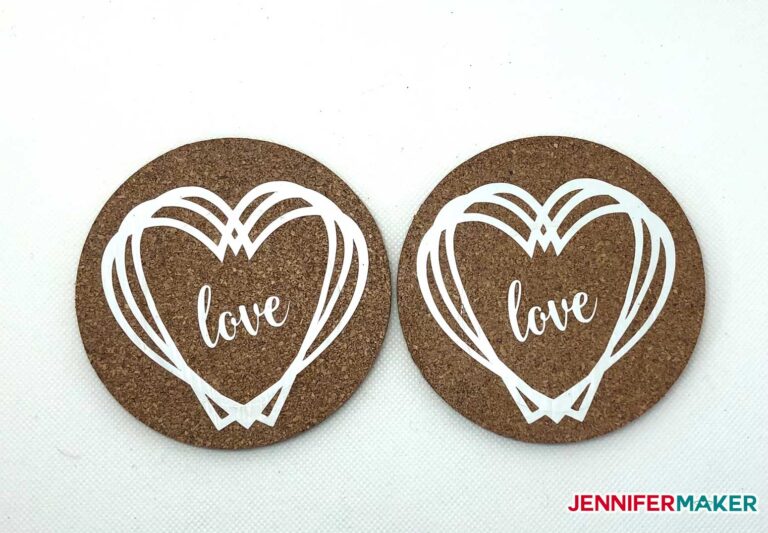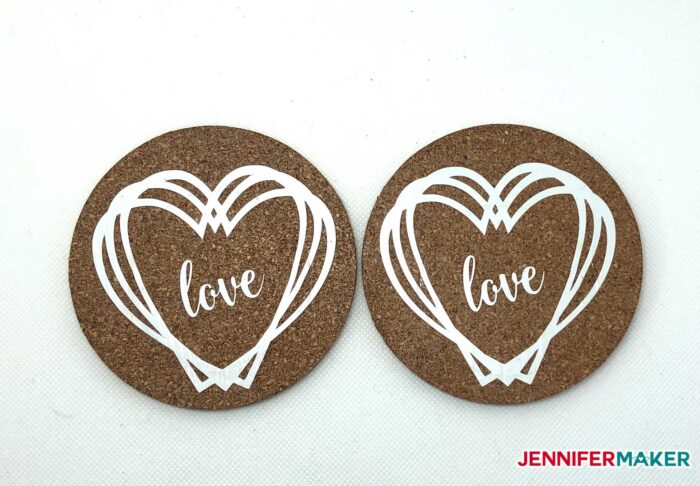 Q: Can I put Infusible Ink on coasters?
Yes, but not the cork coasters we're using in this tutorial. You'd want to get the Cricut cork-backed coasters or another sublimation-coated coaster for your Infusible Ink designs.
Get the free designs for the Custom Cork Coasters
I can't wait to see what you make with my designs and how you use them! Please share a photo of your custom cork coasters in our Facebook group or tag me on social media with #jennifermaker.
Love,