Learn how to make this felt Christmas tree advent calendar with layered ornaments!

Christmas is just around the corner, and every year I design and make a new advent calendar — a countdown to Christmas! I've made 3D Christmas trees with little drawers for gifts and goodies, paper villages with a door for every day, and even ornament stands so you can put a new ornament on the tree. It's a fun tradition, and one that I know many of you share with me! And this year is no different! Our annual advent calendar design this year is a heartfelt hanging Christmas tree with 25 felt ornaments to decorate each day in December. I'm excited to teach you how to make an easy felt Christmas tree advent calendar that you will treasure for years to come.
Watch the full step-by-step felt Christmas Tree advent calendar assembly video:

Now you might take one look at this pretty felt Christmas tree advent calendar and think to yourself, "there's no way I can make that!" But I promise, it's really not as hard as it looks. And we're going to do it together. I am going to break it all down into super easy steps and all you need to do is follow along. Before you know it you will have a beautiful, finished tree to Countdown to Christmas that you can use to decorate your home or give as a gift to impress your friends! And trust me, they will love it!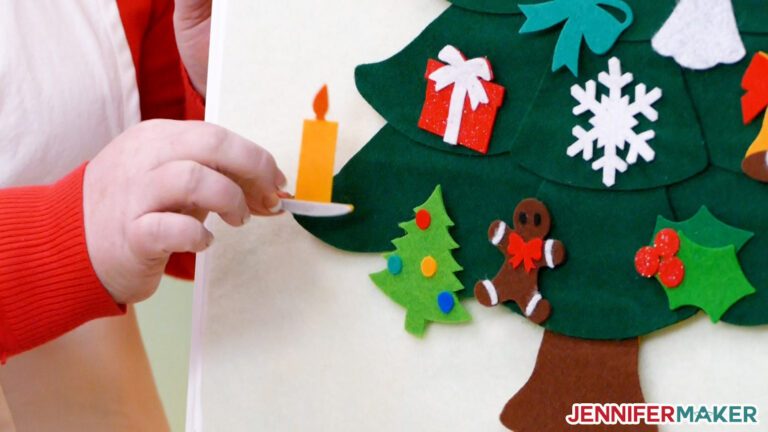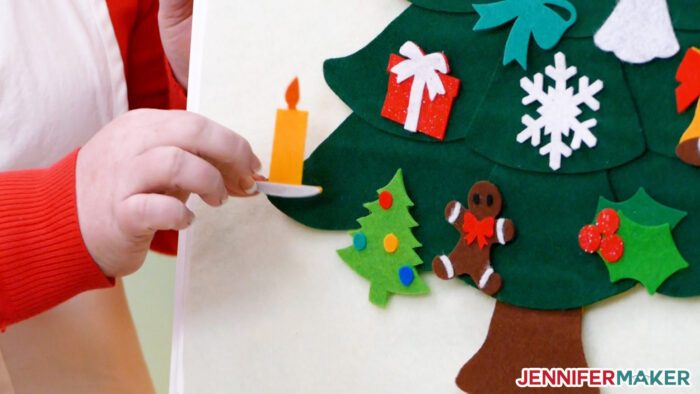 The main thing you need for this DIY project is felt, felt and more felt. You need a lot of felt for this hanging wall decoration between the Christmas tree and the ornaments. You can make your tree just like mine or you can pick your own colors to match your own decor. Be creative and have fun with it! I'm using felt sheets in roughly eight and a half by eleven inch sizes, but you can use larger amounts and cut them to size.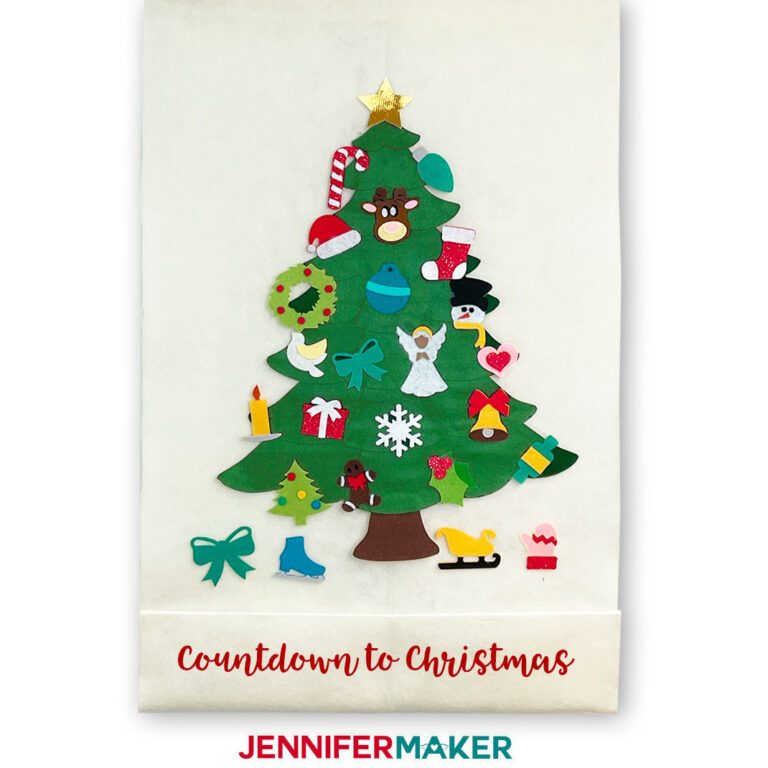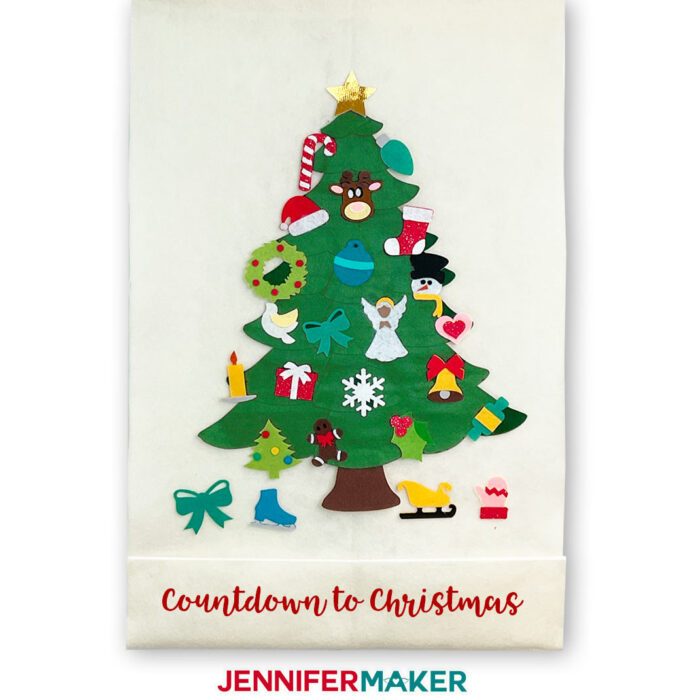 You also need a wooden dowel and some ribbon to hold it up, along with some hot glue to hold it all together! You can use some hook and loop dots to add the ornaments to the tree.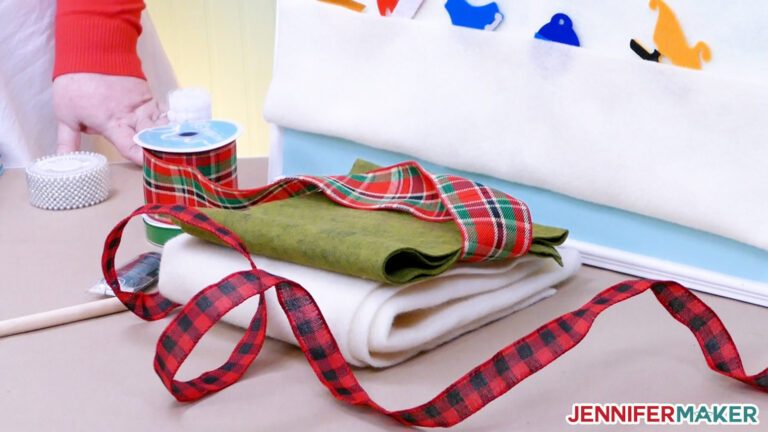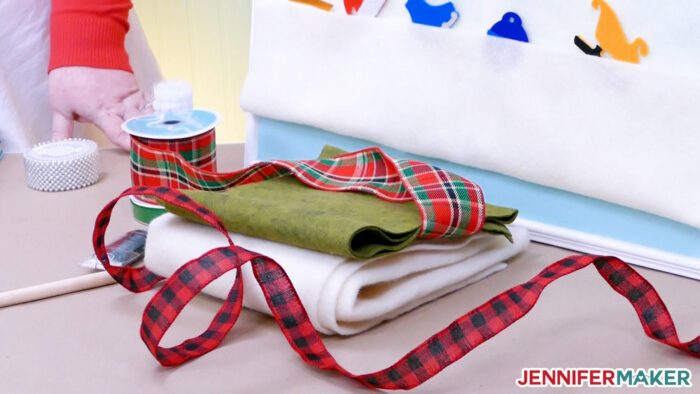 And I also used Smart Iron-On vinyl to add the personalization underneath my Christmas tree. This step is optional, but if you add it you will need a Cricut Easy Press or household iron to attach it. Feel free to change that to anything you like, or nothing at all!
Other items you will need include freezer paper, a lint roller, and a hack saw or something to cut the wooden dowel.
I used a Cricut cutting machine to cut both the felt and vinyl for this project. In this tutorial I use both the Cricut Maker 3 and the Cricut Explore 3, because you can use both to make this wall decoration. You can also use the original Maker and Explore series if that's what you have.
And don't forget your machine mats (both green and purple), some scissors, a weeding tool, and a brayer.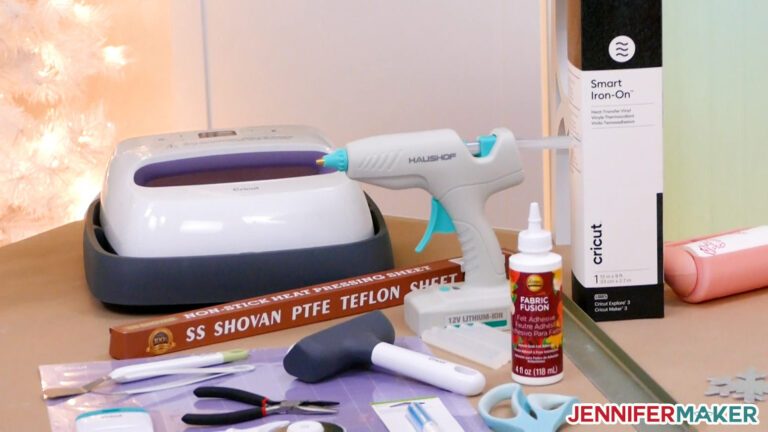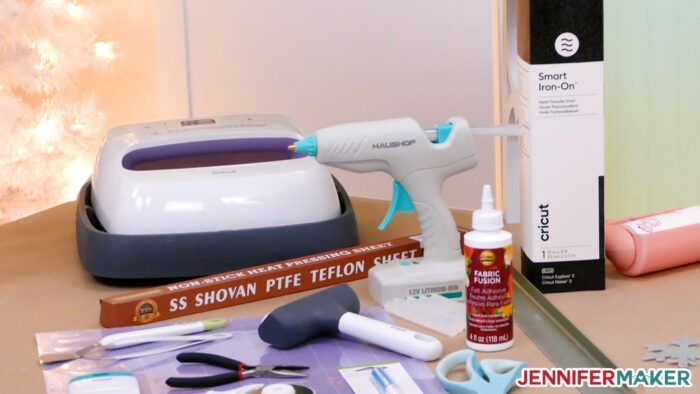 Let me show you how easy it is to make this pretty felt Christmas Tree advent calendar! This post contains some affiliate links for your convenience (which means if you make a purchase after clicking a link I will earn a small commission but it won't cost you a penny more)! Read my full disclosure policy.
How to Make Your Own Felt Christmas Tree Advent Calendar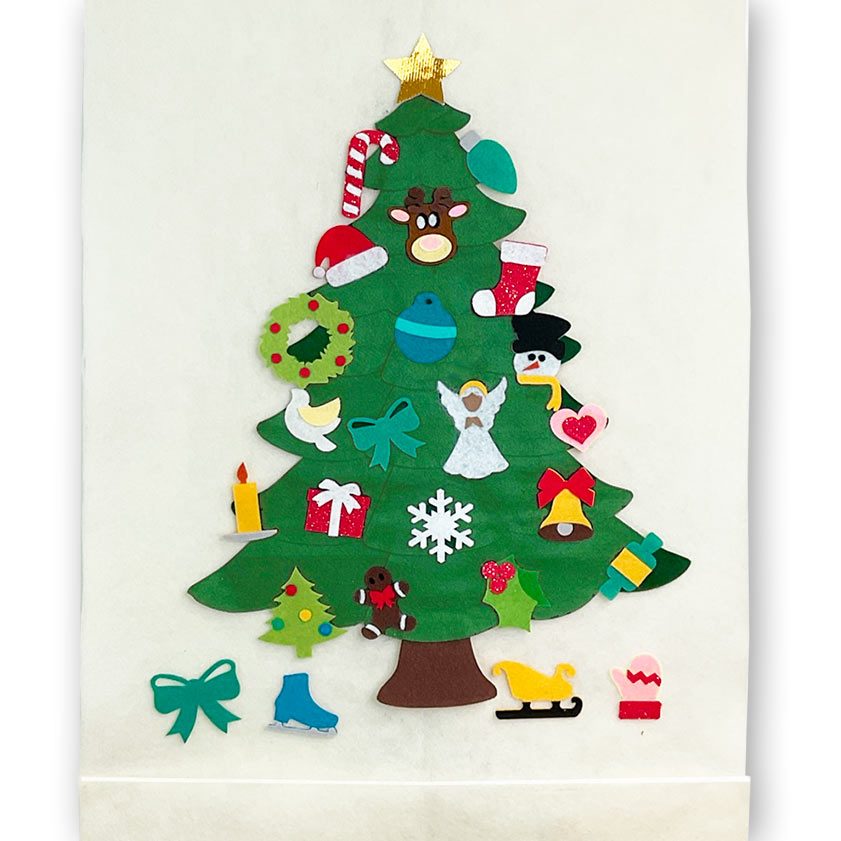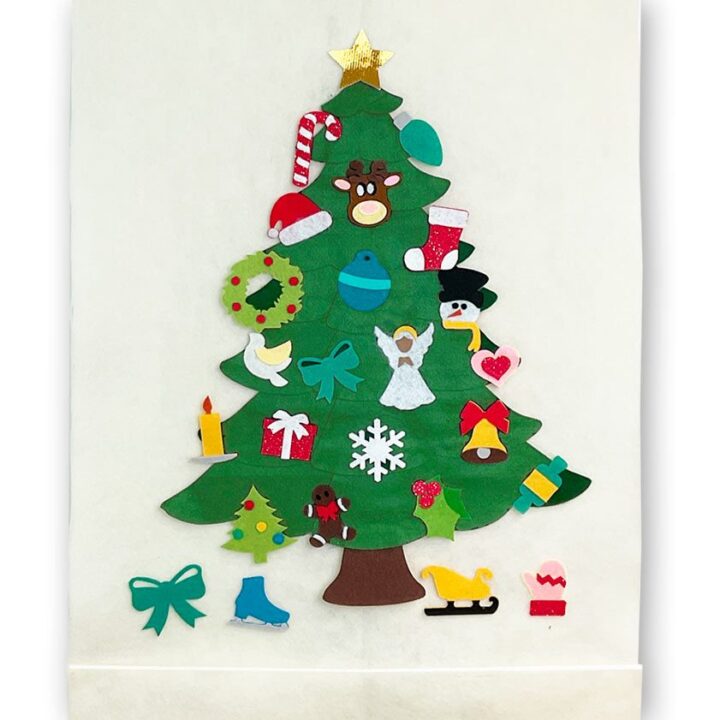 Felt Christmas Tree Advent Calendar
Yield: 1

Prep Time: 3 hours

Active Time: 2 hours

Additional Time: 30 minutes

Total Time: 5 hours 30 minutes

Difficulty: Medium to Difficult

Estimated Cost: $35

Countdown the days until Christmas by making this beautiful Felt Christmas Tree Advent Calendar with me!
Answers to Your Questions About How to Cut Felt for Your Advent Calendar
Q: What kind of felt do I use?
I recommend stiff felt, as it cuts better and keeps its shape longer. The Cricut felt is particularly good and results in crisp, clean edges!
Q: How do I keep my felt layers stuck together?
To keep the felt layers stuck together permanently, use felt glue. To keep felt layers stuck together temporarily, adhesive hook and loop circles work great!
Q: Can I cut this project on a Cricut Joy?
Yes, if you cut this from cardstock instead of felt and resize it so that the largest piece fits on the Cricut Joy machine mat. See our Resizing Guide for more details.
Q: Can I cut felt on my Cricut Explore Air?
Yes, you can! You'll just want to put freezer paper on one side of your felt before you cut it, bonding it with an iron or EasyPress. This bonded side then goes against your machine mat to keep the felt in place as you cut it with the fine point blade.
Get my free SVG files to create a beautiful Felt Christmas Tree Advent Calendar
I love seeing what you make with my designs and how you use them! Please share a photo of your advent calendars in our Facebook group or tag me on social media with #jennifermaker.
Love,