An easy and fun way to create easy DIY canvas wall art using paint, vinyl, and stencils.
Decorating your home can definitely be expensive, but if you are like me, and you like DIY projects, it doesn't have to be. In this tutorial, I'm going to show you how to make beautiful and easy canvas wall art with your Cricut. ​​I have created three free DIY canvas wall art designs that you can mix and match and even customize to match your style!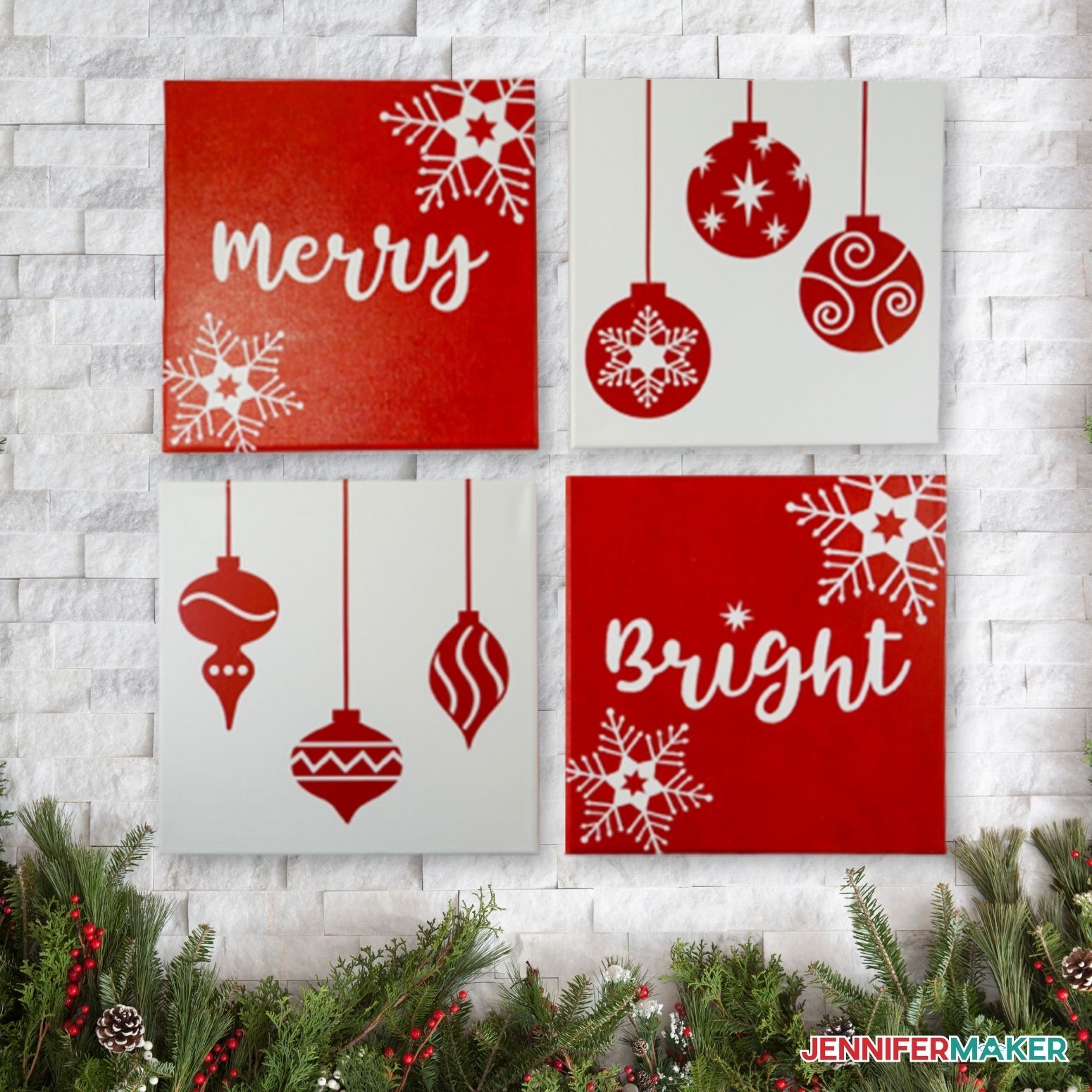 I've said it before and I'll say it again: I'm a big fan of projects that don't break the bank and that you can customize any way you like. This canvas wall art project is so fun to create and all you need to get started is a blank canvas and a few other materials!
The canvas that I used measures 10 inches by 10 inches, but this project can be resized to fit other size canvases and I'll be showing you just how to do it. I will use mod podge to prep my canvas, but you can also use spray adhesive. They both help the vinyl stick.
I will also be using both Smart and regular permanent vinyl, stencil vinyl and some acrylic paint.
Last, but not least, we will also use the amazing Cricut Cutting machine, a mat, weeding tool and scraper, as well as scissors and either butcher paper or a drop cloth to protect our work surface.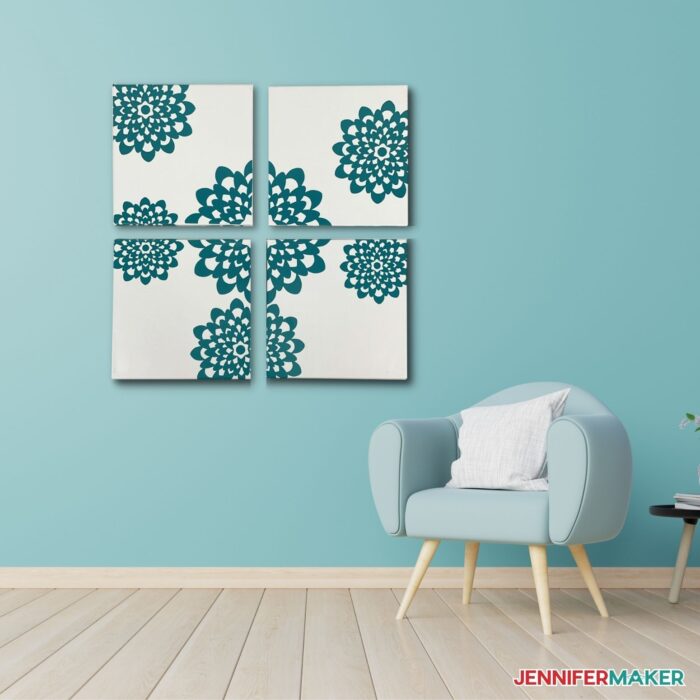 If you're looking for a great way to add a new look or some modern art to your home, what better way than to use a white canvas with your favorite colors and create your very own wall art! The best part is that not only is this a budget-friendly option, but you will have an art piece that was uniquely created by you!
Once you're all done with this fun project, you can hang them up in your living room, dining room, or any room really. This is such an easy way to add a modern look or focal point to any blank walls.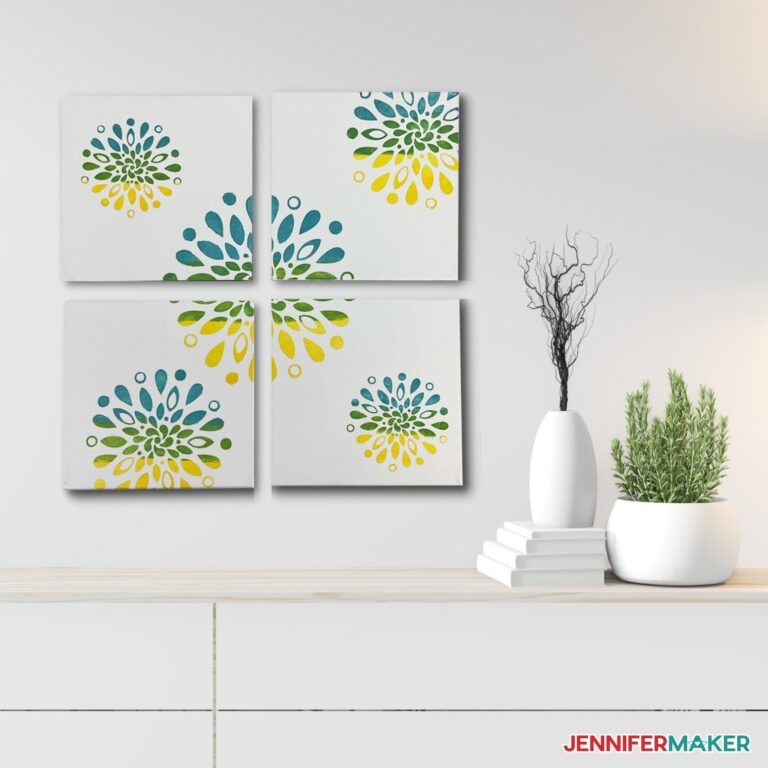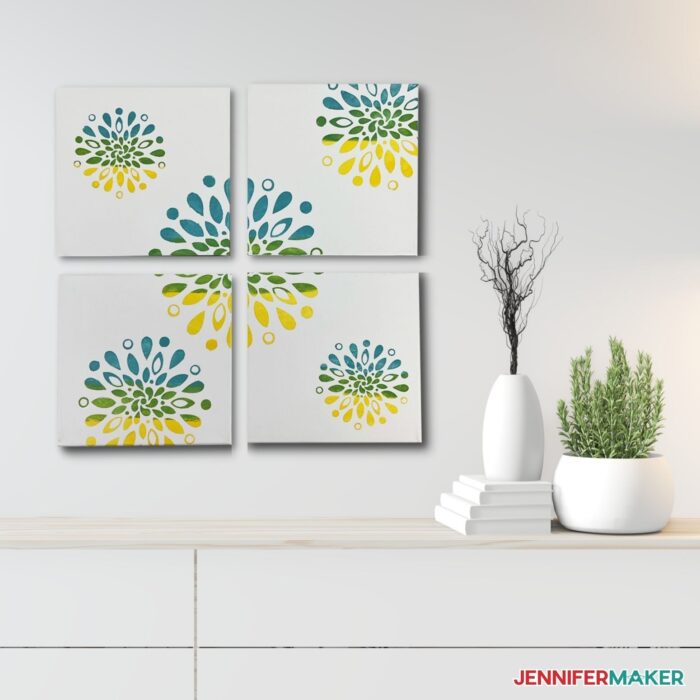 You don't have to be a professional artist or spend a lot of money to create your very own unique wall art. If you have an empty wall you've been thinking of sprucing up, this is your perfect chance!
I've included some fun ways to hang up your piece of art for the holidays.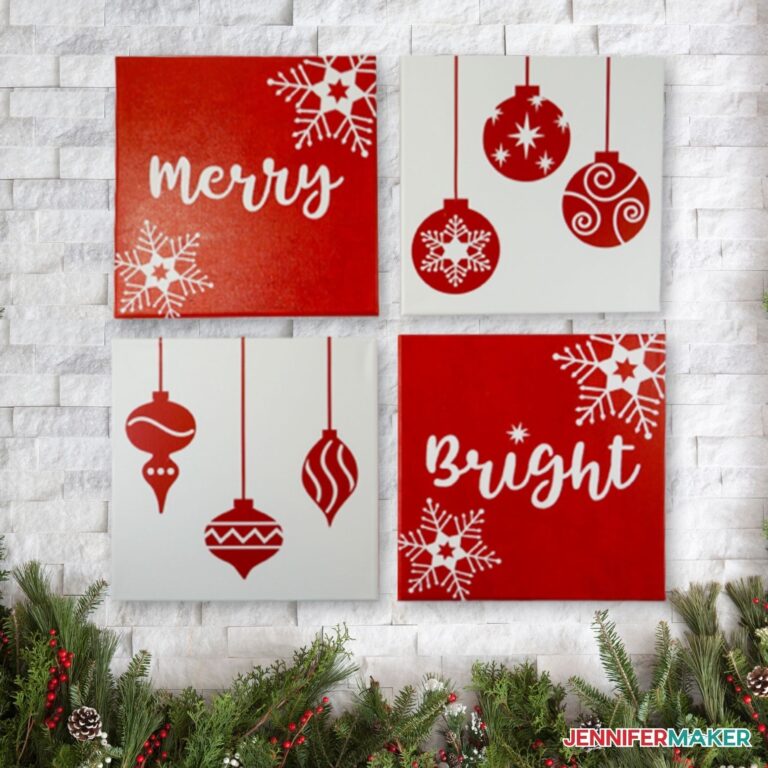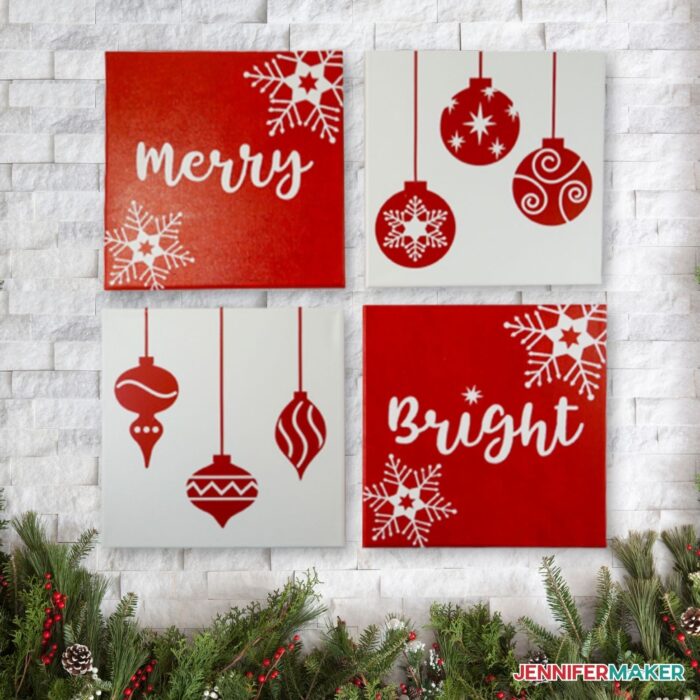 Here's a supply list of what you need to make your canvas wall art! This post contains some affiliate links for your convenience (which means if you make a purchase after clicking a link I will earn a small commission but it won't cost you a penny more)! Read my full disclosure policy.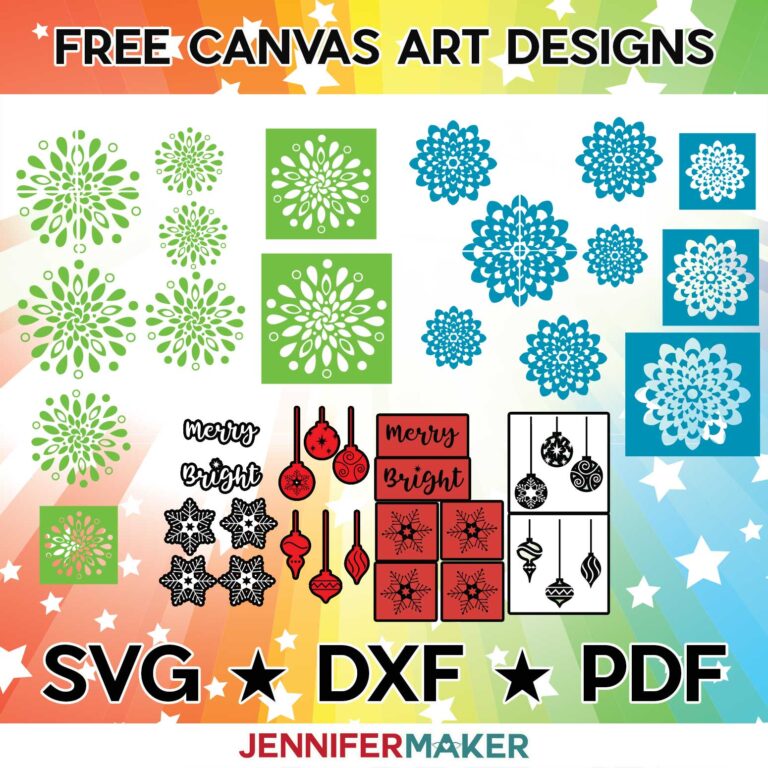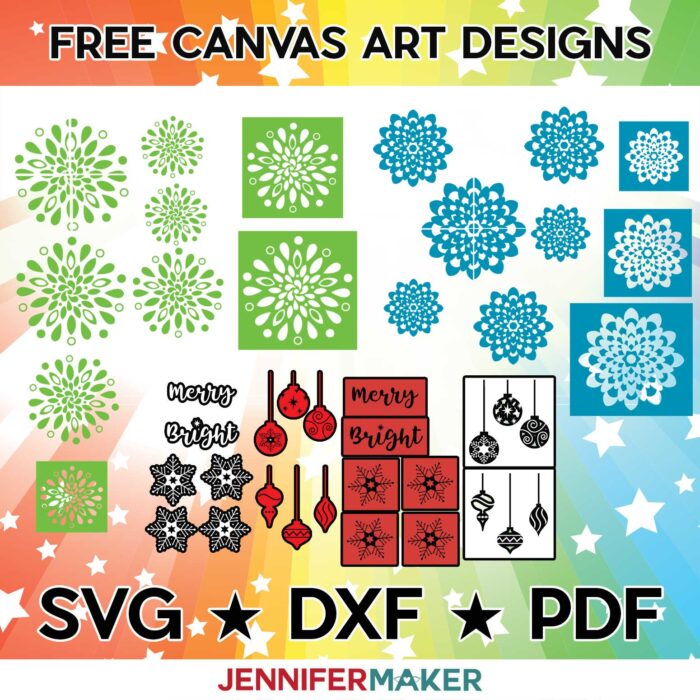 How to Make Your Own DIY Canvas Wall Art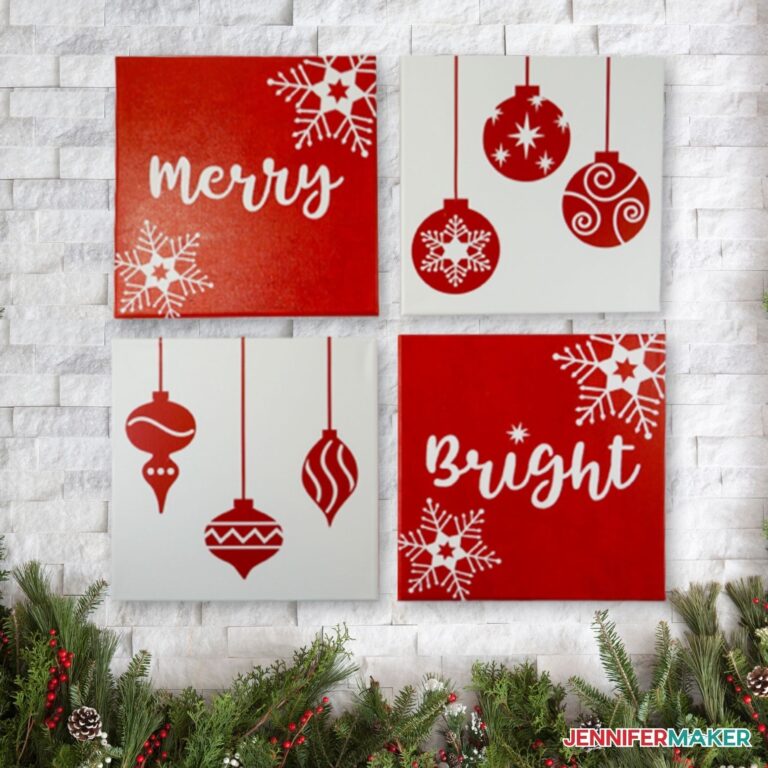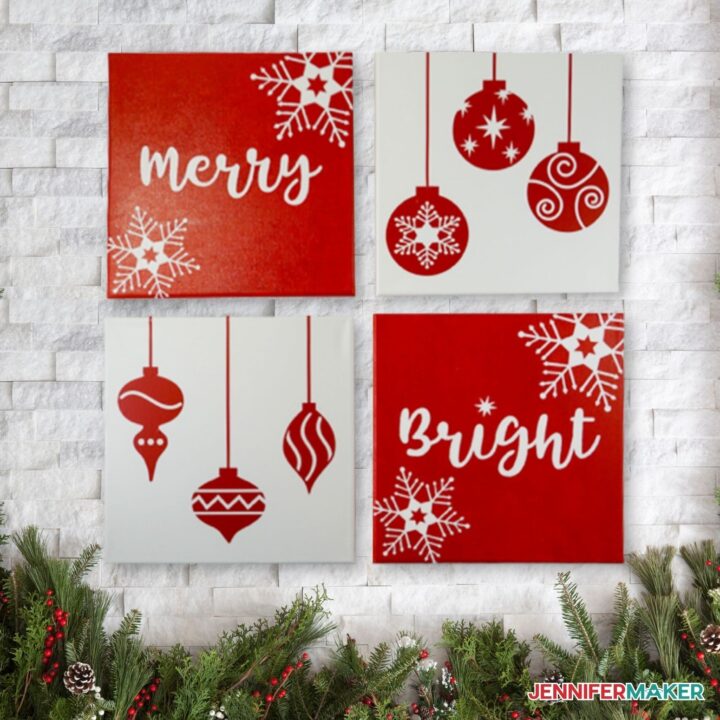 Easy Wall Art
Total Time:
3 hours
50 minutes
Difficulty:
Easy to Medium
An easy and fun way to create Easy DIY Wall Art using paint, vinyl and stencils.
The detailed step-by-step assembly video on how to create the easy wall art is part of Maker Academy Weekend. Get a pass to watch all 20+ workshops, each with a printable handbook, transcript, audio files, design files, and support with a VIP pass below: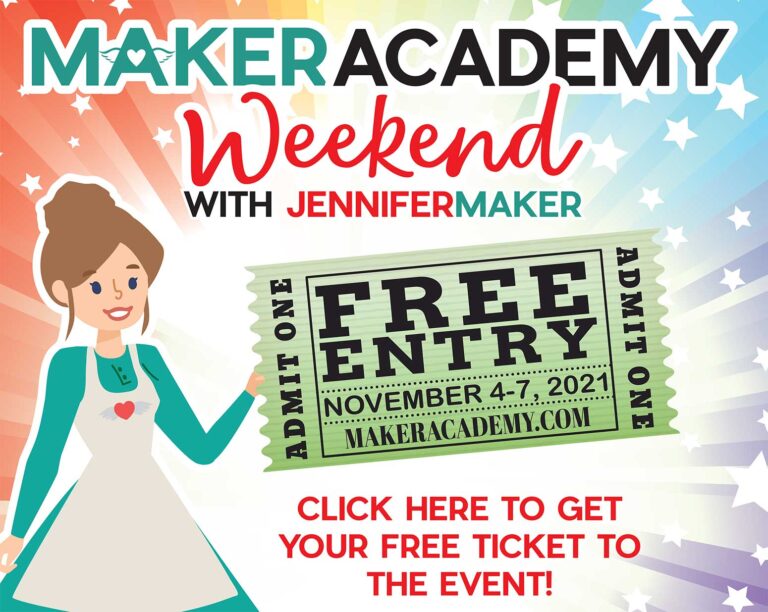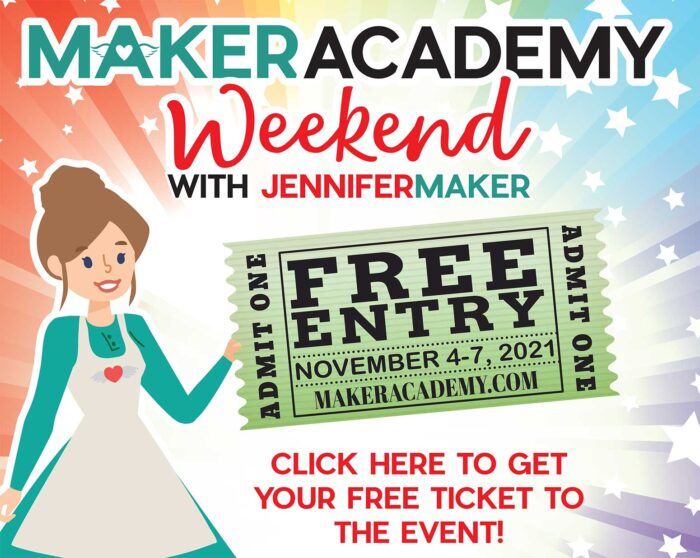 I'm loving how they turned out! It's amazing how you can take an easy wall art idea and turn it into something you can be inspired by every day.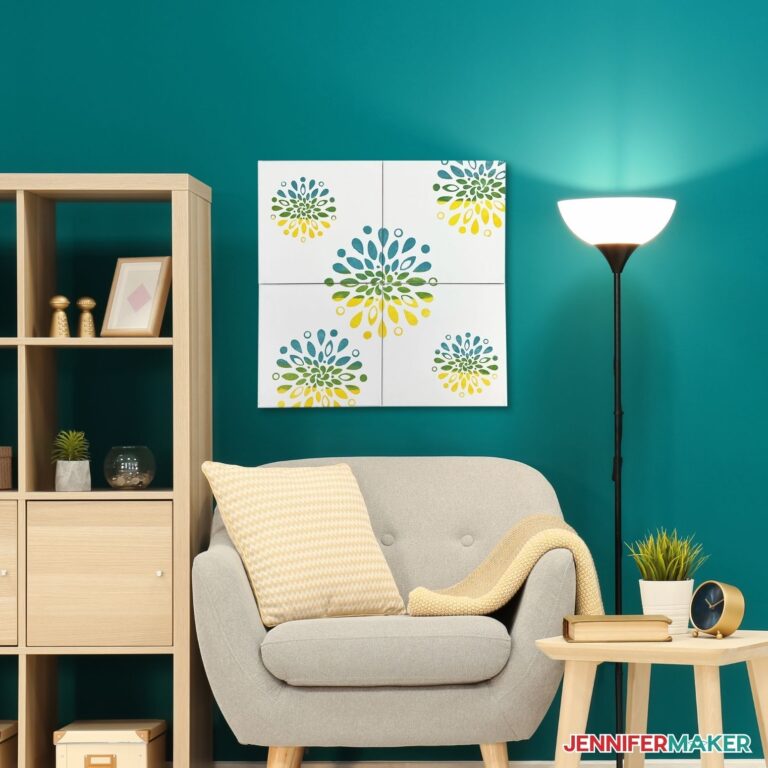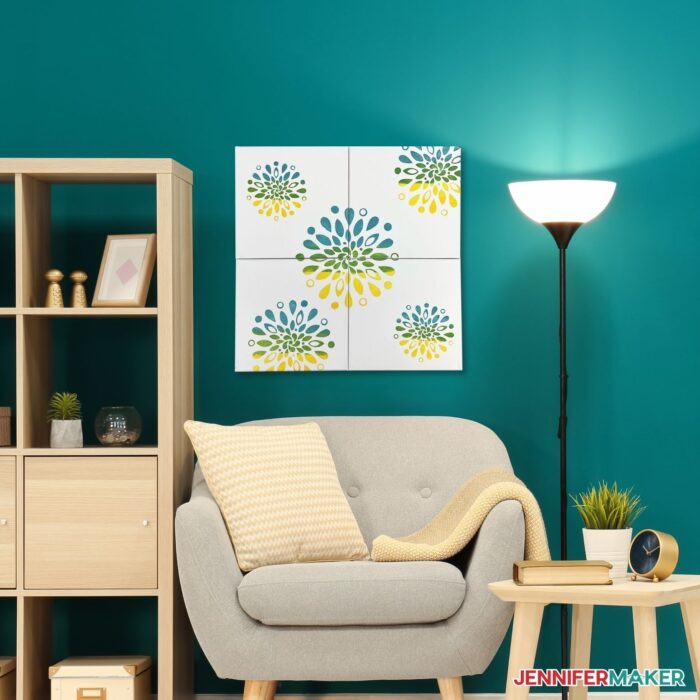 Add a pop of color to any room or give them away to a friend. Both will make a great impact and are the perfect way to make someone's day just a little bit brighter!
Answers to Your Questions About How to Make Your DIY Canvas Wall Art
Q: Where is your tutorial for this DIY canvas wall art project?
This is a special project we made for our free Maker Academy Weekend event! A complete and detailed step-by-step video premiered during the event November 4-7, 2021 — specifically, this tutorial video was available to watch for free for 24 hours beginning November 5 at 2:00 pm ET! Get the workshop video replay and a 15-page printable handbook that details how to make this beautiful project with a VIP Pass to Maker Academy Weekend, which comes with other perks and bonuses, too!
Q: My store doesn't have any canvases! Where do I find them?
If you can't find canvases at your local craft stores, try ordering them from Amazon. These come in a pack of 8 so you can create even more personalized wall art! If that's not an option, be sure to check out your local dollar store!
Get the free designs for my DIY Canvas Wall Art!
I'm looking forward to seeing what you make with my designs and how you use them! Please share a photo of your DIY canvas wall art in our Facebook group or tag me on social media with #jennifermaker.
Love,