Learn how to make a beautiful wall decor using standard Mason Jars!
I get so many requests to make DIY projects using Mason jars and I'm excited to share a new one with you! This project uses Mason jars on the wall to create a pretty farmhouse home decor piece. Fill the jars with lights and flowers, add a name or saying, and you have a unique decoration or gift for someone! I think my DIY Mason Jar wall decor came out really pretty and I can't wait to show you how to make it, too.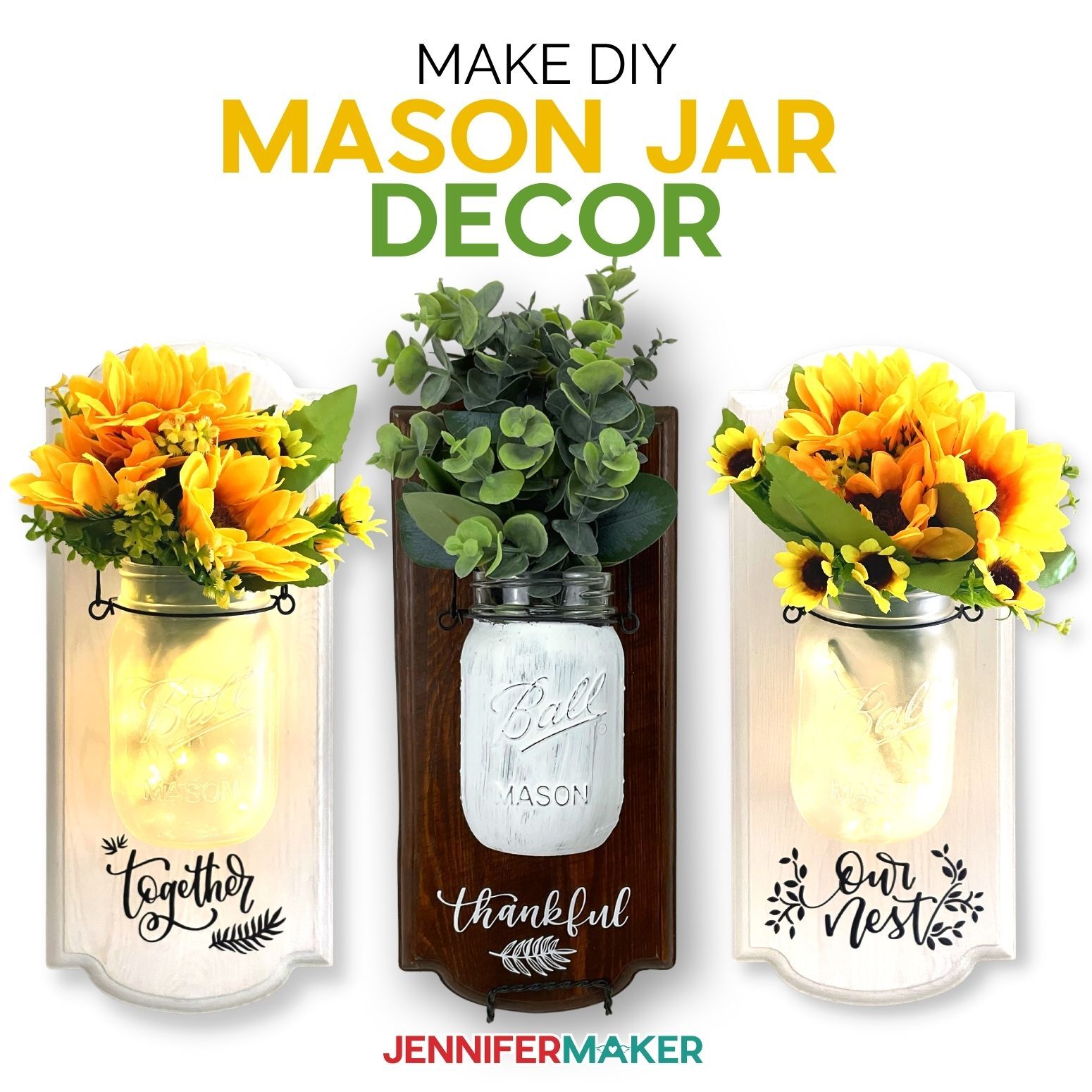 I absolutely love when I can make a piece that is so versatile and this project did just that. I'm able to turn a boring bathroom vanity into one that is much more charming and pleasing to look at!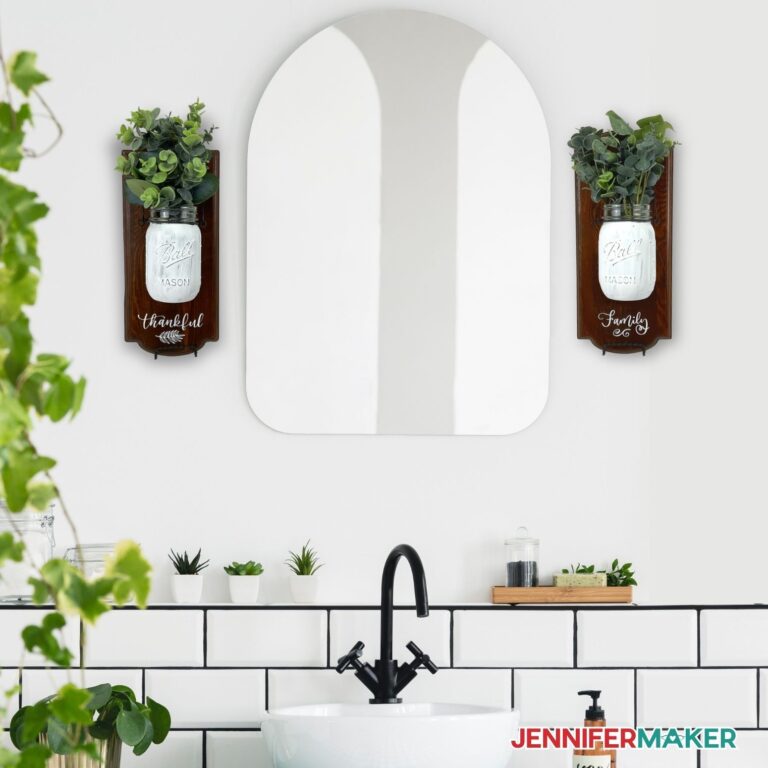 Of course we will need to start out with some wood. My wood boards measure six inches by fourteen inches and are one inch deep. We'll also need Mason Jars. These are the 16 ounce size. And we will need hooks and handles to hang them.
To decorate my mason jars I'm going to use a combination of spray paint, chalk paint, stain, varnish, (which is optional) and vinyl. I'll add some greenery and flowers and even some fun fairy lights!
Of course we will need our Cricut cutting machine, along with a mat, some transfer tape, a scraper tool, weeding tool and measuring tape or ruler. We'll also use some paint brushes, rubber gloves and a Cricut trimmer or scissors. And it's always a good idea to have something to protect your work surface like kraft paper.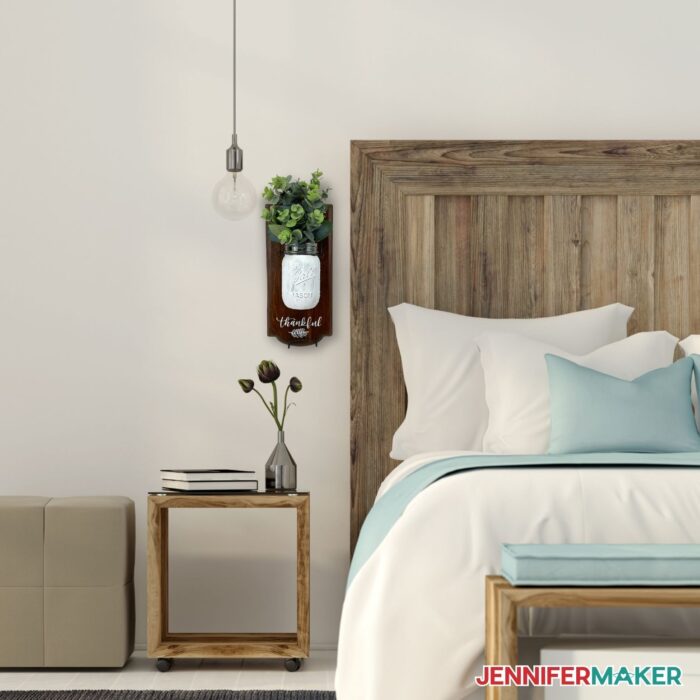 Aren't these lovely? They can make any space feel homey and best of all, you can customize them to your liking using different colors, quotes, and either fresh flowers or faux flowers. Fairy lights in a clear glass mason jar add a perfect touch and make for a beautiful entryway look on a front porch. Or, place a painted mason jar and use it in place of flower vases.
This lovely mason jar wall decor is an easy way to add a little bit of rustic charm to your home decor. Whether you decide to put them in your dining room, living room, or front porch, adding this special touch is the perfect way to put your old mason jars to good use!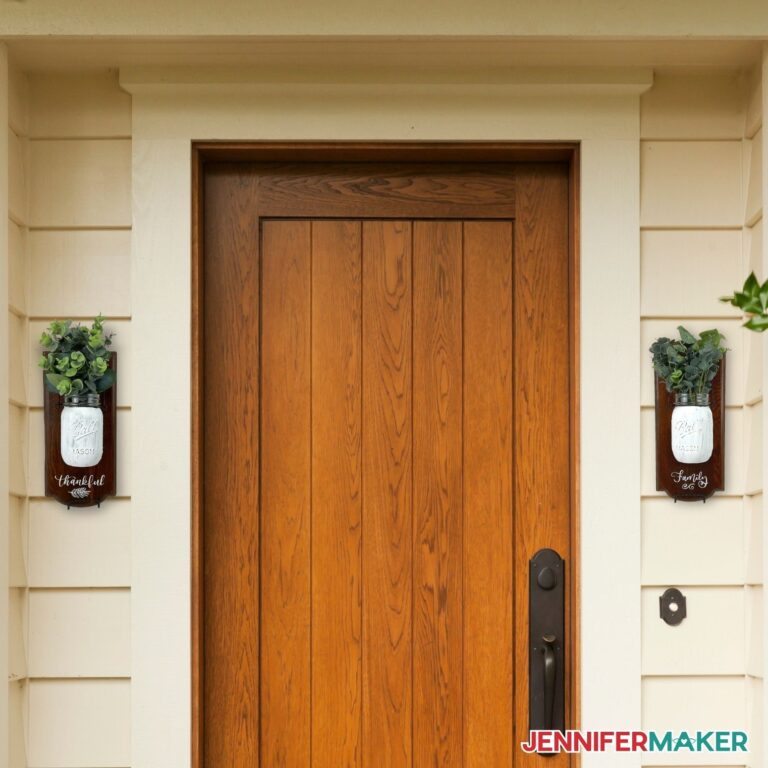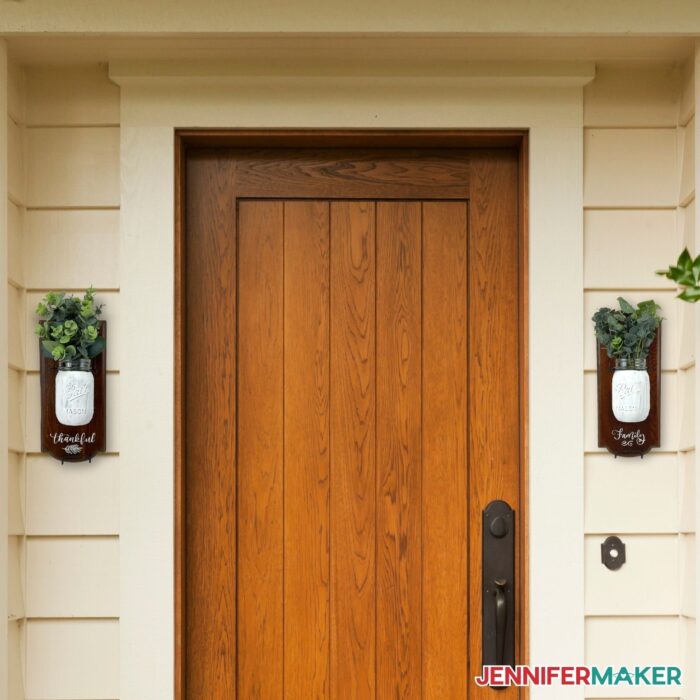 Here's a supply list of what you need to make my Mason jar wall decor! This post contains some affiliate links for your convenience (which means if you make a purchase after clicking a link I will earn a small commission but it won't cost you a penny more)! Read my full disclosure policy.
Materials to Make Mason Jar Wall Decorations
View my Amazon shopping list with the exact items we used to make this project
MATERIALS IF USING UNFINISHED WOOD BOARD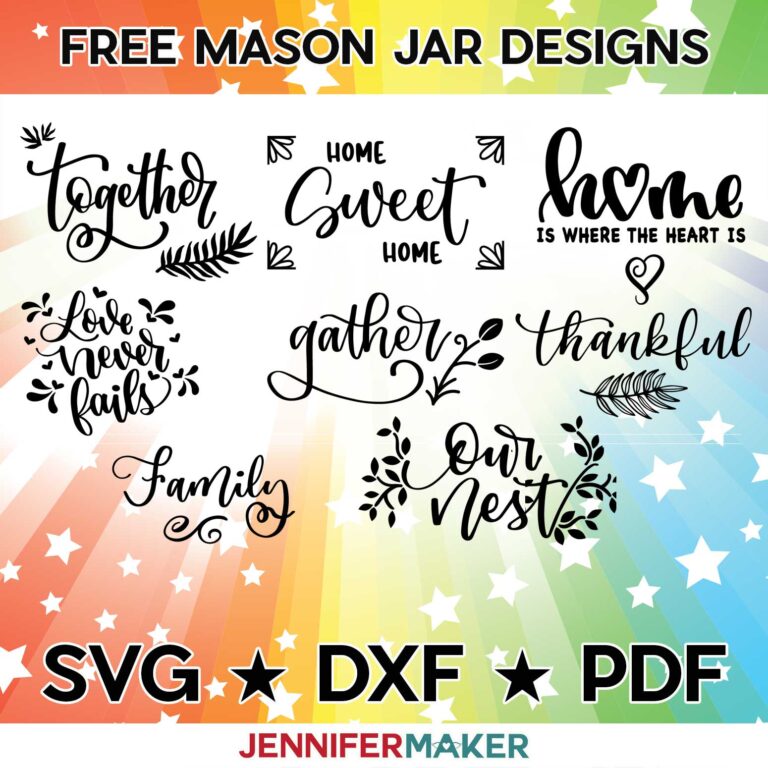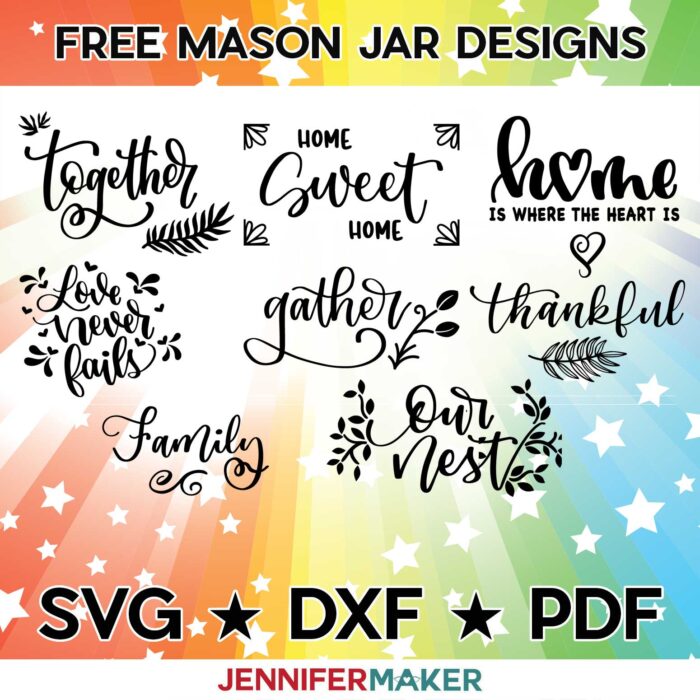 How to Make Your Own DIY Mason Jar Wall Decor
The detailed step-by-step assembly video on how to create these personalized vinyl letter decals was broadcast during Maker Academy Weekend 2021. Get a pass to watch all 20+ workshops, each with a printable handbook, transcript, audio files, design files, and support with a VIP pass below: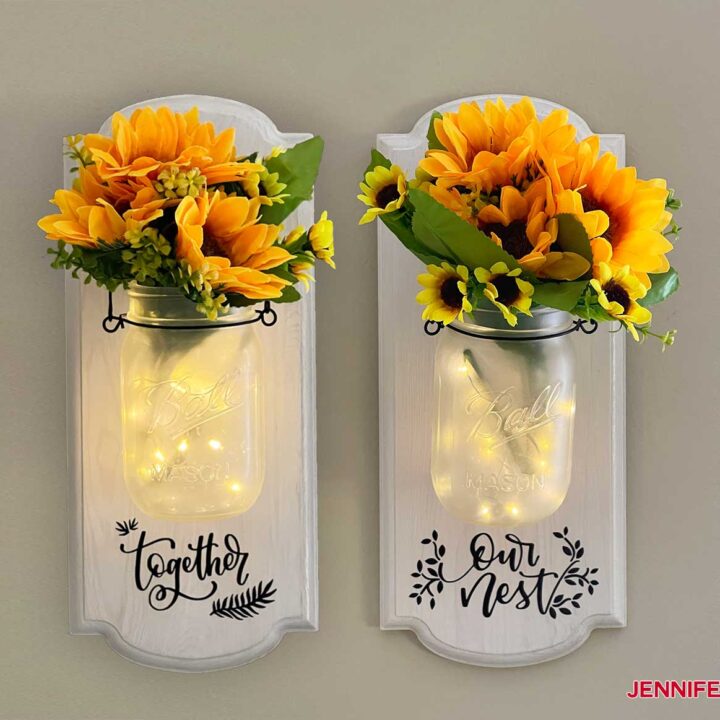 Mason Jar Wall Sconces
Total Time:
1 day
2 hours
Difficulty:
Easy to Medium
Come make a beautiful set of wall sconces using standard Mason Jars. I'll show you different ways you can finish your mason jars along with adding light.
Instructions
STEP 1: GET MY FREE MASON JAR WALL SCONCE DESIGN FILE
First, download my free Mason Jar Wall Sconce file, design #327, from my free resource library.
TIP: If you're not sure how to upload a file to Cricut Design Space, watch this helpful video training series I made. If you're on an iPhone or iPad, here's how to download and upload files to the Cricut Design Space app.
STEP 2: PREPARE YOUR WOOD BOARD
If you are staining your wood board versus purchasing a finished board, continue following these instructions. If you are using a finished board, skip to step 3.
Grab your board and use sandpaper to smooth out corners and any imperfections. Sand your board in the direction of the wood grain.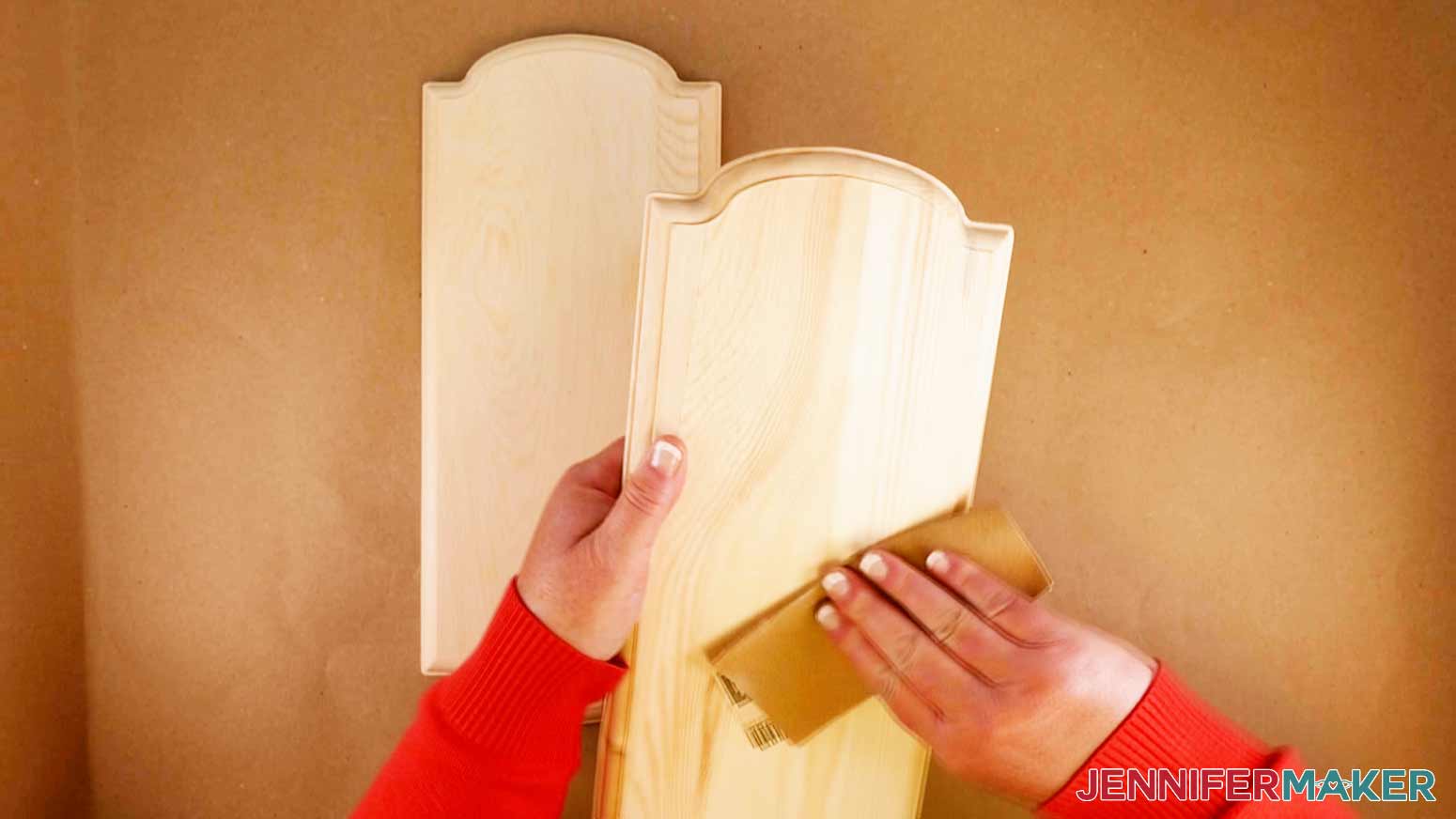 Use your tack cloth to remove dust and particles from sanding the wood.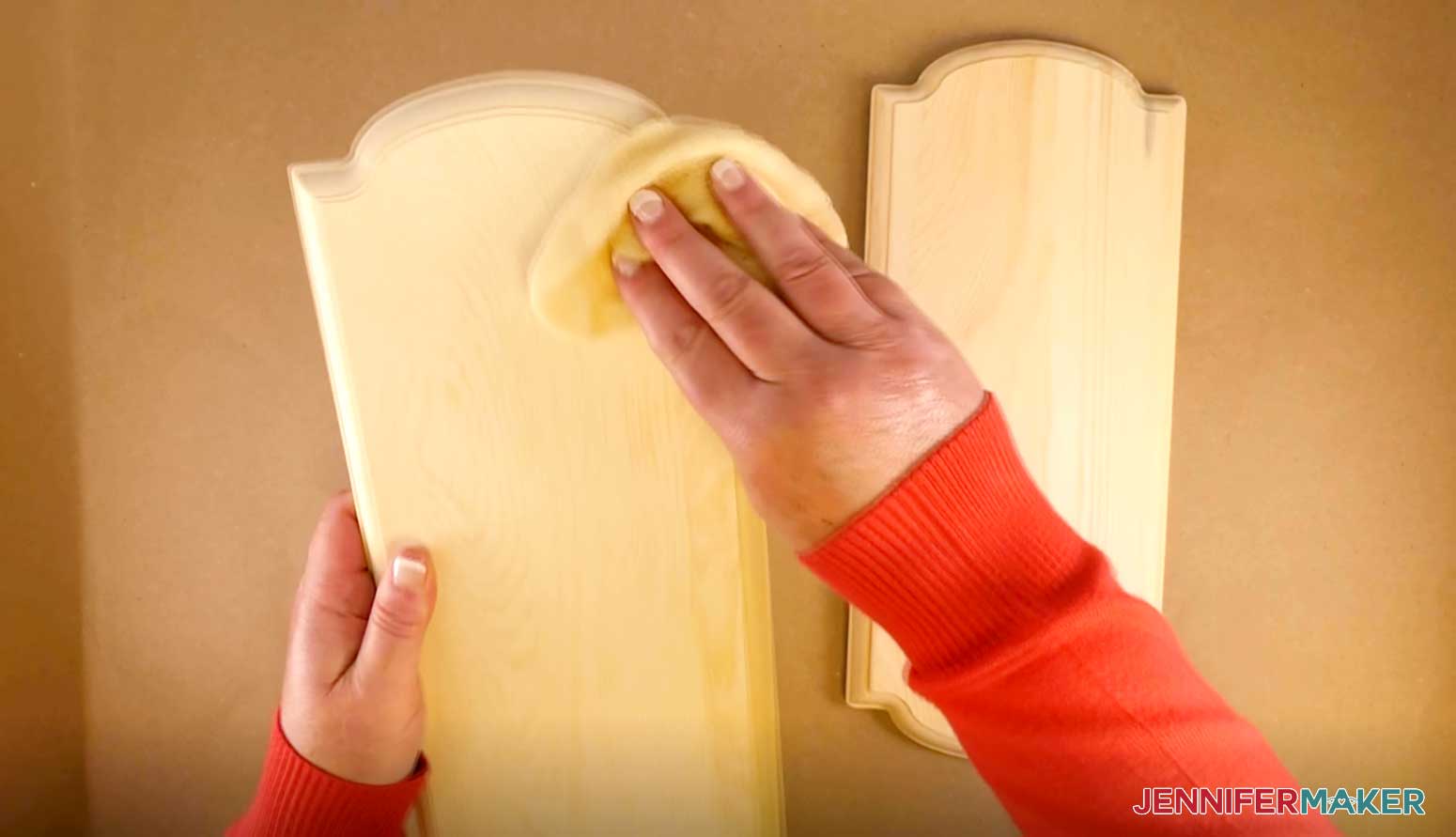 We are now ready to stain the wood. Make sure you are staining in a well-ventilated area, that your work surface is protected (I used brown kraft paper), and you follow the manufacturer's application instructions and safety guidelines. If you are concerned about stain clean up from accident spills, I recommend purchasing mineral spirits listed in my supplies.
Put on a pair of rubber gloves before beginnning. Shake the can of stain (before removing the lid) and/or use a stir stick to mix it up.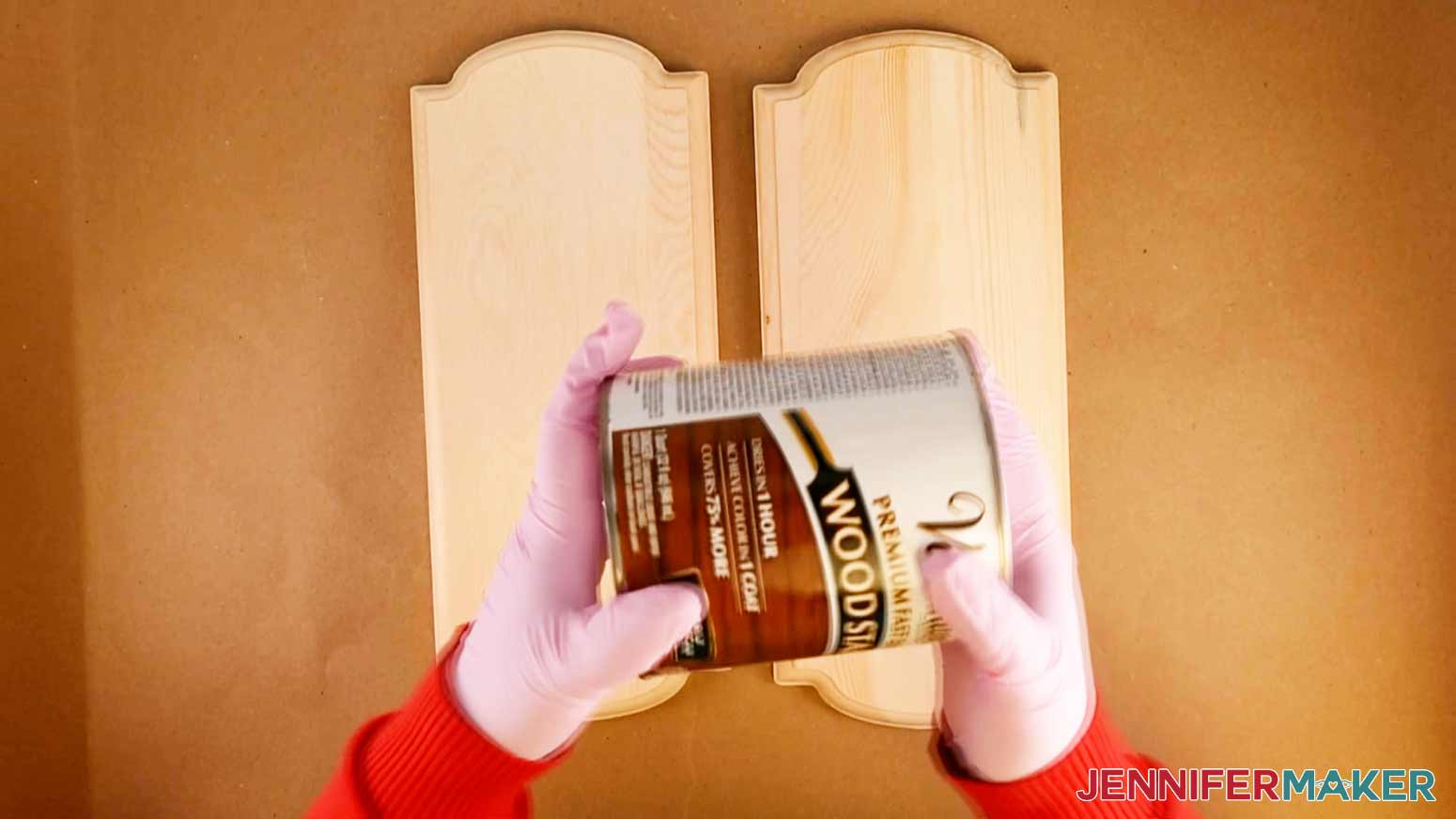 To remove the lid from the can of stain, use a paint can opener or a screwdriver.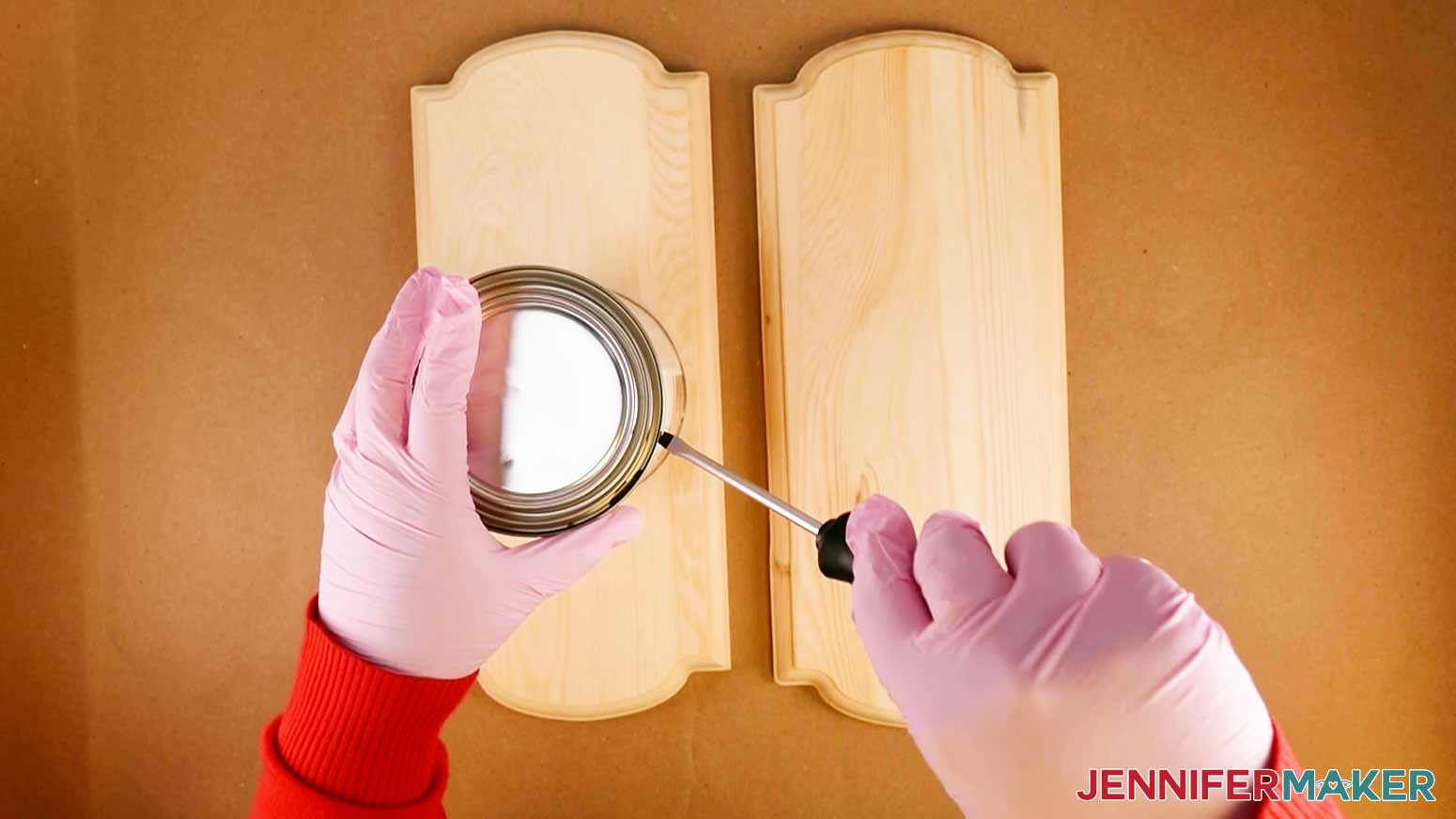 Take a stain applicator pads and dip one end into the stain. Apply stain liberally to the top and sides of the board in the direction of the wood grain. If necessary, wipe off any excess stain with the other end of the applicator pad that is clean.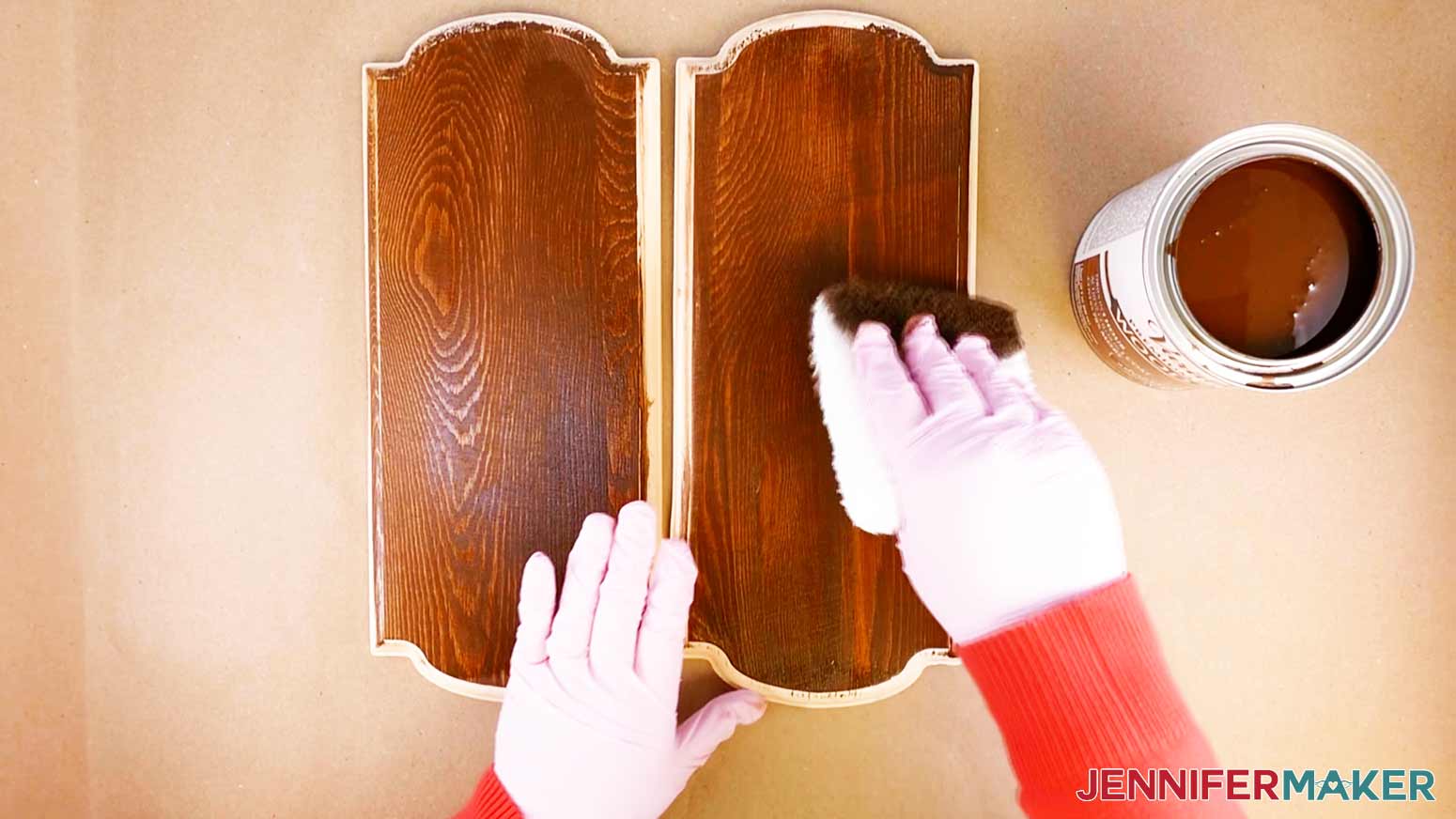 Once your stain has dried (approximately one hour), examine the surface and determine if an additional sanding and stain application is needed. After my first coat of stain dried, I sanded some imperfections, used my tack cloth to remove the dust, and applied a second coat of stain.
Optional: Apply one to two coats of DuraClear Gloss Varnish when your wood has completely dried from staining to seal it and give it a nice shine. DuraClear Gloss Varnish takes approximately 1-2 hours to dry.
STEP 3: PAINT & PREP YOUR MASON JARS
There are many different ways to paint and decorate a Mason jar. I am going to show you a couple of my favorite methods. You can also choose to use your Mason jar as it is.
CHALK PAINT
Using a sponge applicator brush, apply chalk paint to the sides and bottom of the Mason jar.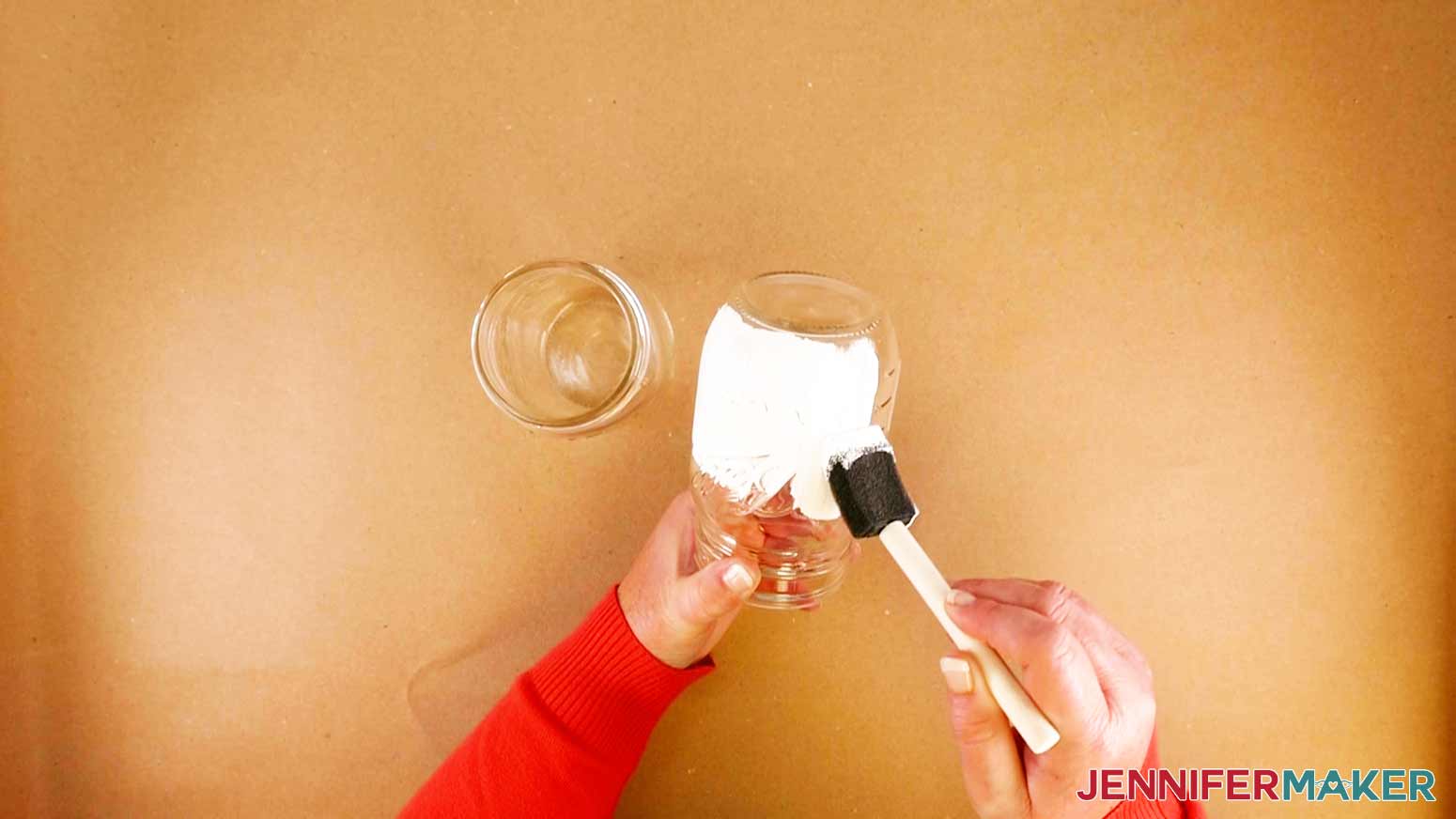 Do not apply the chalk paint too thick or you may see cracks forming in the paint as it dries. I ended up applying two coats of chalk paint to my Mason jars. Allow the chalk paint to dry at least two hours between coats. I applied two coats to my Mason jars. For more information about Folk Art Chalk paint visit their FAQs.
To give your Mason jars a rustic farmhouse look, take a piece of sandpaper and sand the beveled sections of the glass to remove the chalk paint.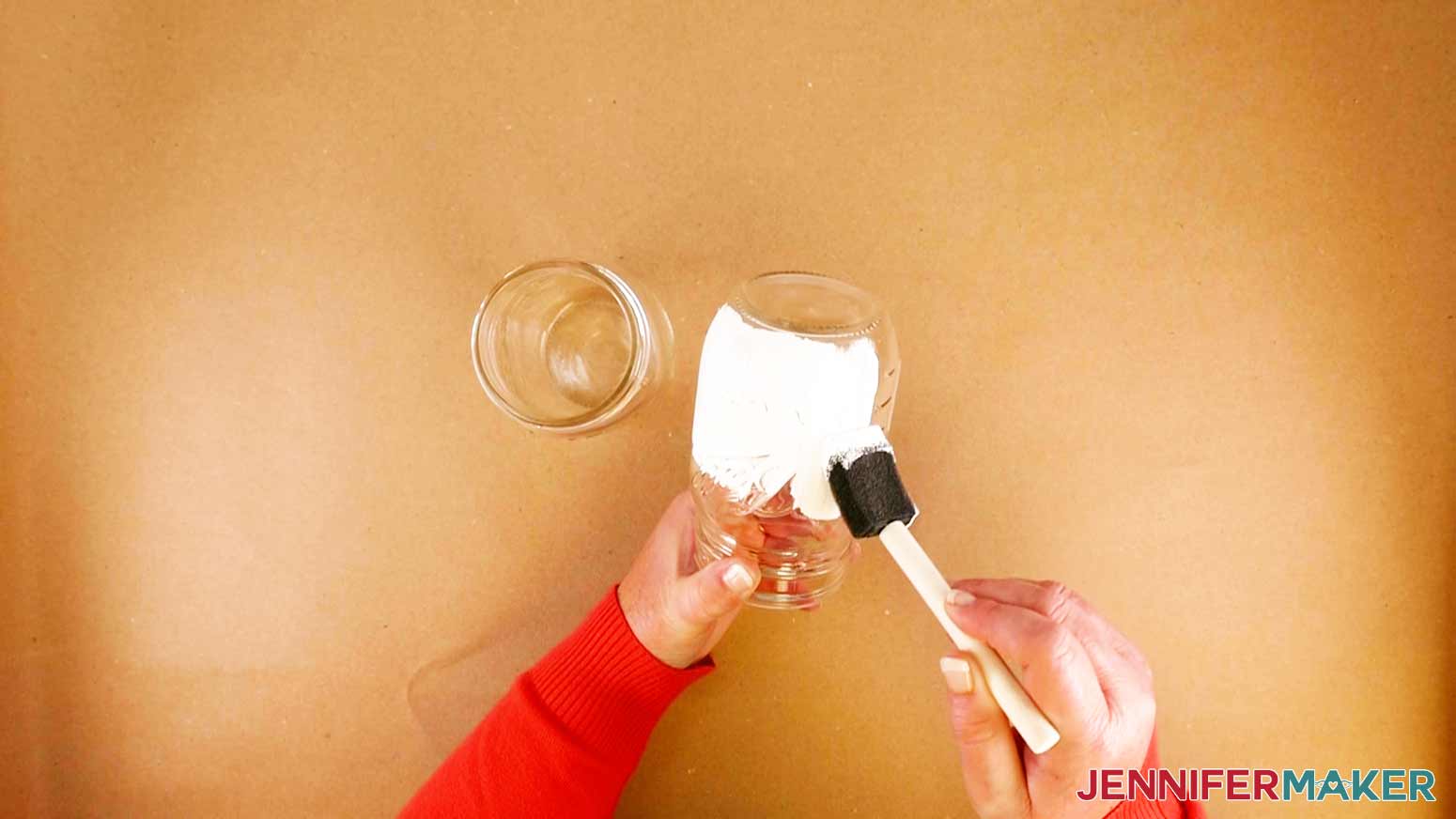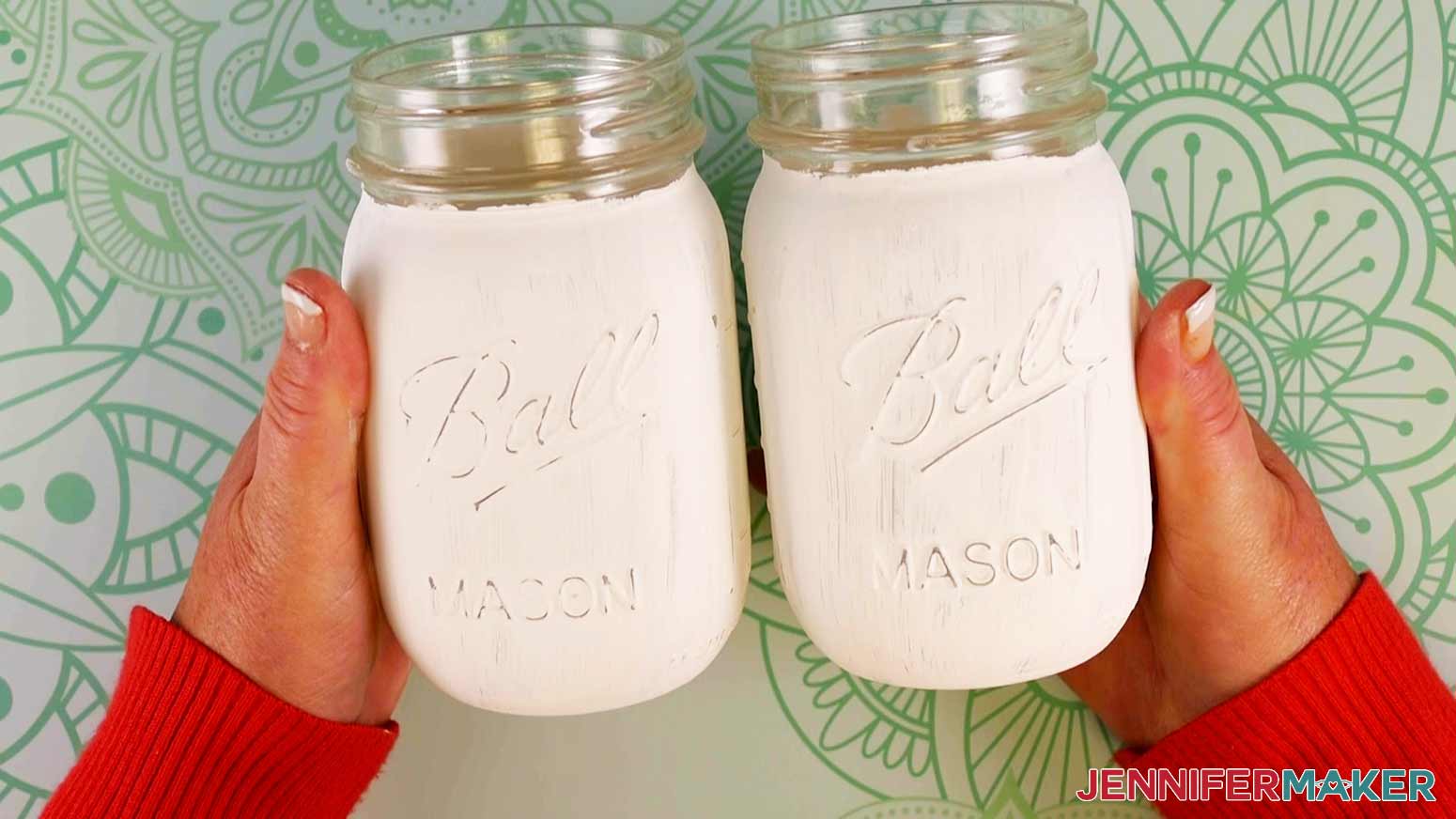 You can always paint the inside of the Mason jar as another option.
FROSTED GLASS
I love the look of frosted glass and it is such an easy process. Take your Mason jars to an area that is properly ventilated and follow the product use guidelines. I took mine outside. Begin spraying both jars with the frosted glass spray paint. Begin spraying two-three feet away from the jars. The paint will go on clear and turn frosted as it dries. The paint dries to the touch in about 10 minutes and is completely dry in two to three hours.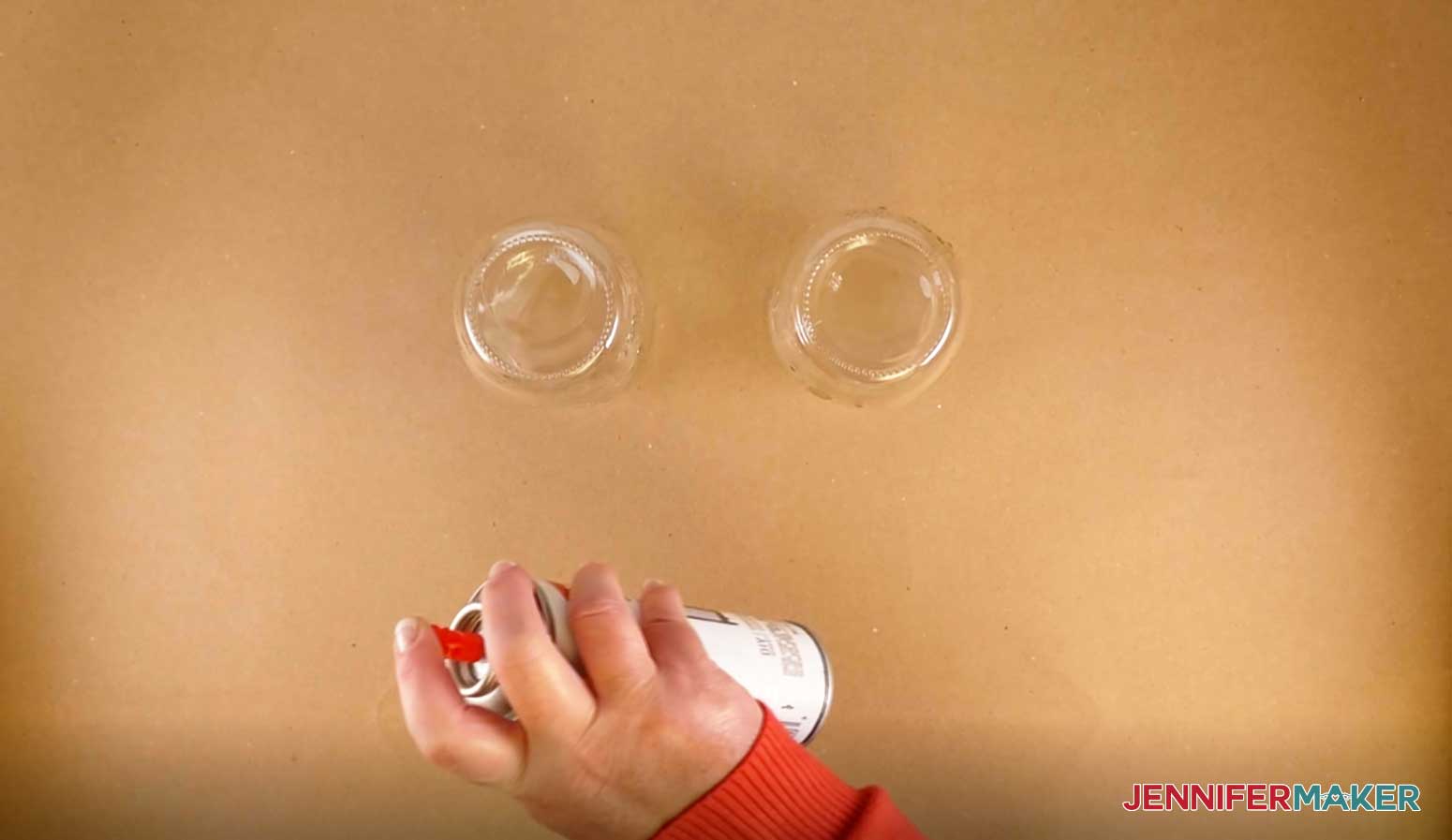 ADD FLOWERS & FAIRY LIGHTS
Grab two jar hangers and your Mason jars. One side of the jar hanger easily lifts up to unhook it.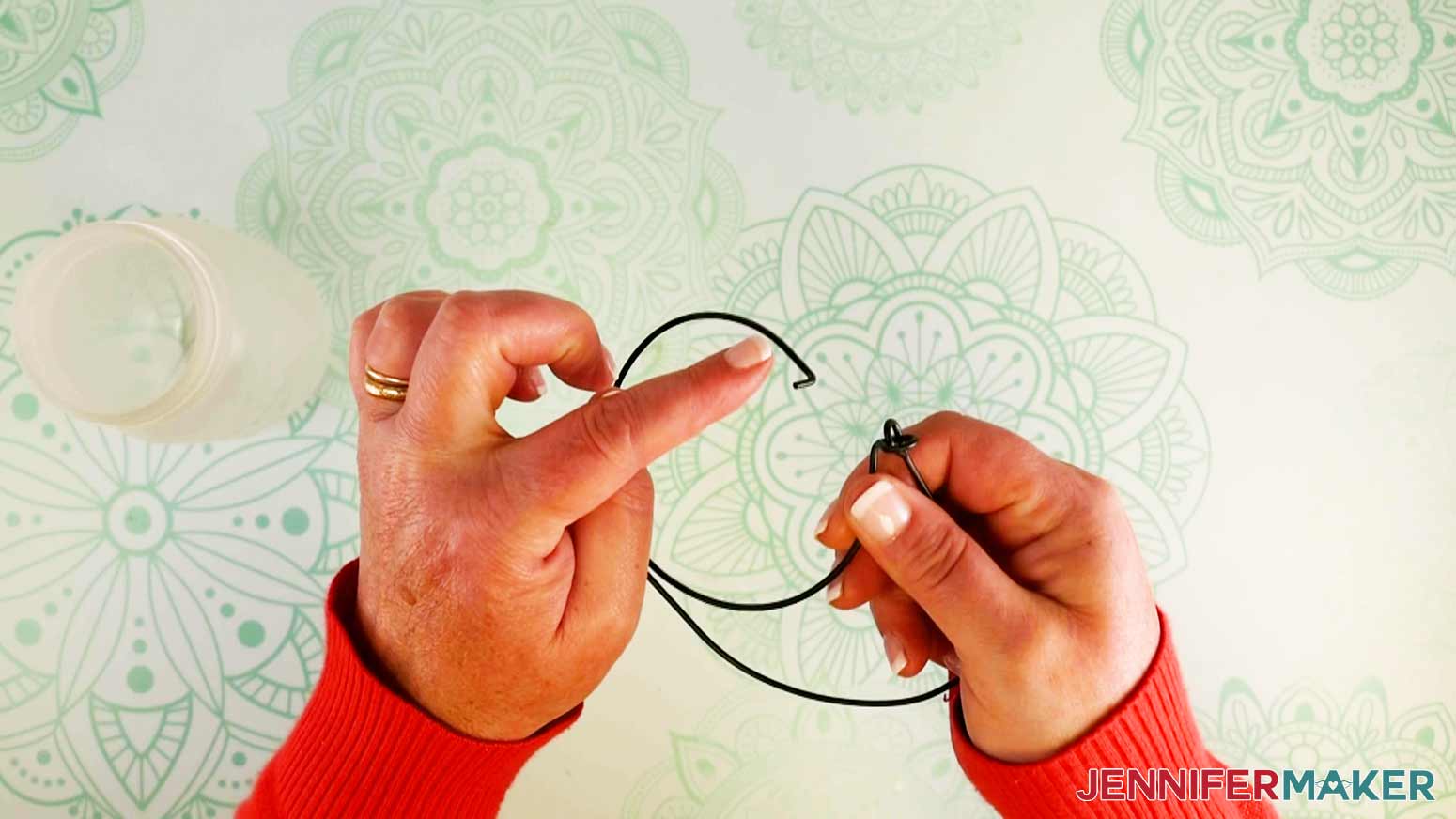 Wrap the hanger around the lowest point of the Mason jar mouth then close.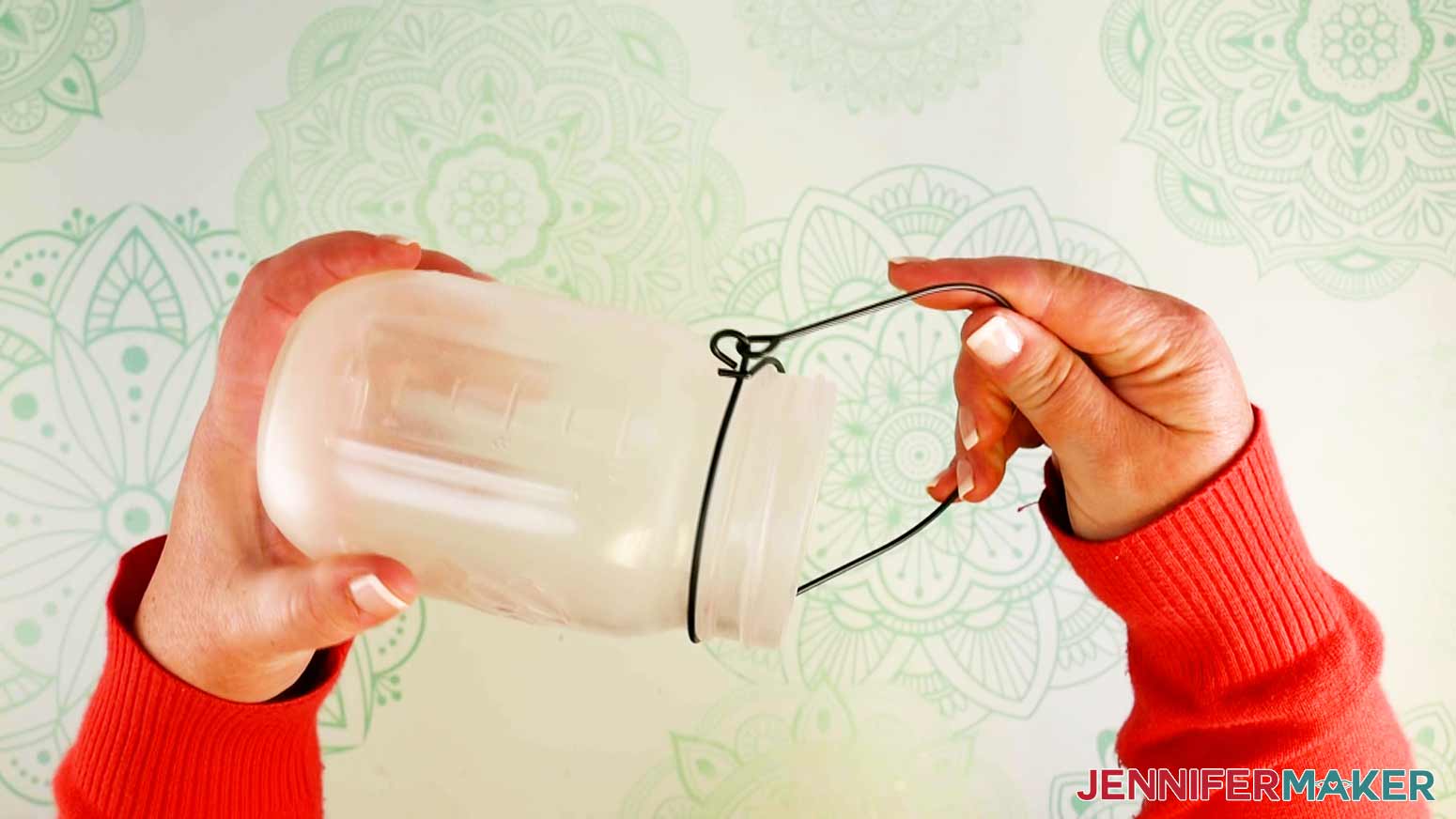 Optional: If you have made the frosted glass Mason jars, you can add some fairy lights. Grab one strand of fairy lights, straighten out the wire and then begin pushing the wire into the jar until you reach the last light just before the power switch.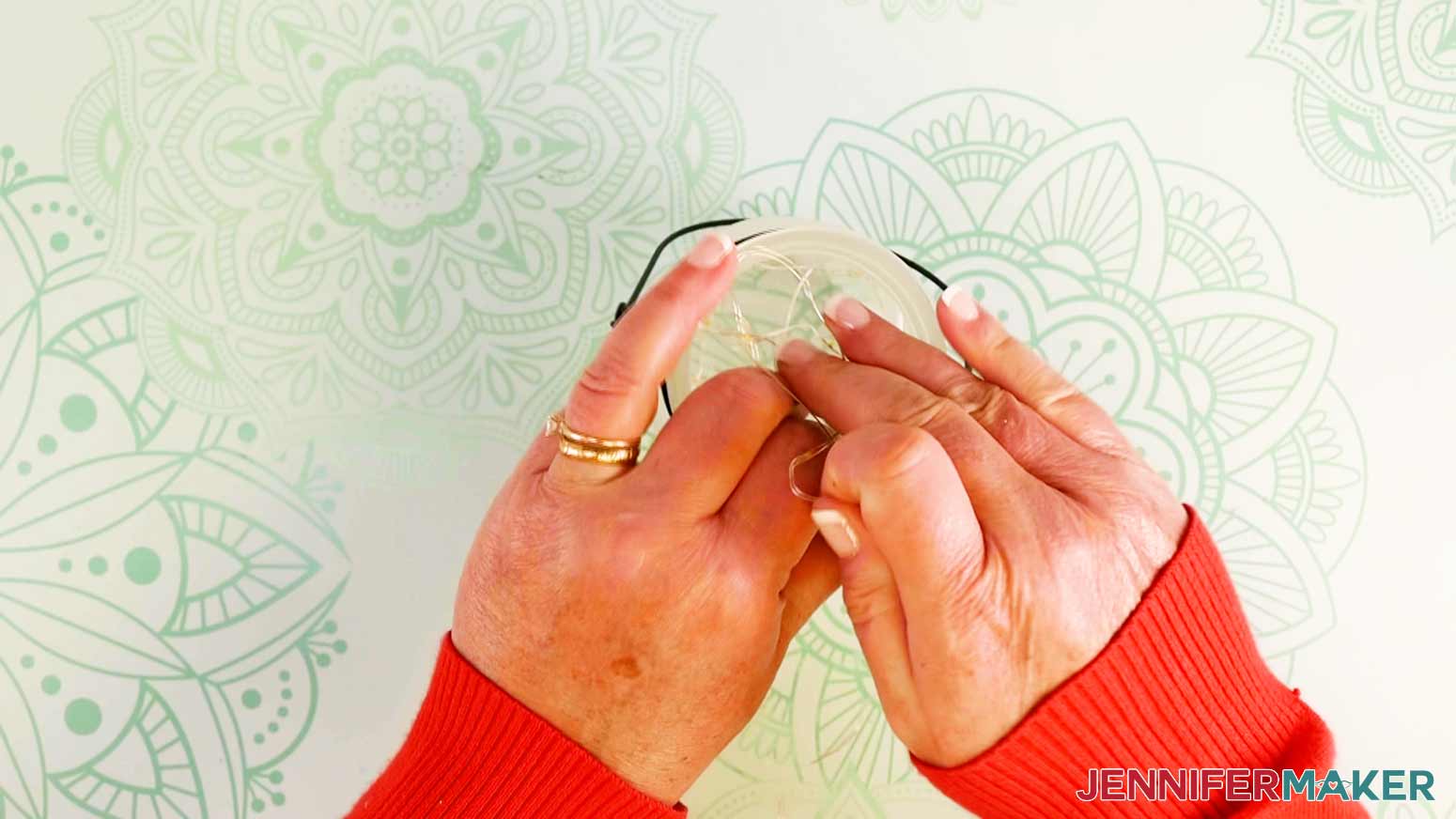 Take one bunch of the artificial foliage, bend the stem in half and insert into your chalk or frosted glass painted Mason jar.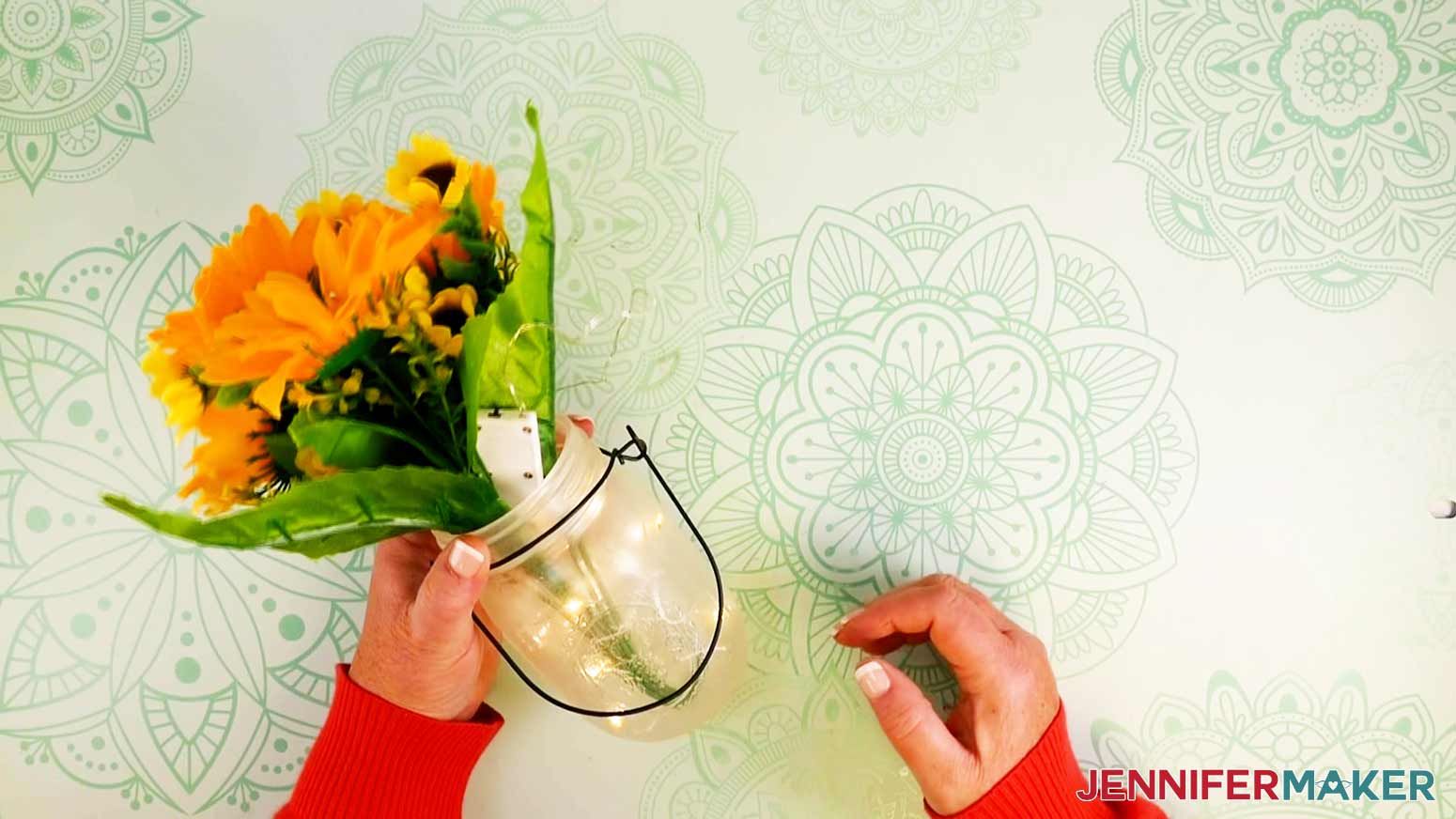 If you used fairy lights, you can hide the power switch by sticking it in the flower foliage.
STEP 4: CUT YOUR DESIGN
Select "Upload" to bring my Mason Jar Wall Sconce designs into Design Space.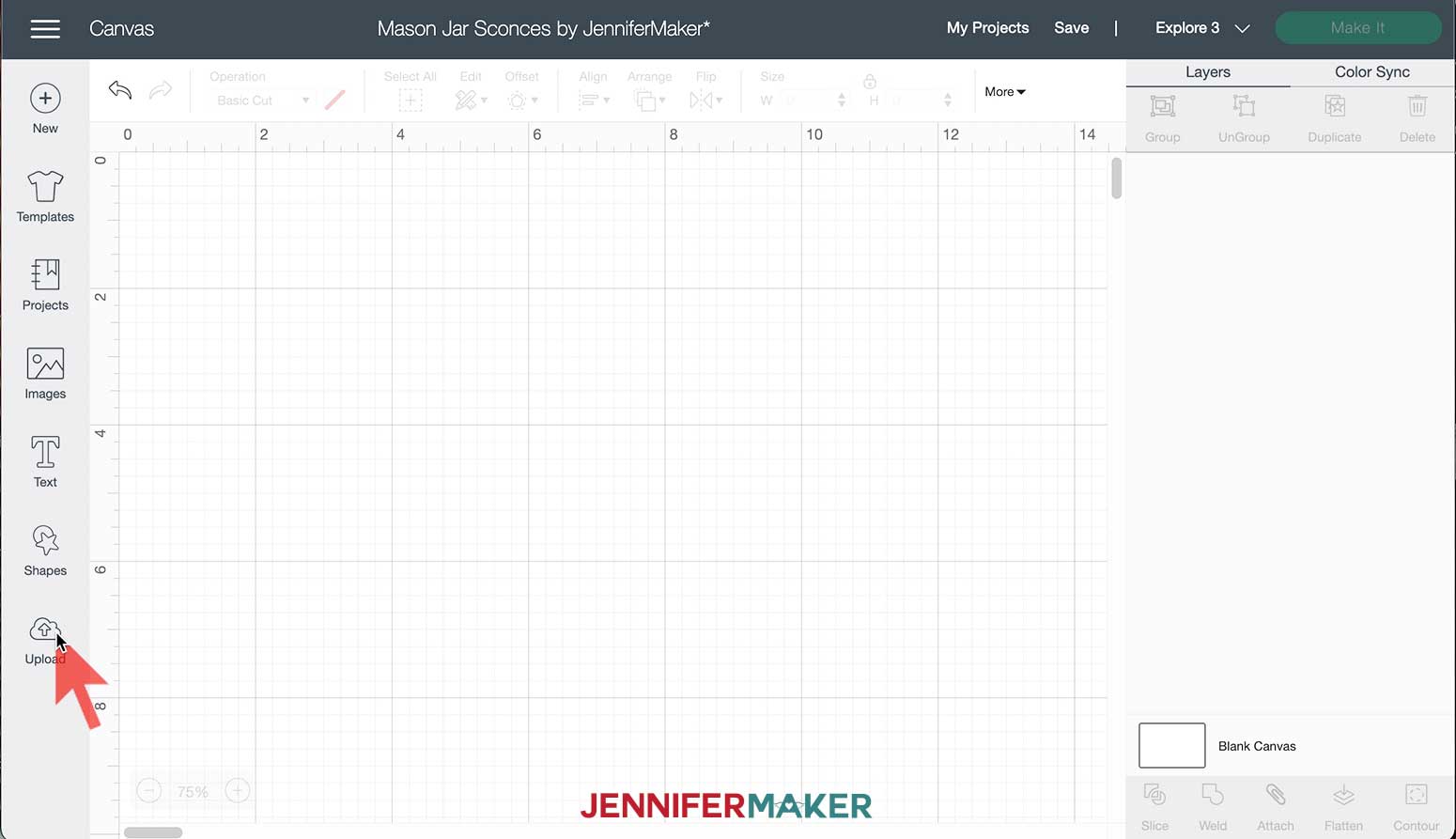 Click "Upload Image."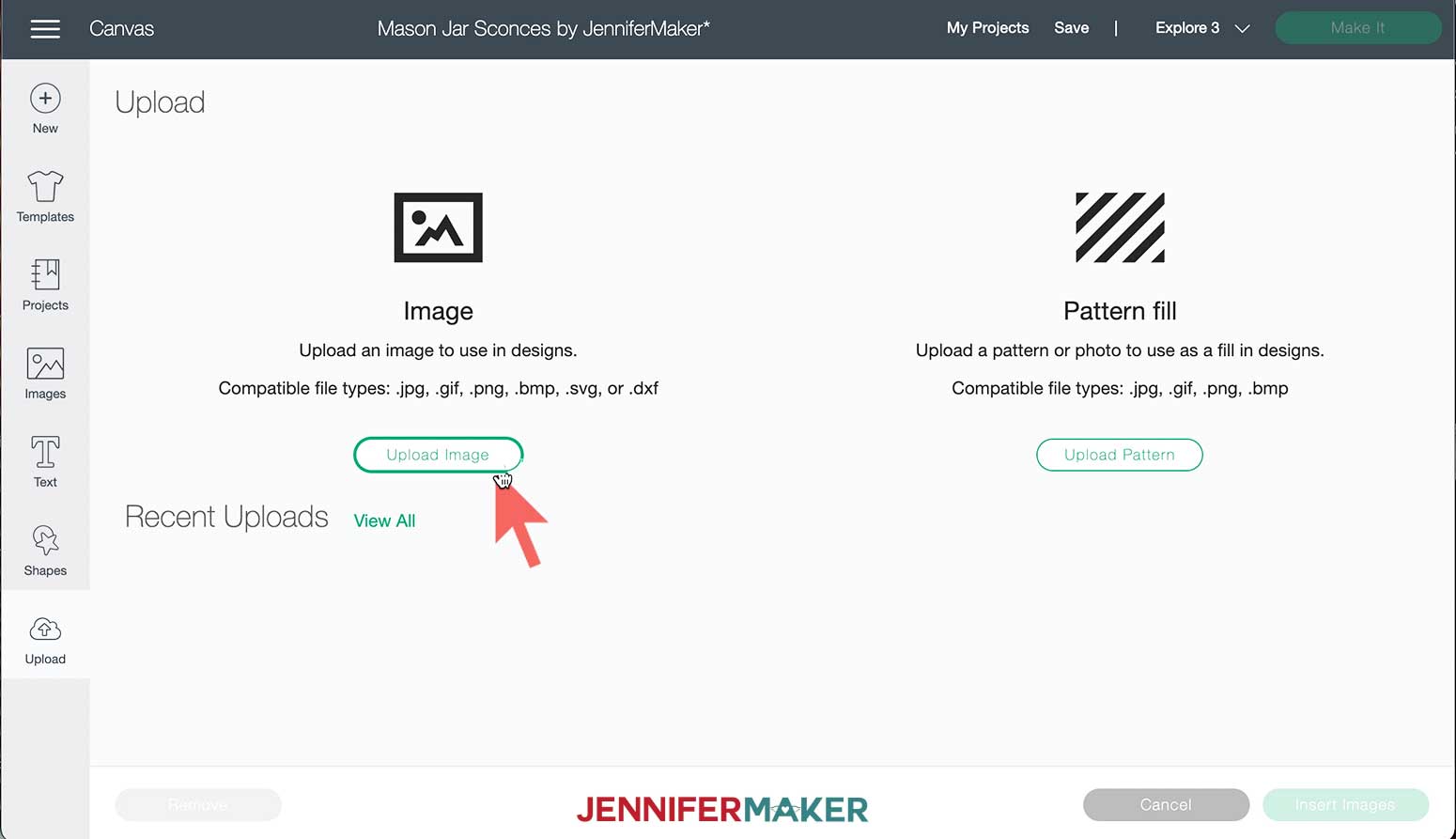 Now click "Browse."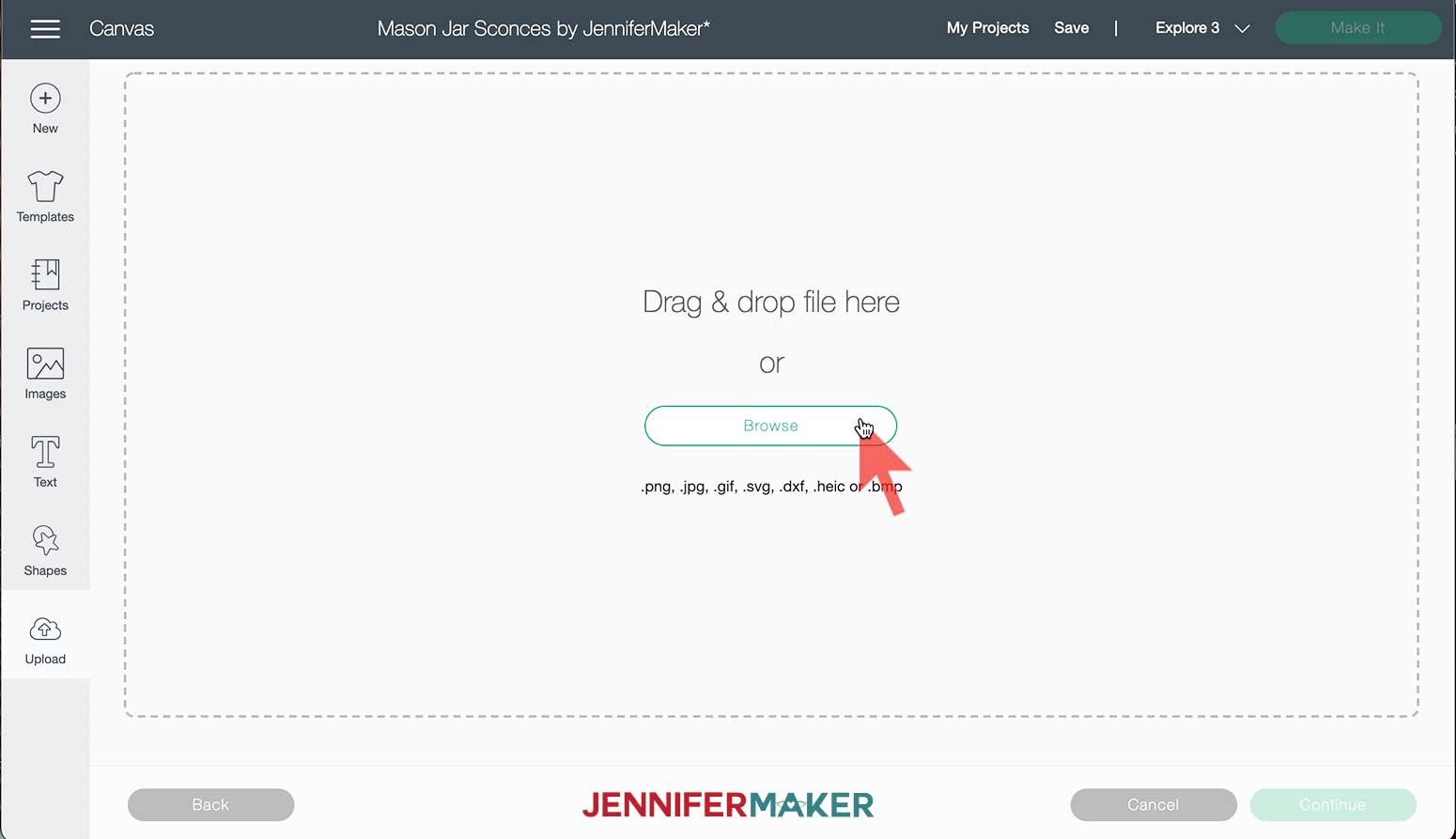 Select my Mason Jar Wall Sconces SVG file from the location saved on your device.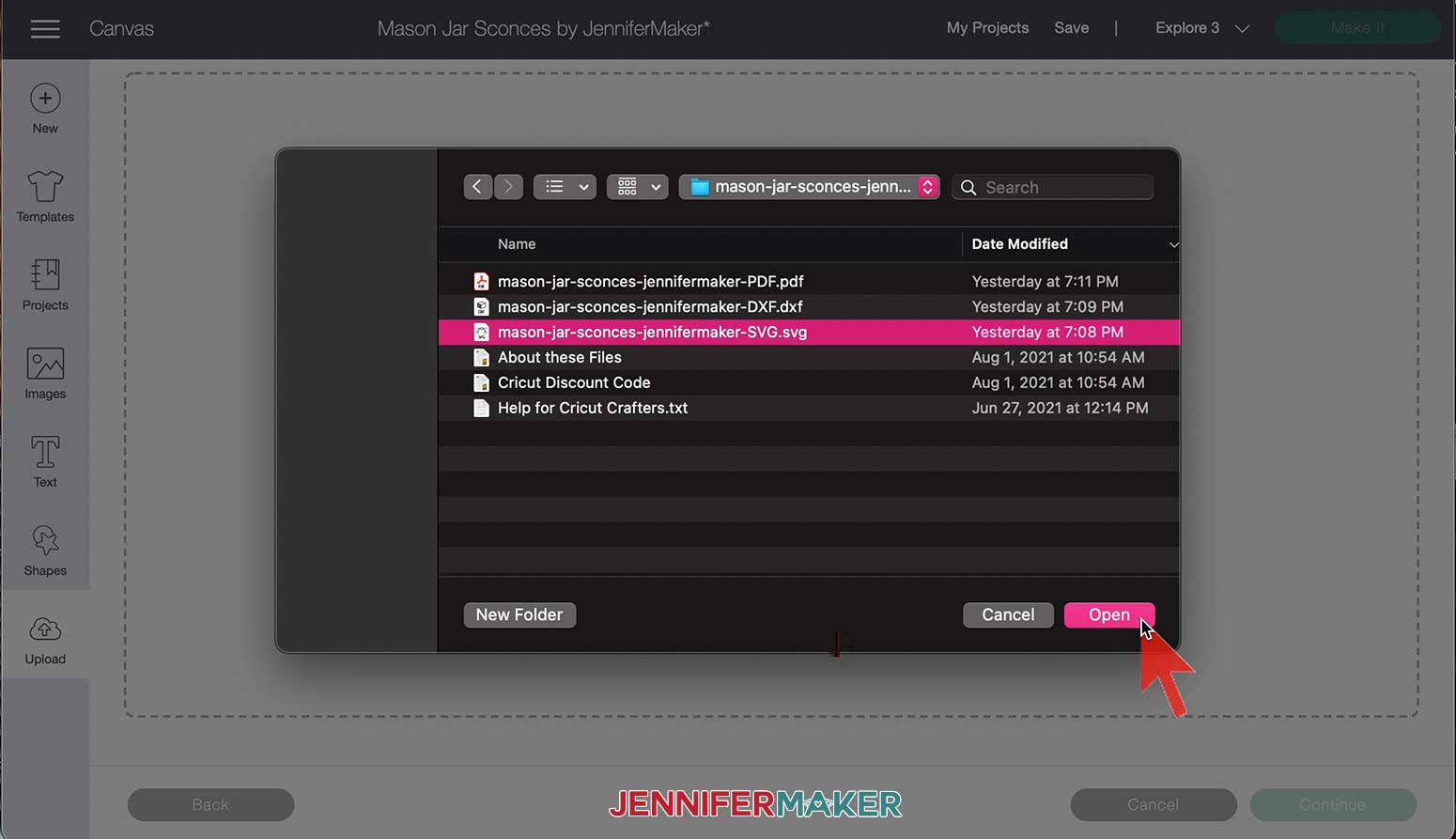 On the Prepare to Upload screen, click "Upload."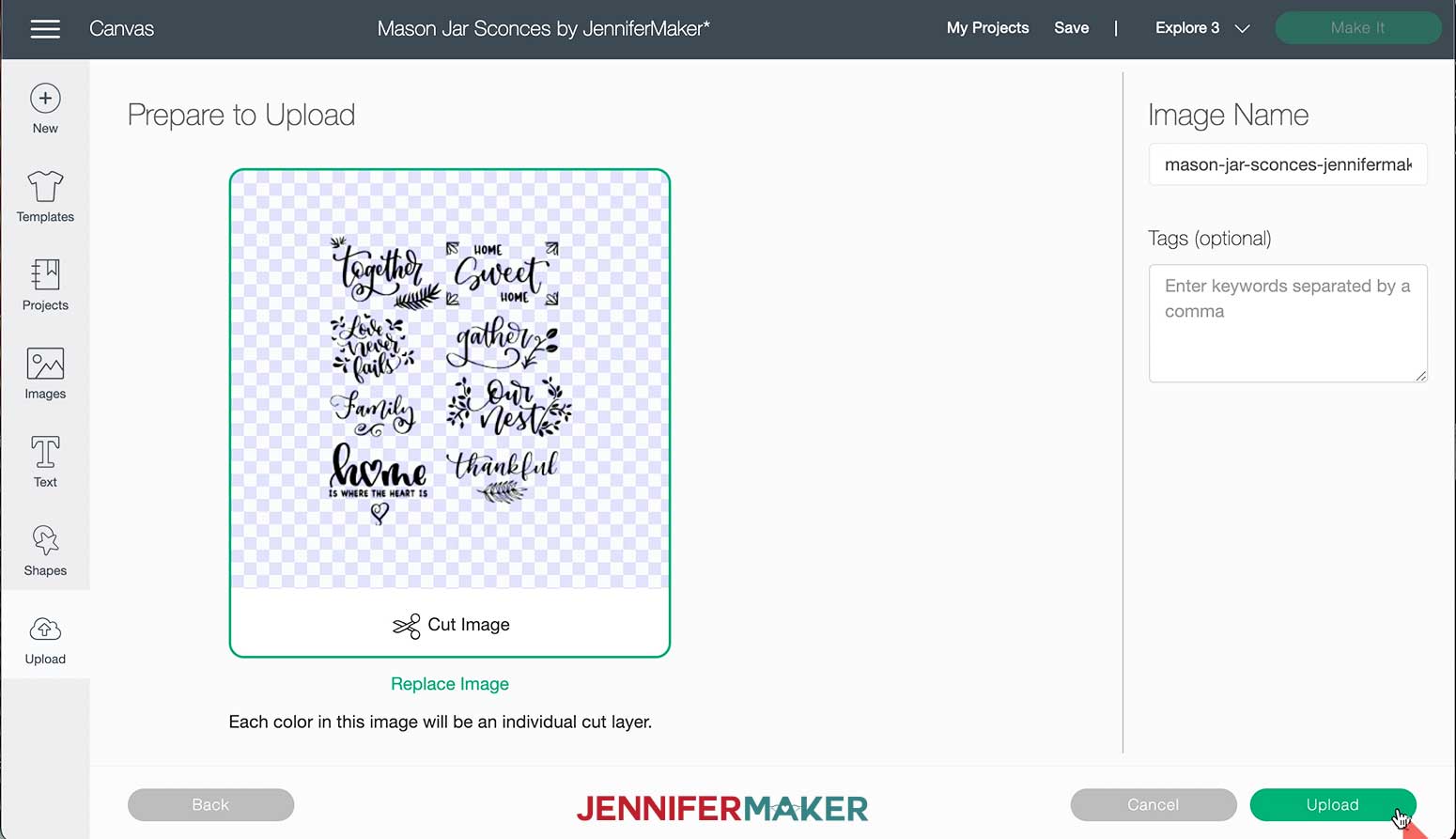 Select the design under Recent Uploads and then click "Add to Canvas."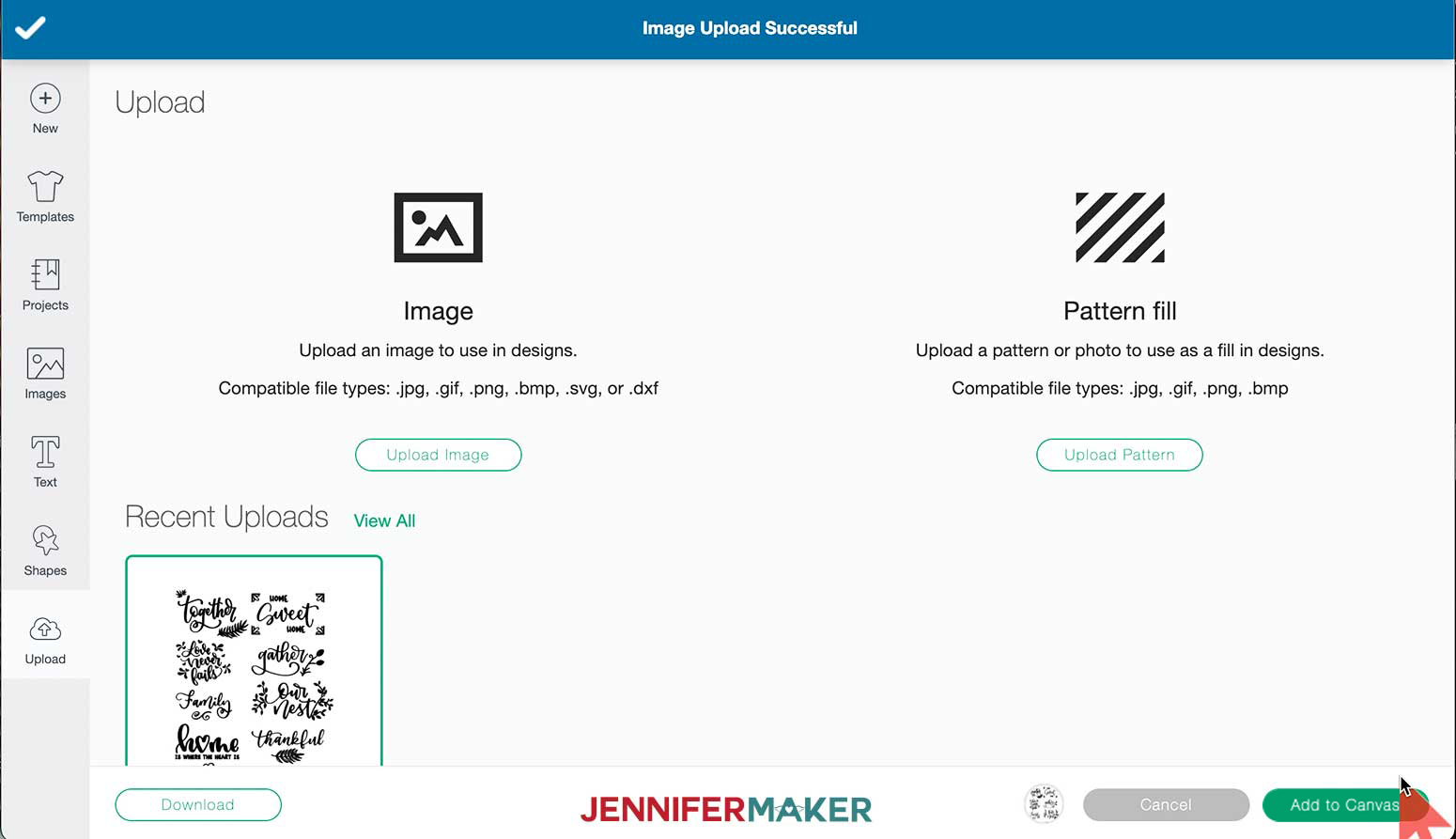 I am going to cut all of the designs but you can choose which design(s) you want and hide or delete the rest. Click "Make It."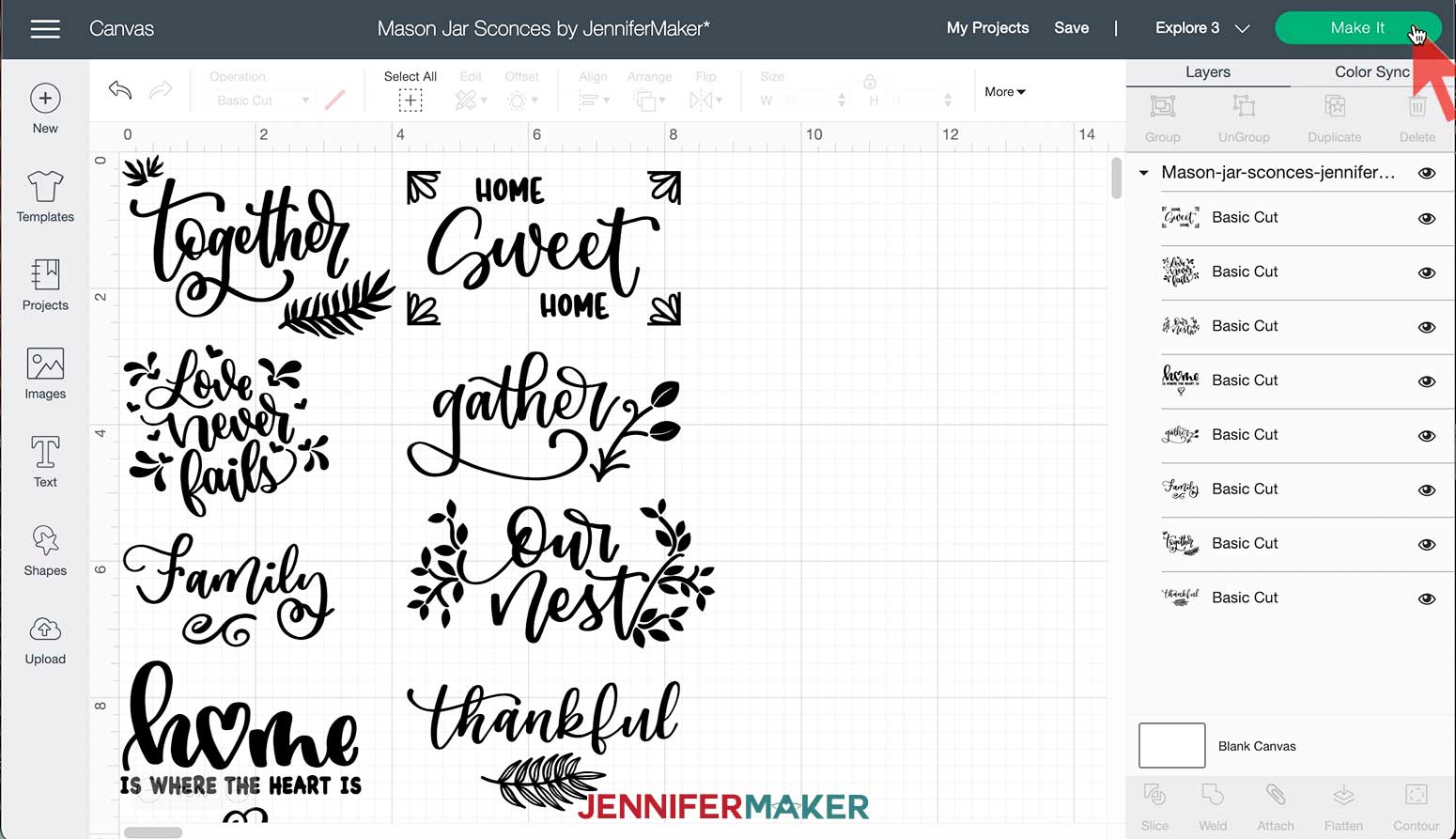 If you are using a Maker 3 or Explore 3 to cut your vinyl you will see a window appear asking you how you will load your materials for this project. Since I am using Smart Vinyl, I am selecting without mat and then clicking "Done." If you are using a different type of vinyl, select "On Mat." You will only see this screen if you are cutting on a Maker 3 or Explore 3.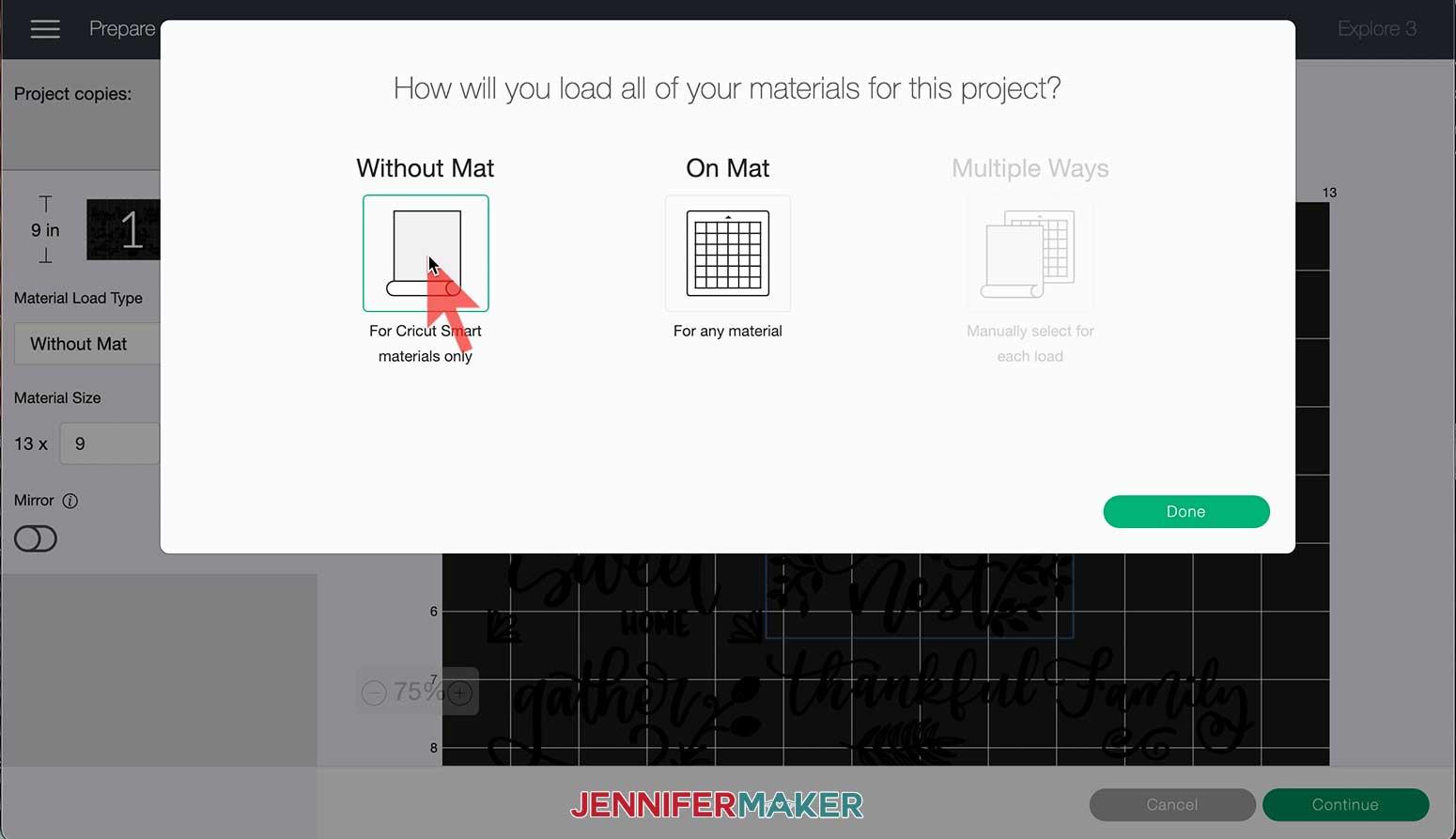 Review the artwork and make any adjustments to the design placement. I am spreading my designs out so there is more space between them. This will make it easier for me to cut each design from the vinyl.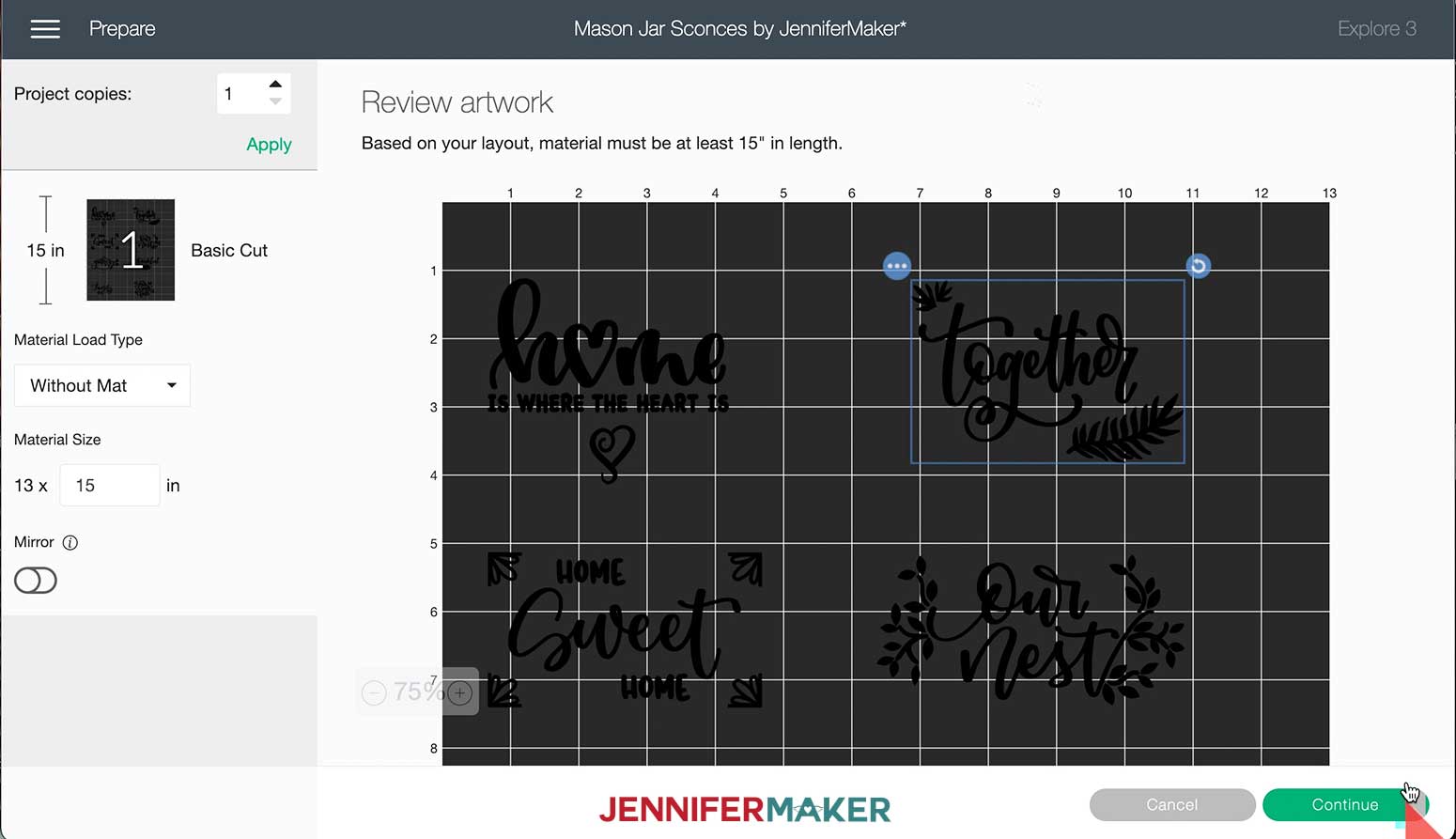 Select "Smart Vinyl Permanent" for your base material. If you are using a different type of vinyl, choose "Browse All Materials" to select your base material.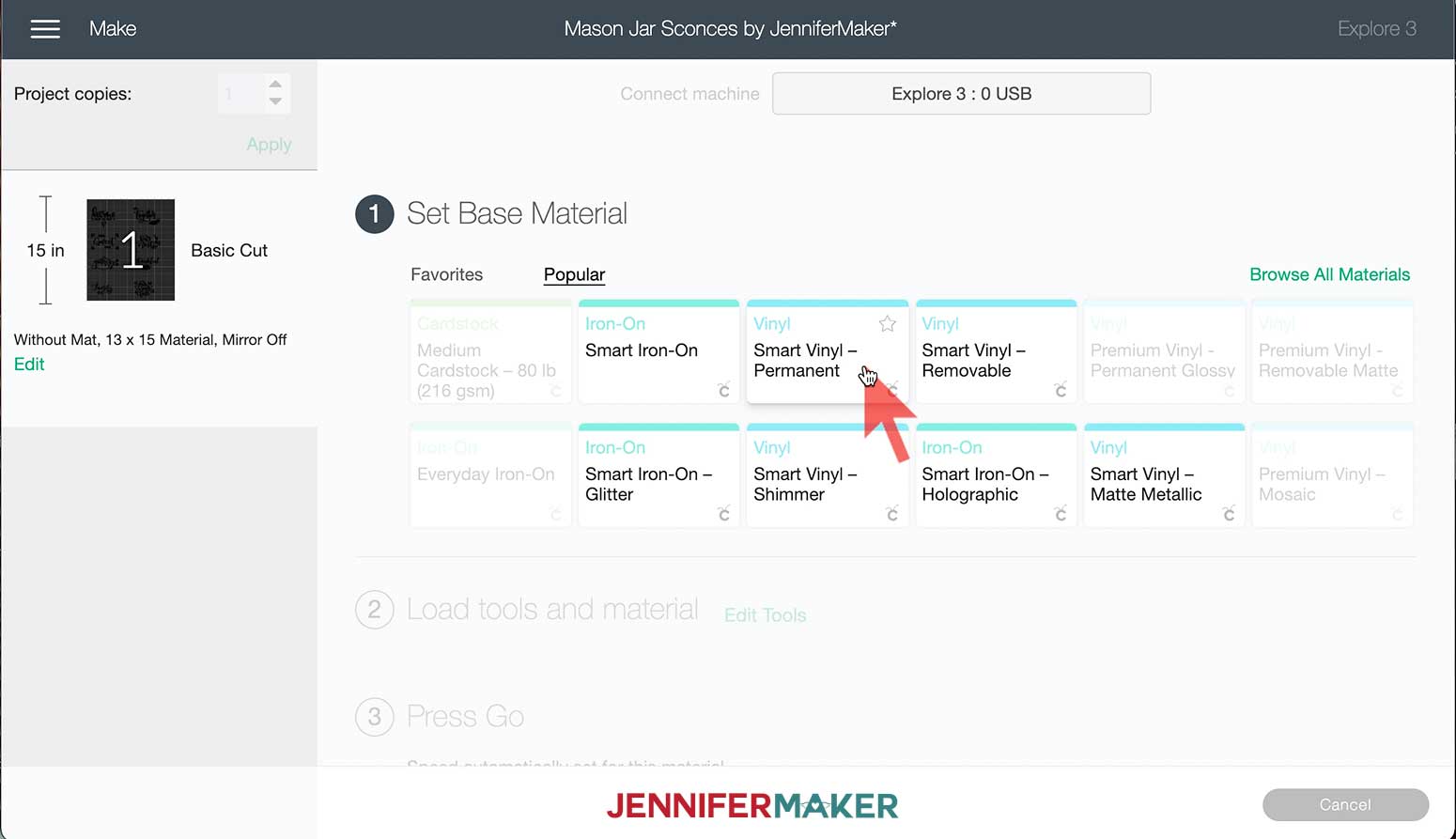 I always select "More" for the pressure for a nice, clean cut. Make sure you have the Fine-Point Blade loaded in your machine.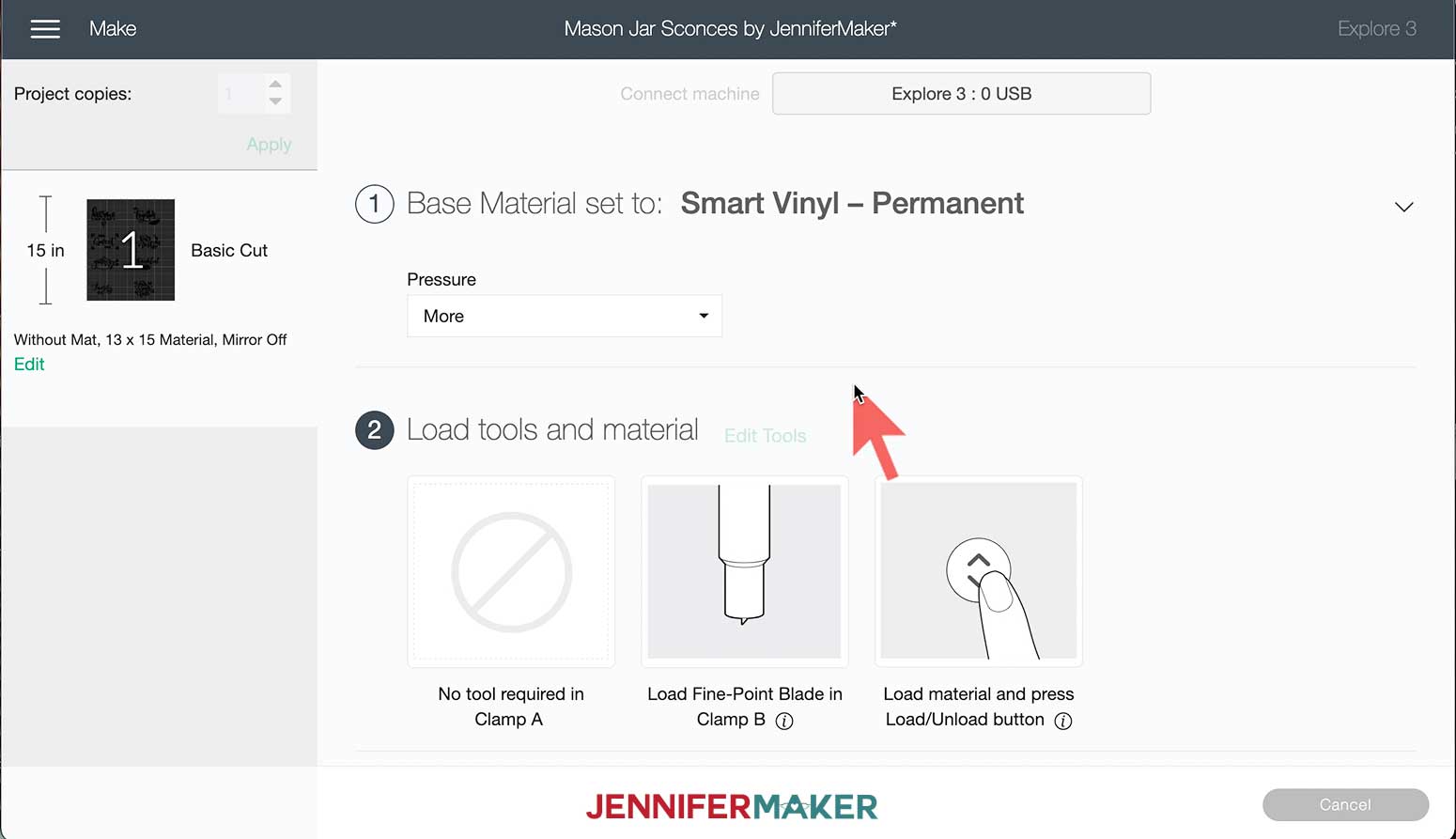 Insert your vinyl or mat with vinyl and click the load button.
Then press the go button to begin cutting.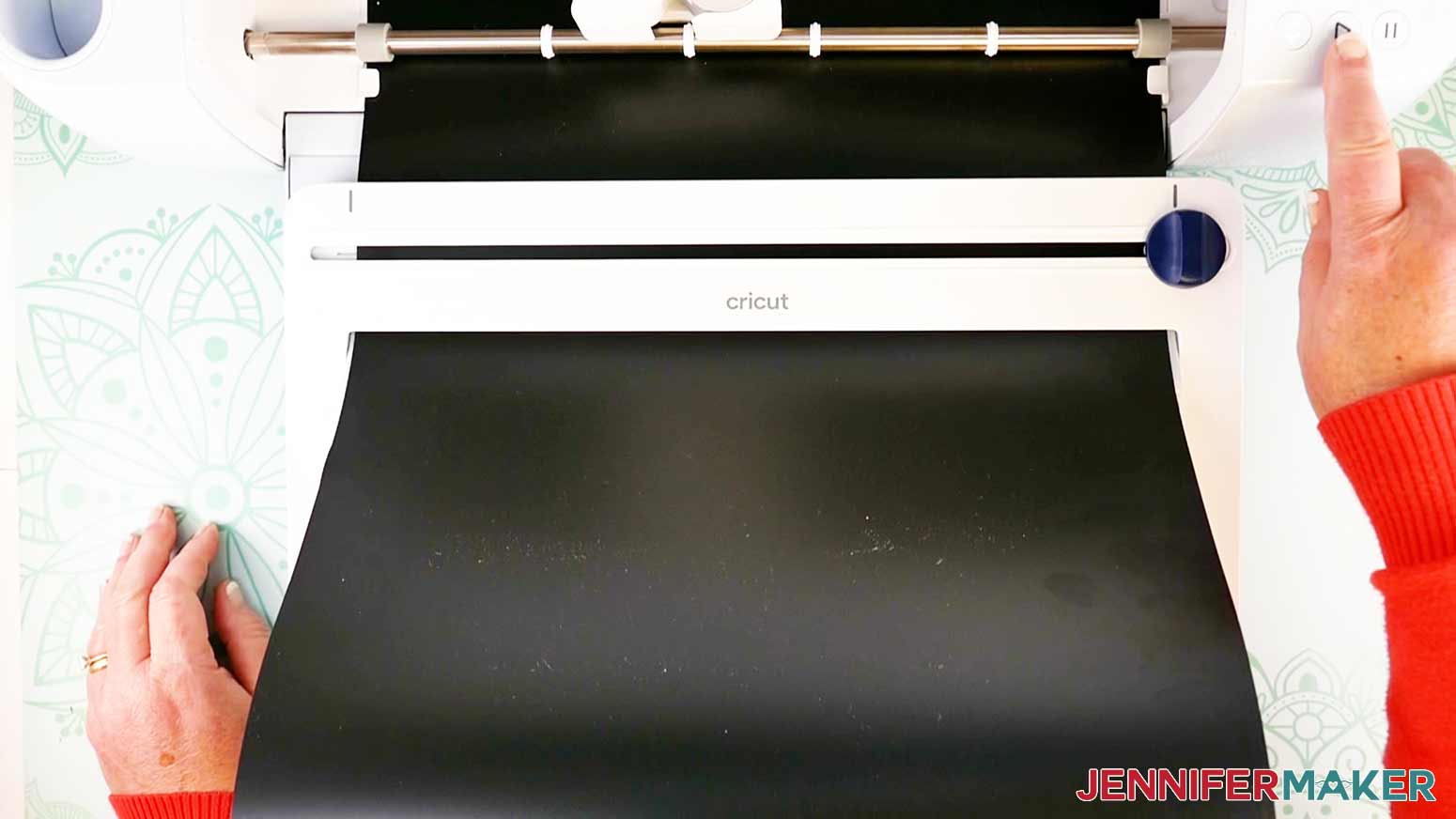 When your design has finished cutting, unload the vinyl or mat from the machine. Use scissors or the Cricut Trimmer to cut each design.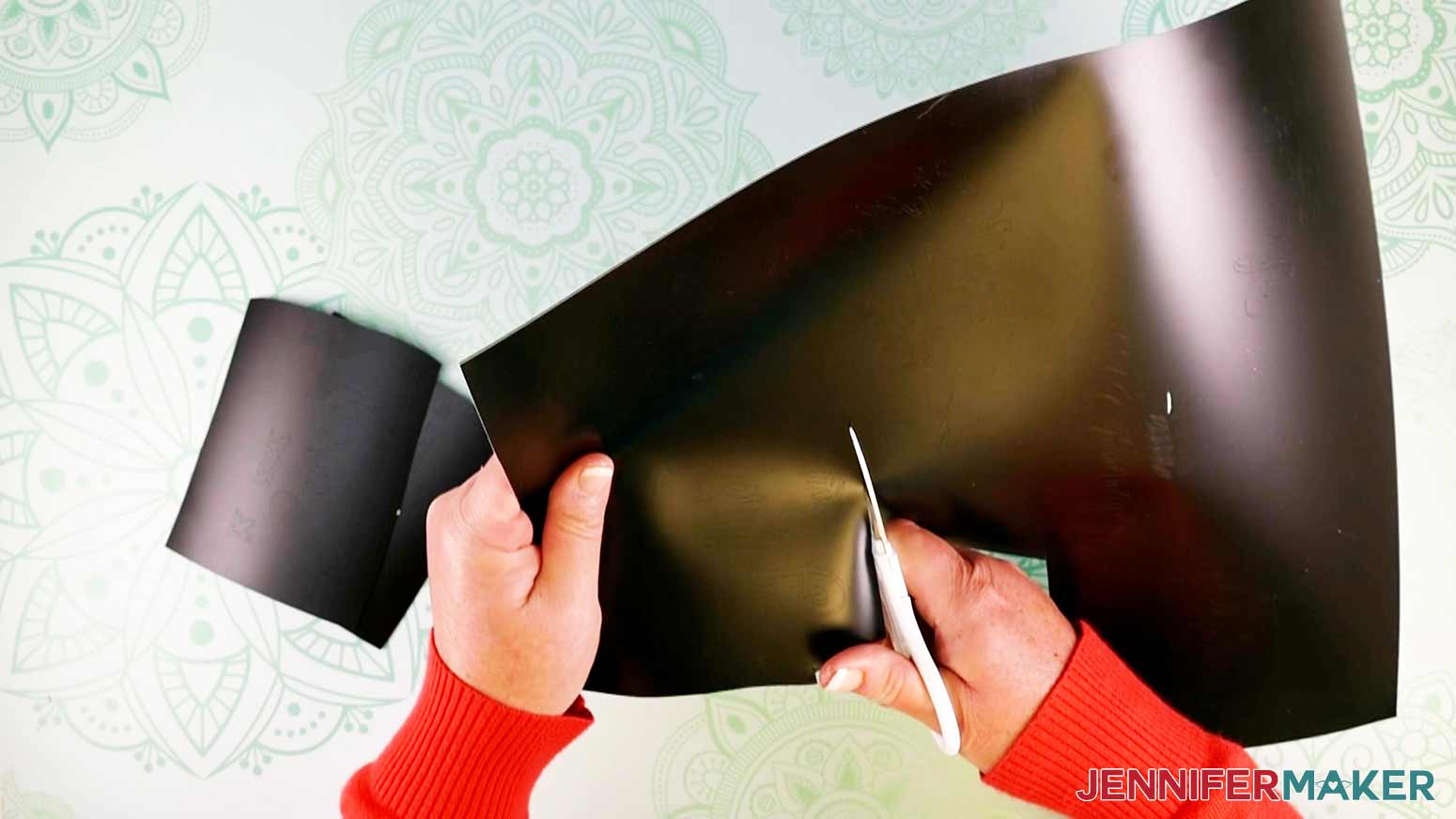 Weed the designs you are using for your wall sconces.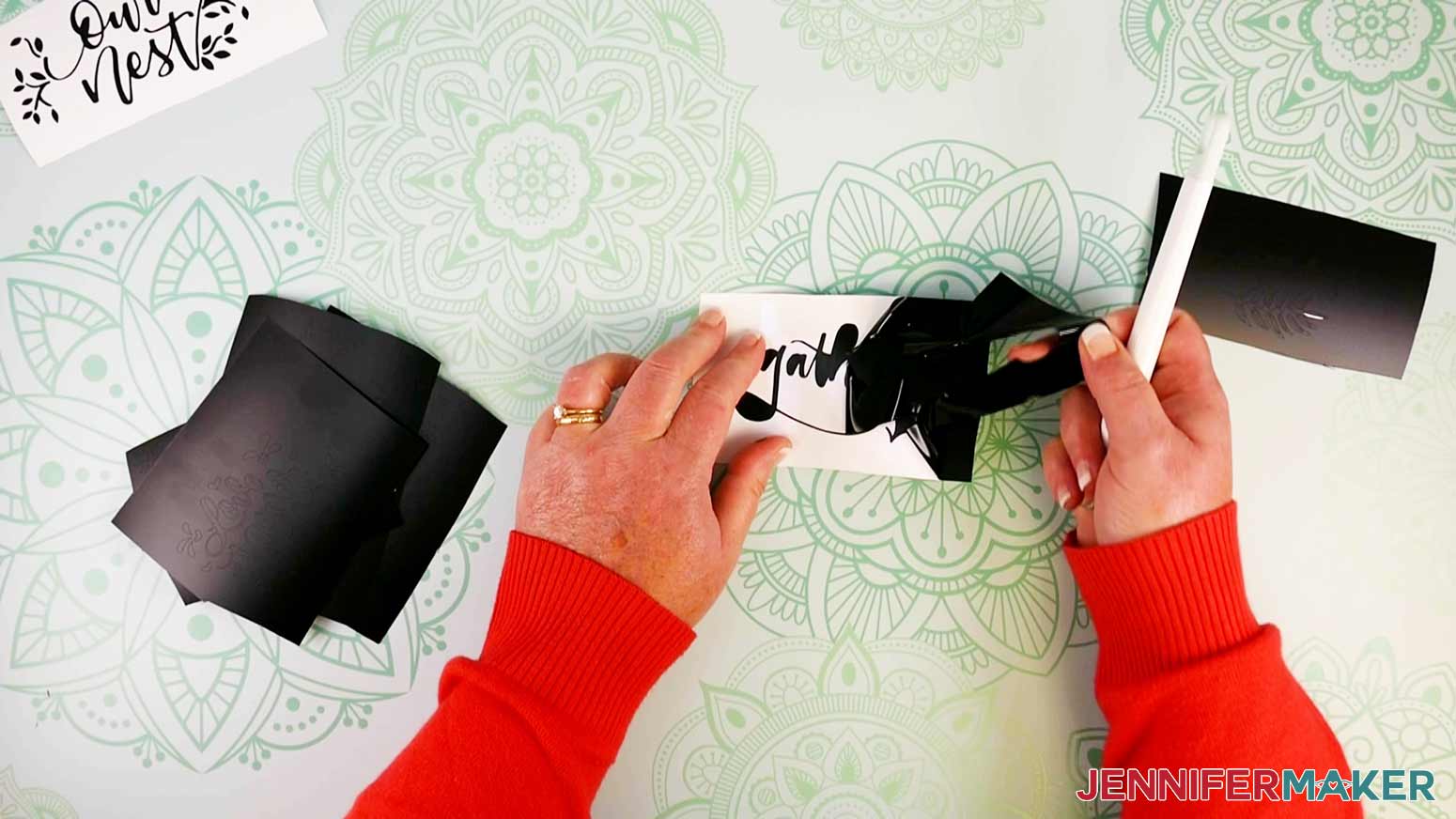 Cut transfer tape to a size that will cover each of your weeded designs.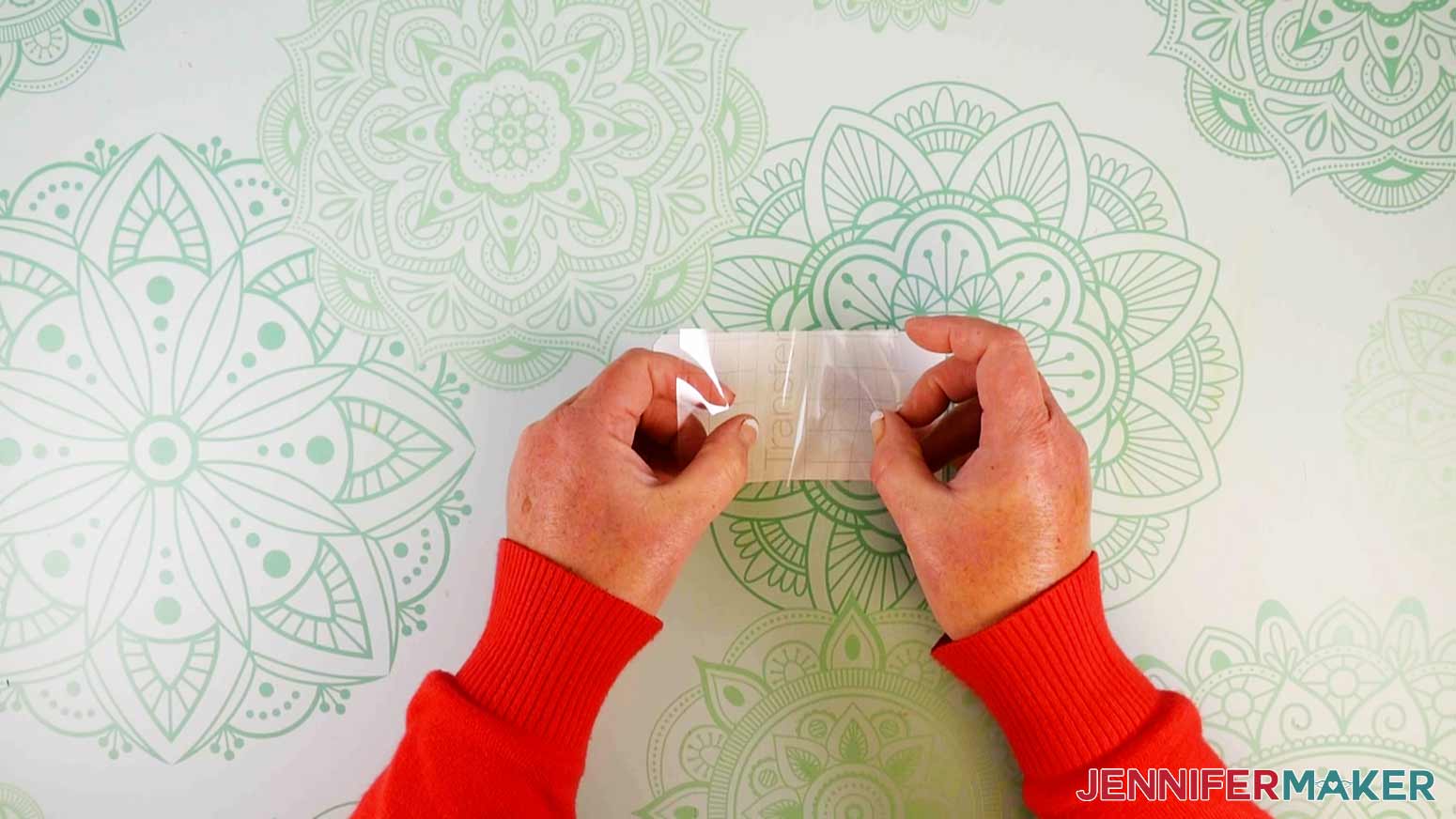 Apply transfer tape to the top of the design(s) using a scraper tool.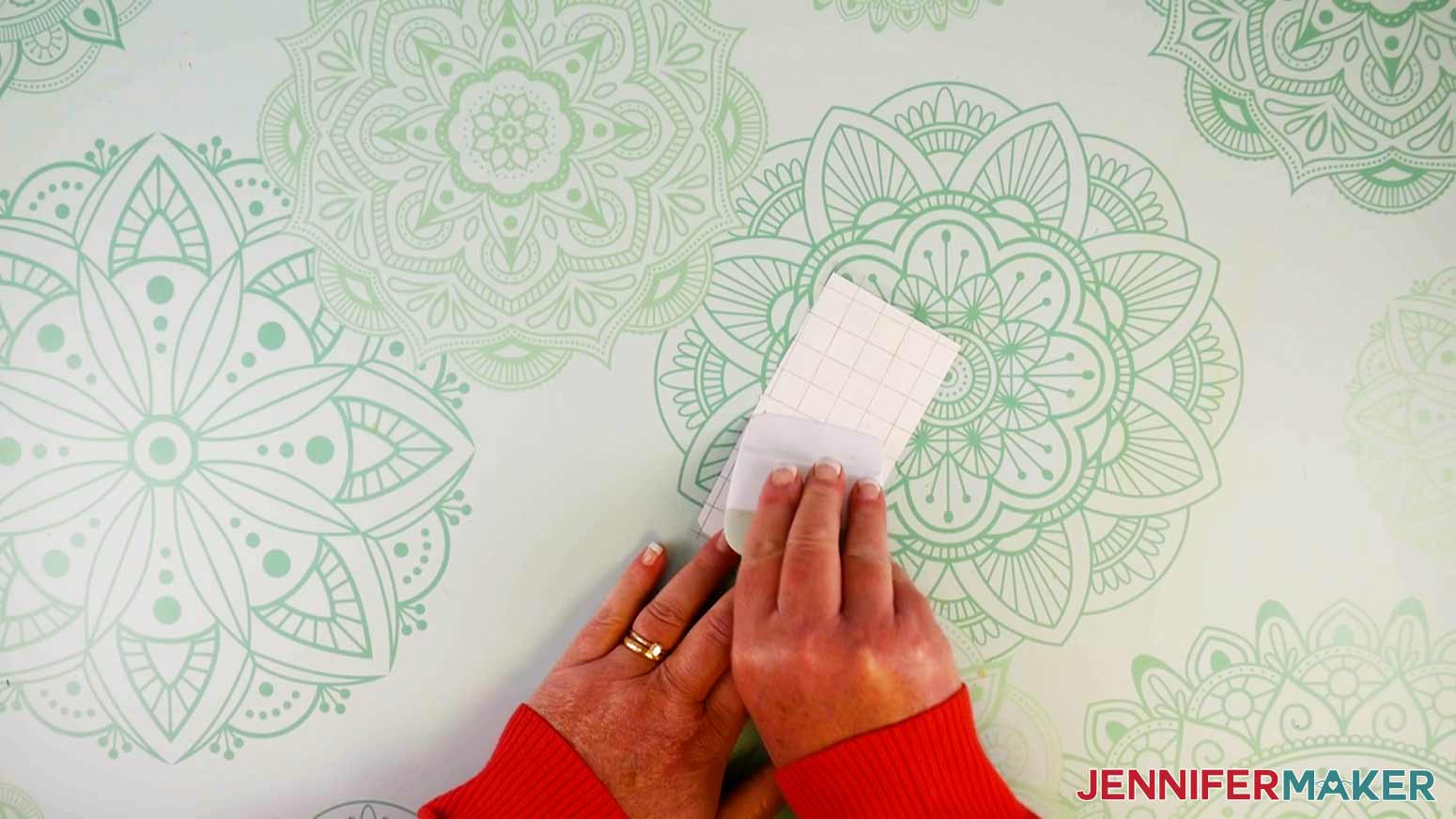 To cut all designs it took five minutes on my Explore 3. I spent an additional 30 minutes weeding and applying transfer tape to each design.
STEP 5: ASSEMBLE YOUR WALL SCONCES
First we are going to place the hook, that our mason jars will hang from, on our wood board. Use a ruler to measure 5" down from the beveled edge at the top of the board. Take a pencil and mark a line at 5" on the board.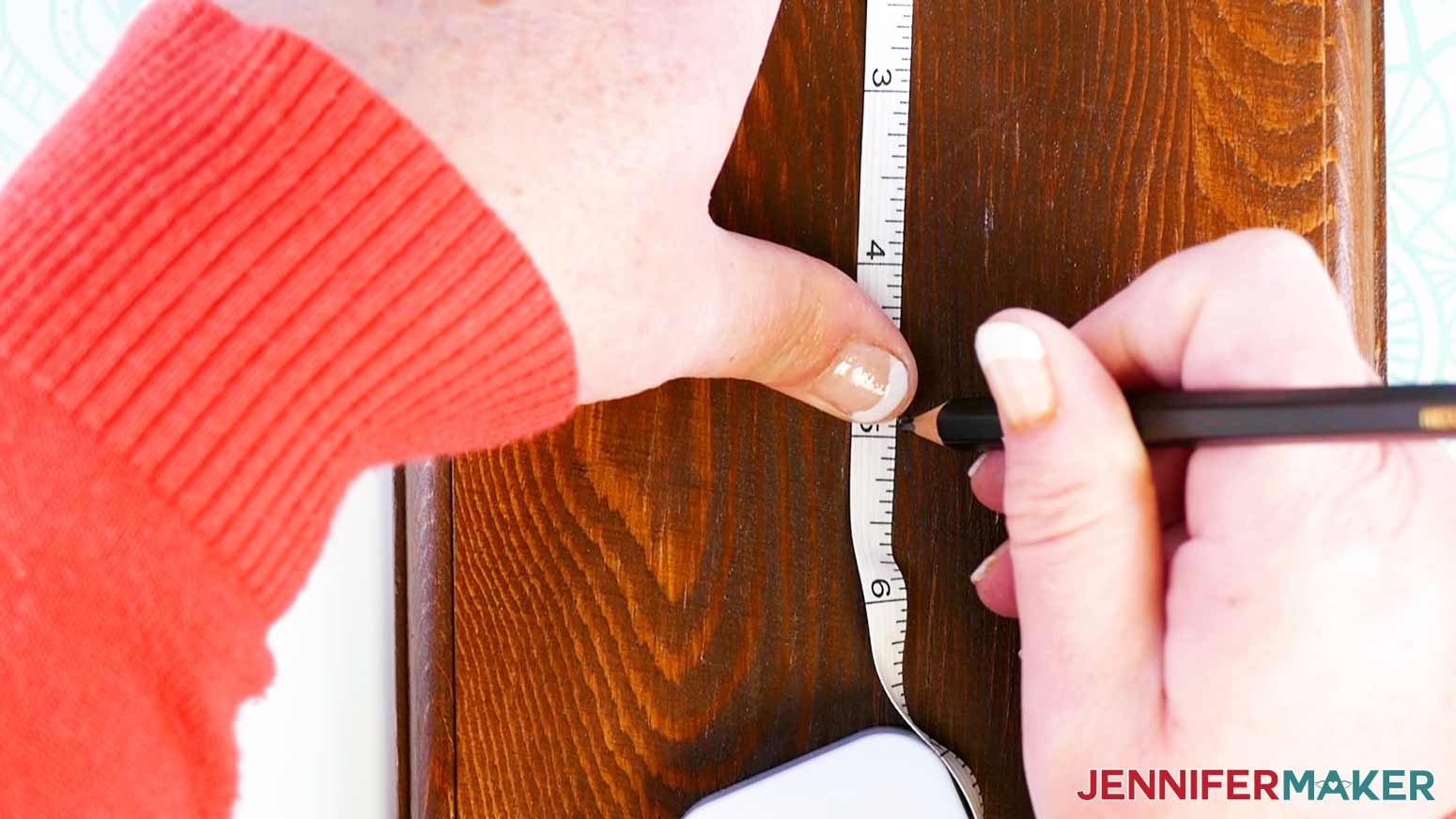 Grab the hook and place the bottom of the hook on the 5" line. Eyeball or use a ruler to center the hook. I found when I measured the sides at the bottom of the hook there was approximately 2 2/8" on each side of the hook.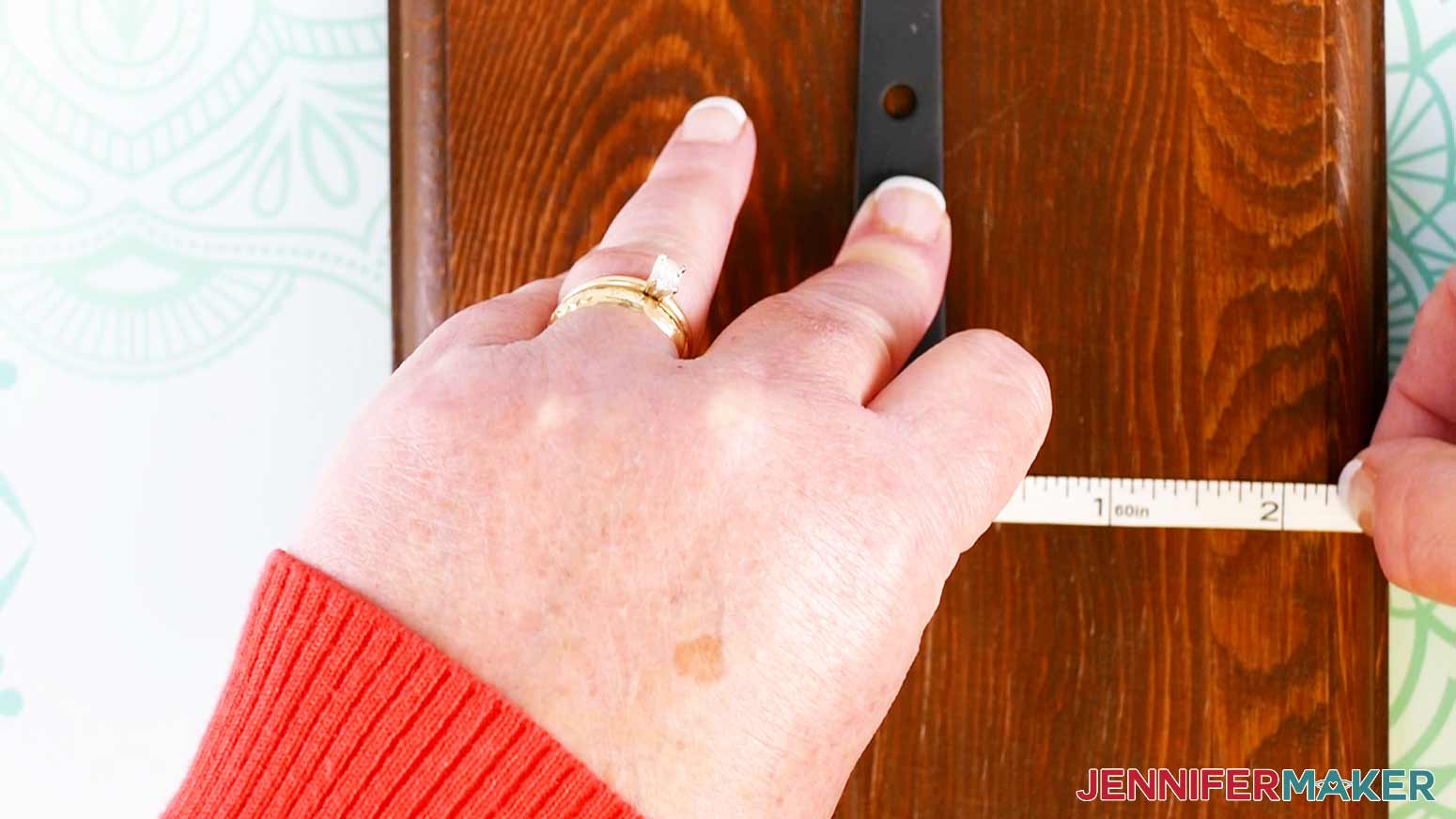 When you are satisfied with the placement of the hook, use a pencil to mark the holes where the screws will go incase you accidentally move the hook.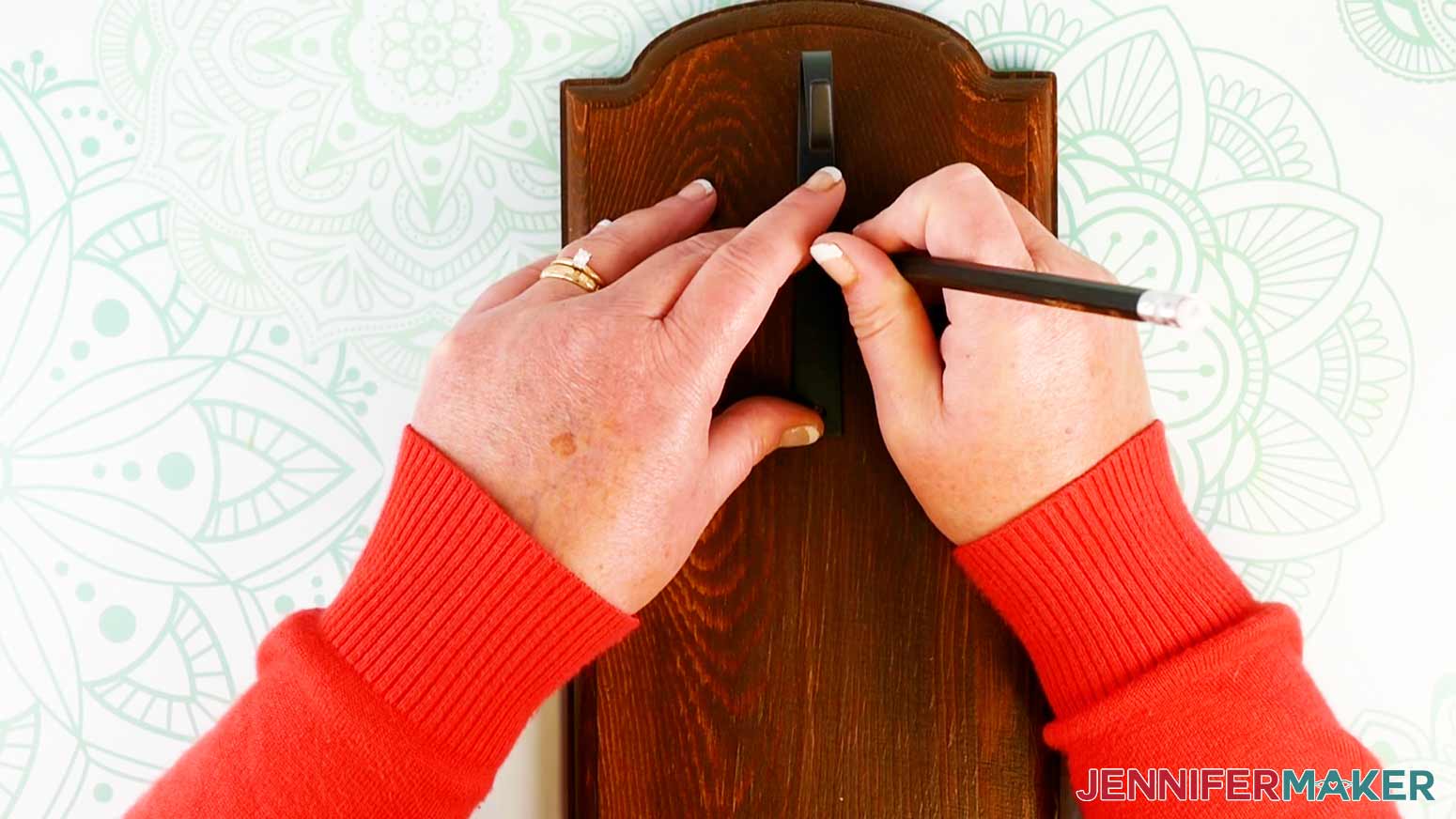 Take one of the screws and begin screwing it into the top hole of the hook.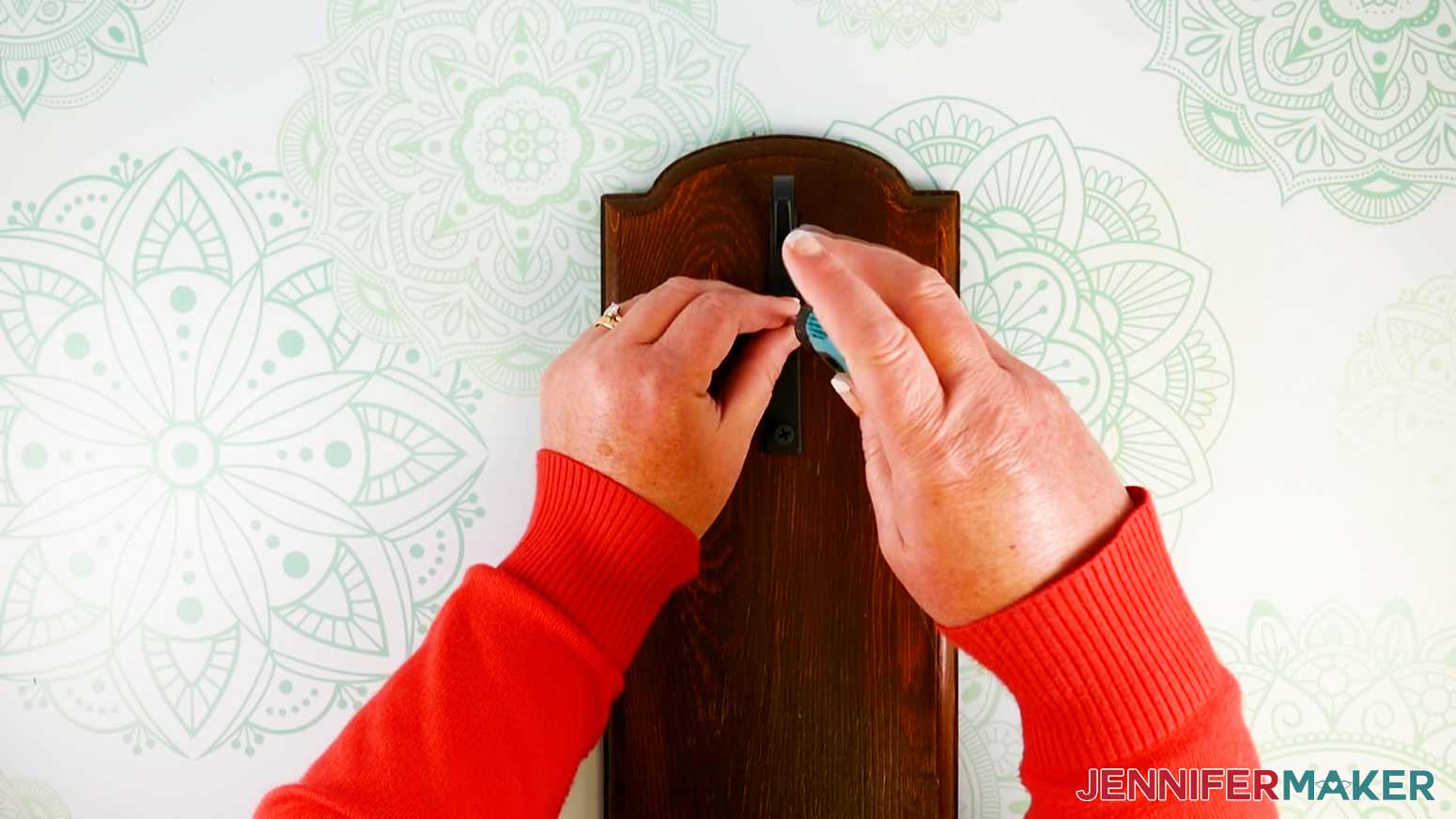 Take another screw and screw it into the bottom hole. Do not fully tighten the screws.
Look at the alignment of the hook in case it shifted then fully tighted both screws.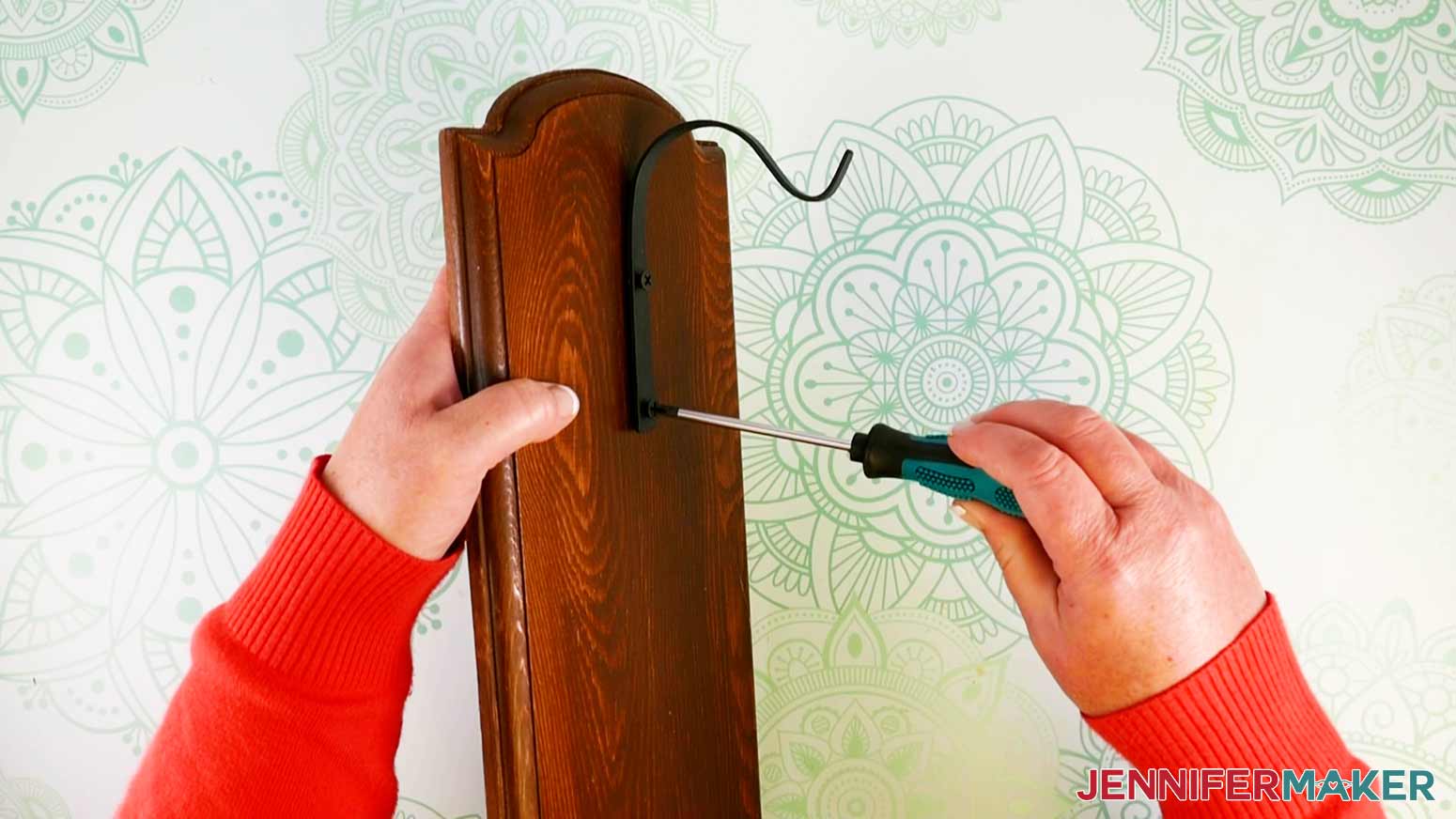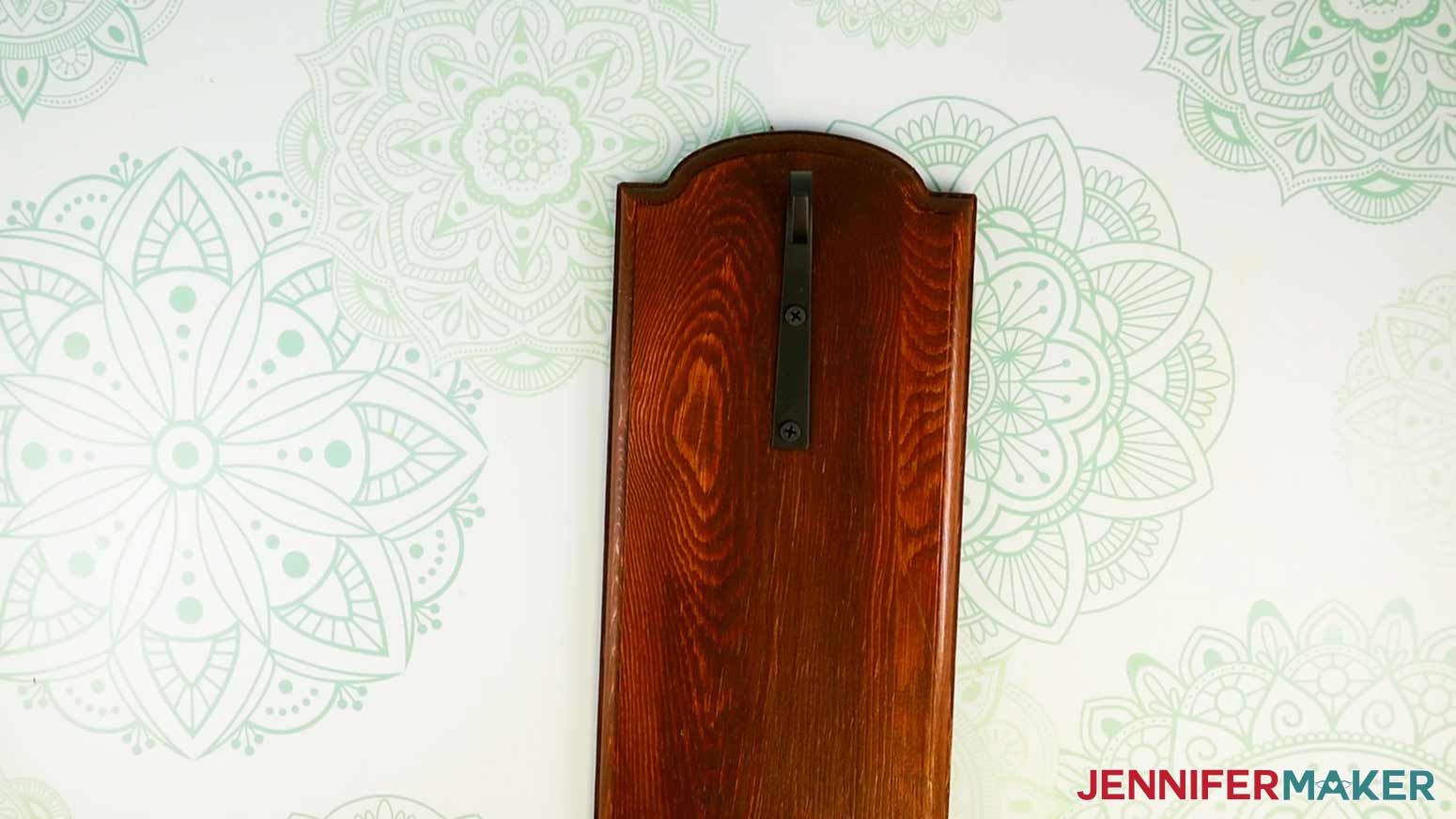 STEP 6: ADD YOUR VINYL DESIGN
At the bottom of the board you will have approximately 5" wide x 3 1/2" high to place a vinyl design. Take a ruler or measuring tape and measure 3 1/2" from the first lip at the bottom of the board. Draw a line at 3 1/2" with a pencil. Your design should not exceed this mark.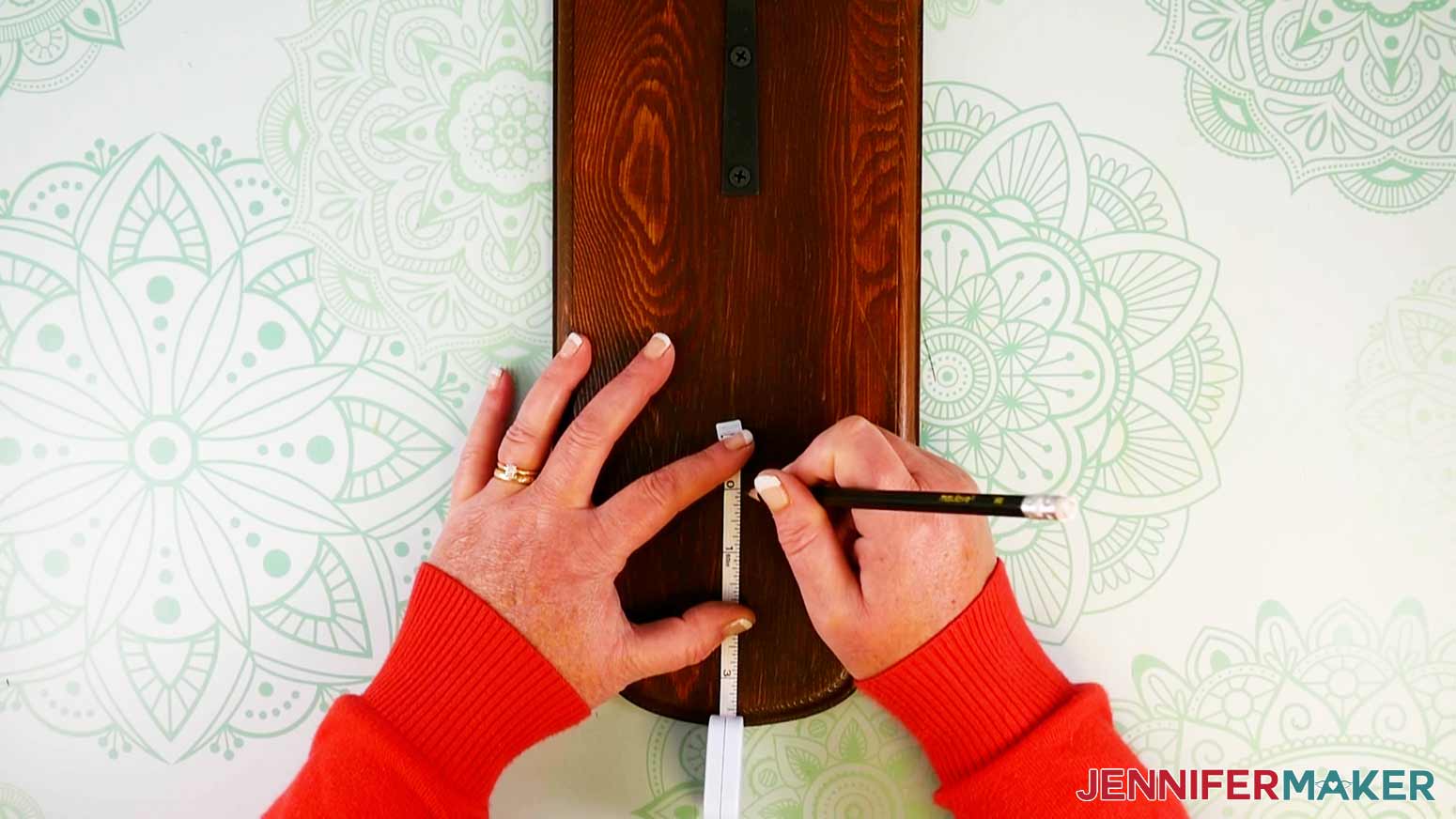 Take your vinyl design and eyeball placement at the bottom of your board in the area we just identified. Do not press the vinyl down until you are happy with the placement.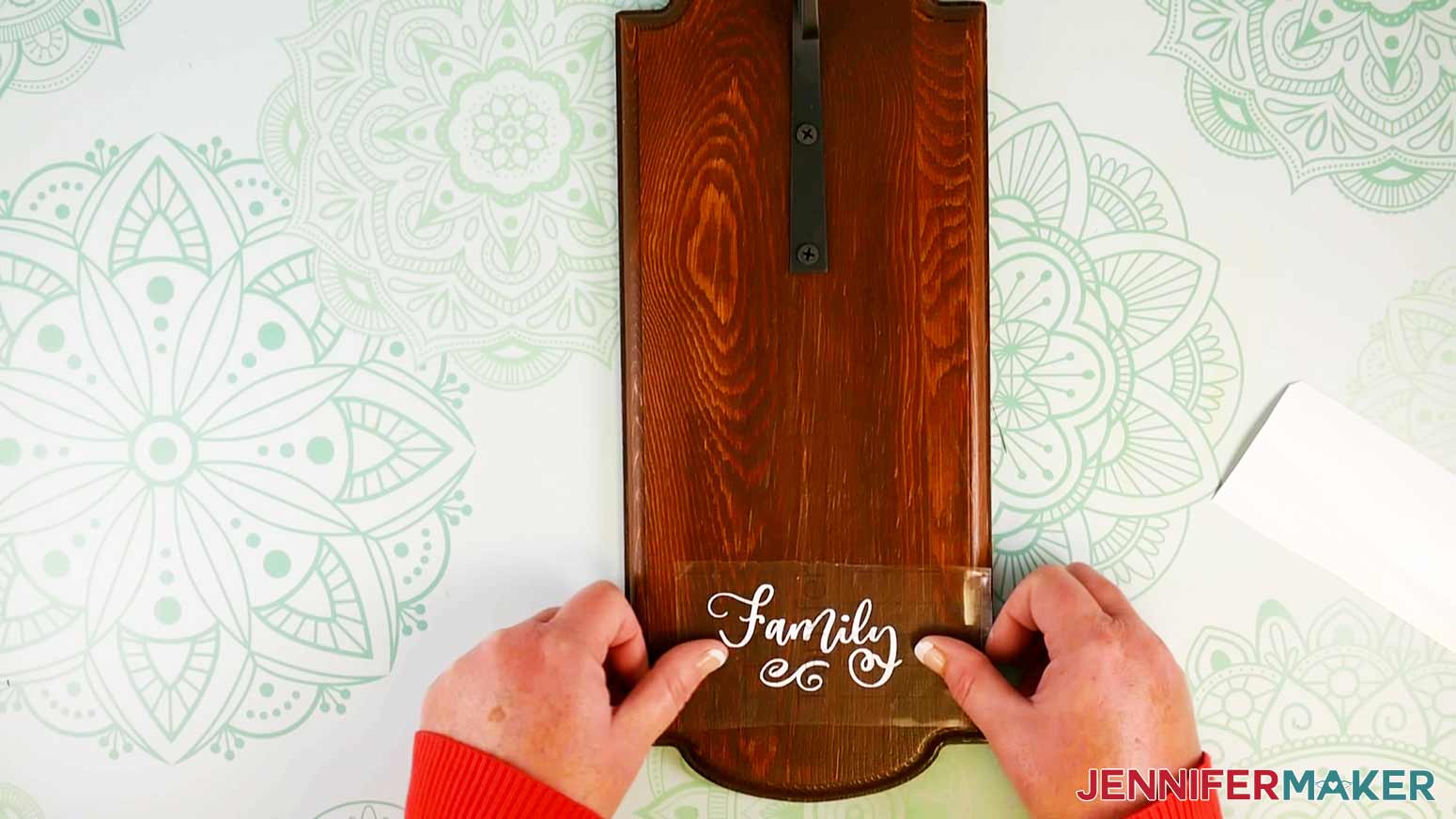 Use a scraper tool (or credit card) to burnish the design to the wood surface.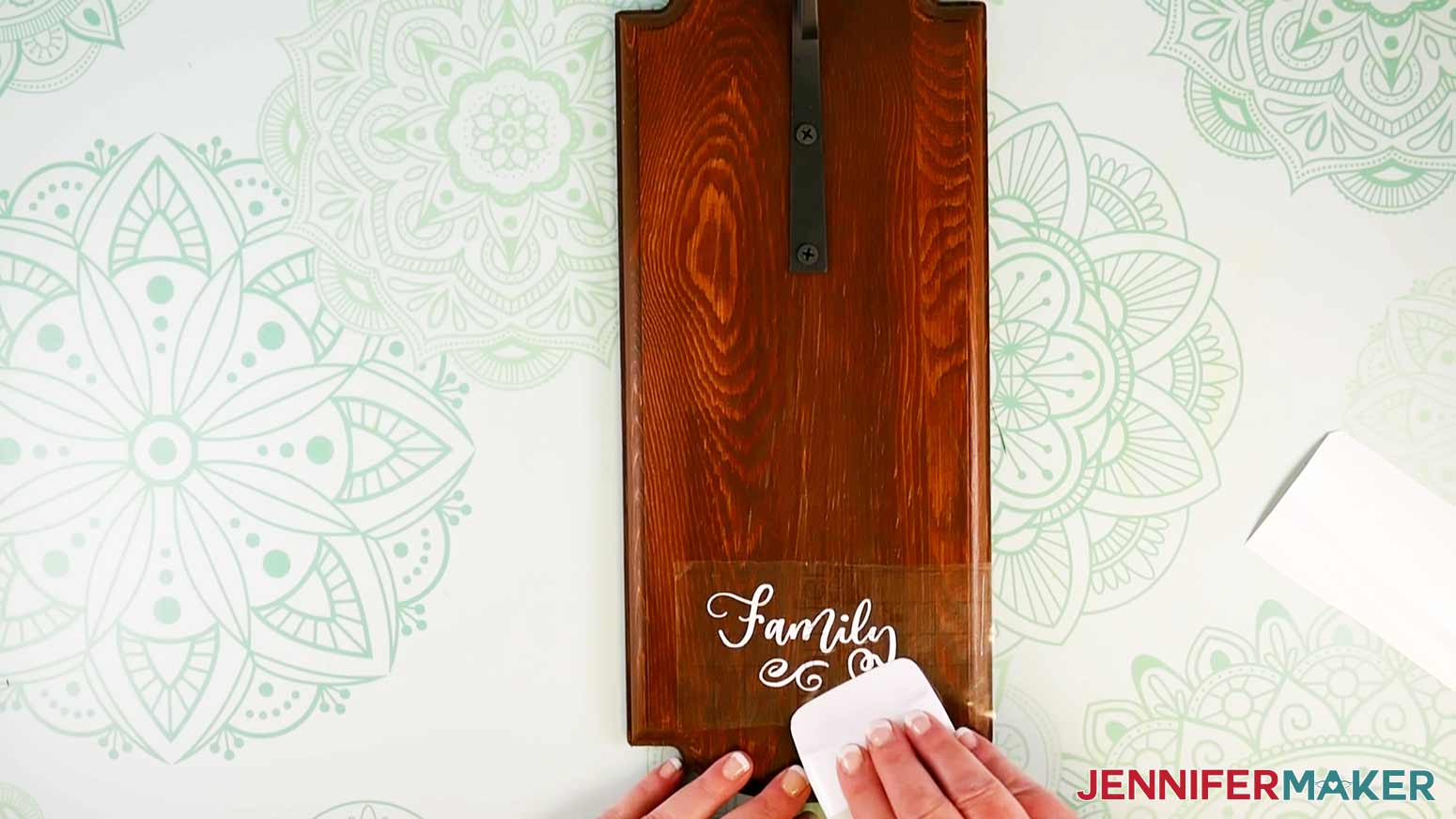 Carefully remove the transfer tape from the design.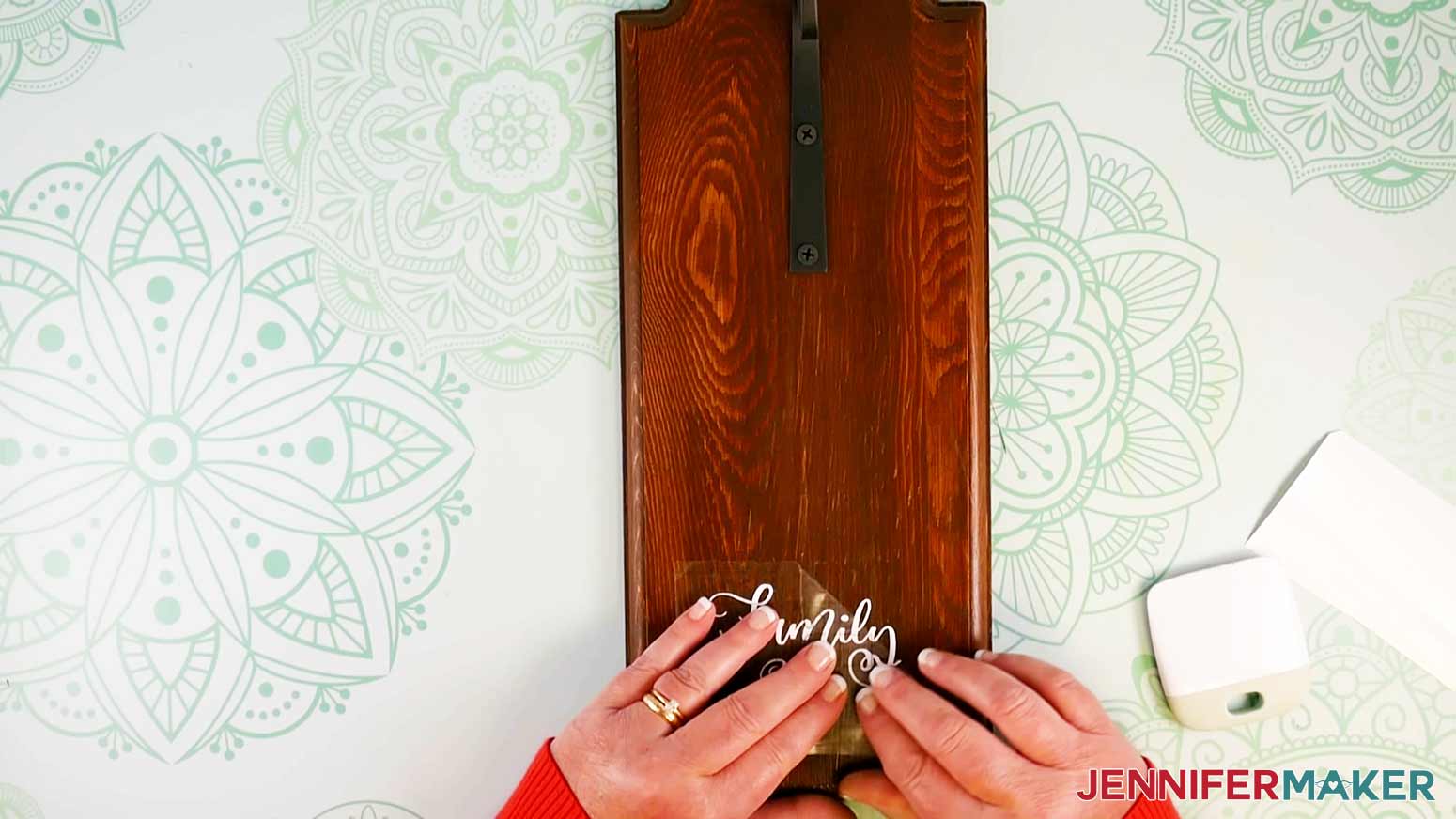 The only thing left is to hang your jar from the hook and hang it from the wall. What do you think of my wall sconces?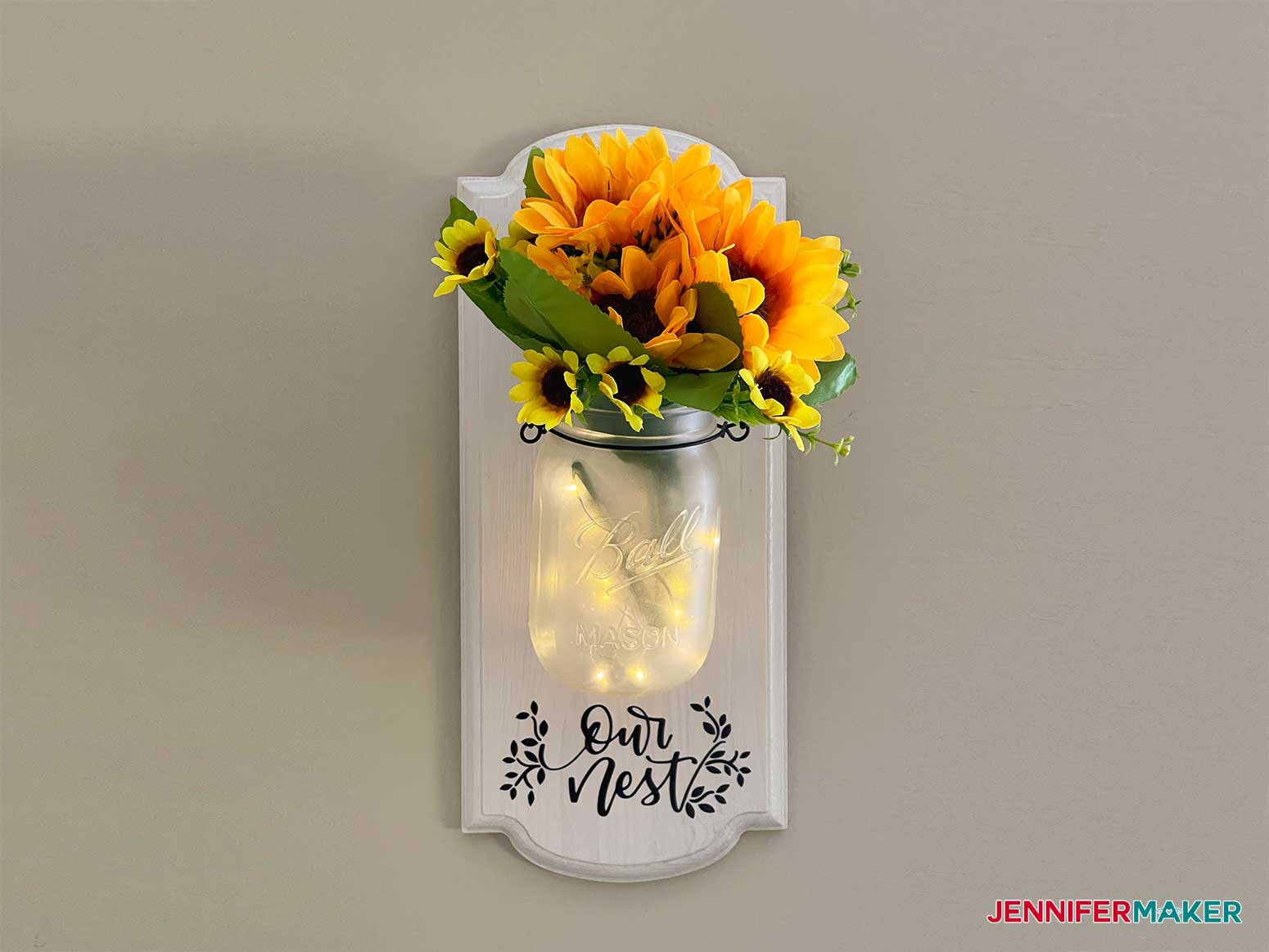 I made this one with some left over Bombay mahogany stain I had laying around. I finished the wood using two coats of stain and two coats of DuraClear Gloss Varnish. This Mason jar uses chalk paint painted in the inside of the jar.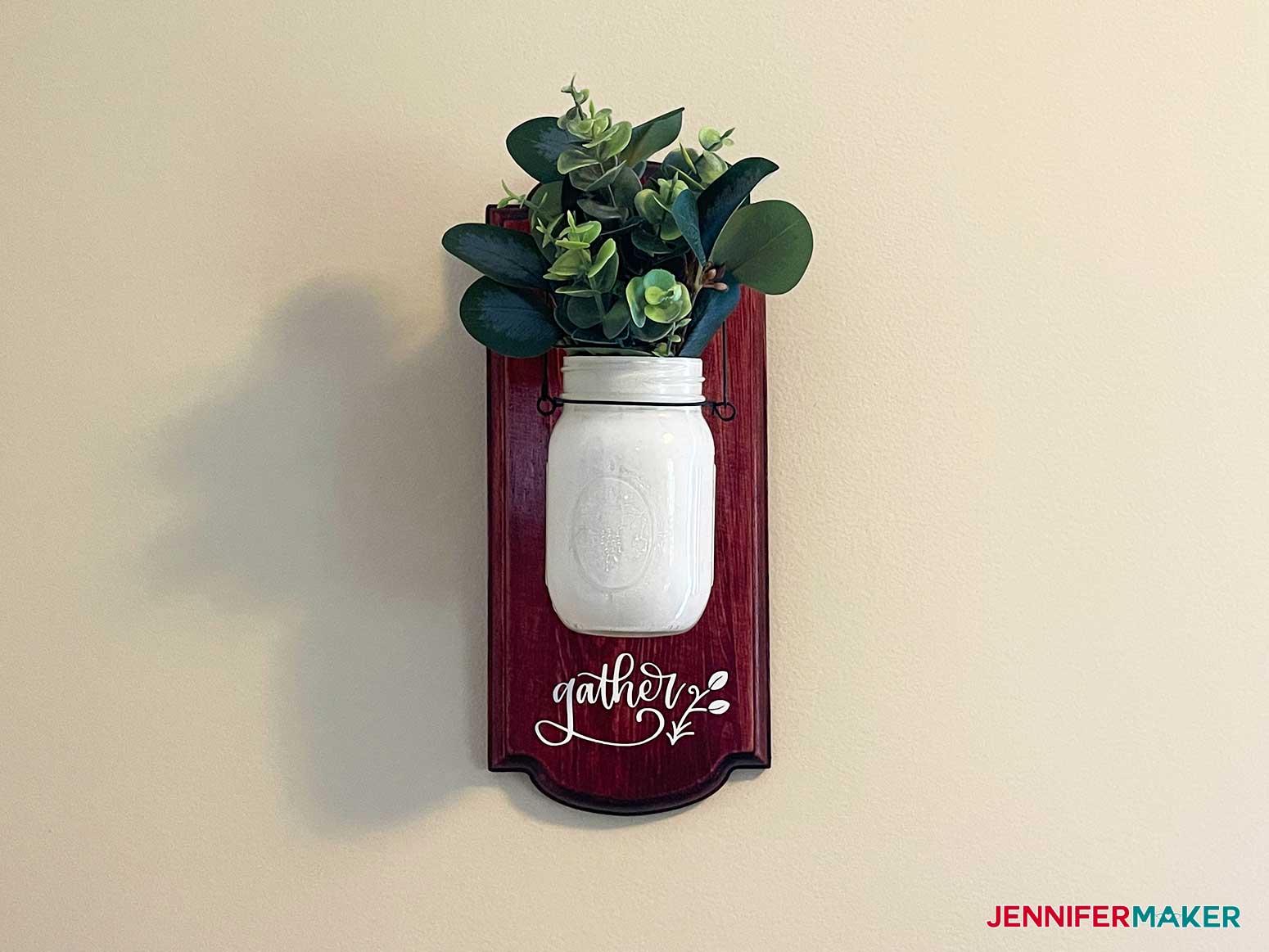 Notes
The finished size of my Mason Jar Wall Sconce is 6" x 14" x 4". Designs are hand-lettered.
Looking for a great way to add a special touch to a room? This is an easy project that you can work on on rainy days to let your creativity flow. They will look great in any room of your home and you can create your own versions if you decide to place twinkle lights or maybe even some Christmas lights!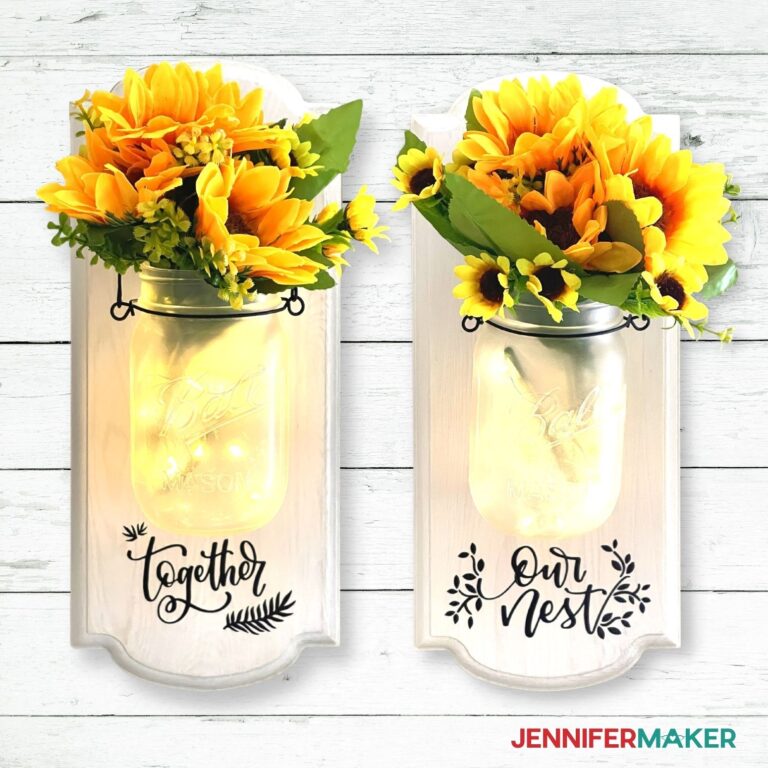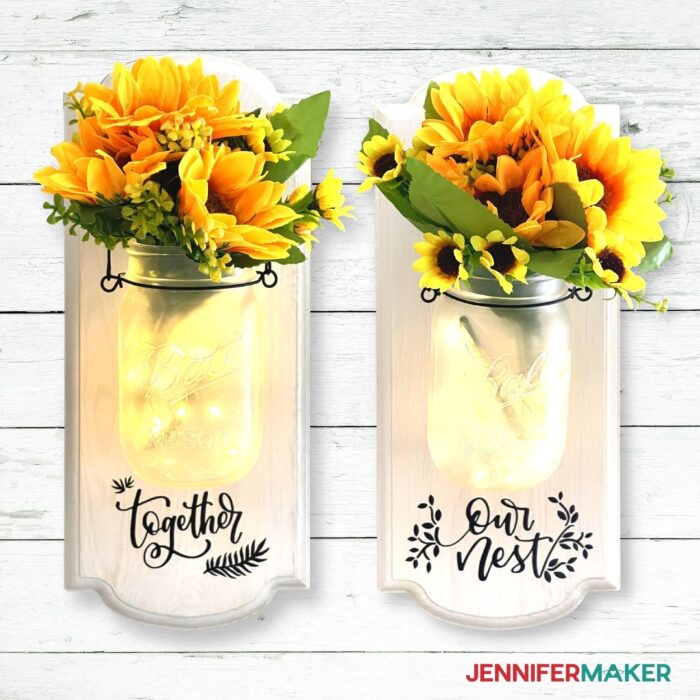 My favorite part of creating this simple project was probably adding the Mason jar lights. They turned out perfect and the great thing is they didn't take a long time to complete. I think I might add some tealight candles next time and see how they turn out. The possibilities are endless with a creative project like this!
Answers to Your Questions About How to Make DIY Mason Jar Wall Decor
Q: Where is your video tutorial for this Mason Jar decor project?
This is a special project we made for our free Maker Academy Weekend event! A complete and detailed step-by-step video premiered during the event November 4-7, 2021. Get access to the workshop video and printable workbook with a VIP Pass to Maker Academy Weekend 2021, which comes with other perks and bonuses, too!
Q: What kind of lights look best?
I prefer the look of fairy lights in the Mason jars, but LED tea lights would also be pretty (albeit not as bright). Just be sure to use LED lights so there is no heat generated.
Get the free designs for my Mason Jar sconces!
I can't wait to see what you make with my designs and how you use them! Please share a photo of your mason jar decor in our Facebook group or tag me on social media with #jennifermaker.
Love,