Learn how to make a beautiful wall decor using standard Mason Jars!
I get so many requests to make DIY projects using Mason jars and I'm excited to share a new one with you! This project uses Mason jars on the wall to create a pretty farmhouse home decor piece. Fill the jars with lights and flowers, add a name or saying, and you have a unique decoration or gift for someone! I think my DIY Mason Jar wall decor came out really pretty and I can't wait to show you how to make it, too.
Watch the full step-by-step video showing you exactly how to make your mason jar wall decor premiering during Maker Academy Weekend, November 4-7, 2021. Get your FREE ticket to this event by clicking below: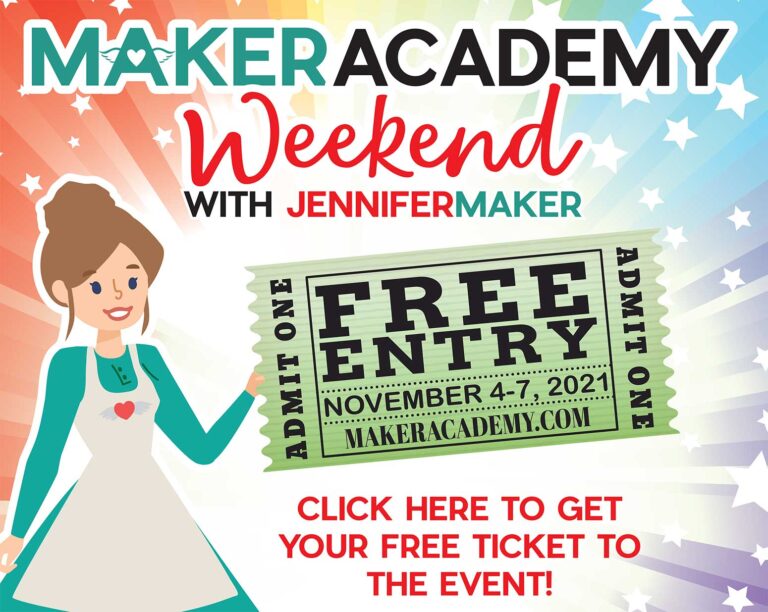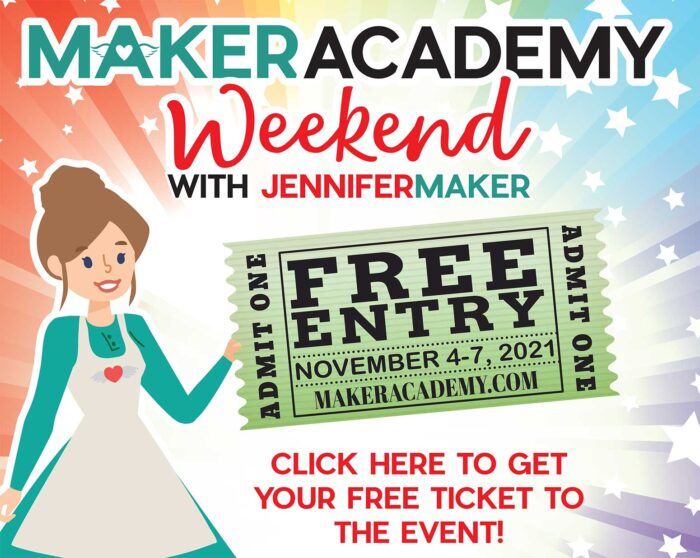 I absolutely love when I can make a piece that is so versatile and this project did just that. I'm able to turn a boring bathroom vanity into one that is much more charming and pleasing to look at!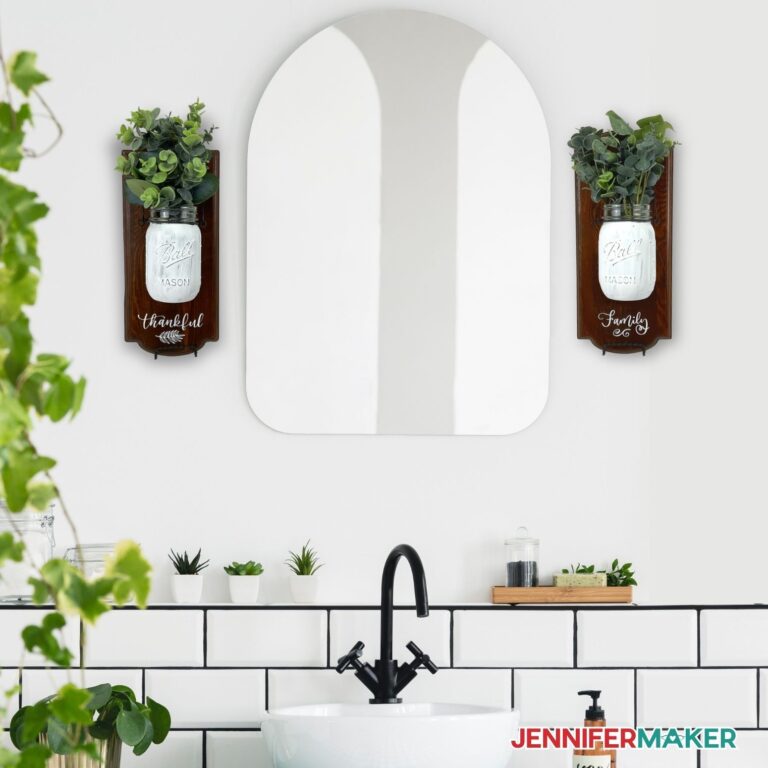 Of course we will need to start out with some wood. My wood boards measure six inches by fourteen inches and are one inch deep. We'll also need Mason Jars. These are the 16 ounce size. And we will need hooks and handles to hang them.
To decorate my mason jars I'm going to use a combination of spray paint, chalk paint, stain, varnish, (which is optional) and vinyl. I'll add some greenery and flowers and even some fun fairy lights!
Of course we will need our Cricut cutting machine, along with a mat, some transfer tape, a scraper tool, weeding tool and measuring tape or ruler. We'll also use some paint brushes, rubber gloves and a Cricut trimmer or scissors. And it's always a good idea to have something to protect your work surface like kraft paper.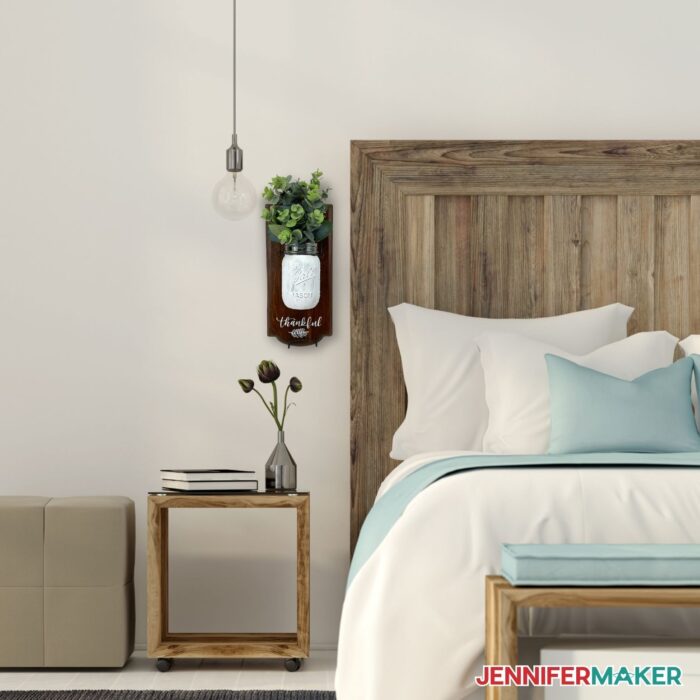 Aren't these lovely? They can make any space feel homey and best of all, you can customize them to your liking using different colors, quotes, and either fresh flowers or faux flowers. Fairy lights in a clear glass mason jar add a perfect touch and make for a beautiful entryway look on a front porch. Or, place a painted mason jar and use it in place of flower vases.
This lovely mason jar wall decor is an easy way to add a little bit of rustic charm to your home decor. Whether you decide to put them in your dining room, living room, or front porch, adding this special touch is the perfect way to put your old mason jars to good use!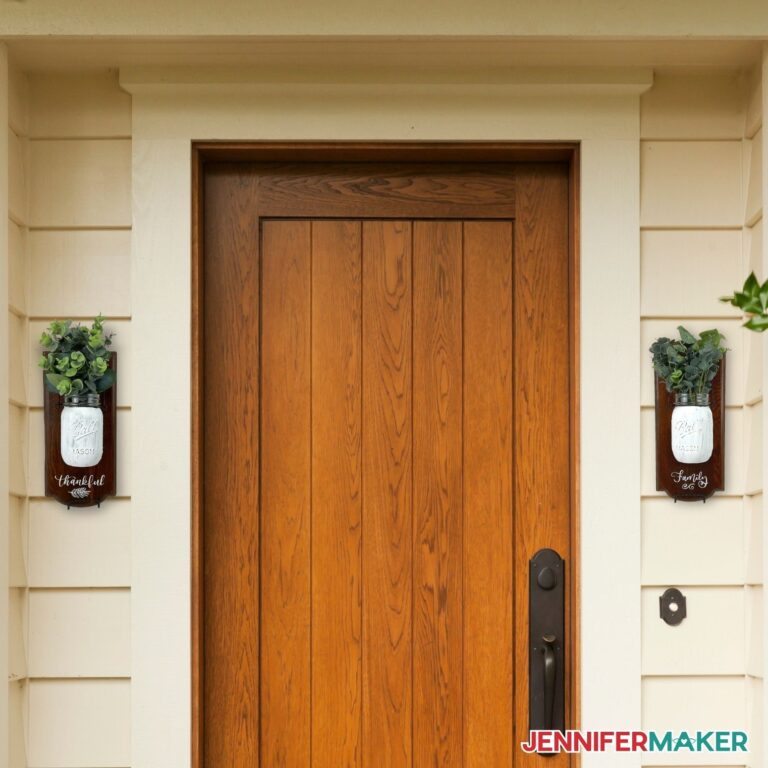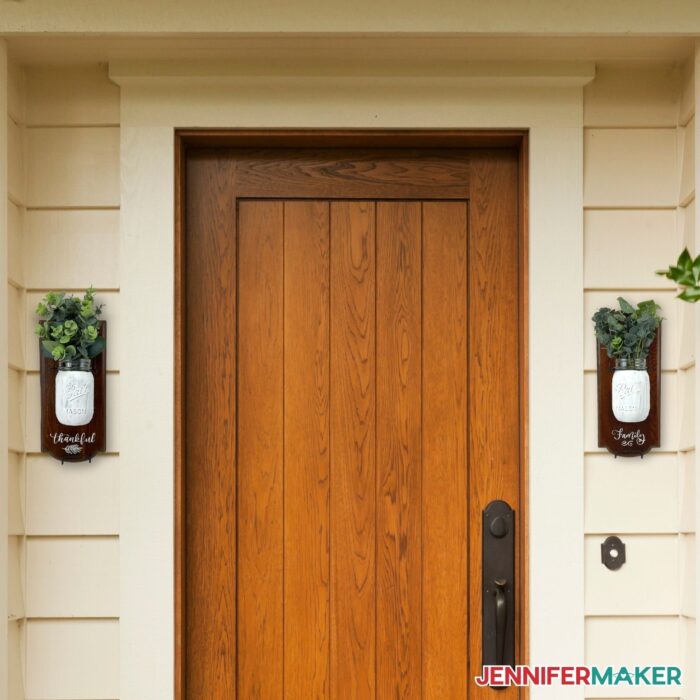 Here's a supply list of what you need to make my Mason jar wall decor! This post contains some affiliate links for your convenience (which means if you make a purchase after clicking a link I will earn a small commission but it won't cost you a penny more)! Read my full disclosure policy.
Materials to Make Mason Jar Wall Decorations
View my Amazon shopping list with the exact items we used to make this project
MATERIALS IF USING UNFINISHED WOOD BOARD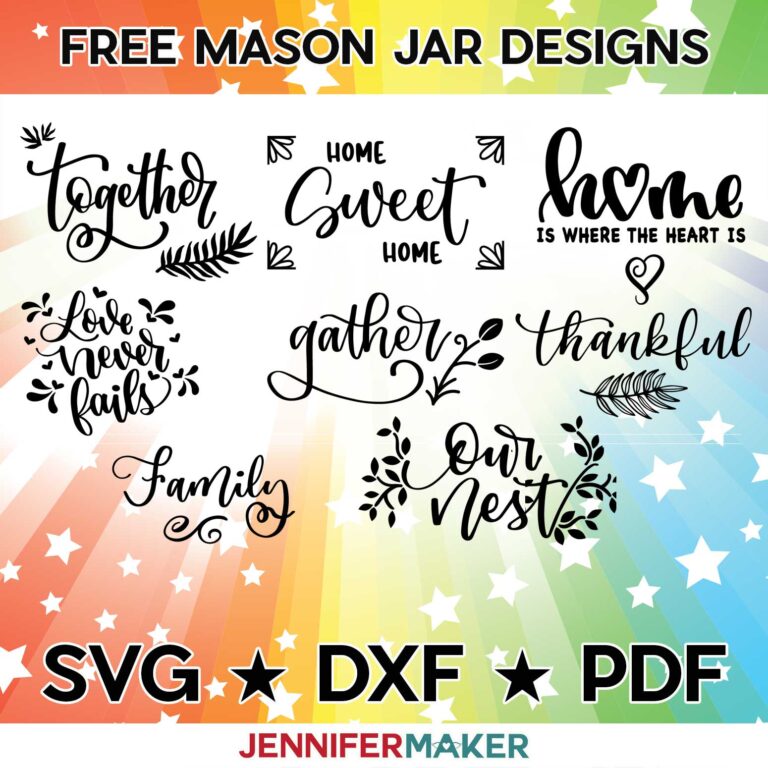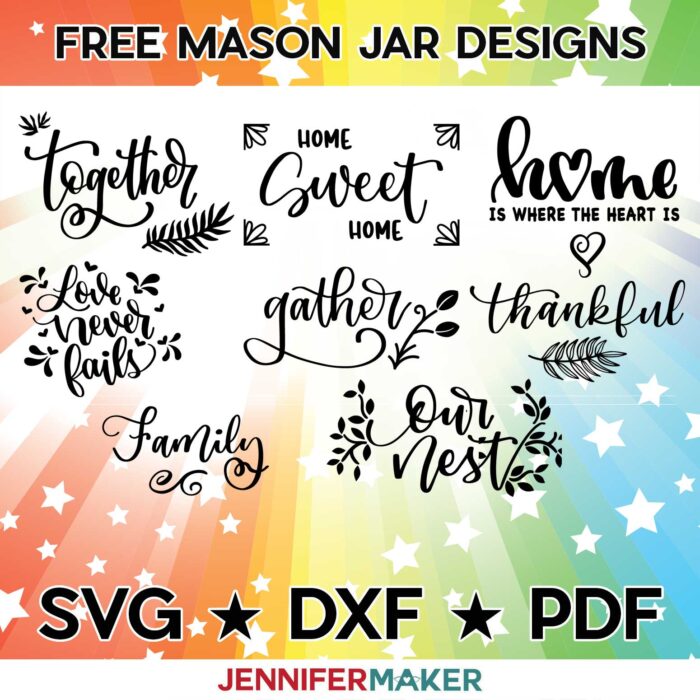 How to Make Your Own DIY Mason Jar Wall Decor
The detailed step-by-step assembly video on how to prep, paint, and decorate these beautiful mason jars will be available to watch for free for 24 hours during Maker Academy Weekend, held online November 4-7, 2021. Get your free ticket to this fun maker event here! If you can't wait until then, learn how to get early access to the Maker Academy Weekend videos, printable handbooks, and design files with a VIP pass below: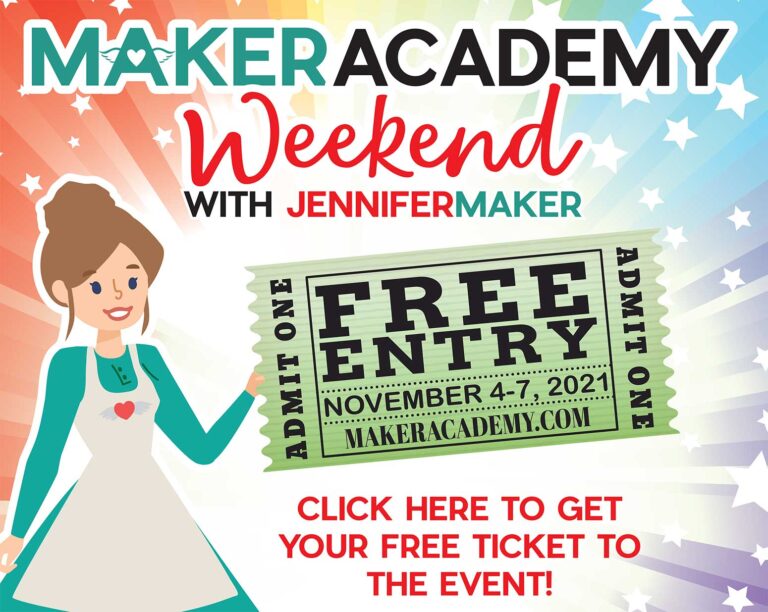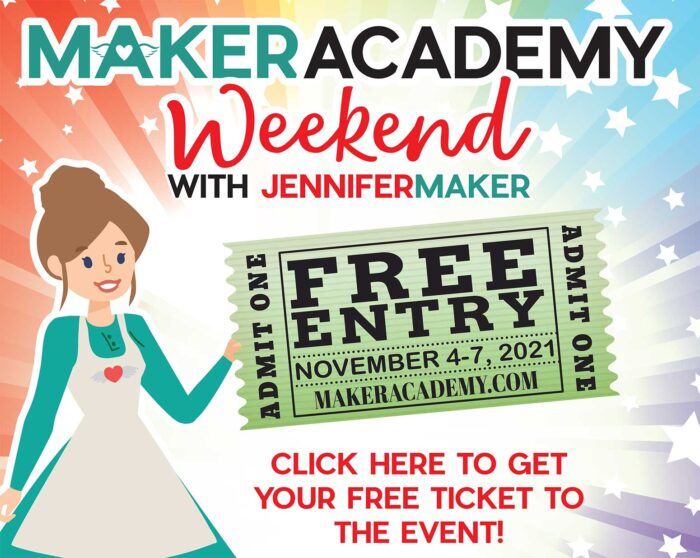 Looking for a great way to add a special touch to a room? This is an easy project that you can work on on rainy days to let your creativity flow. They will look great in any room of your home and you can create your own versions if you decide to place twinkle lights or maybe even some Christmas lights!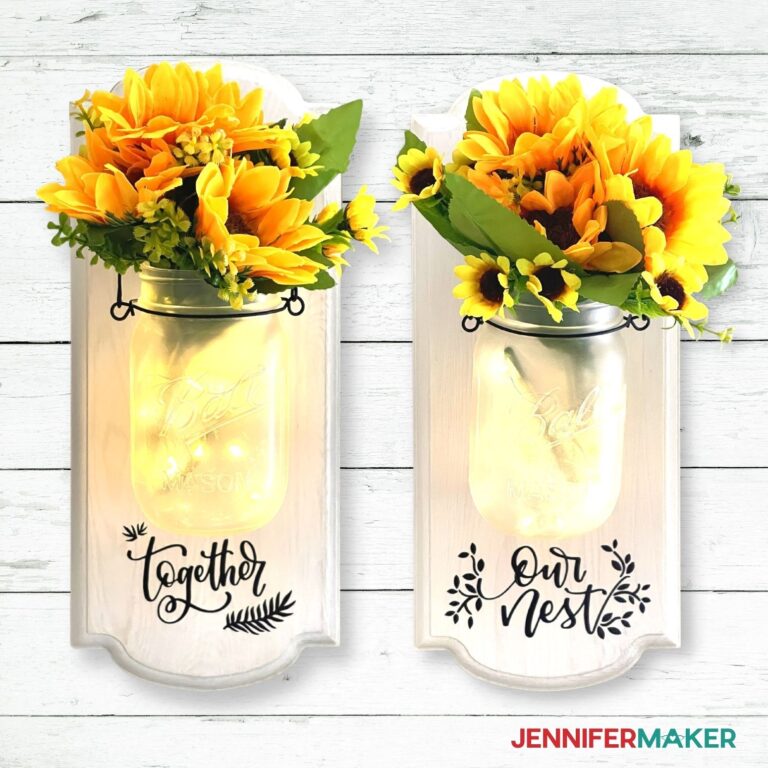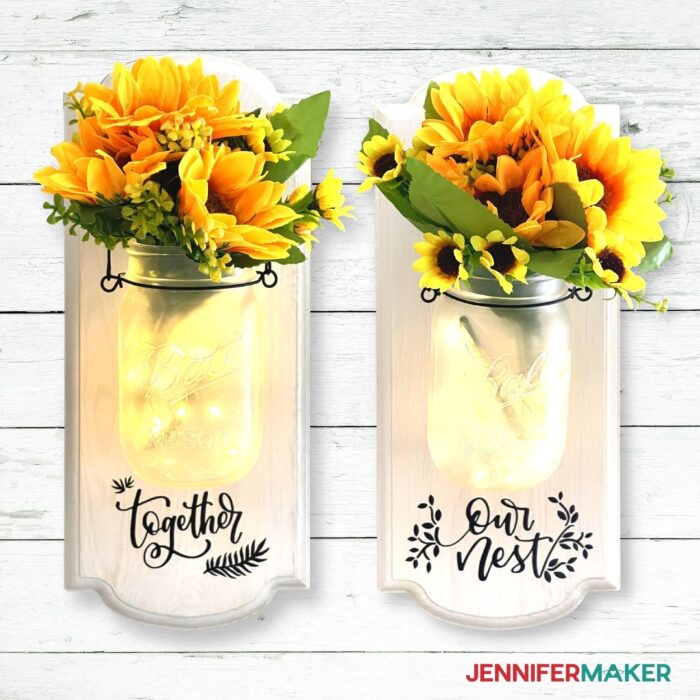 My favorite part of creating this simple project was probably adding the Mason jar lights. They turned out perfect and the great thing is they didn't take a long time to complete. I think I might add some tealight candles next time and see how they turn out. The possibilities are endless with a creative project like this!
Answers to Your Questions About How to Make DIY Mason Jar Wall Decor
Q: Where is your tutorial for this project?
This is a special project we made for our free Maker Academy Weekend event! A complete and detailed step-by-step video will premiere during the event November 4-7, 2021 — specifically, this tutorial video will be available to watch for free for 24 hours beginning November 7 at 2:00 pm ET! If you can't make that time, there will be a replay available for 24 hours from that time so you can watch it later. You can get early access to these designs and a 25-page printable handbook that details how to make this beautiful project if you get a VIP Pass to Maker Academy Weekend, which comes with other perks and bonuses, too!
Q: What kind of lights look best?
I prefer the look of fairy lights in the Mason jars, but LED tea lights would also be pretty (albeit not as bright). Just be sure to use LED lights so there is no heat generated.
Get a free ticket to Maker Academy Weekend to see how this works!
I can't wait to see what you make with my designs and how you use them! Please share a photo of your mason jar decor in our Facebook group or tag me on social media with #jennifermaker.
Love,