Learn how to make a crazy easy heart box from just one piece of cardstock … it even has hidden hearts inside!
I adore making boxes. I may have a dozen or more box designs at this point. A couple of years ago I made a heart box that was very intricate. Today, I'm making a super easy heart box from just one sheet of cardstock … it even has secret hearts inside it for your recipient to discover! Anyone can make this easy heart box — it's simple to cut and fold, and no glue or tape is necessary! And I'm going to show you exactly how to do it in this tutorial. You can make this crazy easy heart box as part of our MAKE IT EASY Craftalong Challenge, filled with fun and EASY daily themed projects!
Wondering about those secret hearts? They're hidden at the edges of the box — when you open it, you'll see them at the corners! Isn't that cool?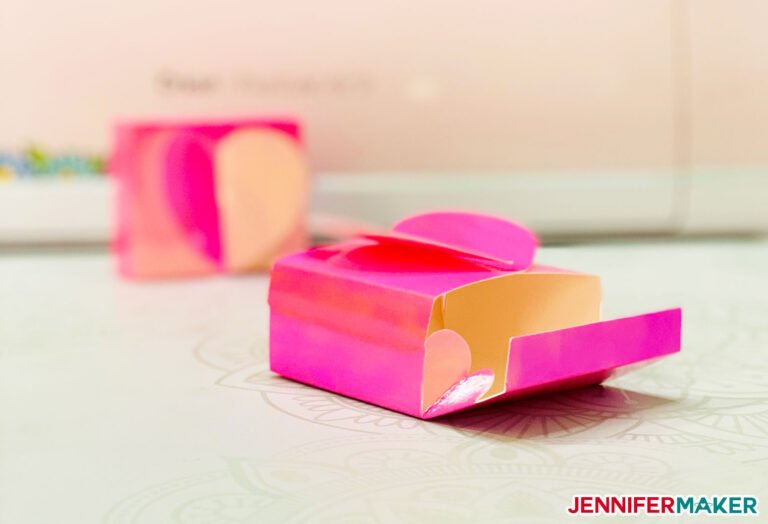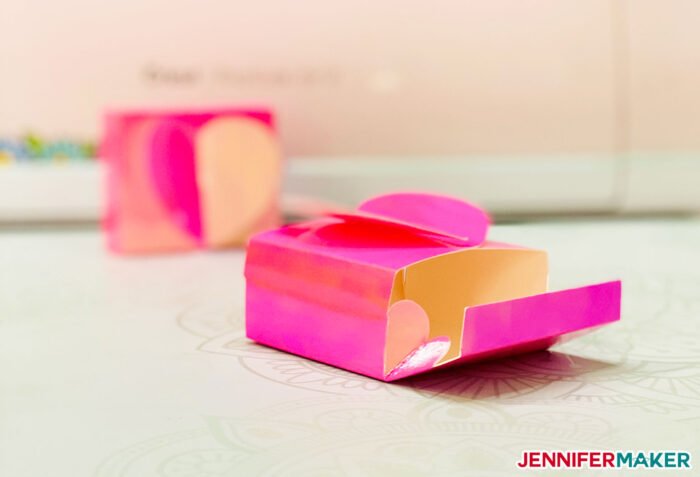 Want to make your own easy heart box? I'd love to show you how! This post contains some affiliate links for your convenience (which means if you make a purchase after clicking a link I will earn a small commission but it won't cost you a penny more)! Read my full disclosure policy.
Materials to Make Easy Heart Boxes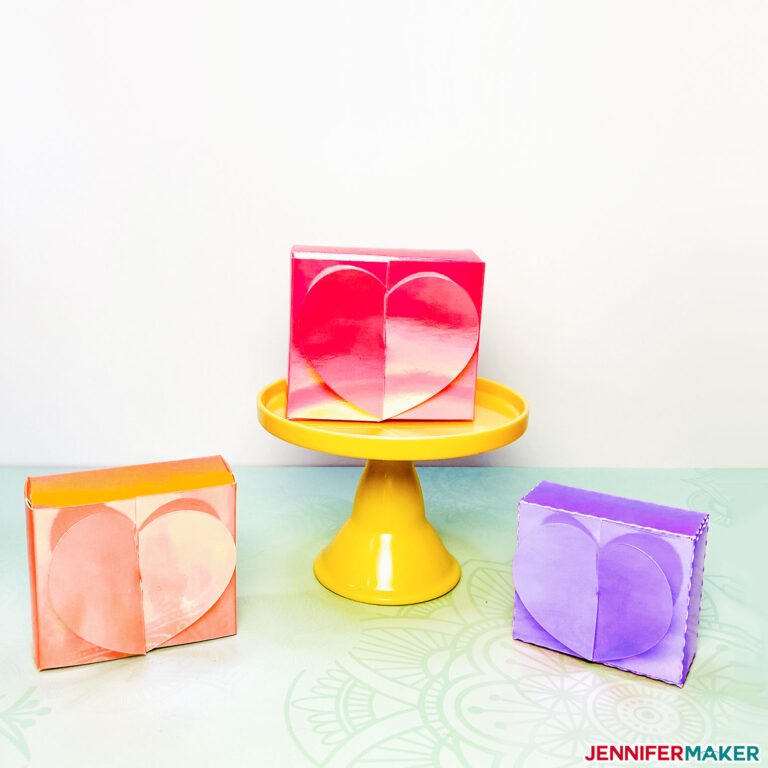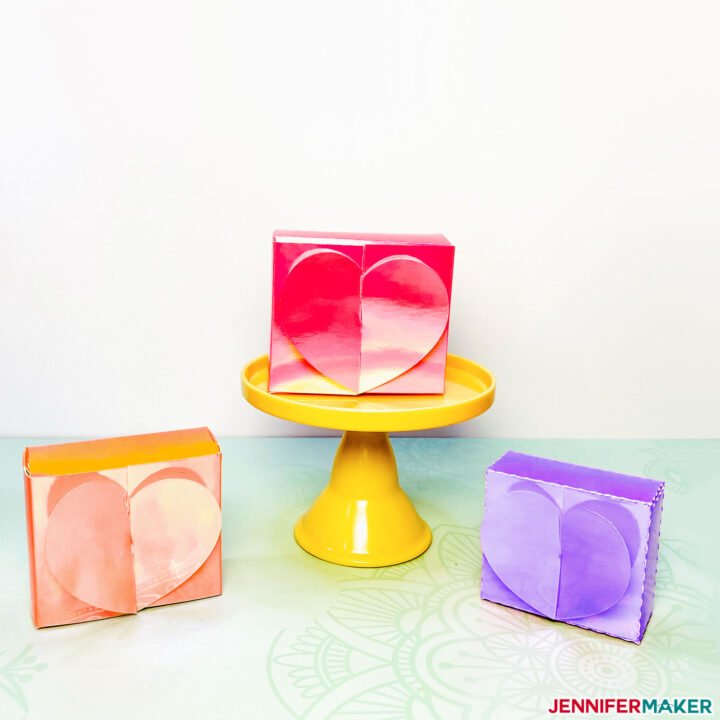 Easy Heart Box
Yield: 1 Heart Box

Prep Time: 5 minutes

Active Time: 5 minutes

Total Time: 10 minutes

Difficulty: Easy

Estimated Cost: $1

Here's how to make crazy easy heart boxes with secret hearts inside!
Materials
Instructions
Step 1: Get the free Easy Heart Box Design
First, download Design #197 - my free SVG cut files or PDF from my free resource library. If you're going to cut it on your cutting machine, upload the file to your design software.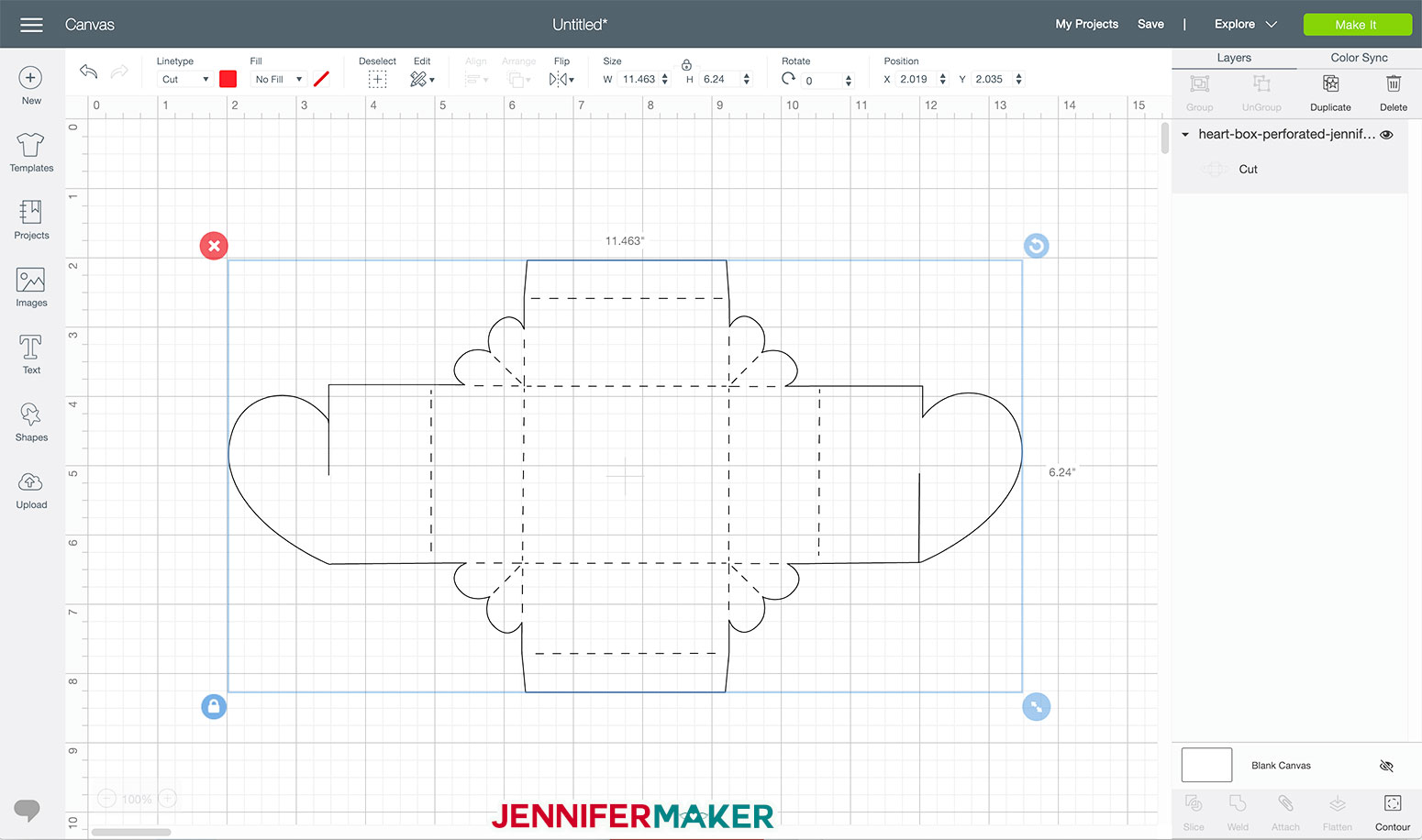 Tip: If you're not sure how to upload an SVG cut file to Cricut Design Space, watch this helpful video training series I made. If you're on an iPhone or iPad, here's how to download and upload SVG files to the Cricut Design Space app.

Note: There are two SVG file versions for the Cricut -- the "scored" version and "perforated" version. If you want super easy, just do the perforated version. If you want to try your hand at scoring and have either a scoring stylus (works in Cricut Explore or Cricut Maker) or scoring tool for your Cricut Maker, use the scored version.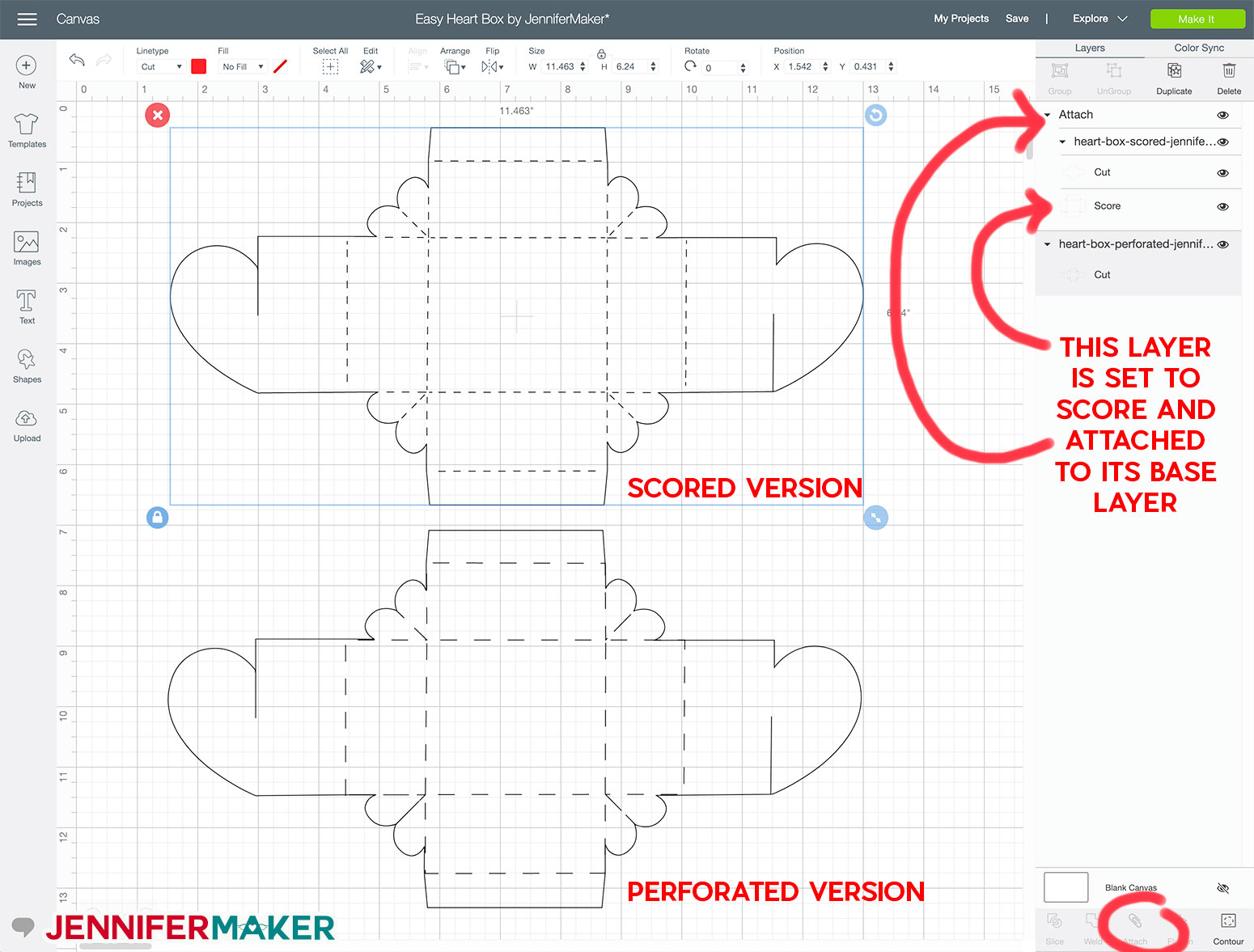 Step 2: Cut Out Your Card Stock
You can cut the hat by hand, or cut it on a Cricut. If you cut the perforated version on your Cricut, just upload, resize if necessary, and click Make it!

If you want to cut the scored version on your Cricut, you'll need to change the score layer to "Score" in the Linetype menu, then attach it to the base layer (select both layers) by clicking the "Attach" button. Then you're good to go!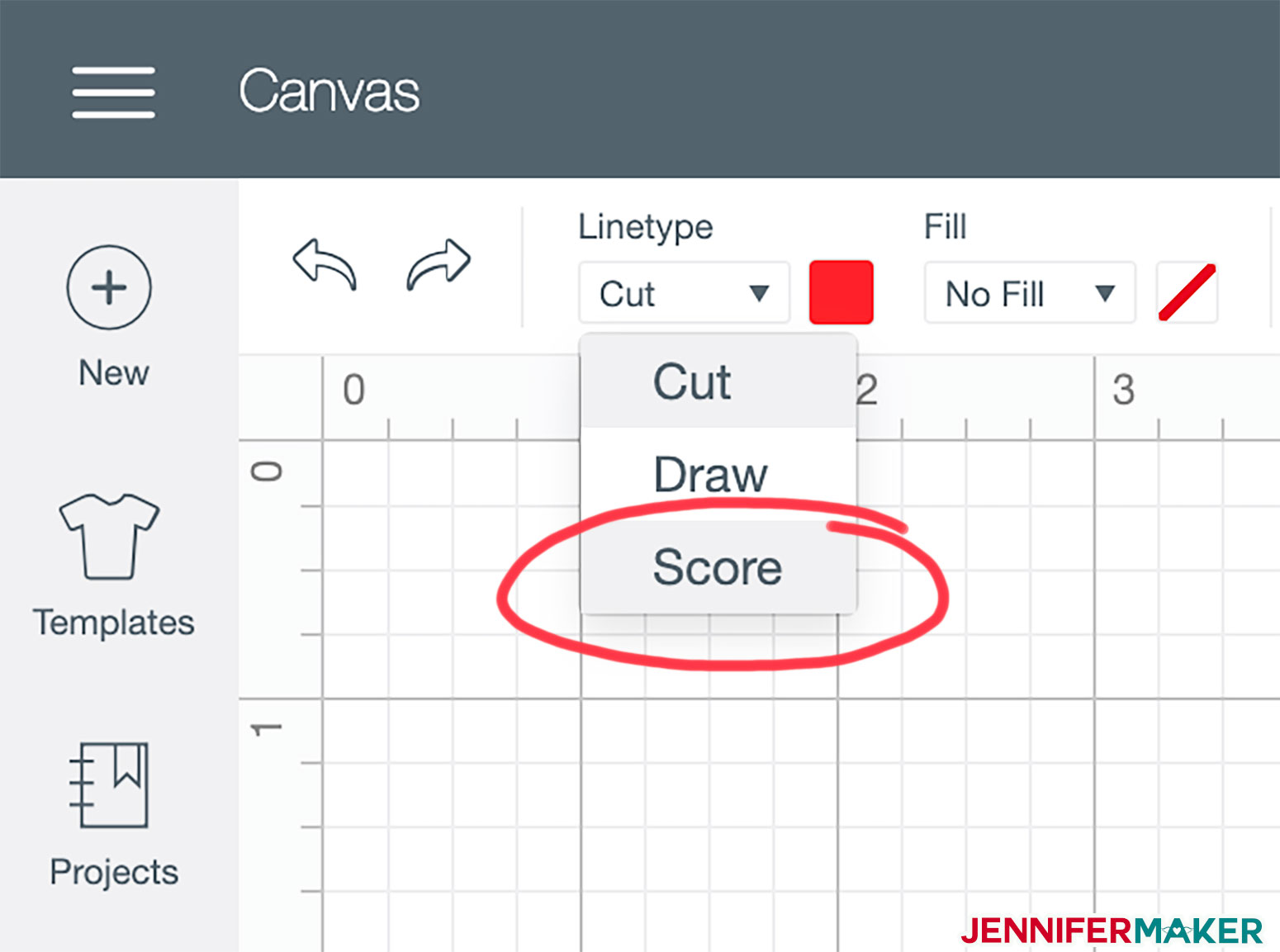 When you cut your cardstock or poster board, put the pretty side DOWN on your mat. This will produce a much better and cleaner result ... AND it puts the score lines on the right side (if you're scoring).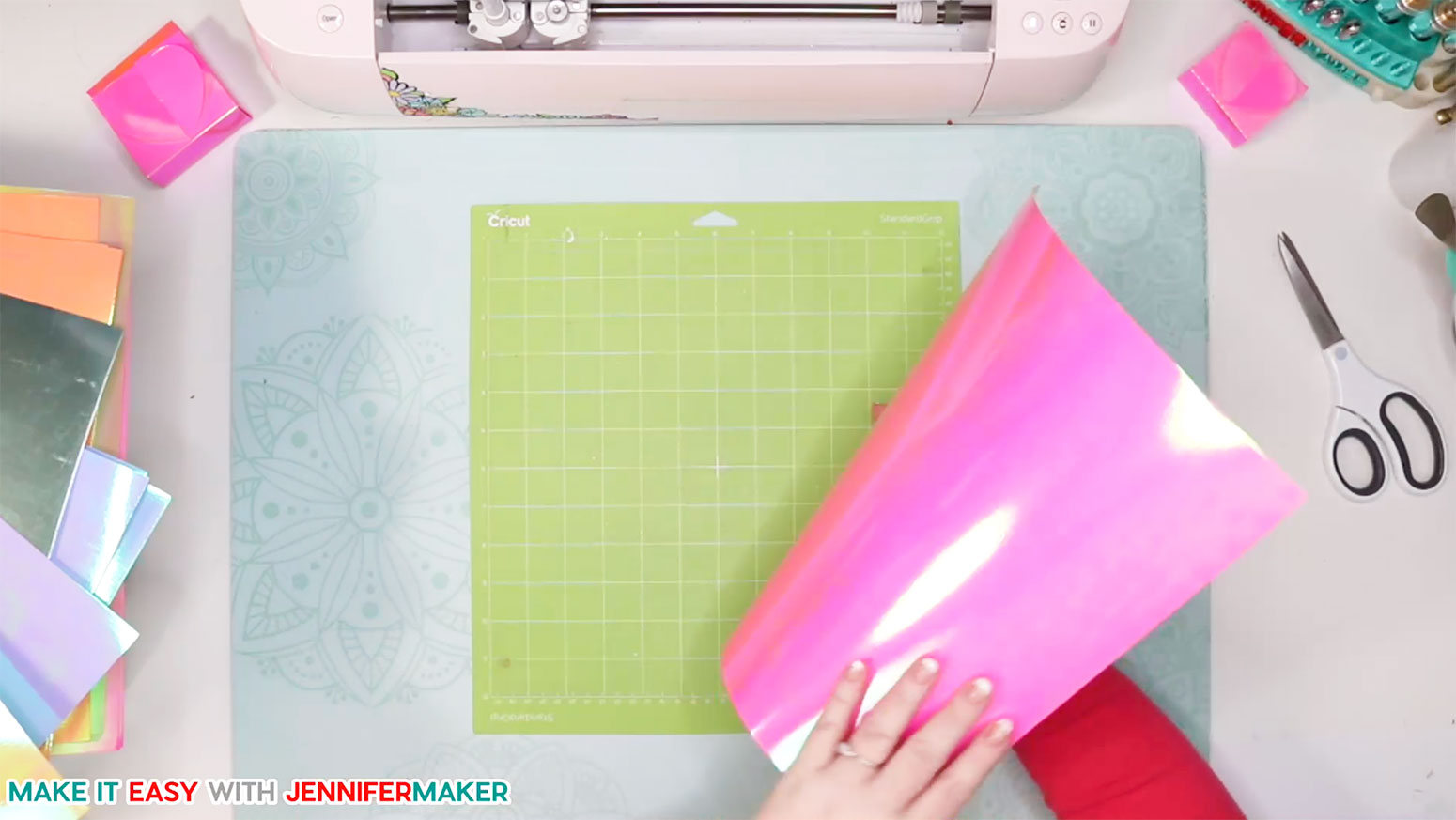 Step 3: Put Together Your Easy Paper Box
This is SO easy! First fold your box along all of the fold lines, as shown here: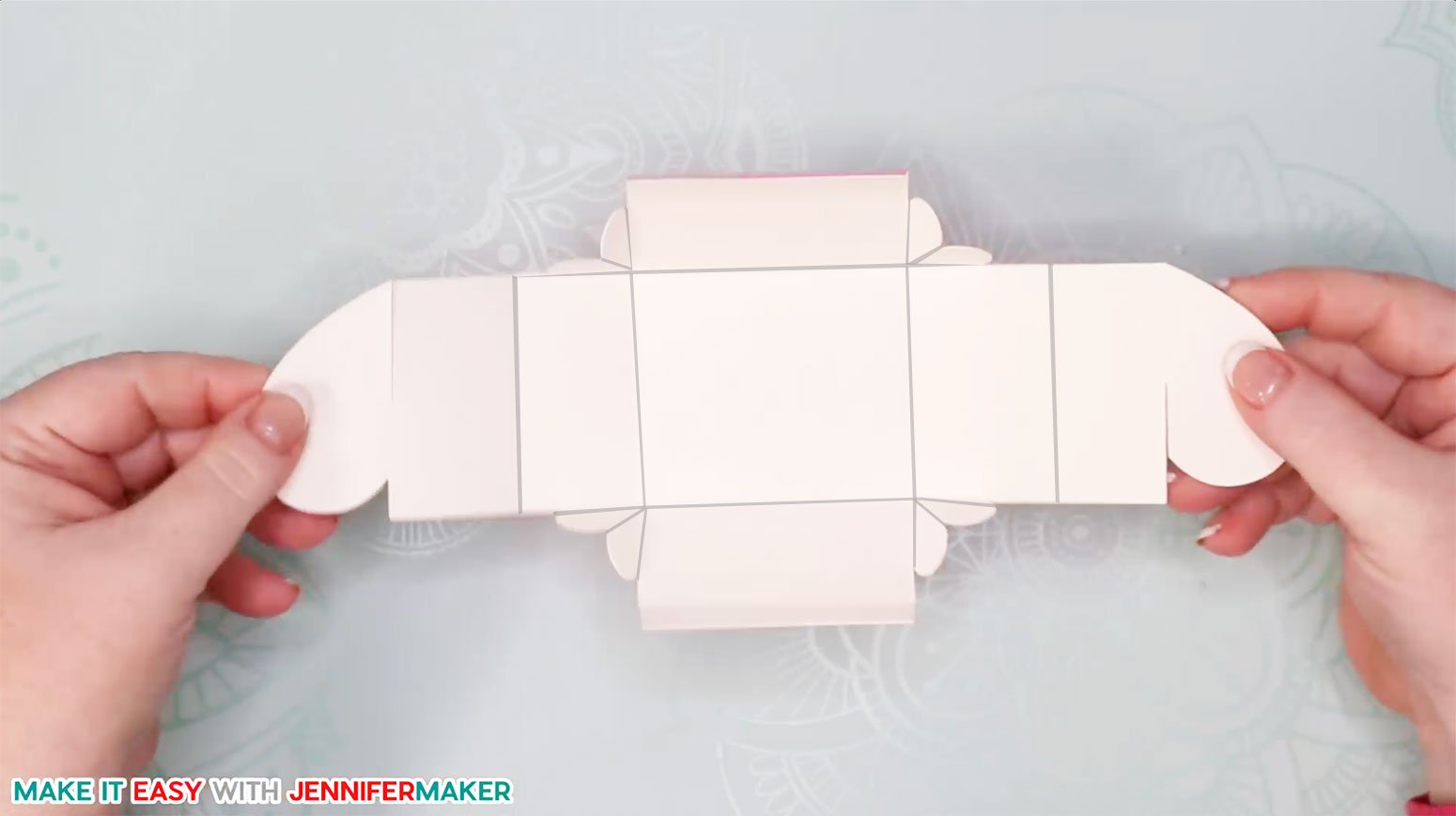 Note: Everything gets folded in EXCEPT for the hearts on the corners -- those get folded out along their center fold.

Next, bring the two long sides in and slide the heart together along the slits, like this: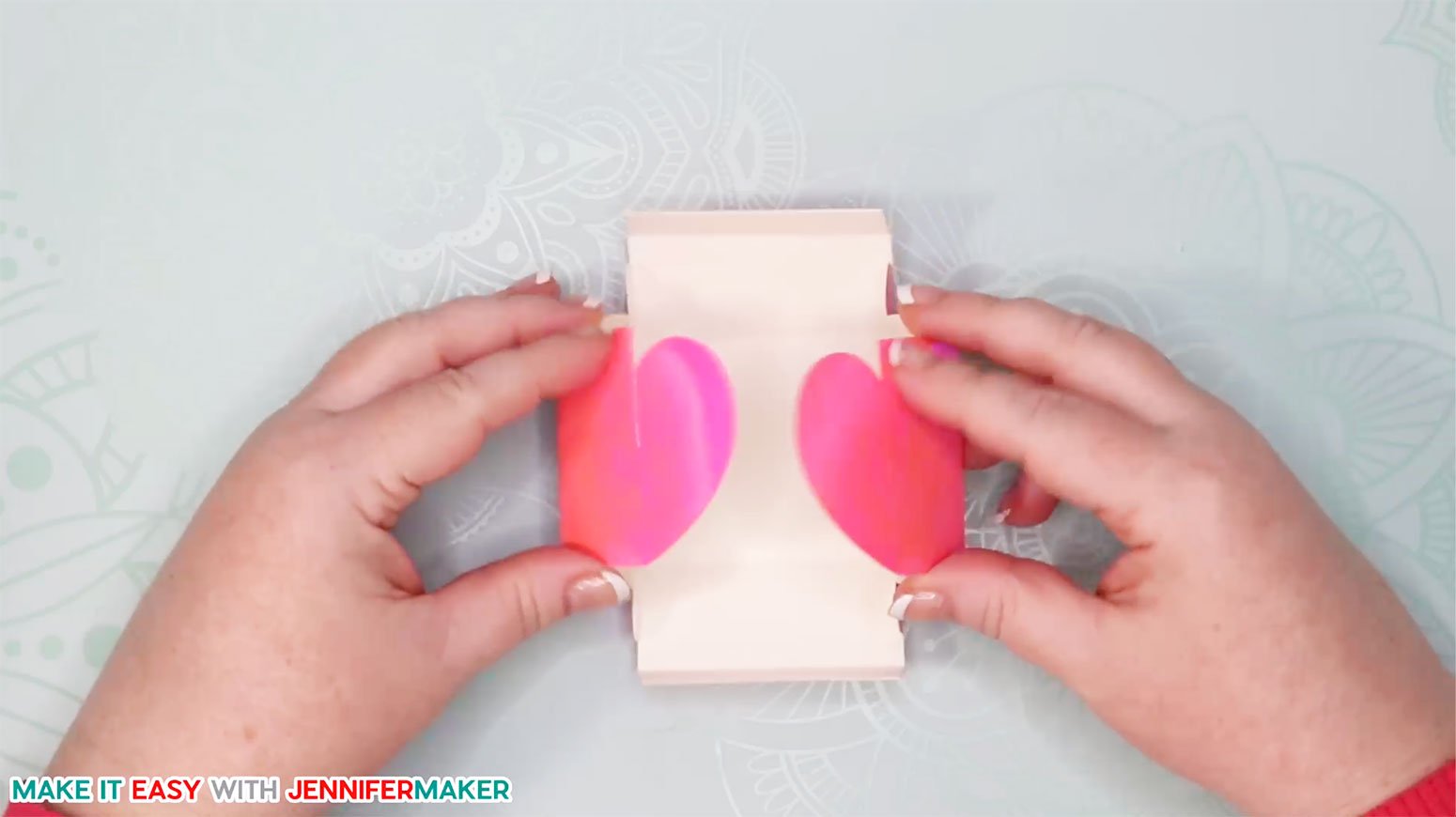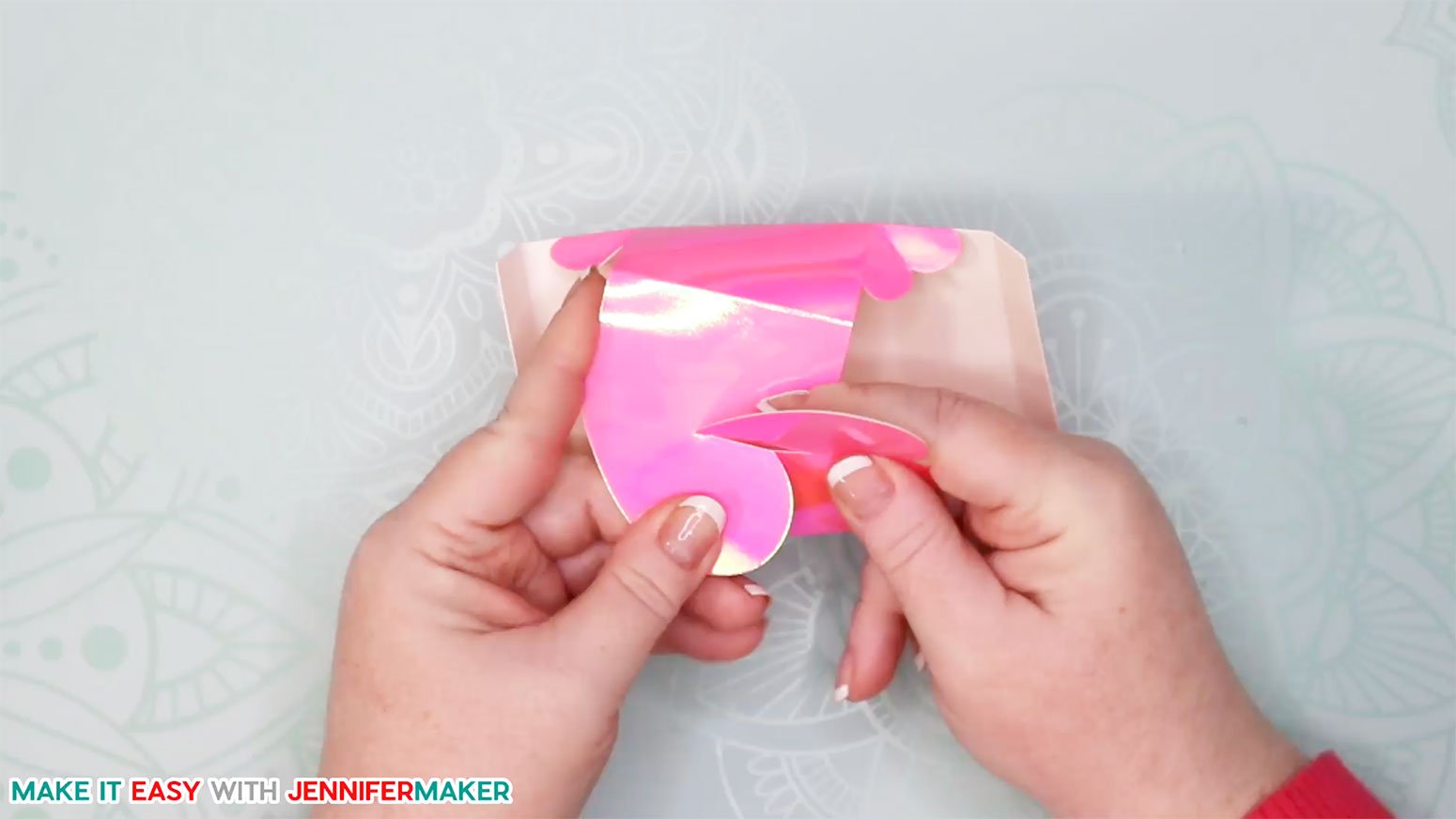 Now, fold the top tab in to the heart box.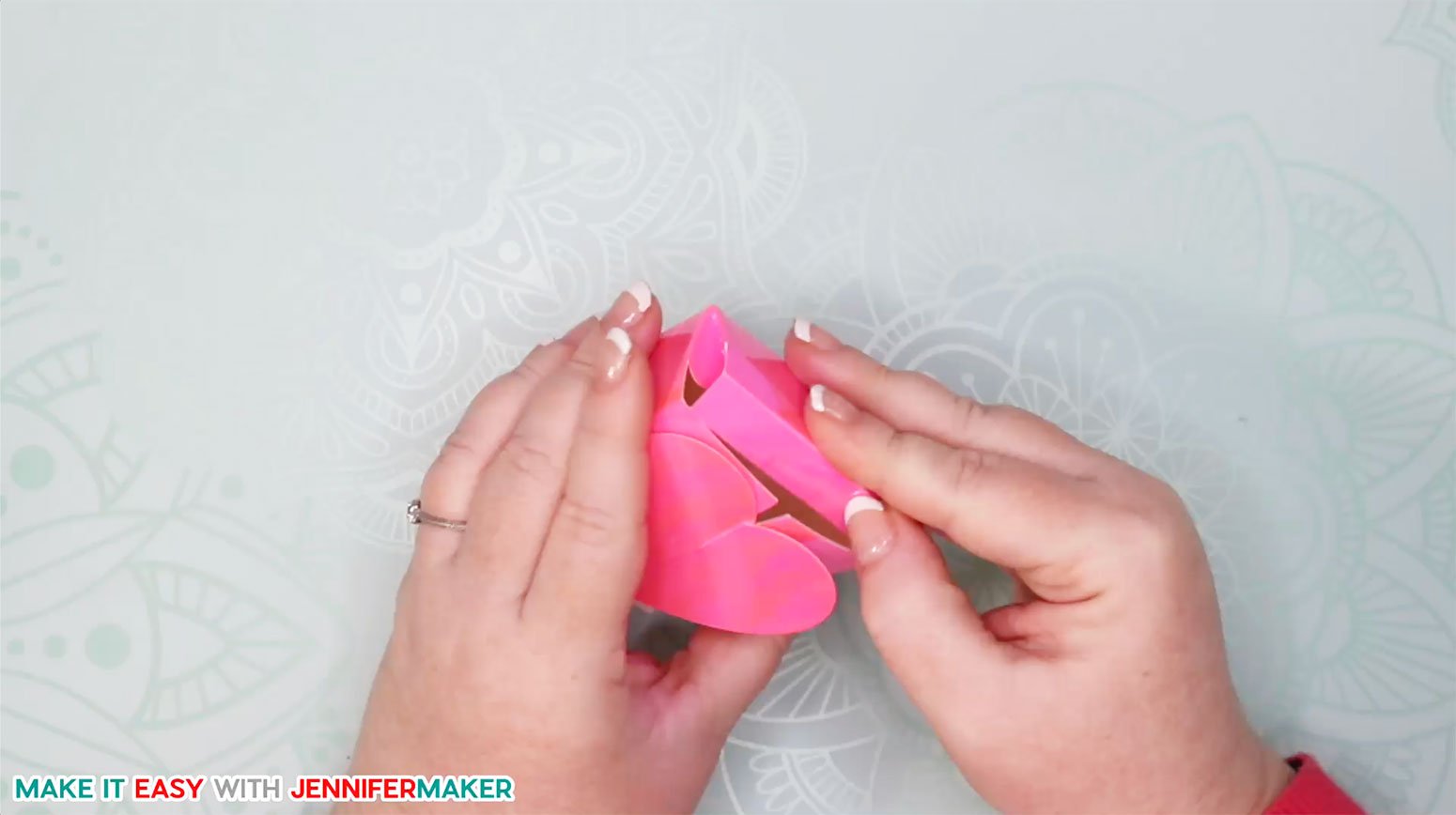 Finally, fold the bottom tab into the heart box.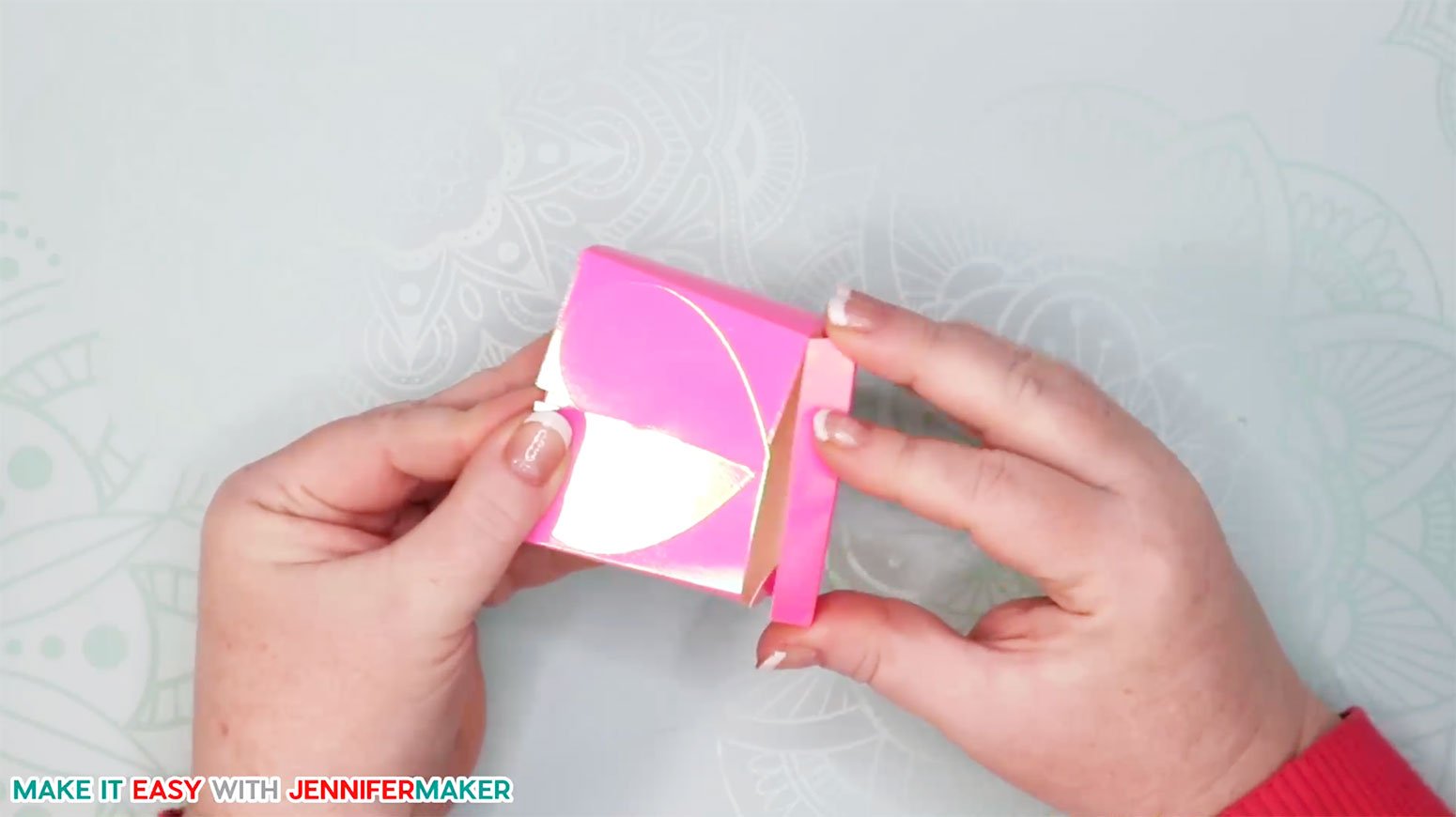 Easy peasy!
Step 4: Show It Off!
Now just "fluff" up the heart on the top of the box so it sits up a bit and is more noticeable.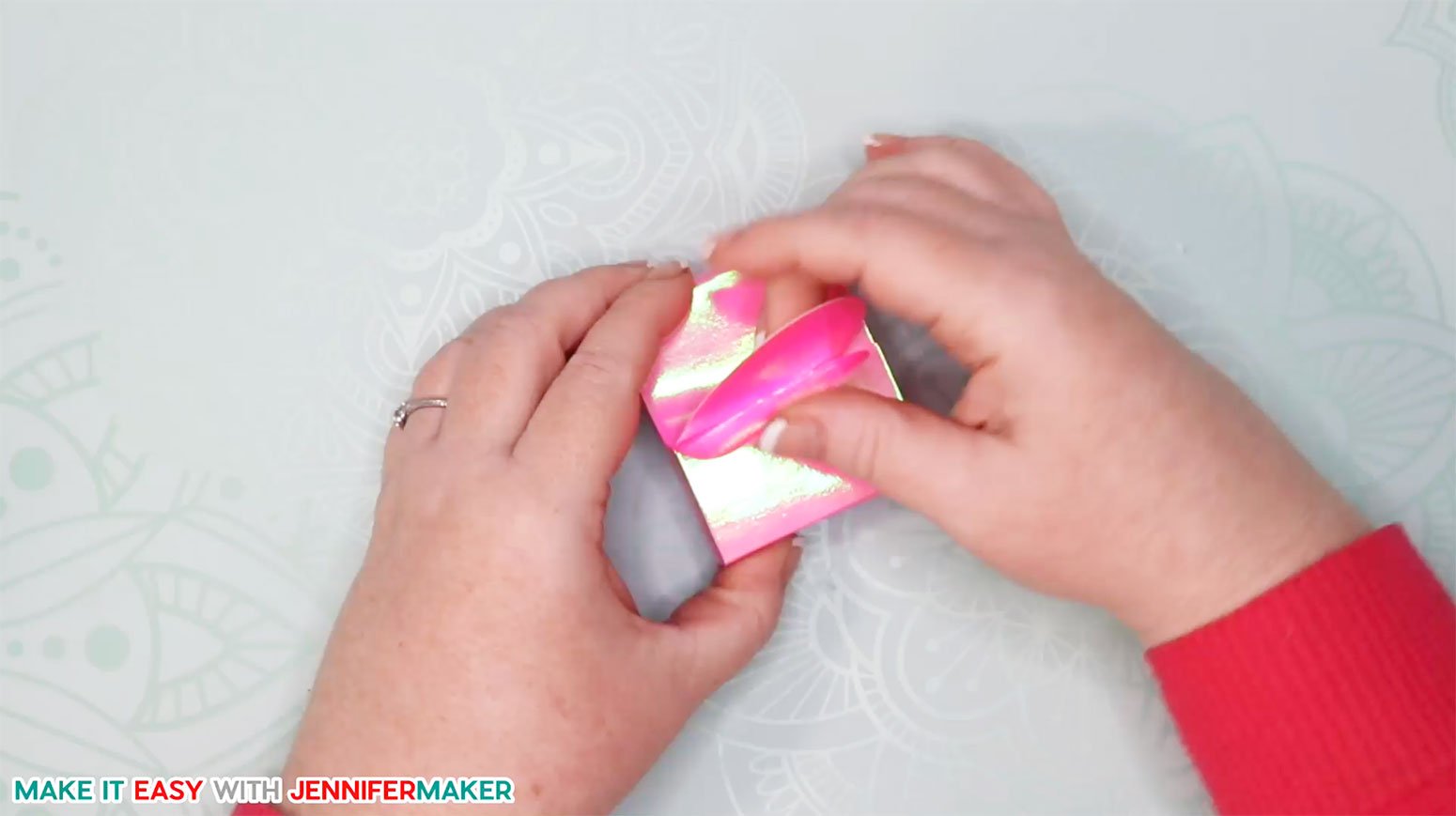 That's all there is to it! Put something special in your heart box and give it to someone you care about ... share love!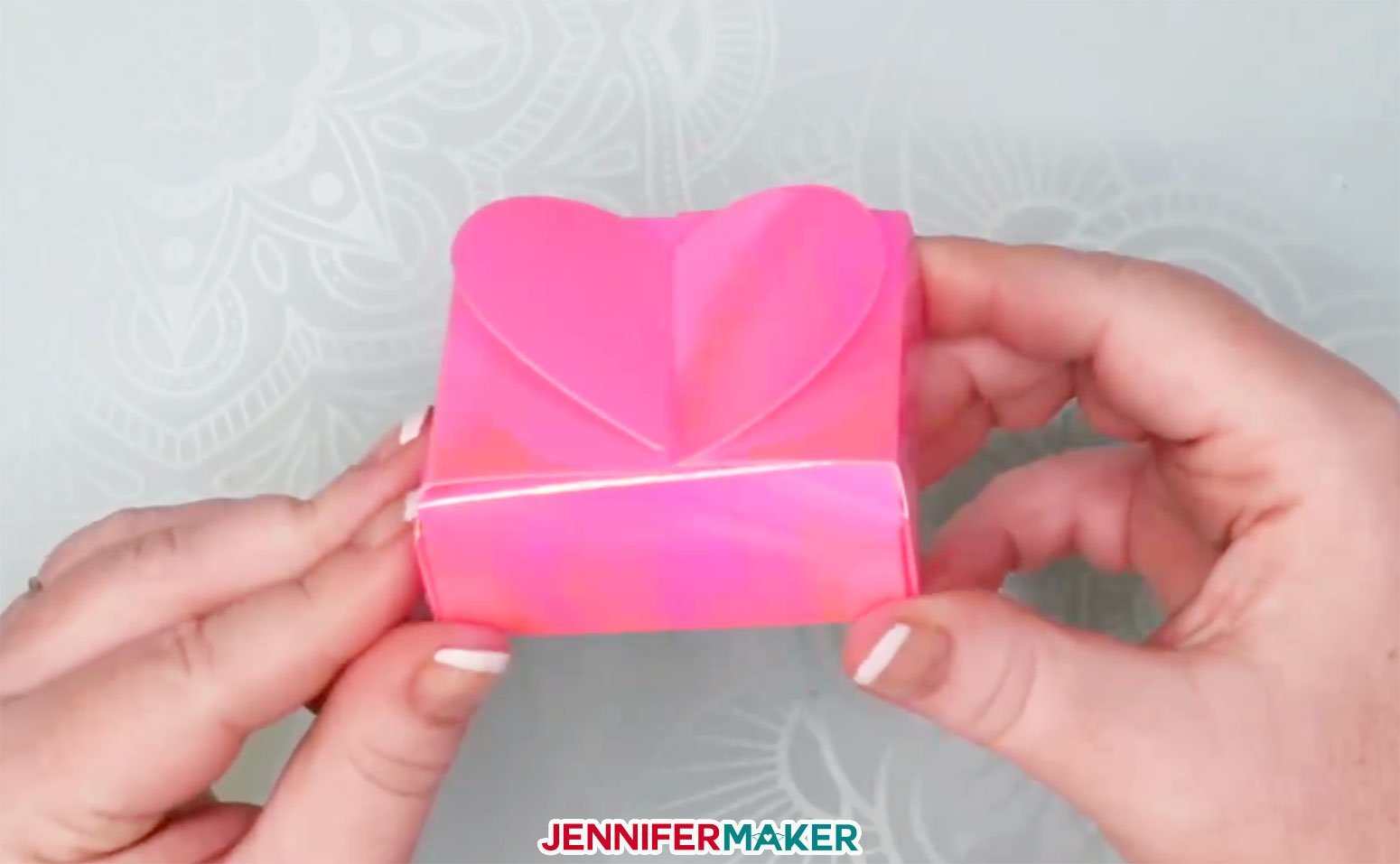 Notes
You can add a secret love note under the big hearts on top for someone to discover!
Need more projects for today's craft challenge theme?
Today's MAKE IT EASY Craftalong Challenge is to "Share Love" by making something with kraft or poster board, a heart box, or something for a loved one!! If you are looking for other ideas, we have you covered!
Get my free SVG files to make your own easy heart boxes!
We'd love to see YOUR heart boxes! Please share a photo in our Facebook group or tag me on social media with #jennifermaker.
This project is a part of our MAKE IT EASY Craftalong Challenge with fun and EASY projects you can do to learn how to use your Cricut! You can share your photos in our daily challenge theme thread here!
Love,