Learn how to make SUPER easy home decor with a dimensional paper art project! This is a great project for Cricut beginners.
Paper cutting is a traditional art, and dimensional paper art can get quite elaborate. It's truly amazing what you can create with nothing more than paper! Projects like my shadow box paper art and my shadow box cards are great examples of the wonders of just layering paper! And the really awesome part is that it can be remarkably easy if you have a cutting machine like a Cricut. It's literally just load and cut and you're done! To show you how easy it can be, we've sharing this pretty "Give Thanks" dimensional paper art project for your holiday festivities!
The way this easy paper dimensional art project works is you cut and score a top layer of cardstock, put a contrasting color of cardstock behind it, then fold up the top layer to show the colored sheet beneath and reveal the design itself. It's delightfully easy, fun, and beautiful.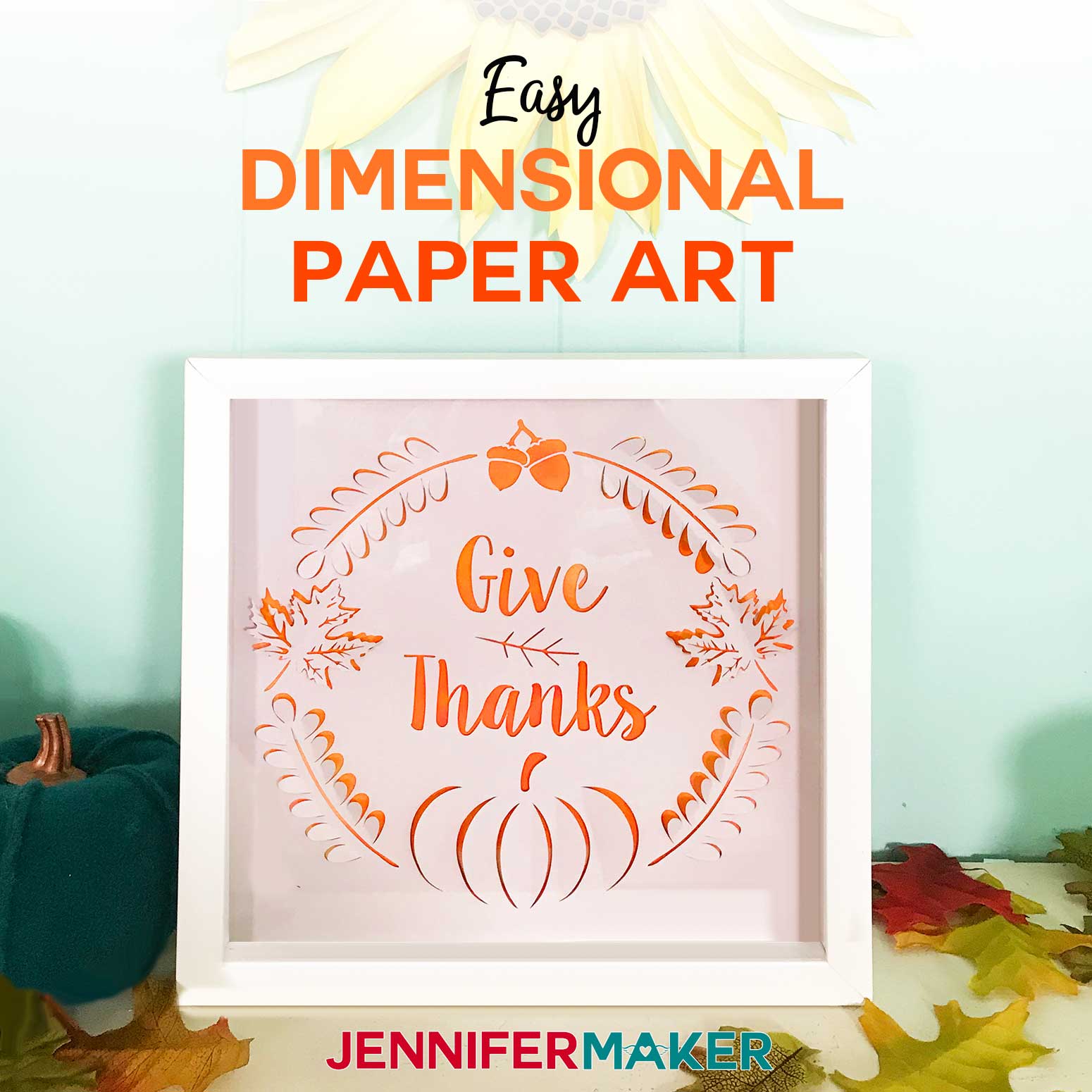 There are several dimensional paper art projects that are ready to make in Cricut Access you can make, like this peacock (Cricut Access #M3DE426):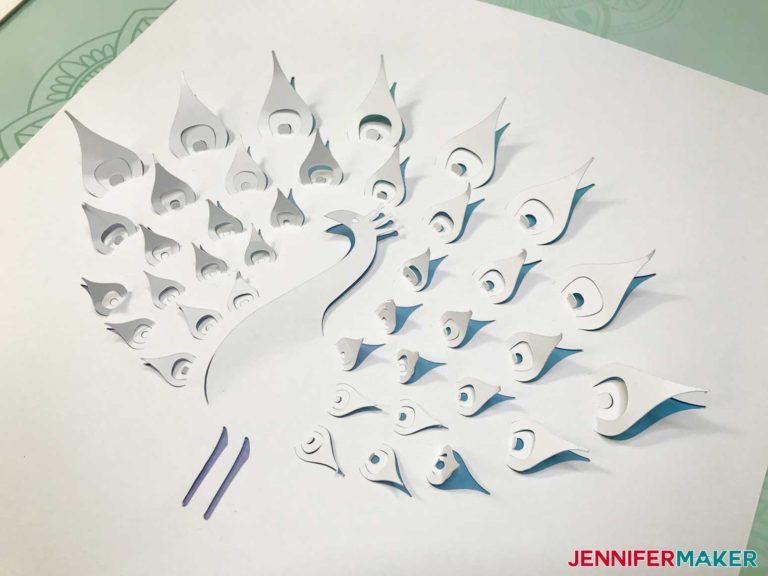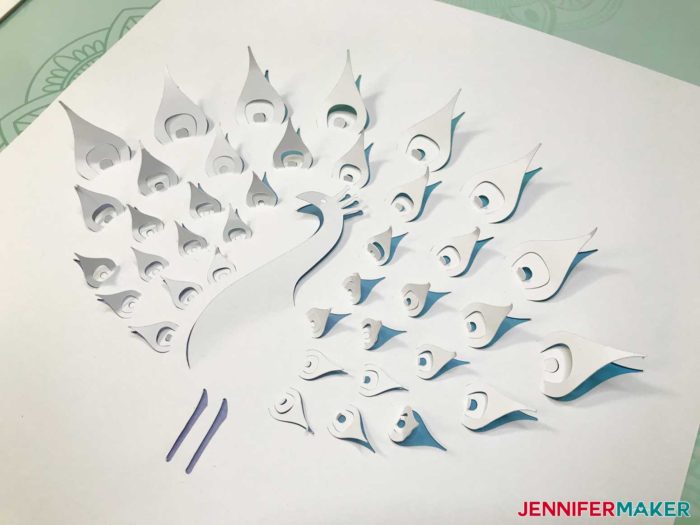 Or this dimensional paper flower (Cricut Access #M3E1516):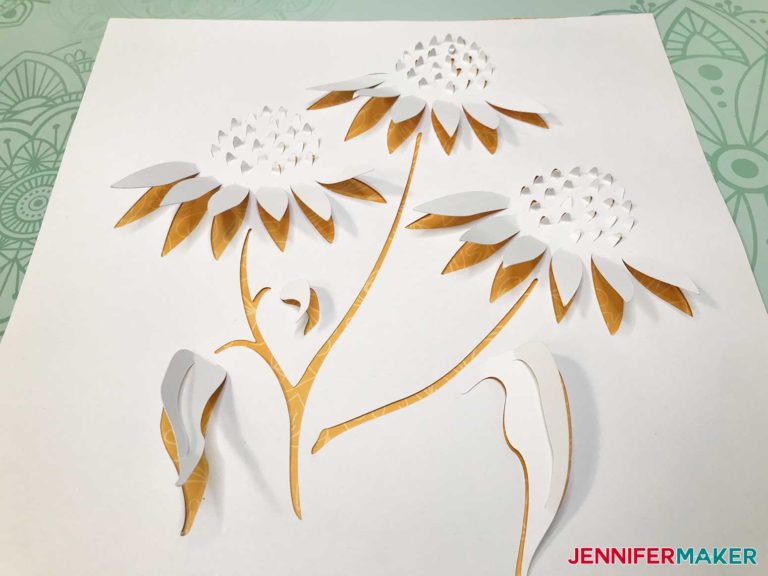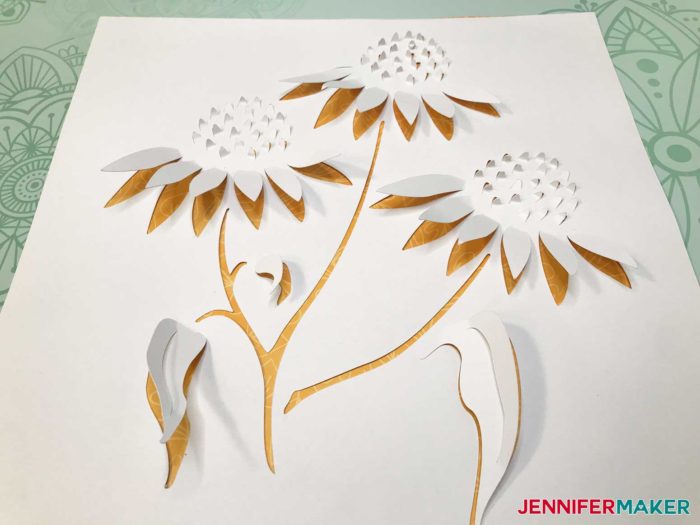 There's a whole cartridge just for dimensional art in Cricut Access — just click on Images > Cartridges and search for "dimensional" and you'll find 88 designs to choose from! If you are not subscribed to Cricut Access, you can buy the entire cartridge for about $30 or get each design separately for $1.
Not a Cricut Access subscriber? No problem — you can get our "Give Thanks" dimensional paper art free here in the JenniferMaker resource libraries! And feel free to put a different phrase or name in the center of this design — we've put the lettering on its on layer just so you can do that!
I'm excited to show you how to make this super easy dimensional paper art project! This post contains some affiliate links for your convenience (which means if you make a purchase after clicking a link I will earn a small commission but it won't cost you a penny more)! Read my full disclosure policy.
Materials for the Dimensional Paper Art Project ("Give Thanks")
How to Make Easy Dimensional Paper Art
Step 1: Get my free "Give Thanks" design (Design #162) from my free resource library (get the password to the library in the form at the bottom of this post).
Step 2: Cut out your design. Only one sheet of your 12″ x 12″ cardstock needs to be cut, unless you're making your project much smaller. You can cut this dimensional paper art out by hand (I've included a PDF file in my library—I recommend using an X-acto knife for the details) or you can use a cutting machine like a Cricut (which is what I used). Here's what the dimensional paper art SVG file looks like uploaded to Cricut Design Space: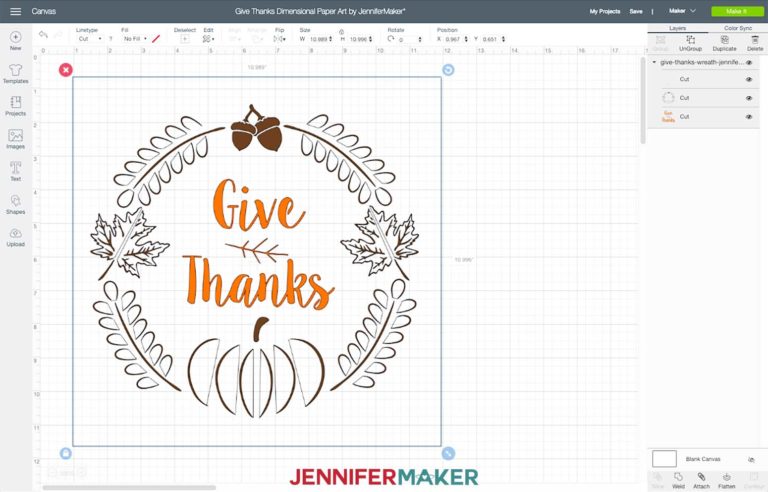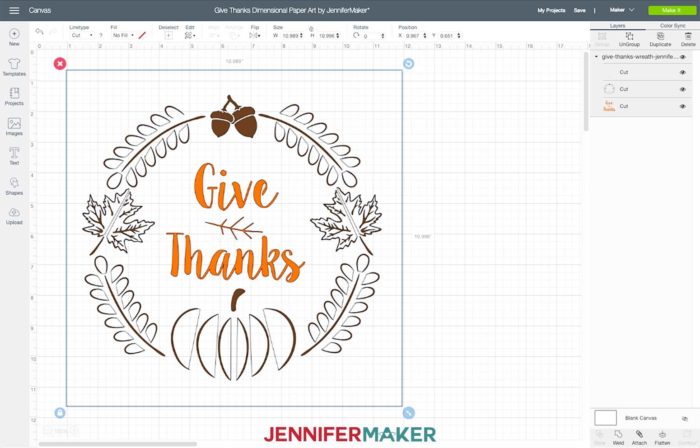 If you're not sure how to upload an SVG cut file to Cricut Design Space, watch this helpful video training series I made. If you're on an iPhone or iPad, here's how to download and upload SVG files to the Cricut Design Space app.
If you plan to frame your dimensional paper art when you're done, be sure to measure the inside dimension of your frame (from the back) before you cut it in case you need to resize your project. I've set up this project to work with the same 12″ x 12″ shadow box frame I used with my project, which has an inside dimension of 11″ x 11″.
IMPORTANT: If you use a Cricut cutting machine, it's really important that you change the layer with the fold lines from Cut to Score (it should be the top layer), and then click Select All then click Attach to keep all of the score lines with the cut lines. If you're not sure how to do this, please check out my Cricut Scoring Guide.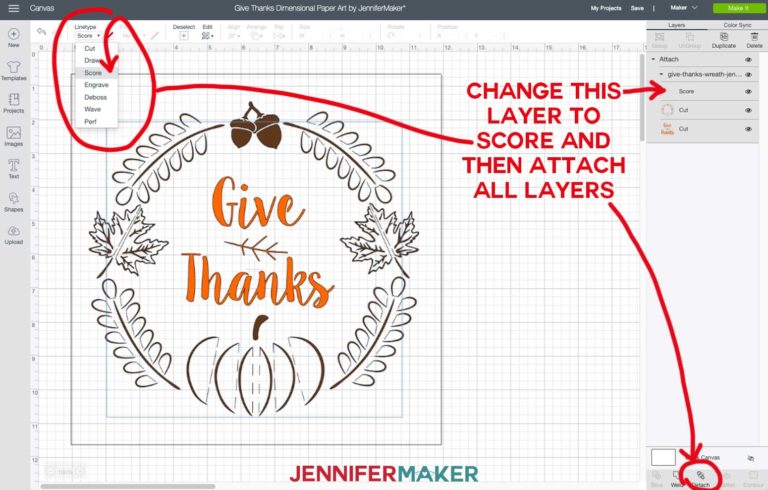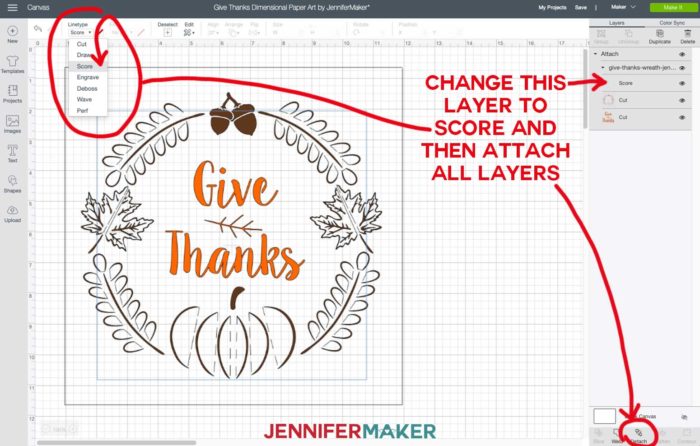 You can use either the scoring stylus or the scoring wheel (Maker only) for this project — both work fine!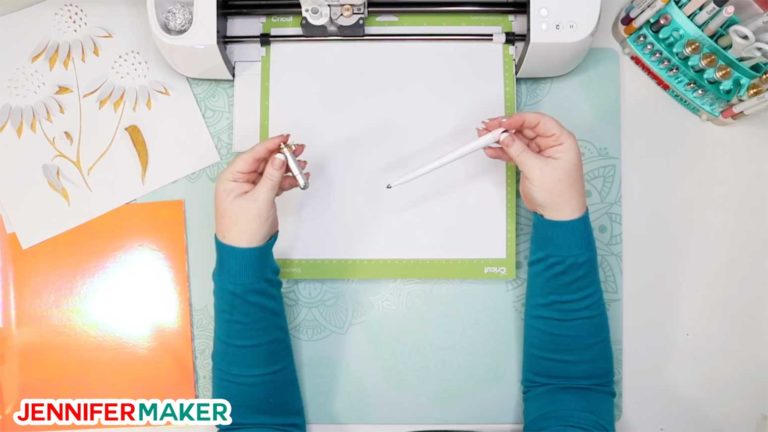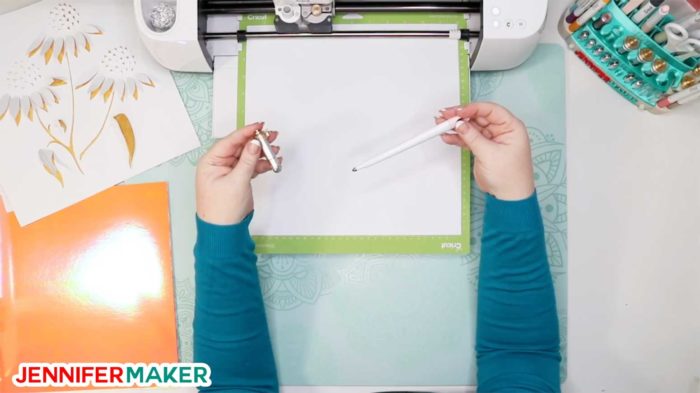 After you've cut your project, flip the mat over to remove the paper to avoid bending or curling the paper. Go slowly so you do not rip the paper.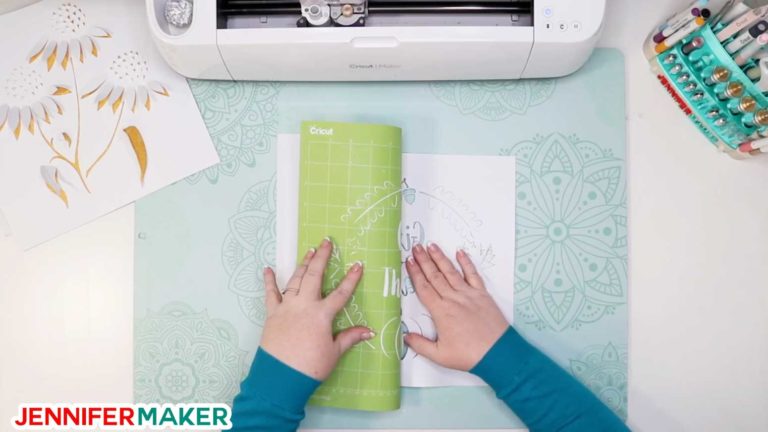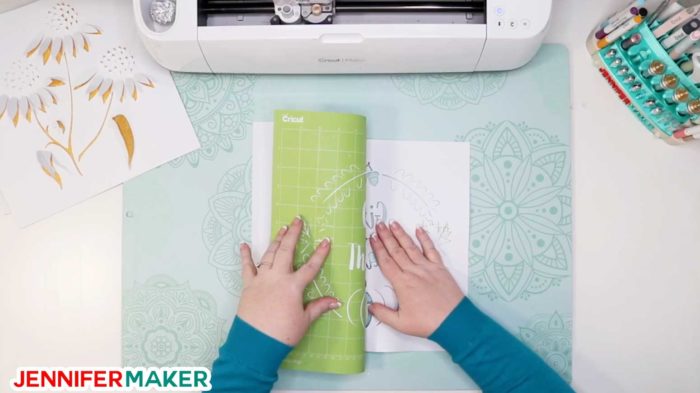 Note: Depending on how sticky your mat is, how clean your blade is, and the quality of your paper, you may need to weed your cut project to remove the little bits of paper. If you're having issues cutting this project, please read my Cricut Cutting Problems guide.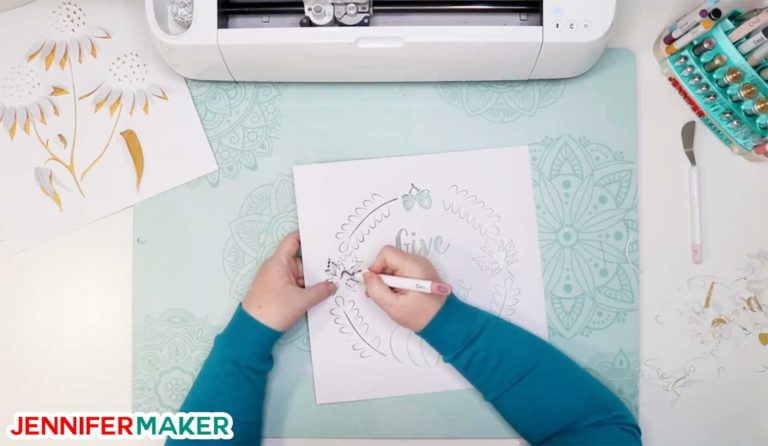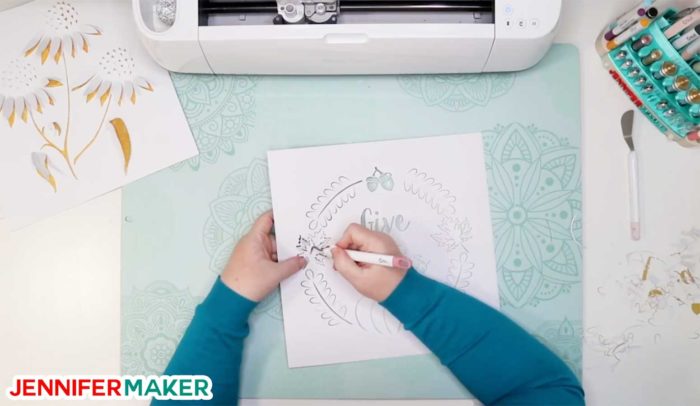 Step 3: Fold up your cutwork.
Now gently fold up each of the areas you cut but are not completely cut out. In the "Give Thanks" design, that's everything but the acorns at the top, the words "Give Thanks," the branch between the words, and the stem of the pumpkin.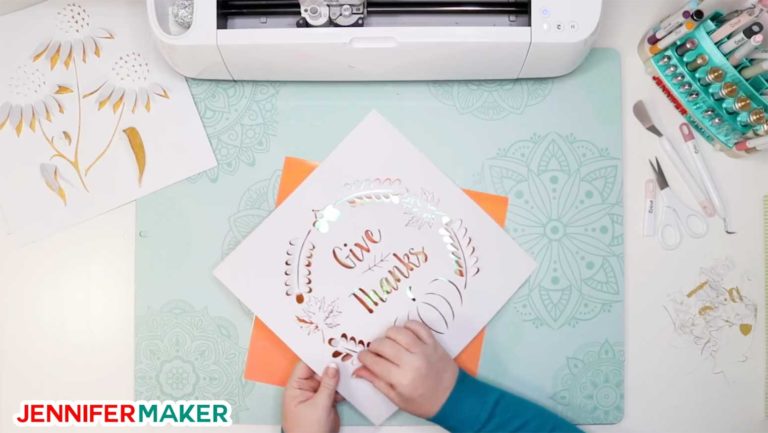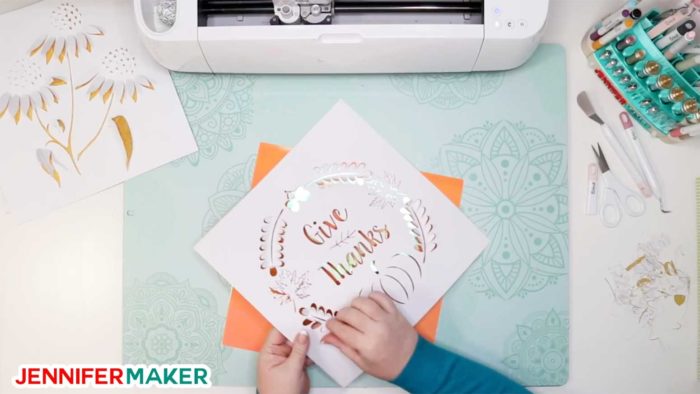 Step 4: Position your contrasting paper.
Place your contrasting sheet of paper, cardstock, or Kraft board behind your dimensional paper art. You can tape the corners together if you'd like!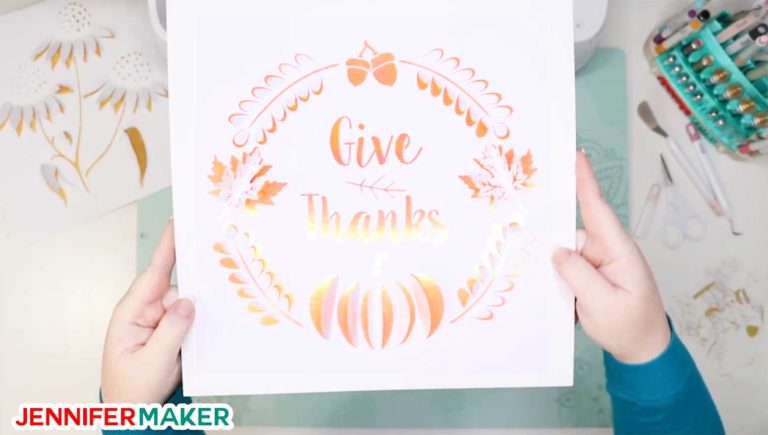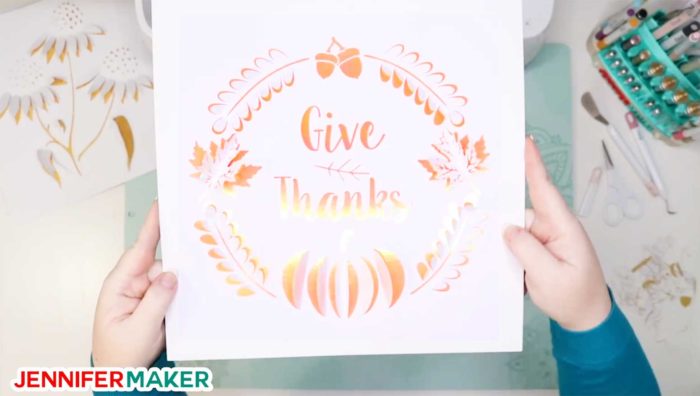 Step 5 (Optional): Frame It!
Place your beautiful dimensional paper art in a shadow box and display it on your wall or give it as a gift to someone special.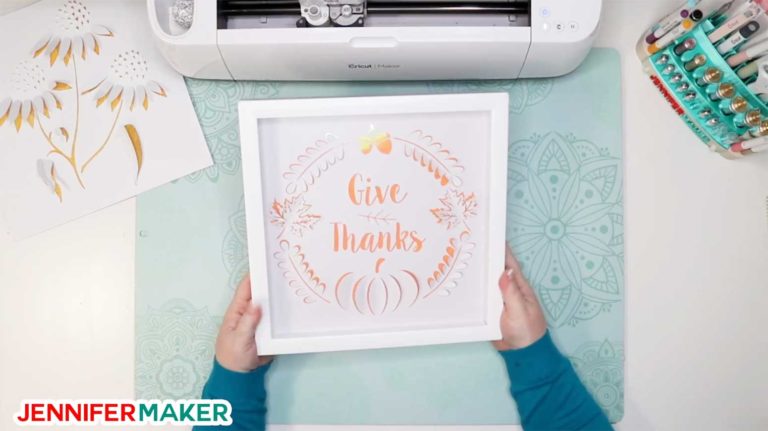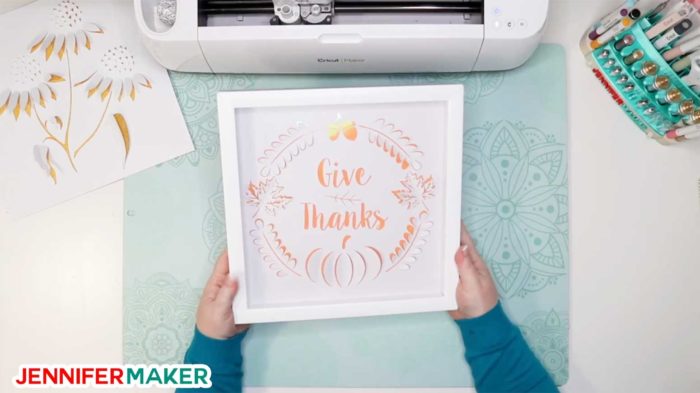 Isn't this awesome? And so easy to make with your Cricut!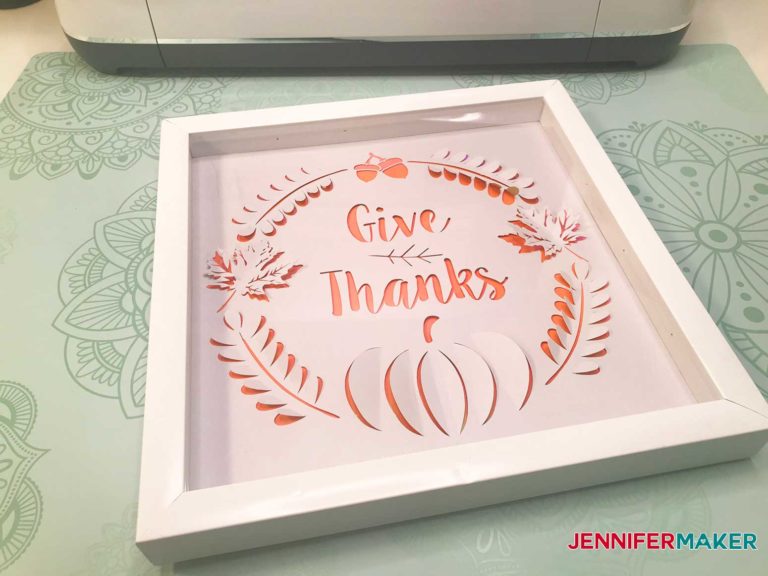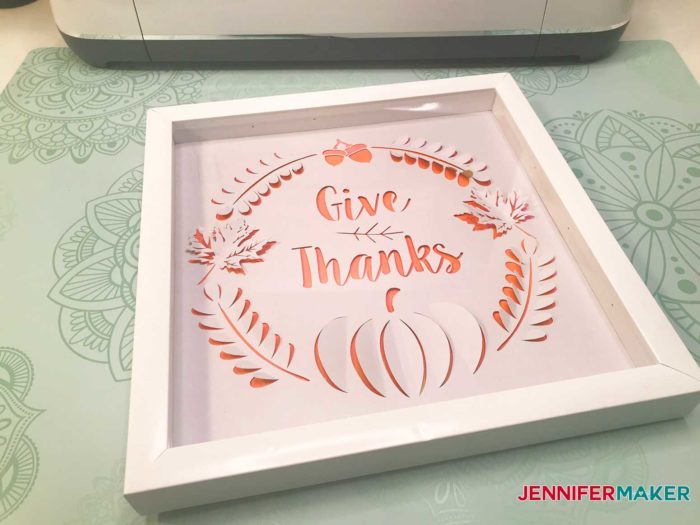 Get my free template and cut files for the "Give Thanks" Dimensional Paper Art
I'd love to see your dimensional paper art projects! Please share a photo in our Facebook group, email it to me at [email protected], or tag me on social media with #jennifermaker.
Love,