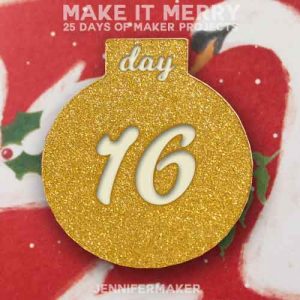 One of the things I love about hearts is how versatile they are. Sure, they're popular at Valentine's Day, but I love to use and see them year-round. In some cultures, hearts are a symbol of Christmastime as well. And hearts are always a great way to show someone that you love them. I have many heart-shaped projects on my blog, including my heart-shaped handwarmers, map pillow, and origami winged heart. So for Day 16 of my MAKE IT MERRY: 25 Days of Maker Projects Christmas, I've created a special 3D paper heart box.
This 3D heart box uses the same cutwork heart seen on my DIY leather planner because I just loved that design. I added some complimentary cutwork to either side of the box, too. I designed the cut-outs on the box so that you'd see the vellum on the top and the bottom box on the sides. If you don't want to use vellum on top, you could just use the same color of cardstock that you use for the box bottom.
Getting the curves just right at the top of the heart box is a little tricky, but I've made it easier by providing an extra curved guide piece that you can use to train the sides into the curves. I like this technique and I think it makes for a better finished project.
Let me show you how to make this pretty 3D paper heart box! This post contains some affiliate links for your convenience (which means if you make a purchase after clicking a link I will earn a small commission but it won't cost you a penny more)!  Read my full disclosure policy.

Materials for the 3D Paper Heart Box
How to Make Your 3D Paper Heart Box
First, download the patterns for my 3d heart box from my free resource library. If you're going to cut them out on your cutting machine, upload the file to your design software. If you're not sure how to upload an SVG cut file to Cricut Design Space, watch this helpful video training series I made.
Note: If you make this in Cricut Design Space, you must ungroup ALL layers, change the layers with the lines from Cut to Score, and then attach those layers to their respective cut layers BEFORE you cut out this design. If you do not have a scoring stylus, simply delete the layers with score lines before cutting.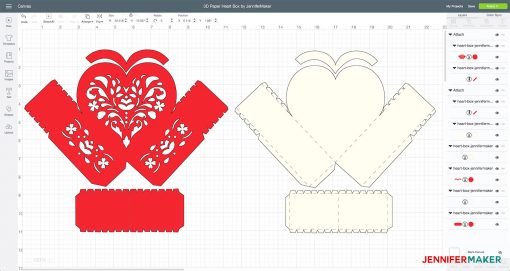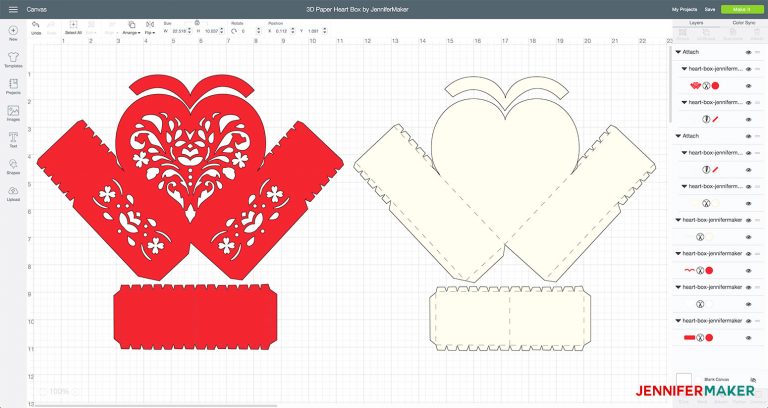 Cut out your box pieces. While glitter and metallic cardstock look great, they are really hard to glue and you will likely regret it. Instead, I recommend a solid foil cardstock if you have it.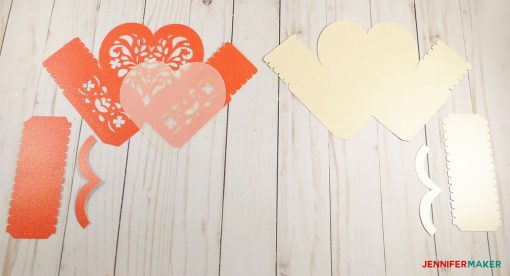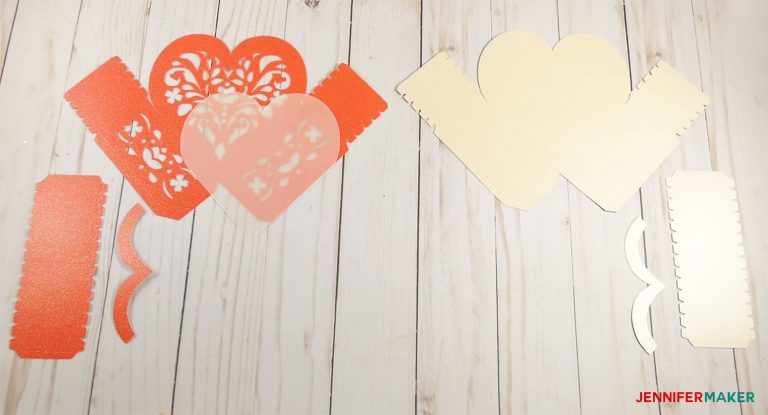 Glue the heart to the inside (wrong side) of the cutwork heart on the box top.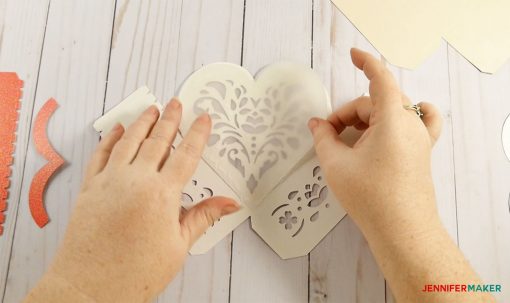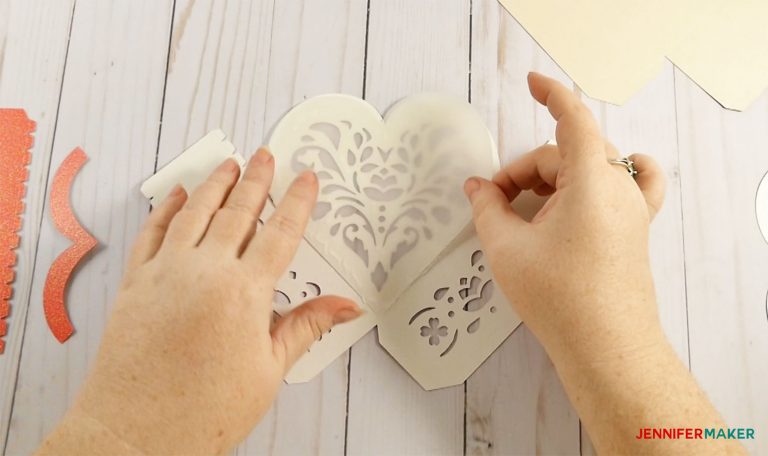 Fold up the sides of the box lid (red) and fold and glue down all the tabs on the sides. These tabs serve as reinforcements to strengthen the edges of your box.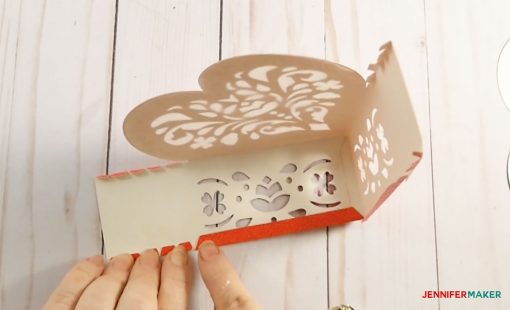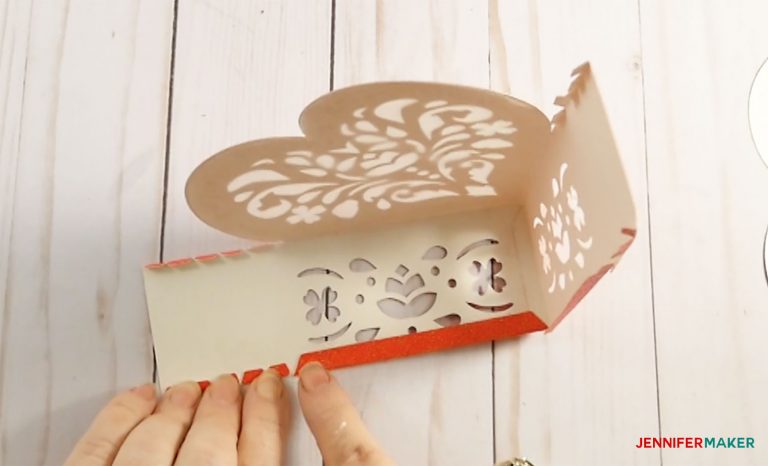 Now fold the red rectangle in half and fold up all of its tabs. Do not glue down all the tabs as you did in the previous step, however—one side can be glued, but the other side should not be.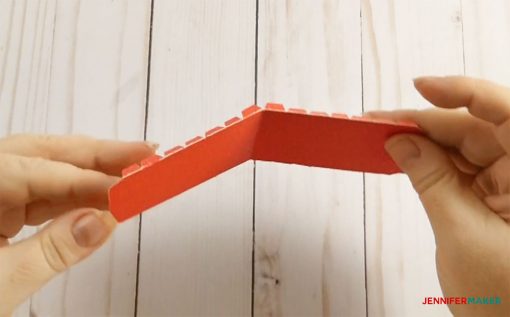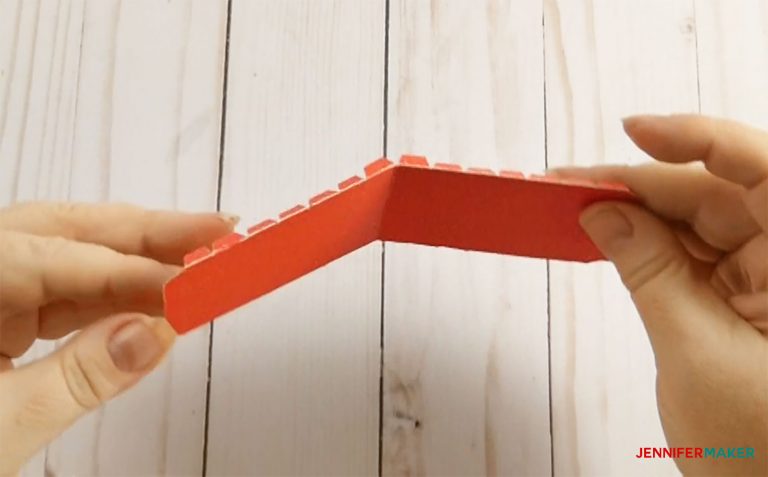 Glue the rectangle to the red curved piece, making sure the rectangle's fold is pushed into the corner between the two curves. This piece allows you to shape your cardstock into the proper curve shape before attach it to the box lid.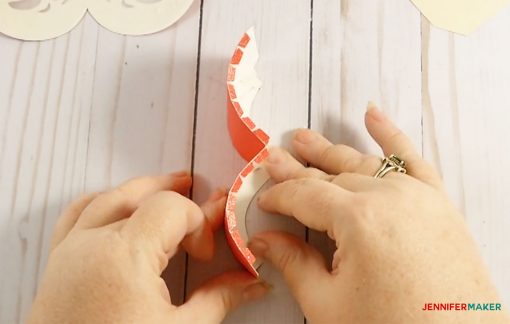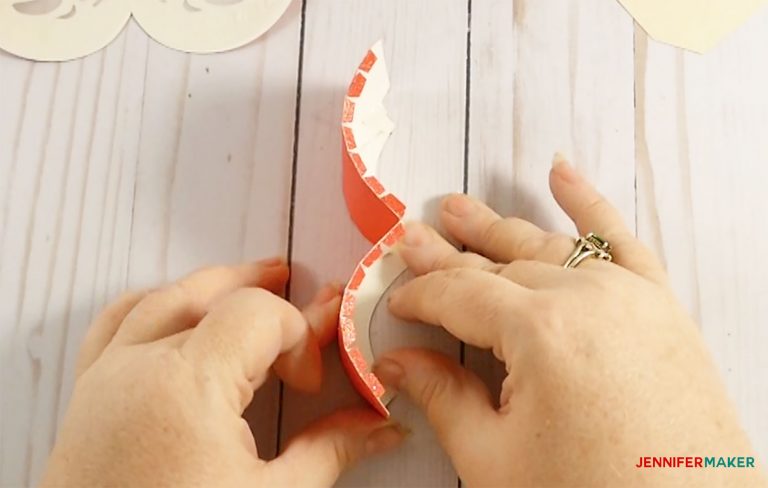 Now glue your curved rectangle piece onto the box lid. It attaches with the unglued tabs on both the bottom and the side. Pay attention that your rectangle's curves are positioned properly on the curves of the box lid.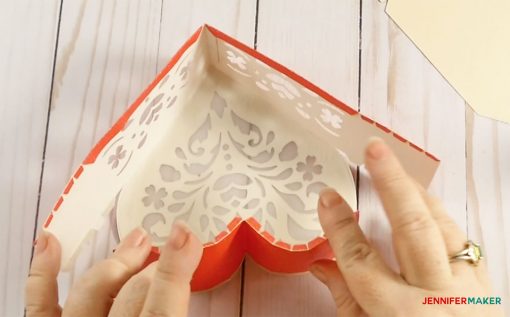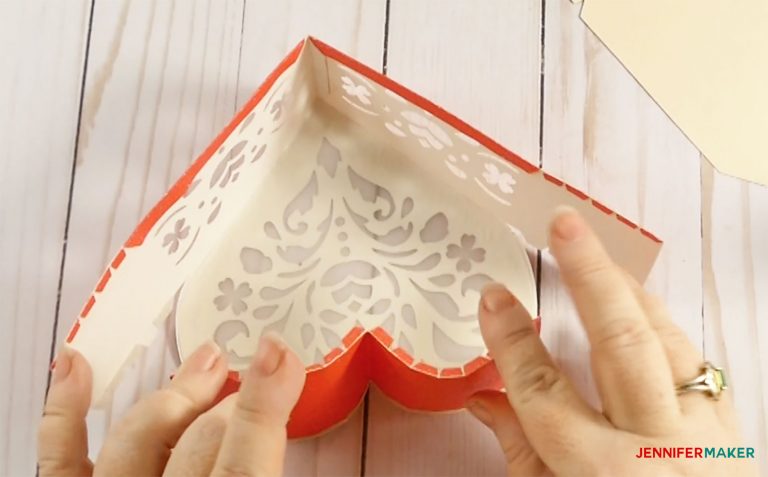 At this point, you should have a finished box lid!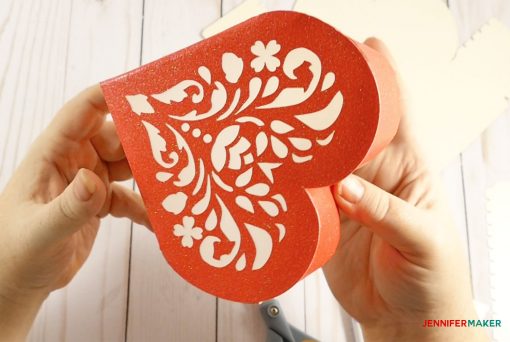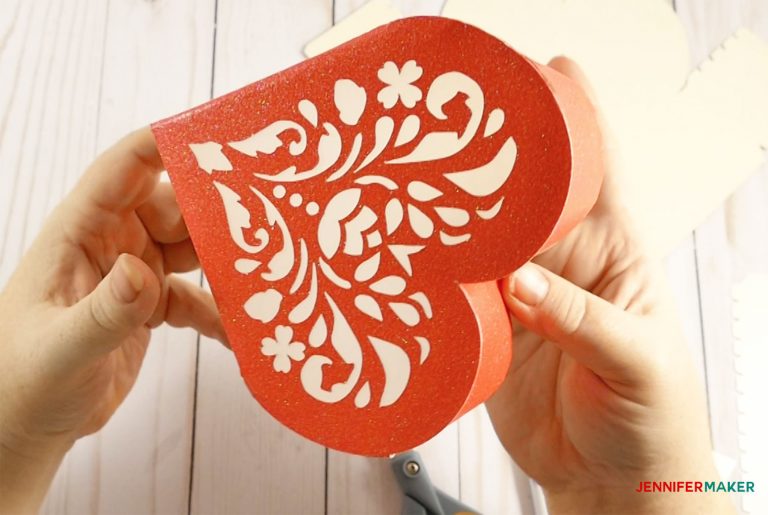 Repeat the folding and gluing process for the bottom of the box, which is identical to the top except for the extra heart piece.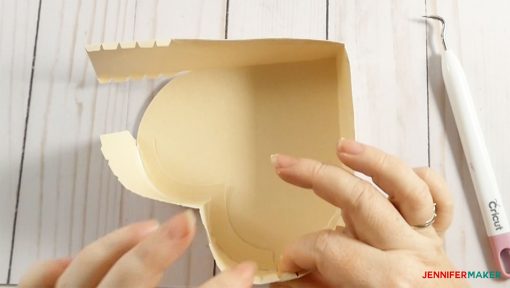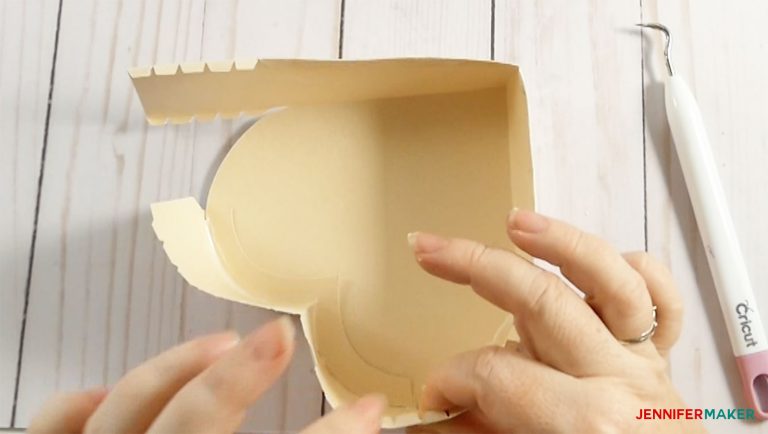 Put your box lid on your box and enjoy!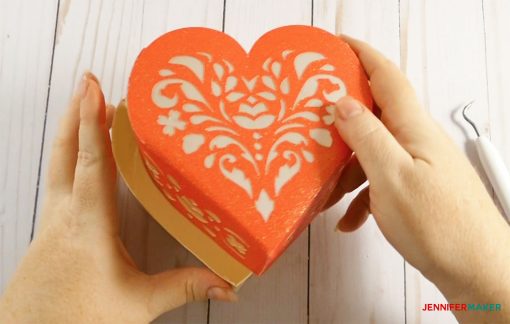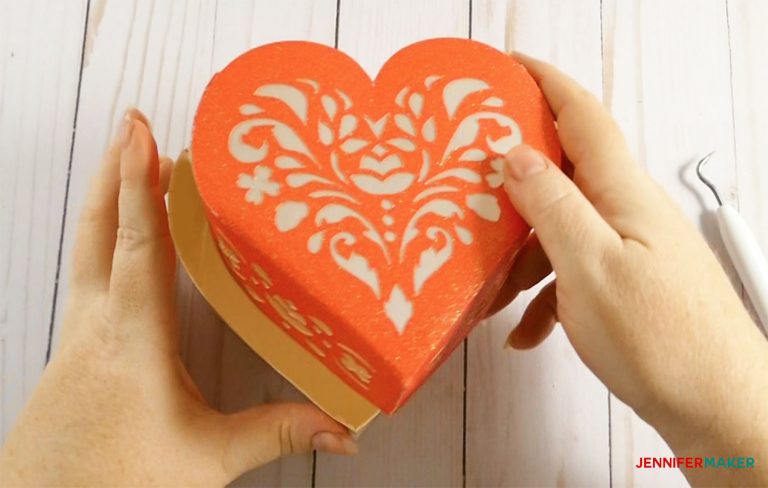 Get my free cut files for the 3D Paper Heart Box
I think this would make a wonderful box for a special gift. If you make a 3D heart box, I'd love to see it. Feel free to send a photo to me at [email protected] or tag me on social media with #jennifermaker.
See all of the tutorials and free designs in my MAKE IT MERRY: 25 Days of Maker Projects Christmas! 
Love,