Learn how to make hair bows with pretty flairs, like mermaid tails, butterfly wings, and hearts! You can make these pretty hair bows with cardstock, faux leather, party foil, or fabric, and we'll show you how.
Did you know you can make your own hair bows? And not just any hair bows — you can make fun and unique hair bows, like bows with mermaid tails, angel wings, and scalloped edges. Or even some cute fabric flower bows that look like flowers. You can use cardstock, faux leather, party foil, or fabric! These hair bows are simple to make and you can do it in just FOUR easy steps … let us show you how! You can make hair bows as part of our MAKE IT EASY Craftalong Challenge, filled with fun and EASY daily themed projects!
Watch the full step-by-step tutorial on how to make hair bows with your Cricut!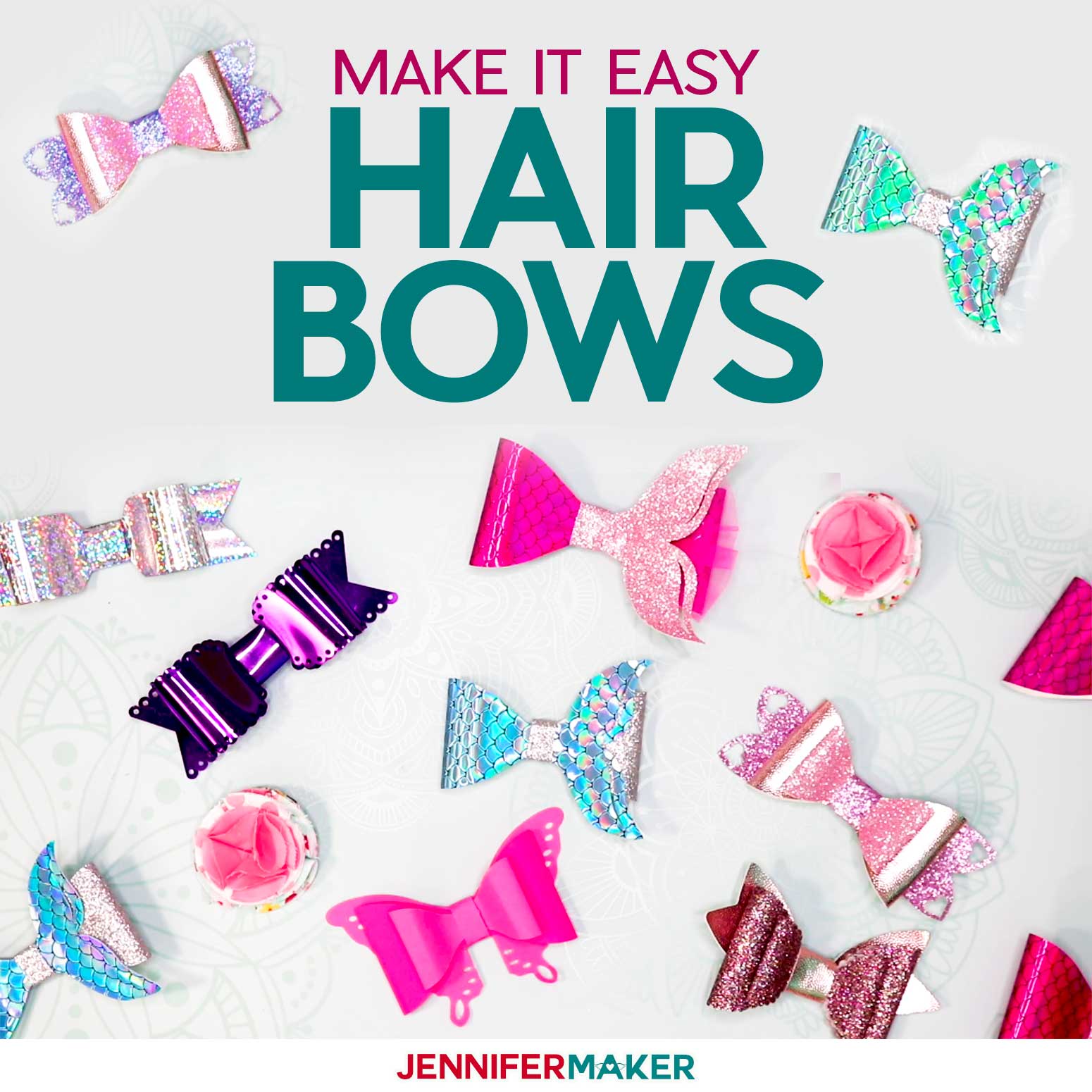 Tip: If you prefer to watch the "live" version with questions and answers at the end (it's an hour long, vs the edited one above which is 30 minutes), check out this live craftalong session here!
Here are photos of the super cute hair bows you can make — this is a mermaid tail hair bow: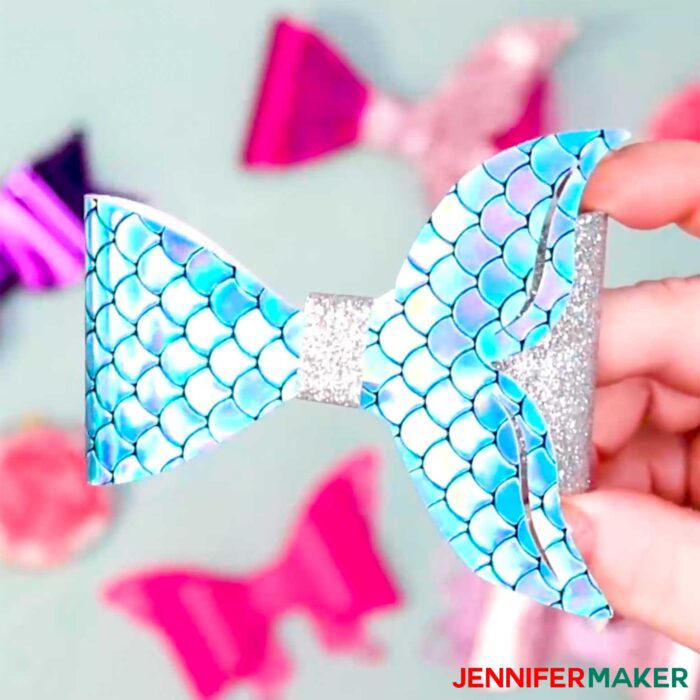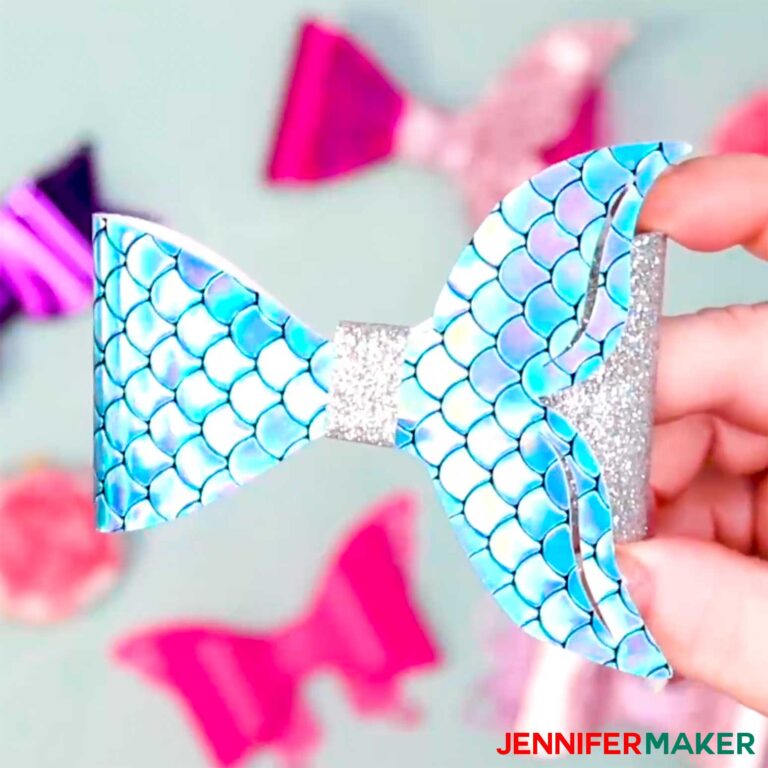 Here's another mermaid tail bow with some pink tulle: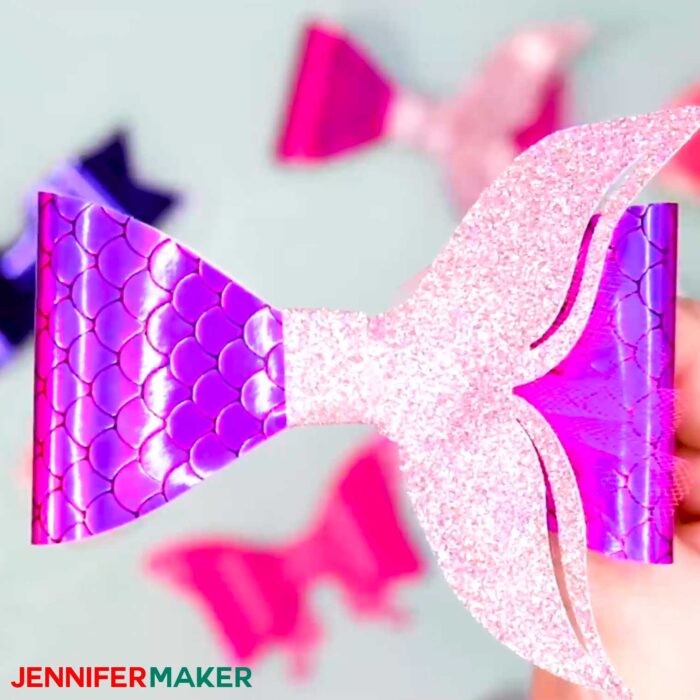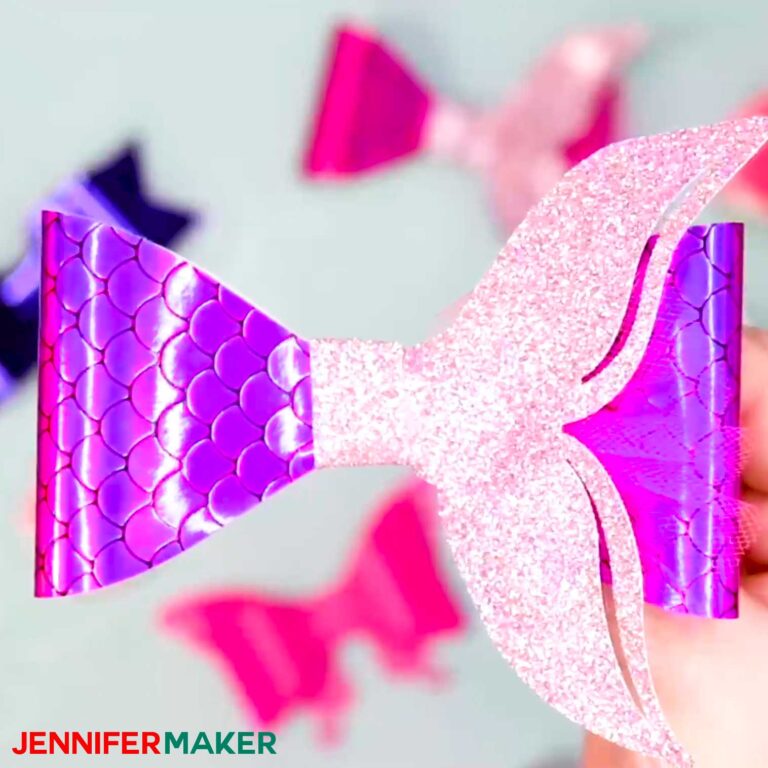 Here's a lovely rainbow butterfly hair bow made by reader Sarah Fetrow: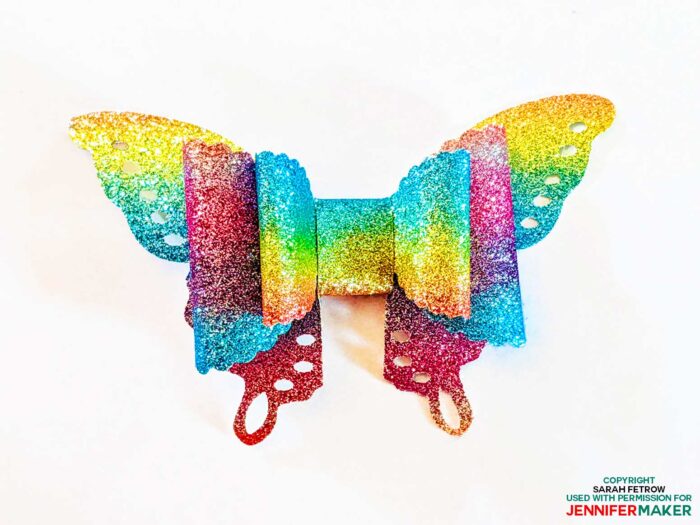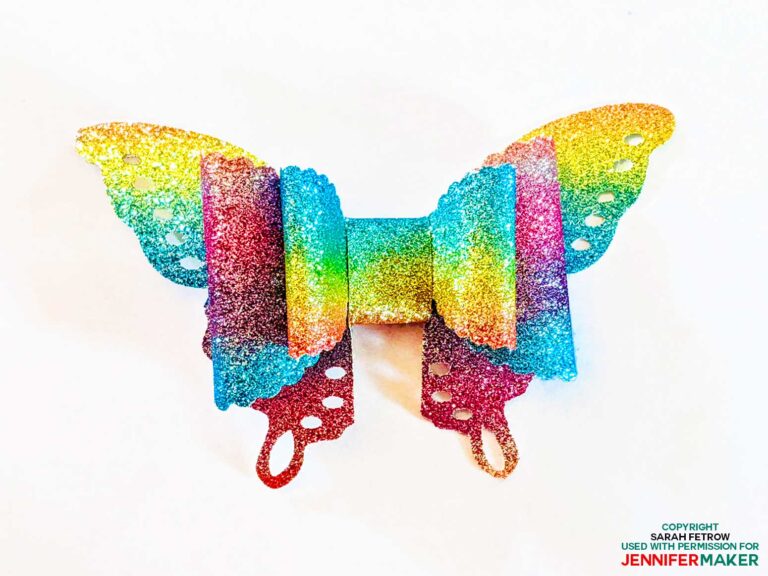 This is a pretty fabric rosette hair clip: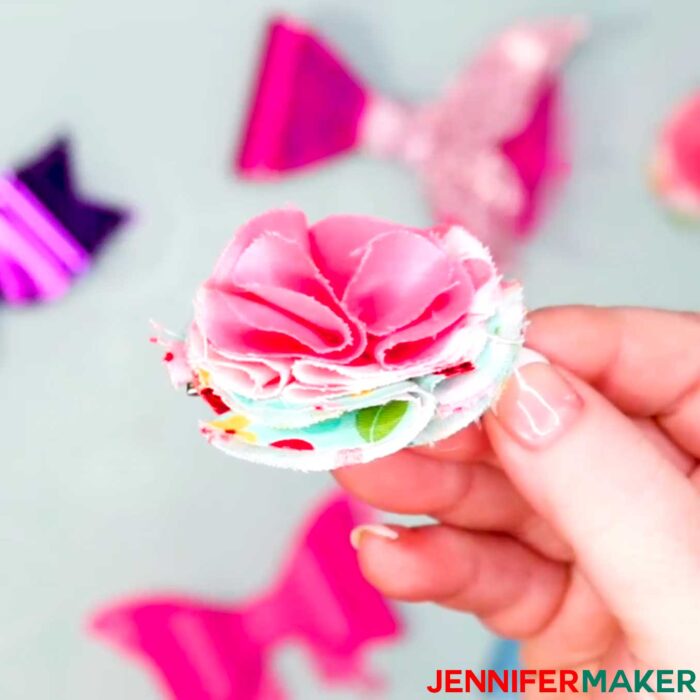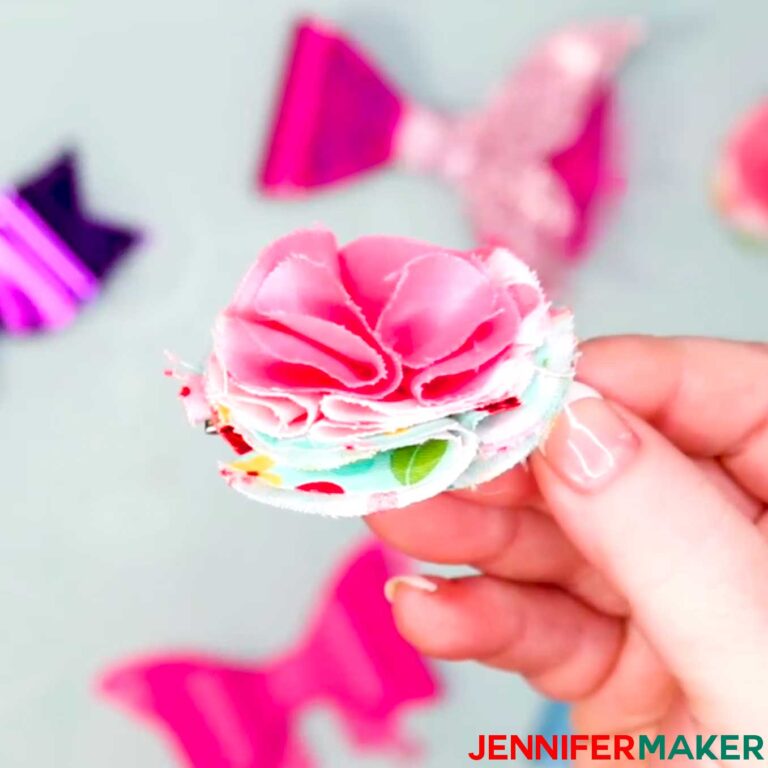 Ready to make hair bows in your favorite colors? Let me show you how! This post contains some affiliate links for your convenience (which means if you make a purchase after clicking a link I will earn a small commission but it won't cost you a penny more)! Read my full disclosure policy.
What You Need to Make Hair Bows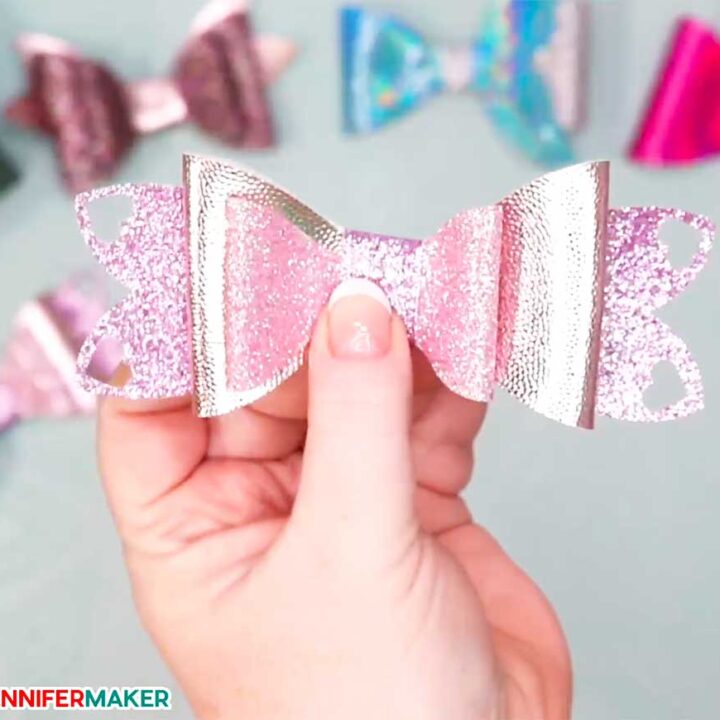 Easy Hair Bows
Prep Time: 5 minutes

Active Time: 20 minutes

Total Time: 25 minutes

Difficulty: Easy

Estimated Cost: $3.00 per bow

Super cute hair bows to create using a variety of faux leather.
Materials
Instructions
Step 1: Get my Fun Hair Bow Designs and Patterns
You can get my easy hair bow design files (Design #194) free from my free resource library Here's what my hair bow cut file will look like when you upload it to Cricut Design Space: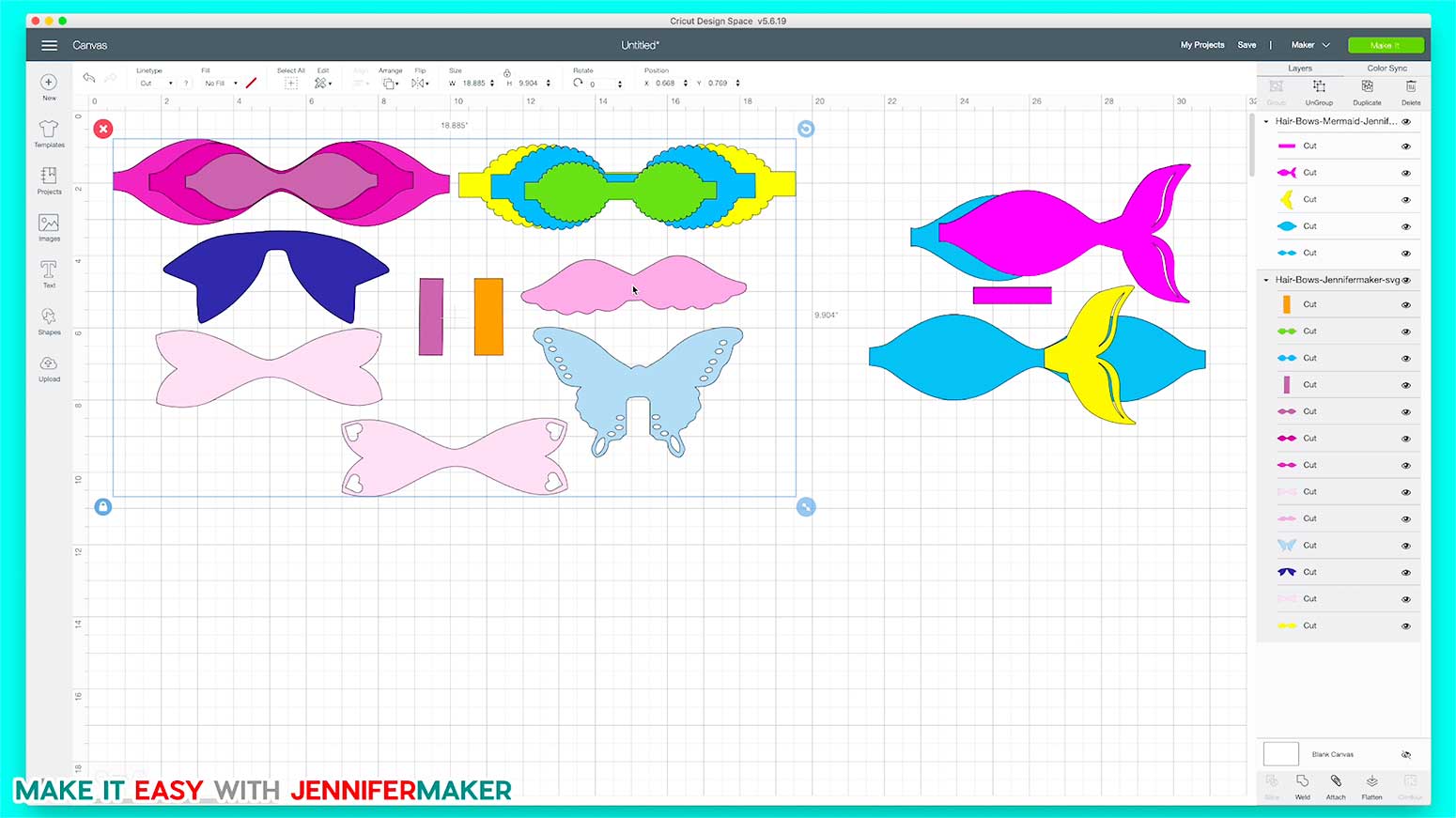 Tip: If you're not sure how to upload an SVG cut file to Cricut Design Space, watch this helpful video training series I made. If you're on an iPhone or iPad, here's how to download and upload SVG files to the Cricut Design Space app.

Once you have decided what design you want to cut, delete the rest of the designs or hide them. The hair bow elements in the files are sized in various sizes.

Hair bows vary in size based on the size of the person who will be wearing them. If uncertain of what size to make your bows, creating a test bow with card stock will help with avoiding wasting material.
Step 2: Cut Out Your Hair Bows
Once you've decided what size to make your hair bows, put the desired material on the mat for cutting.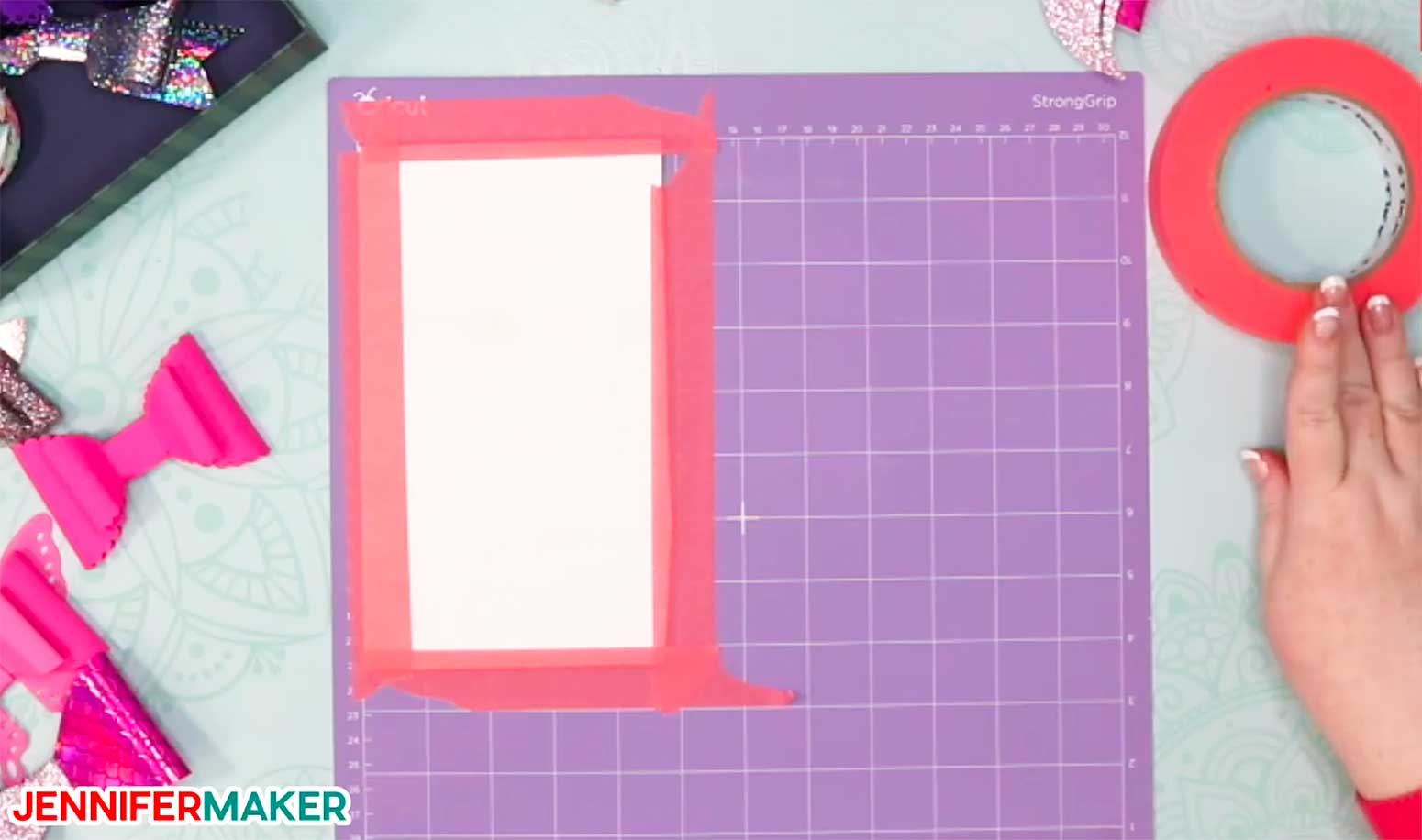 Faux Leather Cutting Tips for Success:
Use a clean and sticky StrongGrip mat (purple mat).
Lay the faux leather pretty side down on the mat.
Use painters tape to secure the edges to assure the faux leather does not move on mat while cutting.
Use the right blade and cut settings (see below).
If you have a Cricut Maker cutting machine, click "Browse materials" and select Faux Suede as your material. This will suggest use of the rotary blade that came with your maker. Before cutting move the star wheels all the way over to one side to prevent marking your material. Be sure to check to make sure that the cut went through the material prior to removing the mat from the machine. If the material is not cut all the way through press the C again on your machine and the machine will cut the same design again.

If you use a Cricut Explore machine, set your dial to Custom and click "Browse Materials" to find the genuine leather material. Cricut will recommend that the Deep Point Blade is used for this material. Before cutting move the star wheels all the way over to one side to prevent marking your material.

If you're using faux leather, be sure to click "Mirror" on all your cuts (as you're cutting your material face down). This is not necessary if you're not cutting paper, party foil, or fabric.

Step 3: Put it All Together and Make Hair Bows
Once all cuts are made, assemble the hair bows with glue. You can use E 6000 glue or hot glue -- I used hot glue. I also used hot glue finger protectors to avoid burning my fingers with the hot glue.

To glue your bows, flip your bow over so the pretty side is down. Now put two drops of glue on the narrow section in the center of the hair bow and bring the two ends in to the center. Press down on the glued area with a protected finger or other tool until the glue sets.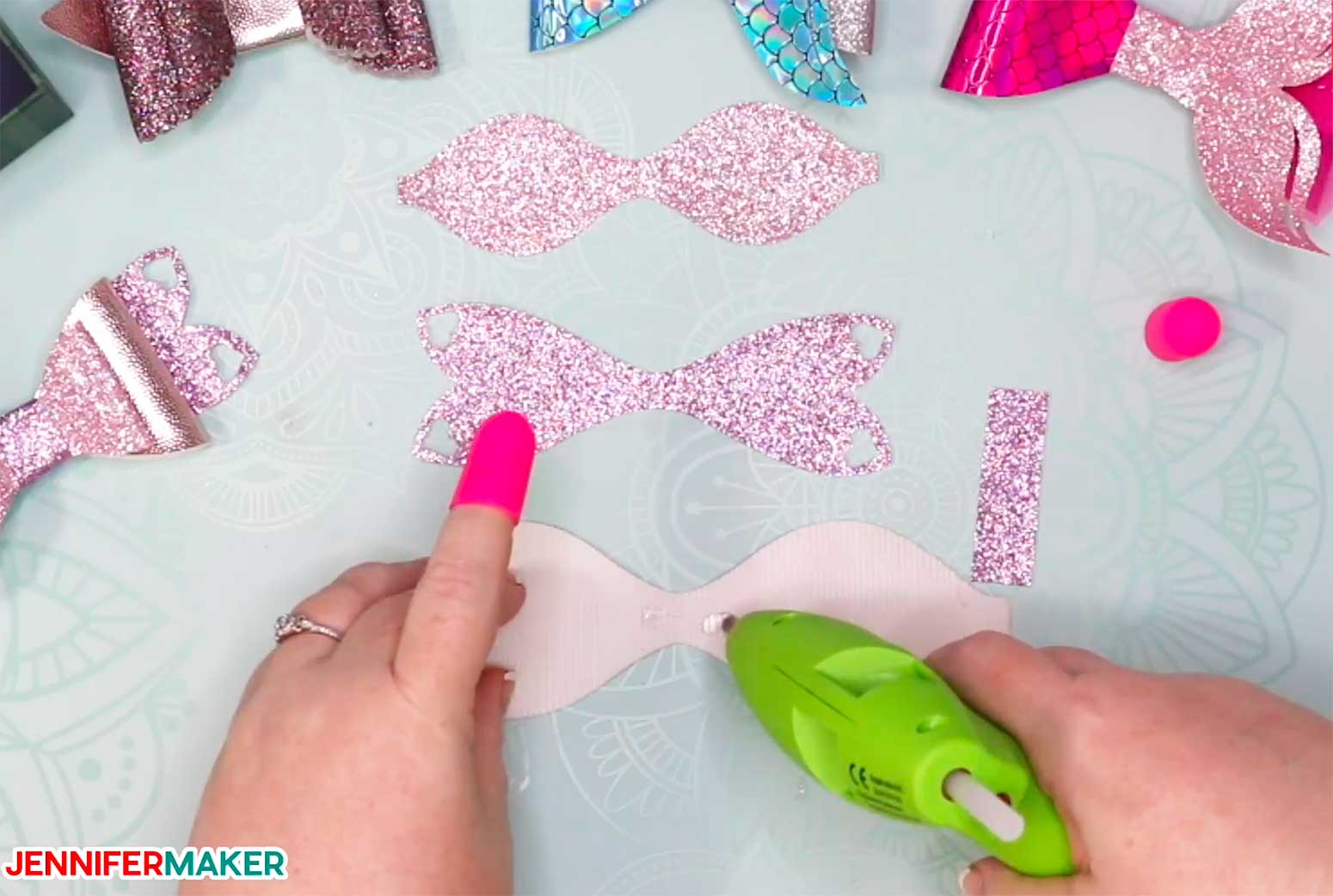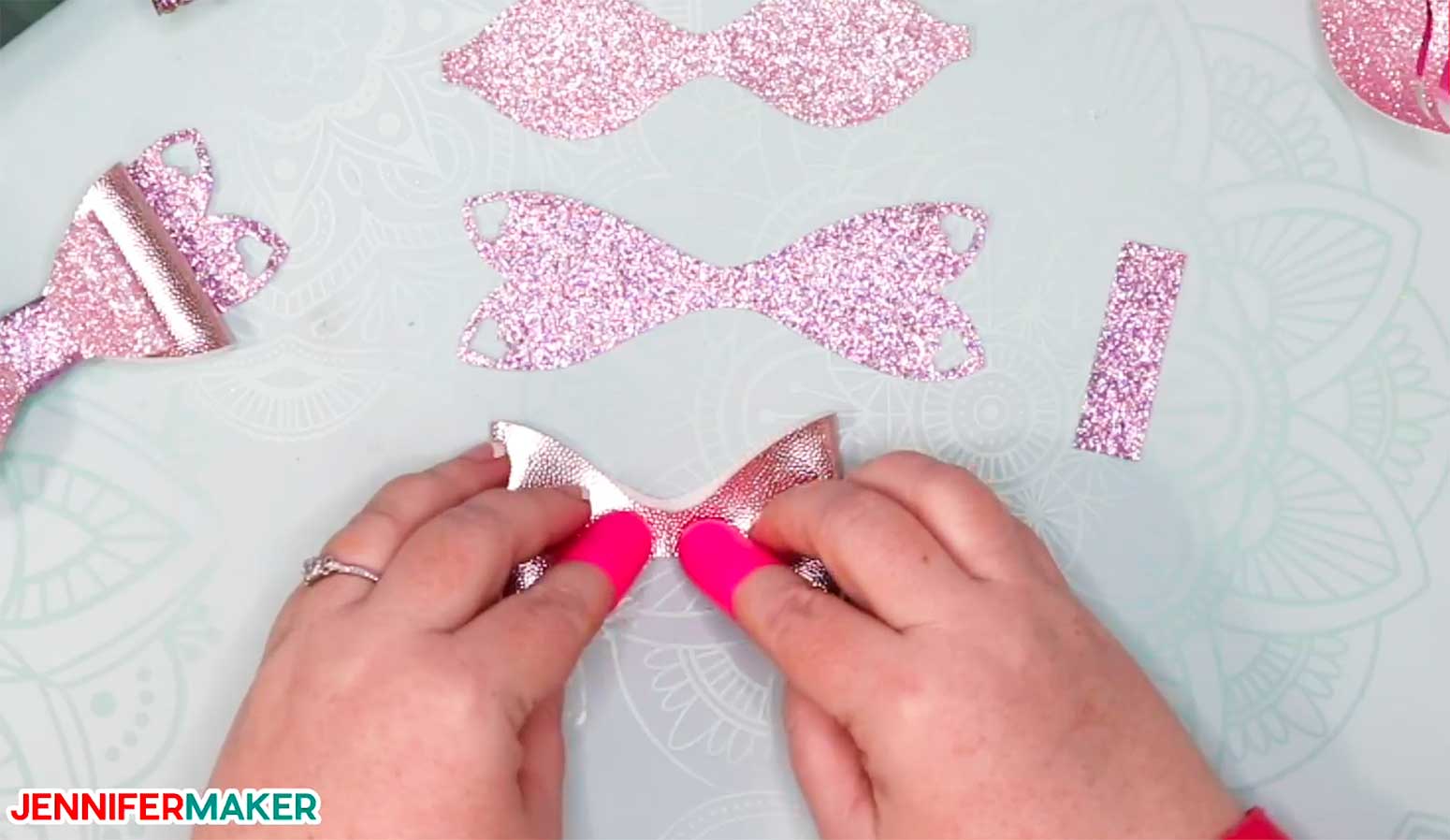 Repeat this for any additional layers in your chosen bow design.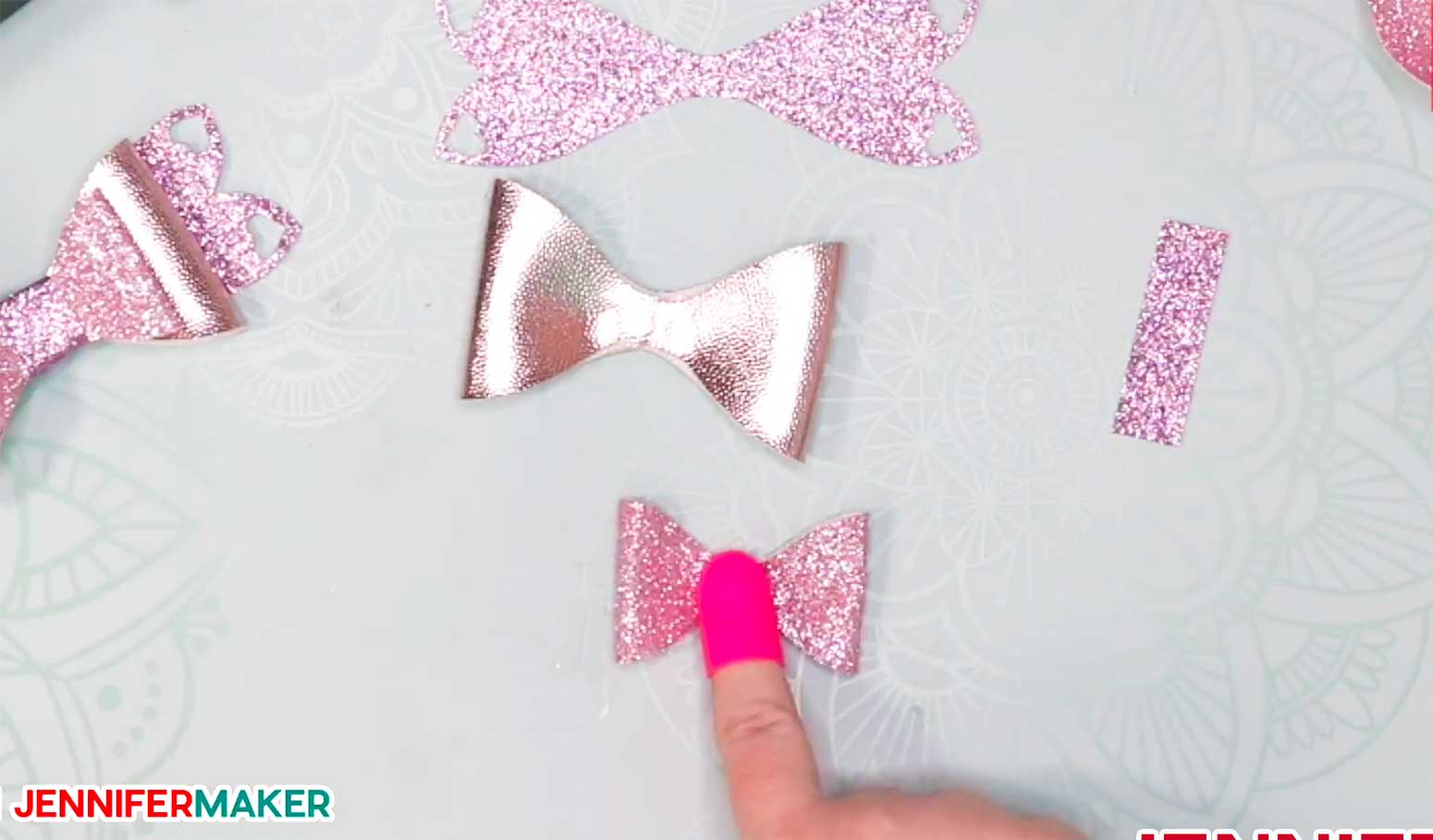 Glue a the bow tie band around the middle of each hair bow, placing a dab of glue on each end of it until it is secured.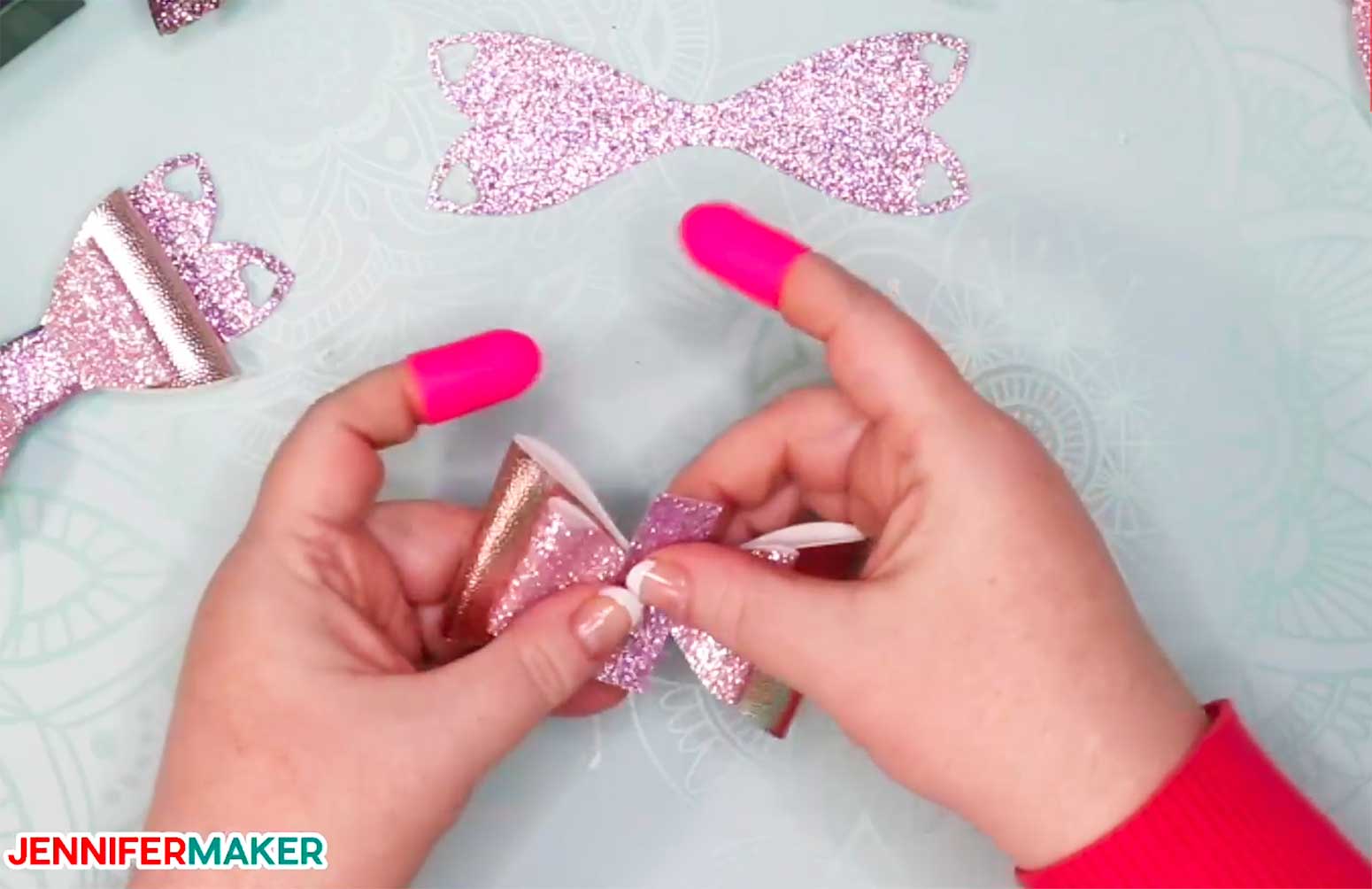 If you're adding a decorative backer, like butterfly wings or angel wings, glue those on the back of your largest bow.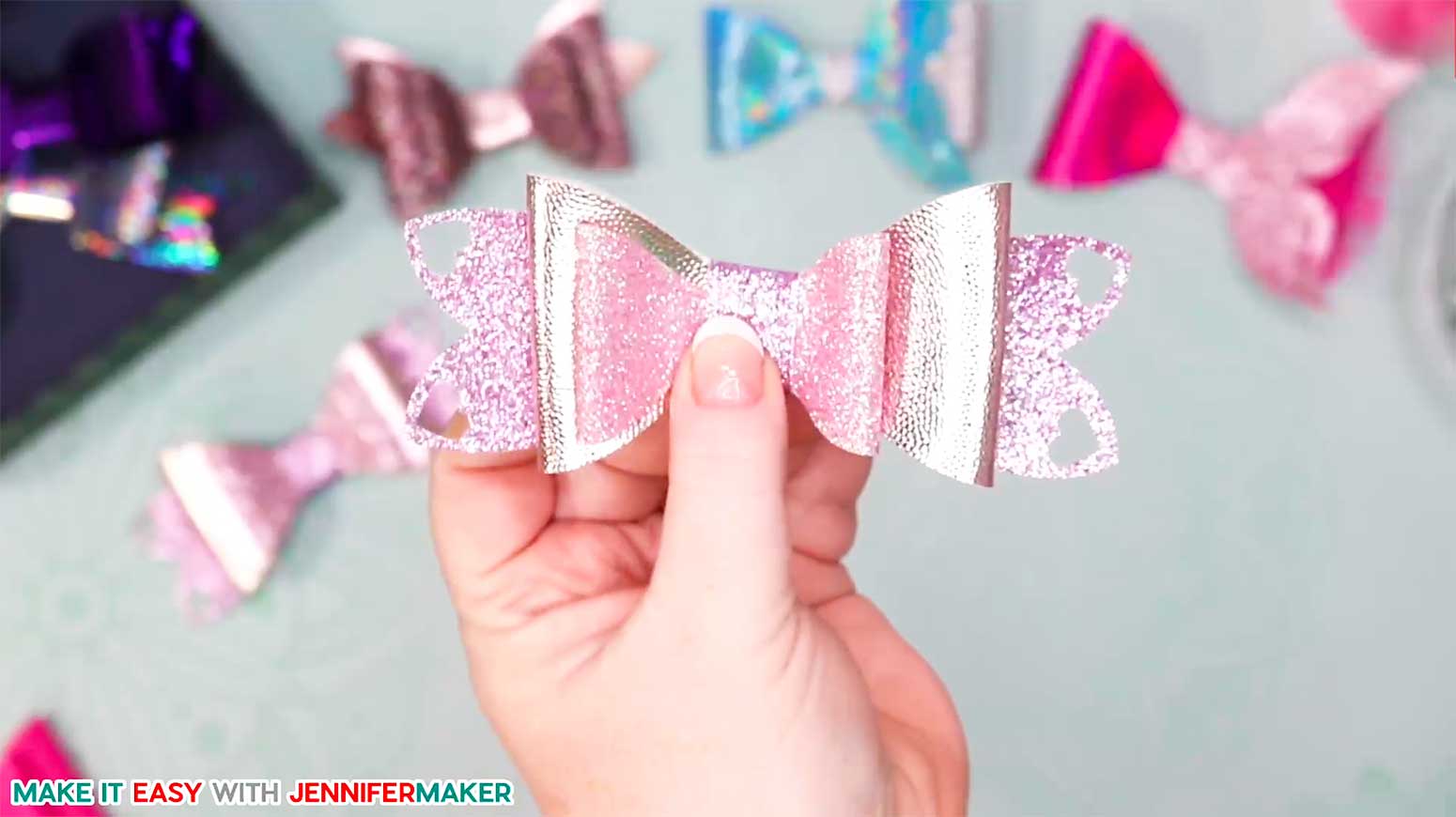 Glue the hair clip on the back your glued bow.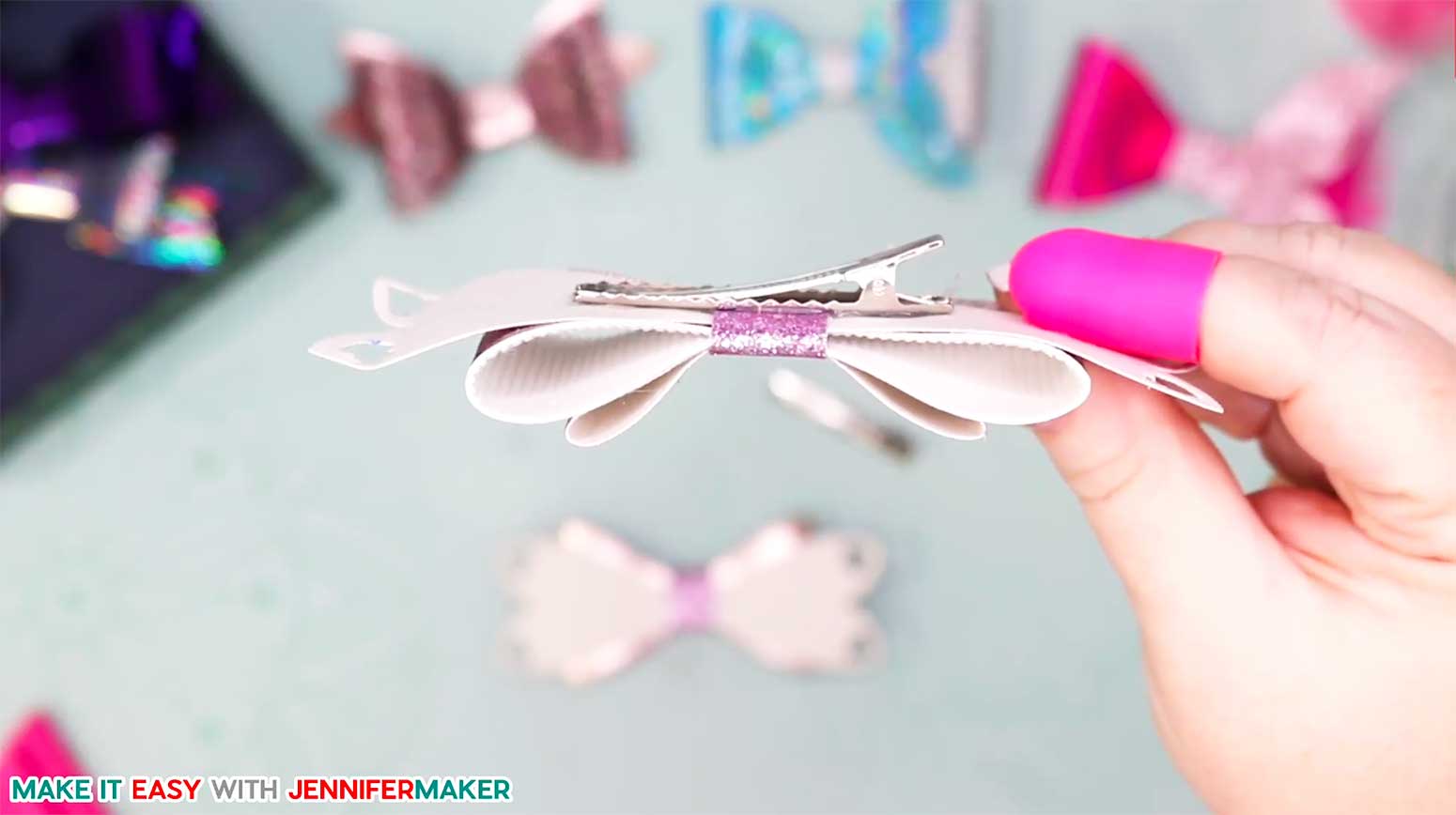 And there we have a pretty hair bow!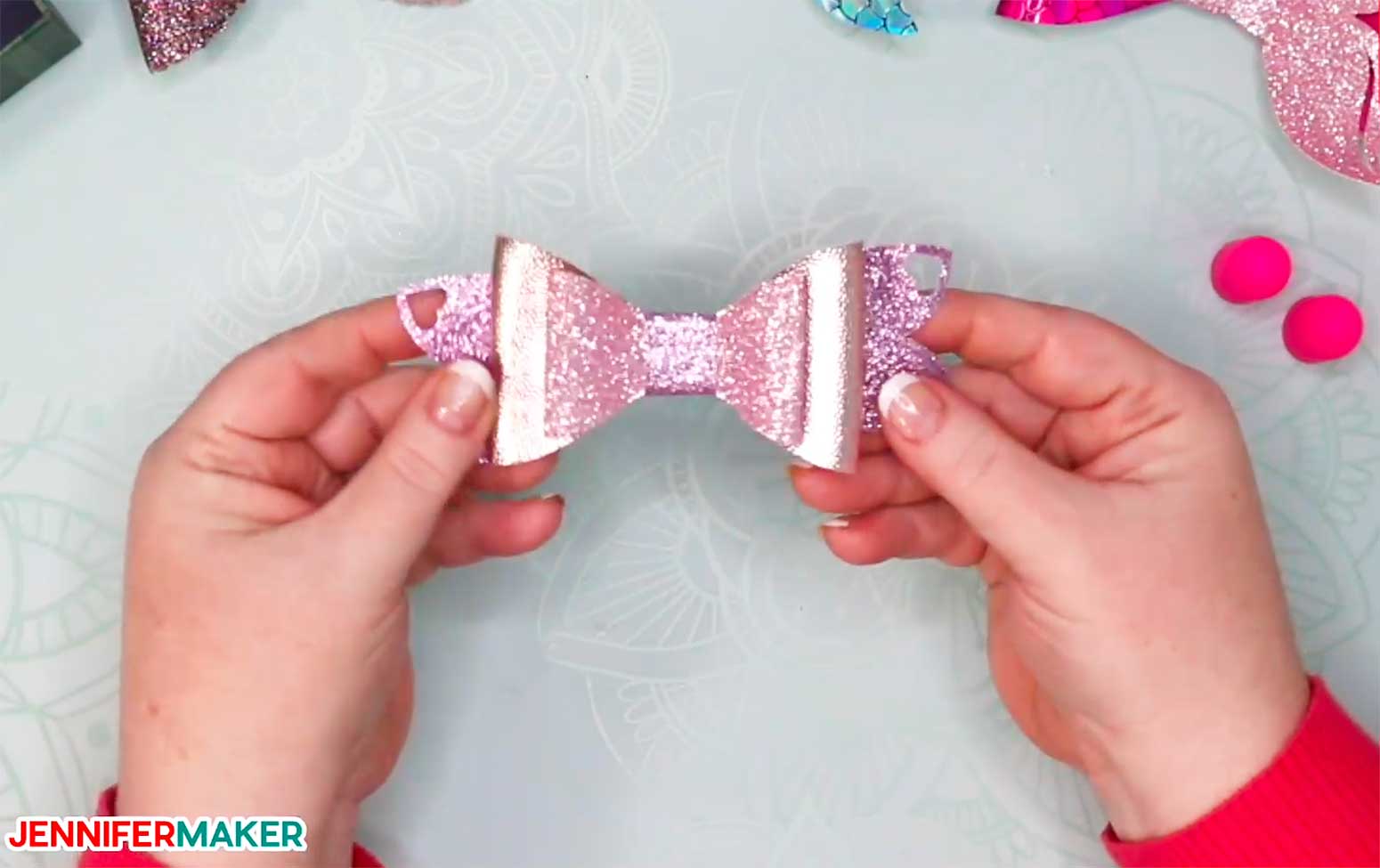 How to put together the Mermaid Bow with Tulle:

Repeat the above steps for the large bow section until it is attached together: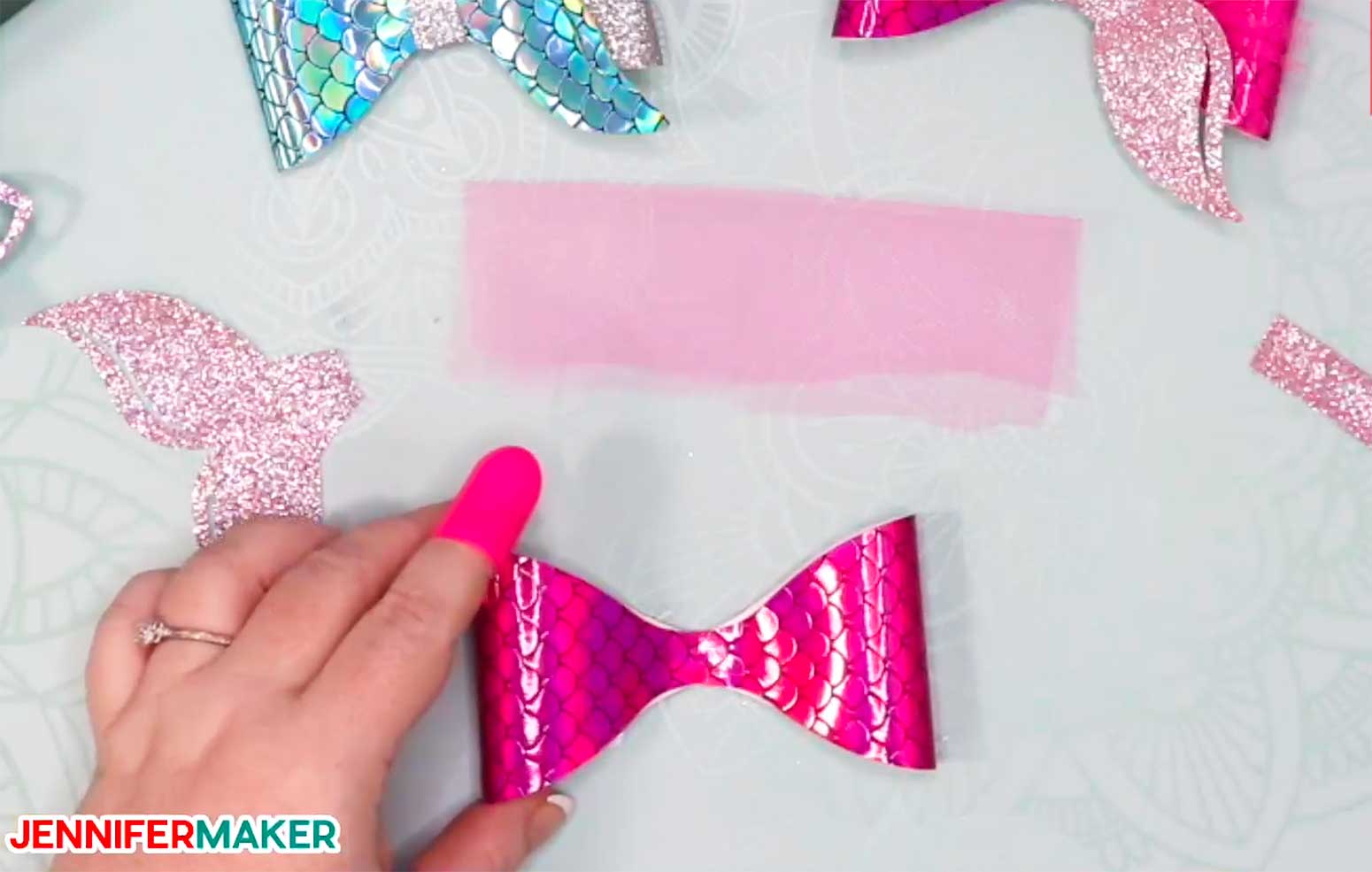 Cut a strip of tulle about 4" x 6" and fold it in half lengthwise.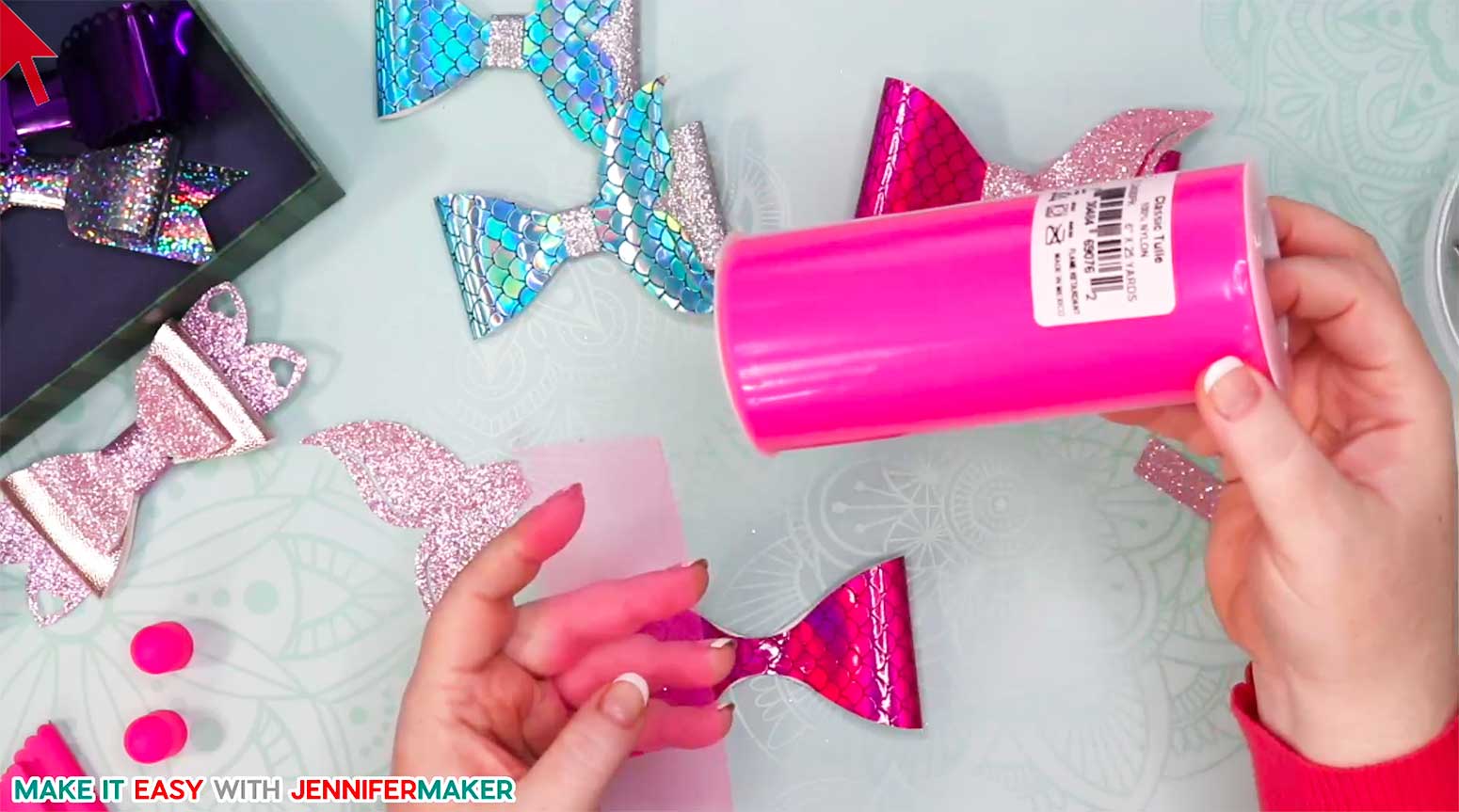 Now fold the tulle in and pleat it to create a fan shape, like this: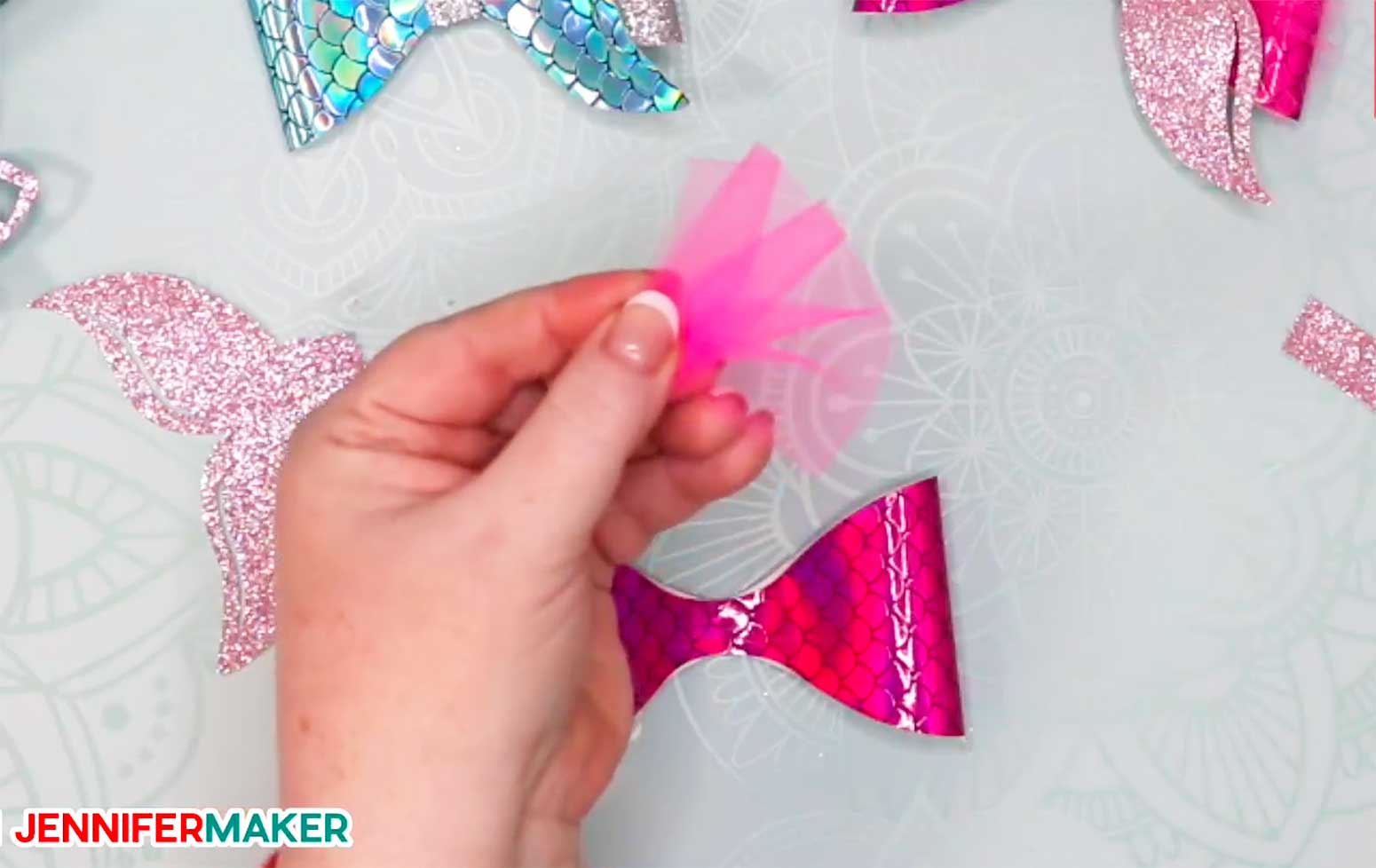 Glue the tulle to the front and center of the big bow so that it is fanning out with one side of the bow, like this:
Tip: Get as much of the tulle folded into to the center of the bow so it doesn't stick out funny.

Now glue on the mermaid tail itself over the tulle.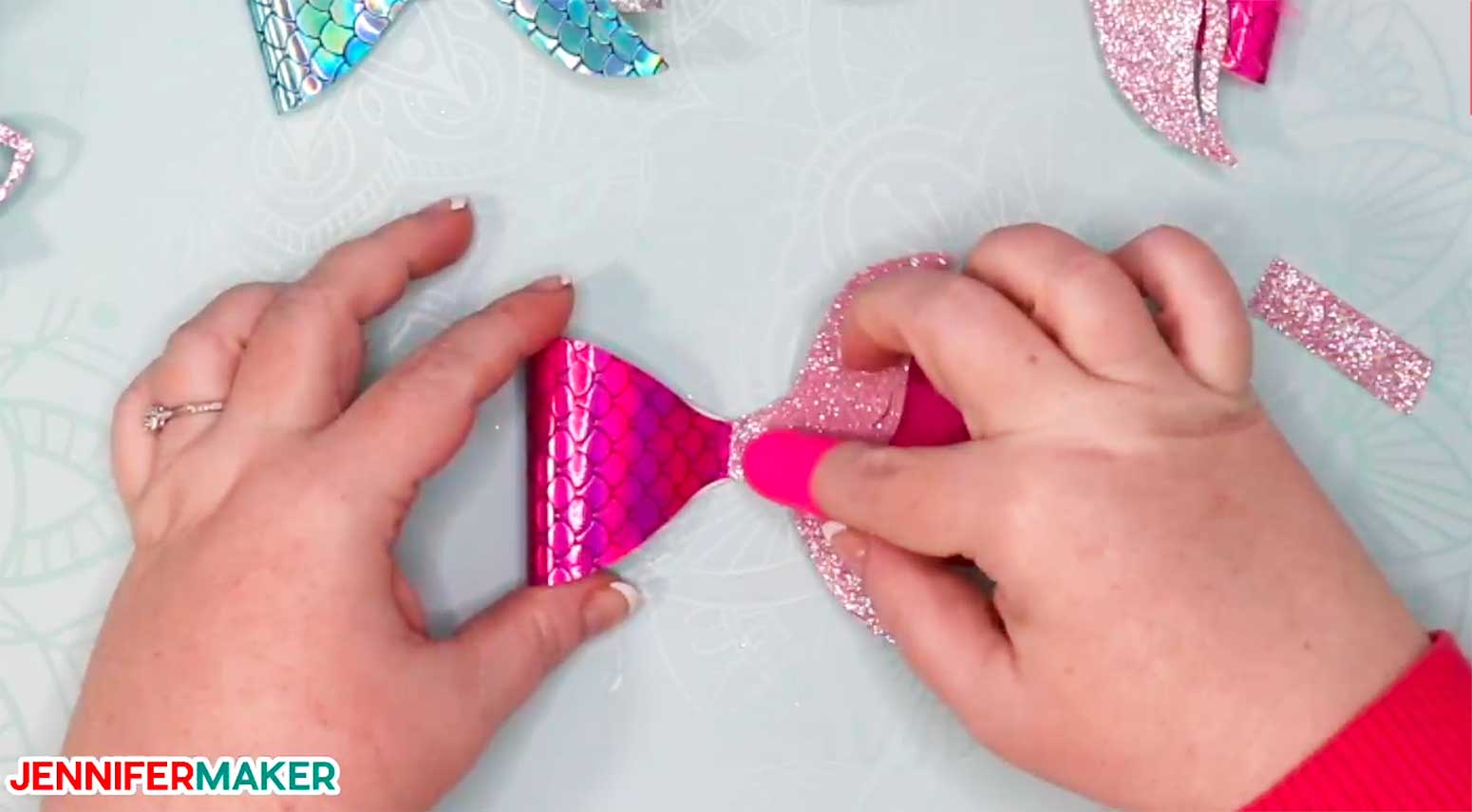 When it's all assembled, glue on your hair bow band: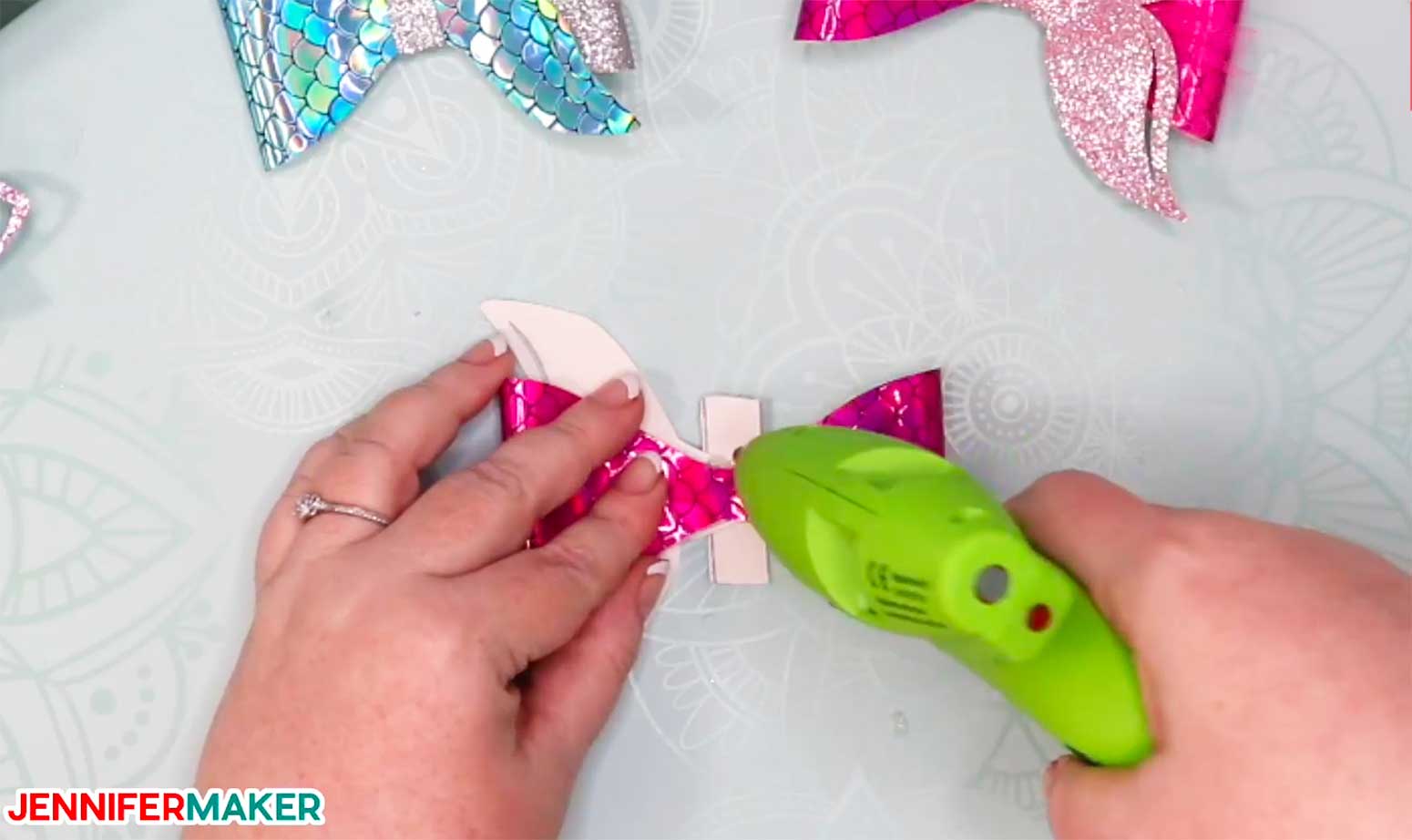 Now just glue and hair clip onto the back and you're DONE!


How to cut and put together Fabric Bows:

If using the Maker, put fabric pretty side up on the mat (the pink mat) and browse materials to find the type of fabric in the materials list. You will be asked to put the rotary blade that came with your Maker into the machine.

If using an Explore machine, you will need to apply Heat and Bond to your fabric prior to putting it on the mat to cut. Cut the Heat and Bond so that it is a bit smaller than your material as you do not want to get any of that glue on your EasyPress mat or whatever material you are using to iron on. The heat and bond will be ironed on to the back side of your material with the textured side of the heat and bond against the material. If using an EasyPress to iron the Heat and Bond on, first press your material to get wrinkles out and warm it up. Heat your EasyPress to 350 degrees and set the timer for 2 seconds. Press the Heat and Bond on to the material. When the material has cooled, cut any edges of fabric that do not have Heat and Bond on them off so they don't cause problems when cutting. Remove the paper backing from the Heat and Bond and apply the bonded fabric to the mat (pink mat). Set your dial to Bonded Fabric to cut.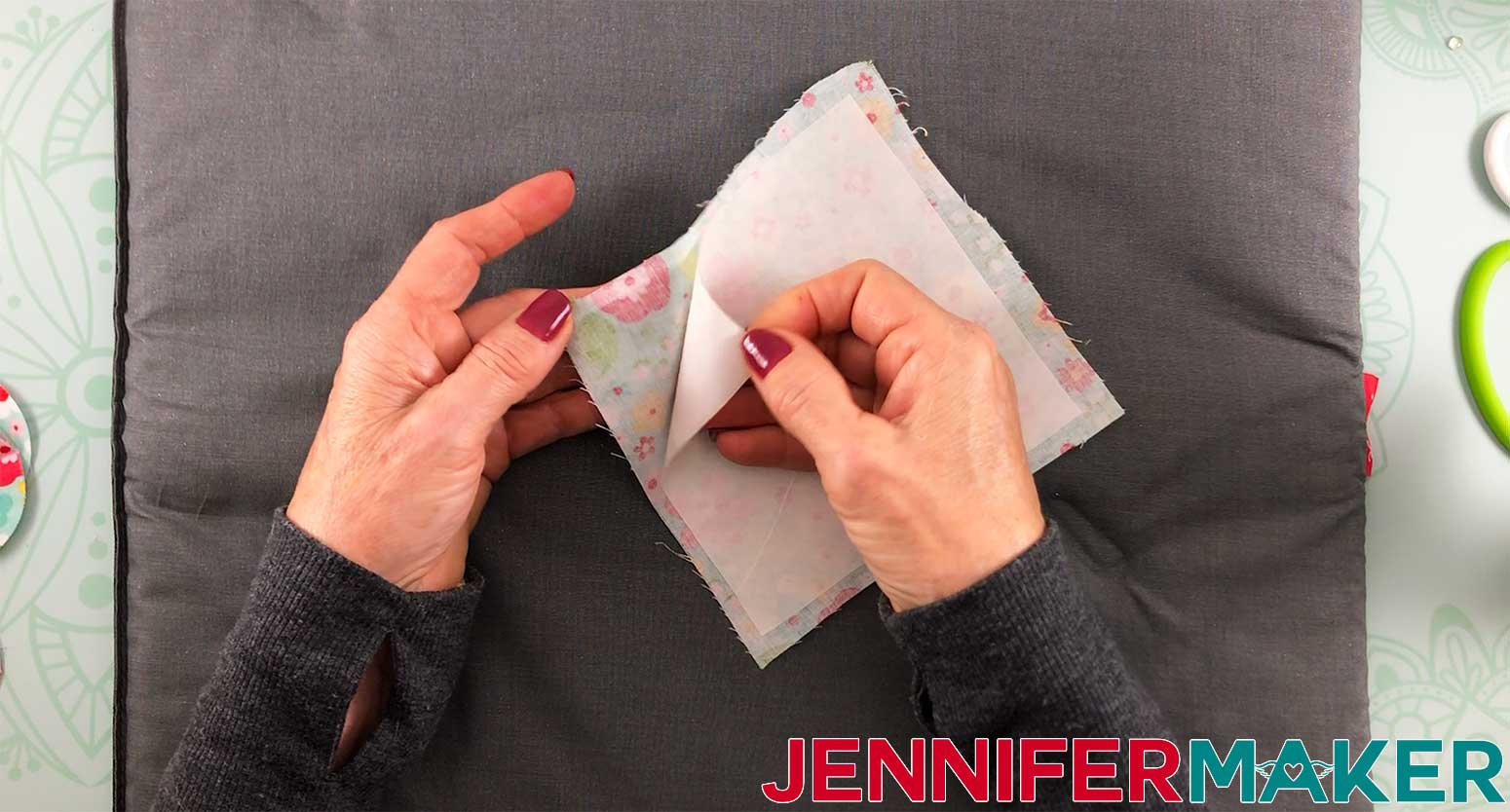 Once all pieces are cut out, start assembly with the largest circle first (there are 5 of the largest circles). Lay one circle down as your bottom layer. Take another piece and fold it in half (back sides together) and then fold in half again and put a little spot of glue between this last fold.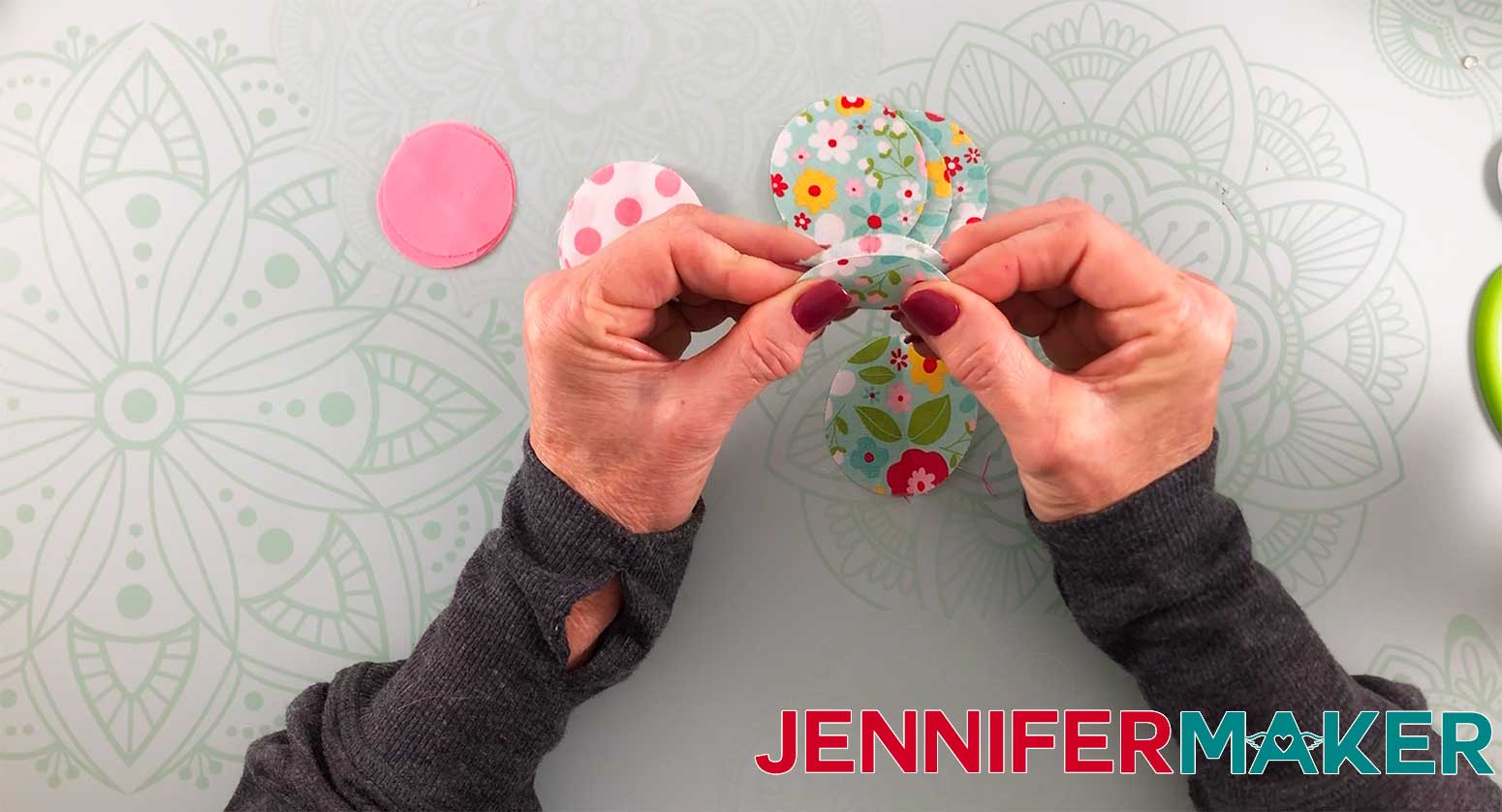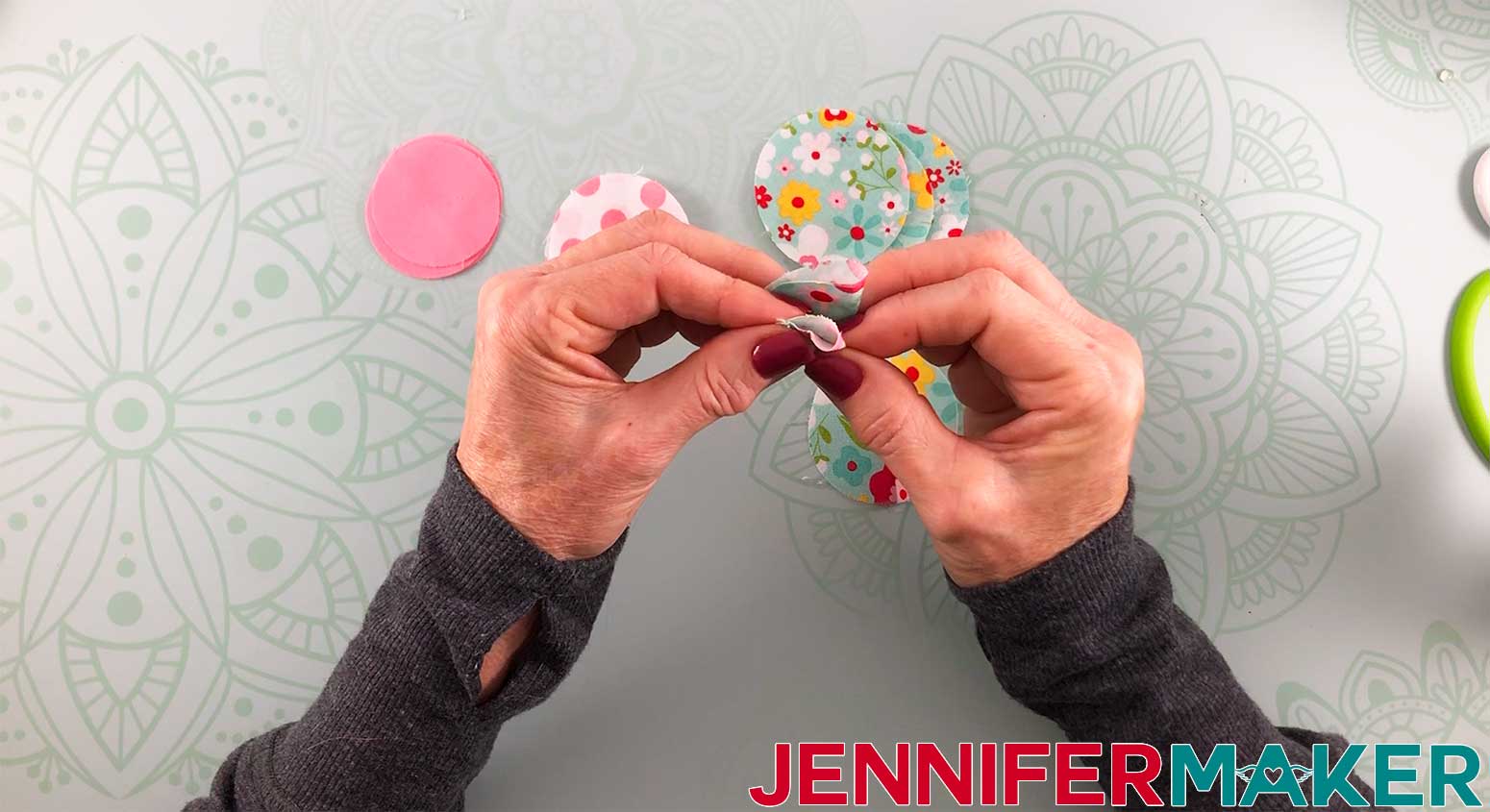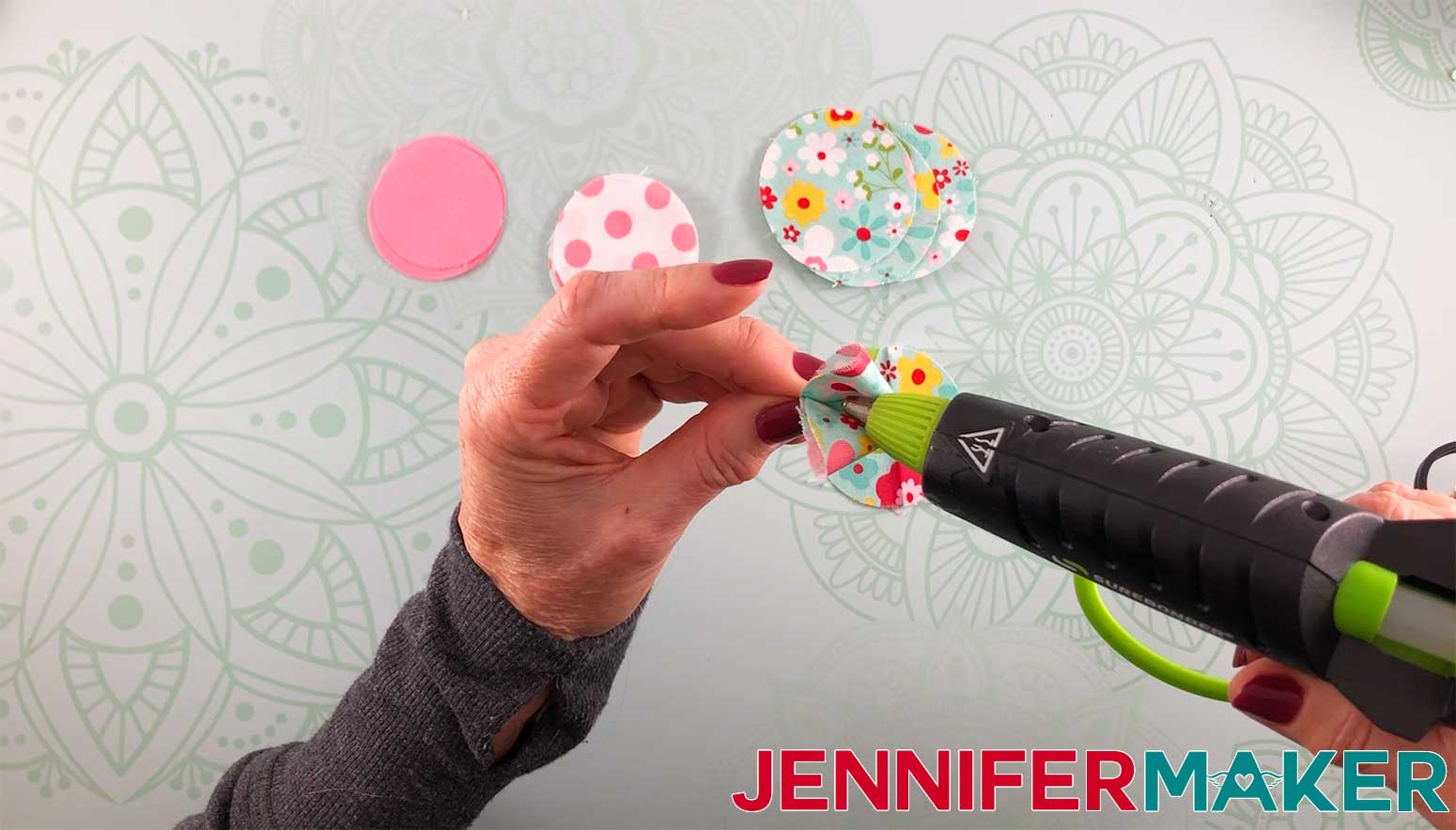 Also, put a spot of glue in the middle of the circle that is your bottom layer. Put your first piece down onto that bottom circle with the point of the fabric pointing to the middle. Assemble the next 3 pieces the same. At this point you will have the base (bottom) piece with 4 glued pieces around it.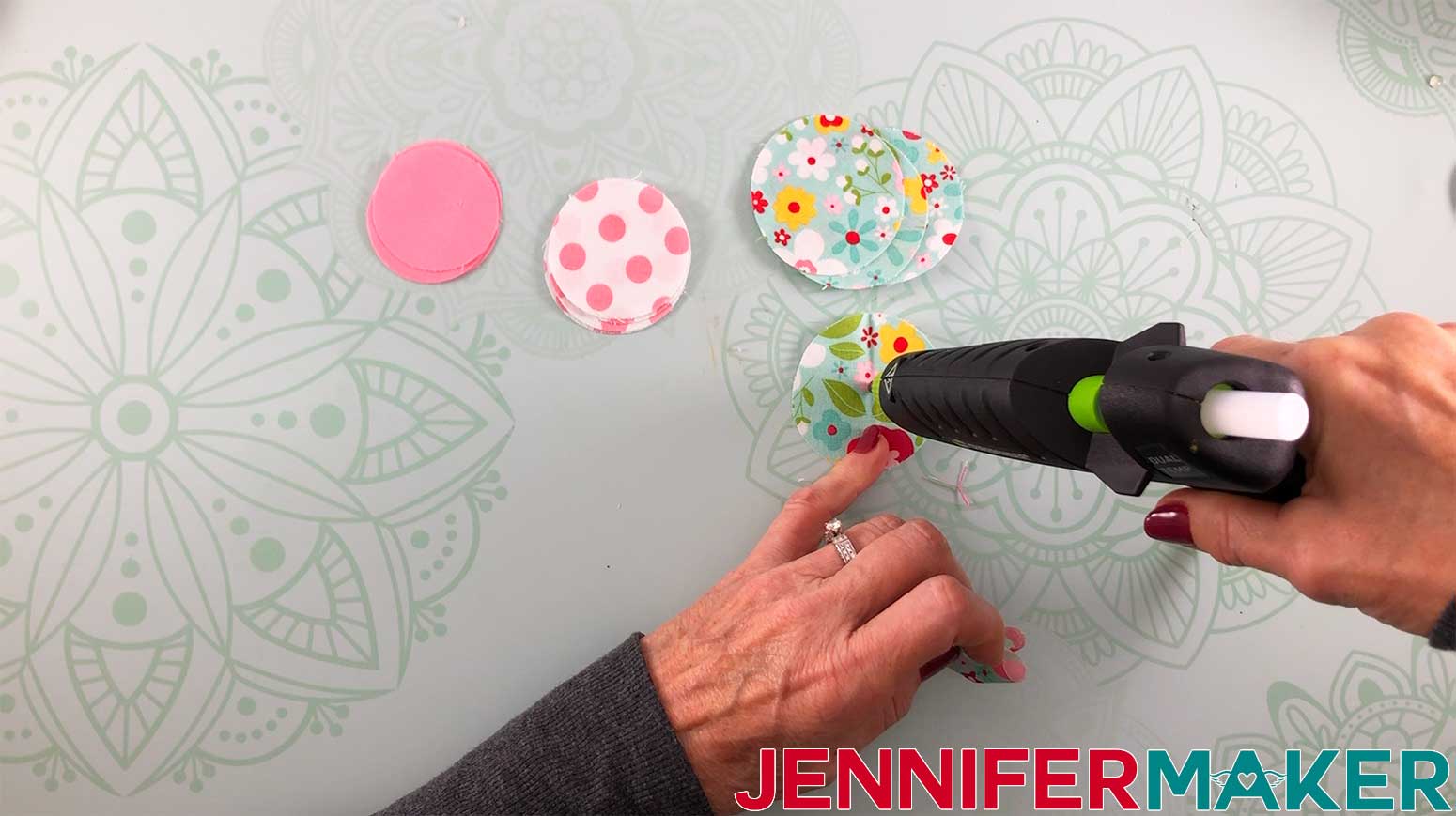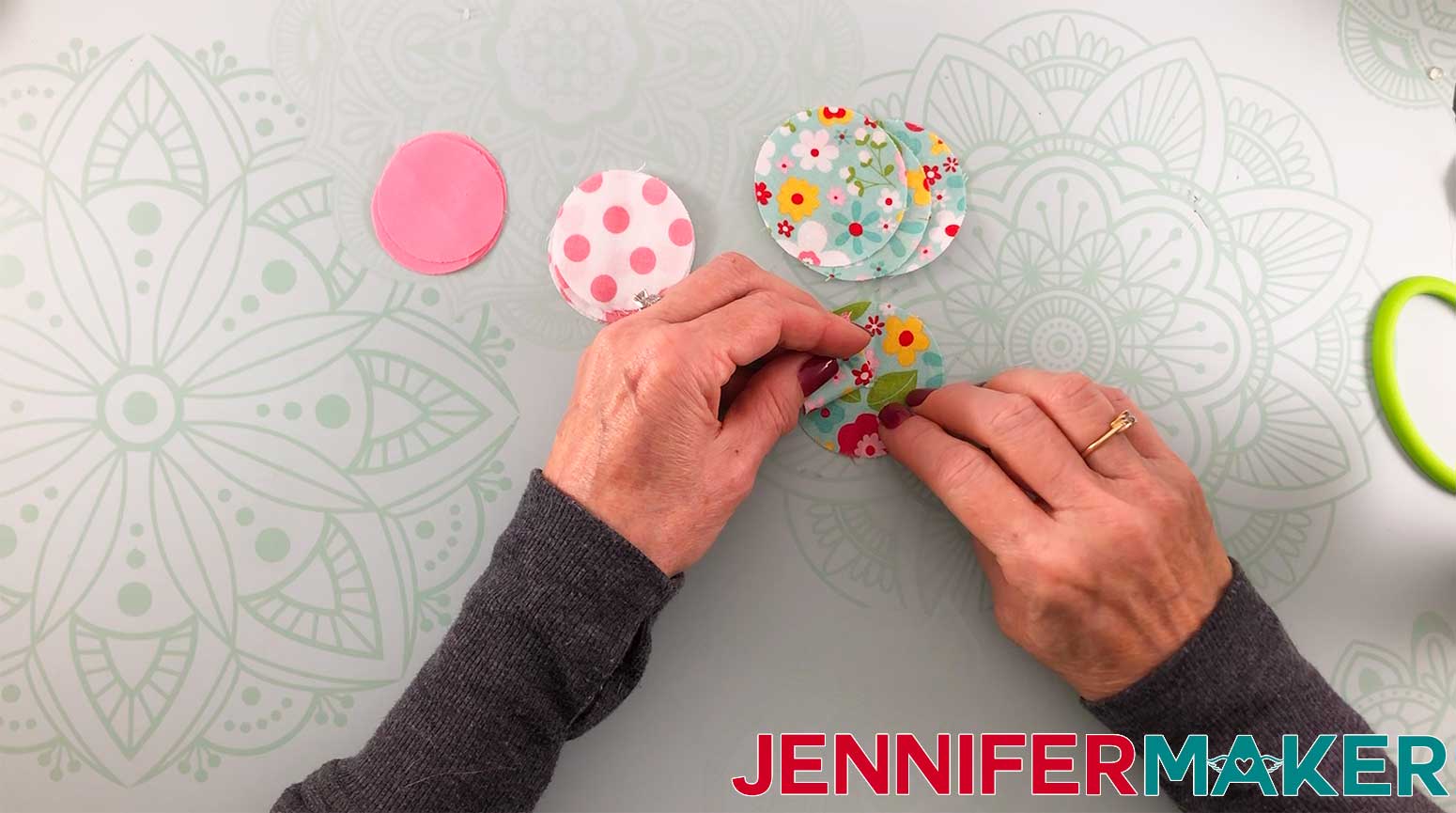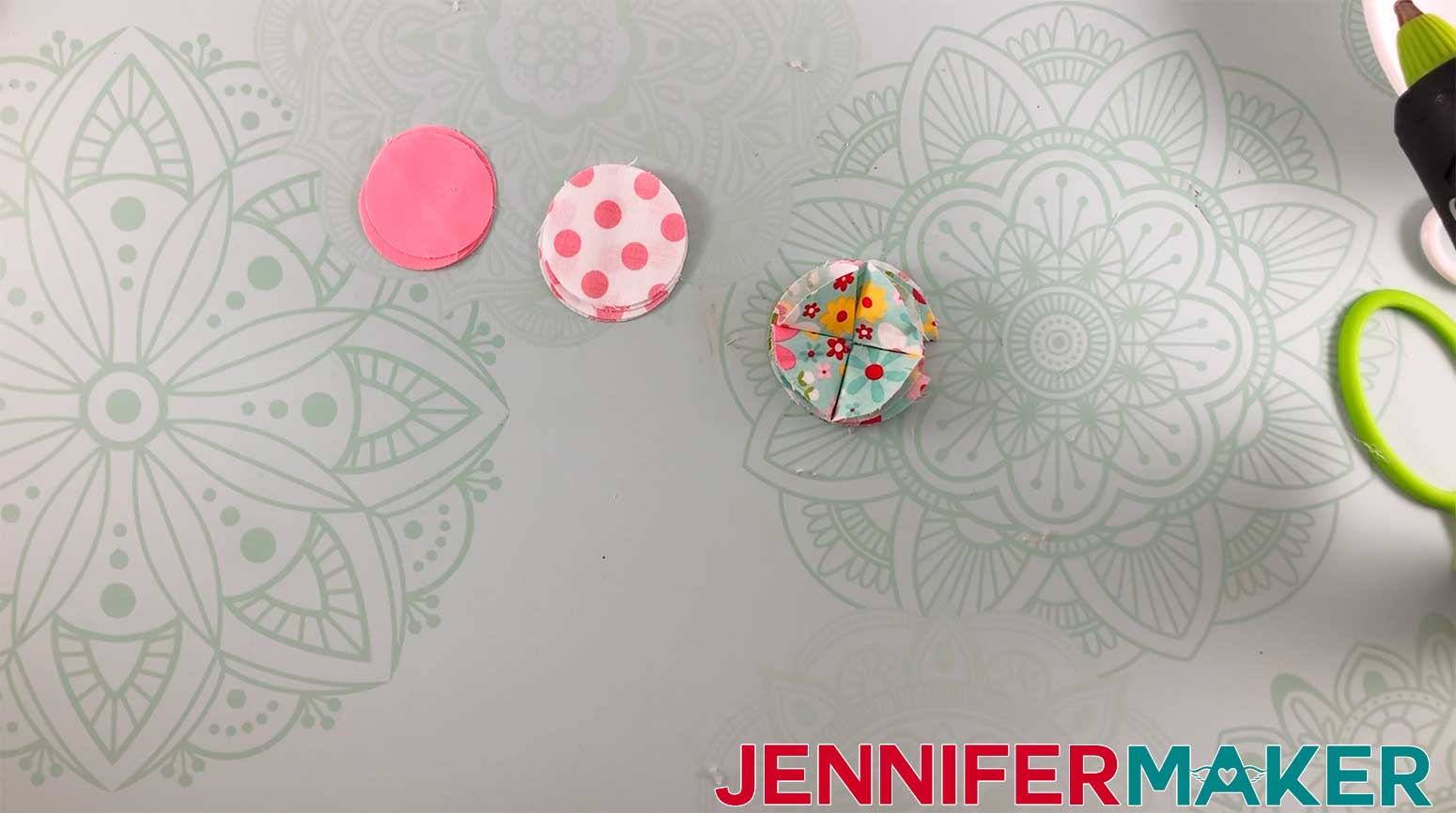 For the next layer, use the next size circle. Assemble in the same manner as the first row; however, when assembling this layer, be sure to lay the pieces down by straddling the two pieces under it.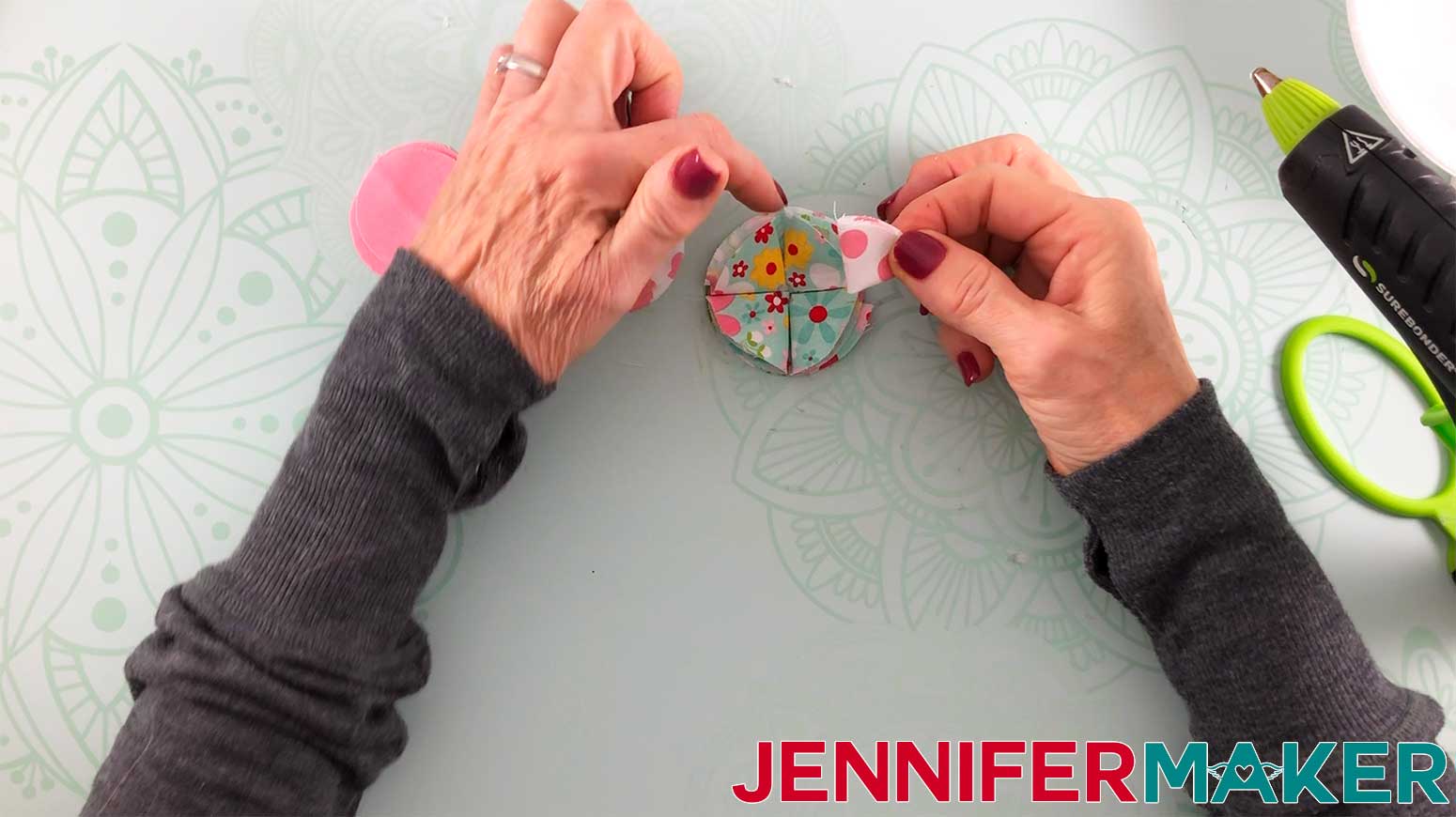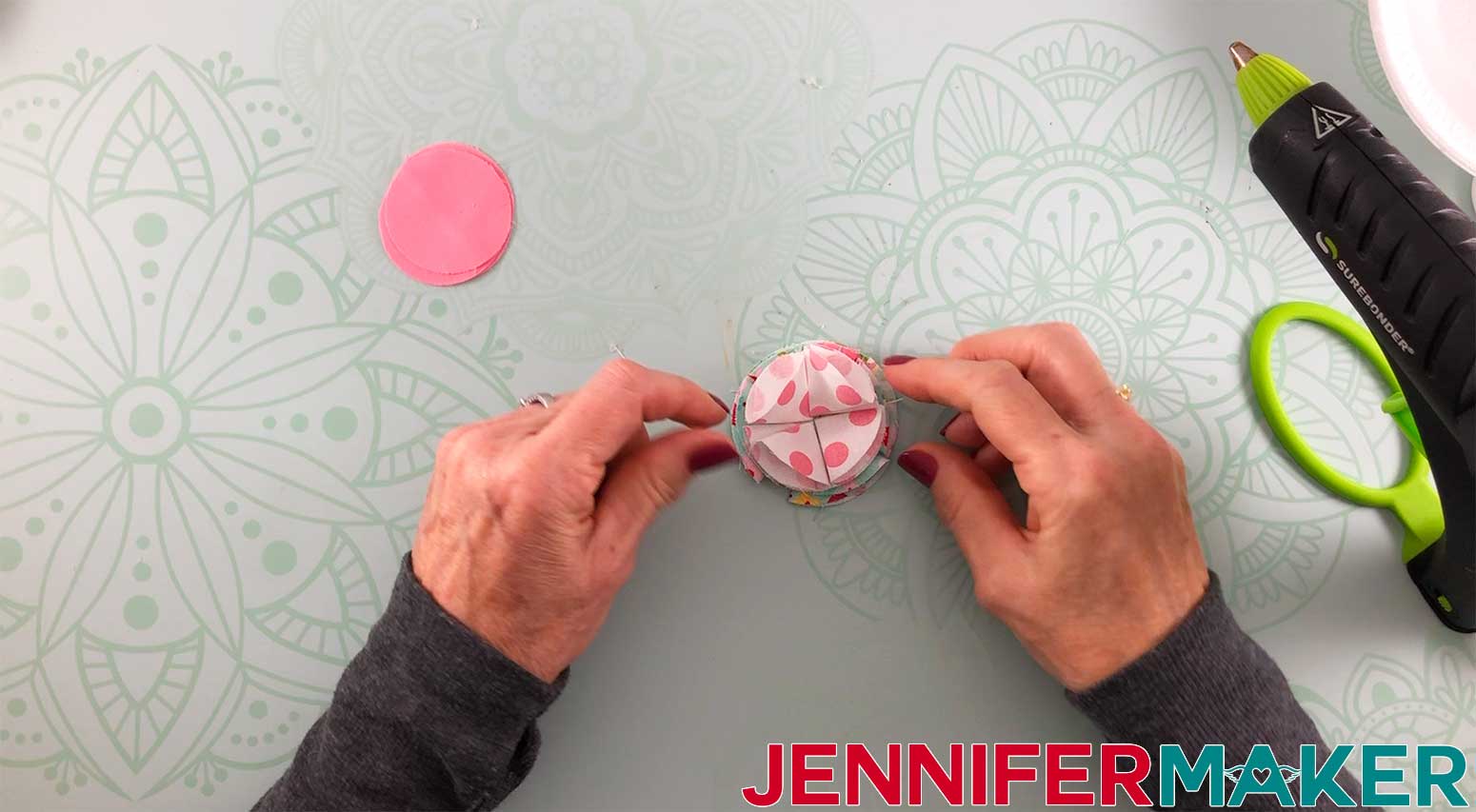 Once you have all 4 pieces of the second layer glued down, assemble the last layer in the same manner as the second. Glue a hair clip onto the back of the bow and fluff up the bow.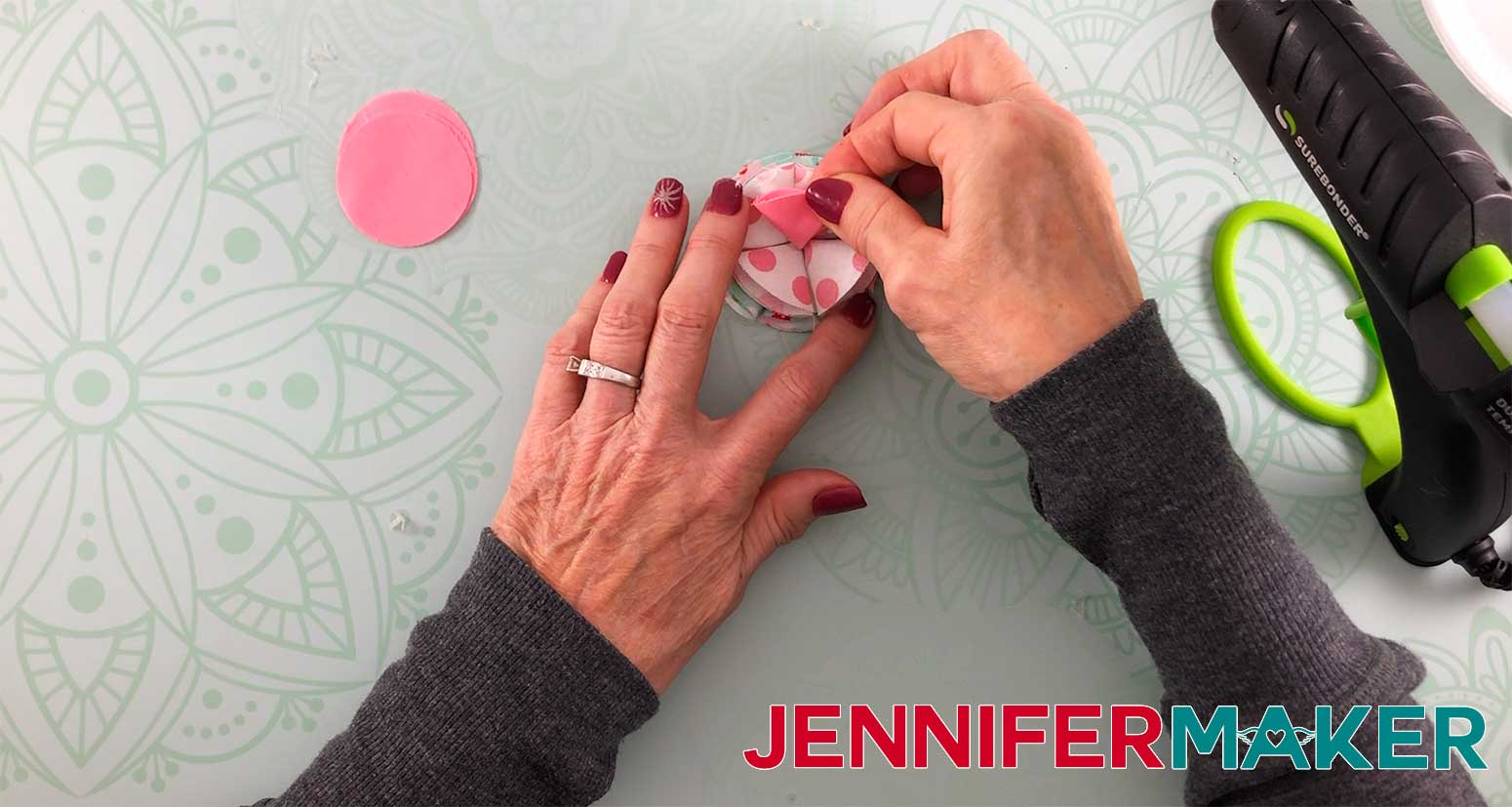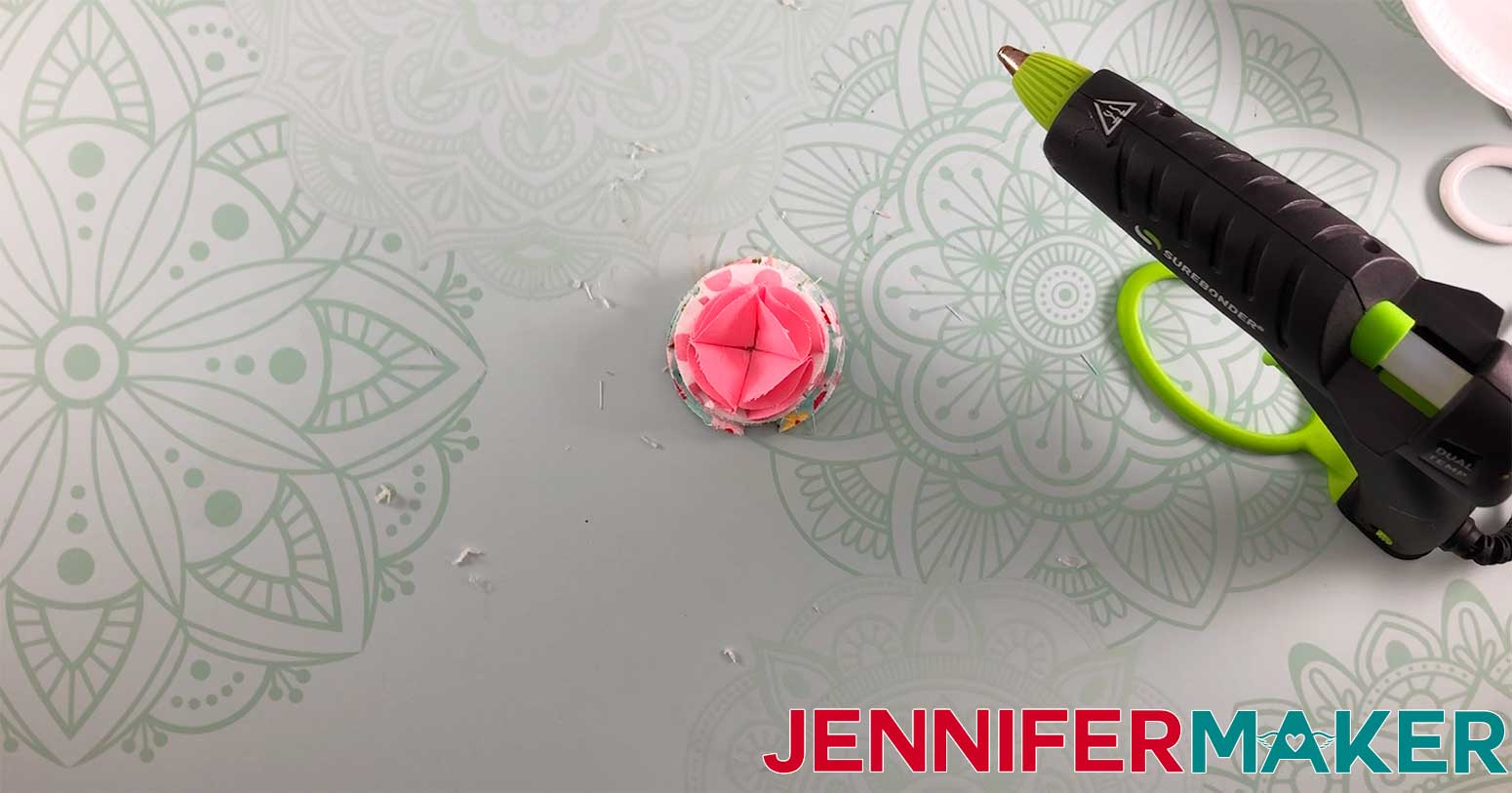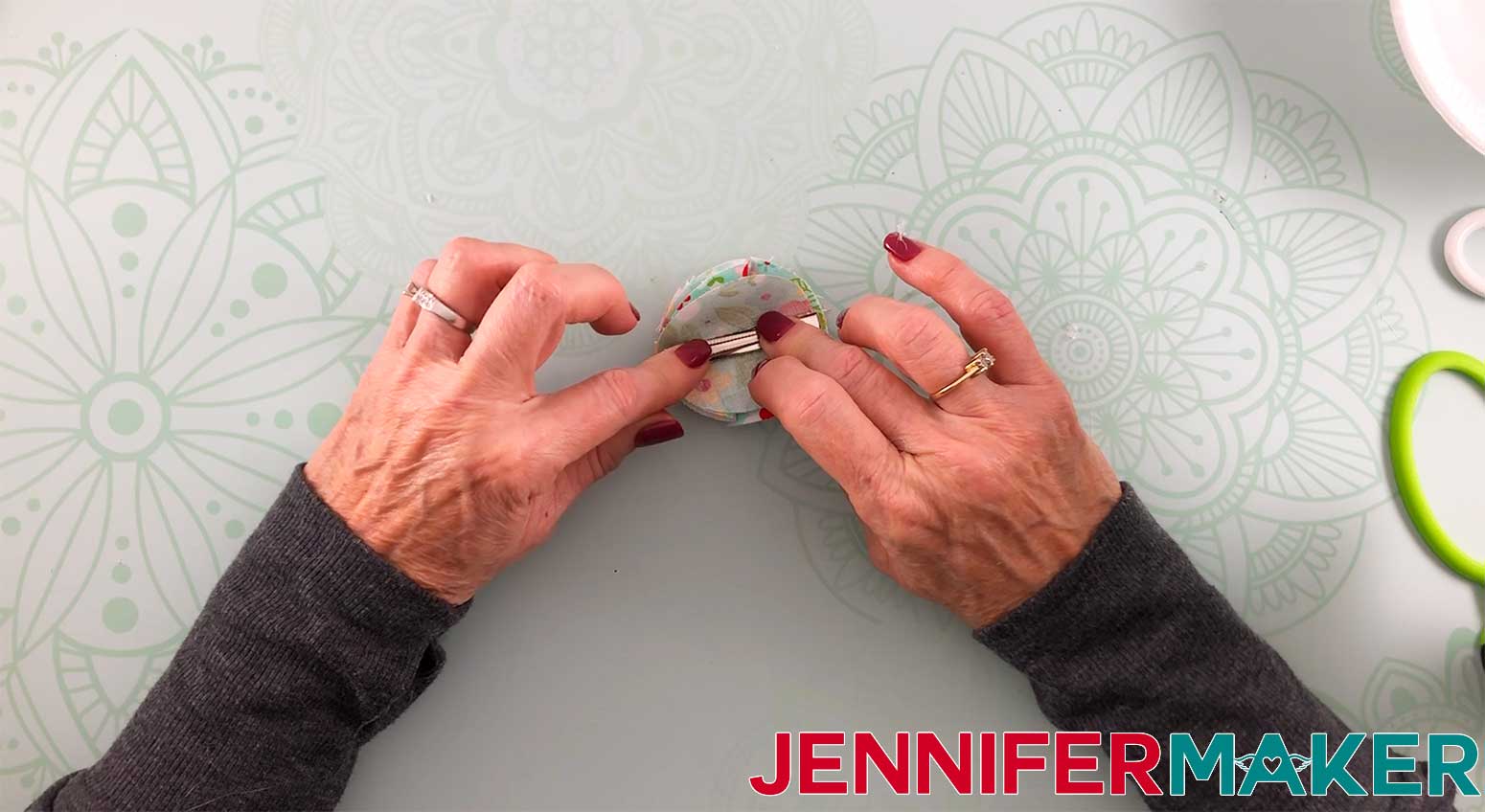 Notes
ACKNOWLEDGMENTS
Special thanks to the JenniferMaker Design Fairy Team, specifically Design Fairy Vicki, for helping me design, assemble and make hair bows.

I love all of these hair bows. I think the mermaid tail is my favorite, though. It's just SO sweet.
Need more projects for today's theme?
Today's MAKE IT EASY Craftalong Challenge is to Take A Bow! If you are looking for other ideas, we have you covered!
Get my free SVG files to make hair bows in beautiful designs!
Did you make hair bows? We want to see them! Please share a photo in our Facebook group or tag me on social media with #jennifermaker.
This project is a part of our MAKE IT EASY Craftalong Challenge with fun and EASY projects you can do to learn how to use your Cricut! You can share your photos in our daily challenge theme thread here!
Love,