You can make super-cute faux leather earrings using your Cricut! This tutorial shows you how easy it is to make these great gifts.

While I don't wear earrings anymore myself, I know many people who do. And I had a blast designing these earrings for you! And they were so easy to make, too! When I made my cutwork leather journal, I found it a little tricky to cut leather… but faux leather is a breeze to cut! I am super pleased with these faux leather earrings and I think you will be, too!

Faux leather is really quite thin, so you can cut it on both the Cricut Explore and the Cricut Maker with a regular fine-point blade. You can even cut faux leather with scissors. It's a very simple, fun project and when you're done you get cute earrings to wear or gift to others.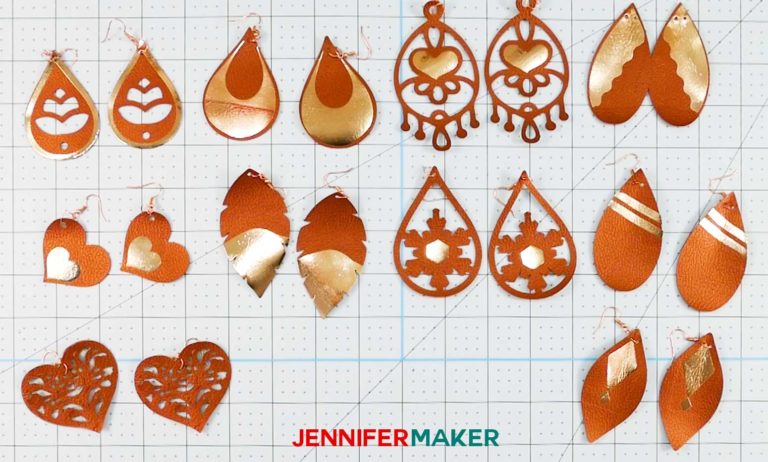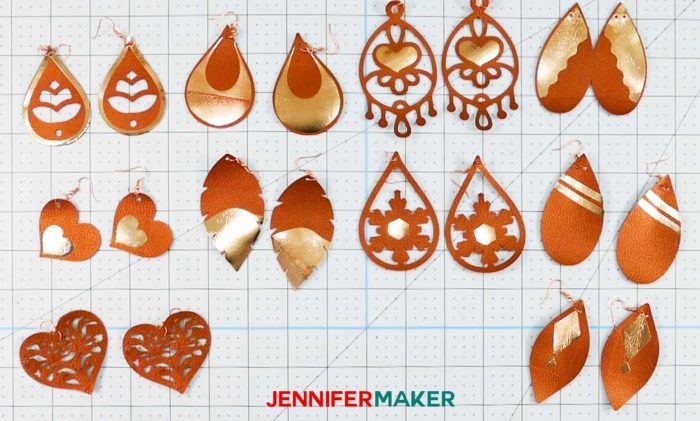 Much gratitude to many readers who requested this project (Lois W., Dori L., Pam C., Melissa P., Kara, Nena H., Helen L., Sarah B., Meredith B., Karen, Sandy, Julie M., Kristie G., and Dianna F.).
Key concepts taught in the video tutorial include how to mirror a design in Cricut Design Space, how to cut faux leather, and how to iron foil vinyl on faux leather.
See exactly how to make Faux Leather Earrings on a Cricut in this tutorial video below:

So let me show you how to make some cute faux leather earrings! This post contains some affiliate links for your convenience (which means if you make a purchase after clicking a link I will earn a small commission but it won't cost you a penny more)! Read my full disclosure policy.

Materials for the Faux Leather Earrings
How to Make Faux Leather Earrings with a Cricut
First, pick out a design. You can download my earring designs (Design #118) from my free resource library (you can get a password for it at the bottom of this page). If you're going to cut the stencil out on your cutting machine, upload the file to your design software. If you're not sure how to upload an SVG cut file to Cricut Design Space, watch this helpful video training series I made. If you're on an iPhone or iPad, here's how to download and upload SVG files to the Cricut Design Space app.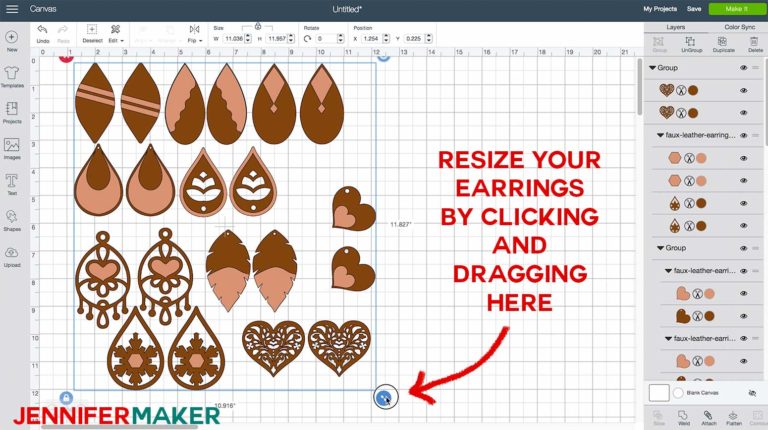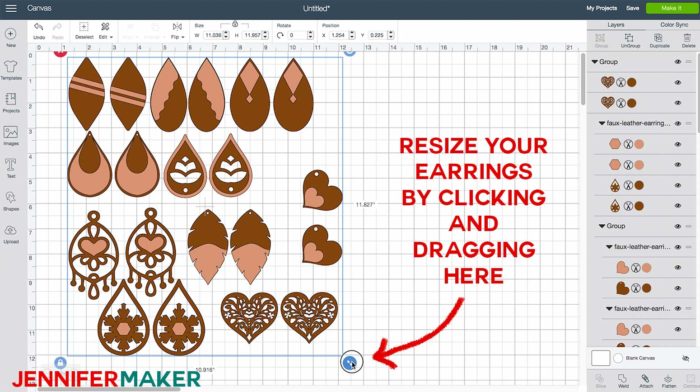 My earring designs have two layers — one is intended for the faux leather (the brown layer) and one is intended for a foil vinyl iron-on layer (the pinkish layer). If you don't want to do the iron-on layer, they'll look good with just the faux leather layer.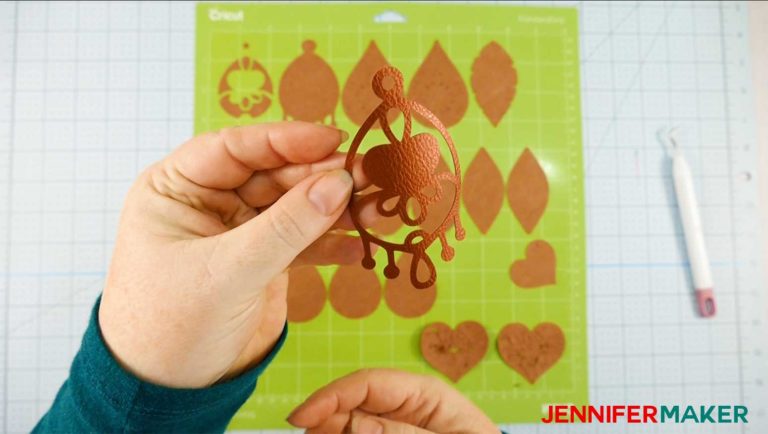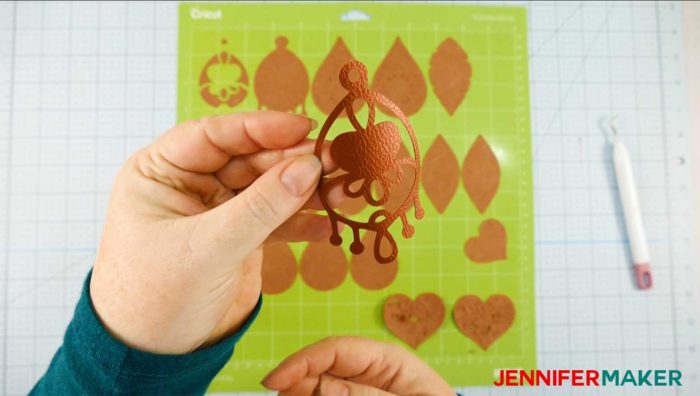 Note: When you cut the faux leather layer, be sure to select "faux leather" as your material and mirror your image. The foil vinyl layer should be set to "foil vinyl iron on" and also mirrored.
If you do decide to cut out the foil vinyl iron-on layer, you'll want to weed the vinyl and then iron the designs onto your earrings before you go any further. I did this using my Cricut EasyPress. For faux leather and foil iron-on with the EasyPress mat, the recommended temperature is 255 for 30 seconds. Once you press your iron-on, let it cool before removing the protective liner.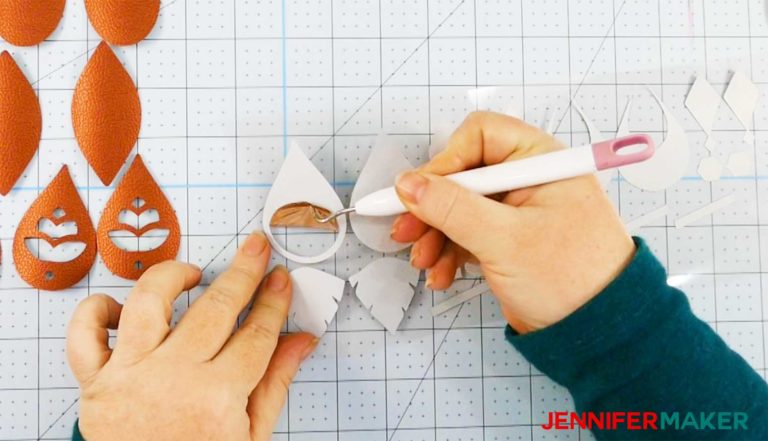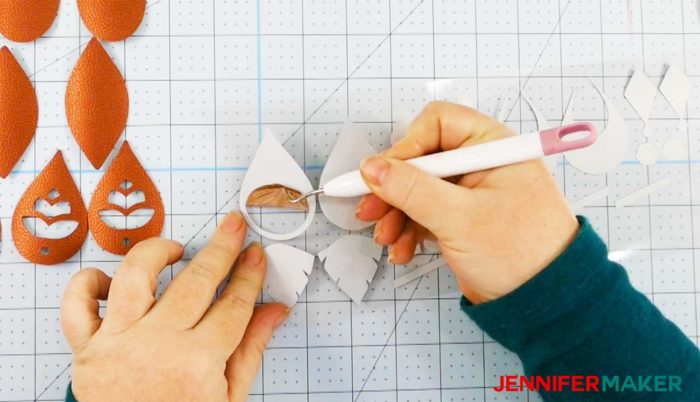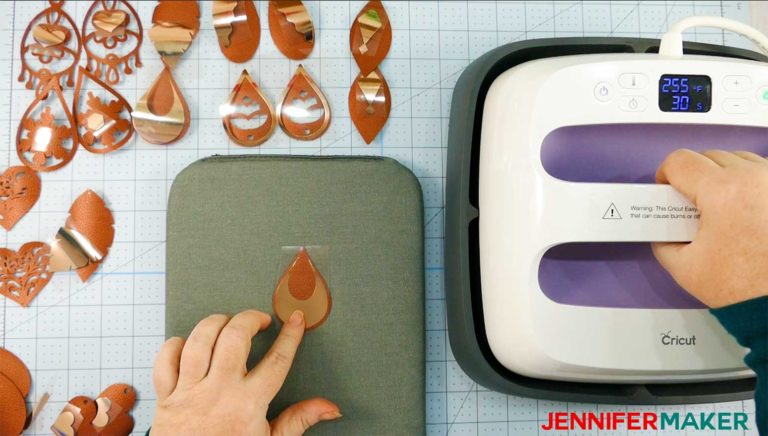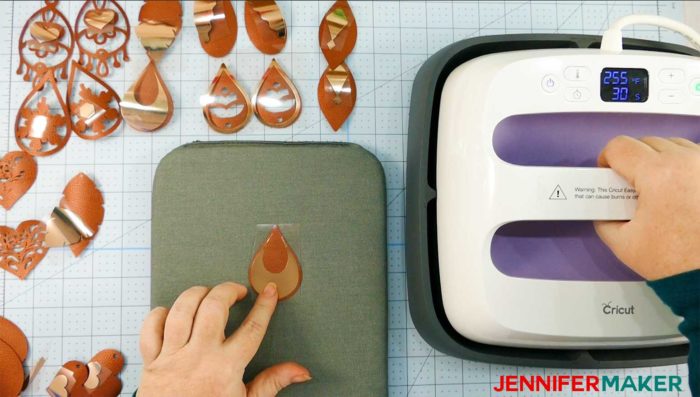 Now some of the earring designs have pre-cut holes, but a few do not. Those that do not are this way on purpose so you can choose whether you want them to hang straight or curved. If you want them to hang straight, just punch a hole at the top with the leather punch and you're good to go.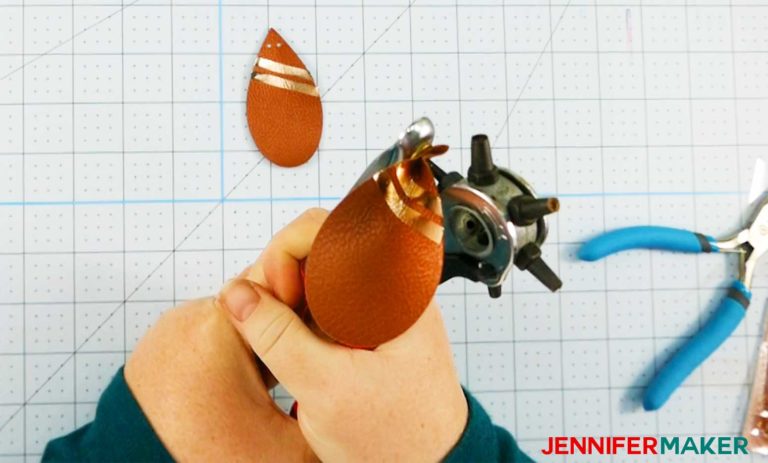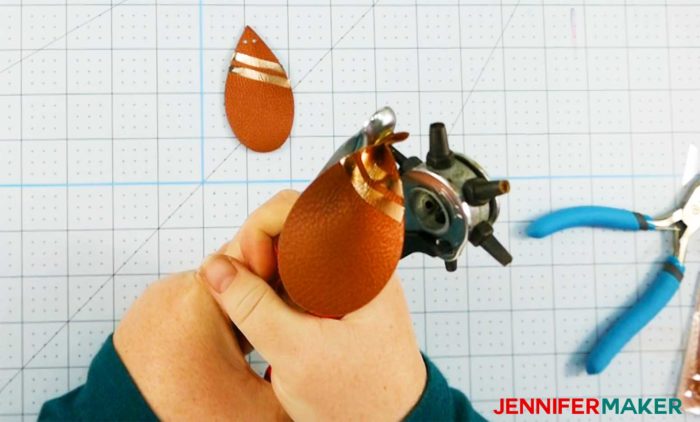 If you want your teardrop shape earrings to curve, fold the top of the earring in half (gently!) and use your hole punch to make a hole through BOTH sides of the leather.
Now it's time to put a jump ring through the hole(s) of your earring. Use your needle nose pliers to open up a jump ring and place the end of the ring through the hole.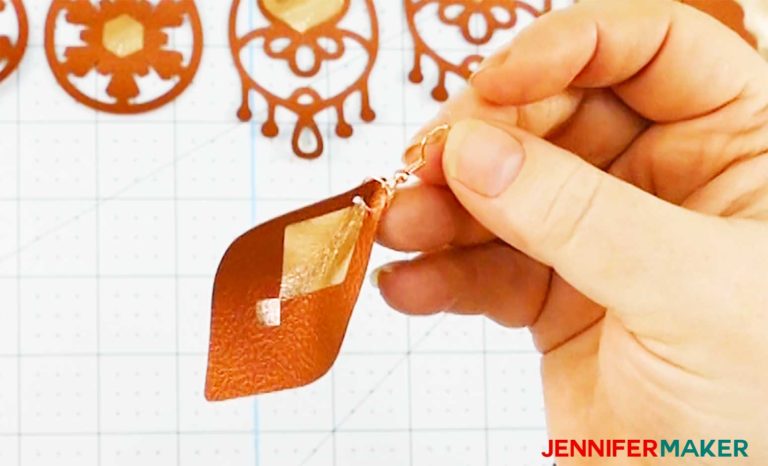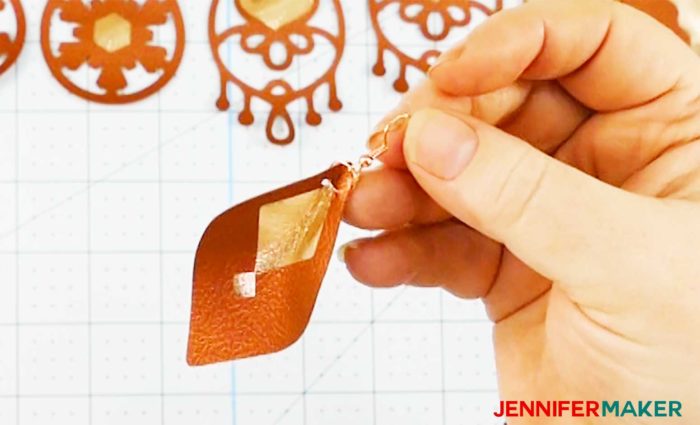 Now just put your earring hook through the jump ring at the top (double-check that the hook is facing the right way) and close the jump ring with your pliers. Now just rinse and repeat with your other earrings.
And that's it! Wasn't that easy?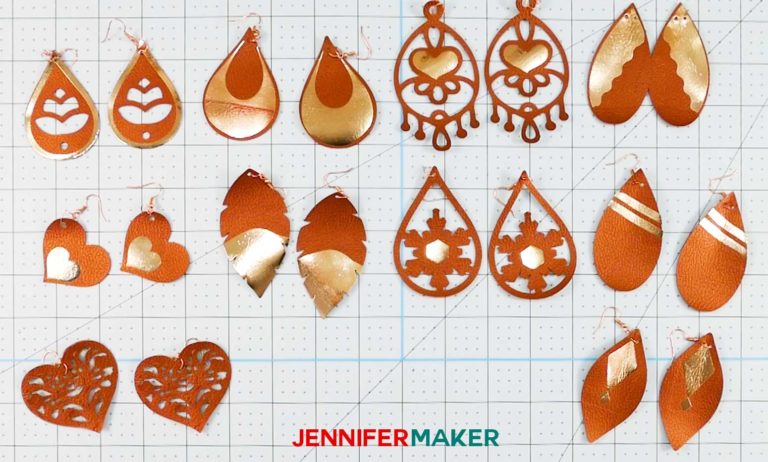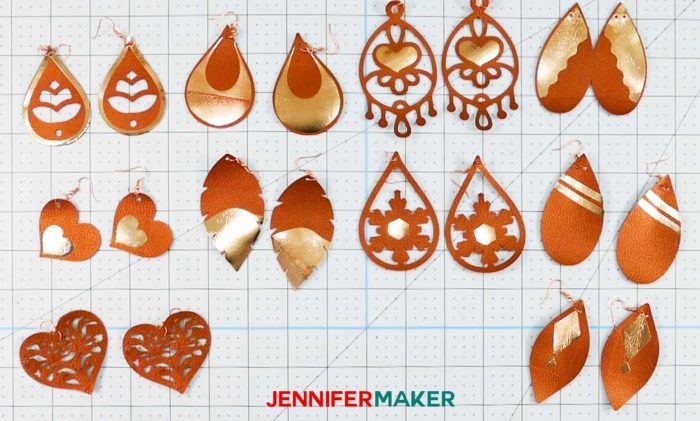 Of course, you don't have to make these earrings with the foil vinyl — I just thought they looked really pretty that way. And, you can resize these earrings to suit your taste. Right now they're definitely on the large size, but I see no problem making them smaller.
Get my free SVG cut files and patterns for the Faux Leather Earrings
If you make any of these faux leather earrings, please share a photo in our Facebook group, or tag me on social media with #makershowandtell.
See all of the projects, tutorials, and free designs in The Great Maker Show and Tell Challenge! There is one for each day of the 25 Days of Christmas! This is my gift to you for the tremendous support, enthusiasm, and love you've shown to me and my little blog over the past two years. To "open" a gift, hover over the day's image and click the download icon.
[ess_grid alias="25days2″]
Love,