Learn how to make gorgeous and easy DIY earrings from faux leather!
If you're anything like me, you love having fun accessories to match the season. The second the air starts to cool down, I'm digging out my cozy fall decor and autumn accessories! And my favorite accessories often end up being the ones I made myself, which is why I can't wait to show you how to make these super pretty and easy DIY earrings! This is the perfect project for an autumn afternoon, with just a few easy steps (and maybe a mug or tumbler of hot cocoa or apple cider).
Want to save this project? Enter your email below and we'll send the project straight to your inbox.
Today I'll share my complete tutorial so you can make your own easy DIY earrings! They are SO much fun and make really great gifts, and they're the perfect accessory to customize with your choice of colors, beads, accent dangles, and other fun elements. I've created ten super cute fall earring designs to wear – or gift – all season long! They're so pretty, and you're going to love making them!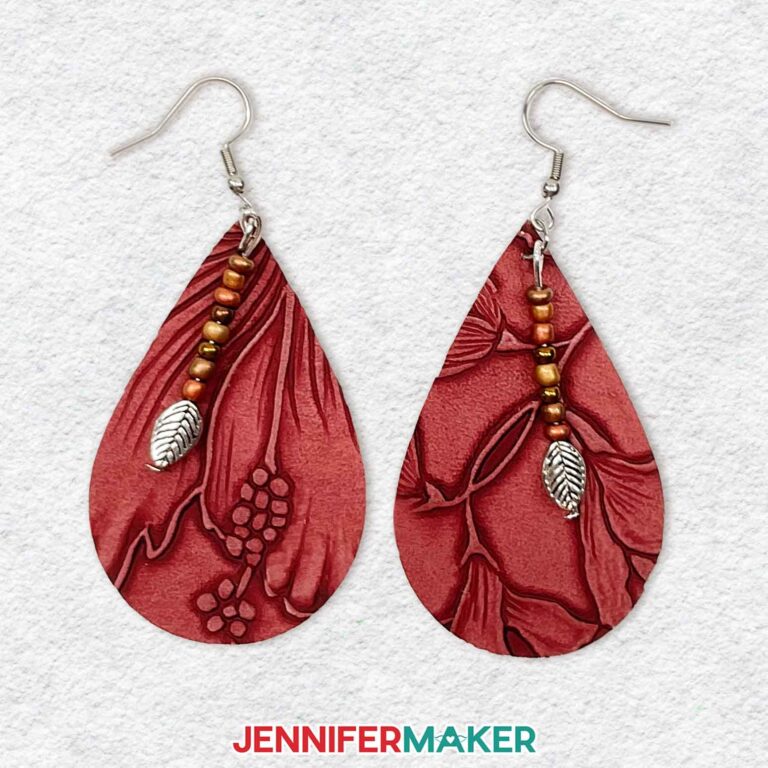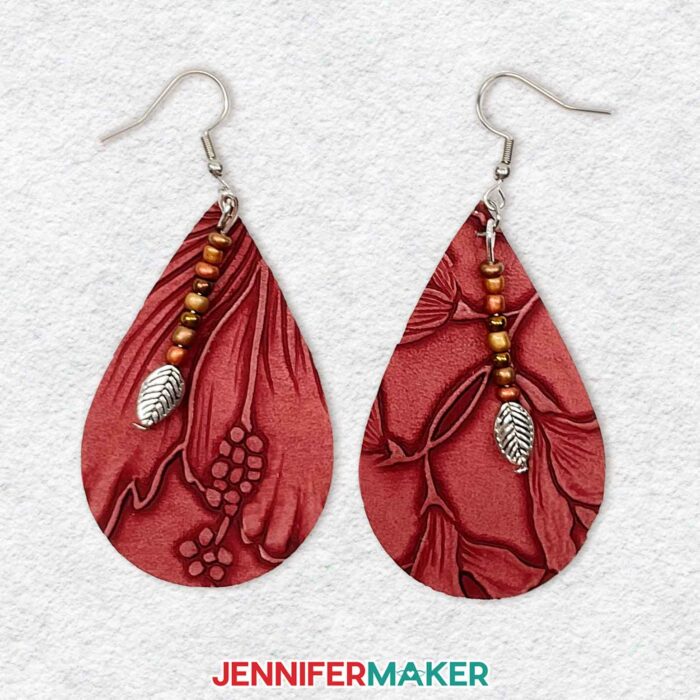 So, why faux leather? Well, one of the best things about them is that they're incredibly light weight, which is great for bigger dangle earrings! Plus they come in SO many styles and colors, some of which even look pretty close to real leather. It's a great way to get a leather look, but at a lower cost and with a material that's quite a bit easier to work with than genuine leather.
The best part? You can cut these on any Cricut cutting machine, including the Joy and the new Joy Xtra. You could even cut them (or batch cut a ton of them) on the Cricut Venture!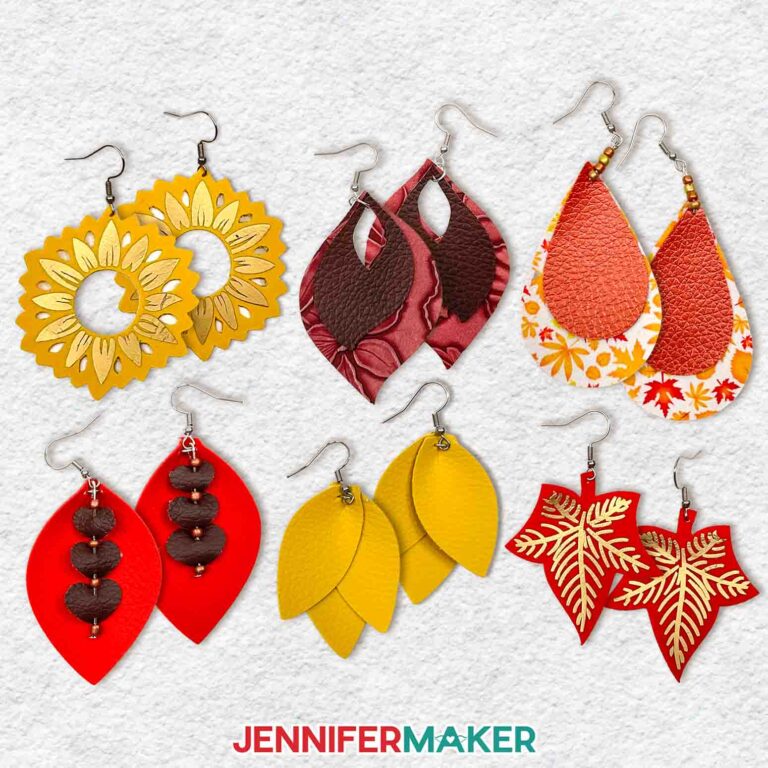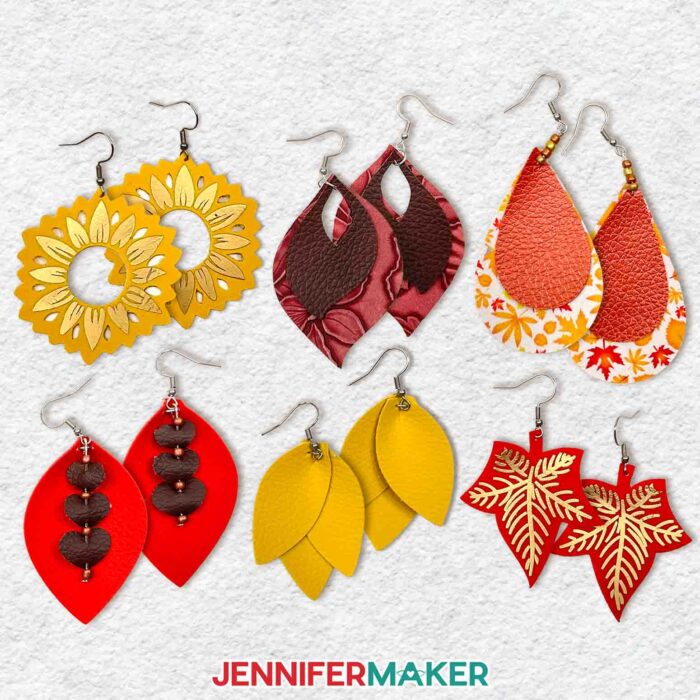 The drawback with this type of earrings is that the back of faux leather leaves something to be desired; it has an unfinished look that just doesn't look very nice. I have a really neat fix using some metallic iron-on vinyl that I'll show you later, though!
In addition to that, I'll also show you how to add foil vinyl accents to the front of your earrings! I especially like the foil metallic vinyl for jewelry because it just adds that extra flash, but you can choose your favorite color or pattern — these are your own unique earrings, after all!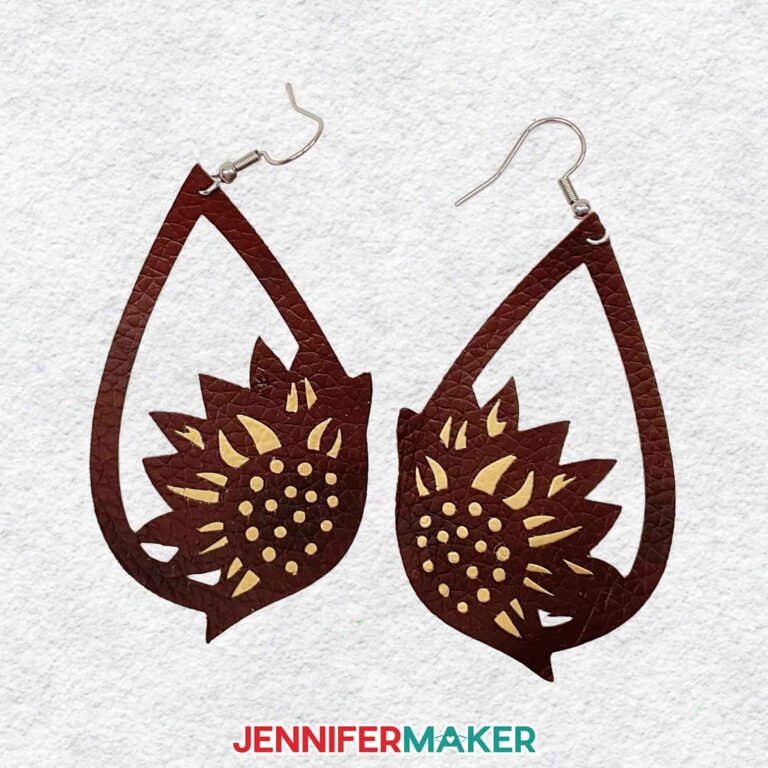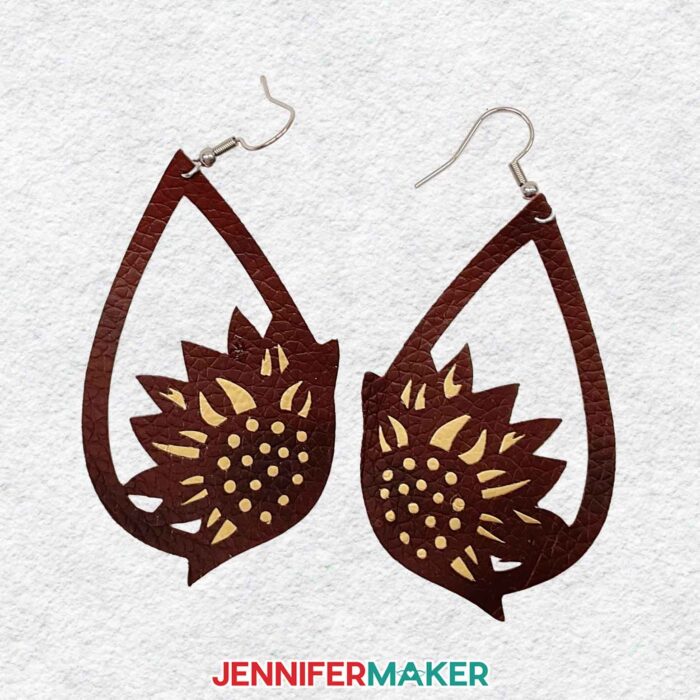 To make my easy DIY earrings, you'll need a few basic tools that I have listed in my materials. You can find them online (I link to everything I use) or pick them up in your local craft store. Then I'll guide you through the simple steps for how to assemble and finish your pair of earrings with French hooks, so you can wear your gorgeous creations all autumn long.
As a bonus, I'll also show you how to make some sweet little pumpkin earrings, as well as really cute leaf earrings with accents of different colors of beads! You can use the same or different beads as me — it's totally up to you to choose how YOUR easy DIY earrings come out! And don't be intimidated — though they may look complicated, it's a super easy tutorial. You can do totally this!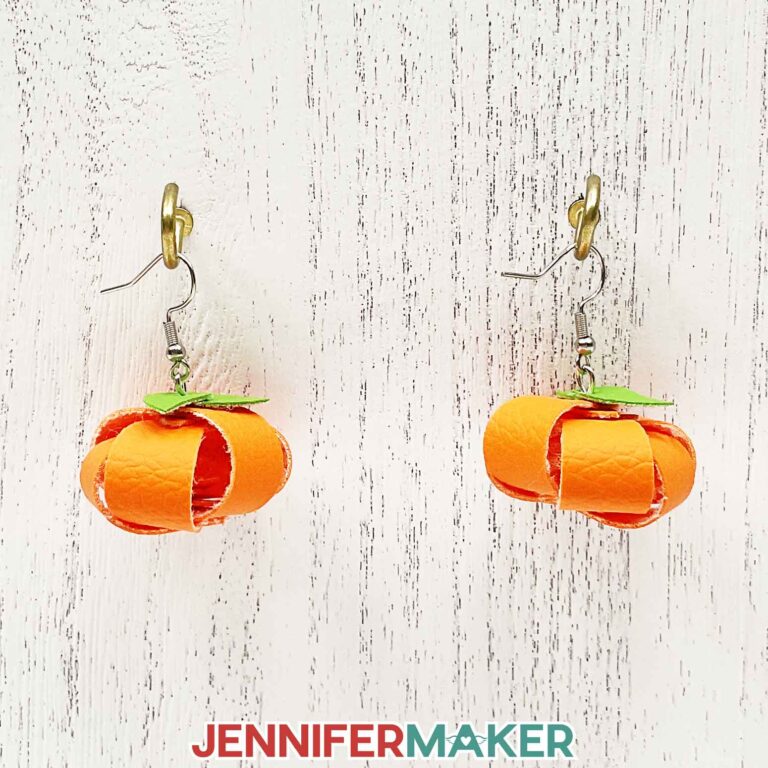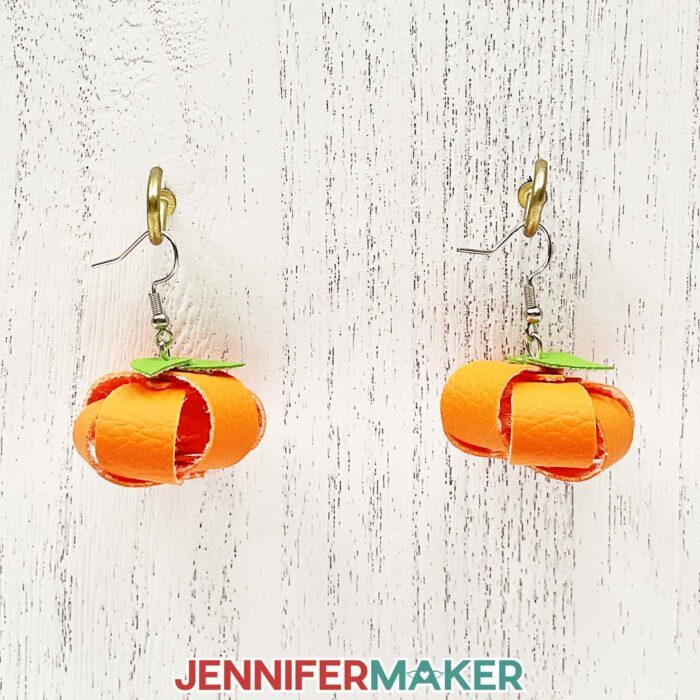 Don't have a ton of time? Good news: My faux leather earrings are a super quick and easy DIY project that you can make in a breeze, and I'll show you everything you need to know in my step-by-step tutorial. They'll take your autumn accessorizing to the next level and everyone will ask where you got your beautiful earrings (and then probably ask you to make them some, too).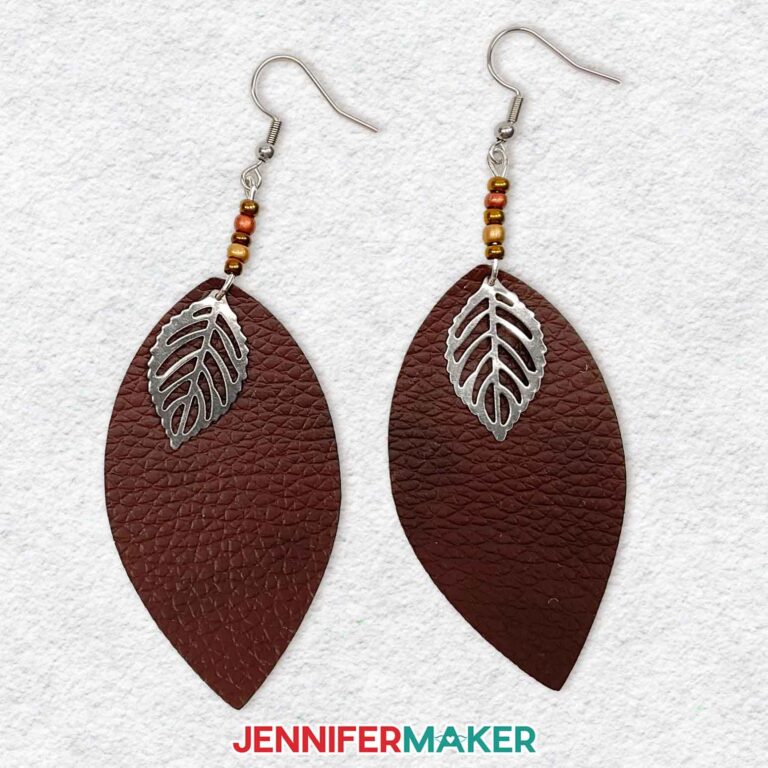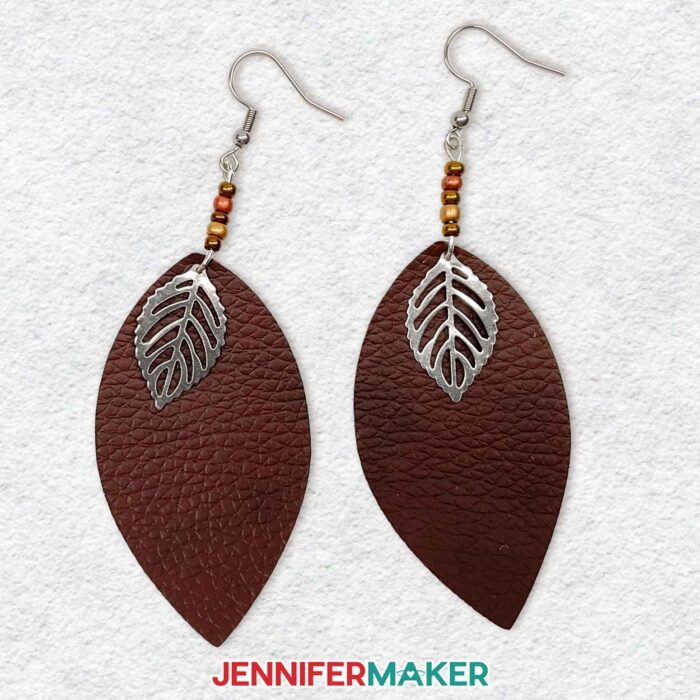 Here's a supply list of what you need to make easy DIY earrings! This post contains some affiliate links for your convenience (which means if you make a purchase after clicking a link I will earn a small commission but it won't cost you a penny more)! Read my full disclosure policy.
Materials and Tools to Make Faux Leather Earrings
View my Amazon shopping list with the exact items we used to make this project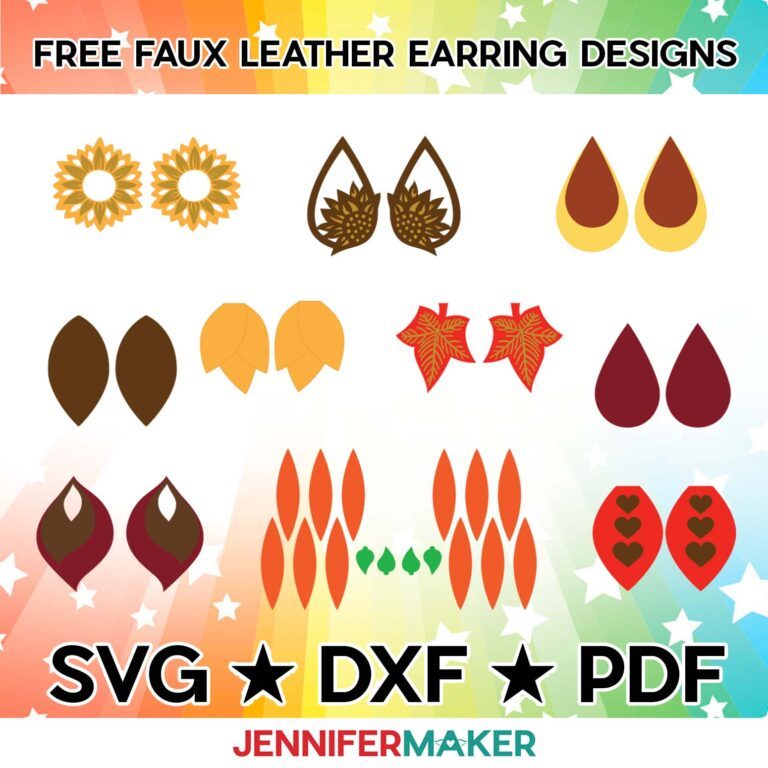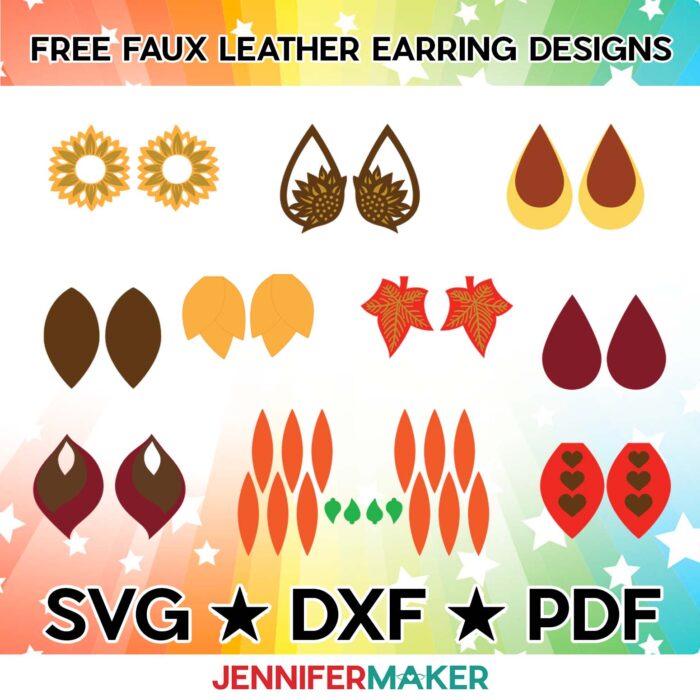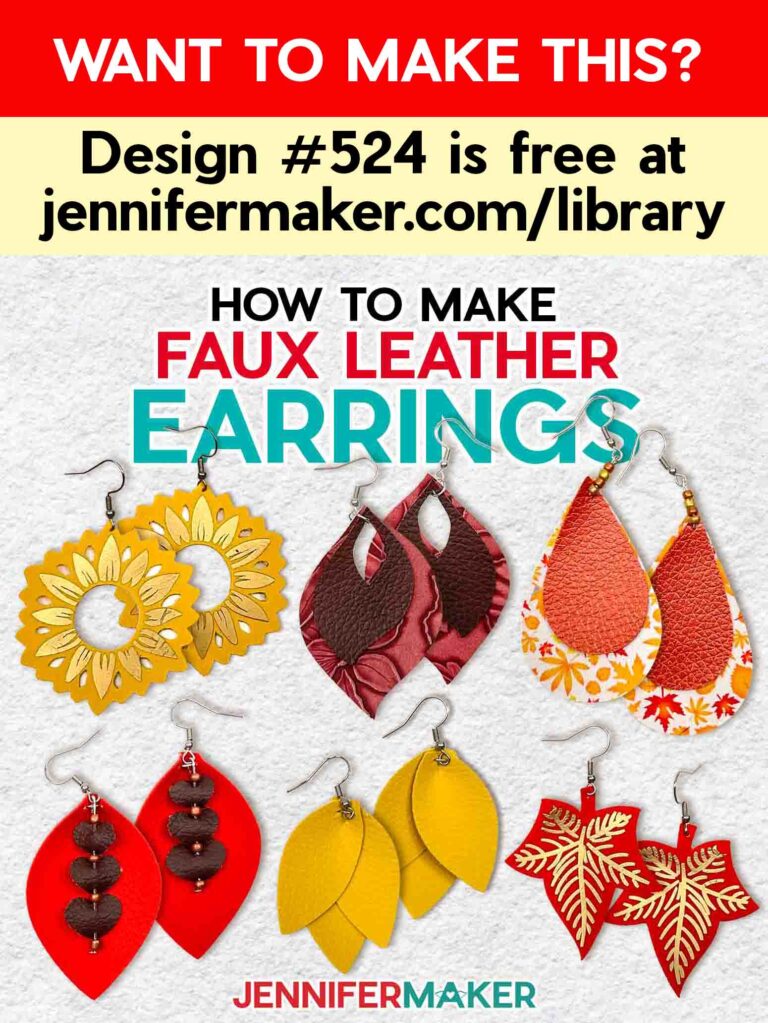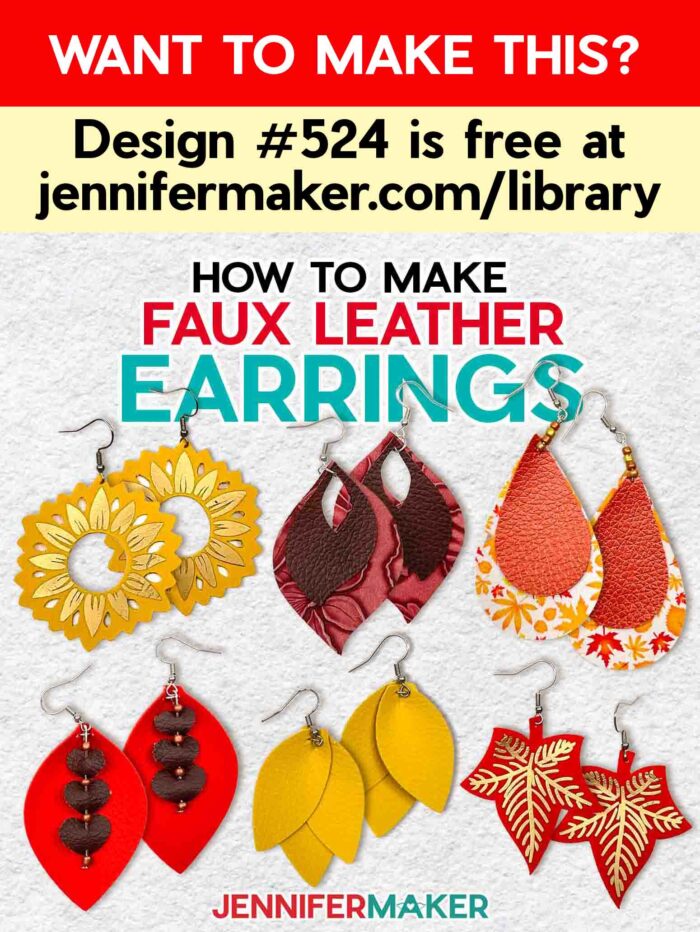 How to Make Your Own Easy DIY Earrings
The detailed step-by-step assembly video on how to make easy DIY earrings debuted during Maker Academy Weekend 2023, held online November 1-5, 2023. Get an on-demand pass to watch all 30+ workshops, each with a printable handbook, transcript, audio file, design files, and support with a VIP pass below:


Answers to Your Questions About How to Make Your Own Easy DIY Earrings
Q: Where is your tutorial for this project?
A: These DIY faux leather earrings are a special project we made for our free Maker Academy Weekend 2023 event! A complete and detailed step-by-step video premiered during the event November 1-5, 2023 — this tutorial video was available to watch for free for 24 hours only during the event. If you missed it, you can get access to the full video, the 15-page printable handbook that details how to make this beautiful project with a VIP Pass to Maker Academy Weekend 2023, which comes with other perks and bonuses, too! Look at all the star ornaments made by our VIP passholders in the lead up to our big event!
Q: How can I make my own earrings? How do you make simple dangle earrings?
A: This tutorial is a great place to start! While you don't need a Cricut machine to make earrings, making faux leather jewelry is way easier with a cutting machine. You can apply this tutorial to earrings made from many different materials, because the finishing touches like adding the earring hook are going to be very similar.
Q: What materials do you need to make earrings at home? What tools do you need to make faux leather earrings?
A: To make your own handmade earrings that dangle, you'll need a few simple materials to start: French hooks and a pair of jewelry pliers. Beyond that, the materials depend on the type of earrings you'd like to make!
To make my faux leather earrings, you'll need some faux leather, some iron-on vinyl to apply to the back (I like using foil HTV), and a cutting machine like a Cricut with a Deep Point Blade, StrongGrip and StandardGrip machine mats, and all the other usual Cricut accessories. You'll also need an EasyPress Mini (or another heat source) to apply the heat-transfer vinyl, and a leather hole punch or awl to punch a small hole in your earring for the French hook.
Optionally, you can add extra flair using head pins, glass beads, leaf beads and charms, seed beads, clay jewelry elements, or any other fun and decorative beads and findings you want to add to suit your personal style!
Q: What do I put on the back of faux leather earrings?
A: To create a finished look on the back of the faux leather earrings, I like to add iron-on vinyl. My favorite vinyl for this is metallic, because it gives that shiny, blingy look! But if metallic isn't for you, feel free to use any color or pattern HTV — the choice is totally yours.
Q: How do you make holes in faux leather earrings?
A: To create a hole in the faux leather for the earring hook, like to use a leather hole punch. You can also use an awl. You want the hole to be really, really small, so I find using the leather punch to be easiest, rather than having my Cricut cut it.
Q. Can you make faux leather earrings without a Cricut?
A. Absolutely! While cutting faux leather with a cutting machine like a Cricut is the easy way, you can cut faux leather with a pair of good craft scissors. In my download file, I include a PDF with simple DIY patterns to help.
Q. Do you have any other earring tutorials? How about other jewelry?
A. Need some more easy DIY earring ideas to make some special jewelry to keep, gift, or sell? I've got you covered, with more faux leather earring tutorials here, here, and here. I've also got a tutorial for making wood veneer earrings, foiled earrings, engraved metal earrings, and even Shrinky Dink earrings! You can also check out my tutorials on how to make wish bracelets and a gold dipped crystal necklace like Jyn Erso wore in "Star Wars: Rogue One!"
Get my free SVG files to create these faux leather earrings!
Get FREE access to this design and ALL of my SVG cut files!
Subscribe (free!) to my newsletter with updates and tips PLUS get instant access to my resource library with this file and all of my other free files, printables, and patterns! Once subscribed, I will send you a newsletter with details about my new free files each week.
Free Resource Library
Enter my
free resource library
for my latest files, printables, and patterns! Password is 'craft' -- please copy and paste that in at the link above. Thanks for being a subscriber!!
I SO hope you'll make projects using our easy DIY earrings tutorial! Please share a photo of your earrings in our Facebook group or tag me on social media with #jennifermaker.
Love,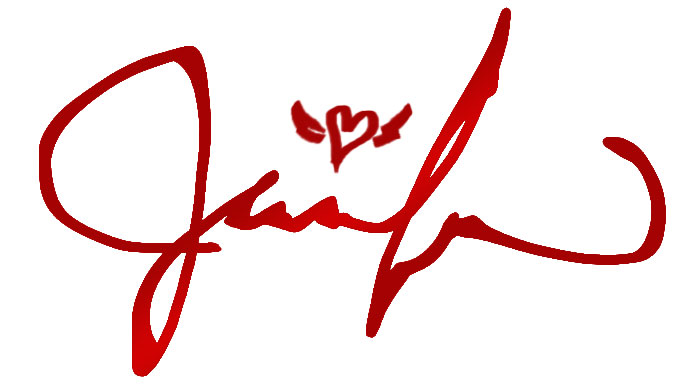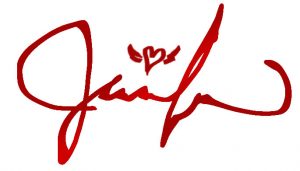 Want to remember this? Save this Easy DIY Earrings tutorial to your favorite Pinterest Board!