Need a special box for a special gift? My Gift Box templates let you make a box to fit that small item perfectly, whenever you need it! Plus … ornament boxes!

I LOVE making boxes! So far I've made an Ornament "Orb" Box, a Heart Box, the "Impossible" Box, a Mini Top Hat Box, a Pie Slice Box, and a Puppy Box. And my Paper Purse and Christmas Crackers work as boxes in a pinch, too! Why so many? If you're anything like me, you're always struggling to find the perfect box for a gift. But thanks to the Cricut, I now can make any box I want, and it can be perfectly sized for my gift! And now you can do this, too, with my gift box templates!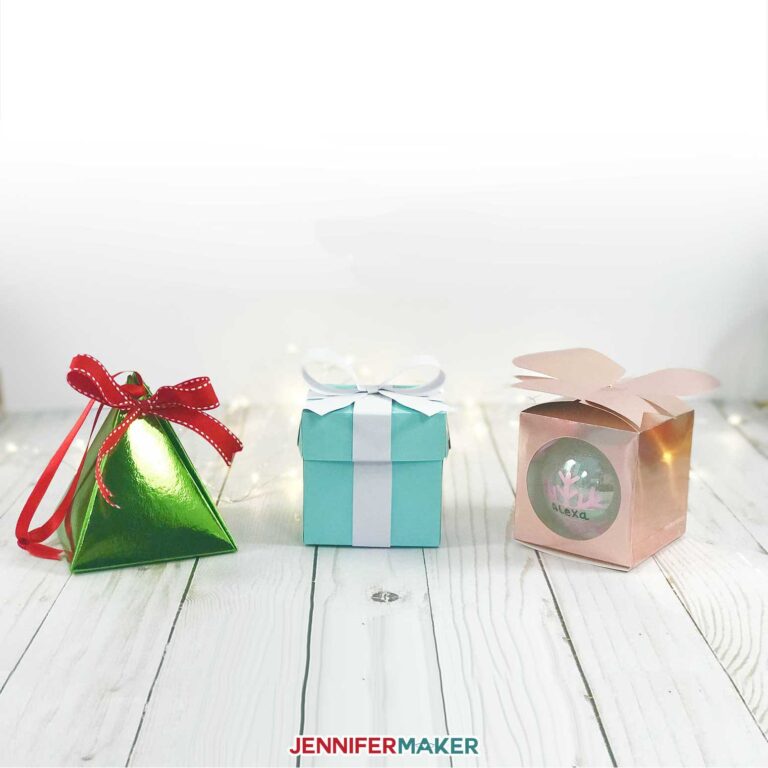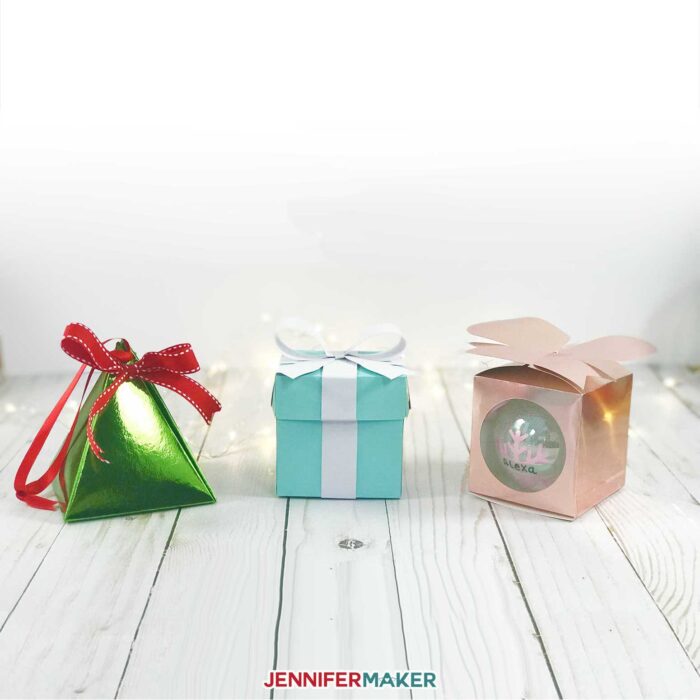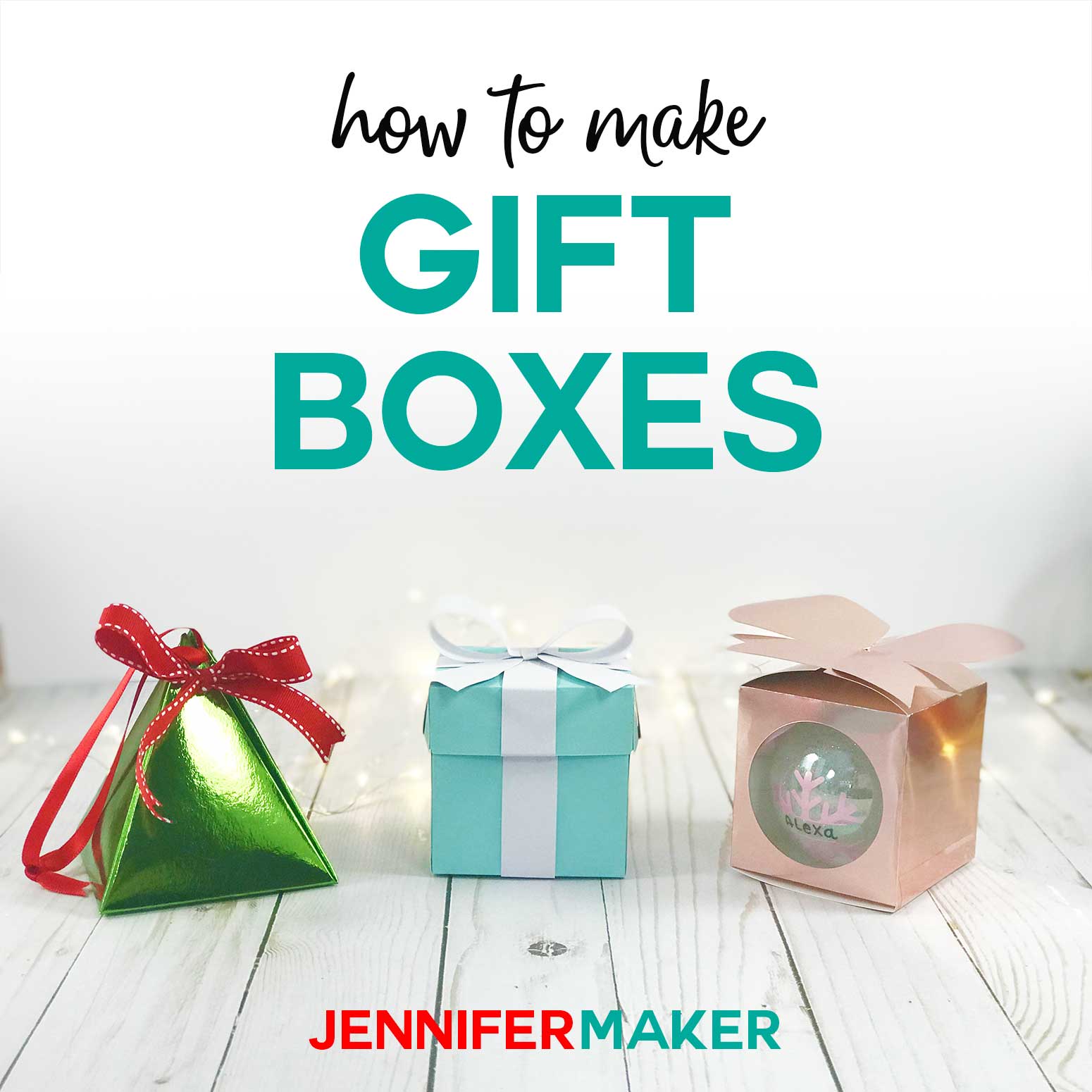 Today I'm making a series of boxes in different shapes so you always have what you need for your next gift!
The first one is a super simple pyramid shaped box that ties up with a ribbon. Cut it out in green paper and it'll look like a Christmas tree!
The second gift box is easy box with a built-in lid in the shape of bow! I have two versions of this — a regular one and one with a window for all of those pretty glitter ornaments you made!
The third box is a classic box with lid, perfect for making a sweet little Tiffany box complete with Tiffany bow!
Much gratitude to many readers who requested I design gift boxes (Katoshia Y., Lindsay K., Jo G., Samira H., Emily H., Bernie F., Charlotte G., Susan M., Janelle C., Stacy C., Lizbeth I., Melleny, Donna C., Barbara, Stephanie E., ). Each person who contributed this project idea will receive an extra entry for your idea (I am keeping track on this on my end). And don't forget, you can suggest project ideas for this Challenge here and receive entries to win one of our awesome prizes, including a Cricut Maker!
Key concepts taught in the video tutorial include how to set score lines, how to know which side to score, and how to assemble a box.
See exactly how to make my Gift Box Templates in this tutorial video below:

Enough talk, let's make some pretty gift boxes! This post contains some affiliate links for your convenience (which means if you make a purchase after clicking a link I will earn a small commission but it won't cost you a penny more)! Read my full disclosure policy.

Materials for the Gift Box Templates
How to Make a Gift Box Templates
To get started, download my gift box templates (Design #120) from my free resource library (you can get a password for it at the bottom of this page). If you're going to cut the gift boxes out on your cutting machine, upload the file to your design software. If you're not sure how to upload an SVG cut file to Cricut Design Space, watch this helpful video training series I made. If you're on an iPhone or iPad, here's how to download and upload SVG files to the Cricut Design Space app.
Note: All of these gift boxes have SCORE layers. You need to locate the score layer, change it from cut to score, then attach it to its base layer. You will likely need to ungroup first! Watch the video for details on how to do this and read my Cricut Scoring guide for tips!
Watch the video linked above for the full tutorial!
Get my free SVG cut files and patterns for the Gift Boxes
If you make these fun gift boxes, please share a photo in our Facebook group, email it to me at [email protected], or tag me on social media with #makershowandtell.
See all of the projects, tutorials and free designs in The Great Maker Show and Tell Challenge! There is one for each day of the 25 Days of Christmas! This is my gift to you for the tremendous support, enthusiasm, and love you've shown to me and my little blog over the past two years. To "open" a gift, hover over the day's image and click the download icon.
[ess_grid alias="25days2″]
Love,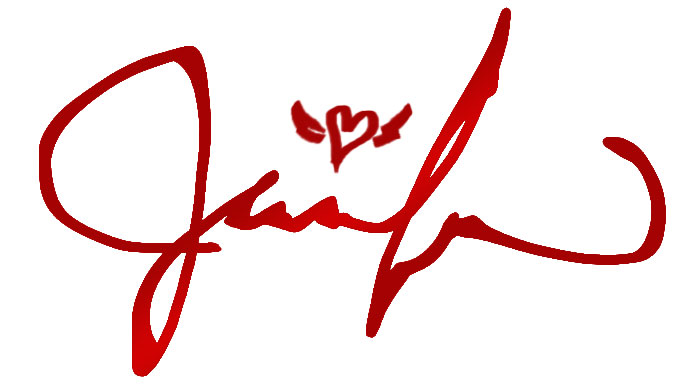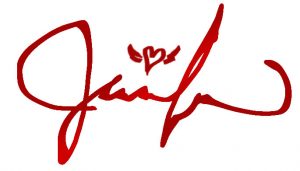 P.S. Need more boxes? Here are links to my favorite gift box templates and tutorials: