Curious about my vintage style of dress? Read on to learn where to get vintage-inspired clothing easily and affordably!
I regularly get questions about my colorful clothing, accessories, and style of dress. I appreciate all the kind comments and compliments, and I know many of you are interested in learning how you can purchase or make clothing like this yourself. And you can! It's so much easier than you might think, too! I dress in a mid-century (1950s) vintage style with full skirts, cardigans, fitted aprons, sensible shoes, and lots of hats. And it is FUN!
How This All Started
I've always been fond of skirts and dresses, but up until about 2014, they were just simple long cotton skirts. In 2015, a new trend called "Disneybounding" was becoming popular, and as a frequent Disney traveler, I wanted in on the fun. Disneybounding means to dress up in a way reminiscent of a Disney character without it looking like a costume. When I thought about what I could do, I decided to make a full circle skirt in a red-and-white polka dot pattern a la Minnie Mouse. I made it and fell in love with the swirly skirt. I went on to make many more and wore them nearly all the time.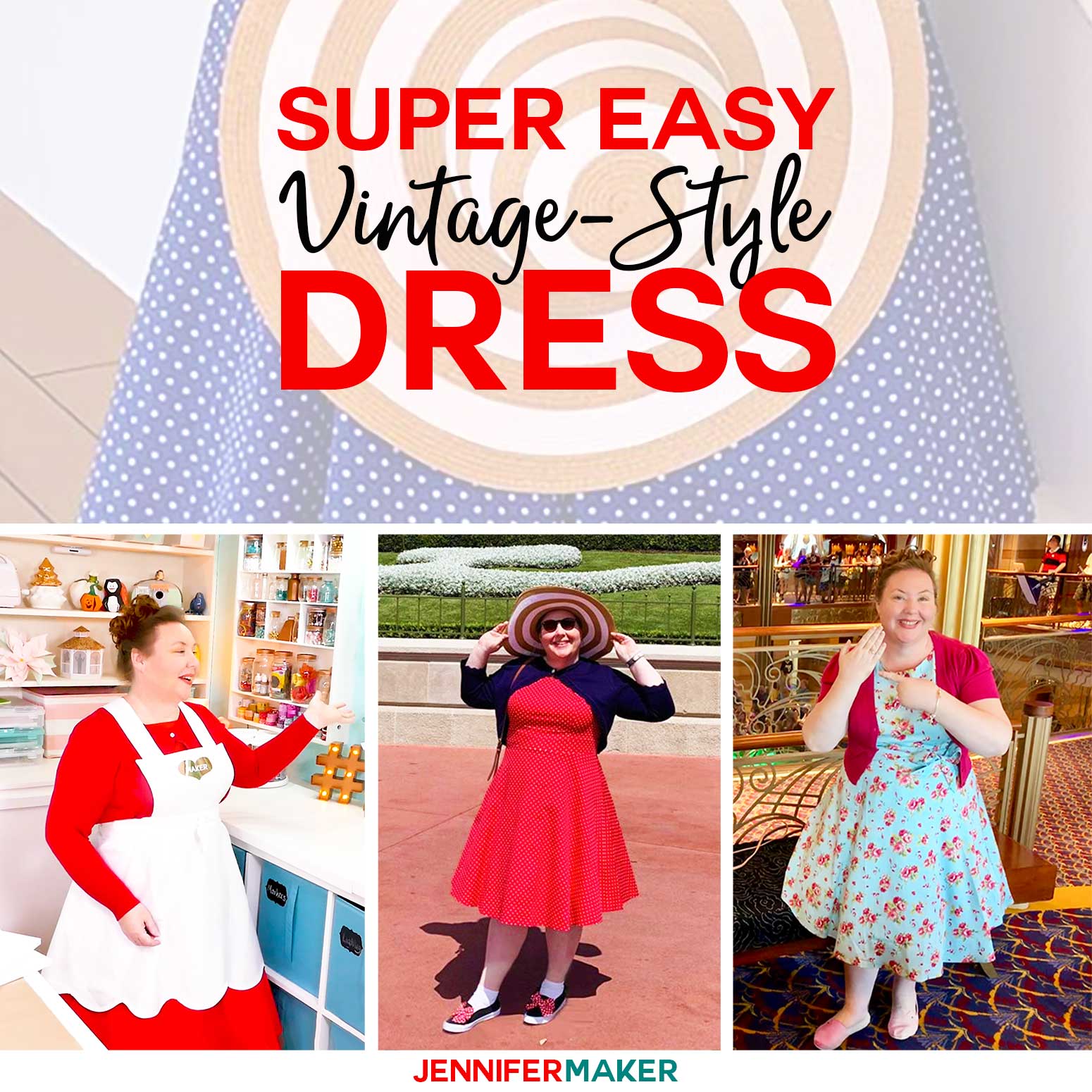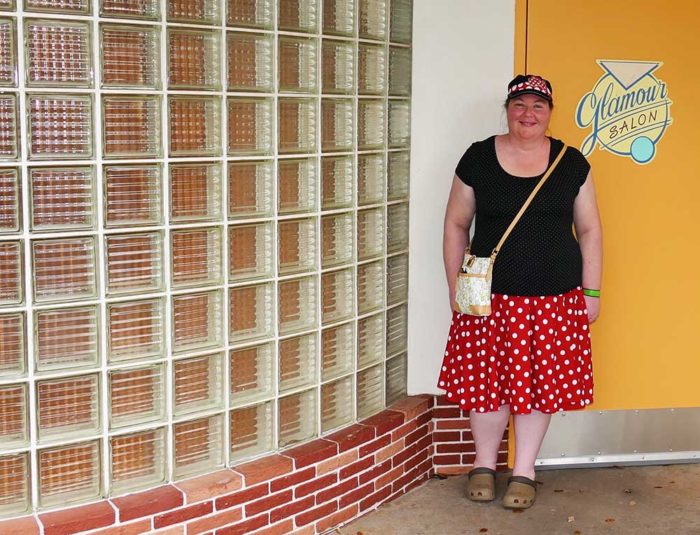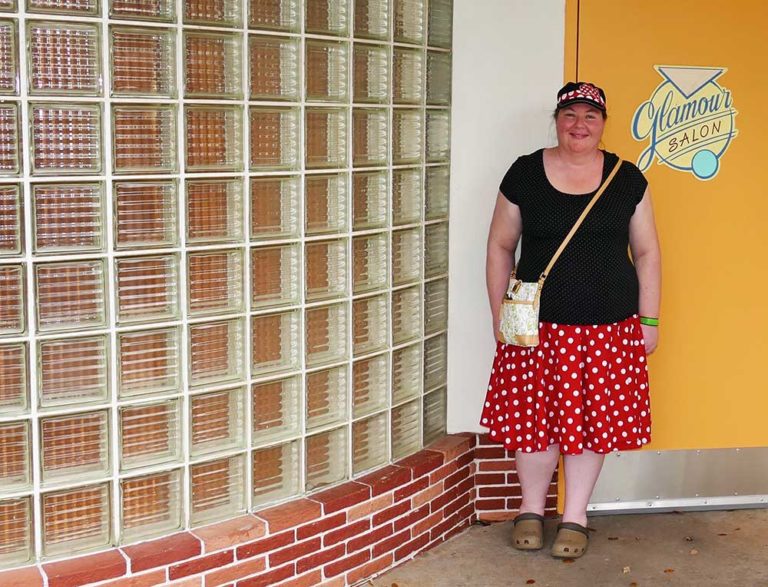 By 2017, this Disneybound trend — along with Disney Dapper Days — had inspired a whole line of retro and vintage-style dresses available for sale at Disney. I bought a '50s-style dress with a full skirt and a matching sweater, along with a petticoat, and I was hooked.
From that day on, I knew THIS was my style. It was fun, comfortable, and distinctive. This style makes it easy to always dress nicely. And you wouldn't believe the compliments I get from total strangers — it's a fun way for this introvert to meet new people. I now have an entire wardrobe around this style and love everything about it.
So let me show you the actual vintage-style dresses! This post contains some affiliate links for your convenience (which means if you make a purchase after clicking a link I will earn a small commission but it won't cost you a penny more)! Read my full disclosure policy.

The Vintage-Style Dresses
The first vintage-style dress I got was Disney's Main Street U.S.A. Dress and Sweater Set, which is still available for sale at the Disney Dress Shop and online. If you love Disney, you'll find an entire collection of vintage-style dresses with a Disney inspiration.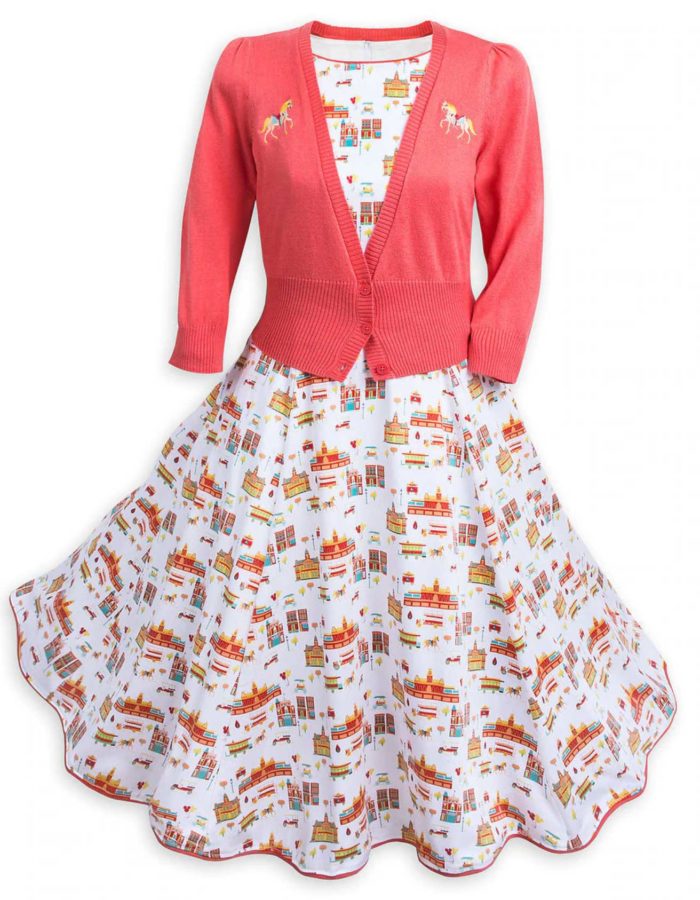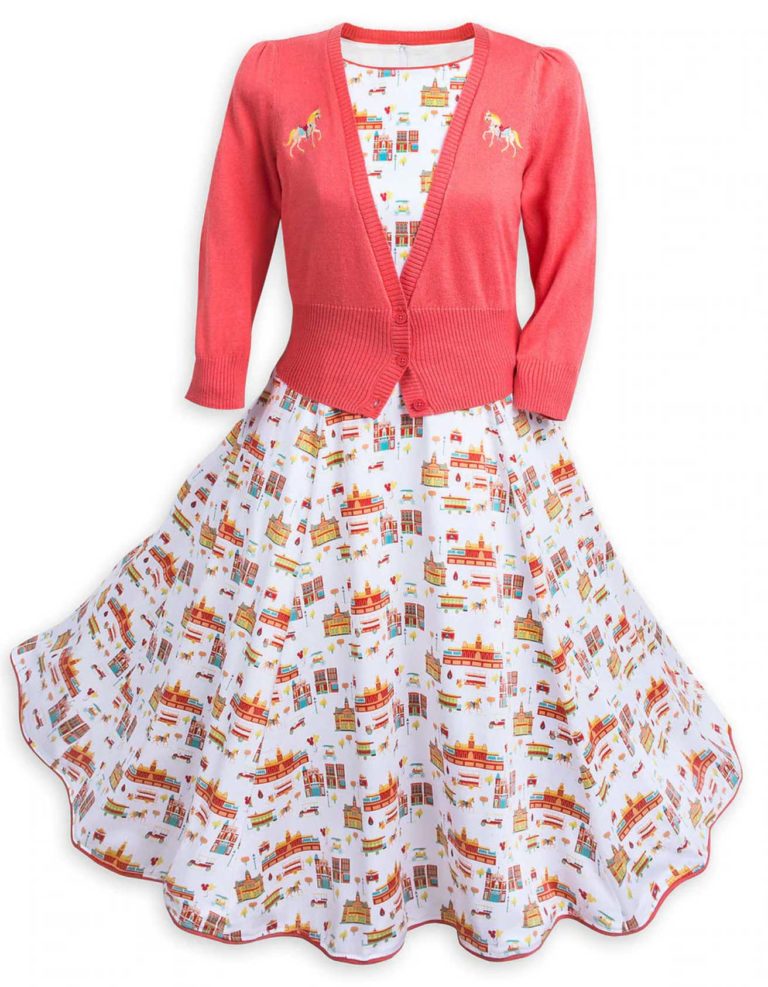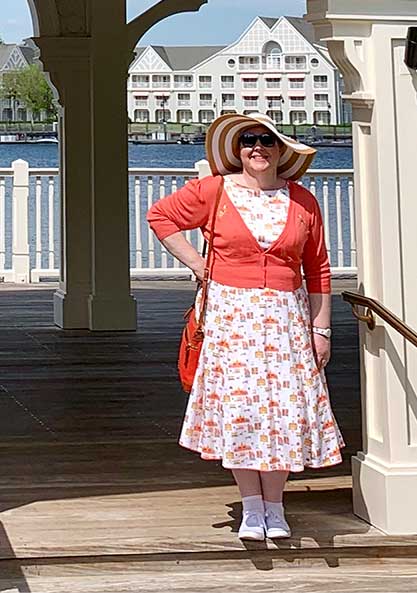 That first dress was awesome, but not inexpensive — I paid well over $150 for it. I thought about creating a pattern from it and making more myself, but at the time my blog was taking off and I really had no time for dressmaking. I found several online clothing shops that sold vintage-style clothing, like ModCloth, but they were also fairly pricey. So instead I turned to Amazon and discovered a world of affordable vintage-inspired dresses in a wide range of styles, patterns, and colors.
Amazon Sizing Notes: If you decide to get these dresses, note that they have Asian sizing, not American sizing. That means you need to order a larger size. For example, I normally wear a large or x-large, and I need to order these dresses in 2X and 3X in order for them to fit comfortably. I usually go for 2X in a dress with a lower neckline (like the sweetheart necklines) and a 3X in a dress with a boat collar. I recommend you order two dresses in two different sizes to determine the best fit and return the one you don't want.
I started conservatively with solid colored dresses like this burgundy sweetheart neckline A-line dress in cotton.
I also got this red boatneck "fit and flare" style dress in a style very similar to my first Disney dress. I also have this dress in burgundy.
As well as this navy blue sleeveless dress and this coral bowknot dress, both in soft cotton.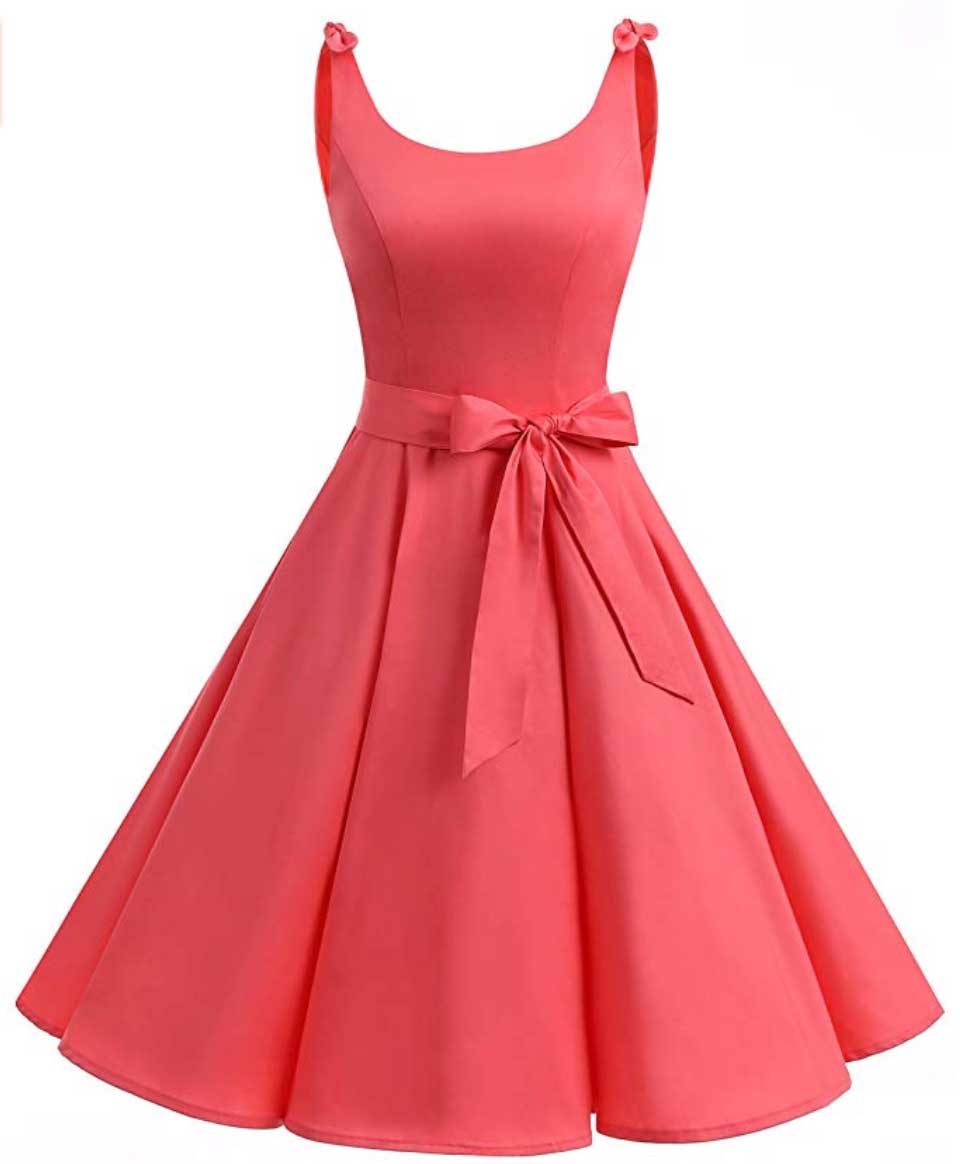 When I went on my vacation in March 2019, I decided it was time to try some PATTERNS so I got some new vintage-style dresses, again from Amazon. Here is my blue polka dot dress: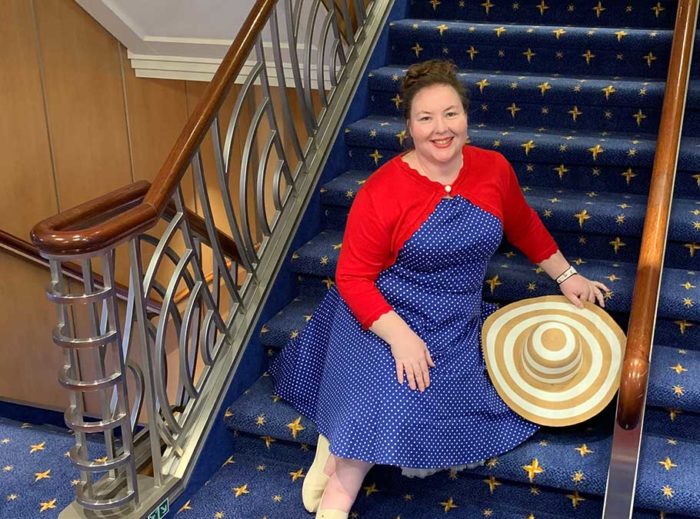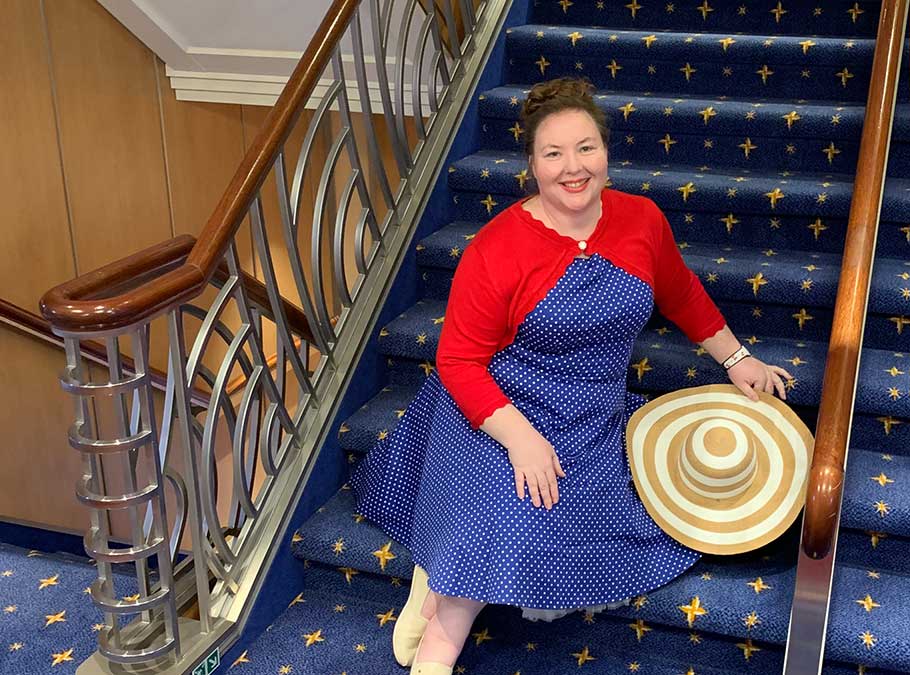 Here is my white and red cherry vintage-style dress: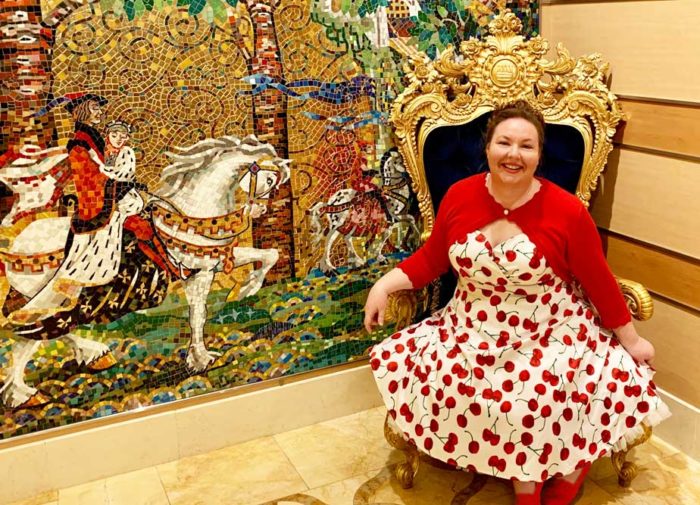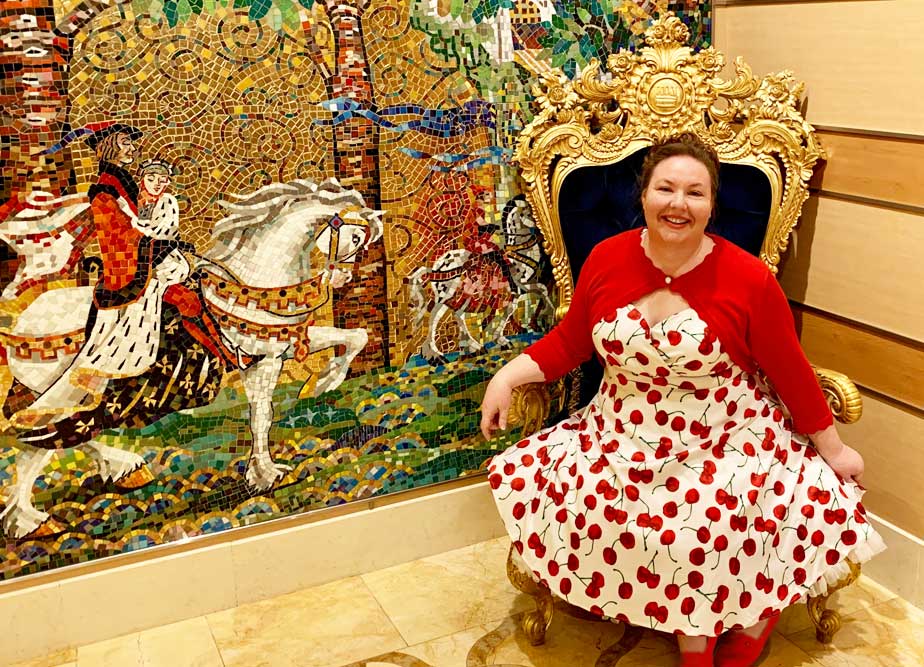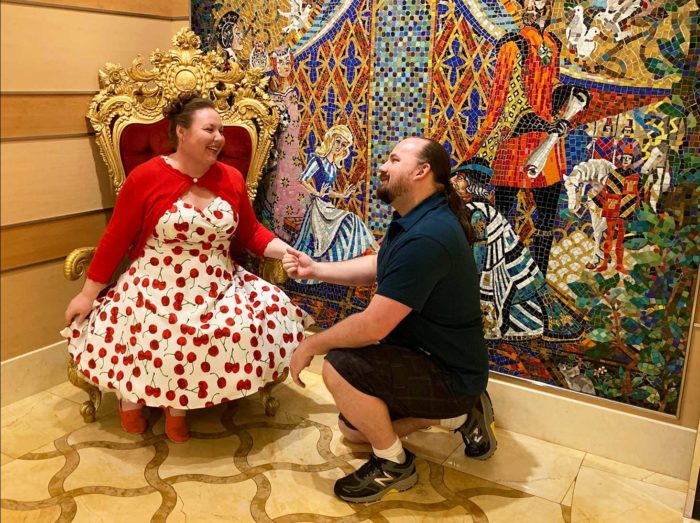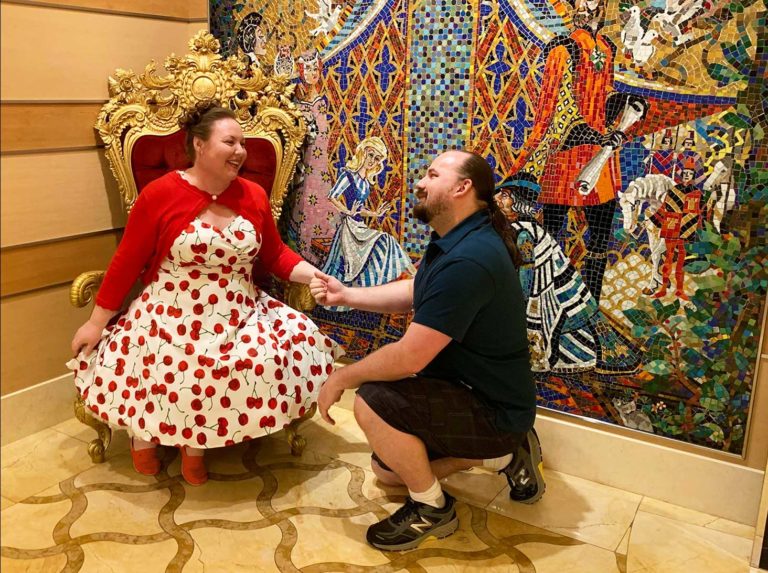 My blue floral dress (my current favorite) — and yes, I'm pointing to my new engagement ring in this photo!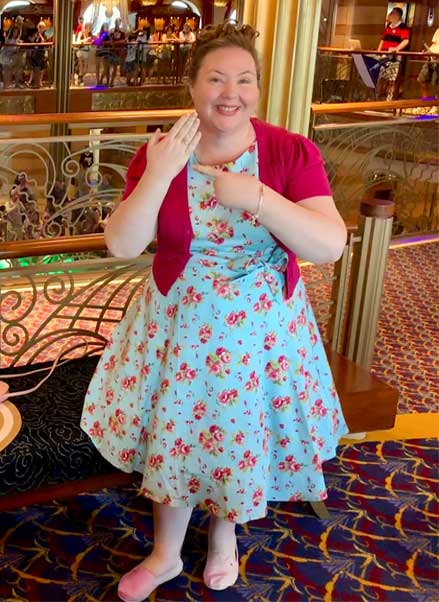 And my red polka dot dress: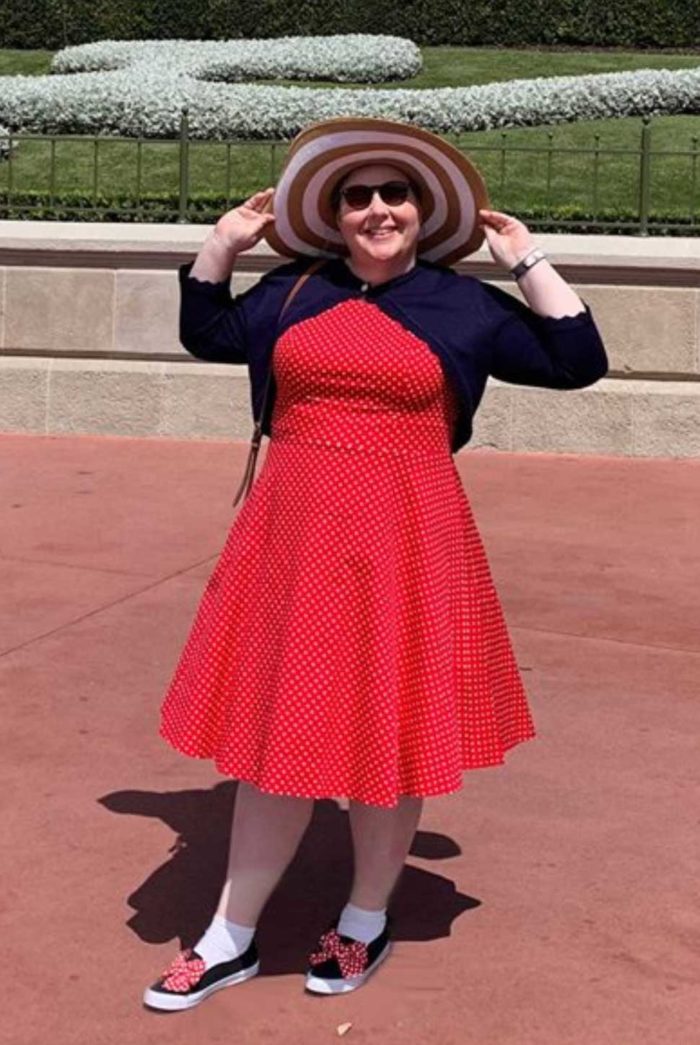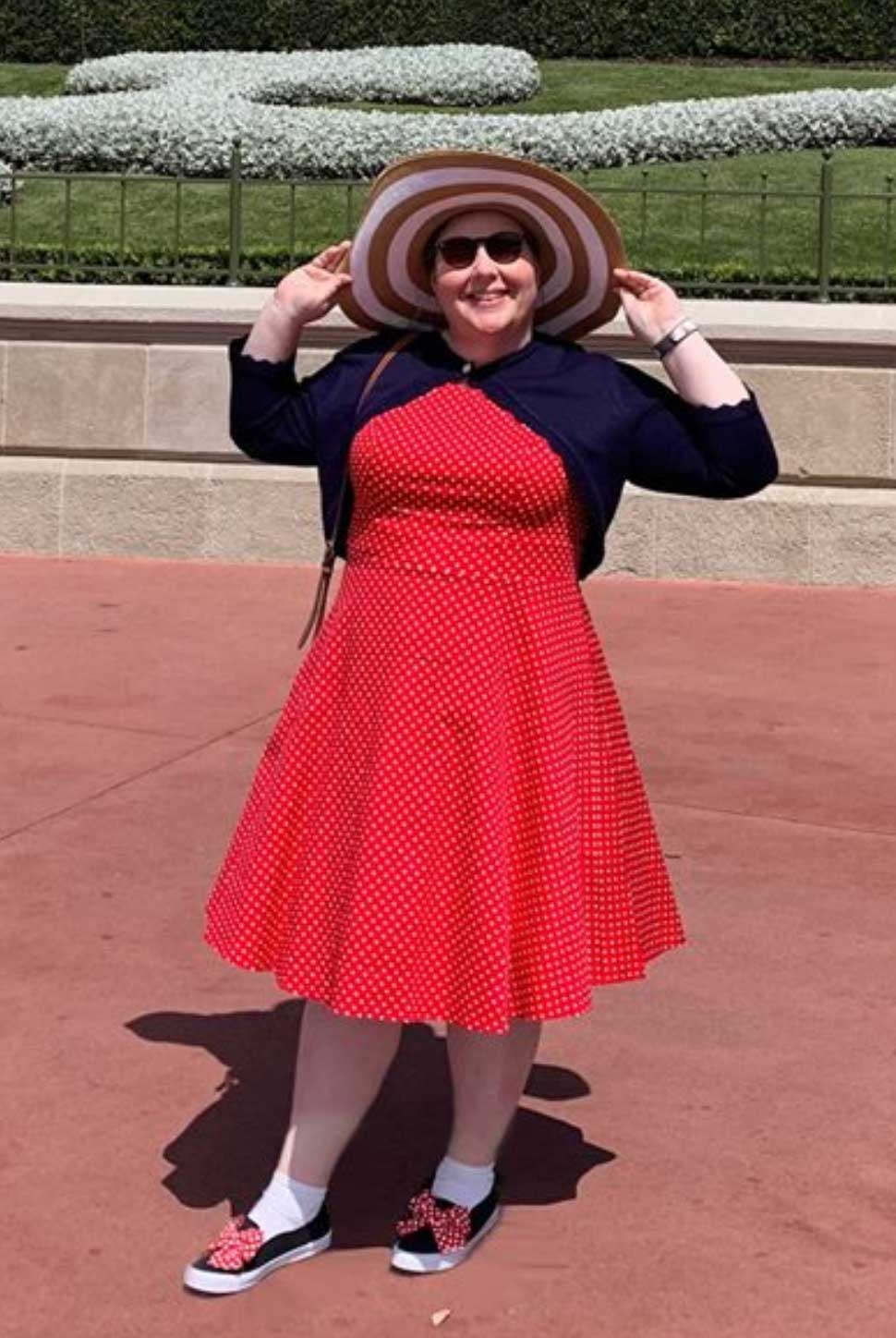 Finally, while I was on vacation, I bought another Disney-inspired dress, the Enchanted Tiki Room sundress: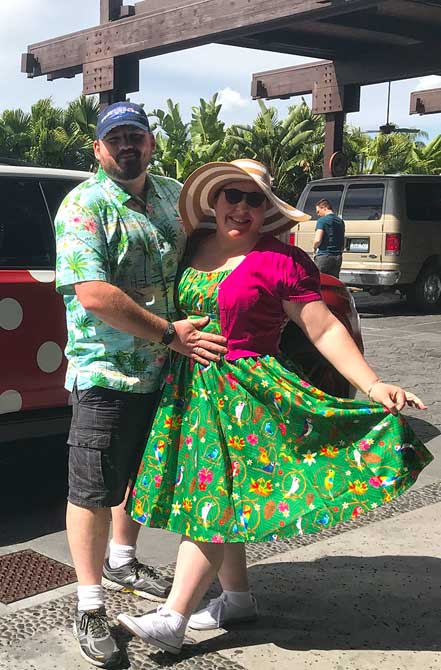 The Vintage-Style Sweaters
Sweater sets were all the rage in the '50s, and you'll notice I wear a sweater in every photo. I live in Michigan and we need sweaters! Plus I think they really complement the dresses. I like long-sleeve sweaters in the winter (which you can see in all of my YouTube videos) and short-sleeve light cotton sweaters in the summer (as shown in the photos above). I've found several of them on Amazon, including these sweaters:
Short-sleeve cropped bolero sweater (worn with the Tiki Room dress and the blue floral dress in the photos above)
Open-front 3/4 sleeve bolero sweater (worn with the polka dot dresses in the photos above)
Long-sleeve crew neck button-down cardigan (I have like a dozen of these in red, burgundy, pink, blue, black, gray, etc.)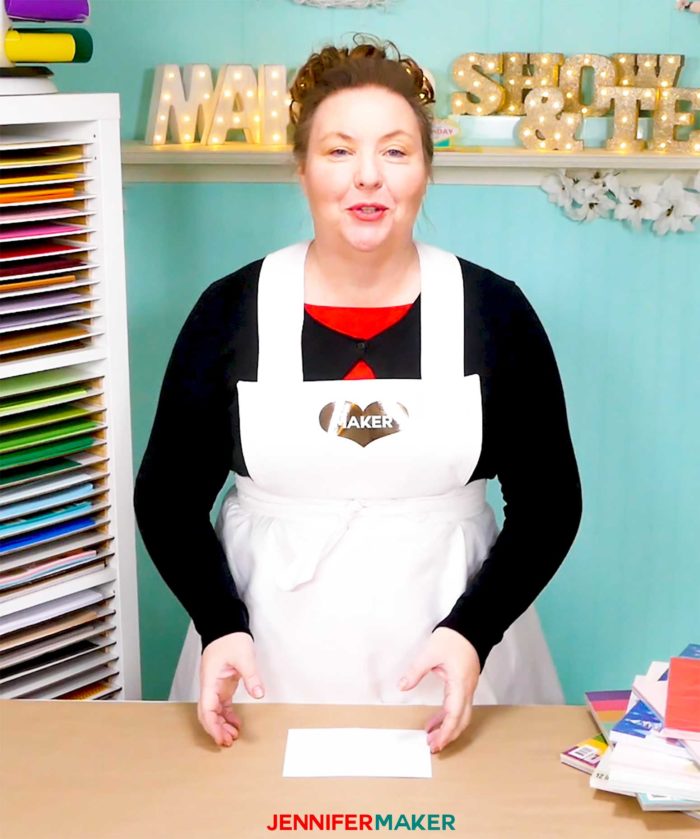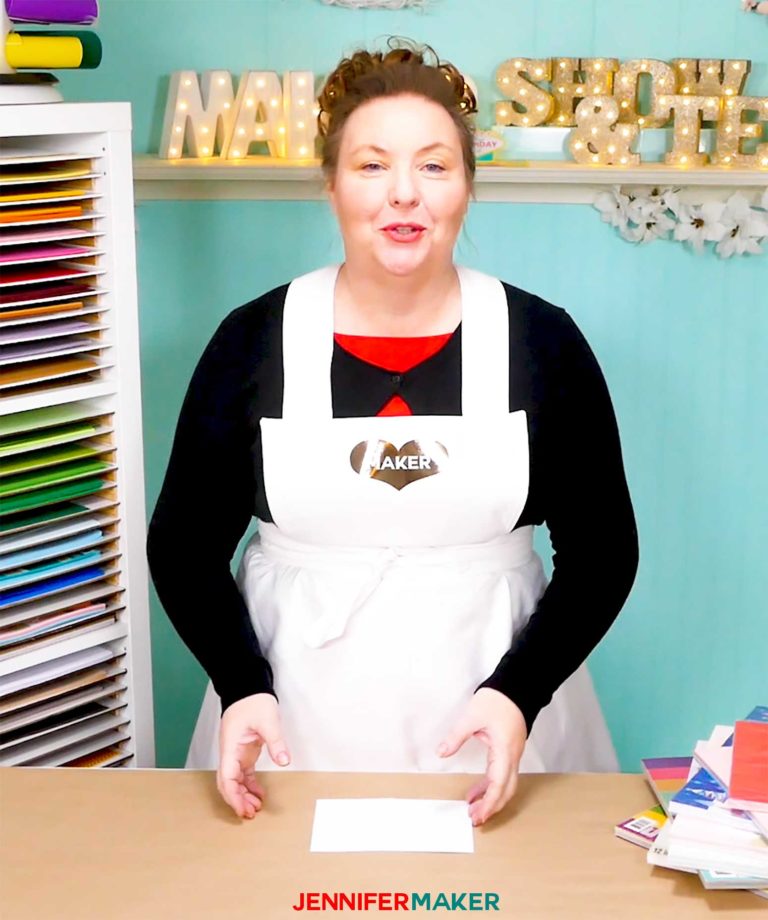 The Vintage-Style Crinoline Skirt
In order to get that vintage look, you need to pay attention to your underpinnings. Something that may not be immediately obvious is that with more of these dresses, I am wearing a crinoline under the skirt. The crinoline gives these skirts the classic bell shape. It's also great fun to wear! I have just one and I wear it with all the dresses I have. Mine is wine, but you can get them in other colors, too.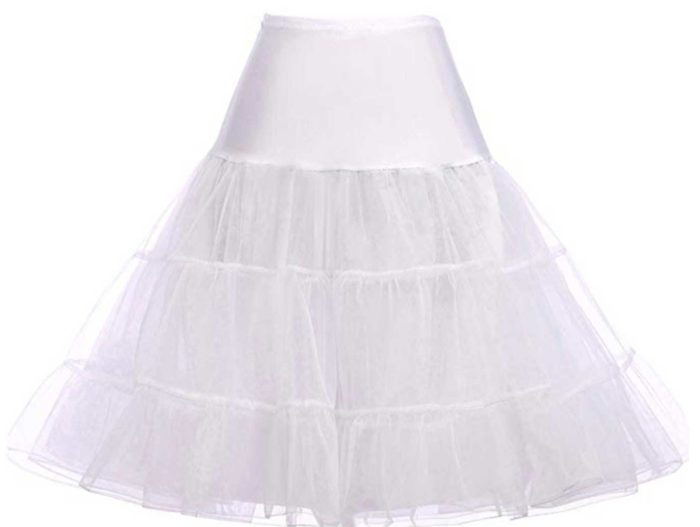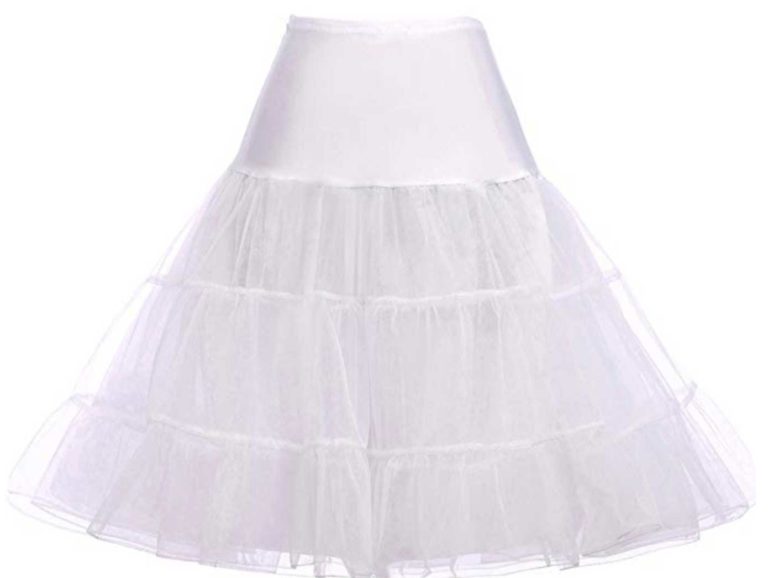 The Vintage-Style Shoes
I am a BIG fan of sensible shoes. I wear things like classic white Keds (a 1950s-era shoe) and "flatties" (what we call flats, like the Mad Love Lydia Slip-On from Target). I also bought a pair of black sneakers with red polka-dot bows to go with my red polka dot dress (I found those at the Magic Kingdom). When I want to dress up more, I wear a pair of very comfortable black wedges. I plan to get some T-strap shoes with a heel for special occasions, too!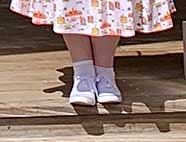 The Vintage-Style Hats
I love hats. Big hats, little hats, pretty much any hats. I have many of them! The floppy hat with the white stripes I'm wearing in the photos above is from Target.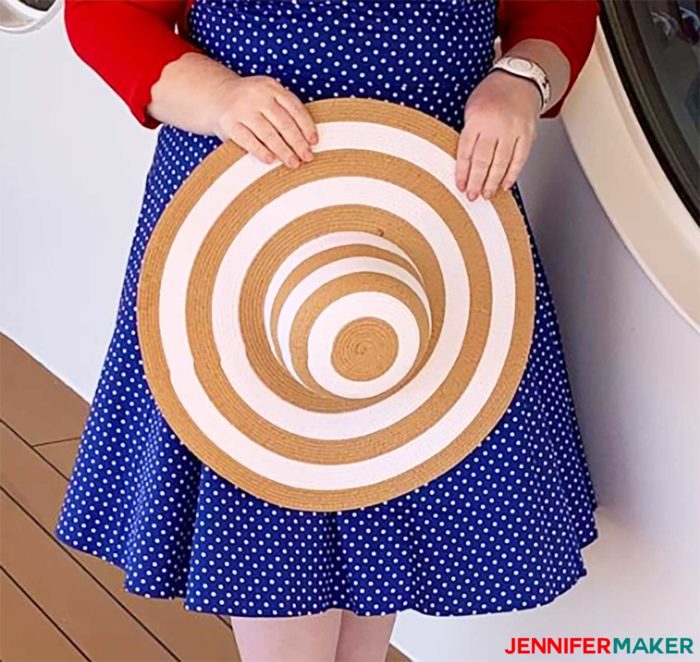 The Vintage-Style Apron
I patterned and made my apron myself, which I wear in all of my recent YouTube videos. I've had many requests for a tutorial on it, and I plan to make one soon! It's made of crisp white cotton, criss-crosses in the back and has a scalloped hem.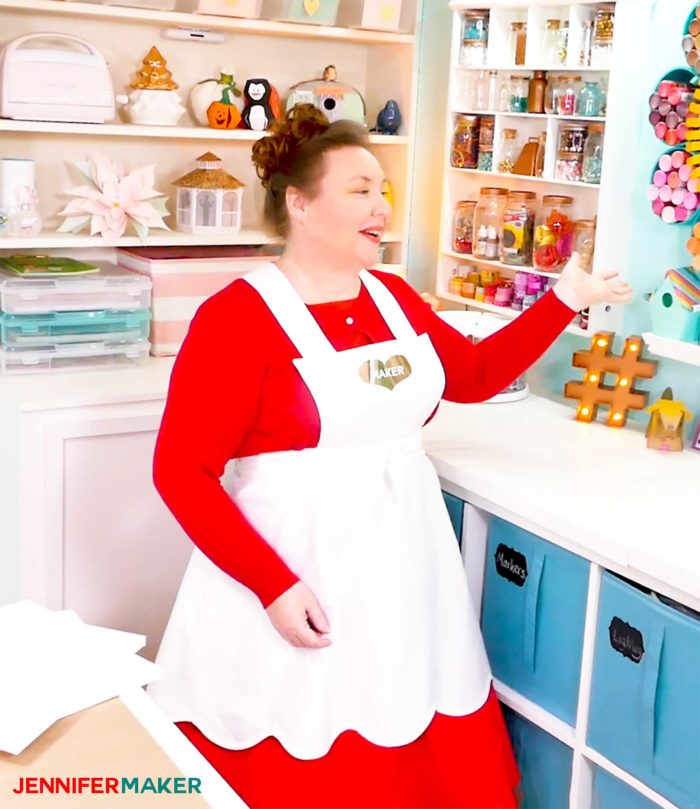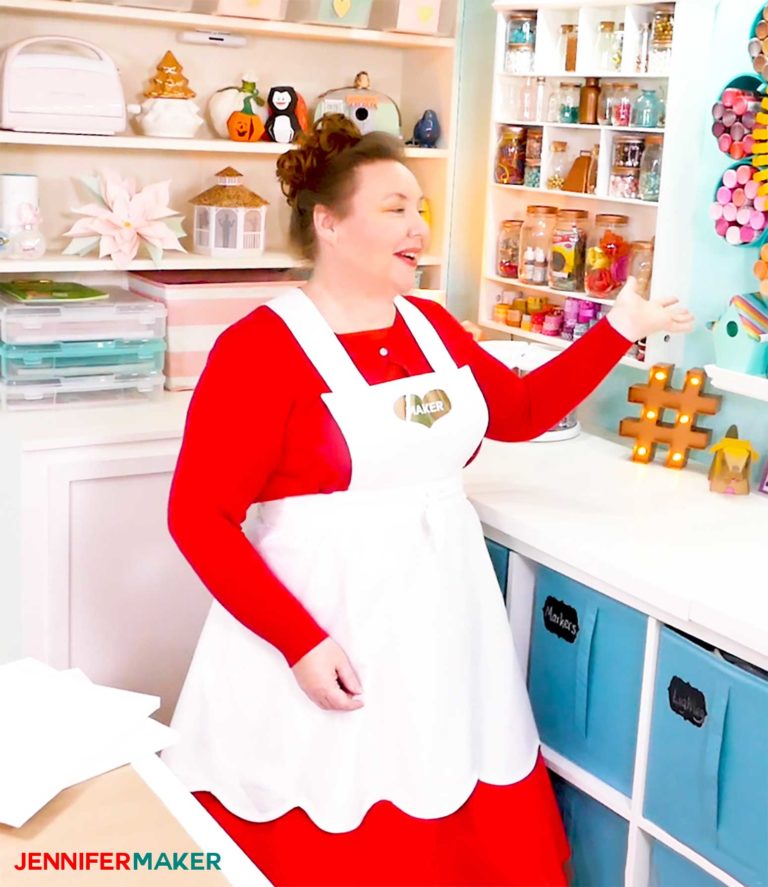 I will get better photos of my dresses, aprons, and accessories in the future and keep this page up-to-date, too! If you have any questions, please just let me know!
Love,