Learn how to make a super simple paper hat you can use to celebrate any holiday! And I'll show you how to turn it into a leprechaun trap in honor of St. Patrick's Day!
I used to struggle with how to "dress fun" for the holidays, but I finally figured it out. My go-to solution over the years has become a mini paper hat in the various holiday colors. These make the cutest hair accessories (I wear them as fascinators) and you can cut them in any color for any holiday. Take today, St. Patrick's Day — I can make and wear this DIY paper hat as a fascinator and I'll be "wearin' the green" (so no pinching!). And we can do more fun things with these mini paper hats — I'll also show you how to turn this little hat into a leprechaun trap! This paper hat project is part of our MAKE IT EASY Craftalong Challenge, filled with fun and EASY daily themed projects for your Cricut!
What is a leprechaun trap? So the idea with a leprechaun trap is you're supposed to set it up the night before St. Patrick's Day, and then wake up to look for signs that leprechauns have visited the trap. And if you're lucky, you'll catch one and get three wishes! If you don't, maybe the leprechaun will just leave you a treasure. You can make a leprechaun trap super easy with this mini paper hat.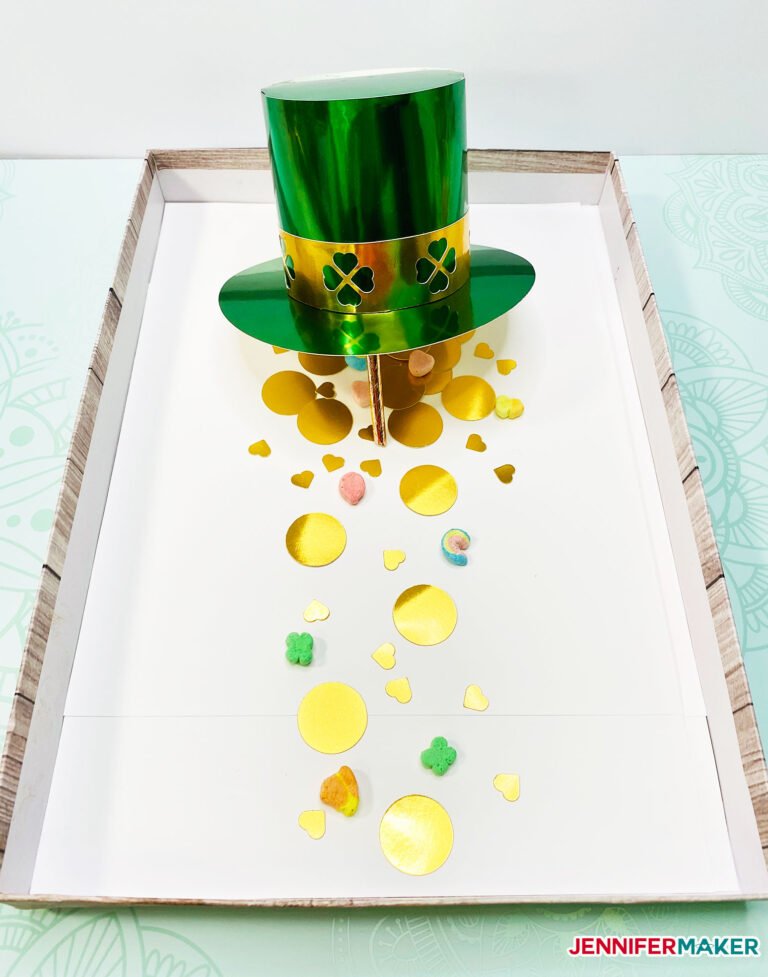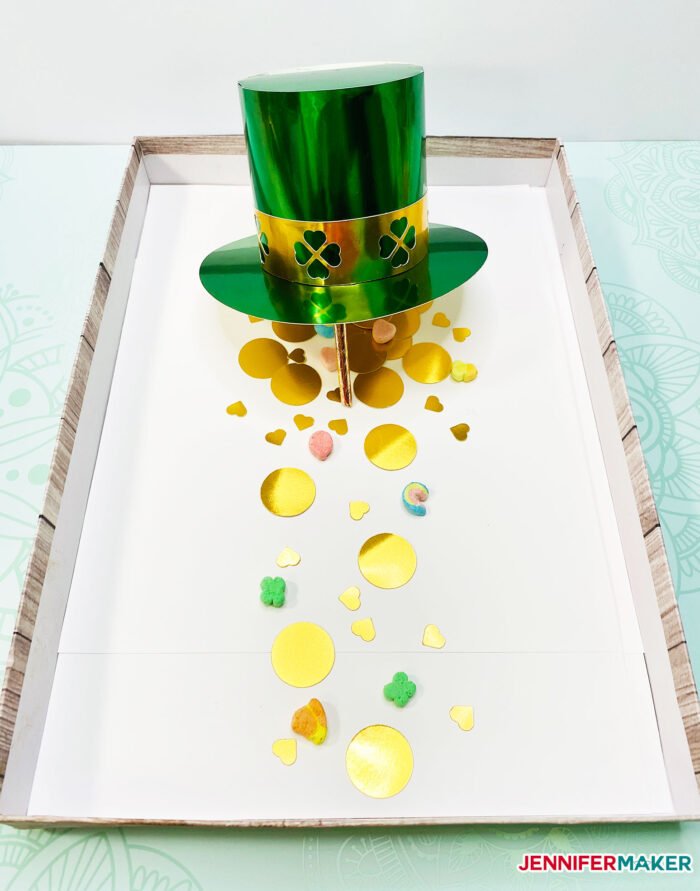 So the idea here is we're leading our leprechauns to our "trap" by tempting him (her?) with treasure (gold paper "coins"), treats (the Lucky Charms cereal), and affection (the gold hearts). If they climb under the hat to get all of our goodies, the hat will fall and trap the little leprechaun! But if the hat doesn't fall, then perhaps the leprechaun will leave us a little thank-you gift in return.
I'm excited to show you how to make this fun project! This post contains some affiliate links for your convenience (which means if you make a purchase after clicking a link I will earn a small commission but it won't cost you a penny more)! Read my full disclosure policy.
Materials to Make This Paper Hat Project on a Cricut Joy, Maker, or Explore!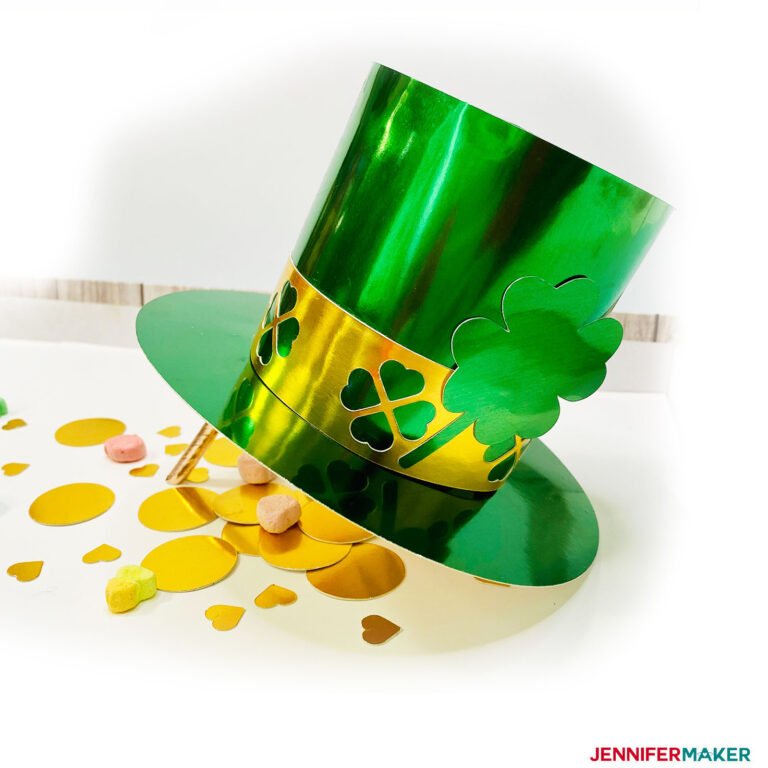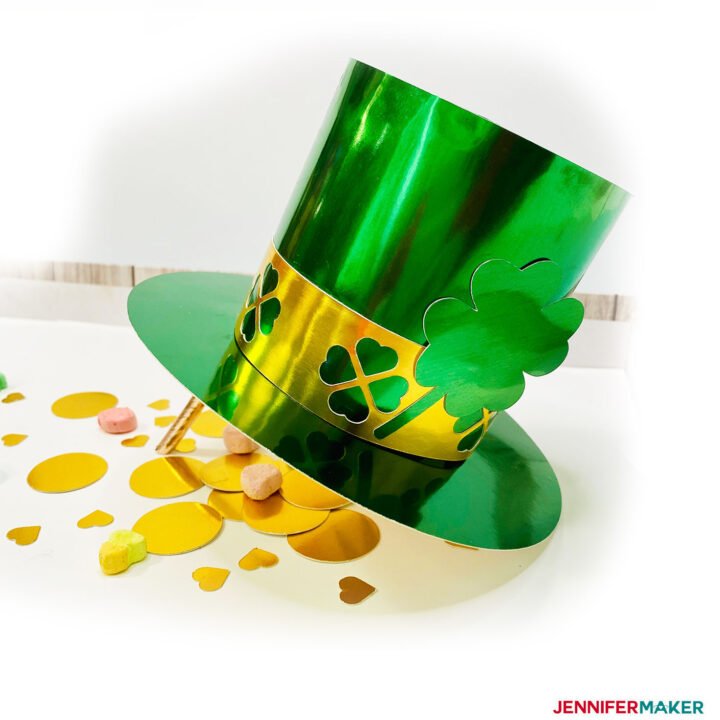 DIY Paper Hat and Leprechaun Trap
Yield: 1 Hat or Trap

Prep Time: 15 minutes

Active Time: 15 minutes

Total Time: 30 minutes

Difficulty: Easy

Estimated Cost: $10

Make a fun DIY paper hat fascinator or a leprechaun trap for St. Patrick's Day!
Materials
Straw (for a trap)
Lucky Charms cereal (optional, for a trap)
Hair band, barrette, or bobby pins (for a fascinator)
Instructions
Step 1: Get the free DIY Paper Hat & Leprechaun Trap Design
First, download Design #193 which is my free SVG cut files or PDF from my free resource library. If you're going to cut it on your cutting machine, upload the file to your design software.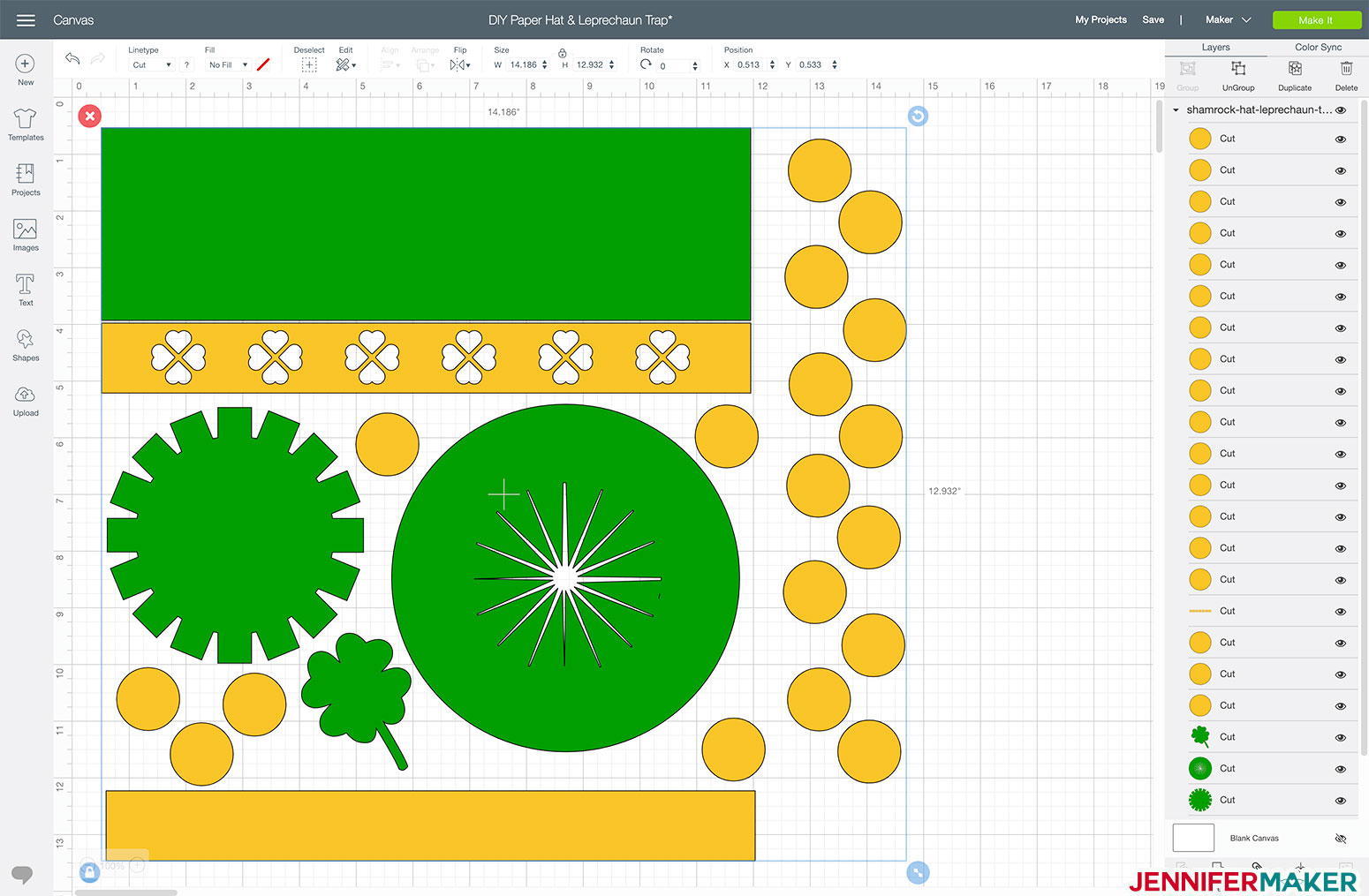 Tip: If you're not sure how to upload an SVG cut file to Cricut Design Space, watch this helpful video training series I made. If you're on an iPhone or iPad, here's how to download and upload SVG files to the Cricut Design Space app.
Step 2: Cut Out Your Card Stock
You can cut the hat by hand, or cut it on a Cricut.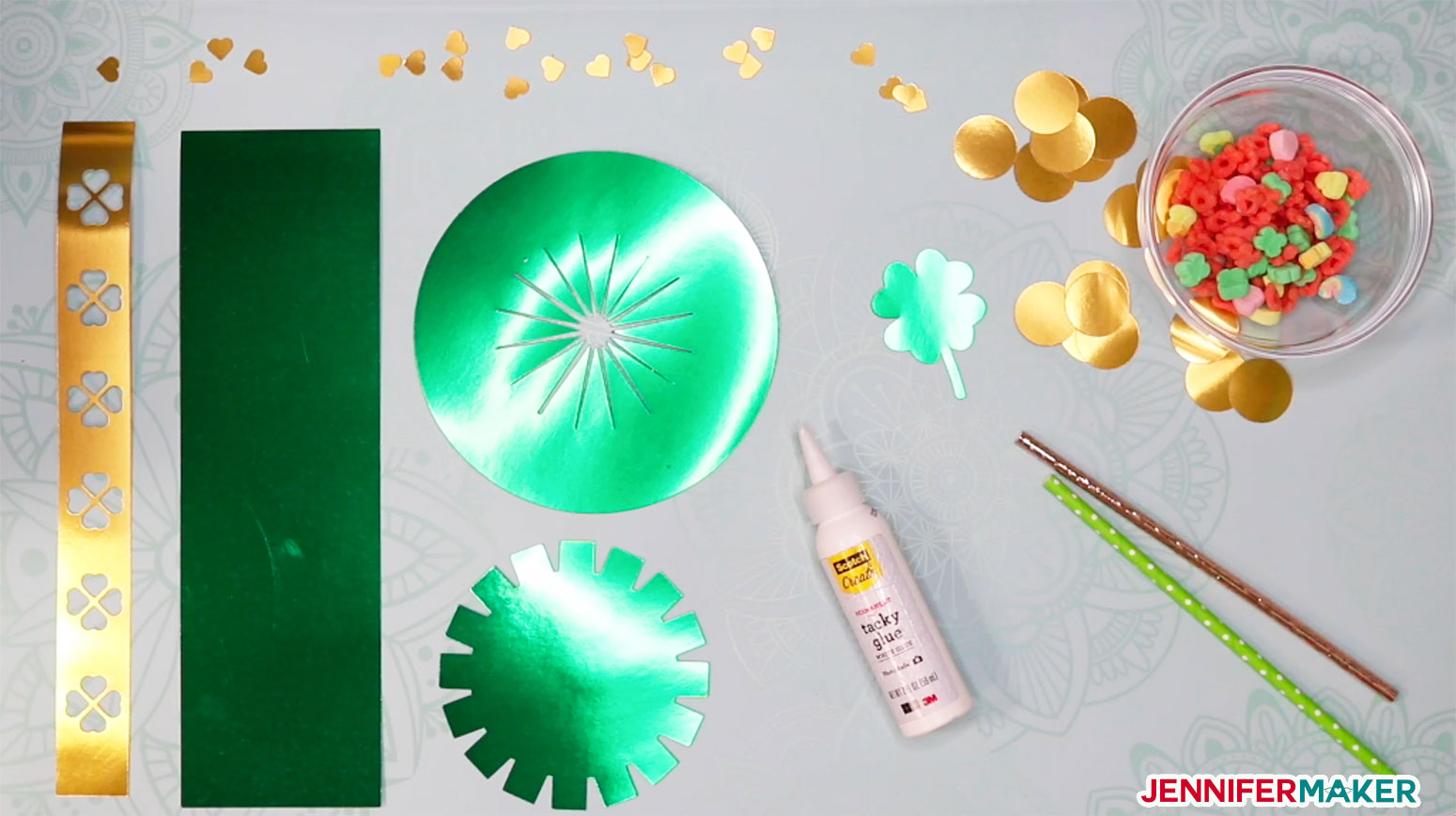 Step 3: Put Together Your DIY Paper Hat & Leprechaun Trap Design
If you'd like a hat band, I recommend you attach it first. Glue the hat band strip to the bottom of the large hat rectangle, lining up the bottom edges.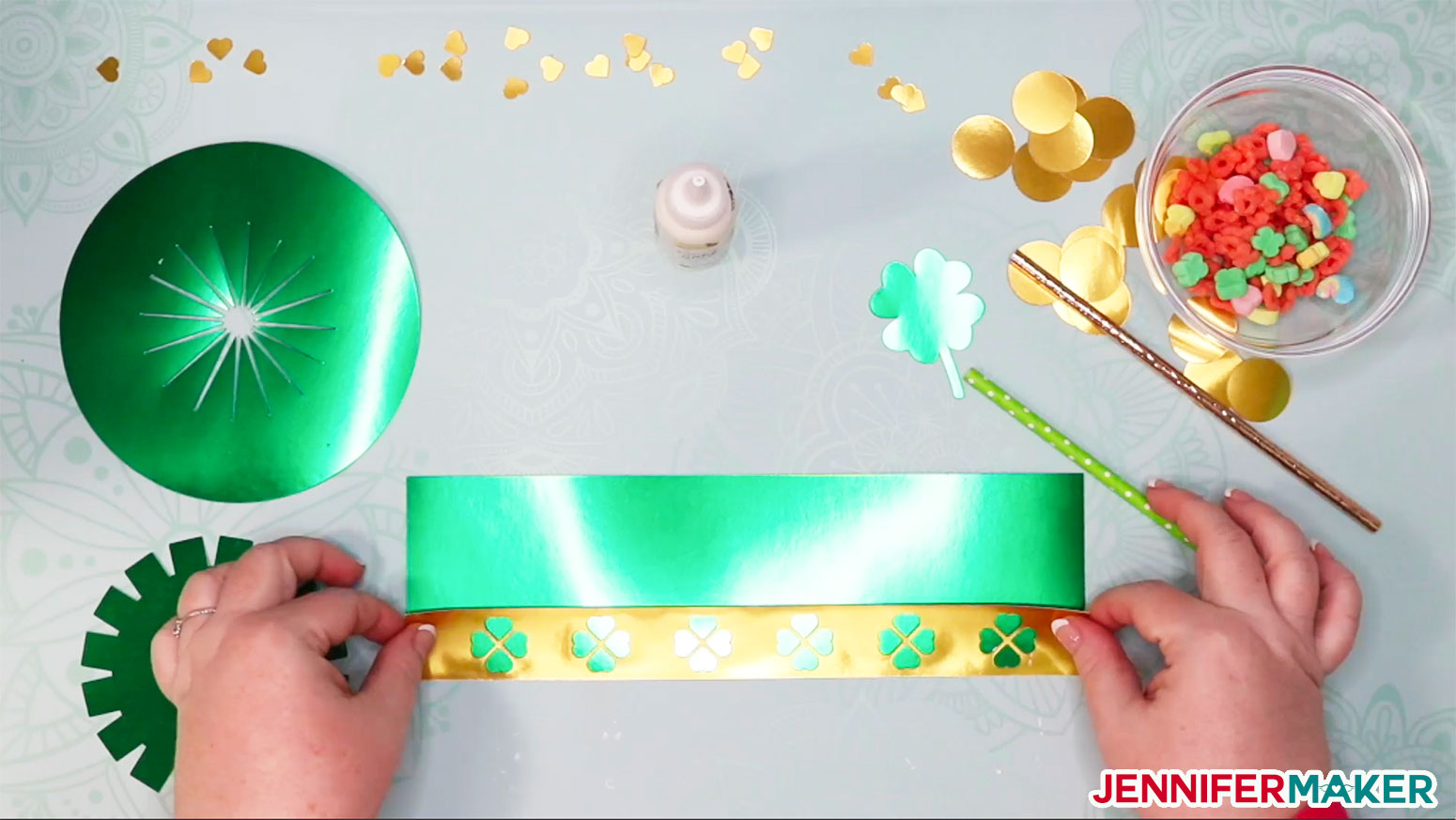 Fold in the tabs on the circle (this will be the top of your paper hat).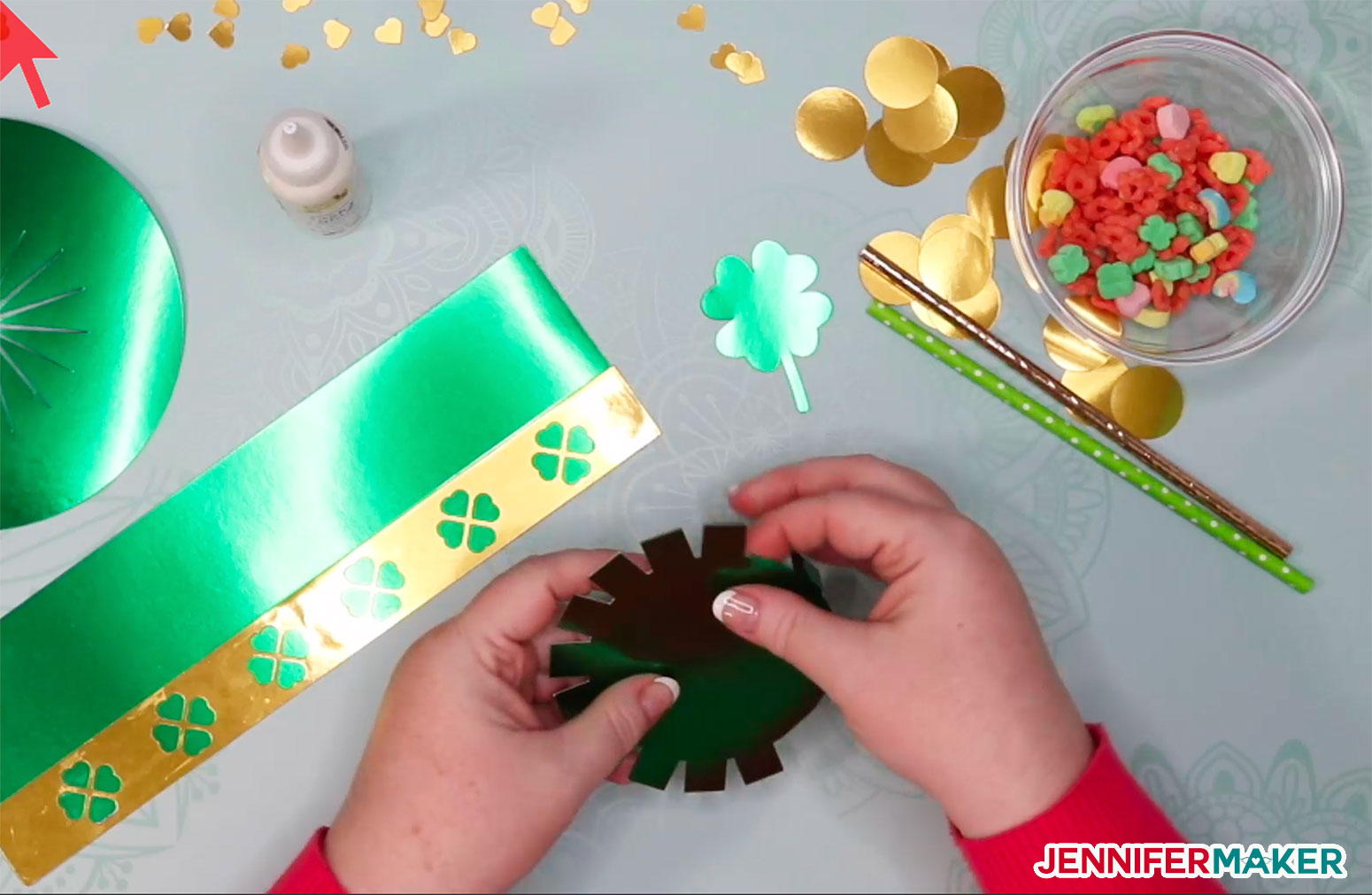 Put a line of glue on the back of your big rectangular strip-- it goes along one short side and one long side.

Glue the rectangular strip to the tabs. I find it is easiest if I put the circle with tabs face down on my surface, wrap the glued edge of the rectangle around it until it meets and just overlaps. I then press on the tabs with my finger or a tool to make sure they are making contact with the glue.

Next, fold in the pointy bits on the large circle (brim).

Center the brim on the top of the top of the hat. Glue at least four of the pointy bits to the inside of the hat.

Glue on decorations as you wish -- feathers, flowers, ribbons, or whatever decorations you wish.
Step 4: Show It Off!
Now you have two choices -- turn this into a holiday DIY paper hat fascinator OR a leprechaun hat.

To make a hat fascinator, you can glue it to a headband at an angle. Just a little hot glue will do the trick!

To make a leprechaun trap, you'll also want a piece of paper or tray, a straw, and some sort of treat, like Lucky Charms. Just glue or tape the straw to the bottom edge of the hat and position it so the hat is tilted up on the paper. Now put some of the gold "coins" you cut out and some treats and treasures under the hat to lure in a leprechaun!

Isn't this just SO CUTE! And super easy — I put this together in under 30 minutes tops.
Need more projects for today's theme?
Today's MAKE IT EASY Craftalong Challenge is to "Go Green". If you are looking for other ideas, we have you covered!
Get my free SVG files to make your own DIY paper hat and leprechaun traps!
I cannot wait to see YOUR DIY paper hat projects! What will you make with this? How about an Easter hat? Or 4th of July hat? Or even a Halloween hat? Please share a photo in our Facebook group or tag me on social media with #jennifermaker.
This project is a part of our MAKE IT EASY Craftalong Challenge with fun and EASY projects you can do to learn how to use your Cricut! You can share your photos in our daily challenge theme thread here!
Love,