Embellish a special gift with a handmade paper gift bow. You can make gift bows from paper to match your gift and really make your recipient feel loved!
We're getting very close to Christmas and our house has been taken over with gift wrapping! I've made the gift tags (including my fun tear-away reveal gift tags), but I need some special bows for special gifts. So I made some paper bows! What I love about paper bows is how nearly perfect you can make them. You don't have to worry about tying your ribbon in just the right way or anything like that. You just cut out your paper, attach it in order, and voila — you have a gorgeous bow!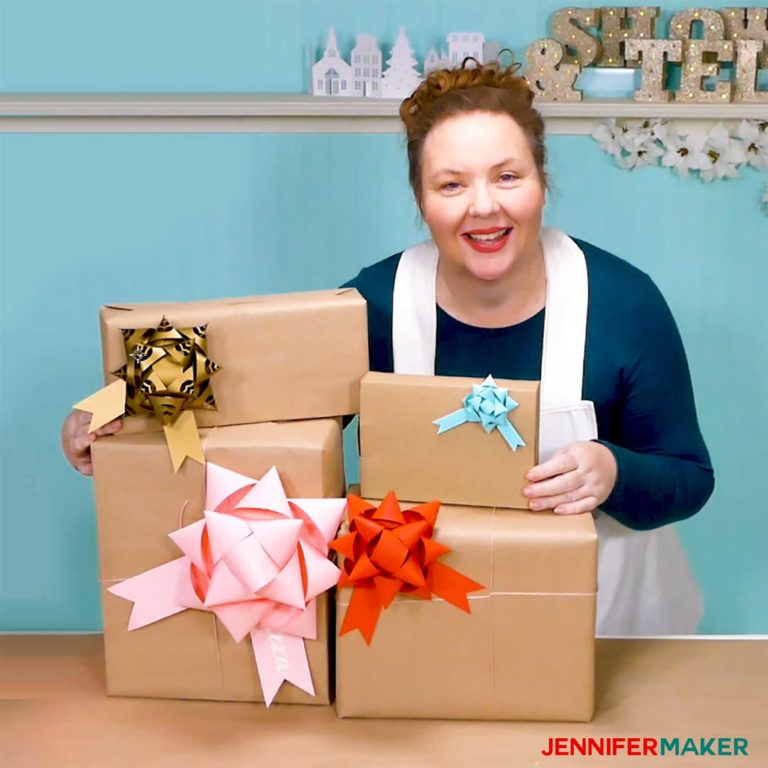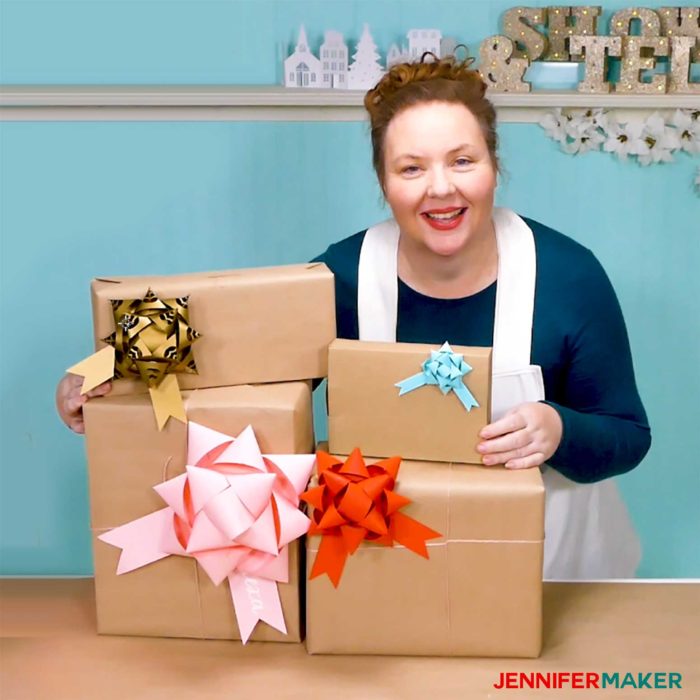 To make these gift bows, I designed four different gift bows!
One gift bow is a small and simple bow, made from just half a sheet of paper. It's great for small gifts.

The second gift bow is a large bow, made from just one full sheet of paper. In fact, it maximizes the paper so there is very little waste!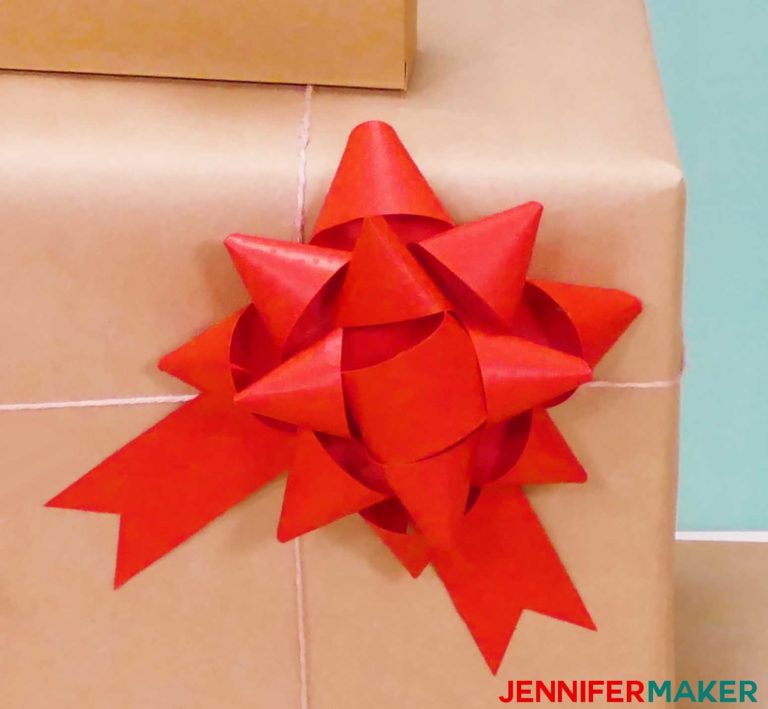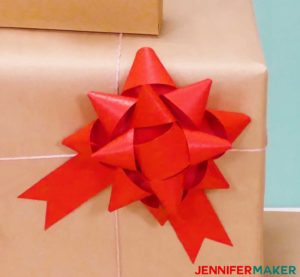 The third gift bow is a giant bow, made from five pieces of paper. I also put my daughter's name on it in white vinyl!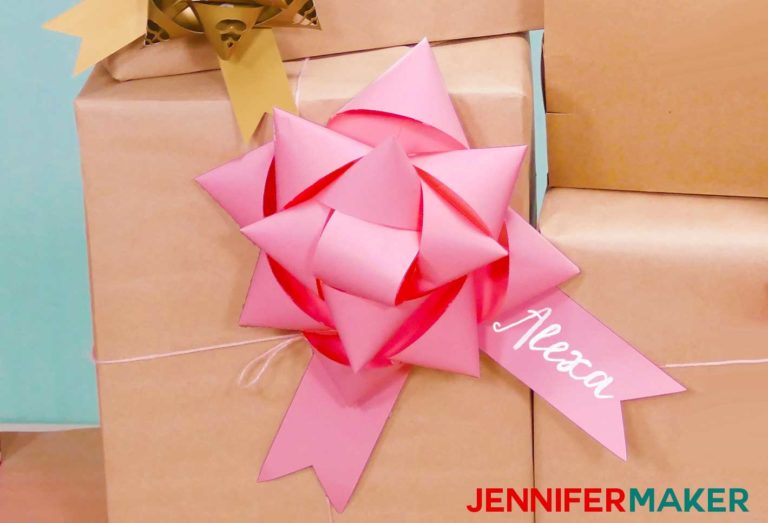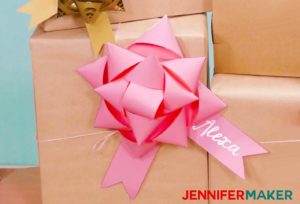 And the fourth is a special filigree bow. I've cut out little blossoms in each curl of the paper to create a beautiful and unique look! This one is just one sheet of 12 x 12 paper, too.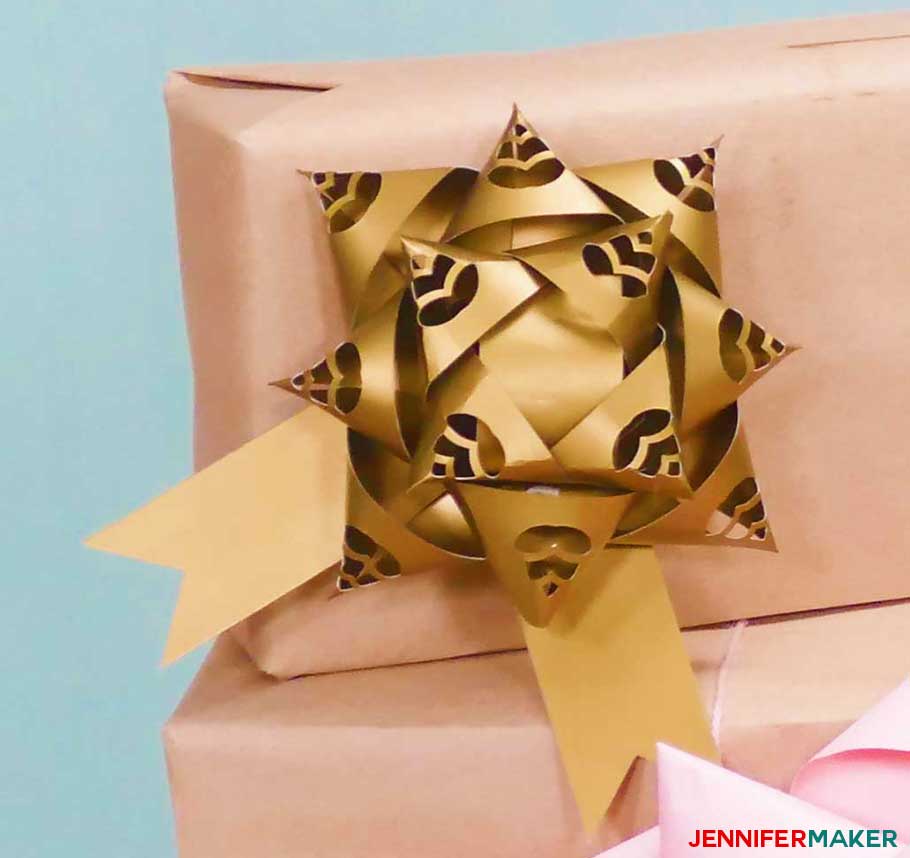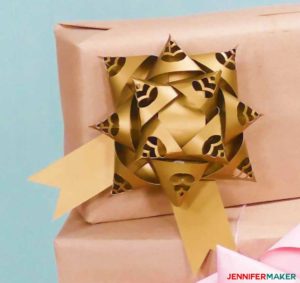 Now the type of paper you use for your gift bows is VERY important. The lighter and more flexible, the better. So heavy and thick cardstocks are not going to work well. But if you have regular paper, that works like a charm — my giant bow is made with plain pink copy paper! So only pick flexible paper that will bend easily.
In addition to paper, you need a brad, which is a small paper fastener with little tines that you can separate and bend to secure your bow in place. You can buy them at most craft stores.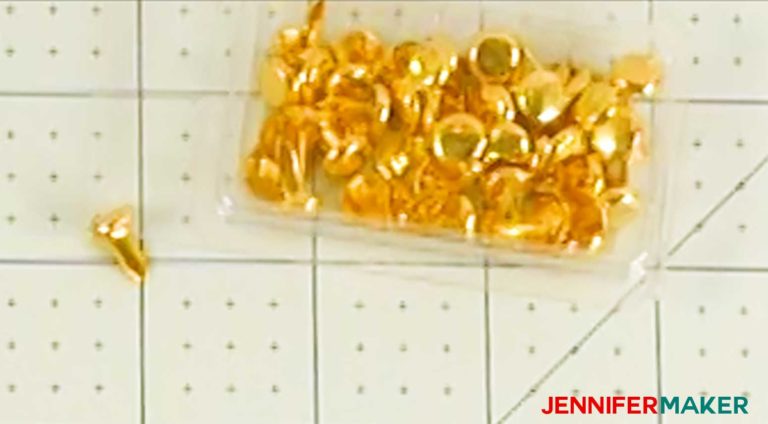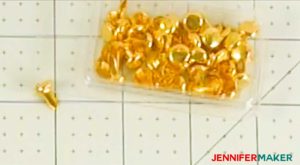 Many thanks to the readers and viewers who requested I design gift bows (Kim C., Sarah H., Mary B., Susan W. Janey, Shari S., and Betty W. ). Each person who contributed this project idea will receive an extra entry for your idea (I am keeping track on this on my end). And don't forget, you can suggest project ideas for this Challenge here and receive entries to win one of our awesome prizes, including a Cricut Maker!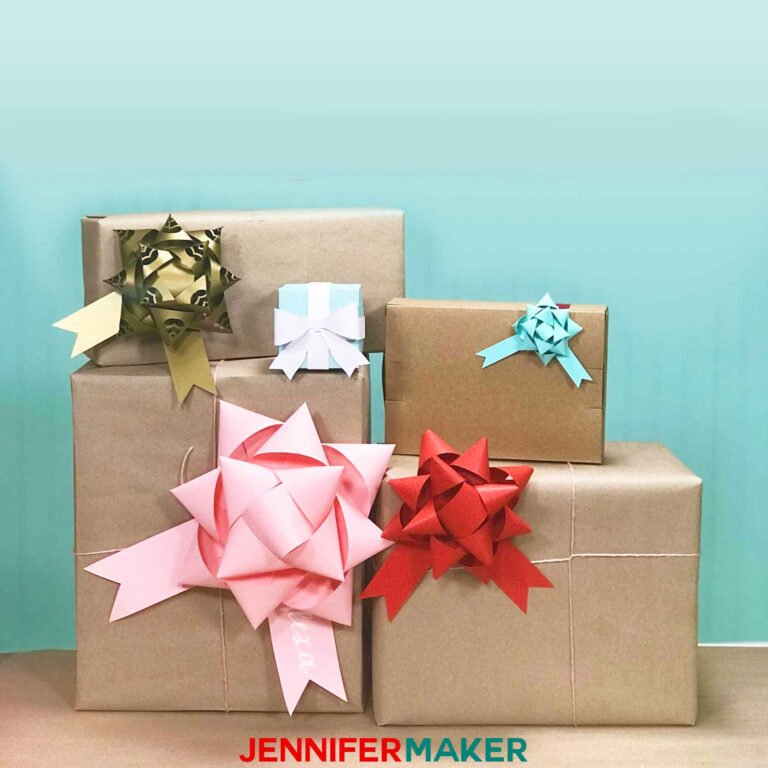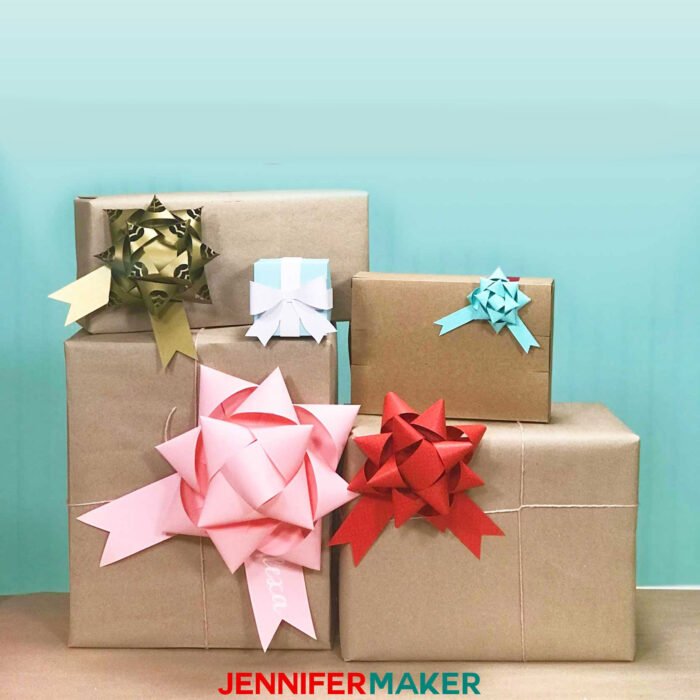 Key concepts taught in the video tutorial include how to resize a project in Cricut Design Space, how to select the right paper, and how to create a gift bow.
See exactly how to make gift bows from paper in this step-by-step video below:

Let's make some gift bows with paper! This post contains some affiliate links for your convenience (which means if you make a purchase after clicking a link I will earn a small commission but it won't cost you a penny more)! Read my full disclosure policy.

Materials for Making Gift Bows
Paper or cardstock that isn't too thick
Transparent tape
A brad, 3/4″ or longer
A way to cut your paper (I used the amazing Cricut)
Design #132 – My free SVG/DXF/PDF cut files/patterns (available in my free resource library—get the password at the bottom of this post)
How to Make Gift Bows from Paper
First, download my gift bow files (Design #132) from my free resource library (you can get a password for it by signing up at the bottom of this page). You can cut these gift bows by hand with the PDF file or with a cutting machine like a Cricut. If you're going to cut this gift bow on your cutting machine, upload the file to your design software. If you're not sure how to upload an SVG cut file to Cricut Design Space, watch this helpful video training series I made. If you're on an iPhone or iPad, here's how to download and upload SVG files to the Cricut Design Space app.
To learn more about how to create the gift bows, watch the
video
!
Get my free SVG cut files for the Paper Gift Bows
If you use my gift bow templates, please share a photo in our Facebook group, email it to me at [email protected], or tag me on social media with #makershowandtell.
See all of the projects, tutorials and free designs in The Great Maker Show and Tell Challenge! There is one for each day of the 25 Days of Christmas! This is my gift to you for the tremendous support, enthusiasm, and love you've shown to me and my little blog over the past two years. To "open" a gift, hover over the day's image and click the download icon.
[ess_grid alias="25days2″]
Love,