Check out these fun homemade greeting card ideas for all occasions!
Everyone knows that handmade cards are the best way to show you care. Unlike store-bought cards, DIY cards can be completely customized to fit the recipient and the occasion. If you're new to crafting your own cards, never fear — these homemade greeting card ideas will have you whipping up the CUTEST little greeting cards in no time! In fact, I have four house cards for you to make! And like my shaker cards, this is a fun and simple paper crafts project you can make as soon as today — it'll bring joy to you and whomever you gift it to! These DIY greeting cards will show someone you love them and are thinking about them!
Watch the full step-by-step video showing you exactly how to create your own homemade greeting cards for special occasions premiering during Maker Academy Weekend, November 3-6, 2022. Get your FREE ticket to this event by clicking below: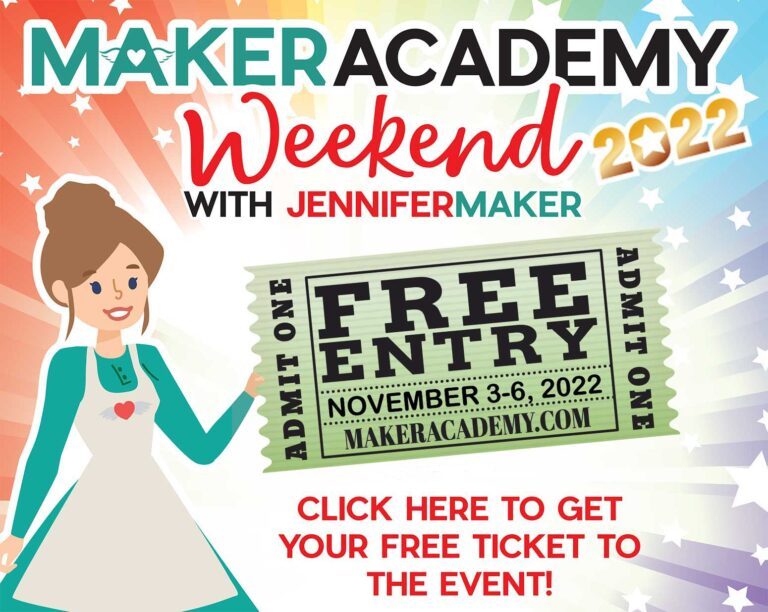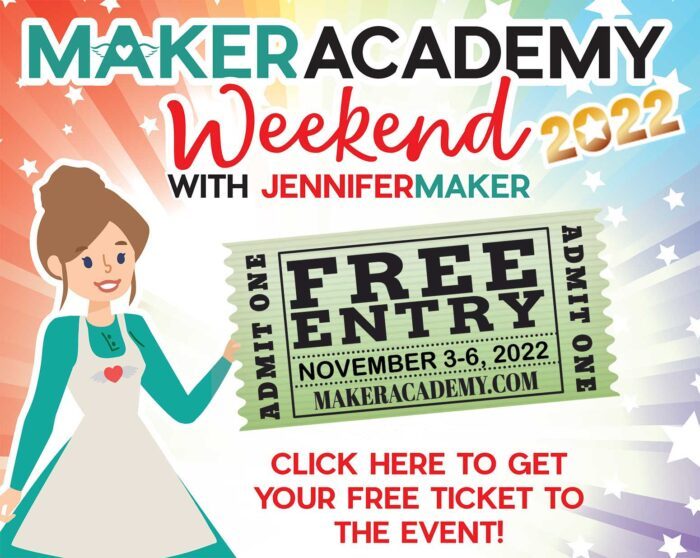 It is always so nice to send a homemade card. I love designing beautiful cards that bring positivity and joy into someone's life. So I'm going to teach you how to make fun and easy cards of own design in a step-by-step tutorial.
This snowy house card design would make lovely handmade Christmas cards.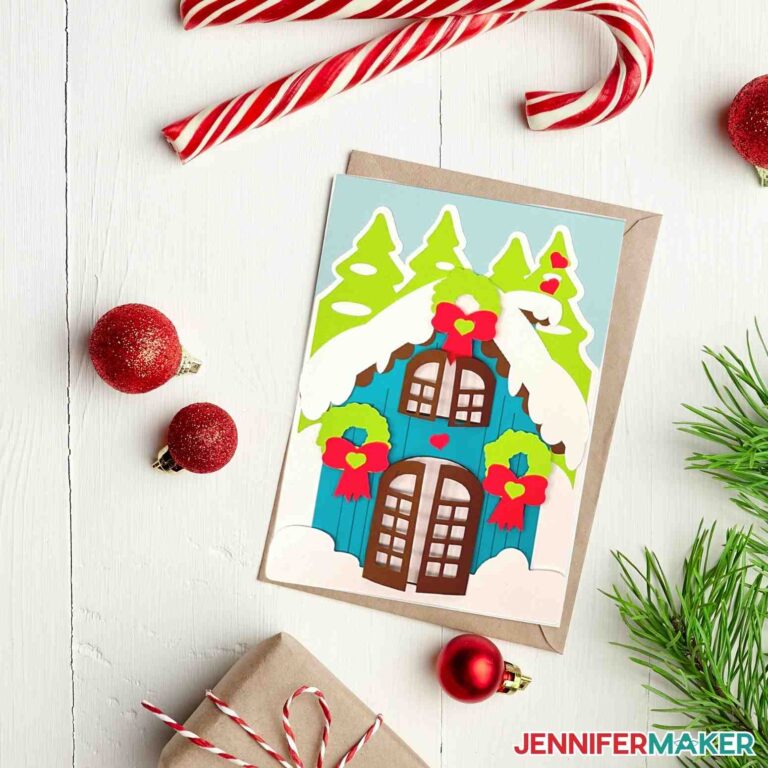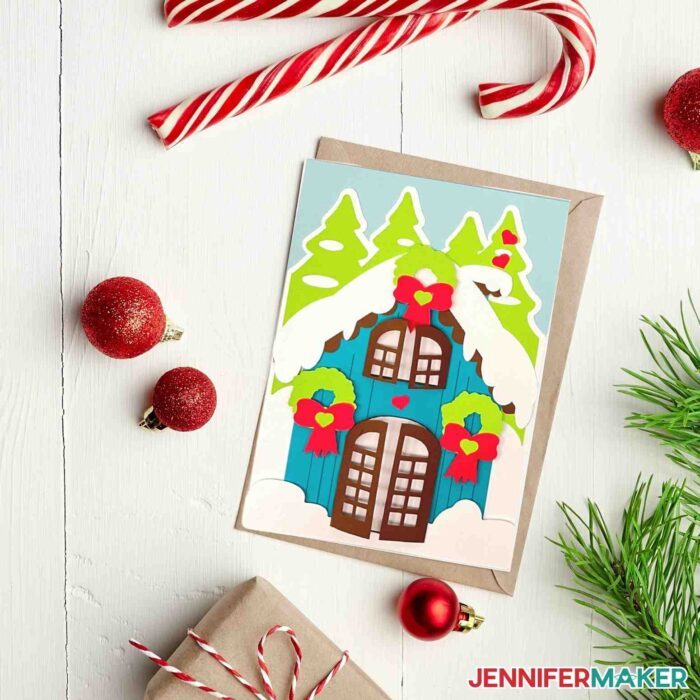 I love this sweet little house card — it makes for a sweet little happy birthday card or housewarming card for a special family member. Add a house number for a personal touch.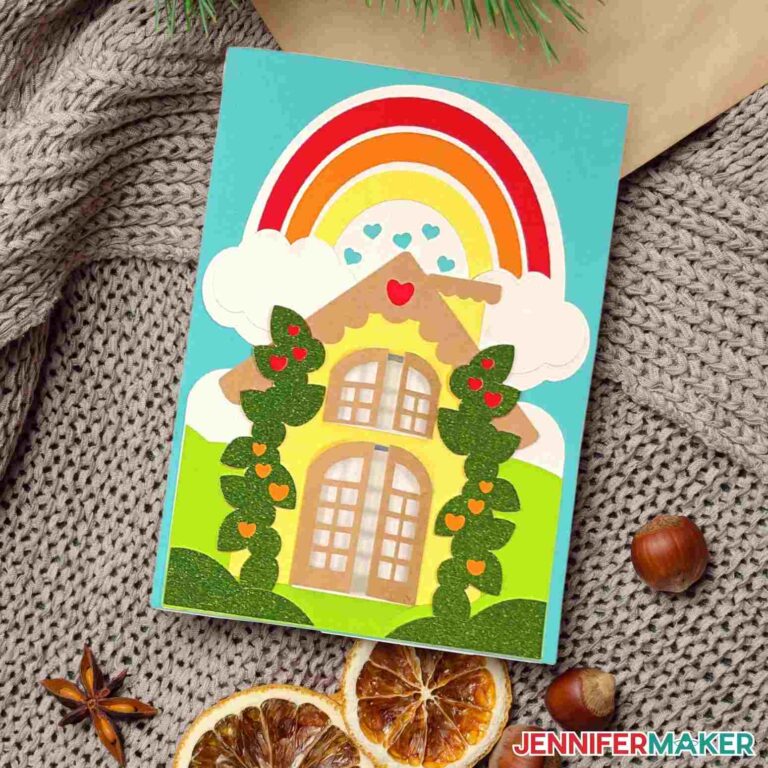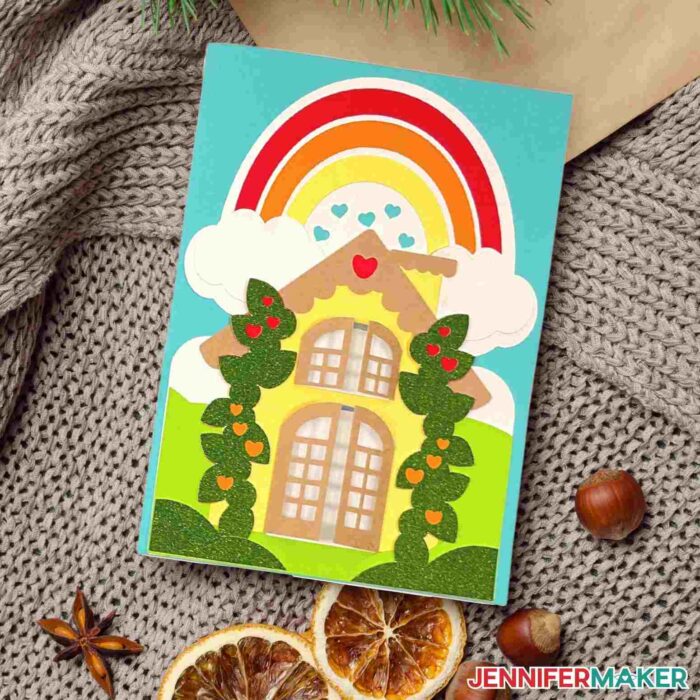 Aren't these cards so fun? These are a perfect sweet gesture to give to anyone any time of year! You can give these greeting cards for any reason – as a thank you card, congratulations or just as a simple thinking of you card. And changing the paper to match your preference is a creative way to personalize this card and give it a whole new look! Look at how cute and fun this mushroom house card below looks: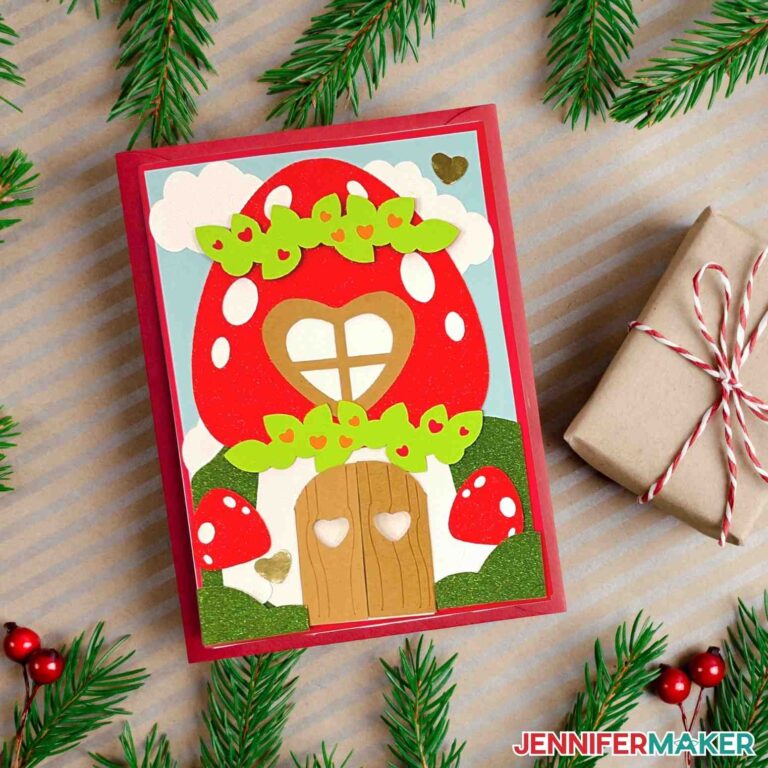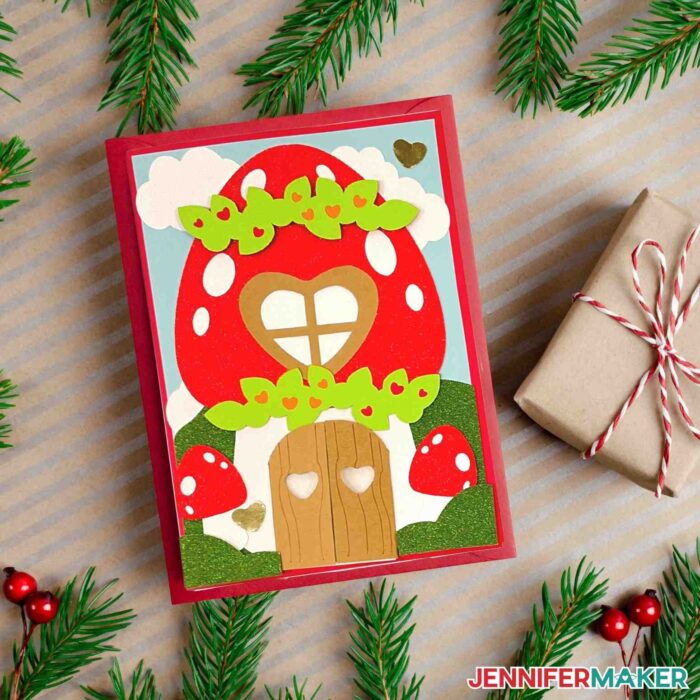 Add a special message inside by hand or use your Cricut to write it out neatly inside your cute card. I can also show you how to add a print-then-cut photo to the card, which is a great way to truly personalize your own greeting cards.
Here's a supply list of what you need to make homemade DIY greeting cards! This post contains some affiliate links for your convenience (which means if you make a purchase after clicking a link I will earn a small commission but it won't cost you a penny more)! Read my full disclosure policy.
Materials to Make DIY Greeting Cards
View my Amazon shopping list with the exact items we used to make this project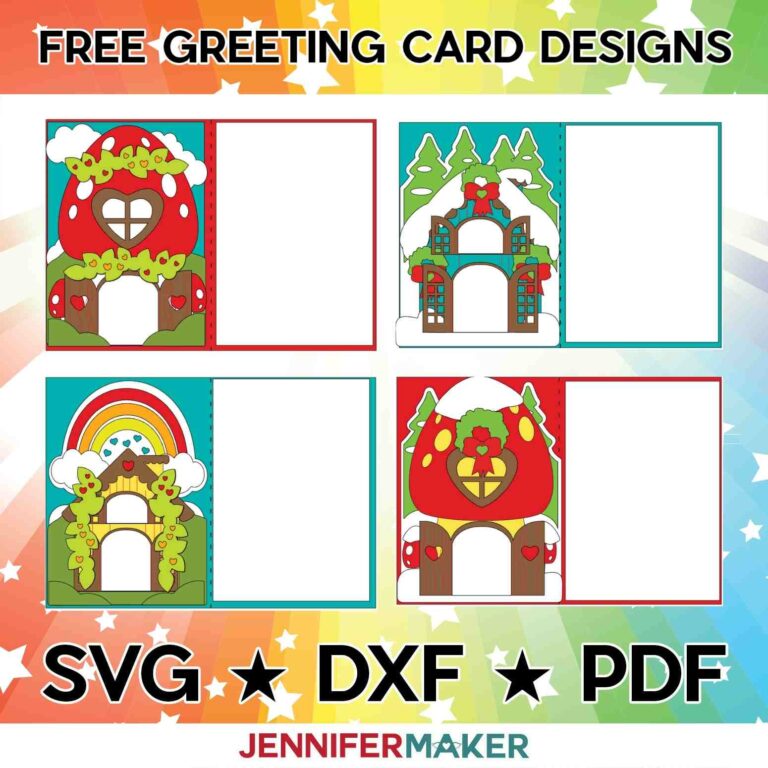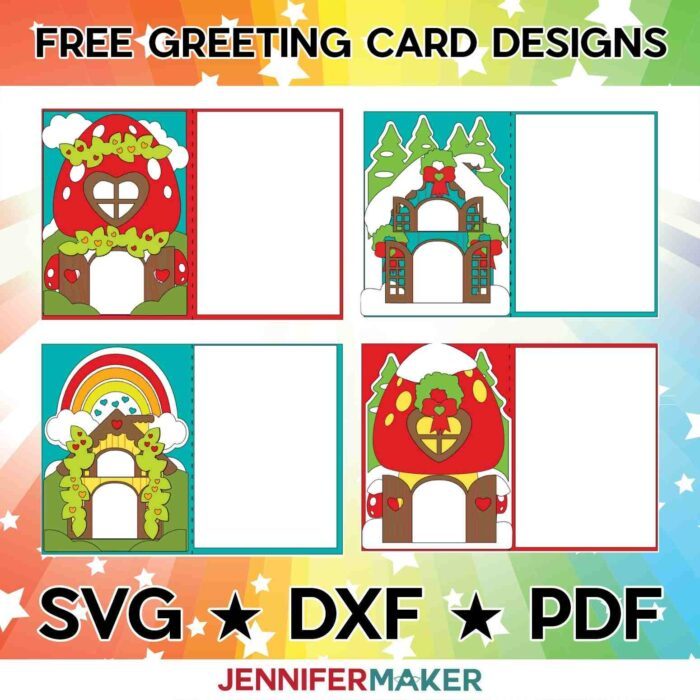 How to Make Your Own DIY Greeting Cards
The detailed step-by-step tutorials and assembly video on how to create these unique cards in different ways will be available to watch for free for 24 hours during Maker Academy Weekend, held online November 3-6, 2022. Get your free ticket to this fun maker event here! If you can't wait until then, learn how to get early access to the Maker Academy Weekend videos, printable handbooks, and design files with a VIP pass below:


And here's a Christmas mushroom house on the front of the card. I'm completely obsessed with this colorful card design and hope you will love them as much as I do!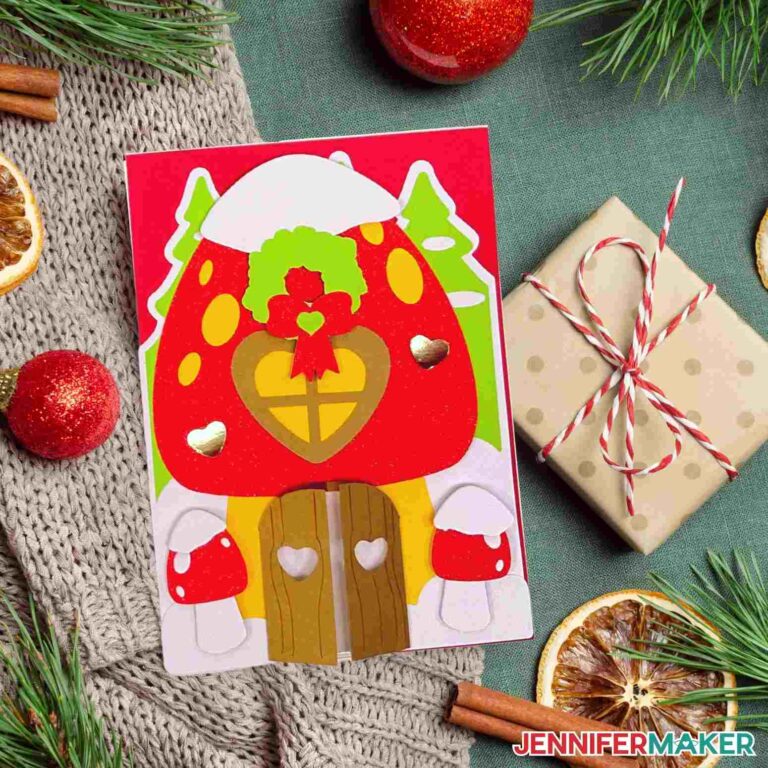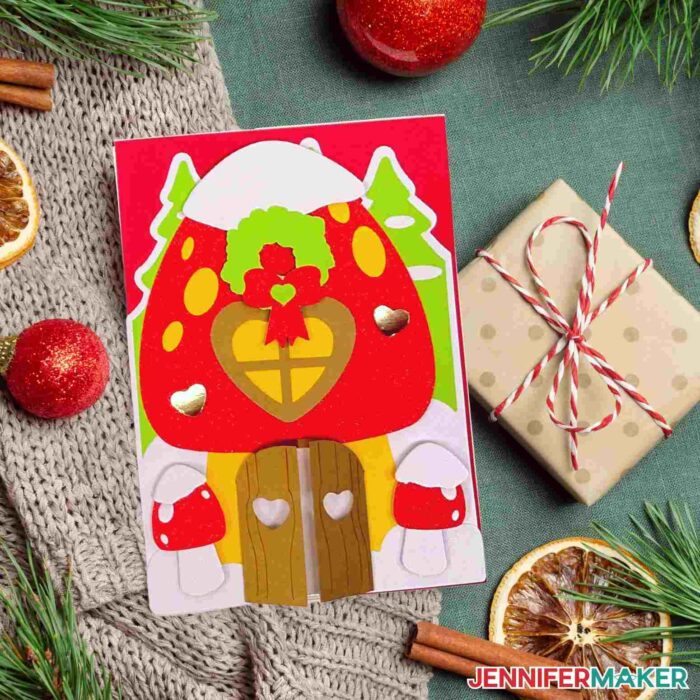 Answers to Your Questions About How to Make DIY Greeting Cards
Q: Where is your tutorial for this project?
This is a special project we made for our free Maker Academy Weekend 2022 event! A complete and detailed step-by-step video will premiere during the event November 3-6, 2022 — specifically, this tutorial video will be available to watch for free for 24 hours beginning November 5 at 4:00 pm ET! (get a free ticket here)! If you can't make that time, there will be a replay available for 24 hours from that time so you can watch it later. You can get early access to these design files and printable handbook that details how to make this beautiful project if you get a VIP Pass to Maker Academy Weekend 2022, which comes with other perks and bonuses, too!
Do I have to have a Cricut to make these homemade cards?
No, I've also included a printable template in the design file so you can cut out out the card stock pieces by hand.
Do you have more handmade card ideas?
Check out my rainbow heart card, my butterfly card, my shaker cards, my impossible card, and my winter pop-up cards. I have both simple cards and intricate paper cards for you to try. Each makes for a really unique birthday card or even a set of holiday cards.
Get a free ticket to Maker Academy Weekend 2022 to see how this works!
I love seeing what you make with my designs and how you use them! Please share a photo of your DIY greeting cards in our Facebook group or tag me on social media with #jennifermaker.
Love,